A Tale of Two Cities: Puerto Princesa and Hong Kong
(with apologies to Charles Dickens)
January 11-27, 2013
by Norman Bituin
Beginning of the year, January 2013, I had to make a solo trip to the Philippines to attend a high school reunion and check on family matters in Cubao. I only had two weeks, like my last balikbayan during our 60th Jubilee in July 2006 (to formally represent the UPBSF International as the sitting president). I decided to make the most of this visit by spending 3 days each at both ends - Puerto Princesa at the start and Hong Kong on my way back to LA.
The two cities can not be more different. Puerto Princesa, with its rustic and open land area, pristine beaches and magnificent reefs (see Environmental Awareness Mar 2013, click>>"Tubbataha Reefs", by Popoy Castañeda) is the greenest, cleanest and least densely populated city in the Philippines. Hong Kong, on the other hand, is an international trading center and, with its expansive skyline, is one of the world's densely populated areas and is the "most vertical city" on earth.

With apologies to Charles Dickens for making reference to his classic novel set in London and Paris during the French Revolution, this article is merely a pictorial of my plebian traipse in this our part of the world in Asia.
Puerto Princesa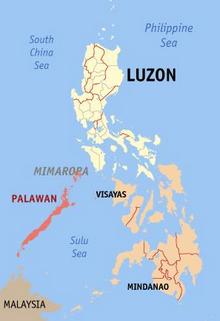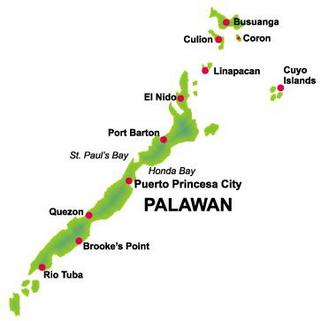 Puerto Princesa is located in the midsection of Palawan Island. It is bound to the east by the Sulu Sea, to the west by the South China Sea. Historically, the place was named after Princess Asunción, born in 1864 to Queen Isabella II and her consort, Francisco de Cádiz. When the princess suffered an untimely death, the Queen changed the name to Puerto de la Princesa. Eventually, the name was reduced to Puerto Princesa as it is known today. Spanish colonizers founded the settlement on March 4, 1872. The city is the second largest geographically after Davao City with an area of 2,381 square kilometers (919 sq mi) and a population of 222,673 in 2010.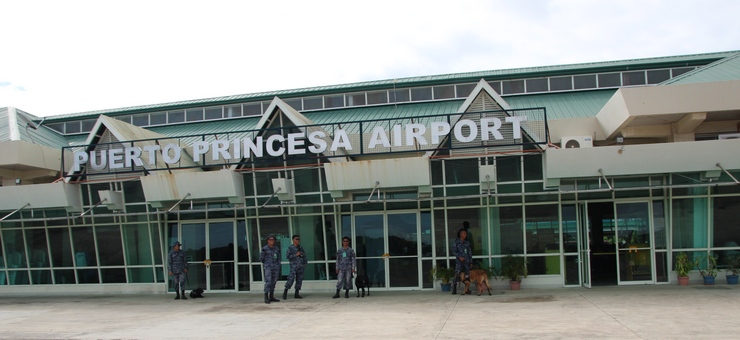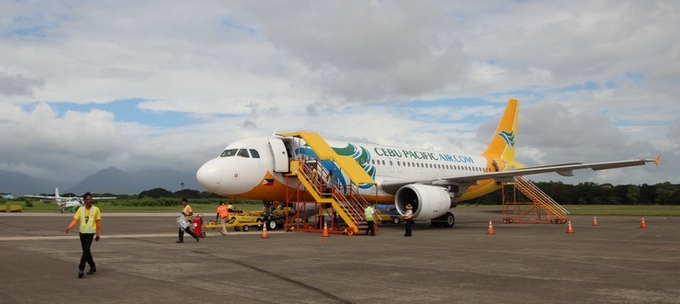 I booked Cebu Pacific in LA, round airfare from Manila was $92.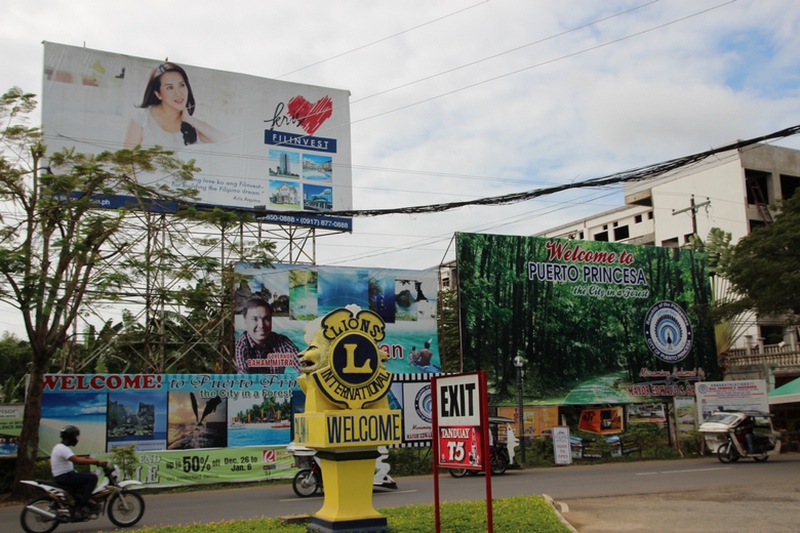 A block from the airport, this is the main street - J. Rizal Avenue.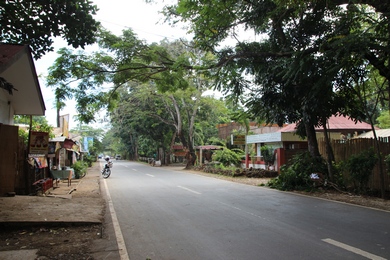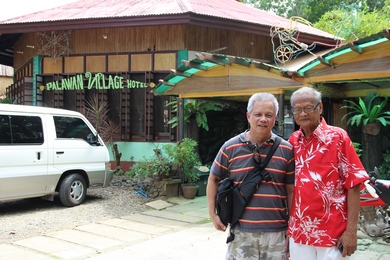 Ely Aglibut, UPD'60, dropped in at my hotel, a 10-minute walk from the airport. Ely, originally from Narvacan, Ilocos Sur, had relocated in Puerto Princesa and became the vice president of Palawan State University. We had lunch at Chow King and, as usual, retold frat stories. I reminded him of a rumble with a law fraternity in '66. He was between Tito de Santos'63 and me at the front line on our charge from the College of Veterinary Medicine to the College of Law. Sabi niya sa amin ni Tito, "Brods, basta paki alalay lang ang paa ko". For those who might not know the story, Ely had accidentally shot himself in the leg with his .45 caliber pistol when he was personally tracking down a rival law frat man. As Ely recounted, later when this co-ROTC officer who had befriended him back asked him - "Ely, bakit mo ba ako hina-hunting noon?". Ely answered, "Wala, gusto lang kitang patayin."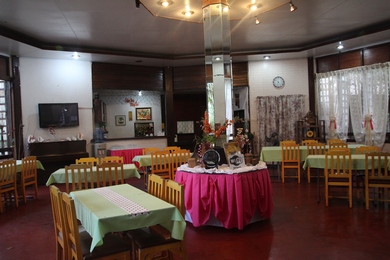 I stayed at Palawan Village Hotel, $23 a night, free breakfast. It has AC and color tv. For NorAm folks, cold showers - no hot water.
City Tour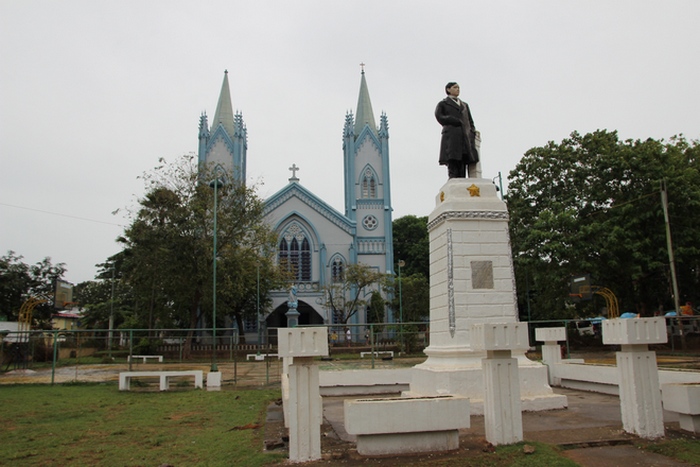 I highly recommend this informative 4-5 hour city tour, which I took after lunch with Brod Ely. The cost is 600 Php, about $15, with free pick-up and drop-off at your hotel, in an air-conditioned coaster and with a tour guide. It takes you downtown and to the harbor, parish church, Plaza Cuartel, Crocodile Farm, Iwahig Penal Colony, Rancho Santa Monica/Mitra Ranch, Bakers Hill, Binuatan Creations and ends at the Market Mall or "tianggue" where you can shop for delicacies and souvenir items before going back to your hotel.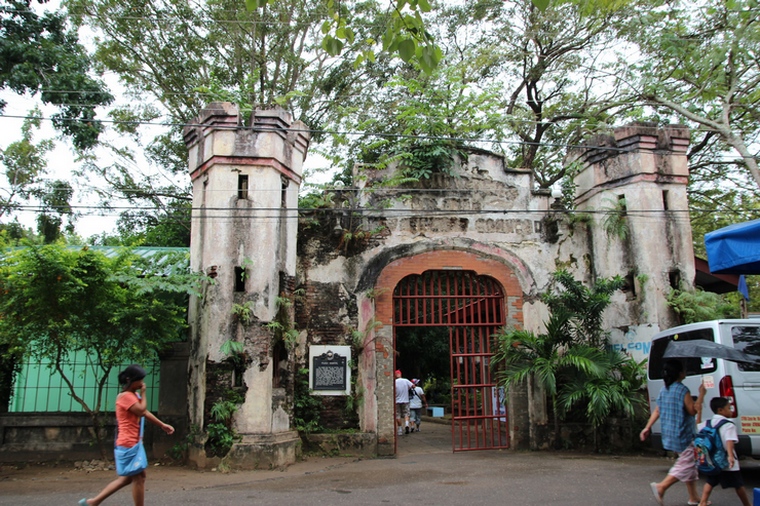 Plaza Cuartel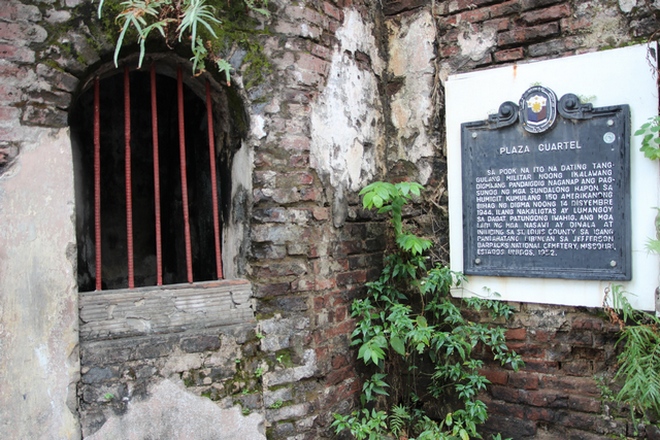 This was the opening scene of the movie "The Great Raid" where 150 American POWs
were burned alive and/or shot by Japanese troops inside this bunker.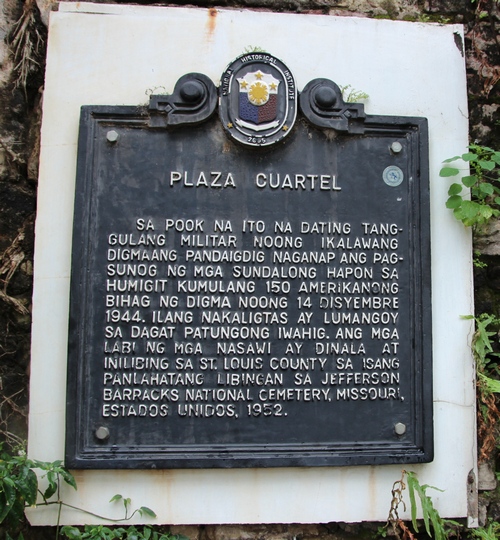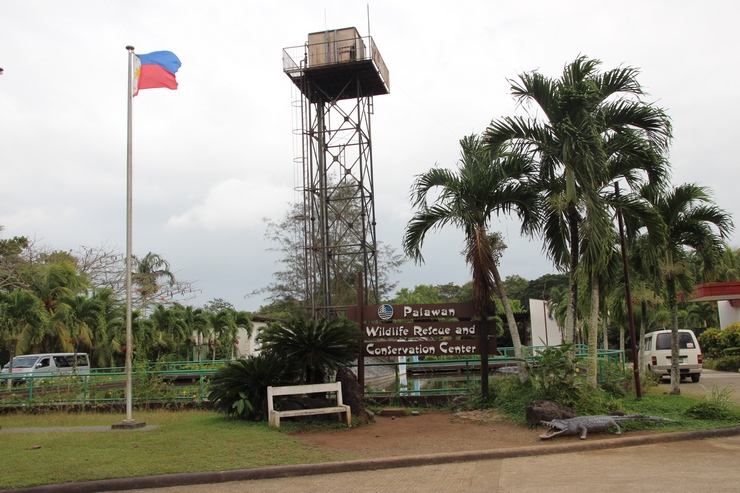 Dr. Joe Diaz wrote about the Palawan Wildlife Rescue and Conservancy Center in the
Environmental Awareness Special (click>>"Lolong - Lessons in Managing Large Crocodiles").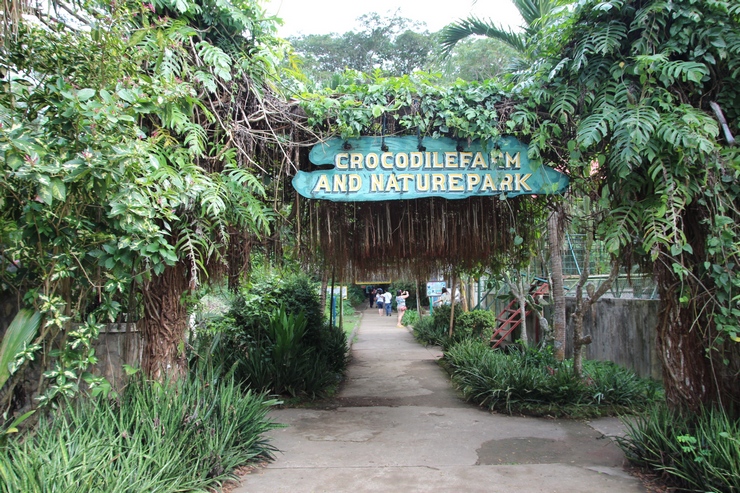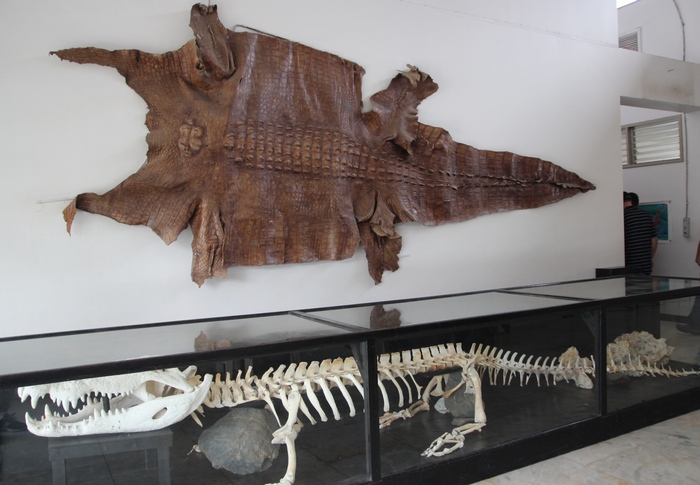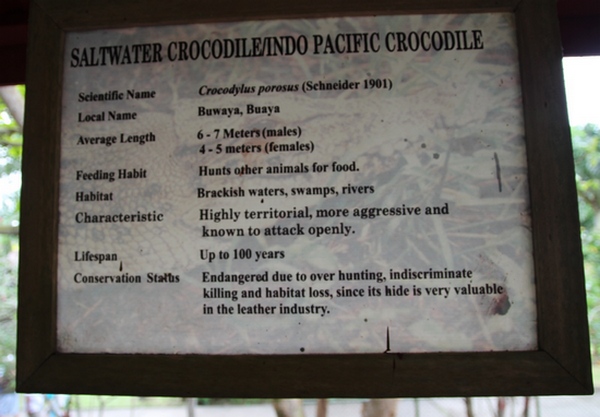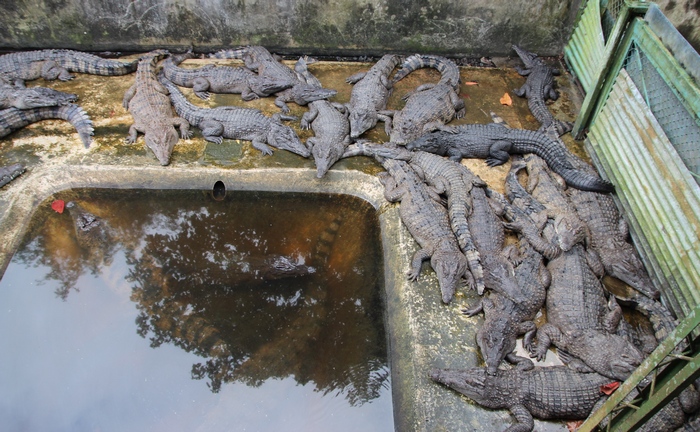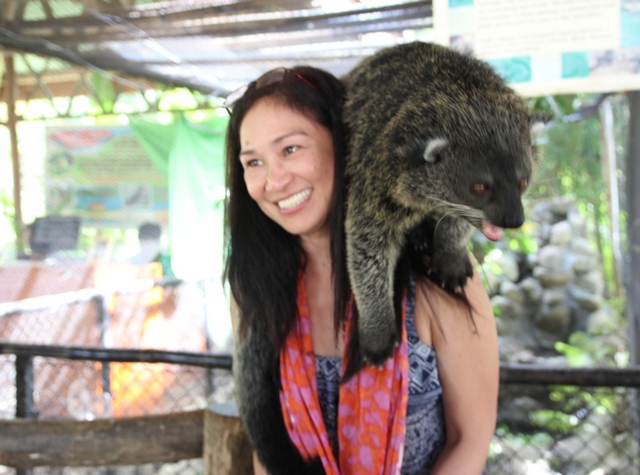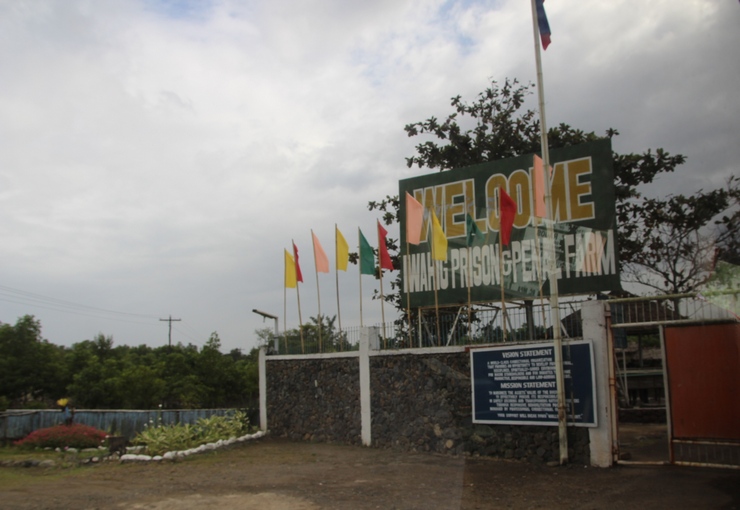 A "homey" prison without walls where inmates are not locked. They farm, fish and make handicrafts which they could sell.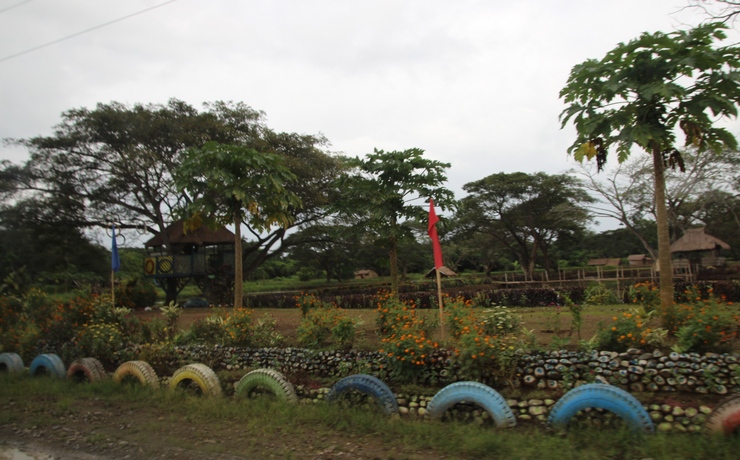 Inmates are color-coded. Those in brown shirts, ready to be released, can roam around.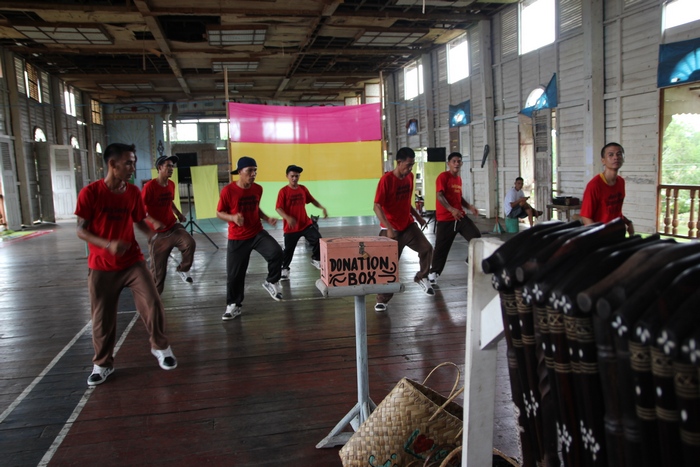 When visitors arrive, inmates perform dance routines to entertain them at the visitor center.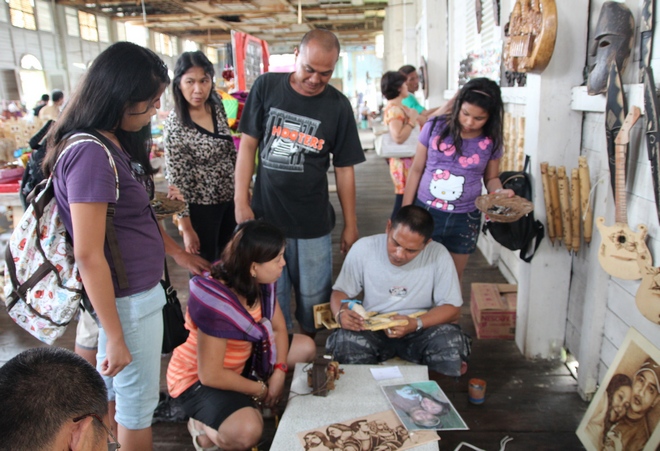 Inmates make quality handicraft and souvenir items. "A good place to bring dignity back in a man", one remarked.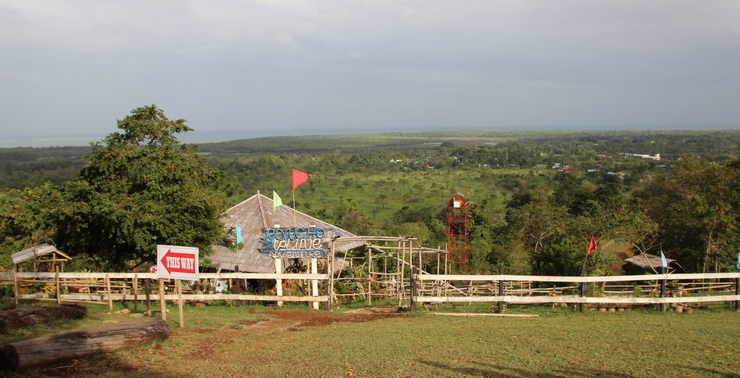 Rancho Santa Monica, aka Mitra Ranch, provides a good view and also has a zipline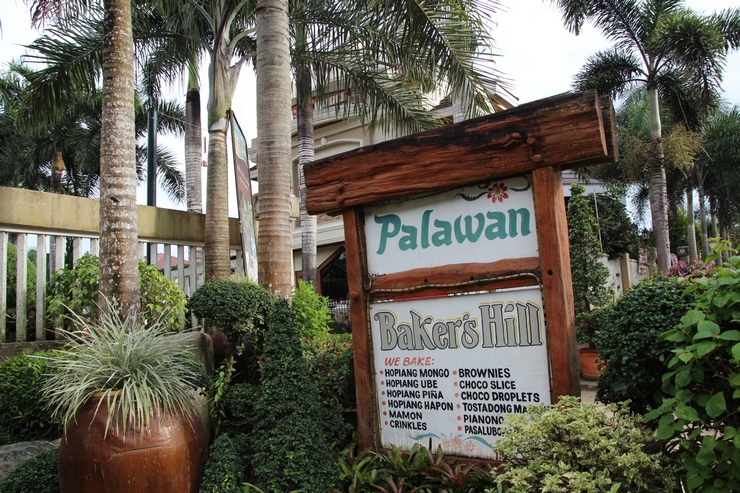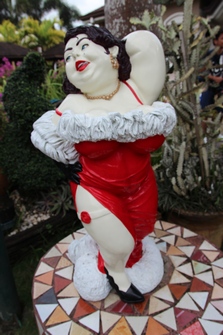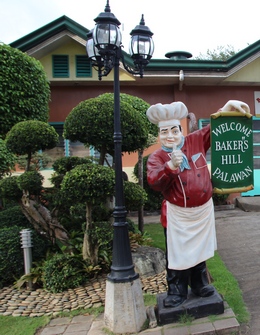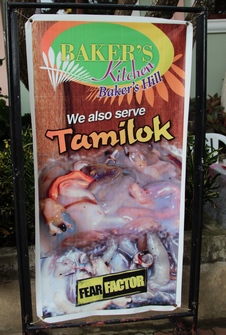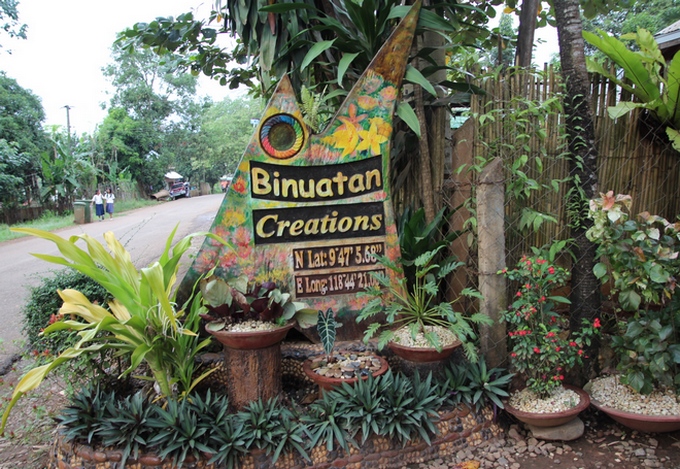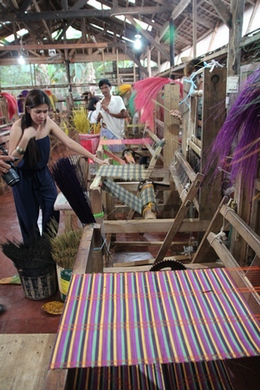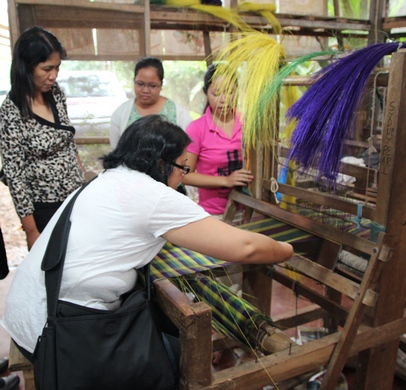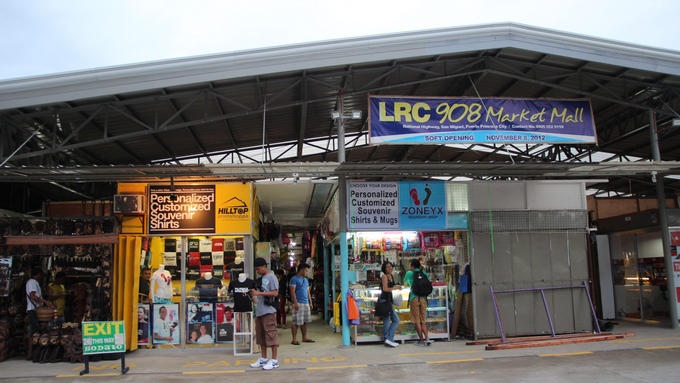 Subterranean/Underground RiverTour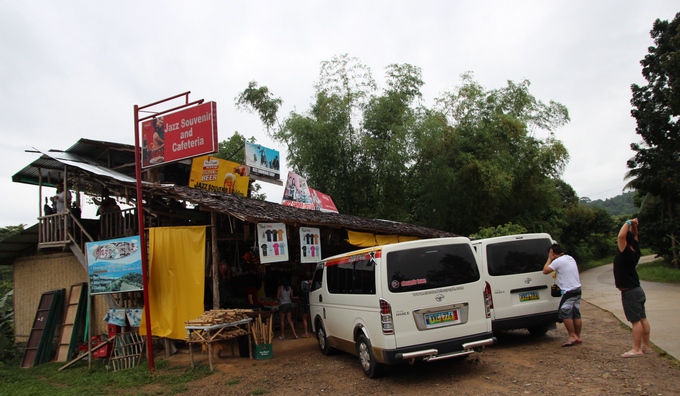 I booked the Underground River Tour in advance for 1,700 Php ($43). This is a must-do as only 200 permits are issued daily. The whole day tour starts with a 7-8 morning pick up at the hotel and a 50-km. ride to the town of Sabang. A pump boat takes you to the cave. Free lunch is provided at one of the seaside sites in Sabang. On the way back, there is a stop at Ugong Rock Adventures.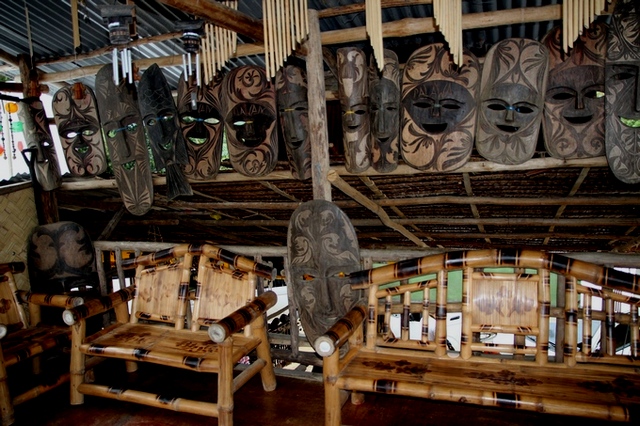 At a roadside store, coaster stops for drinks and shopping.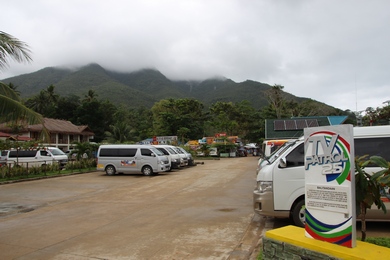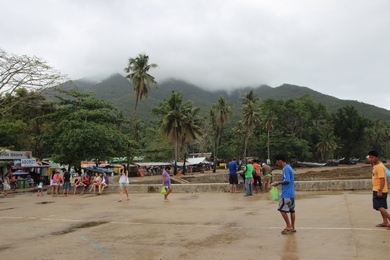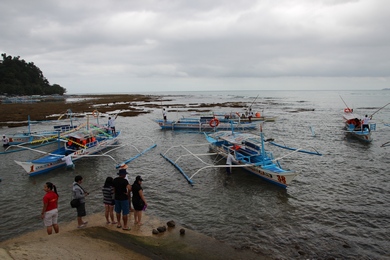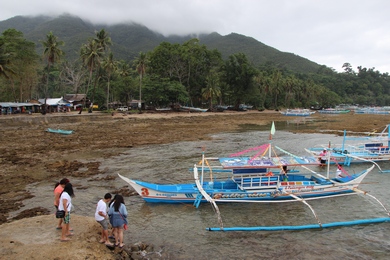 Busier than usual this day as the Coast Guard had cancelled all trips the previous day due to choppy waters.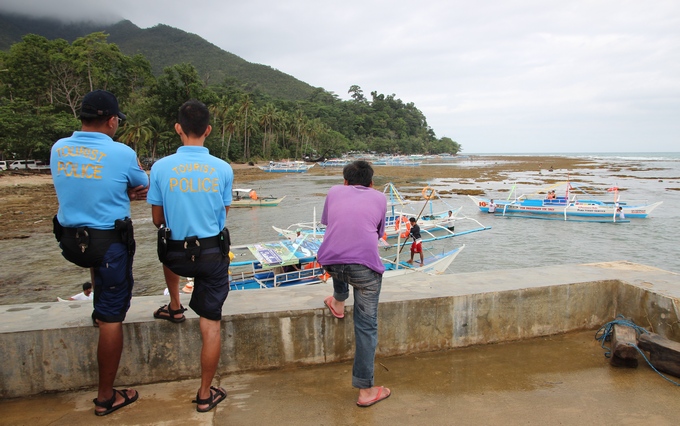 Tourist police keep an eye on the boat activities in Sabang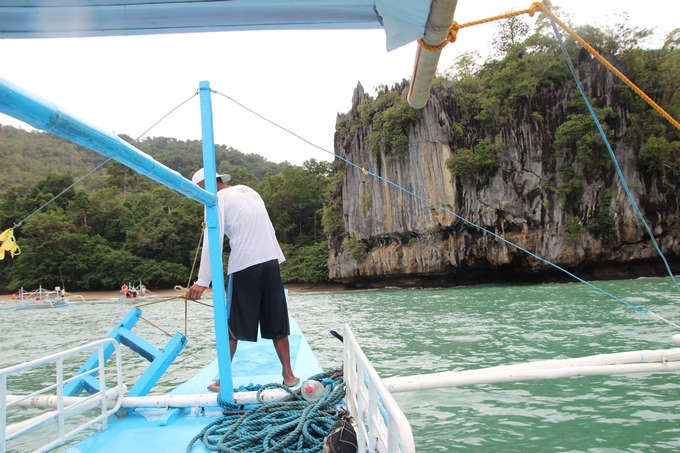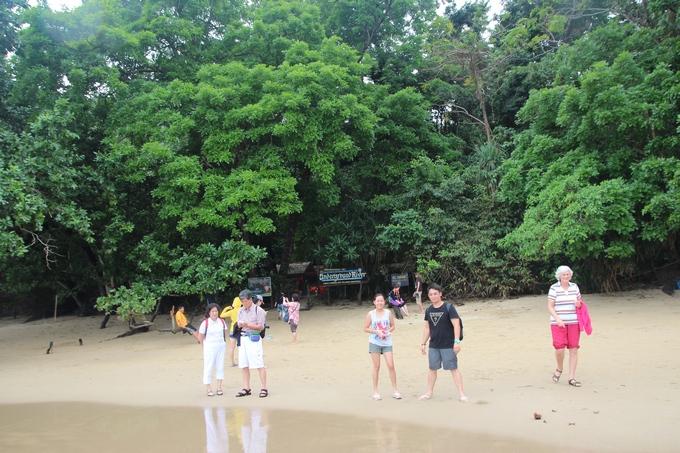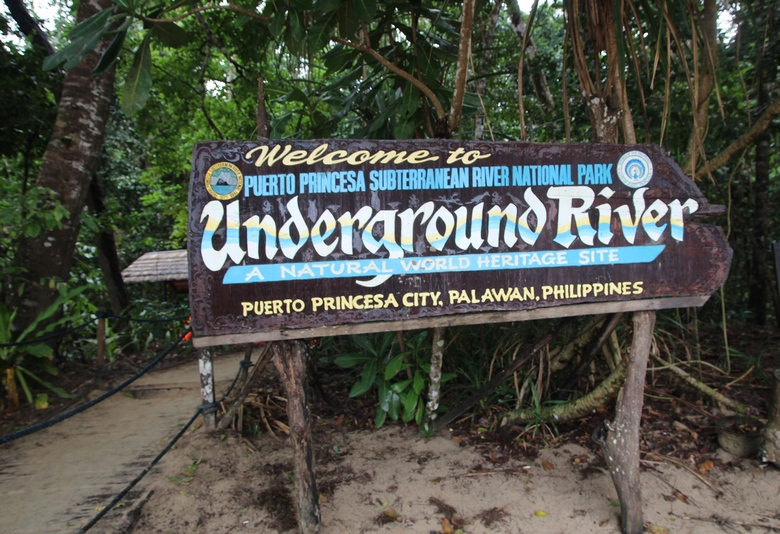 The Puerto Princesa Subterranean River National Park was chosen as one of the "New 7 Wonders of Nature" in 2011. The park has a limestone karst mountain landscape. The main attraction here is St. Paul's Underground River Cave - a more than 24-km. long cave, which contains an 8.2-km. long underground section of Cabayugan River. The cave includes major formations of stalactites and stalagmites and one of the largest cave rooms in the world. The Park has a range of forest formations representing 8 of the 13 forest types found in tropical Asia. Birds comprise a total of 165 species, such as the blue-naped parrot, Tabon scrub fowl, the Palawan hornbill and the white-breasted sea eagle. There are also some 30 mammal species and 19 species of reptiles, such as the Palawan porcupine, the reticulated python and the monitor lizard. The sea cow and the hawksbill sea turtle feed in the coastal area of the park.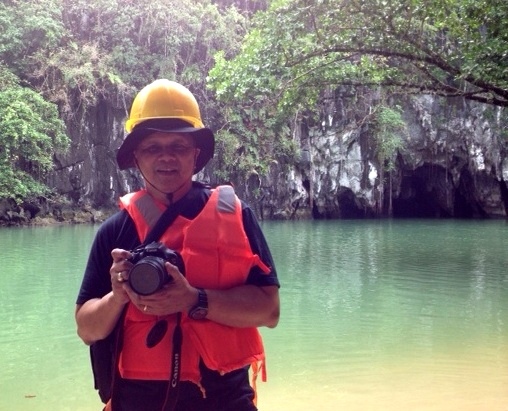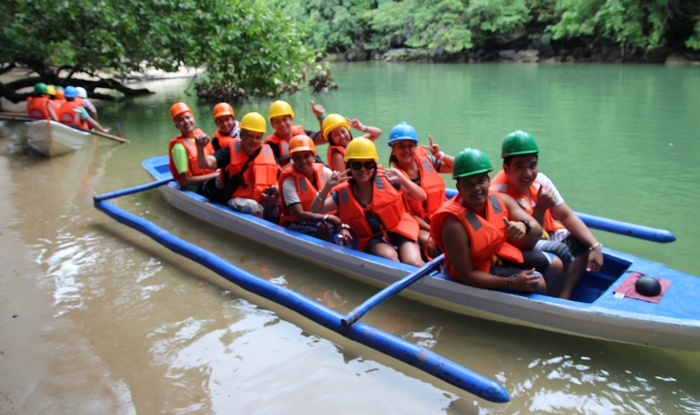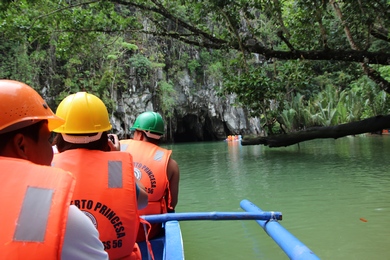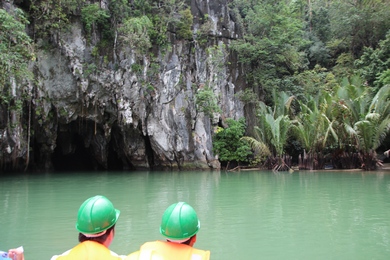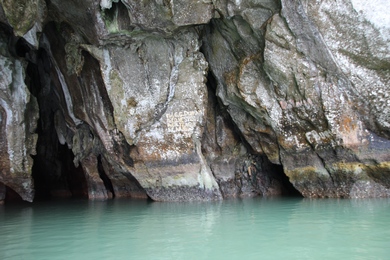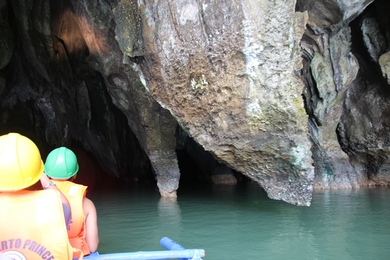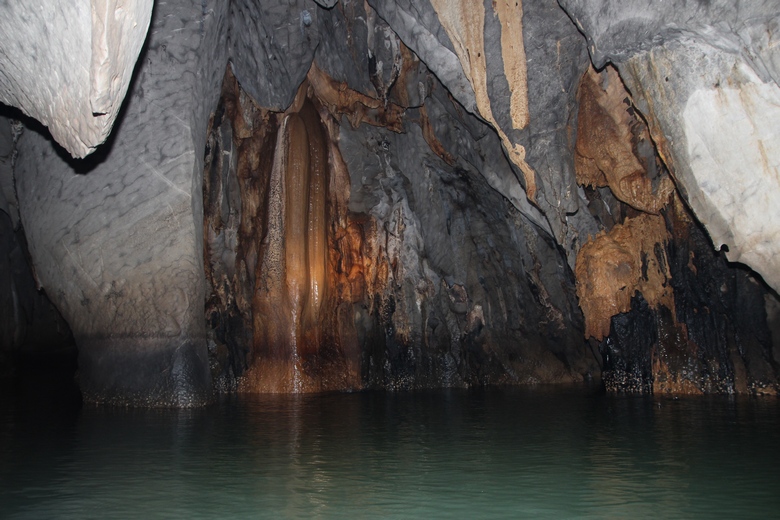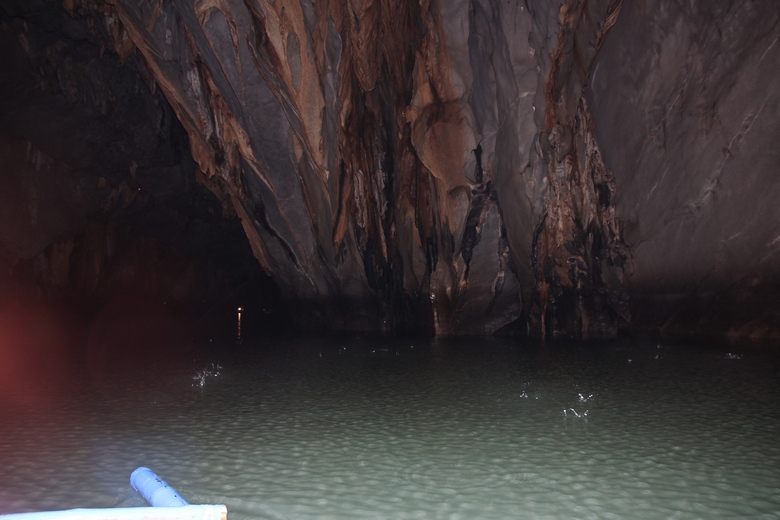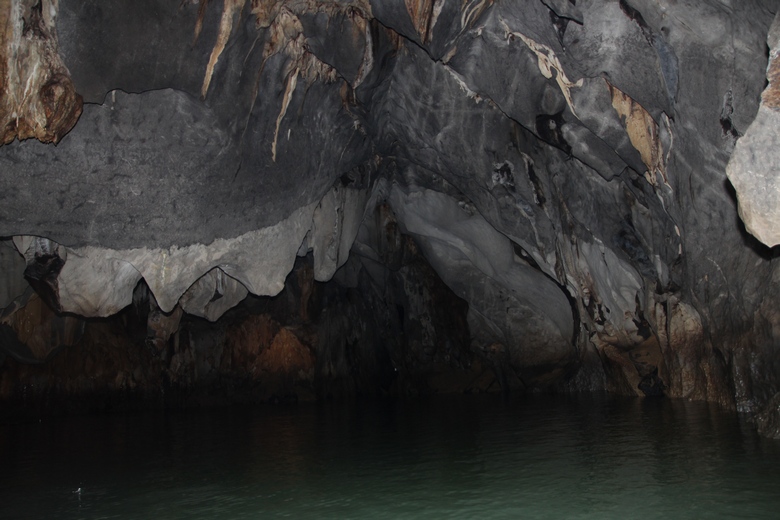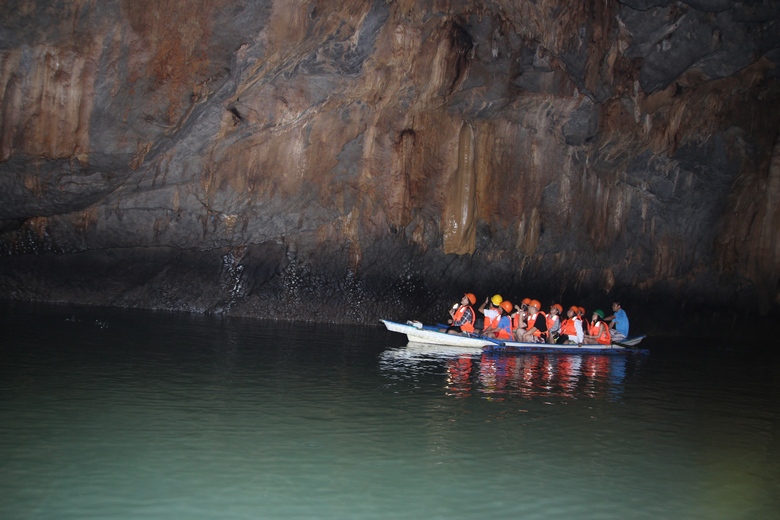 It was completely dark inside the cave except for the searchlight held by the front passenger and the flash from cameras.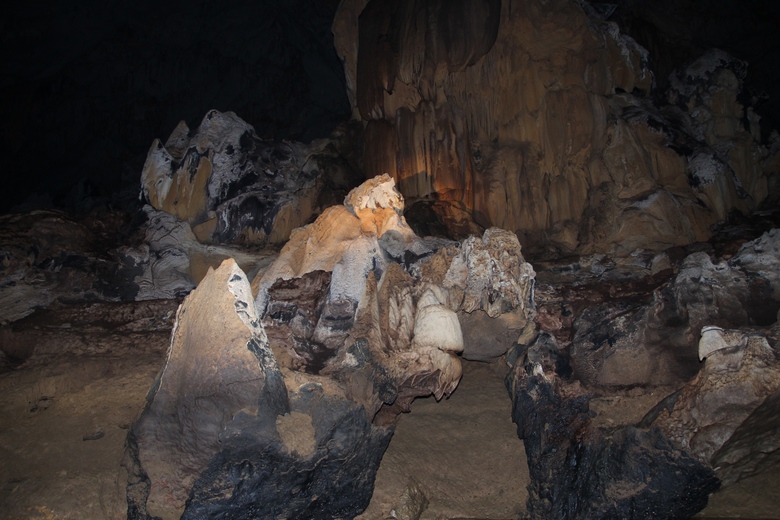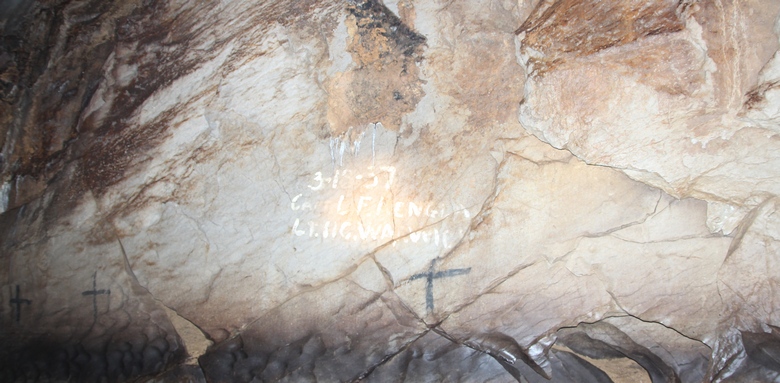 A graffiti dated 3-18-37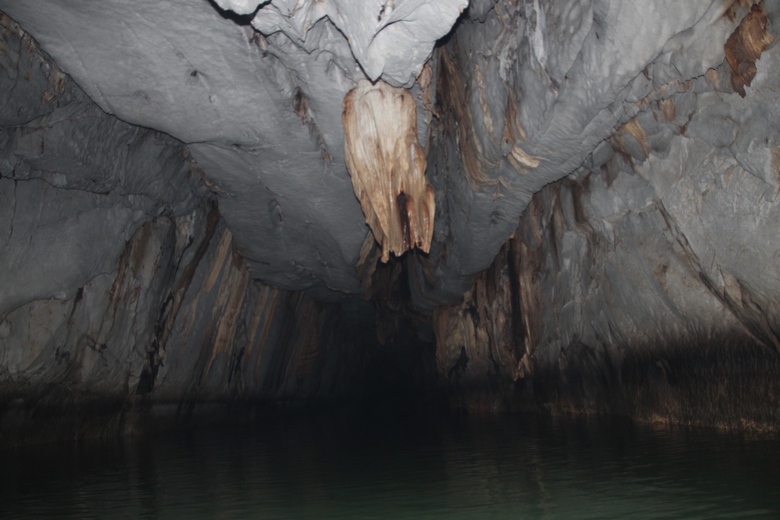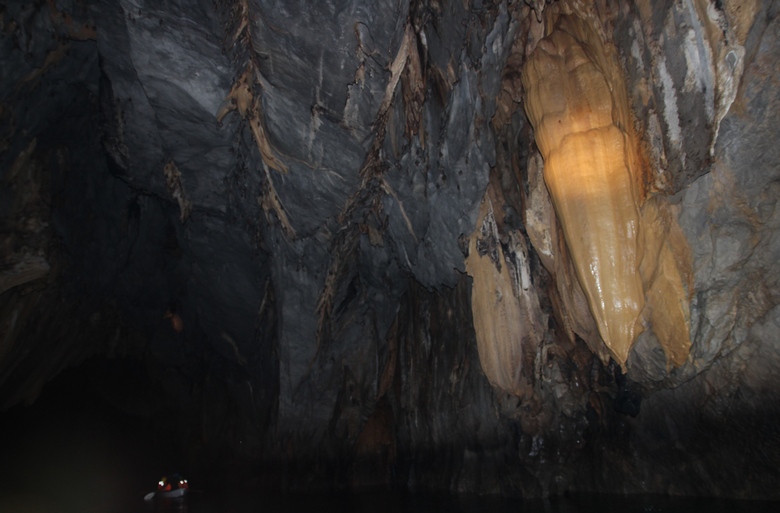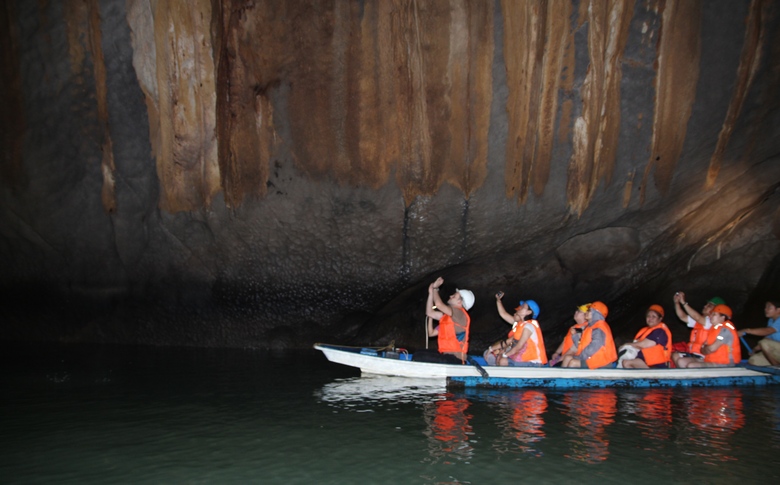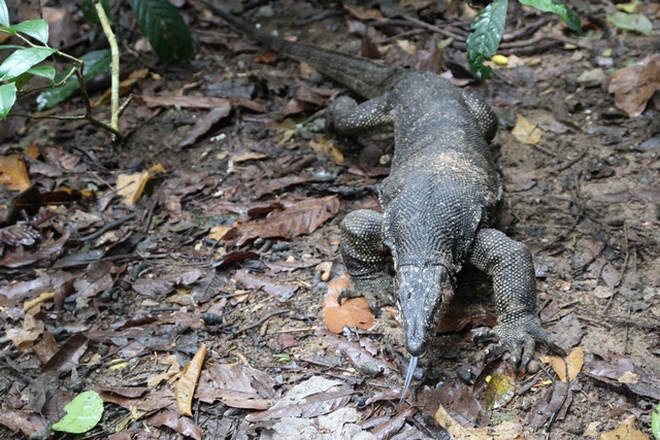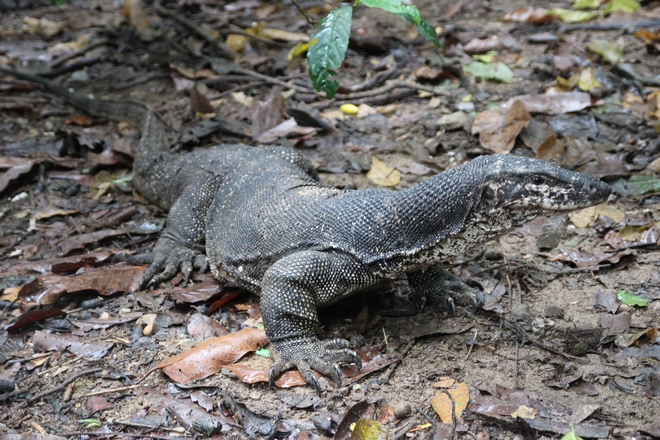 A couple of monitor lizards or "bayawak" saunter around the park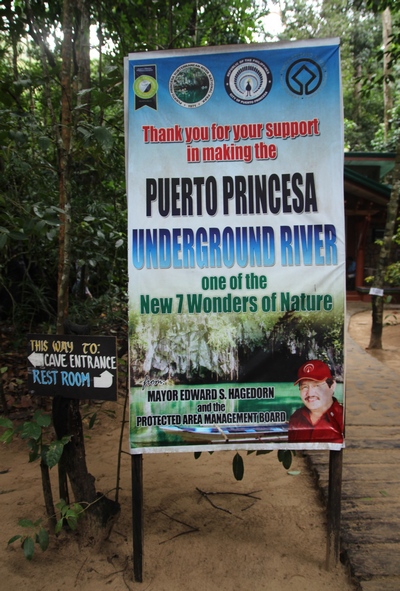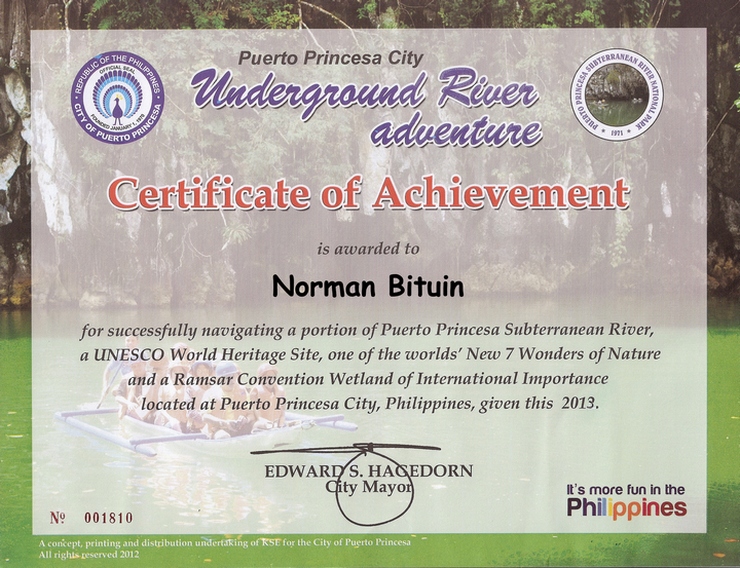 50 Php gets you this "Certificate of Achievement" signed by the city mayor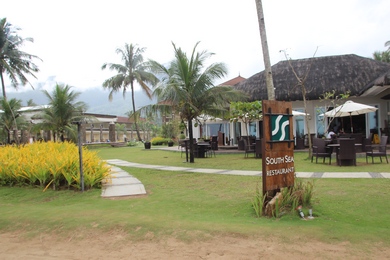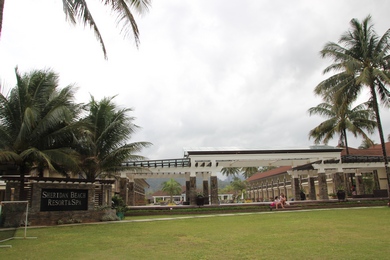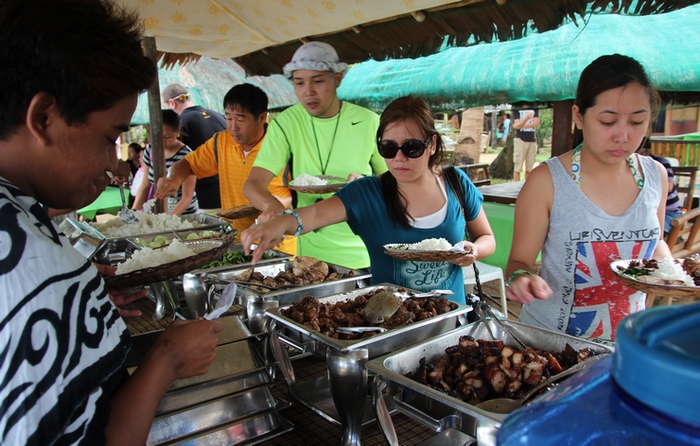 Lunch is included at Sabang beach.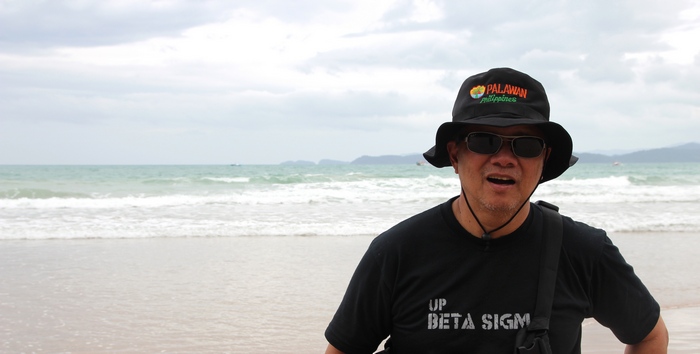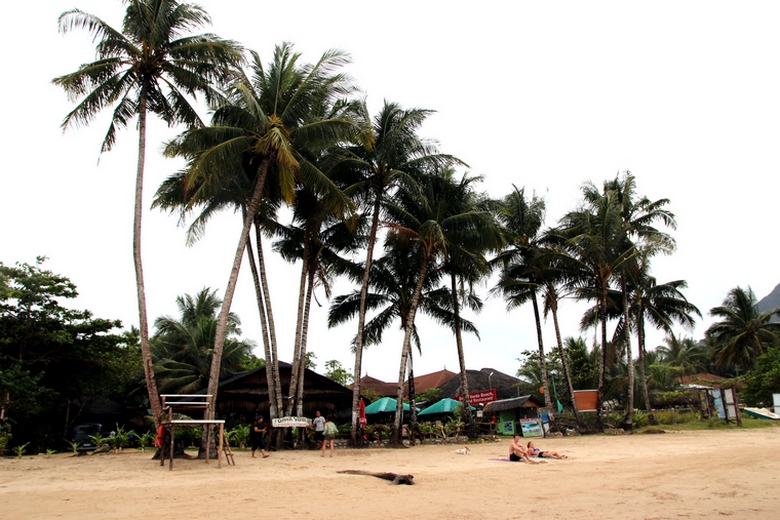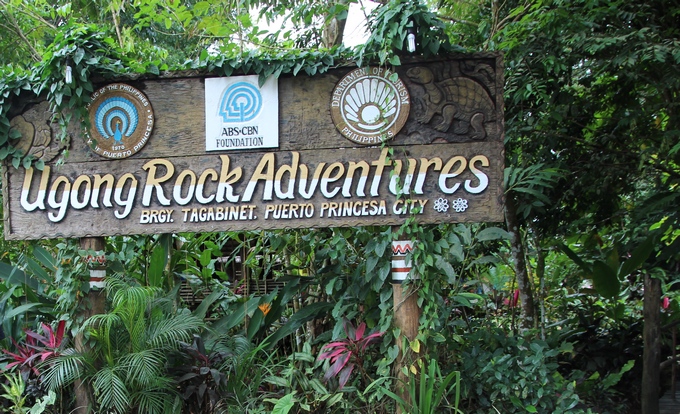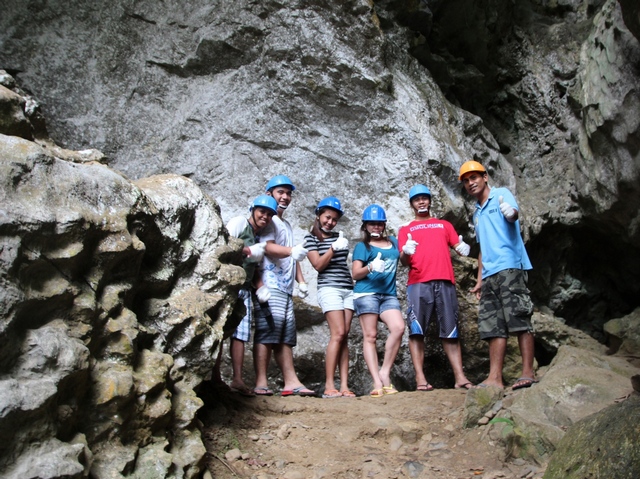 Caving and spelunking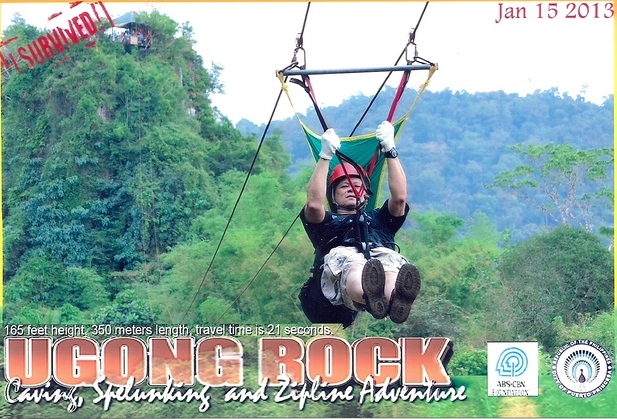 "I Survived" - going down the zipline
Honda Bay 3-Island Hop: Isla Pandan, Pambato Reef and Courie Island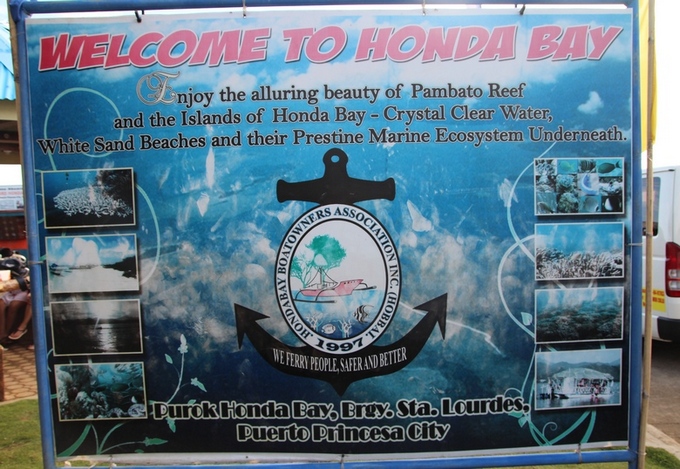 This is another tour that will fill up the day. Again, free shuttle and lunch. Cost is 1,300 Php ($33).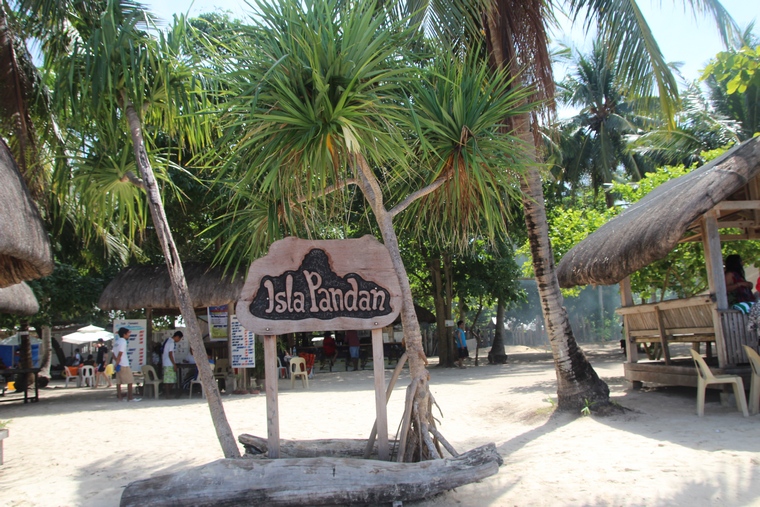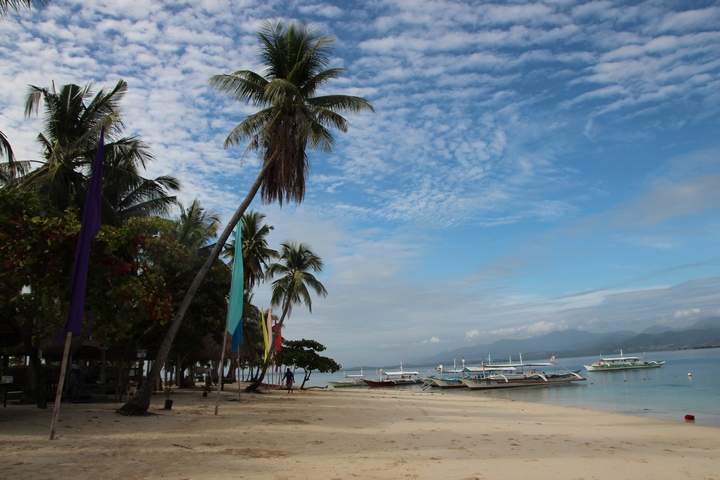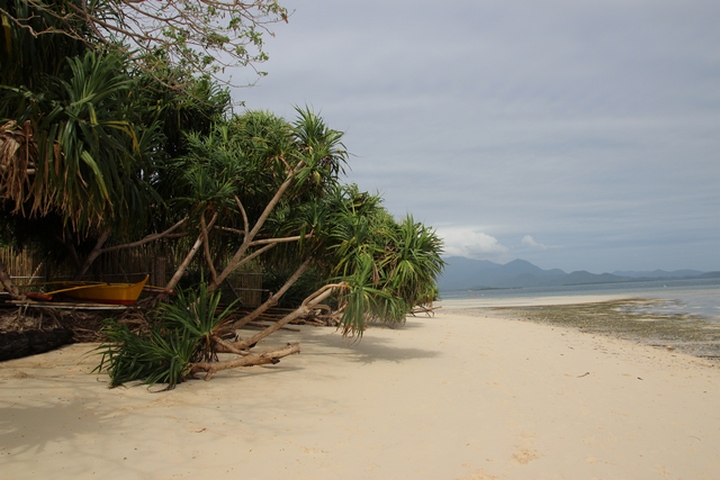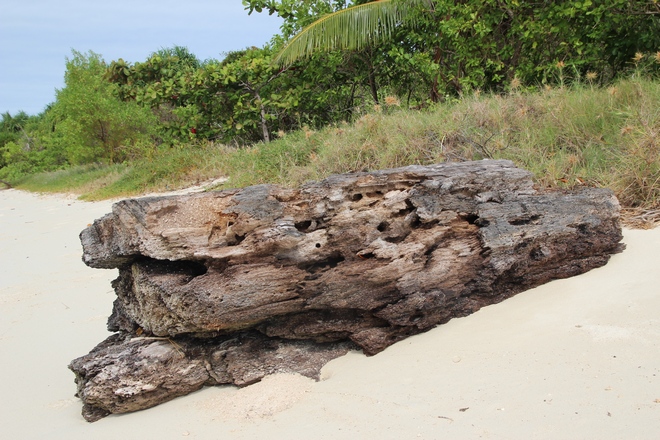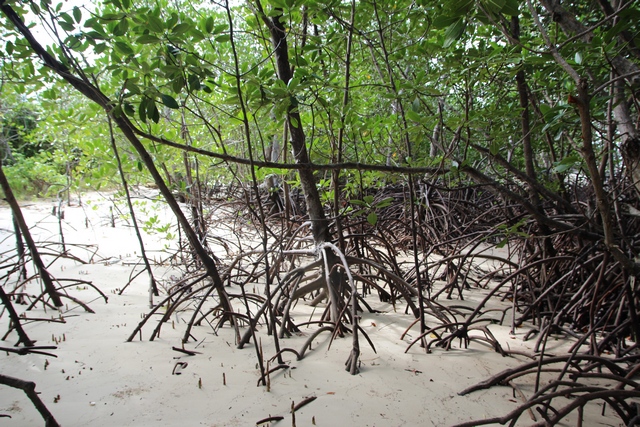 Dorbs, lunch lang ang libre, hehe...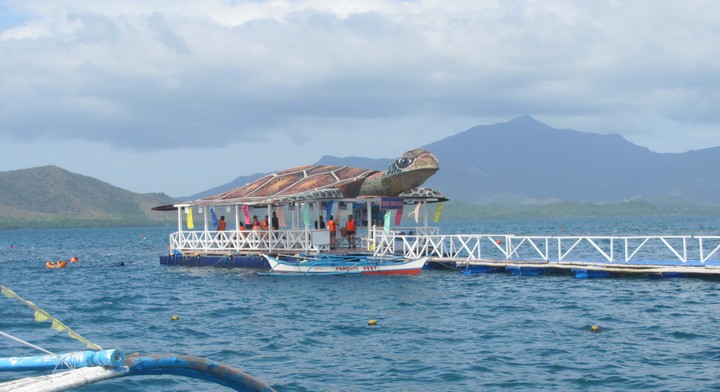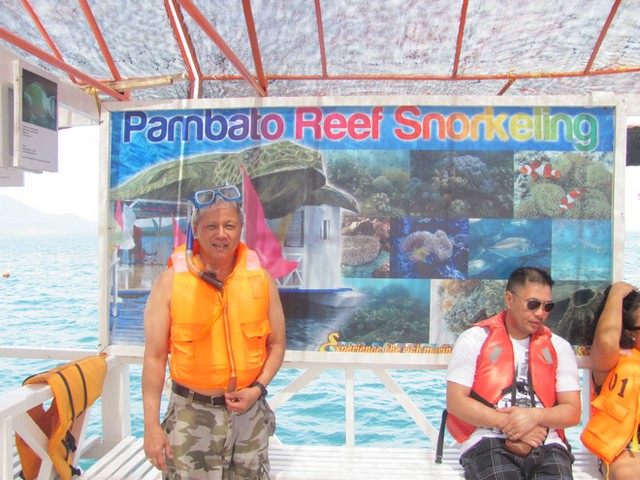 My first time to snorkel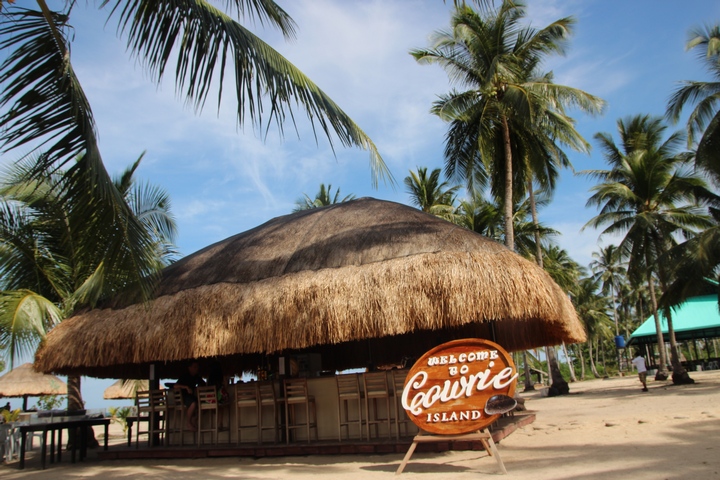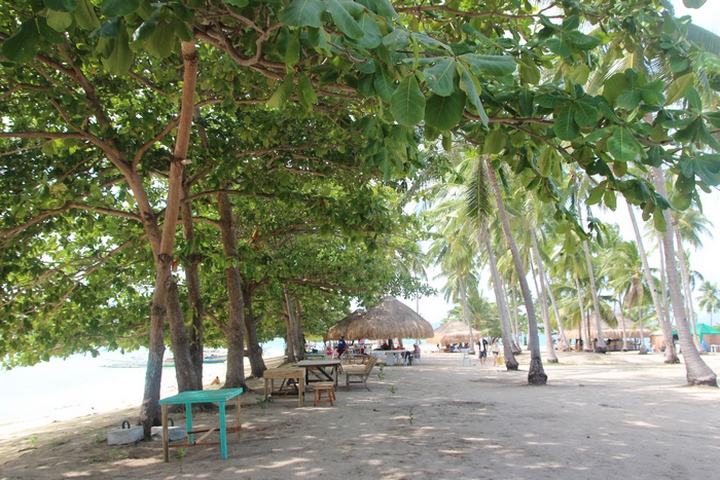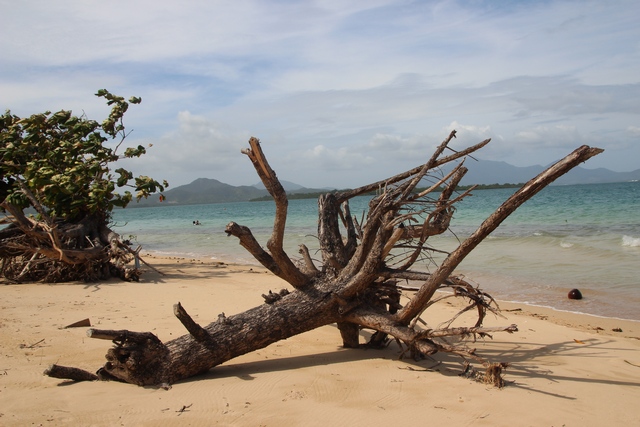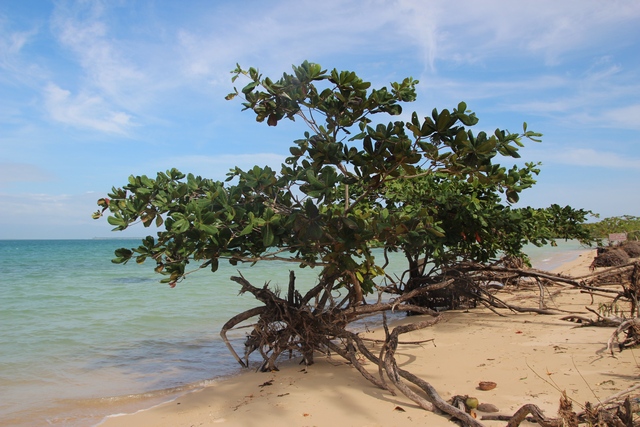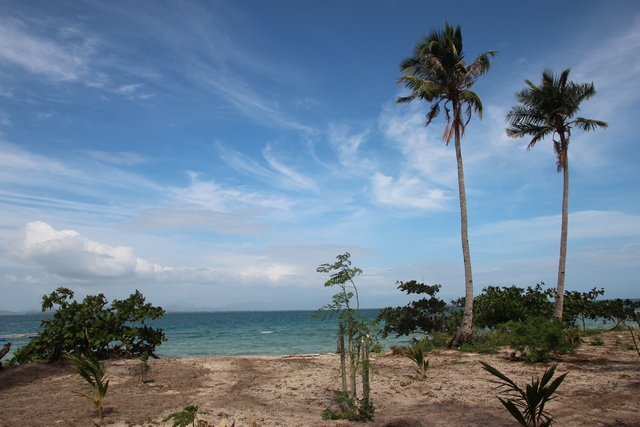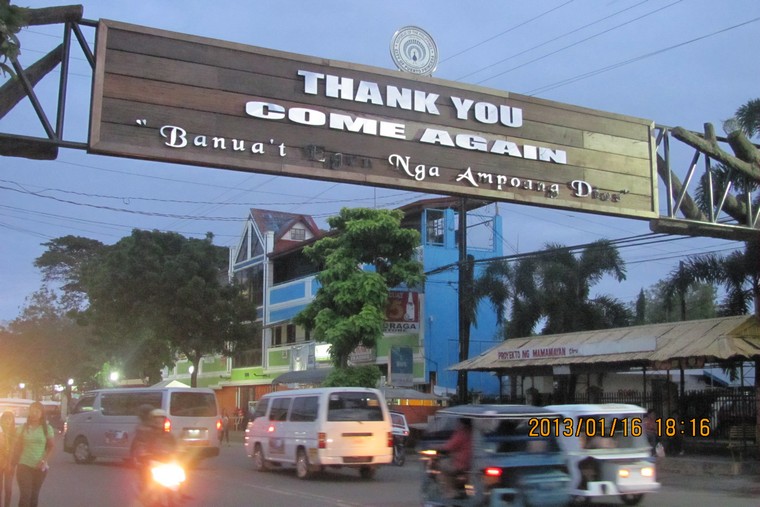 If I had a couple more days, I would have wanted to go to El Nido on the northeast side of Palawan. Maybe next time.
~~~~~~~~~~~~~~~~~~~~~~~~~~~~~~~~~
Hong Kong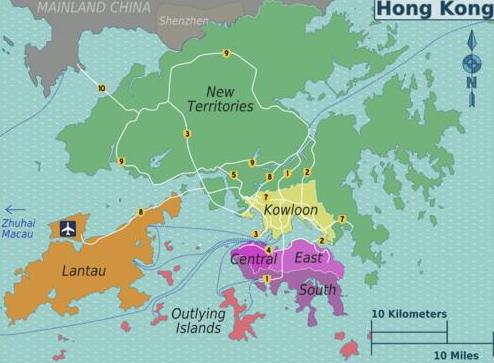 Hong Kong is one of the two Special Administrative Regions of the People's Republic of China, the other being Macau. It has a land mass of 1,104 km2 (426 sq mi) and a population of 7 million people. Hong Kong is one of the most densely populated areas in the world and is 95 percent ethnic Chinese. Hong Kong became a colony of the British Empire after the First Opium War (1839–42), occupied by Japan during the Pacific War, after which the British resumed control until 1997 when China resumed sovereignty. Under the principle of "one country, two systems", Hong Kong's constitutional document stipulates that Hong Kong shall have a "high degree of autonomy" in all matters except foreign relations and military defense. Hong Kong has a major capitalist service economy characterized by low taxation and free trade. It has one of the highest per capita incomes in the world and also has the highest average IQ score in 81 countries around the world.
The Big Buddha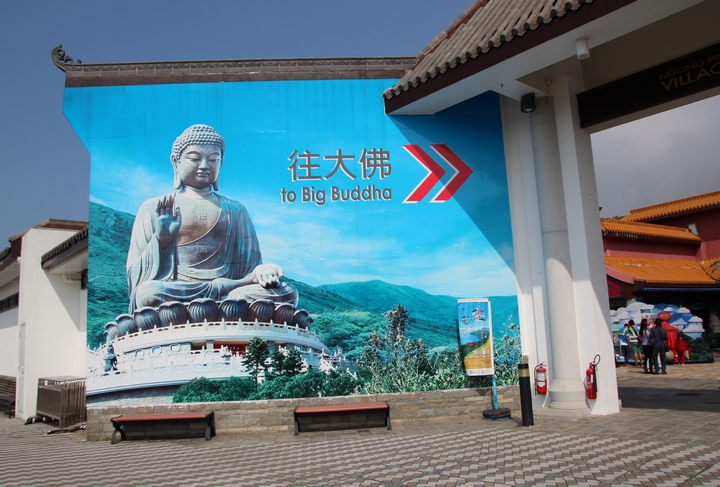 Tian Tan Buddha, also known as the Big Buddha, was erected in 1993 near the Po Lin Monastery hidden by lush, mountain scenery. Sitting 34 meters high and facing north to look over the Chinese people, this majestic bronze Buddha draws pilgrims from all over Asia. The massive Buddha took 12 years to complete. There are 268 steps to the top of the statue and to enjoy the sweeping mountain and sea views that can be seen from its base. Opposite the statue, the Po Lin Monastery is one of Hong Kong's most important Buddhist sanctums.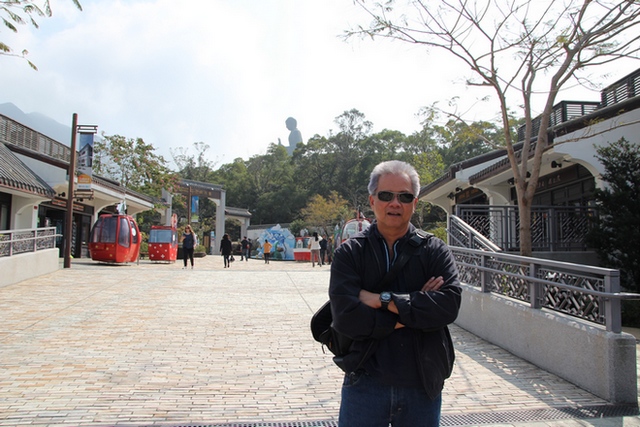 My host, Dr. Jopet Laraya'63, was tied up in Cebu teaching JC-SOMA with Ollie Jumao-as'73 to
the UP Visayas brods and to witness the Sinulog Festival, so I spent the first two days by myself.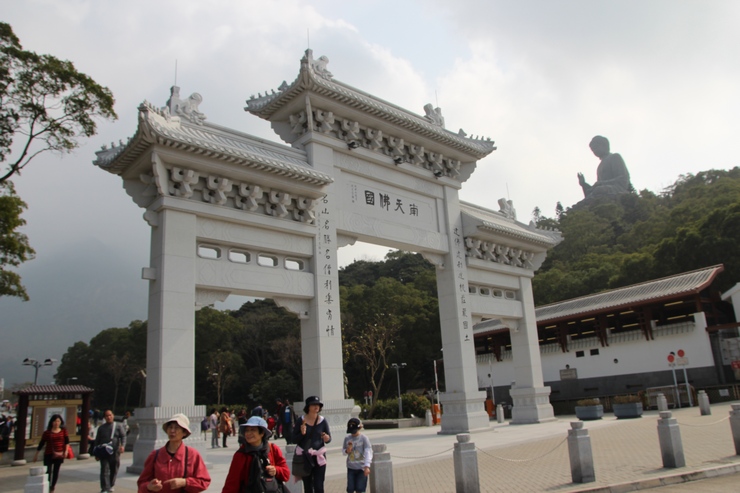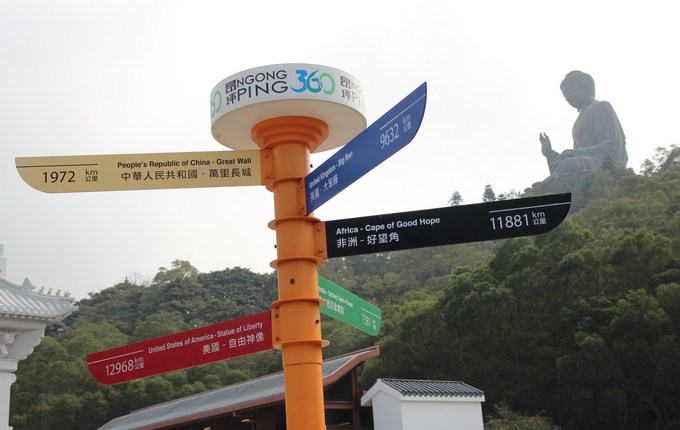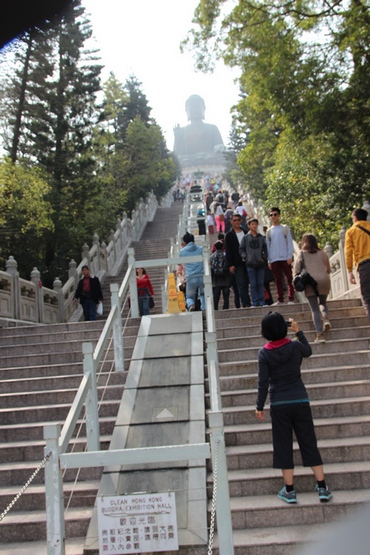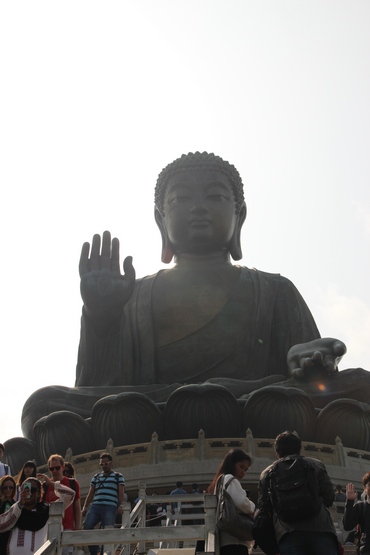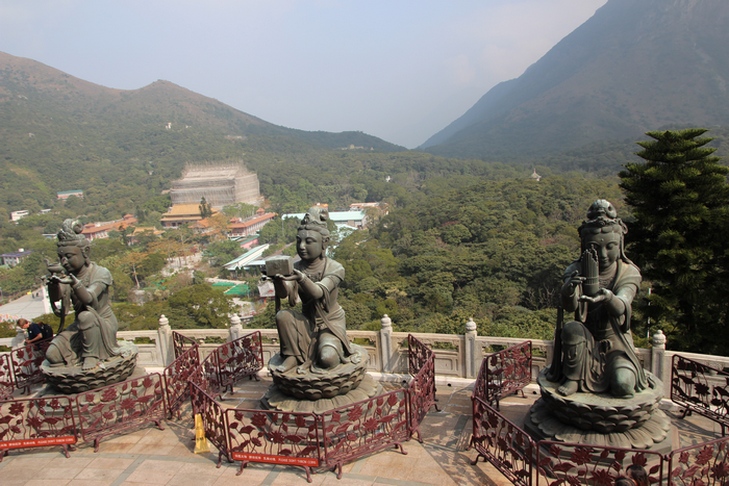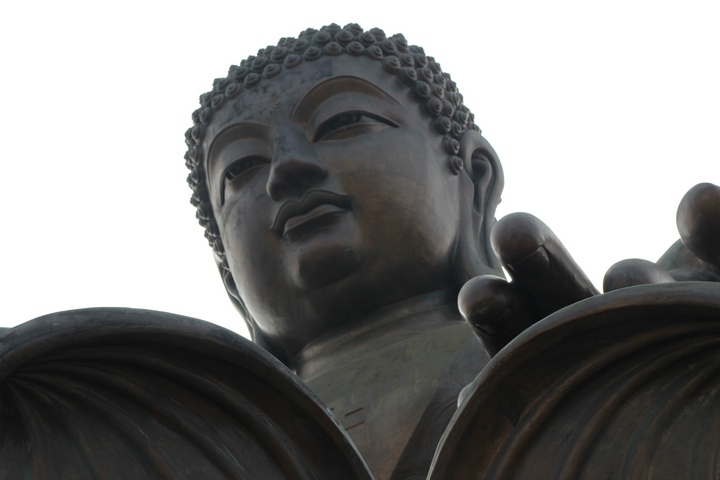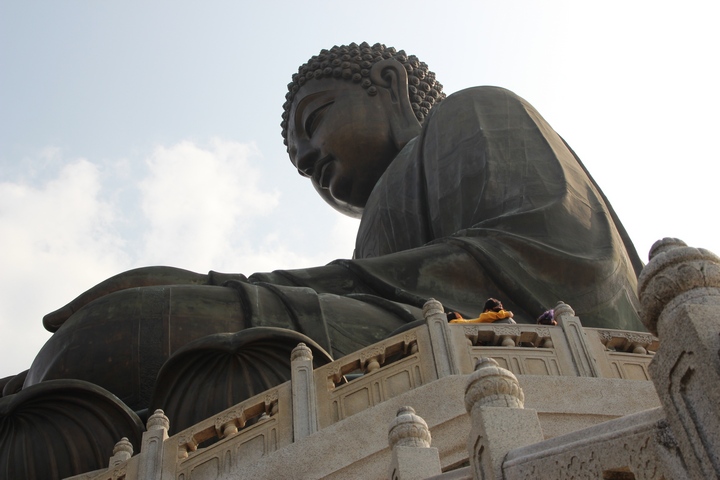 Ngong Ping Cable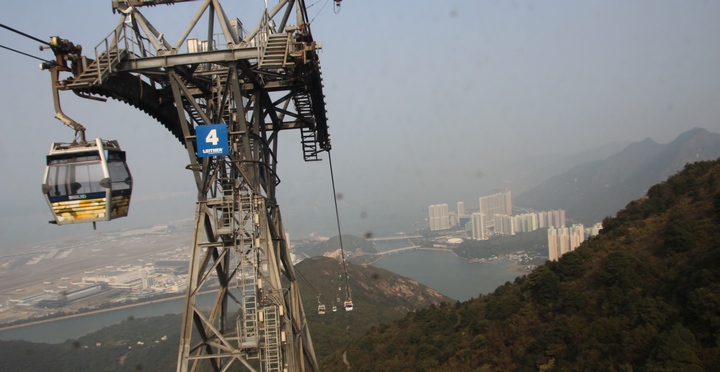 Ngong Ping Cable Car, one of Hong Kong's premier attractions, is a gondola cable car that travels 5.7 kms. between Ngong Ping Village on Lantau Island from the Big Buddha site to Tung Chung Town Center. The journey takes around 25 minutes. The cable car offers outstanding views over the lush greenery of Lantau as well as the glimmering South China Sea. The views are stunning and offer a unique opportunity to grab a bird eye's view of Hong Kong's often overlooked green jungle.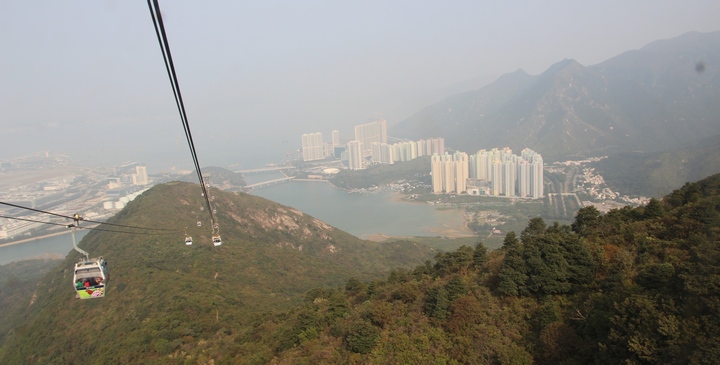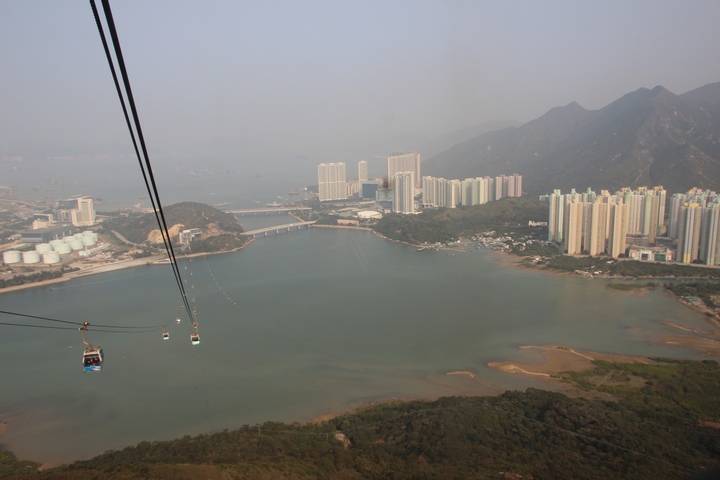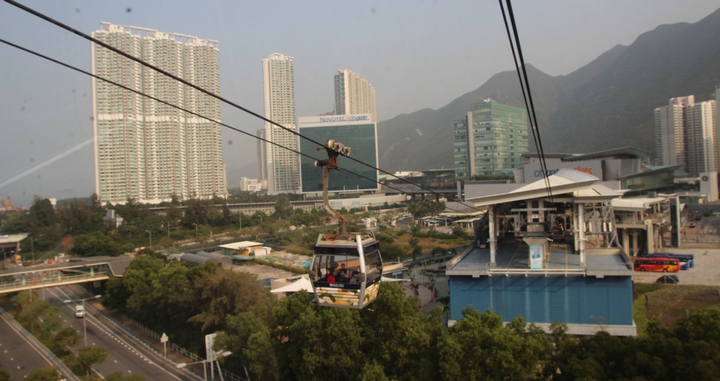 Downtown Hong Kong/Kowloon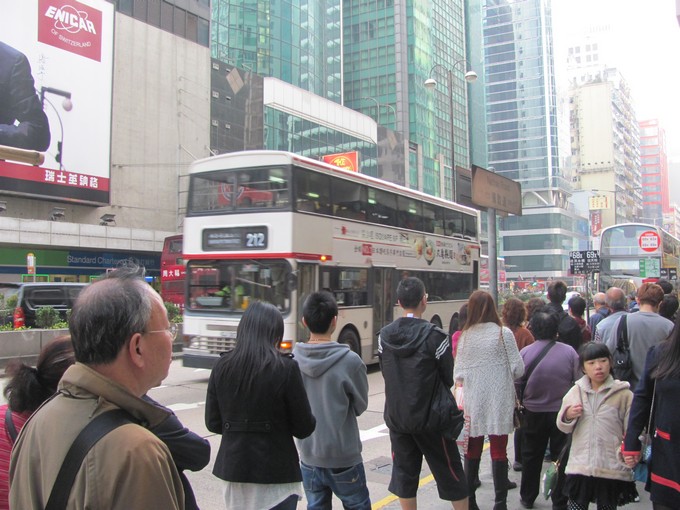 After the Ngong Ping cable ride from the Big Buddha, I took the subway and walked till night time to the harbor.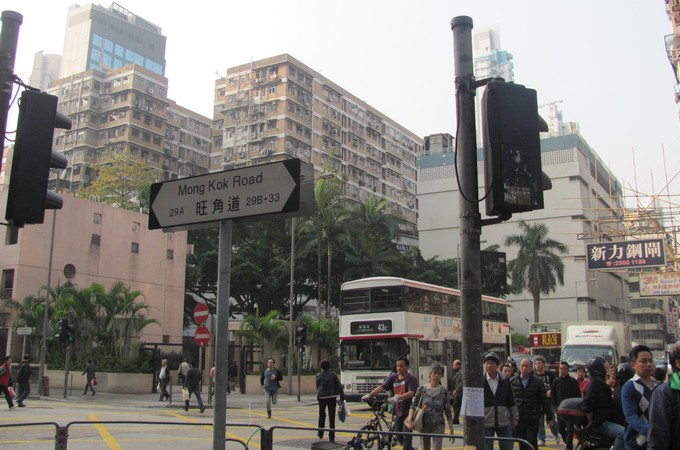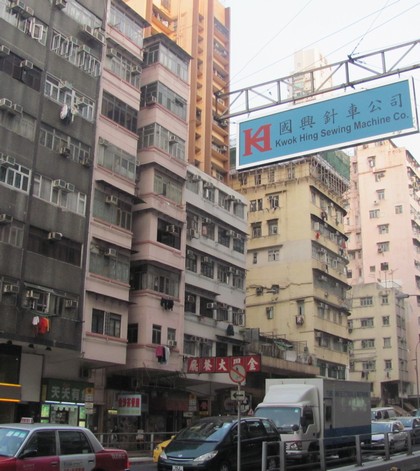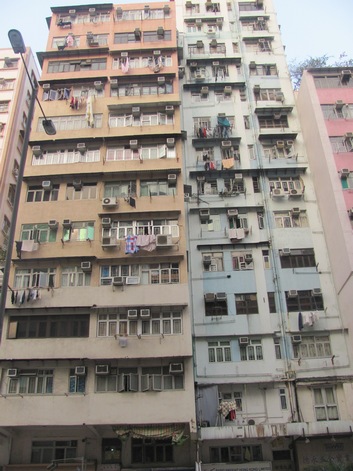 Laundry and clothes hang from high rise apartments in crowded Mong Kok with its array of markets, small stores and food stalls.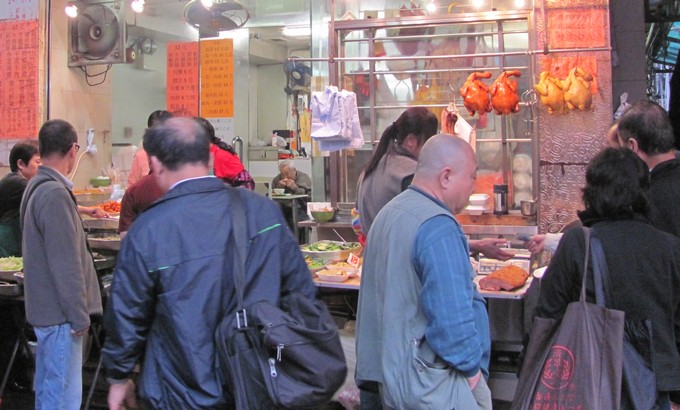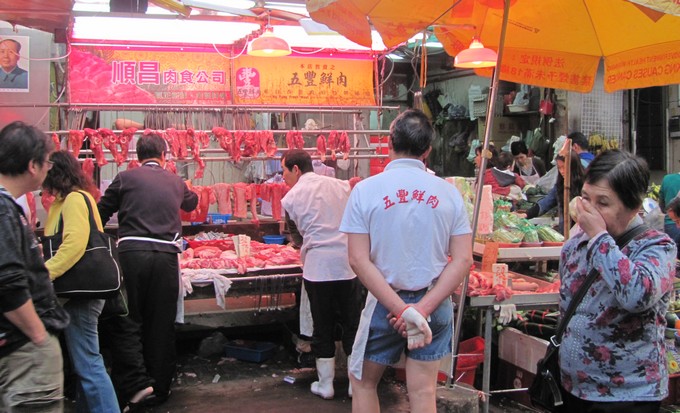 This could well be Ongpin Street in Manila. Notice Mao Tse Tung's picture on top left corner.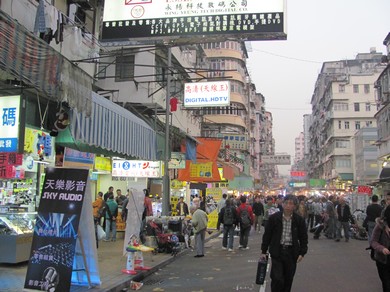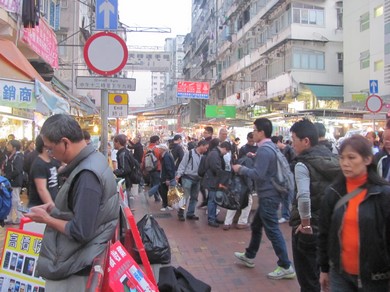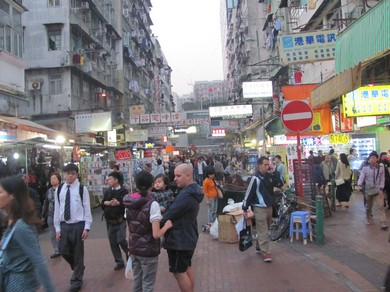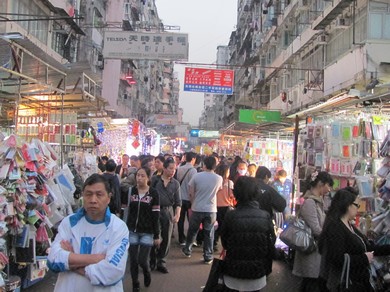 Pedestrian-only street, near Jordan station, is lined with camera, video and electronics shops.
Hong Kong by night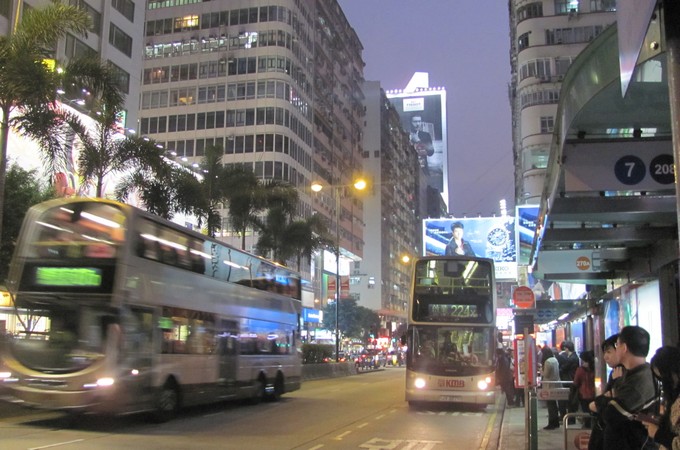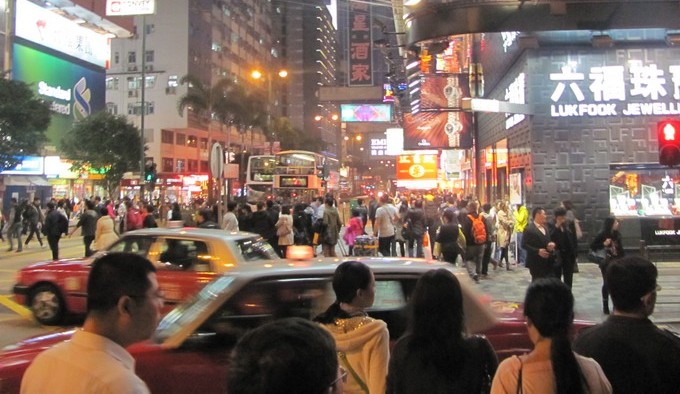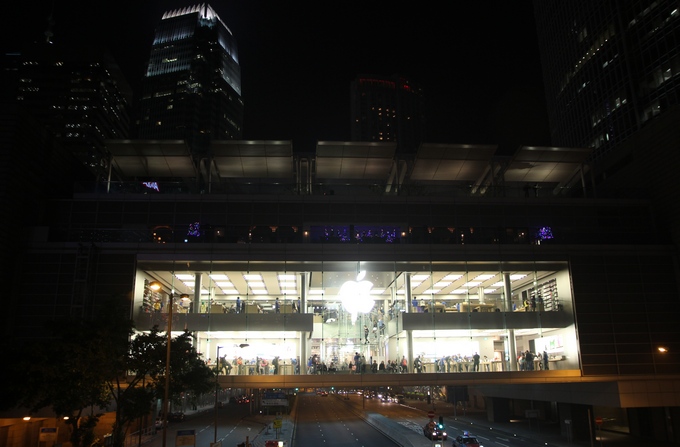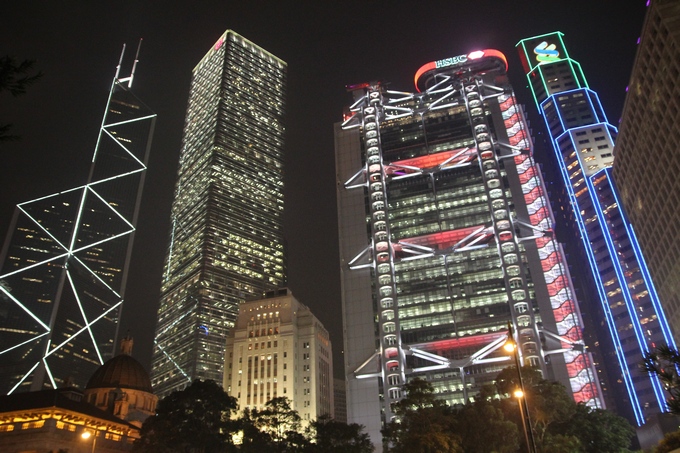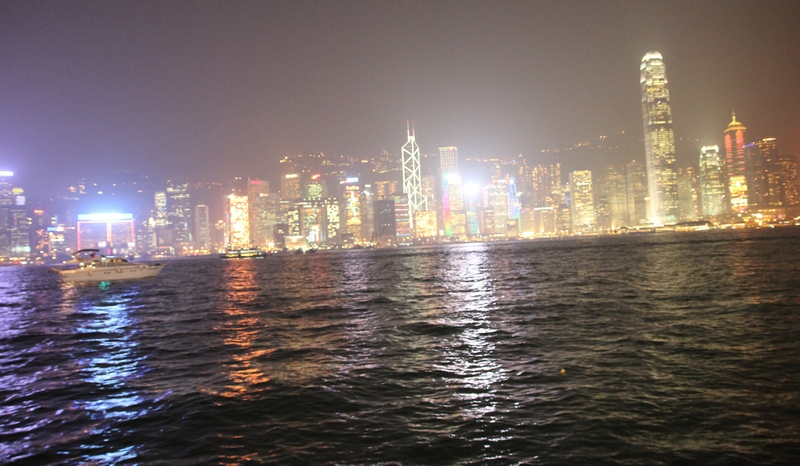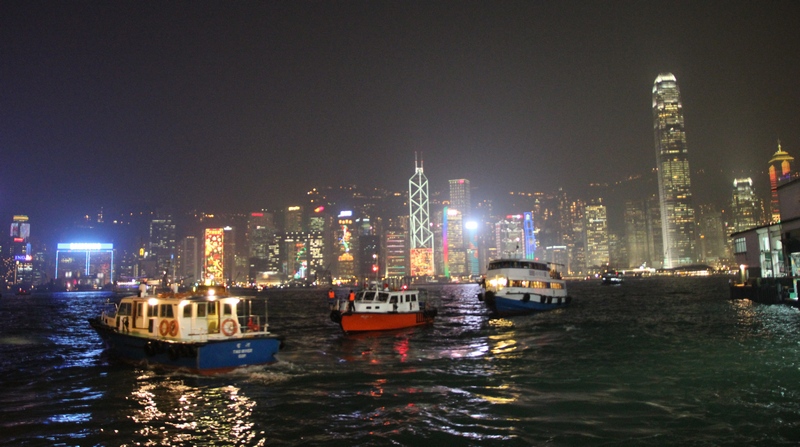 I wish I had a tripod for these Hong Kong harbor shots from Tsim Sha Tui (TST) across in Kowloon.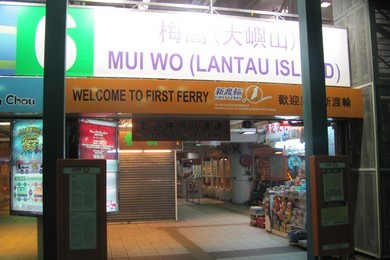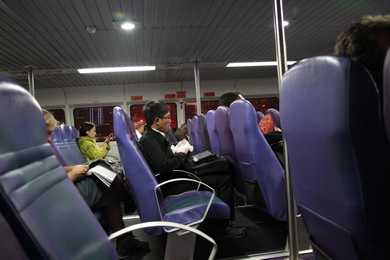 Ferry from Central Station goes to Mui Wo (Lantau Island), 30 mins.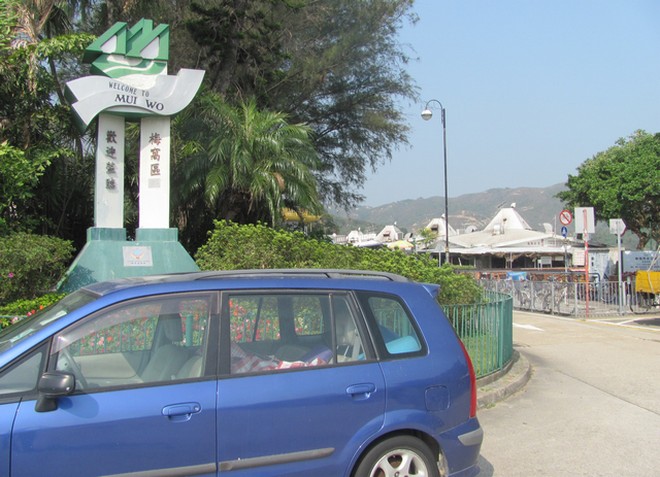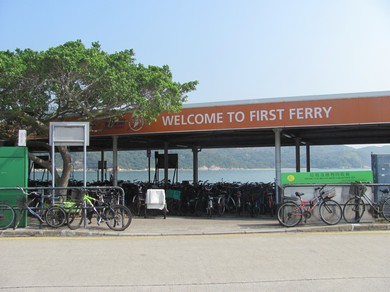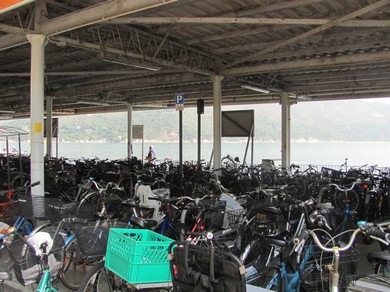 Hundreds of bikes parked at the Mui Wo ferry station by island commuters to the city.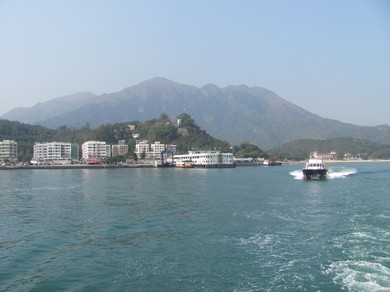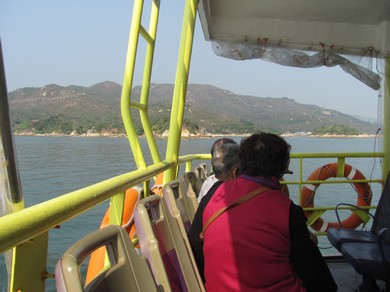 The following morning, Day 2, I took the ferry back to Hong Kong for yet another full day of wandering.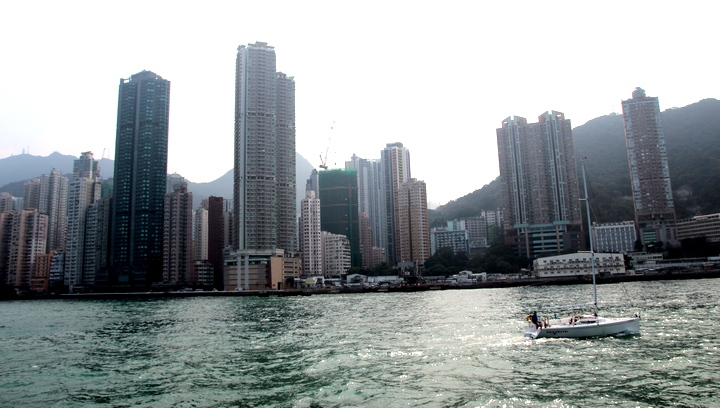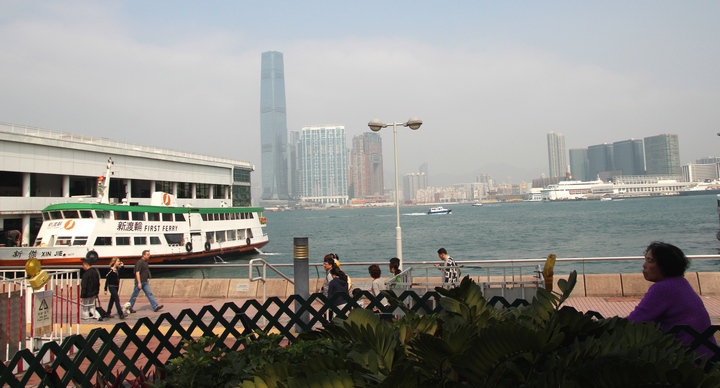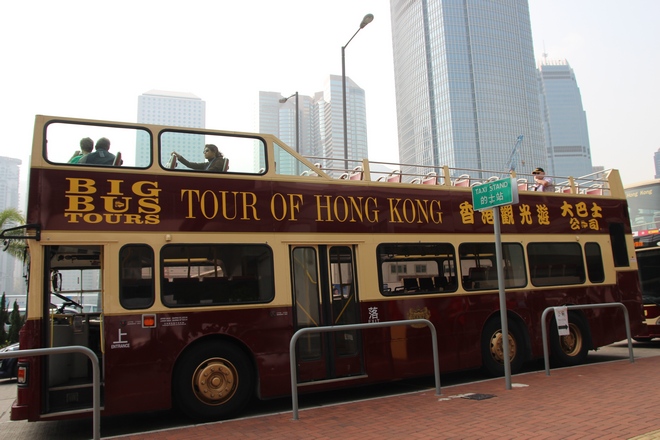 I joined a 3-part city tour. Filipino girls selling tour tickets at Central Station gave me a discount.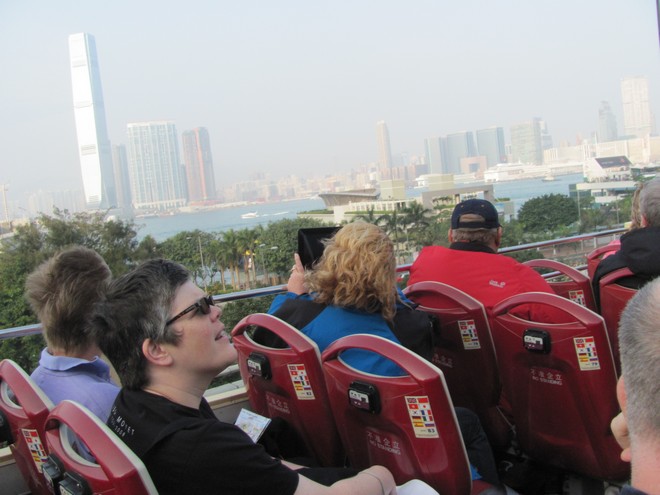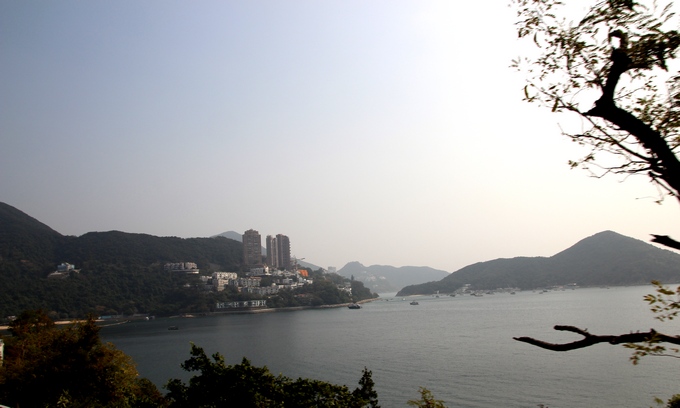 A view of Repulse Bay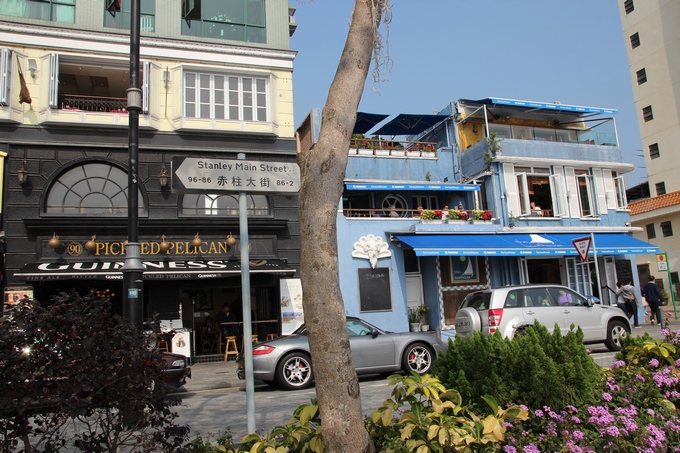 Stanley Main Street, a popular tourist and shopping attraction, has many bars and restaurants.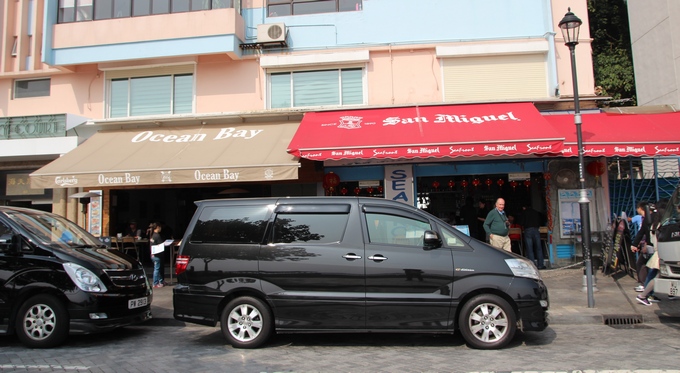 Astig ang San Mig maski dito sa Hong Kong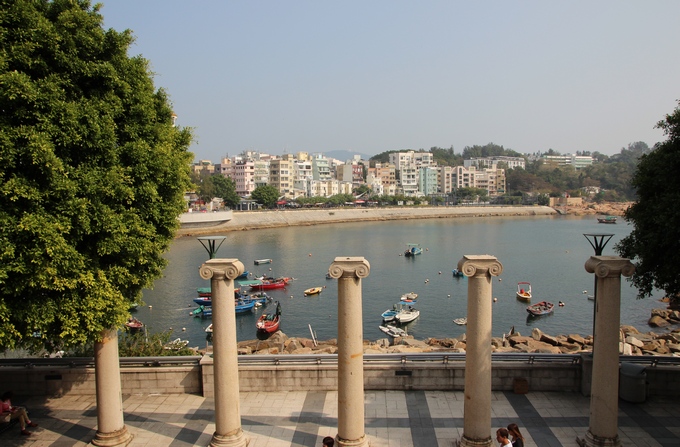 Atop Murray House, a Victorian-era building built in 1844 under British rule and used as officers' quarters.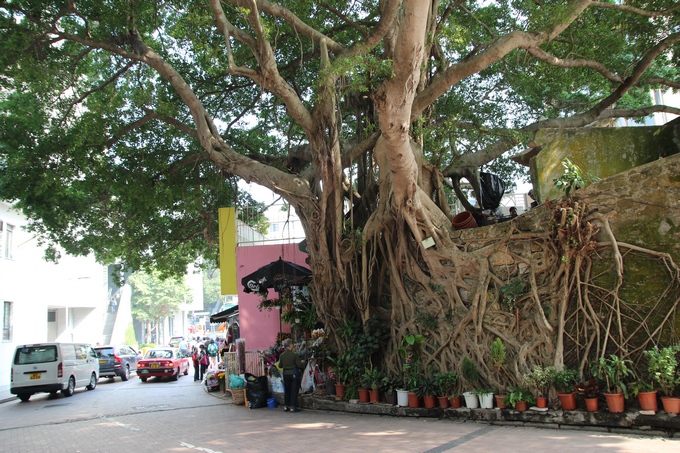 I was struck by the massive root system of this big tree near Stanley market.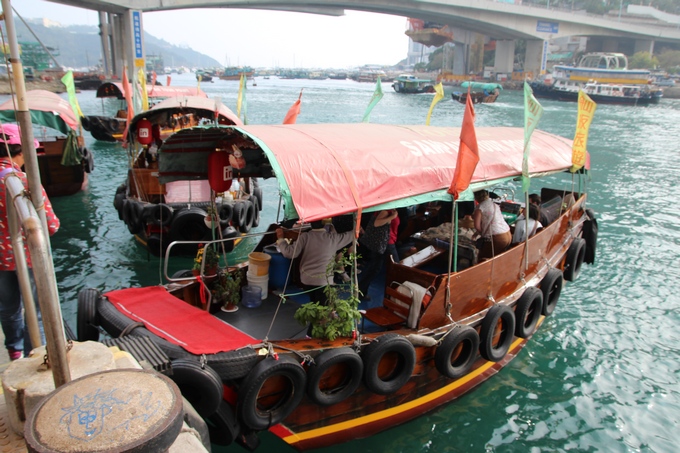 Part of the city tour is a ride on a sampan boat on Aberdeen harbor.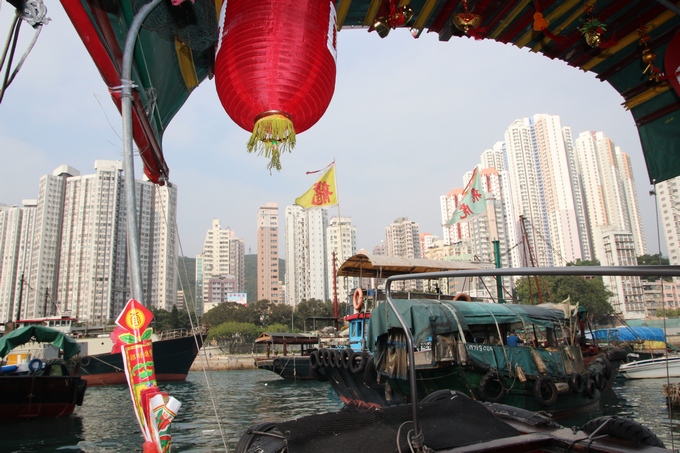 An extreme contrast between poor people living in the boats and the rich living in yachts and high rise buildings.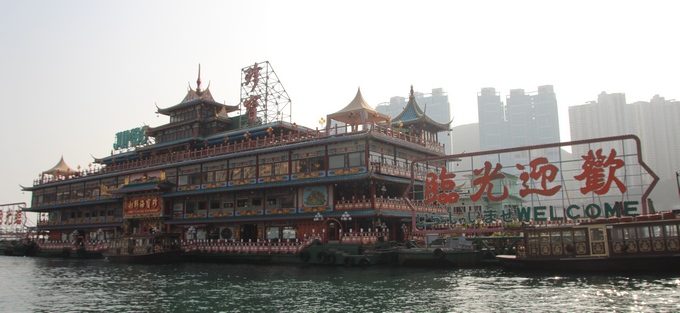 Jumbo Floating Restaurant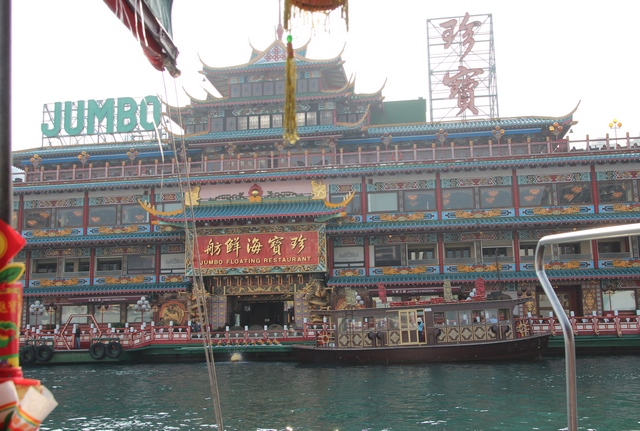 The Peak Tram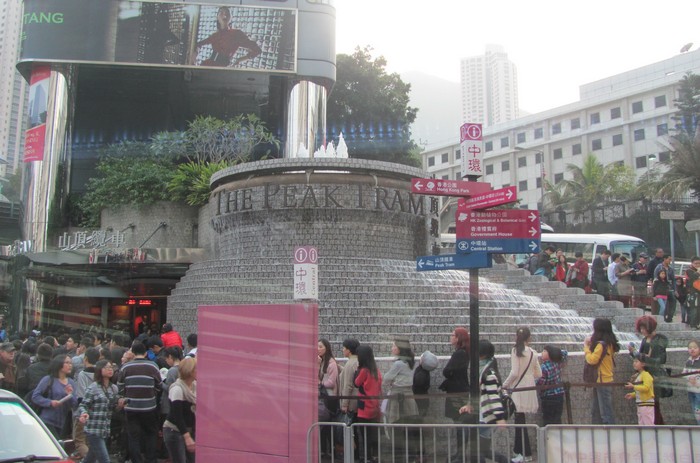 The travel ad says: "If there is only one thing you can do in Hong Kong, go to The Peak." Long lines though.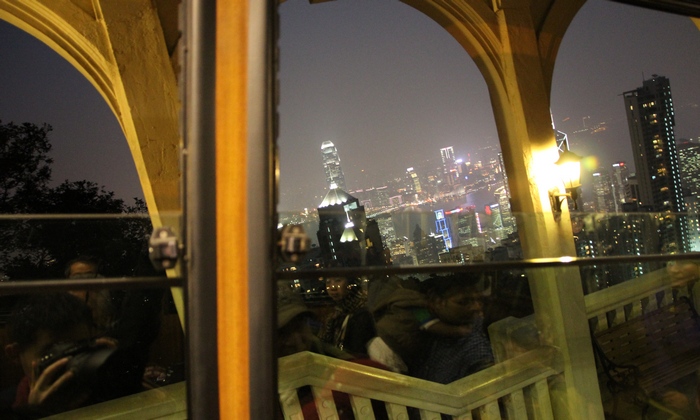 Riding the funicular is a visual experience in its own right -- Hong Kong Island's skyscrapers slide past your window.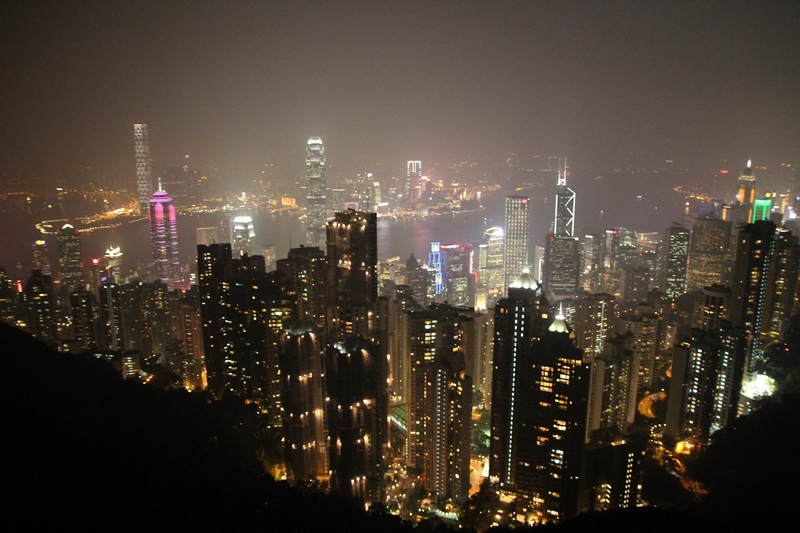 The highest point on Hong Kong Island, this has been the city's most exclusive neighborhood since colonial times – back then it was the cooler air that attracted the rich and famous; in the post air-conditioning era, the views of one of the world's most spectacular cityscapes keep them coming. That view is also what makes The Peak one of the most popular attractions in Hong Kong. By day your eyes stretch across sparkling skyscrapers and Victoria Harbor all the way to the green hills of the New Territories. In early evening this panorama melts into pink and orange before reincarnating as a dazzling galaxy of light, shimmering beneath you.
Day 3 - Jopet finally arrives from Cebu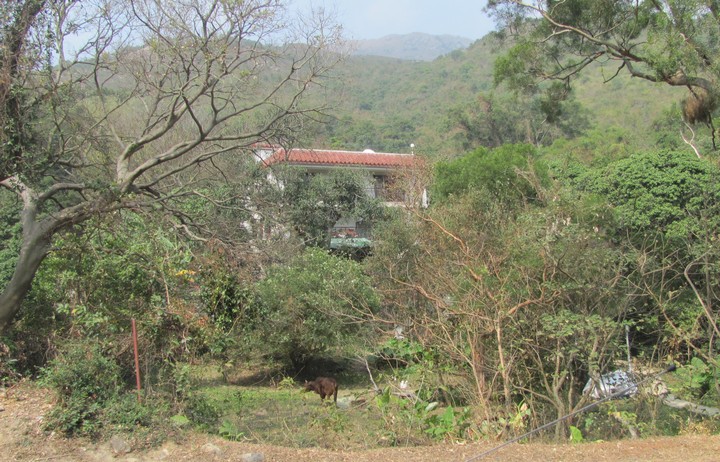 Jopet rents this 3-story house, a short drive from his veterinary clinic, in Lantau Island. Lantau is quiet and idyllic.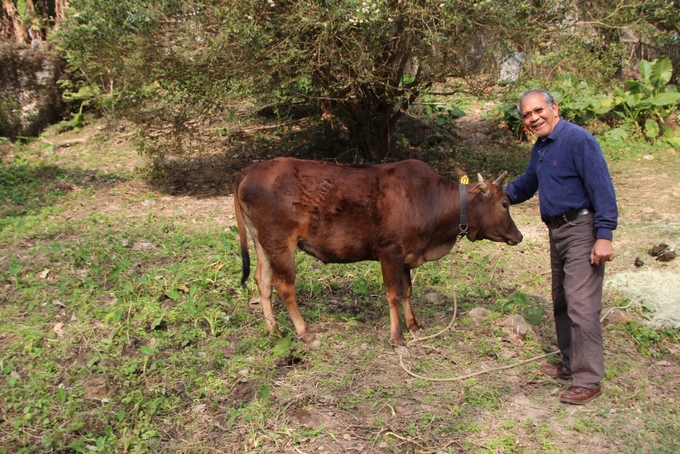 "Billy" is Jopet's adopted wild buffalo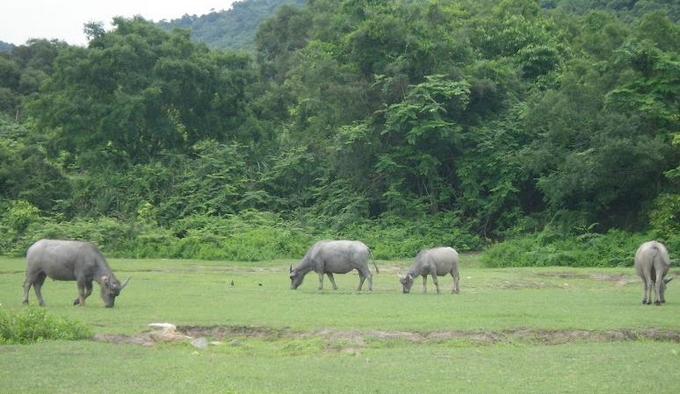 Wild water buffalos, a feral animal once used for farming, wander freely at Lantau Island villages and beaches.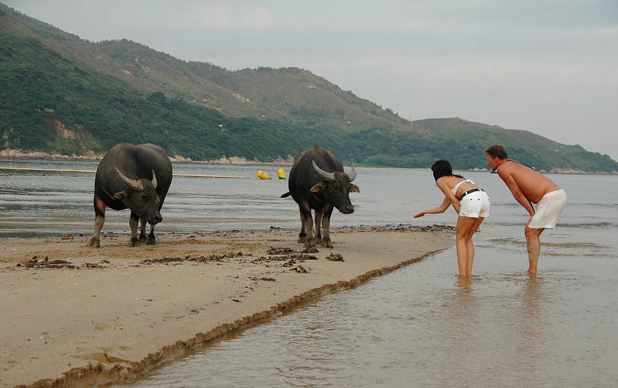 An online photo of the wild buffalos on the beach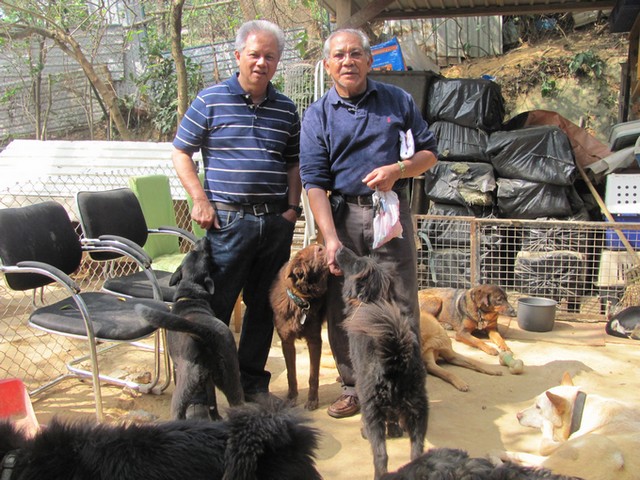 Jopet has about 80 animal rescue dogs in all floors of the house, including the rooftop balcony.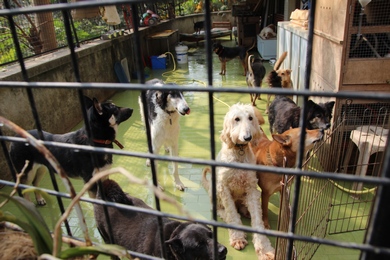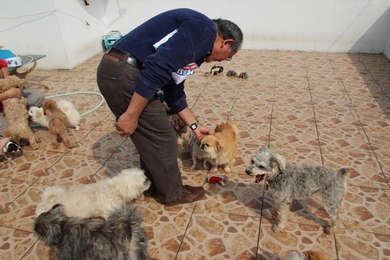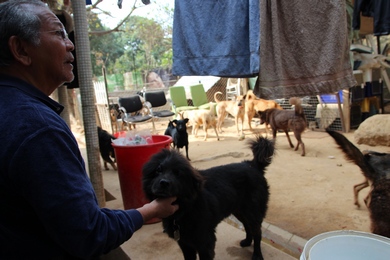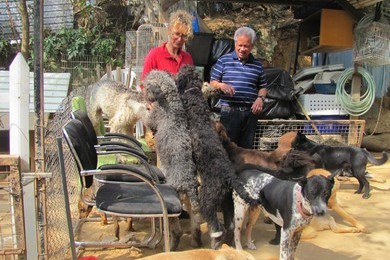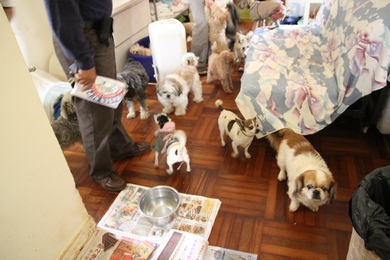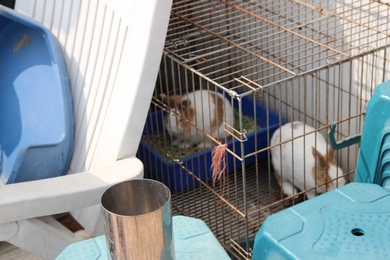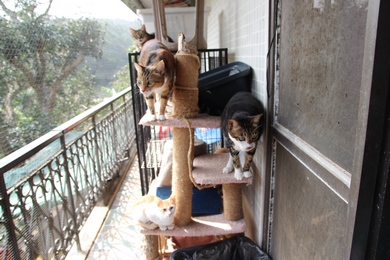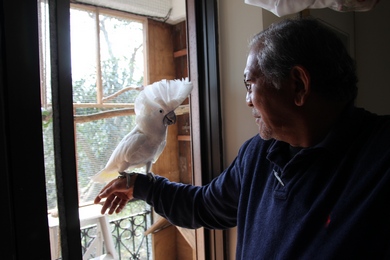 Jopet's menagerie includes dogs, cats, rabbits and birds. He provides free professional care, shelter and food.
Gratis et amore. Along with his partner Oca and domestic helpers, volunteers at times come to help clean the animals.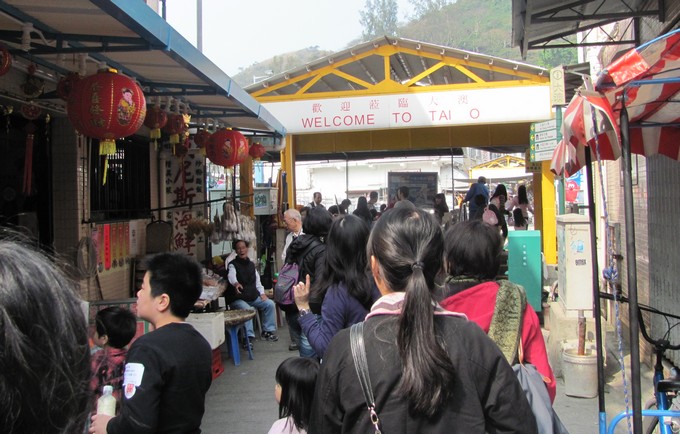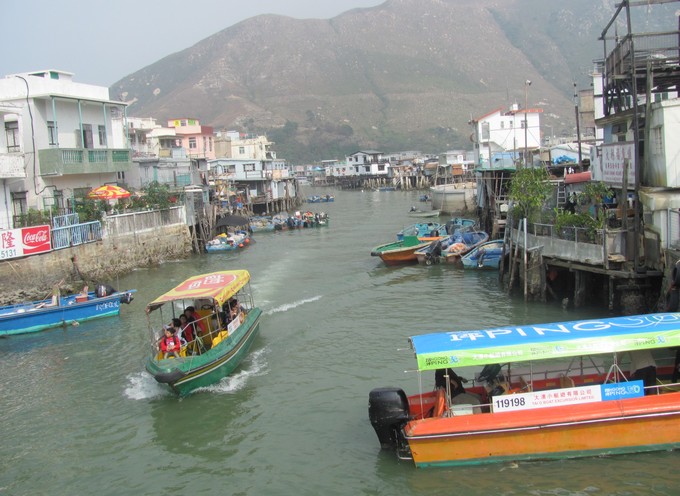 Jopet took me to this fishing village in Tai O...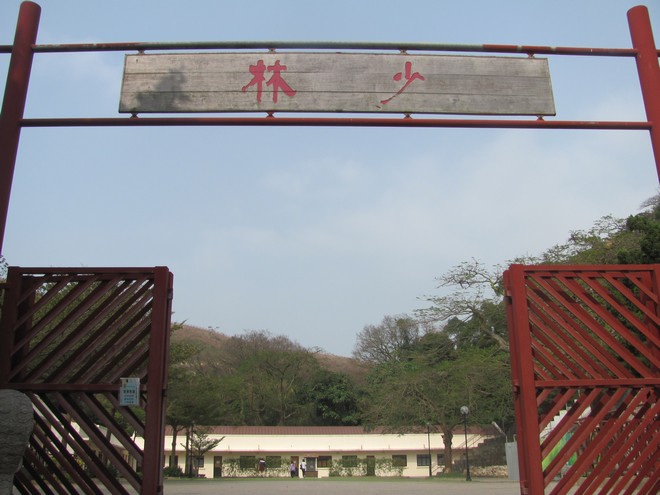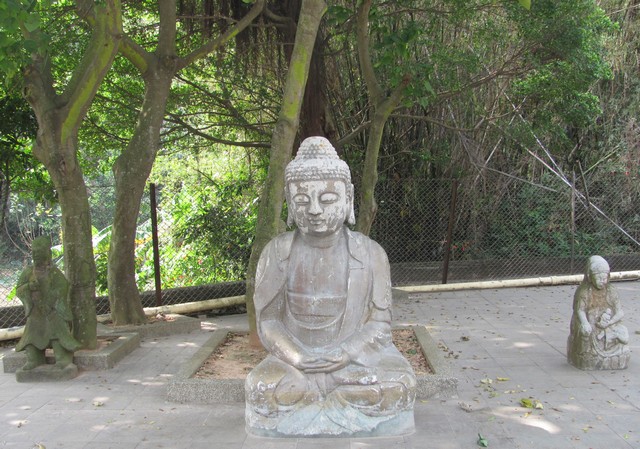 ... and to a Shaolin monastery.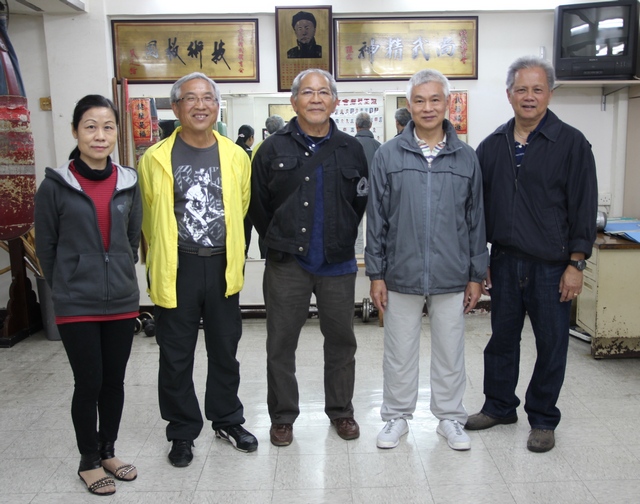 At Chin Woo Athletic Assn. with 8th Dan gi gong expert Theresa Chung, 8th Dan Fu Style Tai Chi Bagua
Sifu Patrick Lee, and hung gar/liuhebafa teacher Tse B.L. Patrick and Theresa had taught the brods in RP.
Sigma Veterinary Services Consultants
2A Sun Wai Village, Pui O, Lantau Island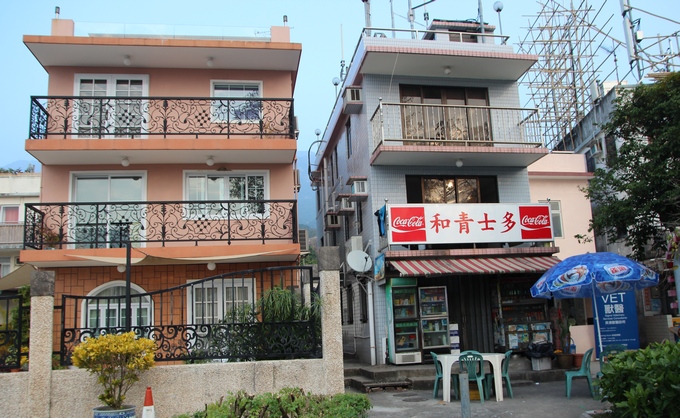 As he is called in Lantau, "Dr. Joe" is well-regarded and respected by his clients and his peers. Twice I took the
bus to the ferry with Filipinos, who all knew him. One said he takes his boss' three dogs to "Dr. Joe" regularly.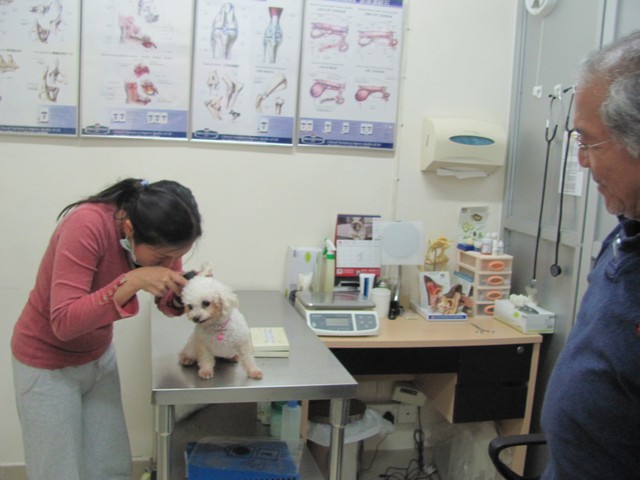 Dr. Jenny is Jopet's assistant and doctor-in-charge when he is away.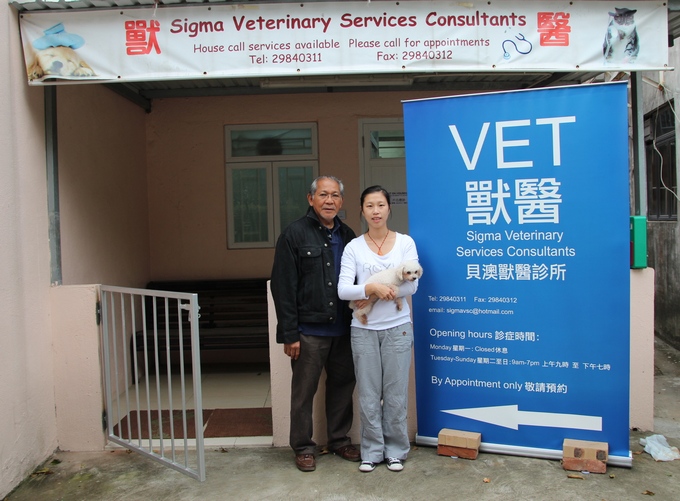 I think I can guess Jopet's choice on the name of his HK veterinary practice.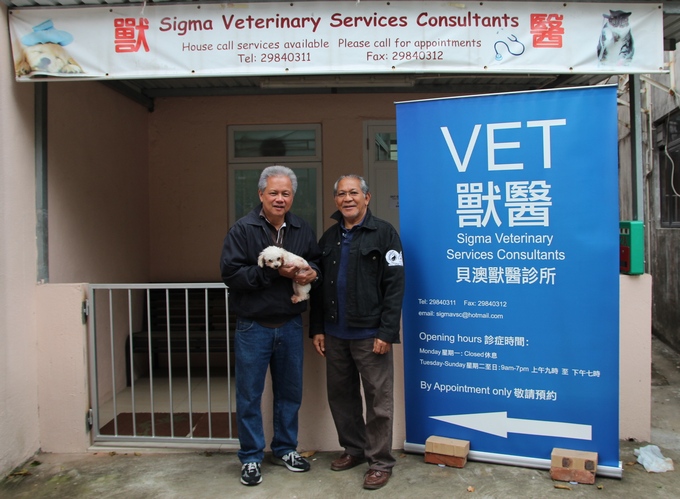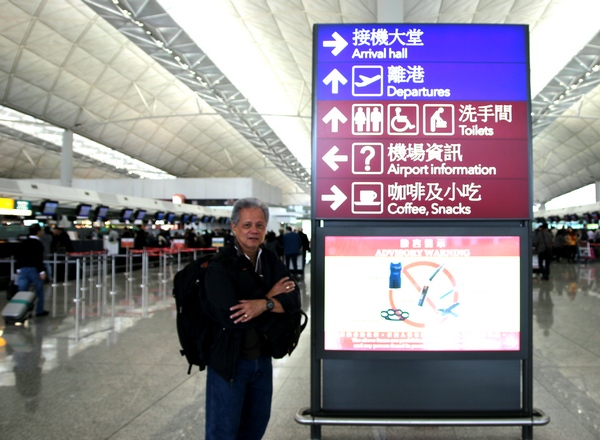 Jopet took me to the airport, which is in Lantau Island, after the parting shots at his clinic.
Postscript:
In Hong Kong, Jopet gave me the original picture of this shot he took with his camera in 1965. This is
posted in Memory Lane I; however, I rescanned the original and inserted it here also for old times sake.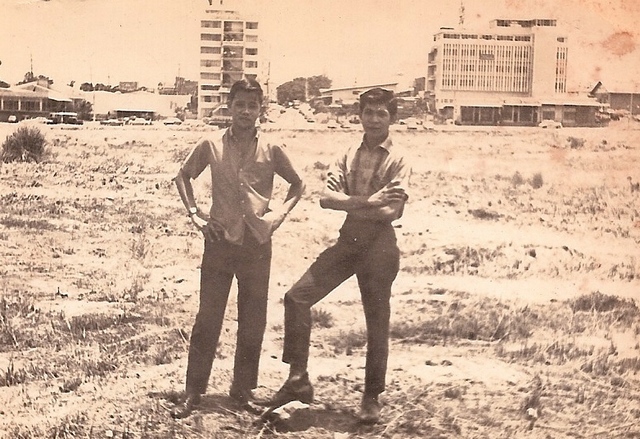 When we were young once... Norman UPD'65 and Jopet UPD'63
At Araneta Center, Cubao where now stands Farmers Market Plaza - May 14, 1965