===============================================================================================================================================================================================================

Eulogy for my Dad and Brod, National Scientist Teodulo M. Topacio Jr.

U.P. Beta Sigma Fraternity Last Rites - July 13, 2019

by Yay Topacio, UPD'77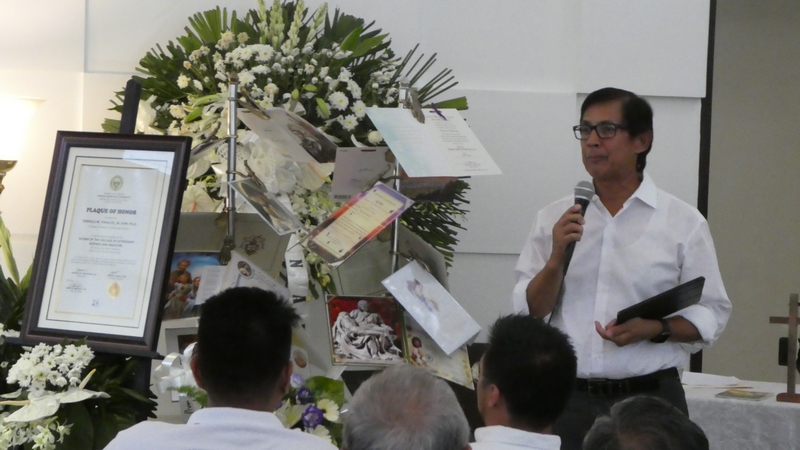 Magandang hapon po sa inyong lahat.
This has got to be the saddest July "homecoming" for me. The flight I took from Honolulu to Manila seems twice as long and time was seemingly slow. My July trips to Manila in the past years have always been exciting, happy and fun-filled because I don't only get to go home and be with my dear family but July is also the month when we celebrate UP Beta Sigma's Anniversary. July is also the time when I would have the most endearing bonding with my father and Brod,Ted.

This July, however, will not be the same because my Dad, our beloved Brod, is no longer with us. Instead of engaging in our typical week long anniversary celebration, with San Miguel beer, the finest whiskey or wine or even the toxic yet legendary Ginebra San Miguel, I'm now here before you delivering this eulogy.

One of Benjamin Franklin's most inspiring quotes is "Either write something worth reading or do something worth writing." My father, our Brod, has done both and I would say, exceptionally well. He's written a whole lot of research papers for several Veterinary journals and just recently, he wrote and launched his Memoirs "A Split Second in Time."

He has accomplished so much in the field of the academe as a professor and Dean of the UP College of Veterinary Medicine. As one of the pioneers of a start up company called Univet, his role in research and development, helped grew the company (now called UNAHCO) to a billion Peso animal health pharmaceutical company in the Philippines. One of his major accomplishments was so significant that it earned for him the title of National Scientist. An honor bestowed only to a few.

I have often wondered if my Dad really wanted me to take up Veterinary Medicine, follow his footsteps so to speak, because I don't remember him asking me. Maybe he did but I may have ignored it. He knows I'm fascinated with animals but this is because of the home environment he fostered for us when we were growing up. I remember that as little kids we didn't have to buy or ask for dogs and cats for pets. Someone would always give puppies and kittens, from purebreds to mongrels, to my Dad.
I do remember apologizing to him for my choosing a different path in my life, which he casually dismissed saying I need to follow my ambition. That void in the Topacio family soon disappeared when my eldest son and our Brod, Dr. Luigi Topacio, decided that he'll follow his Lolo's footsteps. I remember both my father and mother were elated, thrilled actually, with Luigi taking up the challenge of keeping the family tradition that Lolo Dulo (Teodulo Sr) started. Thank you Dr. Luigi for making your Lolo proud and filling in the void that I feel I left.
One thing that I know my Dad is particularly proud of is my joining the U.P. Beta Sigma Fraternity. He was even prouder when his grandsons Errol and Luigi joined our beloved fraternity as well. This actually made our family the very first one with three generations of U.P. Beta Sigmans.

I have so many happy Beta Sigma moments with my Dad. Beta Sigma activities and the latest on Brods were always conversation pieces in many of our family occasions. Too much it seems that there were times these consume the whole family. My Mom is the most jealous and affected.
There was one July homecoming, more than a decade ago, that I fondly remember. In one of those days I told my Dad we should visit our late Brod Ding Navarro, (who was then the new President of PRRM) in his office. I called up Brod Ding and we set up one afternoon for the visit. My Mom, not wanting to be left alone at home, then accepted an invitation from a friend to play mahjong that same afternoon. Pag hatid namin kay Mommy, she reminded me and my Dad to go straight to the bank to deposit some checks and cash to their account. Pag baba ng Nanay ko sa sasakyan, Dad, in complete defiance of "thou shalt be obeyed" (my Mom), looked at me and said "dumerecho na muna tayo kay Ding at pagkatapos na tayo tumuloy ng banko." So we did. Ang problema nito sobrang napasarap ang kuwentuhan namin with Brod Ding at pagtingin ko sa relo ko, 4:30 pm na. Sabi ko sa Tatay ko, "Dad, sarado na banko." I will never forget my Dad's reaction as he was silent for a few seconds as Brod Ding and I waited for him to say something. My Dad casually dismissed the thought and told me, "Bukas na na tayo pumunta ng banko at hindi naman maalala ng Mommy mo yan." Boy was he wrong! Pag sundo namin sa Nanay ko later, papasok pa lang ng kotse she addressed my Dad saying "Ibigay mo na muna sa akin ang deposit slip at baka mawaglit pa yan." The abrupt silence that followed was quite deafening until my Dad's abashed response of "Bukas na lang natin idedeposit at napagsarhan kami ni Yay ng banko." Needless to say nagalit ang Nanay ko saying "Eh di ba sinabi ko sa inyong mag-ama na dumeretso na muna kayo sa banko bago kayo pumunta sa Brod ninyo? Paguuntugin ko na talaga ang mga ulo ninyo! Kapag Beta Sigma, nakakalimutan niyo na ang lahat!"
The short drive back home was quiet but I was laughing in my head. That night for dinner hindi pa pinakawalan ng Nanay ko ang atraso namin mag-ama. As the "sermon" continued, my Dad and I were quiet like meek, defenseless neophytes. The whole litany only ended with when I told my mother, "Mommy naman, kunwari ka pa na galit na galit ka sa Beta Sigma pero yang suot mo naman eh Beta Sigma-Malmon shirt." She looked at her shirt and then she laughed. We all laughed. Absuwelto ang Tatay ko!

I know that I will never be able to replicate what Dad has done for our beloved Beta Sigma. He did so much in his lifetime. Before I left Honolulu and on my way to Manila, I have received many messages of condolences, sympathy and prayers from so many Brods. Up until now I still get them. Many of the messages brought tears to my eyes as I realize how much my Dad had touched so many of our Brods. Let me tell you that many of you have also touched his.

Frank Capra's timeless, thought provoking film "It's a Wonderful Life" featured the iconic James Stewart as George Bailey, a desperate man who learns from a charming and funny Guardian Angel named Clarence, how different life would be if he'd never been born. A powerful message on how one can be very important in another person's life without him even knowing it. The amiable angel Clarence said it best when he admonished George Bailey that "Each man's life touches so many other lives. When he isn't around, he leaves an awful hole, doesn't he?"

My dear family, Brods, and friends, please take a moment to think about this. Try to go back in time, close your eyes and think about your own lives if my father, our Dad, your Lolo, your uncle Ted, your Brod, your professor, your colleague, your friend, had never been born. Aren't you glad somehow or another he touched your life? Let me leave you with that thought. I can assure you it will make you smile.

In behalf of my wife Jin, my daughters Alyssa and Janelle and my youngest, yet the biggest, Serjei, who all unfortunately cannot come home to join me and Luigi to be here with Dad for the last time, I would like to thank you all for being here, for your sympathy and most of all for your prayers.

Maraming salamat po.
===============================================================================================================================================================================================================
Eulogy for my Granddad and Brod, National Scientist Teodulo M. Topacio Jr.
U.P. Beta Sigma Fraternity Necrological Rites - July 15, 2019
by Luigi Topacio, UPD'10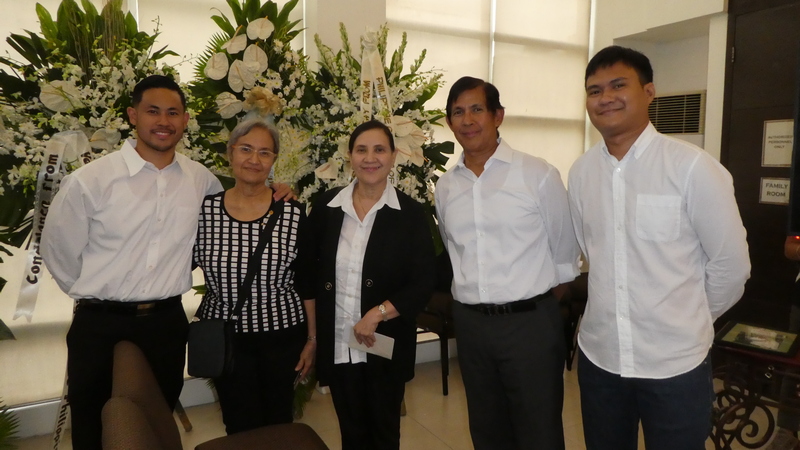 The Topacios: Luigi, Marivel, Milani, Yay and Errol.
On behalf of the Beta Sigma Fraternity, we are all deeply saddened with the loss of our brother, my grandfather, Dr. Teodulo Topacio Jr

Wala ka sa lolo ko.

That was the title of the essay I wrote for my veterinary school application to the University of Pennsylvania from where I graduated in 2017.

My lolo was a huge part of my decision to pursue a career in veterinary medicine. In fact I idolized him so much that I even made a point to cross register in up Diliman so that I could be a part of the UP Beta Sigma Fraternity, just like he joined in 1949. I am third generation in the line of Topacios in Beta Sigma with lolo who joined in '49 followed by my dad who joined in '77. My first cousin Errol Topacio joined in 2009 and with me following in 2010.

The Beta Sigma Fraternity was founded on the virtues of love, brotherhood, selflessness and sacrifice. And I saw that first hand, growing up with Beta Sigma as a significant part of my family. My lolo lived a life of a true Beta Sigman as evidenced by the people whos lives he touched in every possible way. He was given a lifetime achievement award by our fraternity for the efforts he put forth in advancing the vet field and his leadership role with Beta Sigma.

I can go on and on with all the stories of his different projects and achievements from his efforts and leading our beloved fraternity in addressing the rabies problem in small communities especially in UP, through his extensive research with leptospirosis and its implications in public health as he served our country and government.

But some of my fondest memories involve me back when I about 7 or 8 years old going to lolo's air-conditioned office to read all his books while he works. That was the first time I realized that you could have an office at home! Lolo would show me all diffferent kinds of National Geographic or Time magazines and I would read them in his office.

Right then and there I saw how hard working and diligent lolo was.

Grief hurts and it's exhausting and unpleasant. It's a journey that we all have to experience. It's something we all carry inside our hearts. But lolo is worth it.

Father Nebres yesterday in his homily said that memories make us who we are and what our country should be.

Therefore I ask you all to continue to tell his story - be it in words or in actions.