Imitating Four European Masters
Commentary and Replicas by Willie "Tatang" Vergara
Some people like me dream the impossible: To own a collection of masterpieces. What I've done to partly satisfy that dream is just to paint a few replicas myself. Replicas abound in art stores like Aaron Brothers or Michael's, but I thought I'd rather do them myself and be as close to the originals. Many of the ones you see in these stores are "look-alikes", but are miles and miles from the originals even when compared to the major details of the art piece. Besides, having created replicas of these masterpieces has allowed me the chance to study the brush strokes of the great masters, a practice of scores of other artists worldwide over the centuries. Here is a continuation of four European masters from the four Van Gogh replicas that I had presented earlier, as follows:

1. My Replica of Jan Vermeer's "Girl With the Pearl Earring", done in 1665 by Dutch Master Jan Vermeer. This painting was further popularized by the award-winning movie bearing the same title. Scarlett Johansson was nominated for best actress. There is not much information about this great artist. The story written by Tracy Chevalier is based on the social situation of Holland but the details surrounding the artist's life, who died at a relatively young age, is fictional. Here, Johannes Vermeer paints the portrait of a fictional servant named Griet and sat for him as a model while wearing his wife's pearl earrings.

It is sometimes referred to as "The Mona Lisa of the North" or "The Dutch Mona Lisa". This was exhibited at the de Young Museum in San Francisco in May and June 2013, along with other works of Rembrandt and other Dutch paintings.

Funny, my wife Tess never warmed up to this replica until she saw on the movie theatre lobby another replica being sold at $450, and it was not even close!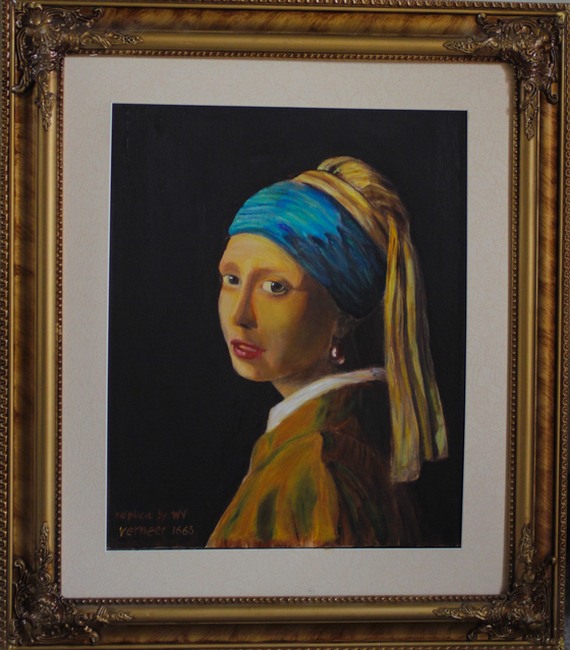 2. My Replica of Henri Matisse's "The Red Room" (Oil on Canvas, 24" x 30"). The size of this replica is just 1/4 of the original. Click on http://www.lonelyplanet.com/russia/st-petersburg/images/matisse-s-red-room-hermitage-st-petersburg$20902-61 to see how large the original is. What I've not seen in my computer search is a story that Matisse's original was blue, but over-painted it with red because the original color did not match the general ambience of his friend's room, who commissioned him to do this work. Along with Picasso, Matisse revolutionized art at the turn of the century (1900s). This replica now hangs inside one of the project engineers of our Sacramento office.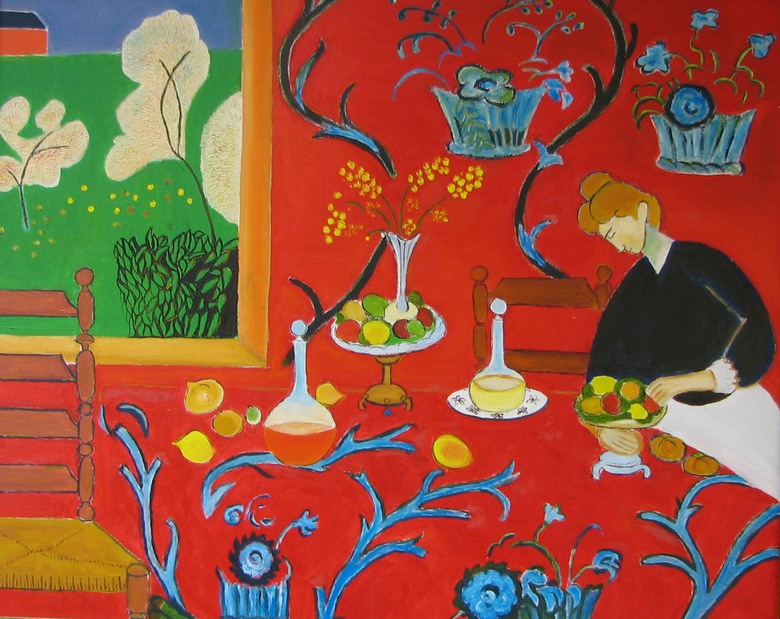 3. My Replica of Rembrandt's Self Portrait (Painted in 1669, the year of his death). Original: 24.5"x22.5". This replica: 24"x20". Oil on Canvass. Rembrandt has long been recognized as one of the supreme geniuses in the history of art. His paintings are unequaled for their eloquence and compassion, and their expressive mastery of "chiaroscuro" - the dramatic interplay between lights and darks. He painted about 50 self-portraits in his lifetime, a "record" among artists in point of painting oneself. To view all his other portraits is also to partly understand the different stages of his checkered life - as a handsome, budding young artist, into a life of opulence and fame, and as a poor old man deeply troubled with indebtedness.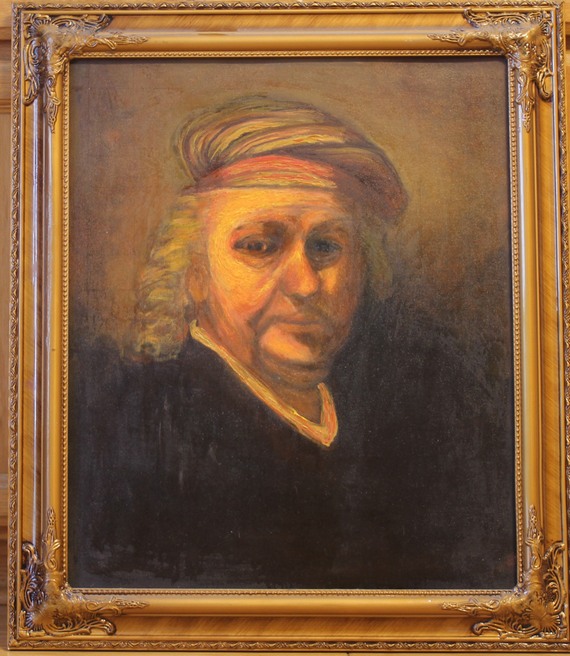 4. My Replica of Pablo Picasso's "Joie de Vivre" (Joy of Life). Original: approx. 4ft x 8ft (boat paint on panel w/ asbestos-cement). This replica: 2ft x 4ft (oil on canvas). By it's mere title, this is my wish for all of you, more specifically, that you experience EUDAEMONIA, a state of well-reasoned happiness... This was my first attempt at painting abstracts, and found that this style is no easier compared to all others. In fact, it took me so long to paint this that I never ventured into painting another Picasso replica after this one.

Here Picasso imitated a work of his friend-rival Henri Matisse. However, Picasso's copy is more overtly mythological, featuring with pipe-playing fauns and dancing creatures. However, he captures Matisse's lyricism in the extended swirling lines of the figures, whose forms appear to grow organically like flowers moving upwards towards the Mediterranean sun.