Background
The Operation Big Brother Foundation (OBBF) was legally established in March 2002. OBBF was conceptualized during a Christmas party reunion of alumni brods from the late 70s, 80s and early 90s. The residents attended and caroled as part of their fund raising. As conversation turned towards the deteriorating state of the Fraternity in the resident ranks and how alumni are not involved enough, an idea was born to form a group with only two purposes: To assist and guide the residents of UP Diliman in matters of the Fraternity, and to keep the bonds of camaraderie strong among both residents and alumni of UP Beta Sigma Fraternity in Diliman. Today, with over 70 members, the Foundation remains true to its purpose with a string of activities for both UP Diliman residents and alumni, project financing, training and advisory for residents, and financial assistance to needy alumni.
An activity involving both residents and alumni is the OBBF Olympics, an annual activity hosted in rotation by the three informal subgroups, the Ortigas, Makati and Quezon City Groups. The OBBF Olympics is played over a two-month period and features a variety of events that the three alumni and resident teams compete in.
Basketball Games of the Generals
Billiards Golf
Bowling Mahjong
Darts Tennis
Texas Holdem Poker
Quezon City hosted the inaugural games in which Ortigas emerged as Champions. Makati hosted on the second year, while simultaneously taking the victory and currently, the 2005 games are hosted by the Ortigas Group. The games are typically preceded with a recruitment drive- as the games have shown itself to be an excellent venue for recruitment, posturing and heated verbal and email exchanges of bravado and hype. The awarding is held to coincide with the OBBF Christmas Party where the warm yuletide celebration is mixed with hot trash talking and promises of revenge.
Games Update
As of November 19, 2005, three event championships have been decided.
The 4-man cumulative score bowling event was taken by the Ortigas Group- Pete Danao 92, Leo Roberl 95, Peewee Irlandez 89, and Karl Galing 88 taking the event by 53 pin falls. Its closest rival, the ageless warriors of the Quezon City Group, led by Nugget Aquino 79, Nonoy Tagaro 77, Rafael Hidalgo 86 and Mel Ladip 87. Not even the highest score of the day, a heckling-marred 198 by Manoy Gomez 92 of Makati, which eventually finished in last place, could bring other teams close to the two front runners.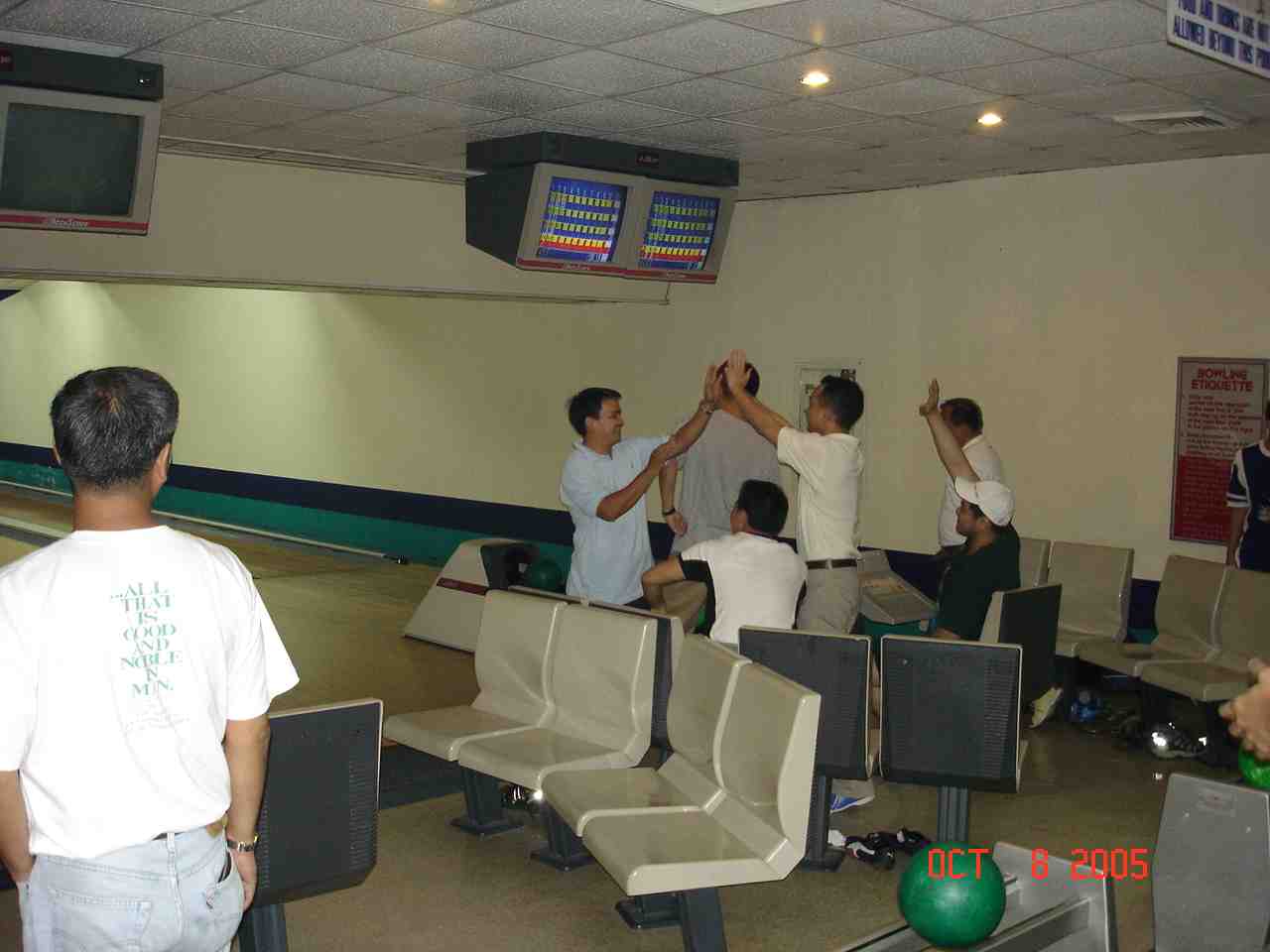 Ortigas Bowlers Peewee 89, Leo 95 and Lloyd 87 celebrate a strike as Nugget 79 of QC looks on
(Makati Sports Club)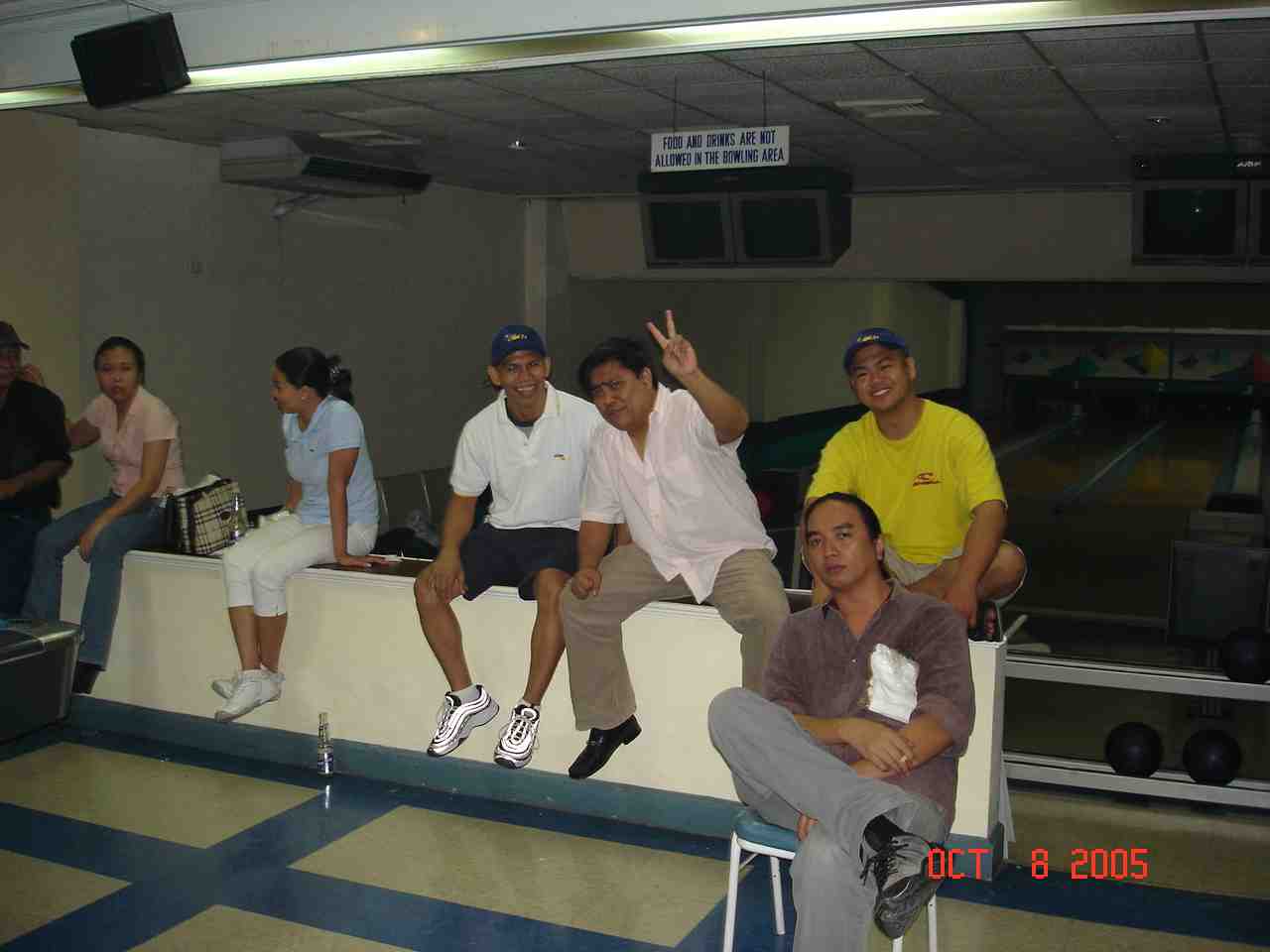 Vic Rafael 91 (Mkt), Rafael Hidalgo 86 (QC), Harry Temperante 97 (QC) and Alex Bermas 97 (Mkt)
share a light moment