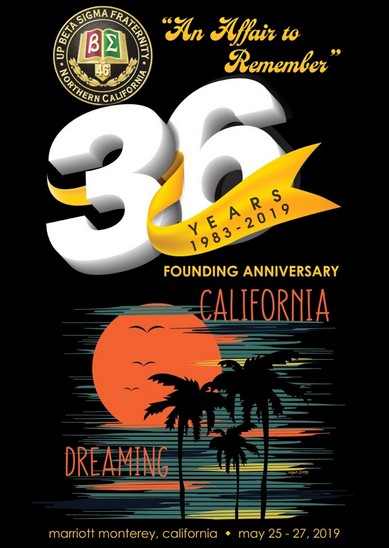 An Affair to Remember
by: Gabby V. Moraleda 68b upd
Most certainly, "An Affair to Remember". Nothing less. It was 2019 Memorial Day weekend, a time when America honors its brave men and women in uniform, those who gallantly put their lives on the line for freedom, Beta Sigmans included. For UP North, it was the culmination of a year's detailed planning and, on this weekend of May, all roads led to Monterey. This world renowned, picturesque and romantic peninsula is one of a kind tourist destination with much history deserving the presence of Beta Sigmans. The place, venue and company did not disappoint.

Day 1
Saturday, May 25, began with much euphoria as guests (brods and their lifetime partners, sisters, family members and friends) from far regions of the globe — Philippines, Australia, Canada and various states of America, with a healthy contingent from Southern California, trekked and arrived on site energized, anticipating a great weekend of warm fellowship. Maraming salamat sa lahat ng dumalo!

After seeing familiar faces at the hotel lobby, there were telltale signs of a well attended event. Indeed, it was. Around 200 guests came — to relive what is Beta Sigma. Migs Paredes, son of Joel and Luigi Topacio, son of Yay and grandson of Dr. Ted were among the youngest attenders.

Our 36th anniversary was really envisioned to be a Beta Sigma family affair.
The Bayonet Golf Course club house, a high point in town, sprinkled with cypress trees and overlooking the bay was the site of the Hospitality Night (HN). By design, the evening was meant to unwind, reconnect with one another and simply have fun, listen to music and dancing. The dependable Band of Brothers with guest performers Bobby Dulay and Junjun Villegas, came prepared to entertain.

The theme for the night was the "Roaring 60's", symbolic of our glorious years in UP.

In lieu of a Eucharistic Mass, the HN began with a testimonial message by Johnny Regadio followed by an emotional PowerPoint presentation on our dearly departed brothers prepared by Dutch Aragones. After dinner, the UP North ladies, in their bright red blouses and striped bell-bottom pants, stole the show with their jumpy, bouncy numbers, one of which is their unique version of the "YMCA" song playfully rewritten by Harlean Pascual to spell out "BETA SIGMA" — eliciting much cheers, applause, ovation and an invitation to perform in succeeding fraternity balls of other chapters.

With his wife Malou, Central President Vic Tupaz extended his warm greetings and invited the brods and sisters to our 73rd Anniversary Grand Fraternity Ball in Manila on July 14.

Filled with food, beverage and wood alcohol, Rm. 207, the Hospitality Suite (HS) was the watering hole after the event — the DeLorean room that "transported" you back in time to reminisce the good old days through endless kwentuhan until the wee hours of the morning. Almost walang tulugan.

Day 2

The morning of the second day was exploration time on what the city had to offer for first time visitors, family members and friends. A van, with tour guides Eric Punzalan and Ding Cavestany, was made available to transport the guests to Carmel, 17-mile Drive, Lone Cypress and other scenic spots in the area. In spite of a slight drizzle, Sitong Cabaluna led a squad of avid golfers for a round of golf. Those who did not make it to these activities simply nested out and huddled at the HS for the day, where brods got reacquainted, exchanging sizzling tales of their escapades in campus, tirelessly repeated in many gatherings. Madaming "bangka" sa usapan.

Sunday evening was the formal fraternity ball.

Everyone came, elegantly dressed, ready to celebrate and enjoy the occasion. More out-of-town brods and guests showed up that afternoon and seating was full capacity at 22 tables.

Outgoing GP Gene Samson welcomed the guests and with the singing of the national anthems led by Geny Cadema, Irma Ramos, Johnnie Regadio and Nestor Lawas, the ball was in full swing. Bong Beredo and Eileen Basbas were hosts for the evening. During dinner, trophies were handed out to the golfers. Appreciation awards were likewise given to Julie Cavestany, May Gaspay, Harlean Pascual, Lita Punzalan and the late Mercy Villegas. Louie Ruiz and the Band of Brothers received the service awards while leadership awards were given to Sitong Cabaluna and posthumously to Fred Aquino. Entertainment was provided by Sheila and the No Limit band.

In recognition of the UP North ladies, and as their names were individually called, Harlean Pascual beautifully choreograph a waltz number wherein pink roses were handed out to the wives by GP Bobby's granddaughter Leila and grandson TJ as they formed an inner circle paired with their partners on the outer circle. As the music played, the women were gracefully ushered from one brod to another until they ended back in their original spot.

The guest speaker, introduced by Eric Punzalan, was UP North's first GP, Sitong Cabaluna DVM. He inducted into office GP Bobby Pascual and his officers. Sitong narrated the early beginnings of UP North while Bobby fondly recalled his era, when activism was the norm of the day, narrating how the fraternity was in the midst of it all. Common to both brods was how Beta Sigma shaped their persona, then and more importantly, now — how it became a life changing decision.

The highlight of the evening was the Reaffirmation Ceremony wherein, as the hall lights were turned off, the emotion-filled final rite was once again recreated as a fitting reminder of the difficult journey we had to go through to be a Beta Sigman -- a price computed not in terms pesos but of the sacrifice, sweat and blood. It culminated in a "snake dance" (the longest one we've had) while singing the Betan rally song.

It was a proud moment, a time to be jubilant. The very reason why we make extra effort to take part in our fraternity balls — because it brings us back to our point of origin. The tremendous outpouring of energies and camaraderie generated are simply first class and second to none. The brotherhood captivates, not just the brods but our families, even the crowd. It stirs up positive emotions and radiates from us to others.

Undeniably, Beta Sigma is contagious.

The excitement did not end when the music stopped. It carried over to the HS where the brods and their wives sat in round tables provided for in the room for a late snack -- with Mel Gulfin, even without a guitar, led the group in an impromptu singing of songs that defined our generation, once again replicating our care free tambayan days. Priceless moments together.

Day 3

The send off picnic capped the 3-day event in breathtaking Lovers Point Park with a panoramic view of the bay. The aura of the evening carried over and refilled our hearts with touching behind the scenes stories of renewal, rejoicing and reconciliation plus tons of wonderful memories of a great weekend that will last, until we meet again.

Truly, an affair of a lifetime, never to be forgotten. Cheers!


~~~~~~~~~~~~~~~~~~~~~~~~~~~~~~~~~~~~~~~~~~~~~~~~~~~~~~~~~~~~~
[Photos by Harlean Pascual, Irma Ramos, Gabby Moraleda, Jim Gonzalvo, Mario Manzano, Judge Rey, Ike Araneta, Norm Bituin]
Hospitality Night
Bayonet GC, Seaside, CA, May 25, 2019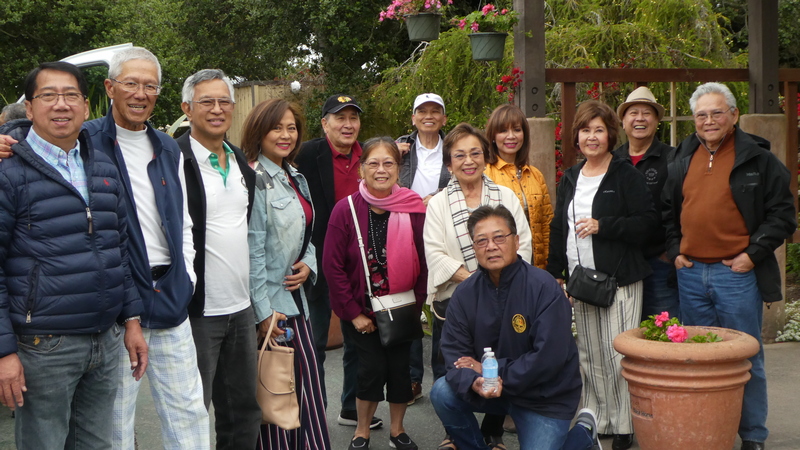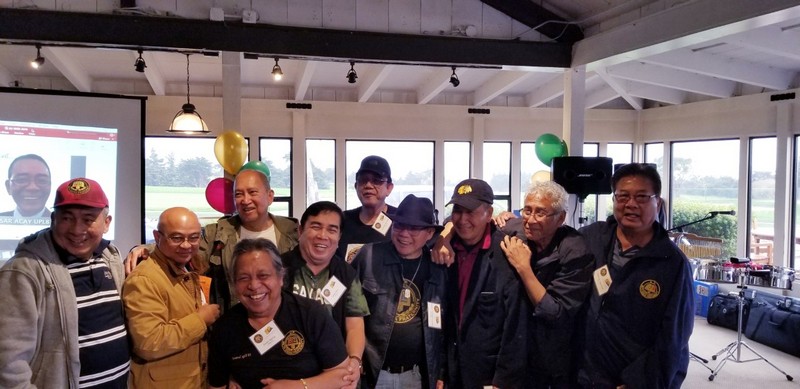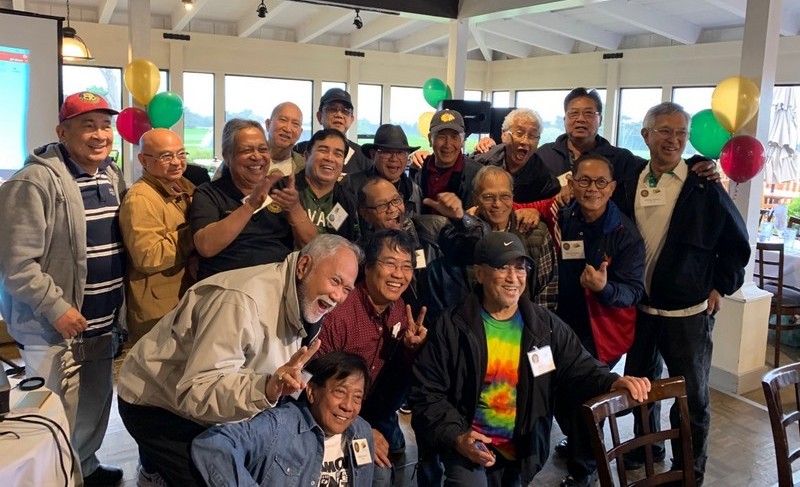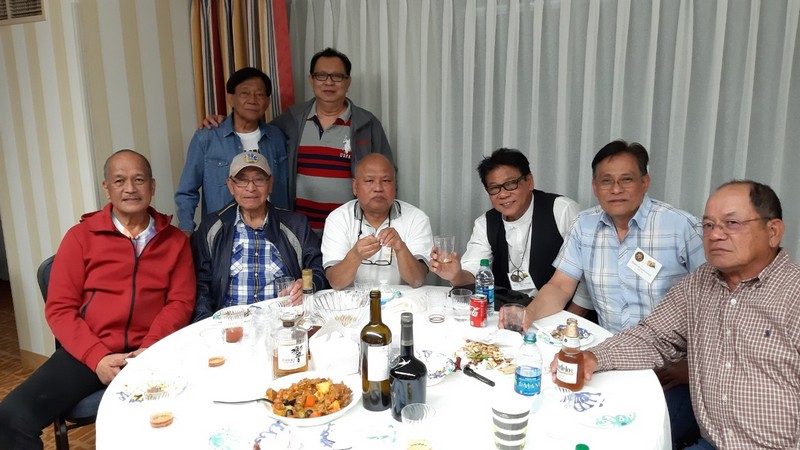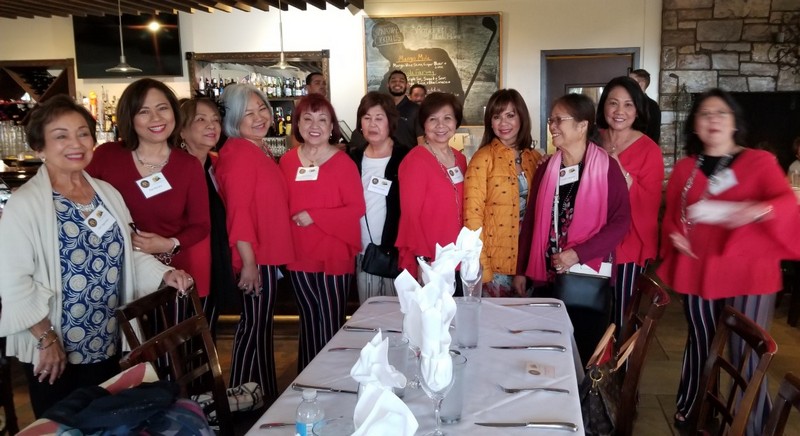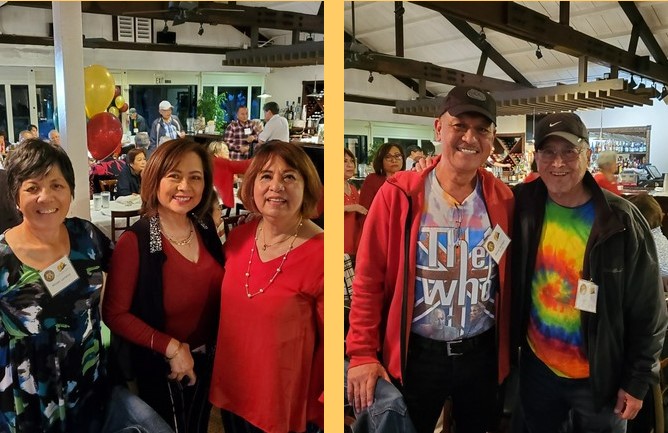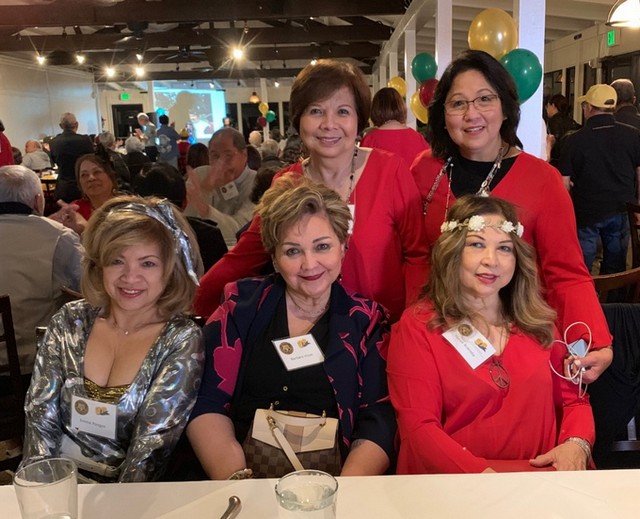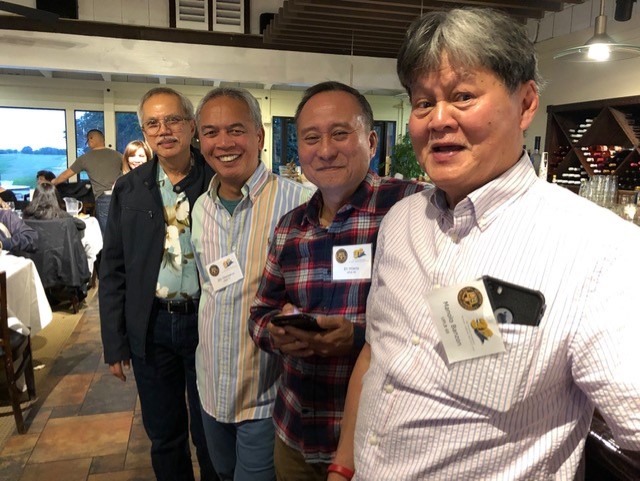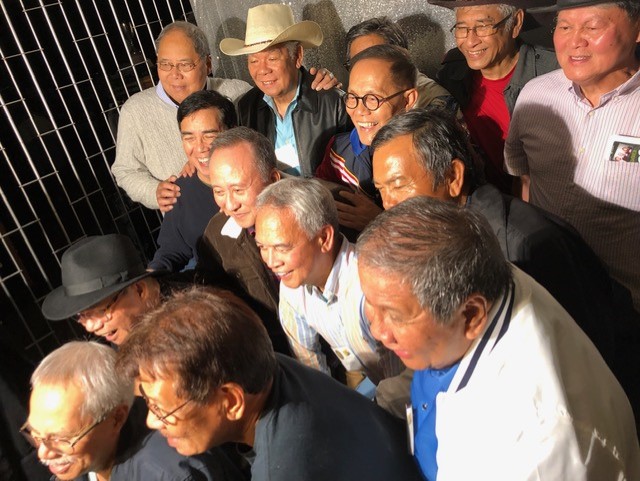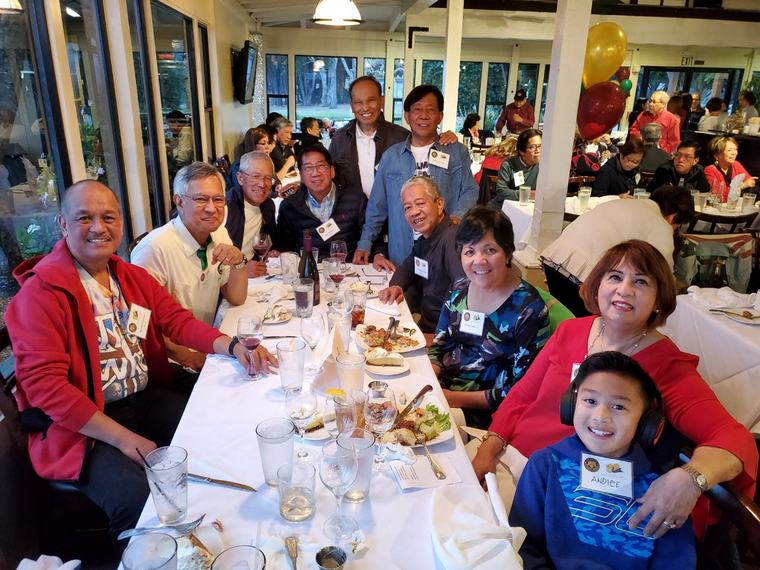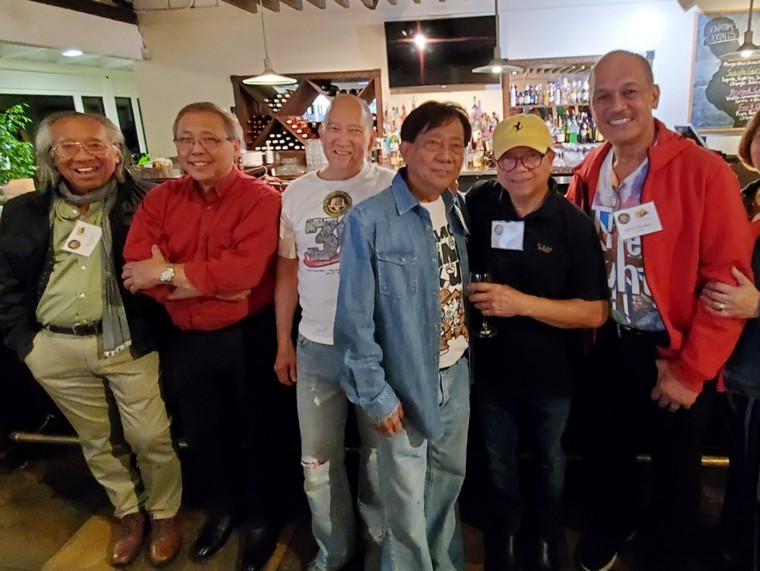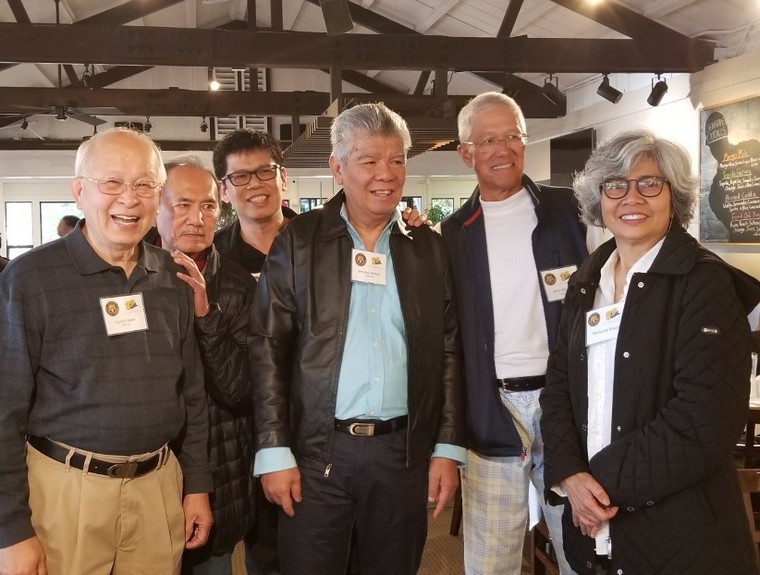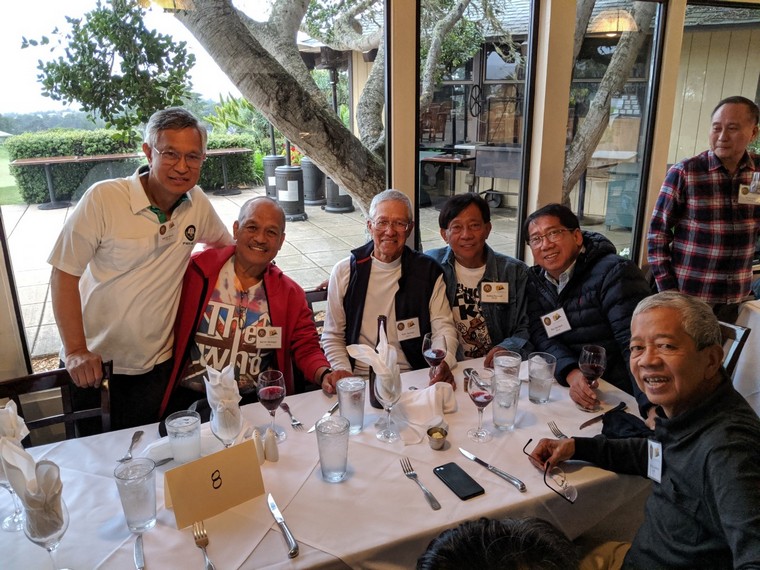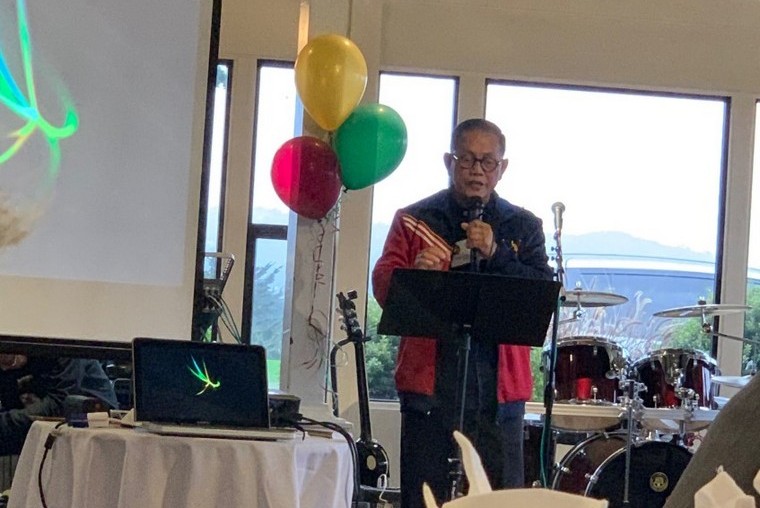 Johnny Regadio gives testimonial message at the welcome dinner.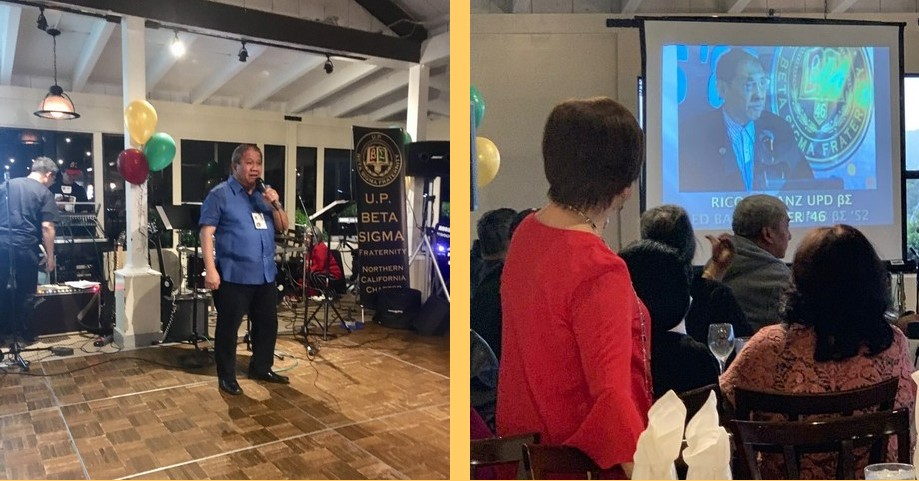 UPBSF Central Pres. Vic Tupaz invites everyone to the 73rd Anniversary in Manila on July 14 as guests watch a presentation of departed brothers.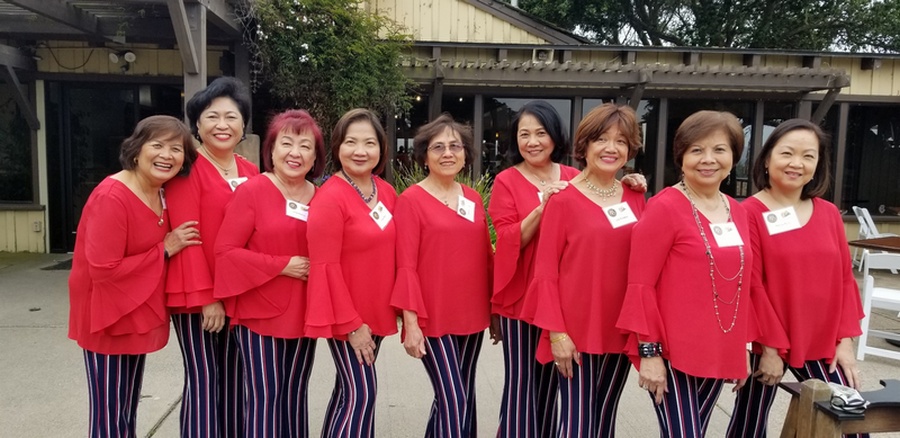 The UP North Ladies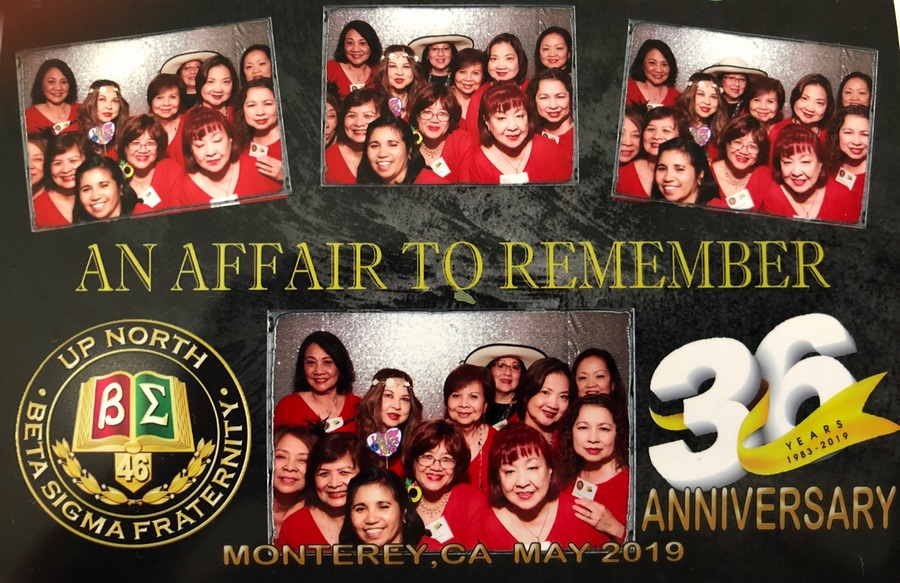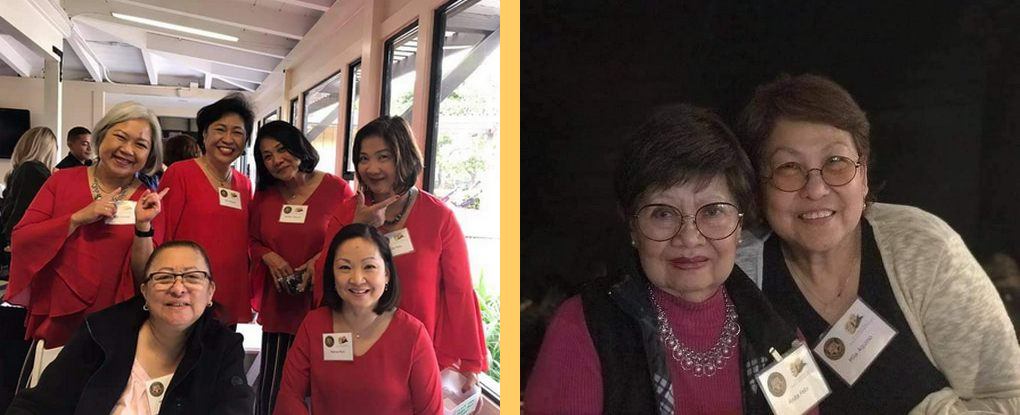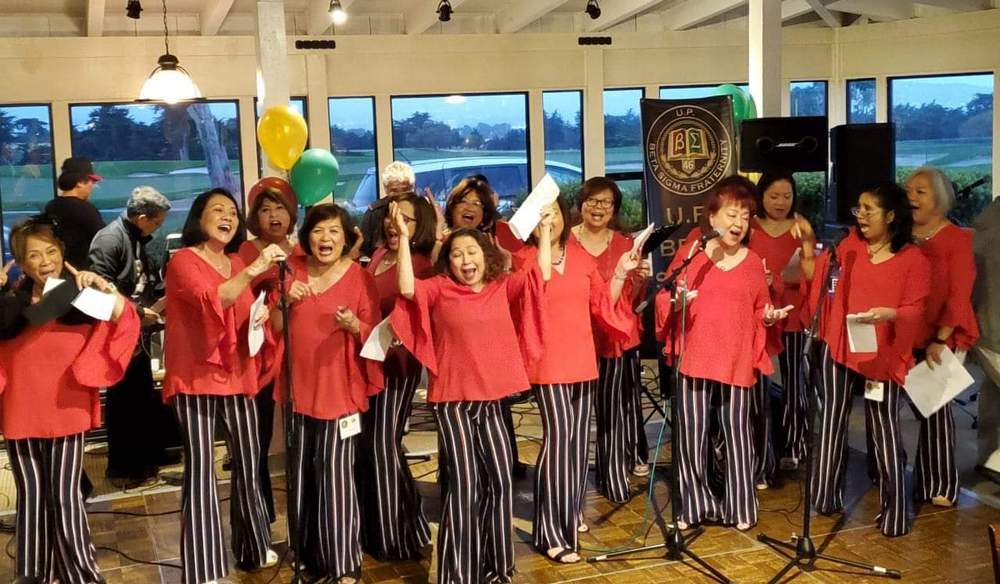 `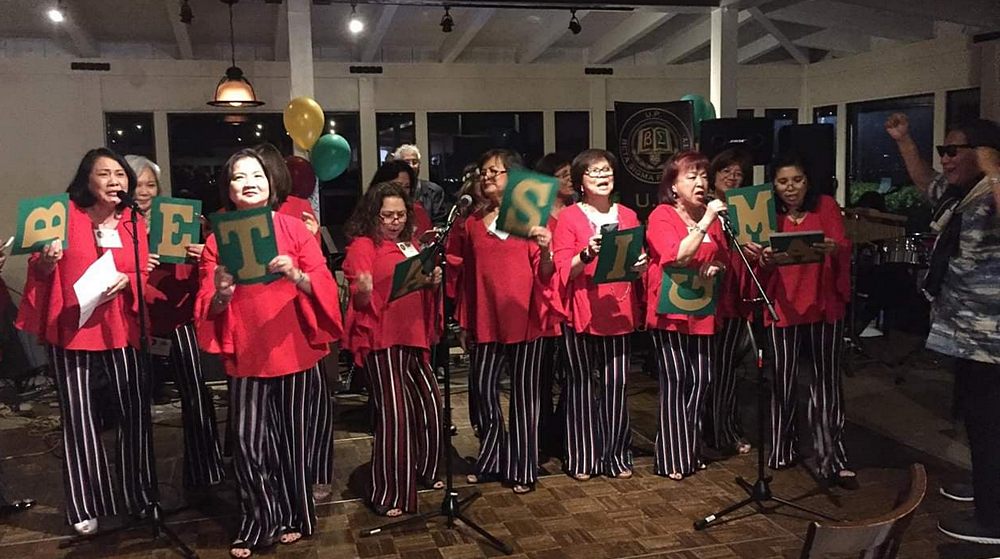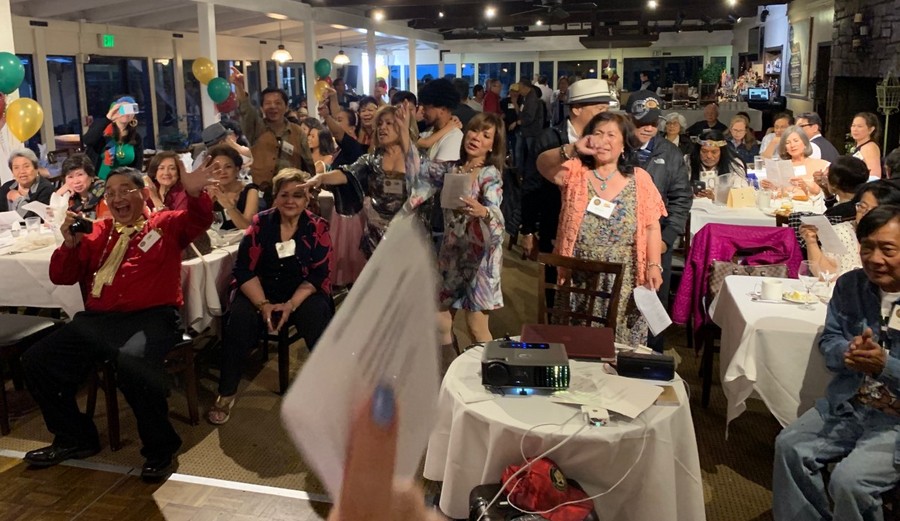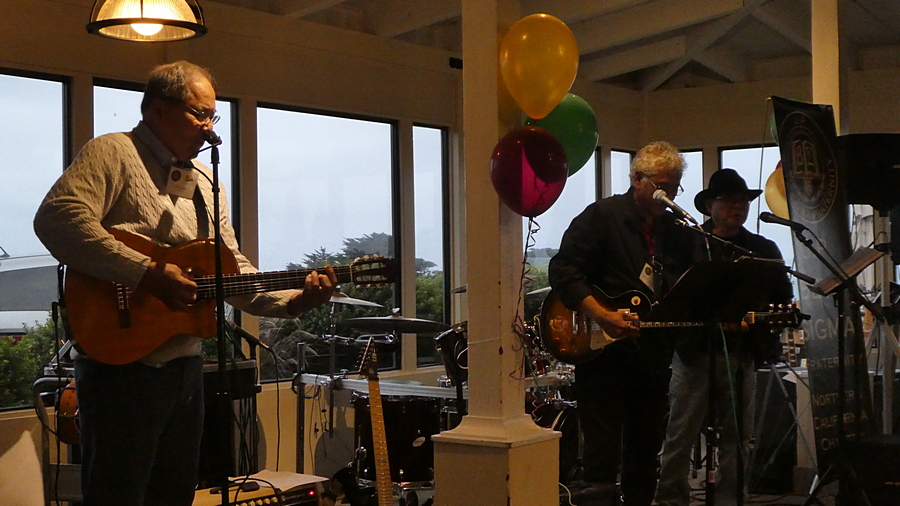 UP North's Band of Brothers provides the music with erstwhile RP Butterfly folksinger Mel Gulfin from NY/NJ.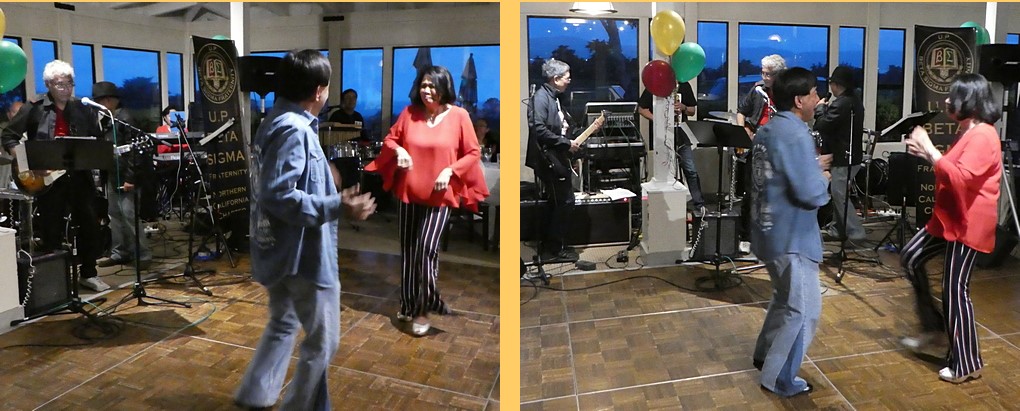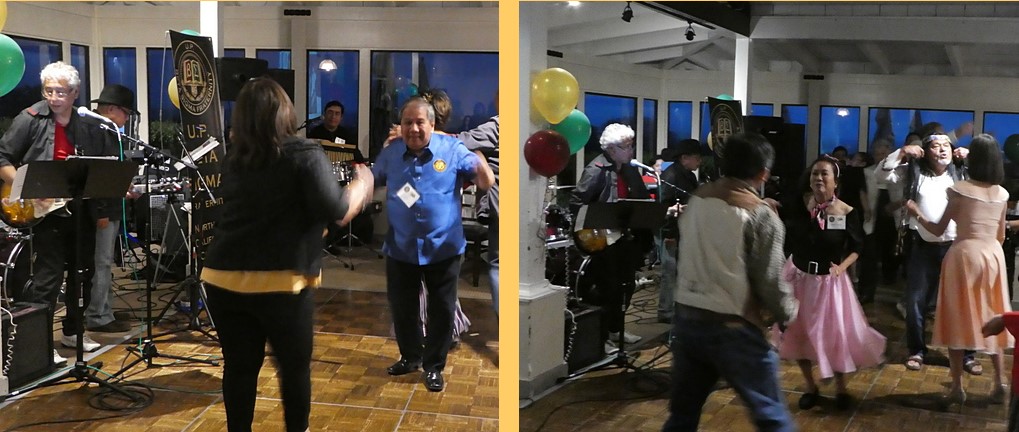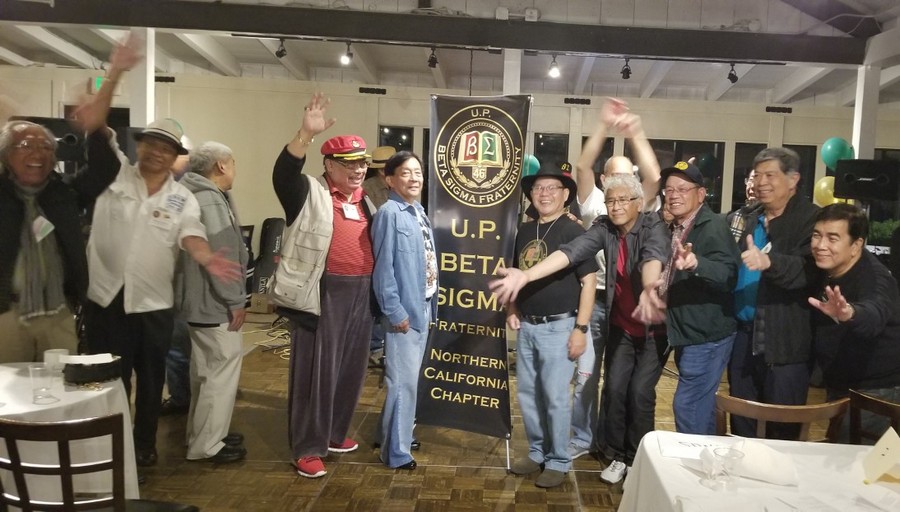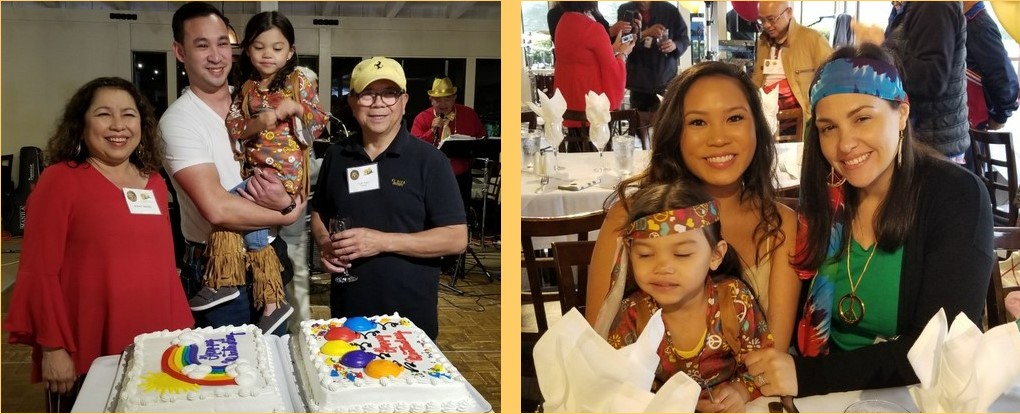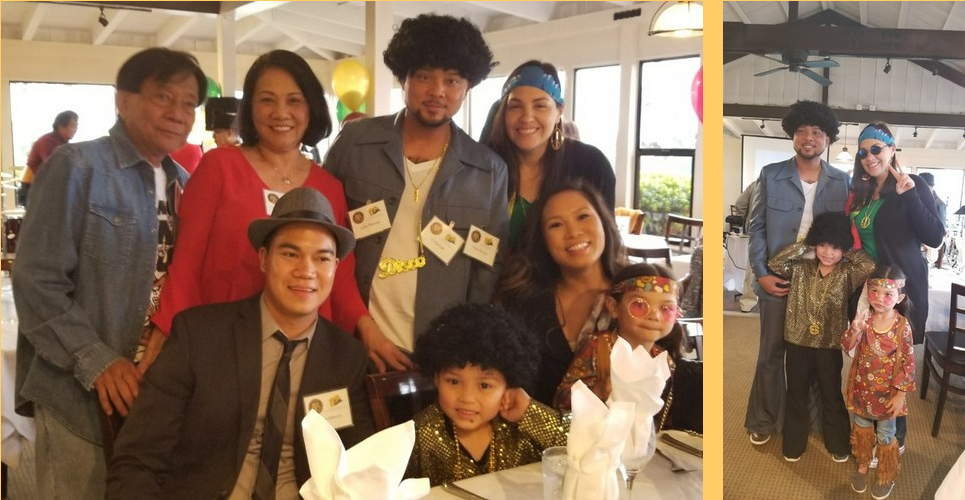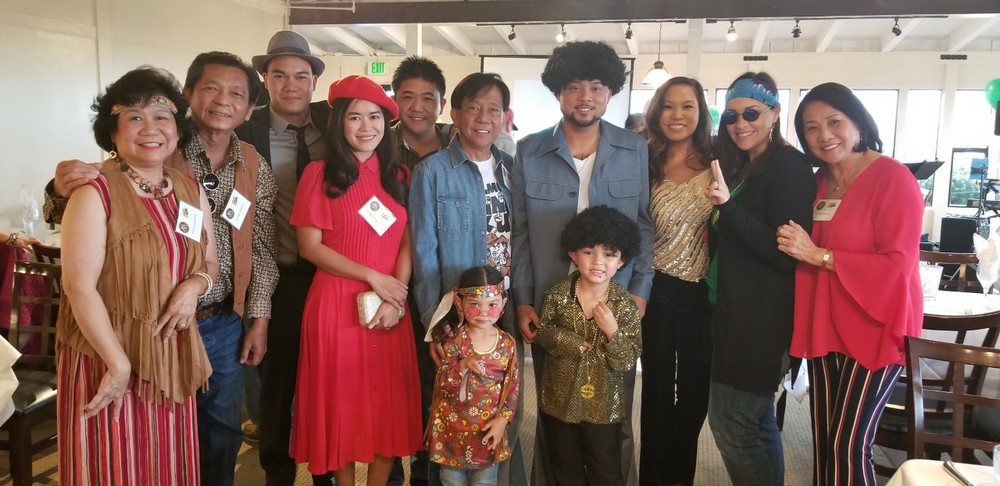 Bobby and Harlean's family clan dress up 60's-70's style for the occasion.
~~~~~~~~~~~~~~~~~~~~~~~~~~~~~~~~~~~~~~~~~~~~~~~~~~~~~~~~~~~~~
Induction of Officers and Fraternity Ball
Marriott Hotel, Monterey, CA, May 26, 2019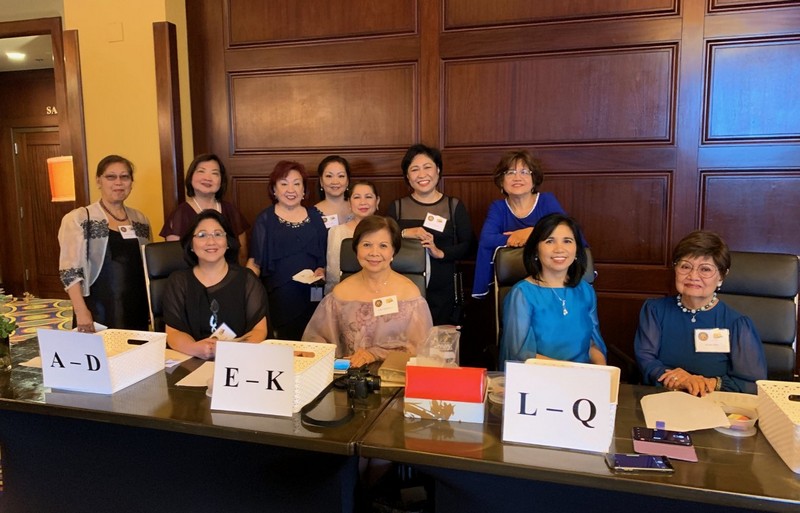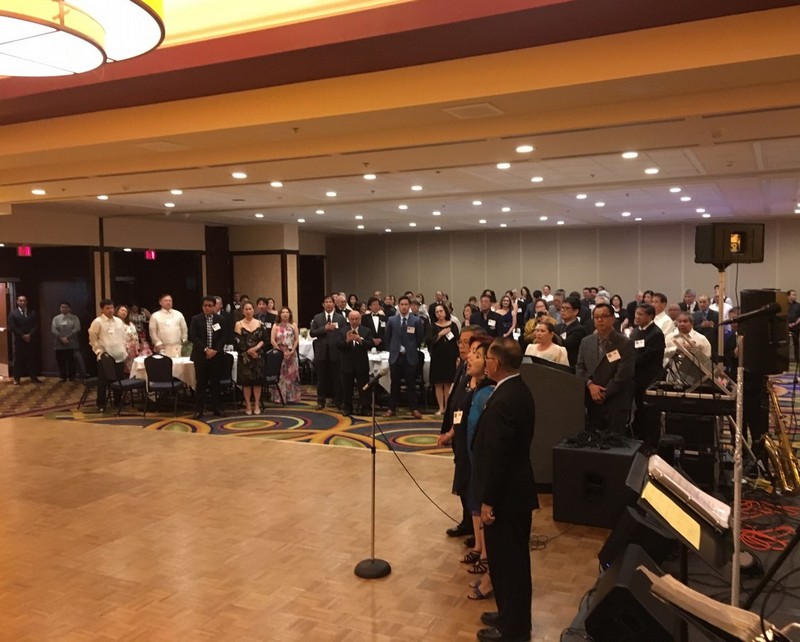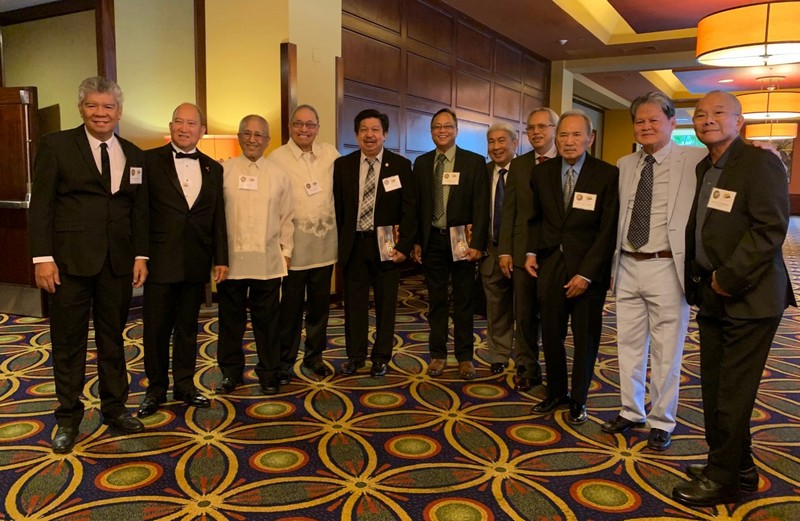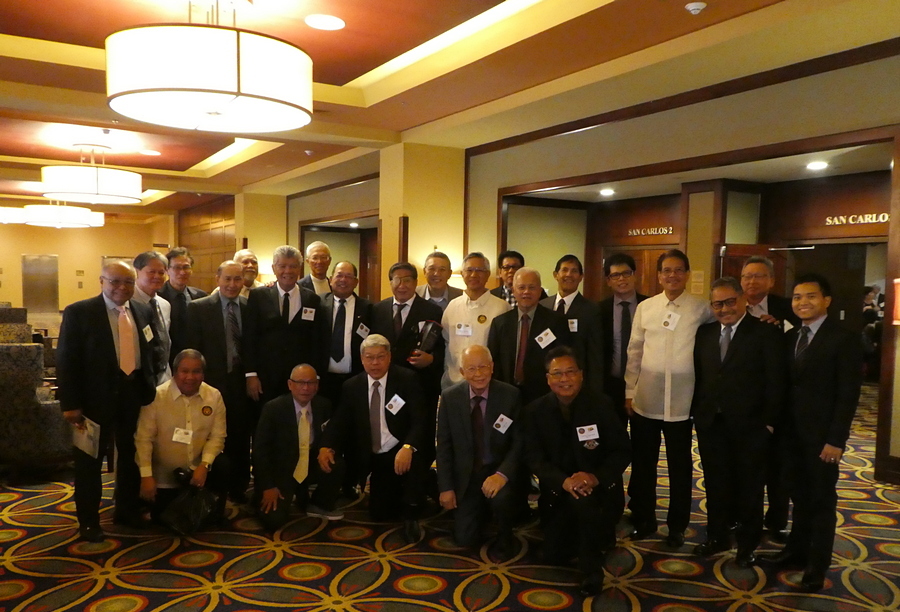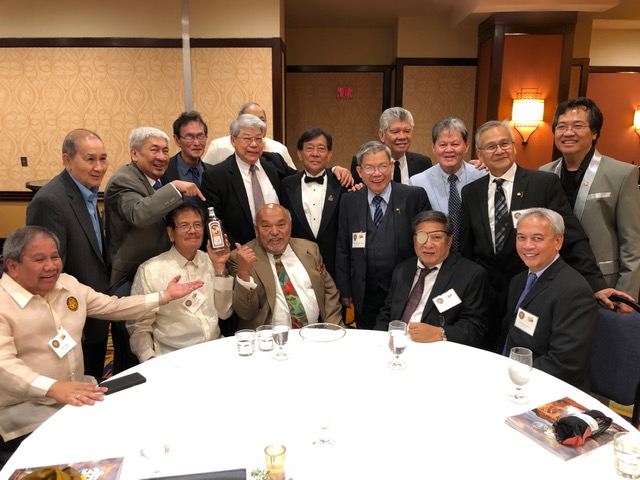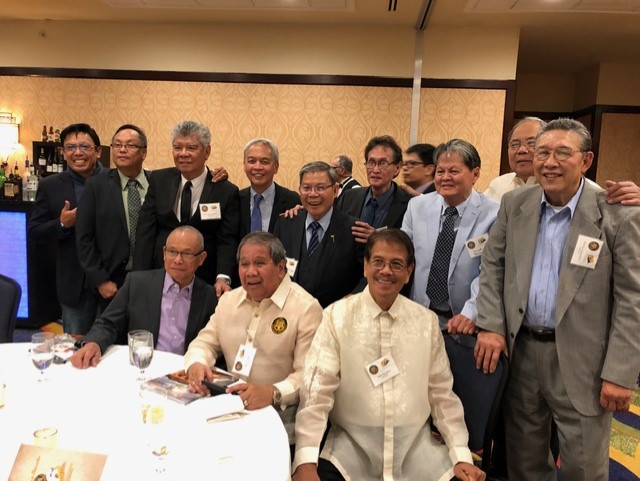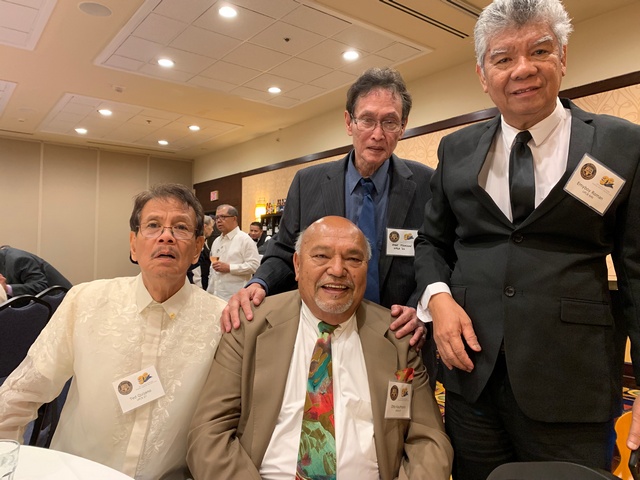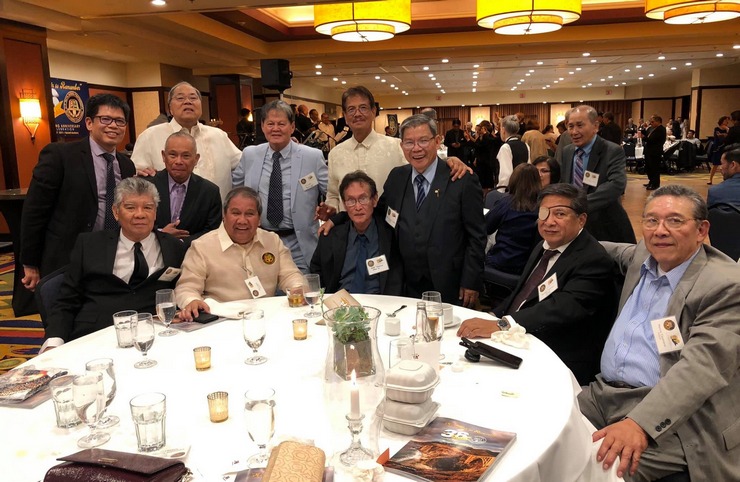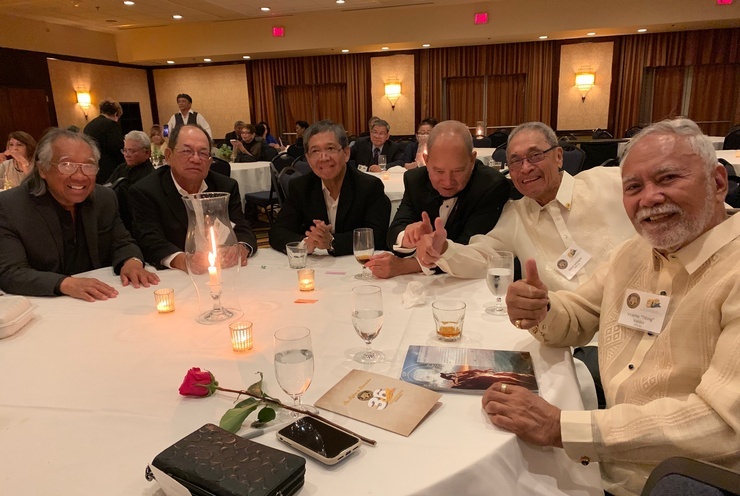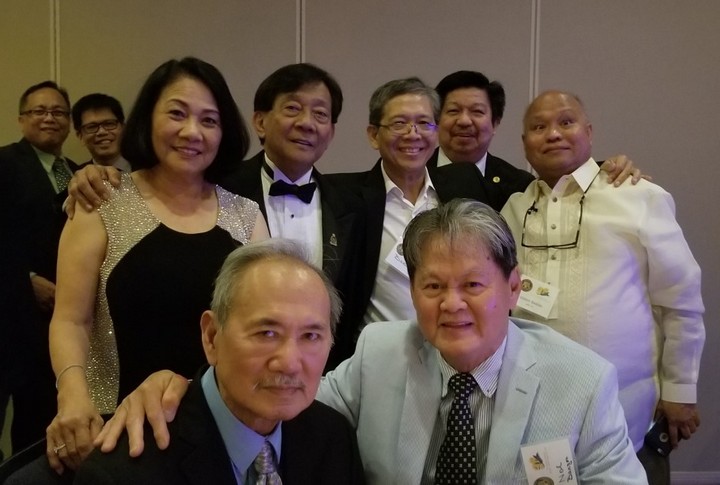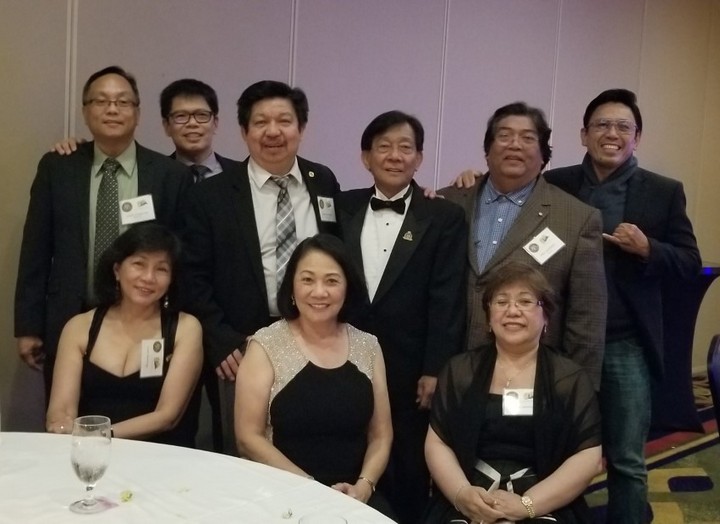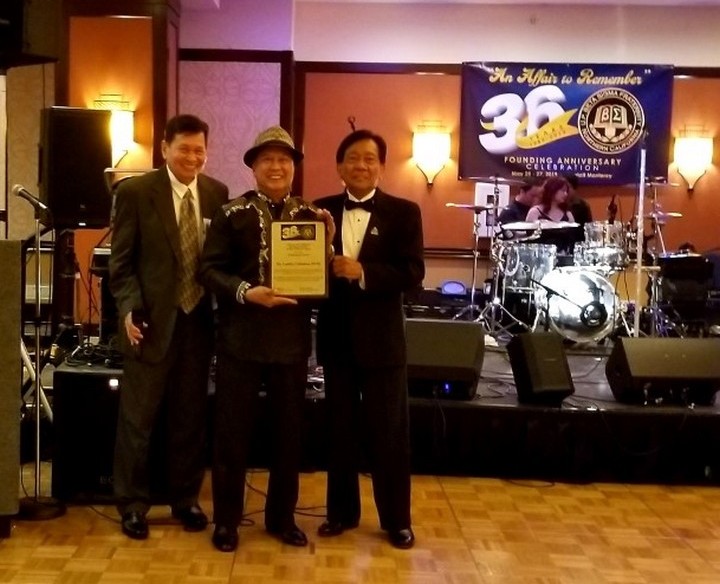 1st President/GP of UP North, 1983-1987, Dr. Luisito "Sitong" Cabaluna'59 DVM receives leadership award.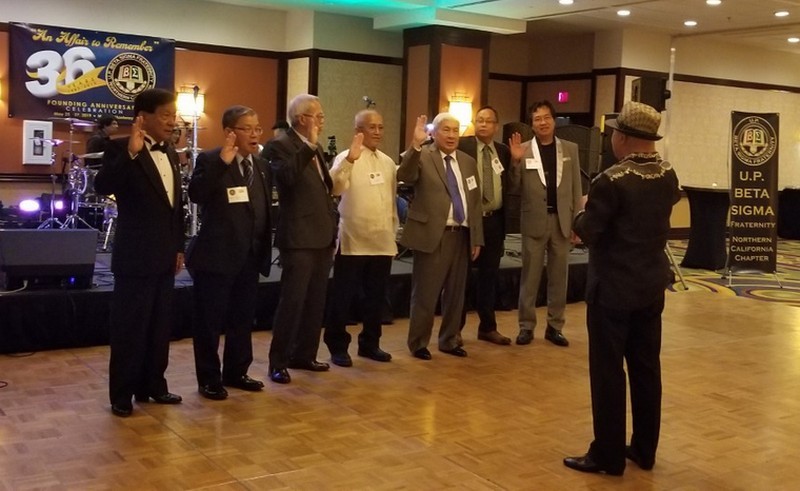 Sitong, also the keynote speaker, inducts the incoming officers led by GP Bobby Pascual.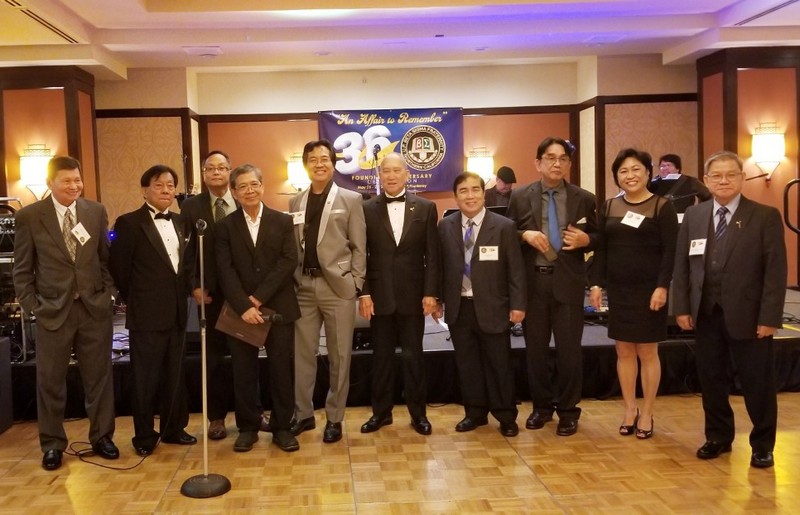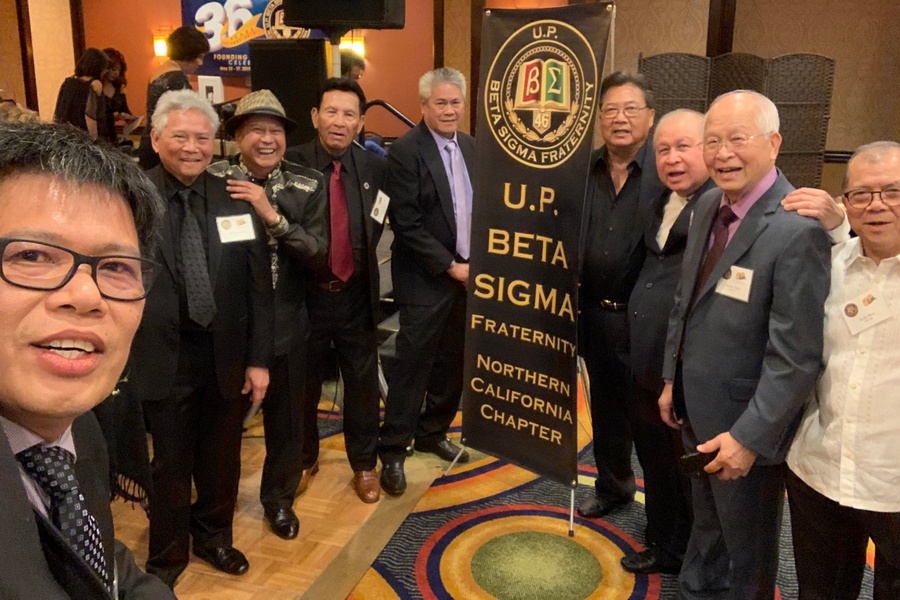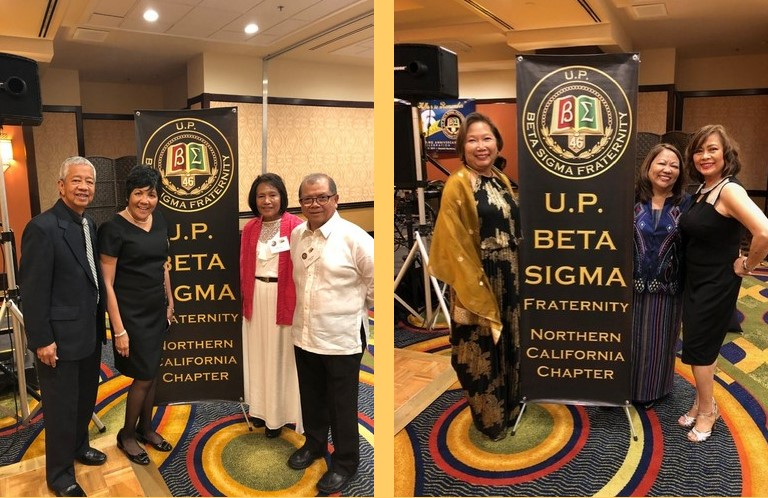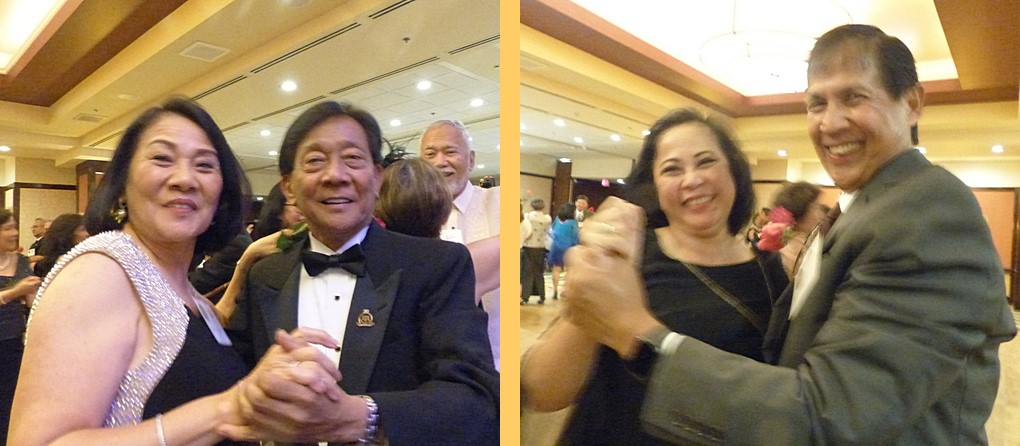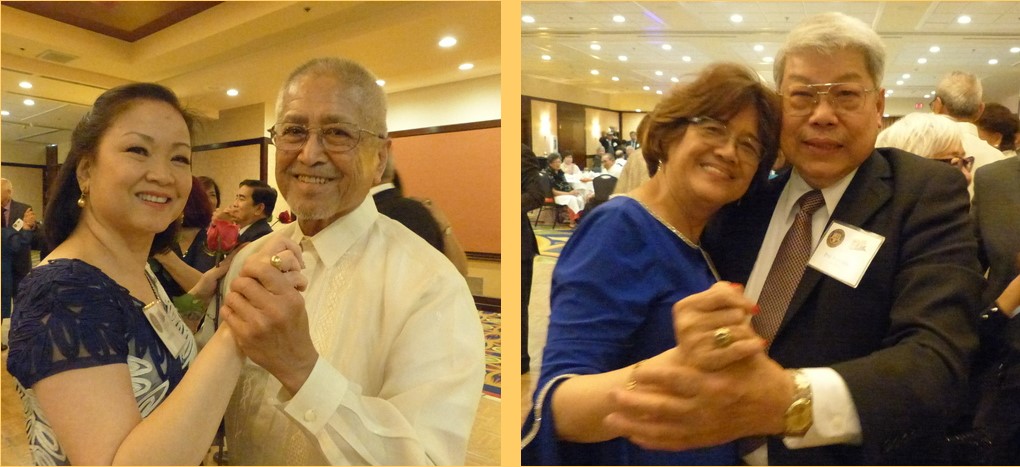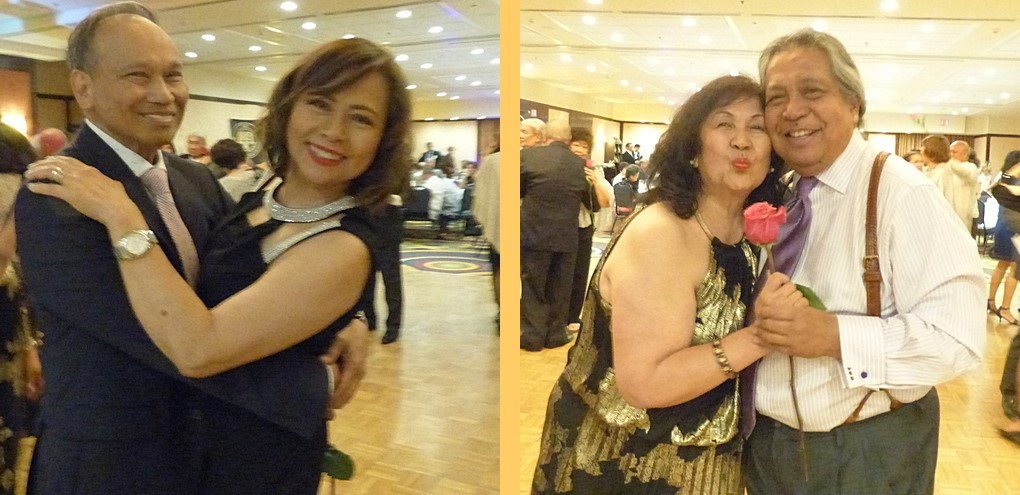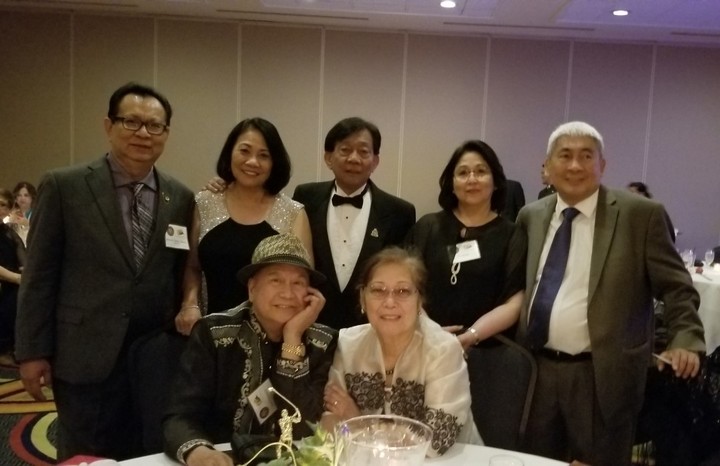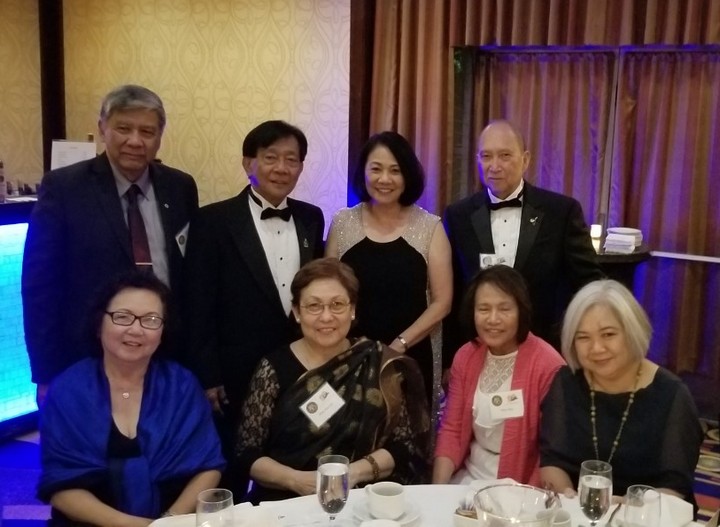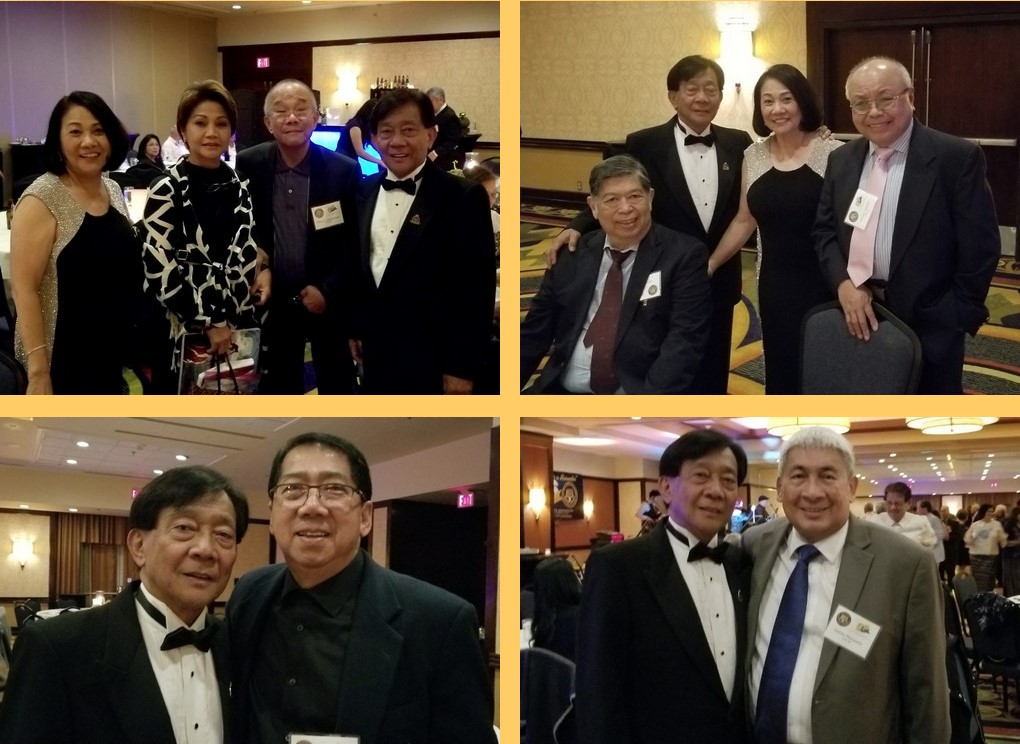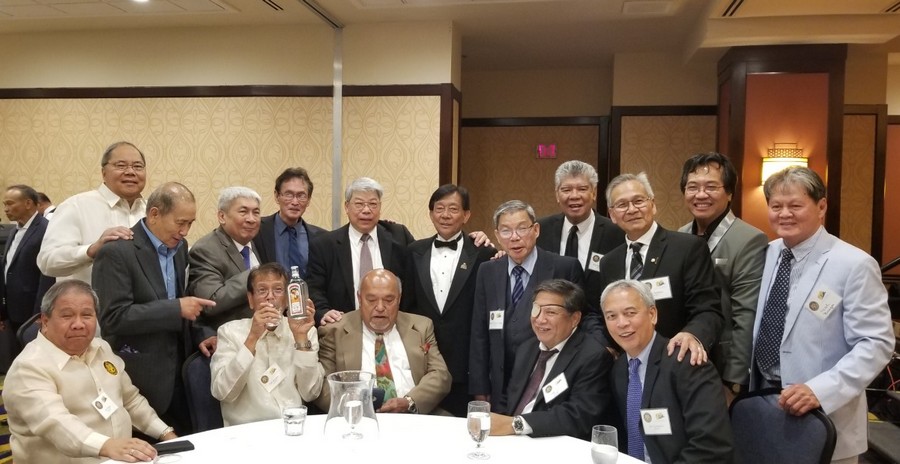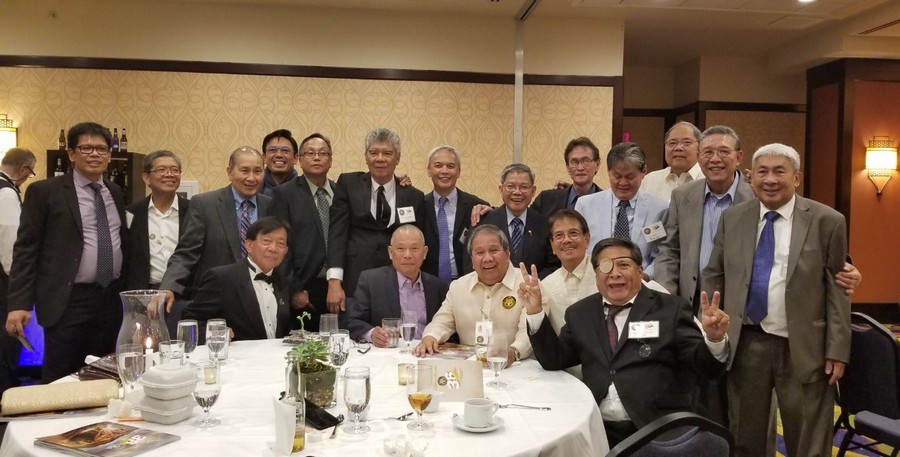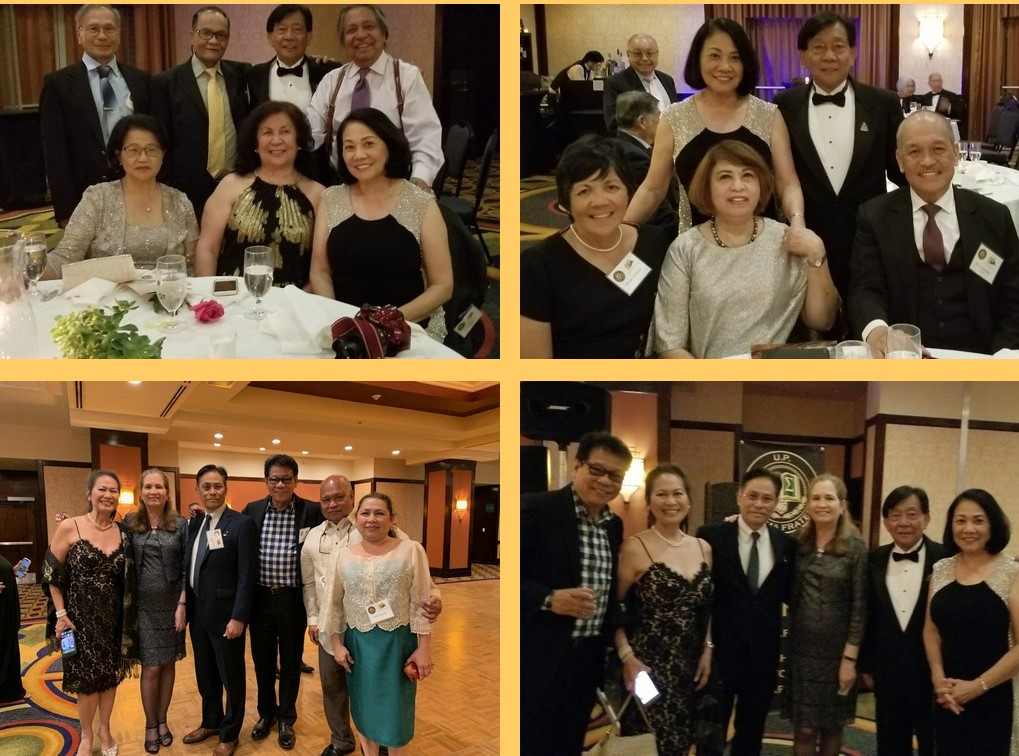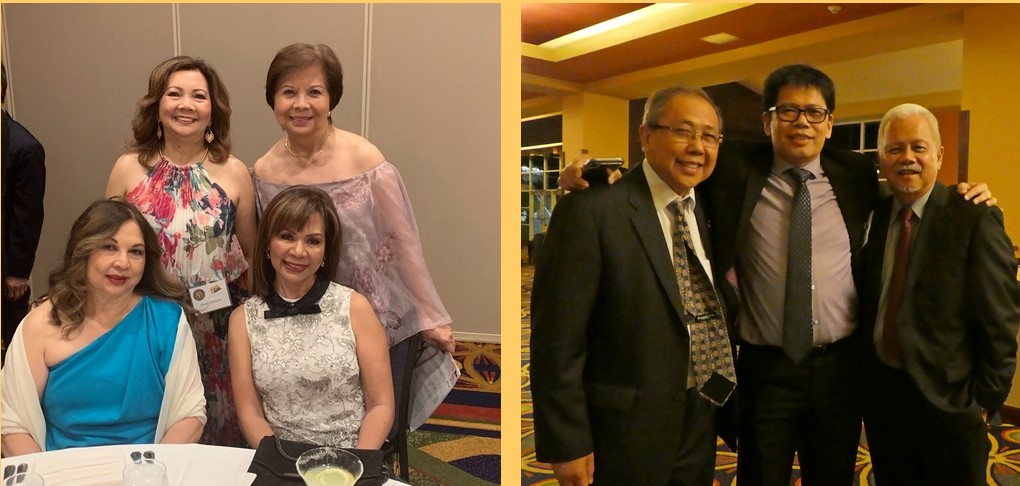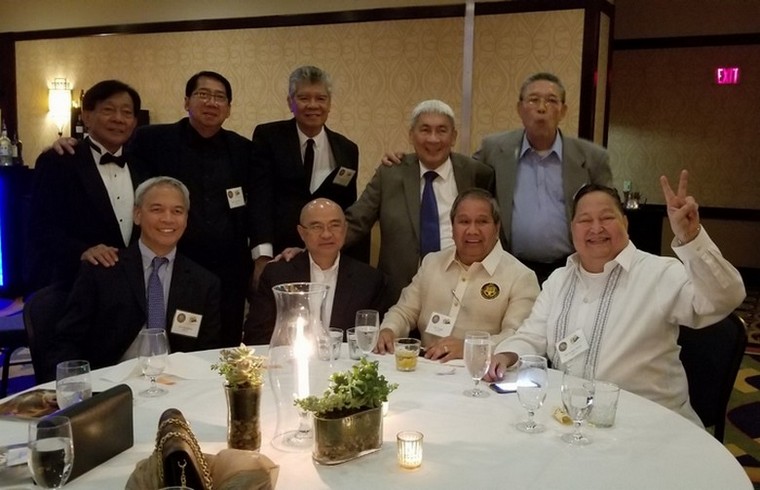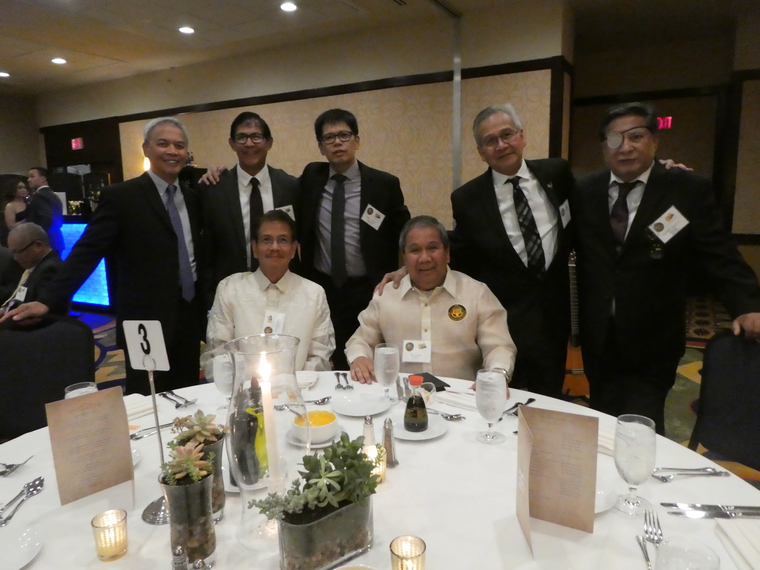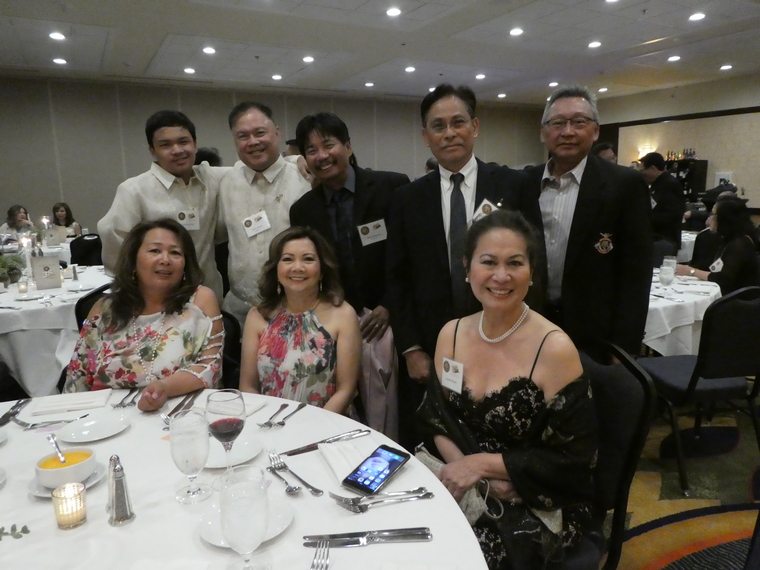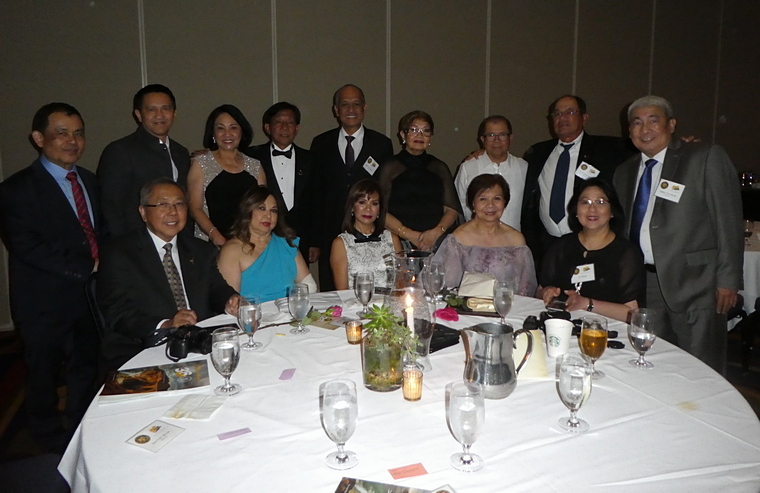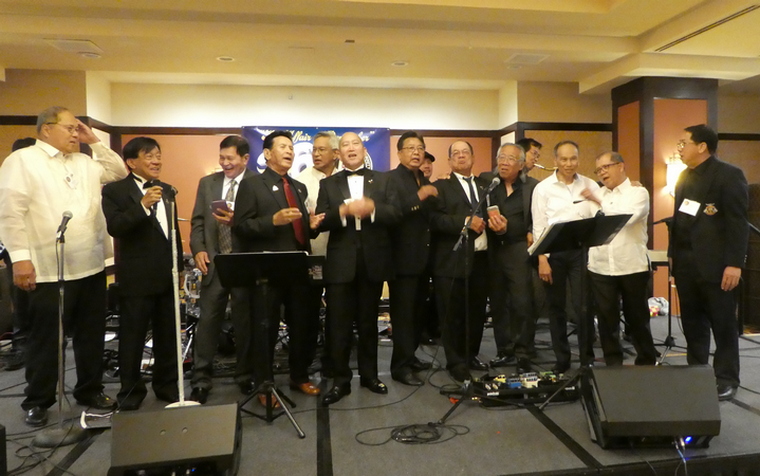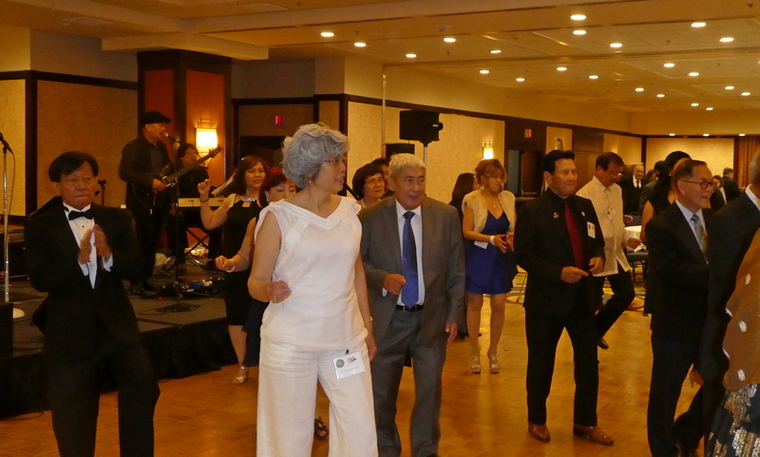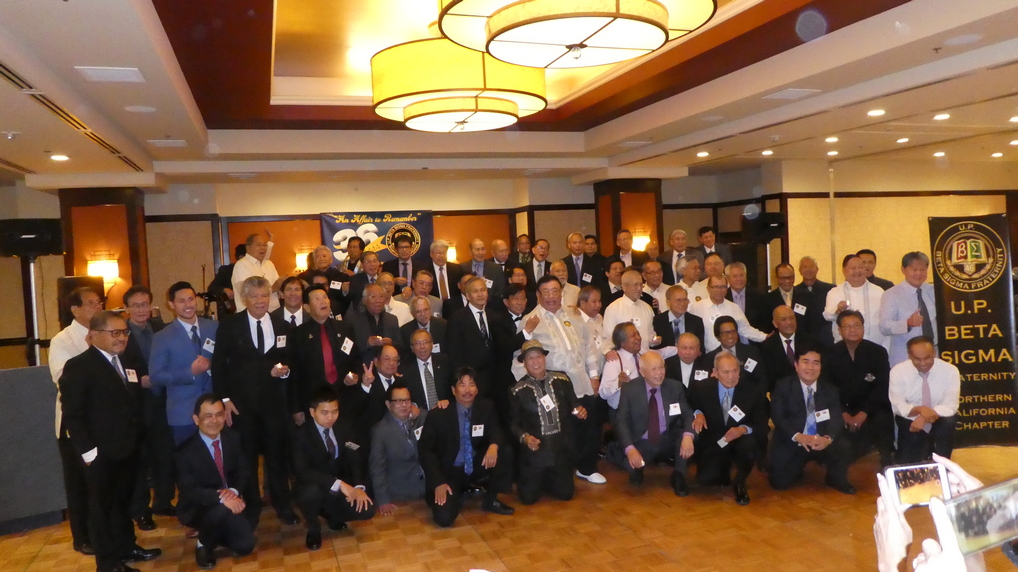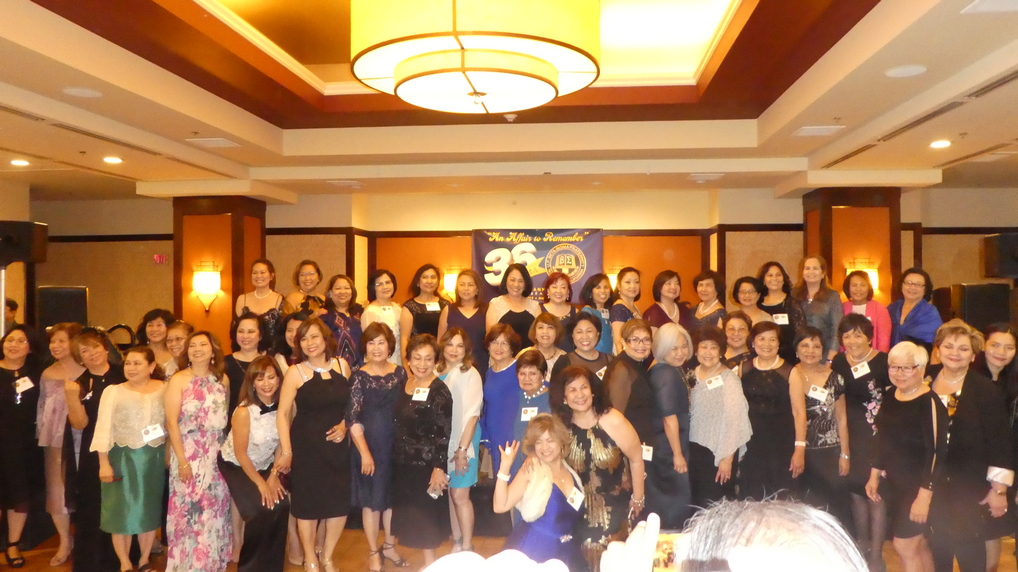 At the Hospitality Suite, Rm. 207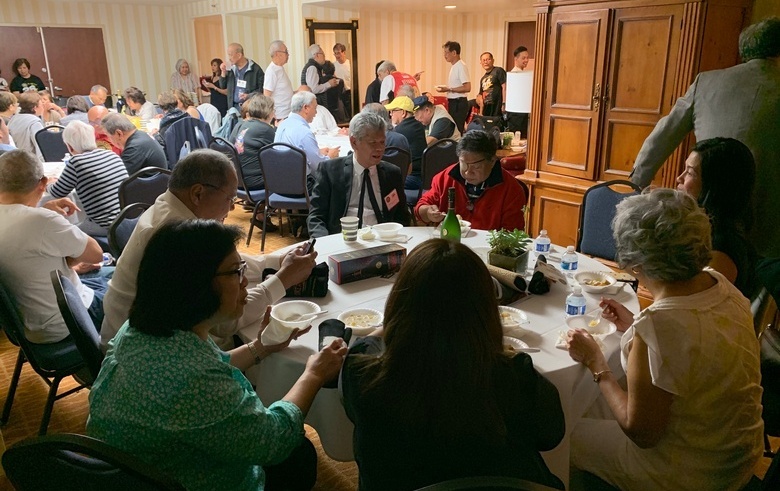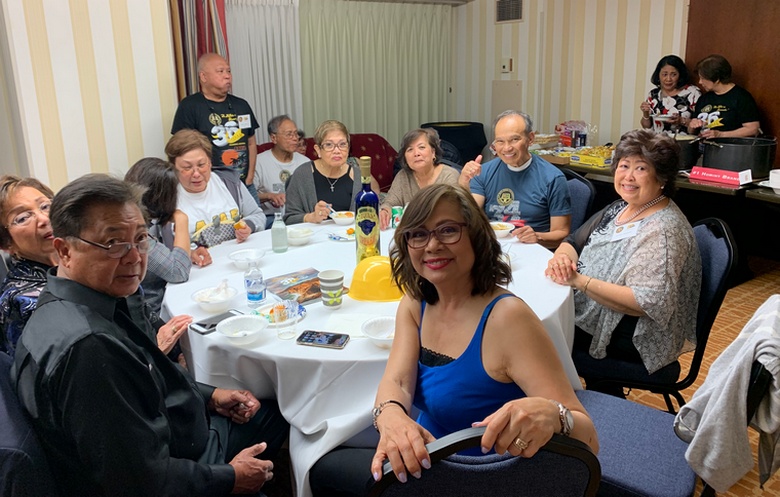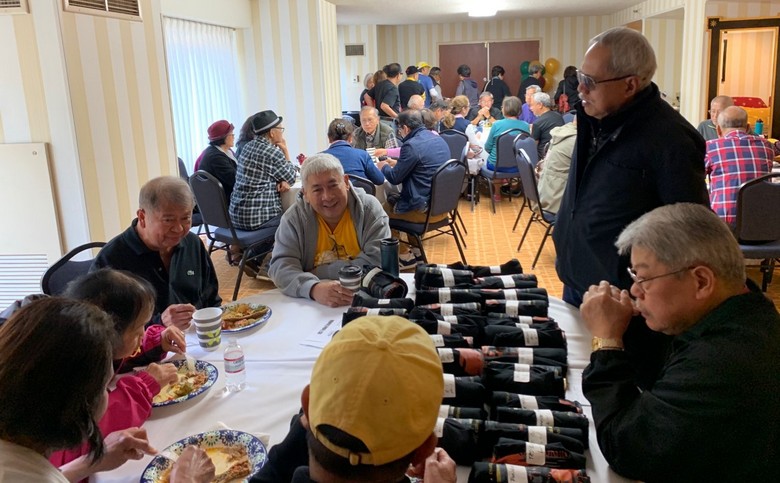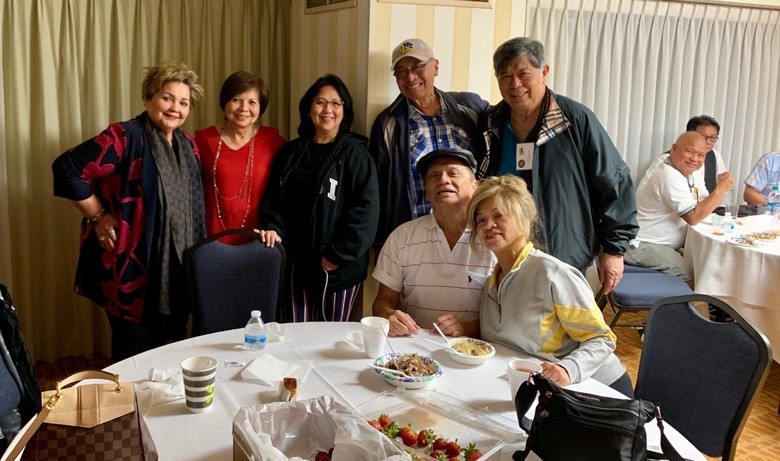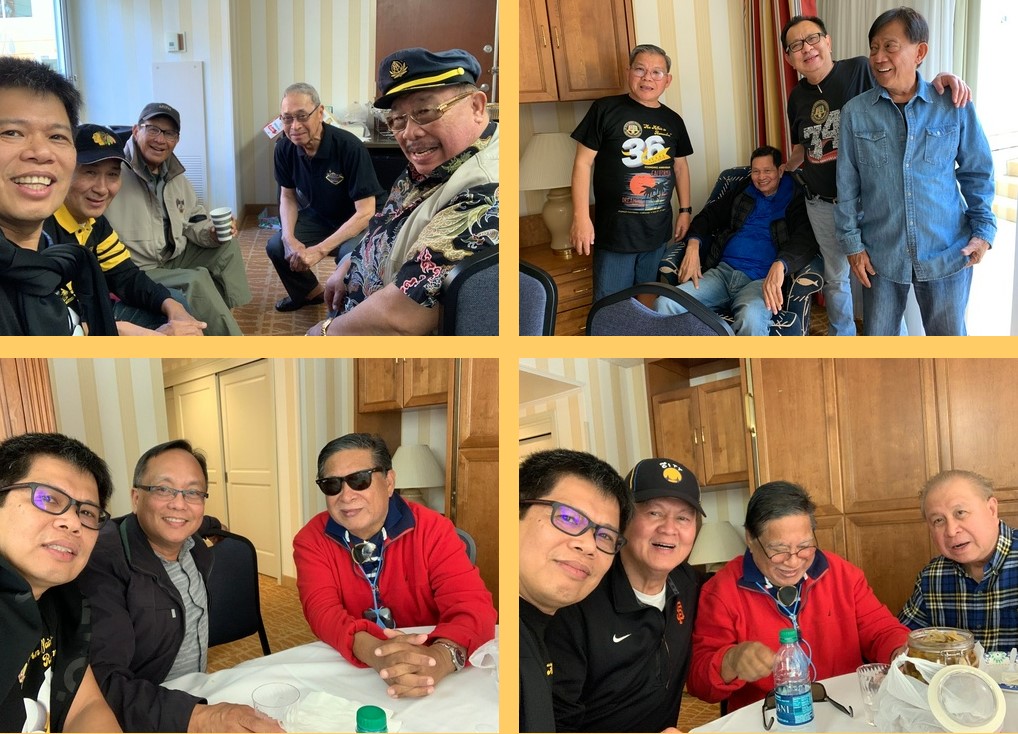 GP Bobby shows off his "The Voice" talent in the table singing contest orchestrated by folksinger Mel.
~~~~~~~~~~~~~~~~~~~~~~~~~~~~~~~~~~~~~~~~~~~~~~~~~~~~~~~~~~~~~
Picnic and Send-off
Lover's Point Park, Pacific Grove, CA, May 27, 2019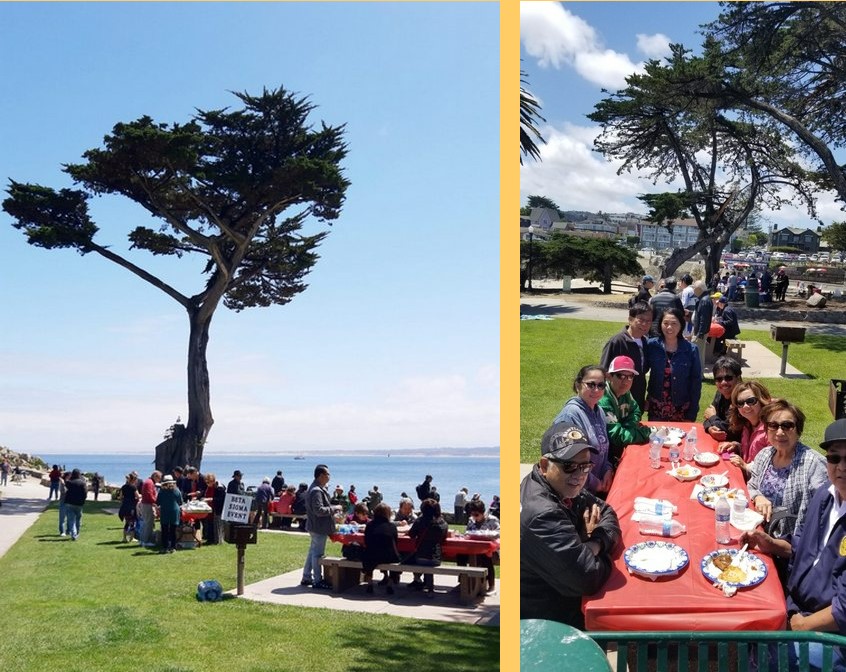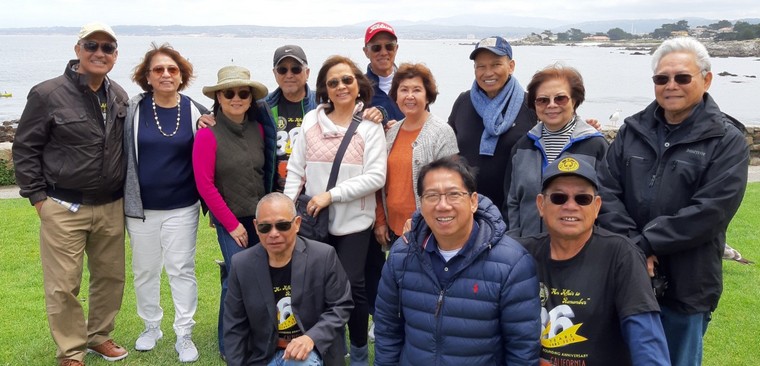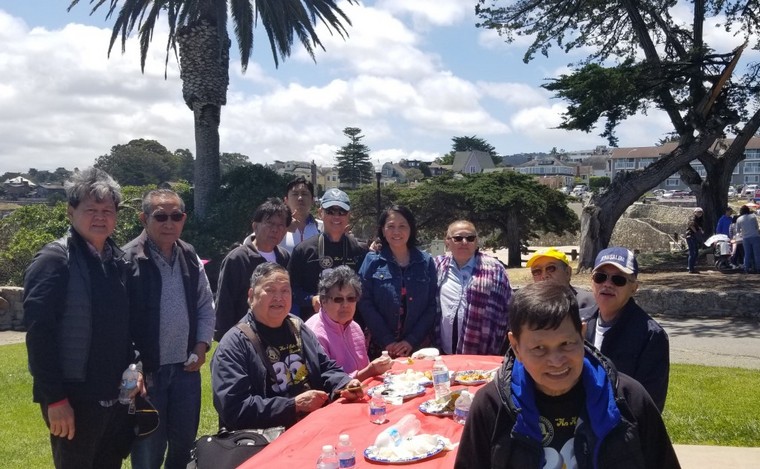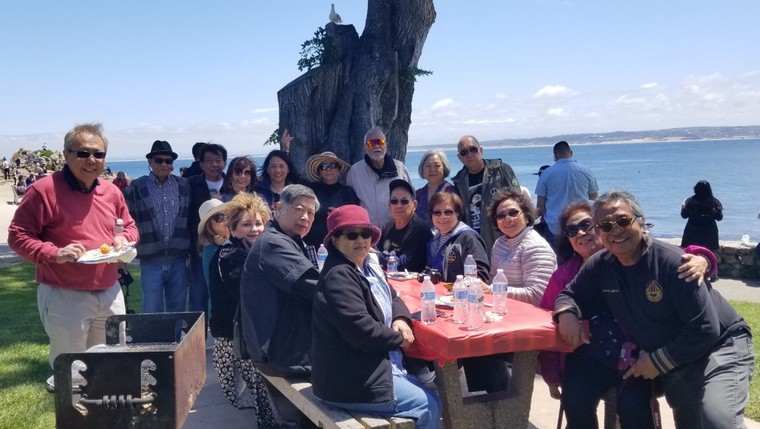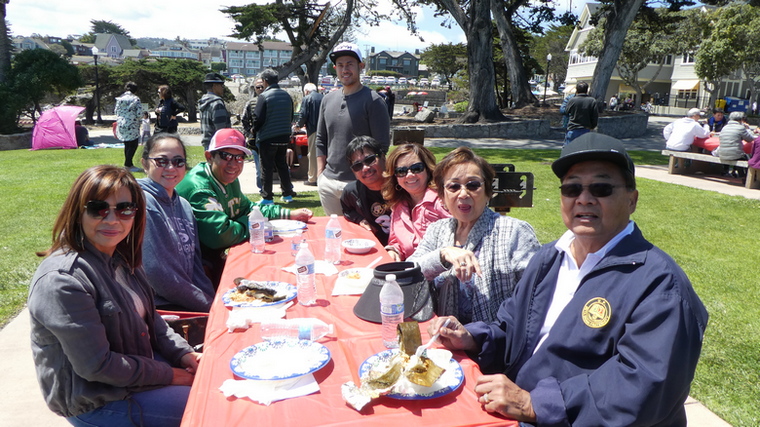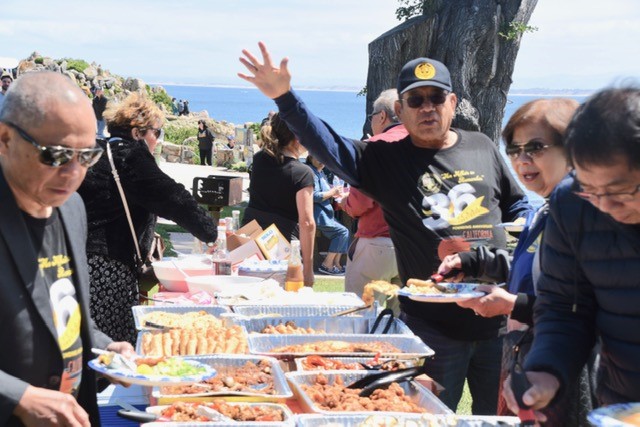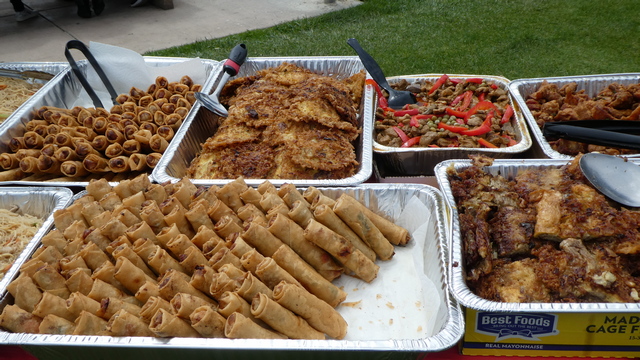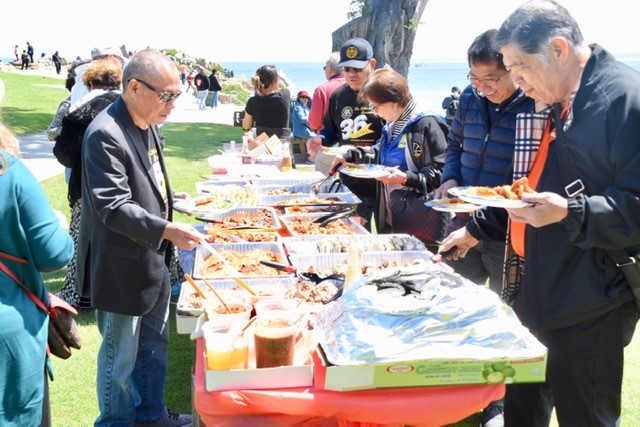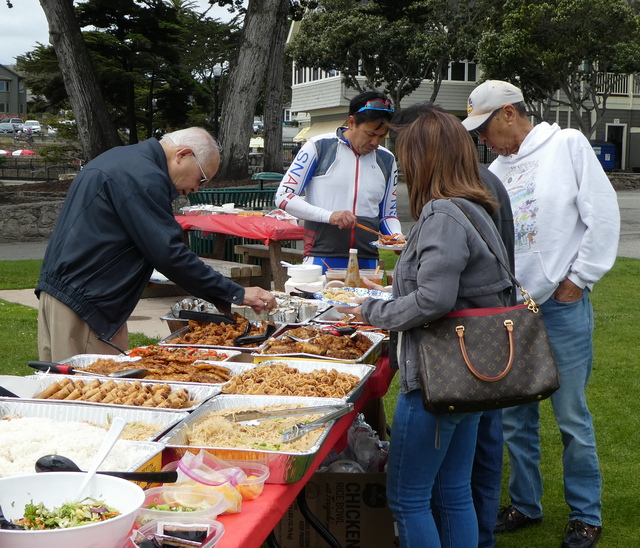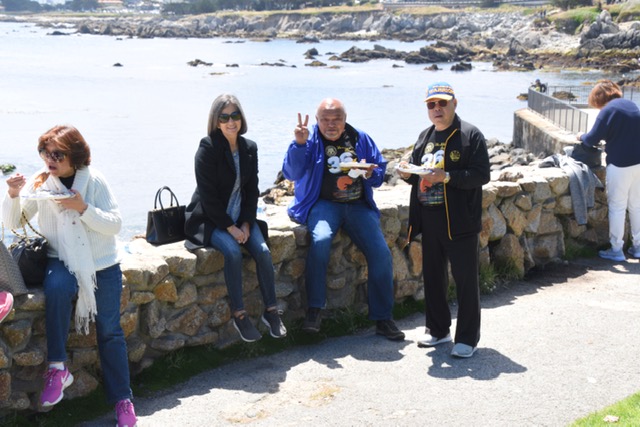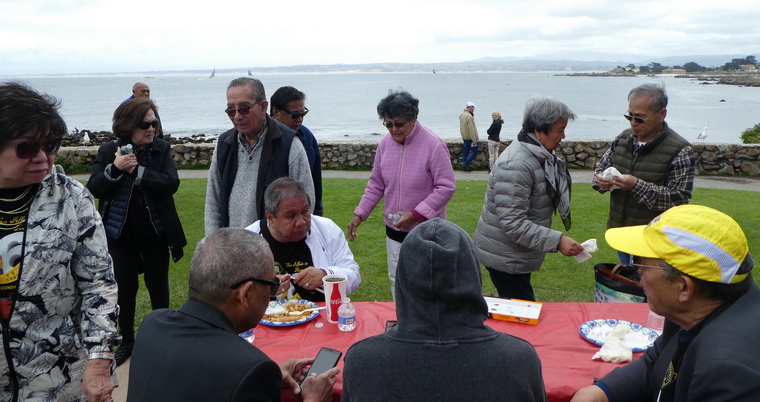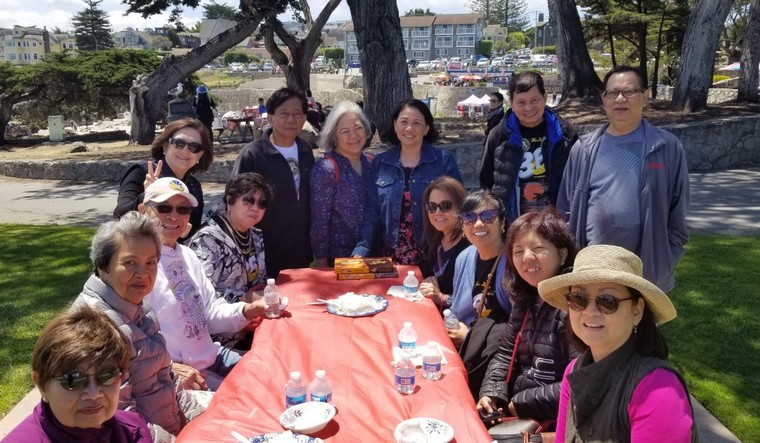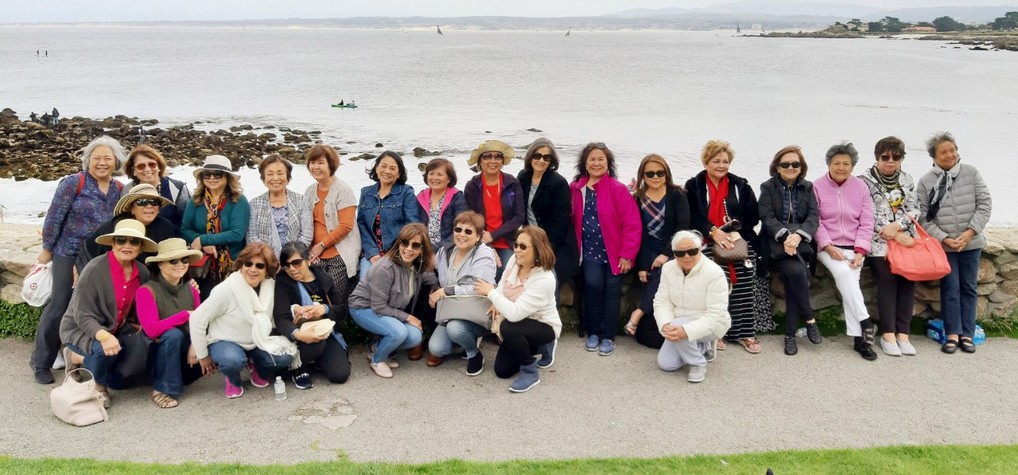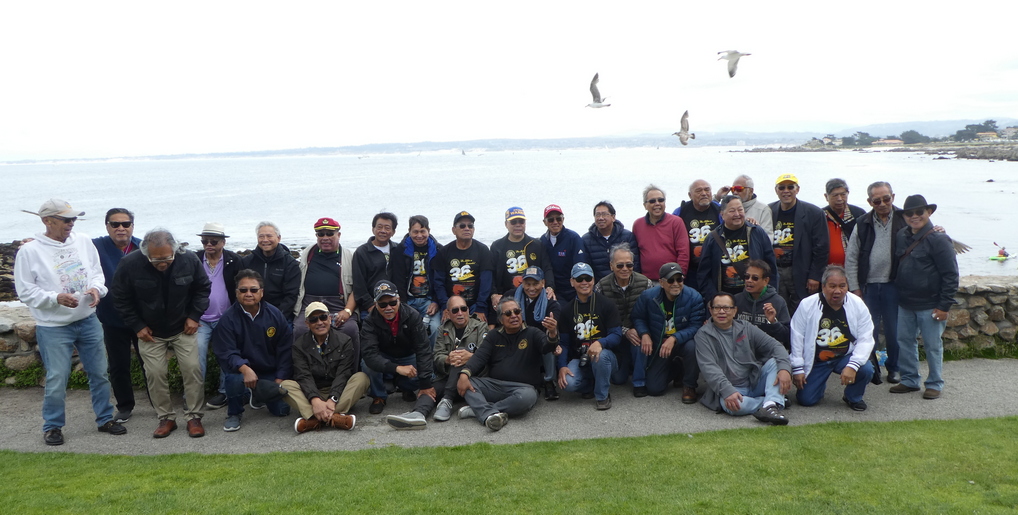 See you in 2021!!