Mindanao Alumni Chapter
"The Godfather of UPMin"
Submitted by: Zony Reyes thru Anggie Angliongto
[photos from UPBSI-International website]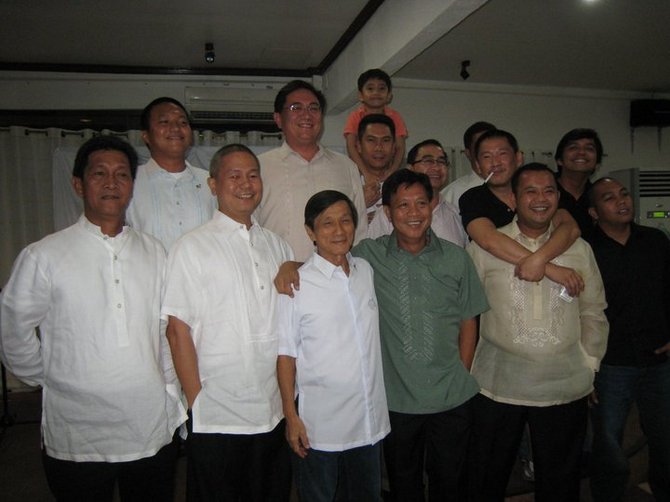 "The Godfather of UPMin" Anggie Angliongto and the UPMin Brods - Davao, July 14, 2010.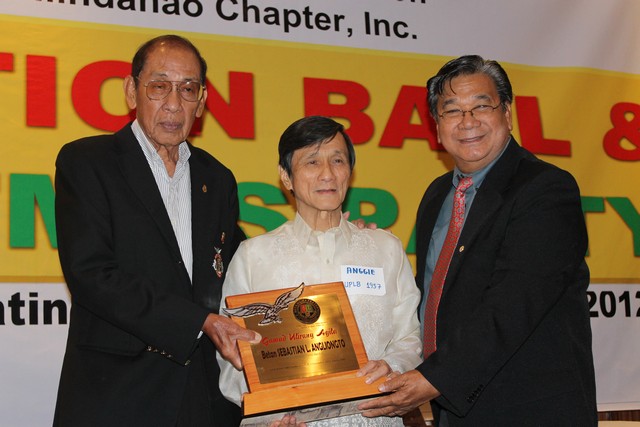 Anggie Angliongto, UPLB 57, receives Gawad Ulirang Agila - Davao, December 1, 2012.
The dream to have a University of the Philippines in Mindanao was long time coming. Perseverance took two decades, and the quest was for UP Alumni Association of Davao (UPAAD) to reach this unreachable star. The late Dr.Agnes Togon wrote: "The UP Alumni in Mindanao consider Mr. Sebastian "Anggie" Angliongto as the godfather of UPMin. With reason". She narrated 8 pages blow-by-blow account of the challenges that beset the skolars ng bayan who were residing in Davao City.
Then President of UPAAD, Sebastian "Anggie" Angliongto spearheaded one the most difficult tasks in his lifetime. How he led others to persuade the Congress, Senate, UP Board of Regents, and Malacanang itself, to have a unit of the University of the Philippines in Mindanao was amazing! Years of perseverance and commitment par excellence.
On February 20,1995, Republic Act 7889, the bill creating UP Mindanao (UP Min) was enacted into law. President Fidel V.Ramos, together with the UP Board of Regents reenacted signing in March 22,1995 here in Davao City, with many alumni jubilantly witnessing this milestone.
Even so, there was no stopping to the passion for service that was the nature of Anggie.
Regular consultation with then UPMin Dean Rogelio V. Cuyno opened discussions about supporting the Faculty Incentive Program in their pursuit to qualify to the World University Rankings indicators that measure the performance in teaching, research, citations, international outlook and industry income.
UP Mindanao Foundation, Inc (UPMFI) was henceforth organized and SEC registered on November 1995. A trust fund was initiated and work with UPMindanao started immediately.
Mr. John Gaisano was the first Chairman and Mr. Angliongto was Vice-Chairman. Two years after, Mr. Angliongto left his position in UPAAD and took the helm as Chairman of UPMFI with Mr.Gaisano as Vice Chairman. Both have served actively since 1995.
As the years passed, UPMFI had more UP alumni as members and every three years some new blood were sworn into office to become officers and trustees. Mr. Angliongto was always reelected and maintained his Chairmanship for more than twenty years. He said every meeting was an encouraging experience as he witnessed more grantees (especially from poorer sector of Mindanao provinces) received financial support. What makes Mr. Anglionto even happier is the fact that these faculty and students performed well academically and did not forget to look back to the foundation with gratitude.
Anggie left his position in UPAAD and took the helm as Chairman of UPMFI. He was always reelected and maintained his Chairmanship for more than twenty years.
He was not a man with just sentiments for UPMindanao. He took time to represent UPMFI in many important campus events that allowed him to mingle with the minds of the Administrators and staff and the students alike. He enlarged his perspectives and became more compassionate for their cause. He brought his reflections back to the board room of UPMFI. His empathy and high emotional intelligence initiated activities of support; a very quintessential way of helping UP Mindanao!
Anggie has witnessed history passing before him. He saw UPMin campus rise from the ground, worked with all the past four Chancellors and shook hands with all graduating grantees. He was happiest when UPMFI was given credit for their successes. He was energized to continue the work together with the BOT, pro bono.
At 83, Anggie needs no introduction. His name is a resounding voice of service, his commitment unquestionable. He said his productivity in volunteering time and effort with UPMFI is the legacy he is most proud of.
He is truly a staunch supporter of UPMFI. We salute him and give him our highest accolade.
(Back ---> UP Mindanao Updates)