-

Travelogue
Camino 2022
by Norman Bituin
It all started three years ago. In spring of 2019, I made a 20-day solo trip to Portugal and Spain, in Travelogue as "Buen Camino". One of my stops was Santiago de Compostela where I walked the last 20 kilometers only just to "get a feel" of the pilgrimage experience. Since then and throughout the pandemic, I have read memoirs of several pilgrim-authors in Kindle Books and have watched vlogs on the Camino in You Tube. Early this year when Spain announced that the travel restrictions would be lifted in February, I decided to go for it. I have also been in touch with Brod Joe de Vera, UPLB'58, who completed the Camino Frances route with a distance of 500 miles/780 kilometers twice, in 2015 and 2019, in Travelogue as "Double Betan Camino!!". Brod Joe lives in Heerlen, Netherlands and indeed he has inspired me on my journey.
Briefly on the history of the Camino de Santiago. After Christ's death, one of the twelve apostles, St. James known as "Santiago" by Spanish Catholics, spread the teachings of Christ in the Iberian Peninsula. He was beheaded by King Herod Agrippa II in 44 AD when he returned to Jerusalem. According to Christian tradition, his headless remains was found in the 9th century by his followers in Galicia and now lie in the Cathedral of Santiago de Compostela. As for the logistical aspects for anyone interested in doing the Camino, Brod Joe has outlined and given useful tips, pointers and suggestions in his article. He also included the links to his blog and You Tube videos.
For my Camino, I flew to Pamplona on April 26; took the 2-hour bus ride to St. Jean Pied de Port, France; and started my Camino up the Pyrenees to Spain from there. I followed the 33-stage itinerary from www.gronze.com (below), except for Stages 17 and 26 where I had to adjust the 'End' town due to lodging/accommodation. I opted to stay in hotels/hostals or albergues with a private room whenever possible, but also had my share of dormitory-type albergues. Later my wife Cherry and daughter Jamie followed and joined me in Sarria. We walked together the last five stages of 116 kms. to Santiago, for them meeting the minimum distance of 100 kms. to also get a compostela (certificate) issued at the Pilgrims Office on May 31. We stayed in Santiago de Compostela for three days before flying back home to California.
After taking a few weeks of rest and introspection from a 500-mile walk of a lifetime, I have gone through my photos. I have selected some of them for this travelogue. Hopefully they will give the reader a glimpse of the Camino de Santiago experience.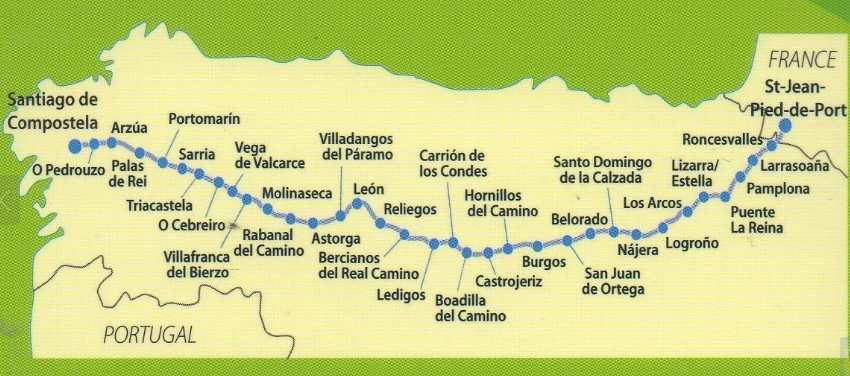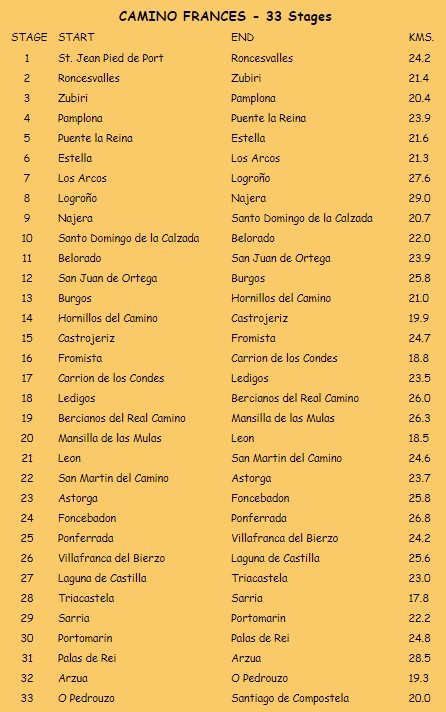 Refuge Auberge Orisson, France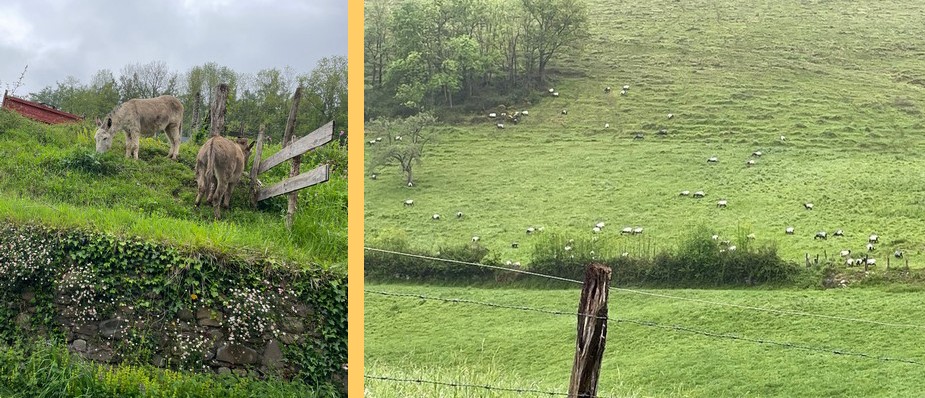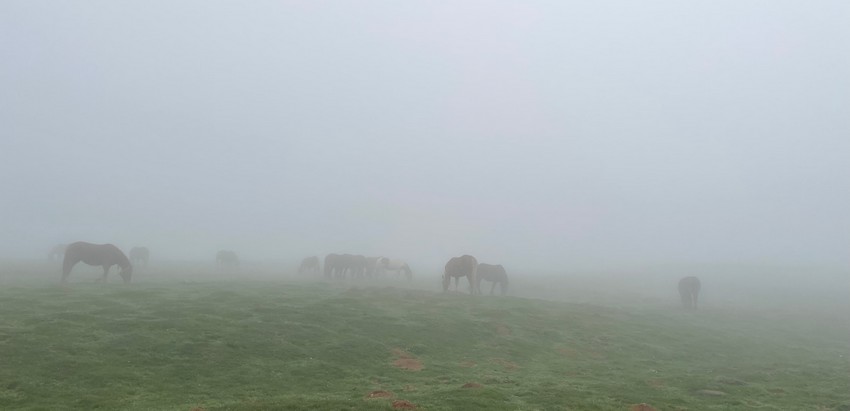 Wild horses, known as the Castillonais breed, graze on the Pyrenees mountains.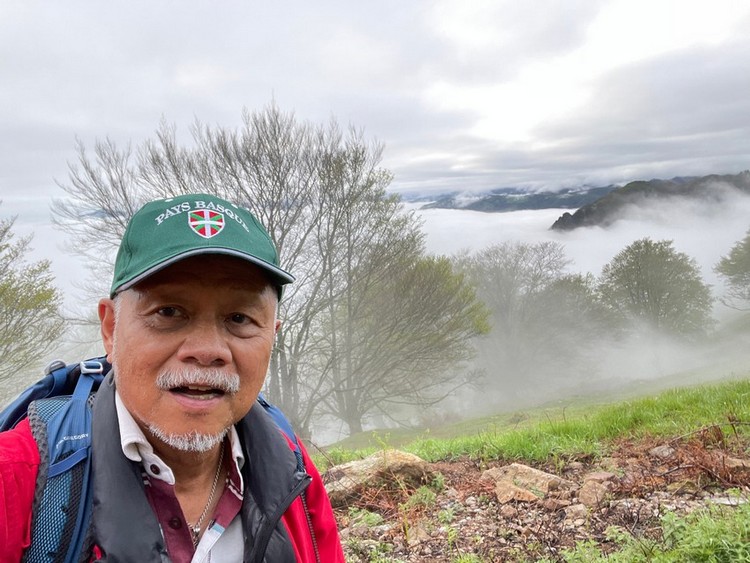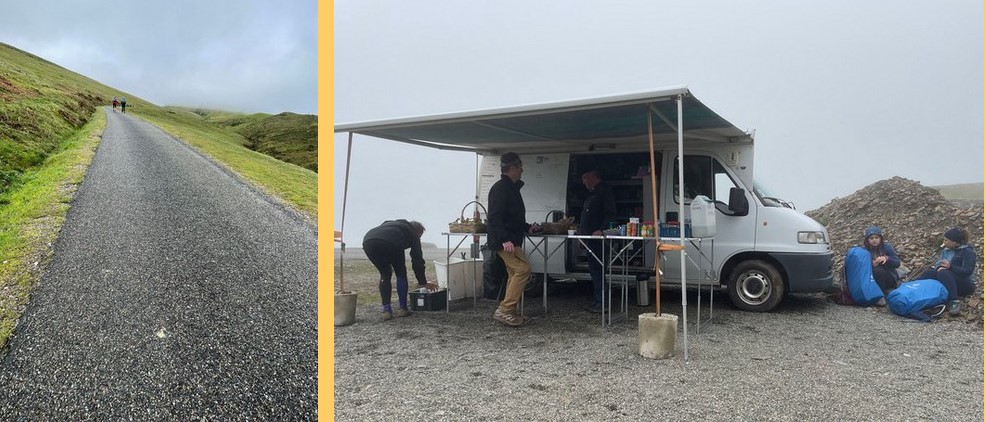 Only chance to get coffee or snacks at this lone roadside food truck before going up the summit.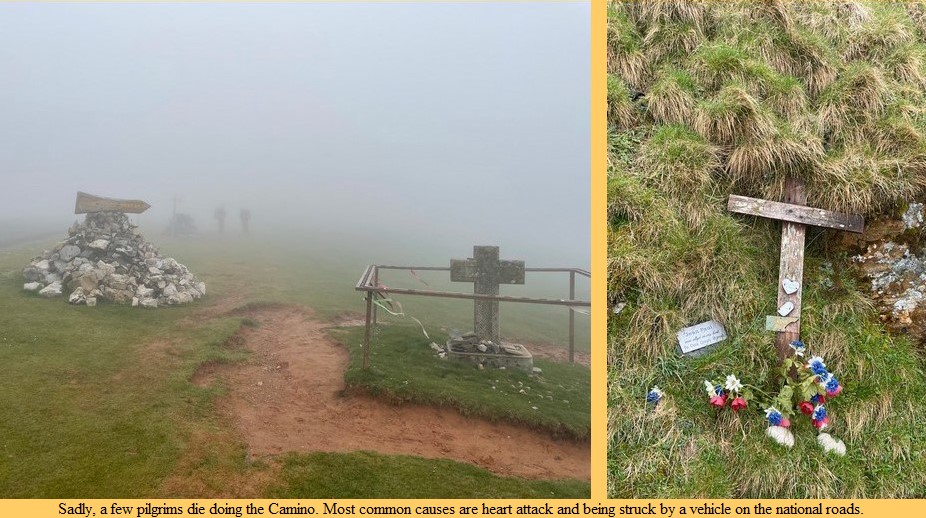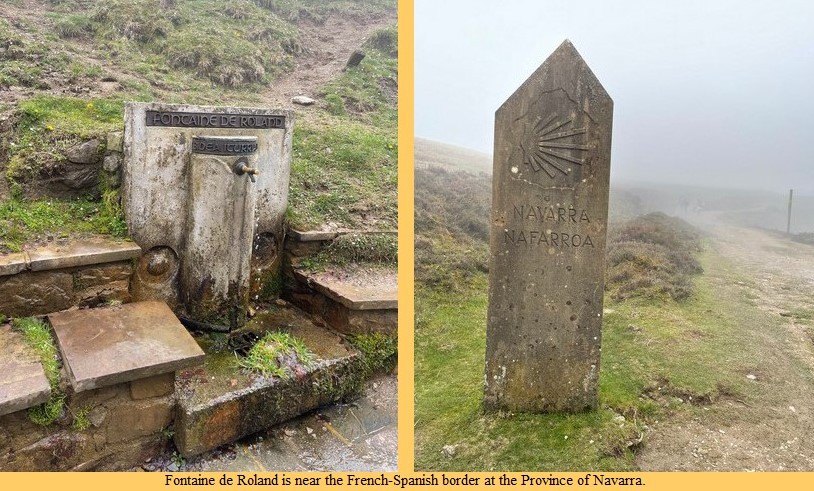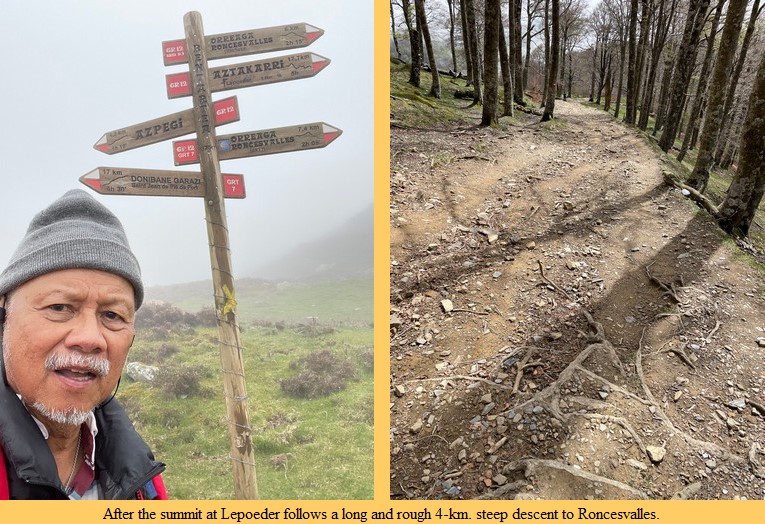 Notes:
1) There are two routes from Saint Jean Pied de Port to Roncesvalles: the high or Napoleon route (so called for Napoleon's 1815 escape from Elba to Grenoble on this road); and the low or Varcarlos route.
2) The high route is closed from October 1 to March 31 on the Spanish side near the border. It has got nothing to do with the weather or your personal experience. It is a legal measure due to the cost of rescues when unreasonable pilgrims recklessly get into trouble. For instance, in March 2016 a Braziliam pilgrim fell into a ravine (below). He was billed 5,360 euros for the rescue. It is best to check with the Tourist Office in SJPdP first.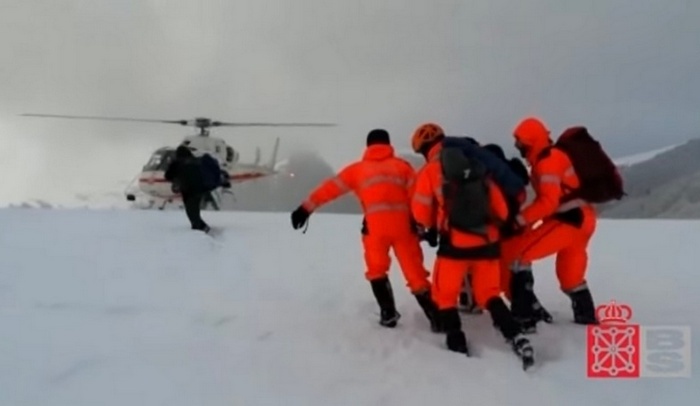 Source: You Tube - "Rescate en la zona de Ibañeta" (https://youtu.be/xEpWMEF6cjo)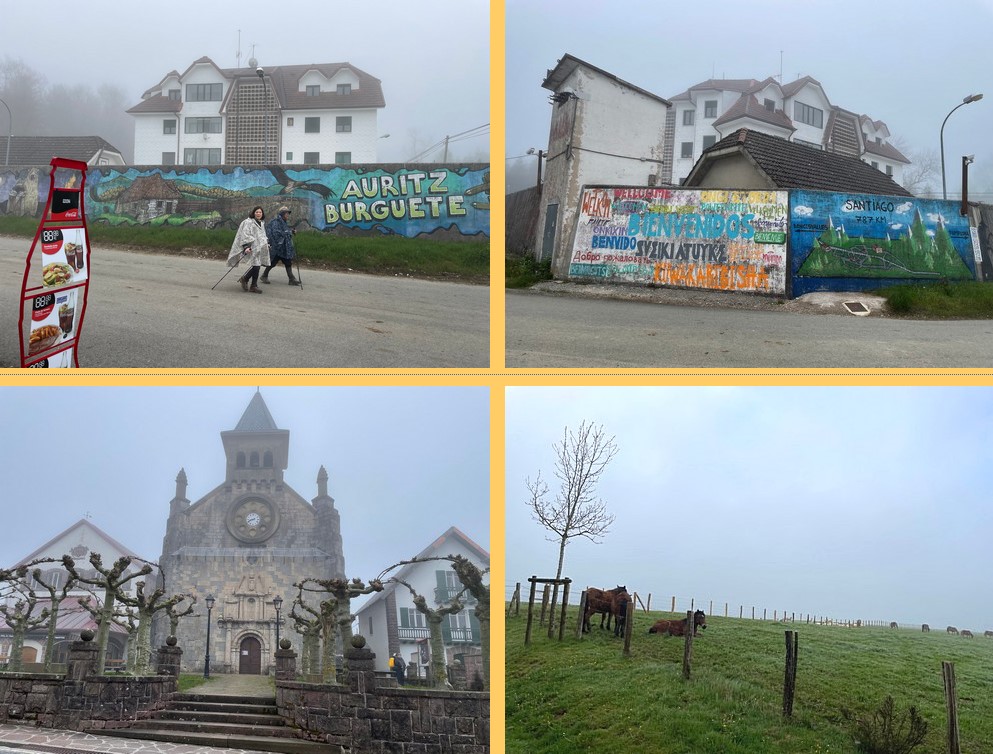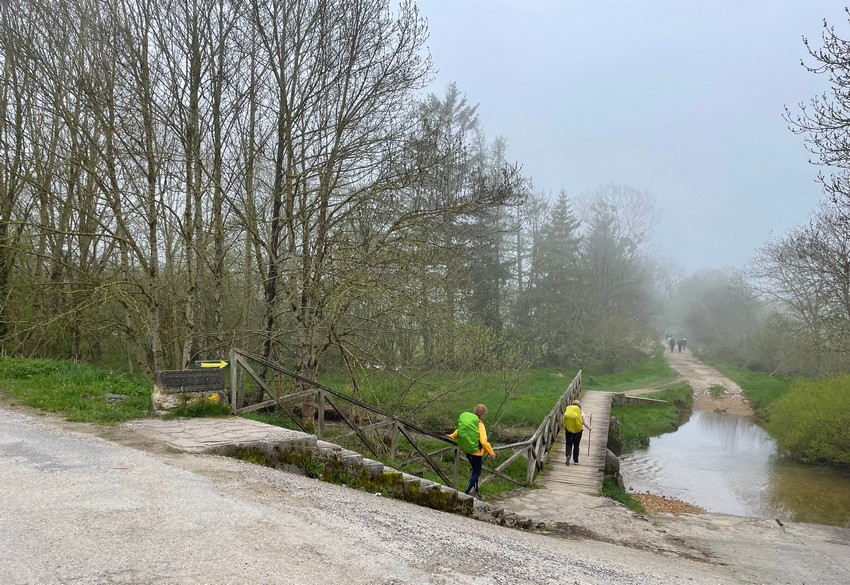 To find your way and not get lost, always follow the yellow arrow.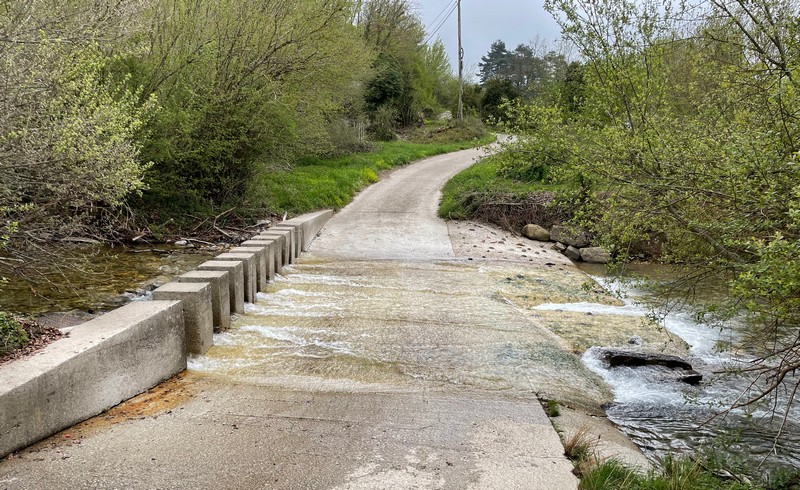 One has to walk on top of the cement posts to cross the road.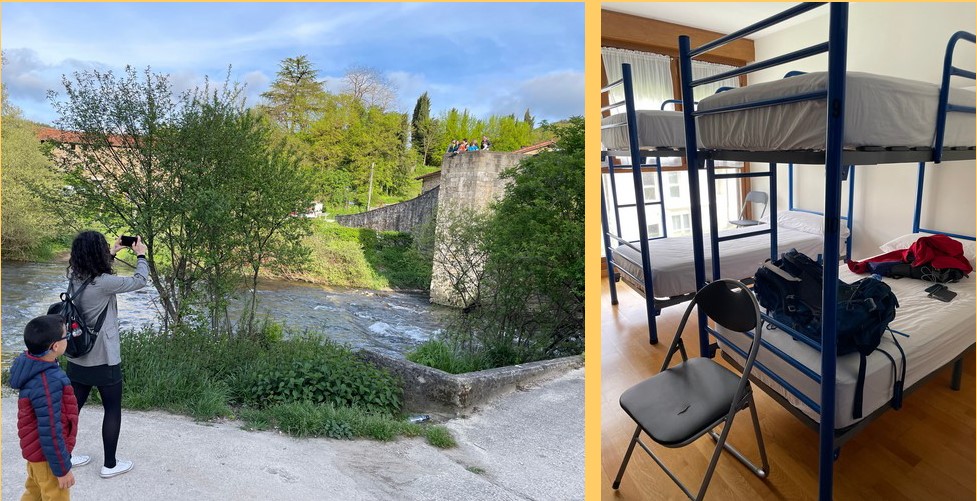 Town of Zubiri at Rio Arga with my backpack at Albergue Segunda Etapa.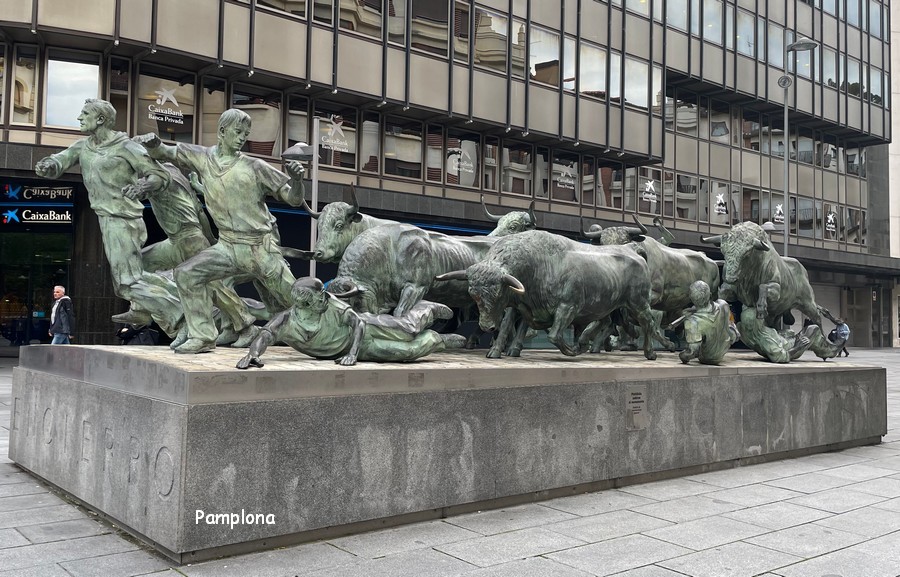 Monumento al Encierro in Pamplona: Running of the Bulls, whose origin dates back to the 13th century, at San Fermin Festival runs yearly July 6-14.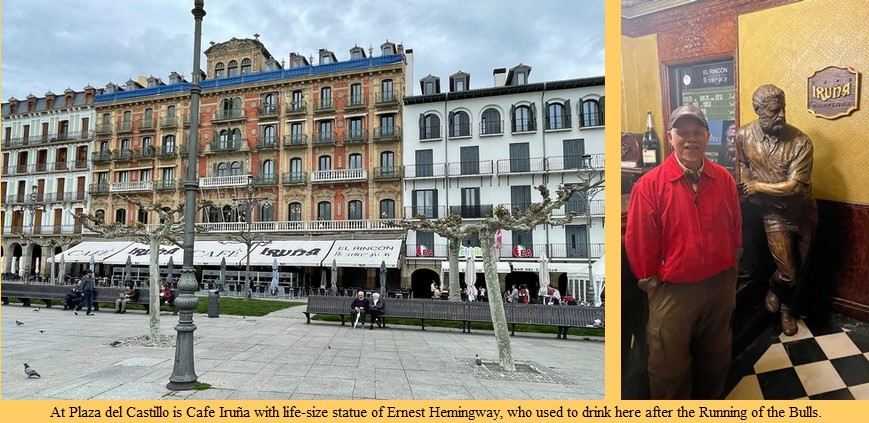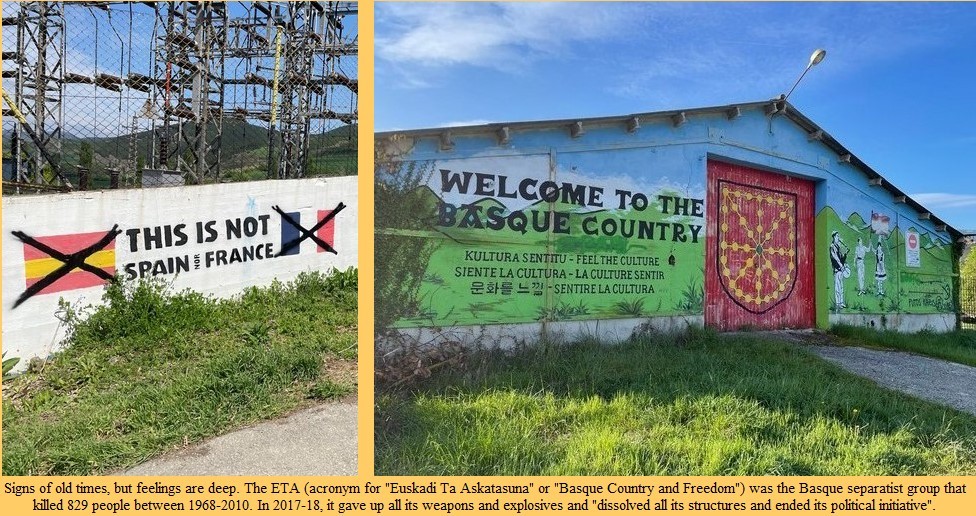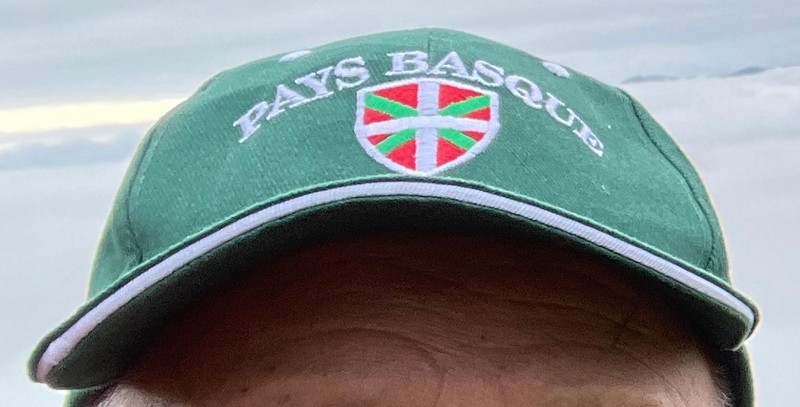 In SJPdP, I was looking for a baseball cap with the town's name. All they had was this - "PAYS BASQUE" ("Basque Country").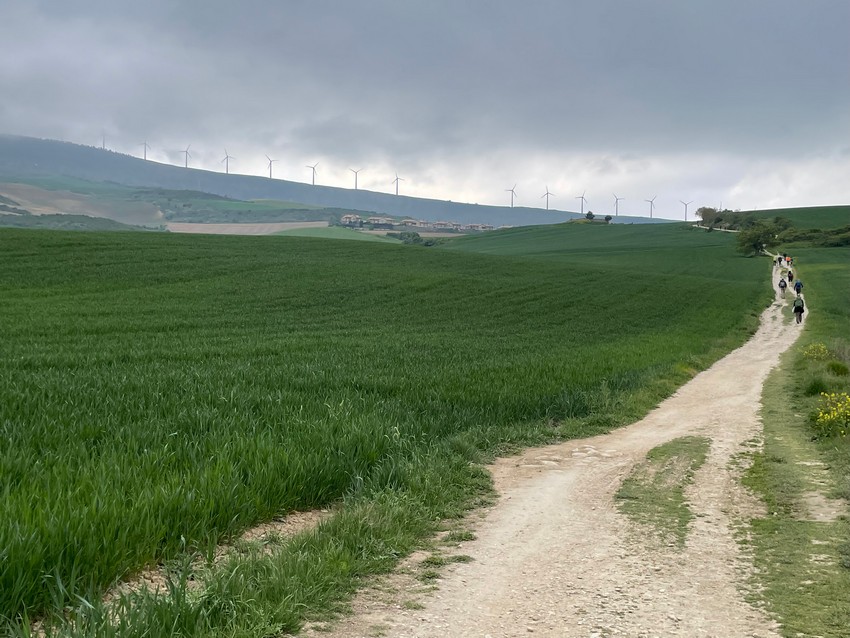 Between Pamplona and Puente La Reina, peregrinos climb up to an altitude of 770 meters to the gusty wind at Sierra del Perdon.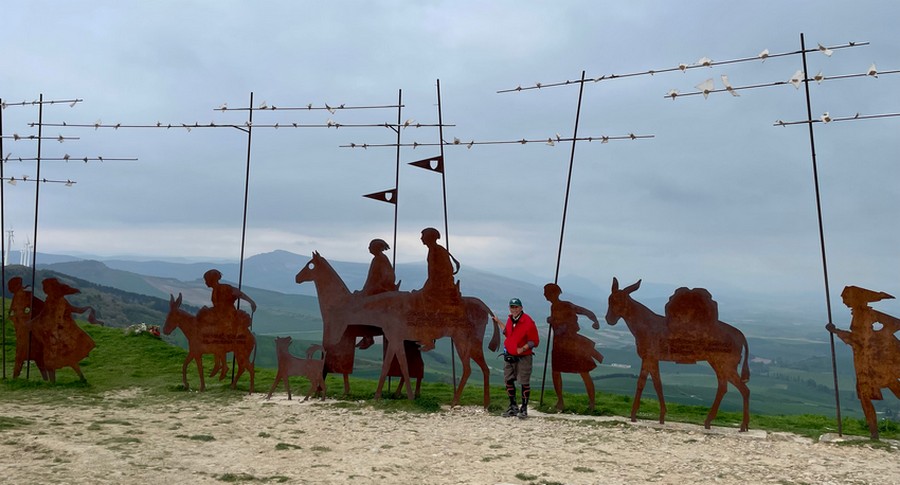 Alto del Perdon offers one of the most beautiful panoramic views of the Camino Frances. The sheet metal represents pilgrims from various eras.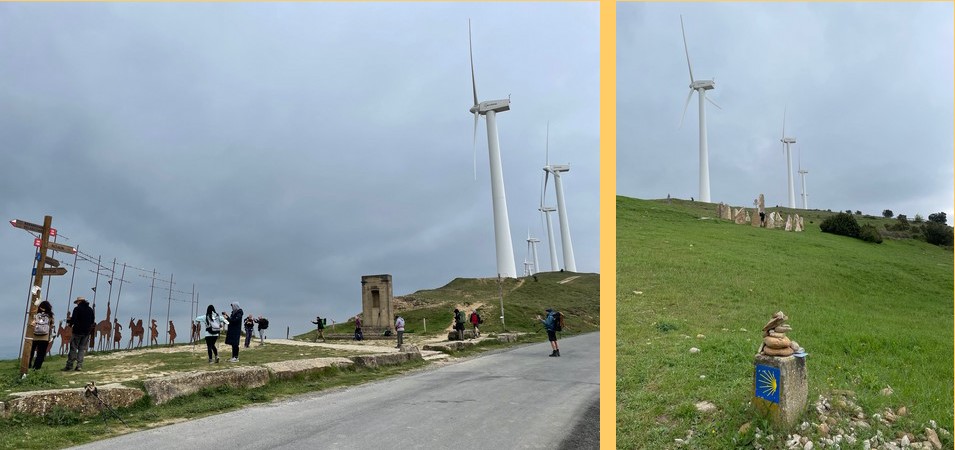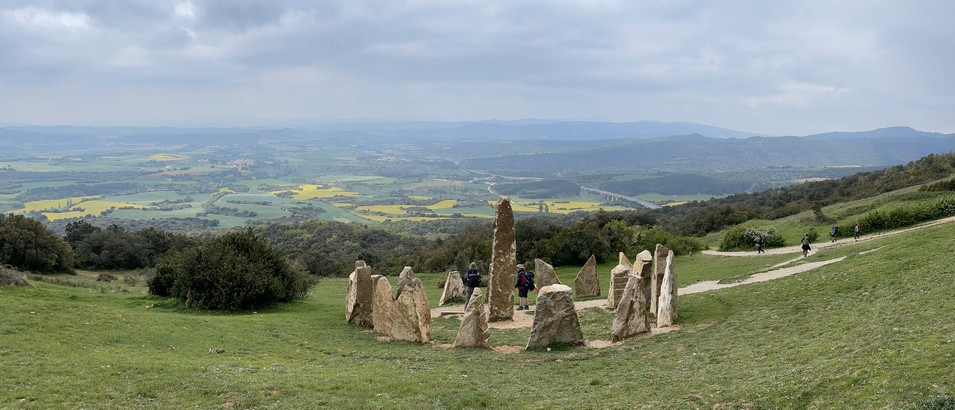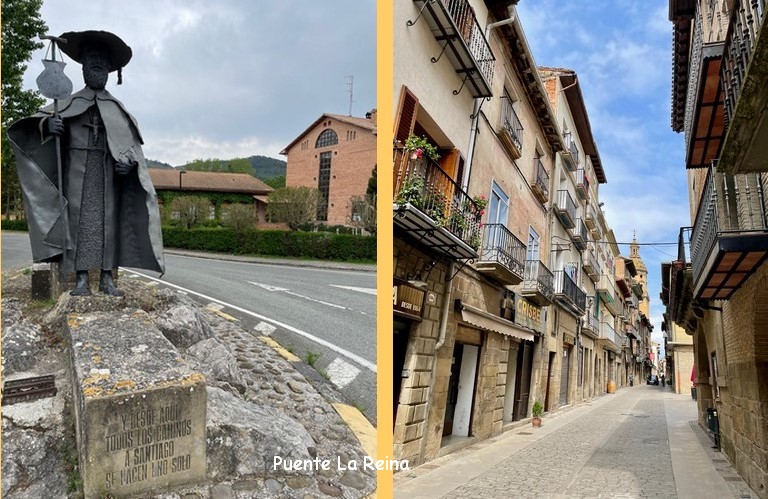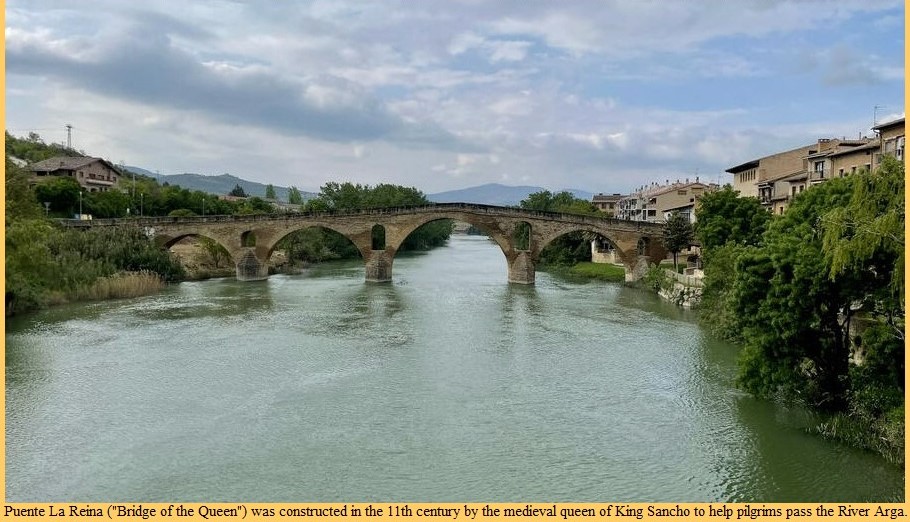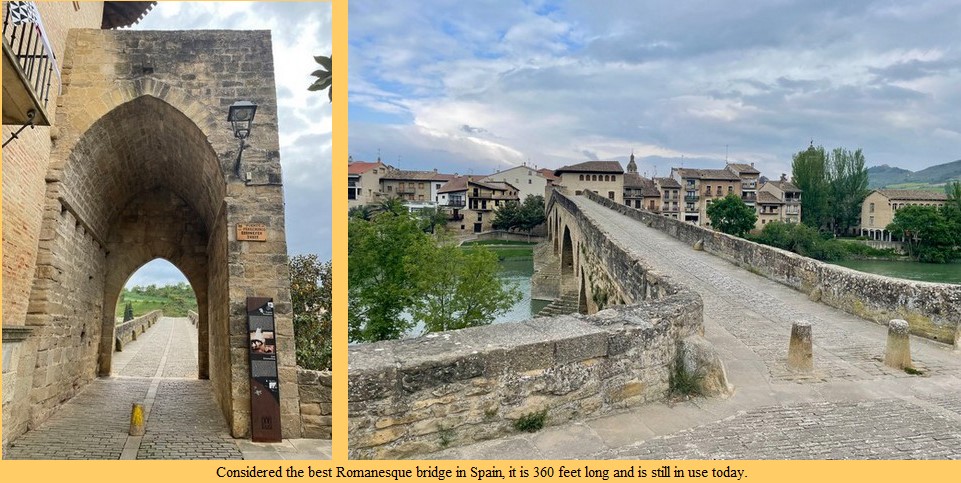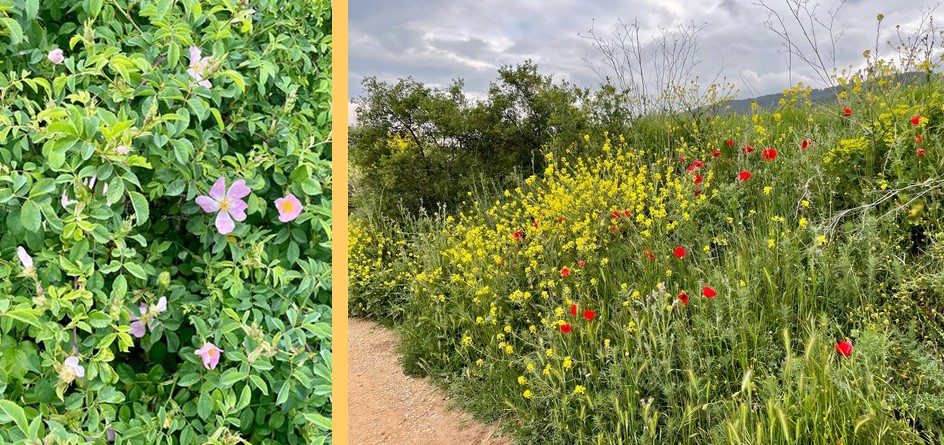 Wild flowers on the Camino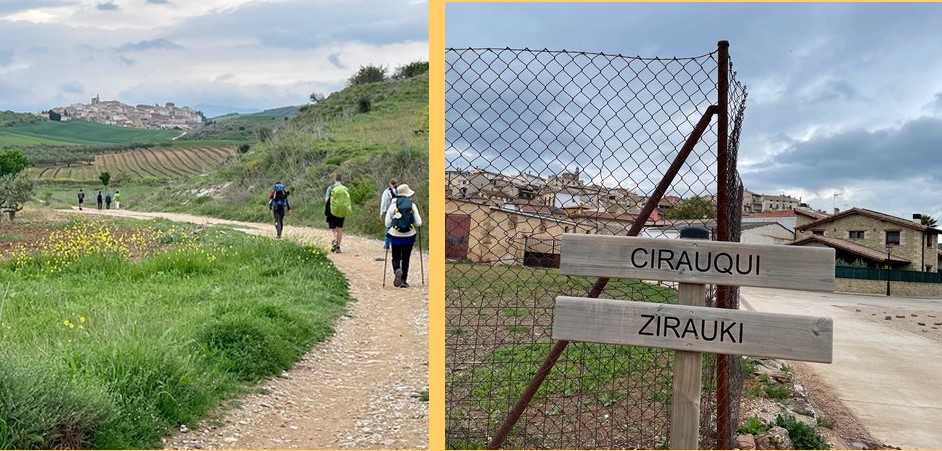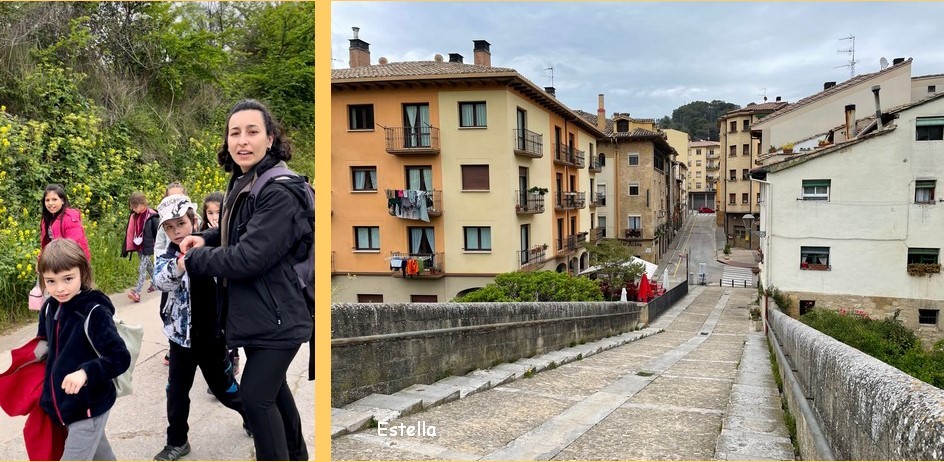 "Hola!" Grade school children enjoy a field trip outside the town of Estella.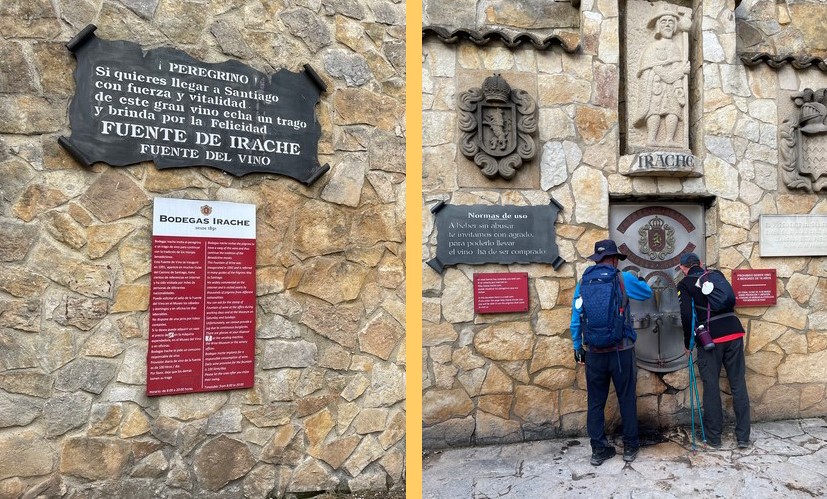 Courtesy of Bodegas Irache in Ayegui, Fuente del Vino has spouts for both wine (left) and water (right).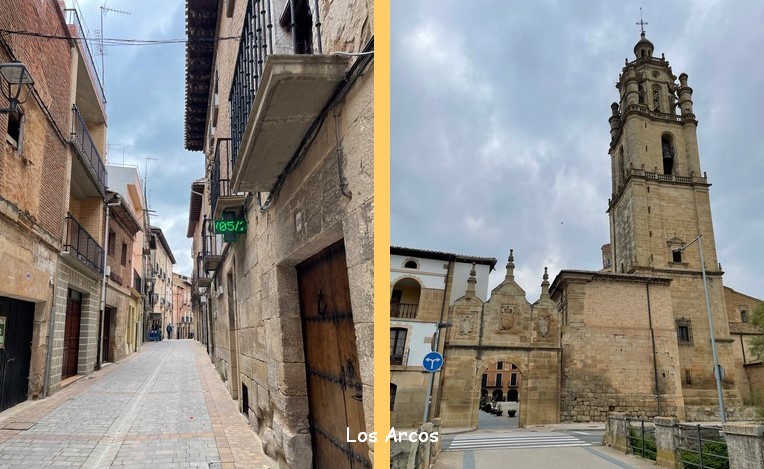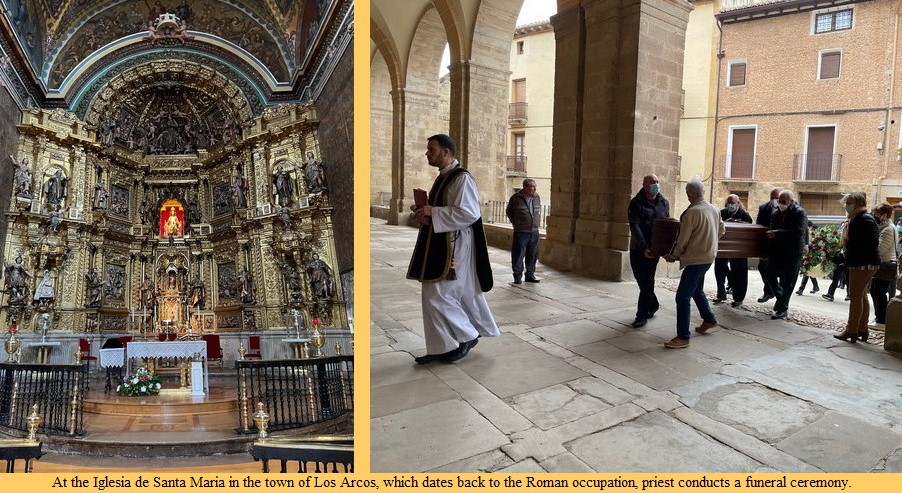 [Click for short video clip]

On the course of a day, walking through many towns.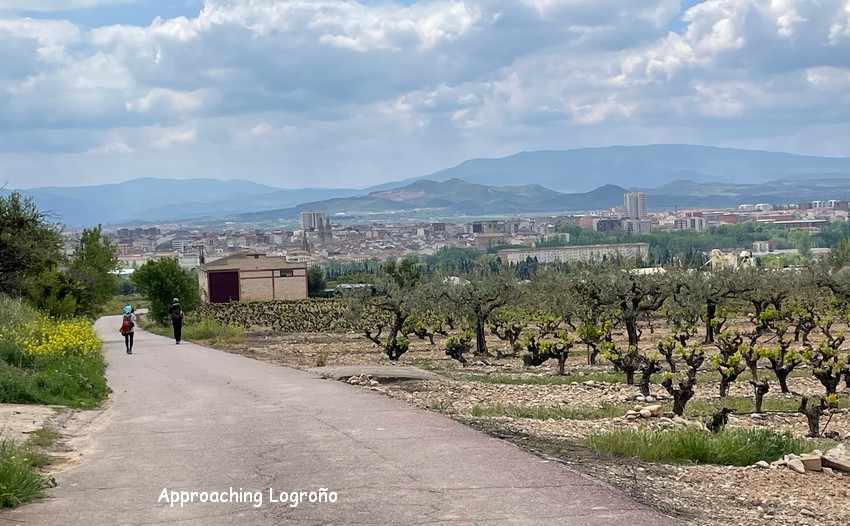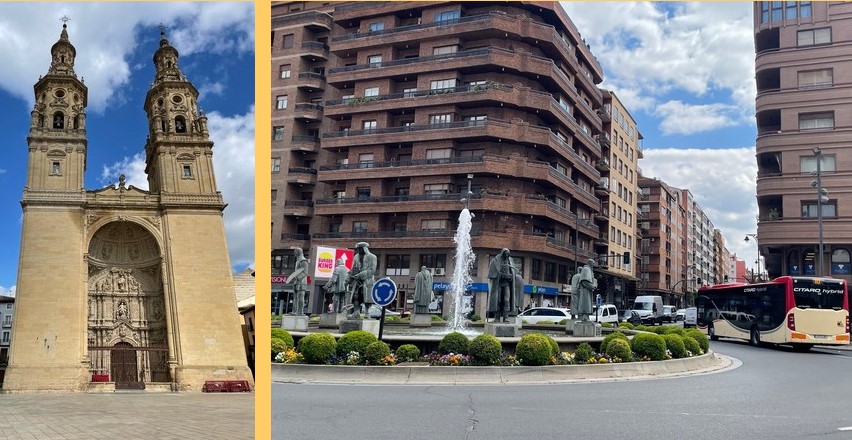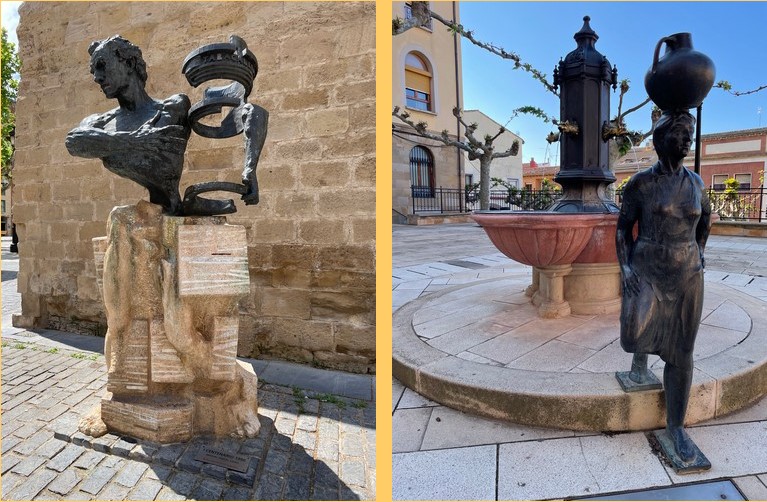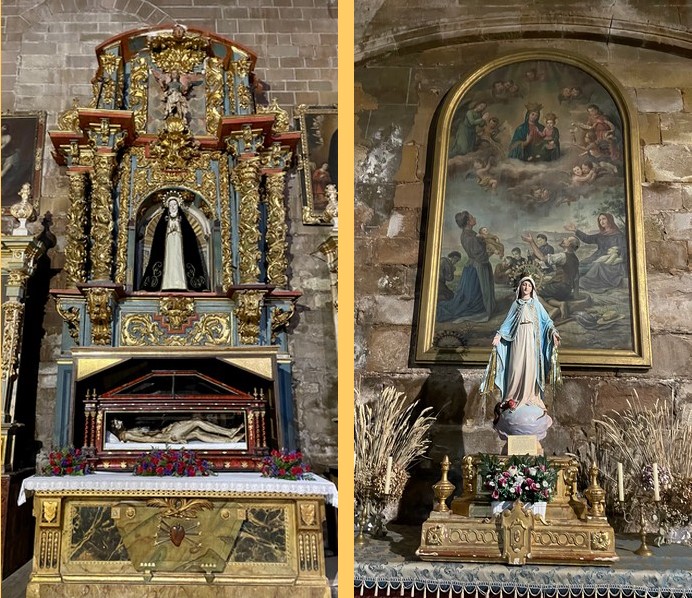 Iglesia de Santa Maria de la Asuncion in Navarette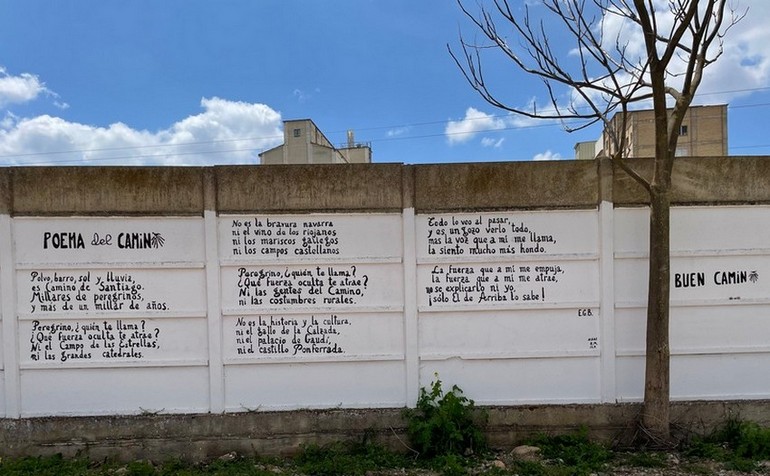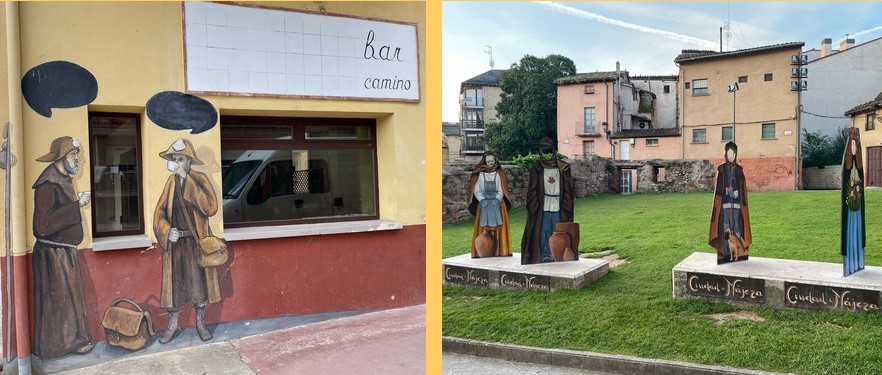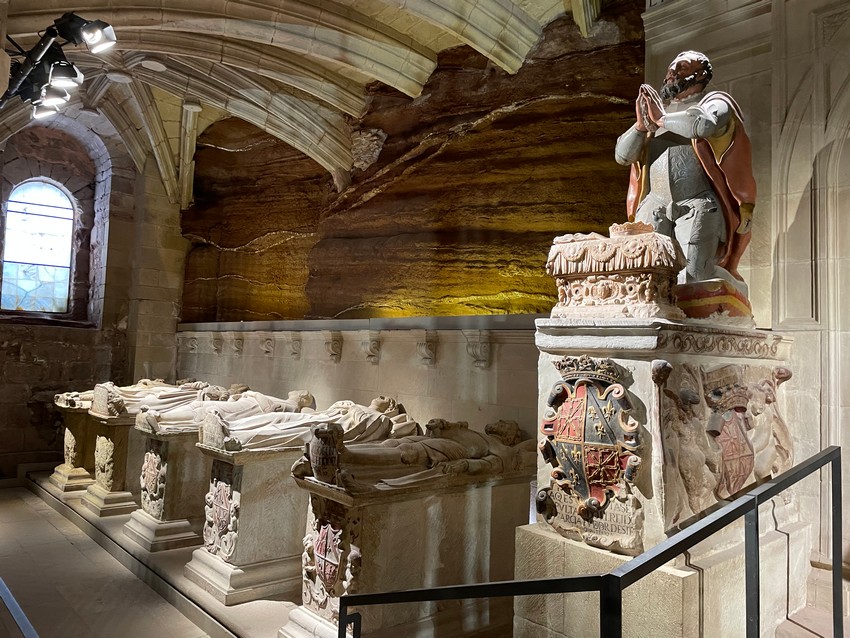 Monasterio de Santa Maria la Real, built in 1032, contains the mausoleums of the kings and princes of the Kingdom of Najera-Pamplona.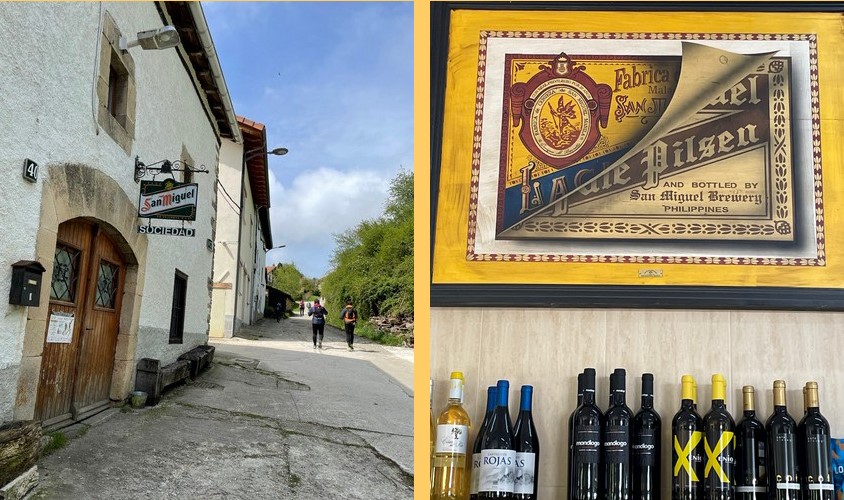 Popular San Miguel beer (1899) was licensed in 1953, known as the "Manila Agreement", to Mahou Group, the largest brewery in Spain.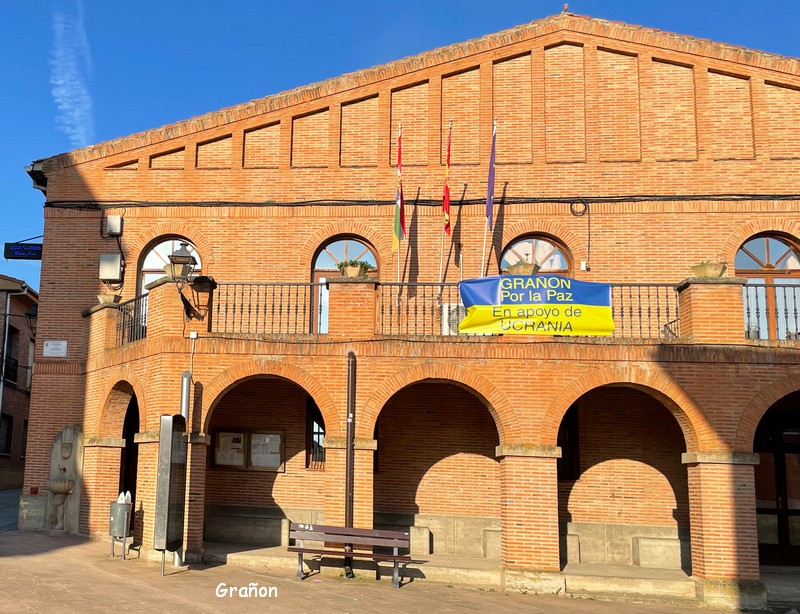 Taking a stand on humanity at Grañon Ayuntamiento: "GRAÑON For Peace In support of UKRAINE"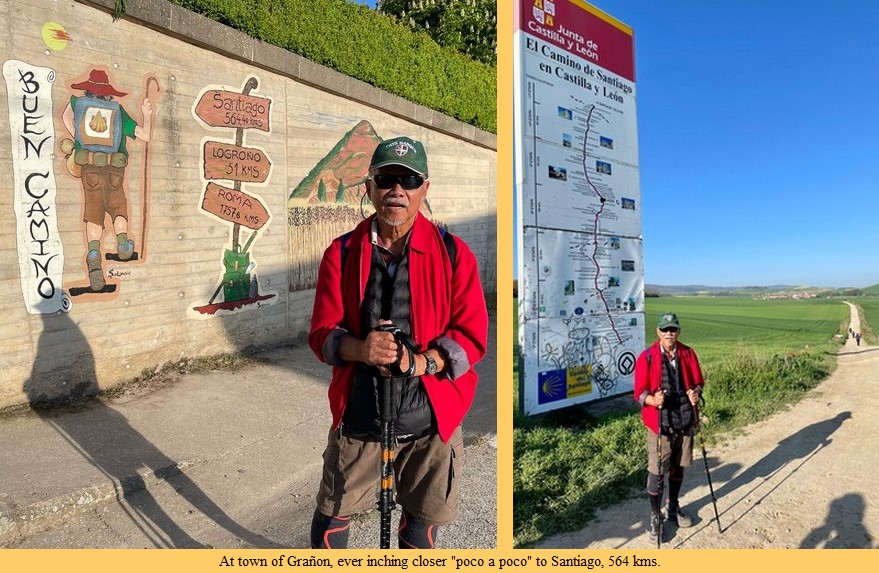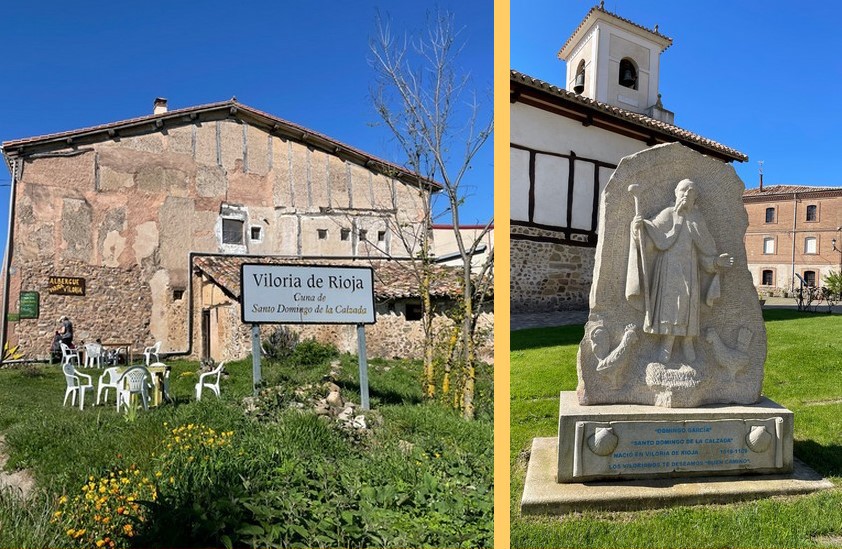 Born Domingo Garcia in 1019 in Viloria de Rioja, Santo Domingo de la Calzada built a causeway on the Camino.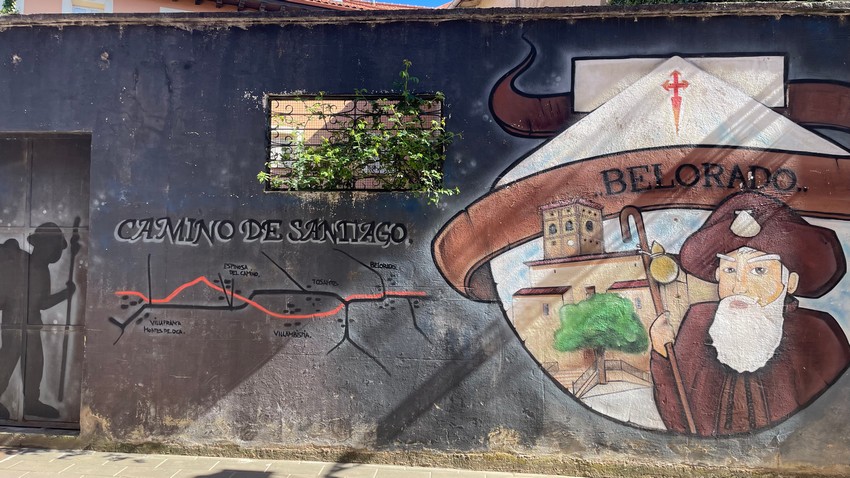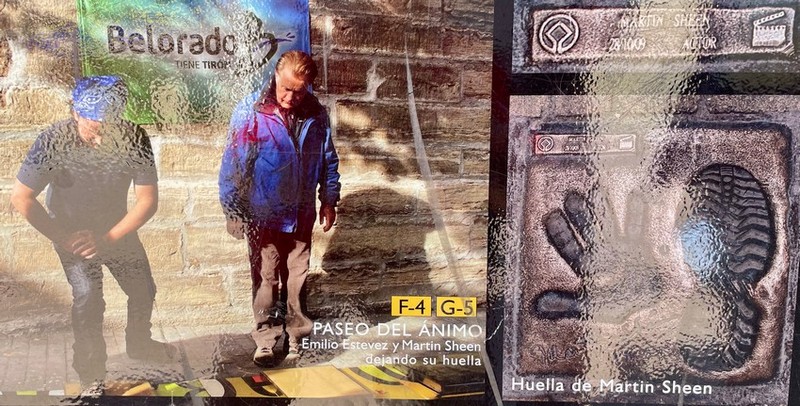 The 2011 movie, "My Way", which popularized the Camino, was partly filmed here in Belorado.
The main actor, Michael Sheen, and the director, his son Emilio Estevez, cast their hand and foot mark in concrete.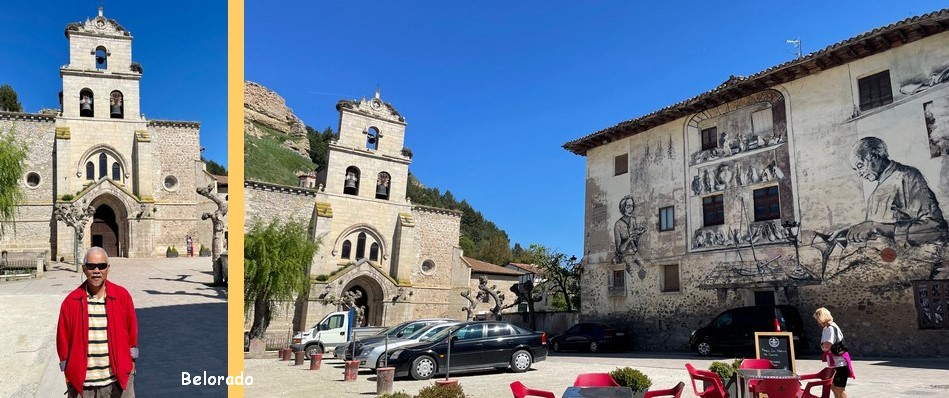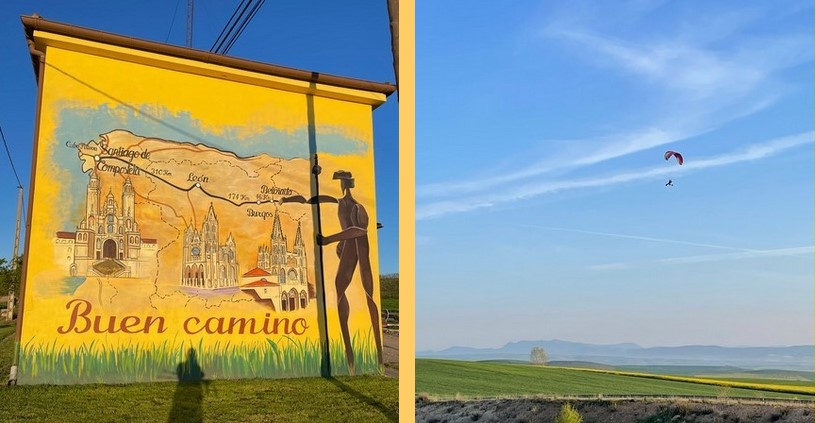 What! Paragliding to the Camino? No way.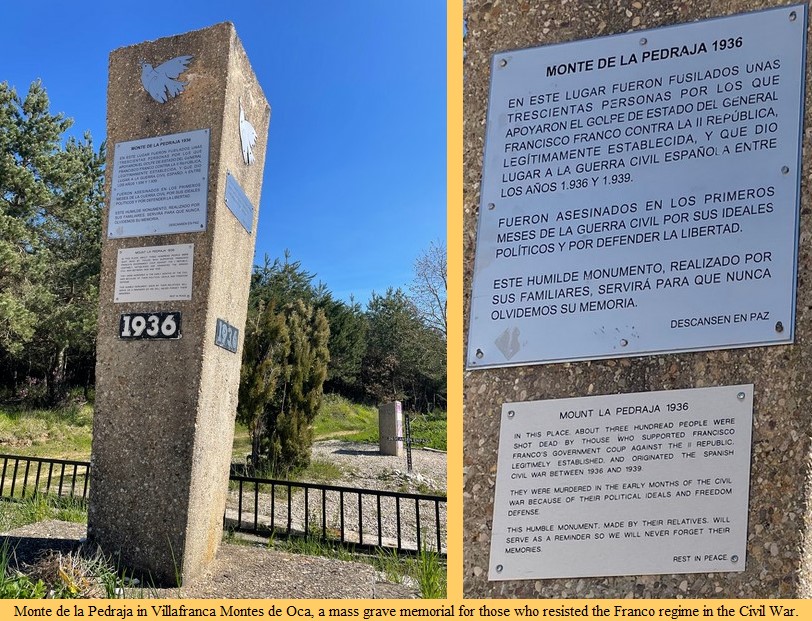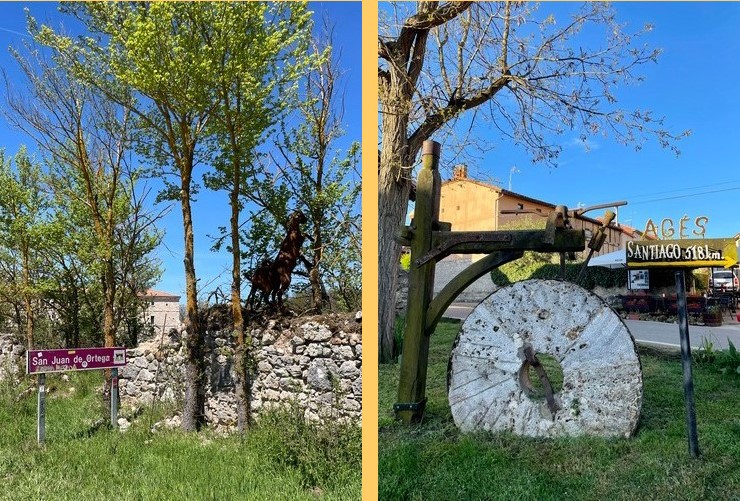 Goats climb up wall fence to eat tree leaves in San Juan de Ortega. From town of Ages, 518 kms. to Santiago.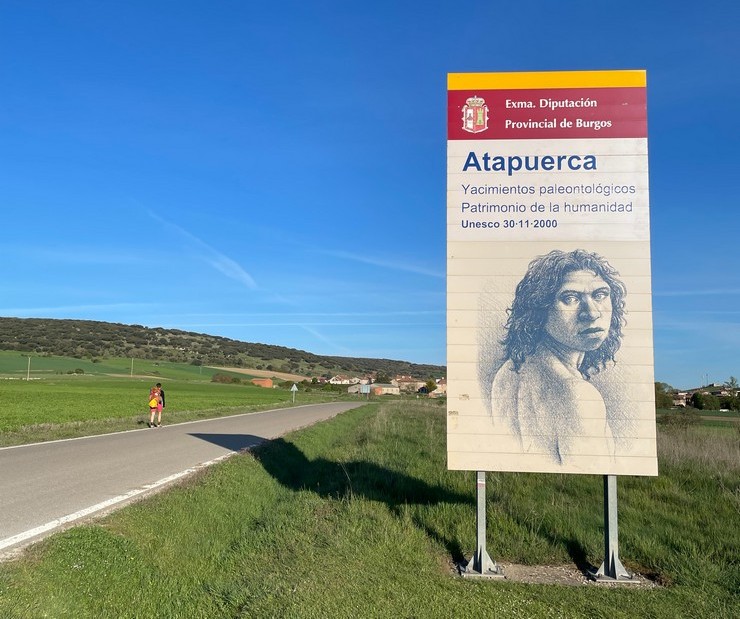 A UNESCO World Heritage Site, bones of people as old as 600,000 years with Neanderthal qualities are found in cave.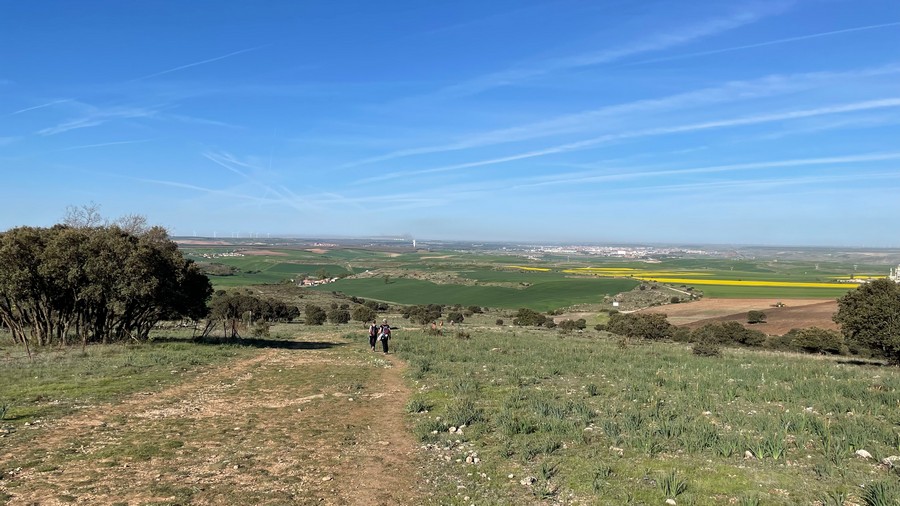 A wide-open walking landscape as far as your eyes can see. Towns coming up: Cardeñuela Rio Pico, Orbaneja Rio Pico, Villafria, Burgos.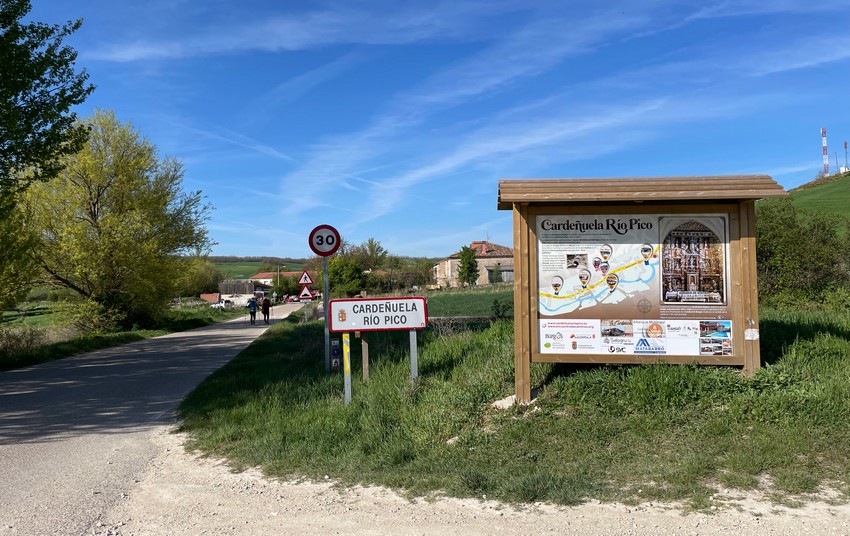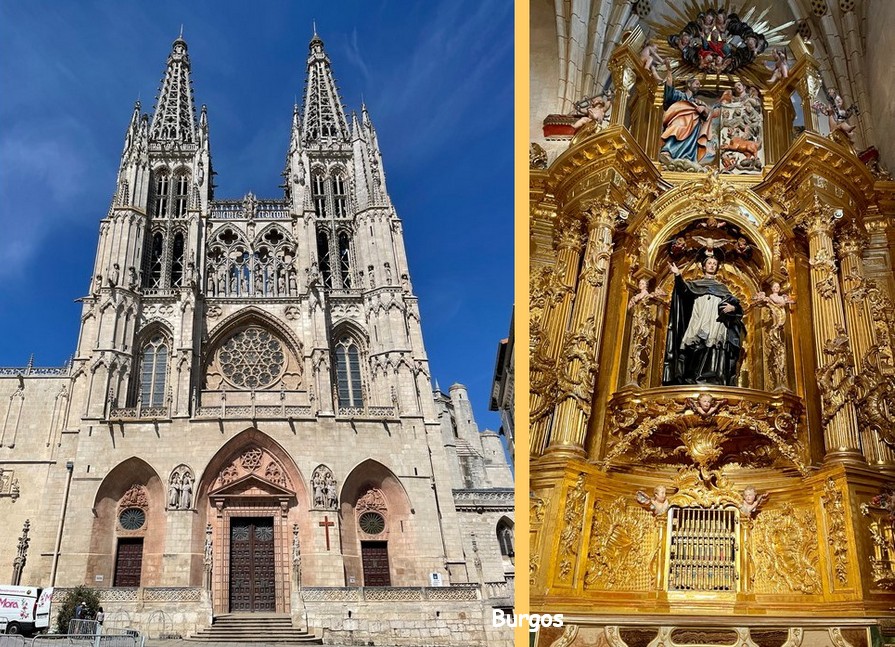 Burgos Cathedral was consecrated in 1260, a Gothic architecture with Romanesque and Renaissance decorative elements.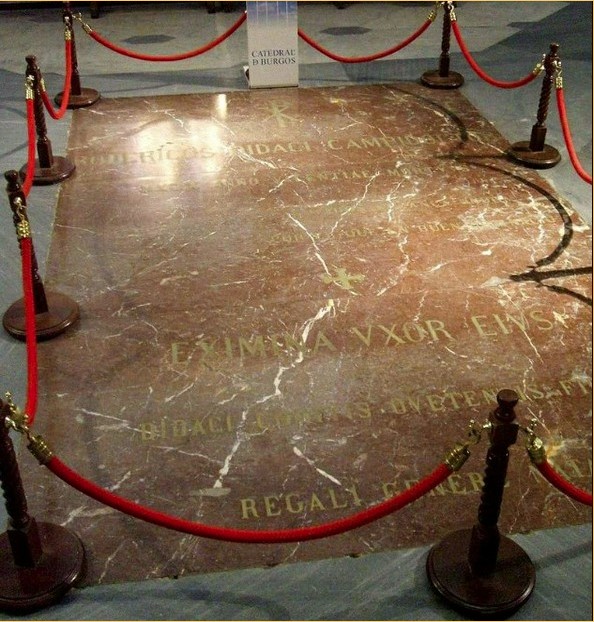 Tomb of El Cid
Rodrigo Díaz de Vivar was a Castilian knight in medieval Spain. The Moors called him El Cid.
After his death in 1099, El Cid became Spain's celebrated national hero.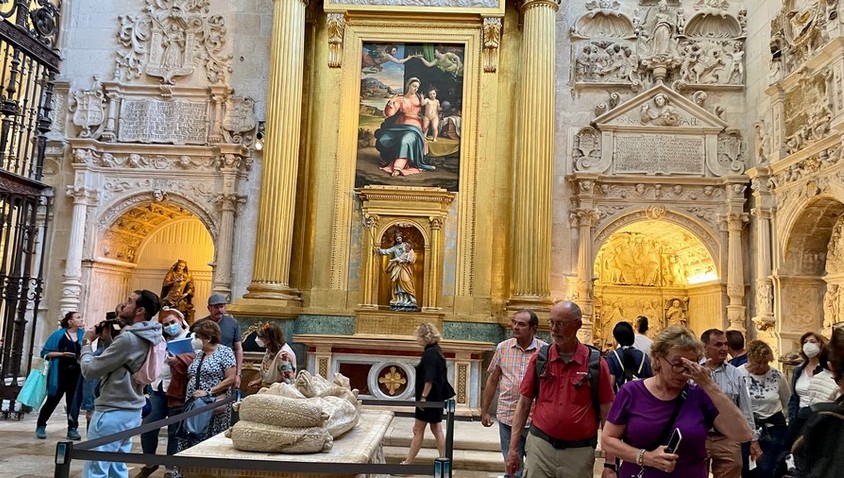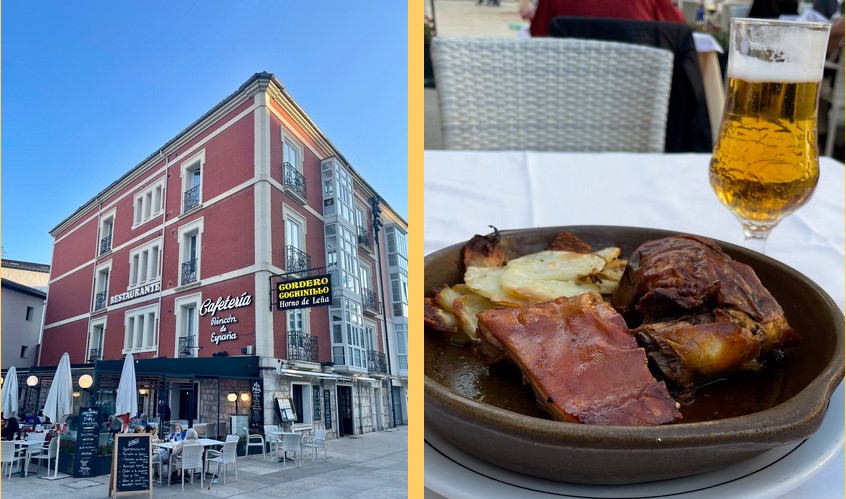 I splurged a bit and enjoyed this cochinillo dinner (22 euros) plus beer near Cathedral.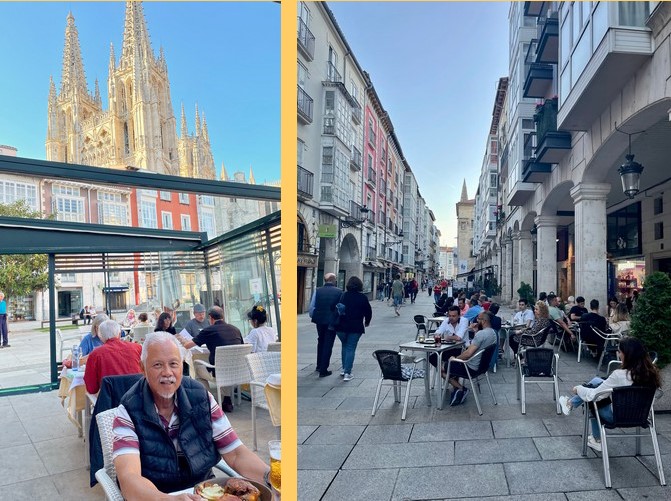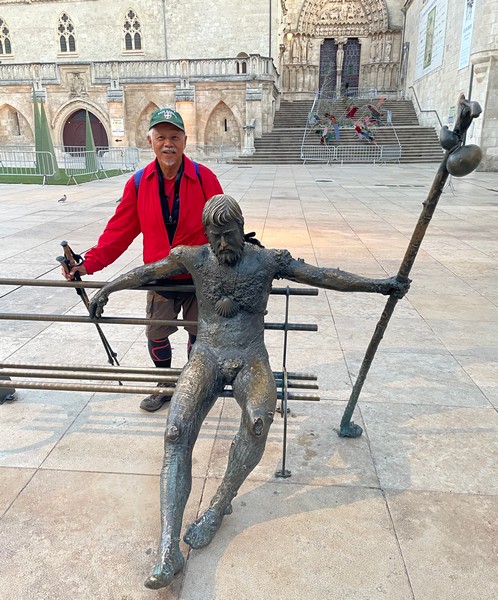 Leaving Burgos, but first saying goodbye to the seated pilgrim.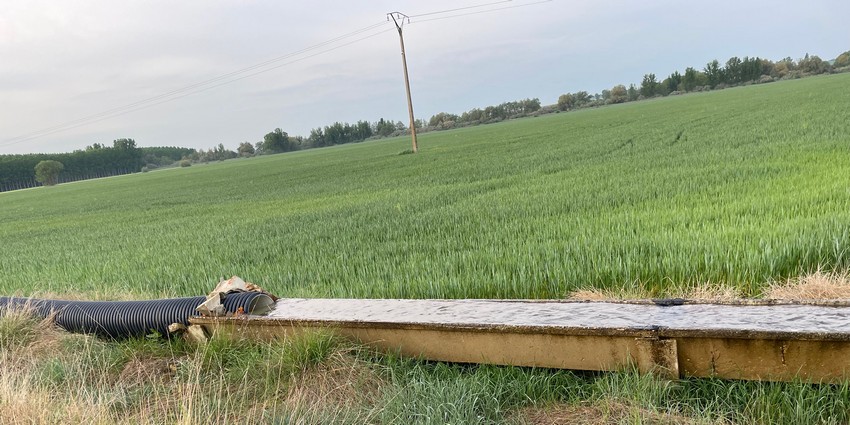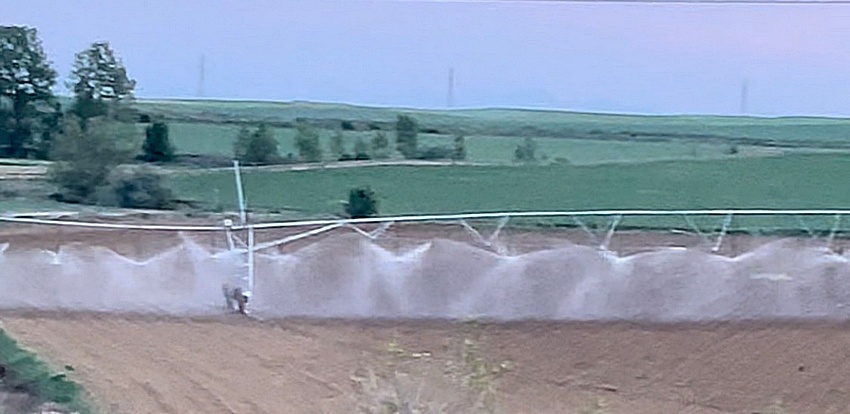 Irrigating the farm land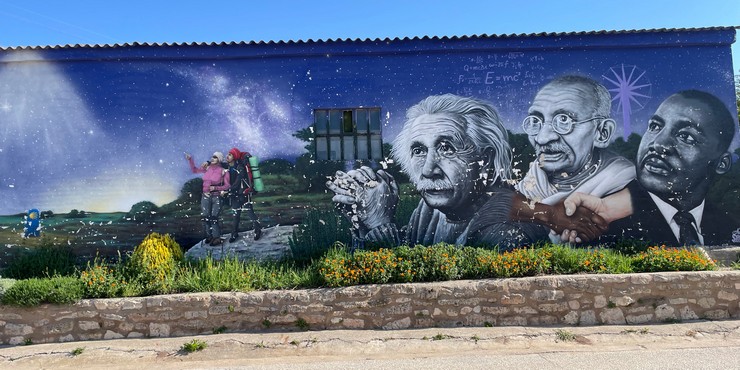 Two roadside murals together in rural town of Rabe de las Calzadas. I was pleasantly surprised to see RP's Hidilyn Diaz,
who won the gold medal in weightlifting in the 2020 Tokyo Olympics, featured with the Einstein-Gandhi-King mural.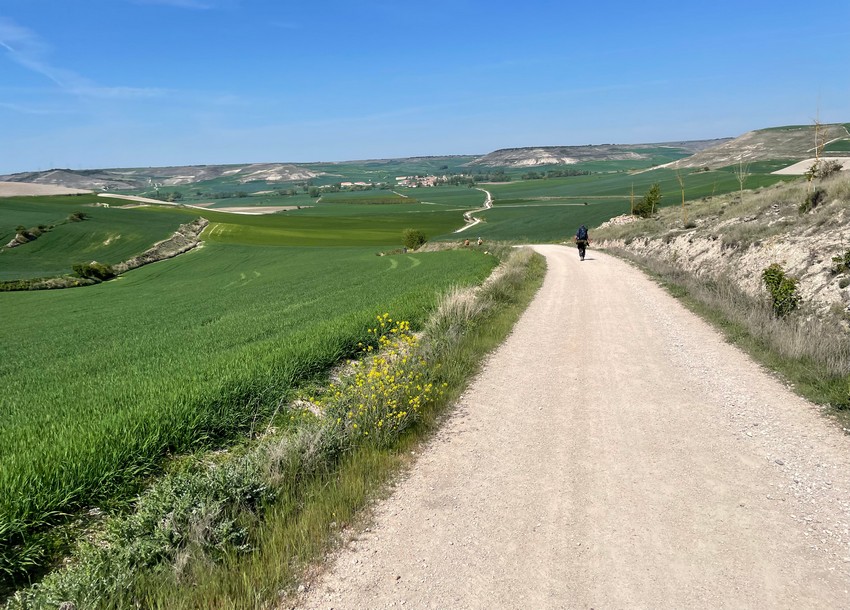 Trudging on the arid and mostly shadeless Meseta. I heard some pilgrims skip this portion of the Camino. I wouldn't.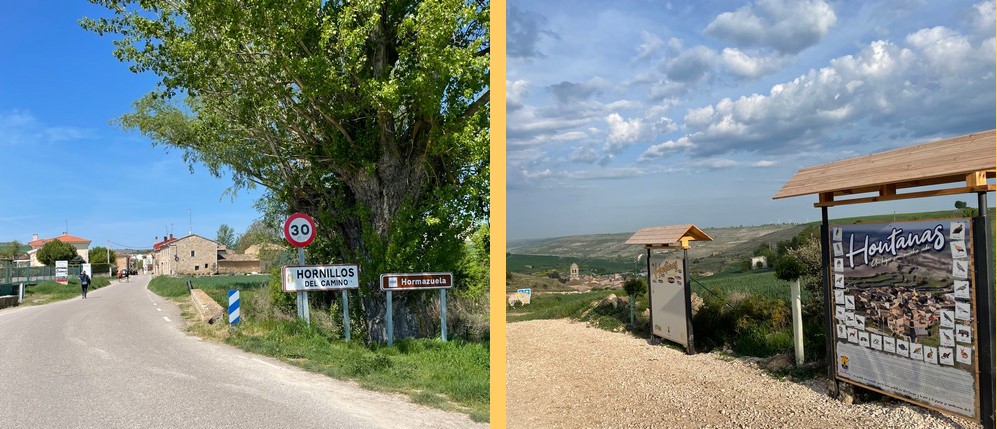 "Communal dinner" (with the traditional paella) at Albergue El Alfar de Hornillos with peregrinos from Austria, USA and Spain.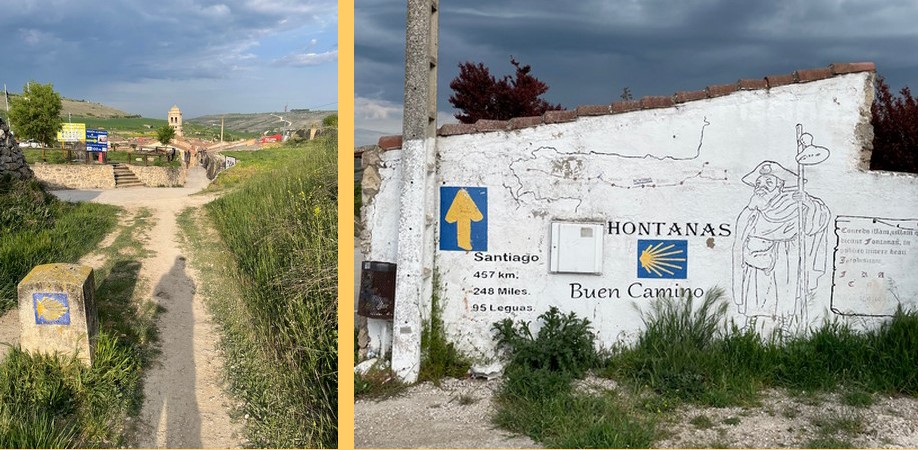 I cast a small shadow in the giant Meseta.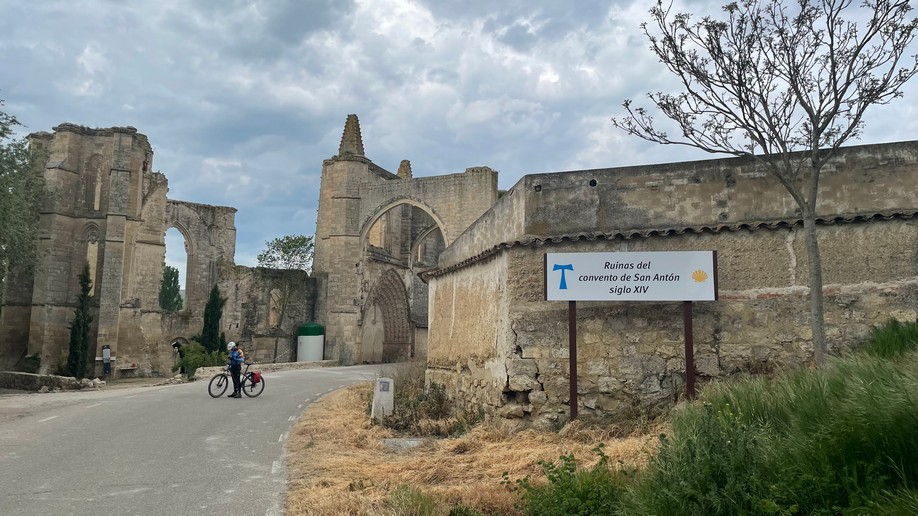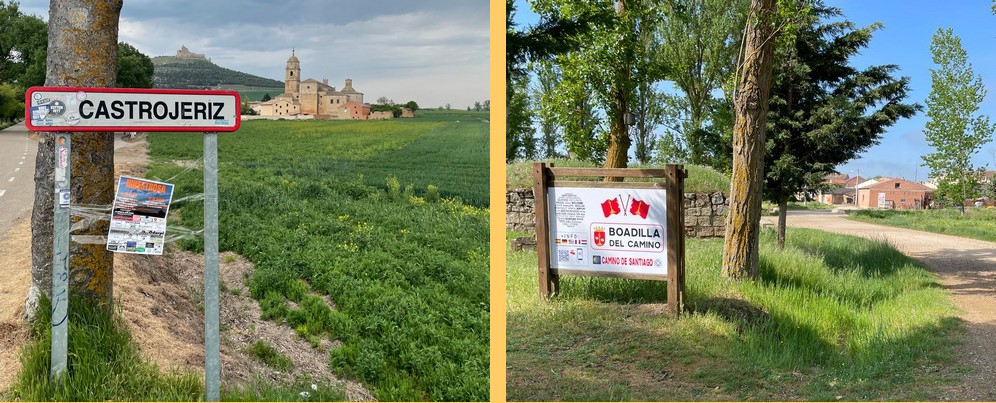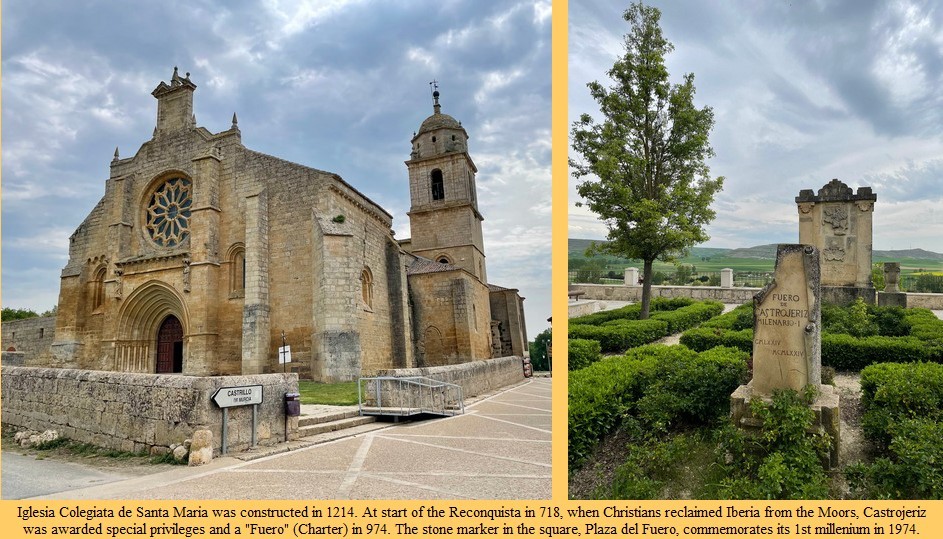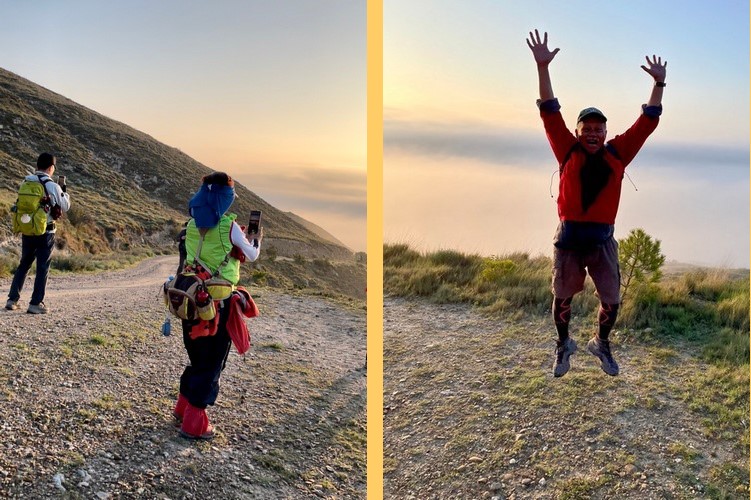 Jumping at sunrise after a 907 meter ascent to Alto de Mostelares past Castrojeriz.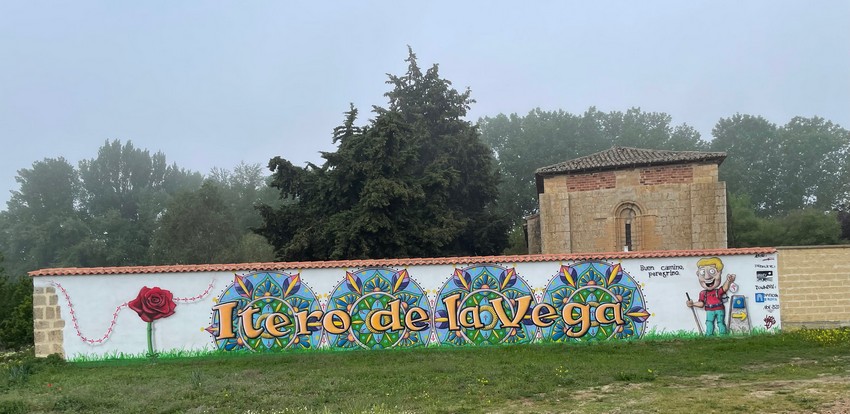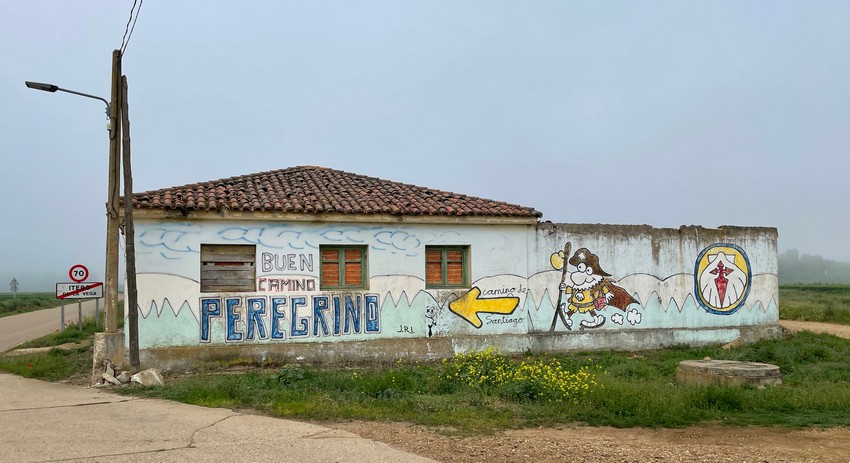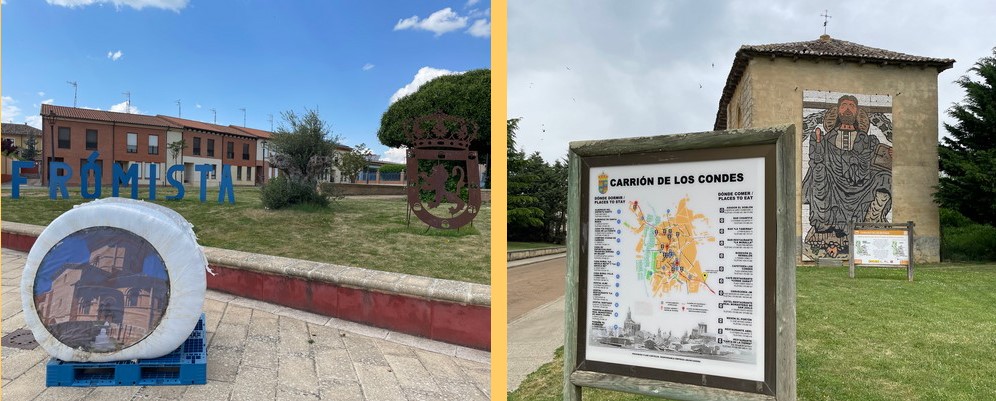 Ayuntamiento de Fromista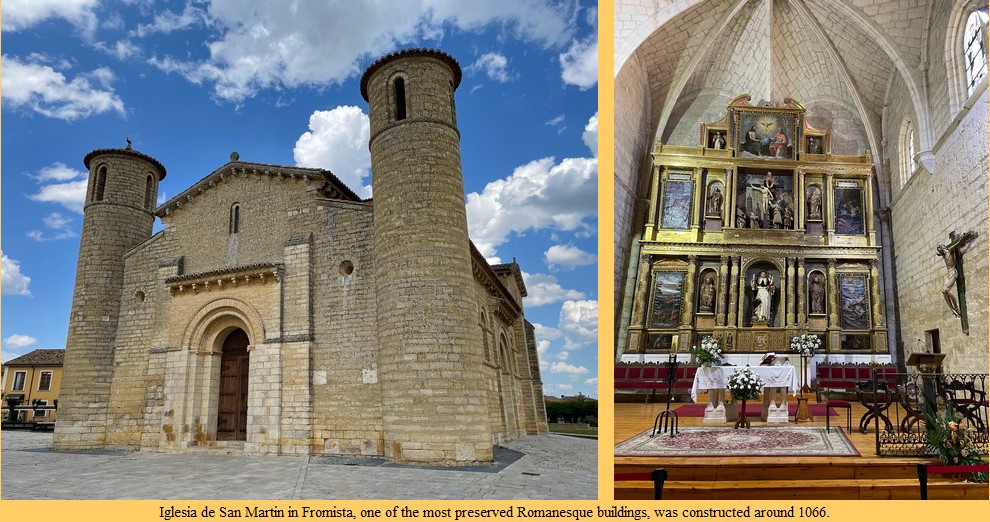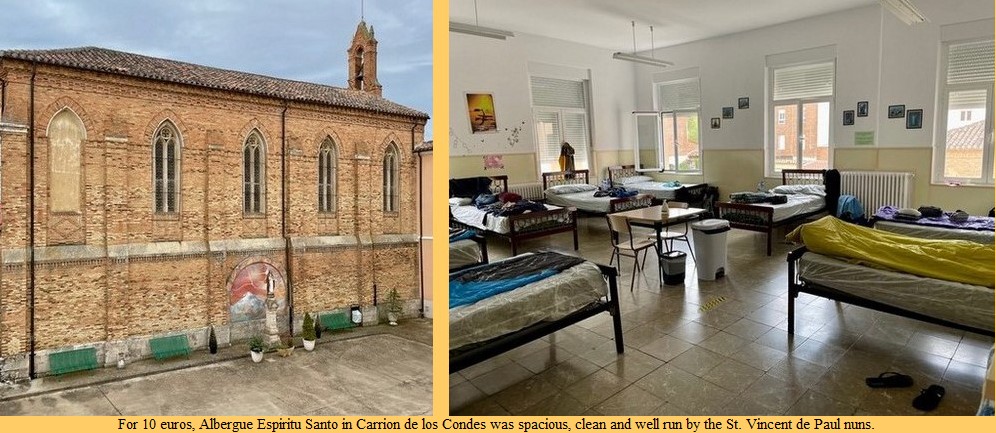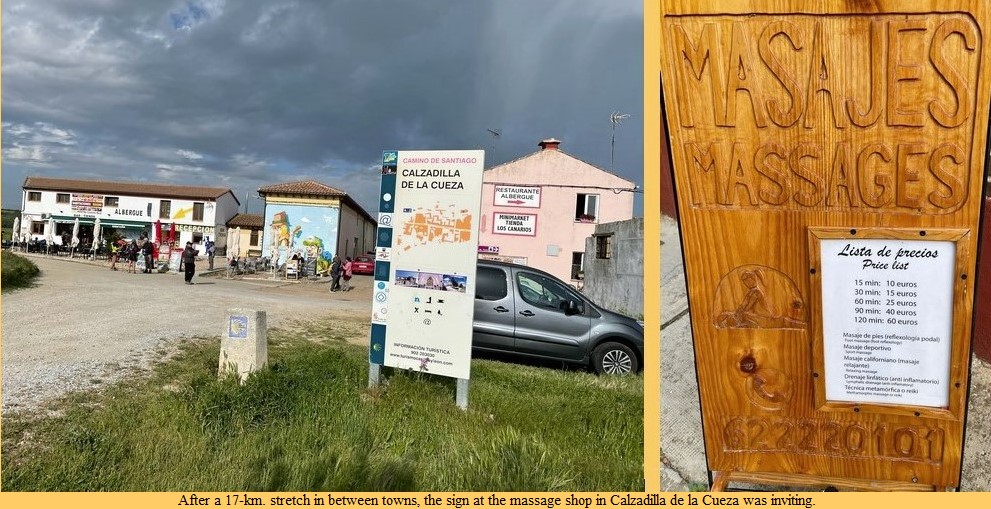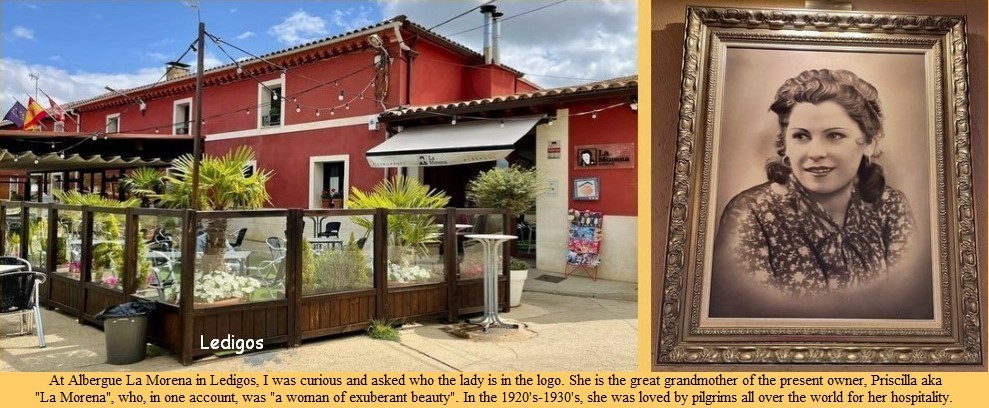 Still quite dark with the headlamp on an early morning start. And the sun rises in Spain.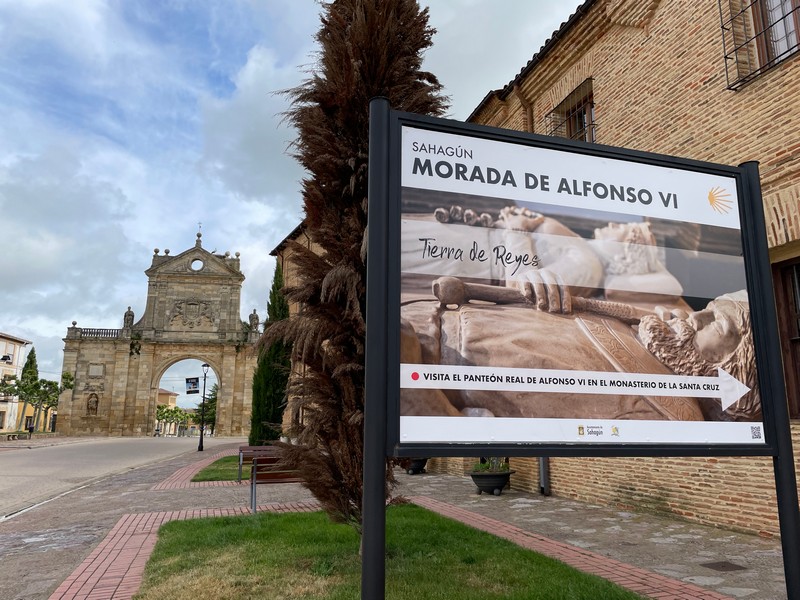 Sahagun, the official halfway point from SJPdP to Santiago.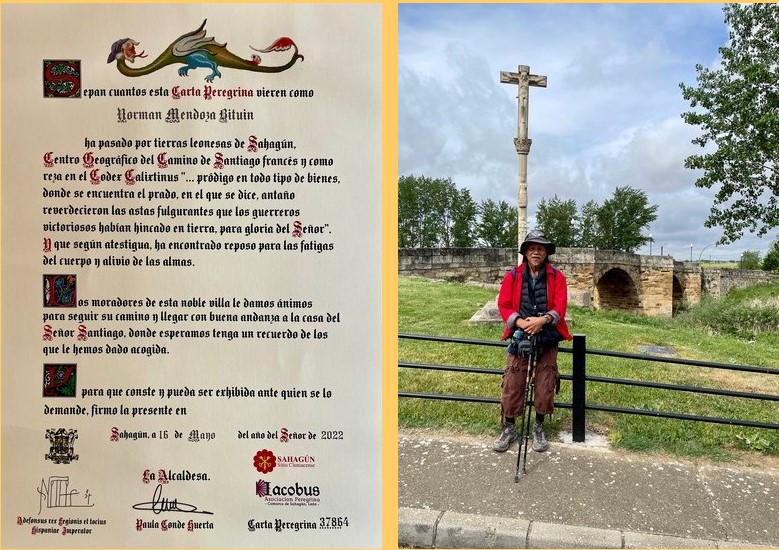 My 'halfway' compostela issued May 15, 2022 at the Sahagun Pilgrims Office.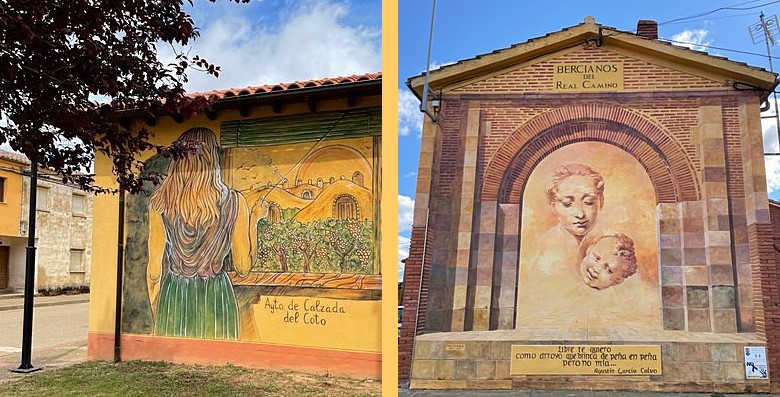 Images in the towns of Calzada del Coto and Bercianos del Real Camino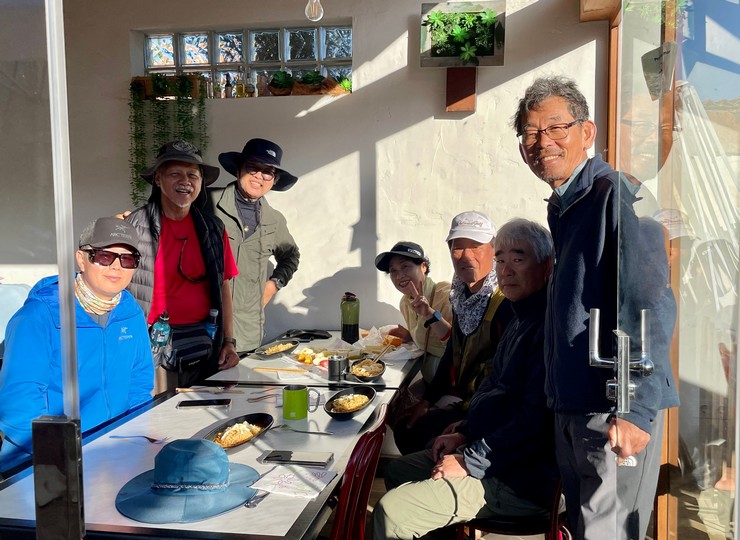 Making friends with Korean pilgrims at cafe in El Burgo Ranero. Fr. Paul Cho (rightmost) is a Catholic priest from Inchon.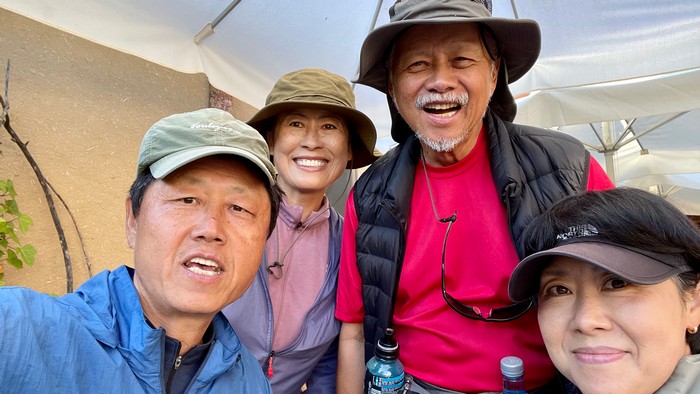 With Korean couple Junie and Choi, and Song Kim (back), a RN from Granada Hills, CA.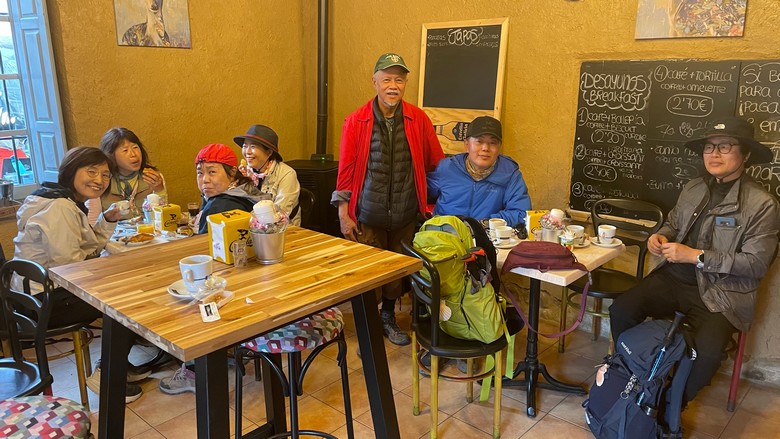 Coffee stop at La Casina Bar in town of Villamoros. I did not see (or missed seeing) a Pinoy pilgrim on the Camino.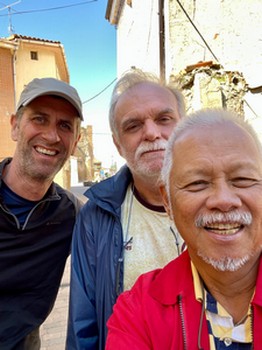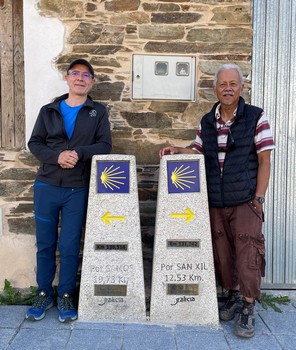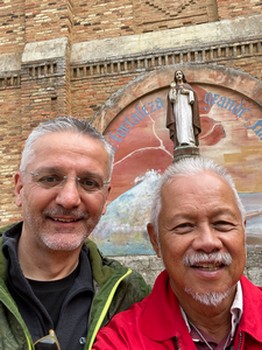 Other pilgrims cum friends: Roberto and Carlos (Brazil); Ramon Fernandez (Bilbao); and Stefano (Sicily).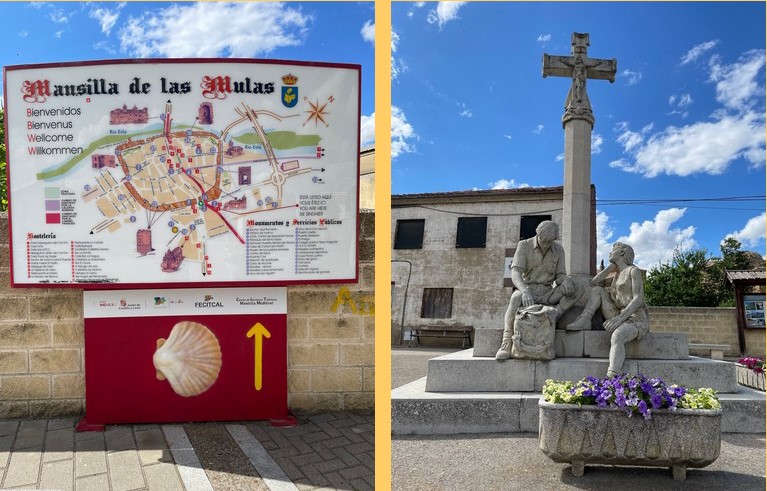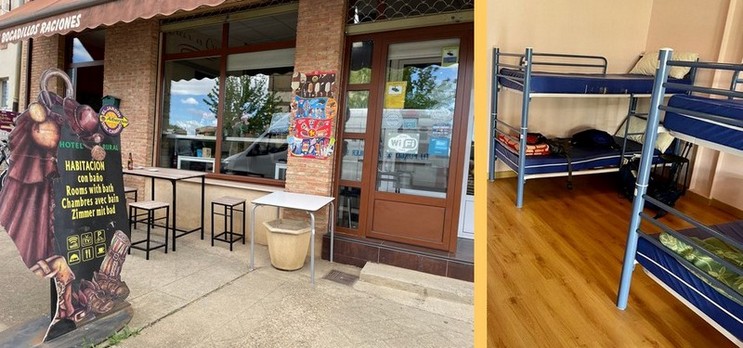 I slept at Albergue El Jardin. It was "chill" to start my Camino in the morning darkness across the street passing through
the same "DOOR OF SAINT JAMES" (below right) that the early pilgrims used in medieval times to enter the town.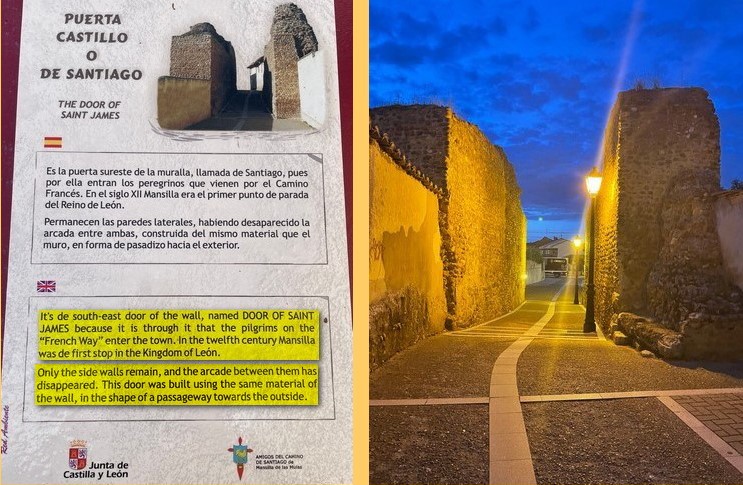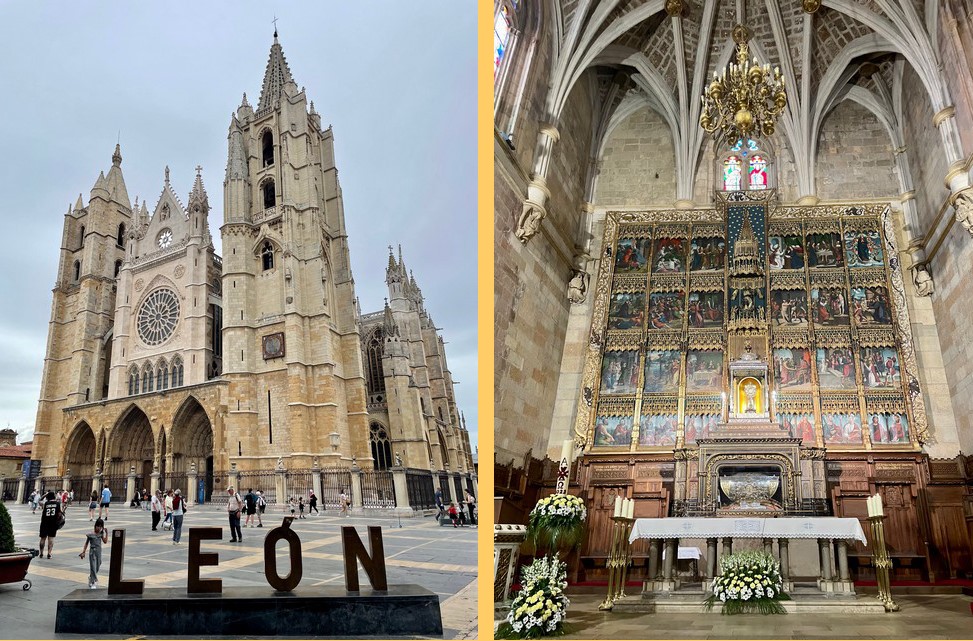 Leon Cathedral was consecrated in the 13th century and is a masterpiece of Gothic architecture.

"Communal dinner" with peregrinos at Albergue Santa Ana in town of San Martin del Camino.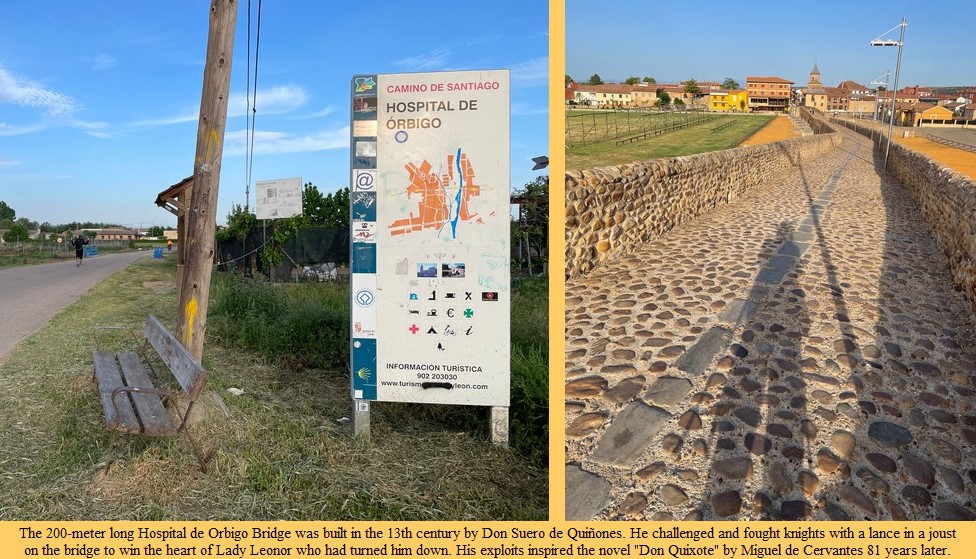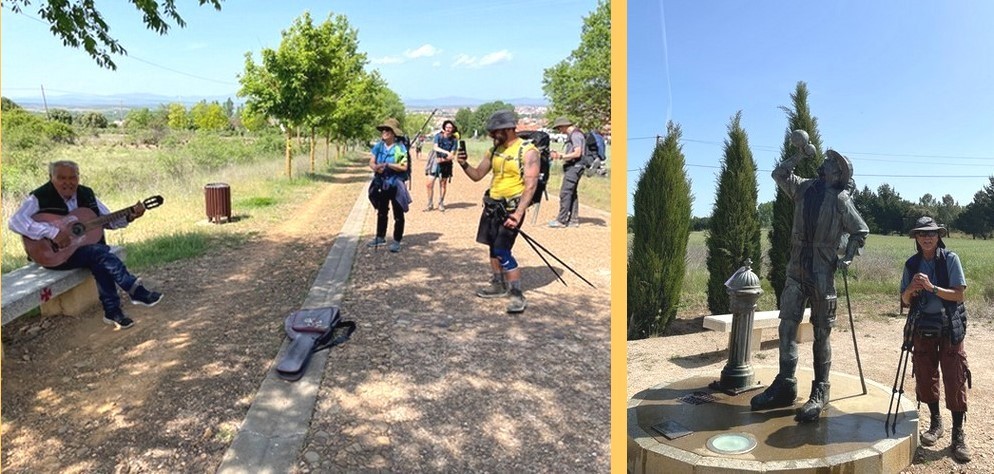 In San Justo de la Vega: Cruceiro de Santo Toribio; "donativo" fruit/snack stand; singing guitar man; and Thirsty Pilgrim statue.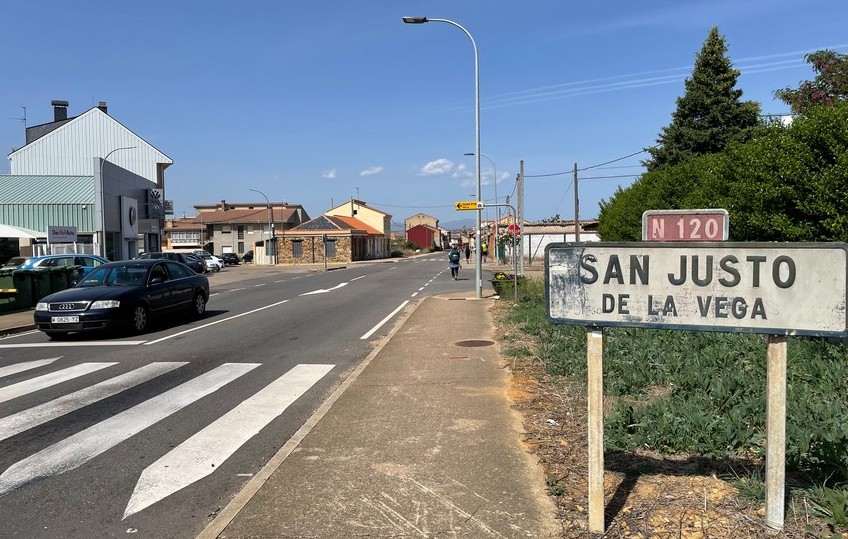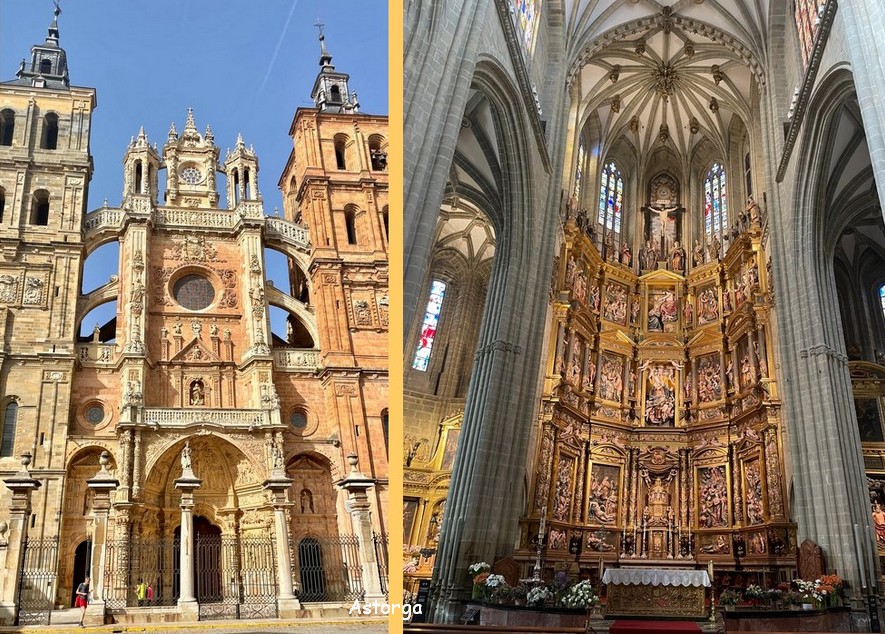 Construction of the Astorga Cathedral began in 1471 until the 18th century. Large high altar by Gaspar Becerra, 1558.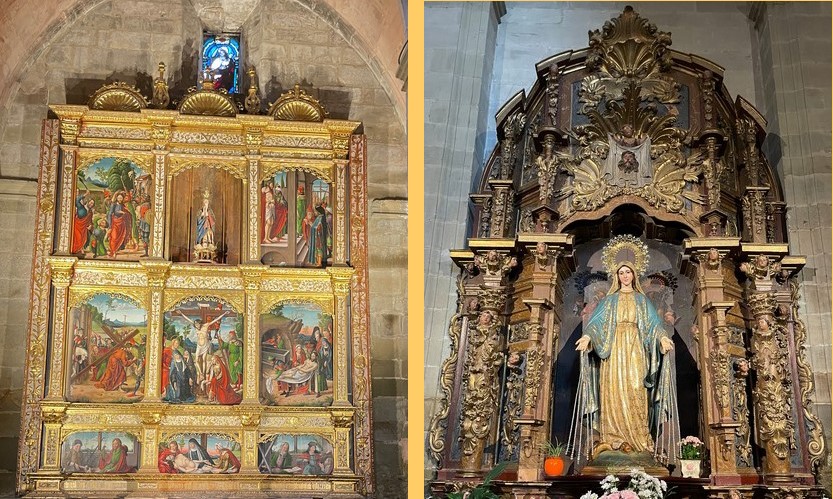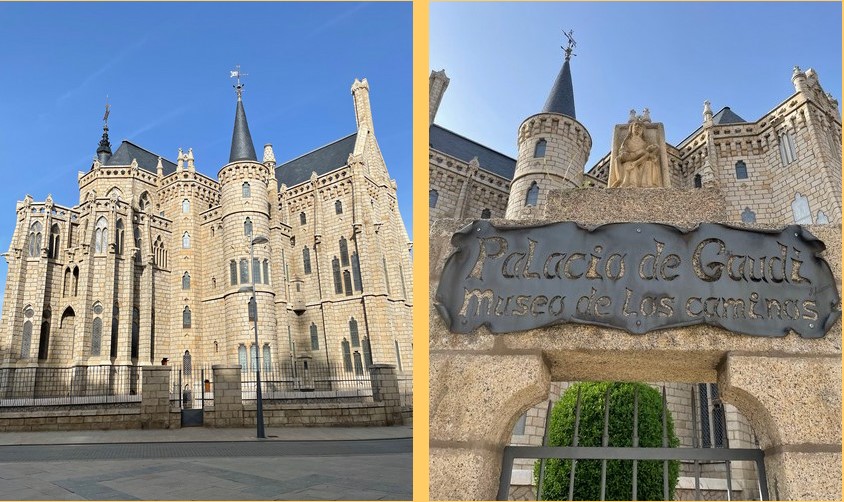 The Episcopal Palace of Astorga, built 1889-1913, by Catalan architect Antoni Gaudí (of Barcelona's Sagrada Familia).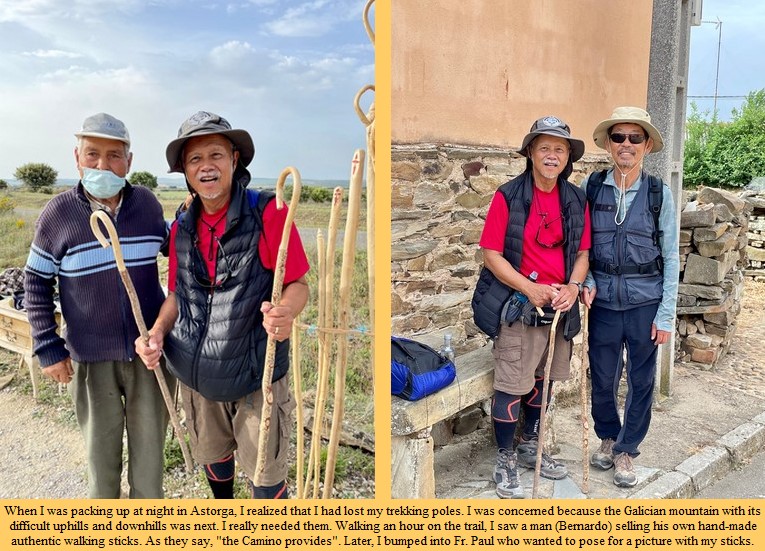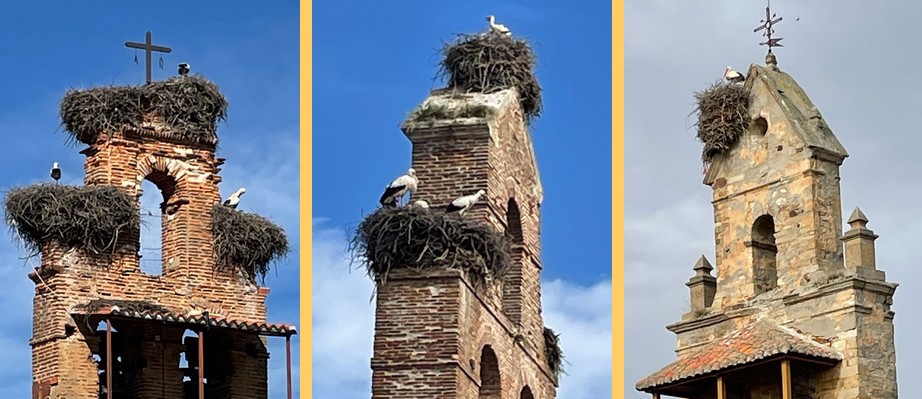 Church belfries seem to be a favorite nesting place for storks - here in the towns of Valverde de la Virgen, Leon and El Ganso.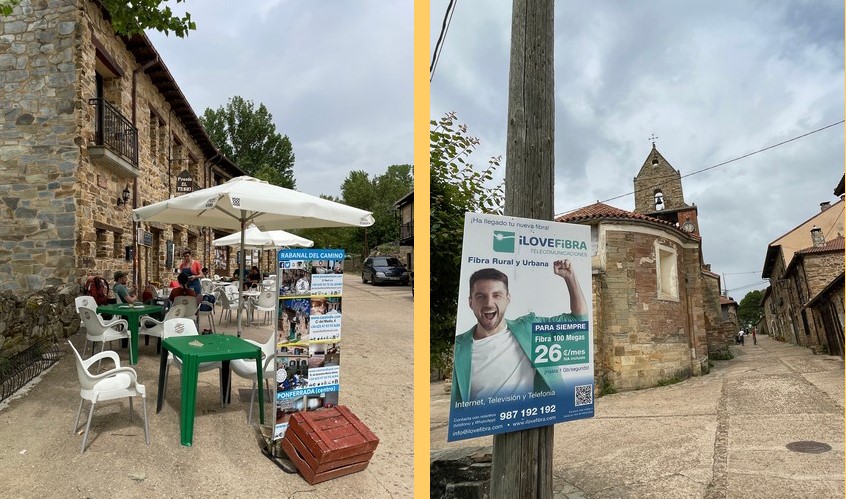 Modern technology and high fiber optics do reach rural Spain.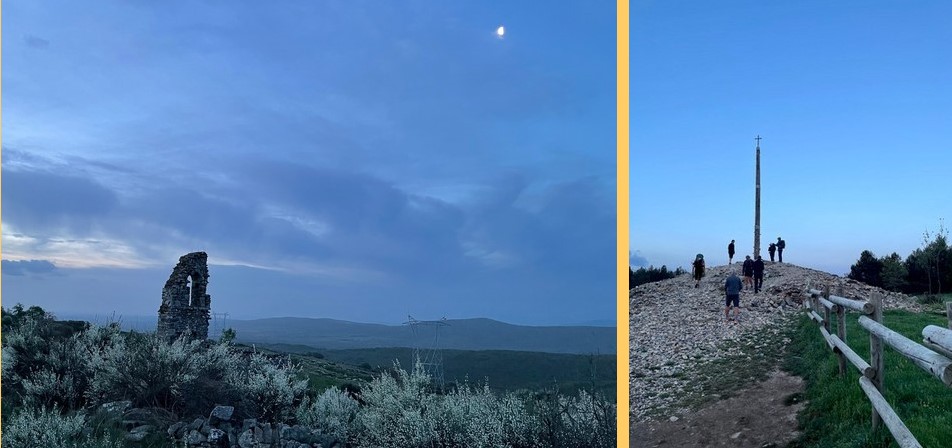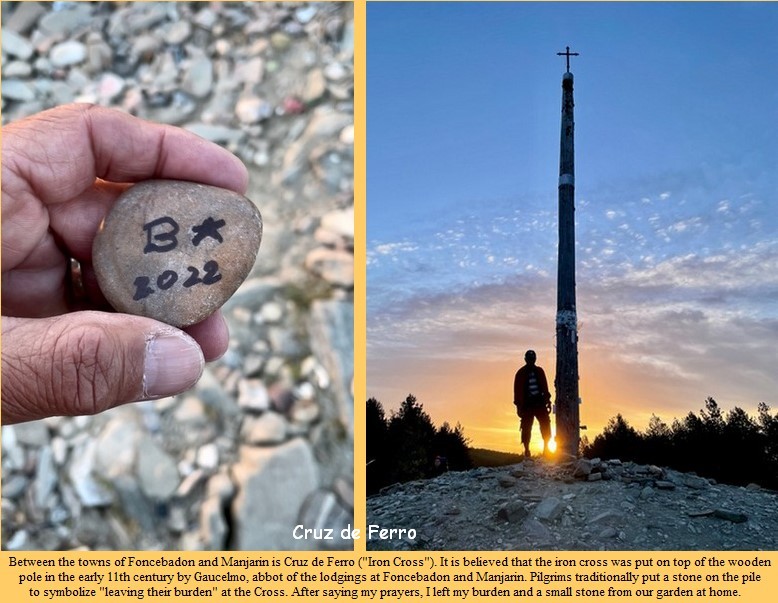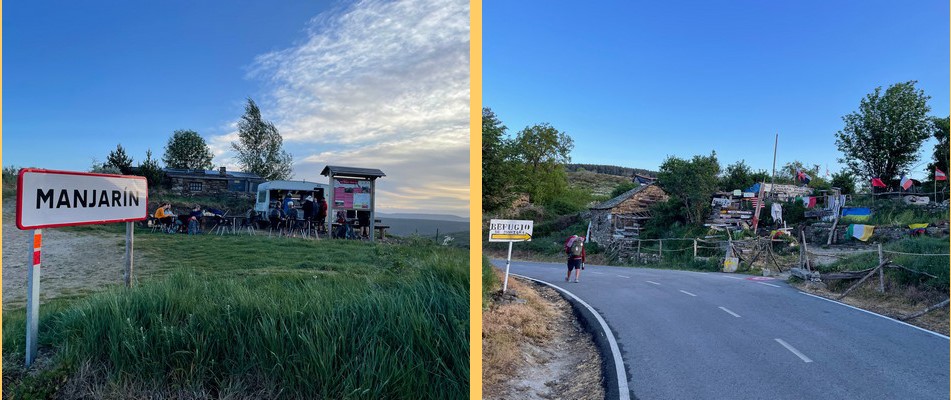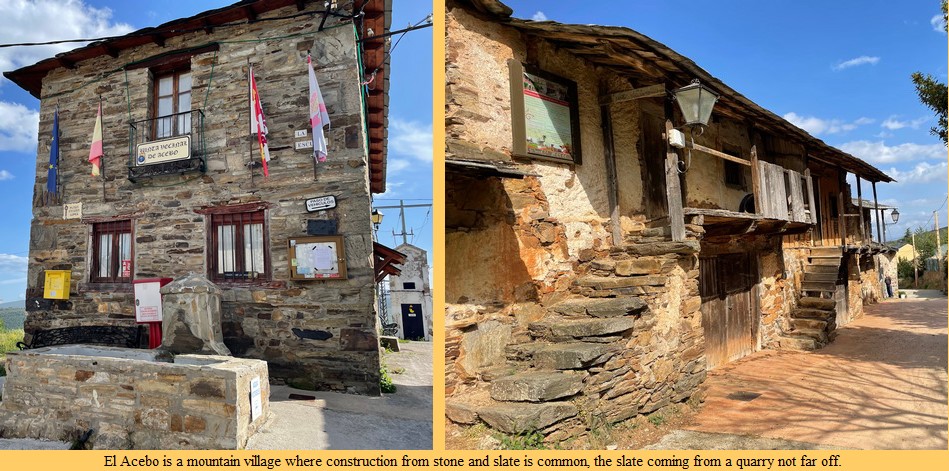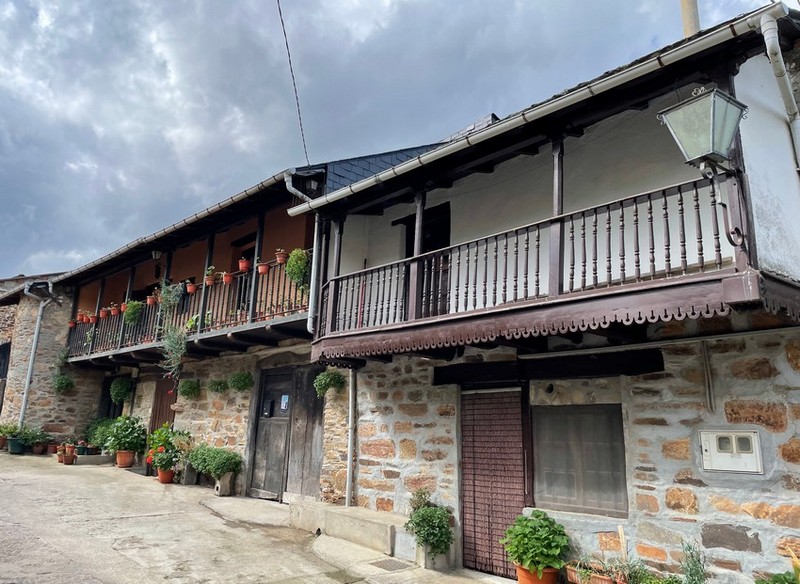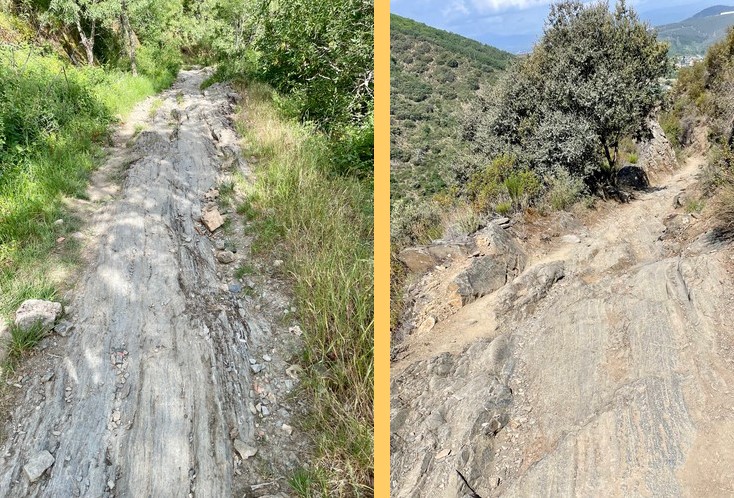 A torturous descent from 1000 to 500 meters on jagged, uneven rocks 2 kms. El Acebo to Molinaseca. Need walking sticks!!
From a blog, Russell: "Walking downhill is so much harder than walking uphill. The knees, feet, and toes take such a beating."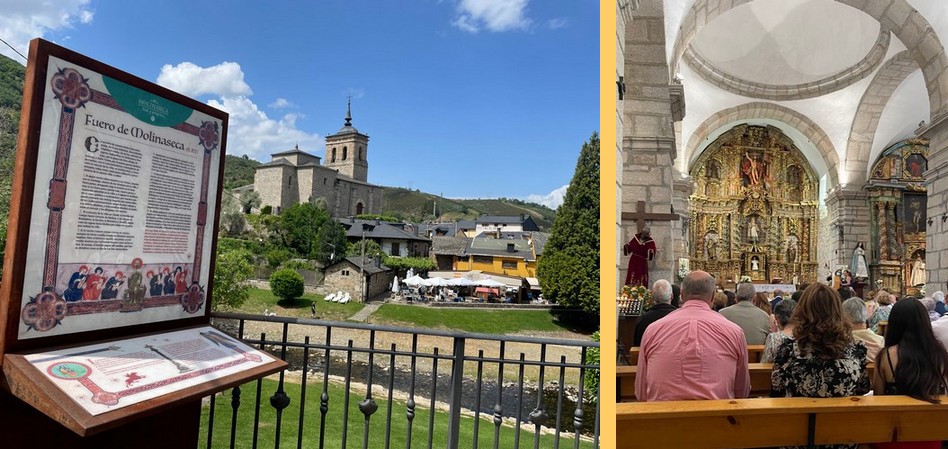 Sunday mass at Iglesia Parroquial de San Nicolas in Molinaseca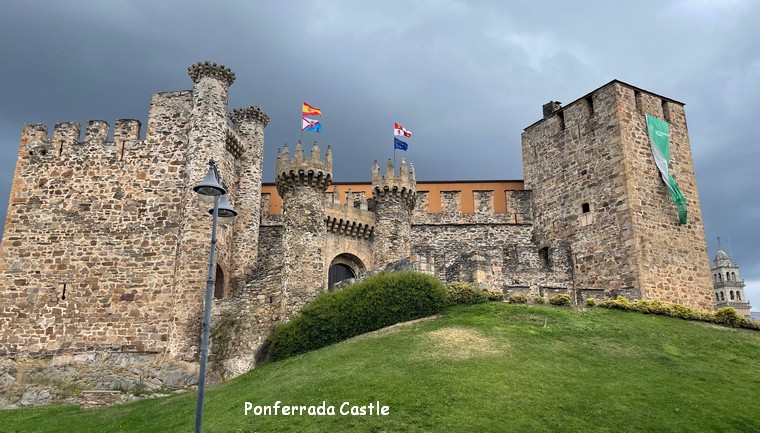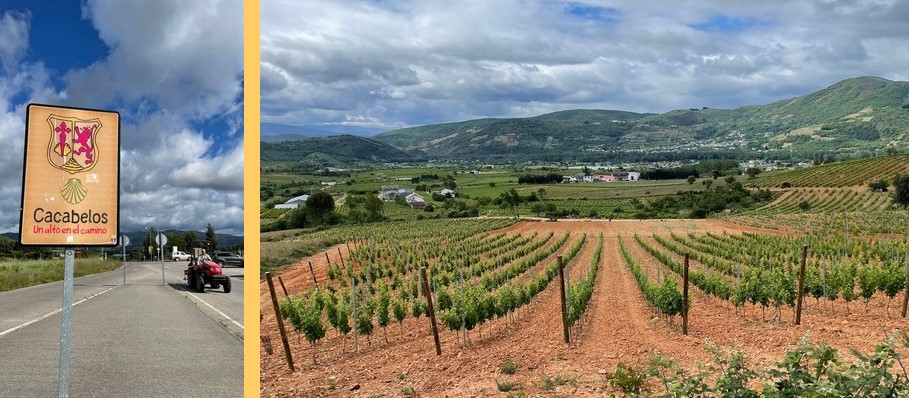 Cacabelos is known for its production of wine, its wineries and vineyards.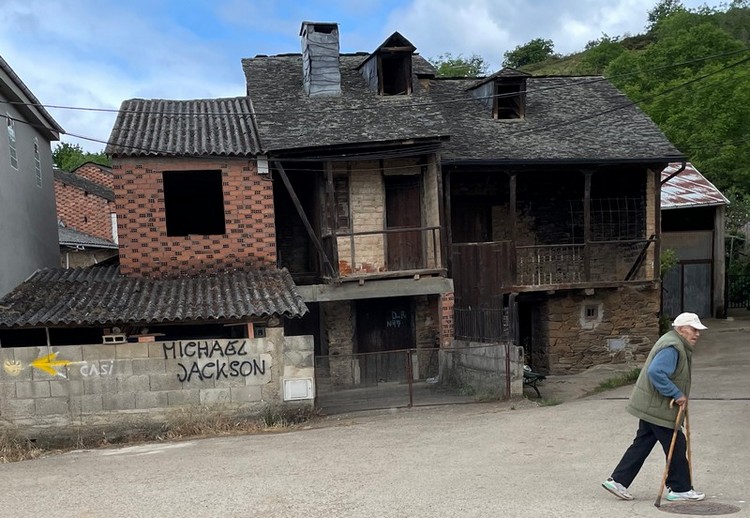 Did the King of Pop tag this wall? Did he do his moonwalk on the Camino?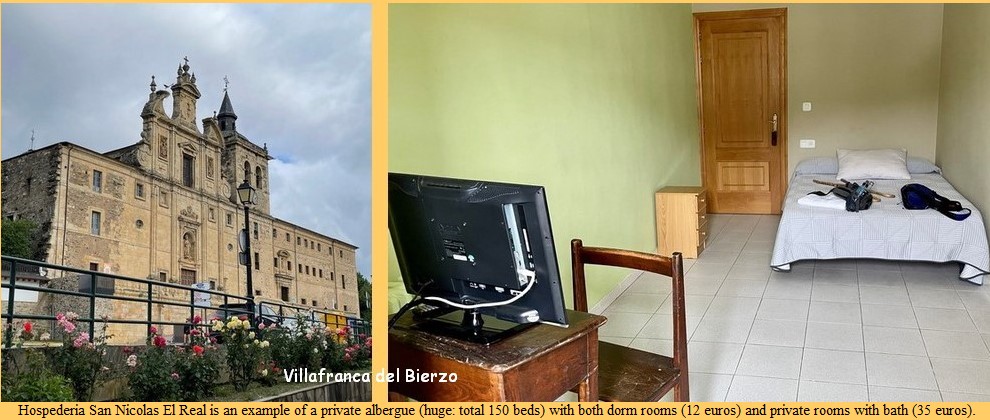 A mountain community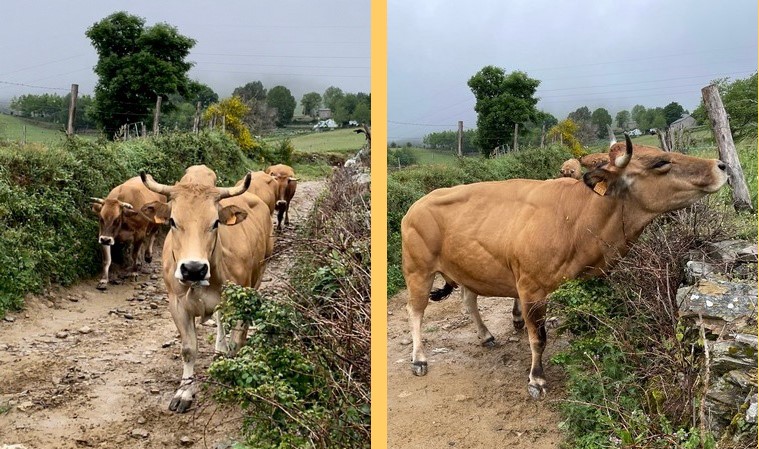 A bit unnerving to encounter a herd of cows on a narrow bend (nowhere to run!). Guess they're used to scared peregrinos.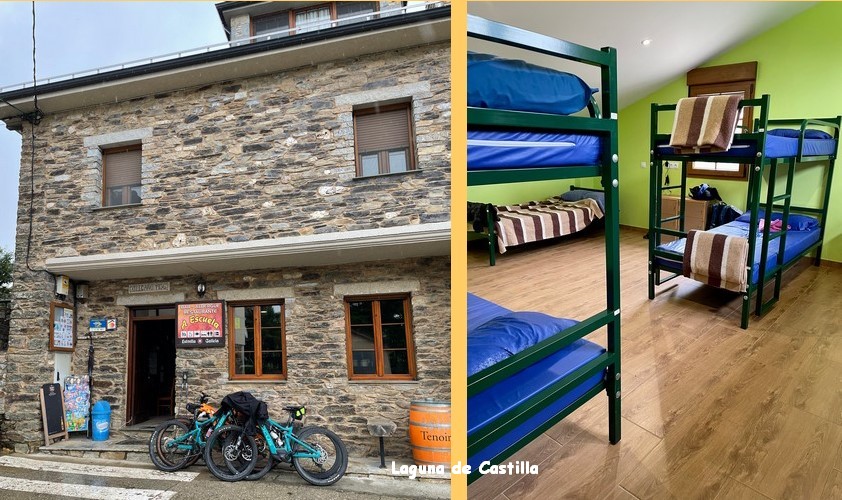 Albergue Escuela in Laguna de Castilla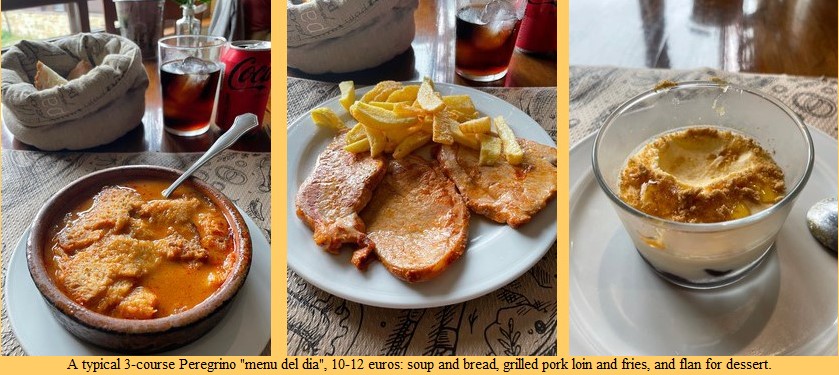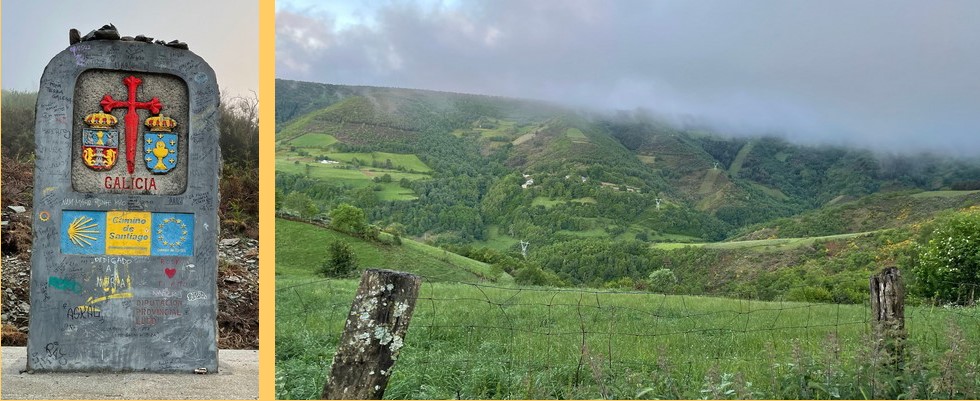 Finally, we're in the Galician region of Santiago.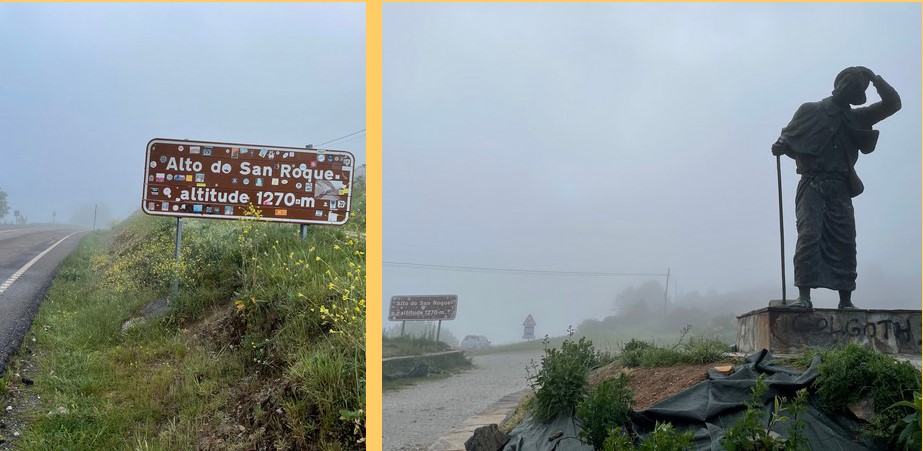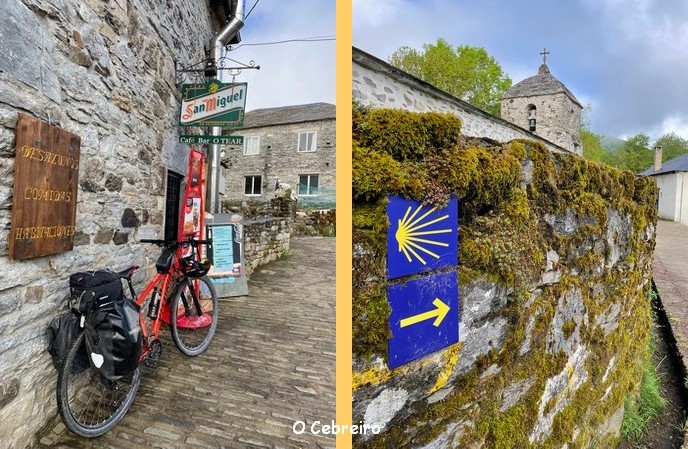 San Miguel beer on a mountain top, cool!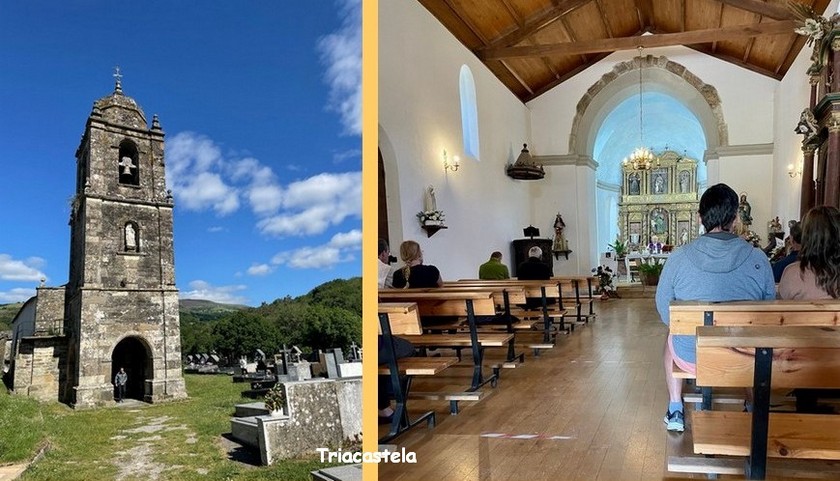 Dating back from late 12th century, attending weekday mass at Igrexa Parroquial de Santiago de Triacastela.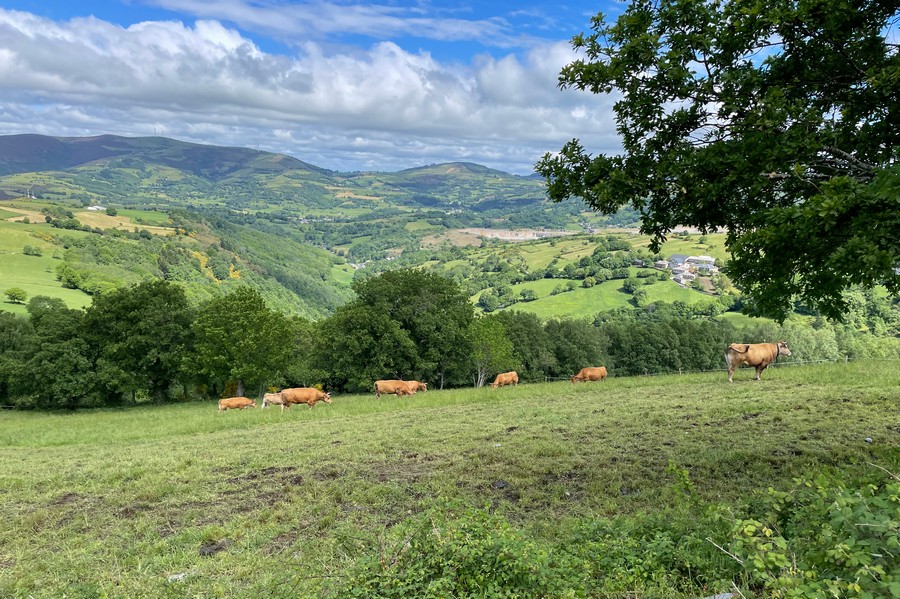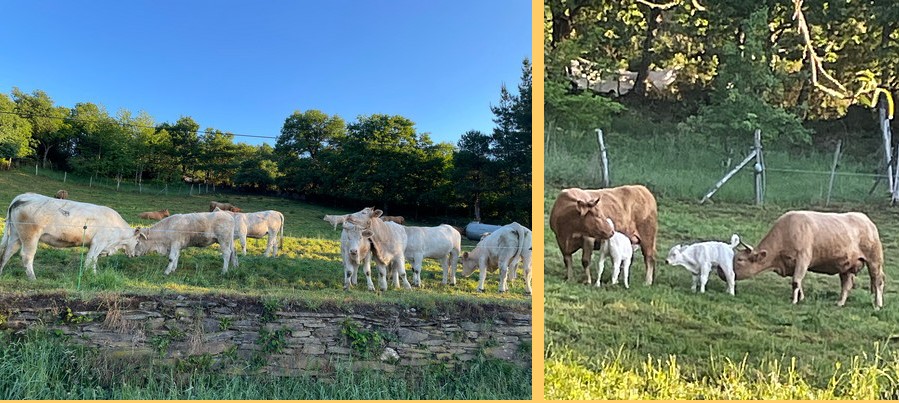 Triacastela - cattle country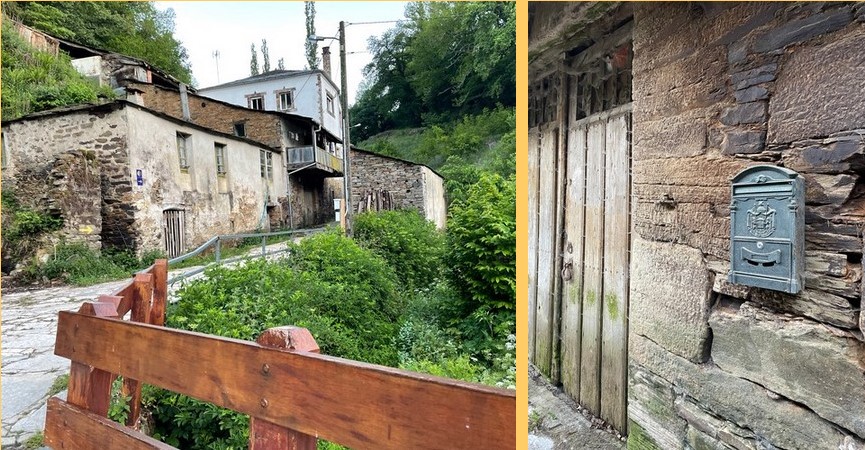 Delivering mail the old fashion way

Galician forest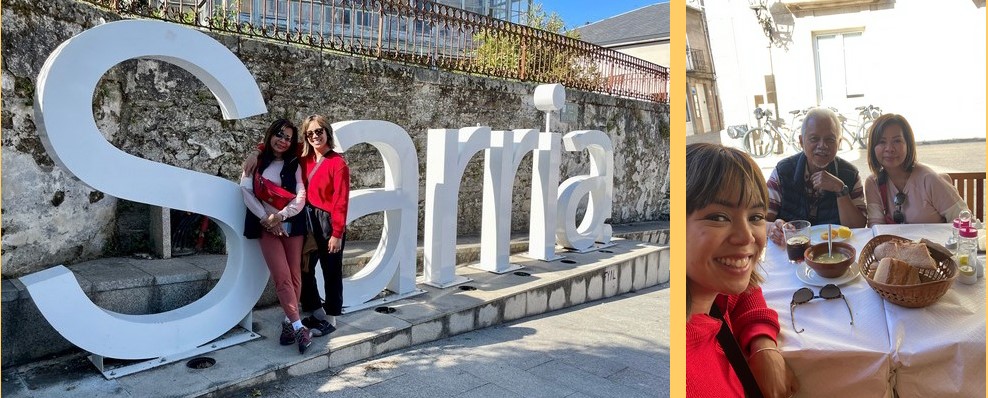 From LA, Cherry and Jamie arrive at Sarria for our walk together on the last five stages, 116 kms. to Santiago.
Family walk, Day 1: Stage 29 - Sarria to Portomarin.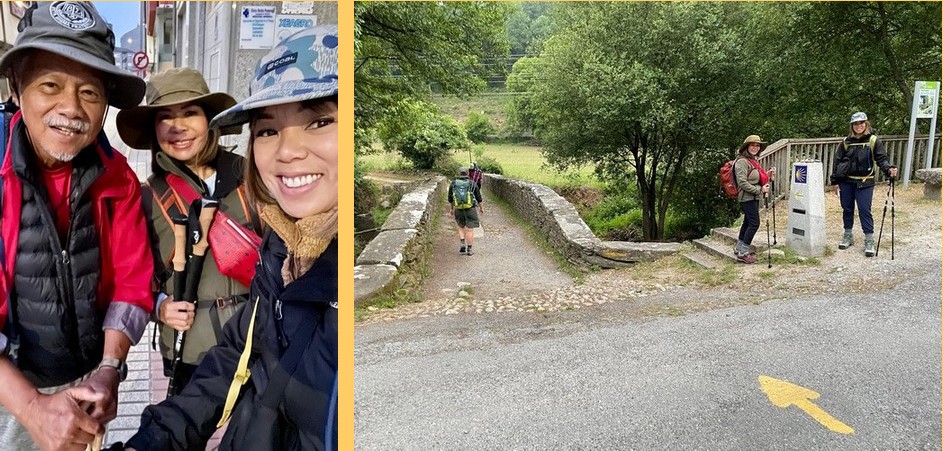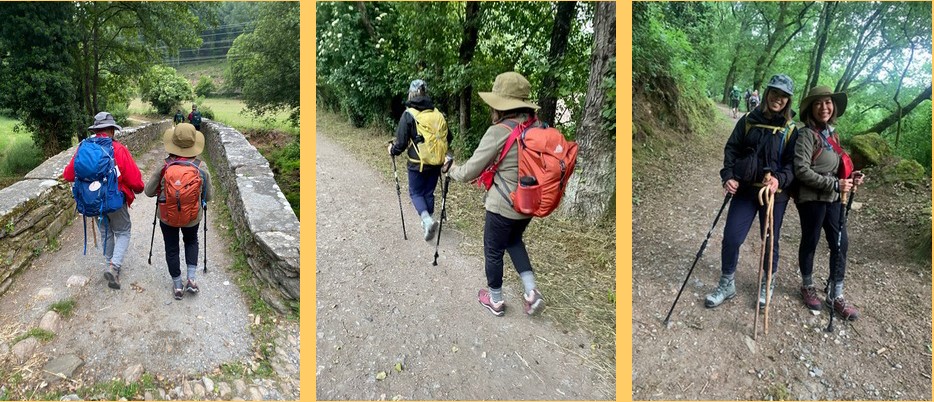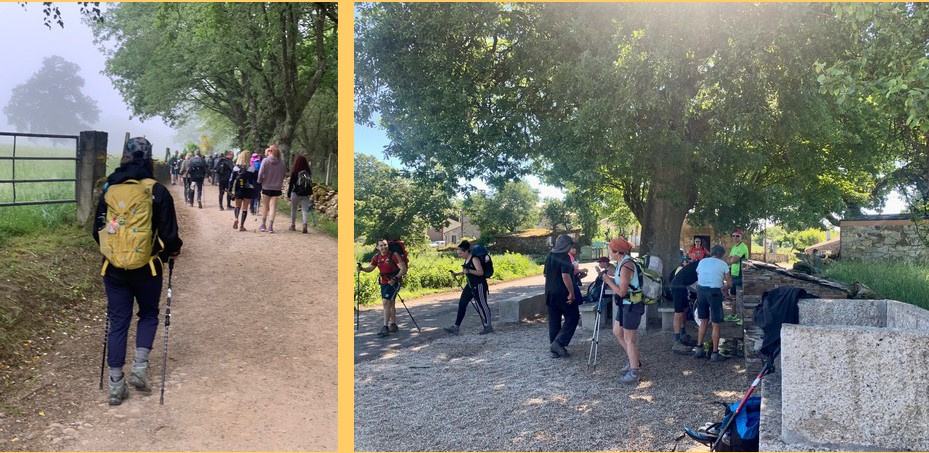 The Camino becomes busier (and noisier) with the influx of new pilgrims from Sarria.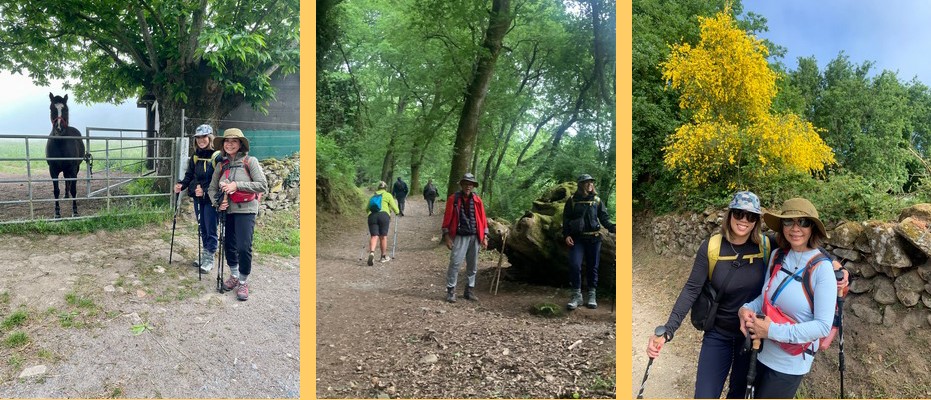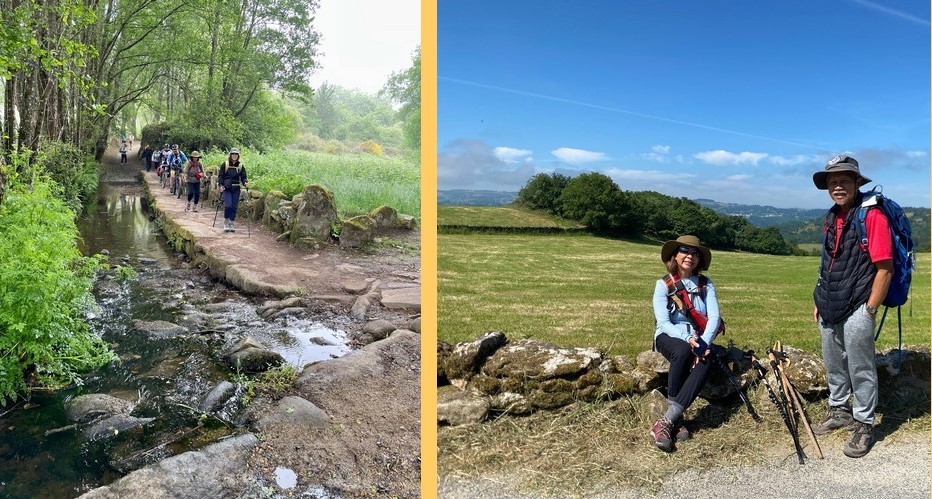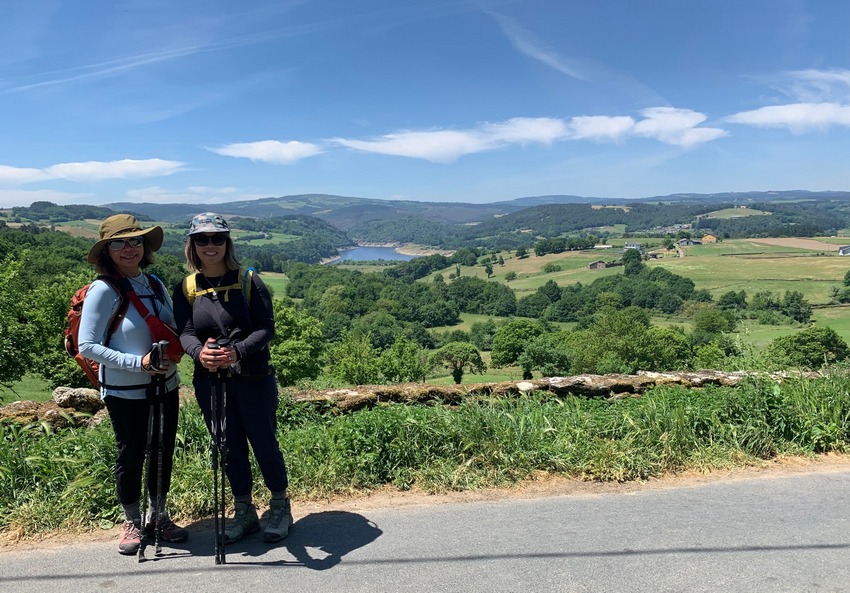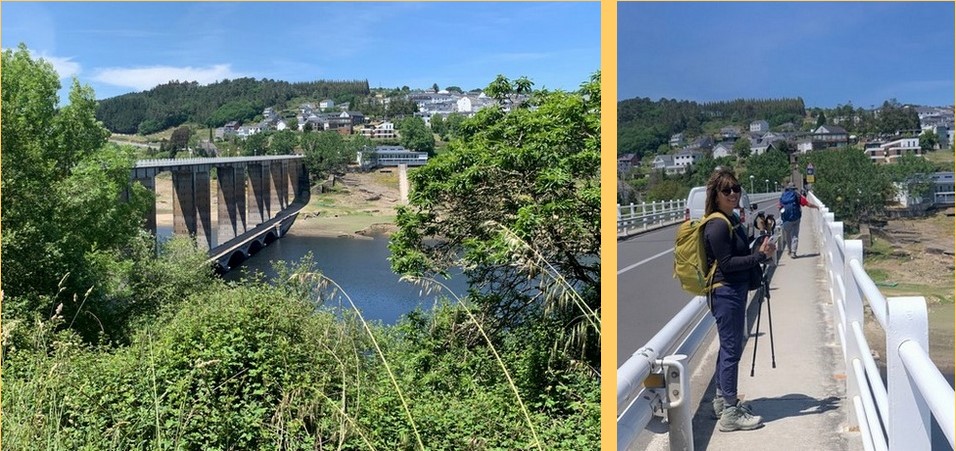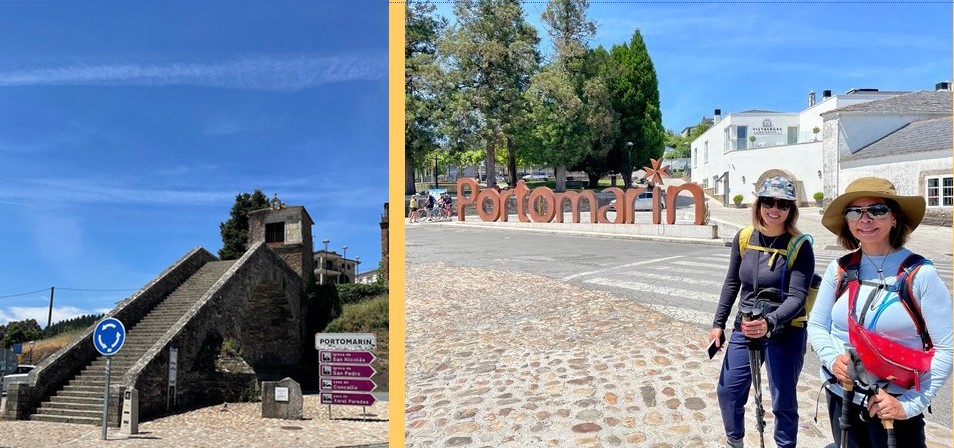 Family walk, Day 2: Stage 30 - Portomarin to Palas de Rei.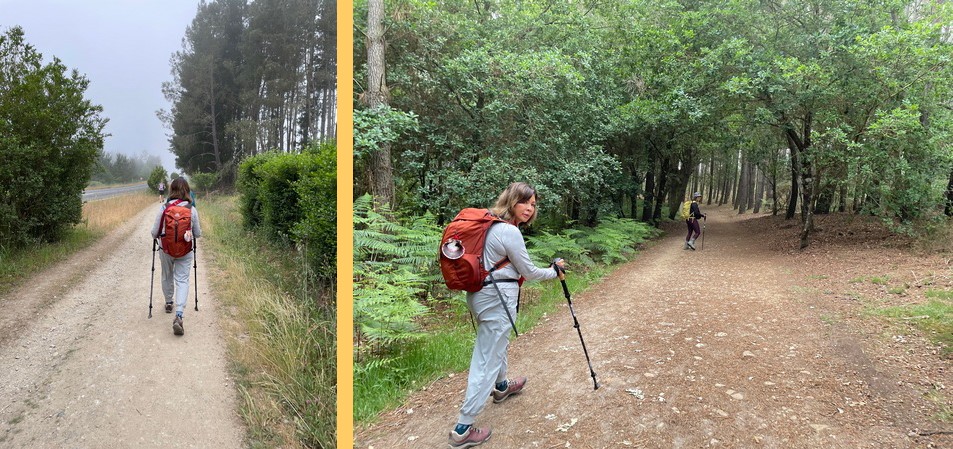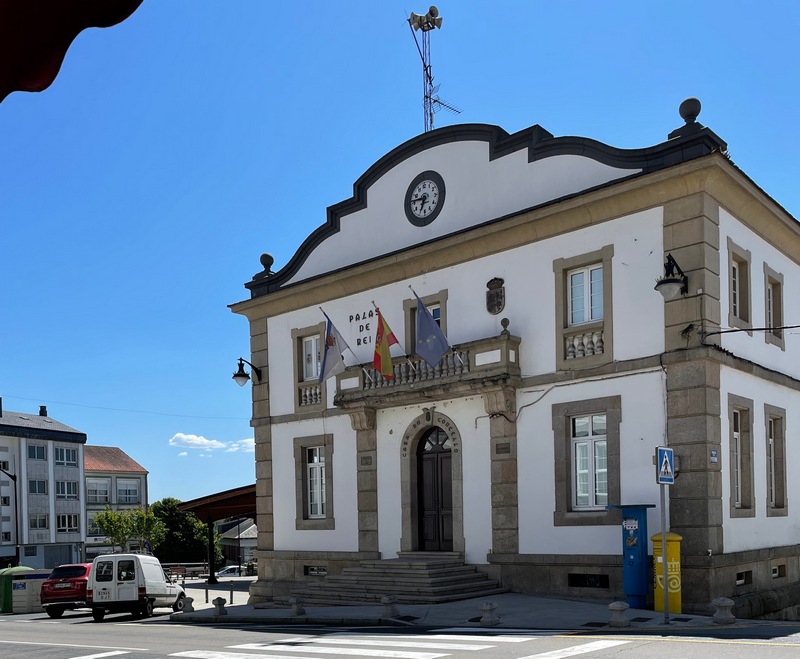 Ayuntamiento de Palas de Rei

Our Airbnb - a 19th century Galician country house, 4 kms. away from the city center of Palas de Rei.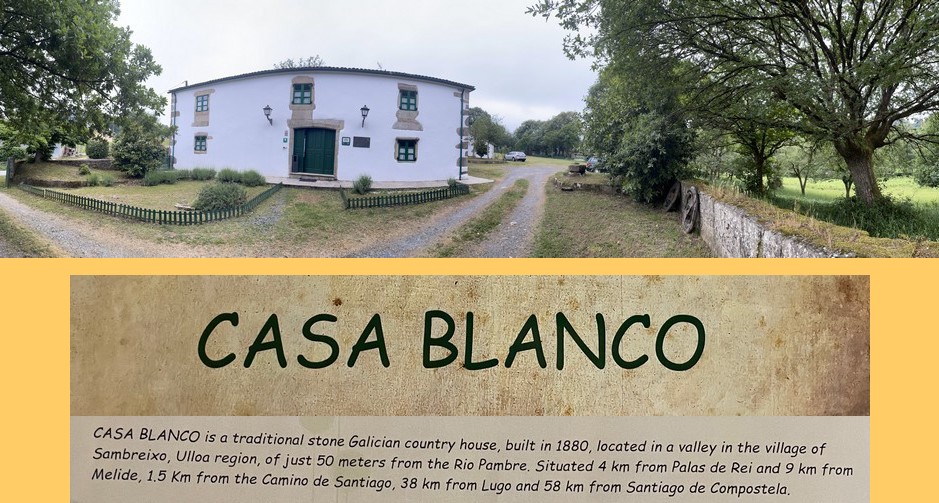 Family walk, Day 3: Stage 31 - Palas de Rei to Arzua.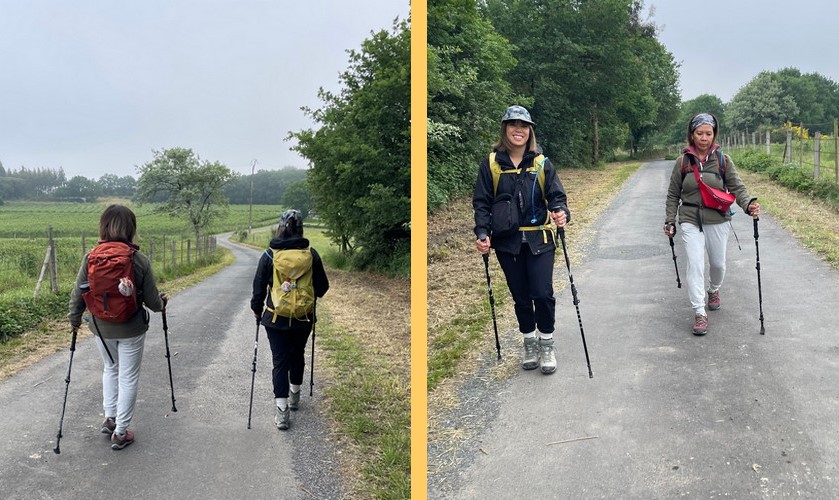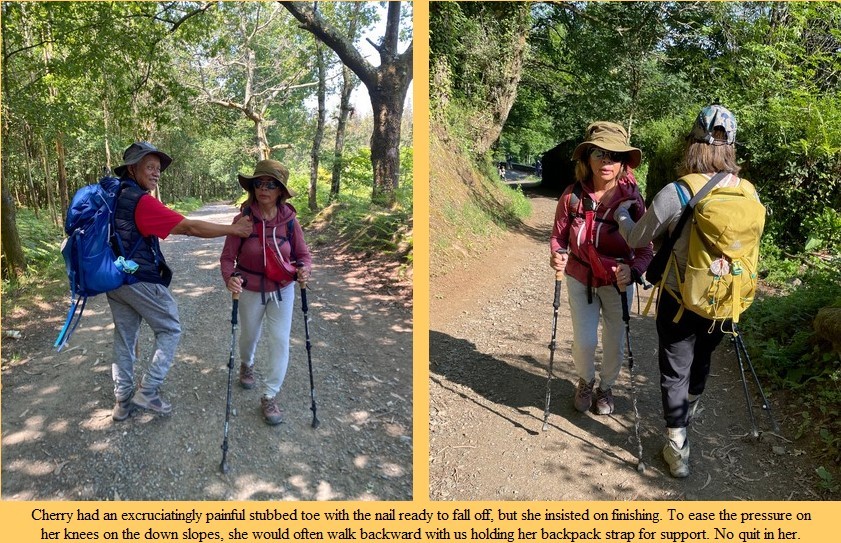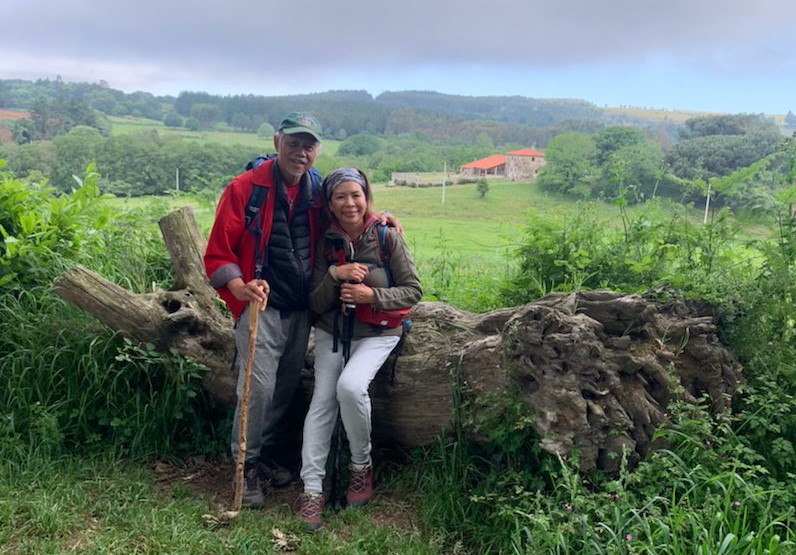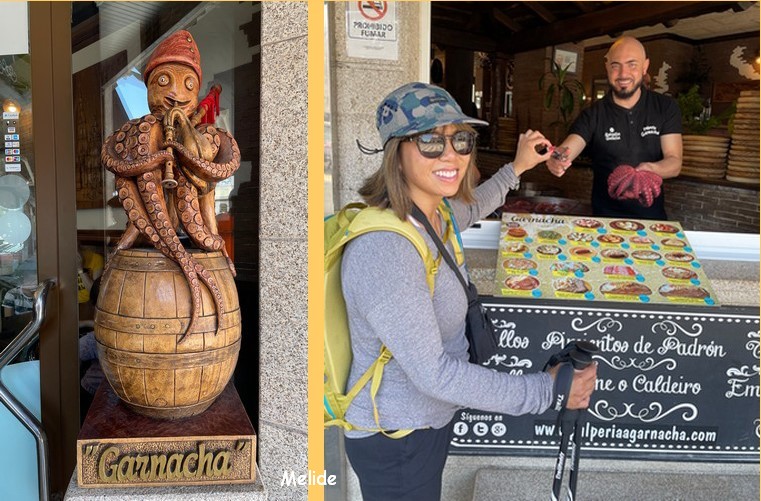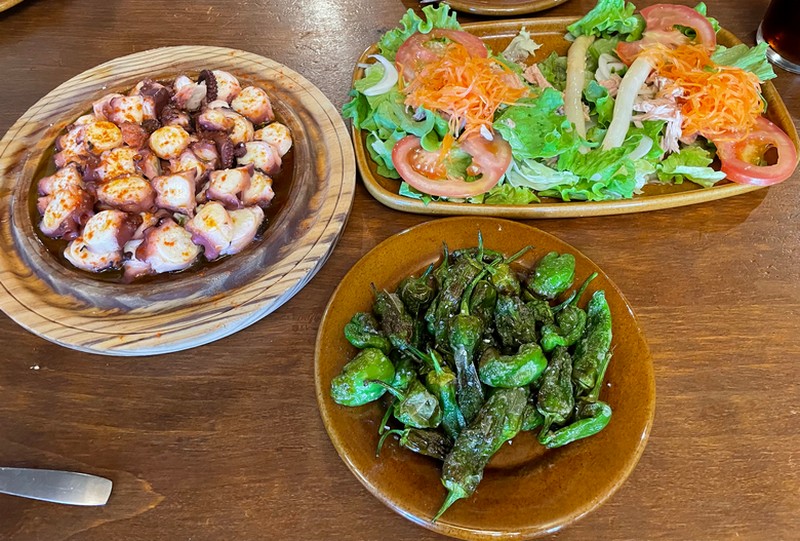 Melide is known for its "pulpo" (octopus), our lunch with ensalada mixta and padron peppers at Garnacha Pulperia.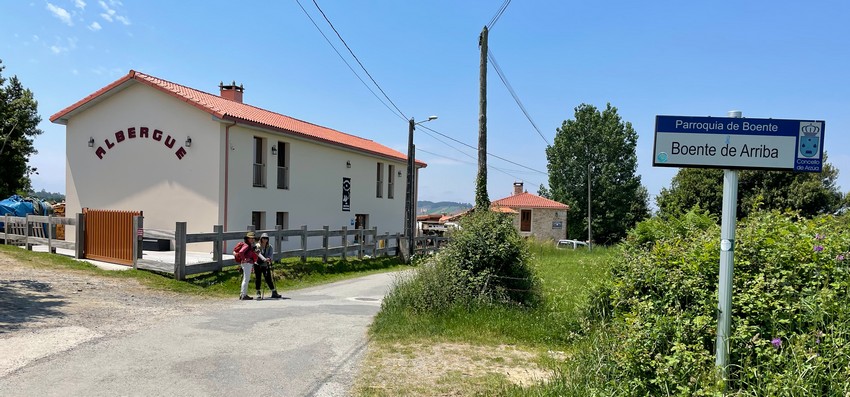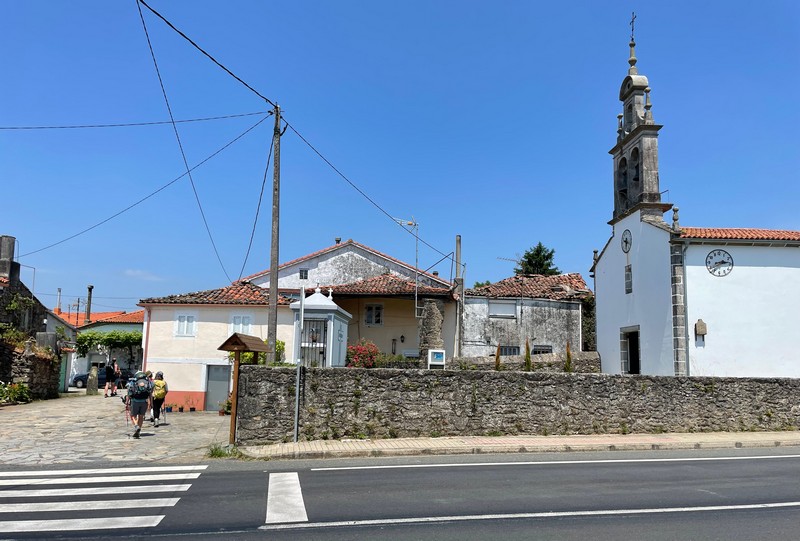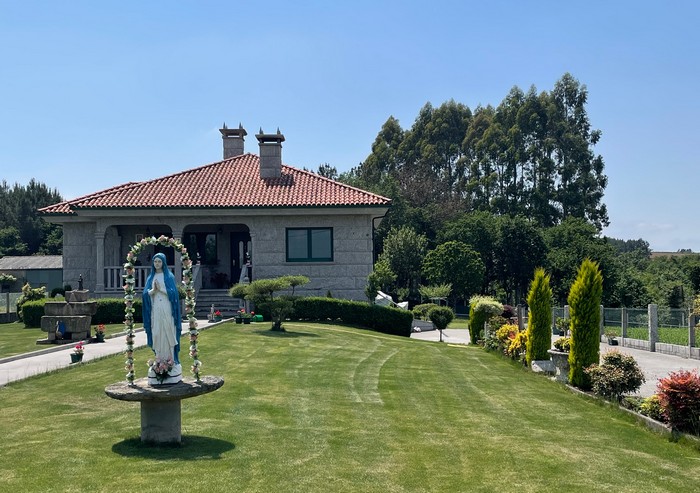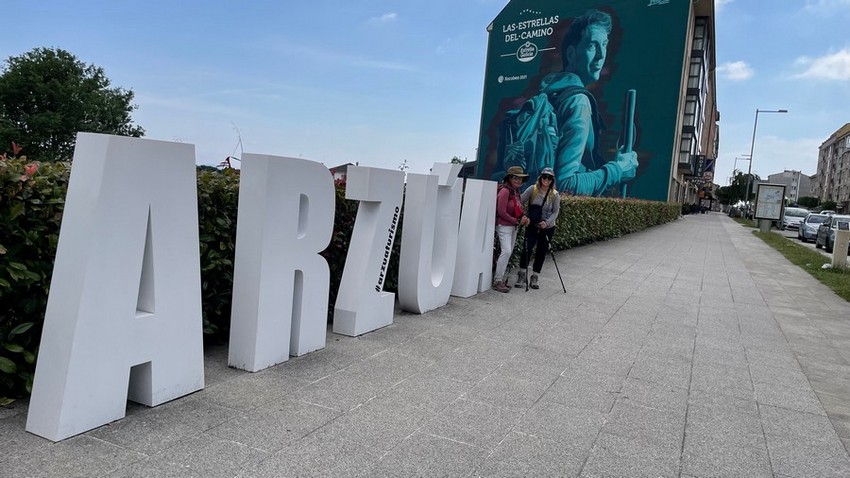 Family walk, Day 4: Stage 32 - Arzua to O Pedrouzo.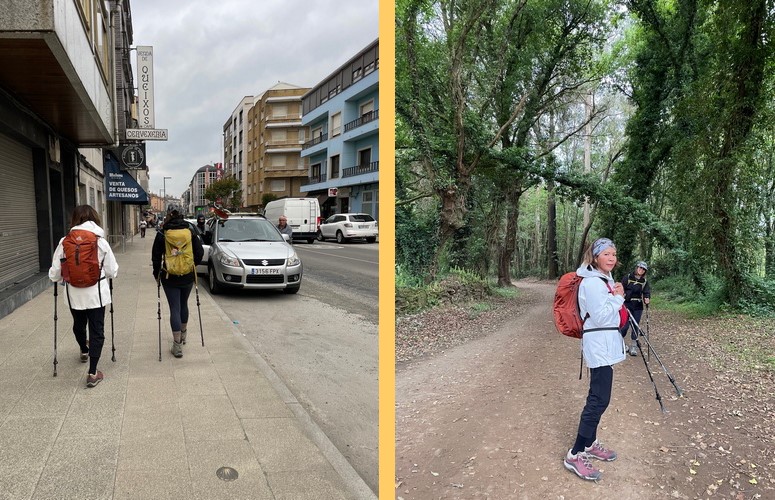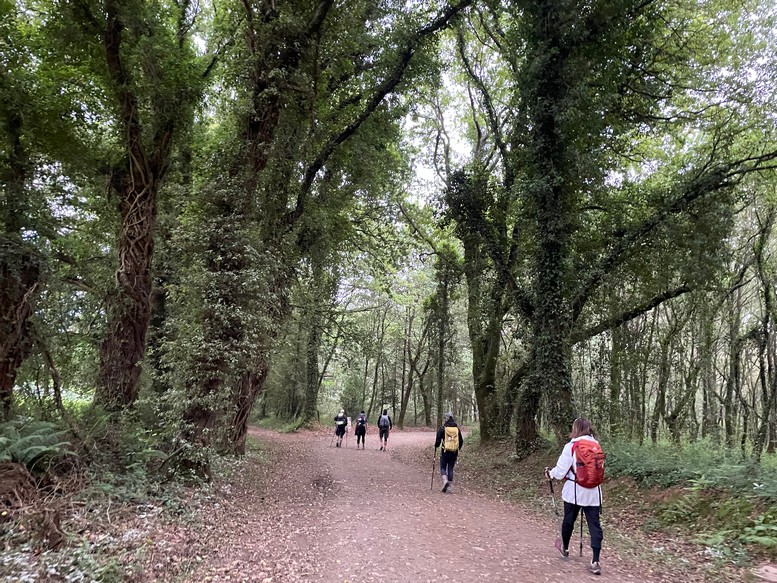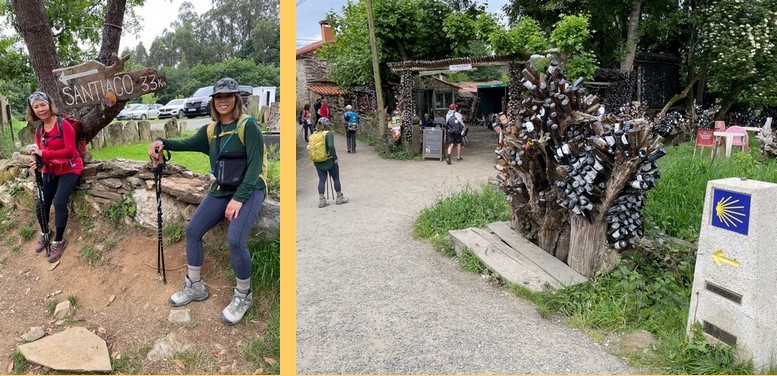 Family walk, Day 5 ("D-Day"): Stage 33 - O Pedrouzo to Santiago.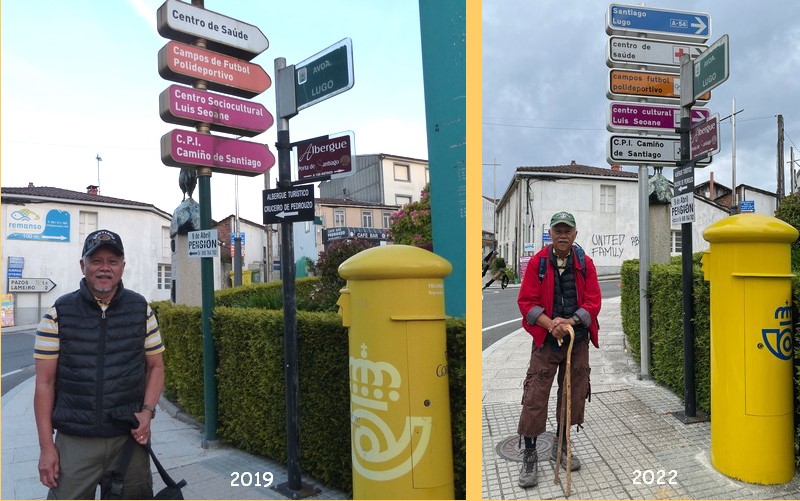 Reprise of my 1-day walk to Santiago brings back memories. I made it a point to wear the same yellow shirt, the color of the Camino.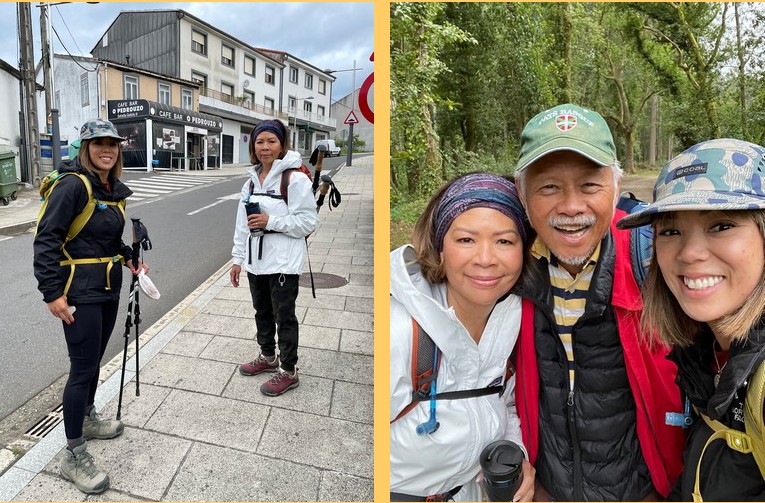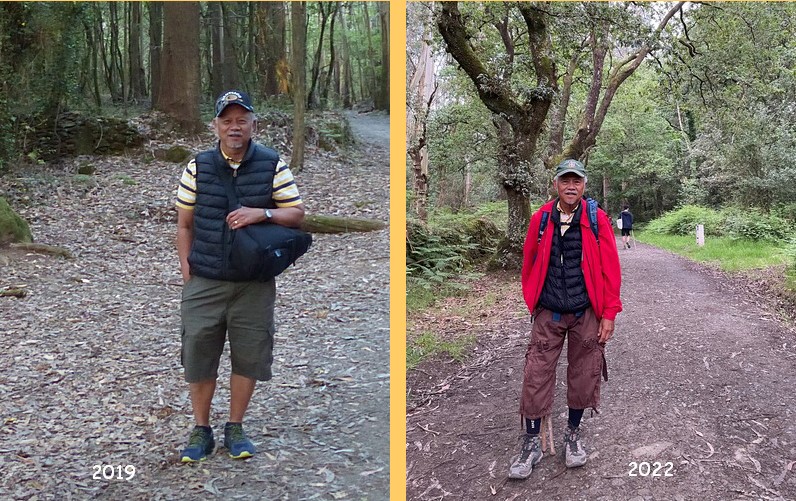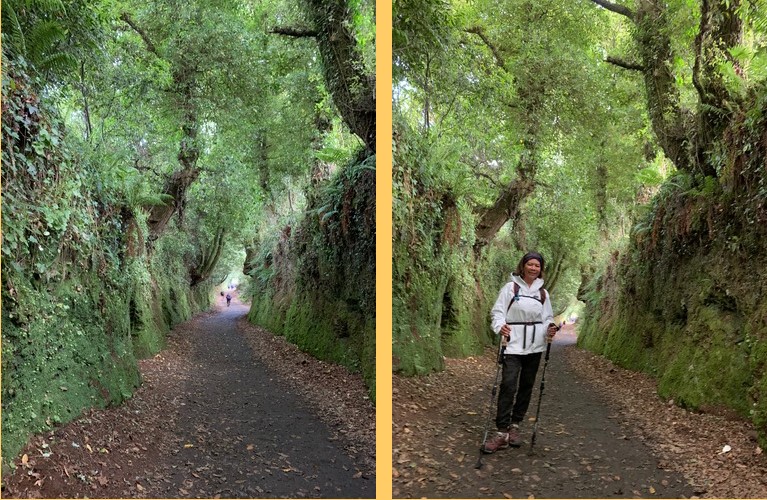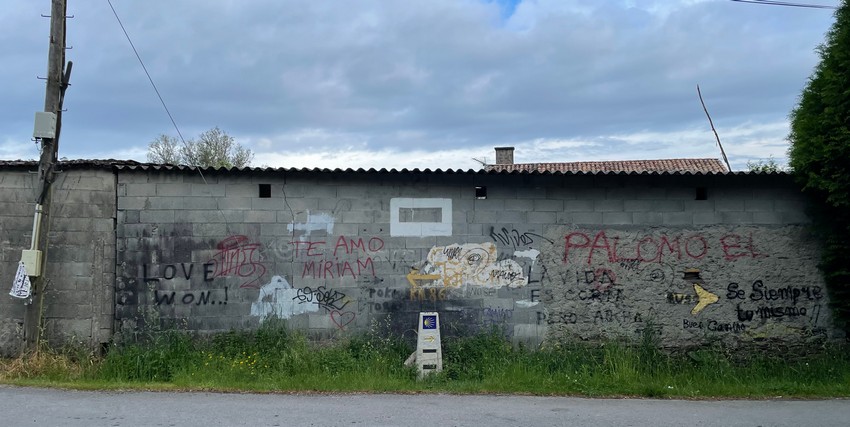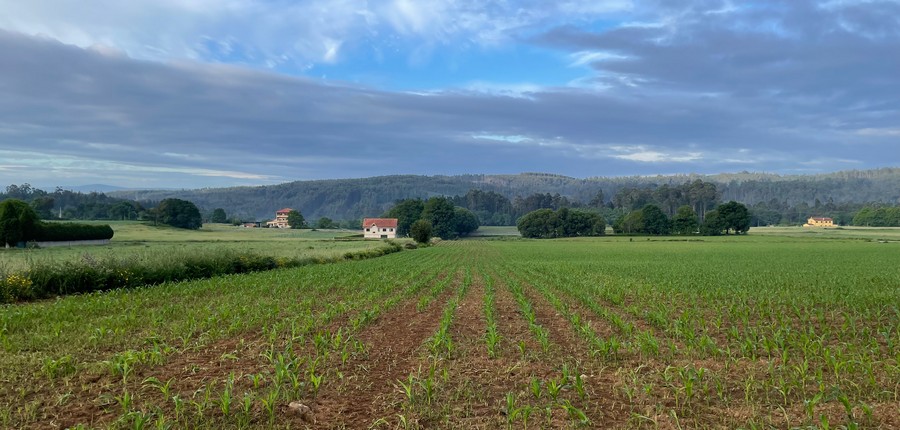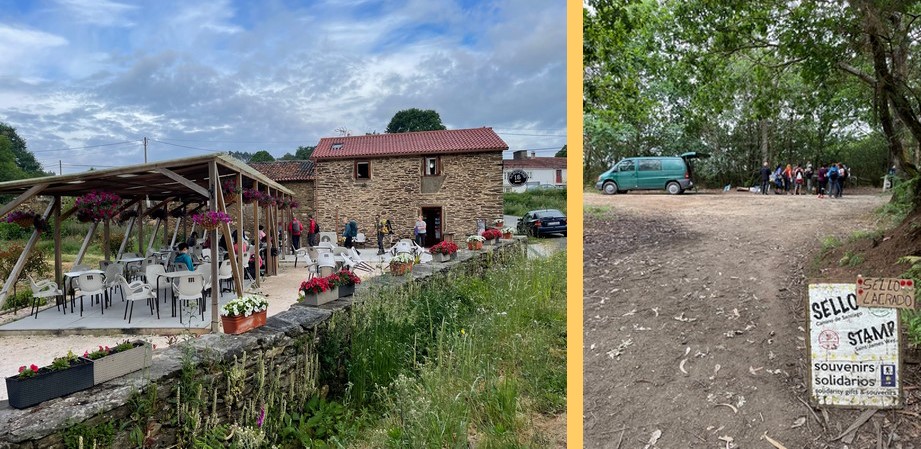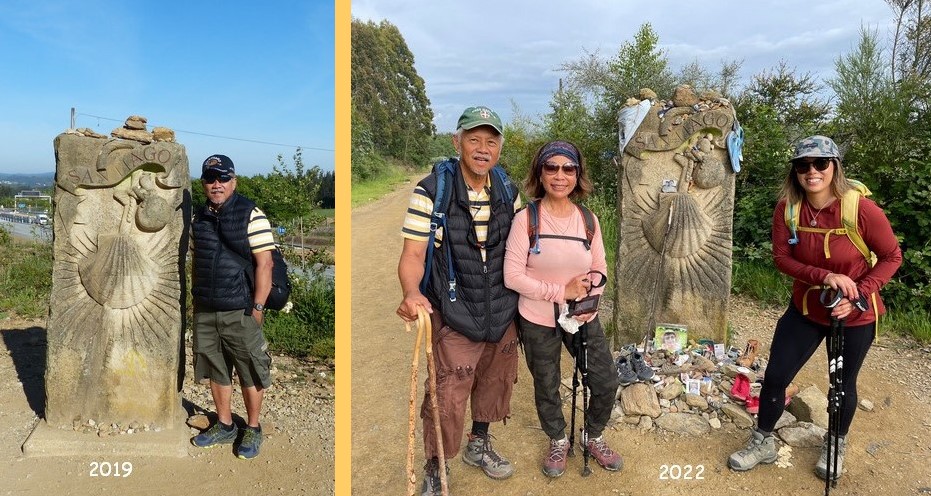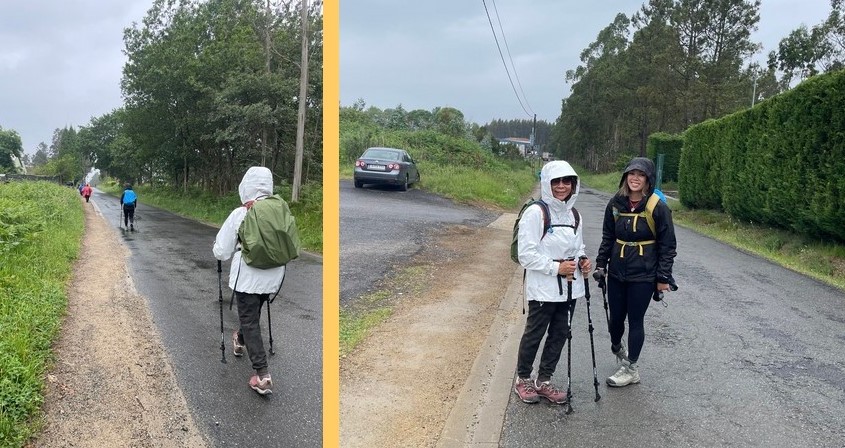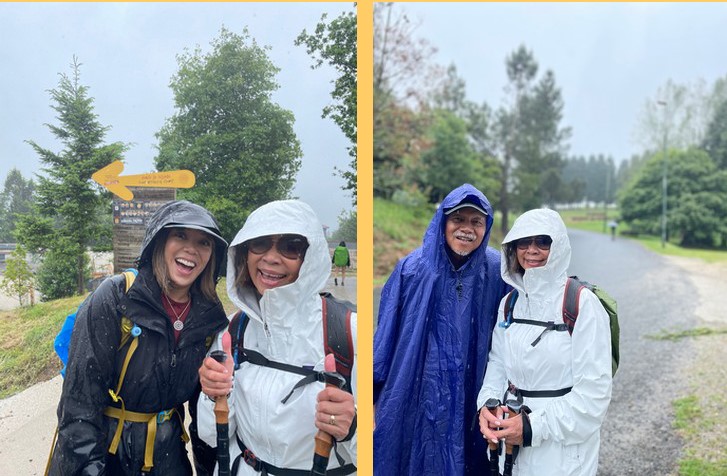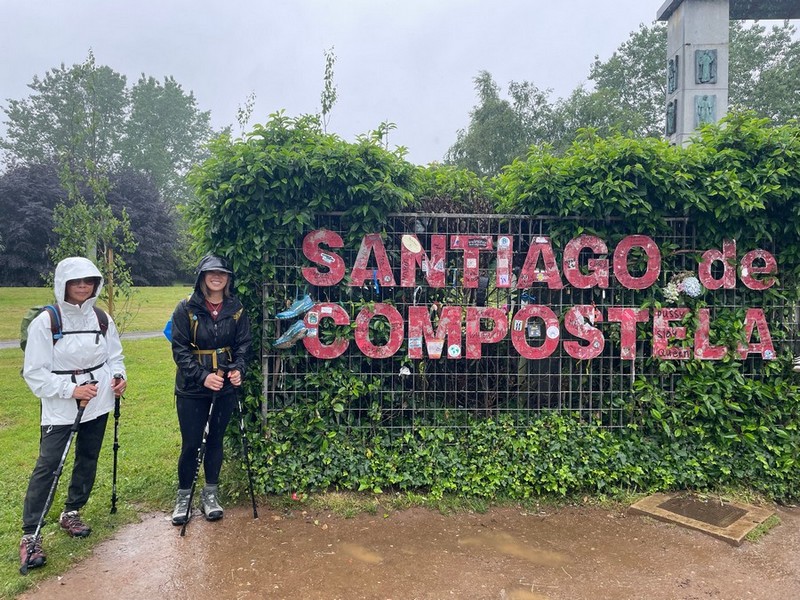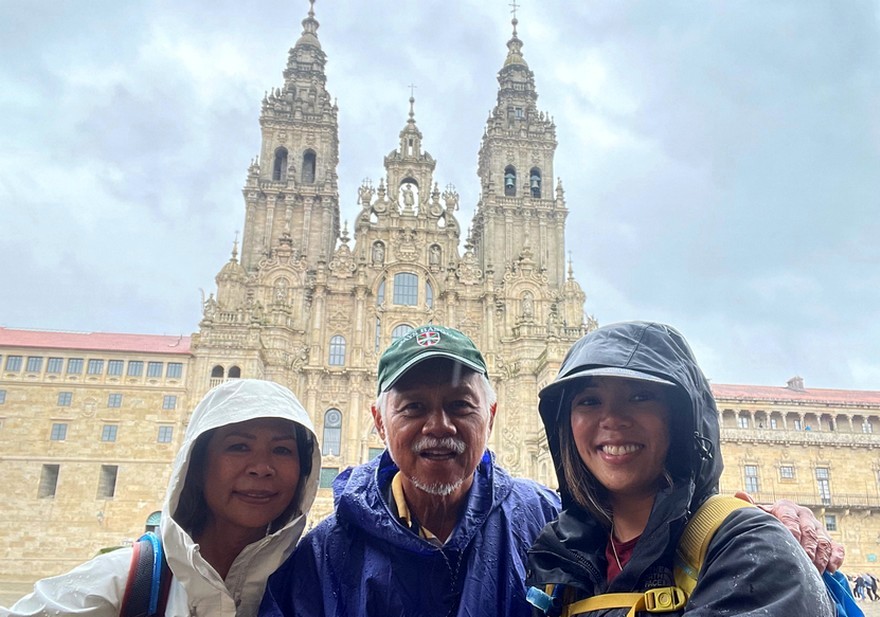 After two hours of steady rain, we finally arrive at the Cathedral.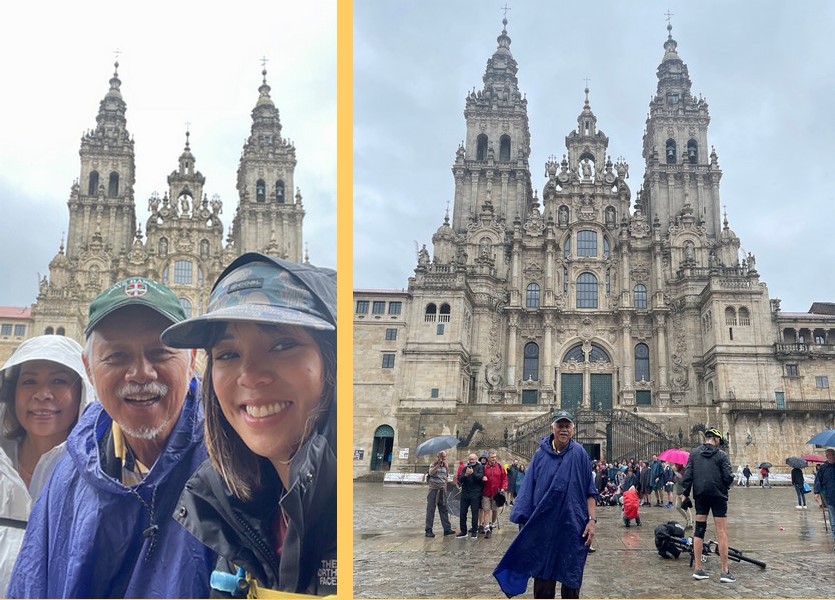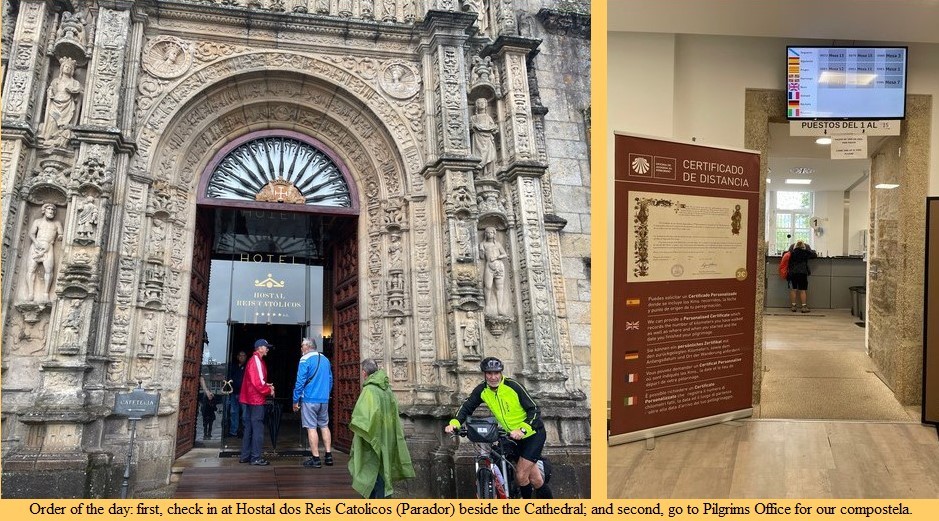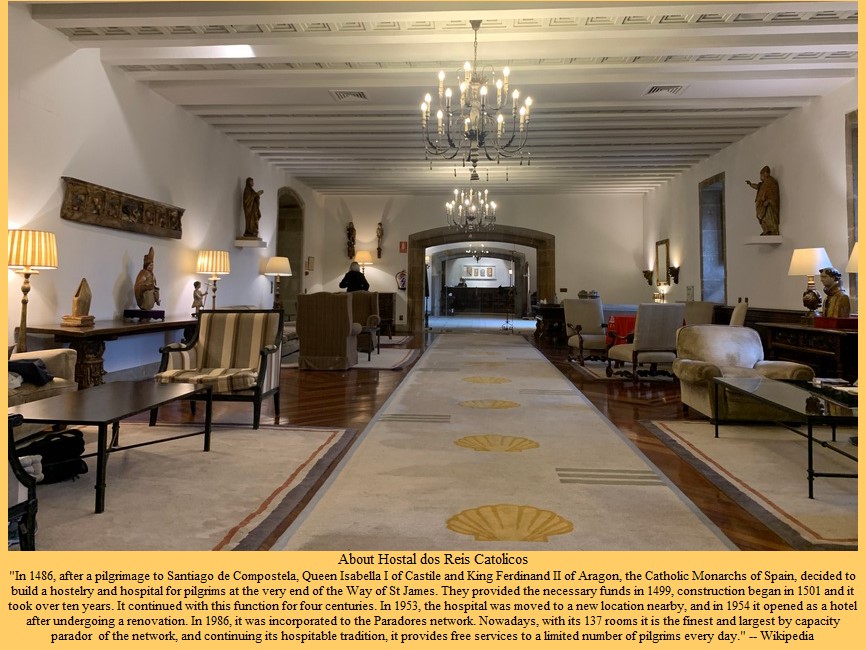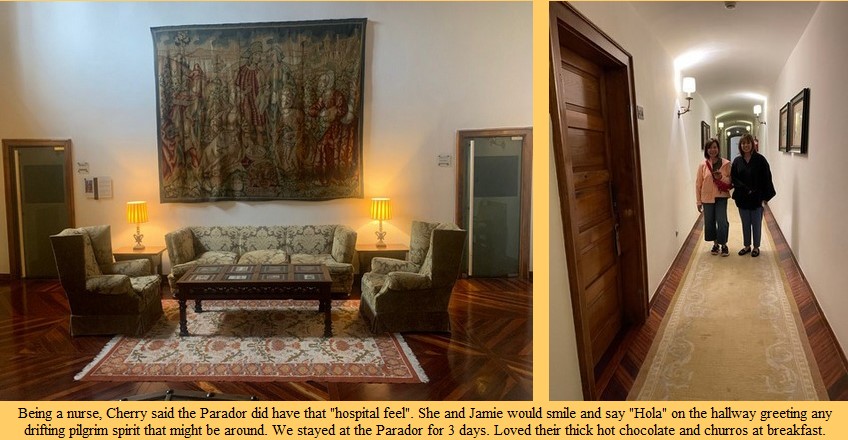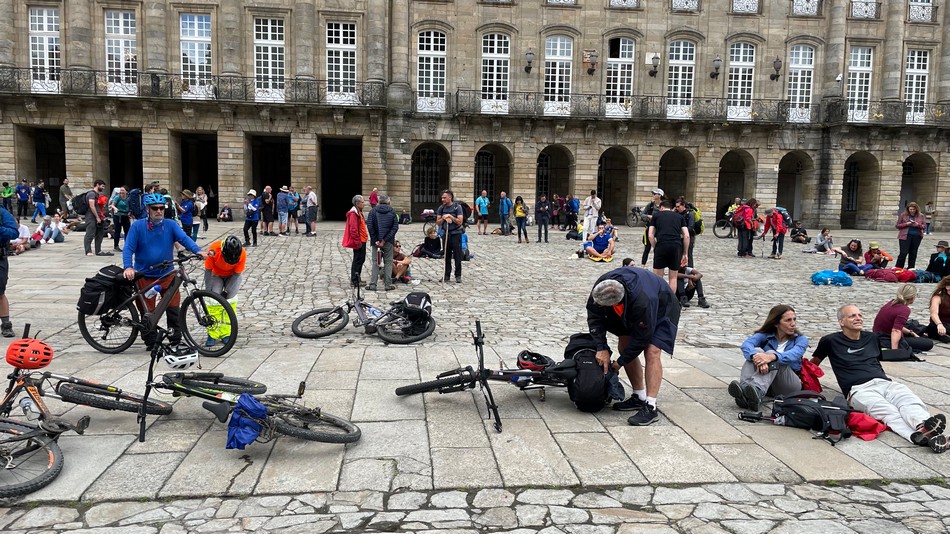 The sun came out the following day and joyful peregrinos fill up Plaza do Obradoiro.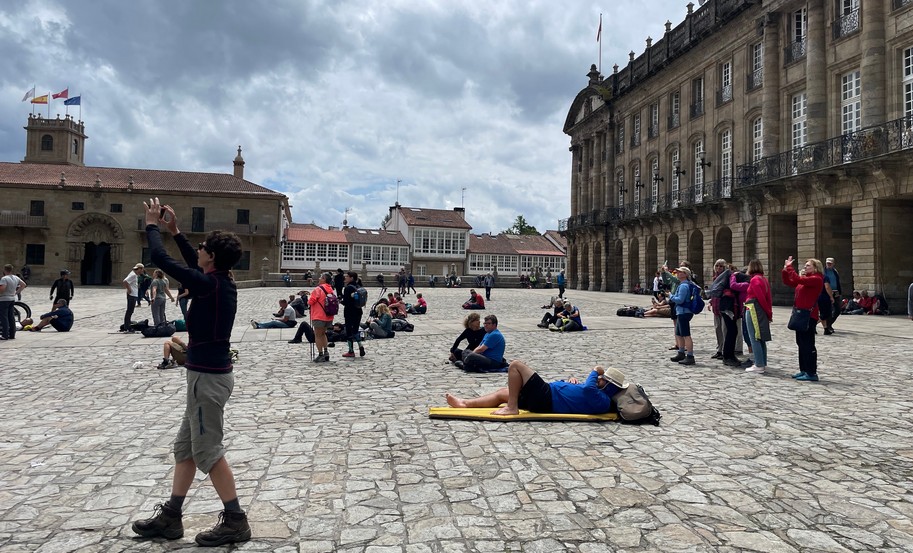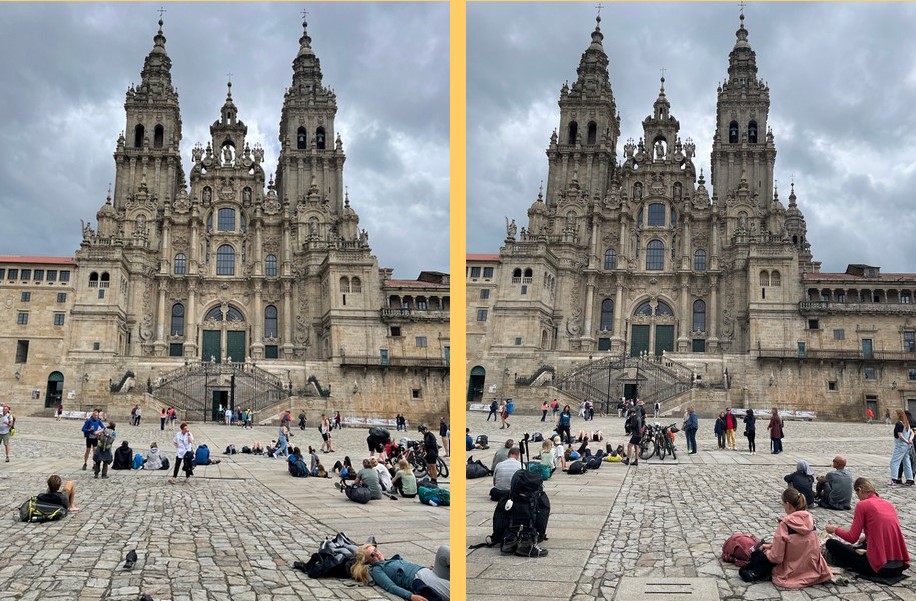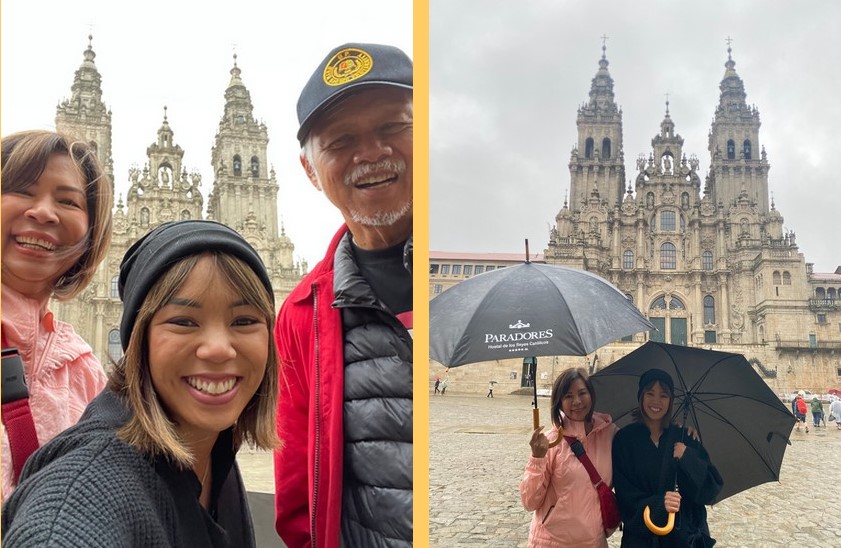 MORE FAMILY PHOTO-OPS !!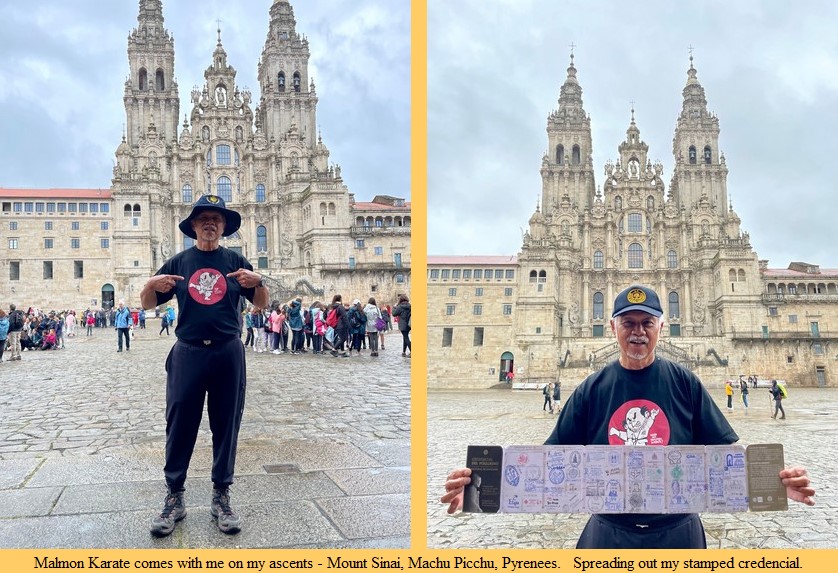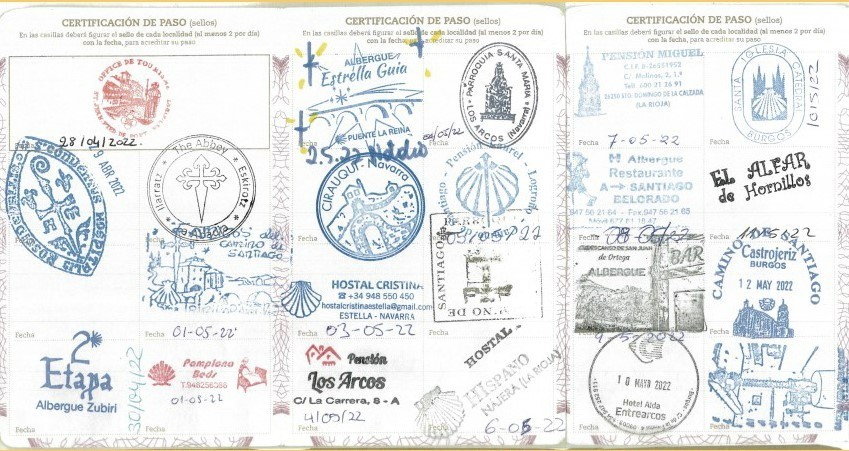 The credencial is the "passport" that you have stamped ("sello") in the albergue, church, restaurant, etc. in each stage that you pass.
It is the proof of your pilgrimage that you present to the Pilgrims Office that issues your compostela. Needless to say, be sure not to lose it.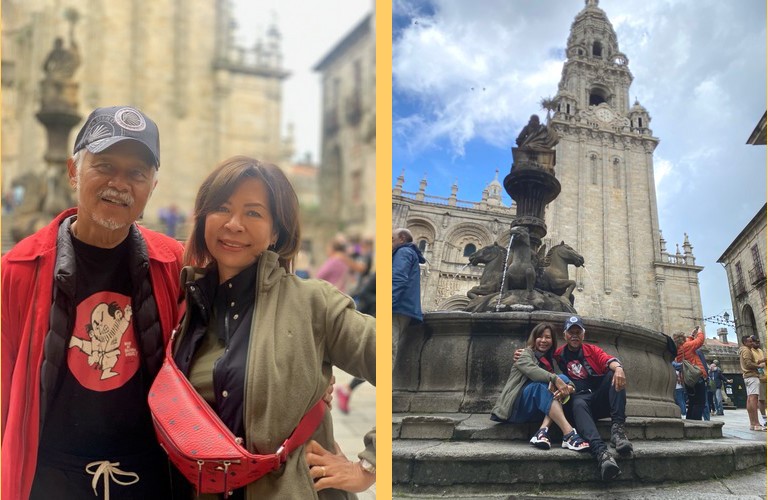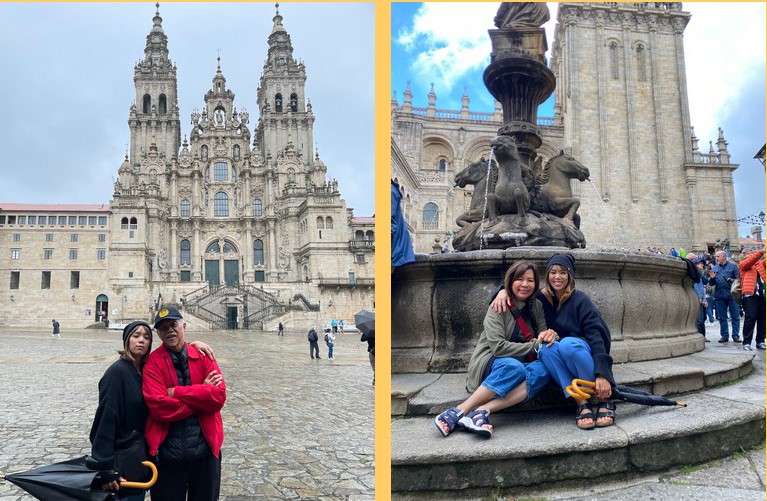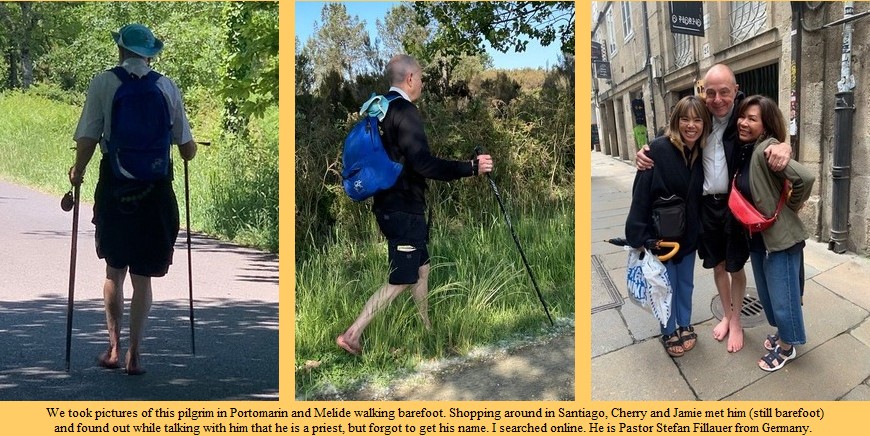 (Link: https://followthecamino.com/en/blog/barefoot-camino-de-santiago)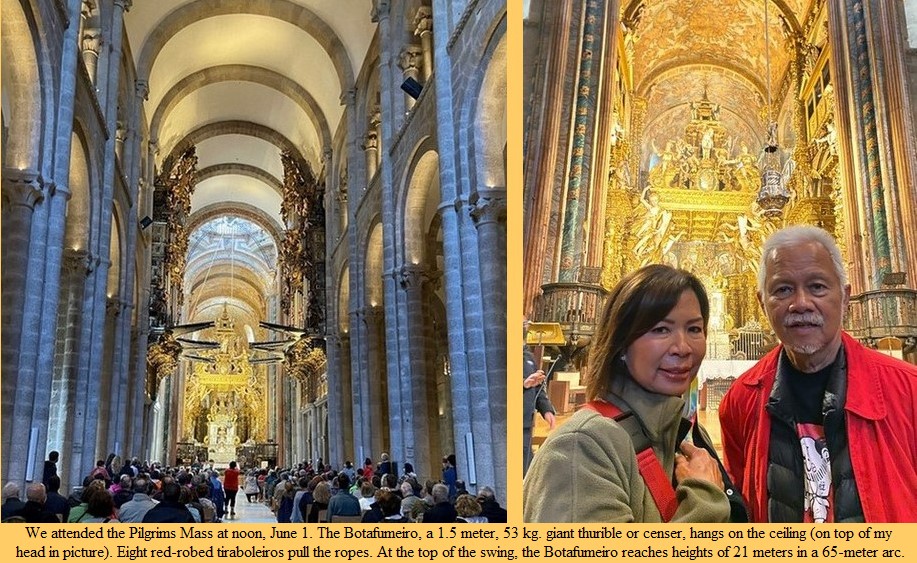 [Click for short video clip]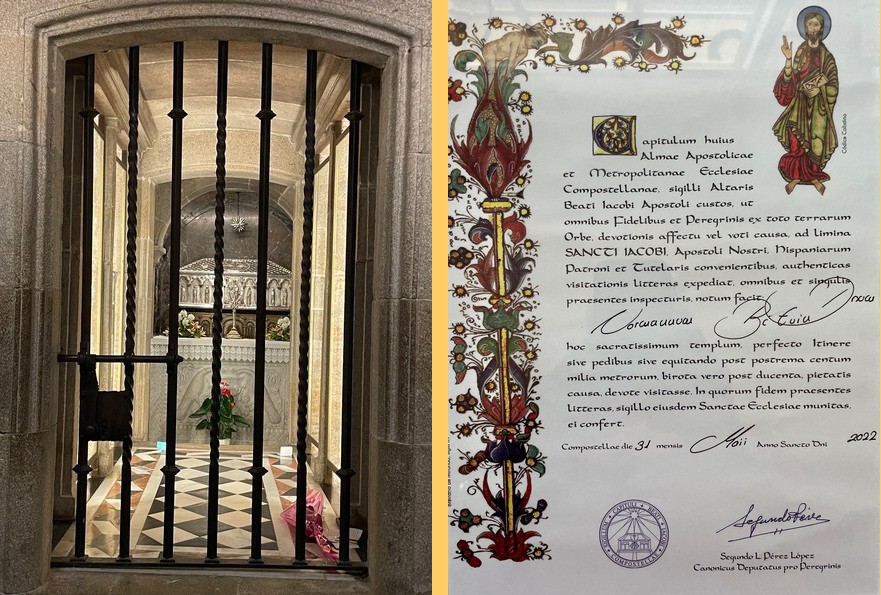 In honor of St. James the Apostle, I am very thankful for this compostela issued May 31, 2022.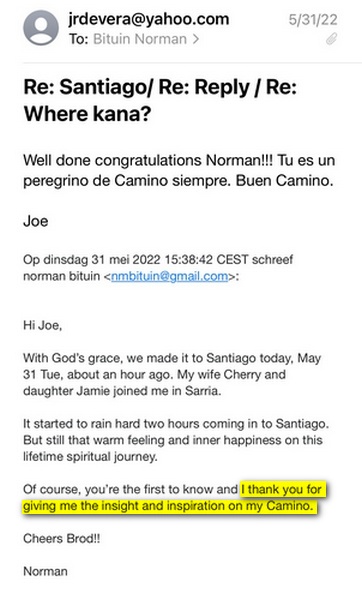 This is Brod Joe de Vera LB'58 cellfon email exchange.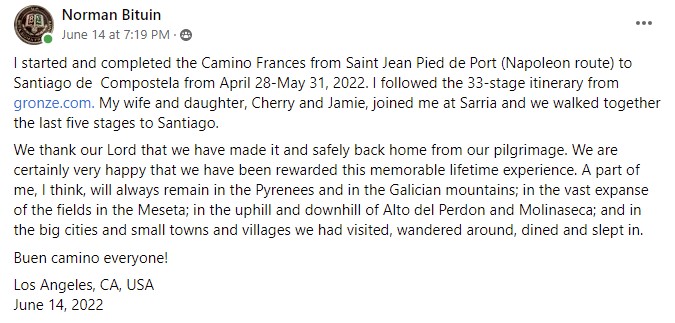 For the first time, I posted in Facebook, in group '2022 Camino de Santiago'.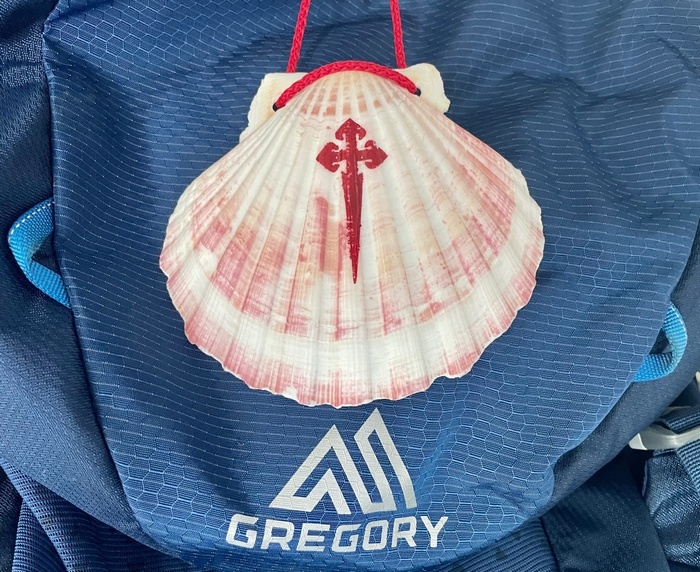 Camino scallop shell on my backpack
As a symbol of direction to Santiago, the scallop shell is a reflection of the Camino – many paths leading to one point.
Plentiful in the ocean, in early times easily carried on the trail it was used to scoop food and water because of its shape.
*********************************
Postscript: The credencial and compostela now hang in our study room.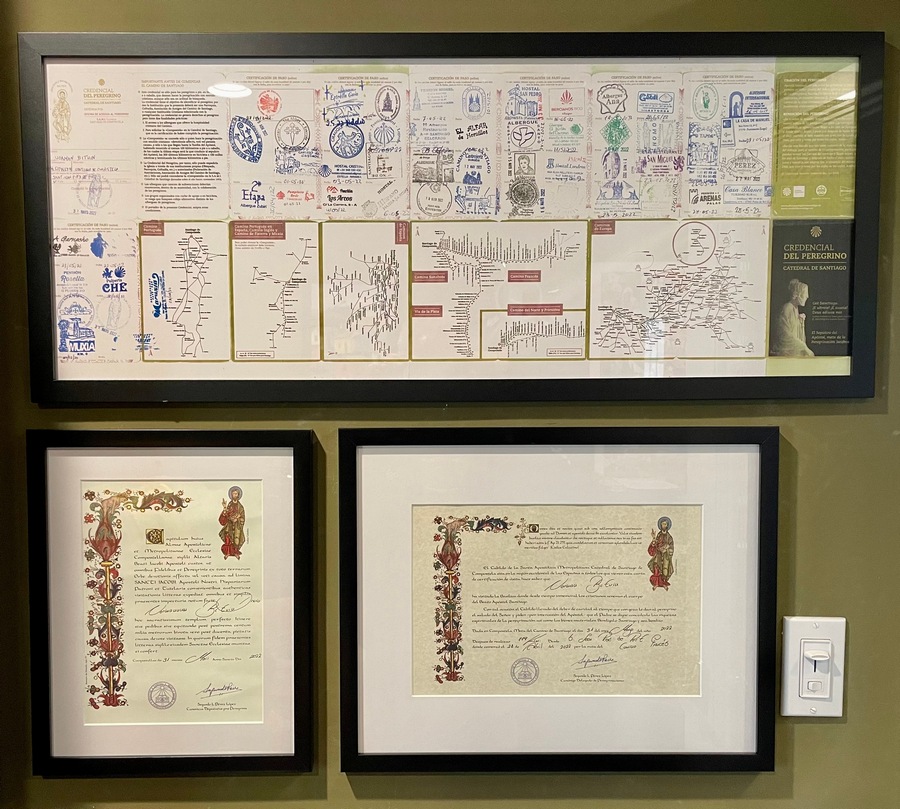 Buen Camino!!