Travelogue
"I Dreamed of Africa":
A memoir
by Lem Michelena

Ever since I was very young, I have always dreamed of Africa.

More specifically, I have always dreamed of hunting in Africa.

To be even more specific, I have always dreamed of hunting kudu in Africa.

When we were young kids, our Papa taught us the finer points of hunting. I vividly remember Kuya Cris (UPBS '73D), Kuya Czar (UPBS '75A) and I, walking behind our Papa through the woods, rice fields, coconut and abaca plantations, of our hometown in Bicol, as he patiently tutored us on wildlife habits and signs. My passion for hunting was kindled and was further fanned by various hunting excursions with Papa in numerous other places in Pinas.
All through this time, I pored over all the reading materials I could find about hunting in Africa, and dreamed of someday getting a chance to do that.

When I moved to Chicago, I explored opportunities for hunting and continued to feed my passion. Starting in the early 1990s, I went on annual deer hunting trips with the late Brod Emmanuel "Boyette" Encarnado (Adamson '75-A) and Brod Jose "Pepe" Jimenez (University of San Carlos '75). Sometime around the early 2000s, Laureen (UPBS LC '76) began to go hunting with us.

I thought my dream of hunting in Africa would forever remain a fantasy due to my preconceived, but apparently incorrect, perception of the exorbitant cost and extensive time involved.

That was until 2009… when I received a photo of my former work manager, Marla, with a warthog that she shot in South Africa.

I immediately reached out to her to ask about the circumstances around the photo. I learned that her husband, Dale, was, at that time, the Vice President of the Illinois Chapter of SCI (Safari Club International). SCI is an international organization dedicated to protecting hunter's rights and the hunting tradition. On Marla's invitation, Laureen and I immediately signed up and joined SCI.

Dale later became a multi-term President, and in 2017, Marla succeeded him as SCI Illinois Chapter President (a position that she still holds as I write this in 2019).

One of the major fundraising activities of SCI is soliciting donations from hunting and fishing outfitters, as well as other companies and individuals with an interest in outdoor-related pursuits. These items are then auctioned off during the International Convention and the individual local banquets. All the proceeds are used to fund SCI's mission.

Since we became members, Laureen and I have attended all the SCI Illinois local banquets and participated in local activities, such as volunteering to assist in manning the Chapter's "Sensory Trailer" during the annual Illinois Hunting and Fishing Day celebrations.

In 2010, I won an auction for a 7-day hunt in South Africa. I thought that I was finally going to go on my lifelong dream to hunt in Africa! Unfortunately, because of heavy work timelines and a major back problem I suffered, I could not schedule my hunt and had to forfeit the hunt opportunity. I figured my auction payment had gone to SCI coffers anyway, so I was not totally disappointed.

During the SCI Illinois and Chicago Chapter Annual Banquet in 2015, Laureen urged me to bid on a Photo Safari in South Africa that was one of the donations that was being auctioned. This was not a hunting trip, so I was not extremely excited by the prospect. However, Laureen convinced me that we can use the trip to learn "the lay of the land" so that we can prepare for a future hunt. I acquiesced, and we ended up winning the auctioned trip.

The donated trip was for a 6-day photo safari at the "Zulu Nyala Safari Game Lodge" in the KwaZulu Natal Province of South Africa.

Zulu Nyala dubbed their donated resort stay "I Dreamed of Africa", in honor of the 2000 movie of the same name that was filmed at the resort. The movie starred Kim Basinger, Vincent Perez, Eva Marie Saint, Daniel Craig, etc., and is based on the autobiographical novel (of the same title) by Kuki Gallmann, an Italian writer who moved to Kenya and became involved in conservation work. The story was set in Kenya, but the movie was actually filmed in South Africa.

Wikipedia declared the film as "both a commercial and critical failure".

At any rate, we had already won the auction and therefore had "purchased" the photo safari. We had to make arrangements for our trip.

However, work pressures, as well as other personal priorities, again got in the way, and we could not find a suitable schedule for our trip. We had to keep on postponing the photo safari and in December, 2016, even had to pay an extension fee to avoid forfeiting the donated vacation (which had a 2-year mandatory use clause).

In late 2017, I opted to take early retirement due to changes at the company I worked for.

Faced with the prospect of extensive leisure time, Laureen and I decided that since we were already planning on going to South Africa, we might as well schedule a hunt.

I went into full bore research mode.

While I definitely had an abundance of time on my hands, finances was another matter. I had to find a hunt that would give me the most "bang for my buck"!

The Internet is a wonderful resource.

I joined AfricaHunting.com and became a member of a community of netizens who shared my passion for hunting. Although I am not an active participant in the discussions, I carefully reviewed the various hunting reports by the hunter-members as well as the "Deals & Offers" from outfitter-members. The forum also provides a ton of articles and tips on hunting, shooting, travel, and other outdoor related pursuits.

I had previously decided that I wanted to hunt plains game (generic term for various species of game animals typically found in the open plains and savannas) and not African dangerous game (loosely used to refer to the "Big 5" – lion, leopard, rhinoceros, elephant, and Cape buffalo; as well as crocodile and hippopotamus).

I therefore concentrated my research and reached out to a number of Outfitters who offered the type of hunt I was looking for. I wanted a fair chase hunt where I actually have to hunt and not just shoot. In my opinion, the iconic African animal, and therefore my dream trophy, has always been a kudu bull.

After numerous inquiries and countless email correspondence, I narrowed my choice to Henry Griffiths Safaris. I finally made the decision to hunt with Henry after I had a probing and engaging telephone conversation with him during his visit to Houston in late 2017.

Brief Primer on the Republic of South Africa

The Republic of South Africa is easy to find on a map. It's at the bottom, or southern tip of the African continent. It shares borders with Namibia, Botswana, Zimbabwe, Mozambique, and Swaziland (Eswatini). Interestingly, Lesotho, a completely separate country, is an enclaved country within the borders of South Africa.

South Africa is the largest country in Southern Africa and is considered the 25th largest country in the world by land area, and the 24th most populous nation. It is a multi-ethnic country with about 80% of its population consisting of Sub-Saharan African ancestry, with the rest of the population divided between
white Europeans, Asian (mostly Indian) and other multiracial ancestry.

The constitution of South Africa officially recognizes 11 languages. Two of these languages are of European origin. Afrikaans, which is developed from Dutch, serves as the first language of most coloured and white South Africans. English, which is the legacy of British colonialism, is used in public and commercial life, but is ranked 4th as a spoken first language.

South Africa has a long history of segregation. The National Party imposed apartheid in 1948, which institutionalized racial segregation. During the 20th century, the black majority sought to recover its rights from the dominant white minority. After a long, and sometimes violent, struggle by the African National Congress (ANC) and other like-minded anti-apartheid activists, the repeal of discriminatory laws was undertaken. Since 1994, all ethnic and linguistic groups have held political representation in South Africa's parliamentary republic.

South Africa is a diverse country with 9 provinces (Western Cape, Northern Cape, Eastern Cape, Free State, Gauteng, Limpopo, Mpumalanga, North West Province, and KwaZulu Natal).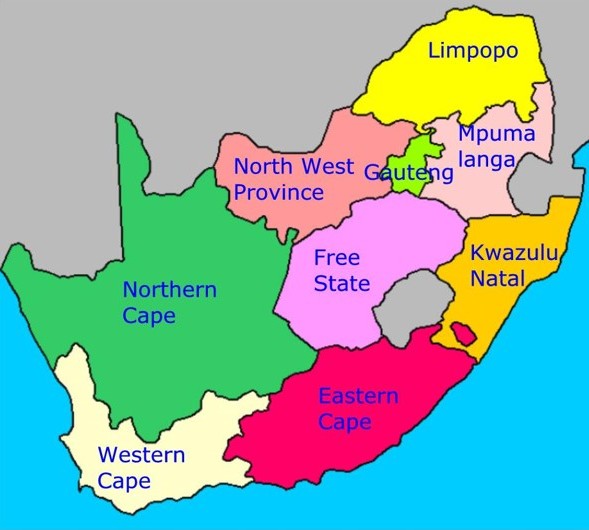 Illustration of the 9 provinces of South Africa
NOTE: Our hunt safari with Henry was in the North West province, while our photo safari with Zulu Nyala was in the KwaZulu Natal province.

Due to its large land mass, there are several climatic zones in South Africa. Differences in temperature ranges and humidity levels between those zones are significant. However, being in the Southern Hemisphere, South Africa seasons are reverse when compared to the U.S., and the Northern Hemisphere.

The calendar dates for the meteorological seasons of South Africa are as follows:
o Winter: June 01 to August 31
o Spring: September 01 to November 30
o Summer: December 01 to February 28/29
o Autumn/Fall: March 1 to May 31

NOTE: The temperatures during South Africa's winter season are not as cold as the winter temperatures in Illinois, with the North West Province and KwaZulu Natal temperature range generally staying between 6-27 degrees Celsius (42-80 degrees Fahrenheit). Essentially, pleasant hunting and walking weather! We scheduled our hunting safari with Henry Griffiths from July 04 to July 10, 2018, and our photo safari with Zulu Nyala from July 10 to July 16, 2018.

Wildlife ranching, otherwise known as game breeding or farming, is a relatively new industry in South Africa. Its growth is generally attributed to the promulgation of the Game Theft Act 105 of 1991.

Prior to 1991, all game or wild animals were considered as belonging to "no one", and therefore, effectively belonging to the state. This was in essence, similar to the public trust concepts practiced in many countries (including the U.S.), where the sovereign government has claim to primary responsibility and control of wildlife.

The Game Theft Act basically vests ownership of wild game to "a person who keeps or holds game or on behalf of whom game is kept or held on land that is sufficiently enclosed".

Further impetus was given to the wildlife ranching industry in 1994 when the new Constitution of South Africa enshrined the concept of "sustainable use" of the environment.

Wildlife ranching, as practiced in South Africa, is a rather loose term covering different types of utilization of wild game. Some farms are managed exclusively for game, but more often, game animals co-exist with domestic stock. Some farmers tolerate or actively encourage game animals on their properties for purely altruistic or aesthetic reasons, while others have more commercial interests.

The commercial use of wildlife is morally unacceptable to some people, but others appreciate its benefits.

There are four main ways to generate income from game, i.e., sale of venison or game meat, live animal sales (mostly to other game farmers), game viewing (where facilities are offered to paying clients to view or photograph wild game), and hunting by paying customers.

Wildlife ranching has also encouraged the growth of support industries, such as hotel and restaurant management, tourism and travel, taxidermy services, wildlife souvenirs and crafts, etc.

It is important to note that due to increased appreciation for wild game, both for aesthetic and commercial reasons, the population of wild game in South Africa has increased commensurately.

Depart Chicago O'Hare/London Layover – July 02-03, 2018

After years of dreaming, research and planning, Laureen and I finally embarked on our combination Hunting and Photo Safari.

Our adventure commenced with a flight on British Airways which departed Chicago O'Hare Airport at 8:55 PM on Monday, July 2, 2018. We were scheduled to arrive at London Heathrow Airport at 10:40 AM on July 03, and not depart until 7:05 PM.

Laureen found that we could take advantage of the long layover by doing a quick city tour. We decided to just do it by ourselves and followed one of the options suggested at the Sleeping In Airports website, by taking the "Hop On Hop Off" bus tour. We got on the Heathrow Express train from the airport's Terminal 5 to Paddington Station to catch the bus tour. Amongst many noteworthy sites, we were able to view Buckingham Palace, Westminster Abbey, Houses of Parliament, Big Ben, the Beatle's Abbey Road, Piccadilly Circus, and (Laureen's favorite) the cosmopolitan area that featured prominently in Hugh Grant's eponymously titled 1999 Rom-Com movie, "Notting Hill".
Unfortunately, we did not have time to enjoy the complimentary river cruise on the Thames and an optional walking tour which were included with the Hop On Hop Off ticket.

Before getting back on the plane, we stopped at Garfunkel's (a local British Tavern recommended by the Hop On Hop Off bus driver), to taste Fuller's London Pride ale and partake of their famous fish n' chips.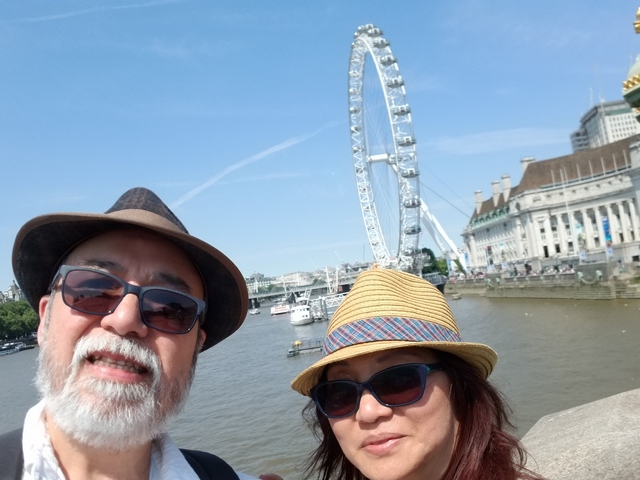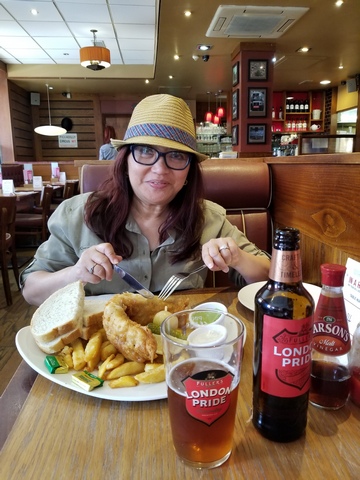 London Eye Ferris Wheel on the bank of the River Thames Garfunkel's Fish n' Chips with Fuller's London Pride ale
We arrived back in Heathrow Airport with time to spare to catch our 7:05 PM flight to South Africa. The 11-hour flight from London to Johannesburg was uneventful.

Arrival in South Africa – July 04, 2018:

We deplaned in Johannesburg O.R. Tambo Airport at 7:26 AM on July 4, and quickly went through Customs and Immigration by 8:00 AM. We excitedly gathered our checked baggage and by 8:20 AM, we finally met our Outfitter and Professional Hunter, Henry Griffiths, in person for the first time.

At around 6'4" in height, wearing a short-sleeved safari shirt and short pants, with a 9mm Glock pistol strapped to his waist, Henry cuts an imposing figure. But when he warmly greeted us just outside the airport's baggage claim area, I immediately knew that we made the right decision in choosing him to be our guide for our first visit to South Africa.

After leaving the airport, we drove to Highveld Taxidermists, the outfit that Henry uses for his clients' hunting trophies. We were given a tour of the facility by their Customer Service Manager, Ideon Koekemoer. We examined several different animal trophies which definitely heightened my excitement at finally being in Africa!

Henry drove for approximately 6 hours from Johannesburg (Gauteng province) to the Botawi Guesthouse in the North West Province. The last two hours of this drive was over unpaved rural roads, and was highlighted by numerous sightings of wild game by the side of the road, and even instances of animals crossing in front of us.

The Botawi Guesthouse was going to be our lodging place for 6 days. It is in Piet Plessis, sits within the Kalahari Desert, and is approximately 30 kilometers (18.5 miles) from the Botswana border.

Botawi is owned by one of Henry's colleagues, David Vin Schalkwyk, who operates the 20,000 hectares (49,421 acres) of sandy, semi-arid savanna surrounding the structure as a cattle farm. The guesthouse has comfortable luxury accommodations, 3 bedrooms with bathrooms, and is fitted with modern amenities.

We arrived at the guesthouse at 5:28 PM.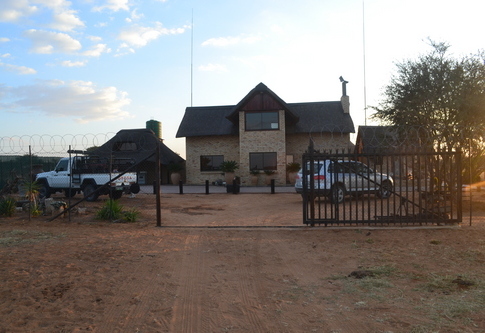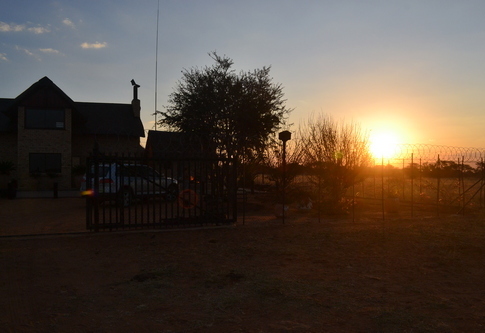 Botawi Guesthouse in the Kalahari Desert – our house for 6 Days

Henry introduced us to his lovely wife, Tanya, and their 6-year old son, Henry, Jr., who is affectionately known as Mannetjie (Afrikaans for "Little Man").

Tanya is a fulltime teacher in their local school, but because our visit coincides with the South Africa winter school term break, she accompanied Henry and was responsible for day-to-day operations, and the food, laundry and housekeeping chores.

Laureen and I were the only guests, and aside from Henry, Tanya and Mannetjie, nobody else would be in the guesthouse during our stay. There were also no other hunters in the entire surrounding farm.

Daniel, our tracker and skinner, would stay at the farmhouse lodge about a kilometer (0.62 miles) from the guesthouse.

Incidentally, Henry informed us that the fence with razor barbed wire around the compound is necessary to keep out the troops of destructive baboons which are fond of pulling the thatch off the roofs, and generally creating havoc.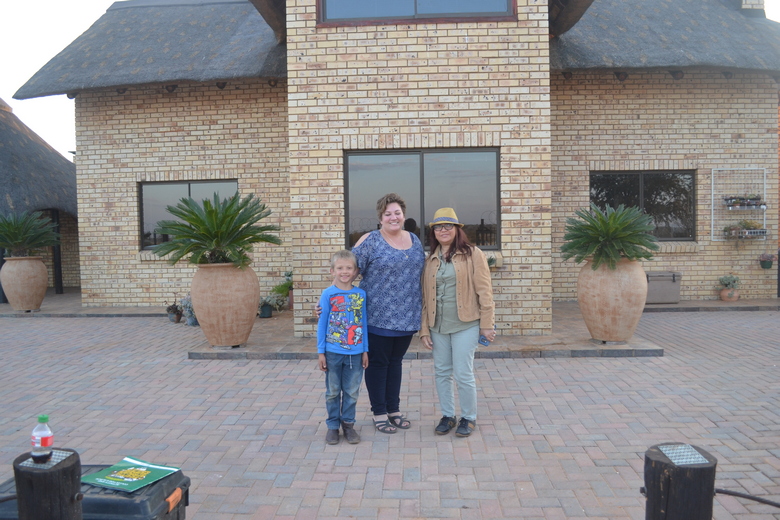 Laureen with Tanya and Mannetjie

After taking showers to freshen up, Laureen and I joined Henry for the customary South African Sundowner in front of a roaring campfire. During our entire stay at Botawi, Mannetjie proudly took on the responsibility of bringing the firewood (most of them as long, or longer, as he was tall) in from outside the guesthouse compound where the farm hands had piled them up earlier in the day.

Henry made sure that we had an endless supply of Scotch Whisky, South African beer and wine, as well as always having bowls of venison "biltong" (air dried meat that is roughly similar to jerky) during our nightly Sundowner sessions.

Henry and Tanya met in college (Technikon Pretoria) where he graduated with a degree in Game Management, and she earned 2 degrees, in Nature Conservation, and Lodge Management. After graduating, they both worked for an Outfitter in Botswana, Mozambique, and South Africa for 3 years. They have been married for 8 years and have jointly owned their Outfitting business for as long as they have been married.

Our first dinner at Botawi consisted of homemade game meat pie (wildebeest and sable) with a side of "pap" (traditional South Africa maize porridge/polenta), followed by a dessert of "melktert" (a wonderfully thick and flavorful milk custard set in a sweet pastry crust).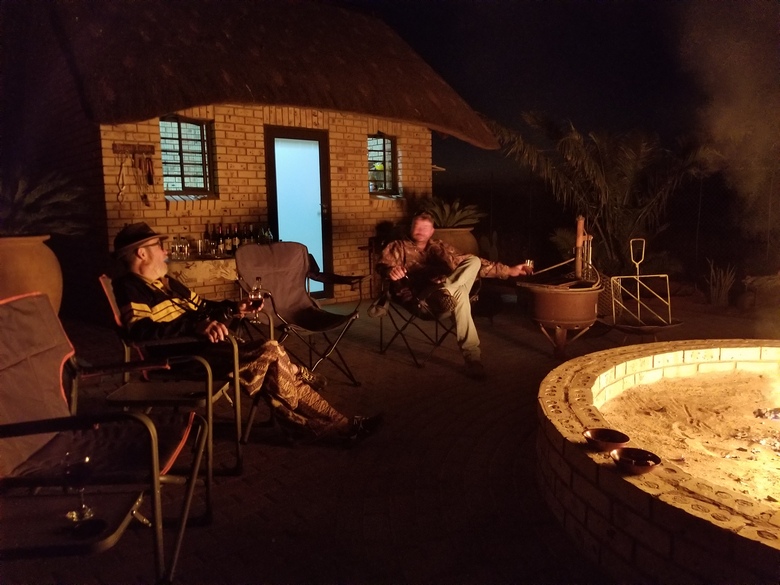 Enjoying a traditional "Sundowner" with Henry in front of a roaring fire
Hunt Safari Day 1 – July 05, 2018

Laureen and I woke up early, took our showers, and put on our hunting clothes. The night before, Henry had informed us that we didn't need to get an early start as the plan for the day was only to sight in and familiarize ourselves with the rifles that he was lending to us for our hunt.

However, I was much too excited to stay asleep, so I got up at 5:00 AM.

Henry had told us that they normally have a very light breakfast, and I replied that we would follow their normal practice. So, during our entire stay, we only had French pressed coffee and rusk (a hard, dry biscuit similar to biscotti) for breakfast.

After breakfast, we drove for about 30 minutes to a neighboring property, named Cremonapan Gamefarm, to sight in the rifles. Cremonapan is a 2,000 hectare (4,942 acres) combination game (1,200 hectares) and cattle (800 hectares) farm that is owned by Henry's friend, Erick Donkerhoeck. Erick retired after 20 years as District Chief of the local police force, and aside from running his farm, works as a part-time Professional Hunter. Erick met us at the farm gate to let us in, but he had to attend to other business and could not join us for the day.

Henry had Laureen and I use two of his rifles.

One rifle is a beautiful walnut-stocked Sako 85 Hunter in .300 Win Mag, equipped with a Leupold VX-1 (4–12 x 40 mm) variable scope. The other is a utilitarian composite-stocked Howa 1500 in .223 Rem, fitted with a Nightforce SHV ( 4-14 x 56 mm) variable scope, and a noise and recoil suppressor.

The Sako had a strong and heavy recoil. After watching me shoot it, Laureen decided that she didn't even want to try. The Howa was more to her liking, as the small .223 caliber, coupled with the suppressor, had virtually no felt recoil and was so silent that you could actually hear the bullet when it hits.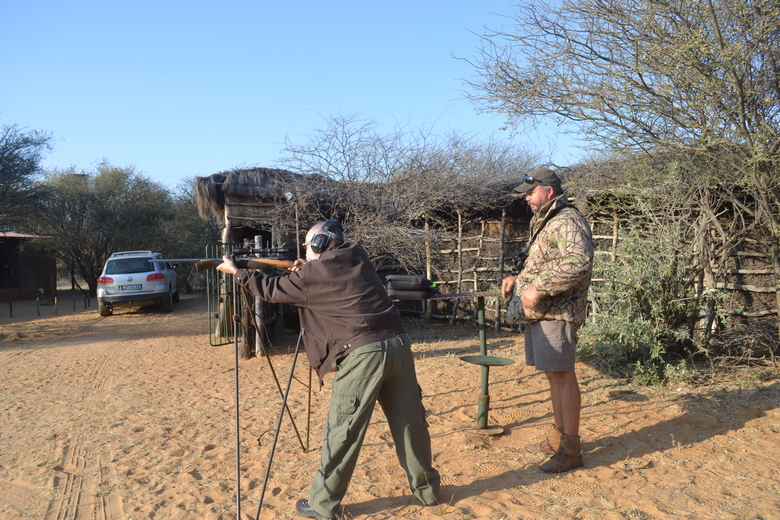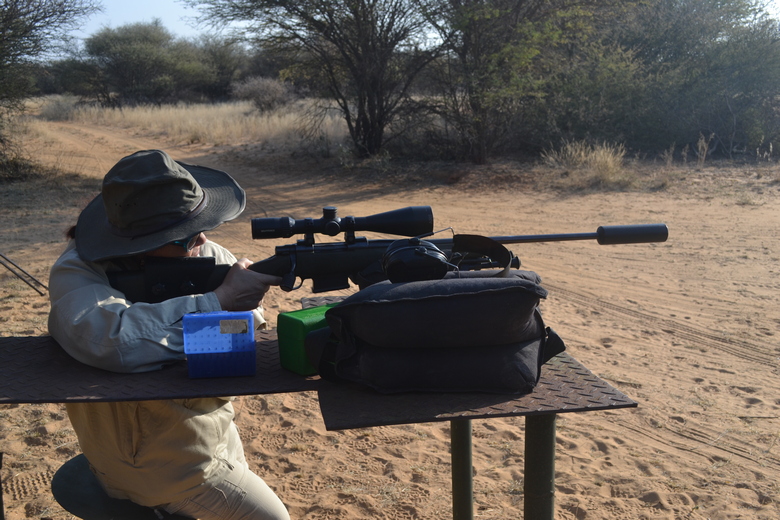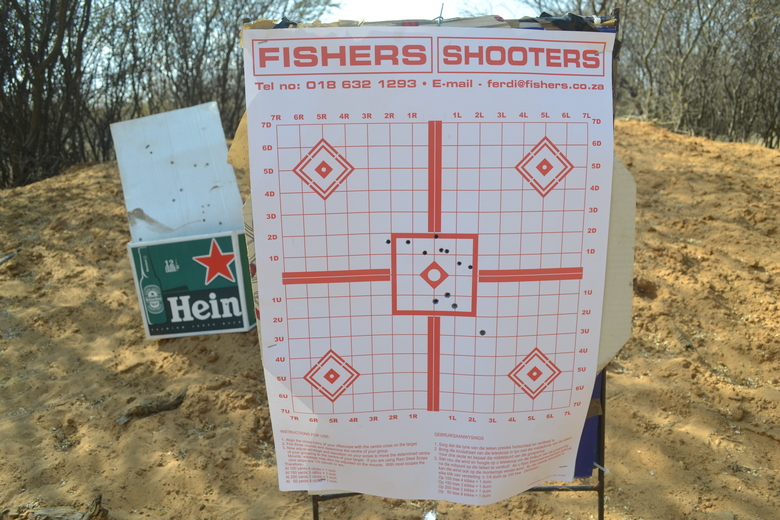 Sighting in the rifles

Henry set up the bullseye target at 100 meters (109 yards) and all our shots were on paper. We practiced a number of shots off a shooting table, and several more on shooting sticks that we will use in the field. The Sako and Howa rifles were both spot-on, and at around 9:45 AM we were ready to hunt!

Our primary style of hunting will be spot and stalk. Basically, we will drive around and try to spot animals that we want to hunt. After we spot a suitable animal, we will get off the vehicle and begin our stalk. We all climbed into Henry's Toyota Land Cruiser. The Land Cruiser had a 2-seat cab and an open back. Henry had it customized with two elevated bucket seats in the open back.

Henry drove, with Laureen sitting inside the cab on the passenger's seat. Daniel, our tracker/skinner stood beside me in the open back.

We drove around the farm, spotting and sizing up various animals along the way. We made a few stops to closely examine various herds, but Henry didn't see any individual animals worth pursuing. I have to admit that to my unexperienced eye, all the animals looked like trophies to me!

Suddenly, Daniel signaled that he spotted a good-sized impala ram. My heart was thumping with excitement as we all hurriedly got out of the Cruiser. Laureen took the Howa while I grabbed the Sako.

We had decided that Laureen would take the first shot. Even though Laureen had been hunting whitetail deer with me in Illinois for several years, she had never shot a big game animal before. Prior to coming to Africa, the biggest animal that Laureen has ever taken was a wild turkey that she shot in 2004. Bagging a wild turkey is a great hunting accomplishment, but I really wanted Laureen to experience the thrill of taking her first truly big game.

Henry and Daniel had a quick, whispered discussion on how to best carry out our stalk. It was agreed that to cut down on noise and movement, Daniel would stay with the Cruiser. Laureen was instructed to stay within two paces behind Henry. I brought up the rear with my camera.

Henry made sure that we were walking into the wind (to avoid the impala's keen sense of smell) as we cautiously made our way through the brush and scrub towards the area where Daniel had spotted the ram. After a short stalk, Henry set up the shooting sticks and motioned for Laureen to bring up her rifle and settle in for her shot. Laureen whispered to Henry that she couldn't see anything.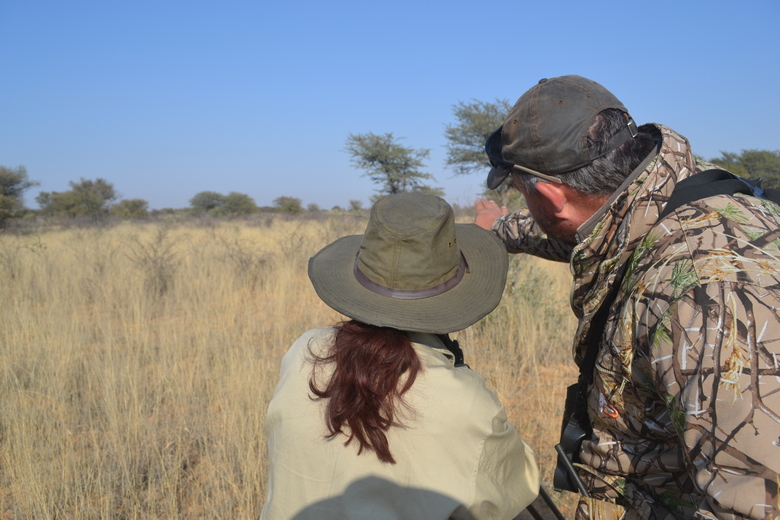 Pointing out the impala

Apparently, at 5'1", Laureen had a different perspective from Henry's 6'4" vantage point, and she couldn't see over the bush that the impala was standing behind! Henry quickly re-positioned the sticks and Laureen brought the Howa to her shoulder. The ram was standing broadside and facing to the right at around 70 meters (76.5 yards) away.

At the sound of the shot, Henry picked up the sticks, gave Laureen a big hug, then turned to face me with a great big smile on his face.

The impala was down!

I was so happy that I was speechless. Laureen's impala measured at 21 7/8 inches (a typical mature impala has horns starting at 18 inches), with thick, dark bases and a deep backward sweep! Congratulations were exchanged all the way around!

Daniel, who had been watching our progress from the back of the Cruiser, jumped off the truck at the sound of the shot and was beside us within minutes. He assisted Henry in positioning the impala for some souvenir photos.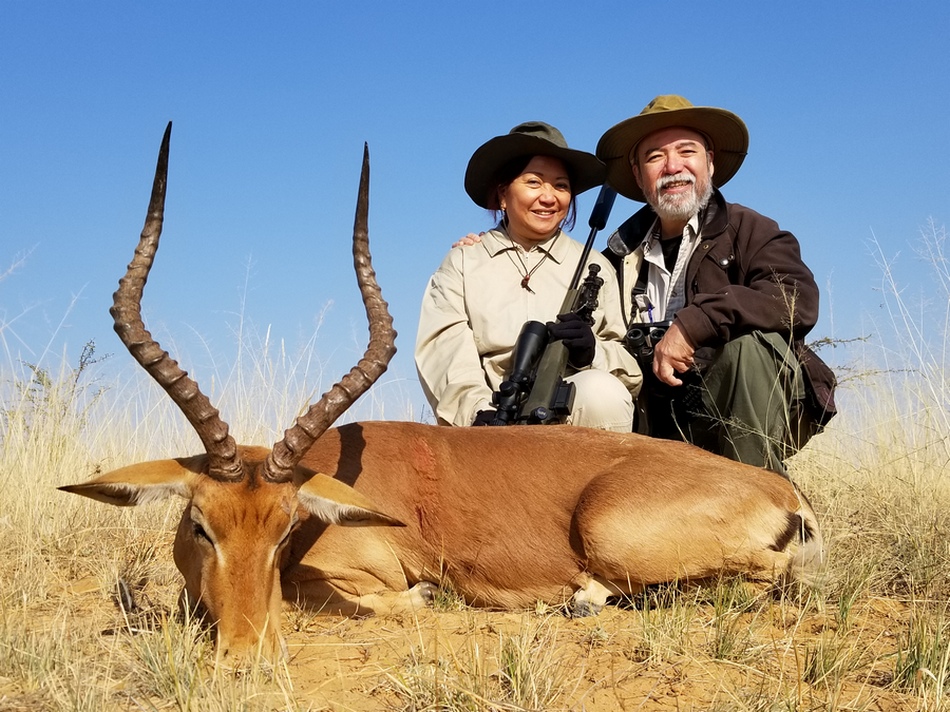 July 05, 2018 (9:58 AM) – Kalahari Desert, Piet Plessis, South Africa – Laureen's Impala

We loaded Laureen's impala onto the Cruiser to bring it to the skinning shed.

We dropped off Daniel at the skinning shed to work on the impala. Another hunting party was also using the shed, and they had just taken a nice springbok. It would take Daniel some time to finish the skinning, so we left him some sandwiches and went to the camp boma.

A boma is a small enclosure with walls usually made of thorny twigs and bushes. Most of the original bomas were used as livestock enclosures to keep the domestic animals safe from predators. They were later used as stockades, but now are mostly used as gathering places. The camp boma is where Henry prepares and serves our lunch.

Tanya and Mannetjie joined us for lunch, and we had a great time telling them about Laureen's impala. Although it was a short stalk, it was fun recounting and reliving each and every detail.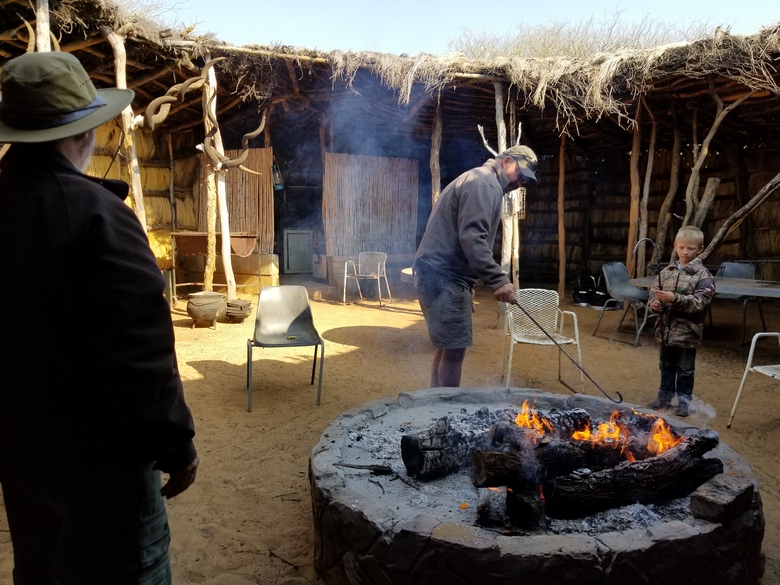 Henry and Mannetjie preparing our lunch at the boma. Note the various horns hanging on the posts.

Our lunch consisted of fresh salad and grilled sable sausages with cheese, and all the fixings, on heavy buns heated over open coals!

Daniel arrived at the boma, and we each had a bottle of ice cold South African beer to toast our success as we relaxed before heading out again. Tanya and Mannetjie said their goodbyes and headed back to the Botawi Guesthouse.

We got back on the Cruiser and resumed driving around Cremonapan.

We bumped a herd of kudu and Daniel said that he spotted a nice bull in the group as they ran away. Henry had an idea as to where the herd was possibly headed, so we quickly changed course to get ahead of the kudu and set up for an ambush.

We sped ahead and eventually stopped at a wooded portion of the farm (I use this description loosely as "wooded" in this area consists of scraggly acacia trees) where Henry and I got off the Cruiser. Daniel and Laureen drove away to keep out of sight of the kudu that we were hoping would be heading our way. It was 4:00 PM.

At 4:25 PM, Henry heard a group of animals scrambling through the brush. As much as I tried, I couldn't hear or see anything. Henry whispered that it was a troop of baboons and that they had blown any chance of us seeing the kudu. He explained that baboons normally scare away other animals. He added that baboons do a lot of damage and that he had a standing agreement with Erick (the owner of the farm) to shoot baboons whenever he has a chance. Henry asked me if I wanted to take the shot. However, I couldn't see the baboons!

The baboon troop was about 200 yards from where we were seated, and heading away fast, so Henry asked me to pass him the Howa. He cranked the scope to its highest magnification and took aim. Unfortunately, at 12x magnification, the scope blurred out the barbed wire fence post that was about a 100 yards away. Henry squeezed off a shot and was surprised when he saw the baboon bound away. When we walked towards the spot where the baboon had stood, we came upon the fence post that had been hit dead center! Just goes to show that even Professional Hunters sometimes miss…

It was an eventful first day of hunting and we were all pretty contented as we made our drive back to Botawi.

We enjoyed a leisurely Sundowner and discussed our game plan for the next day. Tanya prepared our dinner of braai brickie (toasted cheese sandwich with onions, made over an open fire) and a dish that Henry referred to as "sotiki" (game meat wrapped in fat). (NOTE: I googled the term when I got home and the closest I found is "skilpadjies", which is lamb's liver wrapped in caul fat. I don't remember our sotiki to be a liver dish, but I think it may be a variation).
Dinner was delicous!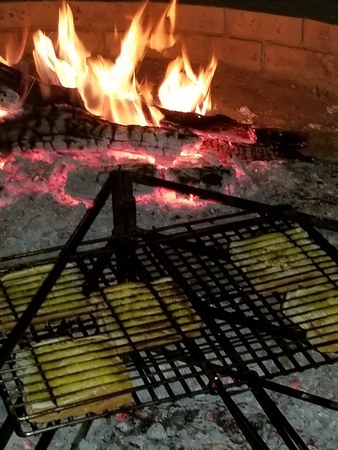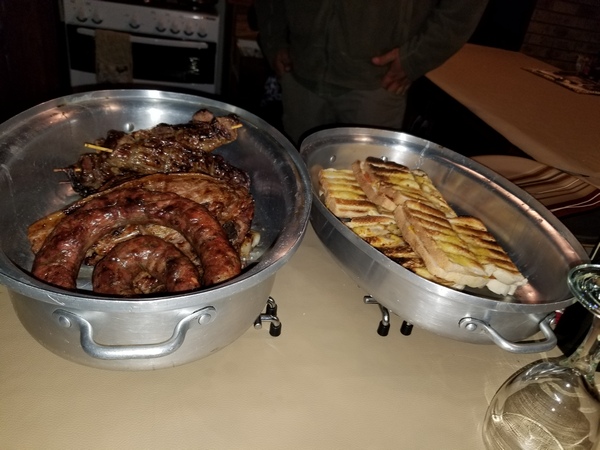 Braai brickie and Sotiki
Hunt Safari Day 2 – July 06, 2018

Laureen and I woke up rested and refreshed at around 5:00 AM.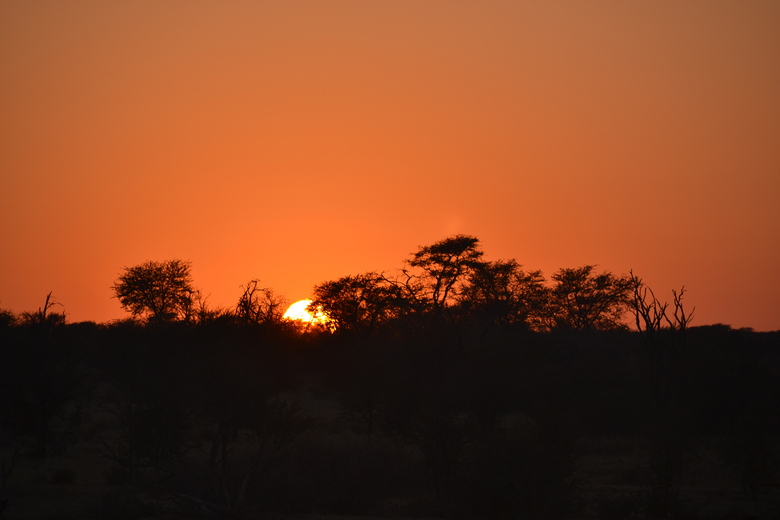 Sunrise in the Kalahari

We had decided to stay and hunt in Botawi. Although the farm is managed primarily as a cattle farm, it also held various game animals. The farm hands had told Daniel that they have seen some good kudu in the area and we intended to find them.

We started by driving around the farm for a while.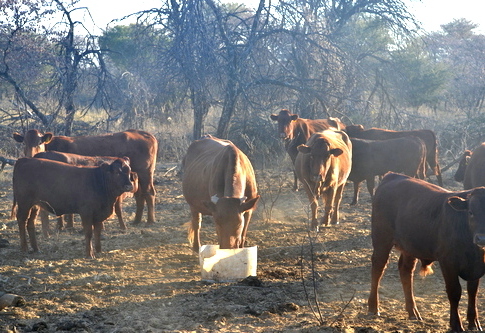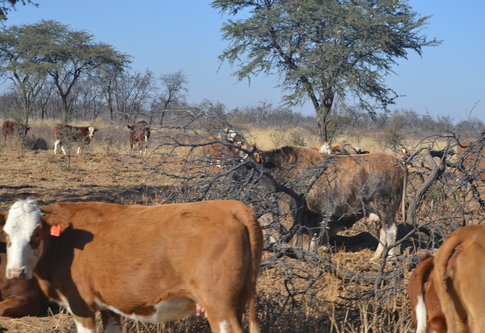 Botawi Guesthouse sits within a free-range cattle farm

We saw a few herds of kudu, but Daniel identified them as mostly cows and immature bulls. Henry decided that we might have better luck on foot.

We got off the Cruiser and Henry instructed Daniel to drive it back to the guesthouse. I carried the Howa, and since we were concentrating on kudu, we just left the Sako in the truck. We slowly made our way through the savanna.

We came across several animals, including a beautiful diminutive duiker that stood and stared at us for what seemed like minutes, but was probably mere seconds. We saw a lot of ibis, especially near the cattle trails, and also saw a lappet-faced vulture (Henry referred to it as a leopard-faced vulture) which Henry said is quite rare in the area.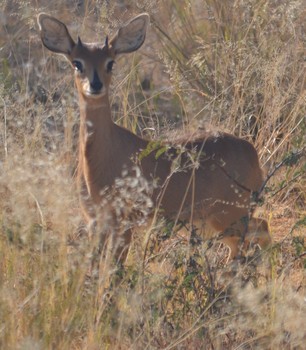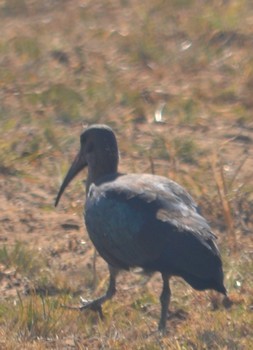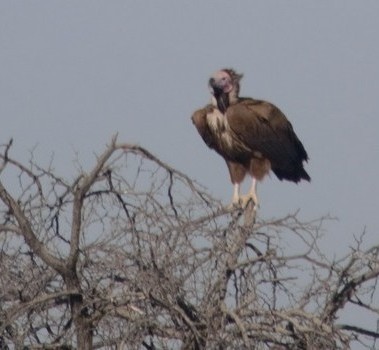 We found a huge hole (actually, a series of holes) that Henry identified as warthog dens. He cautiously went down to explore one of the biggest holes and came back out with a bunch of huge porcupine quills which he handed to me as souvenirs. He surmised that one unfortunate porcupine met its untimely demise as food for one hungry warthog!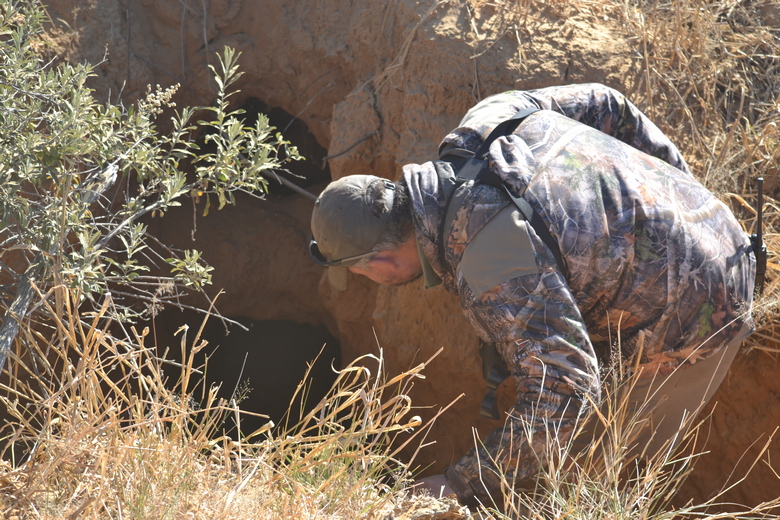 Henry exploring a huge warthog den

After stalking for a few hours through the brush (and according to my iPhone, a distance of 3.1 miles), Henry decided that we should head back for lunch. He radioed Daniel to come and pick us up. We were back at the Botawi Guesthouse by 11:45 AM, where Tanya had prepared an impressive lunch of quiche and more game sausages. We rested a bit after lunch, and headed out of the guesthouse at 2:15 PM.

We drove over to the spot where we had previously seen the herd of kudu cows, got off the Cruiser and again took off on foot. Laureen had decided that she had done enough walking for the day, so she stayed in the truck and went back with Daniel to the guesthouse.

We saw one good sized kudu bull but couldn't get close enough for a decent shot opportunity. The kudu bull lived up to its nickname of the "Grey Ghost", virtually disappearing into the shadows as we made our approach. It suddenly slips into view and then magically slips away.

We had been following the bull for a while, when a noisy cackling interrupted our quiet stalk. Henry informed me that the angry cackling was coming from a "Go-Away Bird", and that we might as well call off our hunt. According to local lore, these go-away birds act as natural lookouts for other animals to warn them of suspicious or dangerous predators.

Henry called Daniel to pick us up at 4:00 PM after stalking for 2.1 miles (according to my iPhone).

We joined Laureen for our Sundowner and sat down to dinner of delicious homemade "bobotie" (a curried, minced game meat pie with egg topping).

Sleep came easy that night. Kudu: 1; Lem: 0

Hunt Safari Day 3 – July 07, 2018

Laureen and I again woke up very early.

I was beginning to question whether my desire to get a kudu bull was now morphing from "focused goal" to "bull-headed pipe dream". I decided to give it one more day.

We left the guesthouse at 7:00 AM. Tanya had to drive to town to take care of some errands.

Mannetjie came with us. He cheerfully insisted that he was my "lucky charm".

We went back to Cremonapan where we picked up the owner (and Henry's friend), Erick, who had agreed to join us. Mannetjie got off at Erick's house to spend the day with Erick's family. Erick took over as driver, while Henry climbed into the Cruiser's open back to stand with Daniel, and I. Laureen stayed in the cab's passenger seat.

Erick proceeded to the North East portion of his farm, where we stopped to glass the area. We spotted some kudu about a mile away. We drove closer to the location, and Henry and I got out to begin our stalk.

At around 8:45 AM, a huge wildebeest crossed in front of us. Henry whispered to me that it was a trophy wildebeest and asked me whether I wanted to take a shot. Prior to coming to South Africa, I had often heard (and read about) the commonplace admonition that experienced hunters say about hunting in Africa – "Take what the bush gives you."

However, I knew that shooting the wildebeest would cancel any chance of my getting a shot at the kudu we were stalking. Was I being focused, or was I being stubbornly bull-headed? I reminded myself that I had decided to give it one more day. I told Henry that I was passing on the wildebeest.

We kept on catching glimpses of the kudu bull as we continued our stalk. After about 30 minutes, Erick radioed Henry to inform us that they had seen the kudu running away. We dejectedly went back to the Cruiser.

Henry and Erick discussed a change of plans. They decided that we should go to another game farm, called Chislehurst, that is owned by another friend. We drove in at around 9:15 AM and asked the farm hands for tips on where we should concentrate our search.

As we drove through Chislehurst, we saw huge herds of various animals (eland, gemsbok, wildebeest, zebra, etc.), but not a mature kudu. We came across a good looking kudu bull, but Henry informed me that it was not mature enough and not worth pursuing.

At around 12:35 PM, Henry spotted a good bull in a stand of acacia trees and bushes. We got off the Cruiser and discussed our plan for the stalk.

Henry and I had probably not gone more than about 100 yards when I heard (more appropriately – "felt") a rustling to my right. As I glanced to my right, Henry was already setting the sticks up and whispering into my ear, "Shoot". Instinct took over.

I saw the kudu fall behind a bush, but I was actually surprised when Henry slapped me on the back, grabbed the sticks and ran towards where we saw the kudu fall. I gathered my wits and ran after him. When I caught up to Henry, he was standing by the kudu with his 9mm Glock in hand. He asked me if I wanted him to take the shot. I took the Glock from his hand and delivered the coup-de-grace.

It is hard to put into words the feeling that I felt rush through me as I stood there, with reverence, looking at this magnificent animal. I was elated by the good shot that I had made, and the successful accomplishment of my goal, but felt sad that this huge and beautiful beast had lost its life.

Henry radioed Erick, and in a few minutes, he, Daniel, and Laureen were beside us.

Henry and I went back to the spot where I had taken the shot, to look for the shell casing that I had ejected from the Howa when I reloaded. We found the shell and gauged the shot distance at 110 meters (120 yards). I kept the .300 Win Mag shell as a souvenir.
It had taken us most of three days of hard hunting to finally get my kudu. My kudu's horns measured 45 inches on one side and 44 7/8 inches on the other. Not the biggest kudu, but it was MY kudu.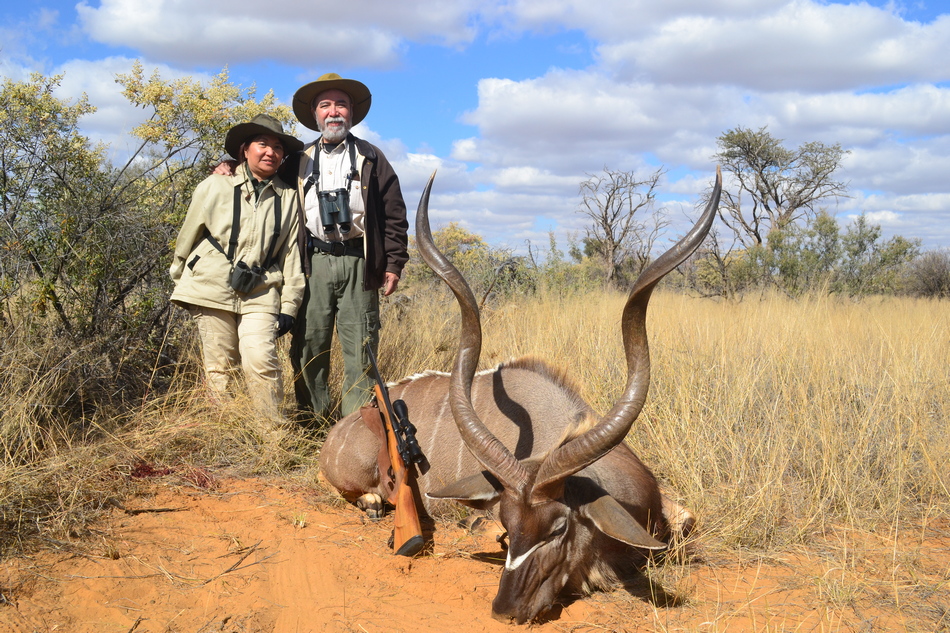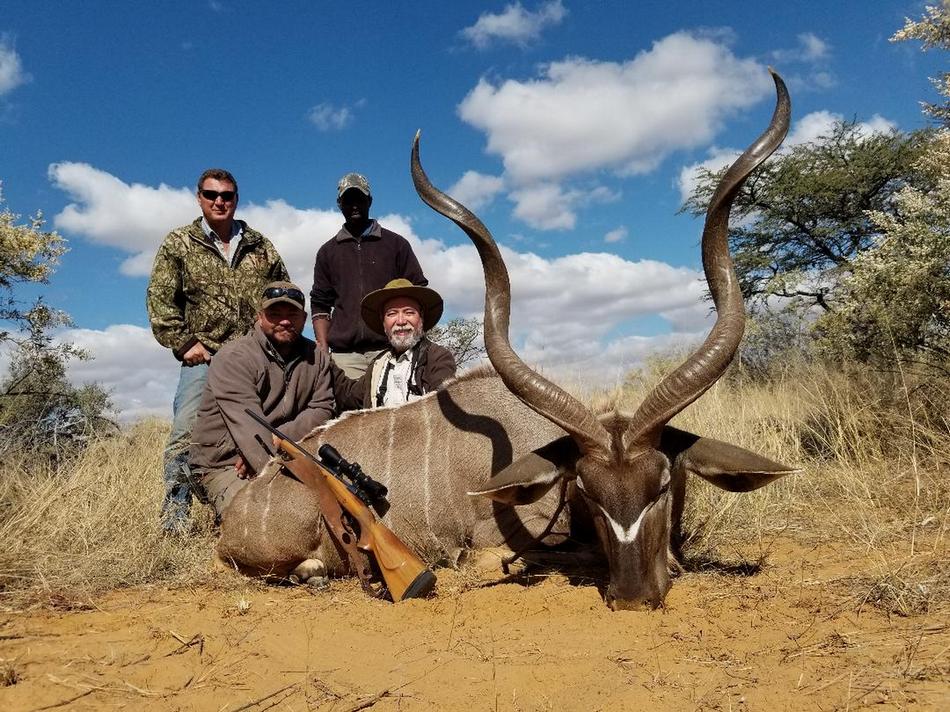 We drove back to Cremonapan and dropped off Daniel and the kudu at the skinning shed. The rest of us proceeded to the boma where Henry and Erick took turns in grilling game meat sausages. By the time the cooking was finished, Daniel had already rejoined us. I was in such a state of euphoria that I don't exactly remember what we ate for lunch -- but I am certain that I enjoyed it as well as the celebratory bottle of ice cold beer that each of us had!

After resting for about an hour, we all got back into the Cruiser to continue our hunt.

We drove around and checked out various animals.

After looking over, and passing, on a variety of animals, we came across a huge impala ram. Henry told me that they had spotted that particular impala before. In fact, he had a couple of Swiss hunters in the week prior to our arrival, and they had put in a day stalking this specific impala without getting a shot.

I hesitated, because I didn't want to overshadow Laureen's impala. But, she quickly gave me the thumbs up!

Erick parked the Cruiser a short distance away. Daniel handed me the Sako as Henry and I quietly disembarked and began our stalk. The wind was blowing towards us, and the ram was facing away and was too busy feeding to pay us any attention. Henry carefully set up the shooting sticks, and told me to take my time. The impala stood broadside at around 75 meters (82 yards). I took careful aim, held my breath, and squeezed the trigger.

The 55 grain, .223 caliber softpoint bullet did its job, and the ram dropped in its tracks.

The big, old impala ram's headgear green-measured at 24 6/8 inches. (NOTE: Our South Africa taxidermist, Highveld Taxidermists, officially measured the ram at 52 7/8 inches on Dec. 07, 2018, after an unnecessary, and unusually long, drying out period. This measurement is a sum total of the length and base circumference of both horns. Although each horn shrank about 2.5 inches from its green measurement, we sent it for entry into the Safari Club International Record Book where it still qualified for a Bronze Medal!).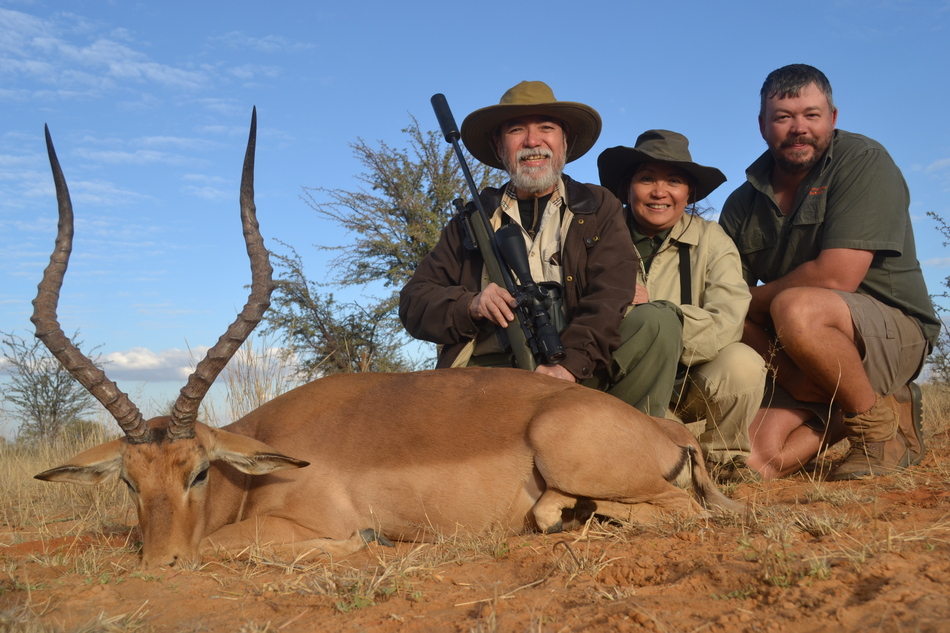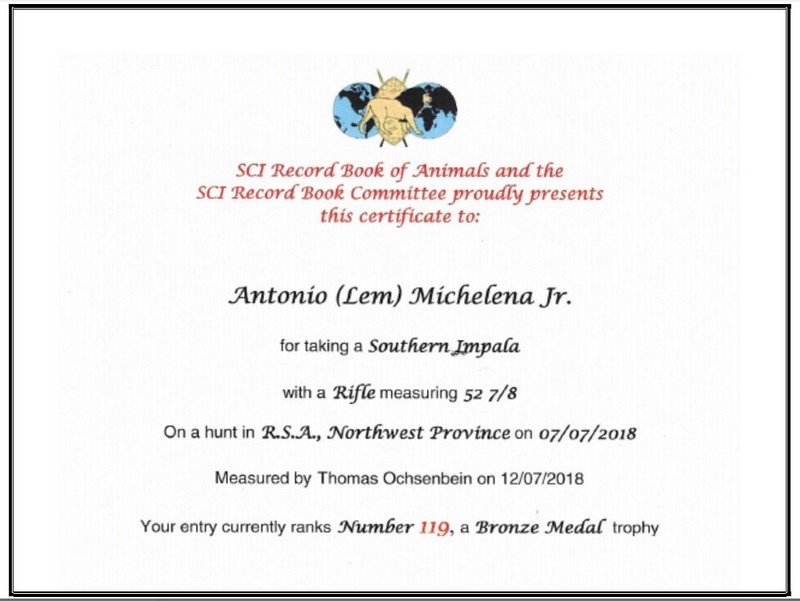 We loaded the impala on the Cruiser and brought it to the skinning shed. While waiting for Daniel to finish the skinning, we chatted with Andre, Erick's brother-in-law. Andre lives in Johannesburg, with Erick's sister, and does not often get the opportunity to visit Erick's farm. So, he was very interested in talking to us about the condition of the farm, the animals, and hunting. We had a great time recounting the day's activities.

After Daniel finished skinning the impala, we drove Erick to his house, picked up Mannetjie, and headed back to Botawi. We were all in very high spirits.

Mannetjie reminded me that earlier in the day, he had proclaimed himself my "lucky charm". I wholeheartedly agreed with him!

On the drive back to the Guesthouse, we came across the ubiquitous "Kalahari Ferrari", the everpresent, donkey-drawn carriage that is the common mode of transportation in the unpaved roads of the
savanna.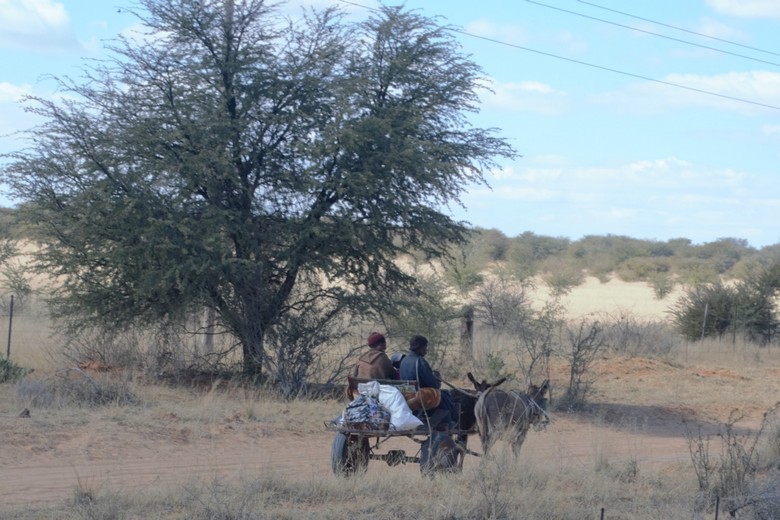 A beautiful desert sunset greeted us when we reached Botawi. We relished our Sundowner while Tanya prepared a delicious "potjiekos ", or kudu neck stew for dinner (not from my kudu, which was still hanging in the shed for the meat to "age a little"). Tanya also cooked a desert called "koeksisters" (knotted sisters), an Afrikaans-style sugar coated doughnut that is twisted like a plait.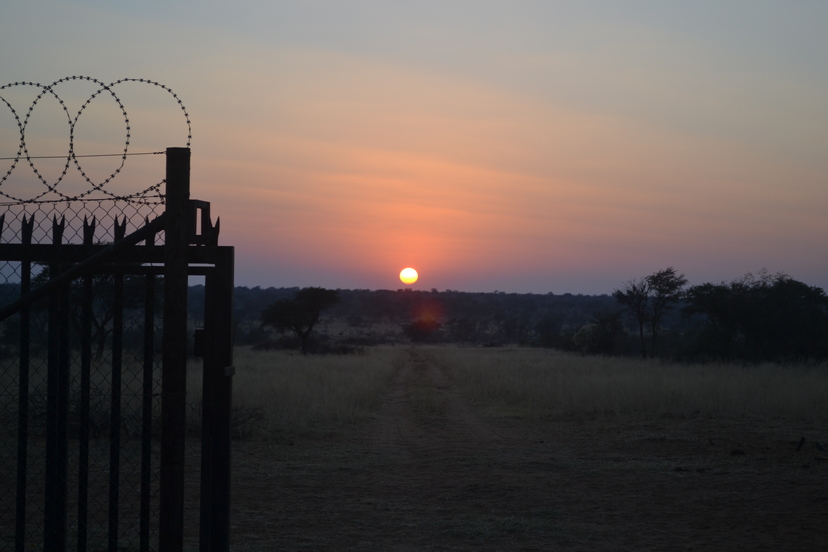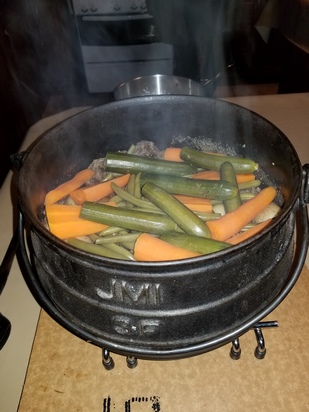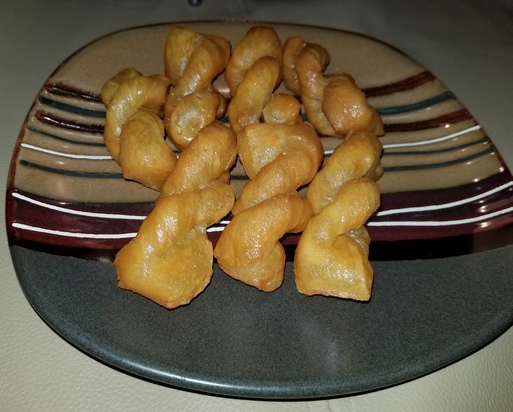 A perfect end to a perfect day.
Hunt Safari Day 4 – July 08, 2018

Laureen and I got up at 6:30.

I did not realize that although we had been waking up early, Tanya and Daniel had been waking up even earlier. The night before, Henry intimated to us that the Guesthouse's electricity was solar-generated, but the water heater was powered by a "donkey" – a wood burning stove that must be ignited and fed each morning so that we can take our warm showers. Temperatures in the Kalahari during winter mornings average 5-10 degrees Centigrade (41-50 degrees Fahrenheit), and since the donkey's water tank is outside the house, the water gets very cold during the night. Tanya or Daniel had to fire up the donkey one hour before Laureen or I were scheduled to take our showers.

We planned to hunt warthogs in Botawi, so we didn't need to get an early start. I also didn't feel good about Tanya or Daniel waking up too early, so we told them that we were taking our shower at 7AM.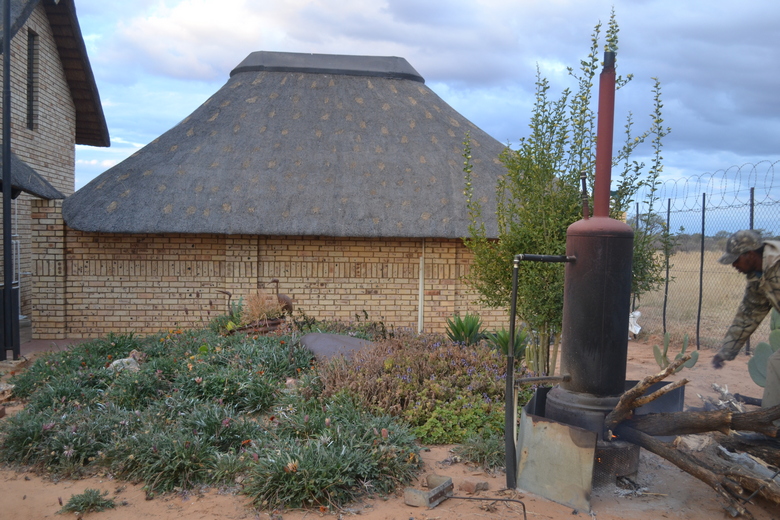 Daniel tending the "donkey" – one of the Guesthouse's "modern" conveniences.

We drove around Botawi and saw a few warthogs, but they were all rather small and immature or did not present an opportunity for a good stalk. We decided to go back to Cremonapan.

Henry figured that it would be a good strategy to build a blind close to the cattle water trough as he expected warthogs in the area to come visit for a drink. Daniel built a huge blind with bushes that he cut from the surrounding area.

We brought in some folding chairs, a cooler with our lunch, set up the Sako on the shooting sticks, and Henry, Laureen and I settled down to wait. Daniel took some sandwiches and drove away in the Cruiser to keep it hidden.

Lunch consisted of "vetkoek" (literally "fat cake") sandwiches, basically, dough deep-fried in oil and filled with minced game meat. We also had sweet local oranges for dessert and ice cold bottled water to wash everything down.

A few warthogs did show up, but Henry felt they were too small. Two big boars appeared, but they were directly in front of the concrete water trough. Henry didn't want to risk breaking the trough in case of a miss or a complete bullet pass through, so he asked me to hold off.

By 4:15 PM, the weather changed to cold and damp. We decided to call it a day. Henry radioed Daniel to come back with the Cruiser to pick us up.

Henry drove with Laureen in the cab passenger seat. Daniel and I stayed in the open back. It had started to drizzle with a strong, gusting, cold wind. All I could do was tighten the chin strap of my hat, bow into the wind (so that my hat wouldn't be blown off), and zip up my jacket.

When we got to the Guesthouse, Henry informed me that he planned to bring us out for an evening jackal hunt after dinner. Unfortunately, the weather didn't cooperate. It rained the whole evening, so we were not able to go jackal hunting.

We even had to have our Sundowner indoors.

Dinner consisted of pap (maize porridge) topped with "chakalaka" (a spicy vegetable relish) and baked with cheese, with a side of Greek Salad, and entrees of grilled beef sausages and steaks from Laureen's impala.

Dessert was peppermint crisp tart, which according to Tanya, is Henry's favorite. Henry proved her right by finishing more than half of the dish! (NOTE: The peppermint crisp tart is really delicious, and Laureen has prepared it a few times in Chicago as a treat for our guests.)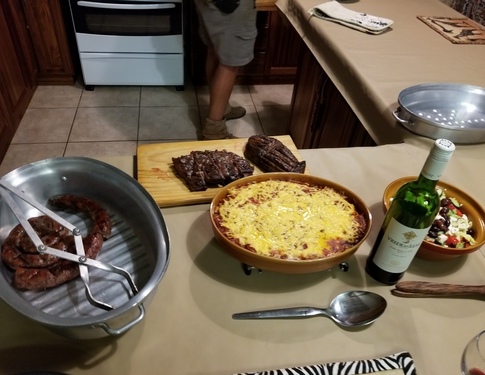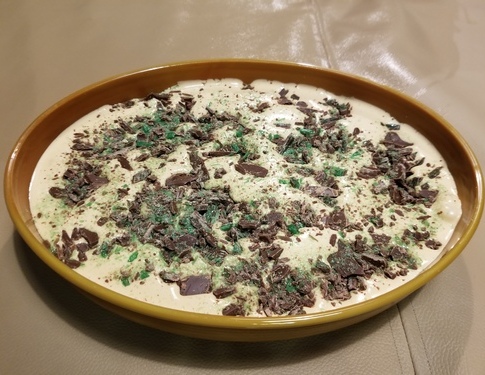 Our Sundowner lasted later into the night than usual. Life is good.

Hunt Safari Day 5 – July 09, 2018

Laureen and I again got up at around 6:30.

The weather had not improved, and the morning rain was actually heavier than that of the night before. We decided to stay in.

Henry regaled us with stories of his hunting experiences.

Amongst other interesting stories, he recounted how he became somewhat of a local celebrity in Mozambique when he was called upon to hunt down and kill a hippopotamus cow and calf. According to Henry, he and a colleague were scouting a new hunting area that their Outfitter Employer at the time, was thinking of leasing. Supposedly, a local teenager made the unfortunate mistake of taking a bike ride close to the river at dusk. He got too close to, or maybe even got between, a hippo cow and her calf. The hippos attacked, and the unfortunate boy's body was discovered the following day.

Henry said that he felt bad about going after the hippos, but he knew that the townsfolk would kill all the hippopotami in the river if they were not satisfied that the "problem hippos" had been dealt with. Henry said that it took him 3 dangerous days of intense tracking and hunting to identify, pick out, and ultimately, get rid of the killer hippos. Henry added that his exploit earned him a series of articles in the local paper.

Tanya prepared our lunch of rice salad and (Laureen's) impala steak sandwiches.

The rain subsided in the late afternoon, and we were actually able to step out of the house, where a beautiful rainbow framed the horizon. It was as if the Kalahari was bidding us goodbye and safe travels.

We raised a toast in honor of a dream come true.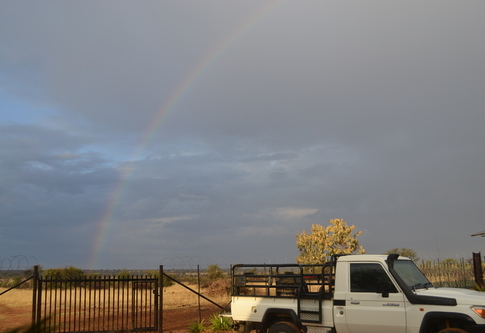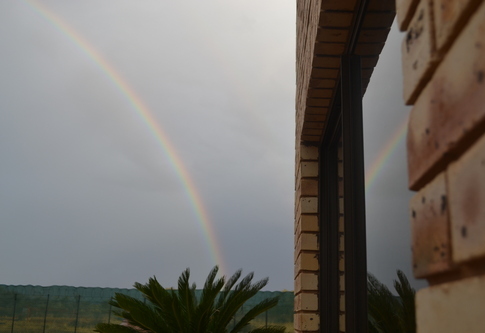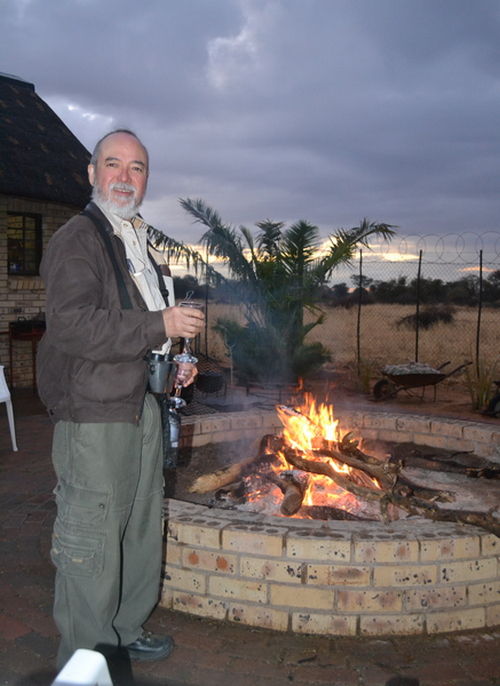 Henry requested Daniel to drive to Cremonapan to get some steaks from MY kudu.
That evening, Tanya grilled (MY) kudu steaks, baked a bundt cake and made a side salad and potato dish for dinner.
We had a lovely and gut-busting dinner with our gracious hosts, and new friends, Henry, Tanya, and Henry, Jr. (Mannetjie) Griffiths. Over glasses of wine, we discussed plans for a return trip…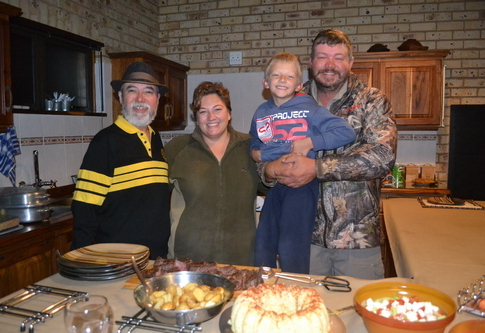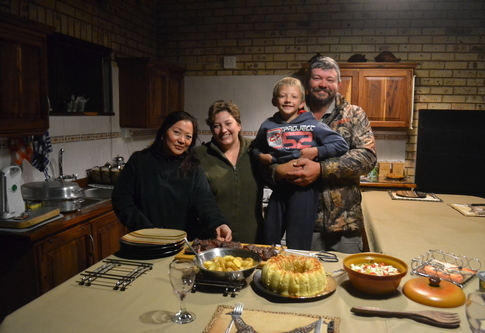 Below is the link to 'African Hunting Safari 2018', a MP4 photo montage slideshow by Laureen. Open a new browser; copy and paste link to browser address to watch.
https://drive.google.com/file/d/11tM-FXgJzxZ7pXDqX3sswfmyJbshdI2f/view?usp=drive_web

Journey to Zulu Nyala – July 10, 2018

Laureen and I got up at 2:00 AM.

Our flight to Durban was scheduled to depart from Johannesburg at 1:20 PM. It is about a 6-hour drive from Botawi to Johannesburg, but Henry felt it best to leave very early in order to avoid any traffic or delays. We (Henry driving, with Laureen and I) departed the Botawi Guesthouse at 3:30 AM. Tanya and Mannetjie were still asleep. They would leave later (with Daniel) to return to their house in Pretoria.

Our drive to Johannesburg was uneventful and was spent mostly talking about our amazing experience and the memories that will forever stay with us. We arrived at O.R. Tambo airport at 9:30 AM, where Henry helped us check-in our luggage, and departed after exchanging heartfelt hugs.

When I began planning our Photo Safari adventure, I had explored the best way to get to Zulu Nyala from Johannesburg O.R. Tambo International Airport. Google Maps listed the driving distance as 514 kilometers (319 miles); and estimated the driving time at around 6 hours. I decided that the best option for us was to fly to Durban (King Shaka International Airport), and proceed by land to Zulu Nyala.

Flight time from Johannesburg O.R. Tambo Airport to Durban King Shaka Airport is only around an hour.

Driving distance from Durban King Shaka Airport to Zulu Nyala is 249 kilometers (155 miles), with an estimated driving time of 2 hours, 45 minutes.

The photo safari package from Zulu Nyala included lodging for 6 days and 6 nights, 3 buffet meals per day, and 2 daily game viewing drives. For an additional fee, they also offer side trip excursions, and shuttle service to and from Durban. However, you are subject to their schedule, and the costs they quoted were what I consider "Resort Prices". We decided that we would rather follow our own schedule and make our own arrangements for our side trips.

We therefore decided to rent a car and do our own driving. The 6-day rental rate we paid for the car was less than half of Zulu Nyala's airport shuttle fee, and we were able to take side trips as we pleased.

Driving in South Africa takes some getting used to, but is not really problematic. All signposts in South Africa are written in English, and rules of the road are mostly (if not completely) similar to U.S. standards. Road infrastructure is excellent, with most national roads paved in concrete. Although some rural roads may be unpaved, most are in generally good condition. Prior to leaving for South Africa, I consulted Henry about driving. He advised me that he felt I did not need to rent a 4-wheel drive vehicle. We followed his suggestion and can confirm that we never needed 4-wheel drive power in any of the areas that we visited. We did rent a GPS unit for the car, and found that to be extremely helpful.

You do have to bear in mind that you have to drive on the left-hand side of the road and since cars are right-hand drive vehicles, the controls are on the "other" side. I recommend that you get a vehicle with automatic transmission so that you don't have to worry about manually shifting gears with your left hand. I have to admit that I did inadvertently turn on the windshield wipers in a few instances, when I actually intended to turn on my signal lights! There were also a few times when I mistakenly opened the driver's side door, instead of the passenger side, when I was helping Laureen get in the car. Laureen insists that on more than one occasion, I may have momentarily (and very briefly) driven on the righthand side of the road after making a turn. But, the important thing is, we didn't have any accidents!

During our stay in Zulu Nyala, we met a nice Pinoy couple from California and a Pinay with her American husband and daughter. They did not have rental cars, and they all felt that they were held hostage to Zulu Nyala's schedules and resort-priced side excursions.
I am glad that we decided to fly from Johannesburg to Durban, and get a rental car.

We arrived in Durban (King Shaka International Airport) at 2:20 PM. Durban is a rapidly growing urban area and is by most measures, the busiest port in Africa. This is where Mahatma Mohandas Karamchand Gandhi first arrived in South Africa in 1893, and where he is reputed to have developed the concept of Satyagraha (passive resistance).

The Budget Rental Car Office was within the airport complex, so we got our rental car, made sure that the GPS that they rented to us was working, and made our way out of the airport. After about 3 hours of driving, we arrived in Zulu Nyala in time for dinner. We had arranged to stay our first 3 nights in their "Hemingway Tented Camp", and the succeeding 3 nights in their "Heritage Safari Lodge".

It was quite dark when we arrived at around 6:00 PM, so we simply checked-in, dropped off our luggage in our "tent", and proceeded to the main dining room in the Safari Lodge. KwaZulu Natal has a high concentration of Indian immigrants. That is reflected in the delicious Indian-influenced 3-buffet-meals-aday cuisine that we were pampered with throughout our entire stay. "Pampered" is the operative word, as the food staff members were consistently attentive, helpful and friendly, without being pushy.

Photo Safari Day 1 – July 11, 2018

Laureen and I woke up at around 5:00 AM, inspected our "tent" accommodations, and quickly realized that the word "tent" was quite misleading. Although it exudes an aura of a bygone time when staying in tents was the only way to explore the magnificence of Africa, Zulu Nyala's individual free-standing Hemingway Tented Camp provides all the comforts of a luxury camp!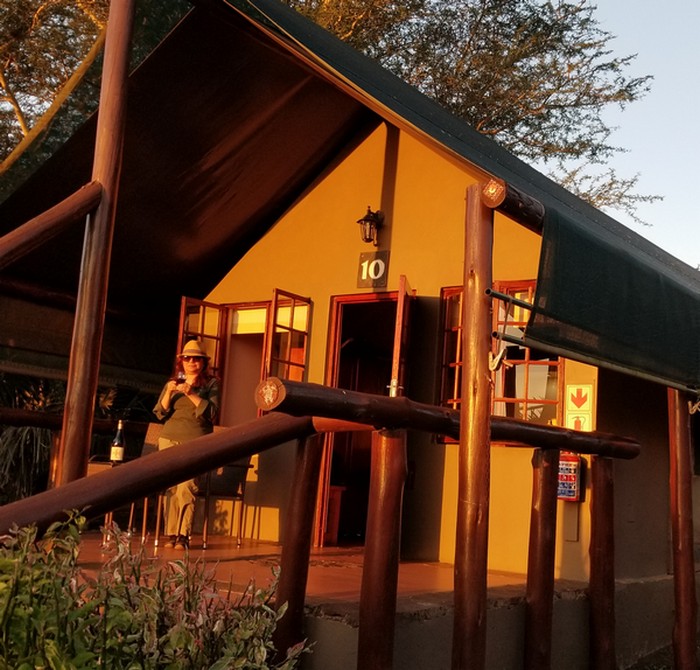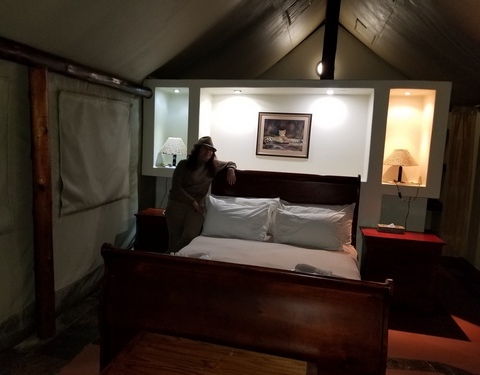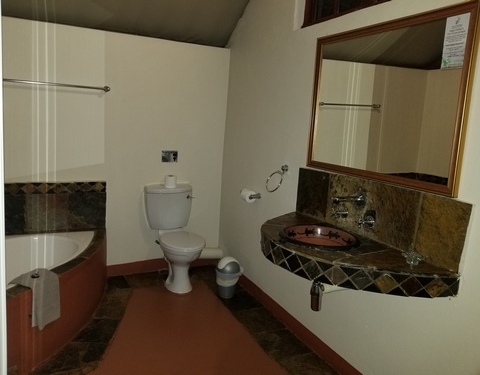 Tent #10 – Our home for 3 nights at Zulu Nyala

When we checked-in the night before, we were told that 1-hour Game Drives were scheduled at different times, twice a day, starting at 7:00 AM and 3:00 PM. You can join another vehicle if you miss your assigned time slot.

We went to the main dining room at 6:00 AM, had a hearty breakfast, and proceeded to the Game Drive Meeting Pavilion, where we met our assigned Game Guide, named Sandiso.

The Front Desk Receptionist informed us that Sandiso is one of their most senior Rangers. This was later borne out in the following days by the way we saw Sandiso interact with the other Rangers, and how they treated him with respect and deference.

Sandiso provided us with some information about Zulu Nyala Game Reserve and Game Drive rules. He explained that the reserve is 5,800 hectares (14,332 acres) and is enclosed by a 2.5 meter (8.2 feet) high electric fence.

He added that the area holds a naturally reproducing population of plains game (the preserve namesake nyala, kudu, impala, zebra, etc.), hippopotami, crocodiles, Cape buffaloes, elephants (they maintain the population at 5), white and black rhinoceroses and cheetahs (They had a breeding pair of cheetahs with 3 immature cubs, but the female was killed by a black mamba, so they had to surrender the cubs to a rehabilitation center. At the time of our visit, they were on the waiting list to obtain a mature female cheetah as a replacement).

South Africa wildlife rules prohibit them from carrying lions because of the preserve's "limited area". Leopards can easily jump over the high electric fence and freely enter and depart the preserve. Although we saw a lot of tracks and other signs of leopards, we never saw one during our stay.

Sandiso is justifiably proud of their successful rhino breeding project and specifically pointed out the warning about geo-tracking.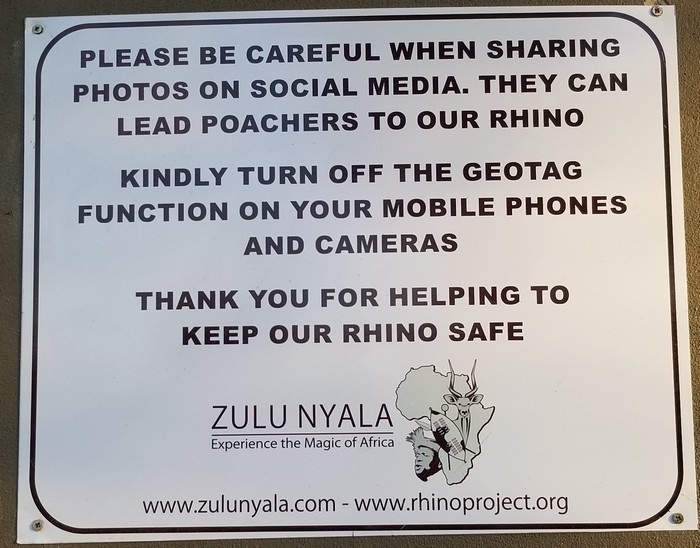 Sandiso warned us not to disembark from the vehicles during the Game Drives, call to any animals, nor try to pet or touch any wildlife.

The Game Drive vehicles can comfortably hold 10 passengers, plus the Guide/Driver, but we usually had only 4 or 5 other guests with us (they had a huge fleet of vehicles and a cadre of Guides). We could freely swing around with our cameras and binoculars.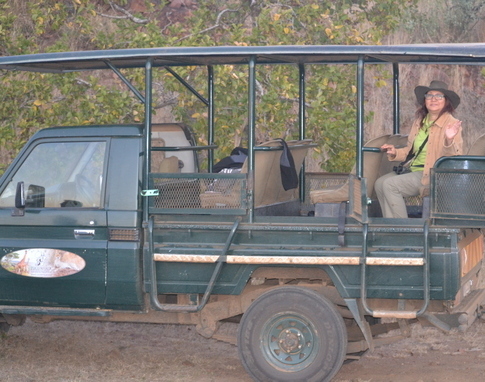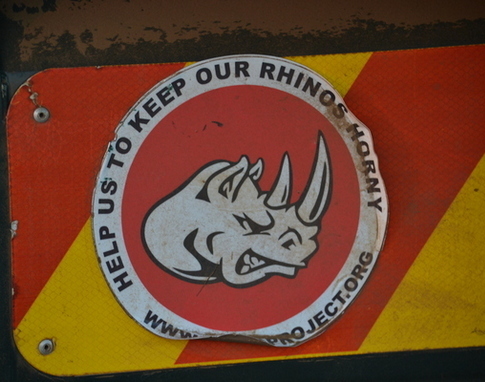 Zulu Nyala Toyota Land Cruiser with eye-catching bumper sticker

On our first morning Game Drive, we saw a pair of critically endangered Black Rhinos. Unfortunately, I cannot find any photo of these animals in my files. That was the only time we saw Black Rhinos. We saw (and photographed) a lot of other animals, including a cheetah on a tree, giraffe, buffalo, warthog, kudu, impala, zebra, etc.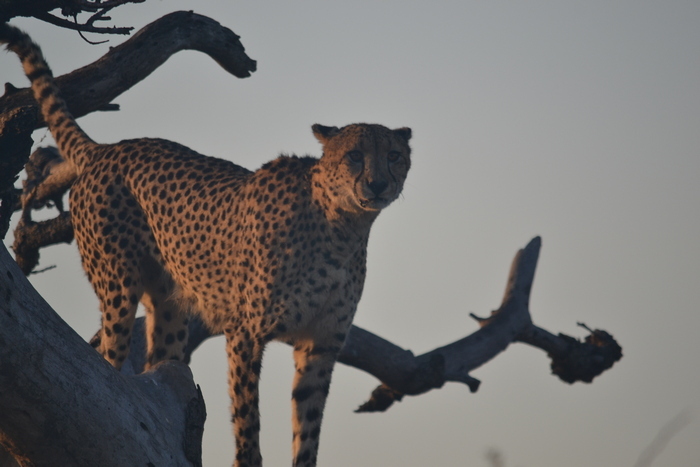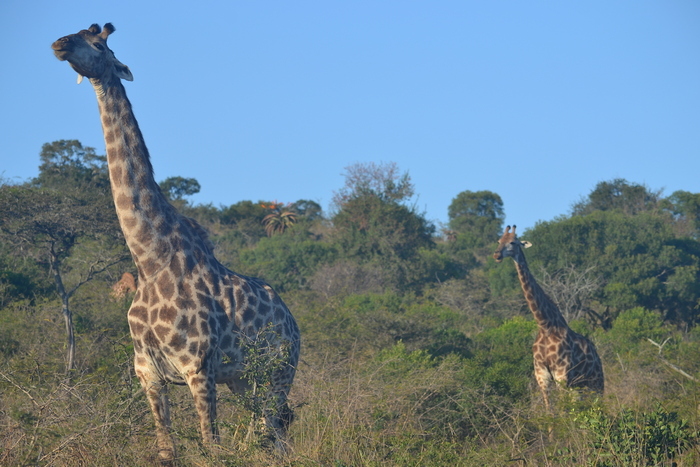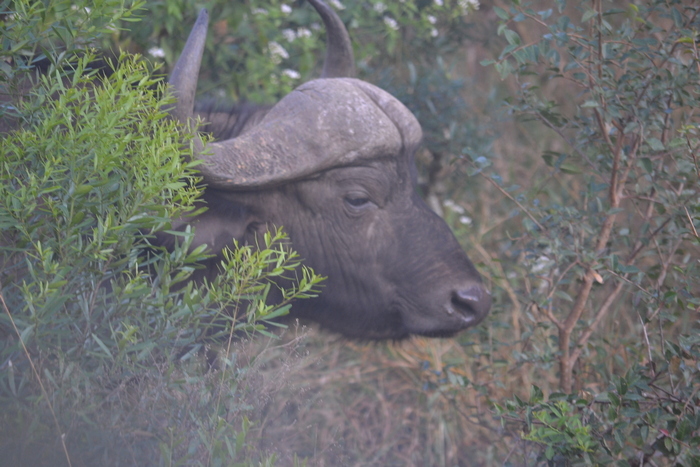 After the morning Game Drive, we arrived back at the lodge at around 8:30 AM. Laureen and I walked around the grounds and viewed the area's amazing flora and fauna. We had lunch at the main diningroom.

We learned that the lodge maintained a small pond with a number of crocodiles that were fed every twoweeks. Luckily, there was a crocodile feeding scheduled for that day. We watched as the crocs were fed with whole chicken carcasses.

We went on the 3:00 PM Game Drive and viewed more animals. The morning and afternoon Game Drives with Sandiso became our routine for our entire stay.

At around 6:30 PM we walked from our tent to the lodge for dinner, and encountered an unexpected sight.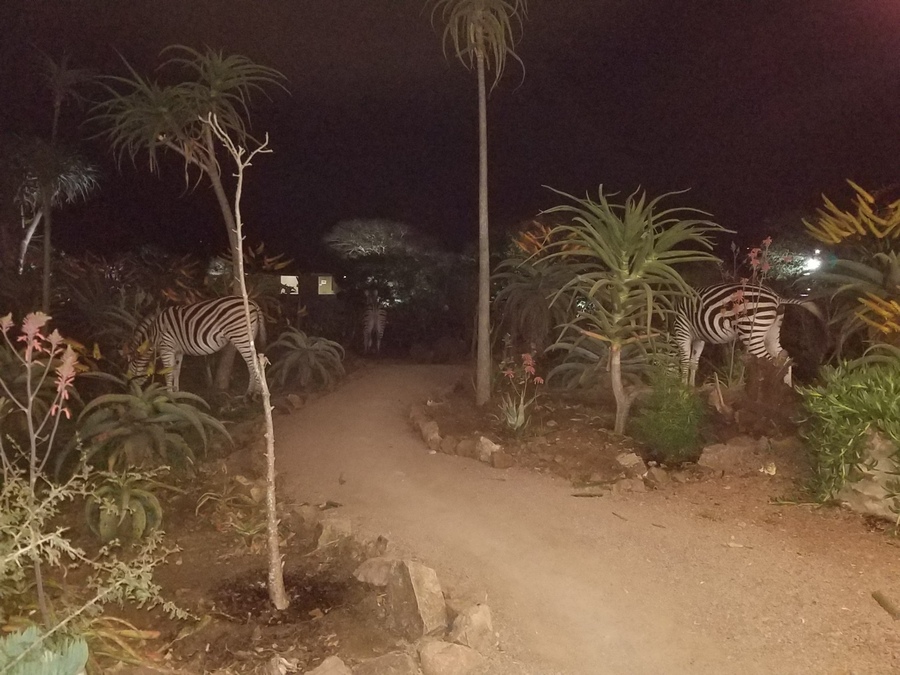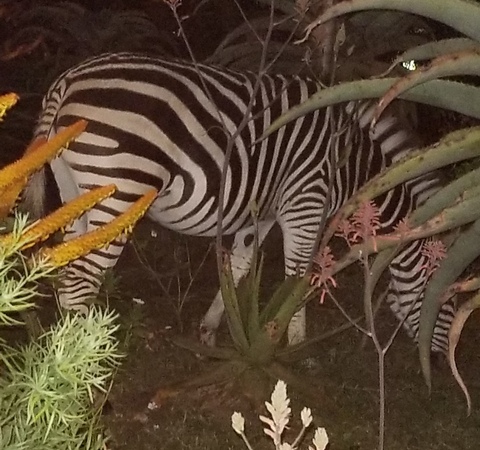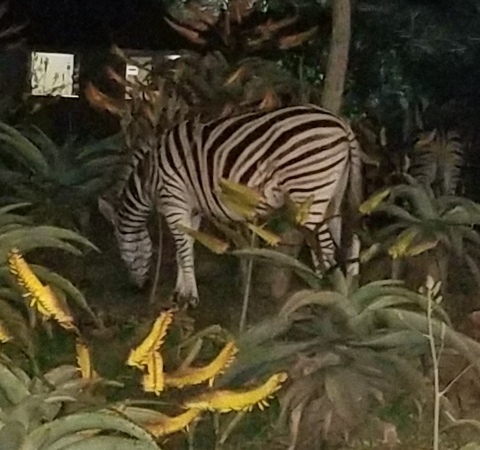 A Dazzle of Zebras grazing at dusk by the walking trail from our Tent to the main dining room

An interesting surprise to end a wonderful day.

Photo Safari Day 2 / St. Lucia – July 12, 2018

We joined the morning and afternoon Game Drives and viewed more animals. We also drove by the set that was used as the Kuki Gallmann "Kenyan homestead" in the filming of "I Dreamed of Africa". Seeing the setting for the movie made me purchase a copy of the film when I got home to Chicago. In my opinion, it turned out to be an okay film.

After the morning drive, we decided to forego lunch and instead drive to St. Lucia.

St. Lucia is a municipality about a 1-hour drive south of Zulu Nyala. It faces the Indian Ocean and features beautiful wetlands and beaches. They have quaint little shops selling beautiful souvenirs and various handicrafts. Because the area is a tourist destination, items were a little pricey.

We ended up purchasing hippo and warthog sculptures personally hand-carved out of Natal Mahogany root by a sidewalk vendor named Thembo. Of course, we have no way of ascertaining that he sculpted the items, or if the items were made of Natal Mahogany root, or even if his name was really Thembo! But, he was carving an unfinished block of wood as we were talking, the hippo and warthog looked good, and the price was right! We picked up more souvenirs from other itinerant vendors by the beach.

We walked to the beach and came upon sand sculptures made by a pair of local boys who were requesting passers-by to "support" their artwork. We gladly lent some support.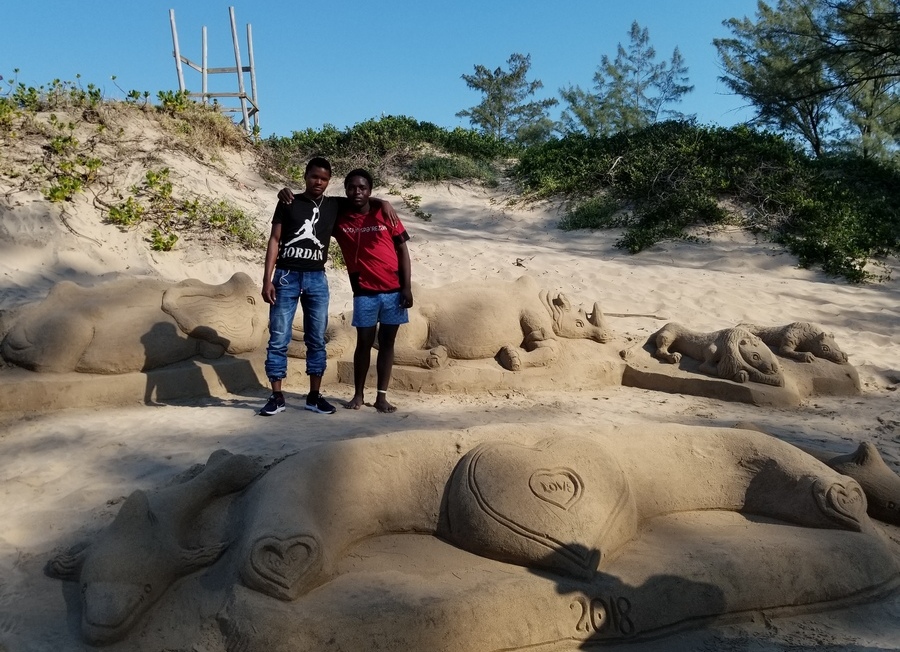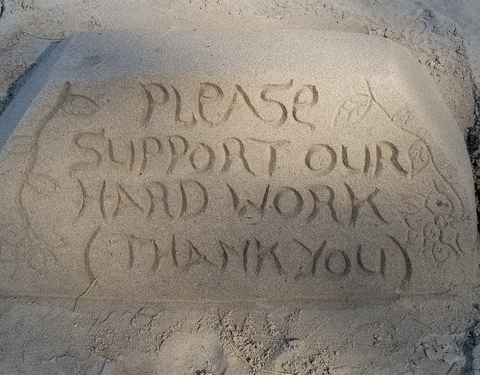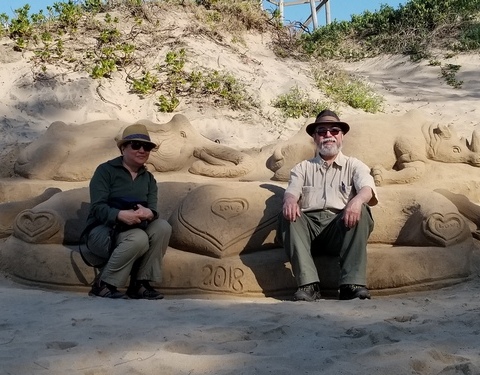 As always, dinner at the lodge was simply delicious.

Photo Safari Day 3 / Ilala Weaver – July 13, 2018

After the morning Game Drive, we moved our luggage into our new accommodations at the Heritage Safari Lodge.

Before lunch, we drove to town and visited Ilala Weavers, a well-known, not-to-be-missed, seller of beautiful local beadwork, baskets, wirework, and artifacts. This is where we purchased most of our "pasalubongs".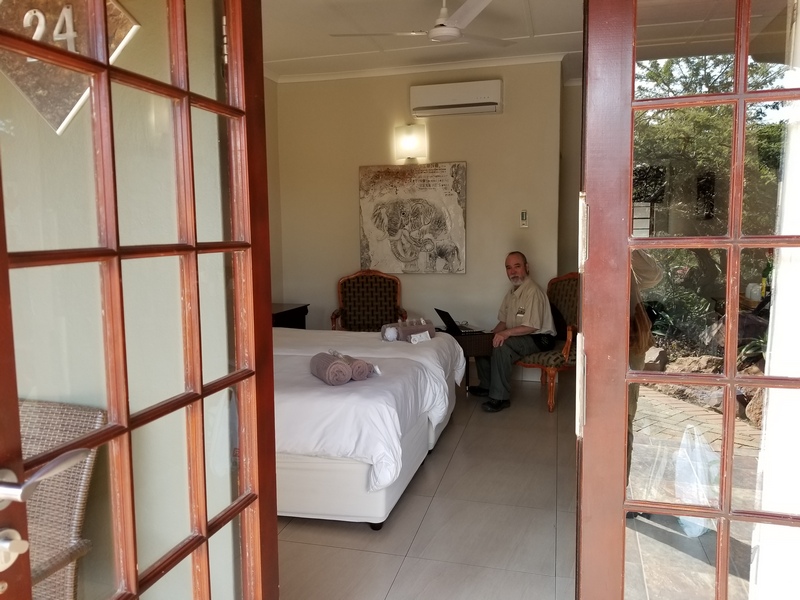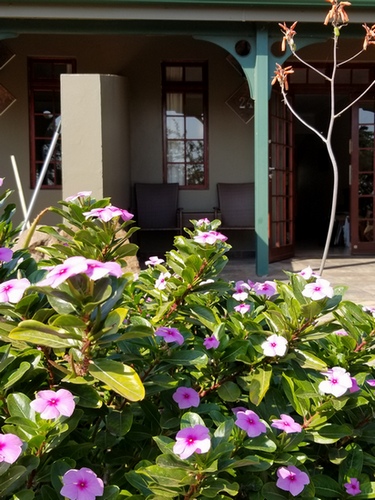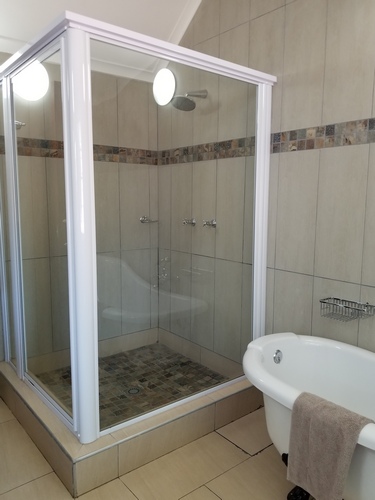 Safari Lodge Suite #24 – Our home for 3 Nights

We went on the afternoon Game Drive where we had our first close encounter with elephants.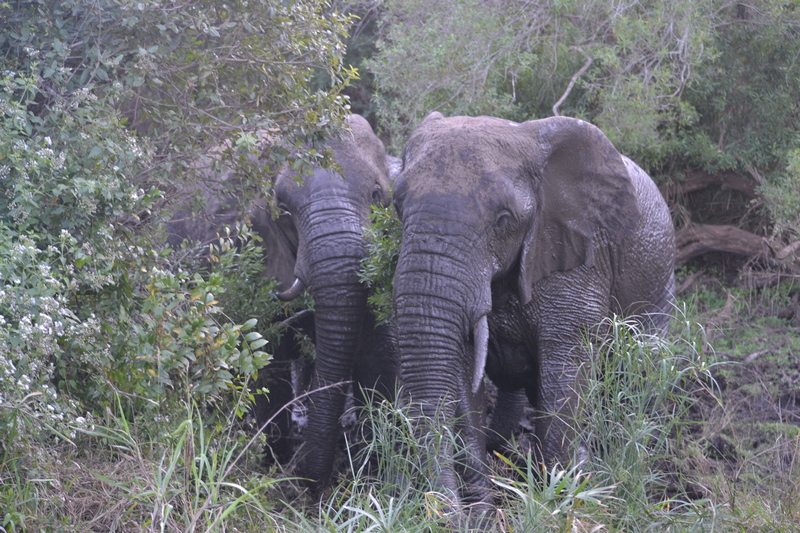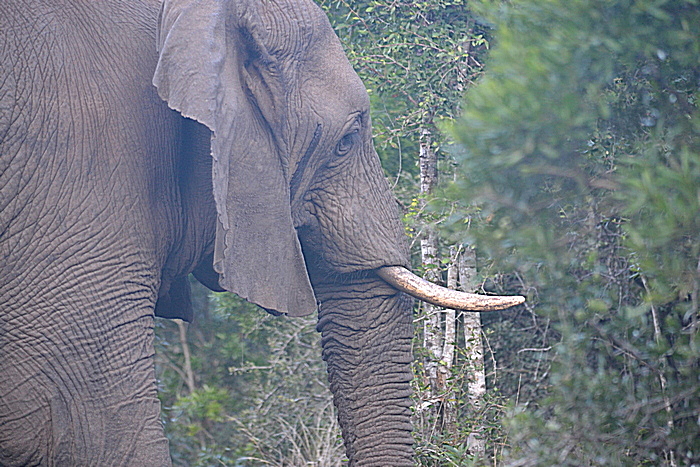 We also came across a superb specimen of the lodge namesake, the nyala. This magnificent animal paraded in front of us for a few minutes as he herded his harem of cows across the road.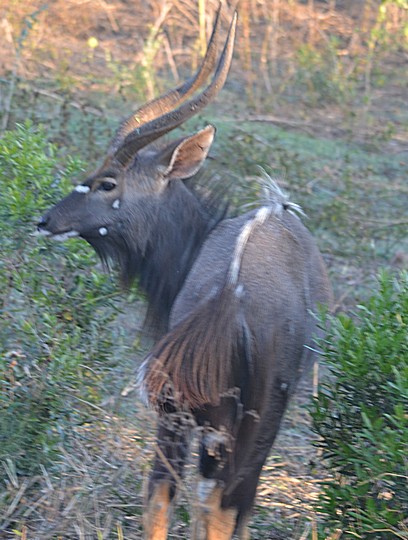 Photo Safari Day 4 / Horseback Riding / Zulu Croc – July 14, 2018

After a hearty breakfast, Laureen and I left the lodge at 7:00 AM. We drove about 30 minutes to the WE Hluhluwe Horse Safaris, where we had made reservations for a 1.5 hour horseback ride safari starting at 8:00 AM. We met our guide, Peter, who gave us a briefing on our itinerary, route, and basically, what we expect to see and do during our safari. We were going on an adventure ride through the beautiful False Bay Nature Reserve of the Isimangaliso Wetland Park (a UNESCO World Heritage Site).

Peter was a very friendly and knowledgeable guide who was born in Swaziland, immigrated to South Africa and had been working with WE Safaris for more than 15 years. Laureen rode Tshoks, a 30-year old gelding, while I rode Camelot, a 9-year old stallion, and Peter rode Bullet, an 18-year old stallion (and sire of Camelot). Both Laureen and I are inexperienced riders, but Tshoks and Camelot were such wellbehaved horses so we felt very comfortable and at ease. As a result, towards the end of our reserved time, we decided to extend our ride for another hour (to 2.5 hours). I have to admit that my behind became a little sore.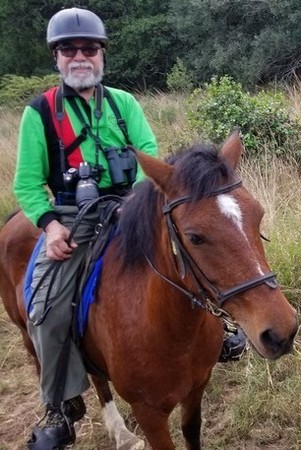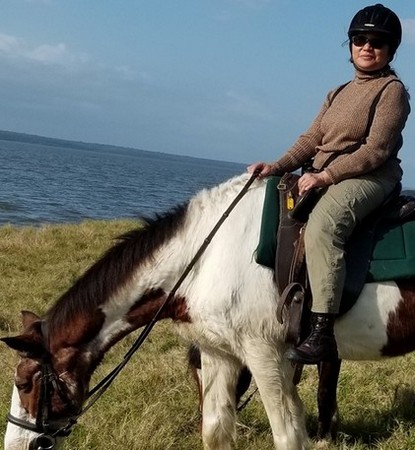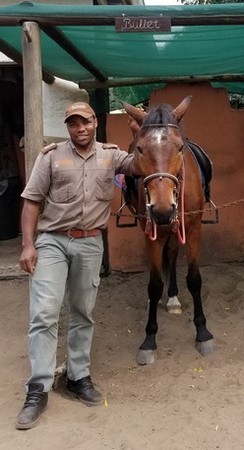 Lem on Camelot, Laureen on Tshoks, and Peter with Bullet

As we entered the park, we met a troop of about 7 Rangers patrolling the grounds. It was surprising to me that only one of the Rangers had a rifle, while the rest were carrying knobkerries (a traditional club that features a knob at the end of a stick and is used as a weapon by indigenous people of South Africa). I can only suppose that this is probably because of budgetary constraints, and makes me wonder about possible tragic results if these rangers came across poachers, who are generally equipped with more firearms.

A horseback safari has a different feel as compared to a safari on a motorized vehicle. You are more in tune with nature, but at the same time, feel more vulnerable. This feeling of unease was further heightened when we came upon leopard tracks on the trail we were following, and when we saw some hippos pop out of the bay. However, Peter reassured us that the leopard tracks were from the night before, and the hippos were too far away to even bother with us.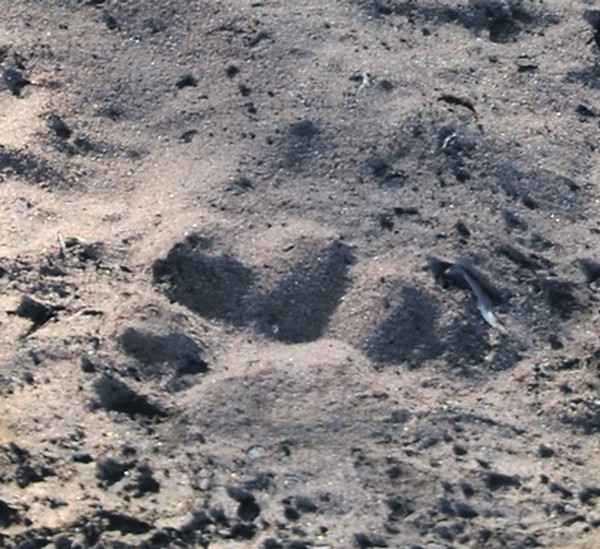 Leopard track in the sand

At around 11:00 AM, we said goodbye to Peter and drove back to the lodge for lunch.

After a satisfying meal, we left for Zulu Croc, which offers a 1.5 hour close-up crocodile and snake experience. We were the only guests that afternoon, so the site lecturer, Lawrence, gave us a personal tour of their facilities. He started off by taking out a South Africa rock python and a carpet python from their cages and having Laureen and I touch them. He then proceeded to handle and show more dangerous snakes, such as the mildly venomous vine snakes, on to cobras, adders and up to the infamous black mamba.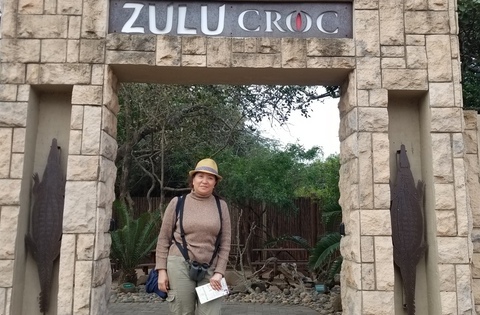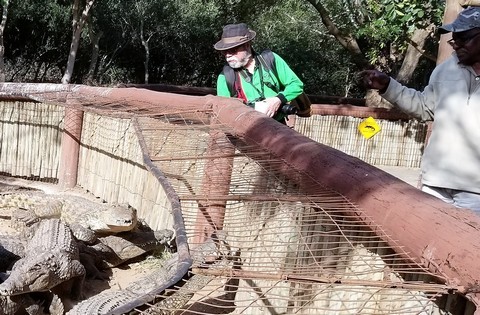 This was followed by Lawrence showing us their various enclosures where they have been breeding and studying different types of crocodilia. It was a very entertaining and educational tour.

We went back to Zulu Nyala to catch the afternoon Game Drive which was highlighted by the sighting of a white rhino cow and her calf.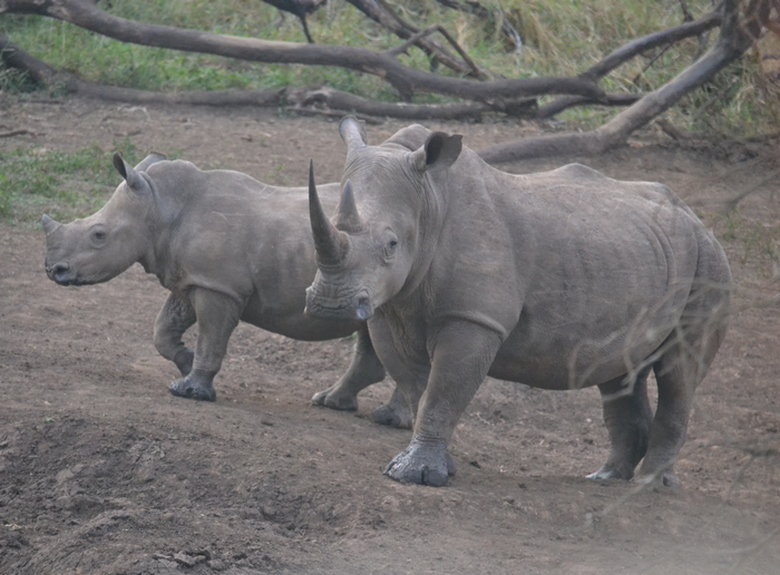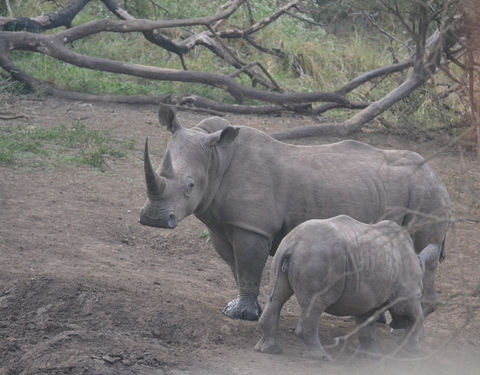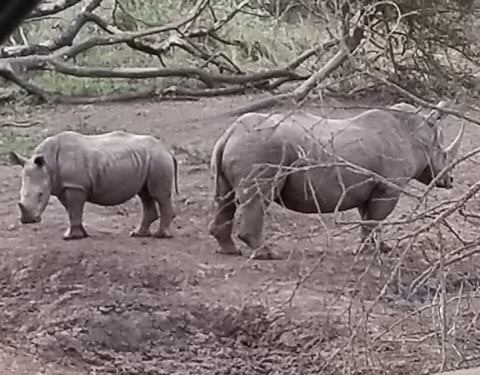 Photo Safari Day 5 / Endomeni Cheetah Rehabilitation – July 15, 2018

Laureen and I joined Sandiso and one other couple for the morning Game Drive not knowing that we were in for an extraordinary day. We had front row seats to watch a cheetah start to stalk and eventually give full chase to an impala.


The whole incident ended with the impala escaping and the cheetah going hungry that morning. The chase certainly got our hearts pumping!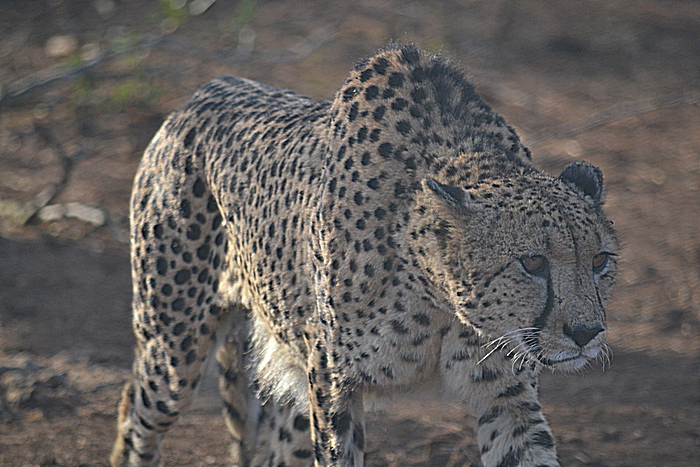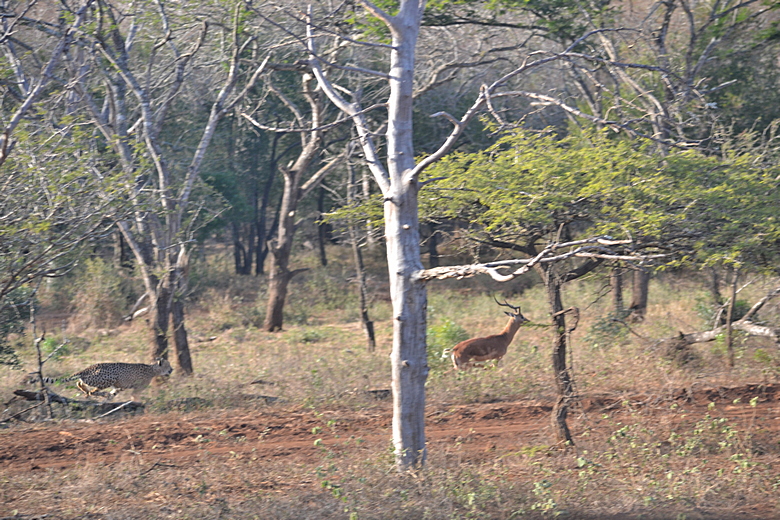 Coincidentally, we had already made arrangements to visit the Endomeni Cheetah Project later that morning. It was about a 30 minute drive from Zulu Nyala.

Endomeni is an educational and research establishment that seeks to educate the public about cheetahs primarily, and some of South Africa's other smaller native wild cats. It also aims to rescue injured wild cats, rehabilitate, and when possible, breed, and release the recuperated animals, or their offspring, into their natural wild habitat. At the time of our visit, we saw, and learned about cheetahs, caracals (African lynx), servals, and African wildcats (which look amazingly similar to domestic tabbies).

We joined Sandiso's afternoon Game Drive, enjoyed another sumptuous dinner buffet and spent a restful last night at Zulu Nyala.

Photo Safari Day 6/Back to Johannesburg – July 16, 2018

During our last Game Drive, Sandiso pointed out a very young Cape Buffalo calf. It made me think of the benefits that game reserves such as Zulu Nyala provide. People can rightfully argue that animals in such preserves are habituated to humans and therefore should not be classified as wild. However, people cannot dispute the fact that these establishments do maintain breeding populations of animals that otherwise may have a very difficult time surviving in an increasingly urbanizing environment and shrinking natural habitat.
We bid adieu to Sandiso and embarked on our roughly 3-hour drive back to Durban for our flight back to Johannesburg.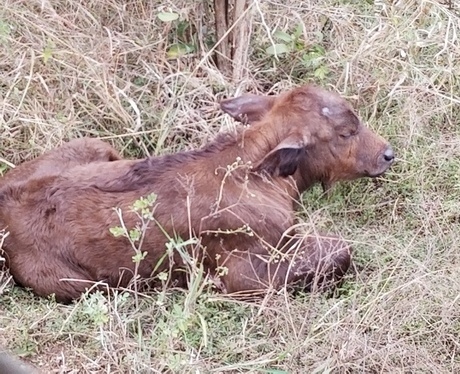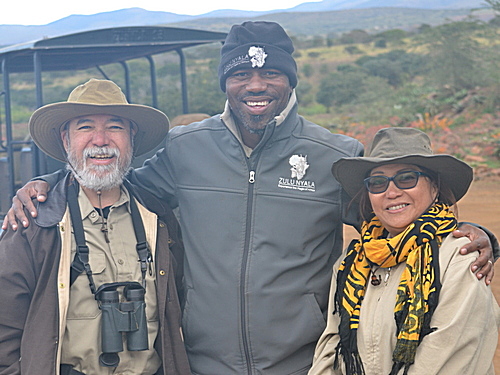 We made our hotel reservations at the Southern Sun O.R. Tambo International Airport Hotel which is within walking distance from the airport terminal. However, it was already getting dark by the time we retrieved our luggage, and based on advice from people we consulted who are familiar with conditions in Johannesburg, we decided to be more prudent and take the hotel-provided shuttle.
Before retiring for the night, we made arrangements with the hotel concierge for a half day tour of the Apartheid Museum the following day.


Johannesburg Apartheid Museum/Depart South Africa – July 17, 2018

Laureen and I had the complimentary hotel breakfast buffet which was surprisingly good and filling.

The guide for the tour arrived promptly at 9:00 AM. The drive to the Apartheid Museum was only 30 minutes. Along the way, Arthur (the guide) informed us that he had already purchased the tickets for the museum and that he would not be accompanying us inside. He would wait in the parking lot with the van, and would pick us up at the museum exit at 12:00 noon. Arthur added that we can go through the entire museum in about 2 hours, but he was allotting 2.5 hours.

As we entered the museum, Laureen and I were handed tickets. I was handed a "white" ticket, while Laureen was handed a "non-white" ticket. We were then instructed to enter the museum through the entrance allocated to our "race group". This was meant to illustrate the "randomness" of assigning "race" through the Apartheid Government-issued "Identity Documents". It surprised me to learn that there were actually instances where certain individuals were suddenly classified as "non-white" based on the opinion of the "Office for Race Classification" based on such characteristics as hair, facial features, skin color, language, eating and drinking habits, etc.! Although I was aware of it, viewing the exhibits in the museum shocked me into fully realizing that the apartheid policy was only dismantled by South Africa's national election in 1994. I personally think that a visit to the Apartheid Museum is an emotional and educational experience that is worth taking.

Arthur drove us back to the hotel where we collected our luggage that we had left at the hotel's front desk storeroom.

Back to Chicago – July 18, 2018

Our return flight to O'Hare (with a 5-hour layover in Madrid Barajas Airport) was uneventful. Actually, we were both so tired that we dozed off through much of the trip.

Epilogue:

When we got back to Chicago, I purchased a copy of the movie "I Dreamed of Africa" (I have to admit that I still have to read the book). I found the movie to be okay, albeit a bit sappy. However, there was a scene in the movie that stuck with me. It featured Kim Basinger (as Kuki Gallmann) writing the following in her journal after she had only been in Africa for a short time.

"I have never been here before, and yet, I feel like I have returned… I am at peace…"

I fully understand her sentiment, and felt the same way in South Africa…
On April 15, 2019, I received the official plaque recognizing my impala's Bronze Award entry into the Safari Club International (SCI) Record Book.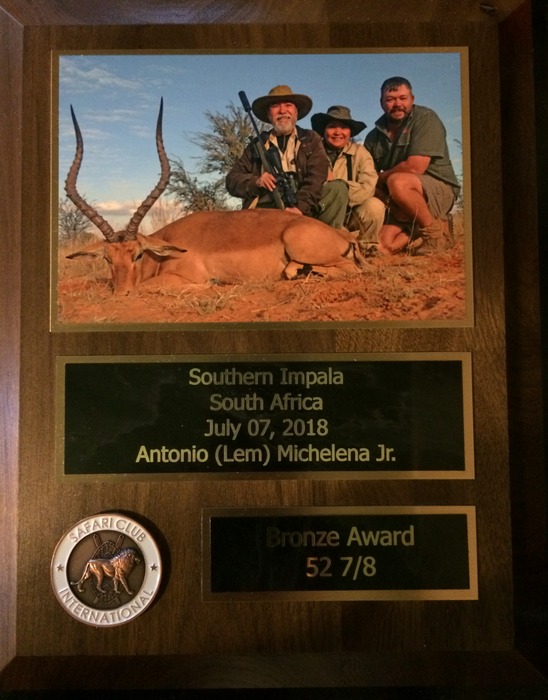 NOTES:

The U.S. Department of State – Bureau of Consular Affairs provides a lot of information and tips regarding South Africa travel requirements, advisories and tips. I recommend that you visit their website.

The U.S. Centers for Disease Control and Prevention (CDC) recommends that all visitors to South Africa should stay current on routine vaccines and that most travelers should take vaccines for Hepatitis A and Typhoid because there is a risk of these diseases in South Africa. Depending on where in South Africa you are going, and the activities you will be doing, CDC recommends among other vaccines and medications, that you take precautions against malaria. Although the areas we visited are not considered "high-risk", Zulu Nyala is in KwaZulu Natal province, where malaria transmission is known to occur. Out of an abundance of caution, we decided that it was prudent to have the Hepatitis A and Typhoid vaccinations and take malaria medication. These had to be done prior to our trip. As always, you should confer with your doctor before making medical decisions.

As I stated previously, despite having right-hand drive vehicles (steering wheel is on the right side and you drive on the left-hand side of the road) driving in South Africa is easy and manageable. I recommend that you visit the website of Arrive Alive-South Africa for information and tips (including route planning, car rental, toll roads, etc.).

Although major credit cards are accepted at bigger establishments, I recommend that you bring cash for tolls (only South Africa credit cards are accepted) tips and small purchases.

Be aware that local airlines usually have lower baggage allowances.