Travelogue
MY PILGRIMAGE TO AUSTRALIA
by Willie Vergara

It was AUSTRALIA DAY, January 26, 2019. Brod Mario Manzano, with wife Maan and son Mark, picked us up (me and Tess) at the hotel to attend a meeting among Sydney-based Brods. This fellowship was, indeed, a great and wonderful experience - so heartwarming, fulfilling, uplifting and touching. I was overjoyed by the welcome party led by Sydney GP Leo Robles held at the nice home of Brod Rene "Ener" Evangelista and his wife Zeny. There were so many of us – 17 Brods, 1 Sigma Betan Sis, and 7 spouses.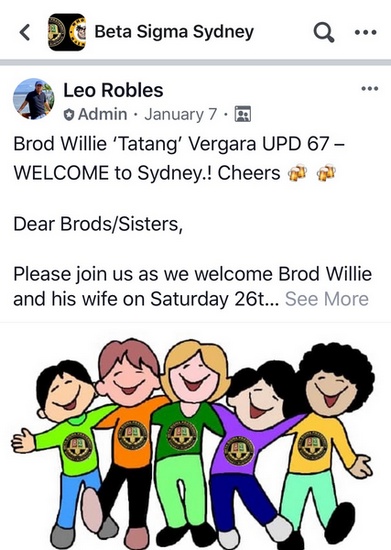 GP Leo Robles' announcement at Facebook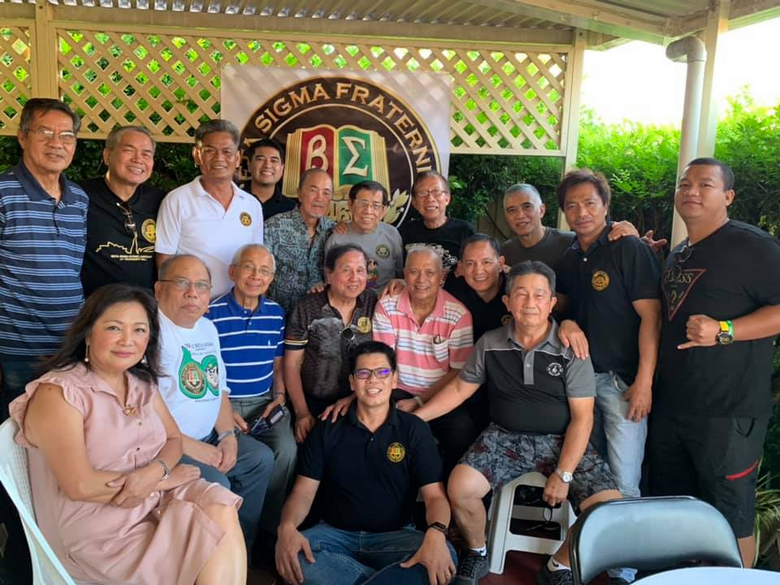 Standing: Brods Edwin Antonio, Iggy Ycasiano, Cirilo Pico, April De Peralta, Popoy Castaneda,
Bong Ruiz Villafuerte, Freddy Fajardo, Emi Torres, Leo Robles, Paul Lopez.
Seated: Sis Myrna Corazon Miguel-Johnson, Renato Sabater, Victor Pulmano, Willie Vergara,
Rene Evangelista, Jojie Natividad and Rene Padilla. In front is Mario Manzano.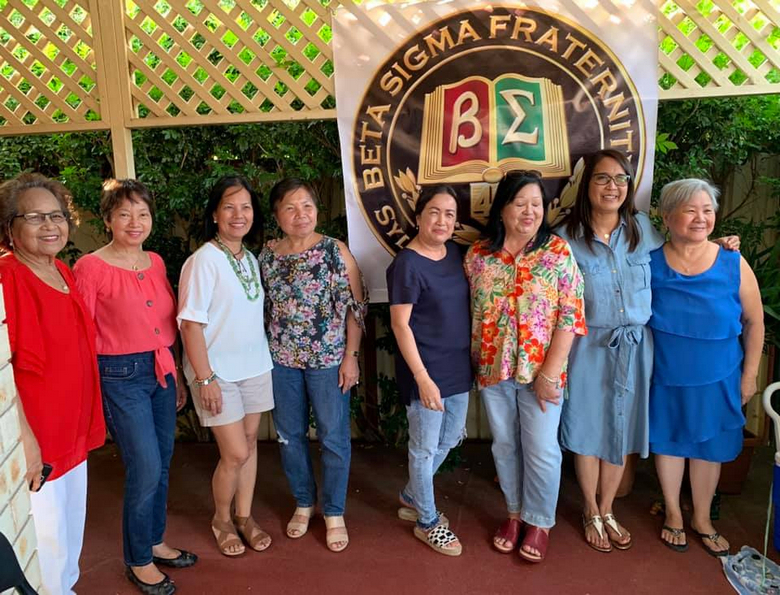 L–R: Pitang Castaneda, Teeda Pulmano, Ellen Villafuerte, Romy Pico, Jenny Robles,
Tess Vergara, Mary Ann Manzano, and Zeny Evangelista.
The picture-taking was in itself a lot of fun as we were grouped by year – the 50s, 60s and onward. And then by college. There were eleven of us who came from Diliman and UPLB, and one from UP Baguio for a total of twelve.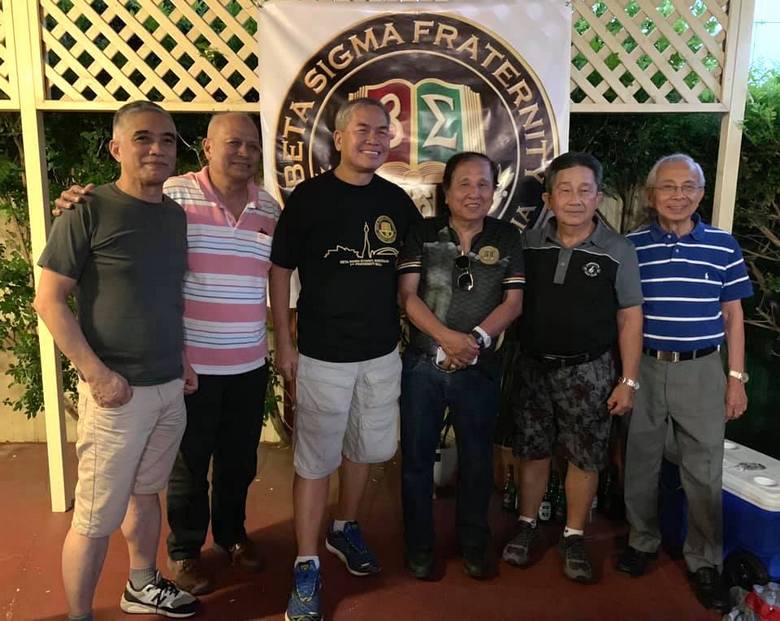 UP Diliman (includes Brod Emi Torres UPB at leftmost but briefly enrolled in UPD).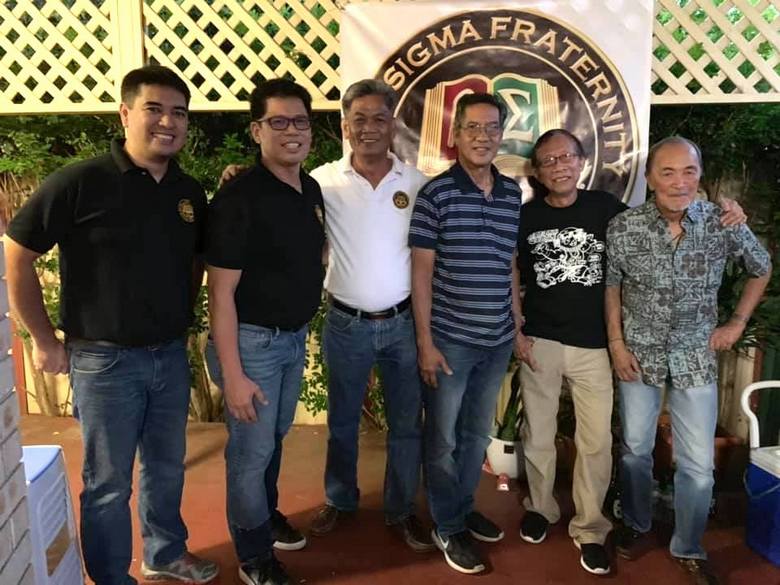 UPLB Betans: April de Peralta, Mario Manzano, Pykes Pico, Edwin Antonio, Freddy Fajardo and Popoy Castaneda.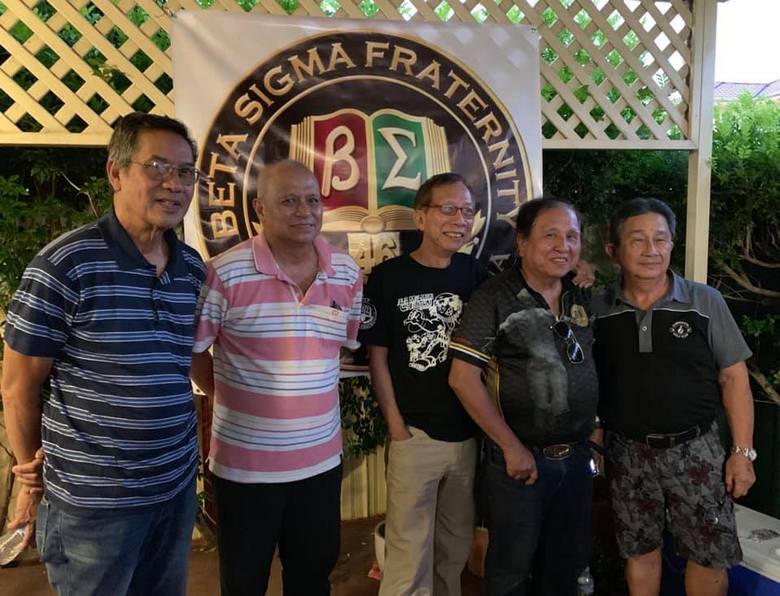 The 60s: Edwin Antonio, Rene Evangelista, Freddy Fajardo, Tatang, Rene Padilla.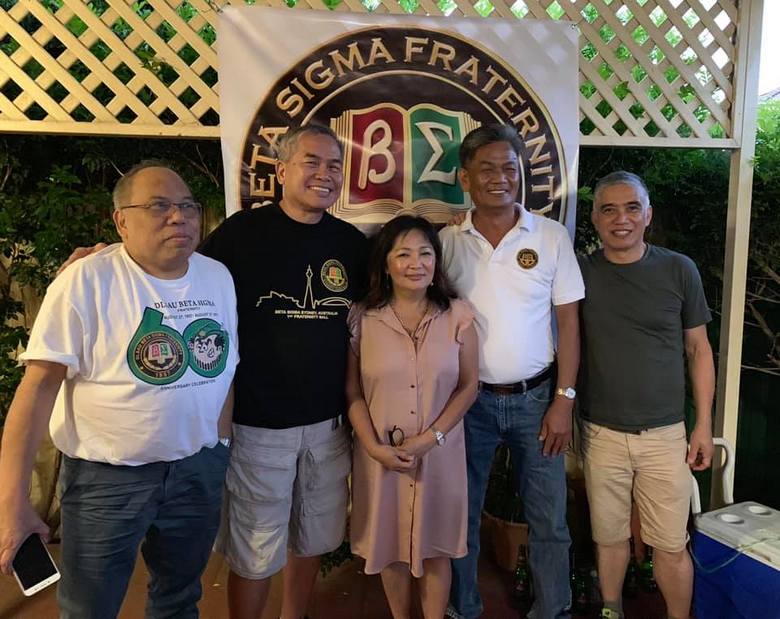 The 70s: Renato Sabater, Iggy Evangelista, Sis Myrna Corazon Johnson, Pykes Pico, and Emi Torres.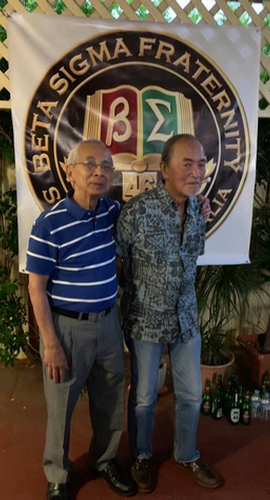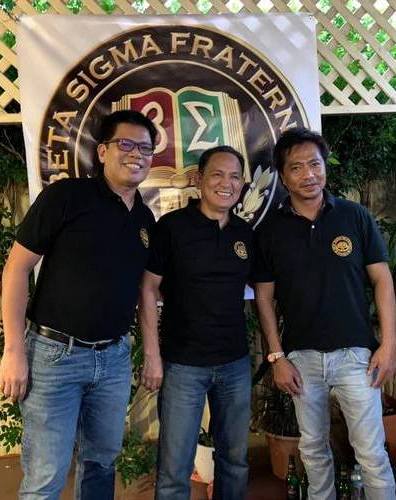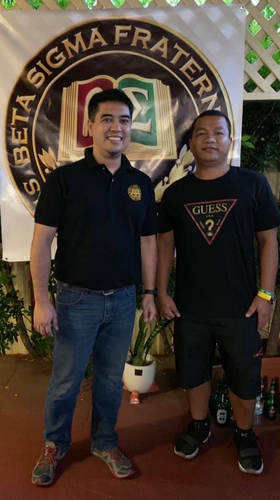 *The 50s: Vic Pulmano and Popoy Castaneda. *The 80s: Mario Manzano, Jojie Natividad and Leo Robles. *The 90s and onwards: April de Peralta and Paul Lopez.

It was of special significance for me to have met Brod Rene "Ener" Evangelista UPD 63. I would hear his name time and again but it was here that I learned more about him. He was an "original" of the Barstool Singers – together with Brods Pet Grajo (+) and Matti Castaños (+). He was also a UP Varsity player in Track and Field, and received a Vinzons Award for Athletics. For his hobby, he collects crucifixes from various parts of the world mostly from Christian shops and churches in Sydney. The rest are from Jerusalem, Egypt, Jordan, South Africa, Hong Kong, Greece, Philippines, Venice, Rome, Fatima, Lourdes, Ethiopia, Cologne, Barcelona, and Madrid. His other hobby is painting replicas of the masters, something I can identify with.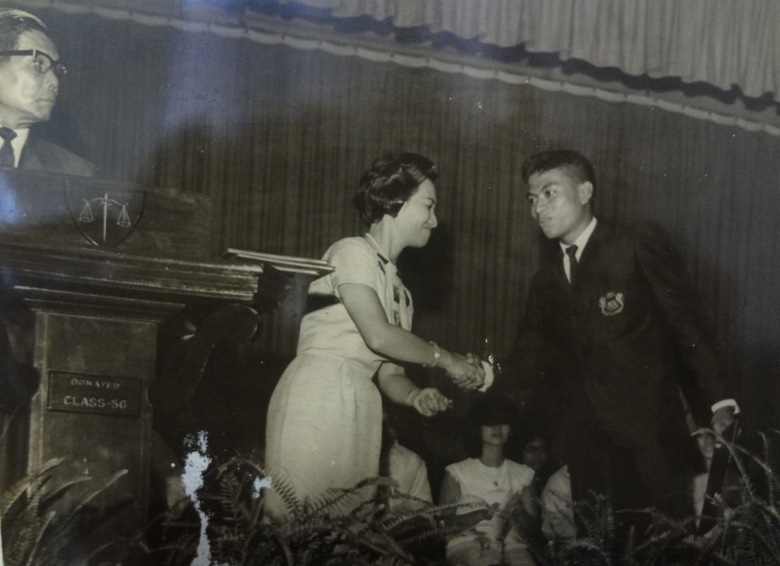 Young Rene, wearing our old blazer seal, receives Vinzons Award for Athletics (1966).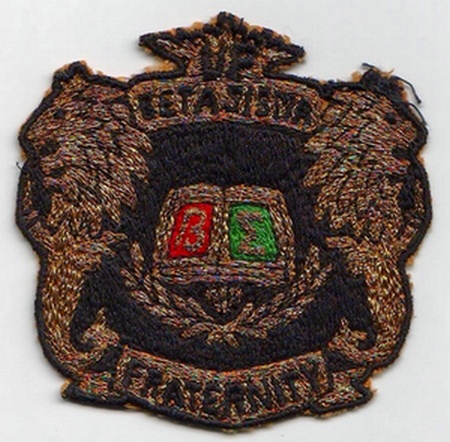 *Web note: This is my 60's Betan blazer seal. Note in picture below
that the Barstool Singers also had it on their suits. -- Norm Bituin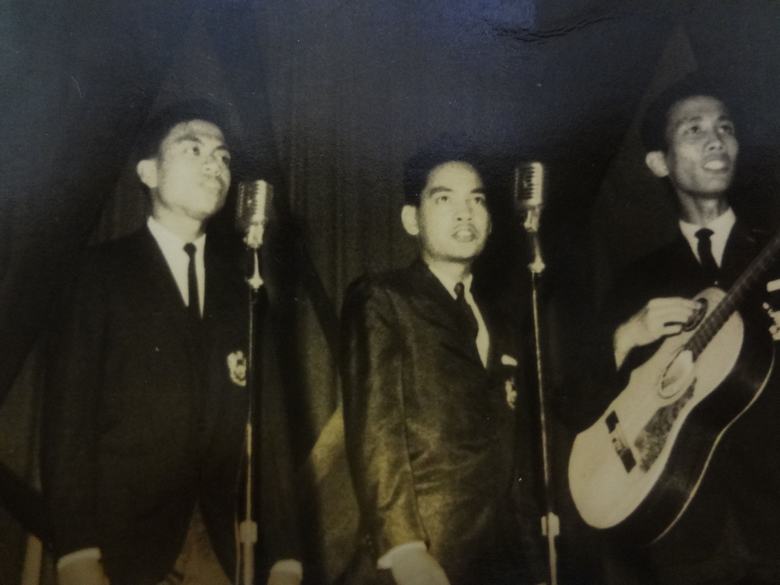 The Barstool Singers: Rene Evangelista, Matti Castaños and Pet Grajo.
*Web note: For Barstool Singers, click here: A History of Folkways, by Pet Grajo, in 'Memories & Reminiscences' section.
Brod Rene Evangelista's paintings: Replicas of Cezanne and Monet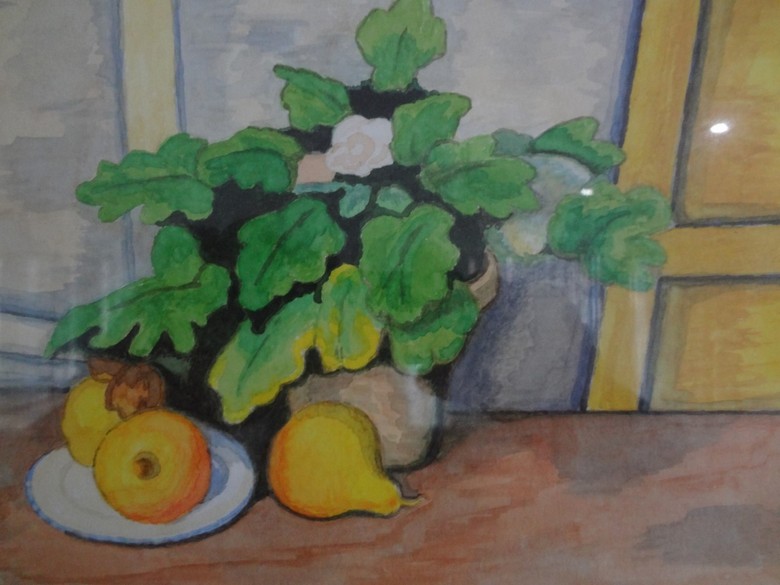 Replica of Cezanne's "Still Life with Pot and Pears"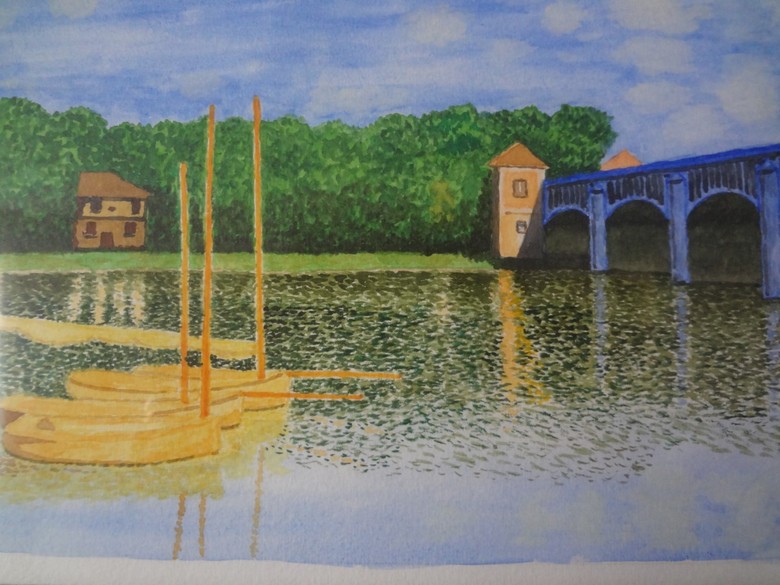 Replica of Monet's "The Bridge of Argenteuil"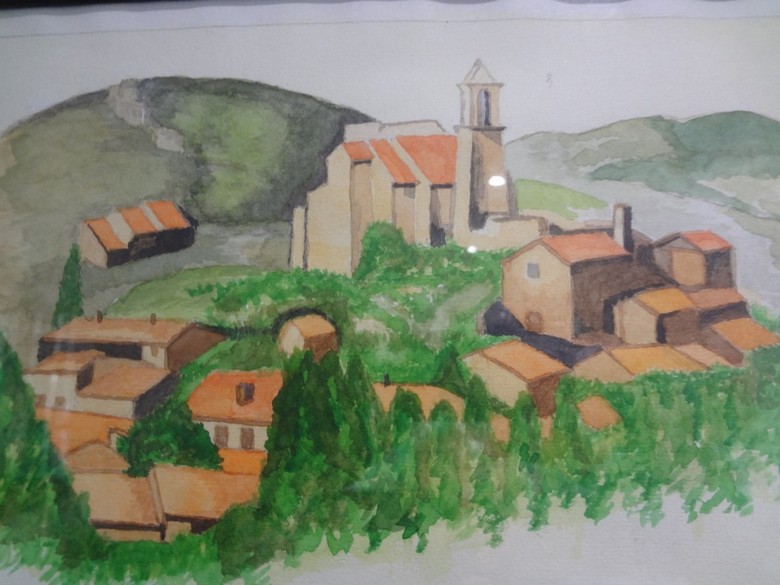 Replica of Cezanne's 'The Village of Gardanne"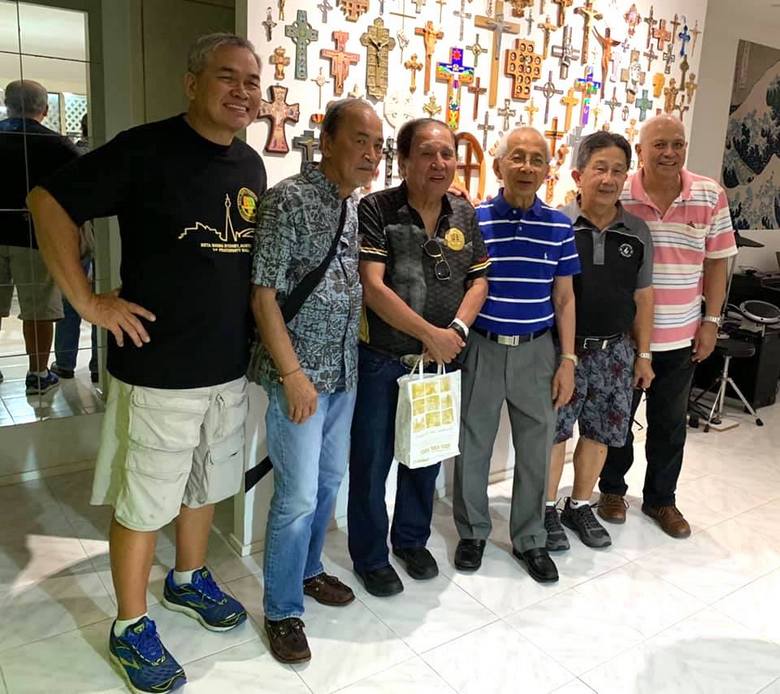 Brod Rene's Crucifix Collection

Aside from the five Brods shown in the above picture, I also wanted to meet up with Brod Pykes Pico to thank him in person for offering his home for our lodging. If I were not with Tess, I would have accepted the offer, but the mere gesture was heartwarming enough of me. Thank you, Brother!

I was just too happy to see the always supportive UPLB titan and martial artist Brod Freddy Fajardo. He has been frequenting Sydney to fulfill his "apostolic duties". Not too long ago, Freddy helped me in the 3-day Empowerment Seminar I conducted for UPLB Brods.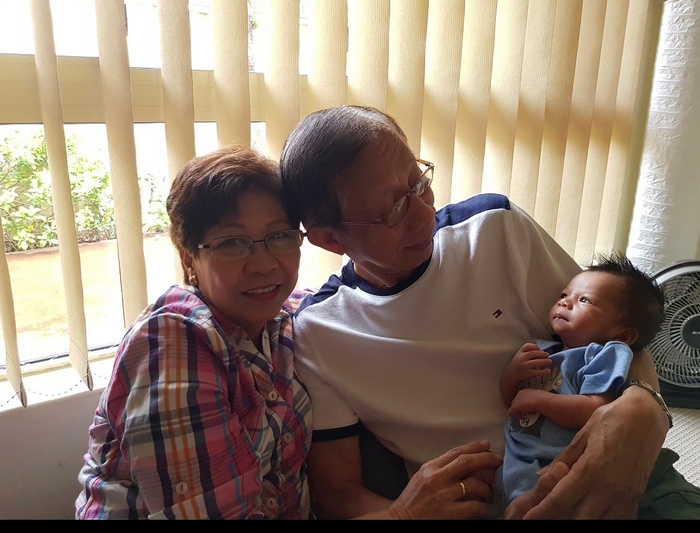 "Apo-stolic" mission at work with Norma and Freddy (picture posted at Facebook by Brod Freddy).
As for Brod Iggy (extreme left in the group picture), for many years I had wanted to meet him personally upon the urging of his first cousin, my fellow Barkadang Cubao and partner-in-crime Brod Bobby Manansala. After this gathering, Iggy would bring me and Tess back to the hotel at past midnight – a rather long drive – so we had quality time together.

To the point of being "makulit", I requested the presence of Brod Rene Padilla of the fabled Black Saints 65, a fellow-mainstay at the AS Tambayan way back in the 60s. He did not disappoint. Even the Sydney brothers were so happy to see him again after a prolonged absence from meetings. Reason: he had to attend to his sick wife. Rene is one of Sydney Chapter's pillars and founders. We hugged each other like lovers who got reunited after 5 decades.

Brod Vic Pulmano UPD 57 was another reason for this "pilgrimage". I had always held him in high regard since the AS Tambayan days. As an alumnus and already an accomplished professional, he would visit the Tambayan and banter with the resident brods. In the pictures I see in cyberspace over the years, Brod Vic had been almost always present in every fraternity occasion in Sydney. He has maintained his youthful demeanor and humor, and I can only guess what his secret is. Might it be a young wife?

This was the first time I met UPLB Brod Edwin Antonio, now a Pastor and very young Brod April de Peralta. Edwin was a perfect choice for leading us into the blessing of the food. April is one of the Chapter's 'new arrivals', which is very welcome especially that he brings down the average age of the Chapter membership.

It was also nice to meet Betans who went to other schools: current GP Leo Robles, Jojie Natividad, Bong Ruiz Villafuerte, Renato Sabater and Paul Lopez. Save for Paul, all five mentioned are part of the picture below. Everyone was visibly happy when Sis Myrna Corazon Johnson finally arrived. She is among of the active Sigma Betans who, in my perspective, is the informal herald of the Sydney Chapter. She uses Facebook as medium for updating brothers about the happenings of the Chapter.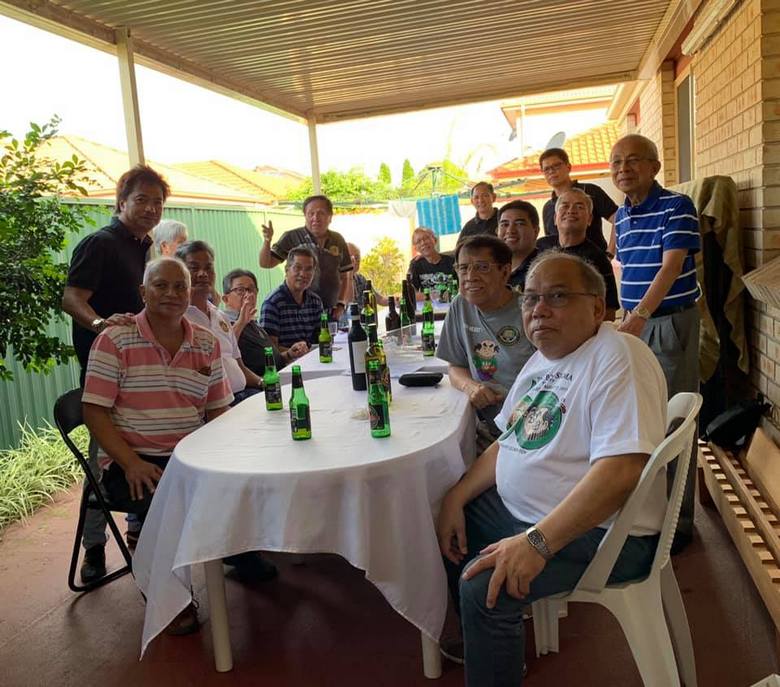 Sydney GP Leo Robles is at leftmost, standing. Brod Jojie Natividad is standing beside Brod Freddy.
Sitting at the right are Brods Renato Sabater and Bong Ruiz Villafuerte.
Obviously absent during this gathering was Brod Baldomero "Bal" Villanueva and wife Bing. Bal had been bed-ridden for several months and could not make it to this gathering… until he recently passed on. A lot has been written about the fraternity pillar that is Brod Bal, and he was eulogized in more ways than one at our website's 'In Memoriam' section.

Sadly, my plan to visit Melbourne Brods Rolly Zubiri, Alex Roseus and my kababayan Dionisio "Jun" Battad did not push through. There must have been ten or more email/fb messages between Brod Jun and me relating to my plan to visit Melbourne. I booked a cruise to New Zealand on the erroneous belief that the ship would be passing by Melbourne. Missing this particular visit makes my "pilgrimage" incomplete, and I hope the winds of luck will bring me there someday. My only consolation is that I had a long telephone conversation with Brods Alex and Rolly while at the hotel. Brod Alex was on his way back to Melbourne from a seminar held in Sydney when we got connected.

Ever since Brod Anthony Subijano 72 (UP Manila) started contributing pictures about Australia-based brothers for our newly-created website in the Year 2000, I already had this desire to visit Australia one day. I had longed to reminisce those youthful years in person – right there in their very own adopted country of OZ.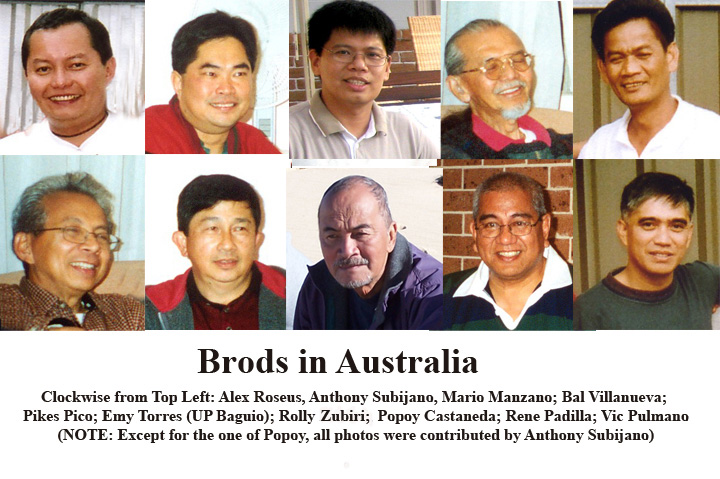 One of the first pictures sent by Brod Anthony, in Picture-an 1.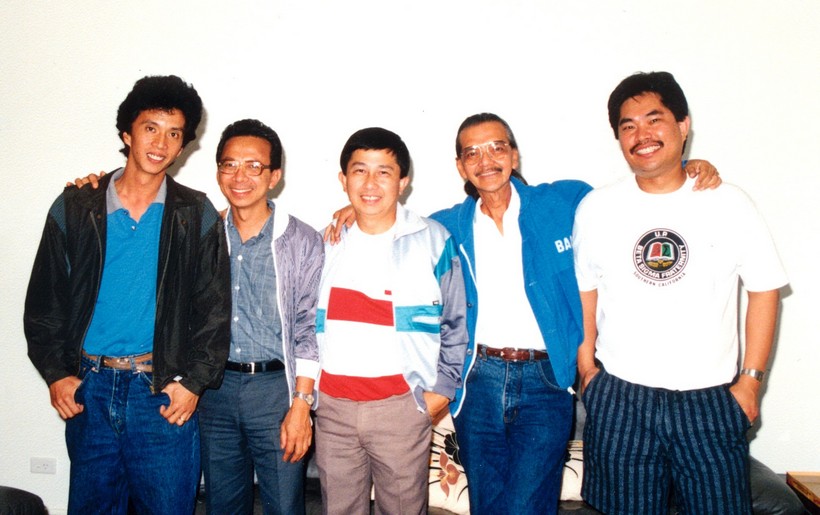 Among the old pictures shared by Brod Anthony. Look how young they were in the late 90s!
L-R: Cesar Villanoy UPLB 78, Vic Pulmano UPD 59, Rene Padilla UPD 65, Bal Villanueva UPD '61, and Anthony Subijano UPD 72.

However, Brod Anthony was called by his Maker at a very young age (July 23, 2008 as provided by Sis Myrna). I thought that was the end of my contact with Australia-based Brods. Yet that was not to be the case: A young UPLB Brod Mario Manzano '85 would emerge to continue Anthony's legacy and volunteered to serve via UP Beta Sigma-USA, now renamed UP Beta Sigma International (UPBSI). I maintained contact with Brod Mario since then, and in fact he served as the country representative for many years up to this date.

Brod Mario, together with his wife Maan and son Mark, visited San Francisco in January 2018. We had one whole day of bonding. I was pleasantly surprised to know that Mario and Maan met at the Development Academy of the Philippines. Mario was a consultant in one the projects of our Productivity Development Center; Maan, who was then still a "Peteza" was among the young beauties of DAP. That brief bonding further reinforced my resolve to visit Australia.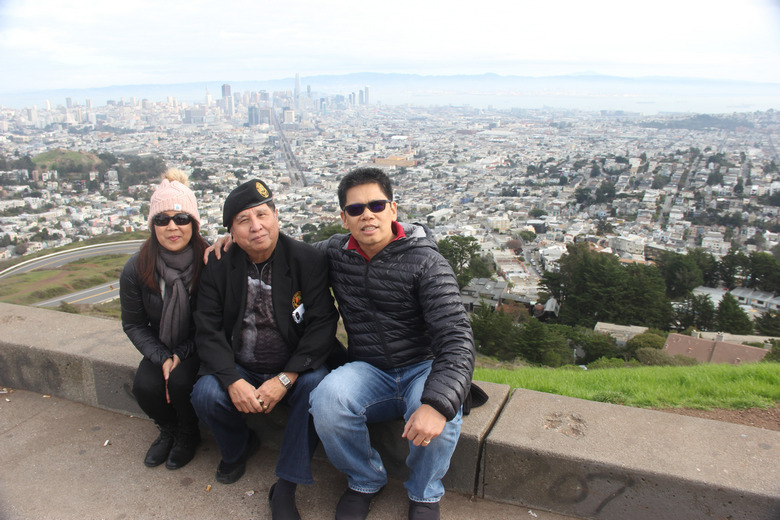 With Maan and Brod Mario atop San Francisco's Twin Peaks (January 2018)

And then came UPLB Brod Porfirio Castaneda '55, who served as First Vice Grand Princep in Diliman in the early 70s. He is fondly known to everyone as "Popoy". His several and varied contributions to our website - his marine experience, his advocacy towards a clean environment, his life story as a young Betan, then as an activist/fugitive during the First Quarter Storm, his invaluable work with the legendary Jacques Cousteau aboard the Calypso research ship, and his distinctive art featuring Philippine birds – extended his many years of service in the fraternity beyond the Australian boundary.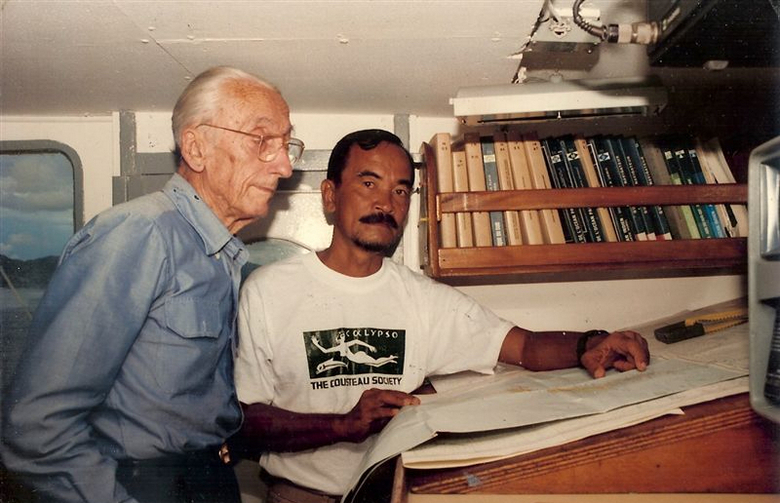 Popoy and the legendary oceanographer Jacques-Yves Costeau study Palawan's hydrographic chart aboard RV Calypso.
*Web note: A super great read, click here: A Betan's Journey in Time and Space, in 'Memories & Reminiscences' section.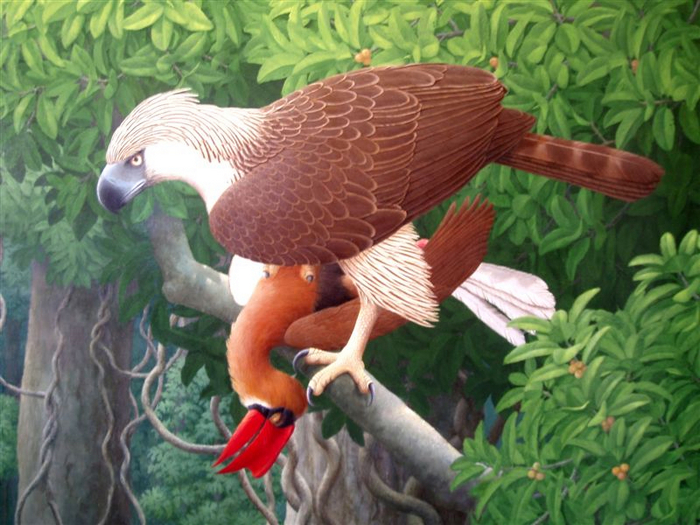 Popoy's "Philippine Eagle Clutching a Luzon Hornbill"
*Web note: To see Popoy's work, click here: Paintings by Popoy Castañeda, in 'Artwork' section.
Now, back to my "pilgrimage". Two days after our big gathering among Betans, Brod Mario and his family treated us to an unforgettable trip to the Blue Mountains, one of Australia's top-rated tourist destinations. Visually, the color of this mountain is indeed "blue". Explanation: The blue haze covering the mountains is produced by the atmosphere whereby dewdrops of Eucalypt oil combine with dust particles and water vapor to scatter bent rays of light that are visually blue. It depicts the region's diverse ecosystems showing the ongoing biological progressions that have changed Australia's foliage and flora over millions of years.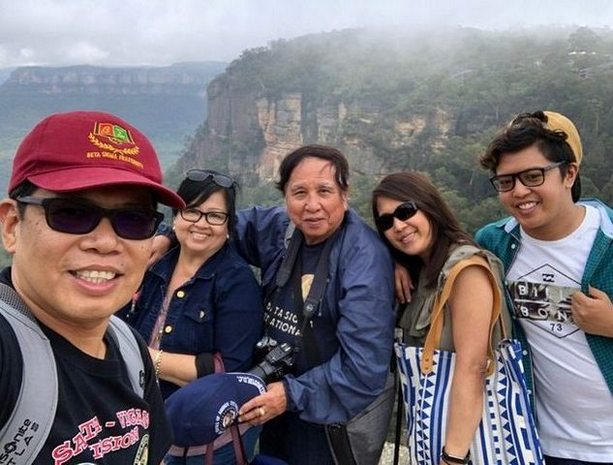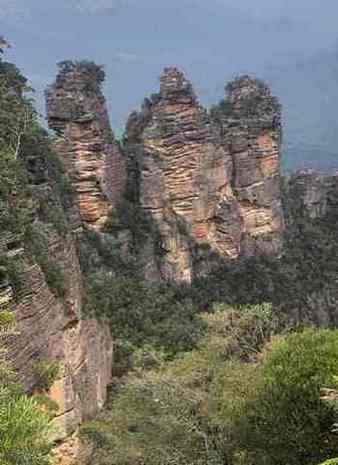 A remarkable trip to the Blue Mountain, c/o the Manzano Family. At right is The Three Sisters, one of Blue Mountain's main attractions.
The Three Sisters was all covered with haze when we arrived. But as the day went on, it finally showed itself in full detail.

We billeted at the strategically located Travelodge Hotel, thanks to the suggestion of Brod Mario. It is near to almost everywhere any tourist would want to see, buy and experience in the city. Tess and I took the Big Bus Tour twice, and hopped on and off at the major stops. That will be the subject of another article and will include our cruise to New Zealand.

I end this "chapter" by citing my other reason for this pilgrimage. It was about wanting to meet my former colleagues at the Development Academy of the Philippines (DAP), where we spent the best years of our working lives. Tess was herself a DAPper, so she is acquainted with the ladies shown in the picture below. Leftmost is Carol Rosales Majoor who worked at our Productivity Development Center, as did Mario and Maan. Carol is my god daughter by her marriage to Peter, an Australian, who could not make it to this gathering due to health issues. To my left is Chona Rosales, who spent most of her working life at the Personnel Division, and was among the excellent and most hard-working staff even by DAP standards. To the left of Tess is multi-talented Bona Santos-Mapa, formerly a Nutritionist at our DAP Conference Center in Tagaytay and was most loved by her staff and peers. She was among of my most reliable supervisors and was sorely missed when she left her DAP post in favor of her immigration to Australia.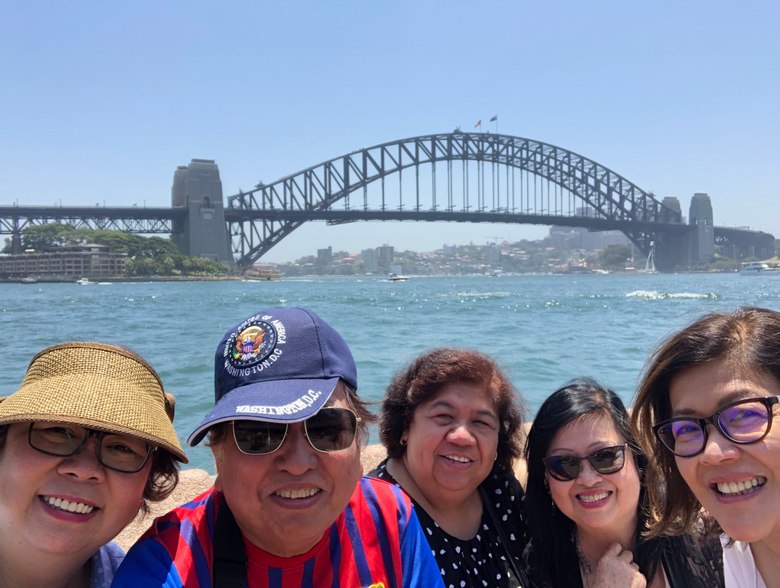 DAP ALL from L-R: Carol (PDC), Tatang (Services/DAPCC), Chona (Personnel), Tess (OMDG) and Bona (DAPCC).

The three ladies treated us to a sumptuous lunch at a restaurant at the Sydney Opera House where Bona used to be a supervisor. What warms my heart is the fact that all these three ladies have made their mark in Australia and continue to be productive and worthy citizens of the country that adopted them. All of them are now enjoying the good life.

Such attainment of success is also true among all the Brods I met in Sydney. I'm just so proud of them.

POSTSCRIPT. Going back to Australia is "a dream devoutly to be wished" (Shakespeare). This time, I will include Melbourne (of course!), Darwin (where Brod Tony Senga lives), Perth, Brisbane, Canberra (residence of Brod Jerome Catbagan), Gold Coast, and idyllic Tasmania. And if this happens, I will be collecting sample sand from the whitest seashore in the world – Hyams Beach in Jervis Bay, Australia.

E N D