Travelogue
Zion and Bryce Canyon National Parks
A one day trek with the brods
by Atenarai '71b

Zion National Park

On the southwestern corner of Utah lies Zion National Park whose prominent feature is Zion Canyon that stretches 15 miles long and half a mile deep. It sits on the intersection of the Colorado Plateau, the Great Basin and the Mojave Desert. What makes it so unique are its geography and diversity of life forms. The park itself encompasses mountains, buttes, mesas, rivers, canyons, and yes - natural arches.

As one enters the park one is met by these natural arches and stone formations that are the result of geological events that occured at different stages in the park's 115 million year history. Traveling through the park by car renders one to be awestruck, but I could imagine hiking in at a few stops would reveal even more breathtaking perspectives. But since we were pressed for time we made a beeline for our next stop, Bryce Canyon.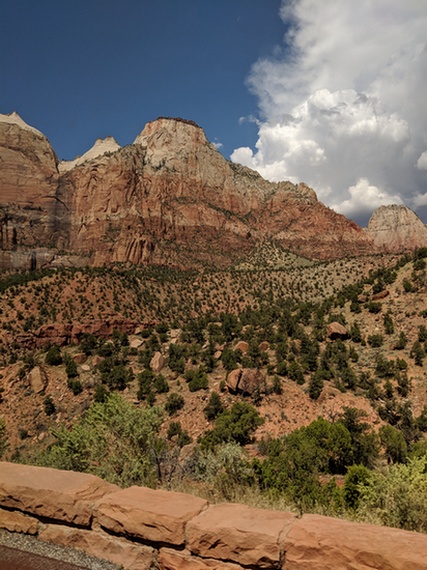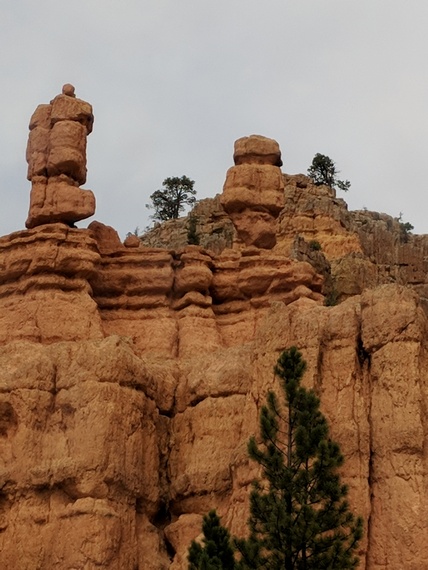 Temples and Towers of the Virgin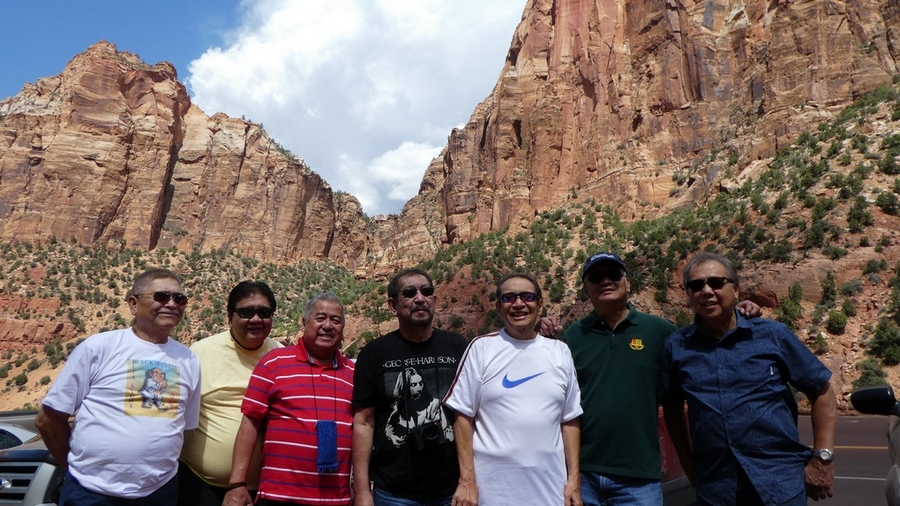 l-r: Noli Nolasco, Jun Valenzuela, Art de Vera, Rolly Reyes, Bogs Cabanatan, Edsel Arceo and Ike Araneta.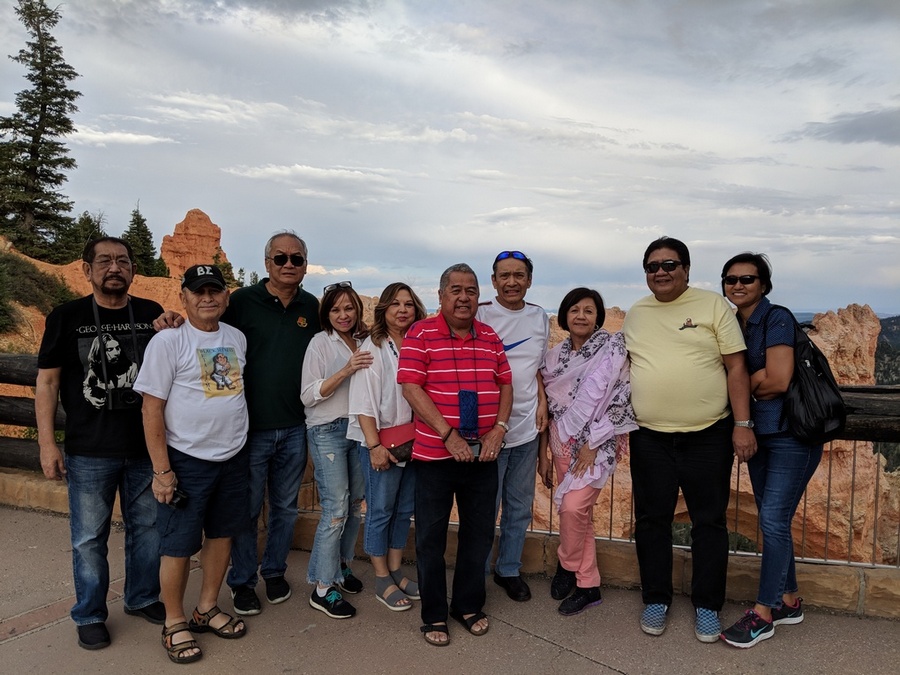 l-r: Rolly Reyes, Noli Nolasco, Edsel & Mayette Arceo, Tanya Araneta, Art de Vera, Bogs & Agnes Cabanatan, and Jun & Iou Valenzuela.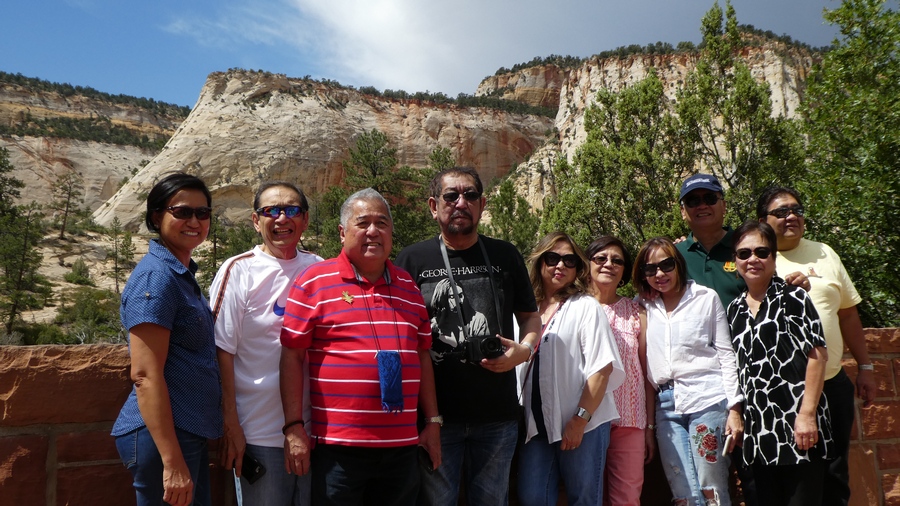 Plus Te-c Nolasco, 2nd from right.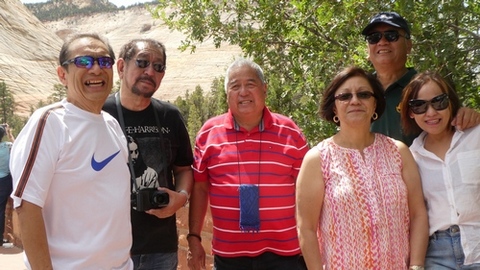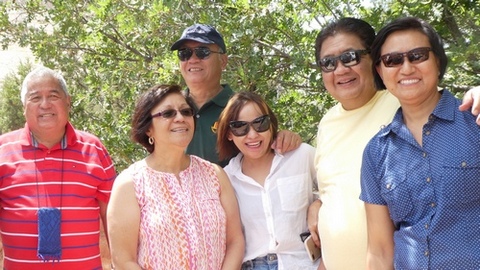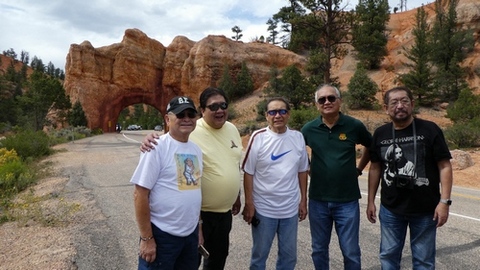 Just to backtrack a little, this trip was born out of the urging Brod Norman Bituin for the benefit of those brods that stayed the extra day after the UP Beta Sigma Fraternity Southern California induction celebrations held in Las Vegas on September 1-2. Norman, as well as Vale, have been to both Zion and Bryce Canyon several times and encouraged us to take advantage of the time to visit these two much revered national parks in the US. It took us two and a half hours to get to Zion from Las Vegas and and another hour to Bryce Canyon.


Bryce Canyon National Park

The unique feature of Bryce Canyon is that it is a collection of giant natural "amphitheaters" made up of red, orange, and white rock that were carved by frost and stream erosion from river and lake sedimentary rocks. The fascinating thing is that the visitor stops from which these rock formations can be viewed from are just slightly above and yet so close to the structures providing a whole different dimension than viewing a structure from below as the following pictures illustrate. I was telling Vale that it made it seem that one was entering God's "temple". The term that is used to describe the rock formations is "hoodoo".
A hoodoo (also called a tent rock, fairy chimney or earth pyramid) is a tall, thin spire of rock that protrudes from the bottom of an arid drainage basin or badland. Hoodoos typically consist of relatively soft rock topped by harder, less easily eroded stone that protects each column from the elements. They generally form within sedimentary rock and volcanic rock formations.

Bryce Canyon sits higher that Zion with its rim extending 8,000 to 9,000 feet above the floor. Total acreage is 35, 835. According to Wikipedia it started to form in the latter half of the Cretaceous period, a geologic period and system that spans 79 million years from the end of the Jurassic Period 145 million years ago (mya) to the beginning of the Paleogene Period.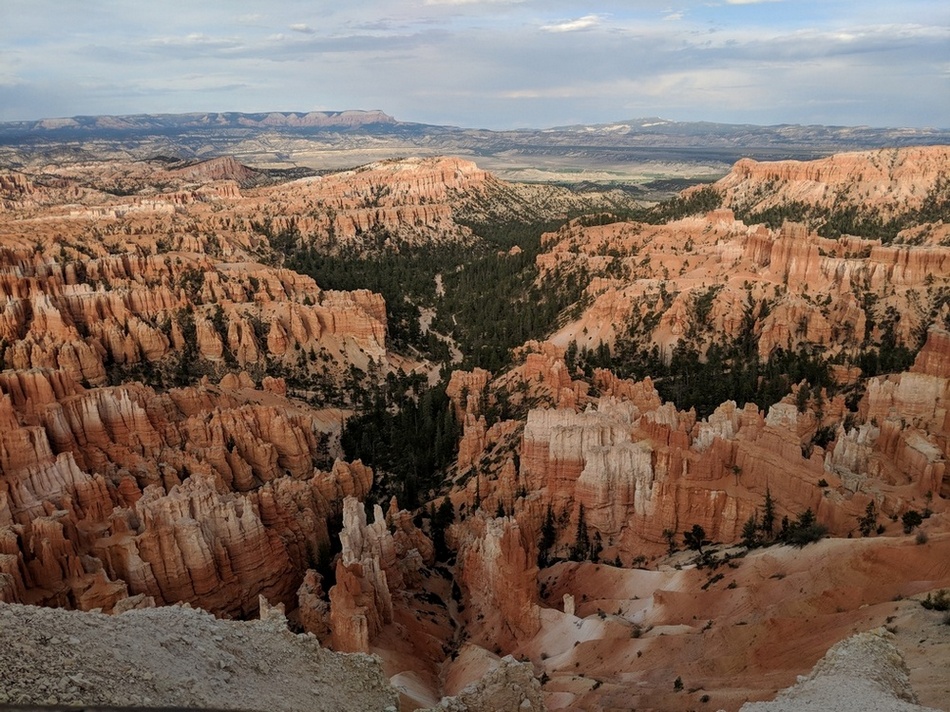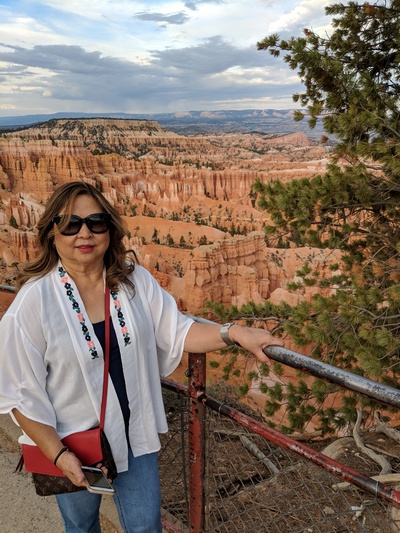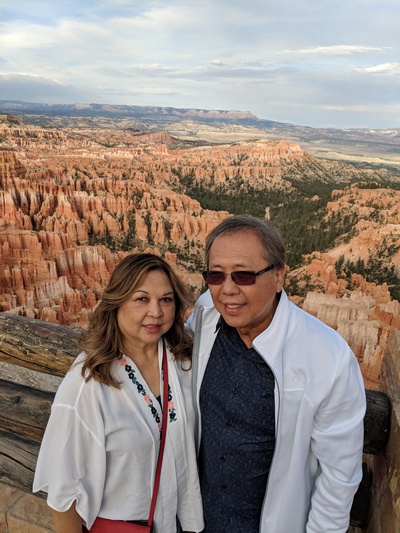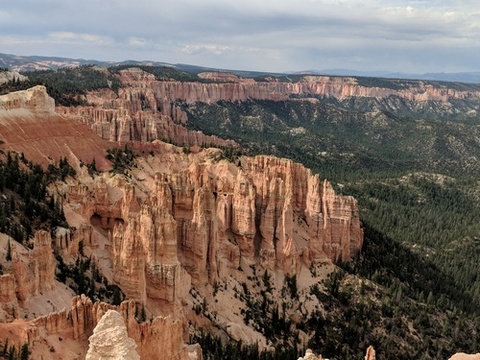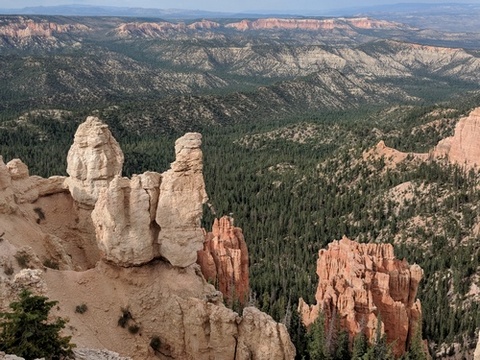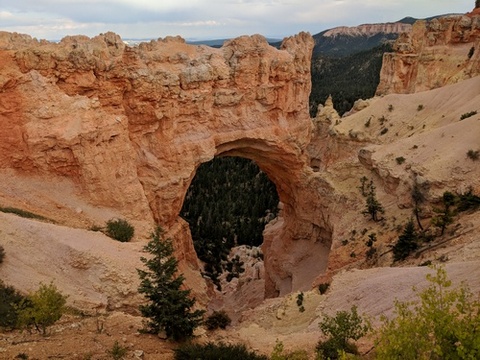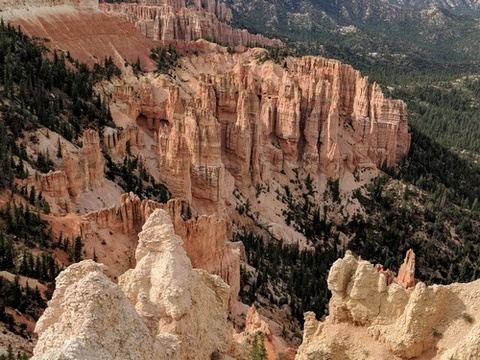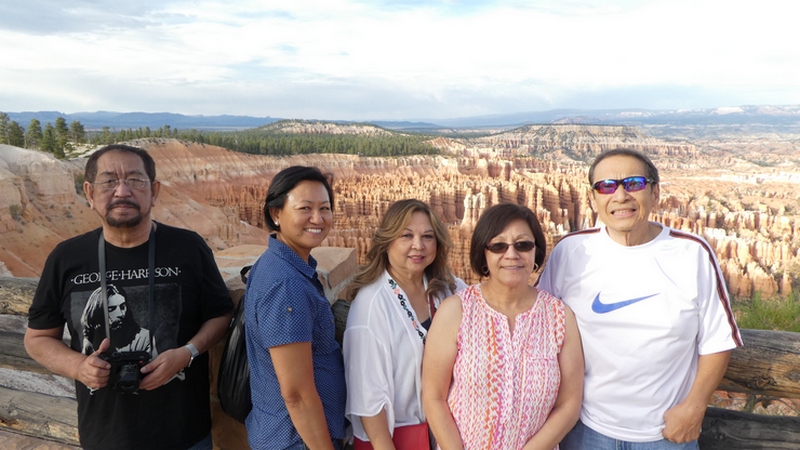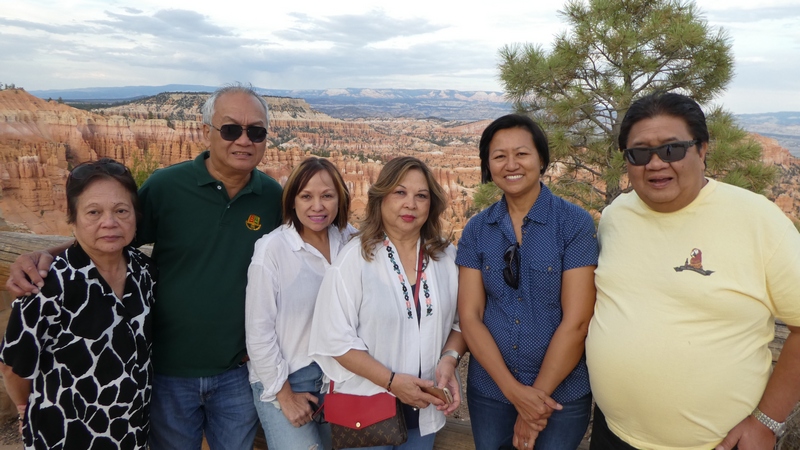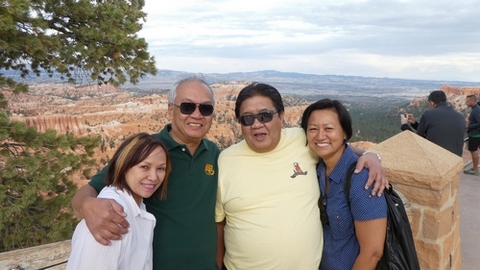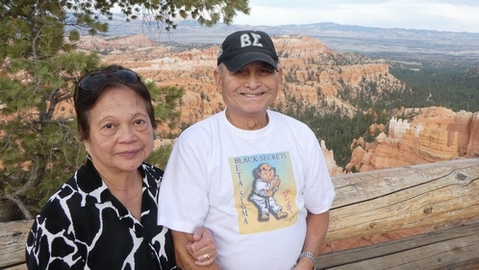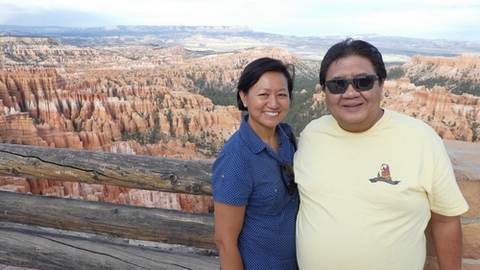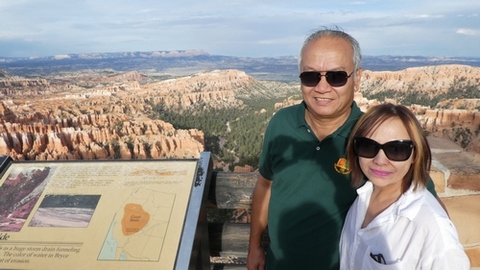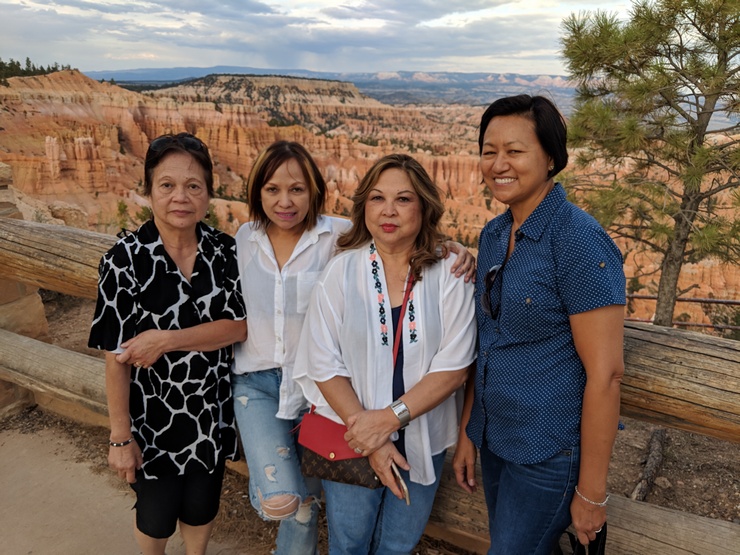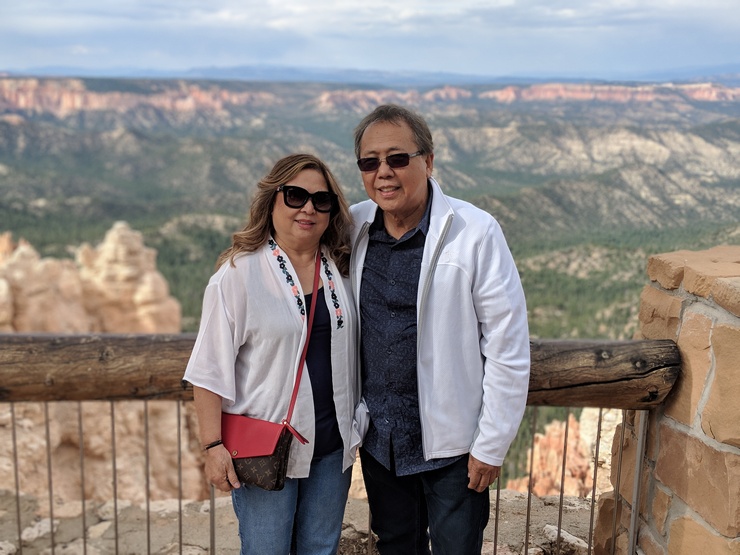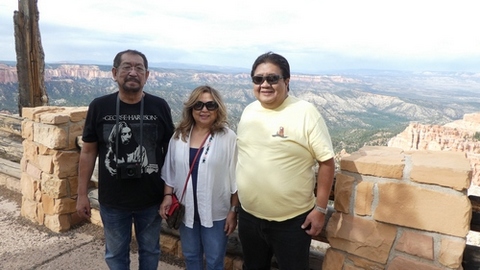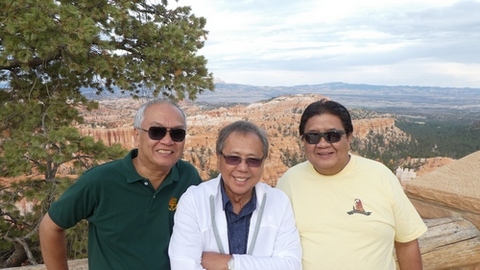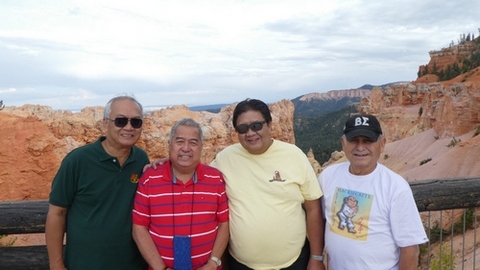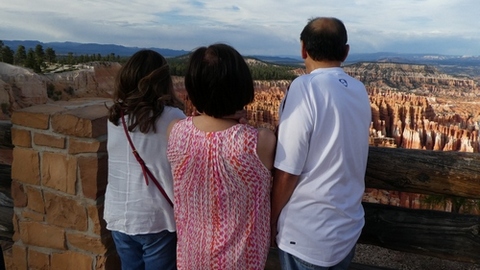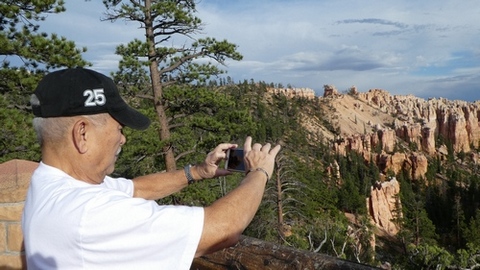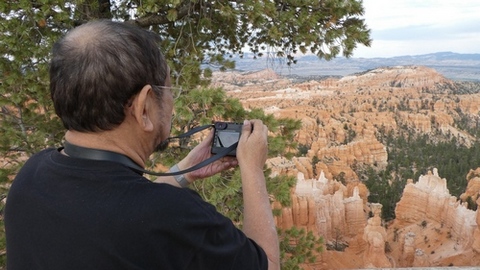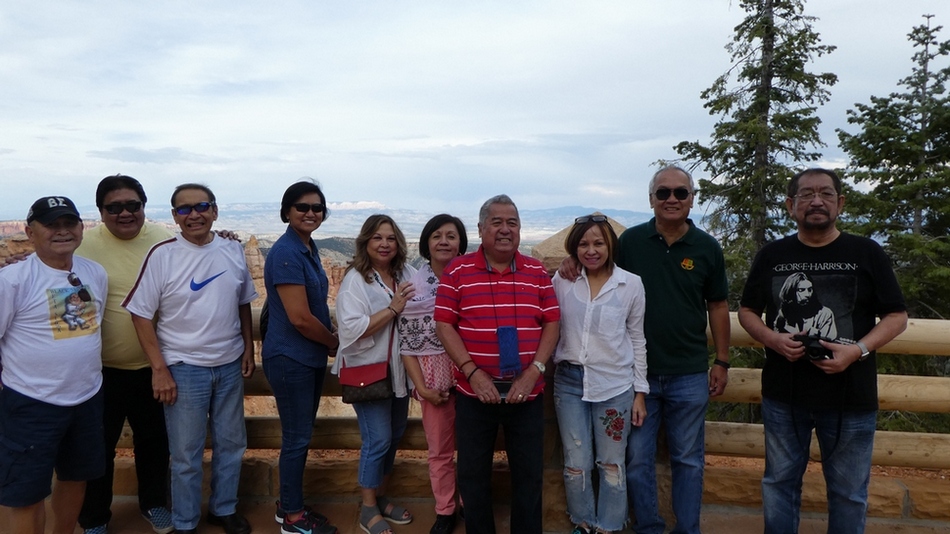 While the trip logged in a total of 7 hours travel time, it was well worth the spectacular views, the jokes and banters and slightly exaggerated stories. A special thank you to Norman for urging us to go and to Edsel, who drove most of the way, for bringing us safely back to Vegas.