Travelogue
PIRES REVIEW 2018
by Benild Pires
From: Ben Pires <benpires@shaw.ca>
Sent: Sunday, December 23, 2018 12:53 PM
To: International UPBSI; UPBSMembers
Subject: Christmas greetings

Laila joins me in wishing you all my Beta Sigma Fraternity brods a joyous Christmas and a happy and prosperous New Year.

2018 was a another year of abundance of blessings, particularly from our all family members and friends.

We now wish to share with you our 26th edition of our annual 'Pires Review' for the year that is ending.

Fraternally,

Brod Ben Pires [UP Diliman '64]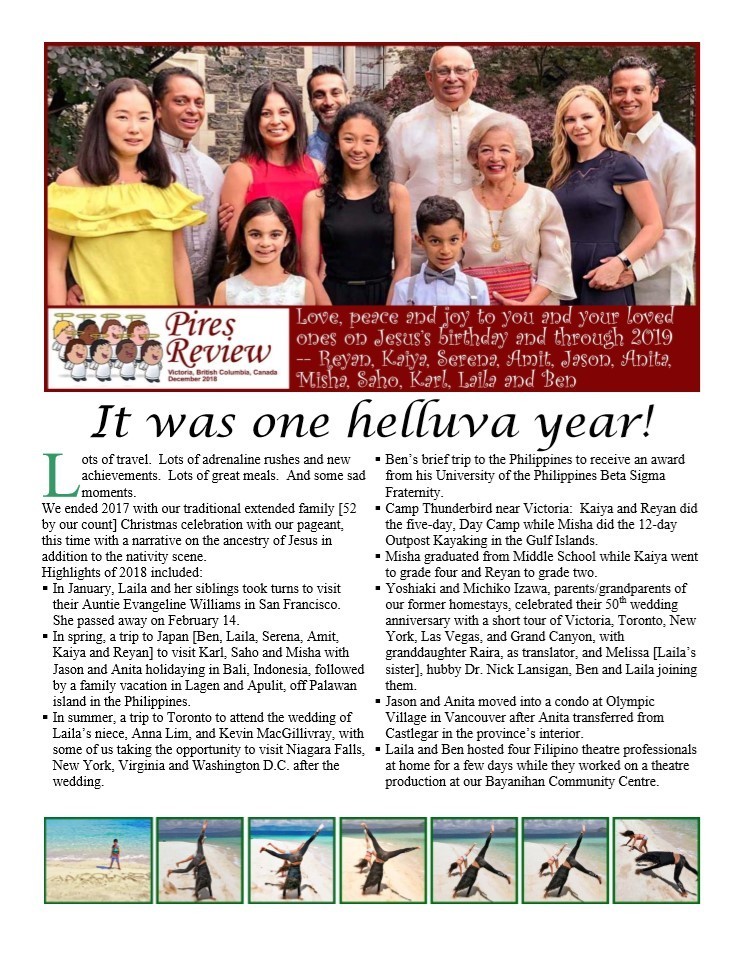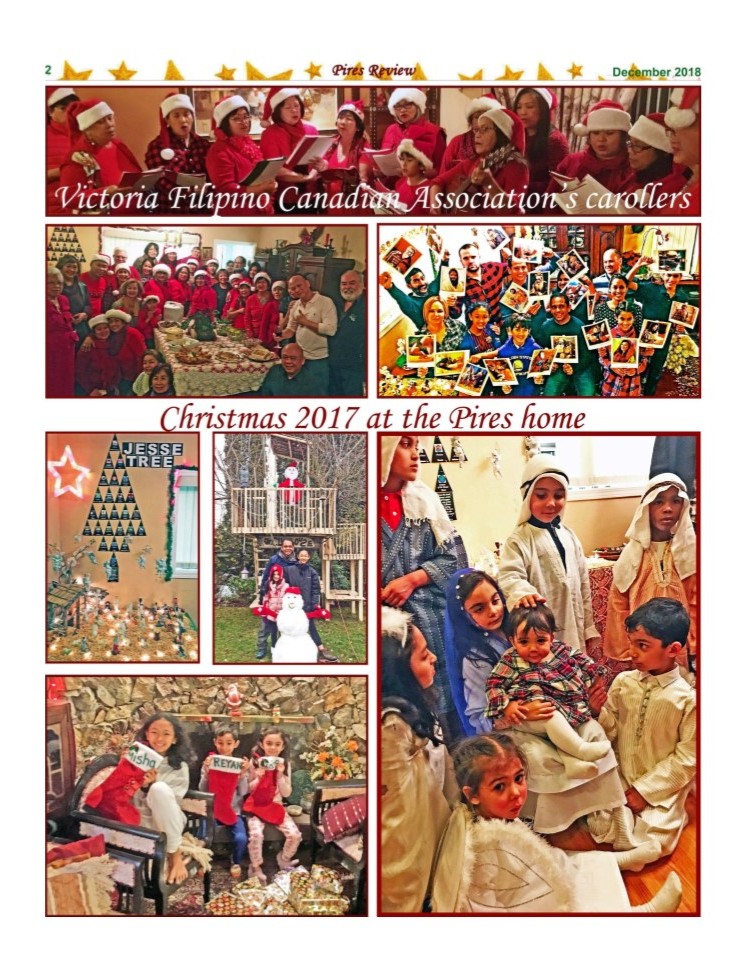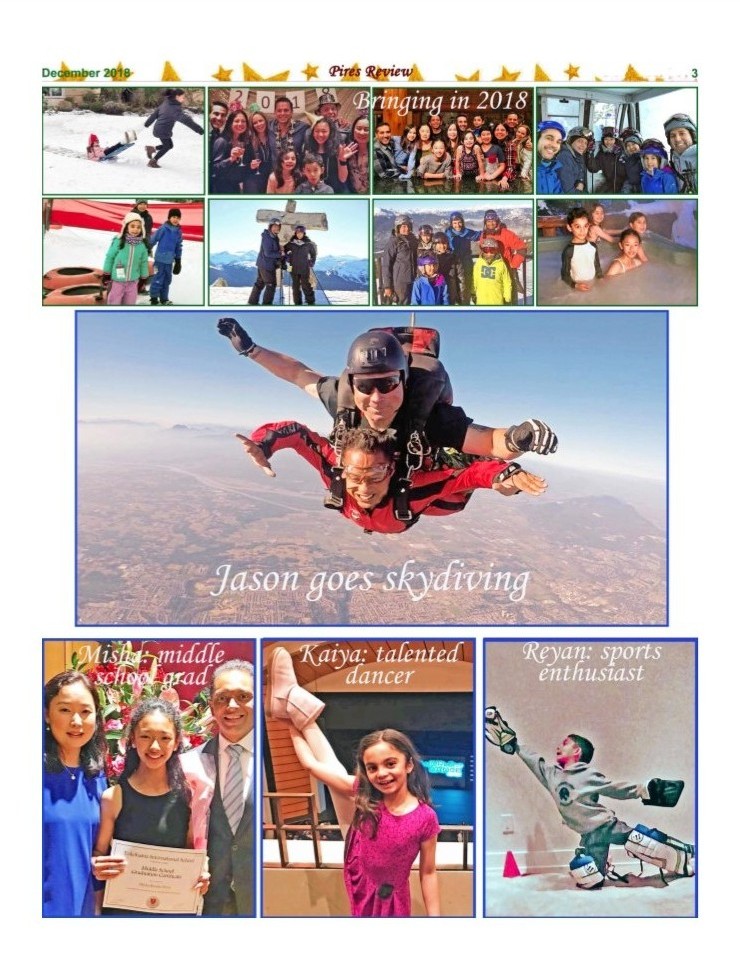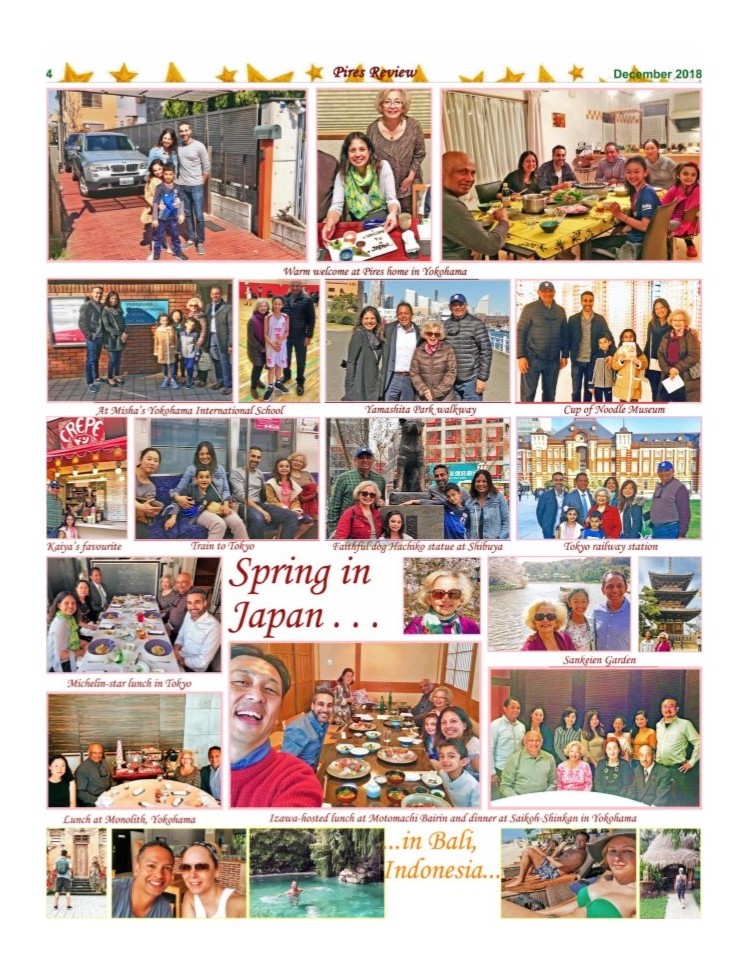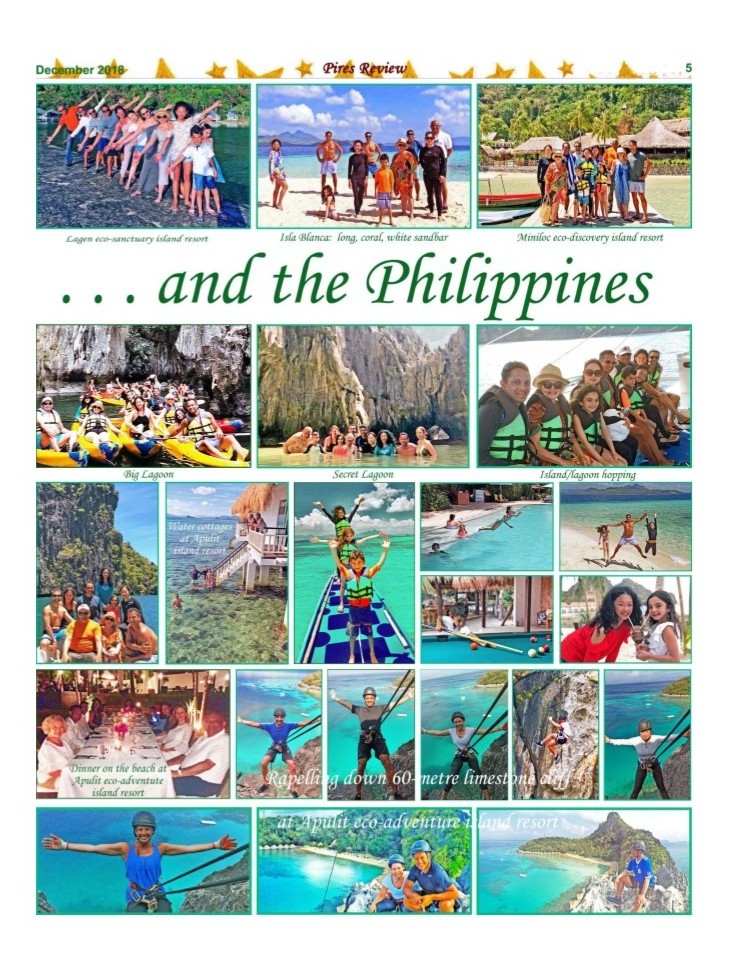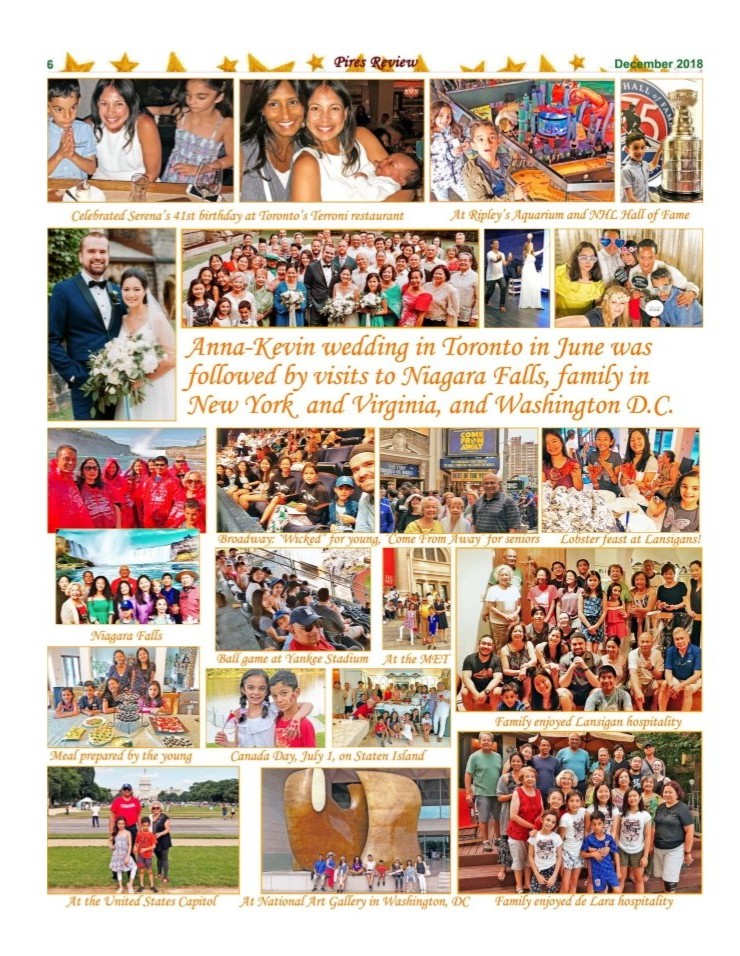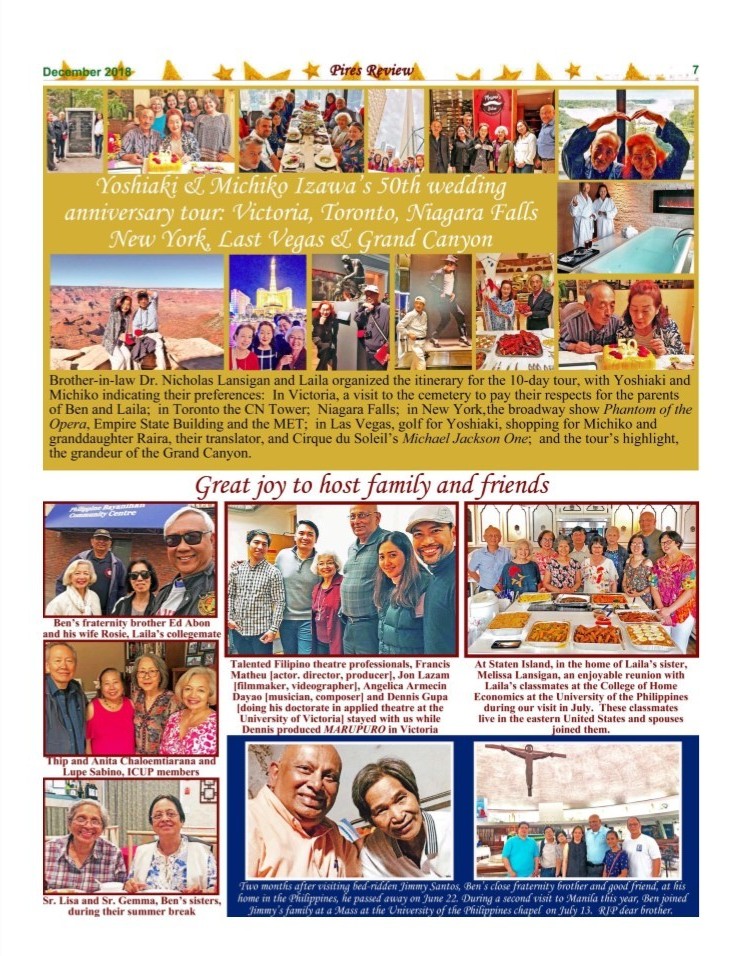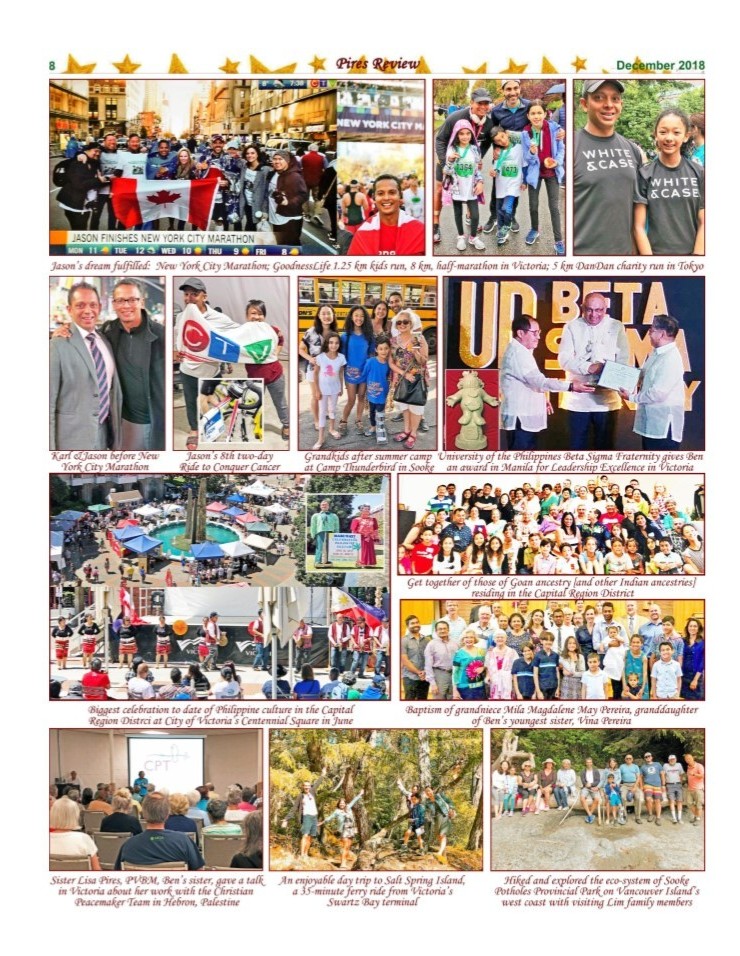 About the author, Brod Benild Pires: [provided by Ben]
Brod Benild "Ben" Pires was one of the early U.P. foreign students to join the Beta Sigma fraternity.
He came from India with his parents and two younger sisters to U.P. Diliman in '62 [his dad was assigned to the new UNESCO regional teacher education centre at Diliman] and two years later, while serving his second term as International Club of U.P. president, he joined the fraternity in '64.
He was the fraternity's Master of the Rolls for '65-'66 and The Betan editor for the first semester of '66-'67. He was U.P. Journalism Club president and The Campus Journal editor in '66-'67.
In '66, he was elected as a university councilor of the U.P. Student Council under the Katipunan-Makabansa banner. He chaired the Wenceslao Q. Vinzons Week celebrations in September '66 and was also one of three co-chairs of the council's Loyalty Arbor Day Committee, chaired by Brod Levy J. Del Rosario.
In December '66, he defied a ban by President Ferdinand Marcos to travel to China and led the first U.P. student delegation during China's Cultural Revolution. The next year, he received the Vinzons Leadership Award [honourable mention] from Philippines' House Speaker Jose B. Laurel during the Vinzons Week celebration.
Brod Ben also served as managing editor and columnist of The Philippine Collegian, under Brod Jaime Yambao's editorship, from March to September '67.
He graduated in '68 with a B.A. in Journalism and Mass Communications and then joined ABS-CBN News as a reporter covering the Department of Foreign Affairs.
In April '69, he married Laila de Lara, a Filipina and a U.P. graduate. Brods Vic Ramos and Jimmy Santos were veil and cord sponsors respectively at the church ceremony.
From July to September '69 he was director/ writer for Project: Encounter of Media Resources Inc., headed by Bong Lapira, and covered the presidential campaigns of Senator Jose Osmena Jr. in and President Ferdinand Marcos travelling with them to Zamboanga and Jolo respectively.
In October '69, Brod Ben and Laila immigrated to Canada.
In Canada, Brod Ben worked as a journalist in Port Alberni and covered the British Columbia Legislature in Victoria, the provincial capital, before joining the provincial government in communications and public affairs in '73. He served in various ministries until he retired in '02 after 29 years as a government employee, including two years as Director, Communications, for the XV Commonwealth Games in Victoria in '94.
In Victoria, Brod Ben served as head or a director in many community associations and the Capital Region Hospital and was appointed by cabinet to the Multicultural Advisory Council and the Provincial Capital Commiaaon.
He was named Honourary Citizen of the City of Victoria in November 2000, received the University of Victoria Community Leadership Award in December '03, the Canada Day Award 2000 from Inter-Cultural Association of Greater Victoria and a Lifetime Membership, and the Meritorious Service Award from the Provincial Capital Commission in June '03.
He also received the Award of Excellence for community service from the Beta Sigma Fraternity, University of the Philippines, July '06. He is the only Betan residing in Victoria on Vancouver Island but has served as an advisor to the fraternity's Vancouver chapter in the mainland.
Brod Ben and his wife, Laila, have been active over the years in the pinoy community in Victoria and were the Bayanihan Cultural and Housing Society's founding members. The society acquired a building and opened the Bayanihan Community Centre in Victoria in '01, paid off its mortgage in five years and now Brod Ben is charged with looking at options for expanding the centre to include affordable housing units at the site.
In December '07, he received the Appreciation Award for "many years of dedicated service" to the Victoria Filipino-Canadian Association and the Bayanihan Cultural and Housing Society.
Since '10, he has been involved in training individuals to be community leaders under a program of Leadership Victoria, a non-profit organization. He also co-chairs today the Immigration Advisory Table, of the Local Immigration Partnership that helps news immigrants and refugees settle in Victoria.
Brod Ben and Laila have three children: Karl is a partner in the Tokyo office of the multinational law firm White & Case and is married to Saho, of Japanese ancestry, and they have a daughter, Misha, 12; Jason is sports director/anchor of CTV News in Vancouver; and, Serena is a family physician in Vancouver and married to Amit Ahuja, of Indian ancestry and a radiologist, and they have two children, Kaiya, 7, and Reyan, 5.
Brod Ben and Laila love travelling, particularly with their family.
You can follow Brod Ben on Facebook and Instagram. His e-mail address is benpires@shaw.ca

.