Tuscany
May 10-22, 2014
by Jun Valenzuela
[Photos by Laureen Escobar and Iou Valenzuela]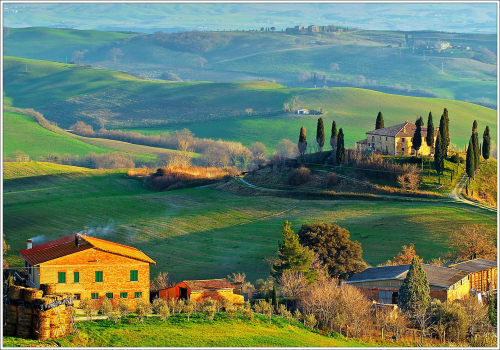 The Hills of Tuscany
Ciao!
Our budget tour with royal accommodations courtesy of our family friend and Italian tour guide Luca commenced in the heart of Rome's Fiumicino Airport. The cast includes Nonoy, Ivy, Lem, Laureen, Vale, Iou, Vale's brother Sonny, Iou's sister Susan and niece Angelica. From the onset Luca had to figure out how to transport us from the airport because of our different flight schedules. At 11:00 pm we were finally all together chugging wine with the locals at our home base of Acquapendente, which at this time was celebrating Pugnaloni, an annual floral festival. Laureen, who was celebrating her 21st birthday, received a warm welcome from the locals with their traditional "imbuto", wherein a huge gas funnel was placed in her mouth while someone continuously poured red wine from a one-gallon plastic jug and the rest of us cheered. This was a form of initiation in order to become a fully accepted member of Rugarella, the name of their team in the floral competition. A few hours after midnight, exhausted and drunk, we finally reached our private farmhouse (renovated old farm complete with kitchen and all the amenities of home) about one mile away from the town square. We were greeted the next morning with the panoramic view of the lush hillsides of Tuscany.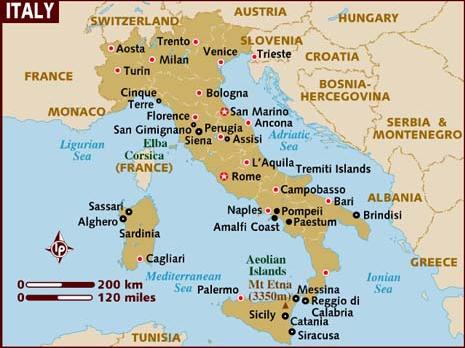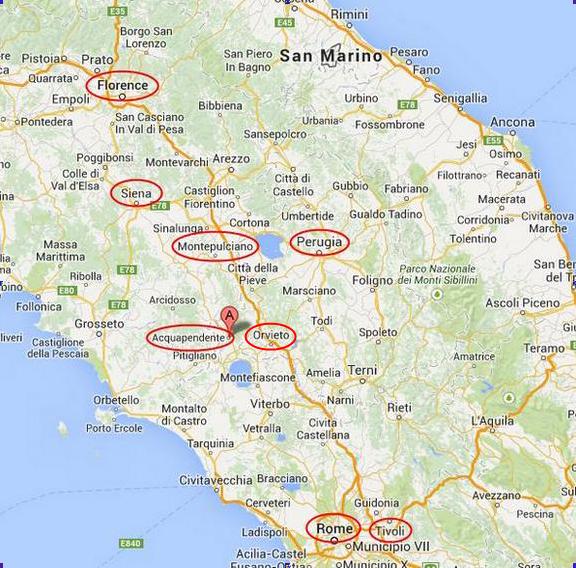 orvieto
Acquapendente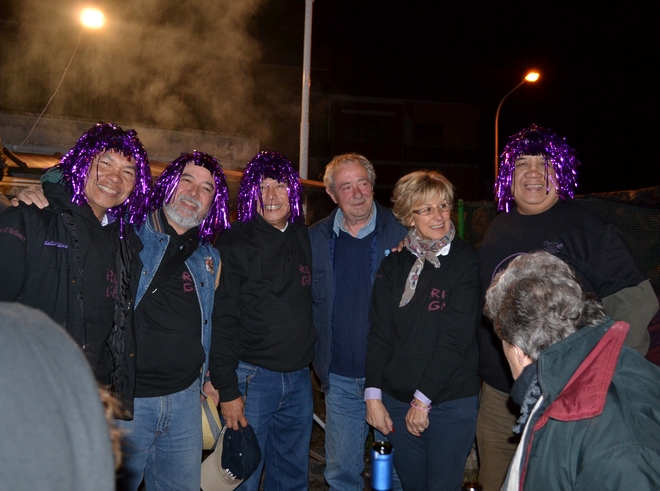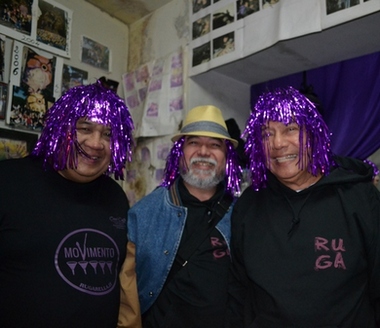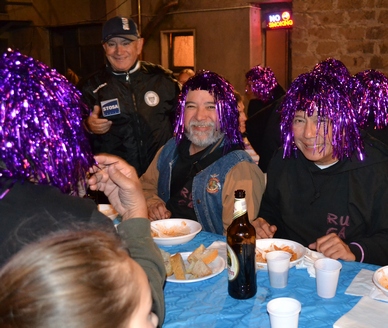 Vale, Lem and Nonoy enjoy dinner at La Rugarella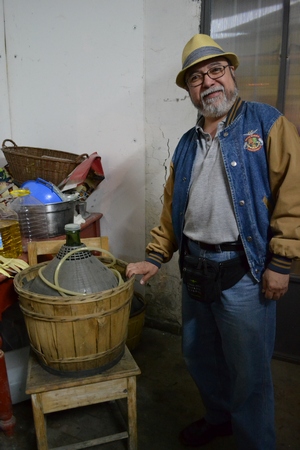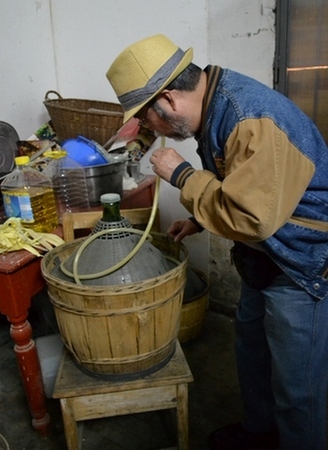 Lem sucking wine at La Rugarella HQ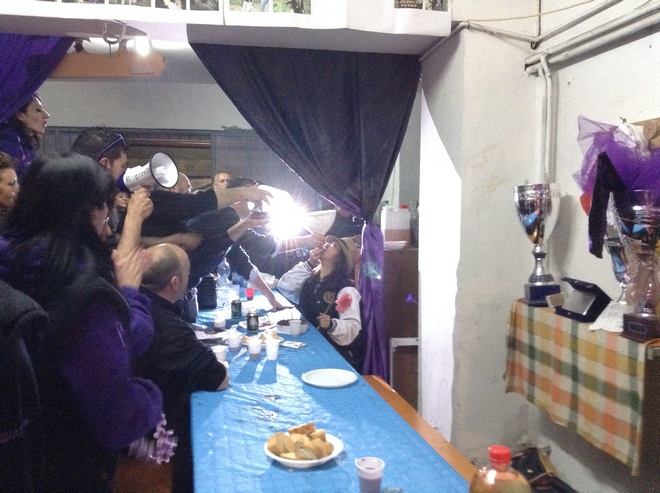 Laureen's birthday "imbuto"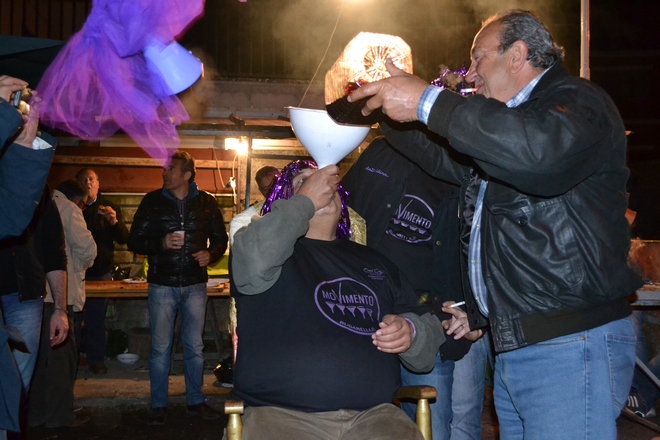 Vale's "imbuto"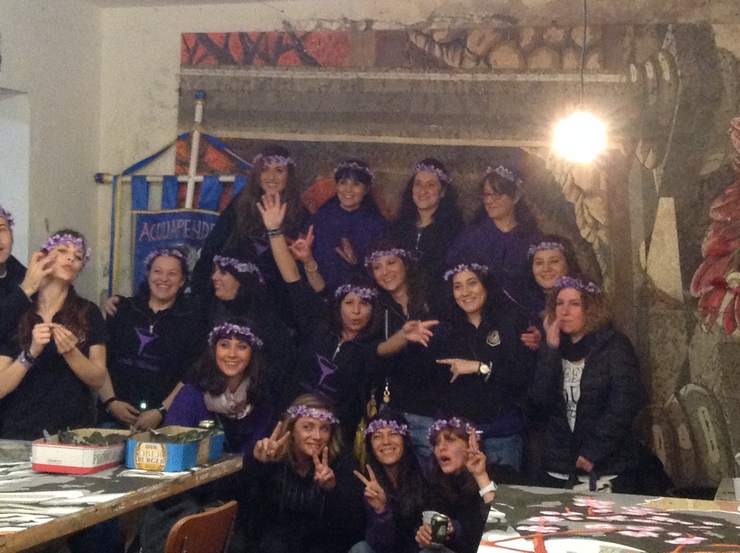 The lovely ladies of Team La Rugarella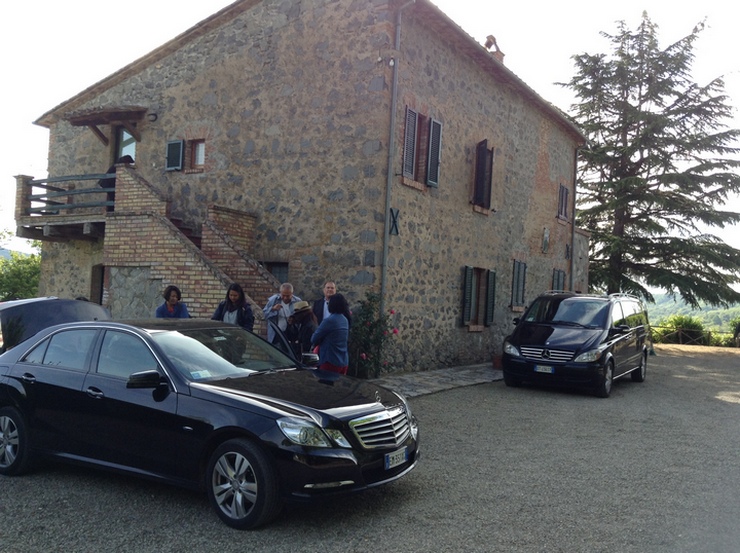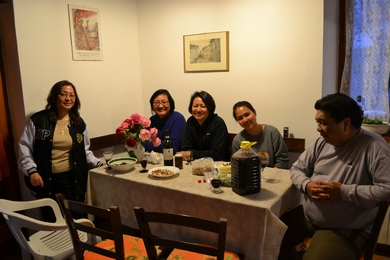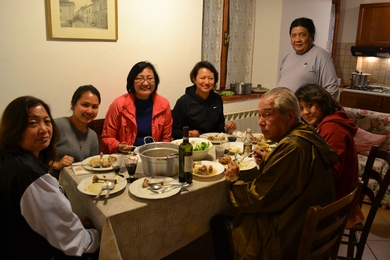 La Crete - The renovated farmhouse that served as our Tuscan homebase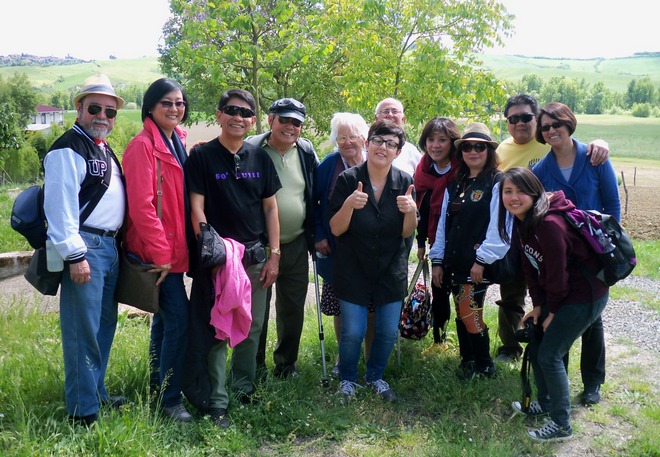 With Luca's cousin at his grandmother's farm and restaurant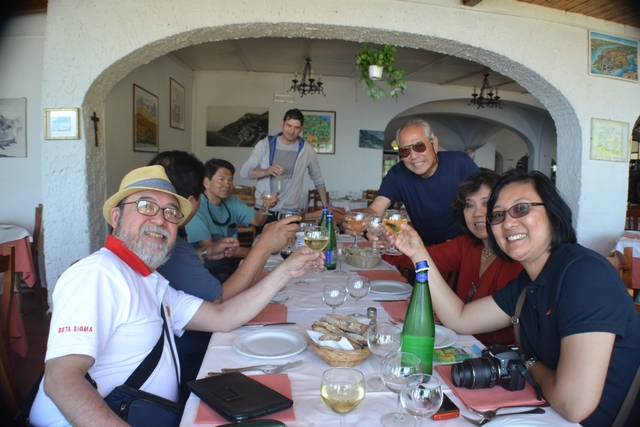 Lunch at Acquapendente with wild boar meat. Salute!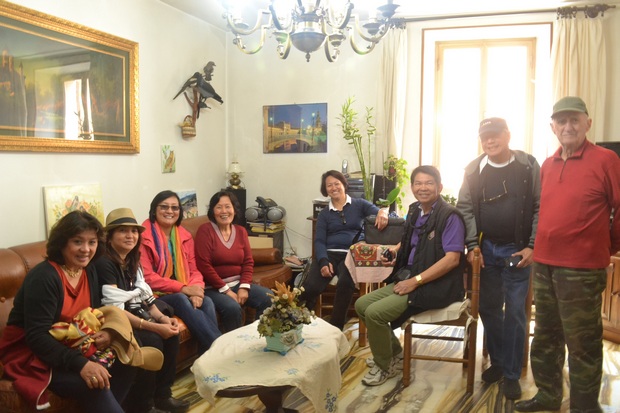 Visiting a Filipino-Italian family in Acquapendente
Toast to Ivy's birthday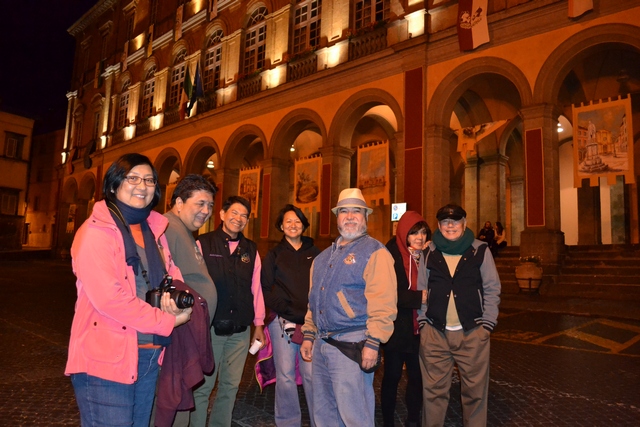 Acquapendente plaza at night
Sunday morning was spent attending mass in the 950 year-old Duomo (church) of Acquapendente which local legend claims to have a relic containing a drop of blood of Jesus Christ brought by the Crusaders as they journeyed from the Holy Land. An authentic 4-course Italian lunch serving wild boar meat and fine wine followed. A hearty meal without a cup of espresso would not be complete.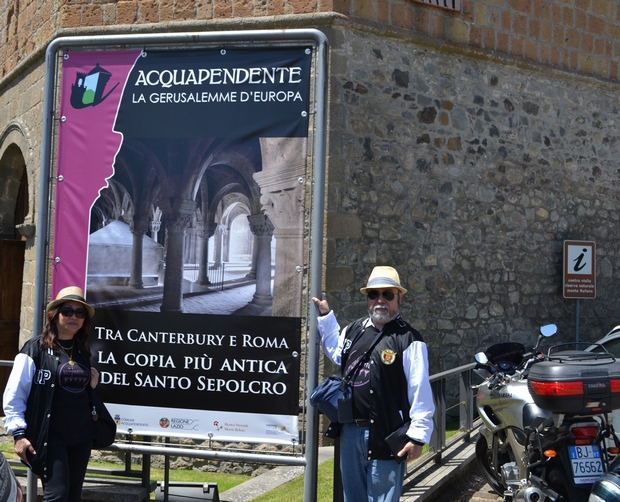 Duomo de Acquapendente
Less than an hour drive was a visit to the Duomo of Orvieto, highlighted by the huge mural of the anti-Christ preaching to the crowd by Luca Signorelli, a famous Renaissance artist. A short walk at the town square (piazza) and group photo ops were obligatory. Then we proceeded to Civita di Bagnoregio, a short, winding drive and a lot of uphill walking. A grueling pedestrian bridge about less than one half mile long is the only access to this pre-Roman hilltop community. This was the first stamina test for most of us senior members. Noy B availed of this opportunity to excuse himself from joining the group so he could take his smoke break away from the eyes of Ivy. Inside this eroding hilltop fortress with only 14 permanent residents was a church with remnants of Etruscan columns in front, reminding us of its rich two thousand year old heritage. Evenings were usually spent with the local folks decorating their floral creation while also enjoying the local wine, cheese, sausages and some pasta dishes. Back in our farmhouse, every once in a while, you would hear a booming sound of a cannon from a distance to scare the wild boar and deer that are feasting on the farmer's crops.
Orvieto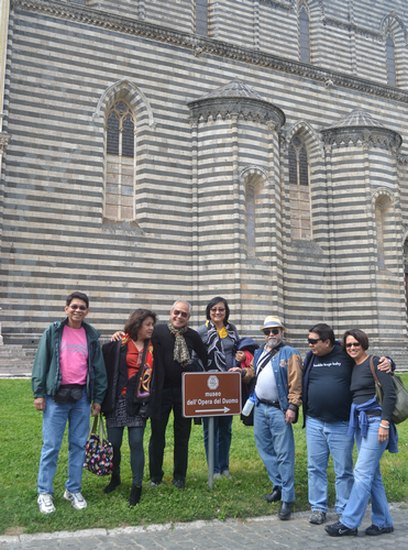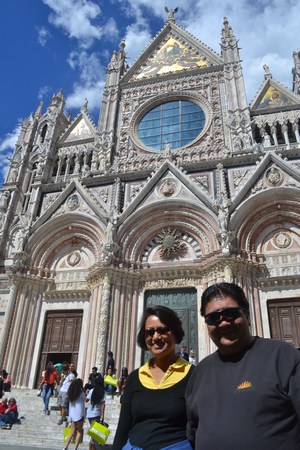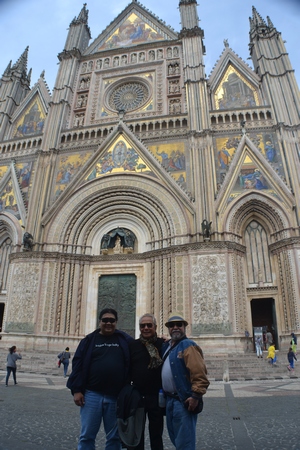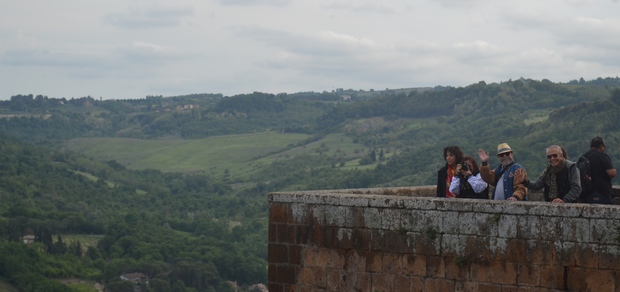 Bagnoregio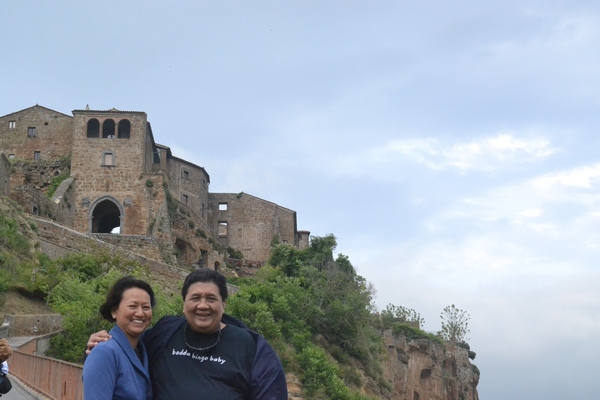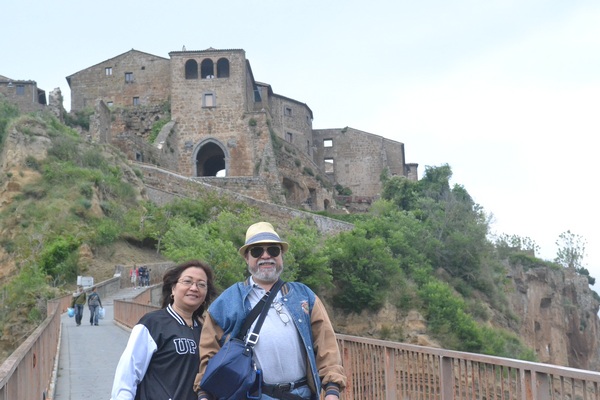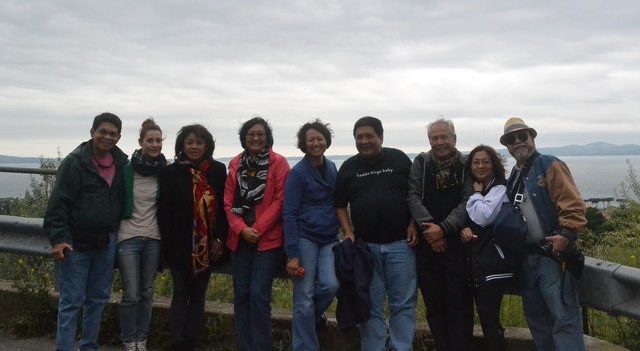 On the road with Bolsena Lake in background
Monday's schedule included a pilgrimage trip to Umbria to visit the Basilica of Santa Maria degli Angeli. It was built in the year 1569 to house the original tiny chapel that St. Francis of Assisi built in 1208 and also where the saint died in 1226.
The hilltop Basilica of St. Francis of Assisi adorned with faded centuries-old frescoes by Giotto dates back from the pre- Renaissance era. Walking down to the cellar we found the crypt that now contains the saint's sacred tomb. It was a religious awakening, a renewal of one's faith, and a solemn reminder of our mortality and spiritual purpose in life. With the bright noon sun and a cloudless sky on the narrow uphill cobblestone roads, it became a challenge to the throngs of pilgrims.
Assisi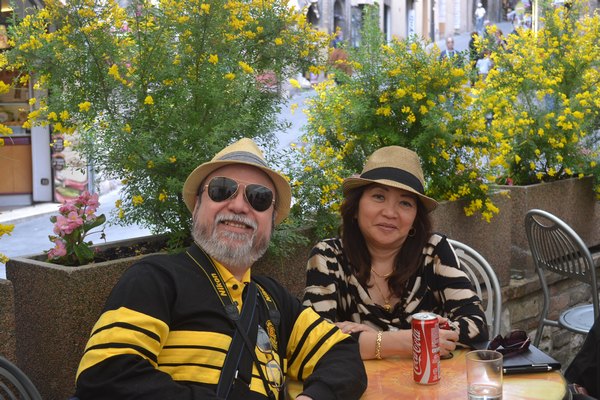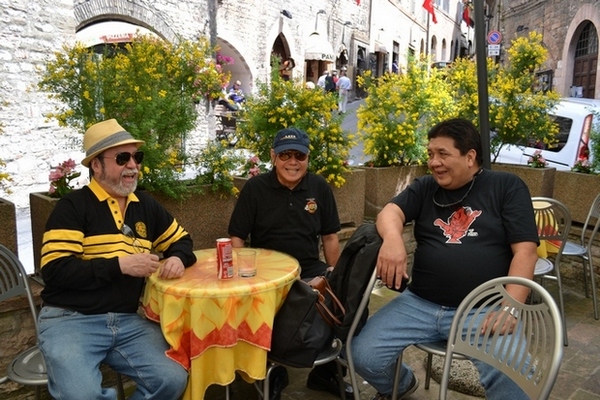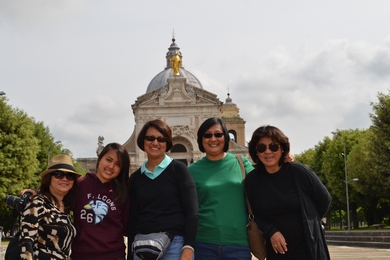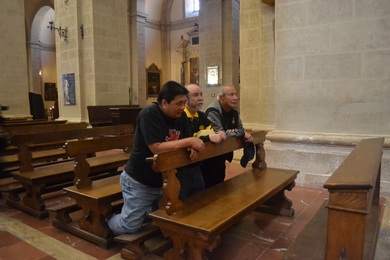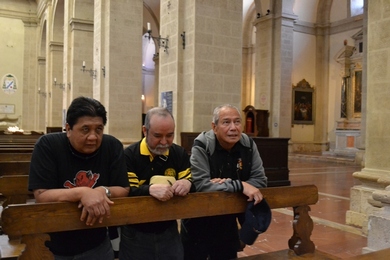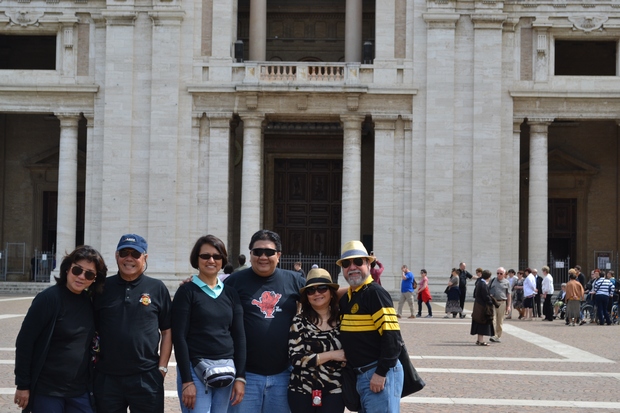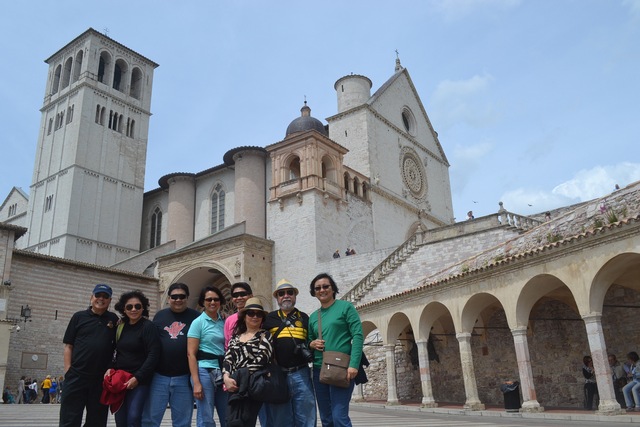 We made an hour stop in Perugia, made famous by the Amanda Knox murder trial. While strolling at the town pedestrian plaza, we had the opportunity to pose for a picture together with two friendly police officers dressed in their colorful regalia. We proceeded to Montepulciano, another ancient hilltop fortress, where the ladies splurged on leather merchandise bargains. We visited a wine tasting cellar and met winemaker Adam who was featured in one of Rick Steves' European travel episodes. We tasted several free samples of excellent Montepulciano wines and purchased a few bottles but they never made it far. We vaporized them when we got back home that same night. On our way home, we bought the ingredients to make adobo and nilaga with rice to the delight of Ica who had been craving for Filipino food since she arrived last year.
Betan Moment with the Polizia di Perugia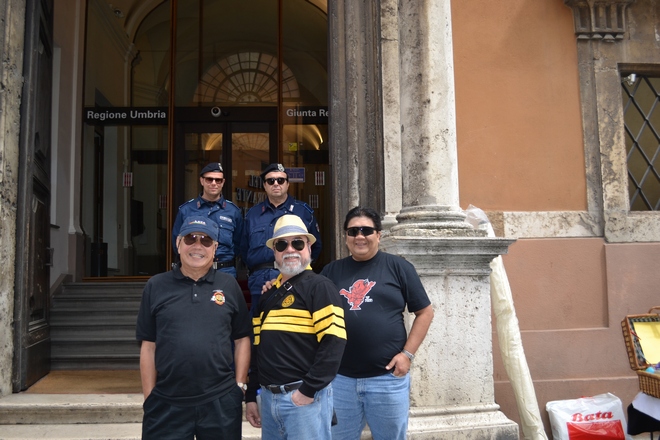 Montepulciano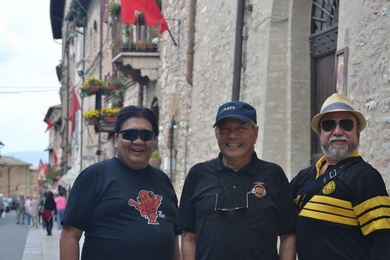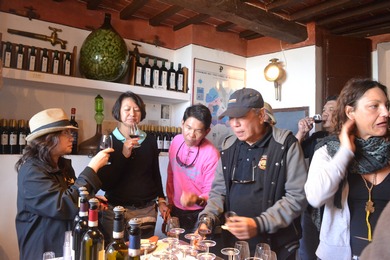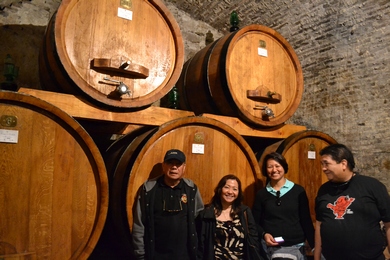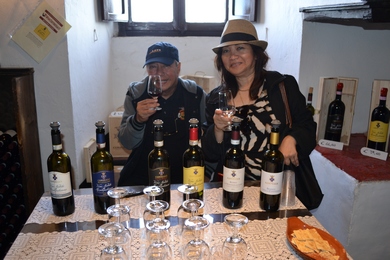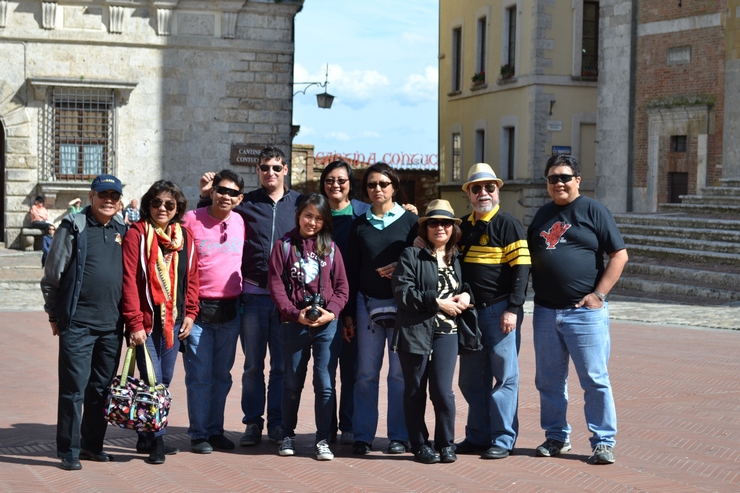 I Turisti con Luca a Montepulciano (L-R: Nonoy, Ivy, Sonny, Luca, Angelica, Susan, Iou, Laureen, Lem and Vale)
Early next morning we ventured to the hilltop town of Pienza, known for its delicious sheep milk cheese, the Pecorino di Pienza. After the group purchased their lifetime supply of cheese, we proceeded to the fortress town of Montalcino for a taste of the best gelato in Tuscany at the Why Not gelateria. After my first visit to the parlor four years ago, I made sure this time that I ordered a cone with three huge scoops of ice cream, enough to whet my appetite until my next visit. Our journey would not be complete unless we visit a local vineyard for some wine-tasting activity. This region is famous for its top class Brunello di Montalcino wine, exclusively grown and produced from the Sangiovese grape variety. Each coveted wine bottle is individually numbered and certified for its high quality. Before we left, the group made sure that we had enough of the best wine bottles to go with the cheese.
Pienza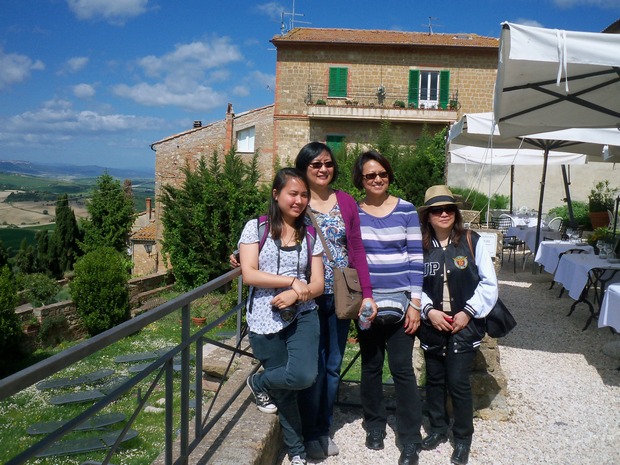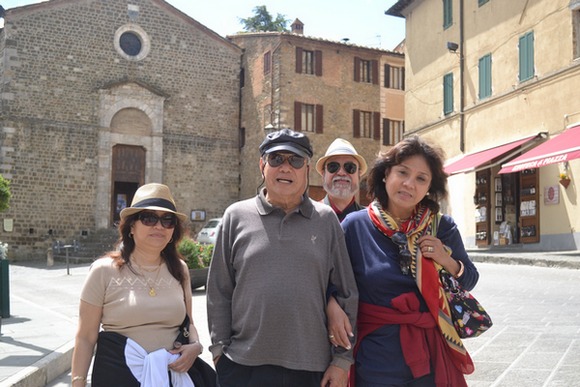 Montalcino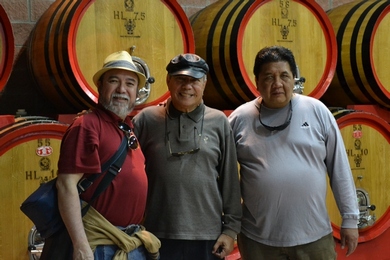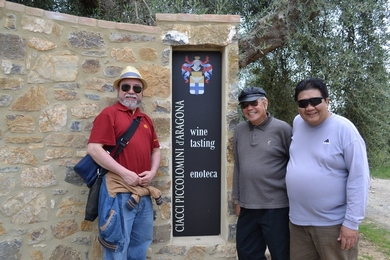 Brunello wine tasting at Ciacci Piccolomini d'Aragona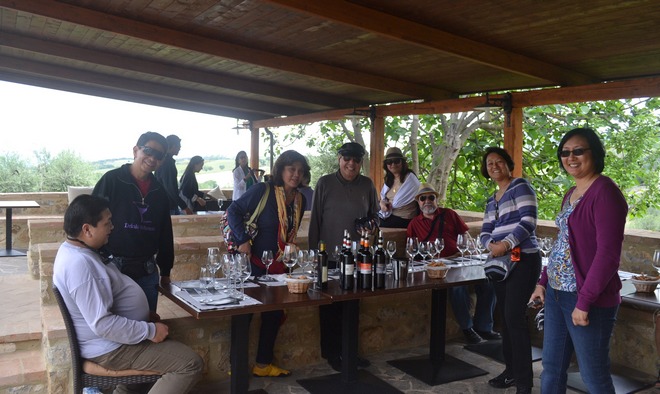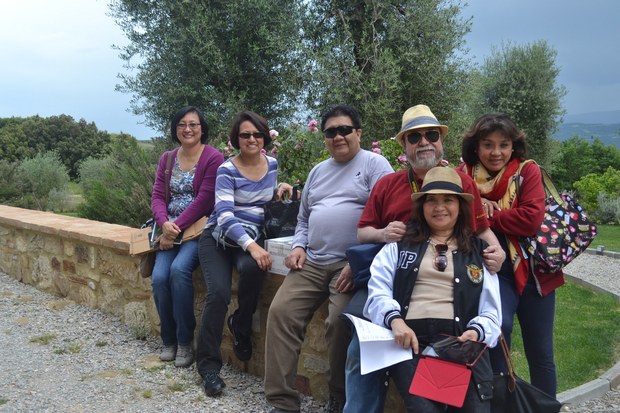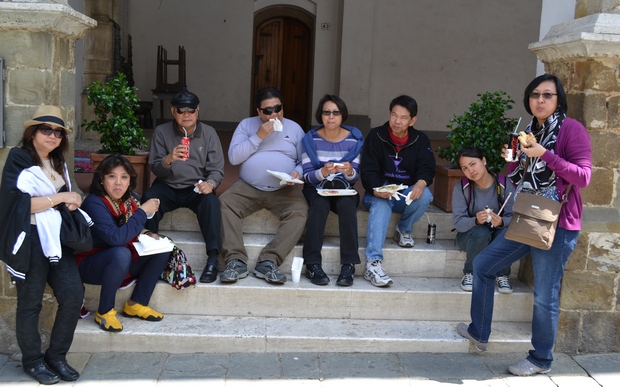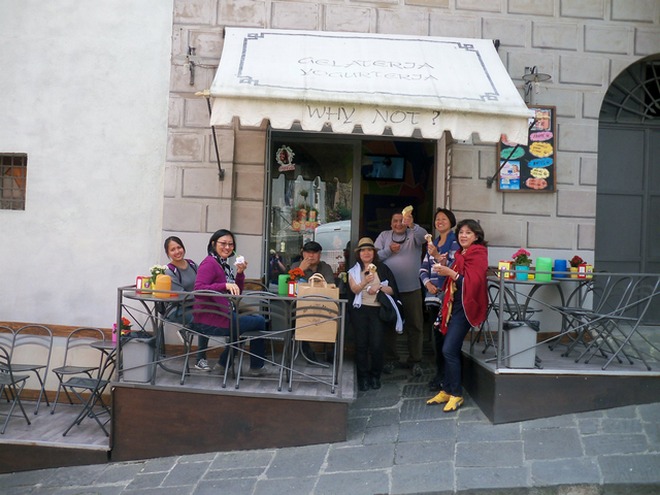 Best gelato in Tuscany - "Why Not?" in Montalcino
Wednesday morning was spent at San Gimignano, a small medieval walled town famous for its remaining 14 towers down from 72, centuries ago. At the middle of the plaza is a cistern that the locals use to collect rainwater several centuries ago. A view of the bucolic Tuscan hills, with its centuries old vineyards, signature cypress trees and grand villas, awaits you when you step out of the fortress walls.
San Gimignano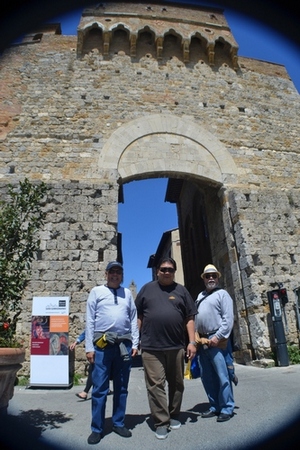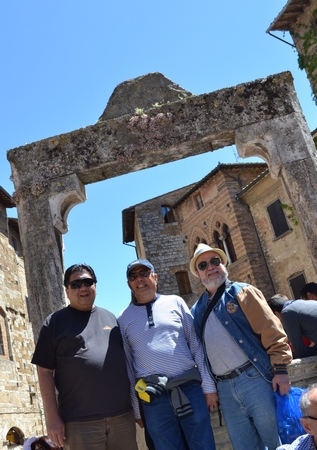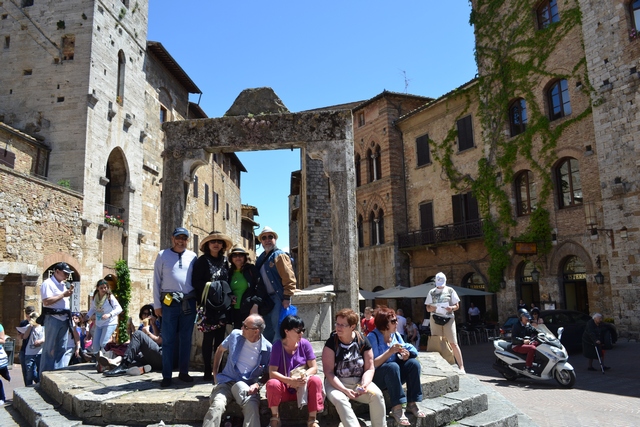 We arrived in Siena in the afternoon just in time to visit the Basilica San Domenico, which houses the severed head and finger of St. Catherine. On our way to the Piazza di Campo (the main plaza), we were fortunate because our cars had special permits to access areas restricted to pedestrian traffic only. We were driven like dignitaries in two separate black Mercedes Benzes with tinted windows. While the pedestrians were engaged in a losing battle against the heat and the huge crowd of tourists, Nonoy, with his dark glasses on and looking like a Mafiosi, slowly rolled down his window and started looking at the sea of humanity surrounding our vehicles as if asking "why are they walking and braving the heat"?
Tuscany hills - on the way to Siena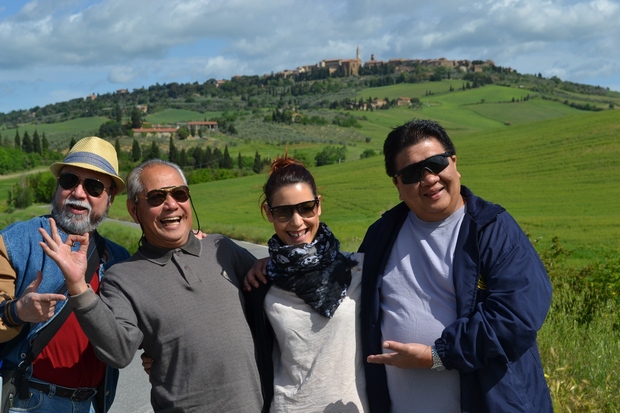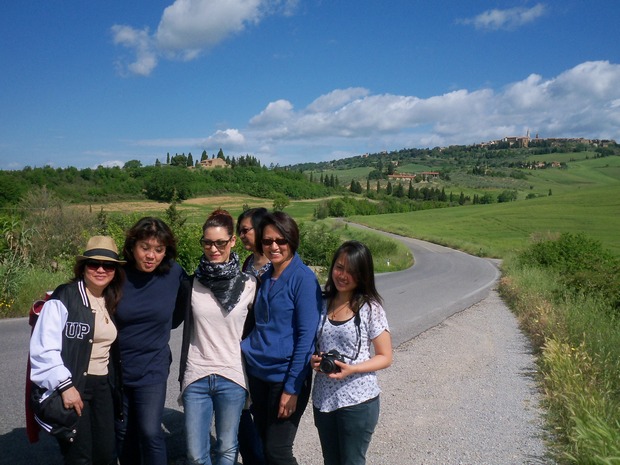 Siena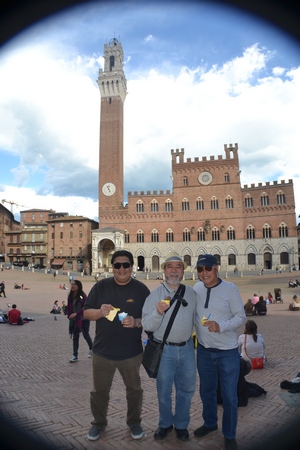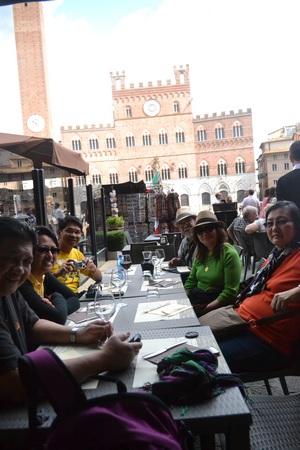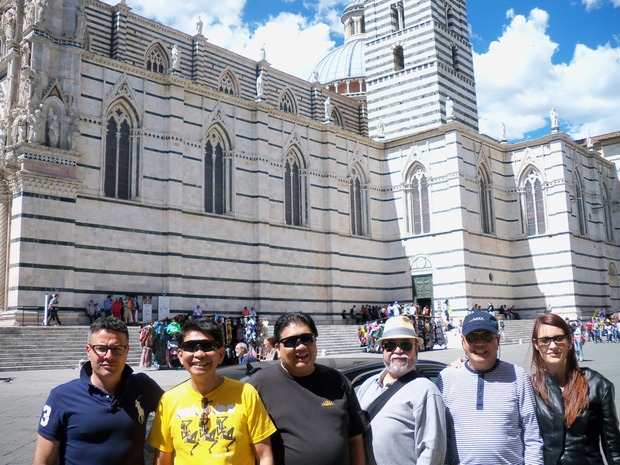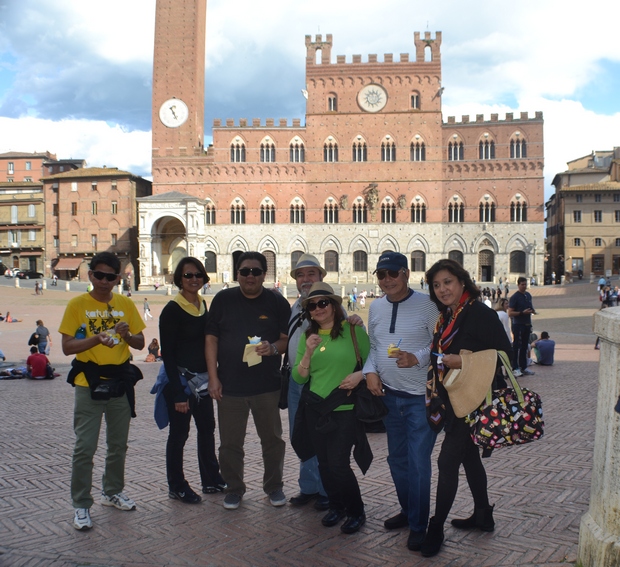 Siena's Piazza del Campo
Inside the Cathedrale di Santa Maria, better known as the Siena Duomo, we were mesmerized by its grandeur. Vast artwork collections by pre-Renaissance master Nicola Pisano, Renaissance genius Michaelangelo, and Baroque's greatest sculptor Bernini could all be viewed with awe. The immense power of the church during that era was evident thru the priceless collections of paintings, sculptures and manuscripts. We watched the crowd while enjoying a quiet late lunch at one of the chic restaurants at the Piazza. A bottle of wine added some touch while we waited for our ride back to our home base.
The next day was spent recuperating from the abuses we created on our bodies. We spent the morning attending a local street sale. An authentic full course Italian lunch, complete with freshly made pasta from scratch, different types of Italian meat and sausages, and endless supply of wine followed at the restaurant owned by Luca's aunt.
Feeling sleepy after a hearty lunch, we went to Pitigliano, another hilltop fortress town known as the Little Jerusalem of Italy. On our way back home, we stopped by Torre di Alfina, a hilltop castle that has been in the auction block for $10 million Euros. Luca calls it a fake castle because it is only about 300 years old.
Pitigliano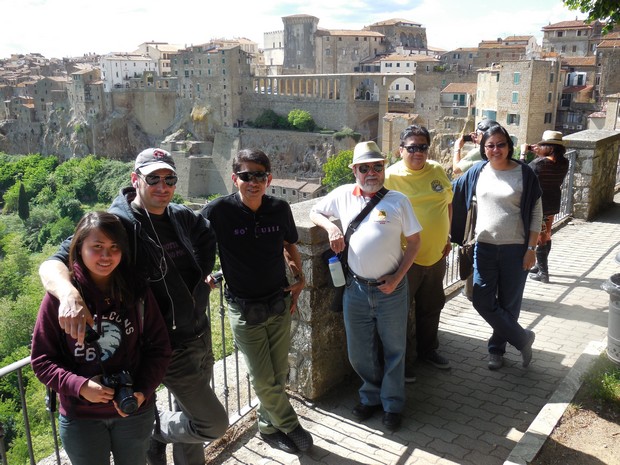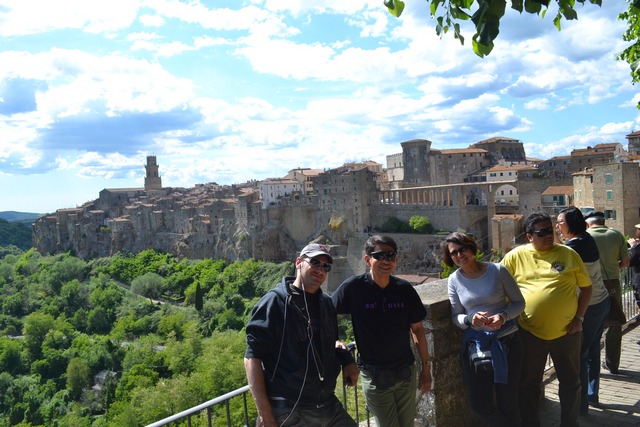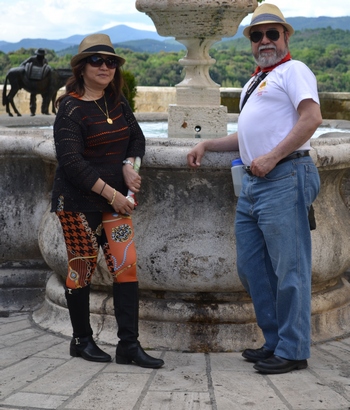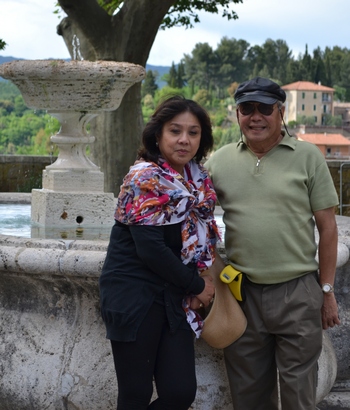 Friday was spent in Florence. The drive was l2 hours long and the place was packed with hawkers. A short photo ops in front of the Basilica de Maria de Novella then we had to leave to see the Basilica di Maria del Fiore (Il Duomo). Again we were fortunate to have the vehicle access permit. Since we had seen the Uffici Gallery before, our tour guide made prior reservation to the Accademia Gallery and we avoided the long lines. I stared with wonder at the original giant marble statue of David, a masterpiece of Michaelangelo. The ladies did notice that the size of David's body is proportionately much larger than his weapon in front. Was this a miscalculation or did Michaelangelo just run out of marble?
Florence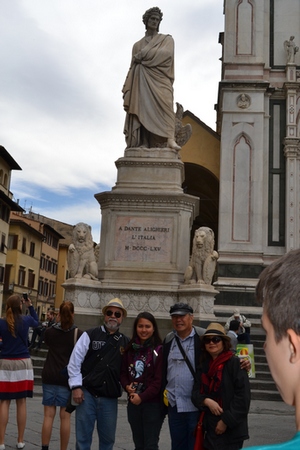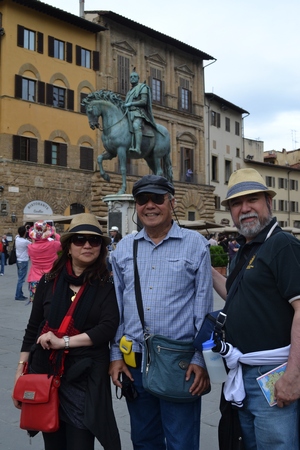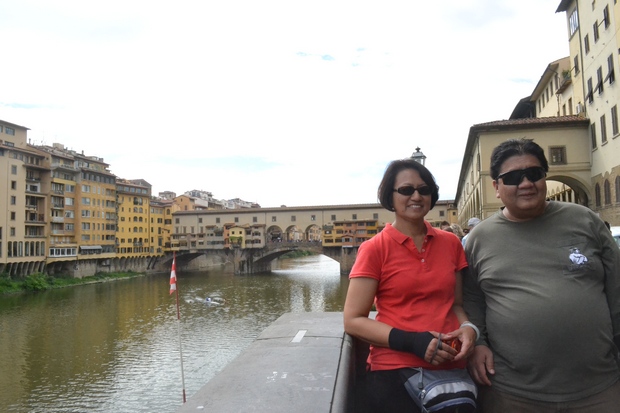 Along the Arno River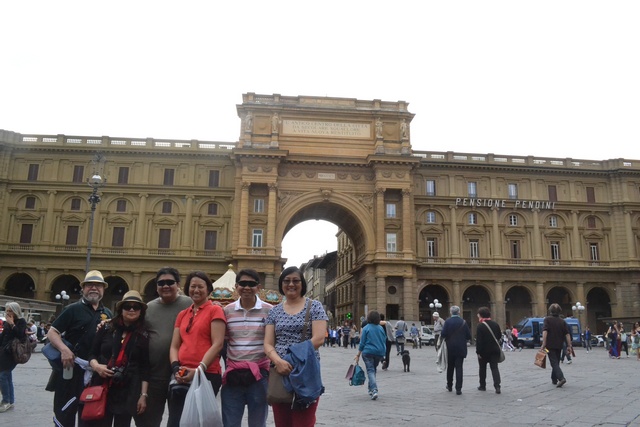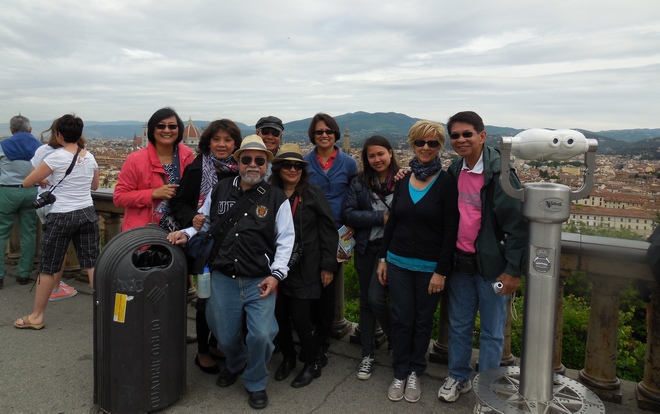 The magnificent Duomo was an architectural masterpiece back then and even at present. The dome built with no buttresses nor visible structural supports still mystifies architects of our modern era. It was designed 600 years ago by Filippo Brunelleschi, a goldsmith by trade with no formal education. The Florence Baptistery is another building to behold. The bronze doors known as the "Gates of Paradise" (the originals are now in a museum) with its 3-D images are masterpiece creations of Lorenzo Ghiberti. Just window-shopping on the Ponte Vecchio (bridge) across the river Arno, we drooled at the price tags of the jewelry and watch displays that only a very selected few could afford.
We spent the next day visiting Tuscania which has Etruscan tombs dating back from the time before Christ. Short stops at Capo di Monte, Lago de Bolsena and Marta was a scenic change from fortresses to water communities.
Tuscania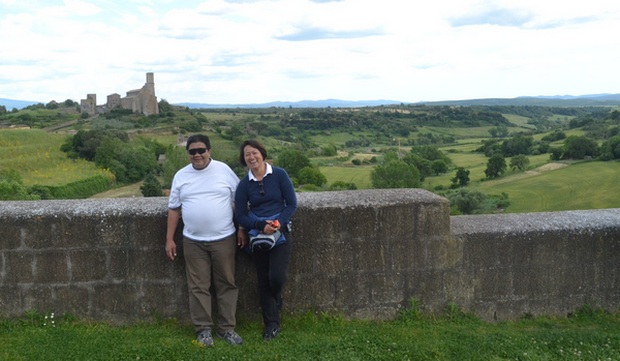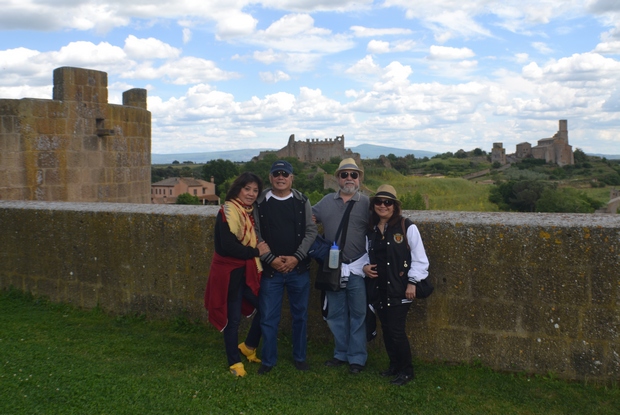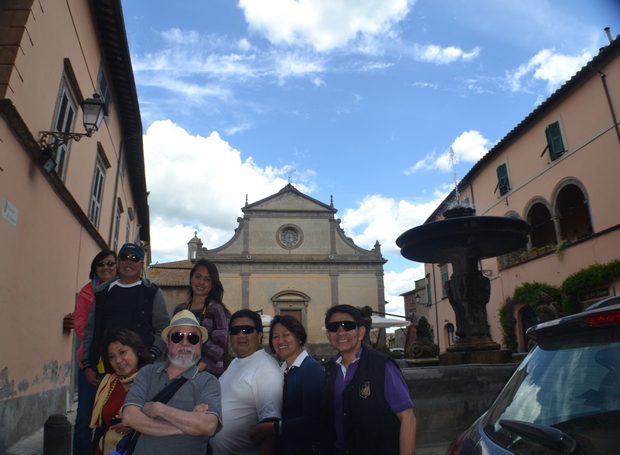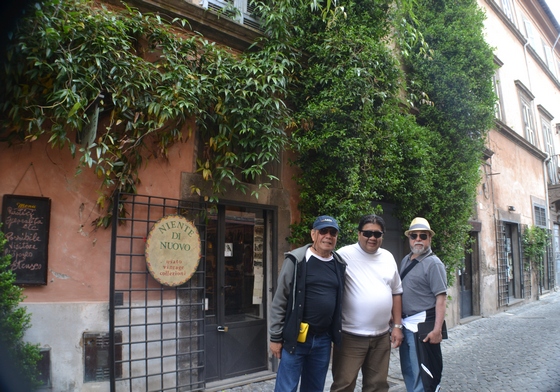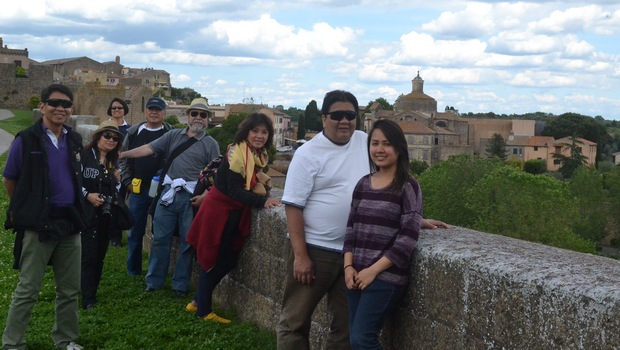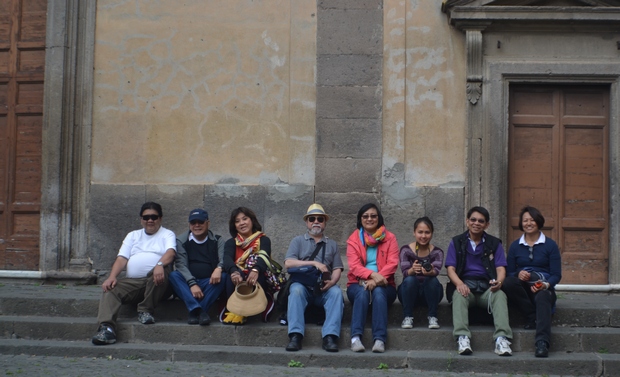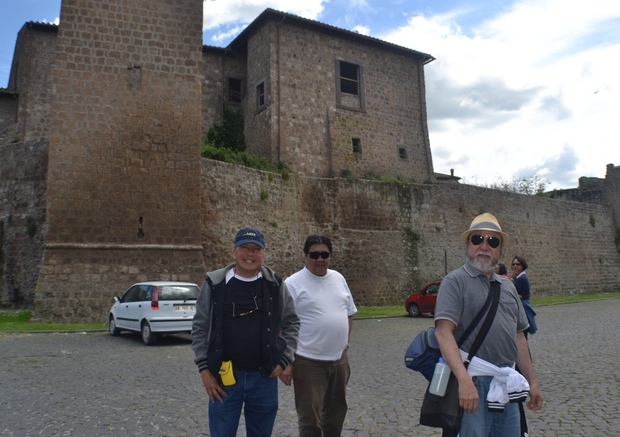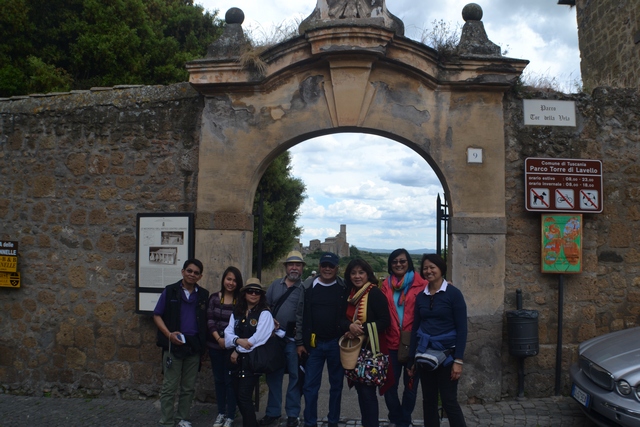 Capo di Monte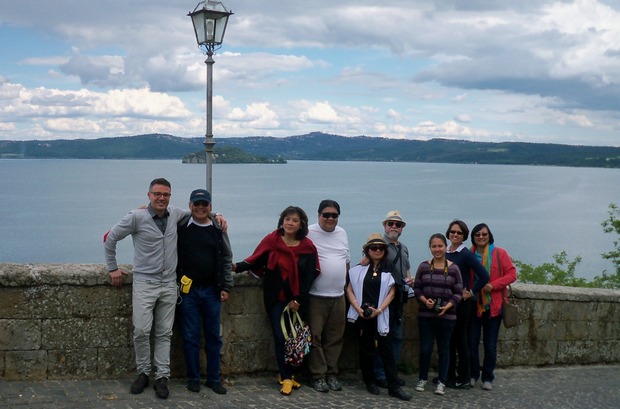 Marta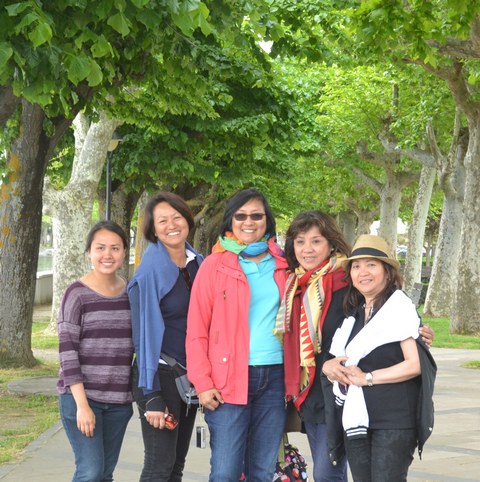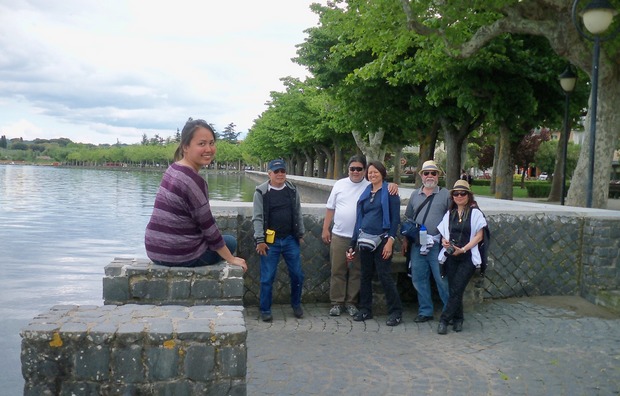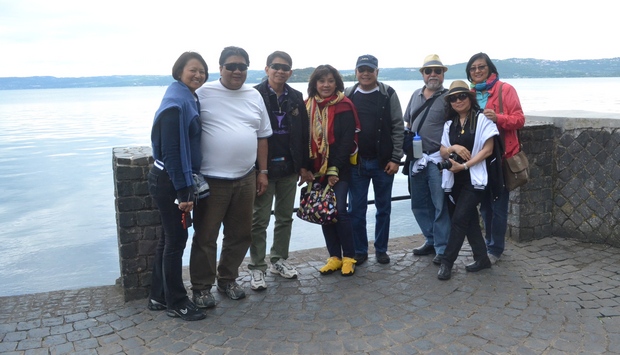 Sunday was Pugnaloni Day. The floral creations were paraded on the streets together with some town folks dressed in medieval costumes. The floral entries were judged and the winners were announced at the town square in front of the City Hall building.
Pugnaloni Day in Acquapendente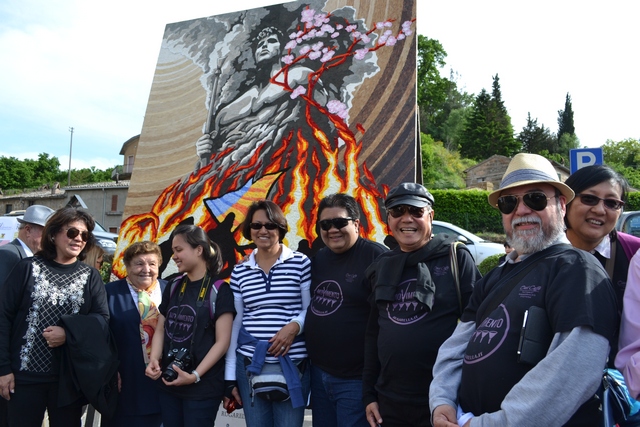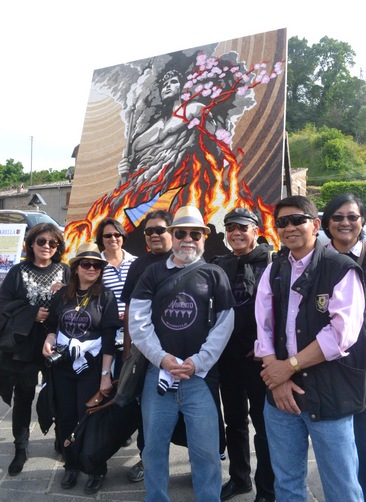 La Rugarella 2014 Pugnaloni Entry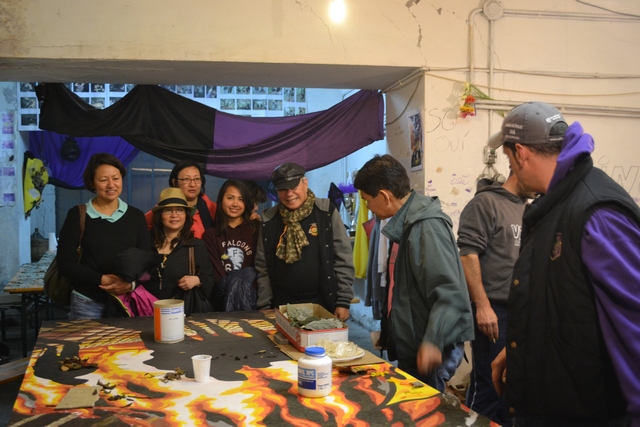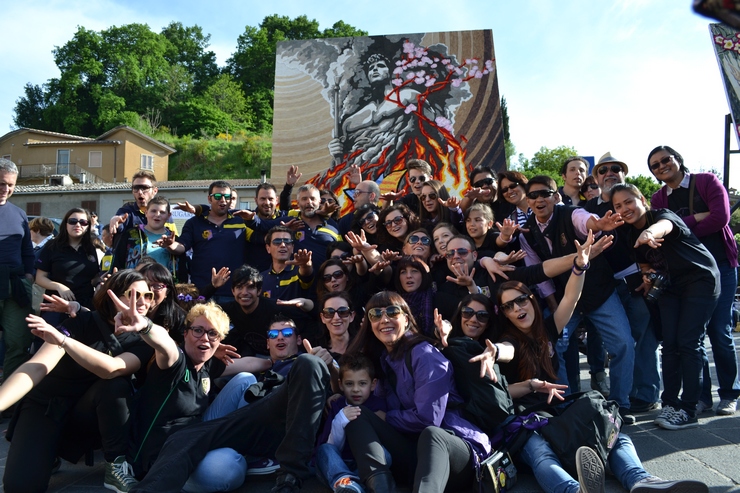 Viva Team Rugarella!!
The next day, we started our trip back to Rome. Along the way, we stopped at Parco dei Mostri di Bomarzo, a 400-plus year old park and garden containing larger-than-life sculptures made from bedrock. Arriving late and hungry in Rome we headed to Campo di Fiore, an area famous for fine dining. A bit expensive but worth the experience and the freshness of the food they serve. Our lodging accommodation with breakfast included was just perfect. Remo, the owner of the place, even played the accordion to serenade the ladies in our group.
Parco dei Mostri di Bomarzo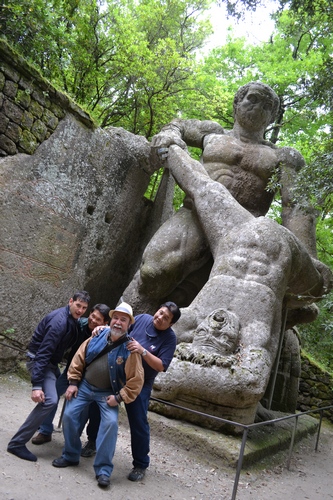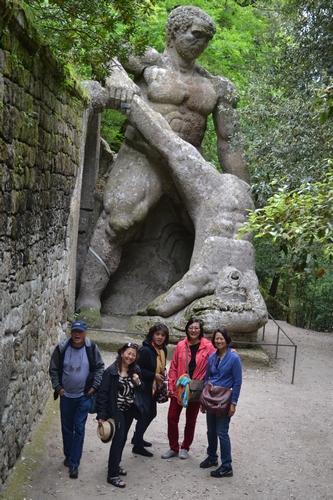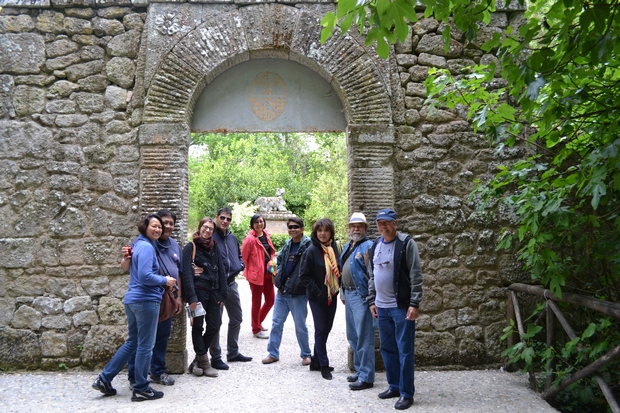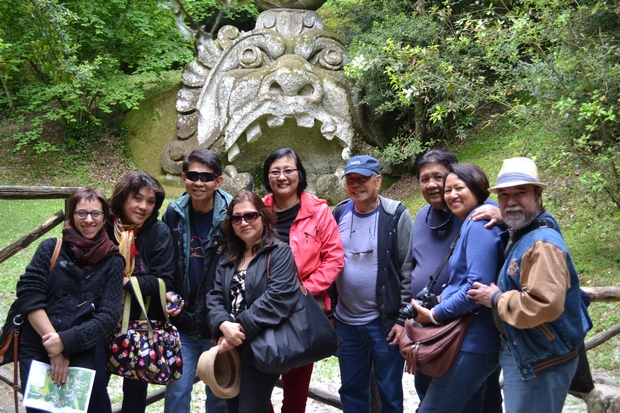 Rome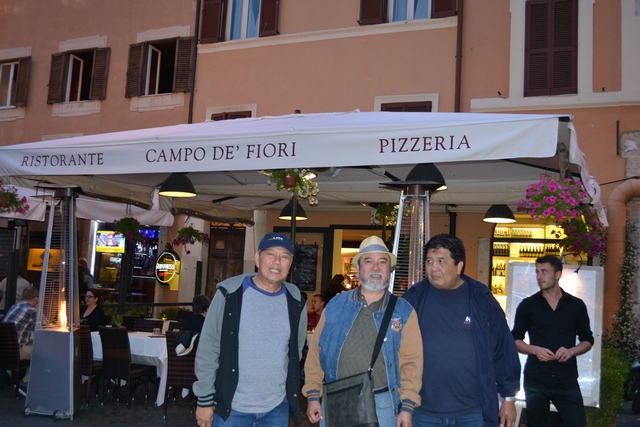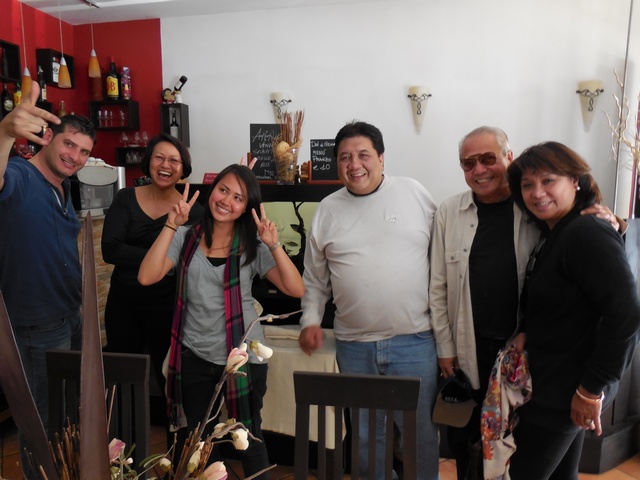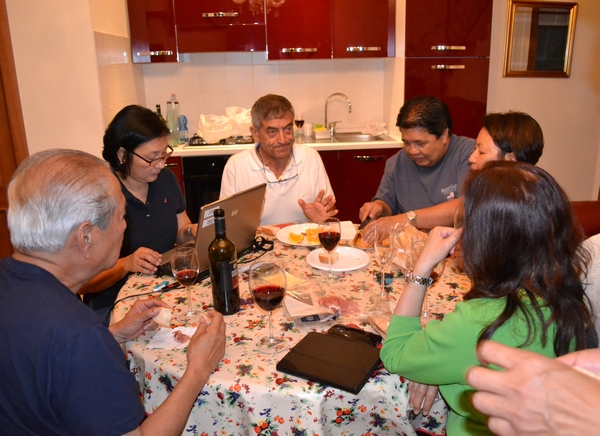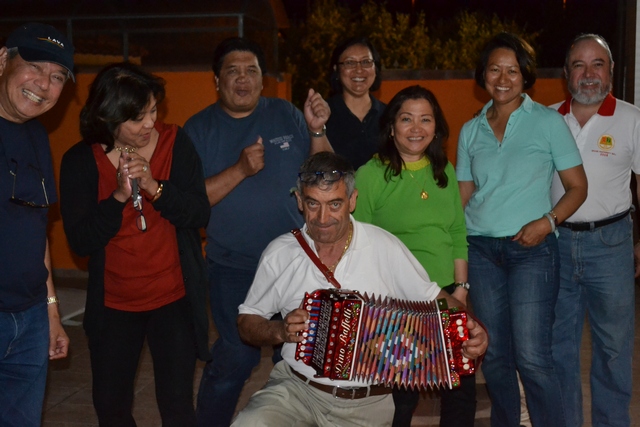 Remo, owner of the lodging, serenades the ladies with accordion
The next morning we went to Tivoli and visited Villa di Este. A villa with lush gardens and gorgeous water fountains, it was the perfect place to visit on a warm day. Lunch followed at the Sibilla restaurant. A high end restaurant which offers al fresco lunch at the garden shaded by centuries old vine canopy, it offers its patrons a panoramic view while you seat just a few yards away from the remnants of a 4,000-year old pagan temple inside the ruins of a 2,000 year old Roman temple. The restaurant's past guest list includes the names of heads of state, royalties, and famous celebrities, including Don Antonio Michelena. After that late lunch, we strolled through the ruins at Ostia Antica, One could not miss the mosaics, frescoes, temples, bathhouses, theatre, among others that predate Christ. This is like being able to visit Pompeii without having to drive more than 200 kilometers.
Tivoli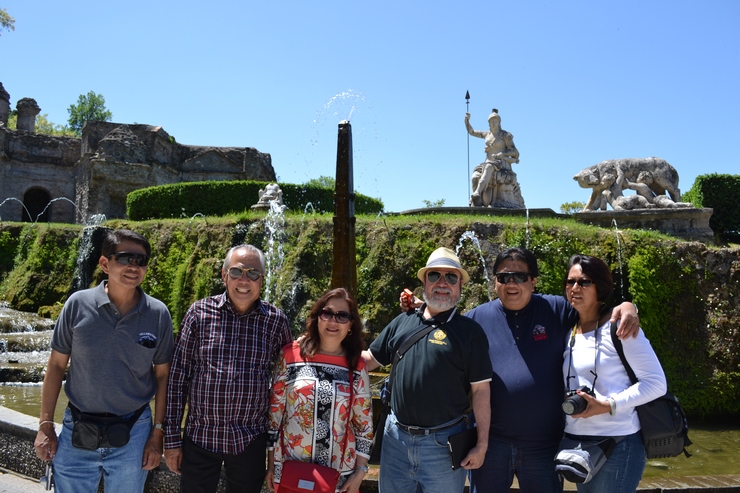 Villa di Este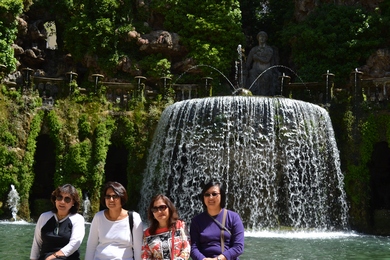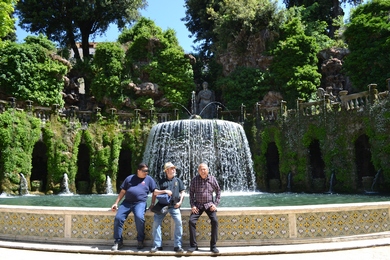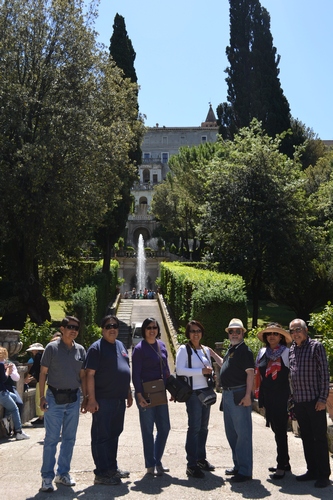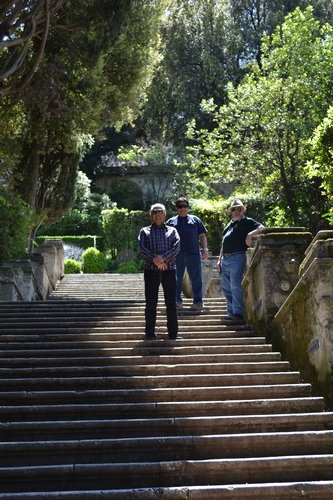 On my last tour day in Italy, Luca surprised us with a proposal to visit the Amalfi coast. It was a 4-hour drive each way because of the winding roads and the traffic congestion. The view of rugged mountains with centuries old structures in contrast with the vast Mediterranean Sea makes Amalfi uniquely beautiful even with its parking space problems. On our way to Positano, we had lunch at Constantino's restaurant, situated on a hilltop that offers a panoramic view of the crystal blue waters dotted by a few million-dollar yachts. Angela, Remo's wife, knew the restaurant owner so he personally attended to our needs.
Amalfi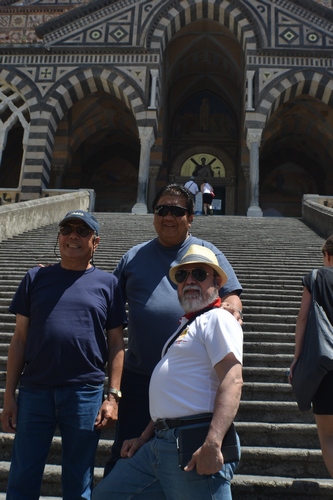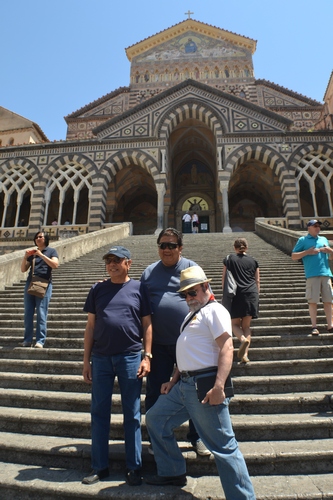 Positano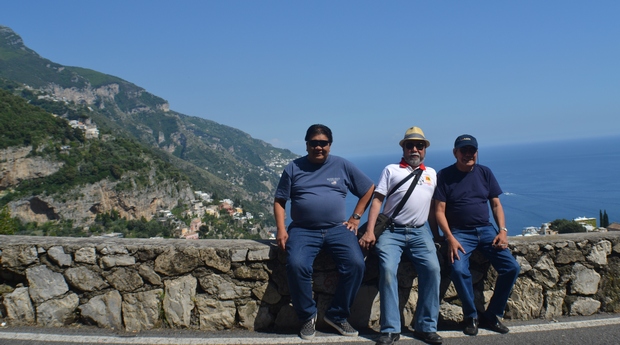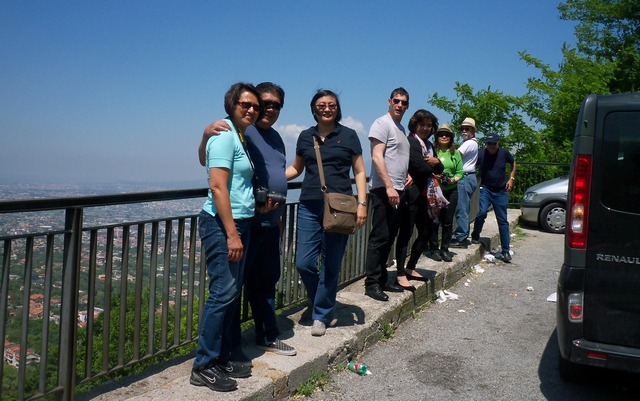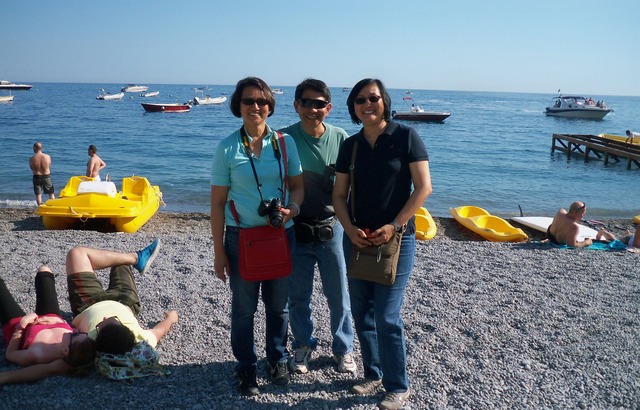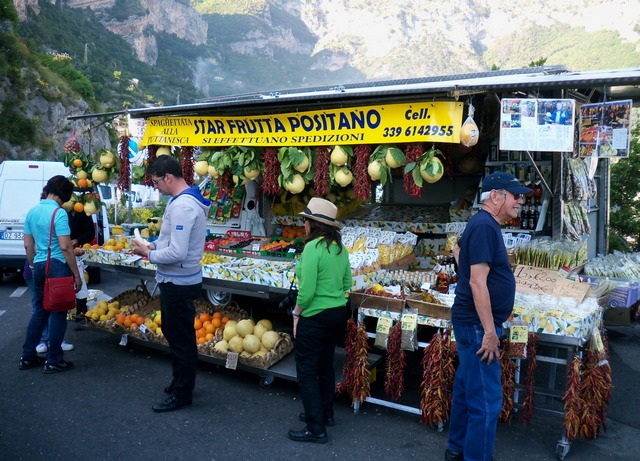 The next morning, after only 12 days, it was time to fly back home. It was tough for us to leave knowing that Lem, Laureen, Ivy and Nonoy still had a few more days to spare in Rome. We bid the group a sad goodbye then Luca dropped us off at the same airport where the journey started. Grazie …
Tuscany - truly, "la dolce vita" (the sweet life)!!
Below is the YouTube video done by Iou's niece, Ica.