UP Beta Sigmans' Golfing Holiday
at the Canadian Rockies
by Gilbert Joven'66
Arrival in Calgary, Alberta
The latest invitation to go to Canada came from Brod Noli Nolasco back in October 2012. Two brods from the Philippines - Julius Cada'69 and myself - responded positively to Noli's invitation and, of course, Brod Rolly Balingit'69 who is a mainstay to this golf holiday for over 10 years. After tediously arranging for our Canadian visas and flight schedules, I arrived at the Calgary International Airport on Sept. 6 while Julius arrived on Sept. 7. We were met at the airport by Noli and Rolly who had arrived much earlier. For me, seeing Noli at the airport after all these years was quite emotional remembering our unforgettable college days living together with a group of brods in Brod Bart Gacad'64 family's apartment in Project 4.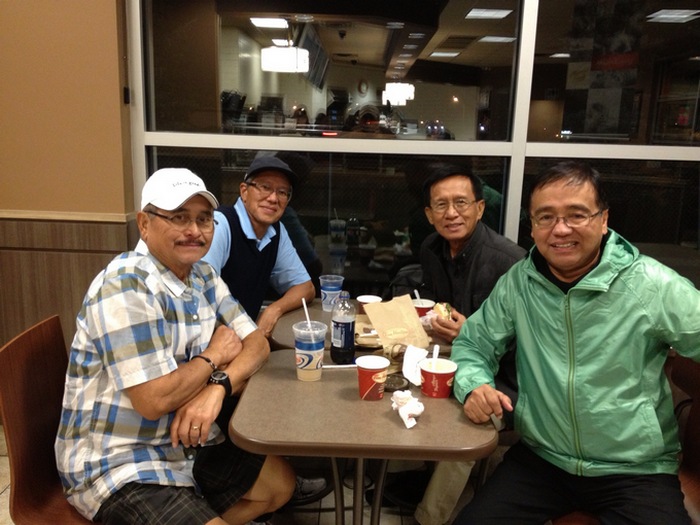 Trip to Fairmont Hot Springs, British Columbia via Banff

The first day of our golfing holiday started from Noli's home in Strathmore, Alberta, then going to Noli's 5-star timeshare condominium at Sunchaser Villas. Noli took care of the food provisions for the week with the loving attention of his wife Tessie. Rolly handled the logistics of putting all of our golf bags and luggages inside Noli's Nissan Pathfinder.

Before starting our trip, we passed by Noli's home course, the Strathmore Golf Club, to practice at the driving range and to apply some of Rolly's teachings on the golf stance and golf swing and also to try Noli's Yonex EZone golf driver. Our trip was a 3-hour drive on a very scenic well-paved highway with millions of cyprus pine trees on both sides of the road and the Canadian Mountain Ranges on the background. We stopped over the quaint town of Banff where we took some nice pictures and had lunch. Banff is the premier winter and ski resort in North America.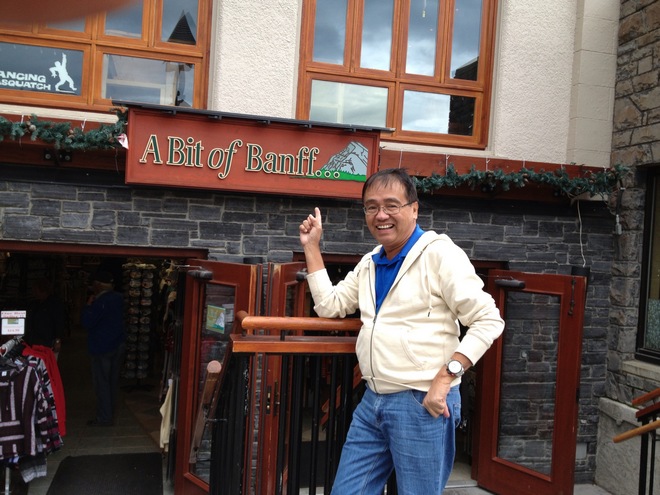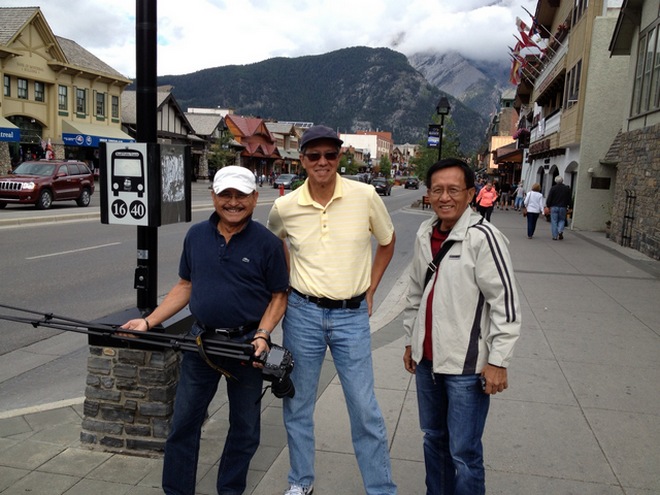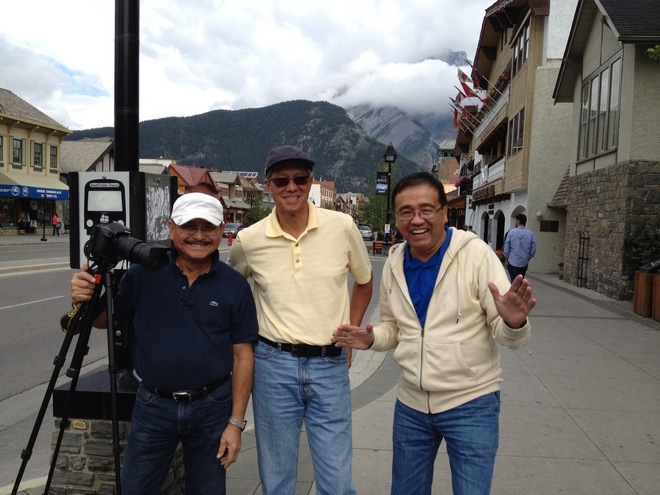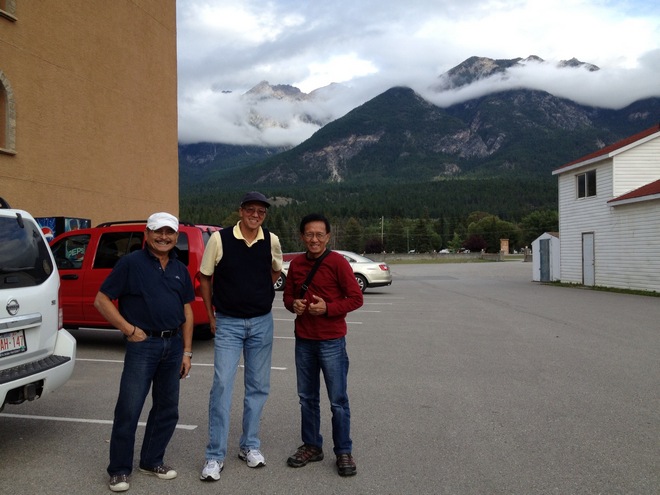 We arrived at the Sunchaser Villas at 5 pm and we immediately went to the reception to plan the golf courses we wanted to play. After registering, we checked in our luggages and golf bags in the two 5-star condominium units, one unit was shared by Noli and Julius, and the other unit by Rolly and me. We capped our day with a sumptuous dinner of Alberta Beef, 2-inch thick, bone-in rib-eye steaks, meticulously grilled to medium-rare perfection by our meat and wine expert Rolly. Plus full-bodied Cabernet Sauvignon and vanilla ice cream for dessert. Wow, it was a delightfully delicious dinner, Julius consuming a 24-ounce cut, with lots of catching-up stories of our frat days.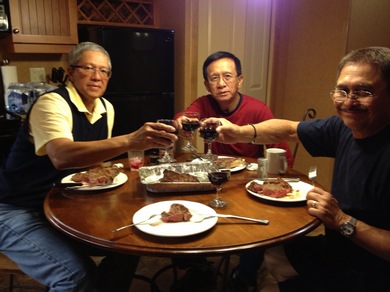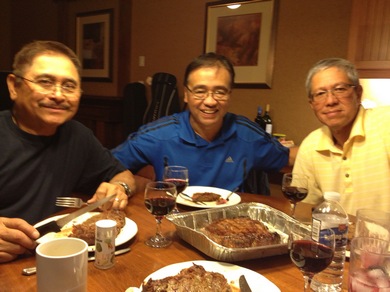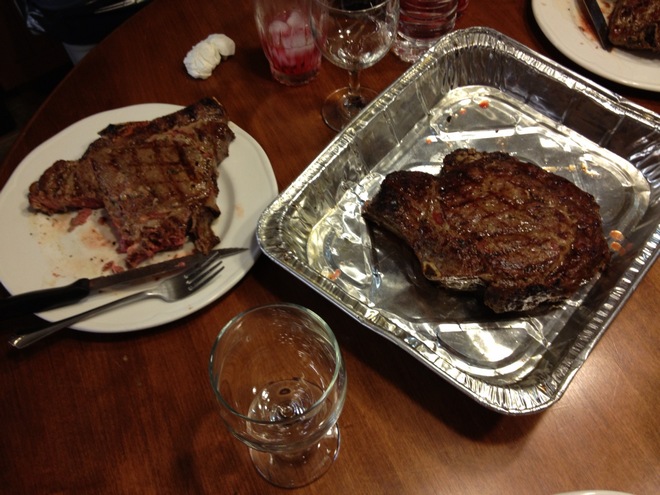 Riverside Golf Course

Day 1. We started our golf at the Riverside GC. Some of the highlights of our golf were: Julius made 2 birdies while I made 1 birdie. Noli did a chip-in natural birdie on the par-5 hole no. 7 from 50 yards out!!! Rolly did a monster drive on the 18th hole and nearly reached the green. He also made birdie on this last hole.

We all enjoyed this first day of tune-up golf. We capped the day with a sumptuous dinner of baked chicken, expertly prepared by Noli and our usual red wine and vanilla ice cream. Ang sarap brods!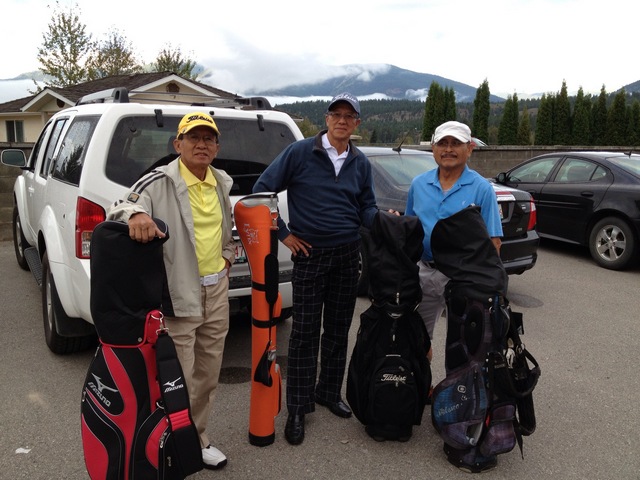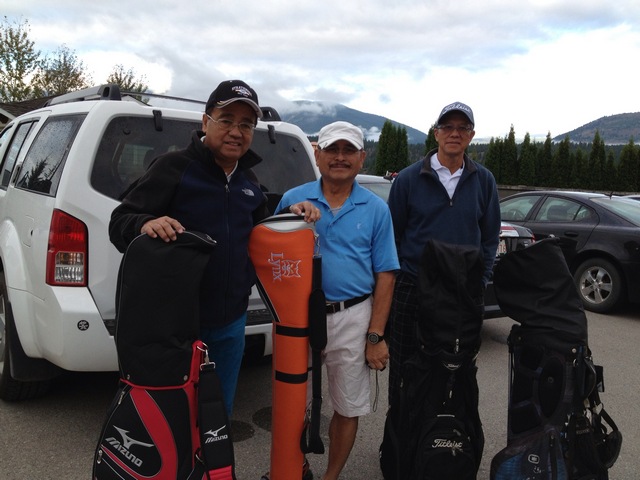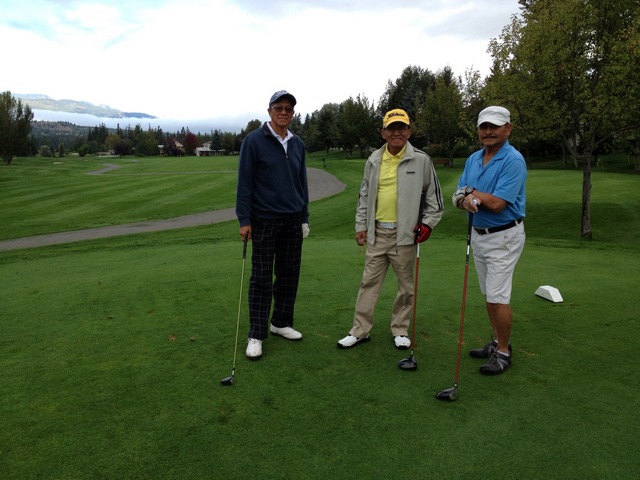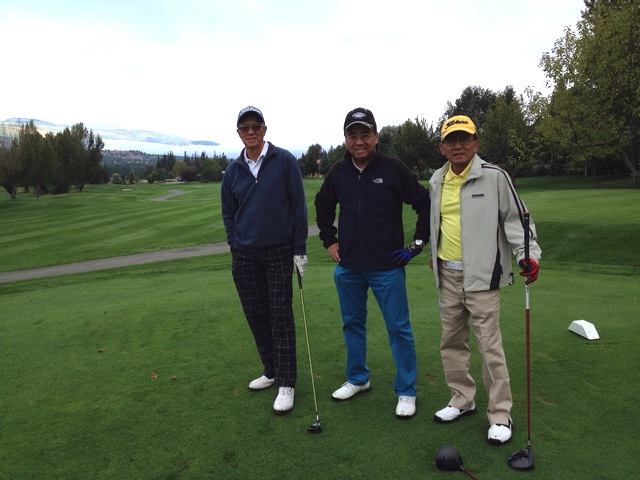 Trickle Creek Golf Course
Day 2. This was at Trickle Creek GC. We decided to wear black and white golf outfit, so that we could all look like serious golfers... he he he. We had an early fried rice breakfast mixed with German sausages, courtesy of Rolly. The one-hour trip to Trickle Creek was pleasant and enjoyable with all the beautiful scenery along the highway. Upon reaching Trickle Creek, we immediately registered and went straight to the driving range just to warm-up.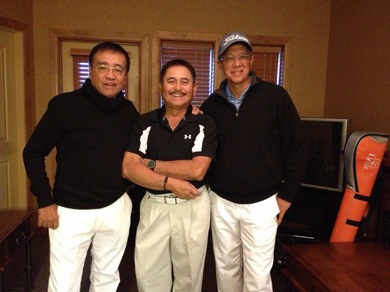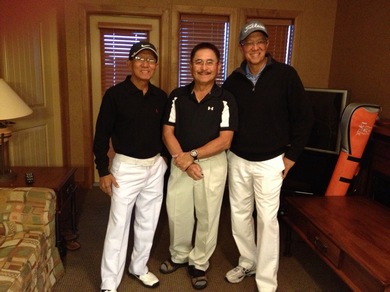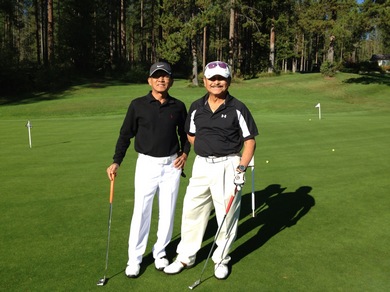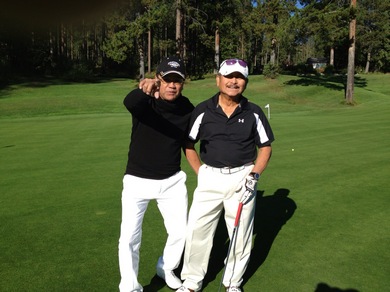 Our tee time was 10 am but before we teed off, we decided to do a friendly match: the Philippine team of Julius and me versus the North American team of Noli and Rolly. It was a Ryder Cup style team competition with the best ball match play format. No cash was involved, only bragging rights and our reputation, which is priceless. It was really an exciting golf competition bur since it was a friendly game we all ended up enjoying each others company and the beautiful golf course with its well prepared fairways and greens. And the Philippine team won the best ball match play with a close score of 2/1 - winning only at the 17th hole by 2 with only one hole to go.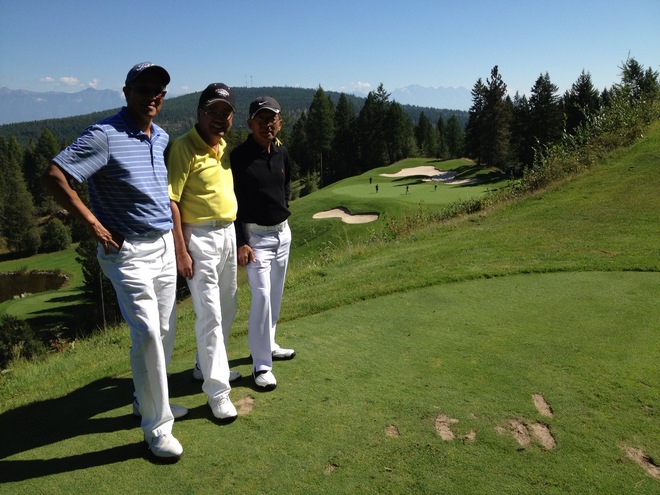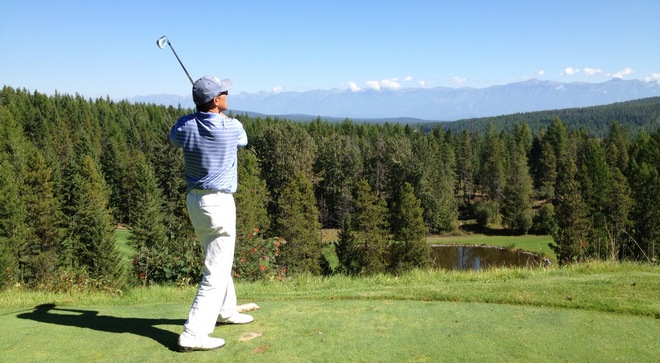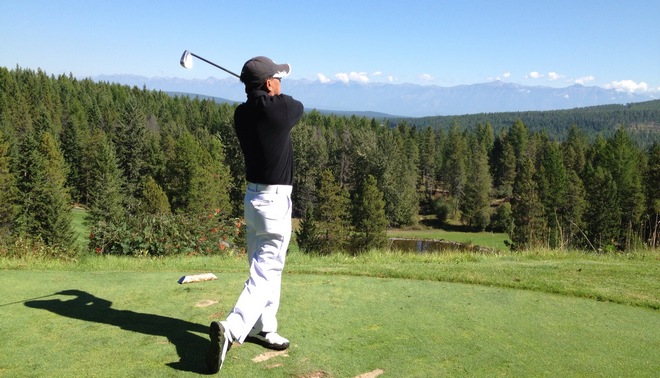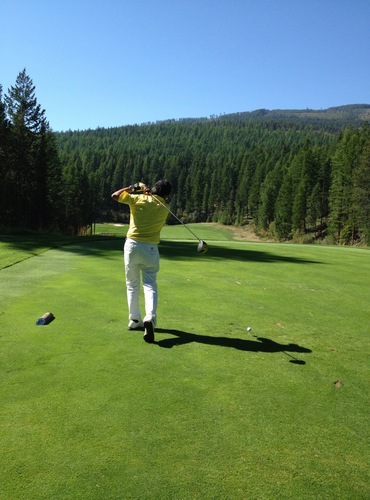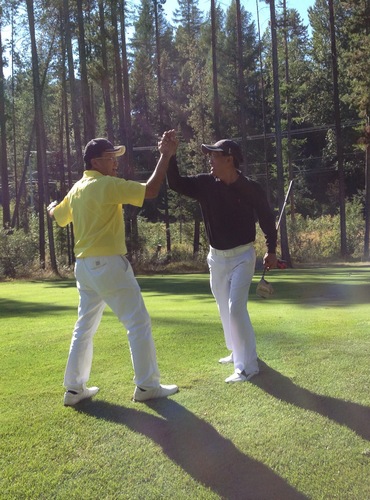 After golf we went around the quaint nearby town of Kimberly and had snacks at a nice bakery where we had good coffee and some European delicacies. Then we drove back to Fairmont and along the way took some pictures of the majestic rock formation - the Hoodoos Rock. We capped our day with another sumptuous dinner of Canadian wild salmon, meticulous prepared by Rolly with his secret recipe and Japanese rice cooked by Julius. And of course with a light-bodied red wine from Spain and our usual dessert of vanilla ice cream..... hmm....mucho delicioso!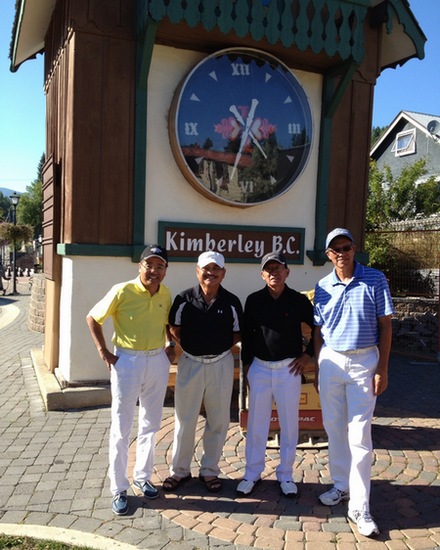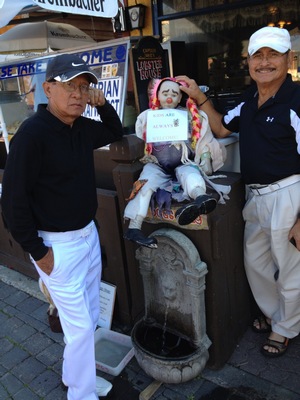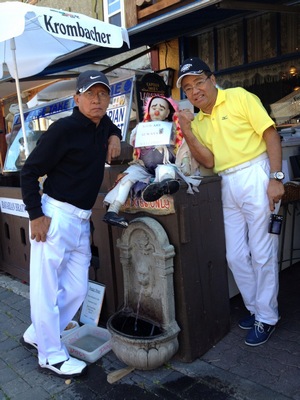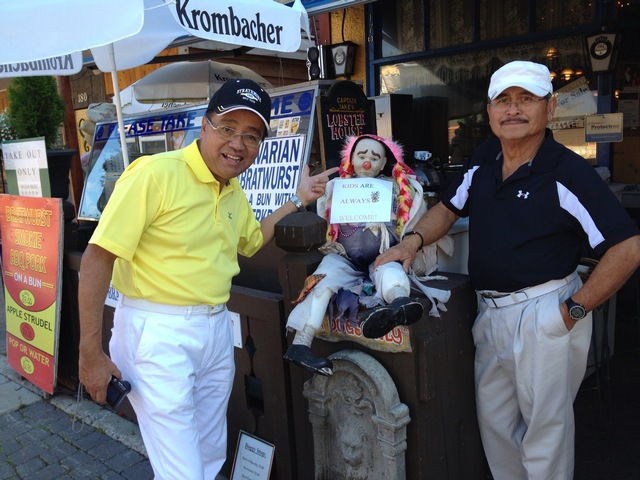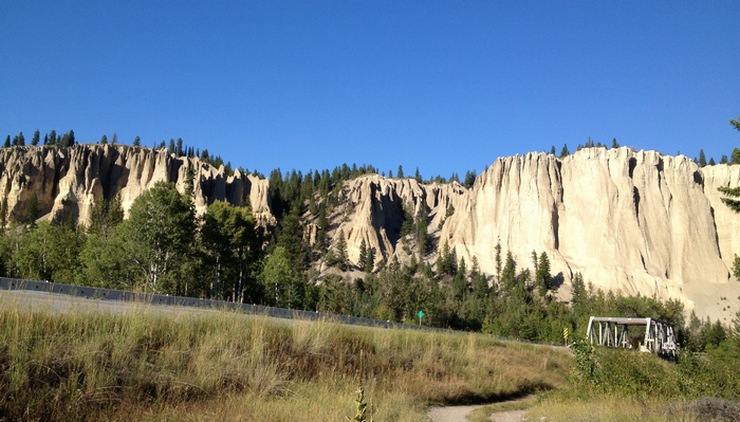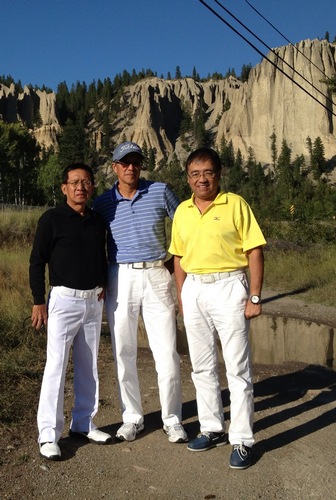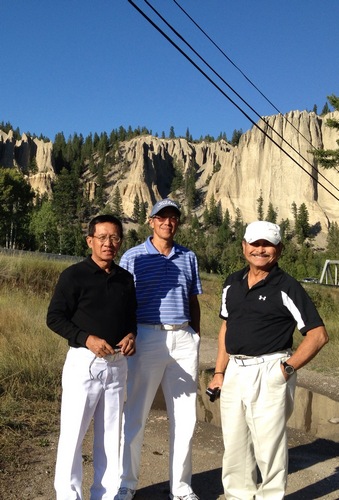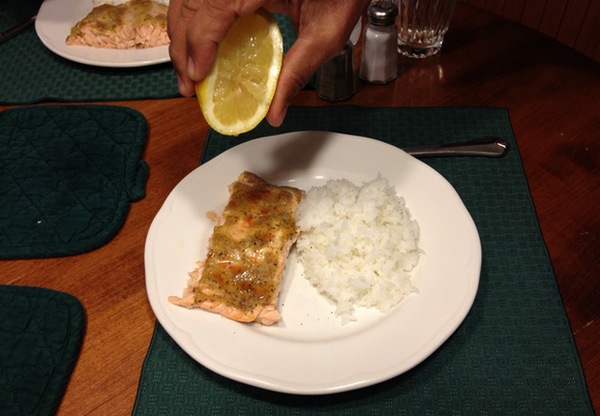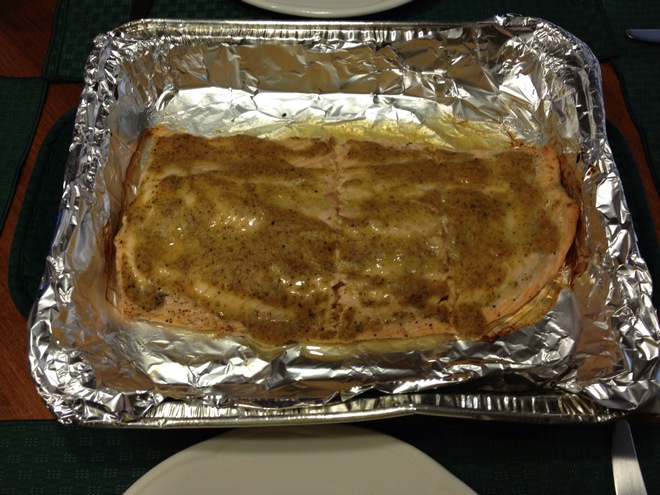 Eagle Ranch Golf Course

Day 3. This was at at Eagle Ranch GC. The Eagle Ranch Golf Course is regarded as one of the most challenging golf courses with well manicured fairways and pristine greens in British Columbia. The golf competition between the Philippine team and the North American team was the Individual Match Play between Rolly and Julius and between Noli and me. Rolly won 2-up over Julius while Gilbert won 4/3 over Noli, resulting in an even score for both teams for this day of competition. Overall, the Philippine Team was still leading 2 to 1.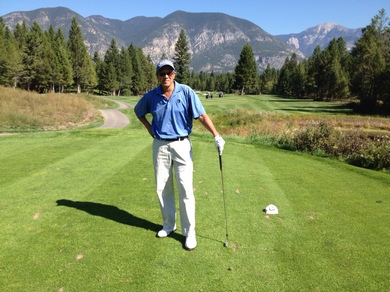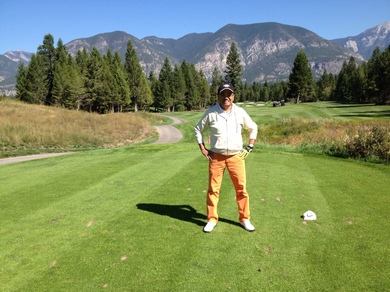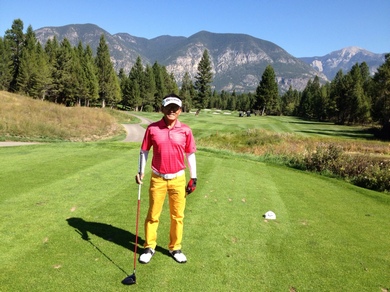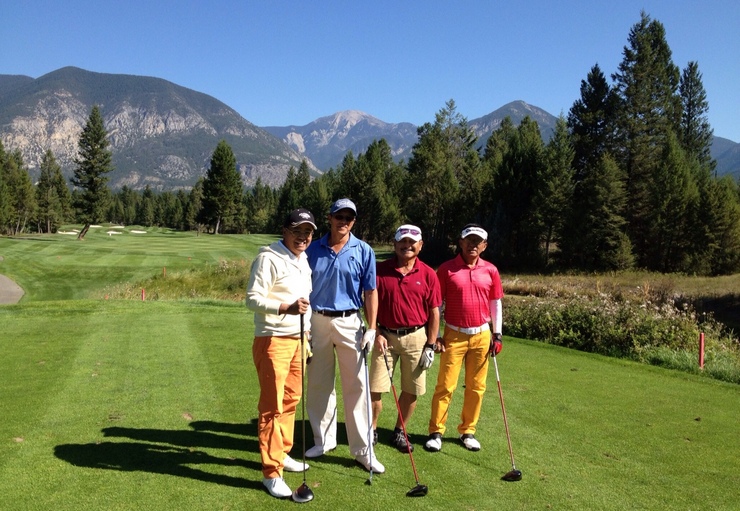 What matters most is that we enjoyed the extremely beautiful Eagle Range golf course and the happiness of playing with the brods. Some of the highlights of our game was when Julius won the closest to the pin contest in the signature hole - across a tee-to-green ravine, 178 yards par 3, winning a bottle of wine charged to the other 3 players. Rolly also demonstrated his signature golf swing finish as candidly captured in one of the pictures, showing my shadow taking the picture, while Noli and Julius were watching the ball flight. The majestic Canadian Mountain Ranges provided the exhilarating backdrop on a beautiful afternoon weather.

We capped our day with a pizza dinner and finishing with red wine and Canadian Gouda cheese.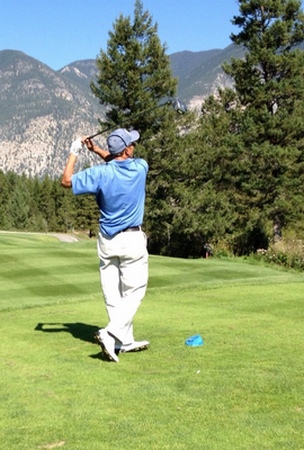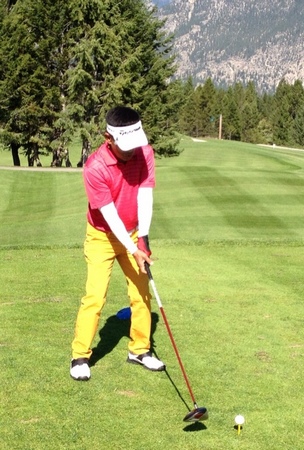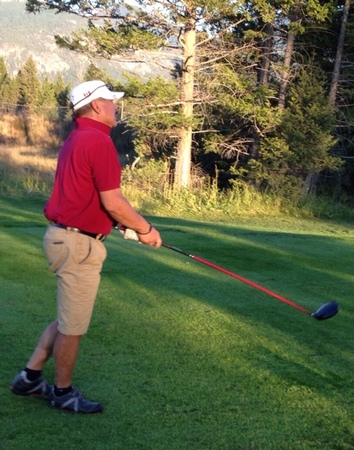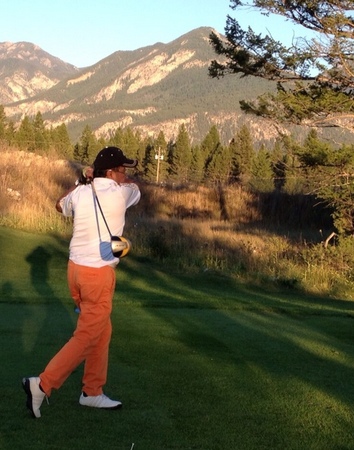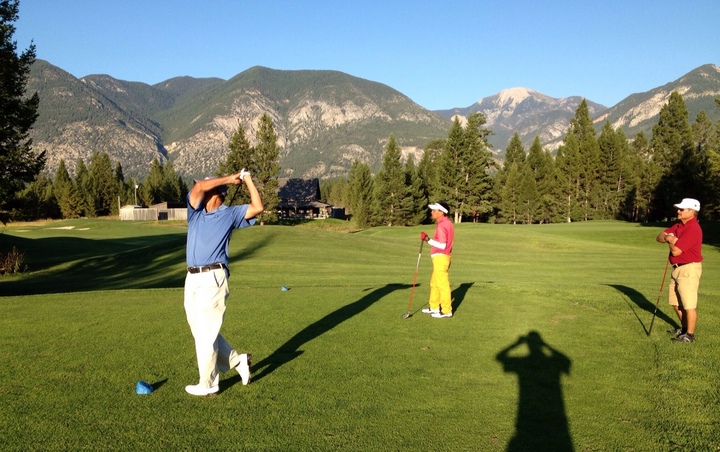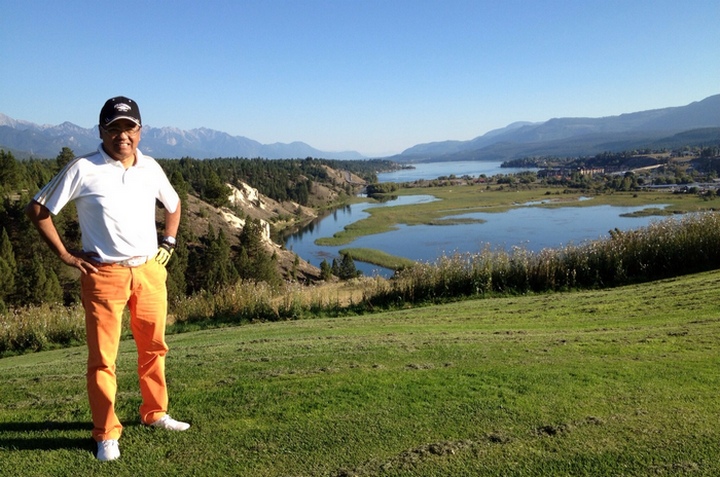 Mountainside Golf Course

Day 4. This was the culmination of our golf competition at Mountainside GC. The North American Team of Noli and Rolly prevailed in the Team Match Play with a score of 2/1. Overall, the golf competition of the Philippine team and The North American Team ended in a TIE with both teams getting 2 points each. What a competition! The group decided to settle the score and declare the winning team in 2015 either in the Philippines or in North America.

Amongst the highlights of the day were as follows: 1. Brod Fred Young, my PhD in Economics batchmate, who was very eager to learn golf, flying and driving in after hurriedly presenting his report to the Minister in Regina, Saskatchewan. He followed the two teams in a separate cart from Hole 1 to Hole 18 to get a better understanding of the golf game and pick up some golf tips. 2. Rolly spent almost 2 hours of golf instructions to Fred teaching the basics of golf prior to the game. 3. I used the Yonex EZone Driver (courtesy of Noli ) and had the longest drive on the 18th hole, out-driving Rolly and Julius by at least 20 yards. 4. The fairways and greens were in perfect condition with the very scenic Canadian Mountain Ranges in the background.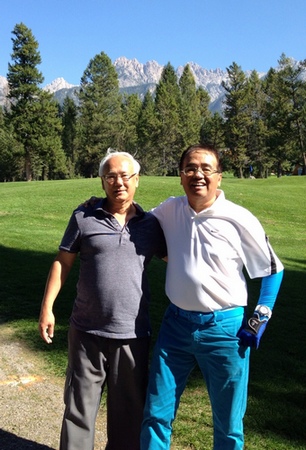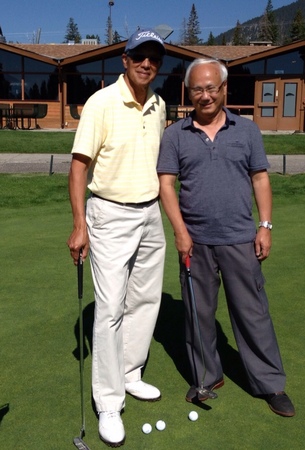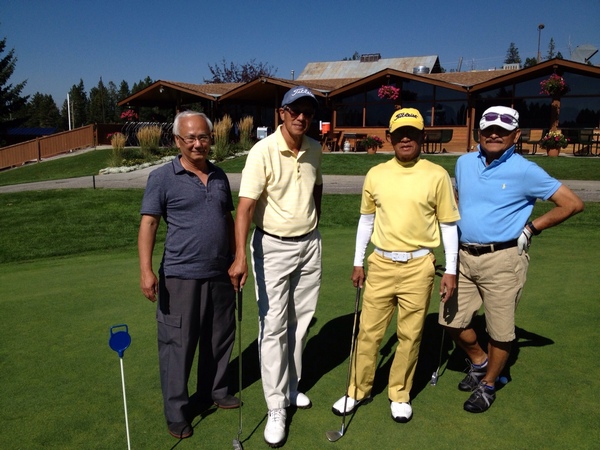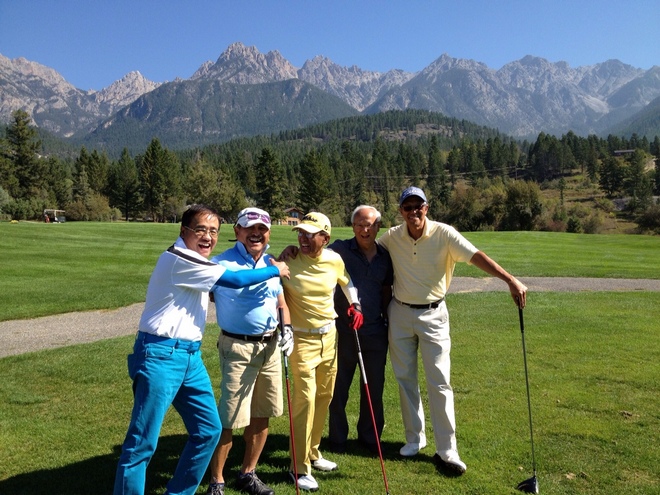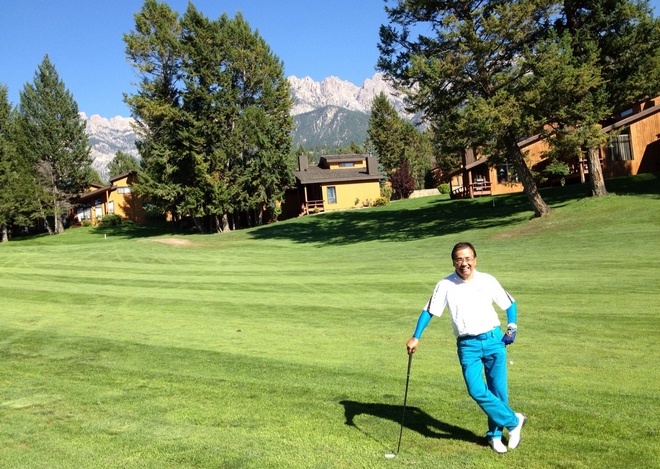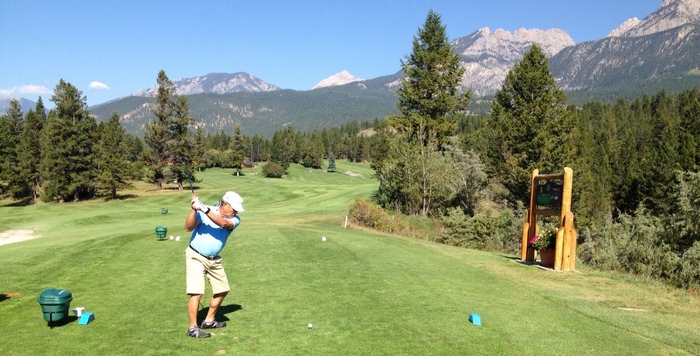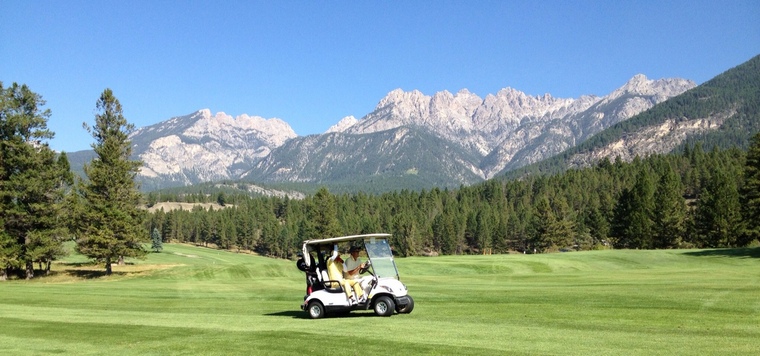 We all enjoyed our golf in perfect sunny weather. We capped our day with a sumptuous dinner of spare-ribs, glazed in Korean barbecue sauce, grilled to perfection by Noli, with matching Pinot Noir wine. As usual, dinner was graced with lots of laughter, reminiscing each other's happy events in our fraternity.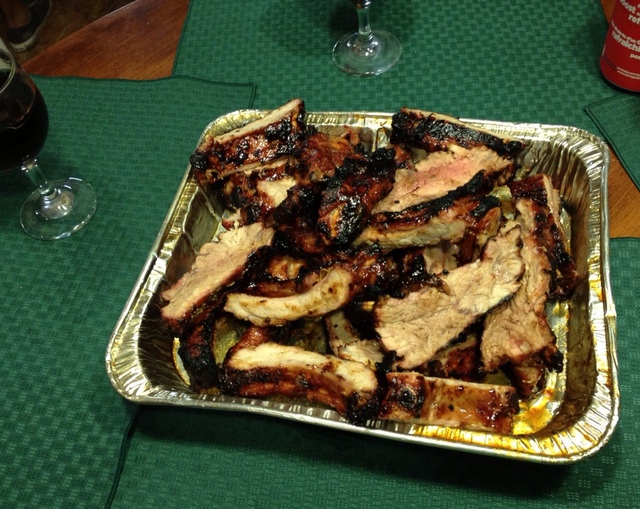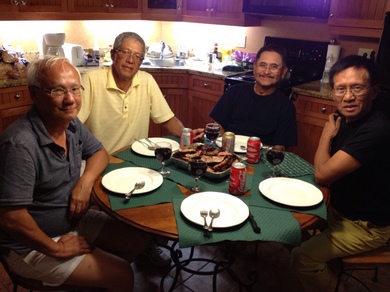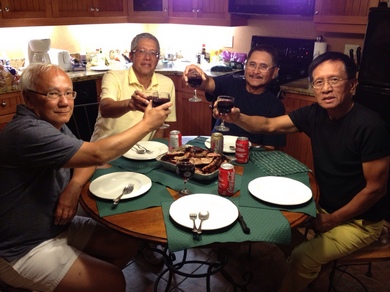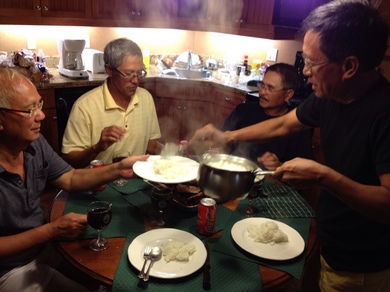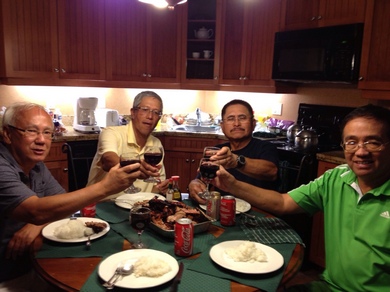 Our last day in Fairmont was spent touring the area visiting some of the golf courses like Copperpoint Golf Club in Invermere, the Springs Golf Course in Radium, clam chowder lunch at FirED UP restaurant, strolling along the North 93 Highway towards the world famous Radium Hot Springs and taking pictures of anything we fancied - like the rock formation along Radium Pass, the natural brook of water cascading down on a very deep cypress-tree-lined ravine. We also took photos of the Big Horn bronze statue in Radium and chanced upon a trio of white-tailed deer while driving Highway 95.

Our farewell dinner was graced with Sirloin New York Cut Alberta Beef, roasted to perfection by our meat and wine expert Rolly, accompanied by Merlot Red Wine and asparagus greens, with vanilla ice cream for dessert.

Wow, what a week! We had great golf in the best golf courses in Fairmont, sightseeing in the best places, did our own cooking and had the most sumptuous dinners, all these in the company of the most endearing brods - Noli Nolasco, Rolly Balingit, Julius Cada, Fred Young and yours truly. And we were also blessed with fantastic sunny weather. Looking forward to our next golfing holiday and competition in 2015.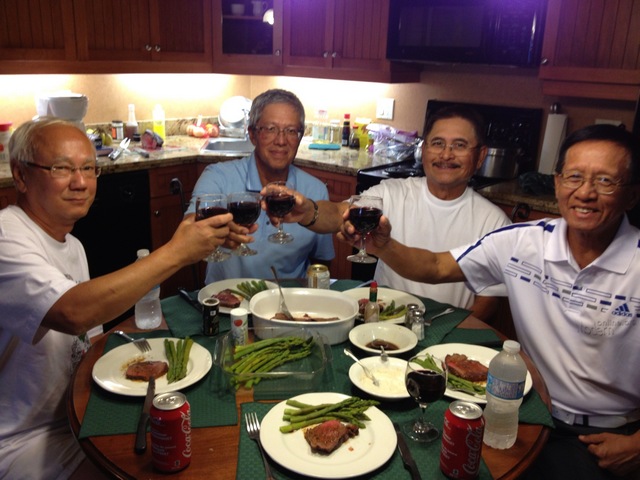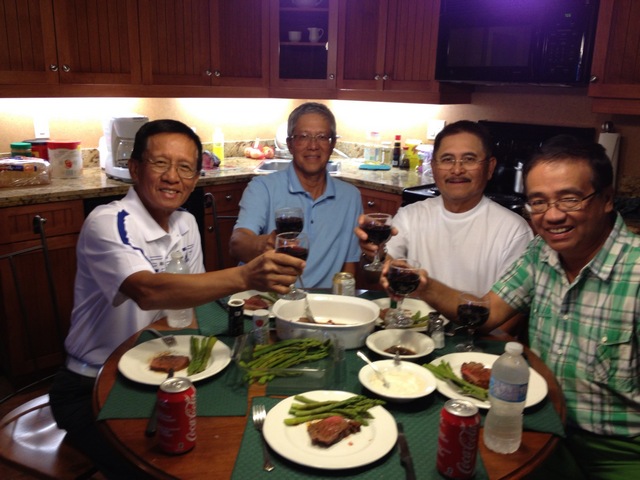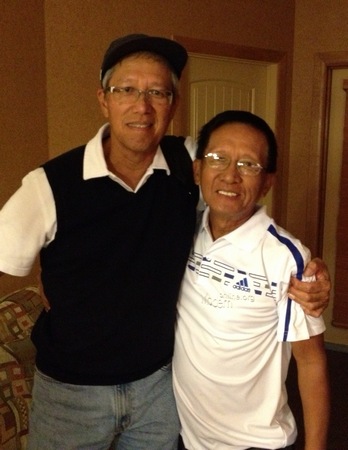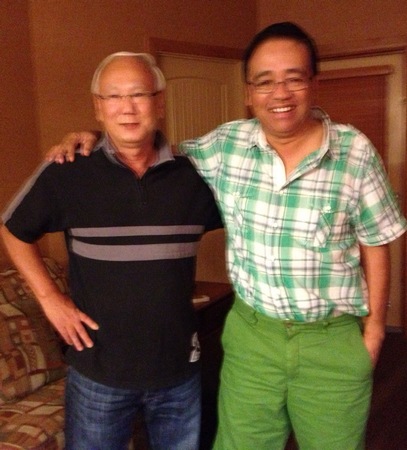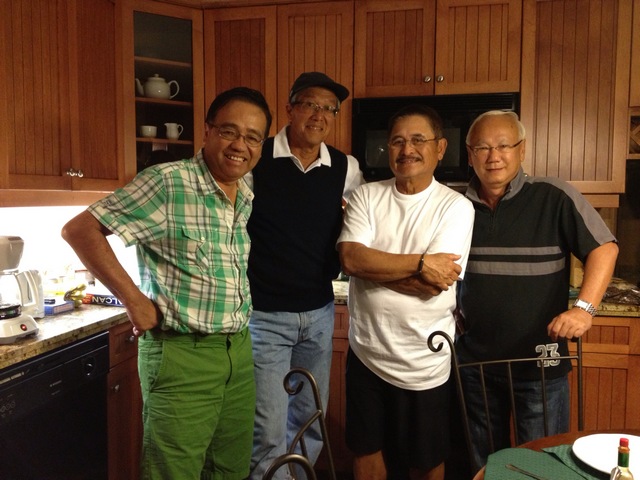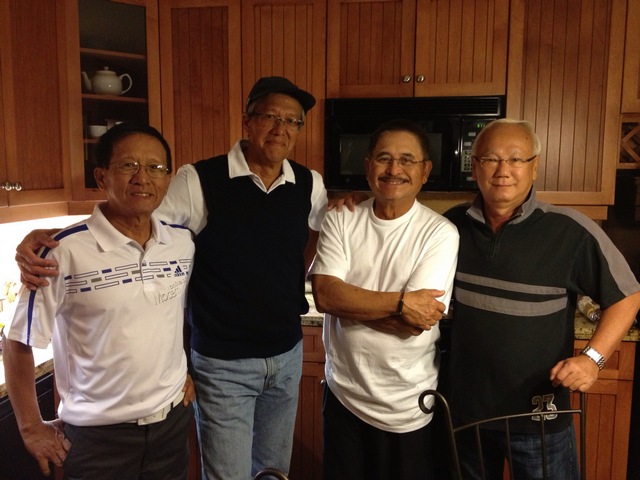 San Francisco
The last leg of my holiday trip was in San Francisco where the brods gave me a welcome gig in the house of my kabatch Gerry Abenes. Many brods from California came including the Band of Brothers. It was exhilarating to be with the brods again, reminiscing the happy moments during our campus days at UP. And jamming with the Band of Brothers was a great experience for me. Ang gagaling tumugtog at kumanta ng Band Of Brothers, no wonder they are the favorite band in providing good music in our frat parties. Kabatch Gerry was perfect with his beat on the drums. Ding was in his early stages of his bass guitar but he did very well. Lead guitarist Brod Babes Ignacio was flawless with his guitar, Brod Kiko Delmendo caressed his sax with mucho gusto... ang sarap pakinggan, and brods Vee De Vera and Nestor Lawas provided the vocals with feeling. Brod Dutch Aragones played the bongos and tambourine, also with gusto. We missed Brod Ike Araneta, rhythm and Brod Frank Morales, bass.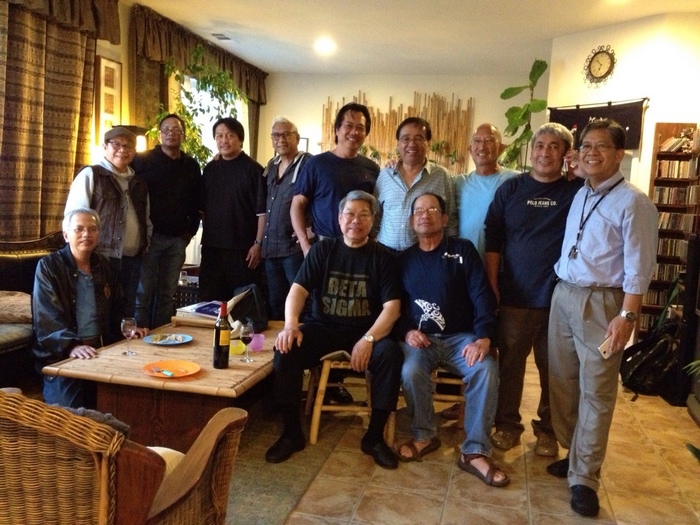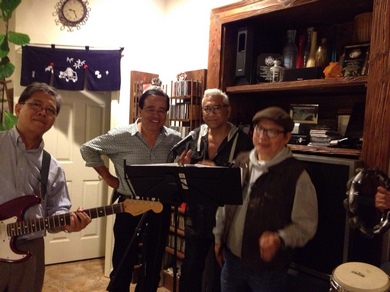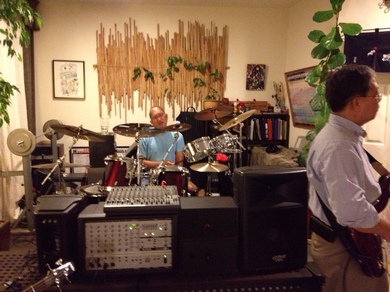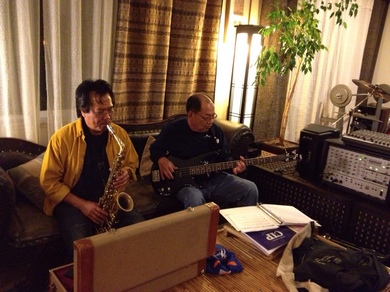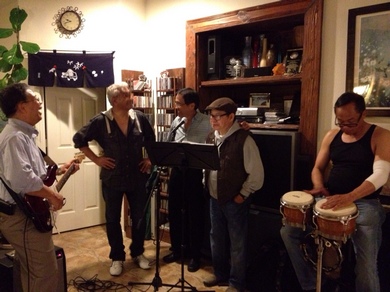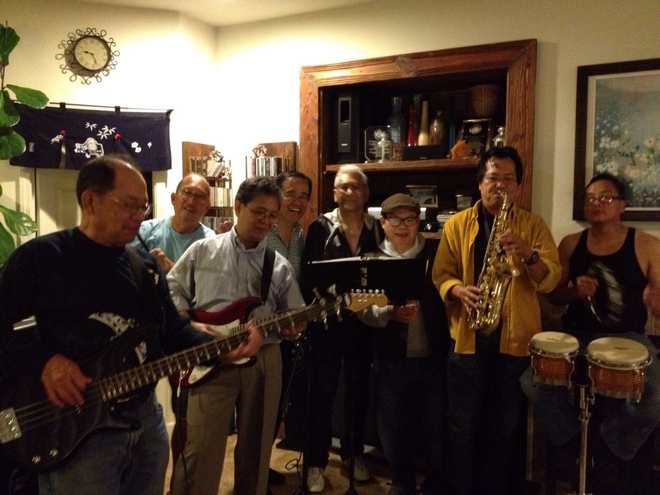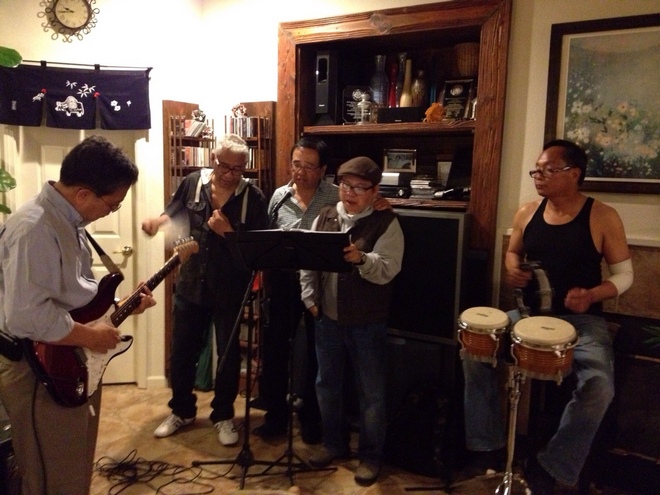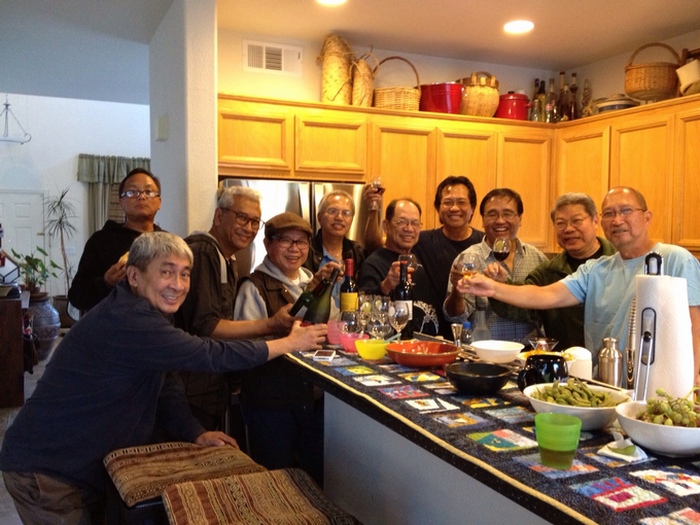 The despedida gig at Ding Cavestany's place was an experience to remember. Ding and Julie played hosts in their beautiful home. Gemma Nemenzo came with her partner Erwin Ver, and it was good to see her in person after so many years since our happy days in our tambayan. I still remember the atmosphere in our tambayan, laging masaya, especially when the girls in mini skirts were there seated on the long bench. The brods and their wives who attended were: Boy and Irma Ramos, Eric and Lita Punzalan, Gabby Moraleda and Cynthia Abiog, Dave and Mercy Villegas and, of course, Gerry and Lleva Abenes and Ding and Julie Cavestany. Puro GP ang nag attend! My decision to pass by San Francisco from Calgary,Canada was one of my best decisions in my travels. Thanks to all my brods who made my trip the best so far!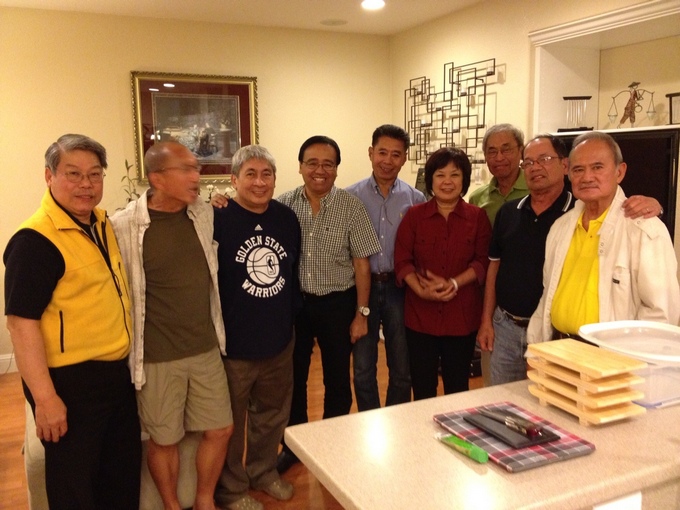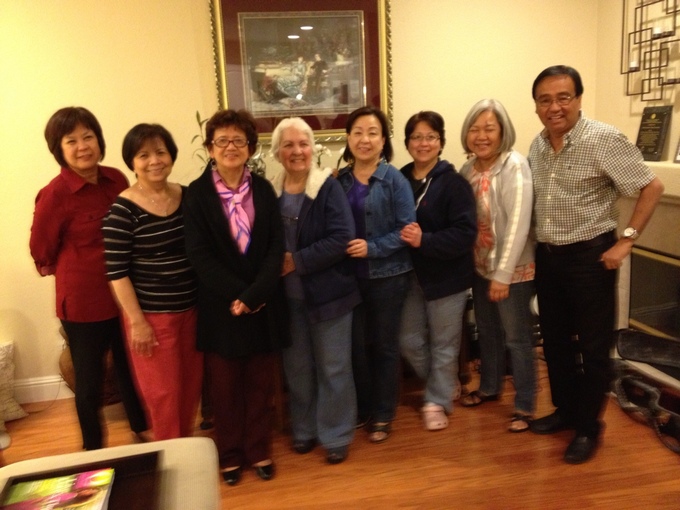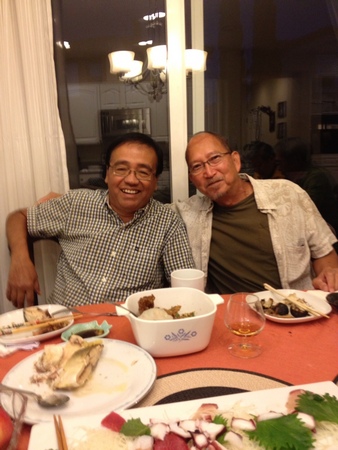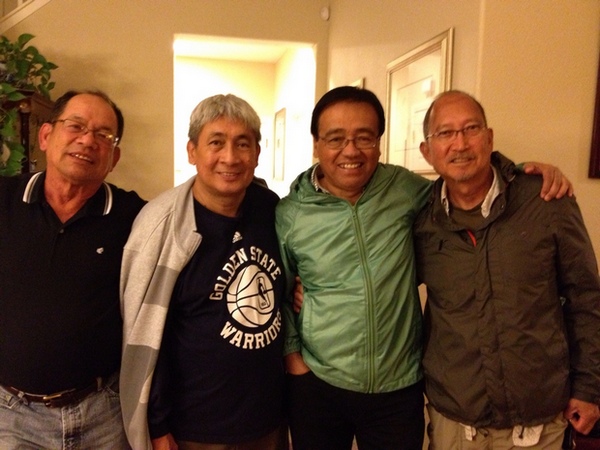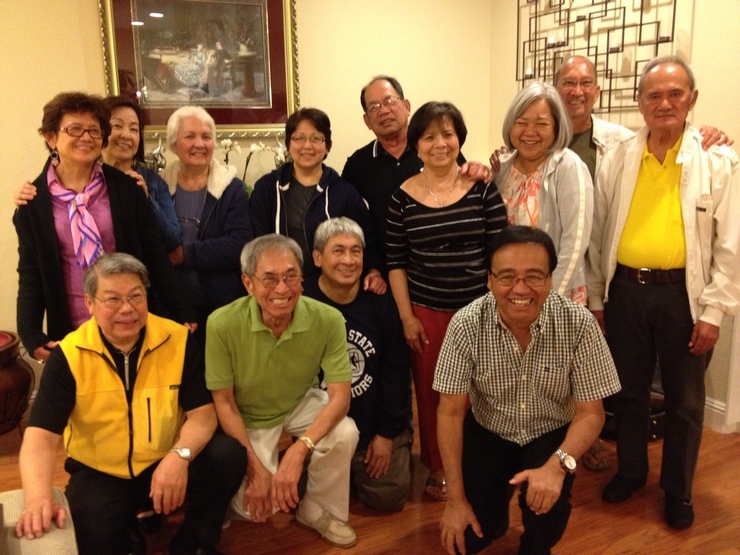 Sa ating muling pagkikita!!