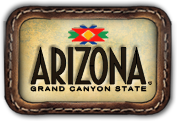 Web foreword: An Unholy Trinity of Six (or Five, as we have Pastor Rod)
by Norm Bituin
On our way to the Grand Canyon, our group of six brods, namely Rolly Reyes and Joel Paredes from the Philippines, Willie Vergara, Rod Reyes, Danny Galoso and myself from California, decided that Joel, the professional journalist and author, would do the write-up and we would all throw in our select photos. Dan, however, was cool about sharing his thoughts and feelings as well. Which was a good thing. So then, as the one who would collate and compose all the materials into this web travel article, I asked the other guys, including myself, to do a short commentary on the trip. So what we have here, following Joel's masterful lead, is a 6-part collaboration and collage from all of us. We hope you like it.
As you know, this was organized mainly as a "photo shoot" opportunity for amateur photography hobbyists like us. Especially for those who have the same interest, our individual camera gears are as follows: Rolly had a Canon 5D Mark II and a Leica X2; Joel a Canon 60D and Nikon Coolpix L810; Willie also a Canon 60D; Rod used his Apple Ipad 4; Dan, in this age of high resolution camera phones, availed of his Android smart phone; and I had my Canon T3i.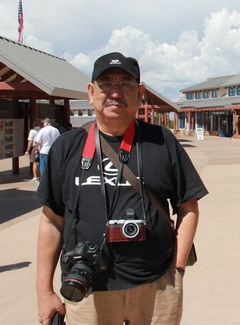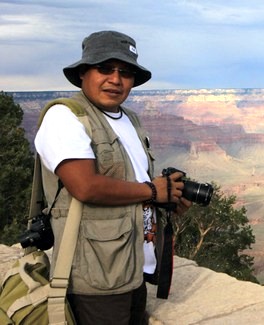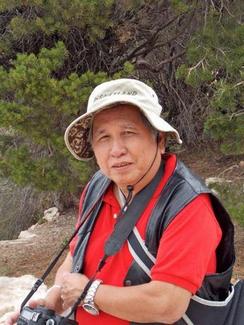 Rolly Joel Willie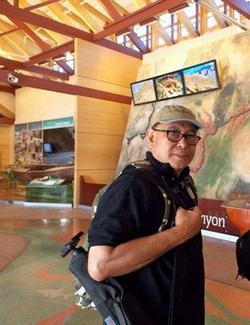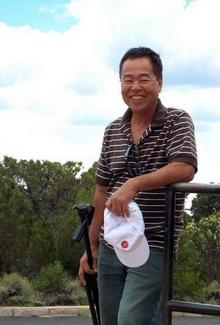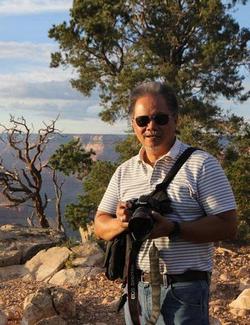 Rod Danny Norman
========================================================================================
Visiting the Grand Canyon: a bond of brothers
September 3-7, 2012
by Joel Paredes

All we wanted was to have fun in the jagged, yet invigorating terrains of the Grand Canyon of Arizona. But the best excuse was to organize a "photo tour" of this southwest terrain. And in that five-day road trip, we found more than what we wanted and rediscovered a bond that we, as Beta Sigmans of the University of the Philippines, have always been proud of.

Well, it was no accident that I became part of the Grand Canyon "pilgrimage." Several weeks before the trip, Brod Rolly Reyes already sounded me off that some brods were planning to visit the Grand Canyon right after the ball of the UP Beta Sigma Southern California chapter at the Hyatt Hotel in Valencia, California.

As we were finalizing the trip, only six brods could make it. That wasn't surprising, though. Everyone was tired. One brod even remarked that it was ridiculous to brave the Arizona heat, even if the sweltering summer was about to end. We had a fair warning when in one of our stops, we found that the temperature had surged to 108 degrees Fahrenheit.

As if by twist of fate, we had a servant of the Lord, Brod Pastor Rod Reyes offering to drive for us, with his "Kuya Rolly" at the front seat, and with me along with Brods Willie "Tatang" Vergara, Norman Bituin and Danny Galoso relaxed at the back seats of a 2012 Nissan Quest SUV that the group rented.

After a 10–hour drive we reached the laidback town of Williams, which is famous for romanticizing the "Route 66" and its classic western ambience. It also turned out to be the gateway to the South Rim of the majestic Grand Canyon. As one brochure puts it, Williams is "an extraordinary way to enjoy the Grand Canyon!"

Brods Tatang and Rod could hardly wait to get a piece of the Route 66 shirt. Brod Rolly, on the other hand, found himself fantasizing as a modern-day cowboy, minus his saddle and leather belt, as he walked down the dark alleys with his Leica camera. Brod Norman, as expected was dead serious in getting a good shot. Believe it or not, Brod Danny became our "resident model" for the trip, readily posing whenever we needed one.

Our final stop for the day was the Red Feather, a family-owned and operated lodge - our home for the next two days. By the way, Brod Tatang had been craving for Mexican food, but after overeating that night at the La Bonita Mexican restaurant, he was done with it.

After an early breakfast at McDonalds right across the hotel, we immediately proceeded to the Grand Canyon, which according to naturalist Susan Lamb fascinated her because it looked like a fire from the odd shapes and brilliant colors that emerged among its countless ravines and promontories.

The Grand Canyon, tagged as "one of Earth's most powerful, inspiring landscapes," actually depicts the geological process played out over unimaginable time with a combination of sizes, color and dazzling erosions that formed the massive structures that spanned 277 river miles long, up to 18 miles wide, and a mile deep.

Its long history includes rock nearly two billion years old at the bottom of the canyon, landmasses colliding and drifting apart, mountains forming and eroding away, sea levels rising and falling, and relentless forces of moving waters.

As Lamb later put it in her book Grand Canyon, the Vault of Heaven, "this is a place where our imagination are free and anything seems possible, a setting for a venture of the mind and spirit as well as a test of physical stamina."

Our first stop for the day was the South Rim's Visitor Center to get an overview of the place with glimpses of the drama that was about to unfold in this majestic place through a short documentary.

It turned out that there was only one canyon with two rims. The South and the North Rims were just 20 miles "apart as a raven flies," but 215 miles (356 kilometers) by road.

We got our first classic view of the 7,000 feet Grand Canyon as we walked to the Mather Point near the Yavapai Point, which also housed the Yavapai Geology Museum.

For the next two days, we explored the seven-mile Hermit Road through free shuttle service provided by the park and cruised the scenic points of Mohave, Hopi, Yavapai and Yaki. Indeed, each point showed its own character, as the rocks glowed with the phase of the sun and later darkening at dusk.

On our way back, Brod Norman programmed our GPS on a different route to maximize our trip in the southwest. Our next stop was Sedona, a picturesque city in place known as Red Rock Country, literally because it boasts of red-rock monoliths, which had names like Coffeepot, Cathedral and Bell.

It was supposed to be the home of the native Indian, but ironically we hardly saw one. And when we visited Verde Valley, we learned that the castle, the monument and the well were named Montezuma, which wasn't actually related to the Aztec emperor whose despotic reign in Mexico became legendary for it was marked by incessant warfare.

The valley also looked like desert and has been known for centuries as a "proverbial breadbasket of bounty." It was said that before the Sinagua culture became extinct in this valley, the native Indians on the landscape built more than 40 major pueblos.

To this day, the Montezuma Castle remains the best-preserved example of Native American architecture in the Southwest. Once upon a time, they say it housed between 85 to 90 rooms to comprise a community of 150 people. Meanwhile, the Montezuma Well continues to remain as the source of more than 1.5 millions of water daily from its two powerful vents.

Now we're back to reality. What we proved in that trip was not a test of our stamina, but how best we can maximize a moment in our time that briefly warped. And I could hardly wait for the next adventure.

Cheers,
JOEL PAREDES '73D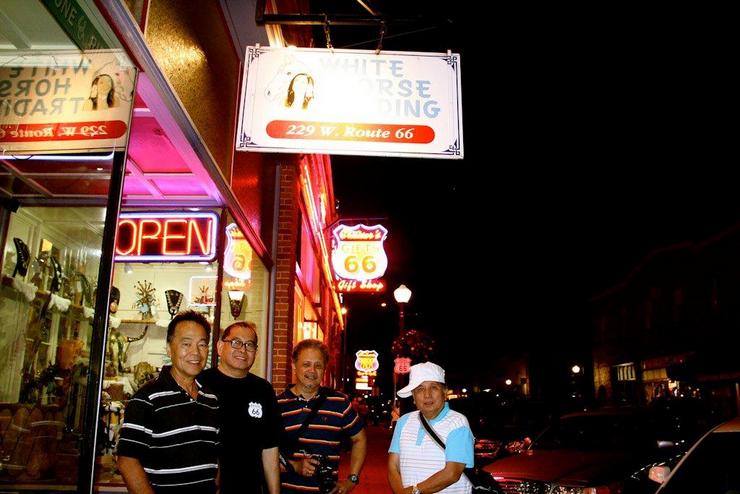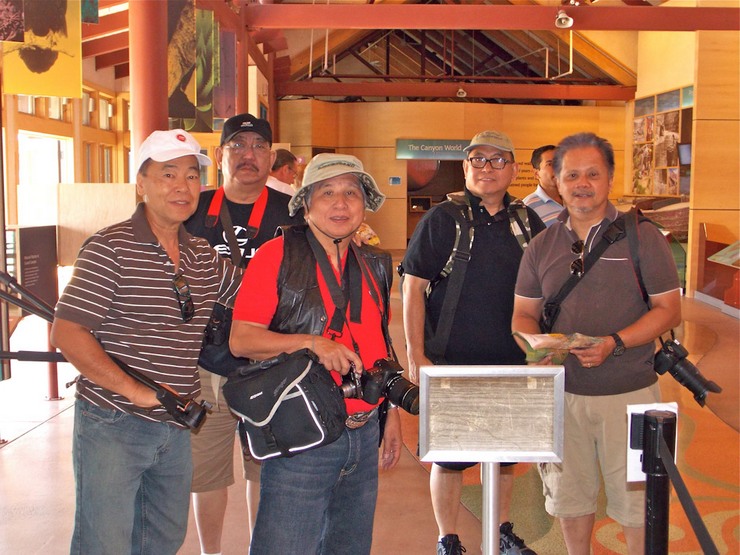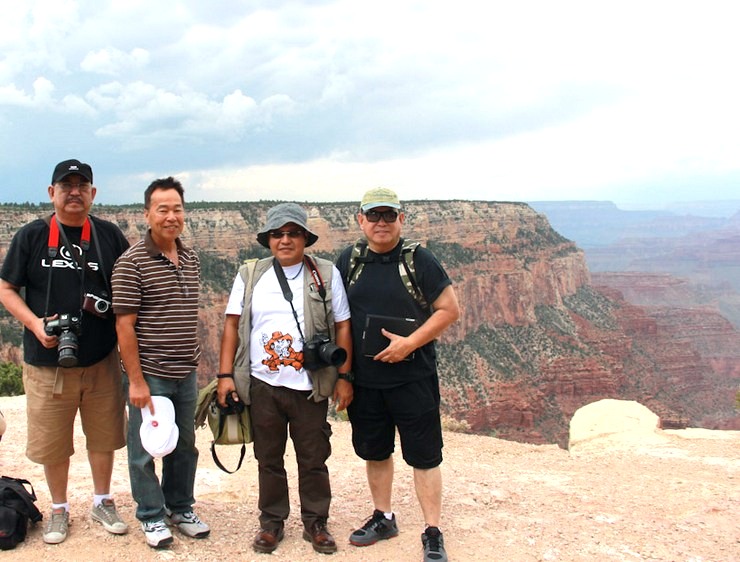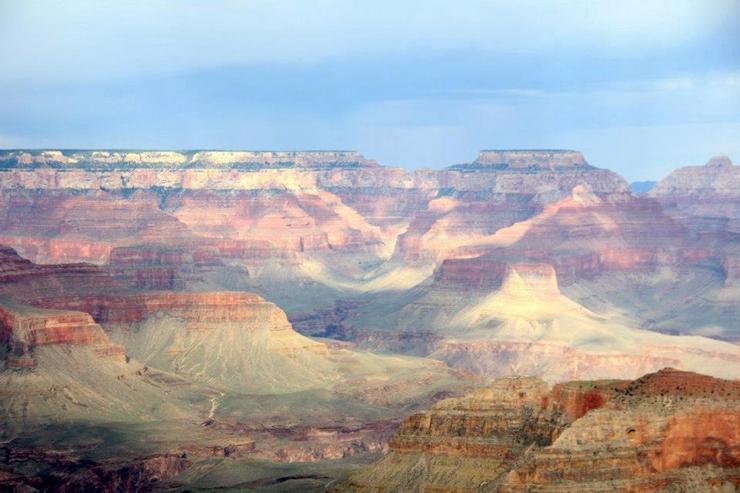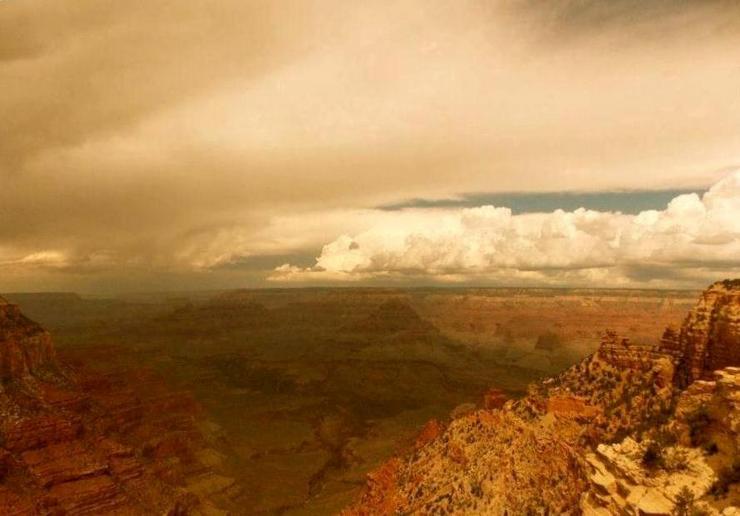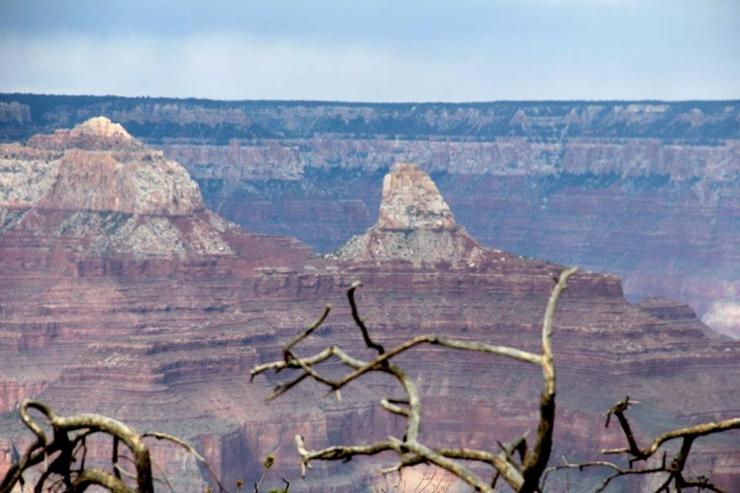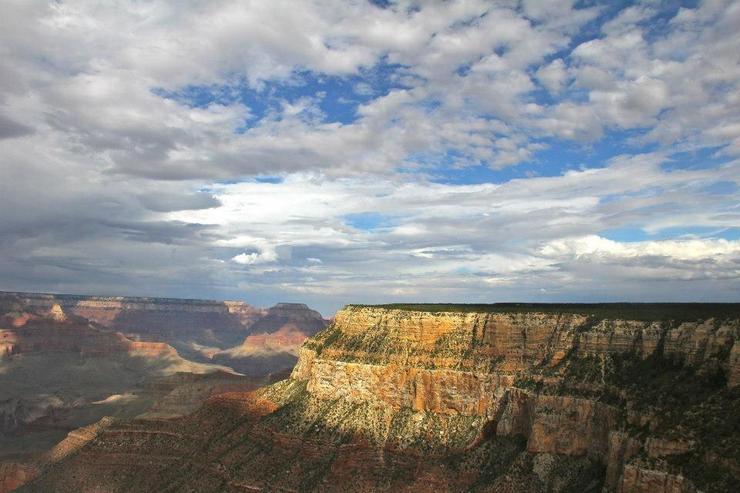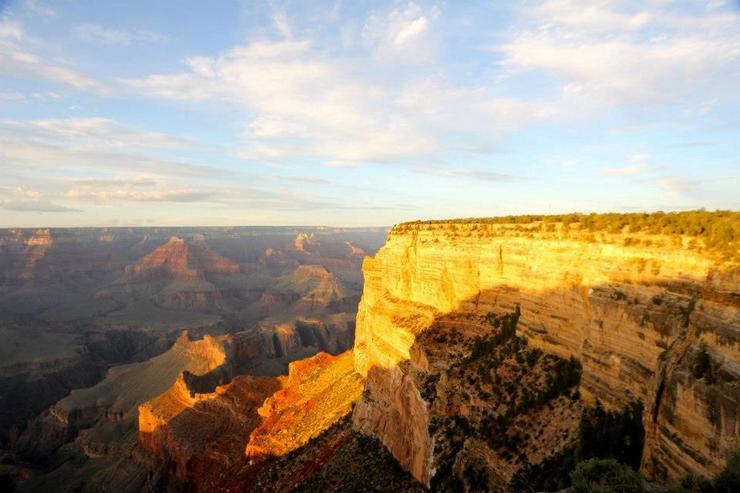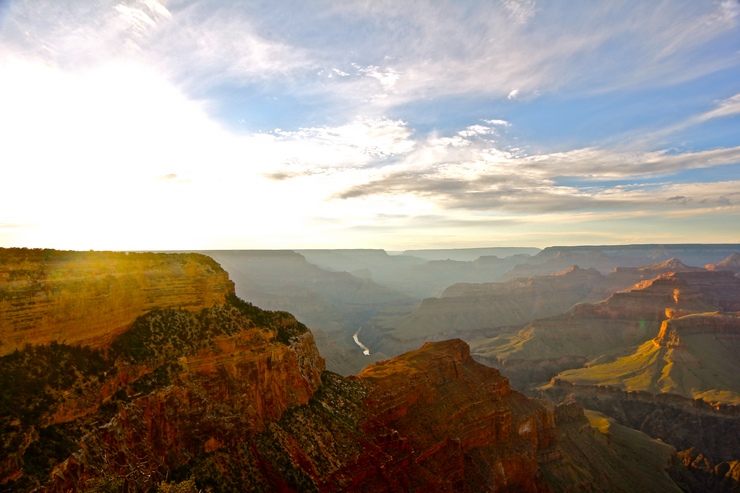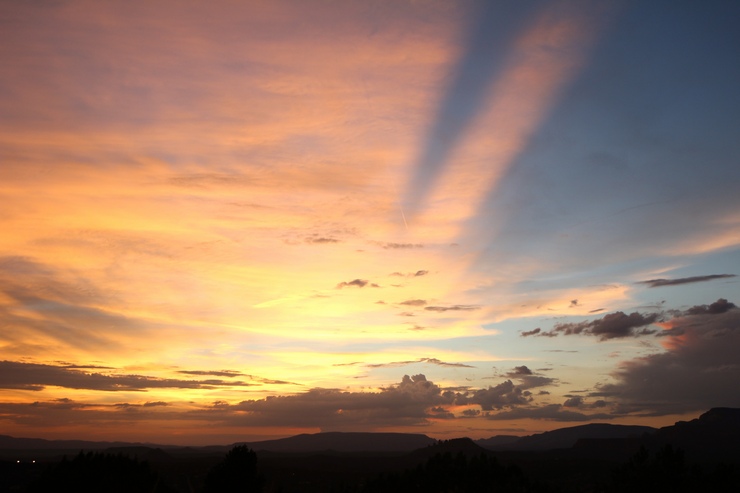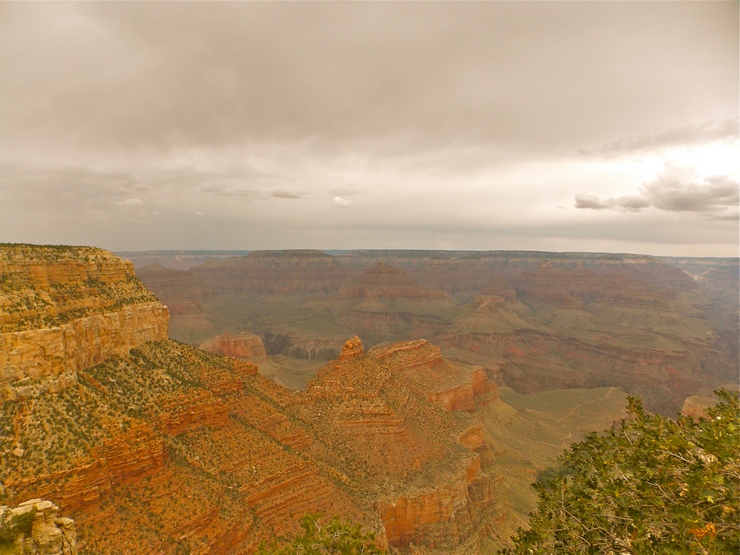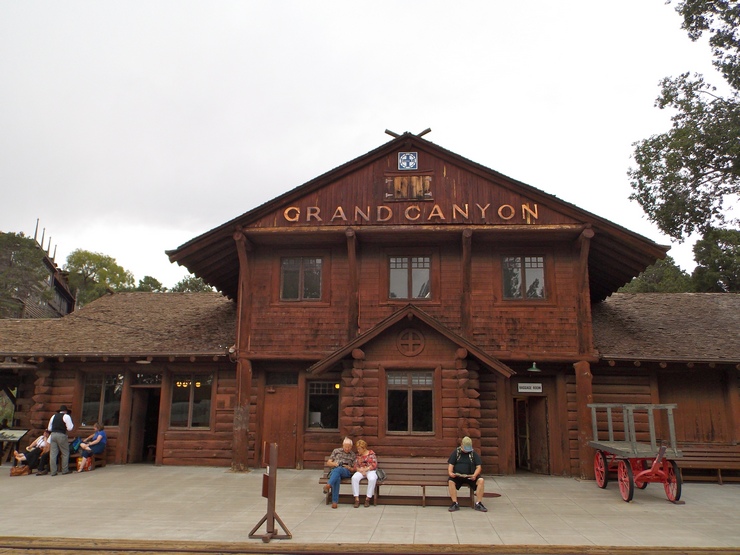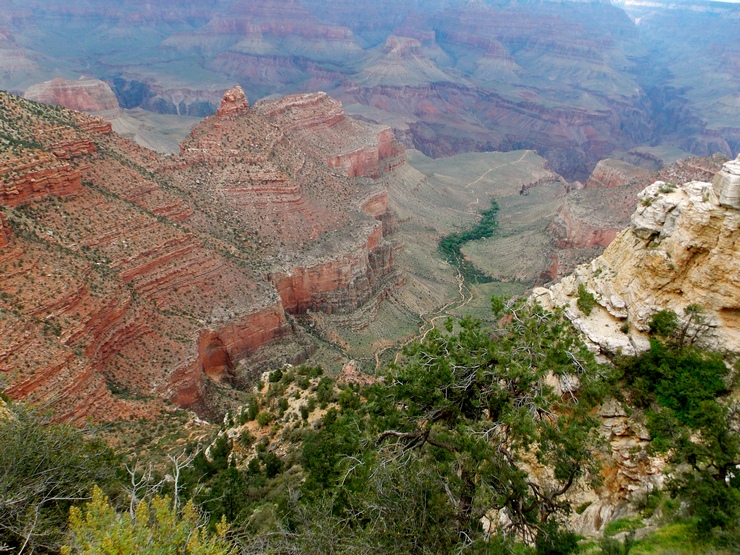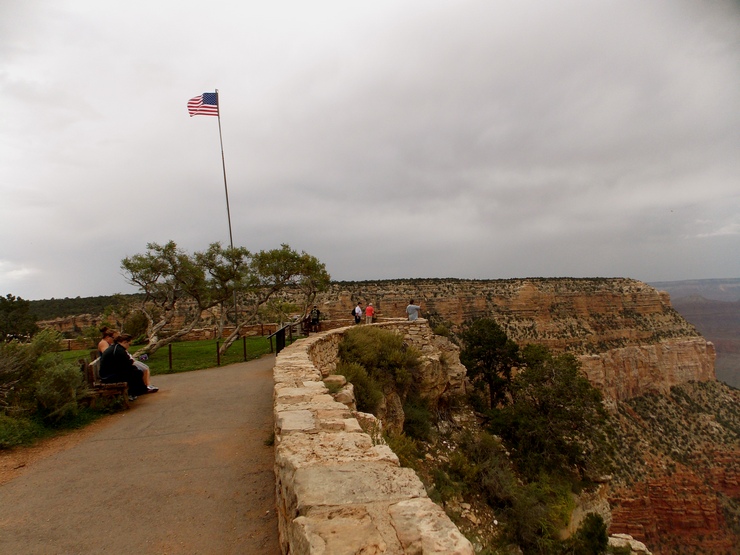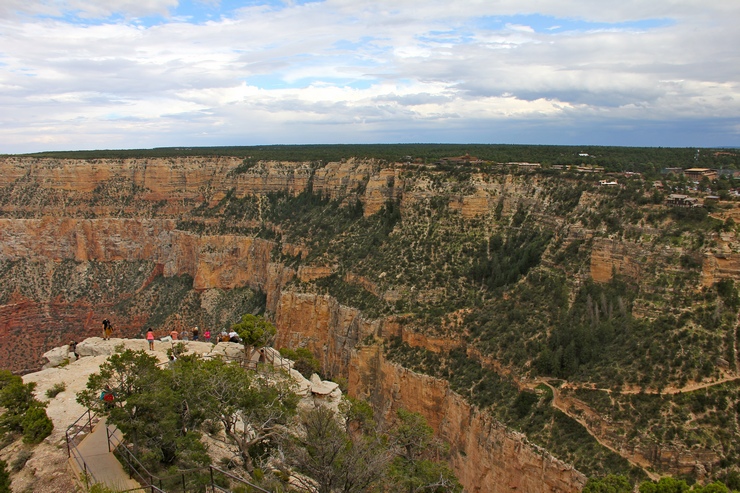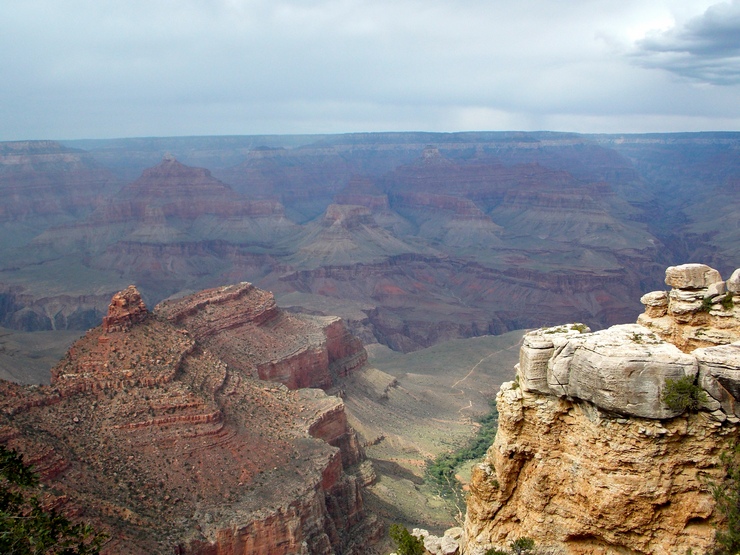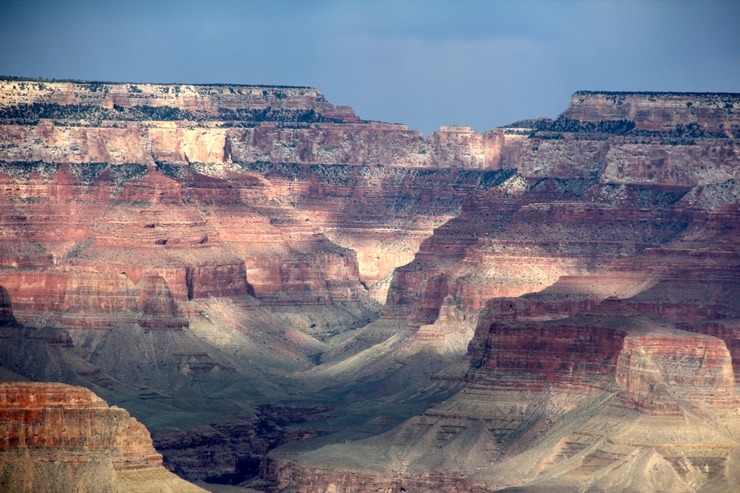 Love and Brotherhood
by Danny Galoso
Some of you may have noticed that recently, I have tried to stay away from fraternity activities and only a few of you know the reasons why. It's not about any particular brod. It has got nothing to do with the fraternity. But, rather, it is about me. I have wanted to keep a low profile but there are a few brods that I just cannot say "No" to. And when Brods Norman Bituin and Willie Vergara urged me to join them on this Arizona trip, I simply had to.

I have been to the Grand Canyon several times before and during different seasons. I even spent several nights at one of the lodges at the Park with my former family. It was New Year's Eve, several years ago and I decided not to take any pictures. We went there simply for ourselves and to commune with nature. It was winter time and the pristine snow on the ground gave the canyon a different flavor. Maybe it was a different experience from the last time we visited, but I still felt the smallness one feels when confronted by the grandeur of such an awesome spectacle. I could sense the boundless Arizona skies, the timeless immensity of the deep canyons, the hard and tough granite stones forged by fire from the bowels of the earth, the limitless scenery, intricate and colorful with the various shades of color that characterize its personality.

This time with the brods was not altogether different. Brods Rolly Reyes, Pastor Rod Reyes, Joel Paredes, Willie Vergara and Norman Bituin are brods close to me and actually more like family. Joel, I have come to know closely during my recent trips to the Philippines. Rod and I go way back and we have a connection to a certain LC. Rolly and I go way back too. I was a Fine Arts tambay and we used to drink at Katipunan Gardens, one to one, talking about things close to our hearts. Norman and Willie are barkadang Cubao and we had life and death experiences together.

With the brods, I enjoyed the scenery as much as the camaraderie, the bonding, the brotherhood. It is timeless, eternal and profound. Intricate and colorful. It was a spiritual and awesome experience.

Grand Canyon brings me closer to reality. It could well be my life story. It reminds me of my personal family life that was characterized by an erosion of faith, trust and fidelity. I am here, this is me and this is my life story.

My relationship with these brods, though, has deepened and has withstood the test of time, immune from an erosion of faith and trust and fidelity. It is as boundless as the Arizona skies, as timeless as the immense deep canyons, as hard and tough as the granite stones forged by fire, as intricate and colorful as the scenery with their different personalities.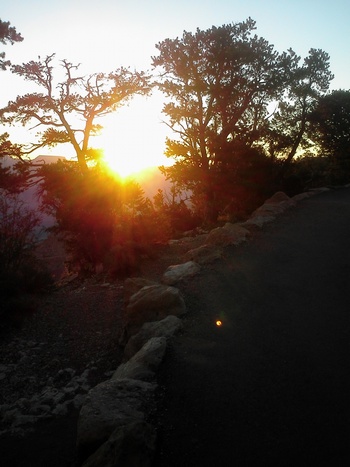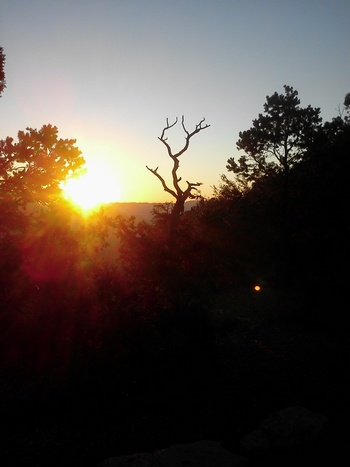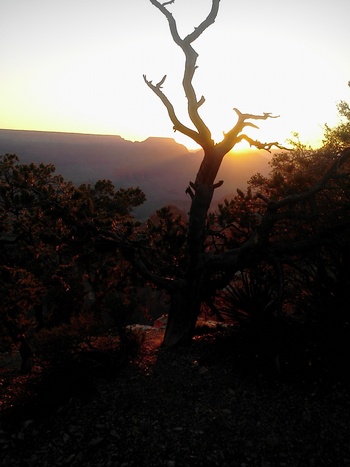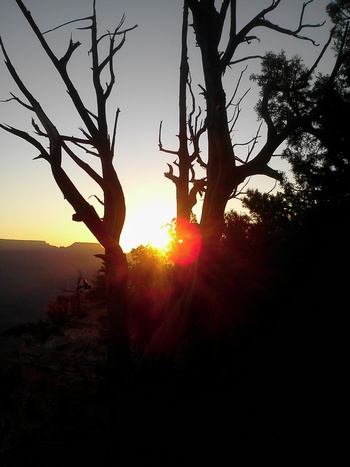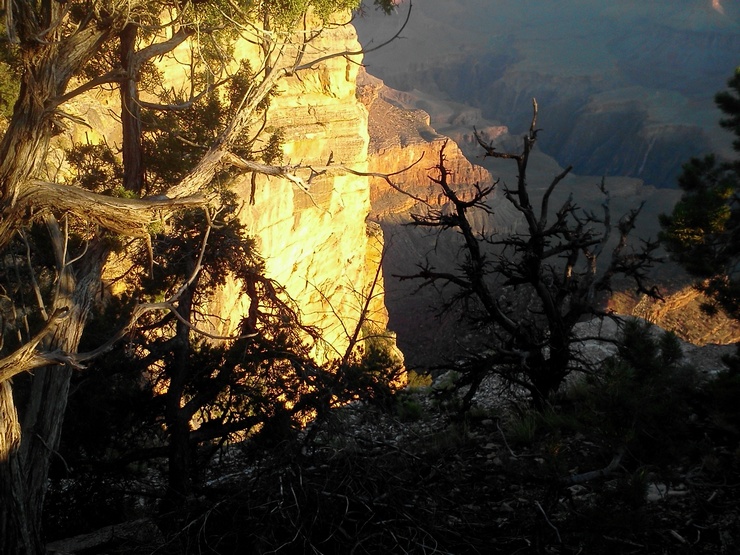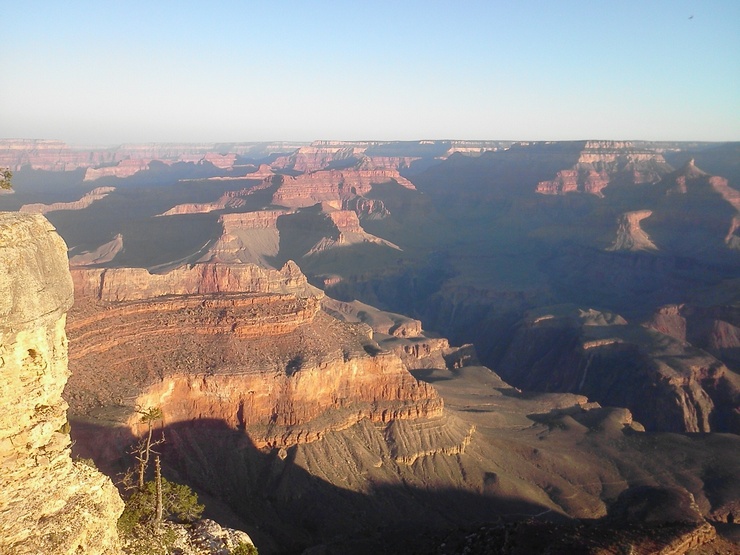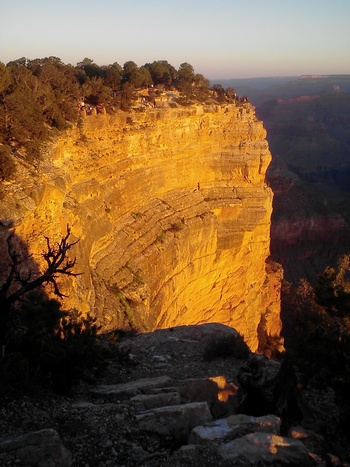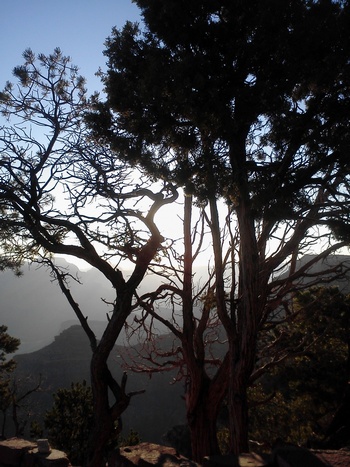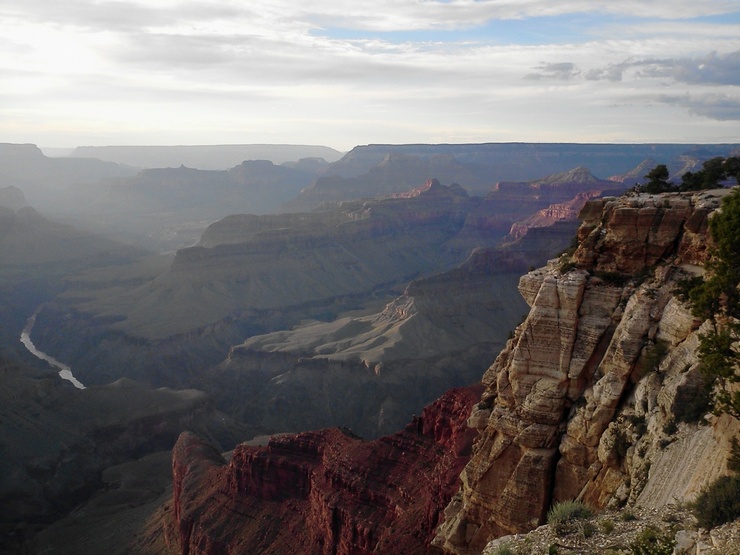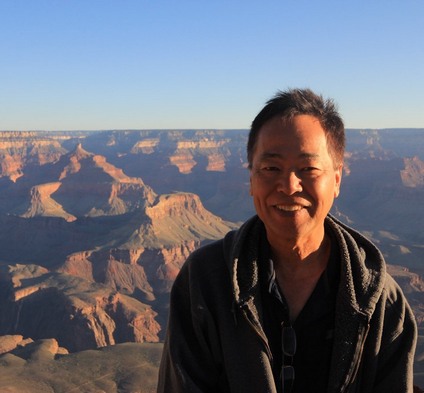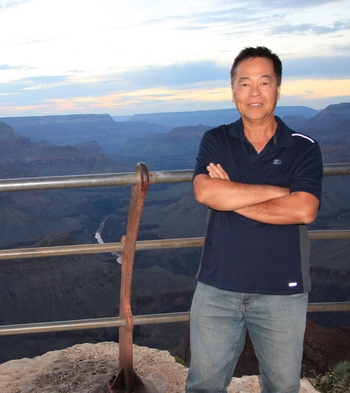 A Sculpture in Progress
by Rolly Reyes '66
Superlatives were heaped into this magnificent work of art but failed miserably to do justice to fully describe its venerable immensity unless one sets foot in this hollowed ground of Arizona. Even Wikipedia's technical description is not enough to unravel the majesty of this geographical dot in planet earth. The Artist Creator, with his playful hands, showed humankind how to make a sculpture by using powerful carving tools such as earth, air and water and uses the moon, the stars, dawns and sunsets to provide the studio lights.

Grand Canyon is His fiefdom...his open-sky court where millions of vassals pay homage to the nobility of his artwork - including six UP Betans who banded and bonded together in a very memorable 5-day trip. One cannot help but sense an awkward feeling of transformation as if when you arrive, you thought you were a seven-foot-giant but after spending a few minutes, you suddenly realize that you are just millimeters short - a tiny speck of dust in this gaping hole.

Watching Grand Canyon is like peeping into a kaleidoscope - the unpredictable symphony of colors accompanied by heartbeats as they change mischievously throughout the day - as documented by our lenses. The Artist has been carving these rocks for hundreds of million years yet he seems not pleased as he continues to chisel the artwork up to present. Who knows, maybe it's his way of relaying his joy of being visited by those close to his heart. The six Betans left with that joy and a piece of Grand Canyon in their hearts that will surely stay there forever.

To brothers Norman, Tatang, Danny, Joel, and Rod - best being with you.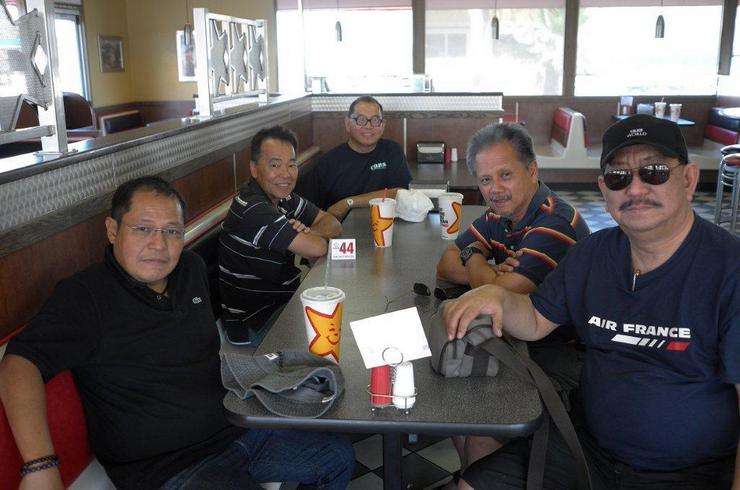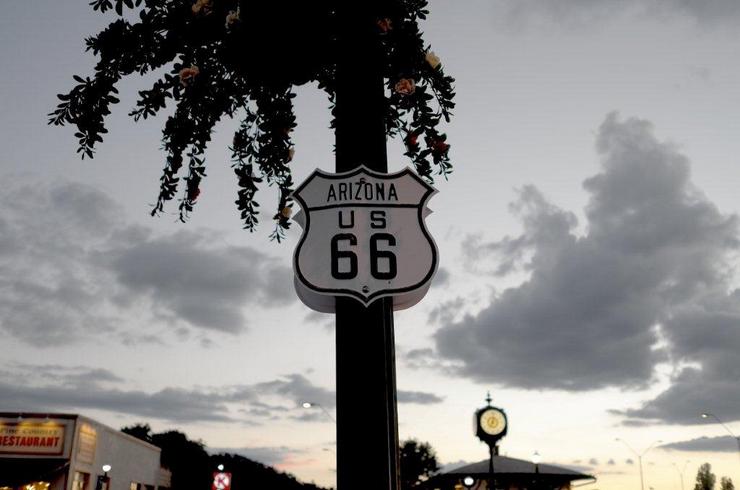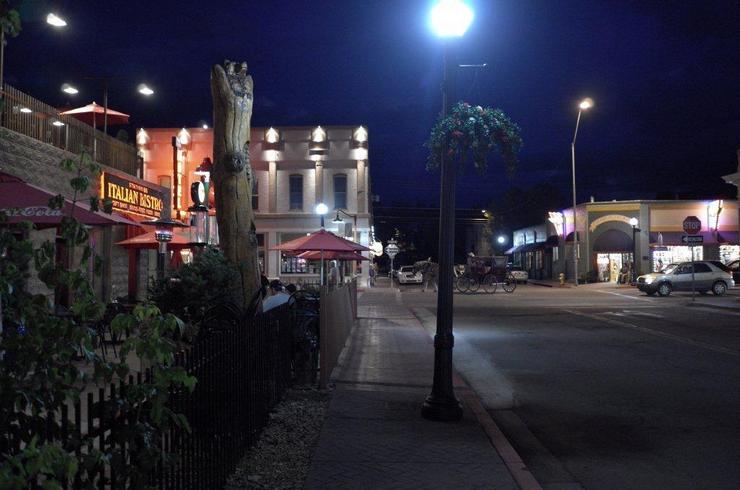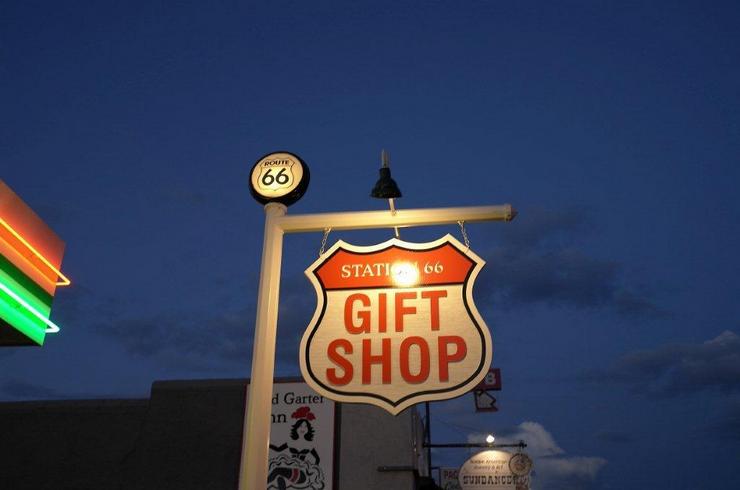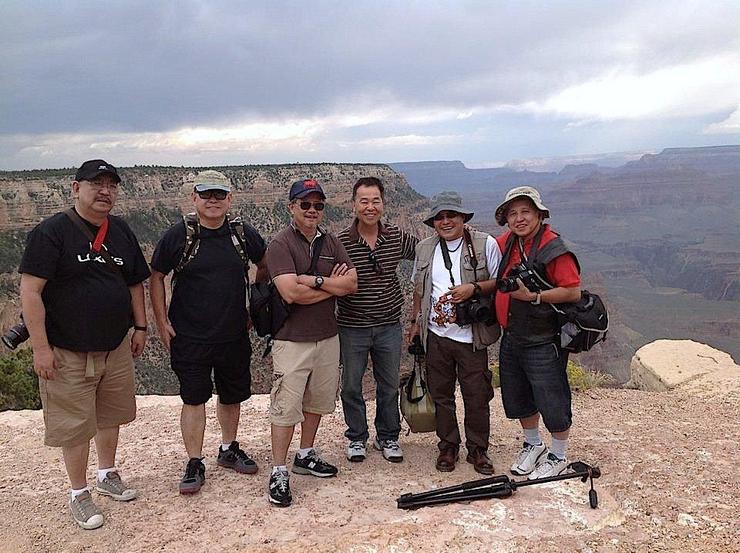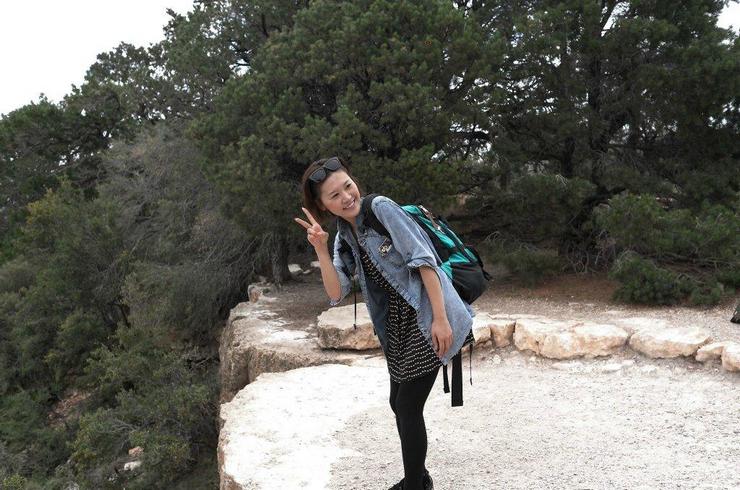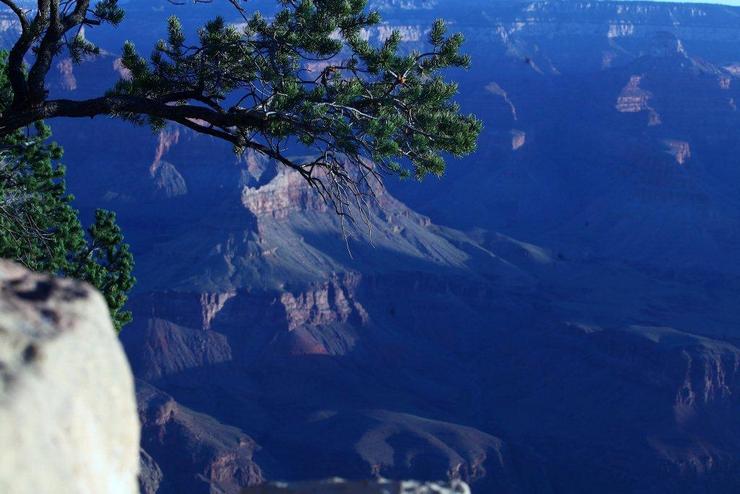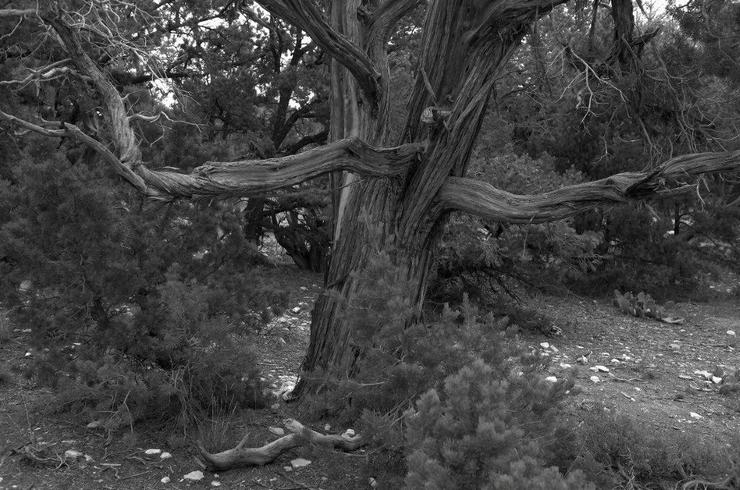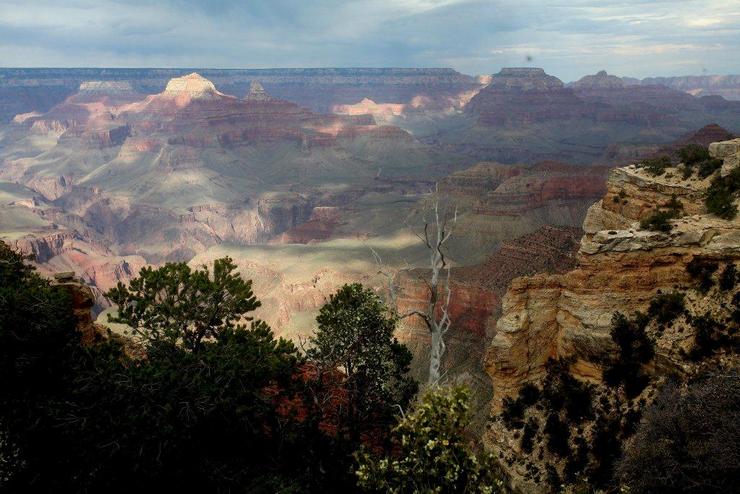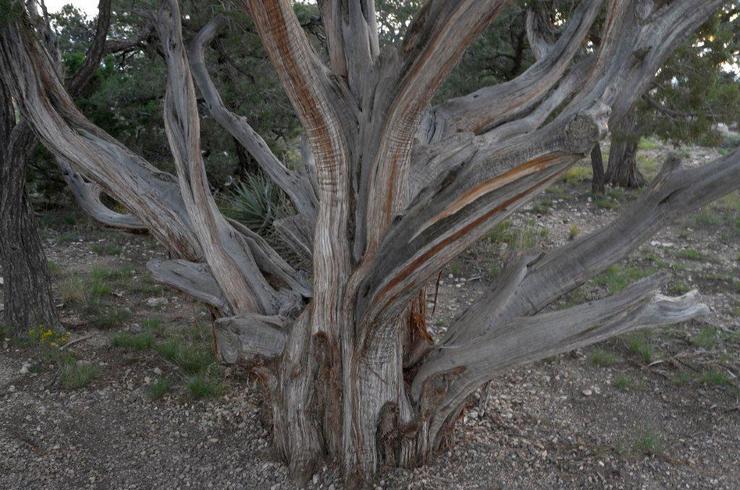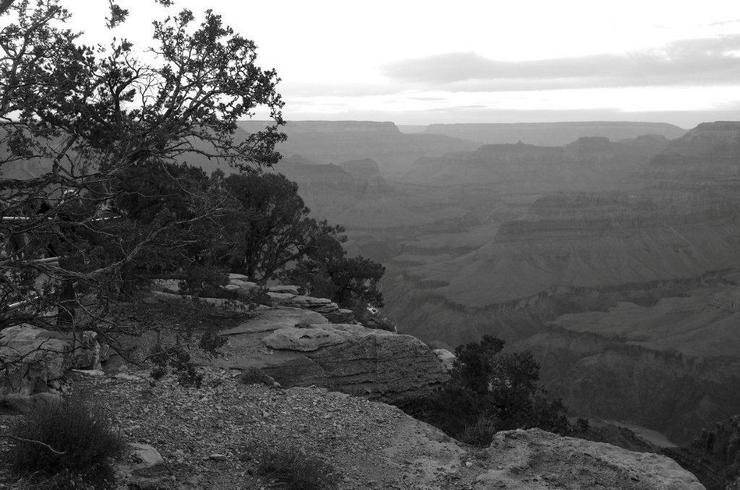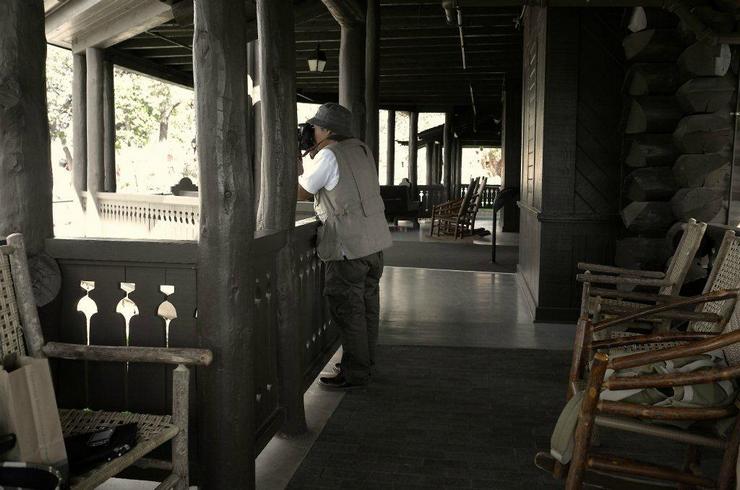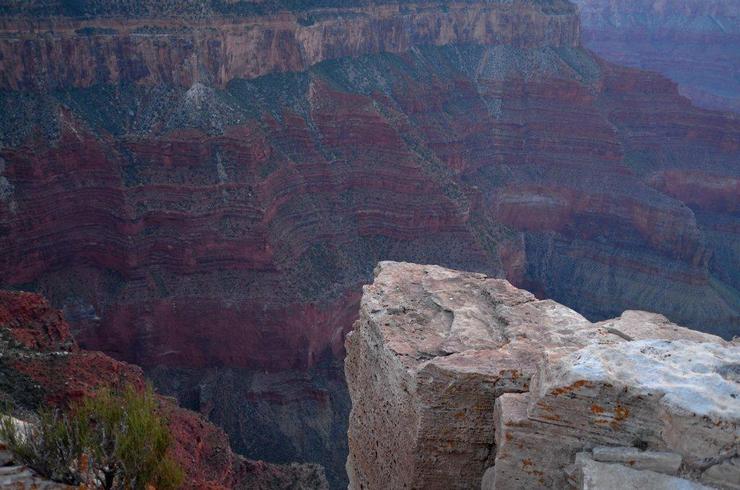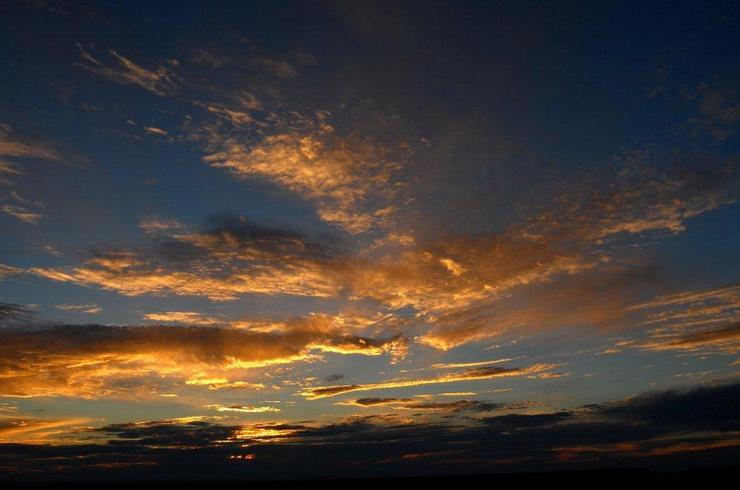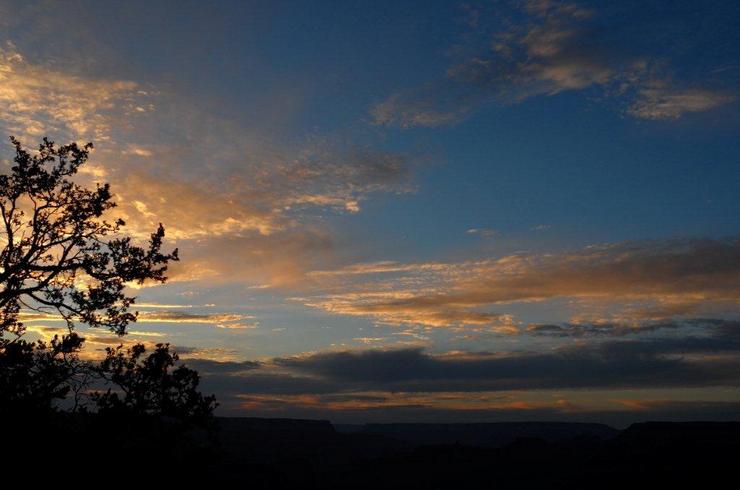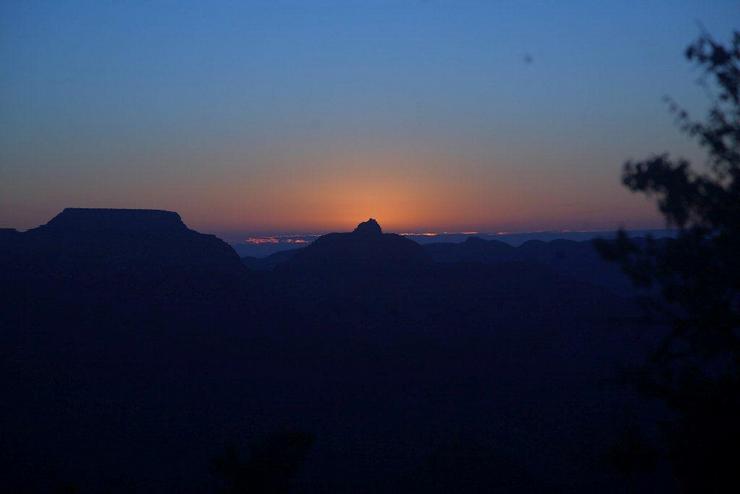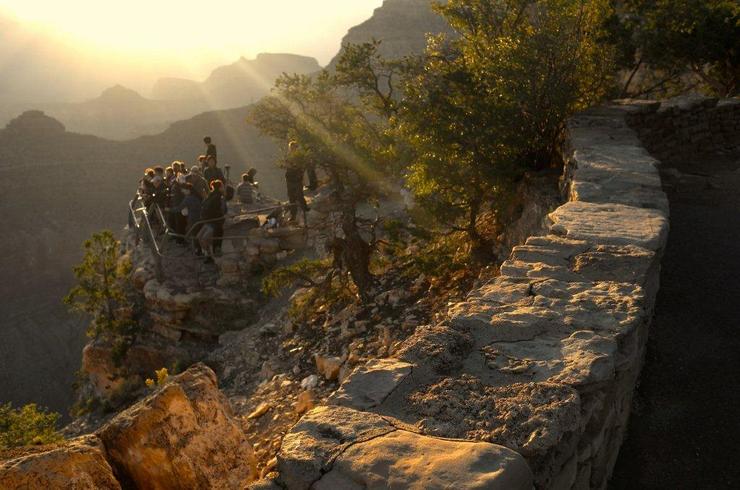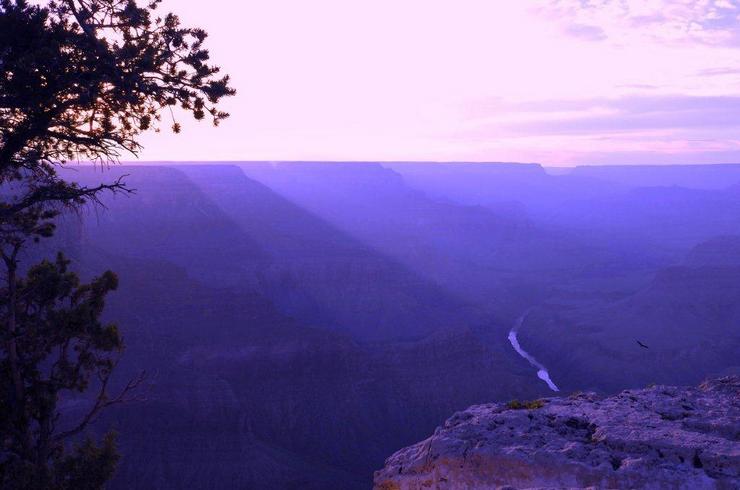 The Word and the Bonding of Brothers during the Arizona Trip
by Rod Reyes
As early as the latter part of July, my brother Rolly via e mail told me that Brod Norman and Brod Tatang planned a visit with him to Grand Canyon right after the fraternity ball on Sept. 2. Both older brods were part of my UP Diliman and UP Manila days when the frequency of rumbles was the same as the number of unending jugalugs. I could not count them as we were then dorm residents and were the first to be mobilized and invited for both situations. Crazy times back then. This trip was also a good opportunity to be with my brother Rolly here in California after my one month church mission trip in the Philippines. I expressed my intention to join and was very excited to fellowship with everyone. Brods Danny and Joel also joined us. And the rest was history.
Matthew 5; 14-16- "You are the light of the world. A town built on a hill cannot be hidden. Neither do people light a lamp and put it under a bowl. Instead they put it on its stand, and it gives light to everyone in the house. In the same way, let your light shine before others, that they may see your good deeds and glorify your Father in heaven." This scripture talked to me before the trip. What could I really share with them? I am just a humble servant of our Lord Jesus Christ. I know I cannot do anything without His permission. I just prayed for His guidance and trusted Him.
Psalm 50:23- "He who sacrifices thank offerings honors me, and he prepares the way so that I may show him the salvation of God." We show our gratefulness to God by praising Him and recalling the blessings He has given us. When we ask blessing over the food, we honor God by acknowledging His provisions. Yes! Thanking God and praying before every meals that we enjoyed together - what a better way of bonding together for not only thanking God for the food but also praying for His continuous blessings, provisions, healing, mercy, grace for our families and putting our lives in His safe hands as we travel!
As I heard great memories from Brod Norman of his earlier visits to Grand Canyon several years ago, a different revelation came into my understanding. I closely observed tourists who were taking pictures and also wondering at this God's creations. What a sight! What a wonderful canvas that God put there for people to be amazed with! I came to a conclusion that the grandeur of Grand Canyon did not really change much. The vast giant God's creation is still a sight to behold and still worthy of pictures to be taken of! Psalm 95:3-5- For the Lord is the great God, the great King above all gods. In His hands are the depths of the earth, and the mountain peaks belong to Him. The sea is His, for He made it, and His hands formed the dry land. Grand Canyon still looks the same. Only the people change. They become older and wiser and maybe weaker. I even shared with Brod Joel my observation about seeing some tourists that we saw on walkers and in wheelchairs. We both thank God that we had the opportunity to do this trip when we were still capable of doing it by ourselves. This reminded us that we should really start taking good care of our body. All of us in the group rediscovered that aging was really starting to dawn on us. Our body is really not our own. It also reminds me that we are just on a borrowed time and we must prepare for our final destination. May this revelation humble us that it is not our plans but His will prevail. Proverbs 16:9- In his heart a man plans his course, but the Lord determines his steps.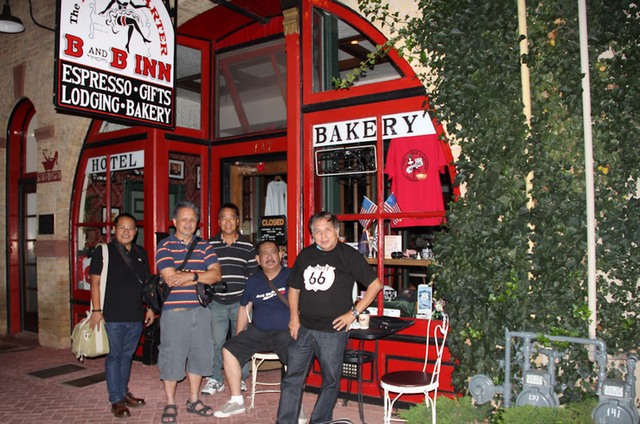 Williams, which lies on Historic Route 66, is the entrance town 54 miles south of Grand Canyon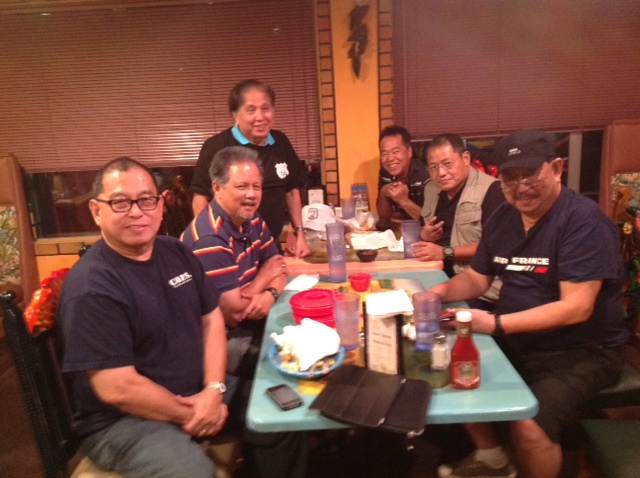 Mexican dinner at Plaza Bonita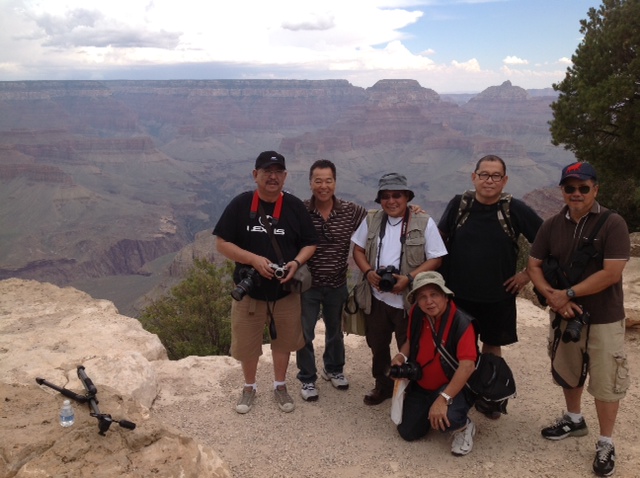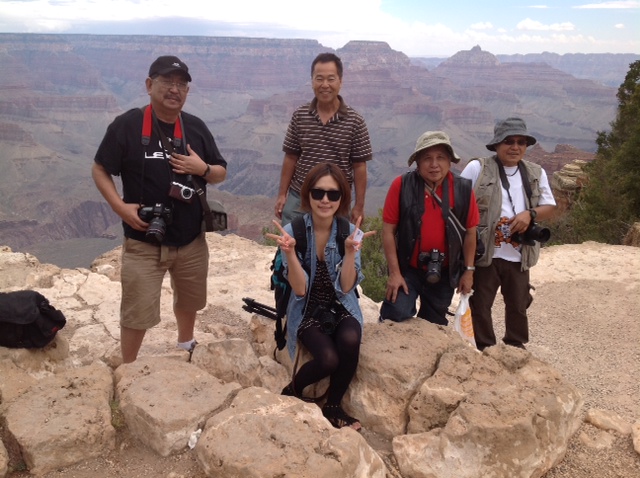 Ai says "Konichiwa!"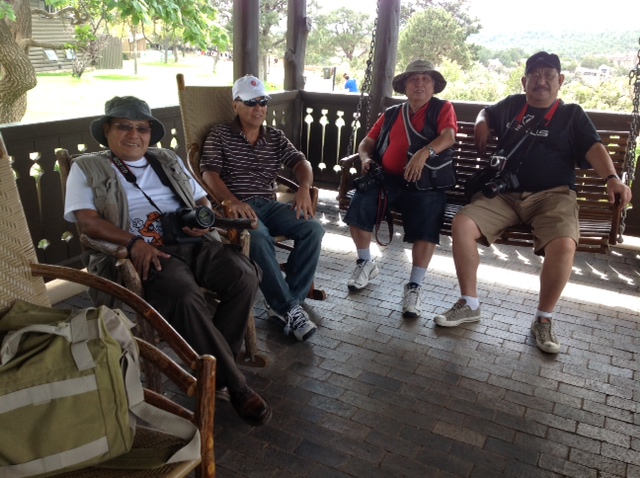 Relaxing at the veranda of the elegant El Tovar Hotel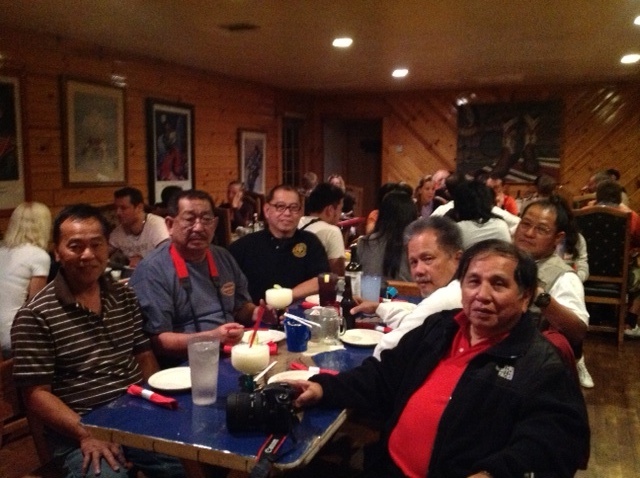 Western steak dinner at Canyon Star Saloon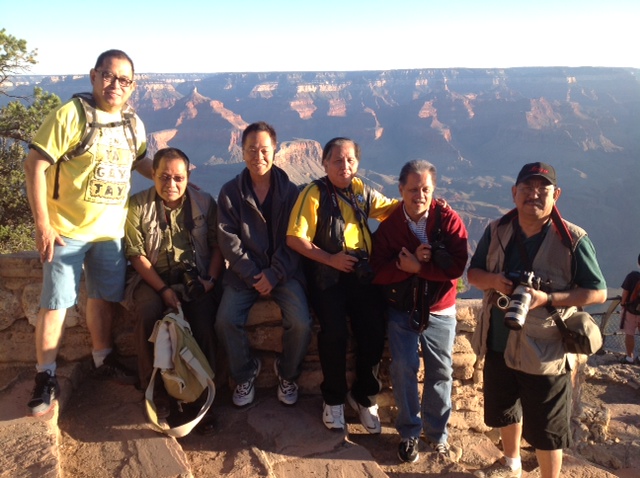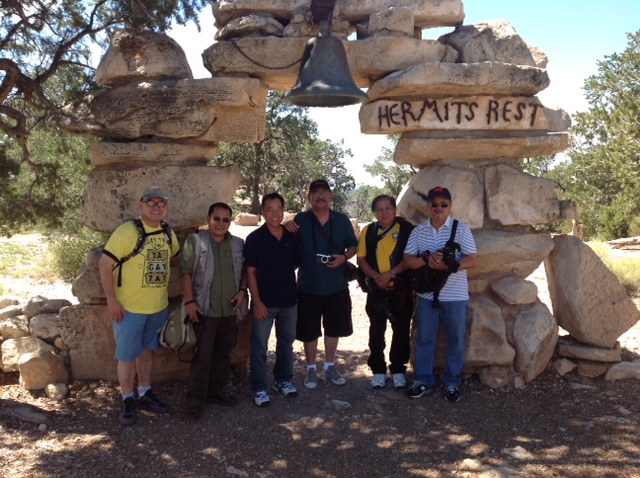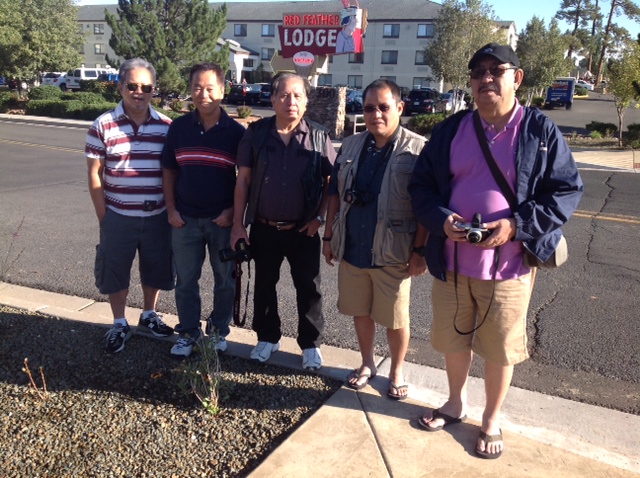 Our lodging for three nights, Red Feather Lodge
An Experience of a Lifetime
by Willie Vergara

Grand Canyon - a name so fitting due to its expanse, mystery, romance, danger, gentleness, immensity, enigma and story of a billion years. A string of superlatives is not sufficient to describe my feelings when I finally saw it for the first time. It is as deep as a 600-floor building and as long as the distance between Manila and Laoag City. Visiting Grand Canyon was a dream fulfilled since that time when my brother showed me pictures of the place when I was still in grade school.

There had been several opportunities for me to see the Canyon since I immigrated to the US in 1996. I heard several people say that one should visit the place as part of a trip to Las Vegas, as what a very young, friendly and kinda charming Japanese lady called Ai, whom we met on our first morning, did while traveling solo.

Yet I must submit that there could have been no better time for me to go to the Grand Canyon. At this time, I had been able to acquire a bit of photographic skills, and buy a good camera with some important lenses. The weather was cooperating – the clouds swirled happily across the skies, and the sun showed itself at most parts of the day, sunrise and sunset in particular. But more than this was the enjoyable company that had all the long traveling time move so fast. There was Brod Pastor Rod Reyes, who did all the driving from Los Angeles to Williams to the Canyon to Sedona then back to Los Angeles, aside from bringing out the good spirit amongst us. There was Brod Norman Bituin who arranged all the hotels and van rental at very reasonable prices, and without him, this trip could not have been made possible. Brod ex-pilot Dan Galoso who was the only one who came without a camera, served as our able navigator, aside from his Barkadang Cubao and Tambayan jokes. And then we had Brods Rolly Reyes and Joel Paredes who brought us up-to-date on the Philippines – the Beta Sigma Central, some alumni brods and the state of our resident membership. And to cap the 5-day photographic journey to Arizona, we were all treated by Brod Rolly Reyes with what I believe was the biggest and most varied buffet dinner (get your food at 4 different buffet areas/dining rooms!) at Hilton Universal.

I am looking forward to another trip like this, and I hope it will be at Utah's Big Five - Zion, Bryce Canyon, Arches, Canyonlands and Capitol Reef, and the much vaunted Colorado River.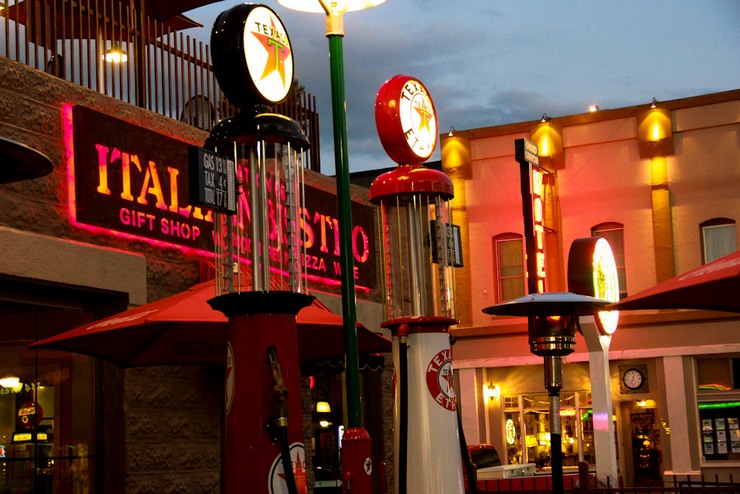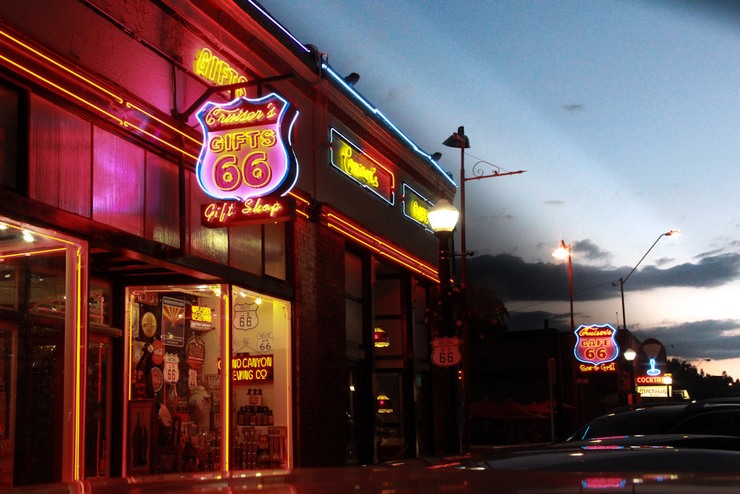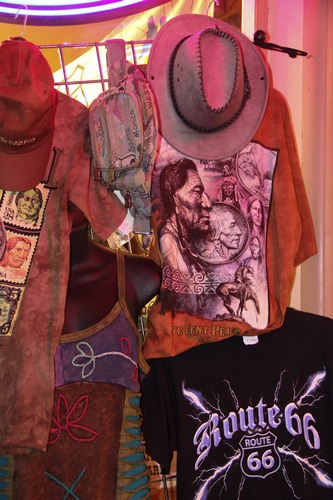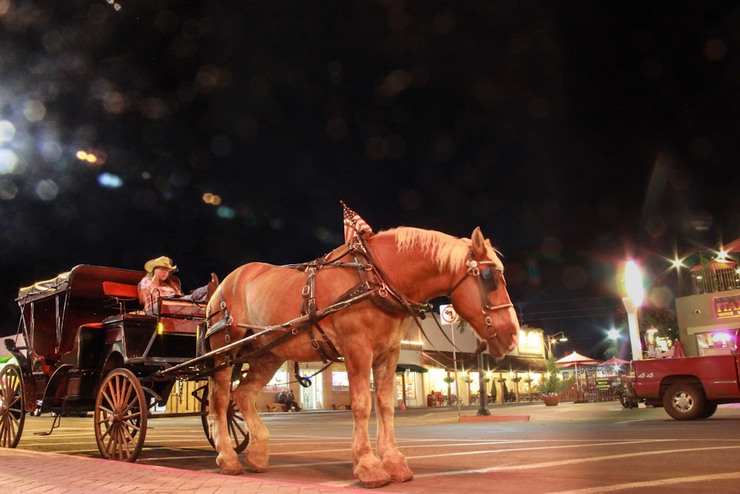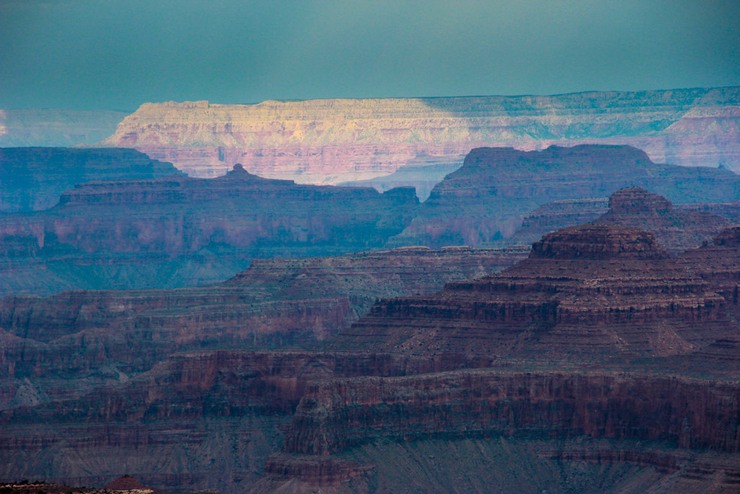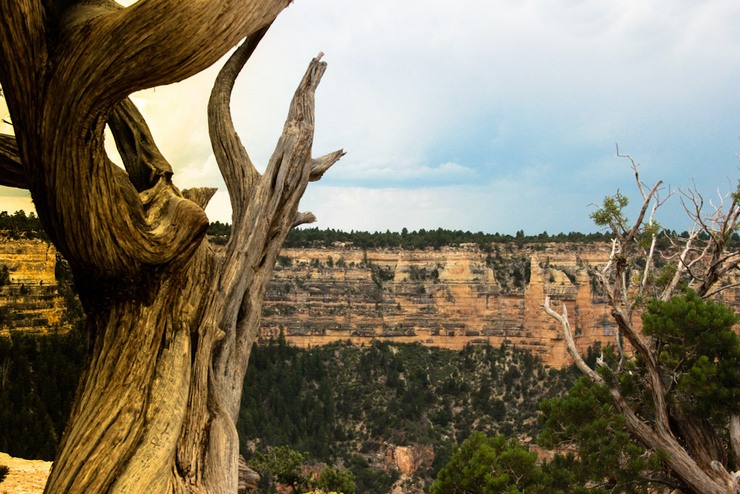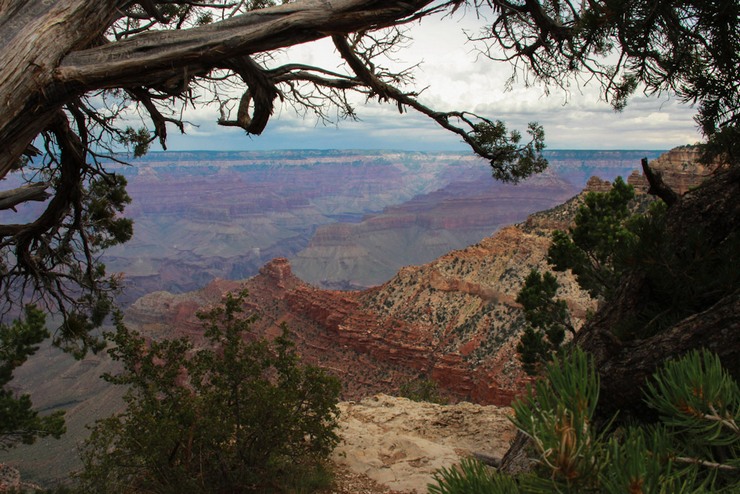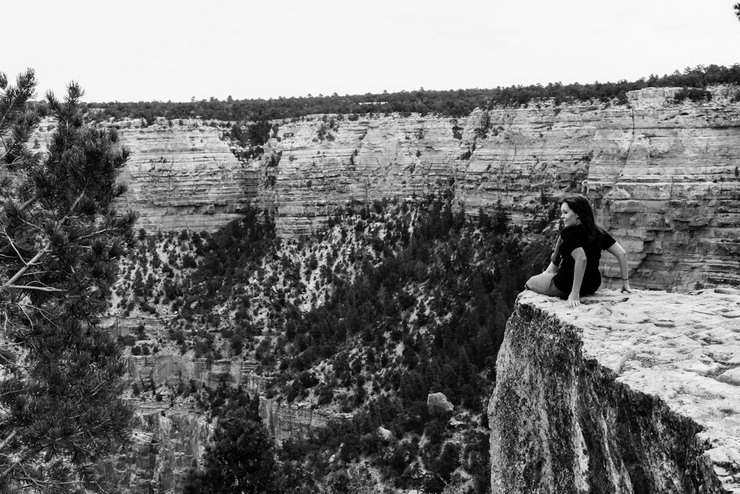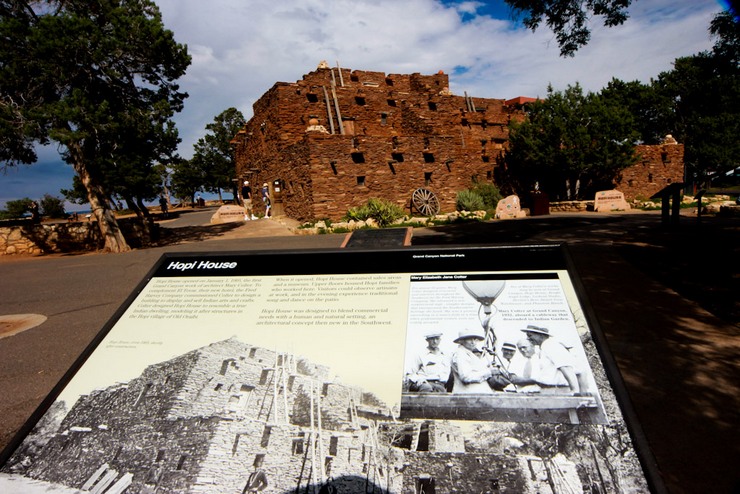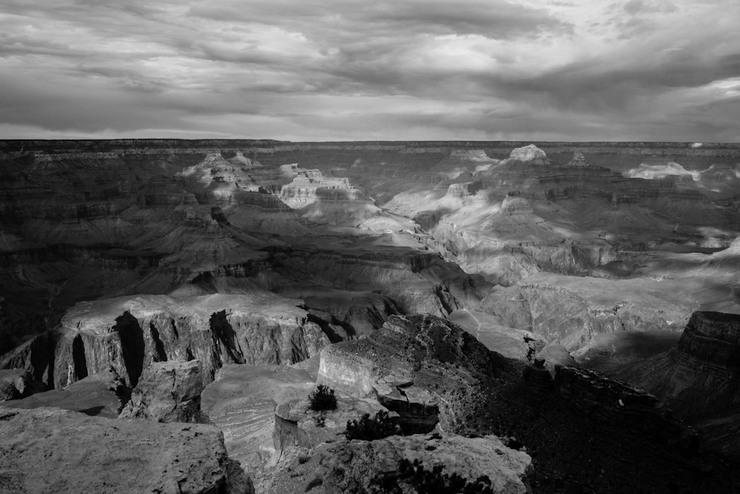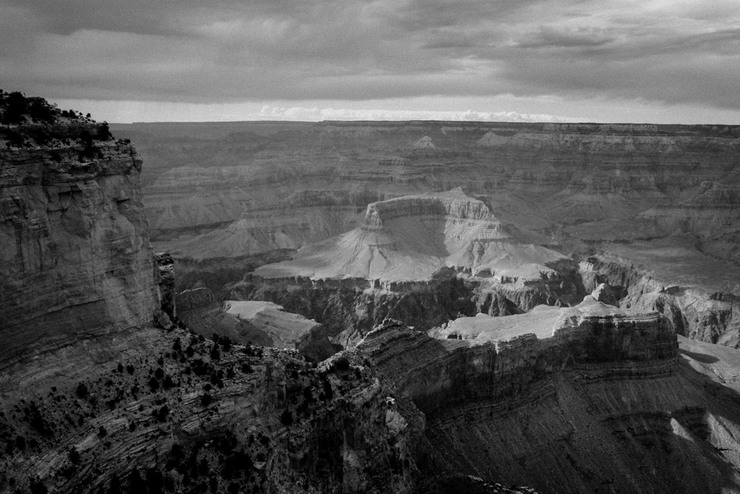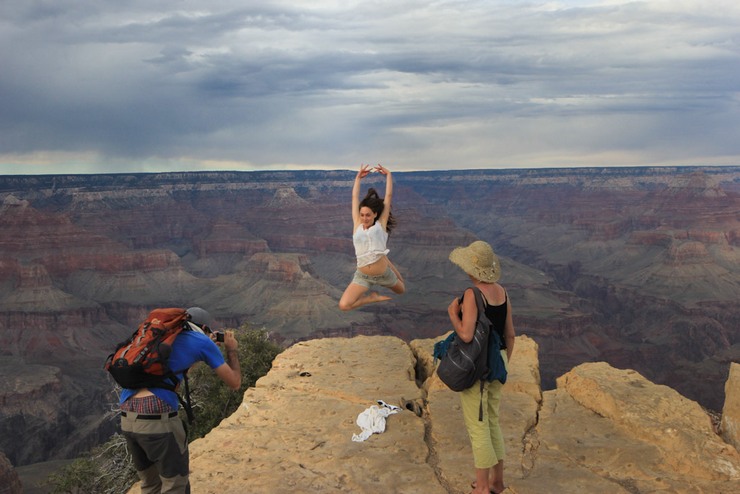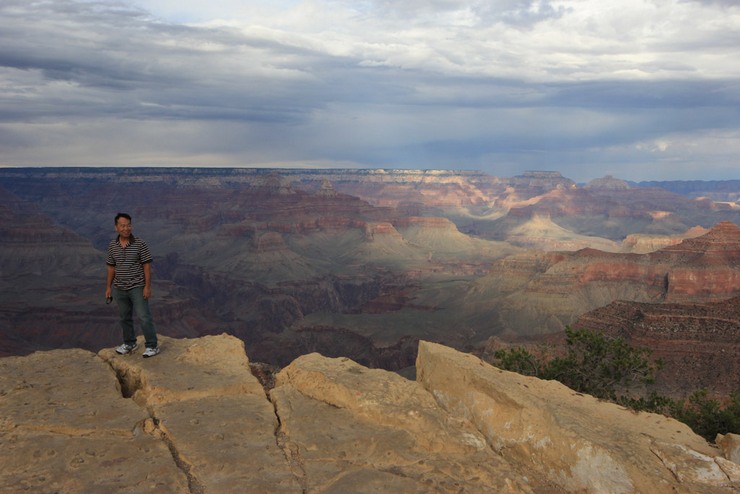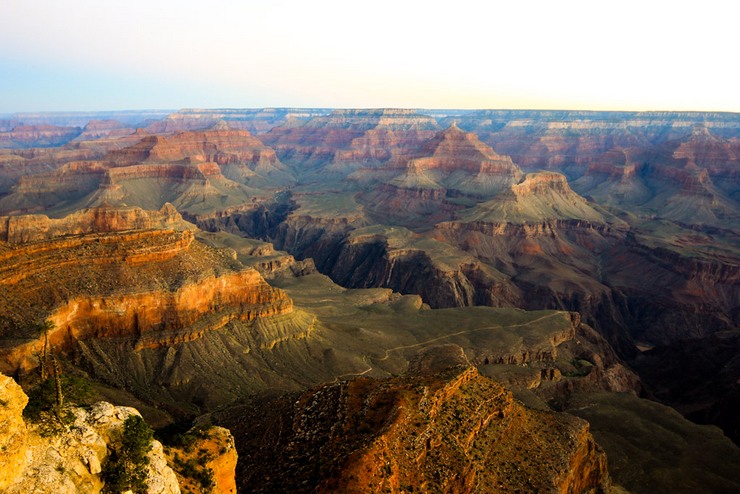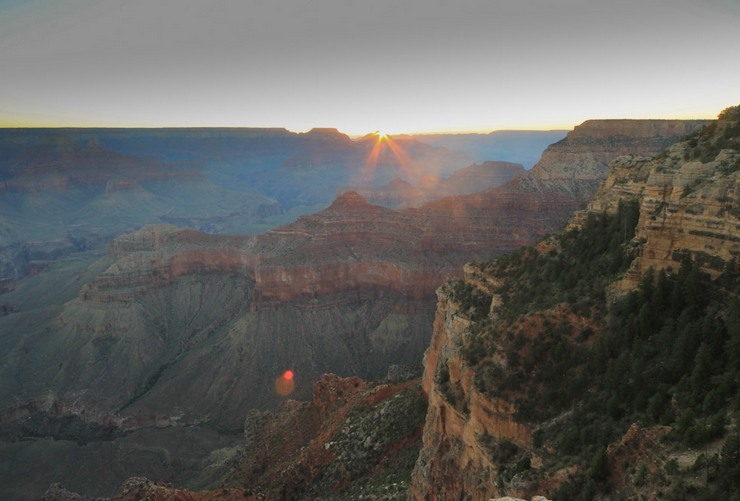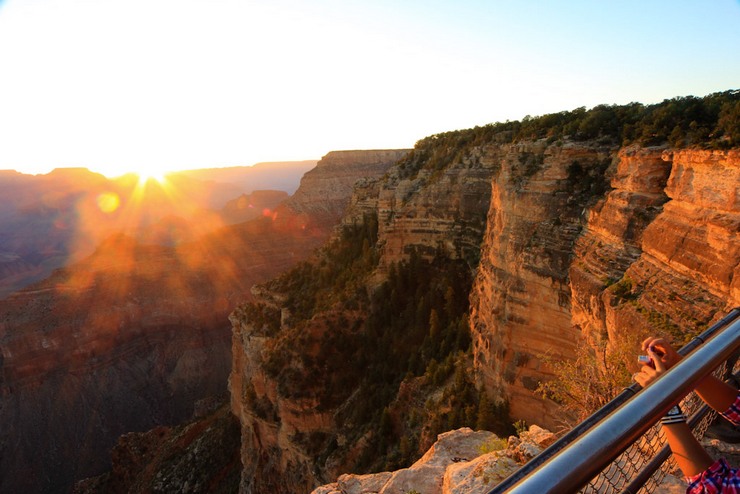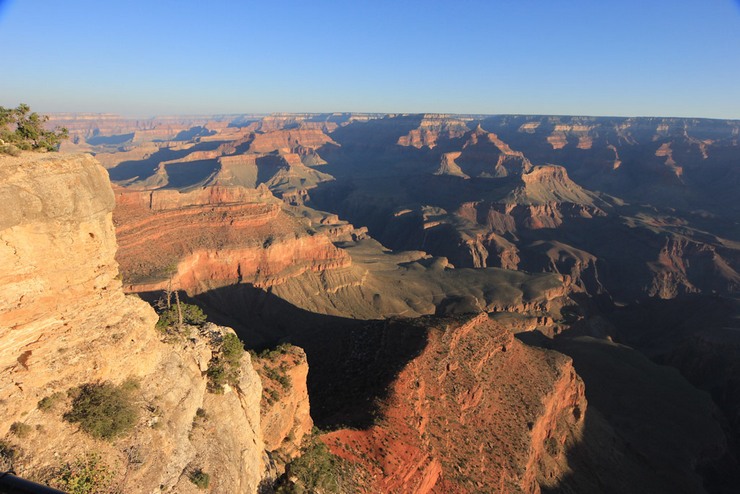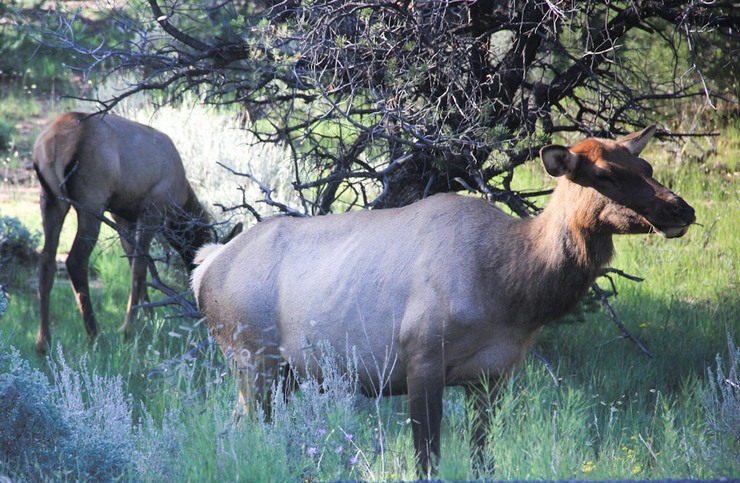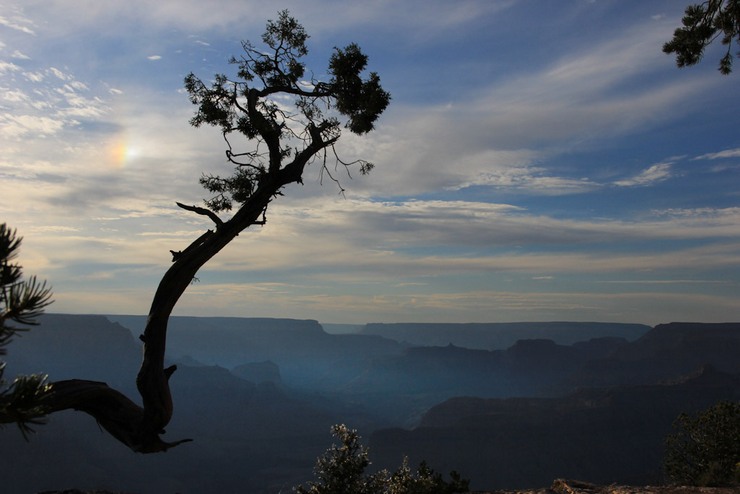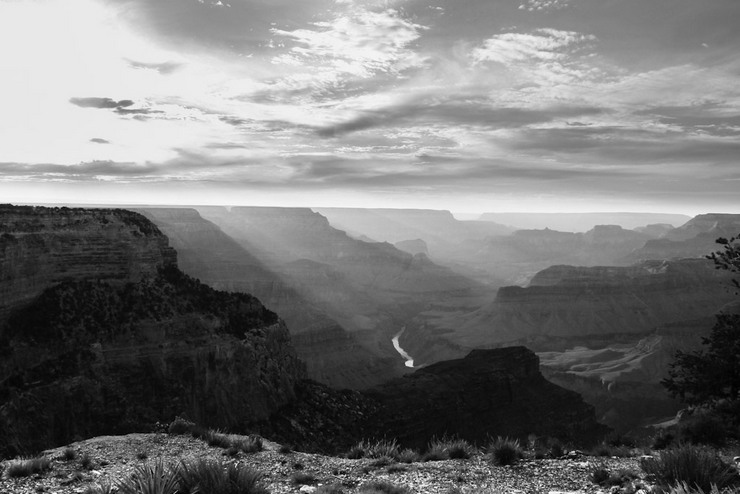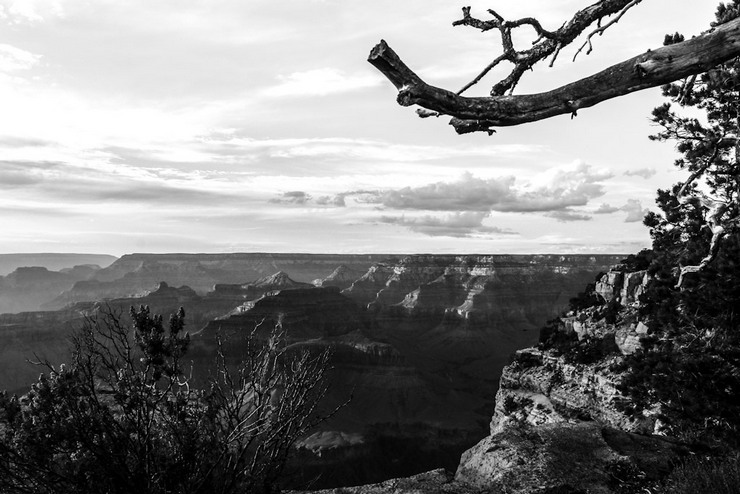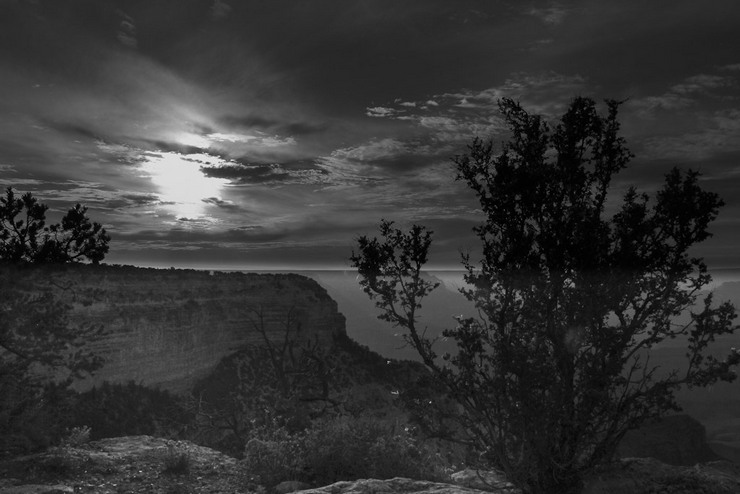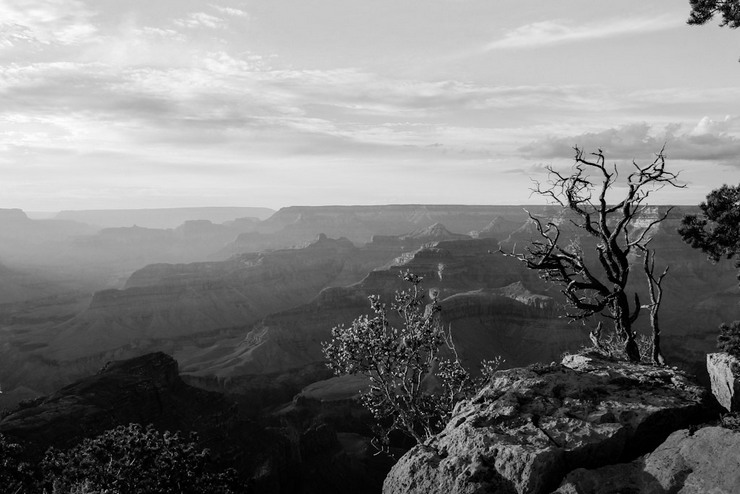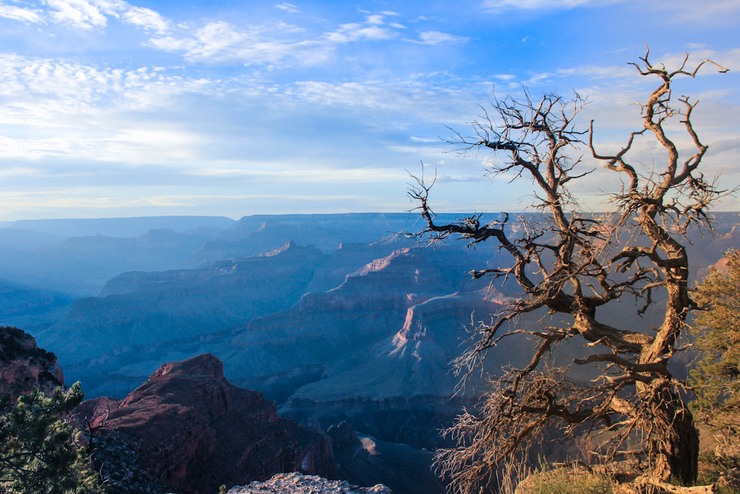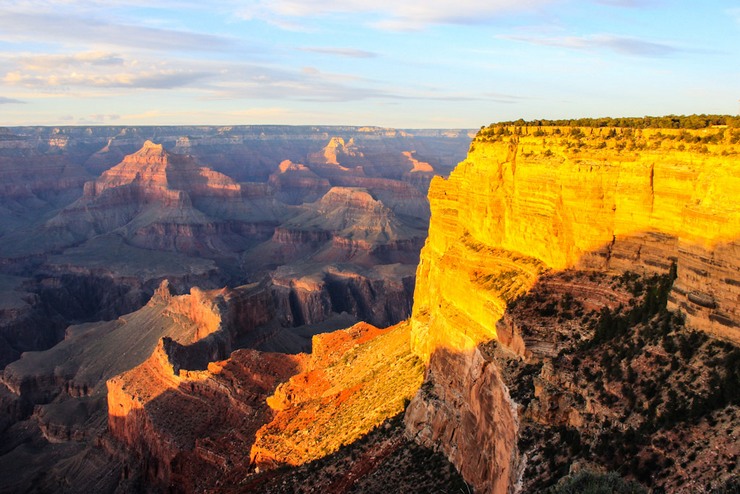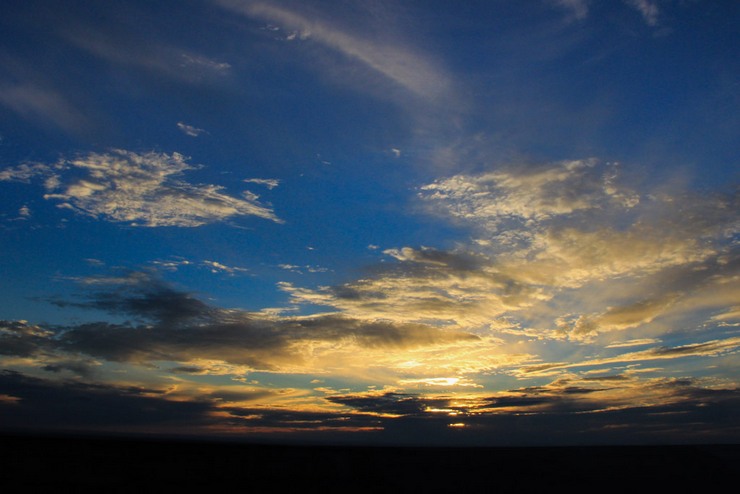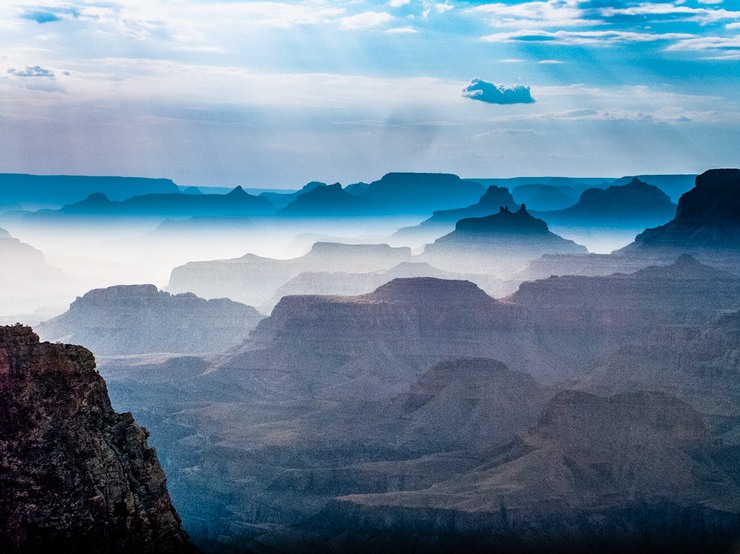 Five and Counting
by Norman Bituin
This was my fourth visit to the South Rim, once at the North Rim. My first encounter with the Grand Canyon was soon after I emigrated to Vancouver, B.C. in September 1973. With my brother Bing, a Canadian citizen and an exploration geologist, and his family, we drove cross-country from Winnipeg, Manitoba to California going through Yellowstone, Grand Canyon and Yosemite. Through all the subsequent trips, now with my own family, the anticipation of coming face to face once again with this majestic national park had not diminished, especially since the last one was 20 years ago in 1992.
But the difference this time was my company - a group of UP Betans who just wanted to hang out together after the UP SoCal Frat Ball, shoot the breeze and a few good photos too. It was truly an exhilarating experience wandering around the varied scenic spots, walking a couple of trails by myself one morning, and being joined later in the afternoon by Joel and Willie before the sunset wait. I must say even getting up at 4:30 in the morning to be at Yavapai Point to catch the sun's first rays hitting the canyon walls was a thrill, despite the incessant "lullaby sounds" all night coming from our roommate Tatang, huh Dan?
Many years from now (hopefully), we will look back and cherish the happy moments we shared as fraternity brothers in this mini adventure. There were many - from walking the streets at the Grand Canyon entrance town of Williams looking for Route 66 shirts to having Cold Stone ice cream after a much longed for dinner with rice at Thai Palace in Sedona. Old and gray, we will smile, marvel at our vigor and spirit, and say - "Tabets talaga!".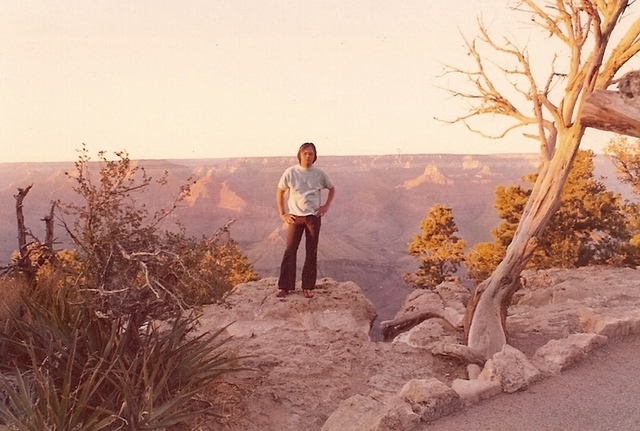 Visit #1 South Rim, Oct. 1973 - just emigrated from the Philippines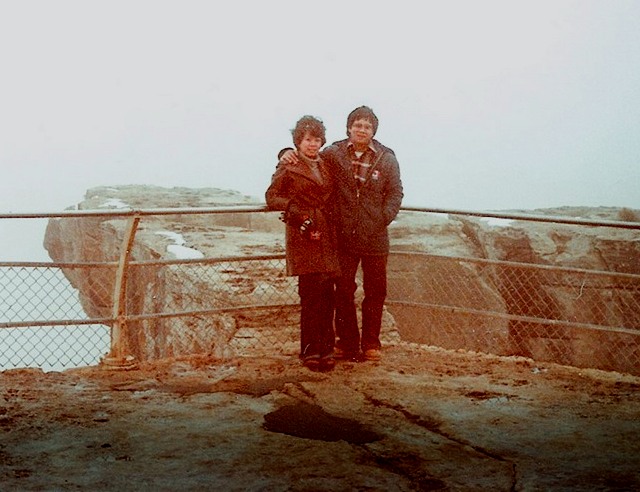 Visit #2 South Rim, Nov. 1978 - a cold, snowy Thanksgiving Day with Cherry who arrived this year from RP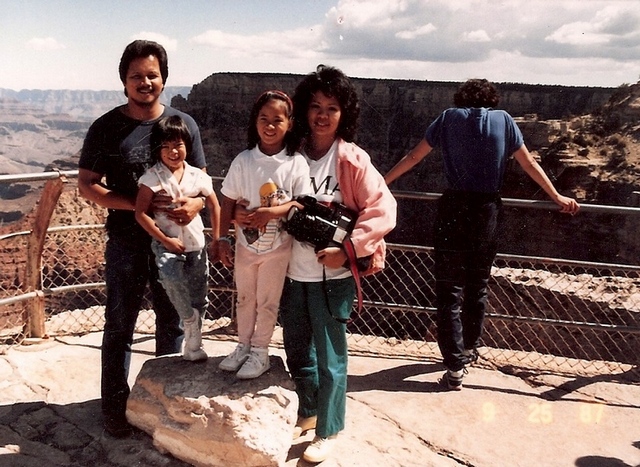 Visit #3 South Rim, Sep. 1987 - with Cherry, Jen and Jamie. Cherry is holding my Betamovie camcorder.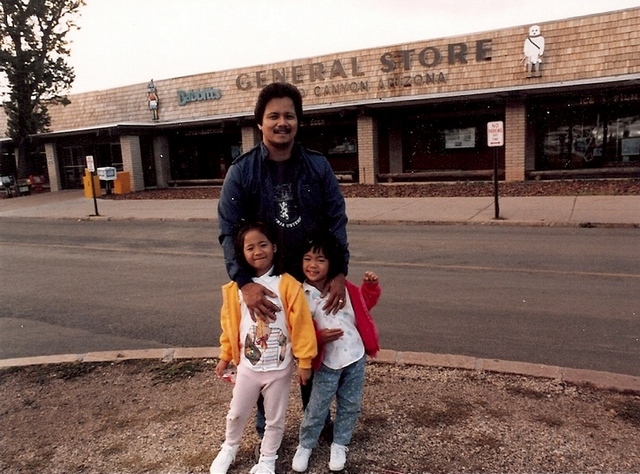 Visit #3 South Rim, Sep. 1987 - at General Store. Still there where brods ate meals. Store has Filipino servers.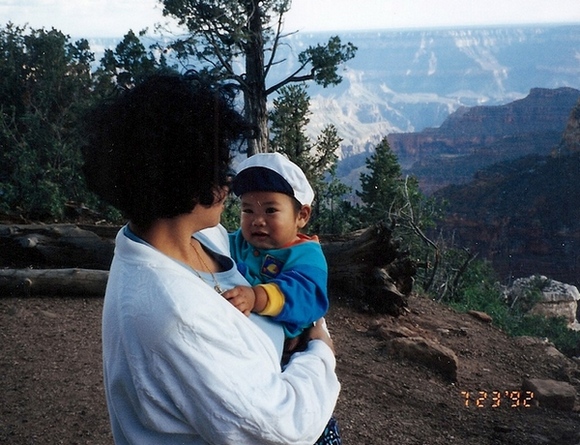 Visit #4 North Rim, July 1992 - Cherry with 9-month old Kurt Ramon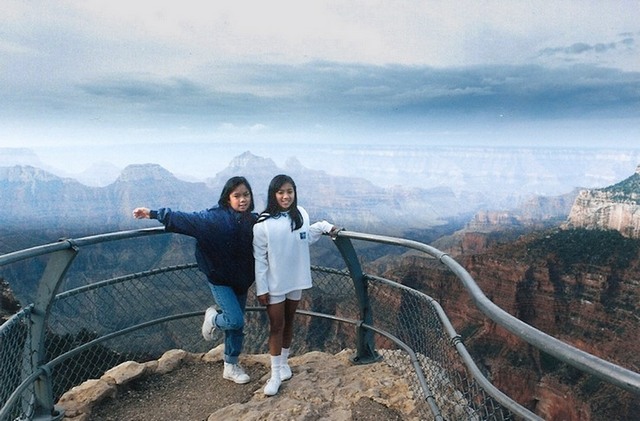 Visit #4 North Rim, July 1992 - Jamie and Jen at overlook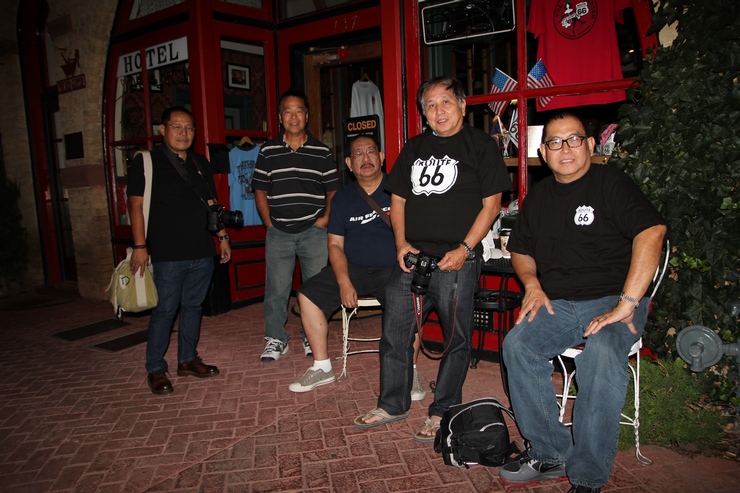 Visit #5 South Rim, Sep. 2012 - with UP Betans Joel'73, Dan'65, Rolly'66, Willie'67 and Rod'71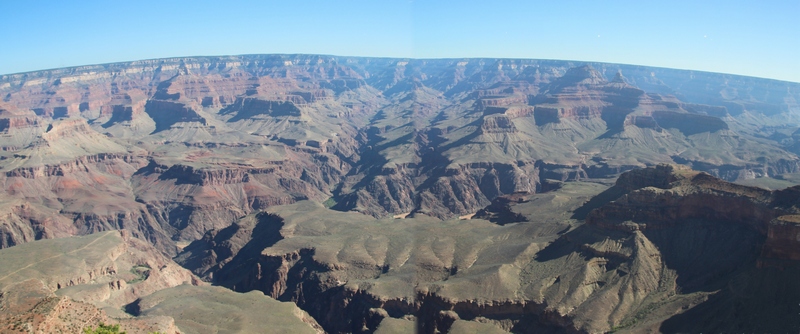 A 2-photo "stitch" taken from the Yavapai Geology Museum bay window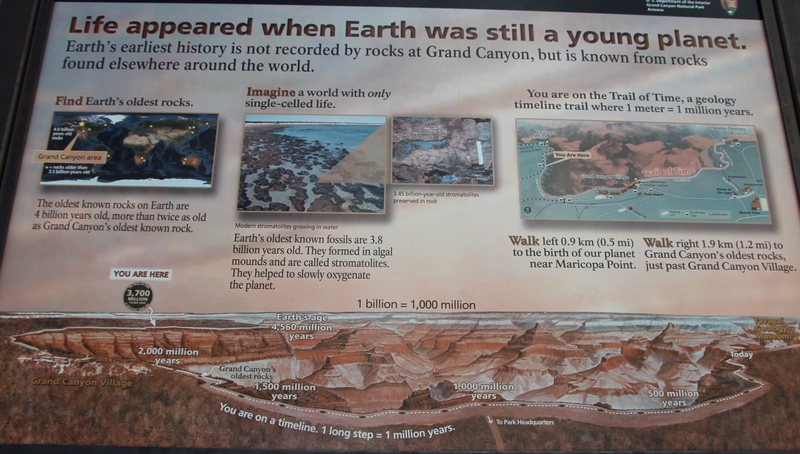 As an ex-geology major, this interests me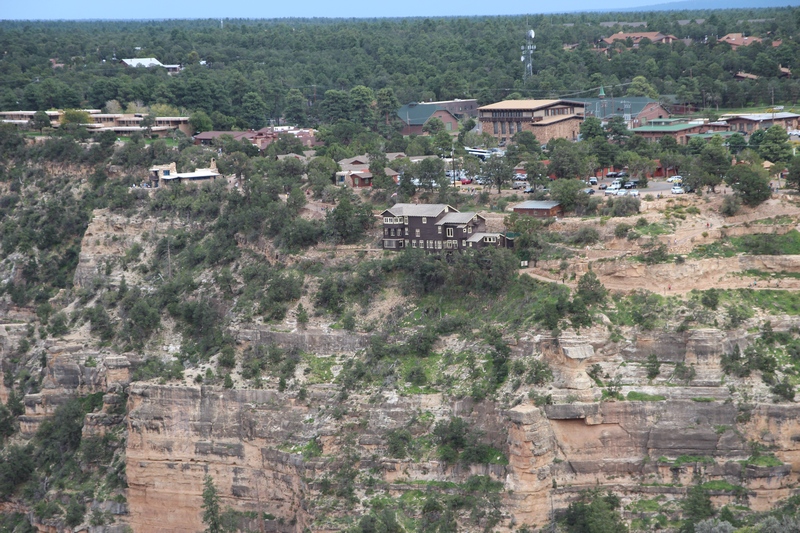 Grand Canyon Village sits on top of ancient rocks, the oldest being the Vishnu schist basement layer that is 1.8 billion years old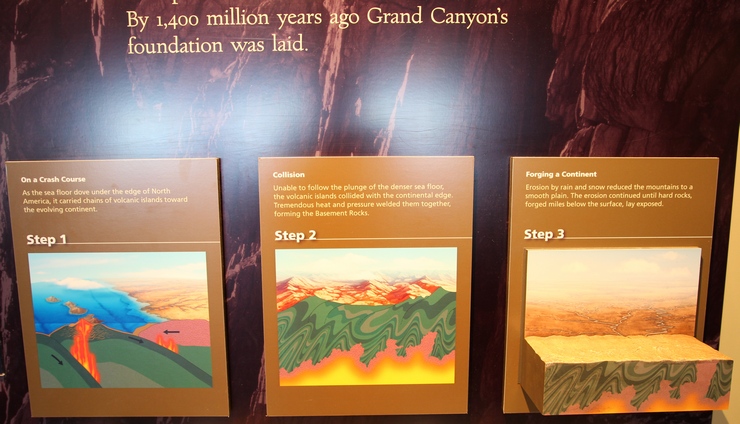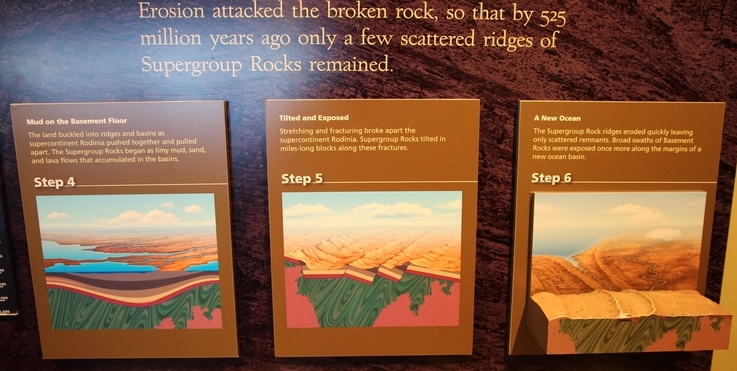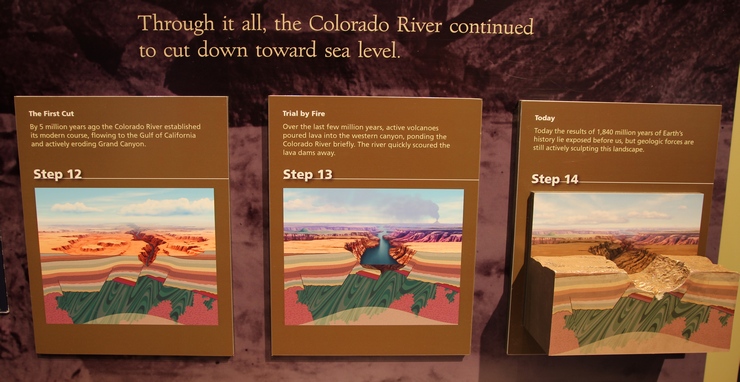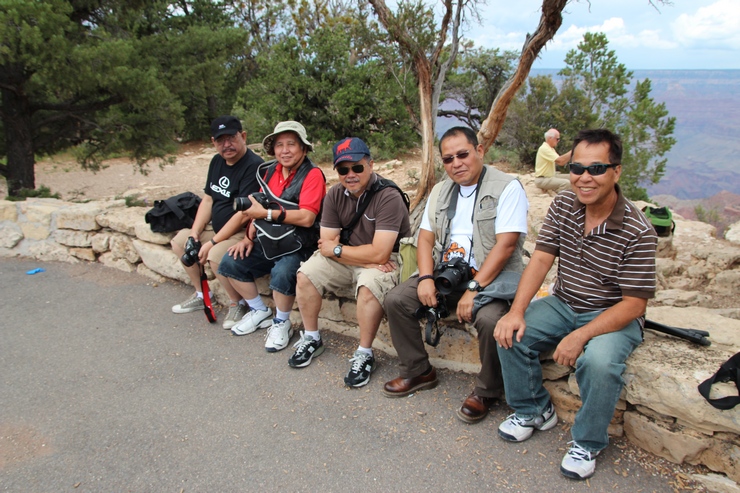 Waiting for the shuttle bus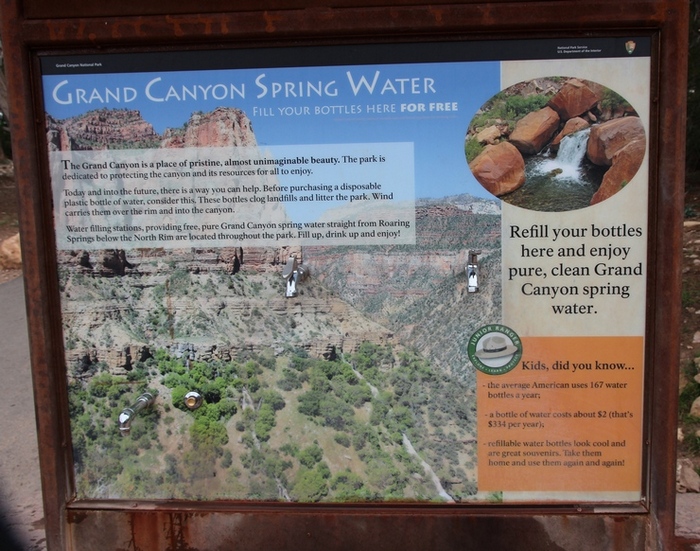 Do you see the water spigots in the board? Better than Arrowhead or Sparkletts.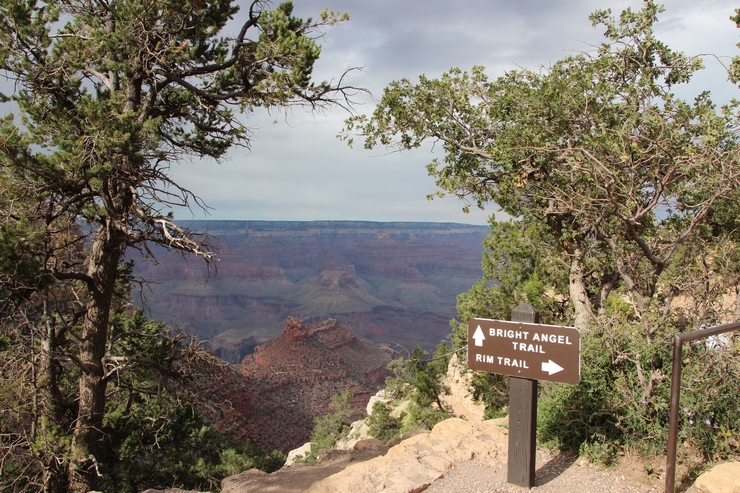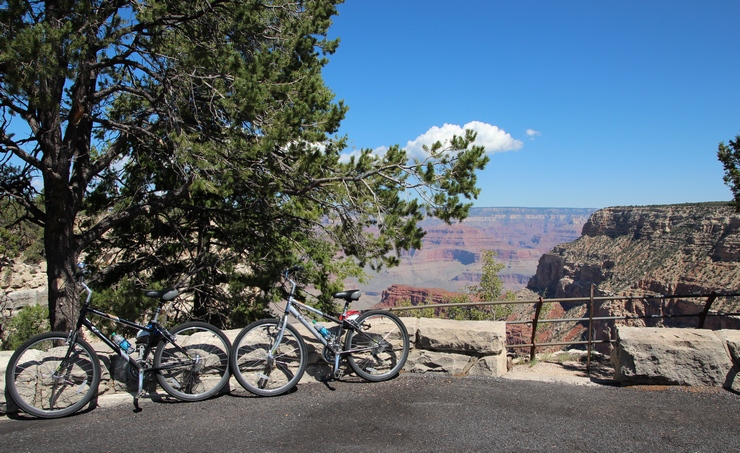 Working the trails, there were bikers
... and long hikers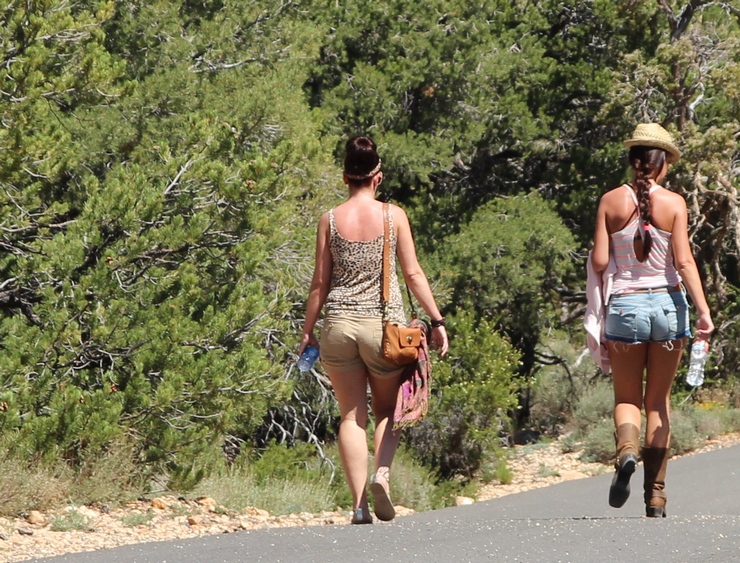 ... and short hikers (or hikers in shorts or short shorts) - and cowboy boots?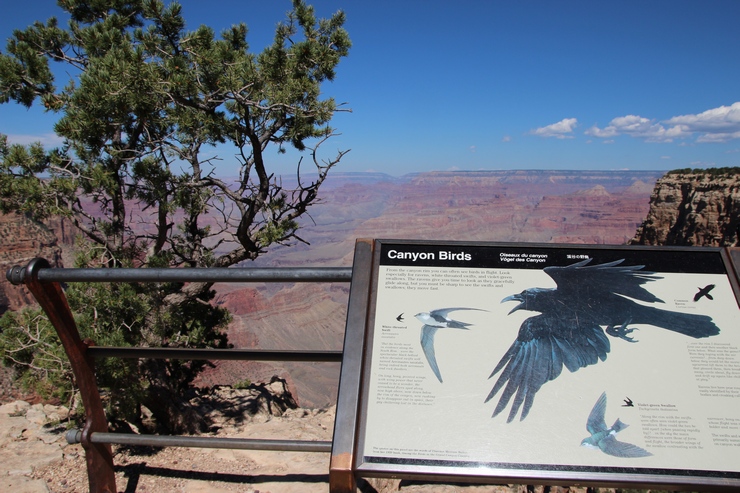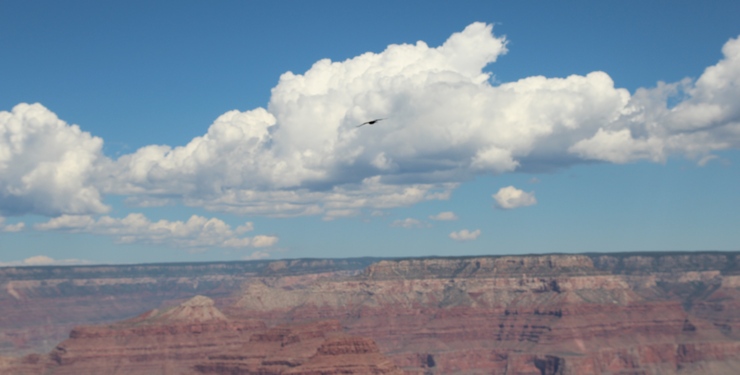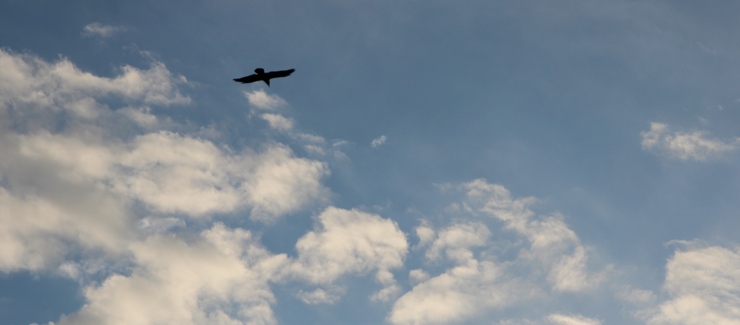 Canyon birds seen up against the sky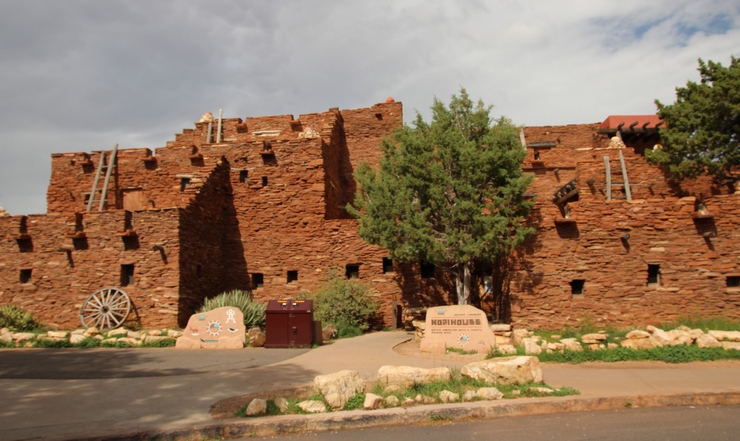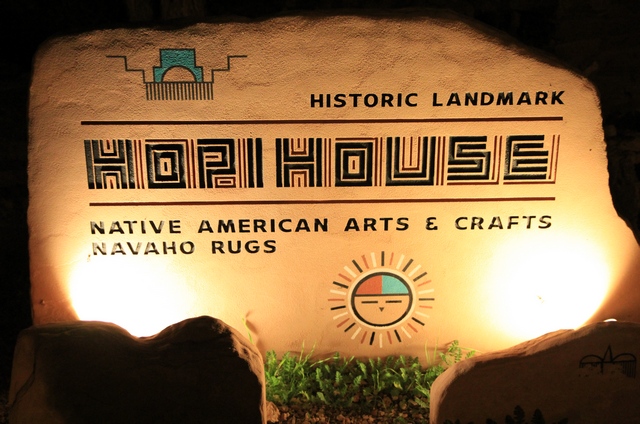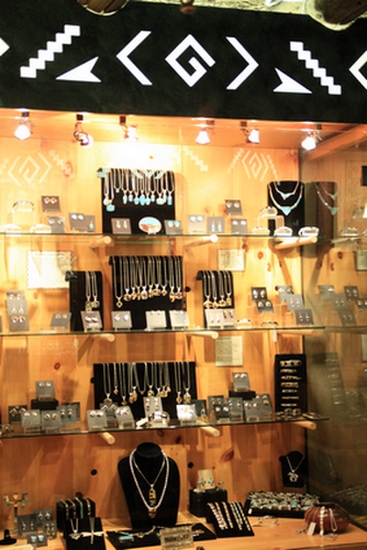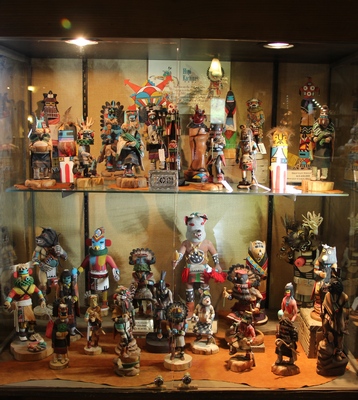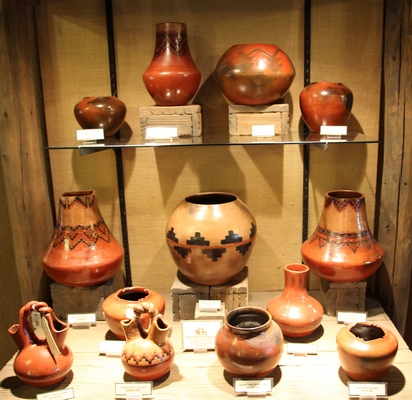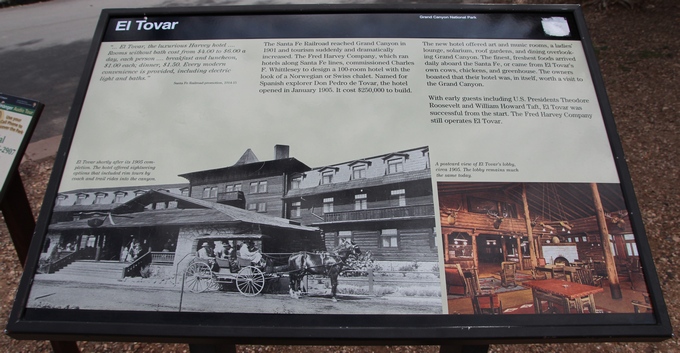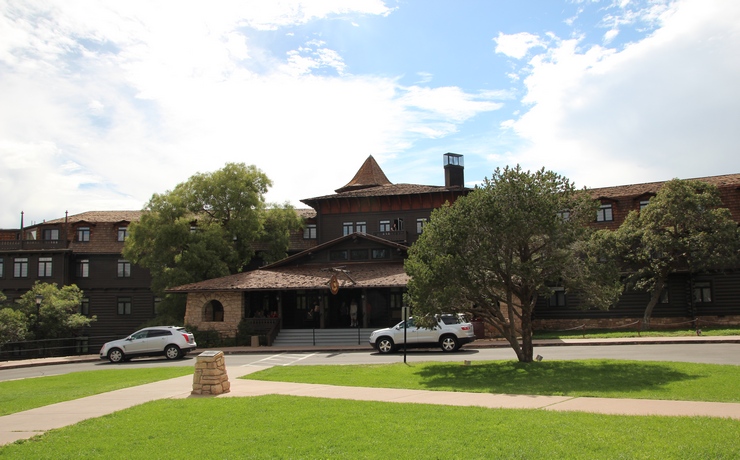 El Tovar, the premier lodging situated directly in the South Rim, opened in 1905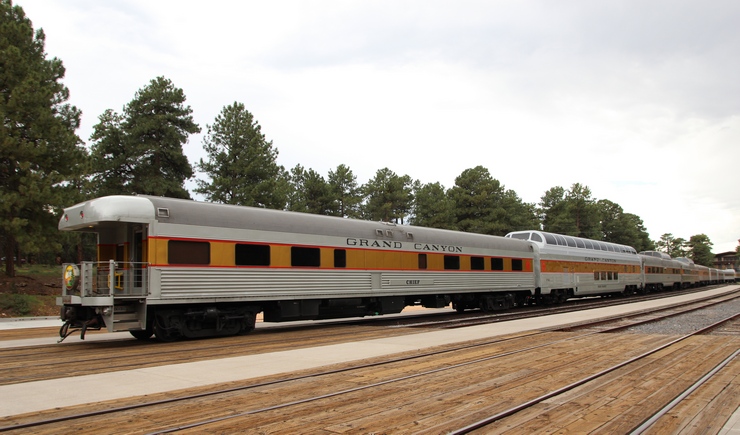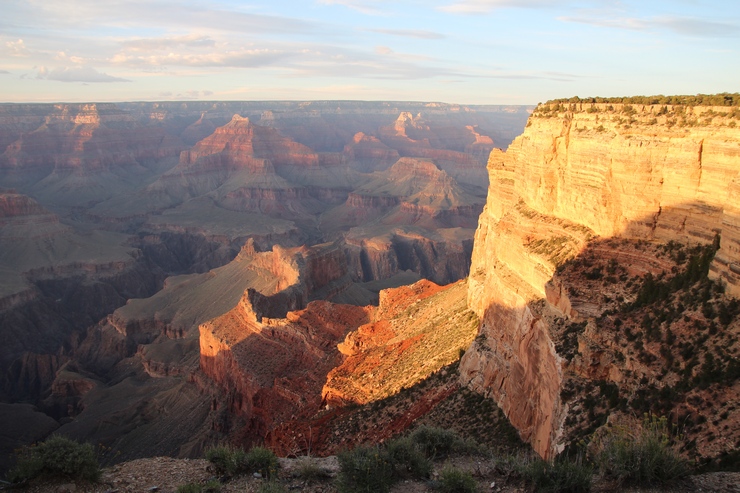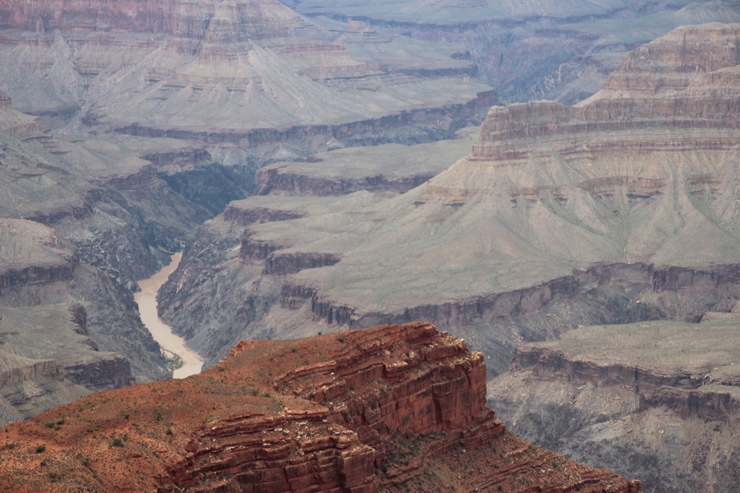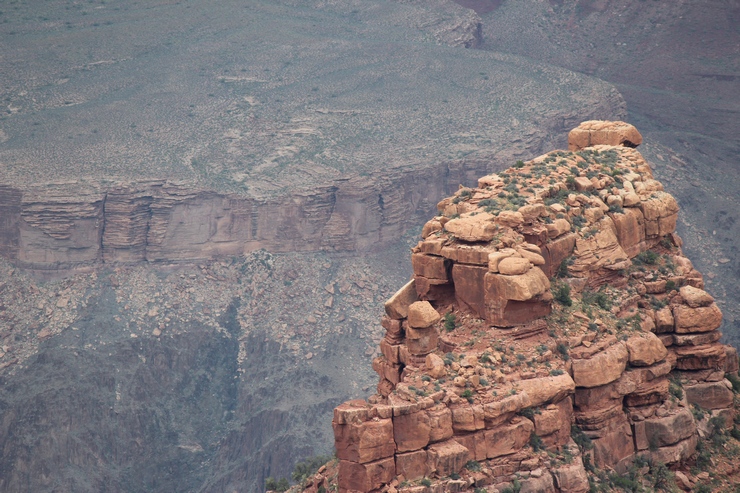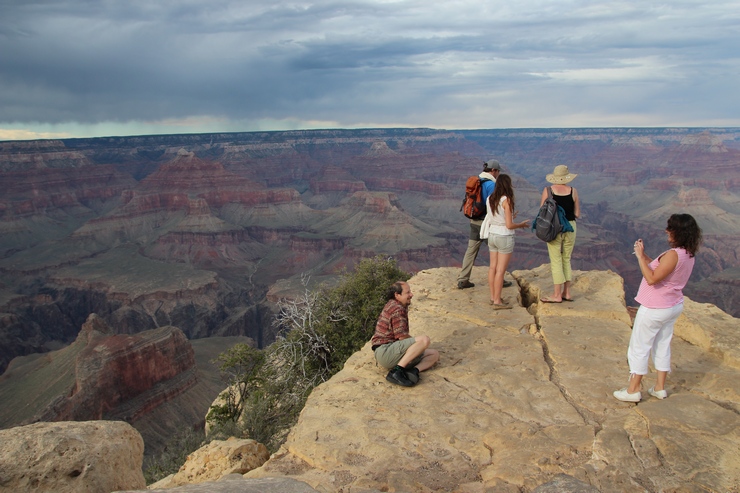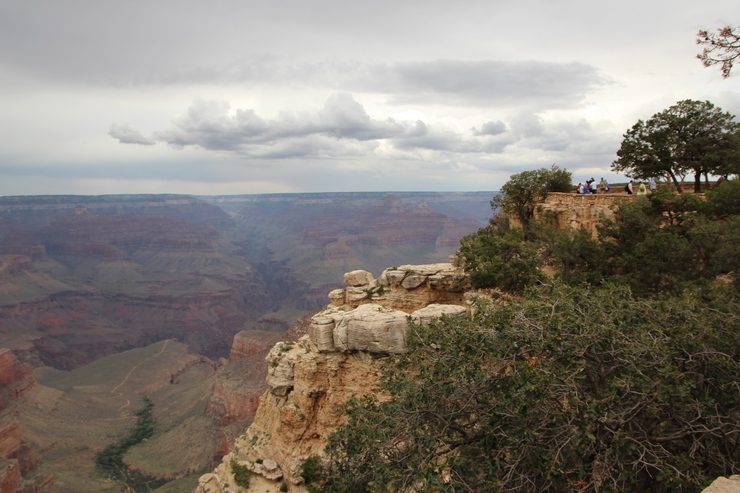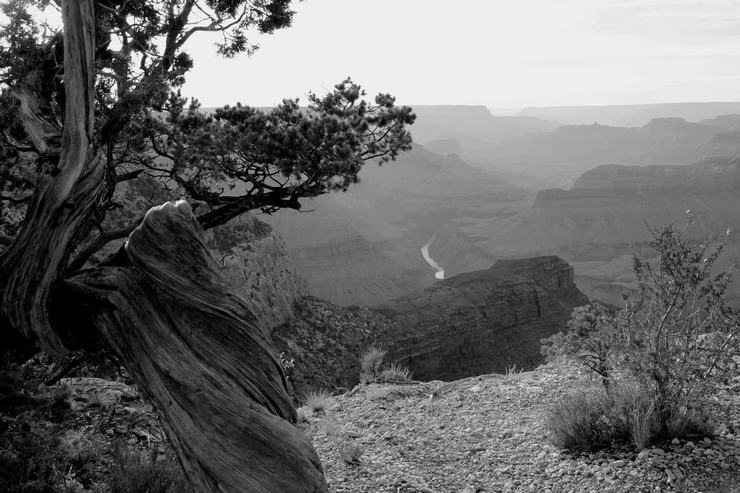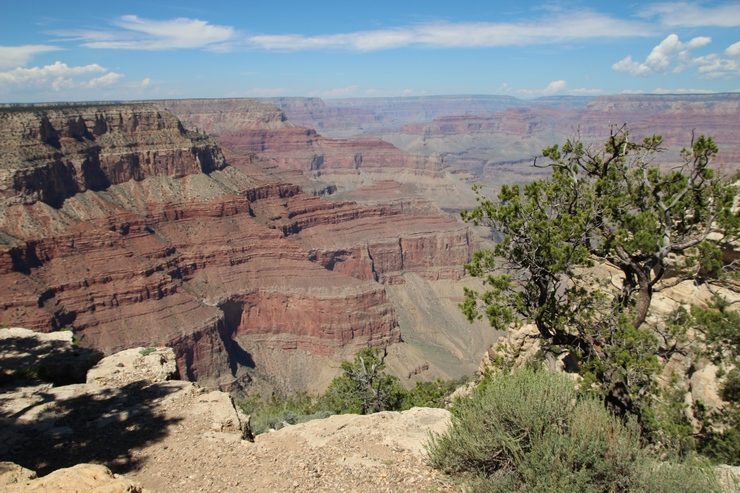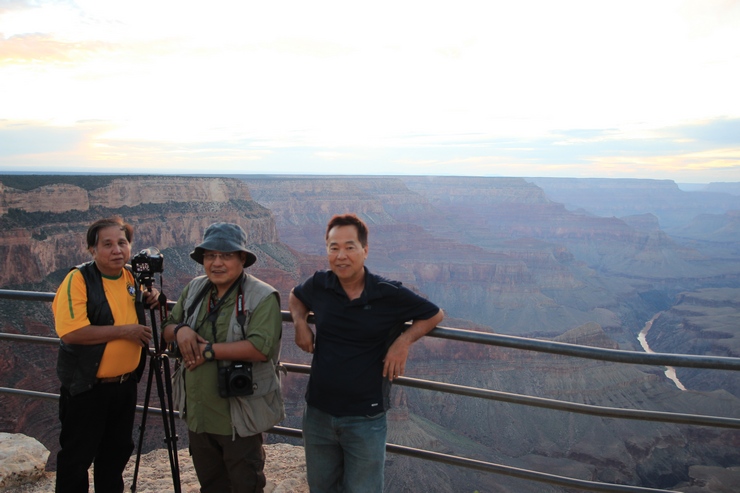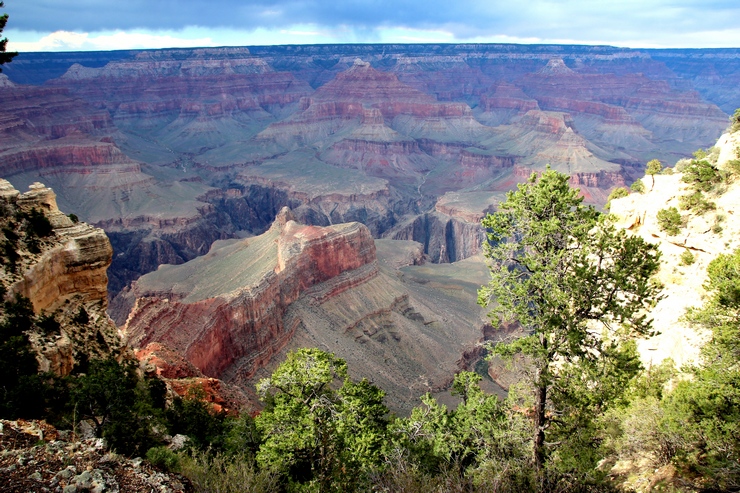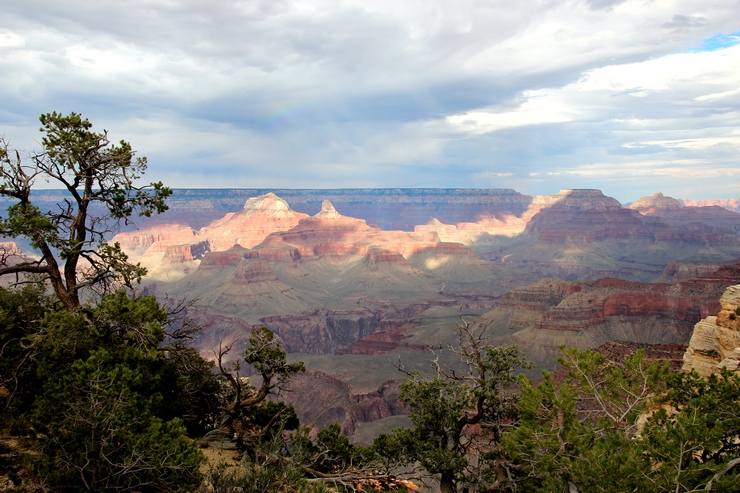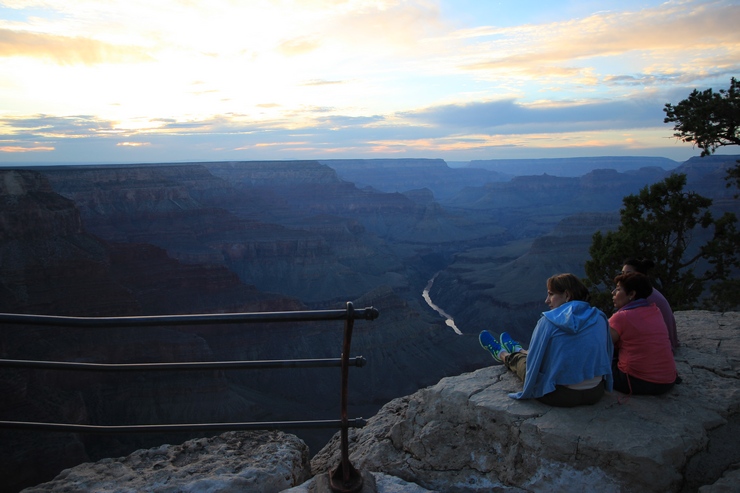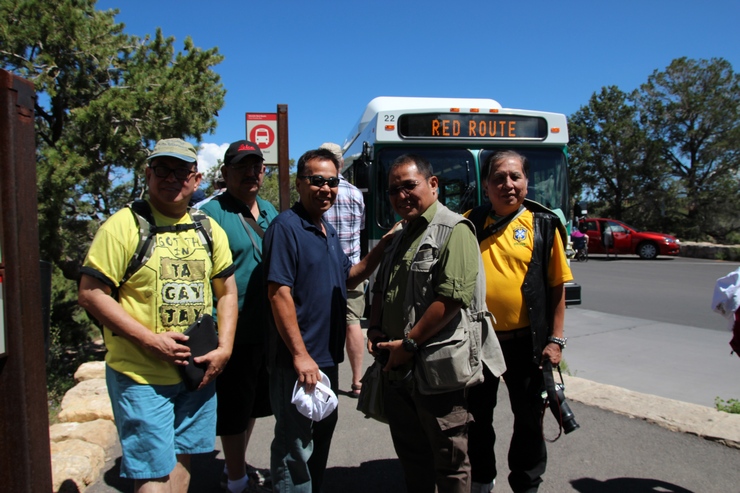 It sure was GRAND. From all of us - CHEERS ! ! ! ! ! !
Next: Pictures from Sedona