The Pilgrimage
by Ed "Amang" Rivera, UPD'68A
It all started back in 2010 when Ben Abon and about 3 other brods went to Hector San Juan's farm in Bukidnon. According to Ben it was a place where one could just relax and forget about everything else. They had fun horseback riding, drinking and the usual "kuwentuhan of the days gone past".

I wanted to go to this place when I went back for a visit back in Oct 2010 but did not have the time. When I learned from Joel Paredes that there was going to be another trip this Feb 2011, I just knew I had to tag along. I was informed that there would probably be 10 Brods going. I asked Joel for the schedule so that I could adjust mine. I was going back to attend the Tito de Santos Medical Mission in Diliman. The trip was scheduled for Feb 21 to 25 and since more than 10 Brods were going it was now called "The Pilgrimage". The Pilgrims were Ben Abon, Dante Agulto, Jojo Alejar, George Balabag, Buddy Curameng, Bing Joven, Cris Michelena, Douglas Mondonedo, myself and Budigoy (Ben Abon's aide and butler). Ben brought Budigoy because he said all the Brods are "senyoritos" so we needed someone to clean up after us. "Kailangan me taga ayos ng pulutan", according to Ben. The Pilgrims also included Wo Coronel and Joel Paredes who would be arriving Feb 23. According to Joel, "Si Wo ang taga-sagot ng tagay niya".

Monday came and our flight was to leave 8:30 AM. We all got checked in with plenty of time to have some snacks before the flight. You could just imagine with 10 Betans all in one place, from the start we had fun. Everyone got caught up joking and the usual kuwentuhan that we did not know that all the passengers were already on the plane. The bus was waiting to take us to the plane and we were the last passengers to board. Before the end of the flight, we had the opportunity to witness Buddy Curameng make his move on one of the Cebu Pacific's flight attendants. Hindi pa rin kumukupas si Buddy. You can see a video clip of this event at the Betans section of Facebook.
All aboard!!
Seated: George Balabag, Ed Rivera, Bing Joven & Dante Agulto.
Standing: Jojo Alejar, Cris Michelena, Ben Abon & Buddy Curameng.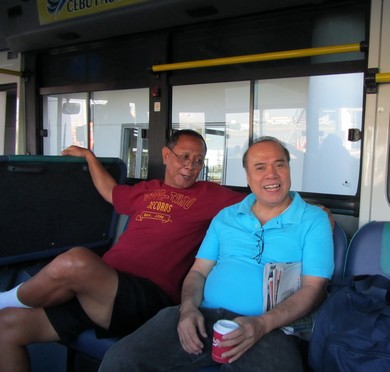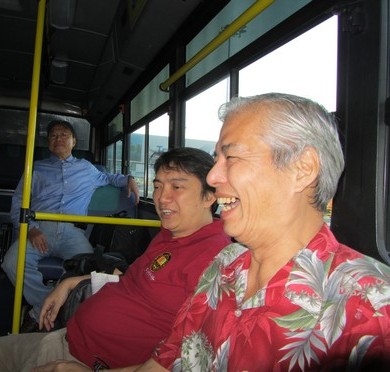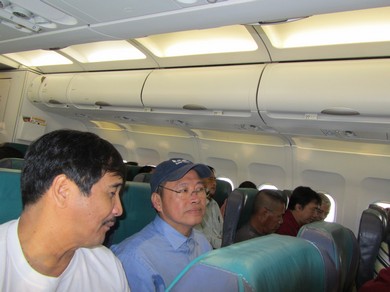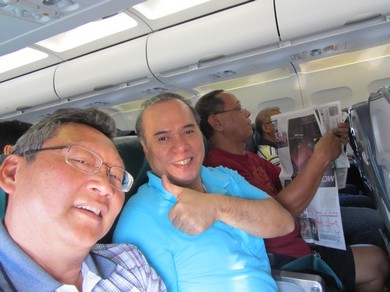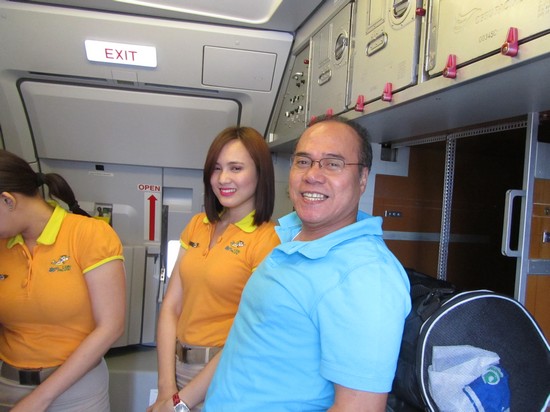 Badjur works his campus days charm on Cebu Pacific flight attendant Lenny.
When we arrived at Lumbia Airport, we were met by Hector San Juan and his staff from the VIP Hotel. After a short visit with Vic Pizarro and a quick lunch at the VIP Hotel we made a stop at Robinson's to purchase some supplies (gin, Spam, bread, gin again, coffee, etc.); then we were on our way to the farm in Bukidnon.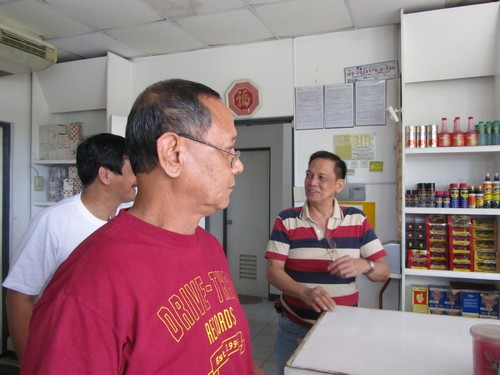 Visiting Vic Pizarro UPLB'64 at his gas station.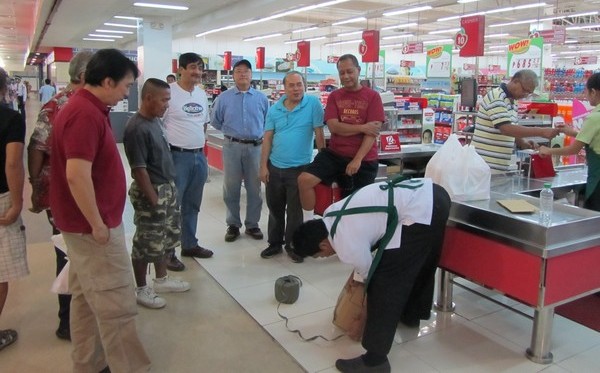 Buying supplies at Robinson's.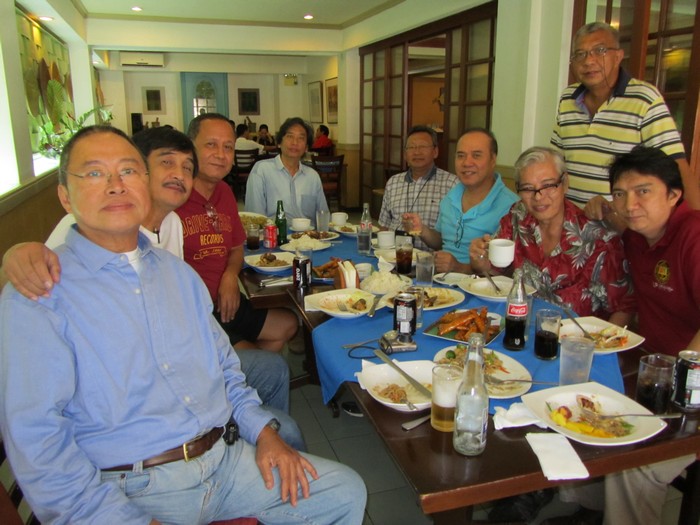 Host Hec San Juan (back center) welcomes the Betan Pilgrims at VIP Hotel owned by wife Eileen's (Escobar) family.

It was a nice farm with a gazebo at the highest point where you have a 360 degree view of the area. Very conducive for drinking, relaxing and bonding with the Brods. Tents were set up but it was so cold that first night that the Pilgrims decided not to sleep up there. We had a bonfire in the gazebo while drinking, and the ususal never ending kuwentuhan of our days in college. For our pulutan we had kambing (kaldereta and kinilaw) that Ben brought. There was supposed to be the delicious chicharon from Tarlac but it got left behind at Ben's house in Quezon City. We all went back down to the dining area to continue the bonding and Ben called Joel to pick up the chicharon and bring it with him on Wednesday. There was a friendly discussion regarding the role of women in marriage between Cris Michelena and Bing Joven. This lasted till about 4 AM while drinking GSN, Bing being the "tangero". It was only Ben, Buddy, Cris and Bing that stayed this late.
Bukidnon farm of Hector San Juan, DVM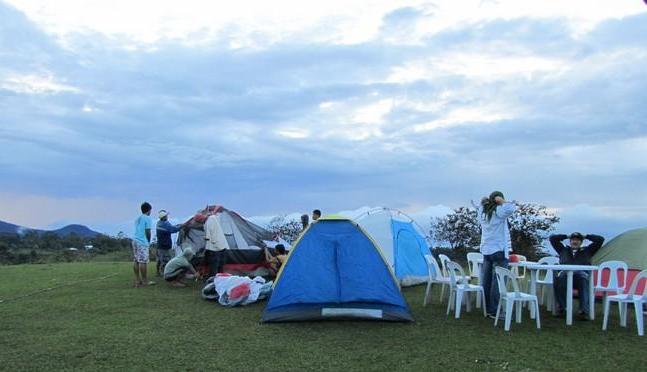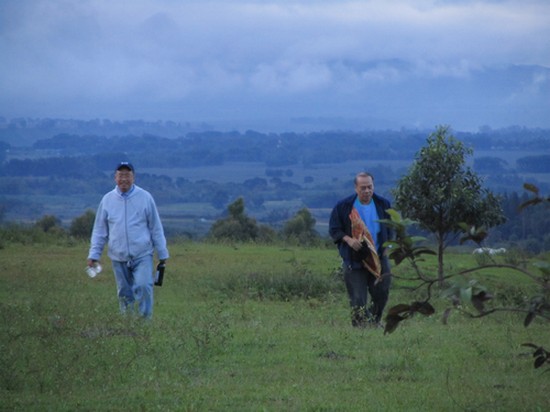 Bing Joven and Buddy Curameng hike to the top.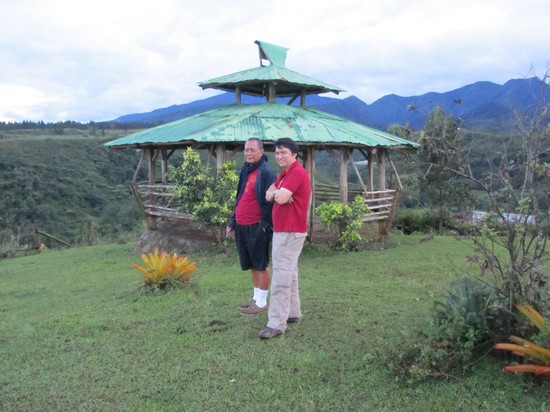 Ben Abon and Jojo Alejar enjoy the 360 degree view from the gazebo.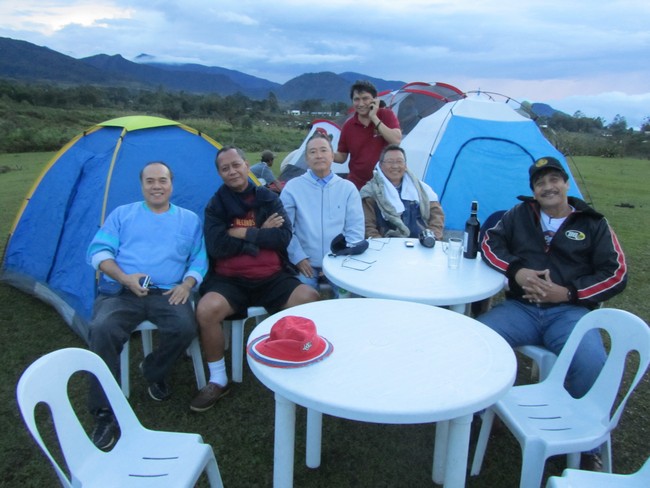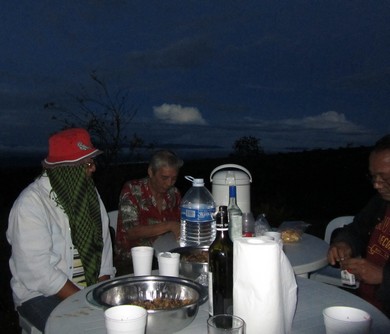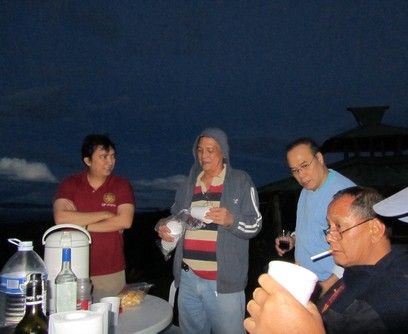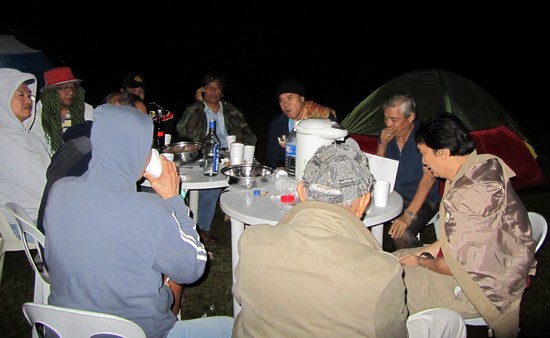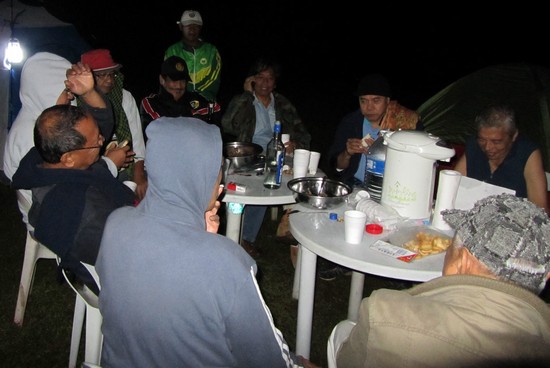 Freezing cold at night - the bonfire and gin help warm us up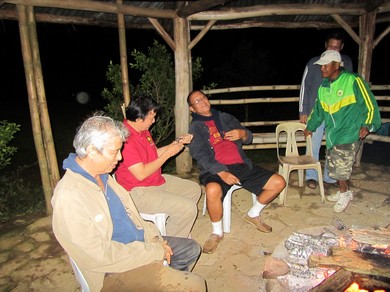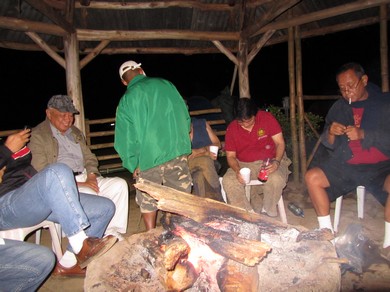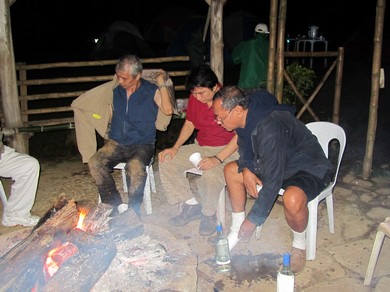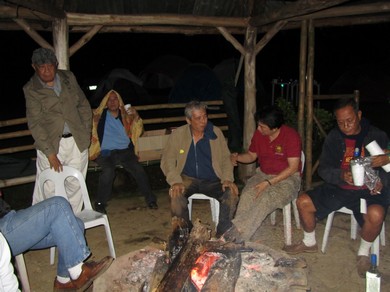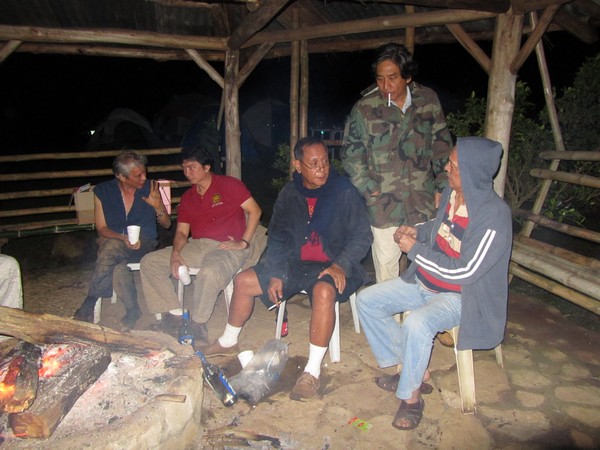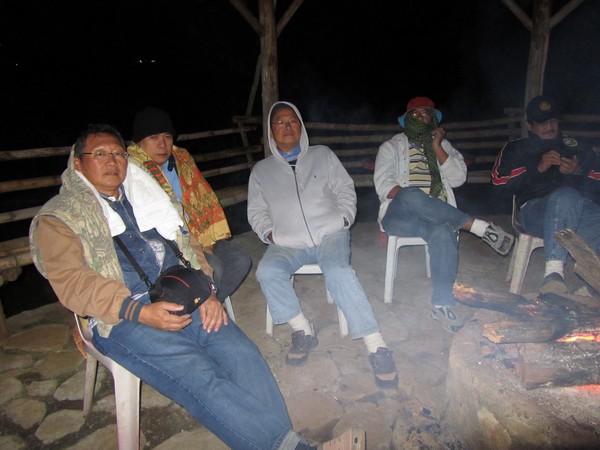 The second day Brod Buboy Tenazas from Iligan came with his son and neighbor bringing with them 2 styrofoam boxes of shrimps. He apologized that he was not able to bring crabs like last year. We had leftover kambing for breakfast, kambing again and shrimps for lunch and dinner, and the usual GSN gin. Brod Greg Villanoy from Los Banos also came by. He has a farm nearby and he brought pineapple, bananas and more gin. We all went back up the gazebo in the afternoon, had a bonfire while drinking and having a good time. We did not sleep in the tents because it rained. All 3 nights at the farm we all slept at the 2 end rooms of the bunkhouse.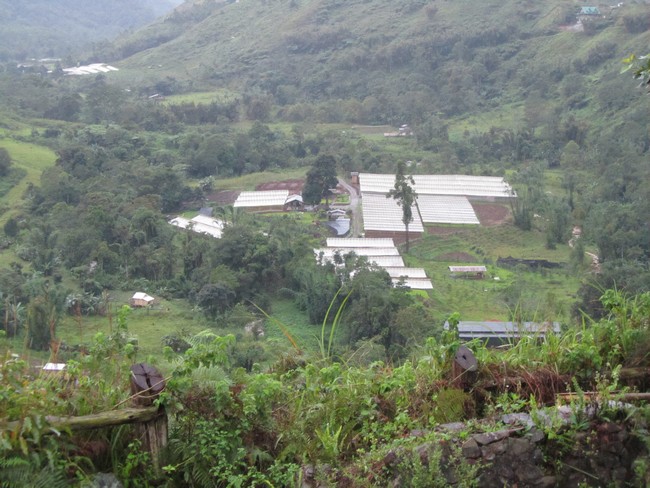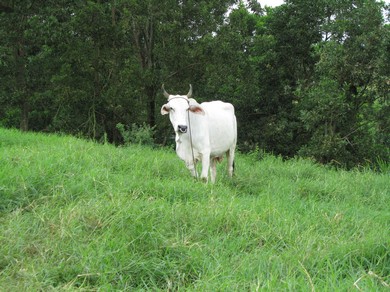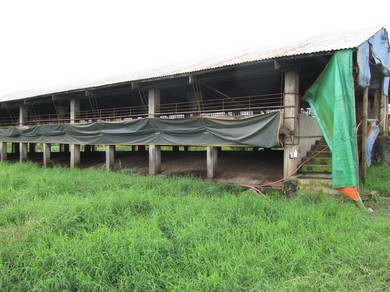 [Circa 2006 #1, by Norman Bituin]
In 2006, took these shots of the farm, the clubhouse, the quarter horses with my son Kurt atop one, the pond and Hec's piggery.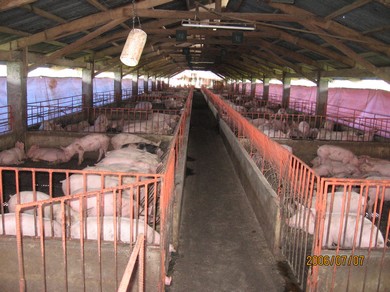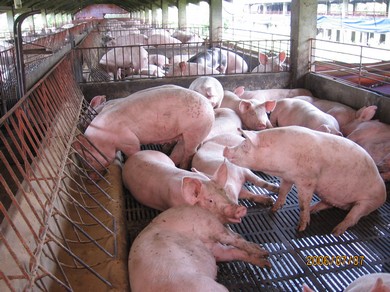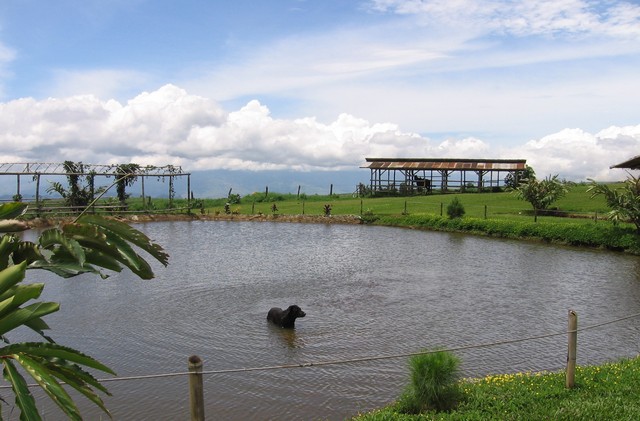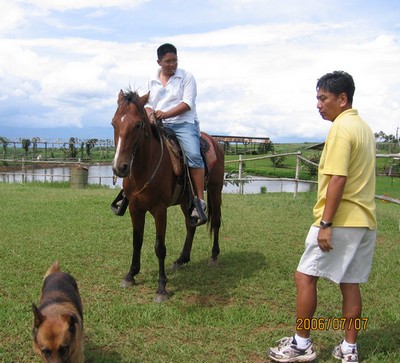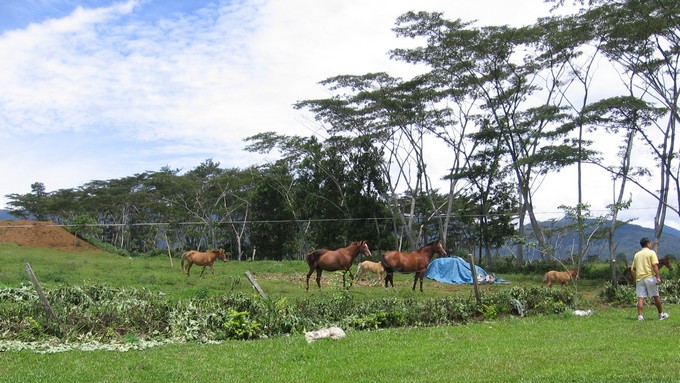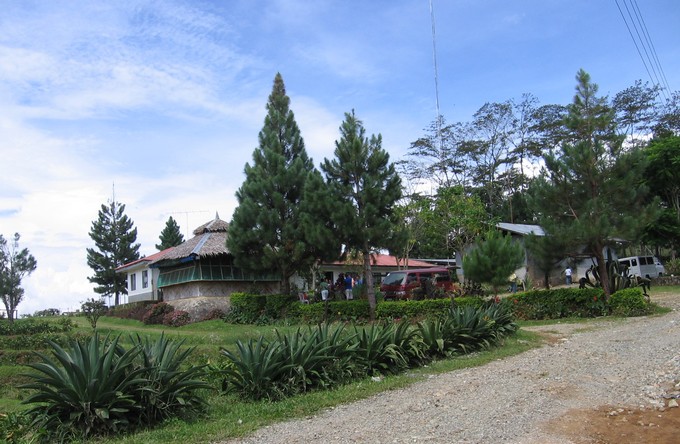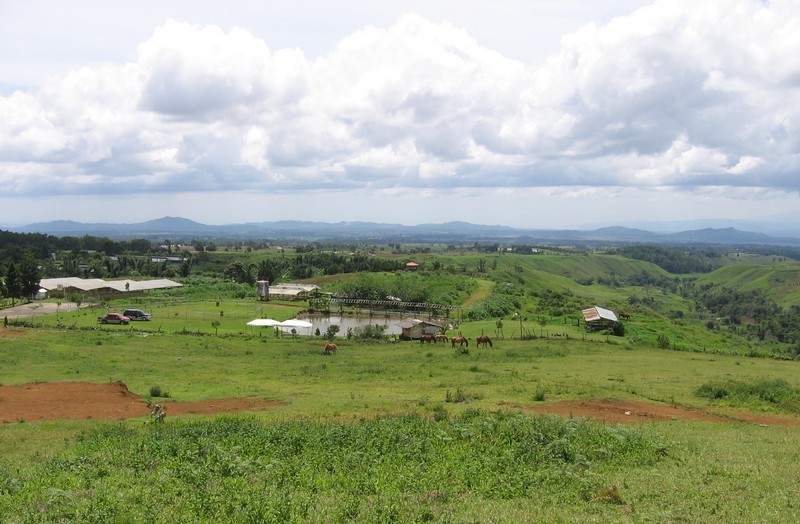 View of Hec's farm in 2006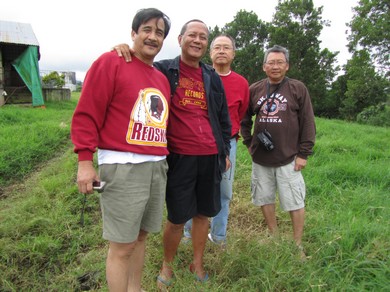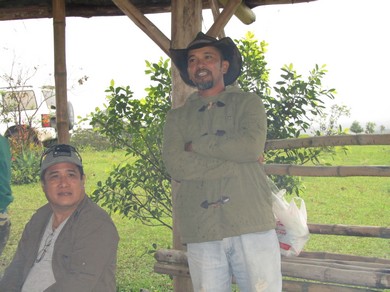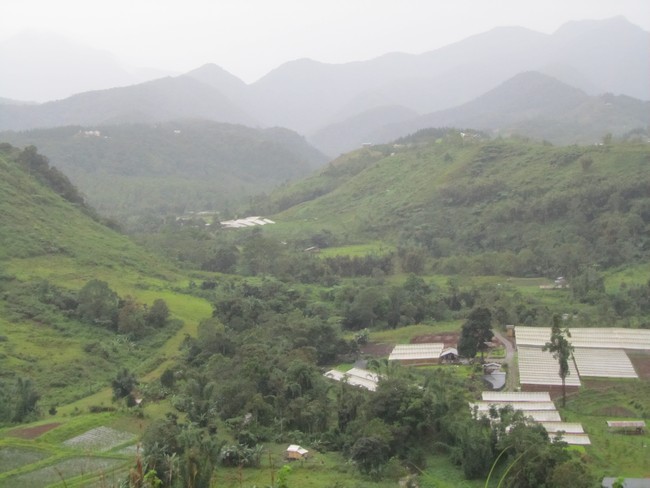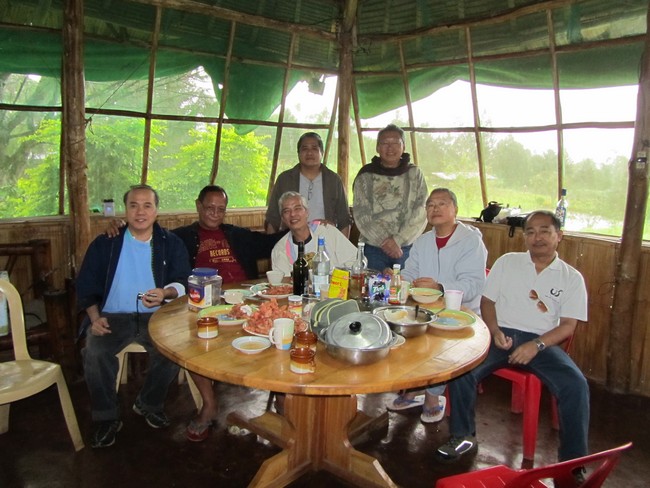 Seated: Buddy Curameng, Ben Abon, Cris Michelena, Bing Joven & Buboy's neighbor.
Standing: Buboy Tenazas & Ed Rivera.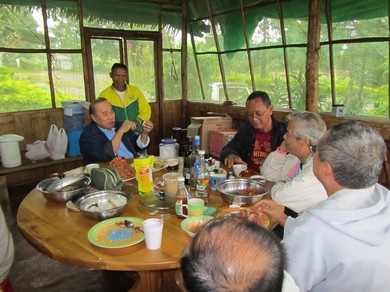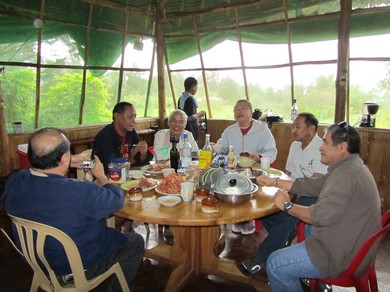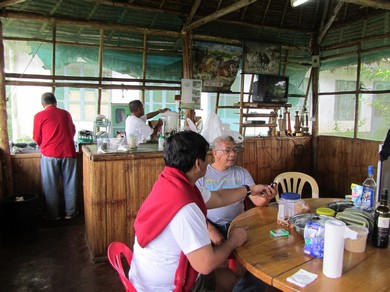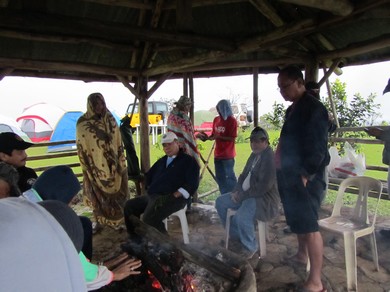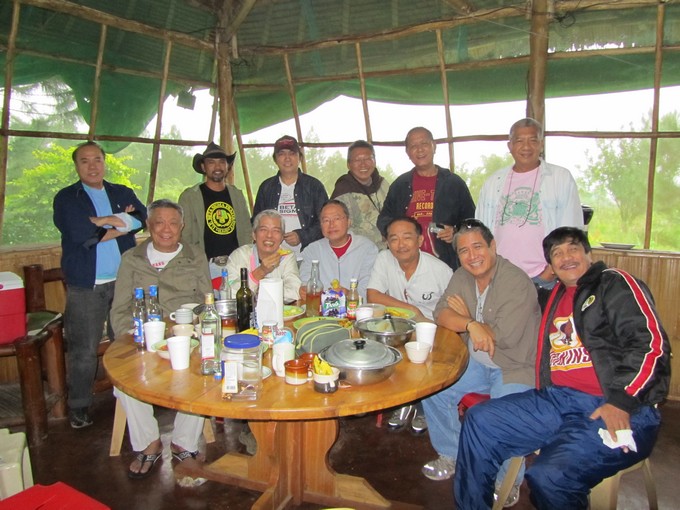 Seated: DouglasM, CrisM, BingJ, Buboy's neighbor, Buboy Tenazas (from Iligan) & DanteA.
Standing: BuddyC, GregV (LB brod from Manolo Fortich), JojoA, EdR, BenA & GeorgeB.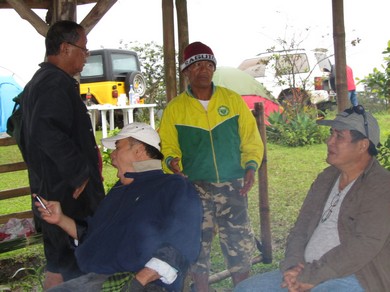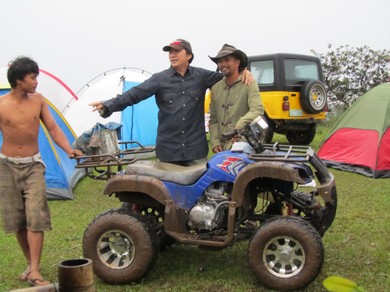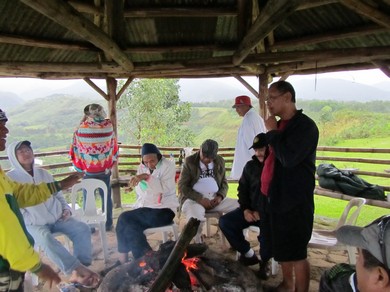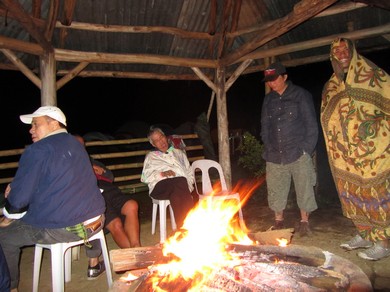 Day Three was spent doing the zip line adventure. Brod Buboy and company went back to Iligan after this. They also dropped off Buddy at the airport for a flight back to Manila. Back at the farm we were joined by two more Pilgrims: Wo Coronel and Joel Paredes. We had shrimps for lunch but the much awaited famous chicharon from Tarlac was nowhere to be found. Joel said he went to Ben's house twice but the housekeeper did not want to give it to him because Ben did not call. "Ayaw pa raw siyang papasukin sa bakuran dahil naka amerikana siya." The GSN flowed again mixed with Tanduay
and JW Gold with Bing being the "tangero". Hindi nalalasing si Bing di gaya ng iba. I was one of the brods exempt form the "tagay" because I had a very bad cough. Brod Ben Albarece arrived at night bringing a whole lechon and more GSN.

ZIP Zone - Asia's Longest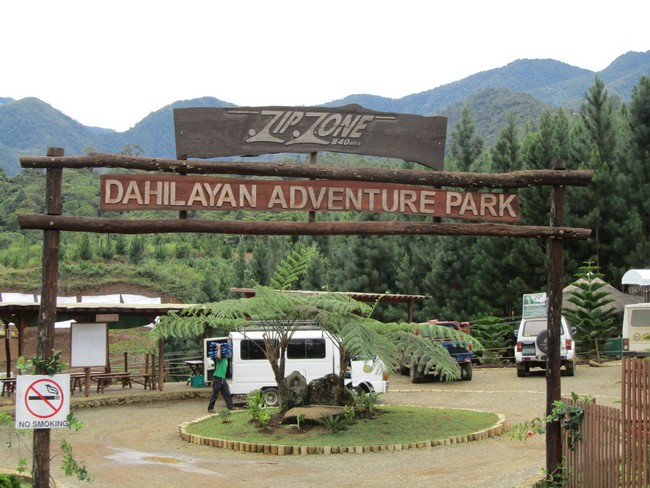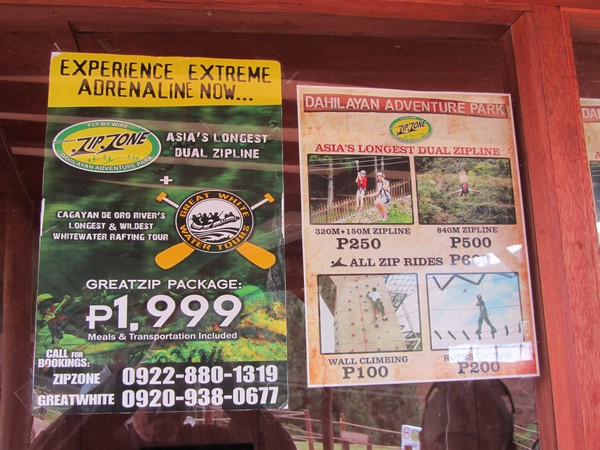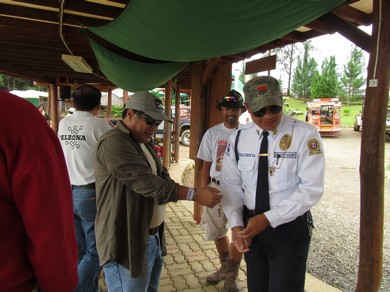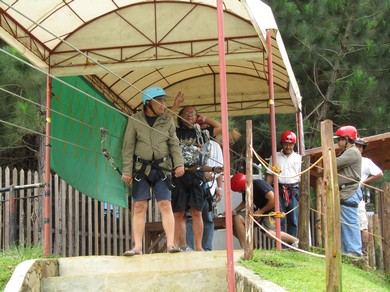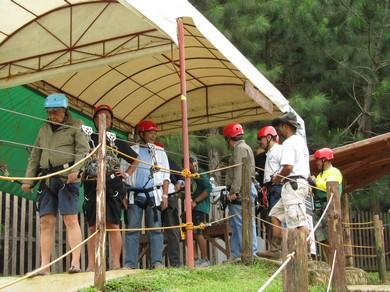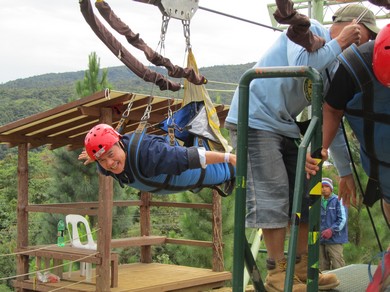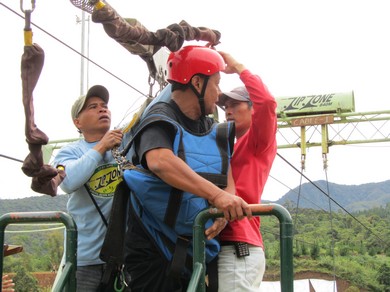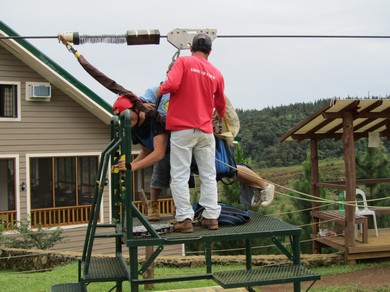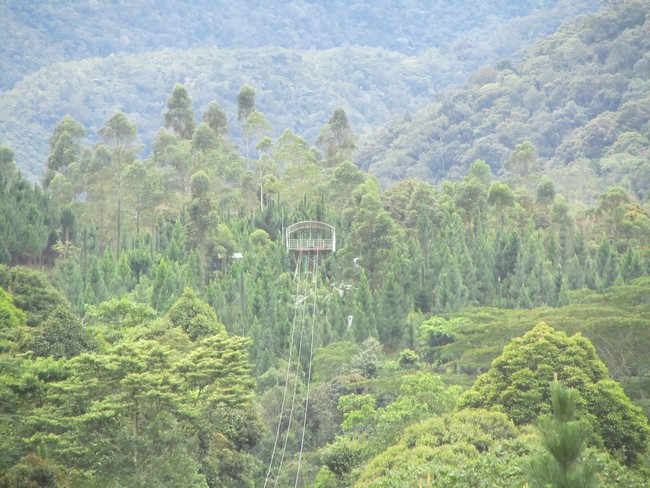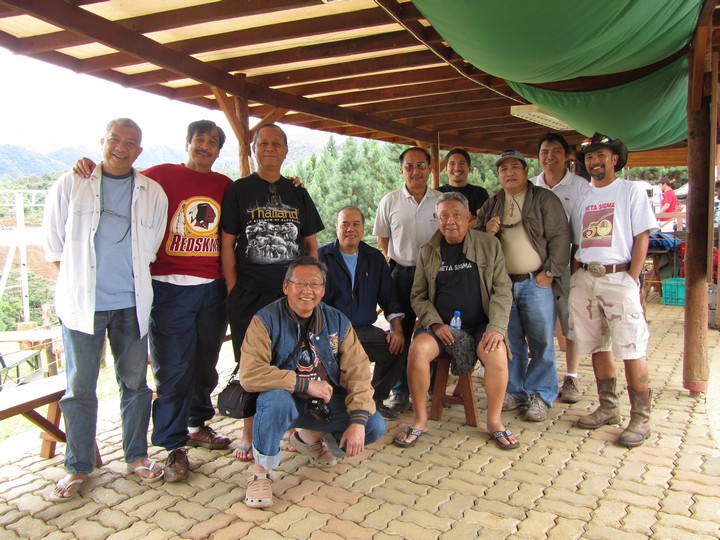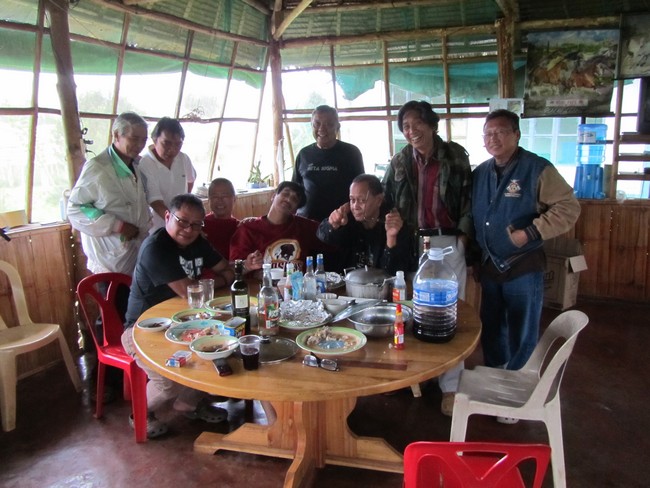 Joel Paredes (seated leftmost) arrives with Wo Coronel.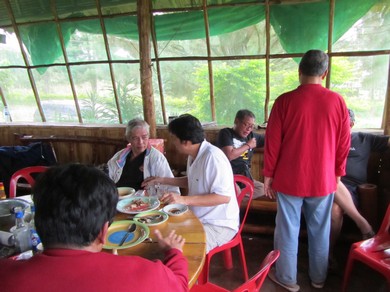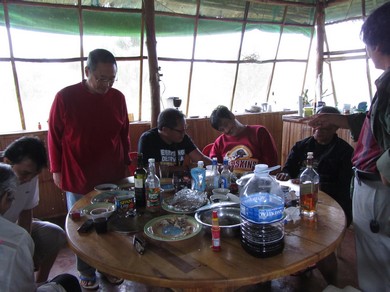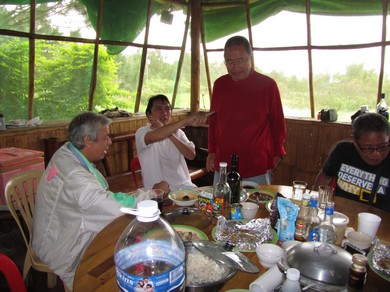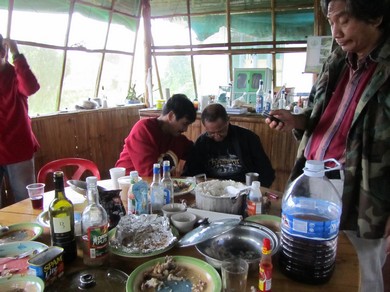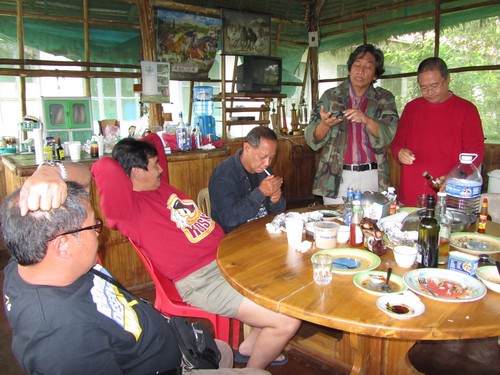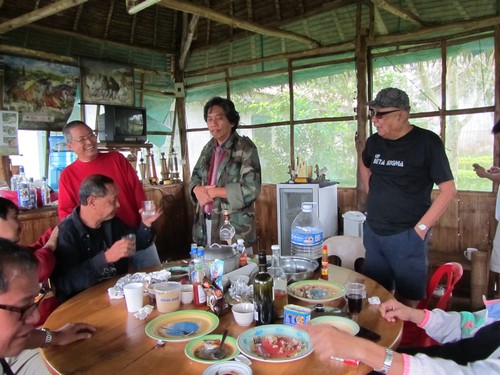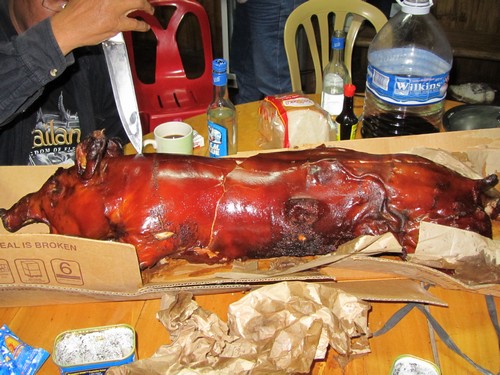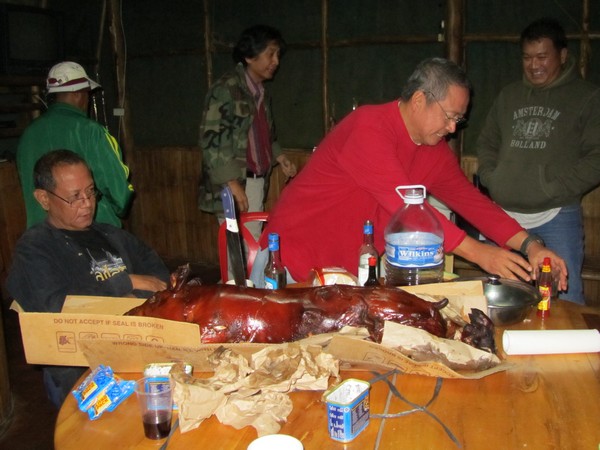 Ben Albarece, DVM and ex-mayor of Manolo Fortich (rightmost), brings the crisp whole lechon.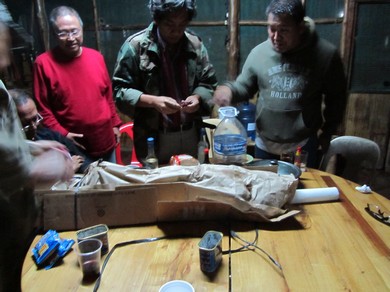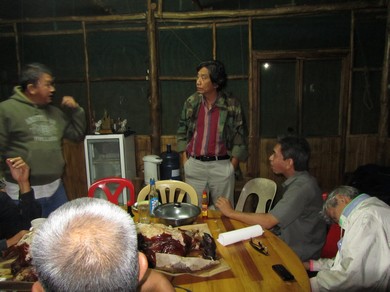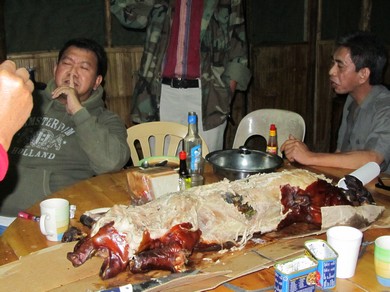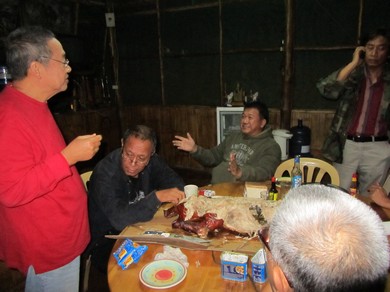 Day Four we had leftover lechon for breakfast and toured the farm before going to the river rafting adventure. We had dinner at Hector and Eileen's house and consumed the last of the GSN. That night we all stayed at Lamar Hotel in Cagayan de Oro City, also owned by the Escobar family.
Cagayan de Oro White Water Rafting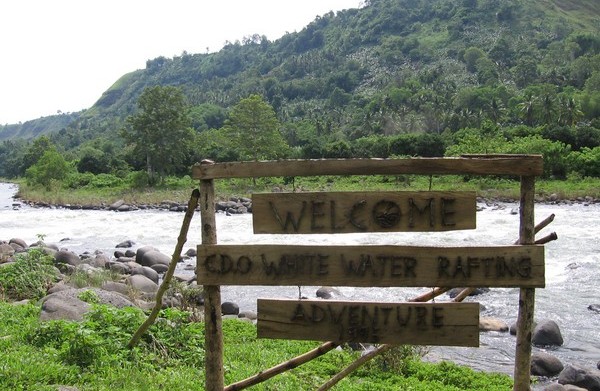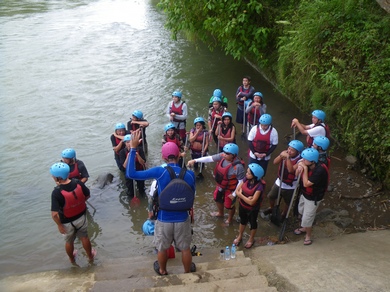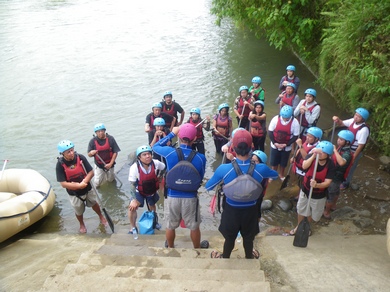 Group 1: Ben Abon, Dante Agulto, Cris Michelena, Douglas Mondonedo & George Balabag.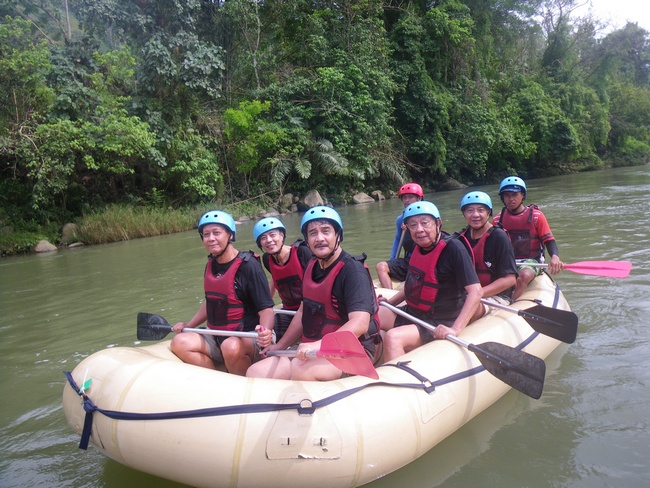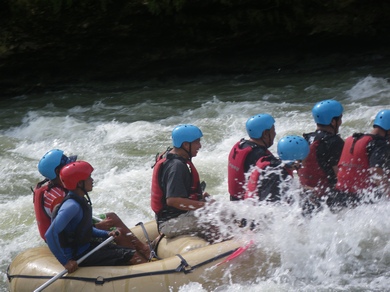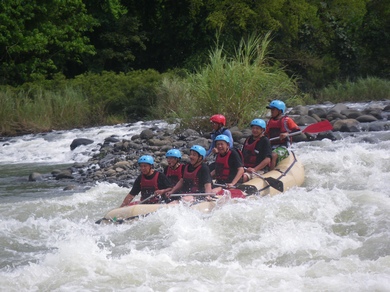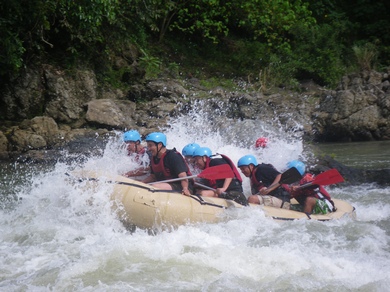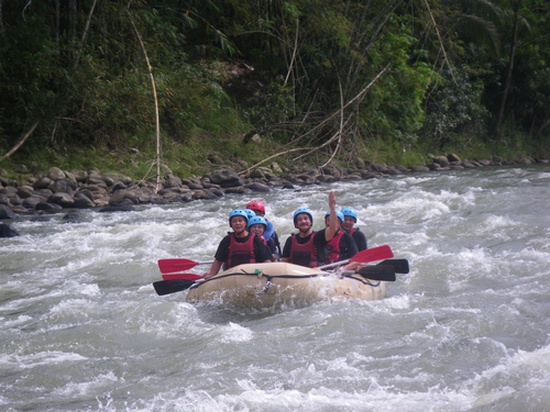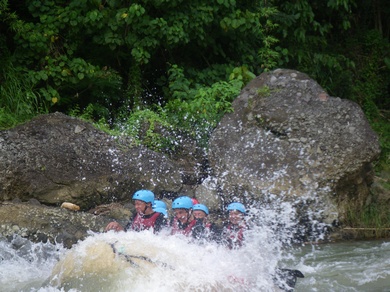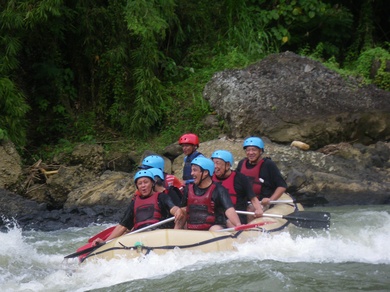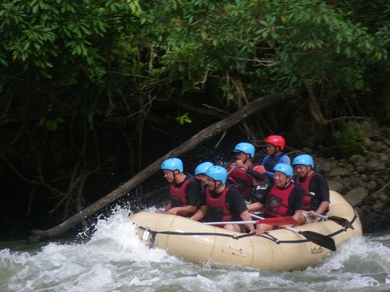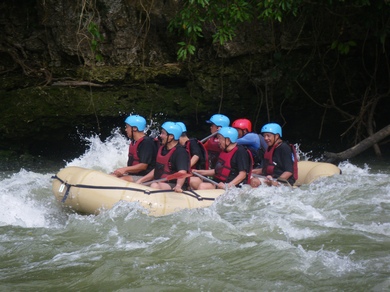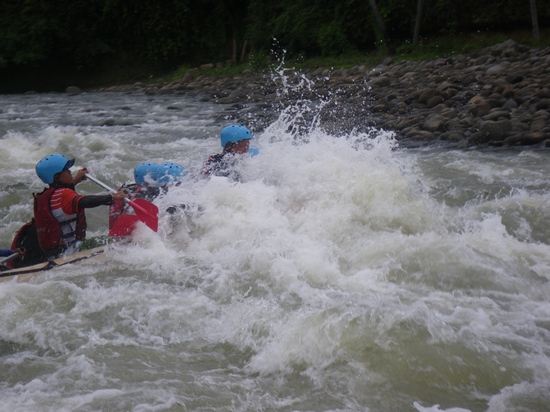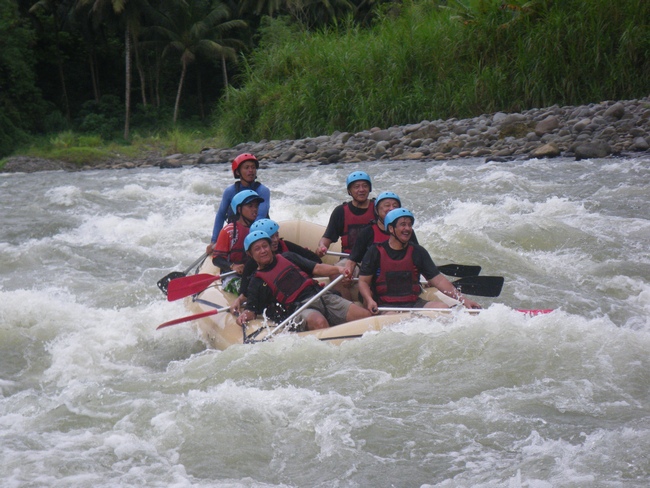 Group 2: Joel Paredes, Jojo Alejar, Wo Coronel, Bing Joven & Ed Rivera.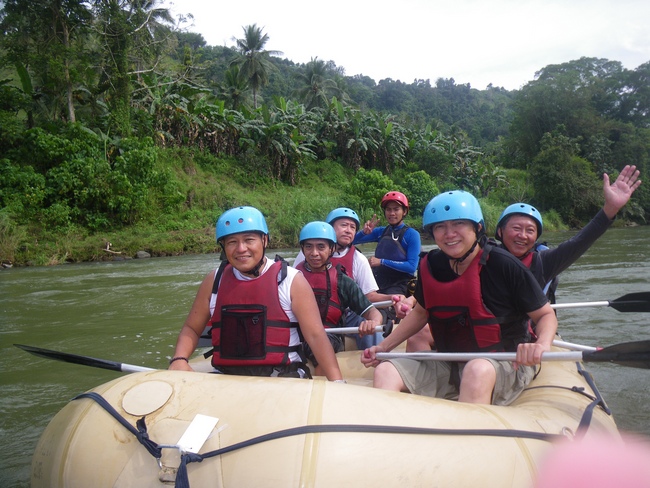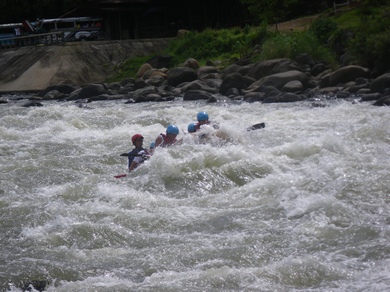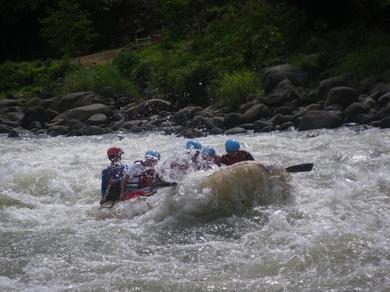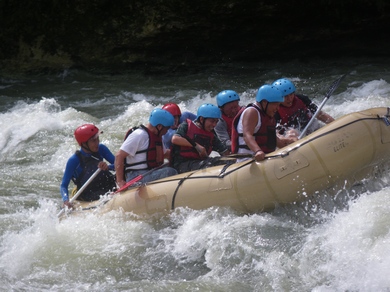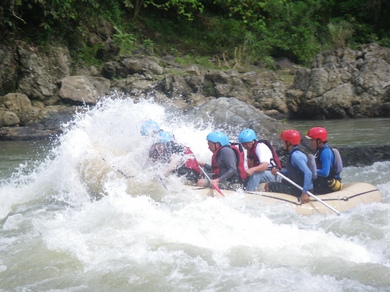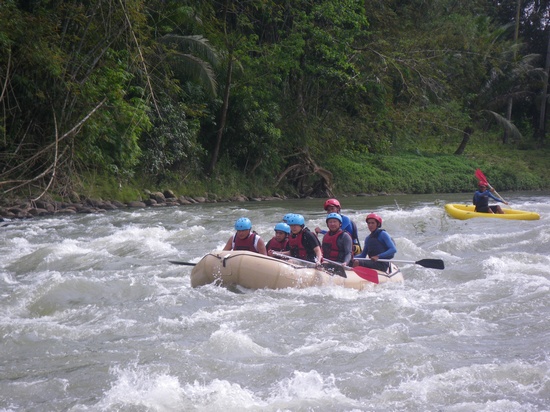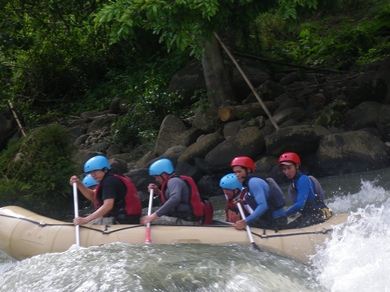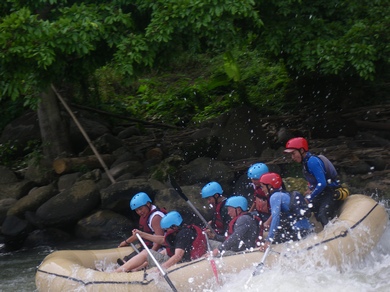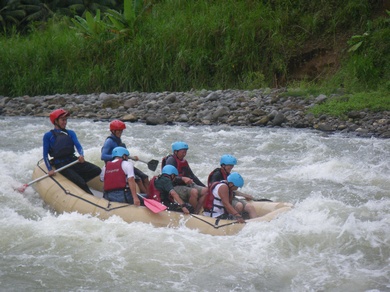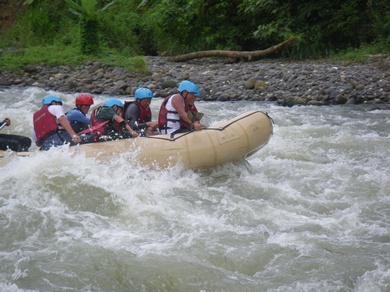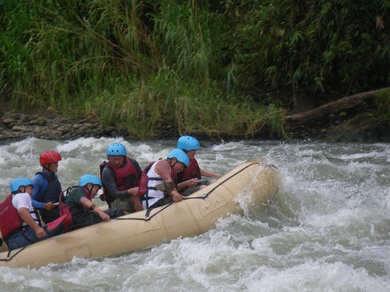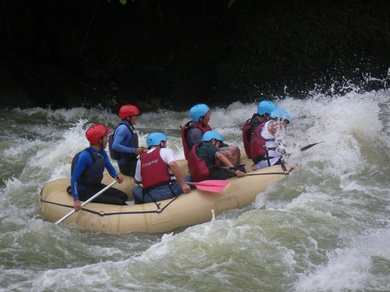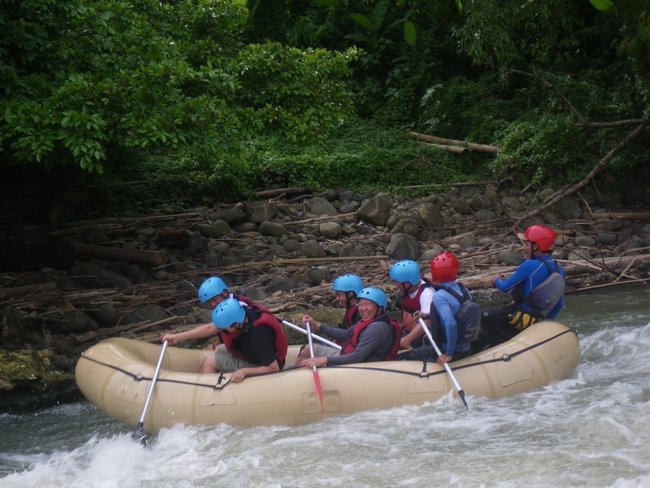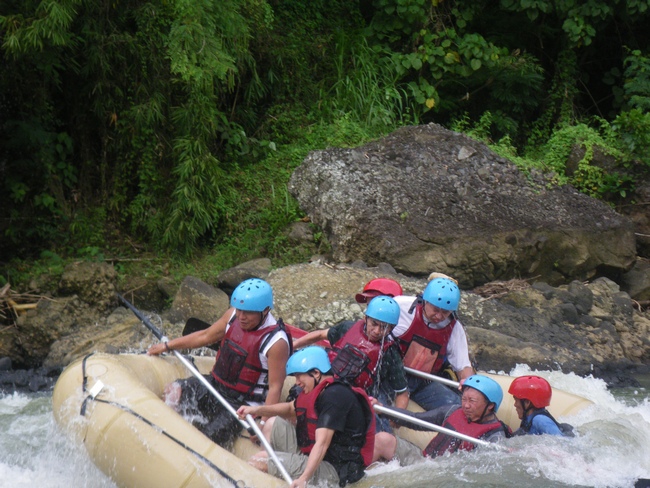 [Circa 2006 #2, by Norman Bituin]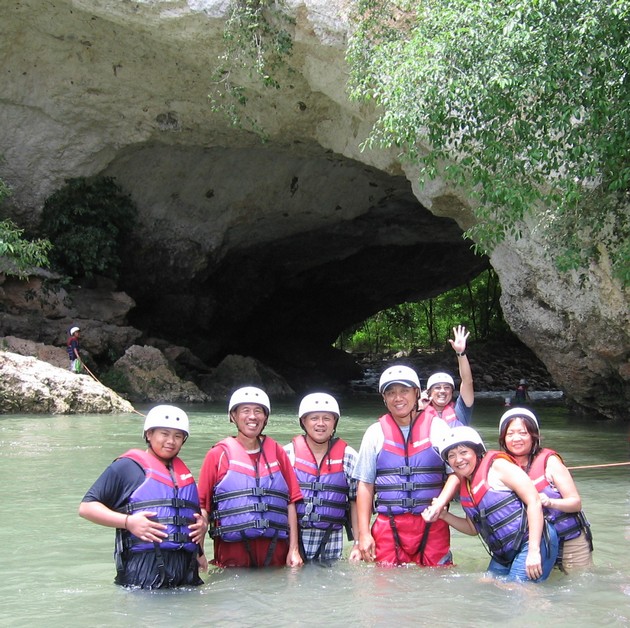 l-r: my son Kurt, brother-in-law/mining engr. in Davao Joel, Norman, Hec and twin sisters Eileen & Laureen.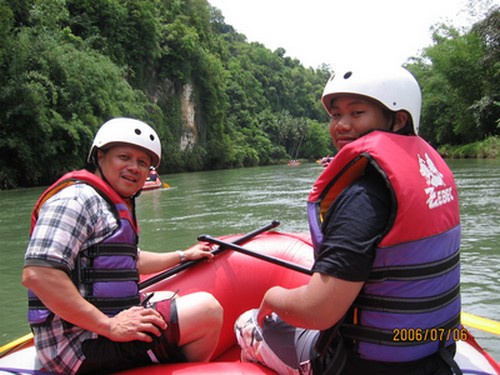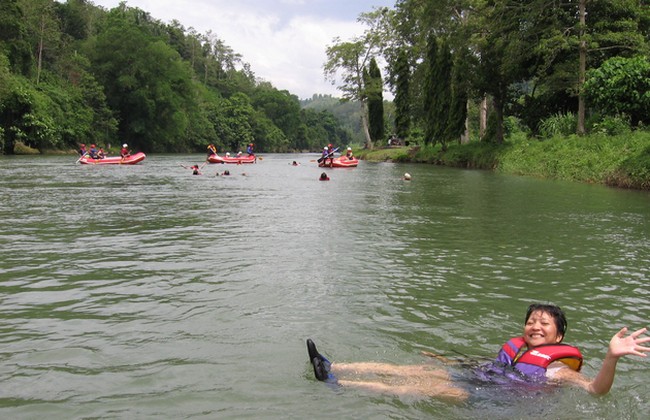 Eileen on an easy float on the river.
Dinner at Hector & Eileen's house in Cagayan de Oro City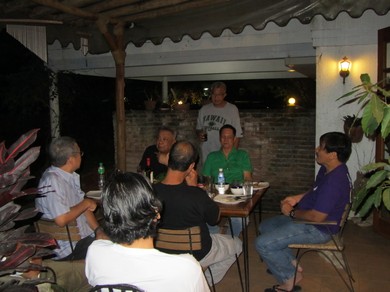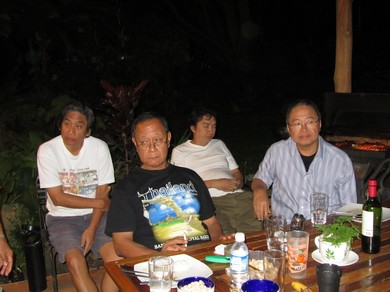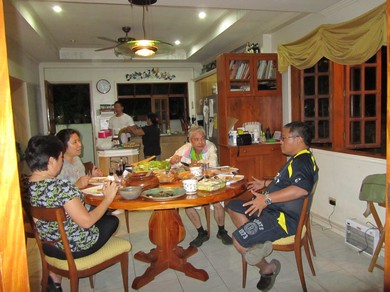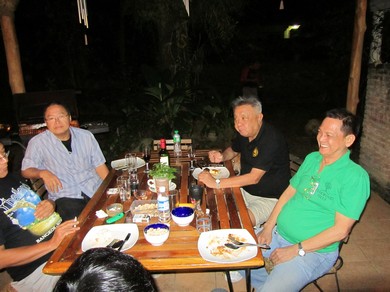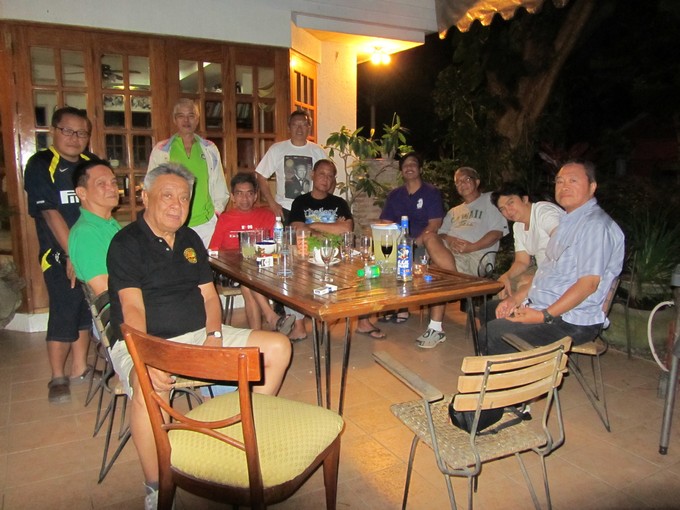 Friday, the last day, was spent buying pasalubongs. The Pilgrims had lunch at the "Torquoise Restaurant" located inside the SM Mall hosted by Avik Alonto, a brod from MSU. We also found out that it was the birthday of his wife, Eurora, a Sigma Betan also from MSU. Our flight back to Manila was delayed by three hours because of the rain. When we arrived at Manila, traffic going towards Quezon City was heavy due to the anniversary of EDSA People Power.
I had a very wonderful experience bonding with the brods and meeting other Betans. I'm looking forward to the next Pilgrimage. Quoting our famous ex-governor from California, "I'll be back". There is another Pilgrimage scheduled for 2012.

Last day's lunch at SM Mall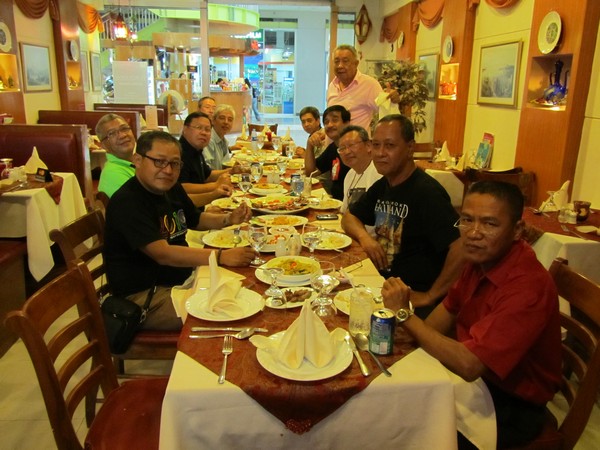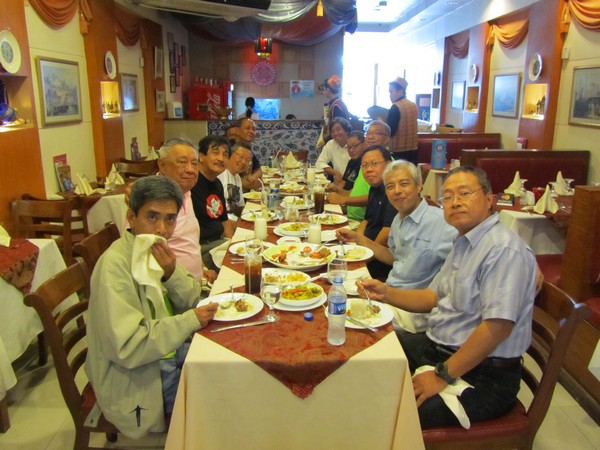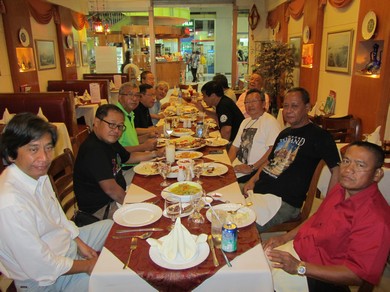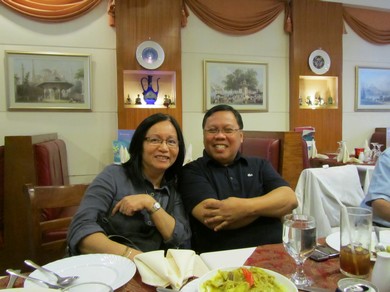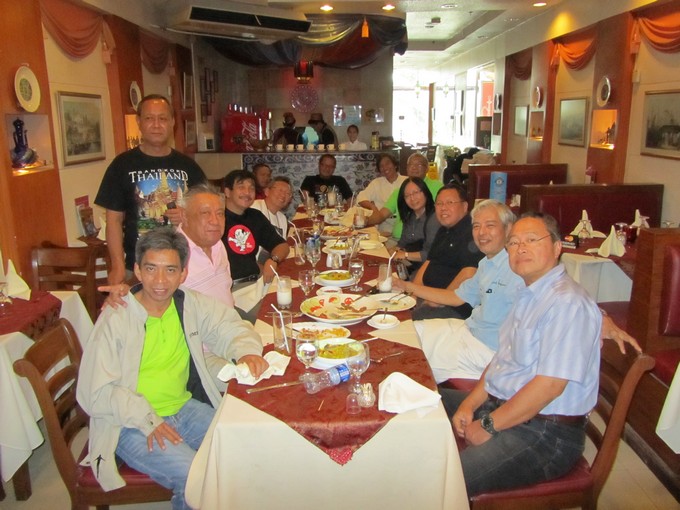 Alas, all good things must come to an end... but "I'll be back".