Hagibis sa Europe II
(Part 2 of 2), 2011 May 6-18
by Norman Bituin
3. Bratislava, Slovakia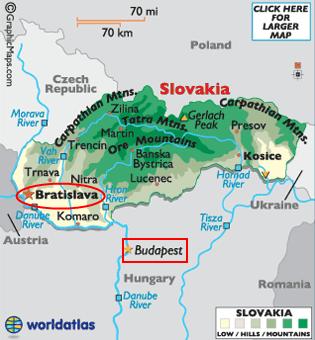 Bratislava is the capital of Slovakia and the country's largest city. It is on both banks of the Danube River bordering Austria and Hungary. The now two independent countries of Slovakia and Czech Republic used to be Czechoslovakia, which was created by the dissolution of Austria-Hungary at the end of World War I. The separation of the Czech Republic and Slovakia is sometimes known as the Velvet Divorce, a reference to the bloodless Velvet Revolution of 1989 that led to the end of the rule of the Communist Party of Czechoslovakia and the formation of a democratic government. Slovakia joined NATO in 1999 and the European Union in 2004.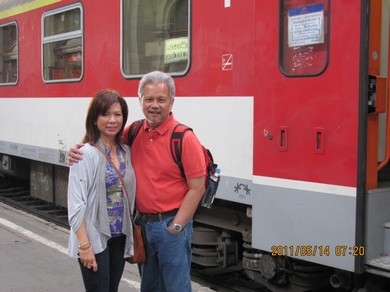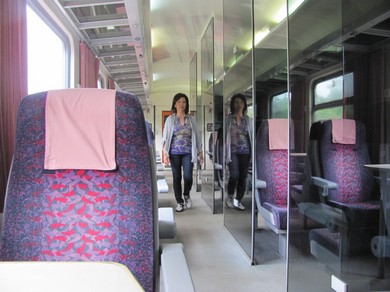 The trip continues... All aboard!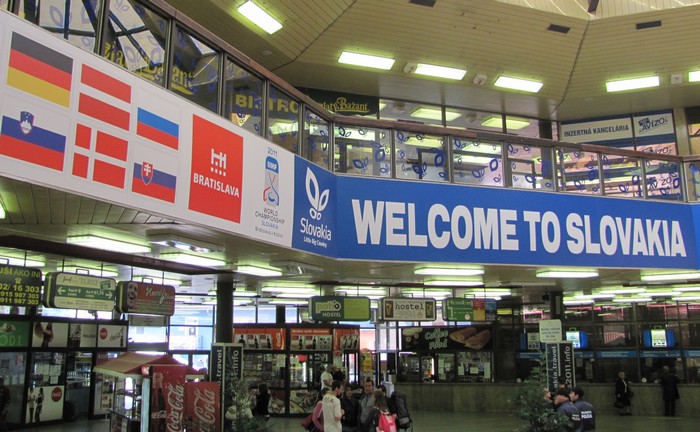 Bratislava was full of tourists and hockey fans for the World Hockey Championship.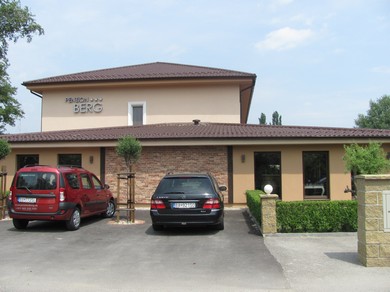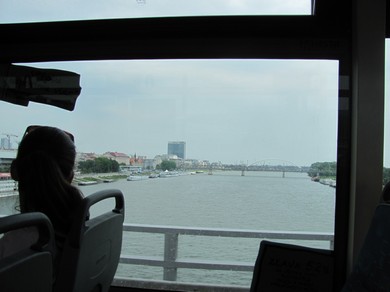 This was our only lodging not within walking distance to the city center, about 8 mins. by bus. Aboard bus, bridge spans wide Danube.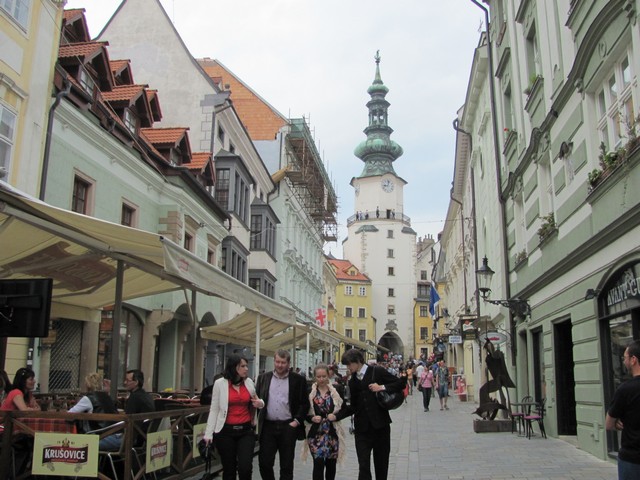 Entering Old Town is through St. Michael's Gate, a Gothic gate built in early 14th century.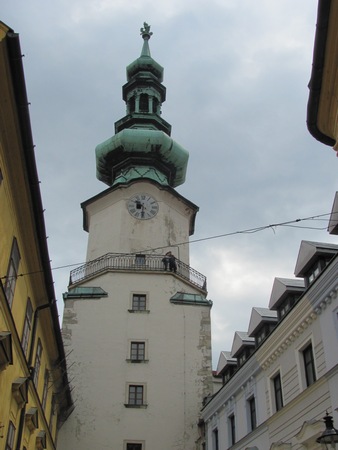 St. Michael's Gate tower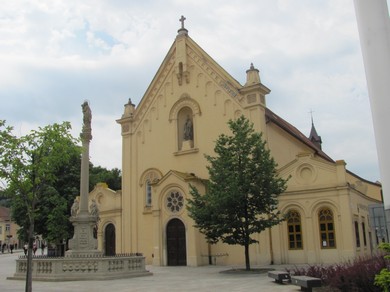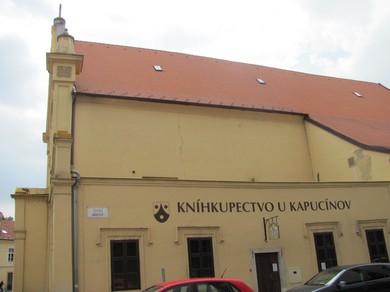 Capuchin Church dating back to 1717 dedicated to St. Stephen of Hungary was built by the Capuchin monks.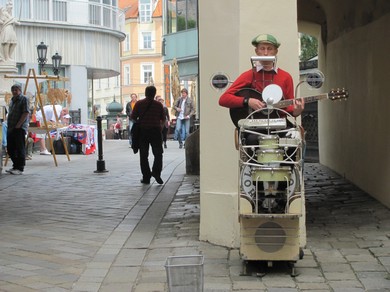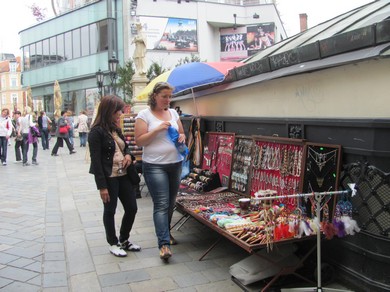 A multi-proficient musician with the harmonica, guitar, keyboard and drums plus boom speaker below; while vendor displays wares.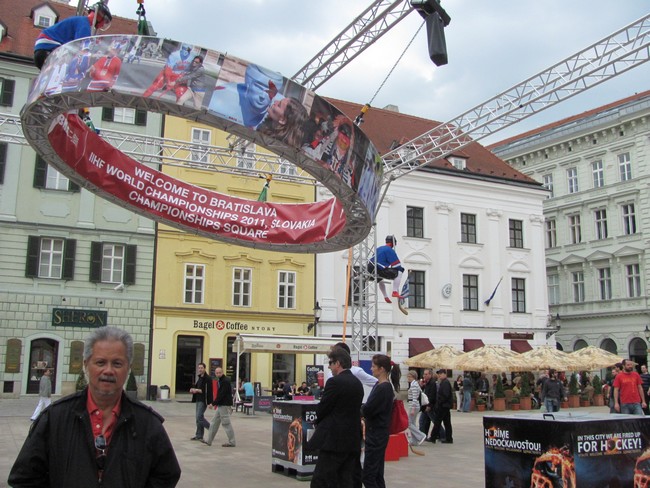 Bratislava was on the spotlight with the 2011 World Hockey Championships. (Finland won gold medal).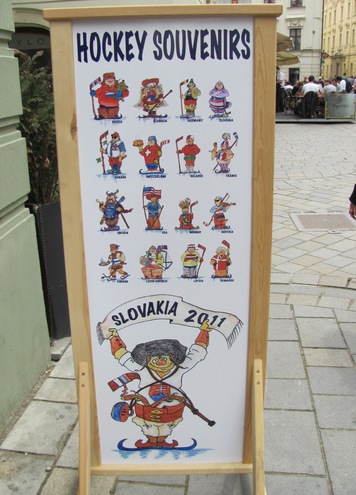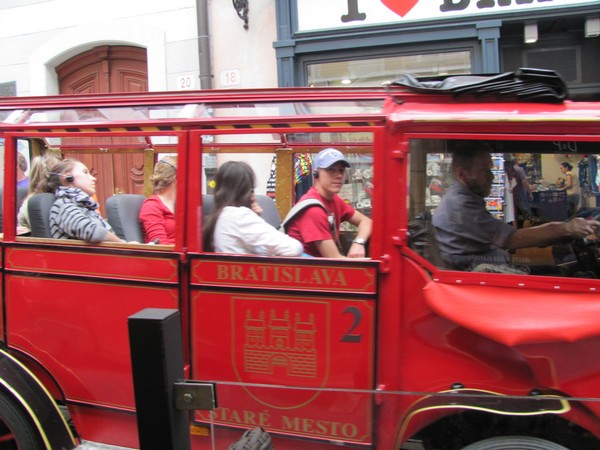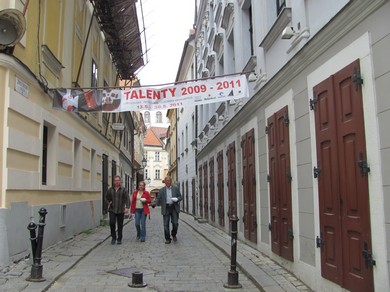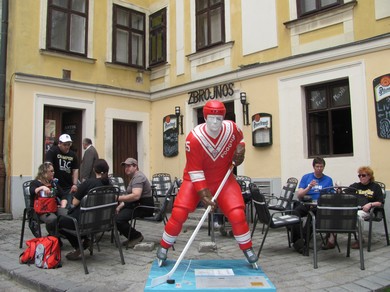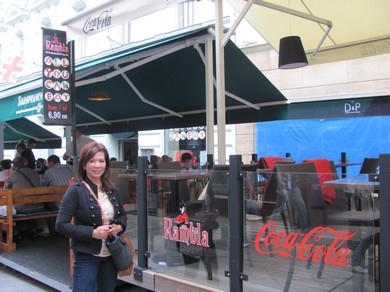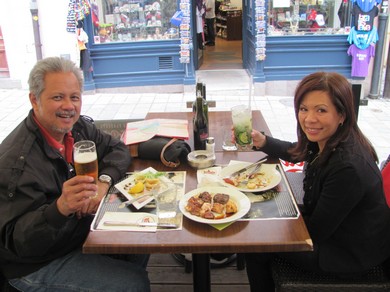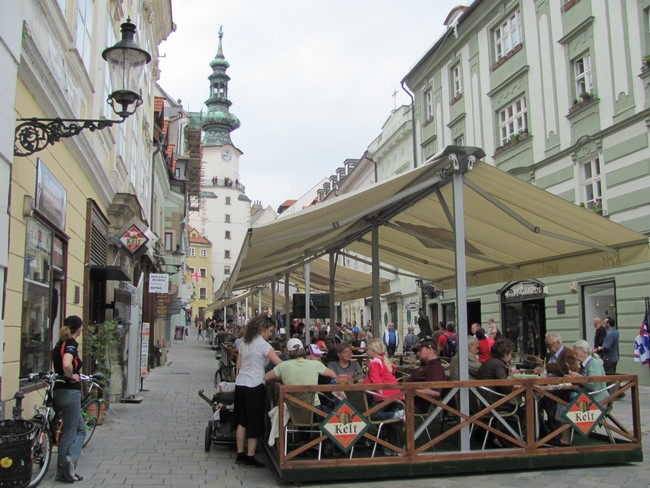 Take your pick from the street diners. We chose Rambla with Spanish tapas.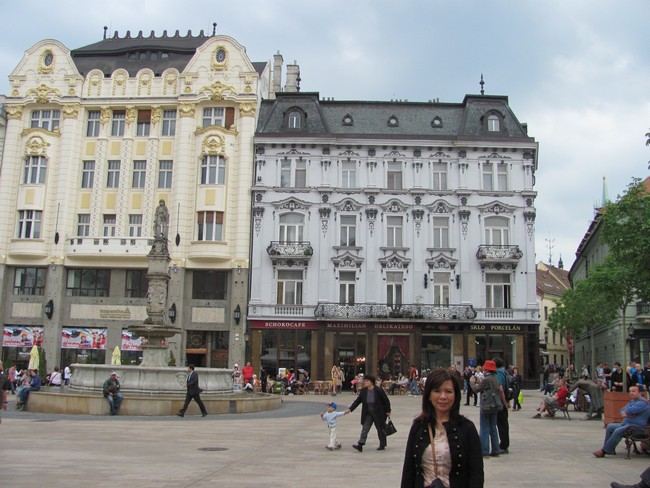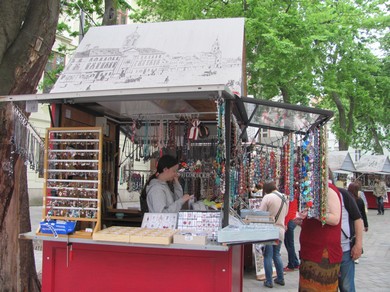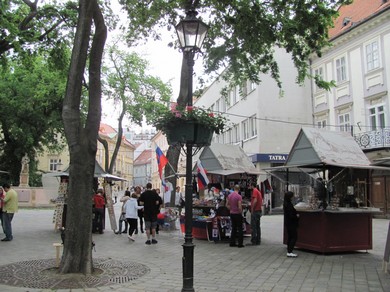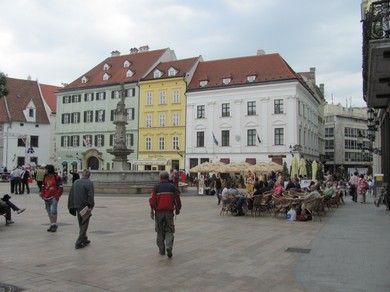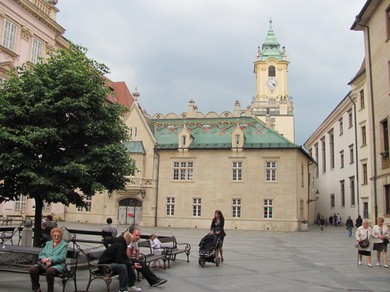 Old Town charm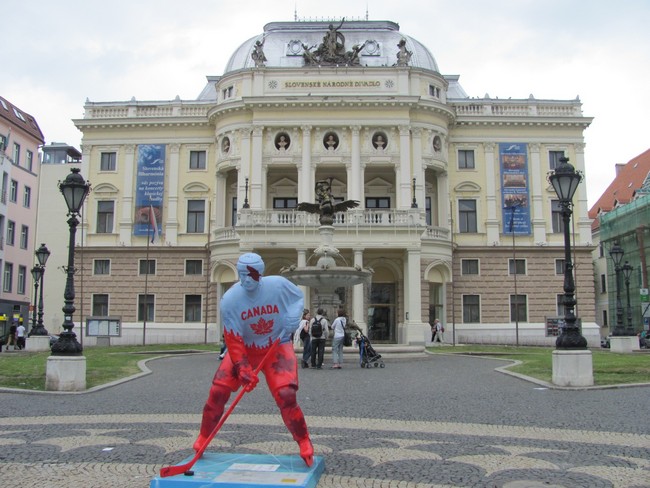 Slovak National Theatre, a Neo-Renaissance building, has 3 ensembles: opera, ballet and drama.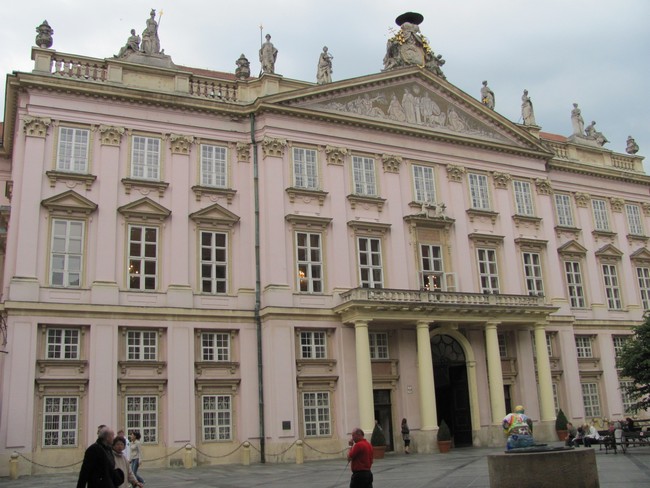 The Primatial Palace was the original residence of the Esztergom Archbishop.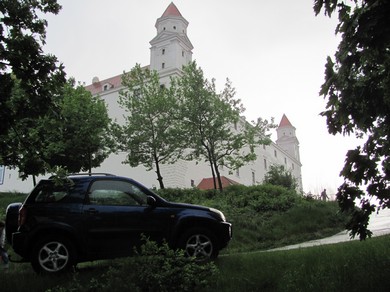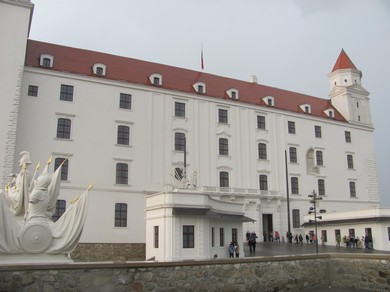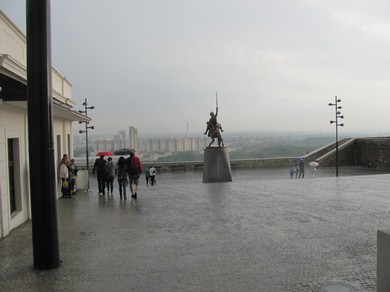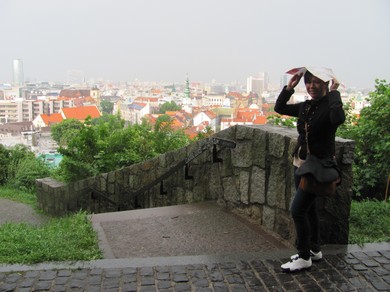 Didn't expect rain, so we left our umbrellas in our bags at the train station locker. We got soaked hiking up to the Bratislava Castle.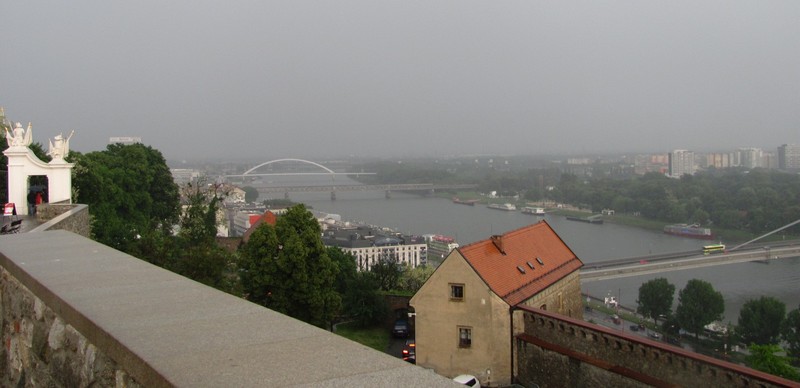 View from Bratislava Castle overlooking the Danube and the city
4. Vienna, Austria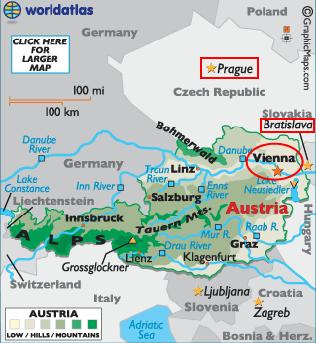 Vienna is the capital of the Republic of Austria and is its cultural, economic, and political centre. When the Austro-Hungarian Empire collapsed in 1918 with the end of World War I, Austria used the name German Austria. In the 1938 Anschluss, Austria was occupied and annexed by Nazi Germany until the end of World War II. In 1955, Austria became a sovereign and neutral state and now is a parliamentary representative democracy. It joined the European Union in 1995. In a 2005 study of 127 world cities, the Economist Intelligence Unit ranked the city first (in a tie with Vancouver, Canada) for quality of life.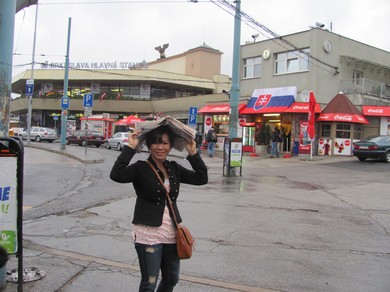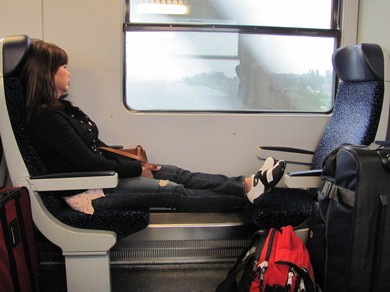 It was still drizzling when we left Bratislava for the 72-minute ride to Vienna.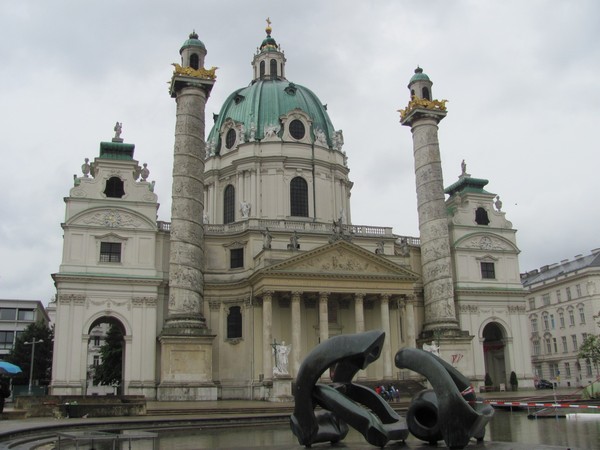 We were here in '85, so this was just a short stop to see Karlsplatz again, on the way to Prague.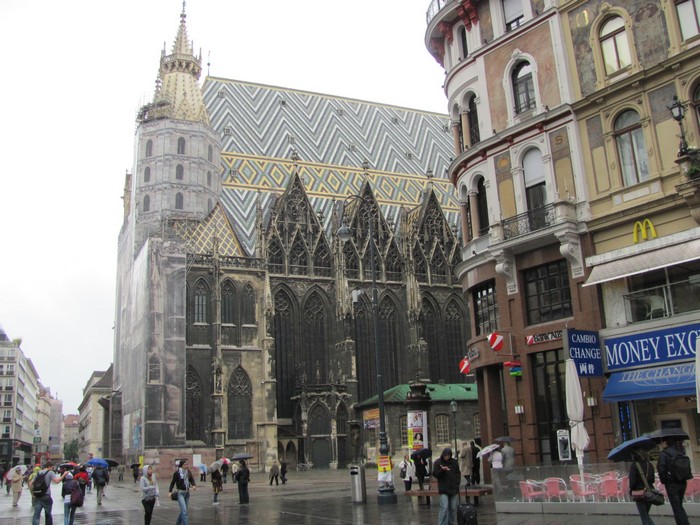 St. Stephen's Cathedral, Romanesque-Gothic, was founded in 1137 with construction and expansion through 1511.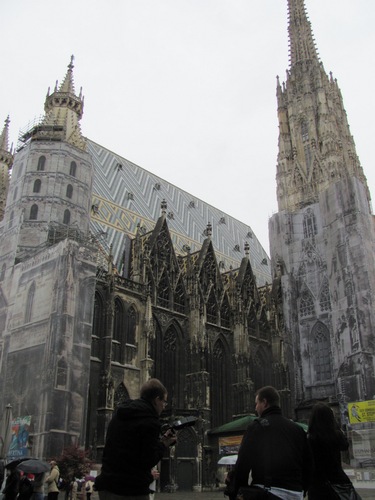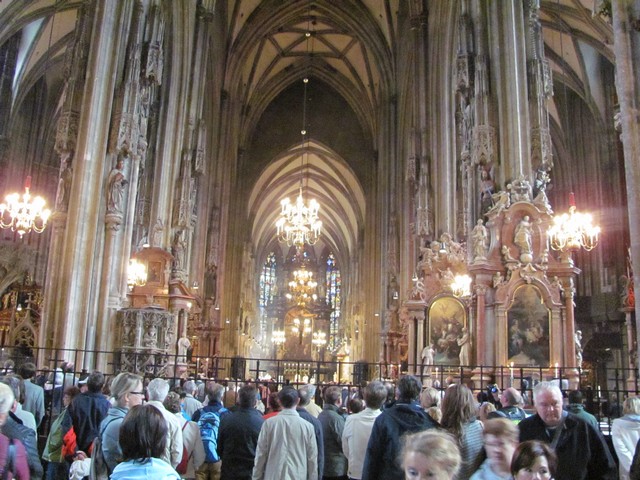 There are 18 altars in the main church. The High Altar made of marble was completed in 1647 after 7 years.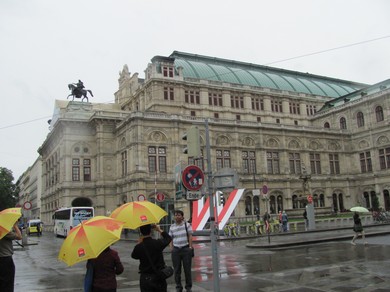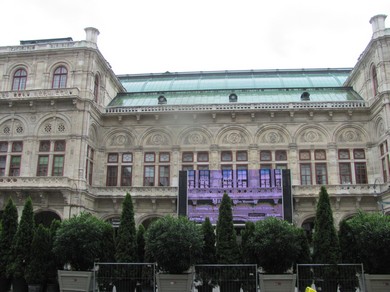 Vienna Opera House, at the center of Vienna, was built in 1869 and was damaged by Allied bombing during WW II.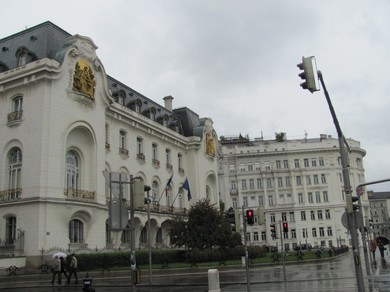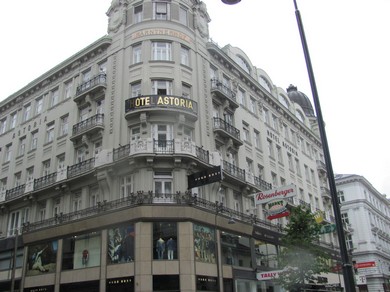 French Embassy Hotel Astoria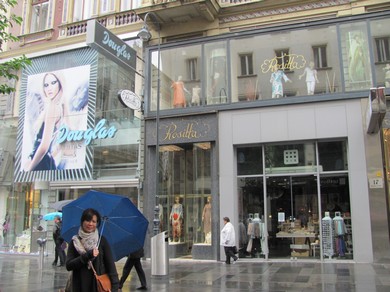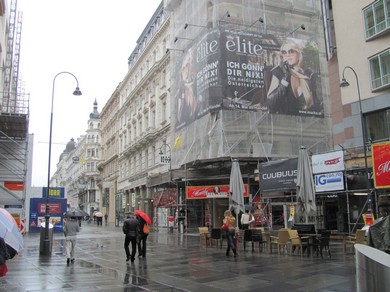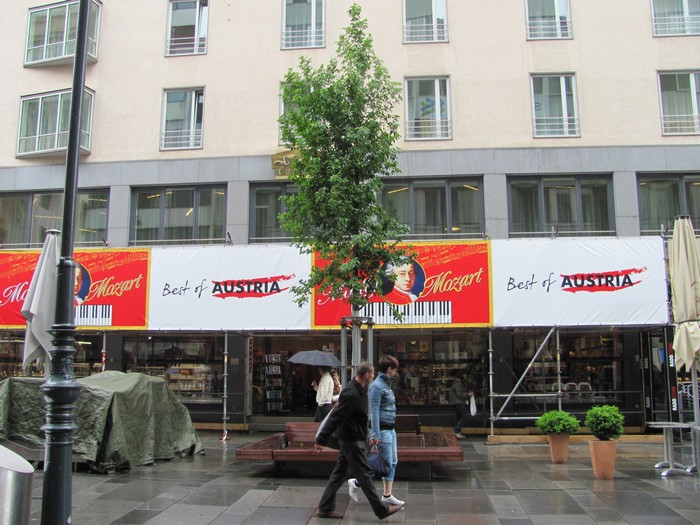 Leaving Vienna and the rain - and on to our last stop.
5. Prague, Czech Republic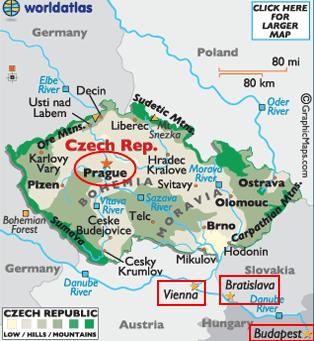 Prague is the capital and largest city of the Czech Republic. For centuries Prague was the permanent seat of two Holy Roman Emperors and thus was also the capital of the Holy Roman Empire. Later it was an important city in the Habsburg Monarchy and the Austro-Hungarian Empire, and after World War I became the capital of Czechoslovakia. Communist rule ended in 1989 with the election of playwright Vaclav Havel as president. The Czech Republic and Slovakia separated in 1993. It joined NATO in 1999 and the European Union in 2004. Since 1992, the extensive historic centre of Prague has been included in the UNESCO list of World Heritage Sites.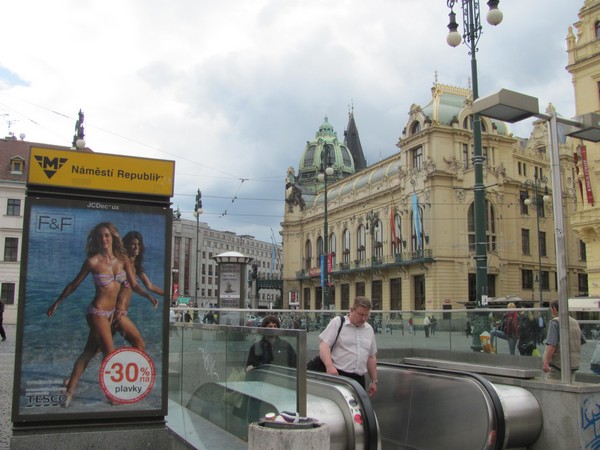 We stayed in a hotel just off the Namesti Republik subway. State Opera is at the back.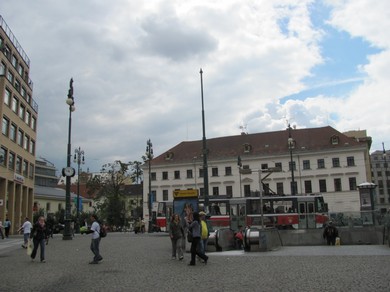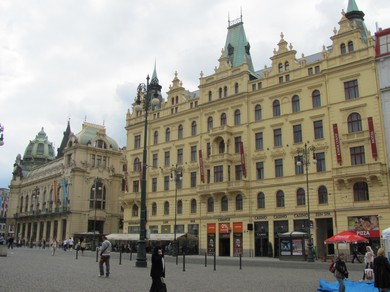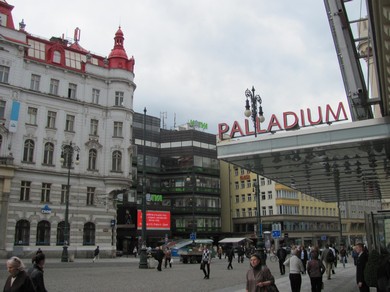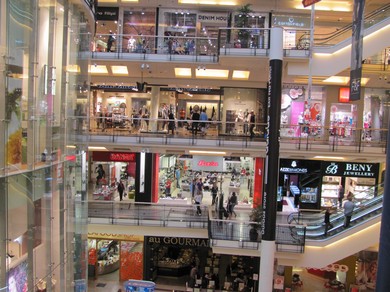 A few steps from the subway is Palladium which opened in 2007 and is now the biggest shopping center in the Czech Republic.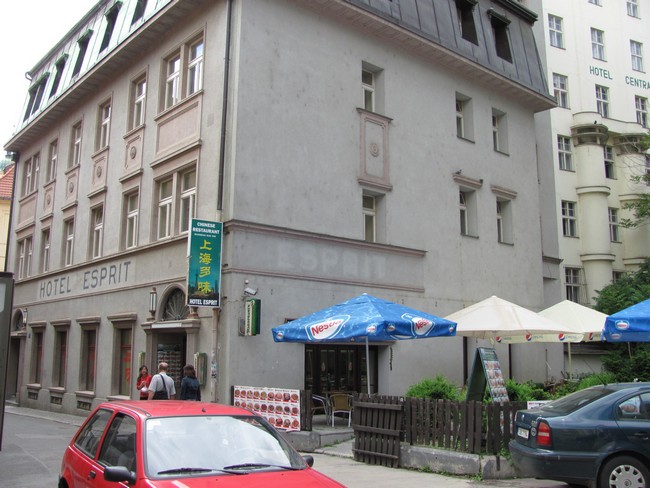 Hotel Esprit was ideal for us. It has a Chinese restaurant (fried rice!) on 1st floor and very close to Old Town.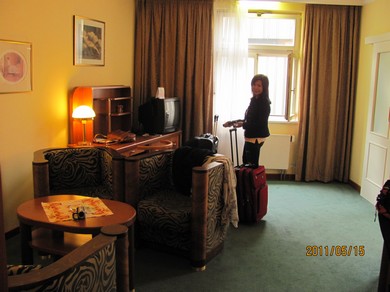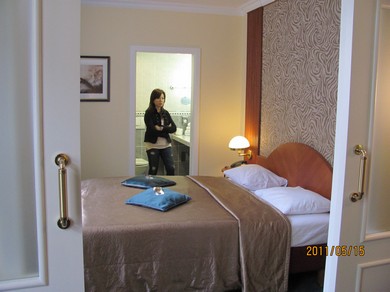 Good location, 2 separate bathrooms, a receiving room and a superb breakfast included, this 4-star was a fine way to end a vacation.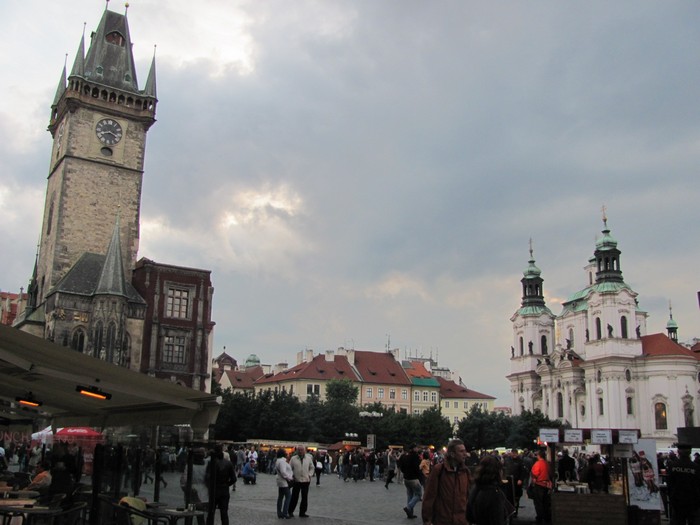 Stare Mesto: pls. revisit WillieV's "Prague: A New European Destination" in our Travelogue for more beautiful photos.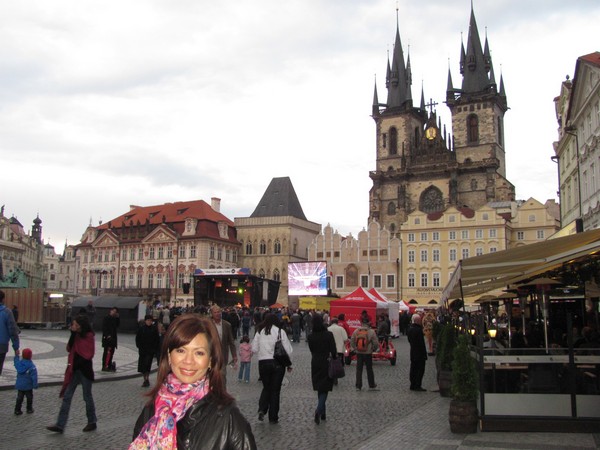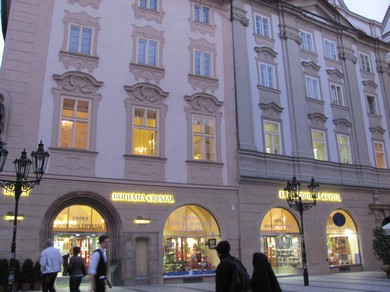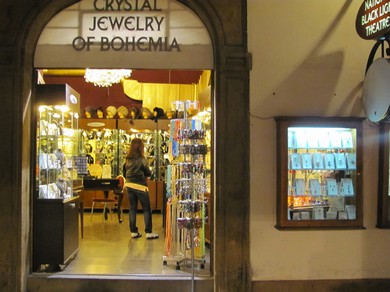 This street is lined up with jewelry stores - crystals, garnets, glass, etc. Cherry bought several pieces as presents for the girls.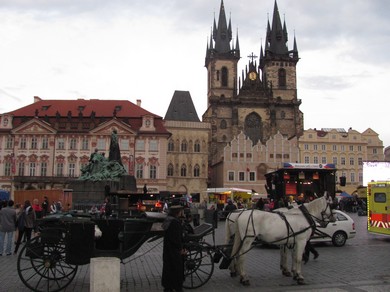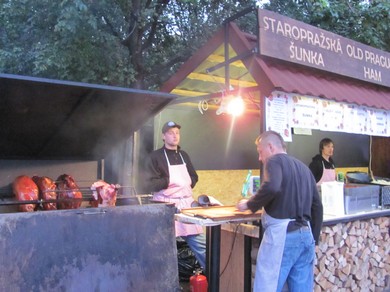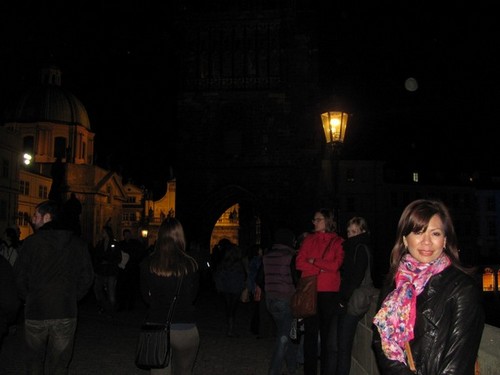 Opera singers on a river barge at Charles Bridge were performing on our first night.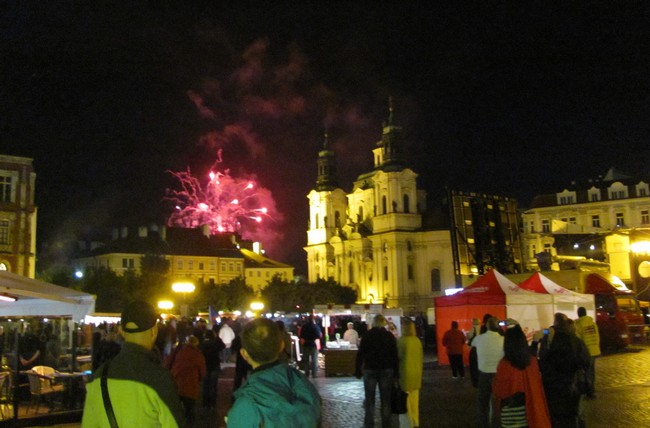 Fireworks light up Old Town Square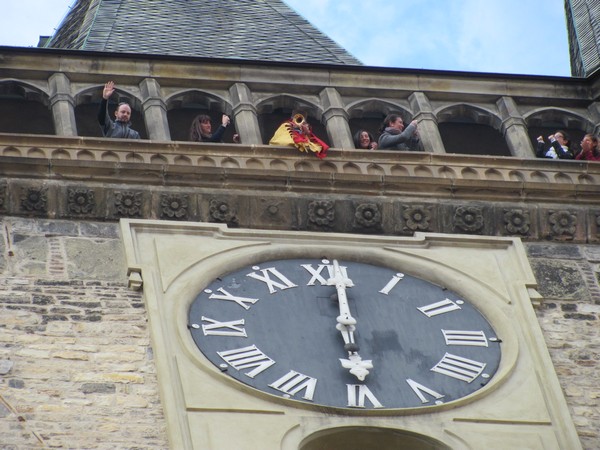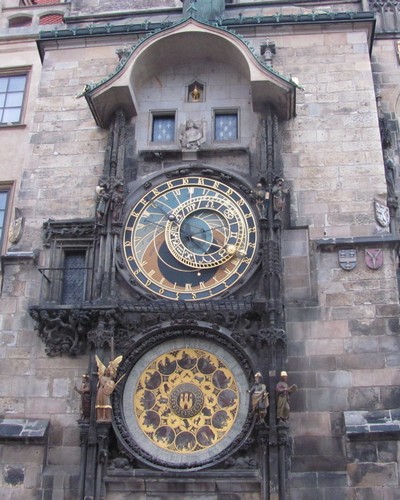 The Astronomical Clock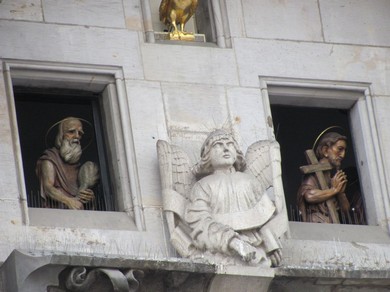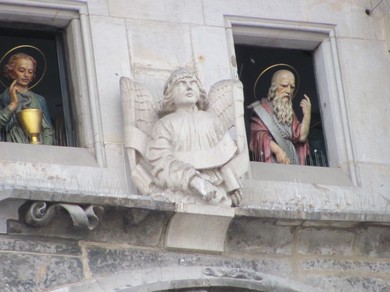 On the hour, the Astronomical Clock comes to life when the apostles peer out of the two windows.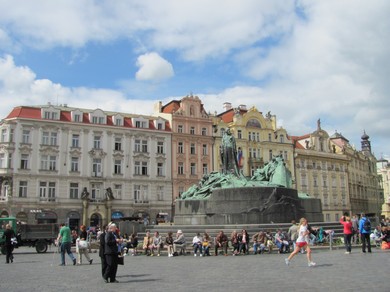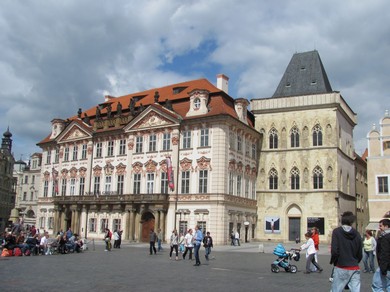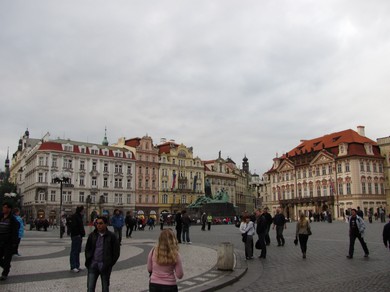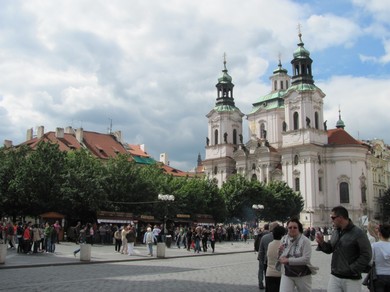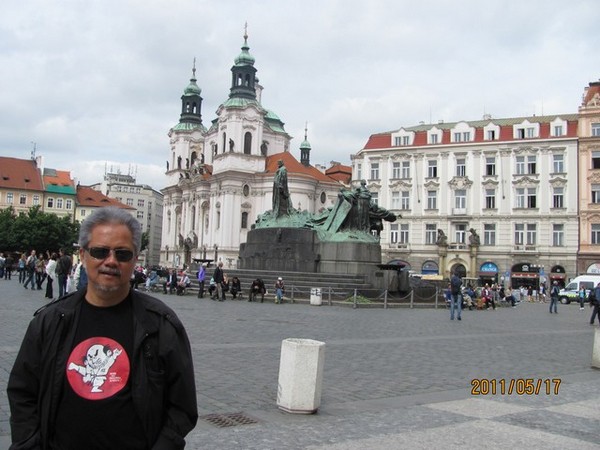 Malmon wants to be included in this travelogue too.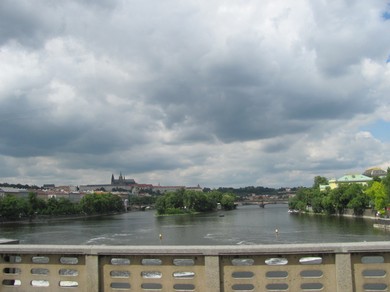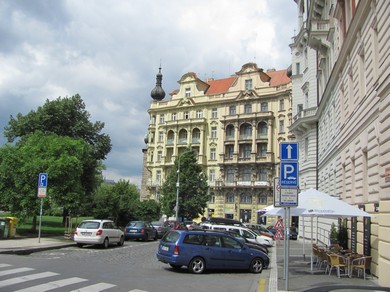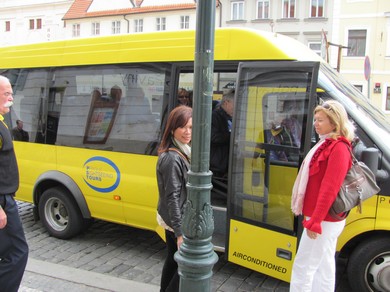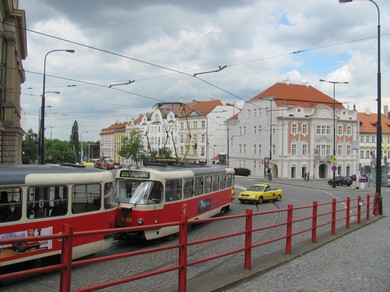 We joined the shorter 3-hour Prague "Informative Tour" for 400 CZK (Czech koruna), about $24.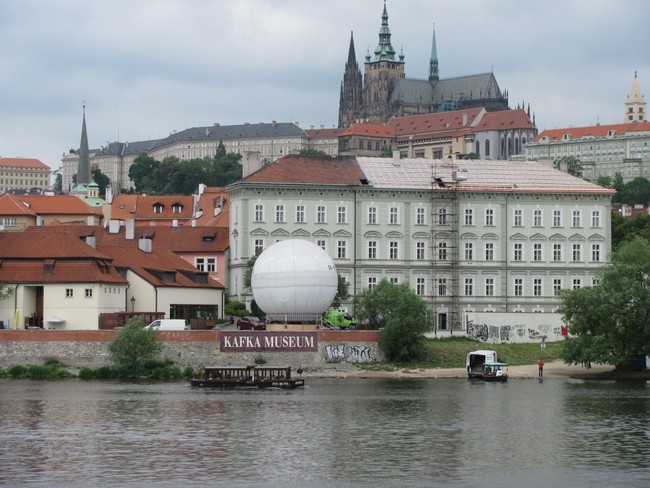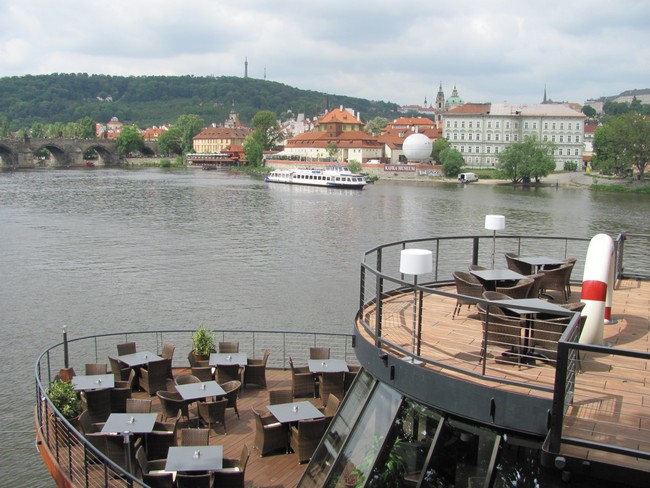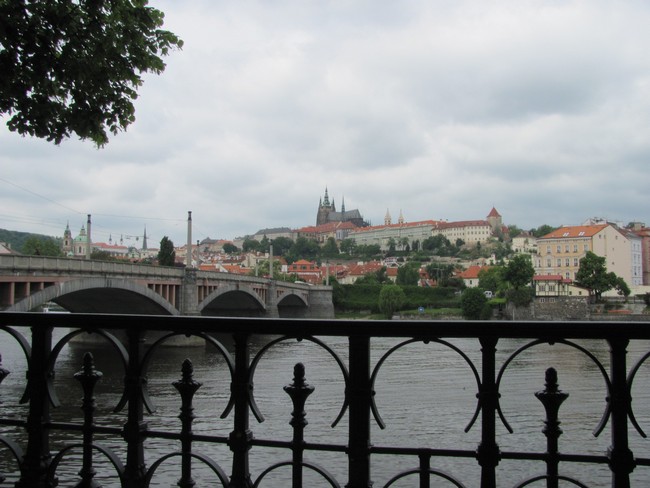 Views from across the river with Prague Castle at a distance.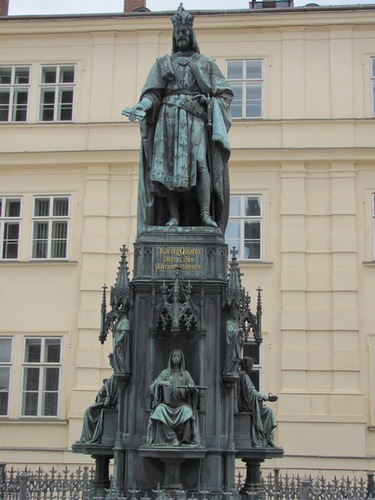 Karolo Quarto (Charles IV) statue at foot of Charles Bridge
Charles IV brought in the Golden Age of Bohemia. He became
the Holy Roman Emperor and made Prague the imperial capital.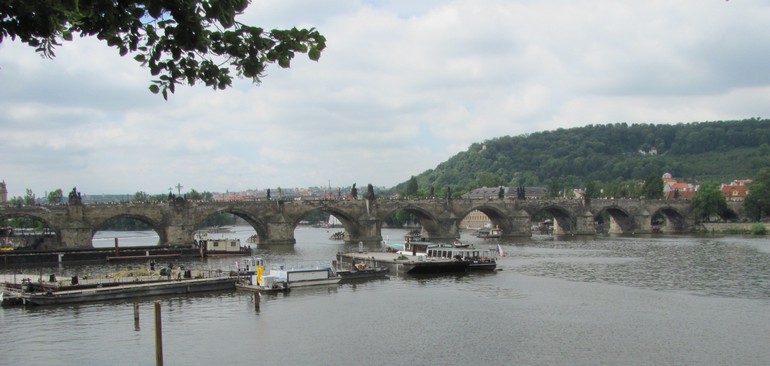 Charles Bridge constructed in 1357 under King Charles IV crosses the Vltava River and connects the Prague Castle and Old Town.
It is protected by three bridge towers. It is 516 meters long and 10 meters wide.The Old Town bridge tower is one of the most asto-
tonishing Gothic-style civic buildings in the world. There are 30 baroque statues mounted to the balustrade originally erected in 1700.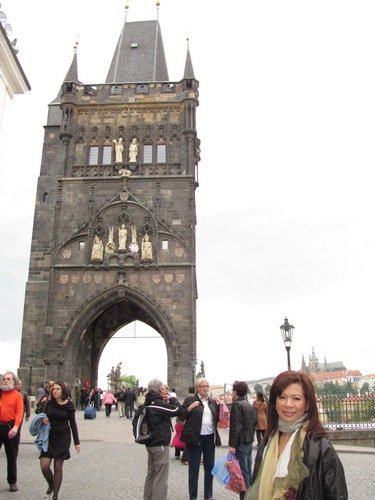 The Old Town bridge tower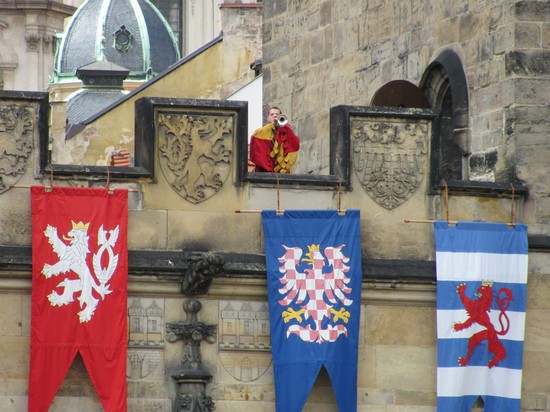 Charles Bridge, a pedestrian's delight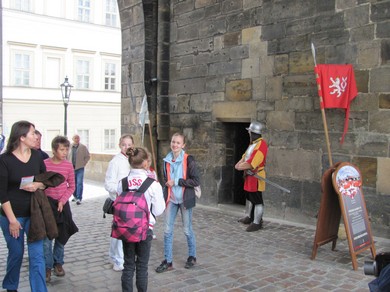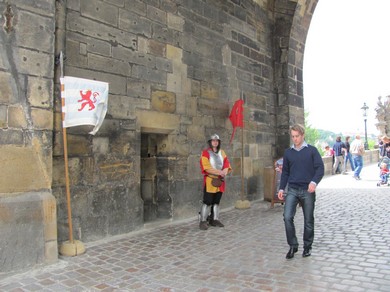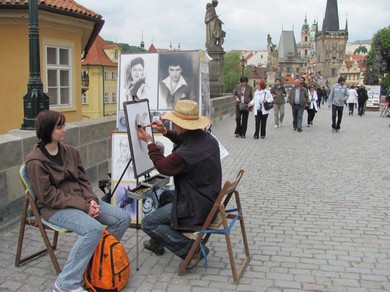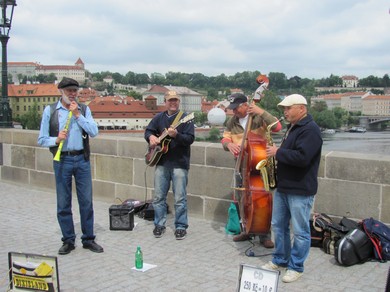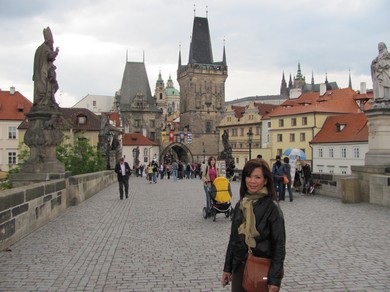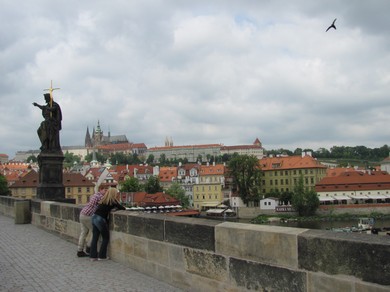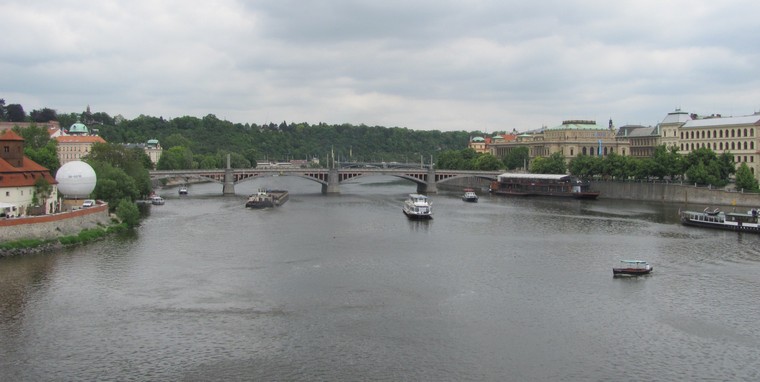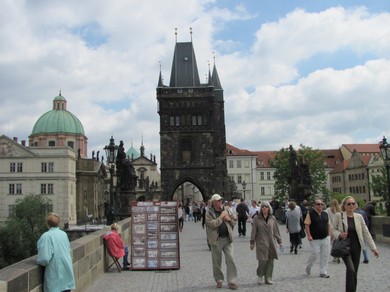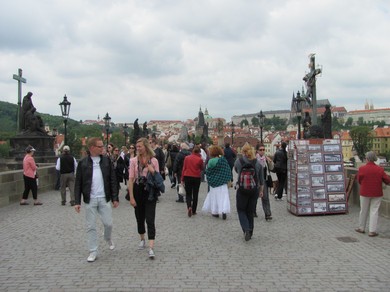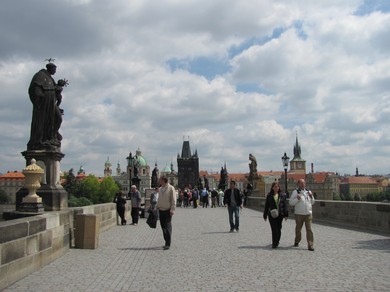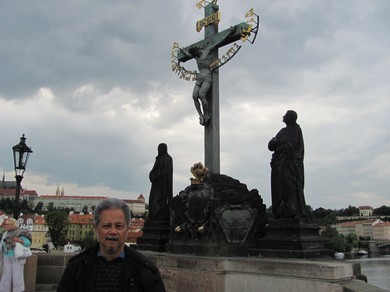 The baroque statues mounted on the balustrade originally since 1700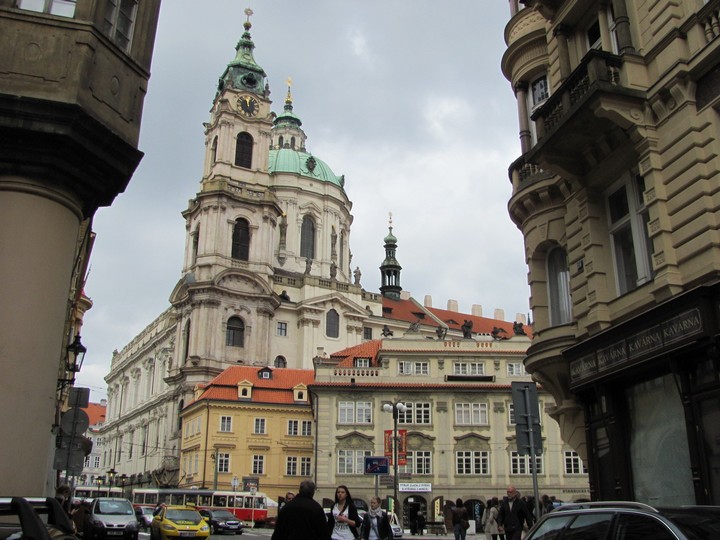 Mala Strana (Lesser Prague)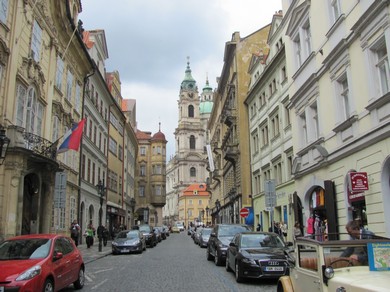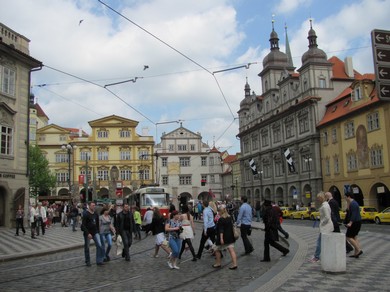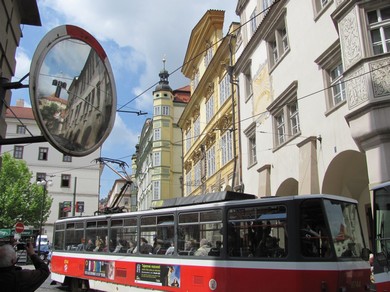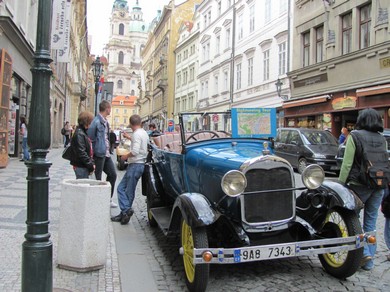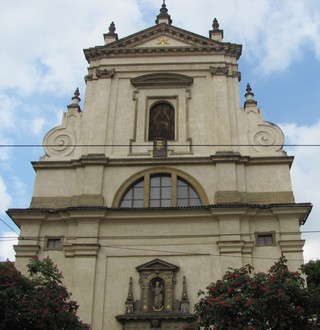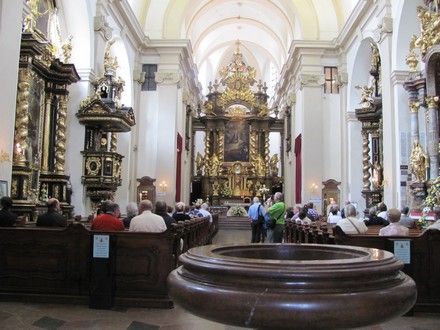 Church of our Lady Victorious built in 1613 houses the Infant Jesus of Prague.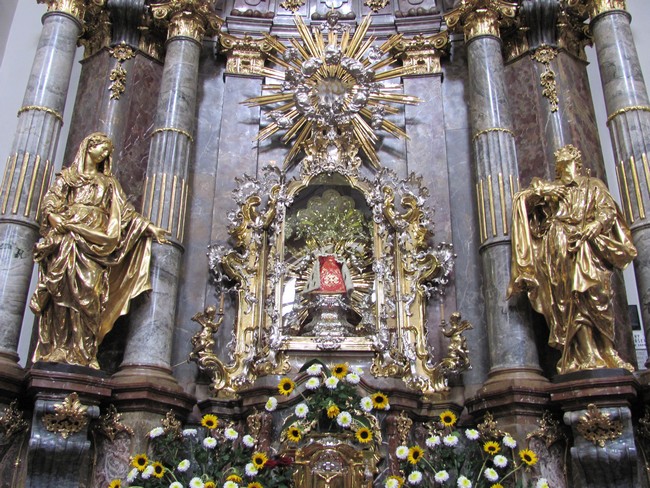 The wax statue was given by Princess Polyxena to the Carmelites in 1628. Devotees claim miraculous healings.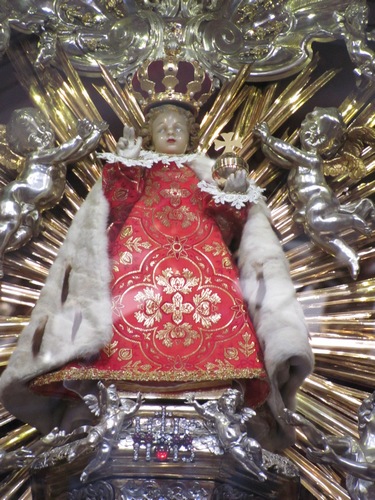 Venerated by many, the Infant Jesus statue is 19 inches high.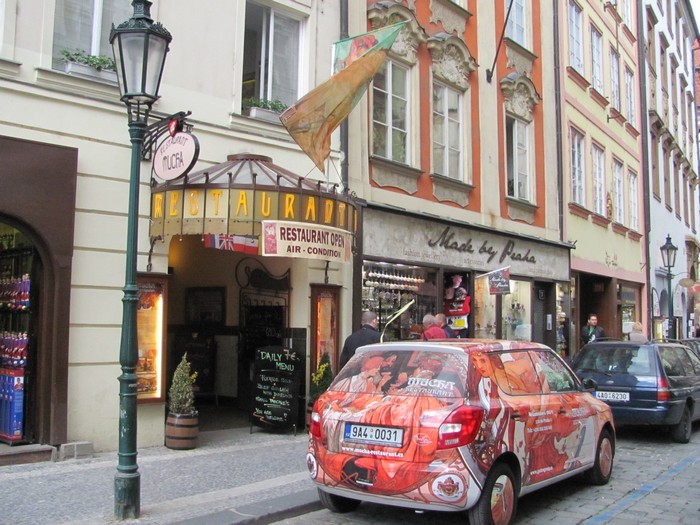 We didn't get to go in the Alfons Mucha Museum, but spotted this Mucha Restaurant and Mucha Car.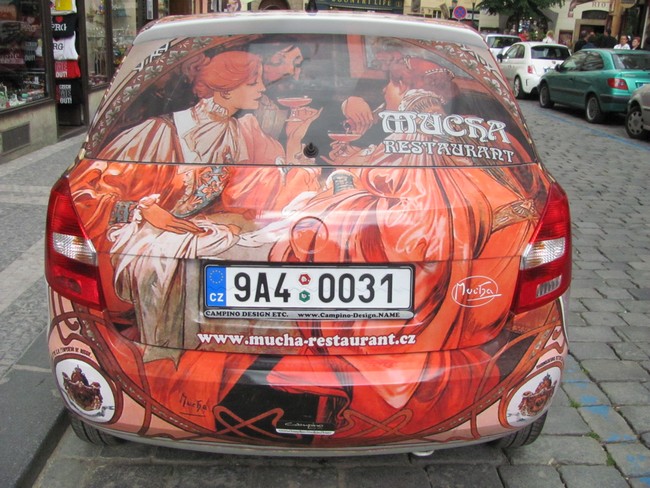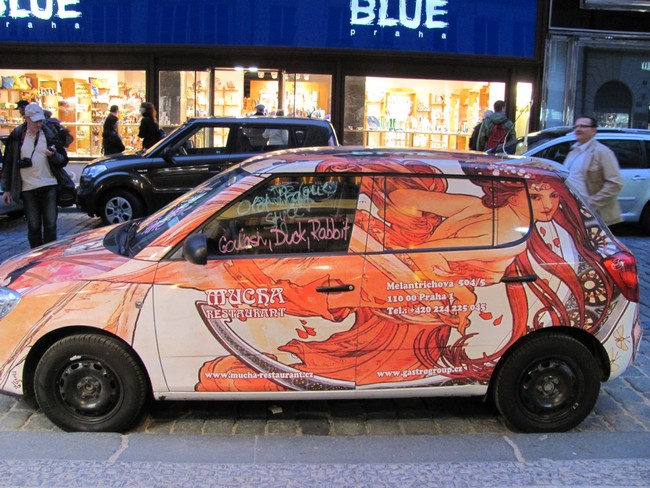 The restaurant owner must really like Mucha's art.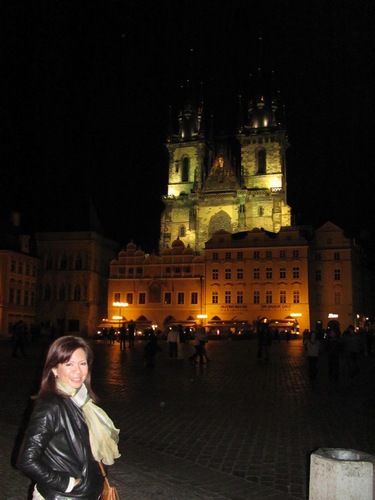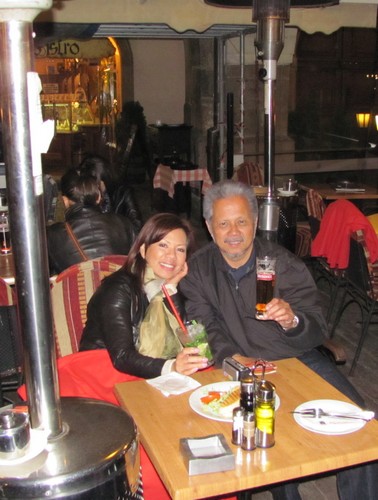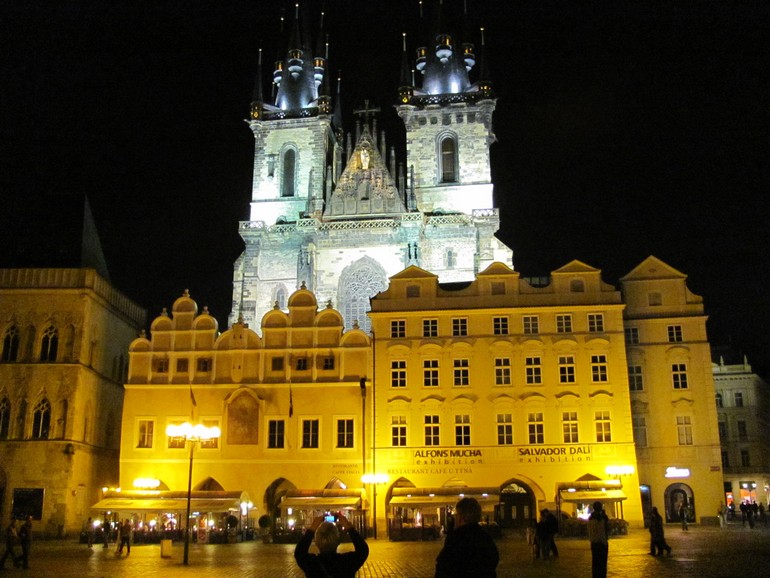 Old Town at night
-============================================
And so our Hagibis sa Europe II comes to an end...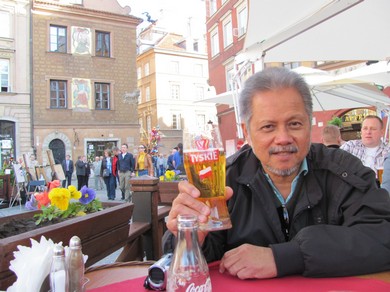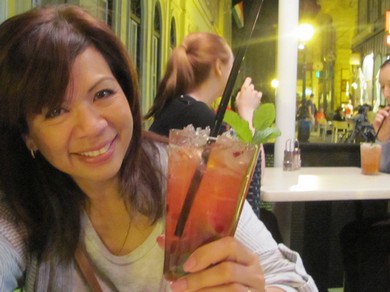 Cheers Warsaw! Cheers Budapest!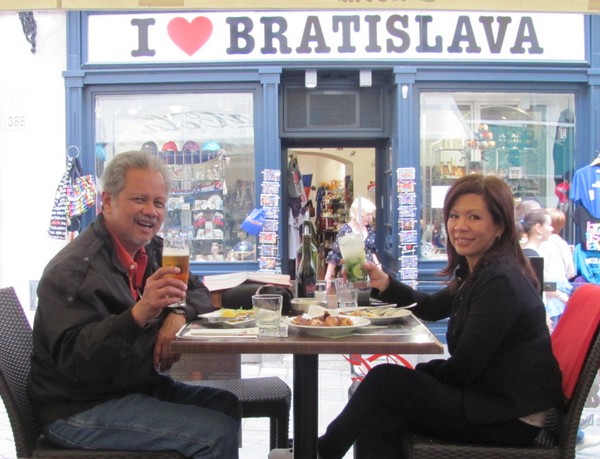 Cheers Poland, Hungary, Slovakia, Austria and the Czech Republic!!!!!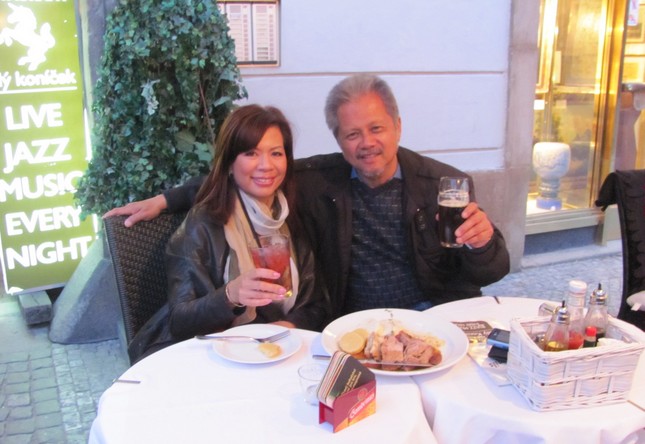 We will miss the mojitos and beers (Tyskie, Urquell, Krusovice, Kozel). Till Hagibis III !!!
A couple of travel notes:
1) For those who are interested or may be thinking of doing a similar trip, below is a cost summary of our fixed/prepaid expenses.
Out of 10 hotel days, we had 7 complimentary breakfasts in Krakow, Budapest and Prague, which were excellent, full buffets.
Cost Summary of Fixed/Prepaid Expenses (US$): Eastern Europe, 2011 May 6-18
Cost
# persons
or nights
Subtotal
Hotel
# star
Hotel comp
breakfast
Airfare, LA-Warsaw/Prague-LA, Delta:
929
2
1,858
1,858
Train, Eastern European Railways:
First class pass, 5-days-use for 1 month
316
2
632
Sleeper bed: Krakow-Budapest
26
2
52
684
Hotel:
Warsaw - Holiday Inn
92
2
184
4
No
Krakow - Hotel Kazimierz I
62
2
124
3
Yes
Budapest - Hotel Alfa Fiesta
63
2
126
4
Yes
Bratislava - Penzion Berg
112
1
112
2
No
Prague - Hotel Esprit
102
3
306
852
4
Yes
Grand Total
3,394
2) We only used 4 days of our 5-days-use first class pass good for 1 month period. One may also buy individual tickets at the train station. My calculation (or you may let the railway website do a cost comparison for you) was it was still better and cheaper to buy the pass, not to mention the trouble of buying tickets each time. For more travel, one may also purchase extra day(s) for about $37 per day.
Day 1: Warsaw-Czestochowa-Krakow
Day 2: Krakow-Budapest
Day 3: Budapest-Bratislava
Day 4: Bratislava-Vienna- Prague
~~~~~~~~~~~~~~~~~~~~~~~~~~~~~~~~~~~~~~~~~~~~~~~~~~~~~~~~~~~~~~~~~~~~~~~~~~~~~~~~~~~~~~~~~~~~~~~~~~~~
~~~~~~~~~~~~~~~~~~~~~~~~~~~~~~~~~~~~~~~~~~~~~~~~~~~~~~~~~~~~~~~~~~~~~~~~~~~~~~~~~~~~~~~~~~~~~~~~~~~~
Glimpses at Hagibis sa Europe I
1985 May 15 - June 2
[Photos scanned from 1985 prints]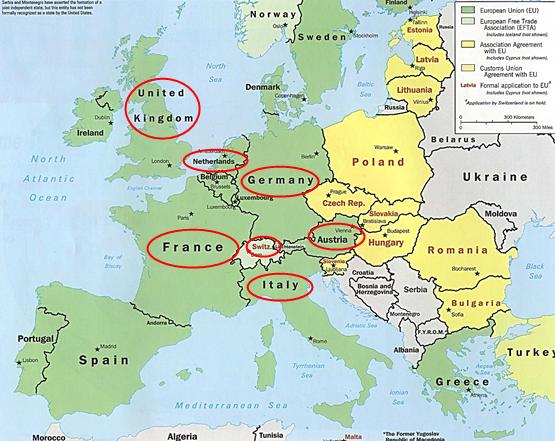 Western Europe
On our first trip in May 1985, we flew in at Heathrow Airport in London. The Channel Tunnel did not open until May 1994. To get to continental Europe, we had to take the ferry from Dover, England to Calais, France to cross the English Channel. Our Eurail journey (UK has its own train network, National Rail) started from Calais to Paris, France; to Geneva, Switzerland; to Italy with stops at Rome, Florence and Venice; to Austria with stops at Vienna and Salzburg; to Munich, West Germany; and finally, to Amsterdam, Netherlands where we took the KLM plane at Schiphol Airport back to Los Angeles.
1. London, England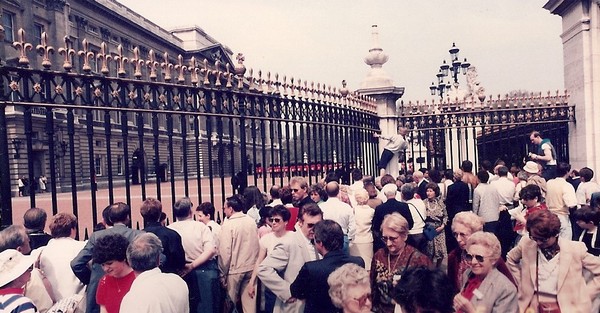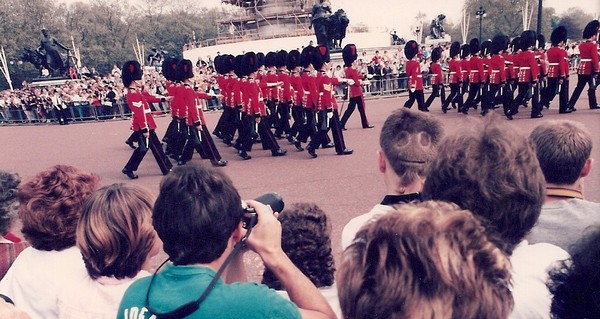 Buckingham Palace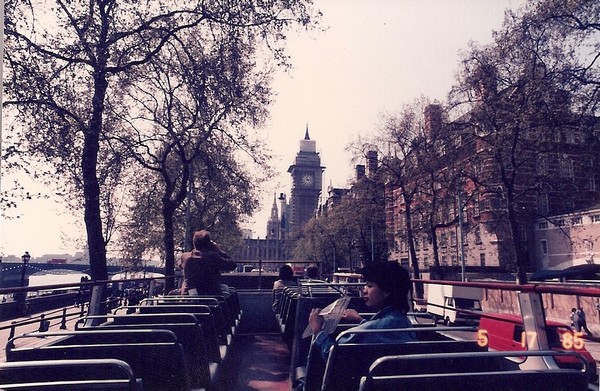 Cherry on a sightseeing double-decker bus, with Big Ben up front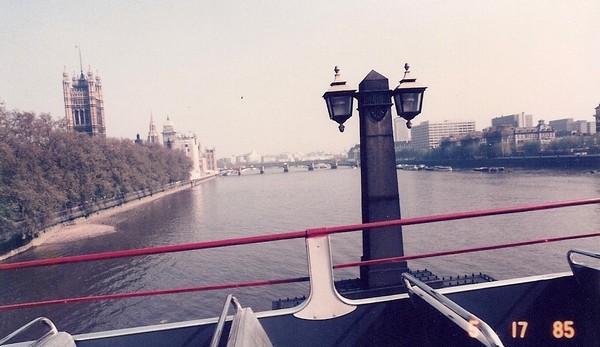 Thames River, with the British Parliament on the left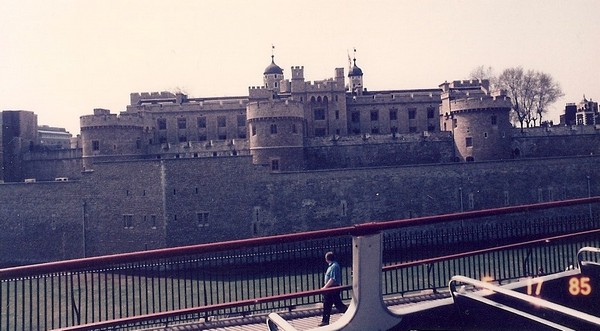 Tower of London, founded 1066, is the home of the Crown Jewels of the United Kingdom.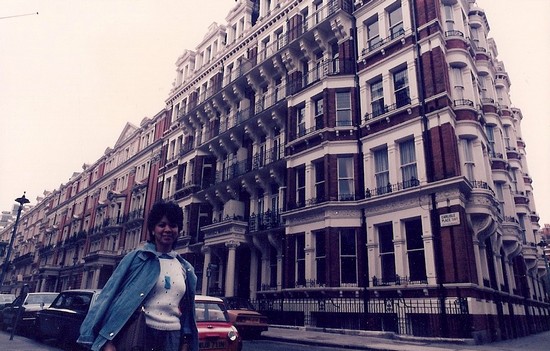 We roomed in a B & B a few short blocks from Victoria Station.
2. Paris, France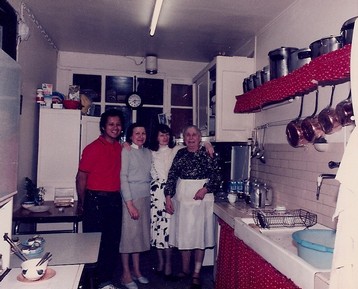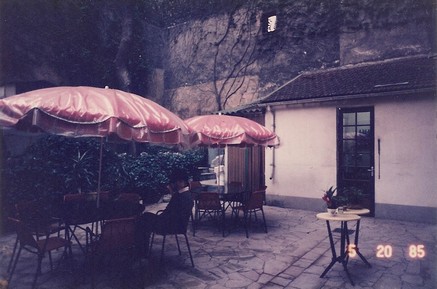 In the kitchen with Mme. Maylin and staff The dining garden at the back terrace
Here's how Frommer described this B & B. Everything he said was true, including the singing birds.
"In the heart of this sometimes raucous area, Pigalle, stands Rue de Navarin et d'Angleterre whose proprietress, Mme. Ginettre Maylin,
is unusually cordial to visiting Englishmen and Americans. The current impression of the hotel is like that of visiting French family...with
a typical French family dining room leading to a garden with two immense acacia trees, a waterfall, and tables for breakfasting. Guests
in rooms on the garden are awakened by singing birds. For this you'll pay only 175 francs ($21.87) double or twin, breakfast included."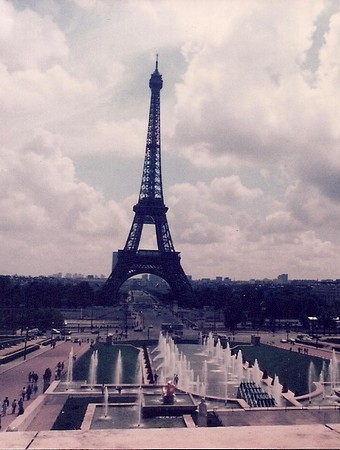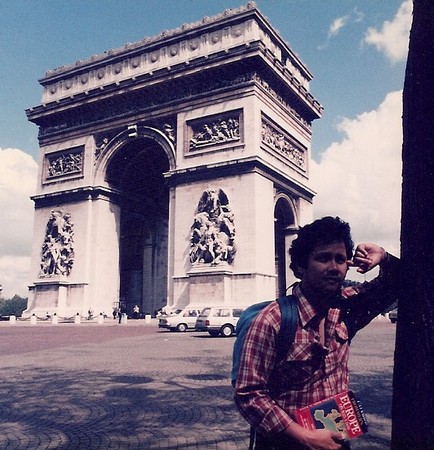 Eiffel Tower under cloudy skies; and across Arc de Triomphe with our travel guide - Arthur Frommer's "Europe on $25 a Day".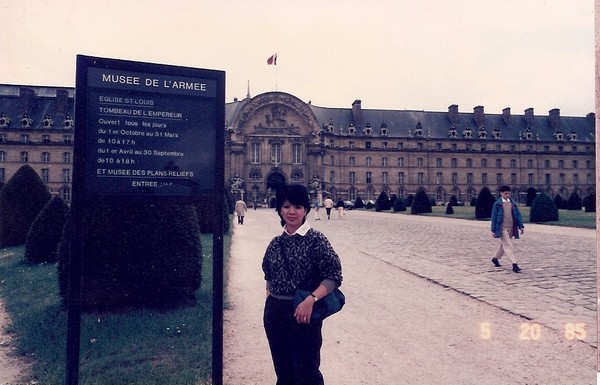 Museum of the Army
Tomb of Emperor Napoleon Bonaparte
The Louvre began as a fortress built in the late 12th century and opened as an art museum in August 1793.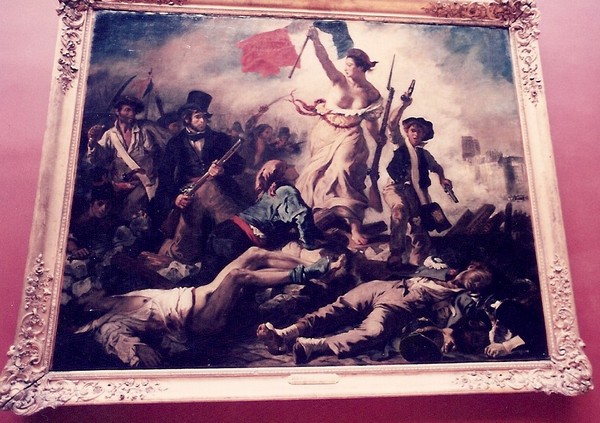 "Liberty Leading the People" by Eugene Delacroix, 1830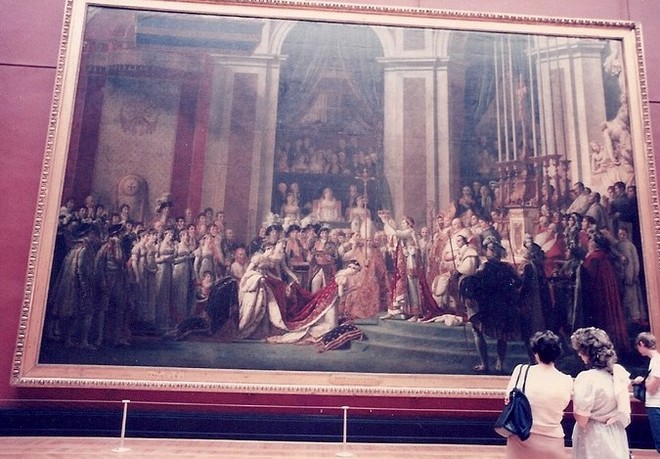 "The Coronation of Napoleon" by Jacques-Louis David, 1807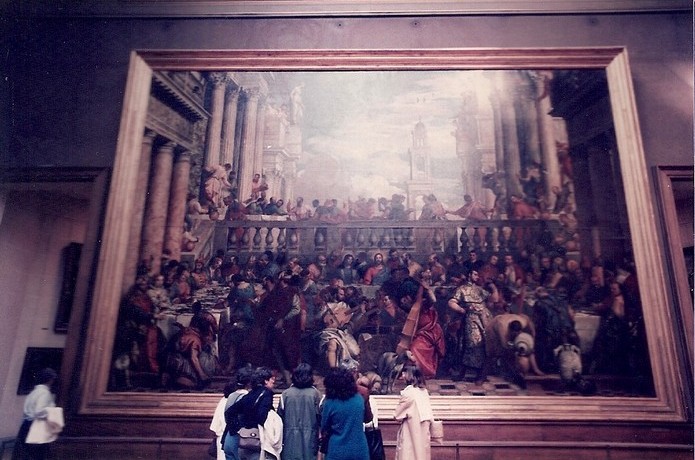 "The Wedding Feast at Cana" by Paolo Caliari aka Veronese, 1563, is the largest painting in Louvre (6.77m x 9.94m).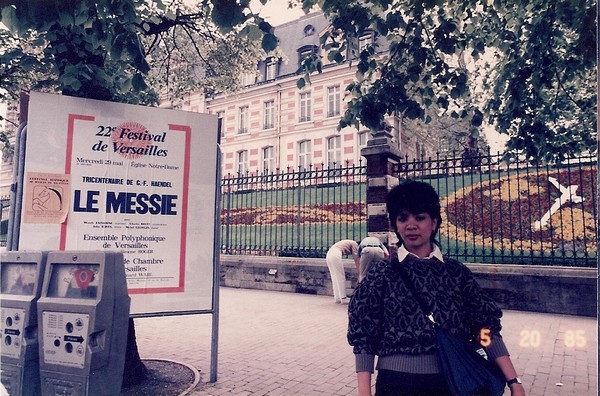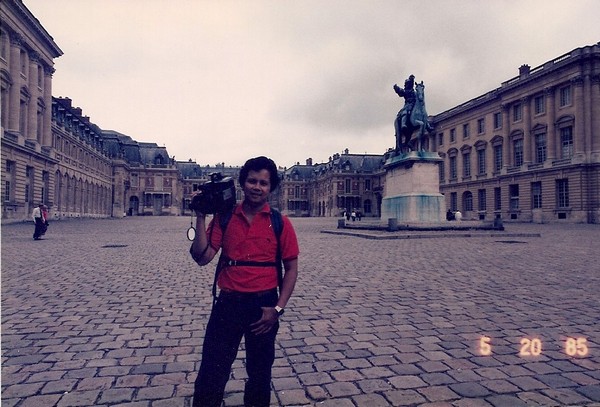 Ready to shoot video with my Sony Super Betamovie at the Palace of Versailles
3. Geneva, Switzerland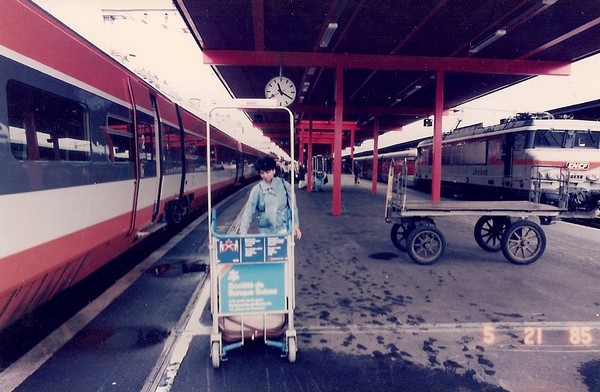 We took the high-speed TGV from Paris to Geneva.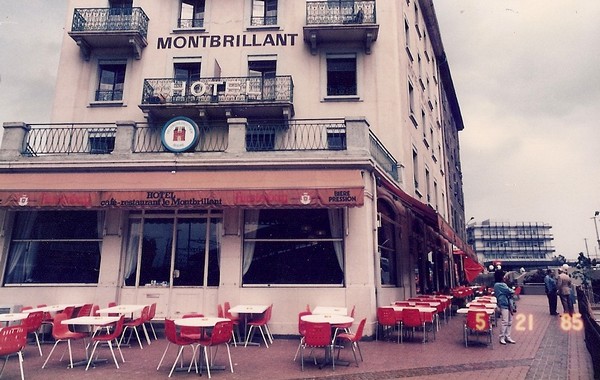 At $34 a night, this was our "priciest" B & B, just a stone-throw away from Cornavin train station.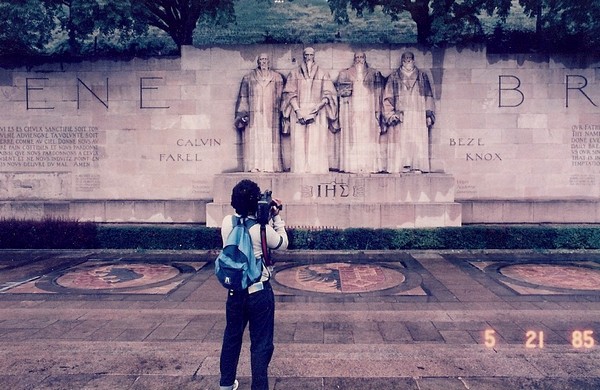 At Bastions Park in Old Town, this monument commemorates the major events and figures of the
Protestant Reformation with statues of Guillaume Farel, Jean Calvin, Théodore de Bèze and John Knox.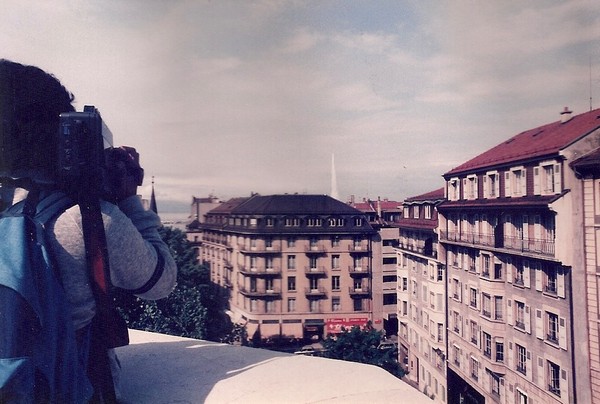 Shooting Lake Geneva (Lac Leman) with the landmark water-jet that shoots to an altitude of 459 feet
4.1 Rome, Italy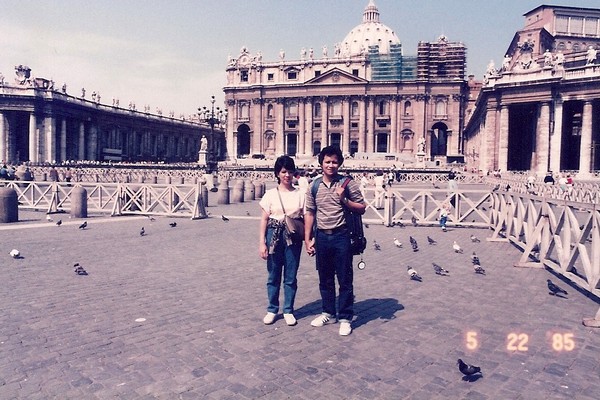 Saint Peter's Square, Vatican City
Going to Rome, we took the long (14 hrs.) scenic route along the coast through Milan, Genoa, Pisa.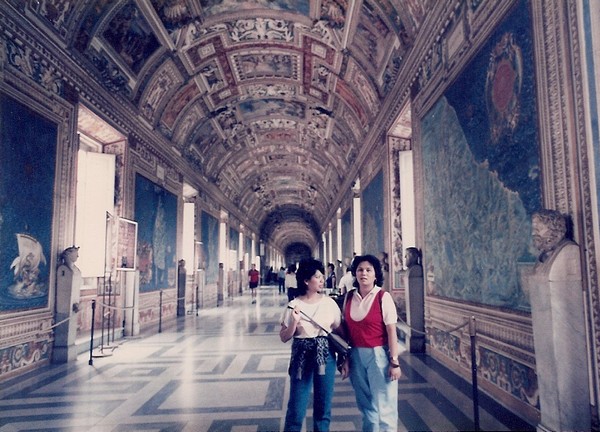 Cherry with my niece Dixie Alessi, with whom we stayed in Rome, inside the Vatican Museum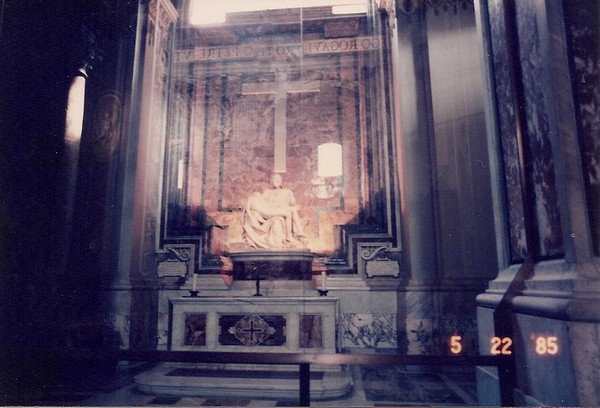 "Pieta" sculpture by Michelangelo, 1499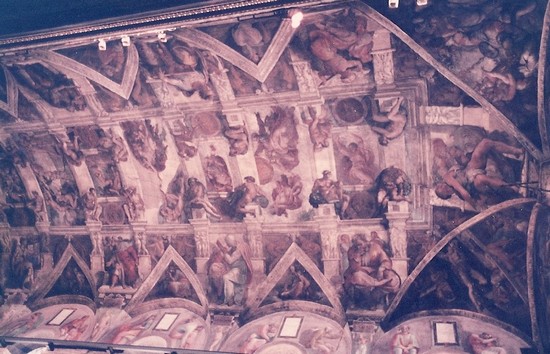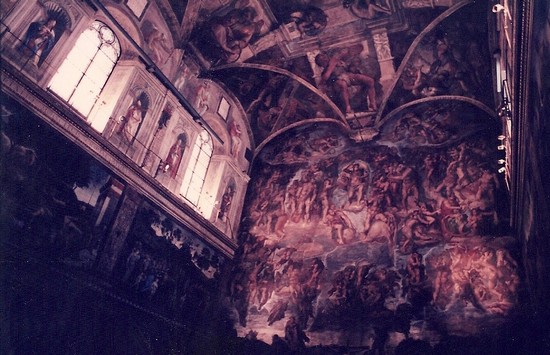 Sistine Chapel ceiling paintings, by Michelangelo, 1508-1512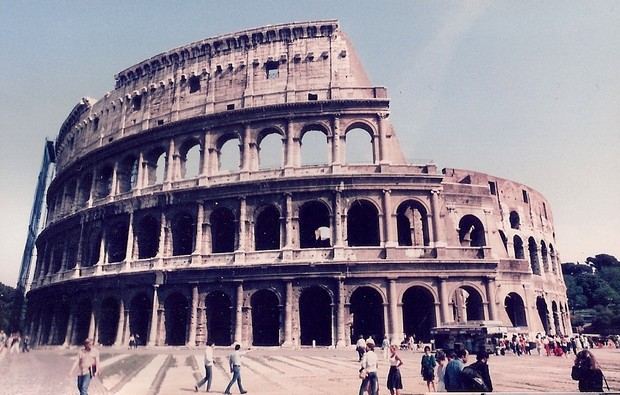 The Colosseum, an amphitheatre built in 72-80 AD used for gladiatorial contests and public spectacles.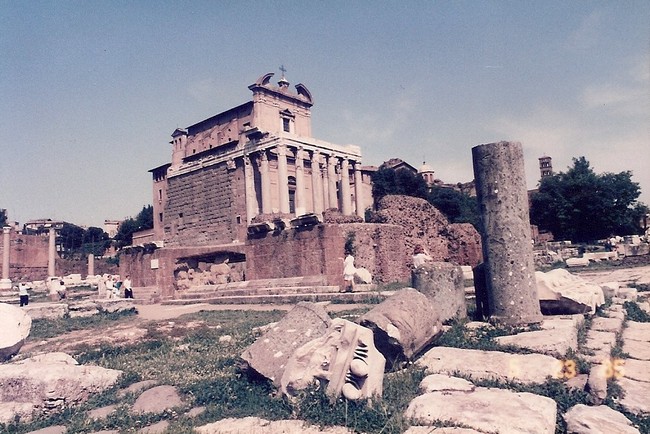 Roman Forum, a rectangular plaza with the ruins of important ancient government buildings.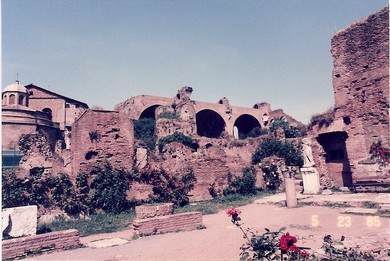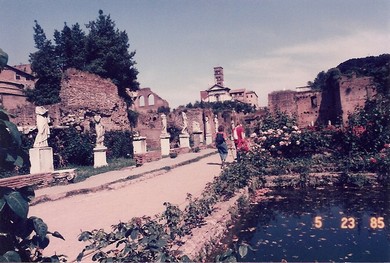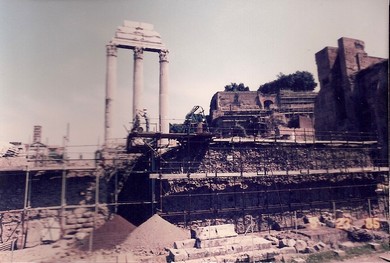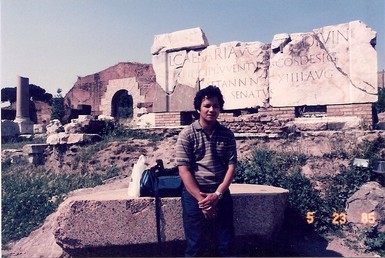 The Senate House, the Republican government offices, tribunals, temples, memorials and statues were located in this area.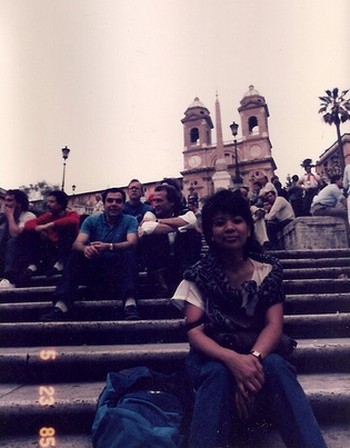 Spanish Steps, Piazza di Spagna, built 1723-1725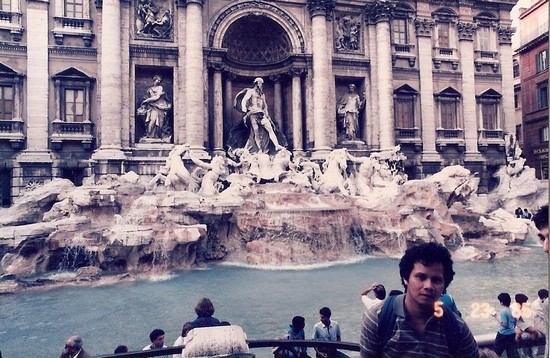 Fontana de Trevi of "Three Coins in the Fountain" fame, completed 1762 by Giuseppe Pannini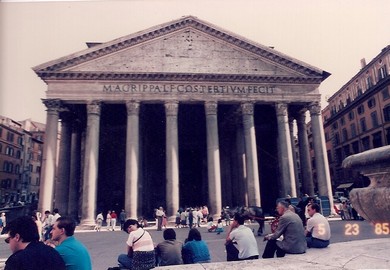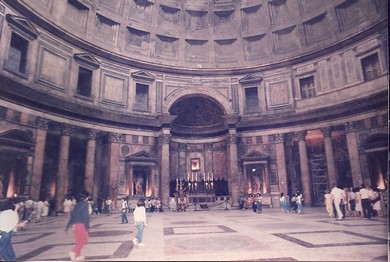 The Pantheon was commissioned by Marcus Agrippa as a temple to all the gods of Ancient Rome, and rebuilt by Emperor Hadrian in
126 AD. Since the Renaissance the Pantheon has been used as a tomb. Among those who are buried here are the painters Raphael
and Carraccio, the composer Correlli, the architect Peruzzi, and the two kings of Italy: Vittorio Emanuele II and Umberto I.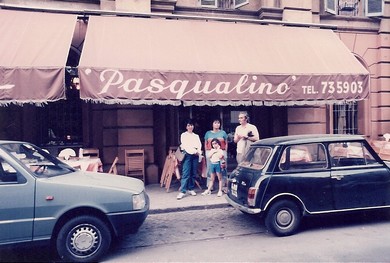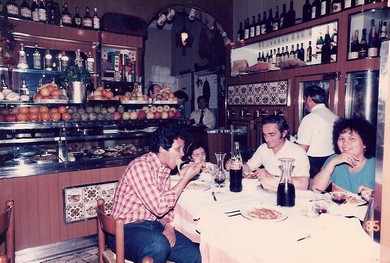 Enjoying authentic food and pasta at a neighborhood ristorante with my niece Dixie, her Italian husband Francis and daughter Laila.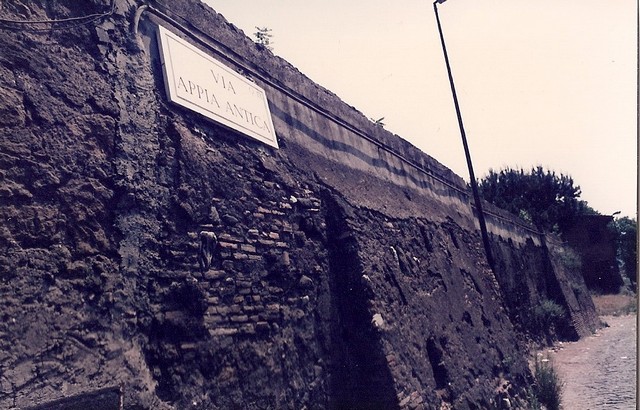 I spent one day by myself backpacking and walking for many kilometers to the Baths of Caracalla and
Appia Antica, going inside the catacombs and exploring the countryside. It was a fantastic experience.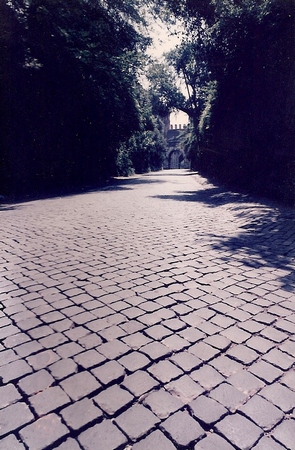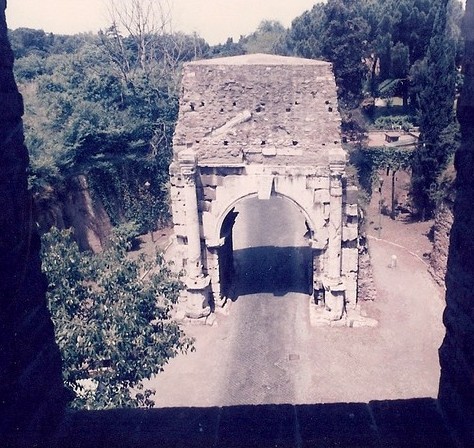 Appia Antica (Appian Way), 312 BC, was used as a main route for military supplies to refresh and re-equip the Roman soldiers.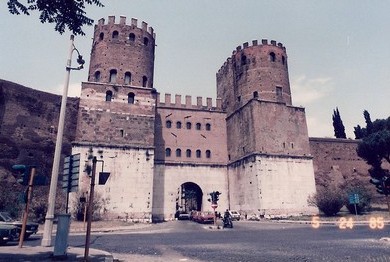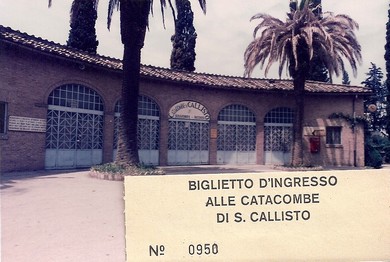 Left: Porta San Sebastiano is the gate of the Appia in the Aurelian Walls.
Right: San Callisto Catacomb, sited along the Appian Way, was built after AD 150. The arcades, where more than 50 martyrs
and 16 pontiffs are buried, form part of a complex graveyard that occupies 15 hectares and 20 kilometers long.


4.2 Florence, Italy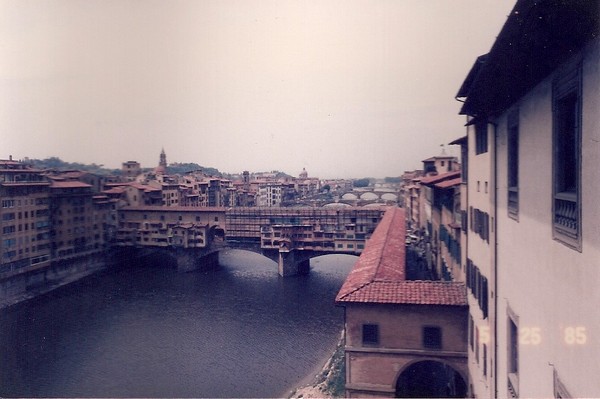 Took this shot of Florence (Firenze) and Arno River from the top floor of Uffizi Gallery.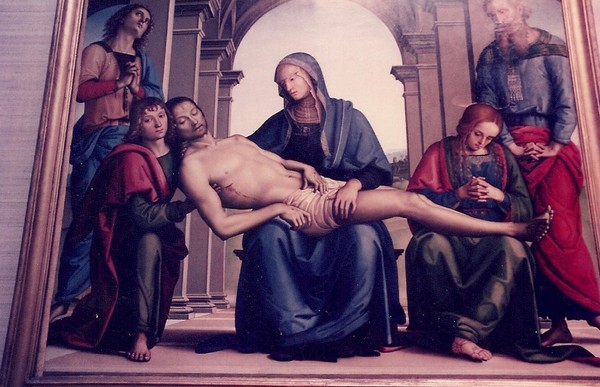 "Pieta" painting, by Pietro Perugino, 1490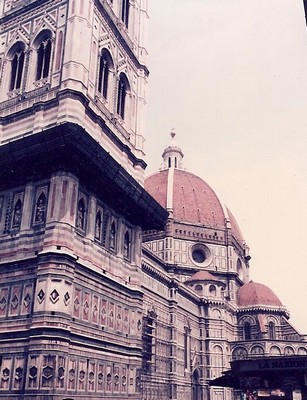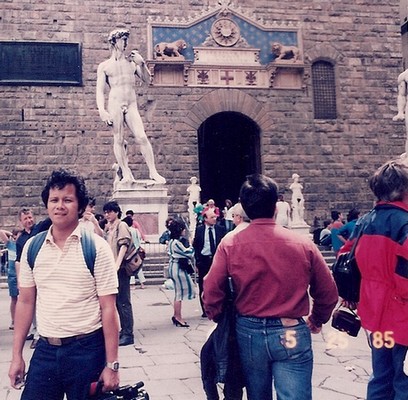 Florence Cathedral with the dome cupola; and outside Uffizi Gallery with Michelangelo's "David" statue replica, 1504.
4.3 Venice, Italy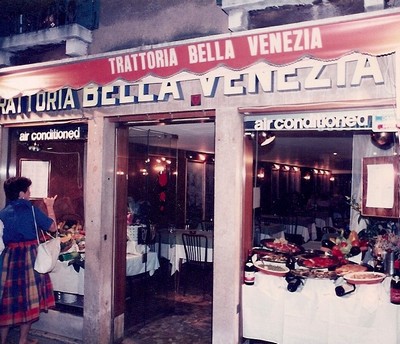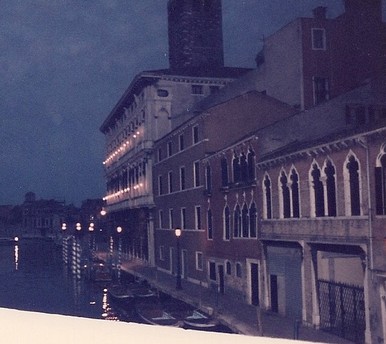 I only got a few shots in Venice, where we could not get a lodging being a Saturday night. With the Italian railway workers
planning to call a strike the following day and the risk of getting stuck in Italy, we decided to take the midnight train to Vienna.
5.1 Vienna, Austria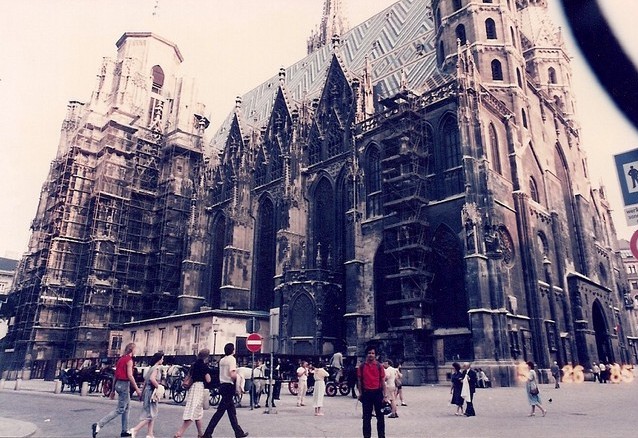 St. Stephen's Cathedral, founded 1137 (Also pictured above in Hagibis sa Europe II, 4.Vienna)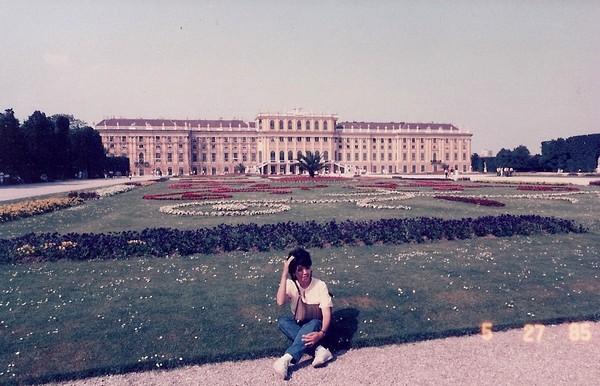 Schonbrunn Palace, built 1638-1643, with sculpted and botanical gardens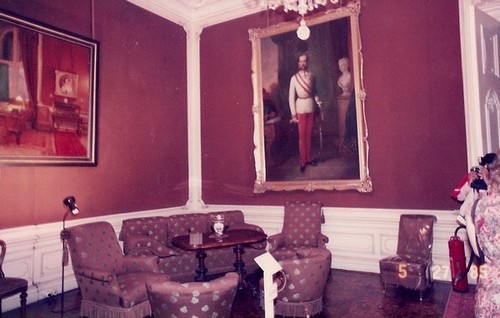 Inside Schonbrunn Palace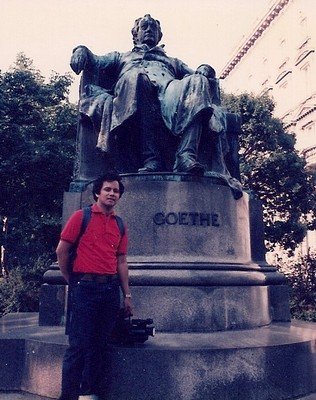 Johann von Goethe, botanist and physicist, wrote "Faust",
considered the greatest long poem in European literature.
5.2 Salzburg, Austria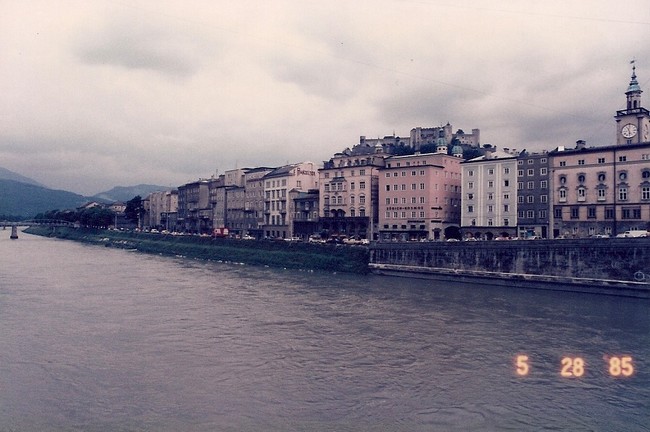 Salzburg waterfront, with threatening rain that fell soon afterwards.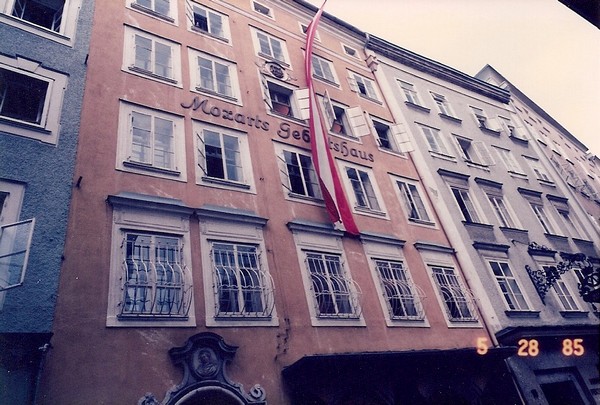 This is the birthplace of Wolfgang Amadeus Mozart (1756-1791) where the family lived for 26 years.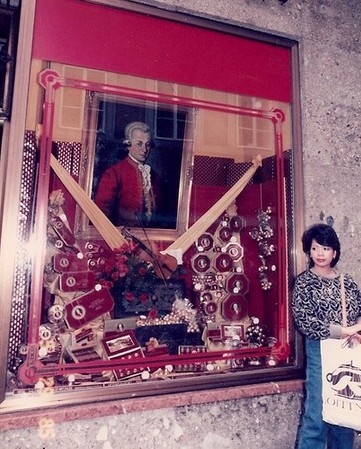 Mozart's 1986 230th birth anniversary commemorative items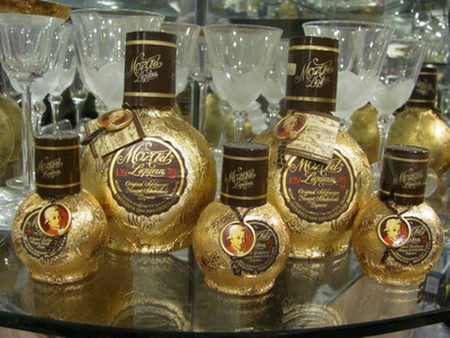 We bought and have kept these Mozart Liquer commemoratives ever since.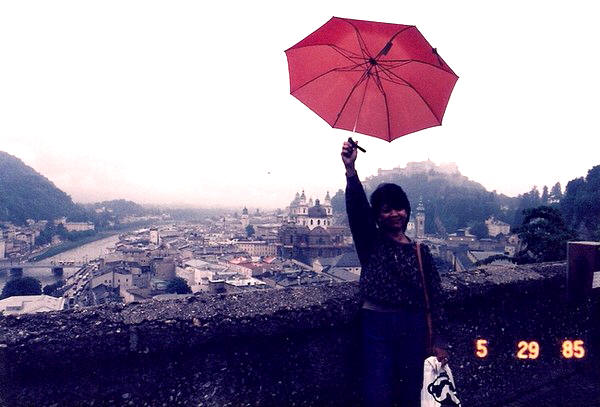 On Hohensalzburg Castle atop Festungsberg mountain, built 1077 under Archbishop von Helfenstein.
6. Munich, West Germany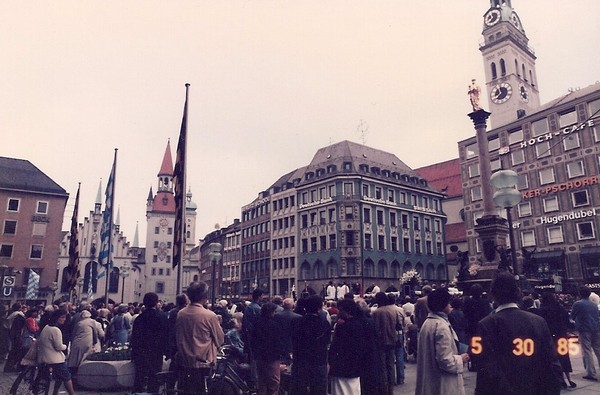 Marienplatz is a central square in the city center of Munich, Germany since 1158.
In the Middle Ages markets and tournaments were held in this city square.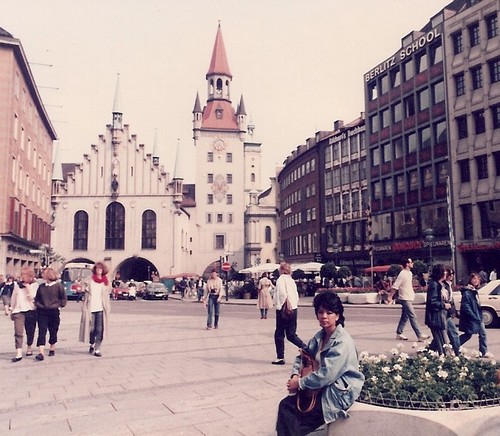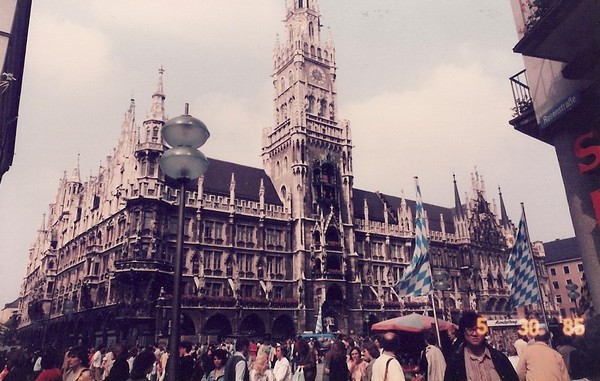 New Town Hall (German: Neues Rathaus) was built between 1867 and 1908.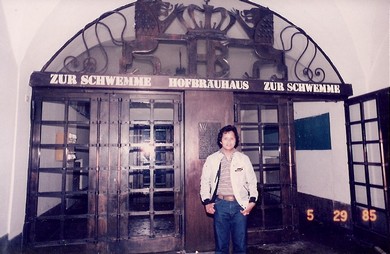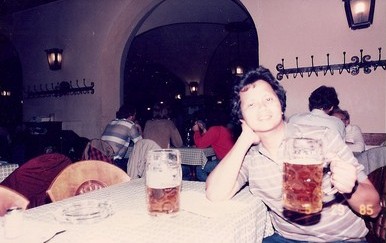 The Hofbräuhaus am Platzlauhaus was founded in 1589 by the Duke of Bavaria, Wilhelm V. It is one of Munich's oldest beer halls.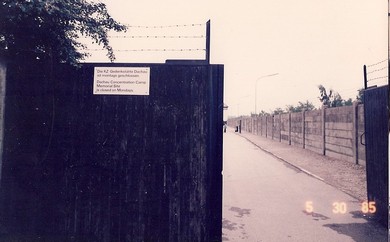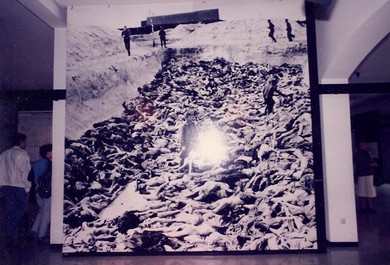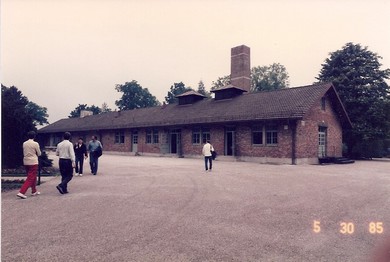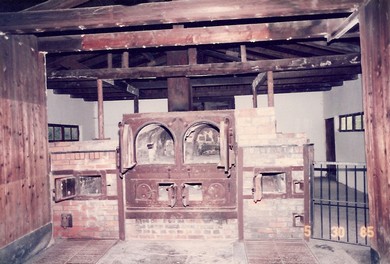 Dachau had prisoners from more than 30 countries during the Nazi Third Reich who were exterminated in this crematorium.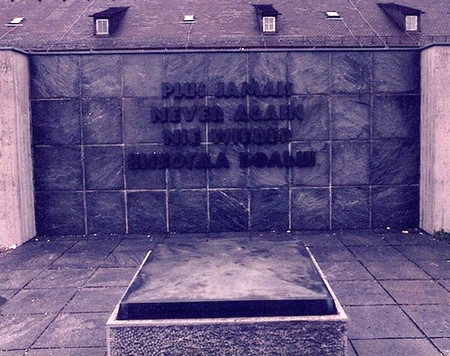 "NEVER AGAIN"
7. Amsterdam. Netherlands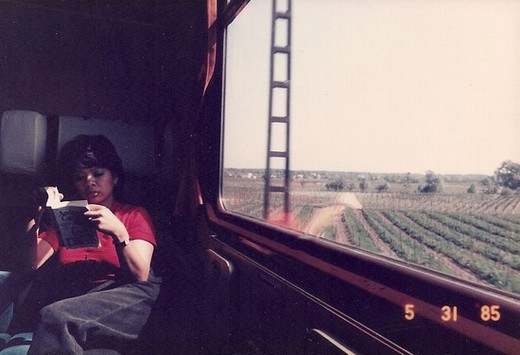 Especially on a long stretch like this 10-hour from Munich to Amsterdam, a good book
is nice to have. But the view of castles along the Rhine is not a bad distraction either.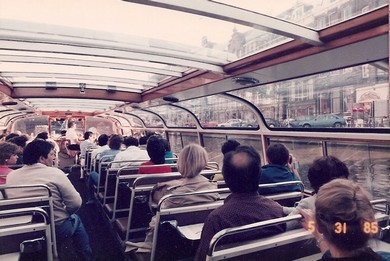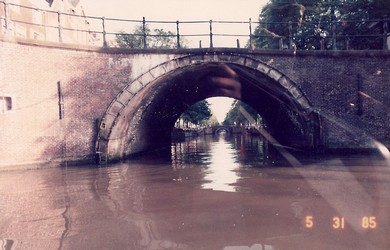 Canal cruise goes around Amsterdam and passes along the neighborhood streets.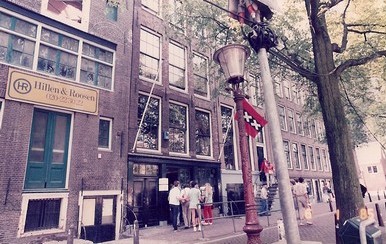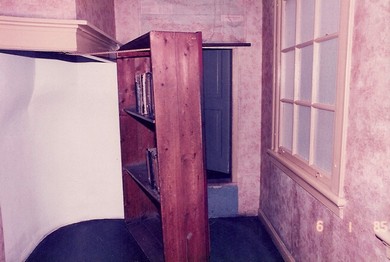 Anne Frank and her family, German Jews, hid for two years in their house before being betrayed. She died with sister Margot in
Bergen-Belsen from typhus in 1945. Post-war, her father Otto Frank, the only survivor, returned to the house and found her diary.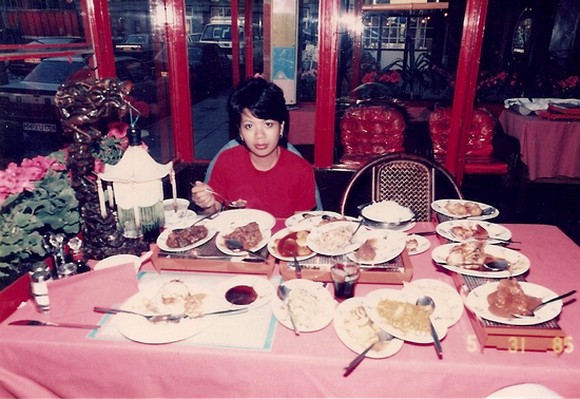 We tried the most famous - and uniquely Dutch - international food in Amsterdam, the Rijsttafel.
The concept of this kind of Indonesian feast was brought back to the Netherlands by the Dutch
colonists in Indonesia, who loved sampling small servings of the spicy and flavorful local dishes.
A traditional Rijsttafel consists of anywhere from 6 to 60 small servings. We had 19 servings.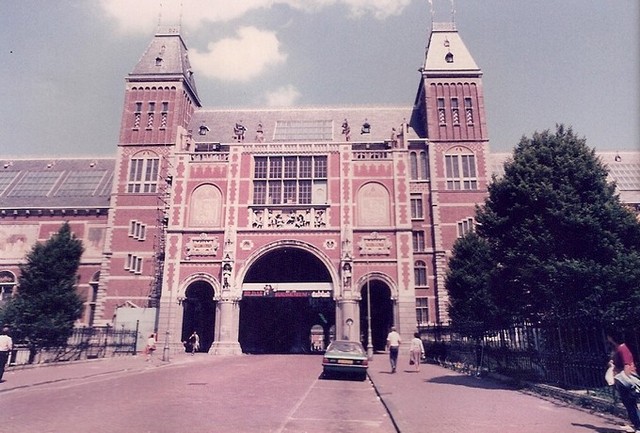 Rijksmueum was founded in The Hague in 1800. It was moved to Amsterdam in 1806
by order of Dutch King Louis Bonaparte, brother of French Emperor Napoleon Bonaparte.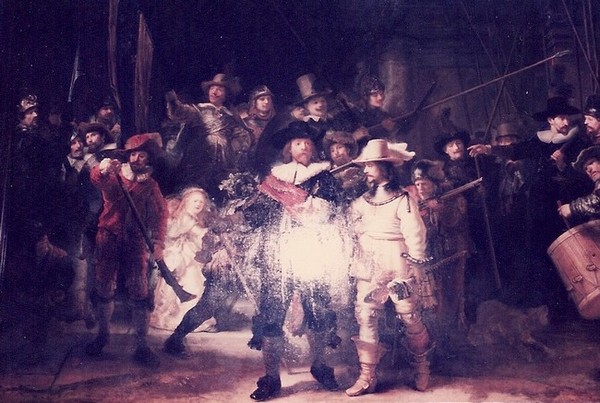 Rembrandt's "The Night Watch", 1642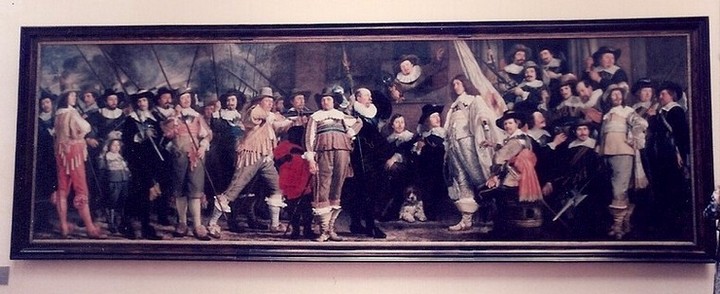 Batholomeus van der Helst's "The Celebration of the Peace of Munster", 1648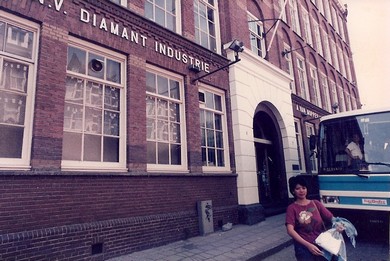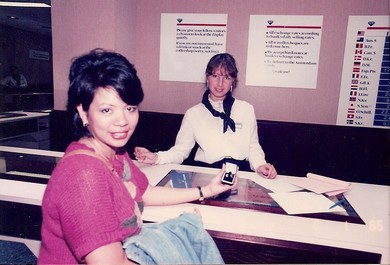 Amsterdam's Diamond District factory tour ended at the sales room. Cherry just had to get a pair of "bargain" diamond earrings.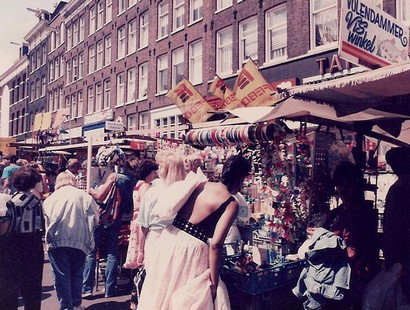 Shopping at Amsterdam city center and at the busy flea markets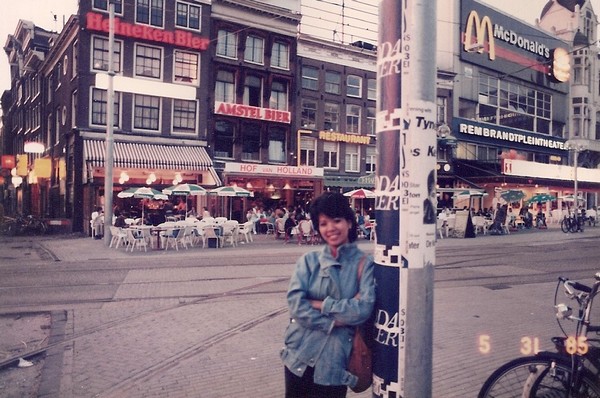 "Back to the Future"
Crystal ball: "You will have a third child, a son. In 19 years, you and your husband and 3 children will
drive across Europe. After 7 more years, you and your husband will return and make a
second trip, again on the train. But this time you will not be needing the Frommer book
because you will be making all your hotel reservations through the internet".
Cherry: "The inter what?! What are you talking about?"
THE END
(for now...)
===================================================================================================