Hagibis sa Europe II
(Part 1 of 2), 2011 May 6-18
by Norman Bituin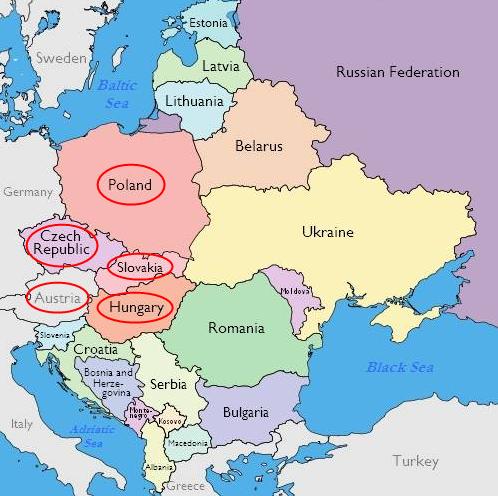 Eastern Europe
Someone asked, "When was Hagibis sa Europe I?". That was 26 years ago in May 1985. Before we left, I emailed our kids: "When Nanay and I did Hagibis sa Europe I in '85, we were fairly young. Now in Hagibis sa Europe II, we are fairly old; but still sporting a spirit of adventure and discovery".
Back to Hagibis I. After 4 years of continuous parenting and before our daughters Jen and Jamie would go to school, Cherry and I decided to take a 19-day break by traveling across Western Europe - England, France, Switzerland, Italy, Austria, West Germany and Netherlands - by Eurail. Remember, there was no internet and no cell phones in the 80's. I carried Arthur Frommer's "Europe on $25 a Day" where I would try and book the next city's B & B (Bed & Breakfast) lodging, or pension as it was also called, using a pay phone. In several European cities, you could only make international calls at the post office. There were no ATMs, so "Don't leave home without it" meant your American Express (travelers cheques), not your cell phone. I had a backpack with my Canon A1 camera, my top-of-the-line Sony Super Betamovie camcorder and accessories - camera lenses, blank Beta tapes, video light, extra batteries and battery chargers, etc. I felt "high tech" then, even when shooting video with the 10-pound camcorder slung on my shoulder.
Ahh, but now with the hotels diligently researched and pre-booked using Expedia.com, the cell phone, 2 Canon Powershot digital cameras and a new palm-size Sony handycam, we were off to Hagibis II. We flew in at Warsaw and flew out of Prague. We rode the Eastern European Railways using a first class 5-days-use pass good for 1 month through the five former communist countries - Poland, Hungary, Slovakia, Austria and the Czech Republic.
This was our 4th trip to Europe. The 2nd was in July 2004 after Jen's college graduation. With Cherry, Jen, Jamie and Kurt, we picked up a Peugeot SW rental car at Brussels airport; drove almost 2,000 kilometers crossing Belgium, Luxembourg, France, Spain and Portugal with visits at the pilgrimage sites of Lourdes in France and Fatima in Portugal; and dropping off the car in Lisbon. The 3rd was in October 2006 when Cherry, Kurt and I went to Ireland, Northern Ireland and Scotland. Yes, golfing brods, I visited "The Home of Golf" - the Old Course established 1552 in Saint Andrews. And as the train passed along the Irish Sea, I got a quick look at the other British Open championship venues - Turnberry, Prestwick and Royal Troon.
I digress, so back to Hagibis II. There was definitely a feeling of deja vu. Just Cherry and me riding the train - no kids to attend to and no tour schedule to wake up to or follow, like we did a score and six years ago. We were in our element again of "freewheeling" exploration. In this travelogue, I will keep the text part to a minimum and put in captions on the pictures as necessary. To put some perspective on the cities, I've prefaced them with a few lines of historical background.
All aboard!
1. Poland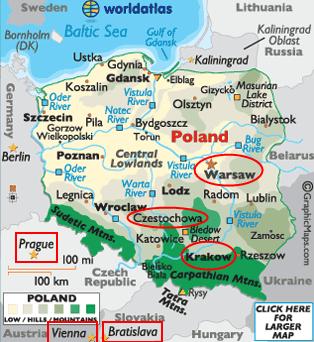 1.1 Warsaw
Warsaw is the capital and largest city of Poland. It is located on the Vistula River. During World War II, Warsaw came under the rule of a German Nazi colonial administration. The Germans razed Warsaw to the ground with about 85% of the city destroyed. Soviet troops liberated Warsaw. After the war a Communist regime was set up by the conquering Soviets. Pope John Paul II's visits to his native country in 1979 and 1983 brought support to the budding Solidarity movement and encouraged the growing anti-communist fervor there. In 1990-91, free elections were held and Poland became a democracy. Poland joined NATO in 1999 and the European Union in 2004.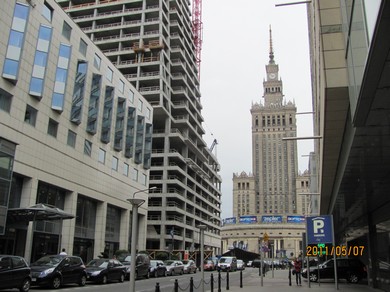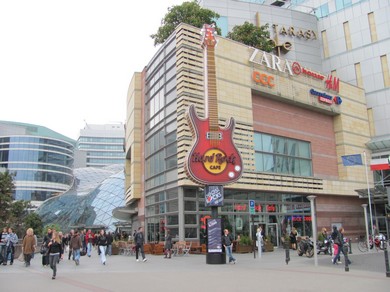 We stayed at Holiday Inn at left. The Palace of Culture looms ahead. Across hotel is huge Tarasy Mall. Hard Rock Cafe is in front.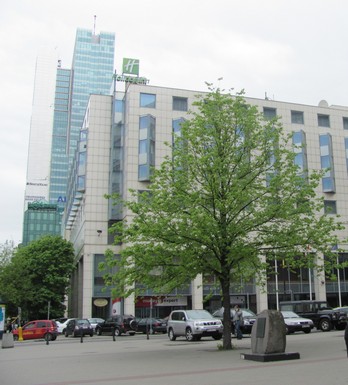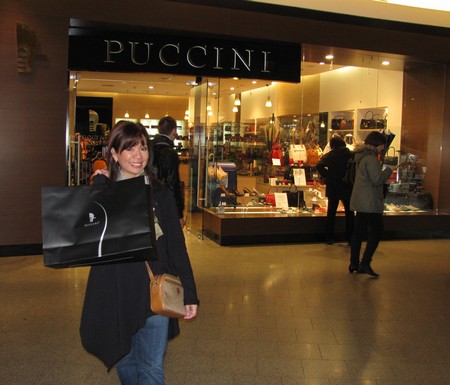 After a few hours rest at hotel, Cherry wasted no time shopping at the mall. More than half the US price, she claimed. Right.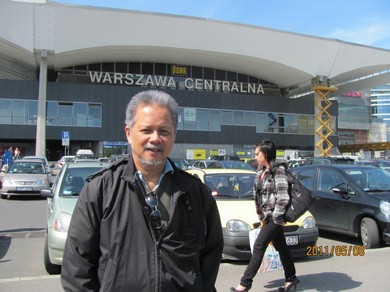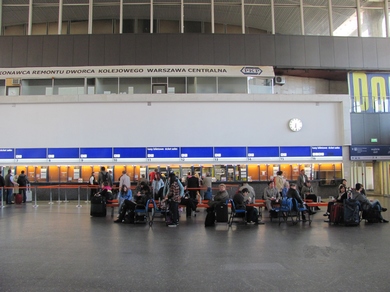 Warszawa Centralna, the central train station, is a 5-minute walk to Holiday Inn.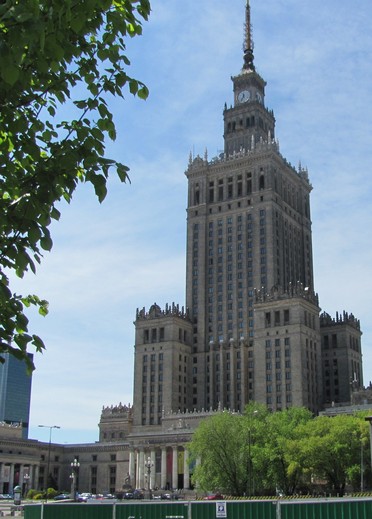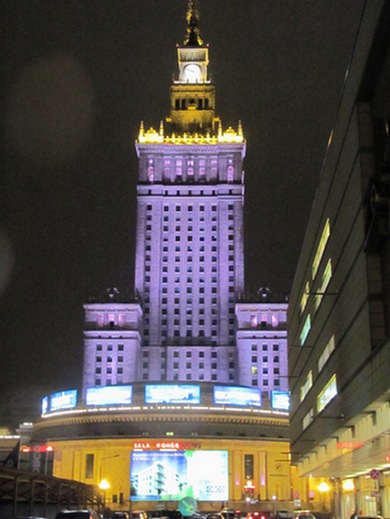 Looks like something from "Ghostbusters", I read somewhere. The Palace of Culture and Science, built in 1952-55 by Russian workers, is still the tallest building in Poland. It was originally known as the Joseph Stalin Palace of Culture and Science as Stalin's gift to the Polish people. Many Poles initially hated the building because they considered it to be a symbol of Soviet domination. The building, 757 ft. tall, currently serves as an exhibition centre and office complex with cinemas, museums, bookshops and an accredited university.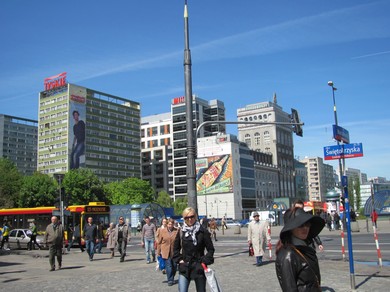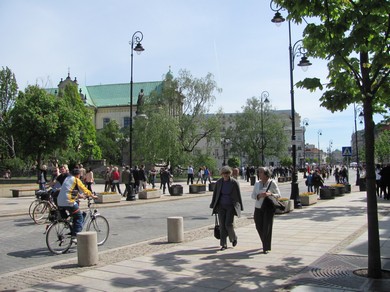 From Holiday Inn, it's a leisurely 30-minute walk to Stare Miasto (Old Town).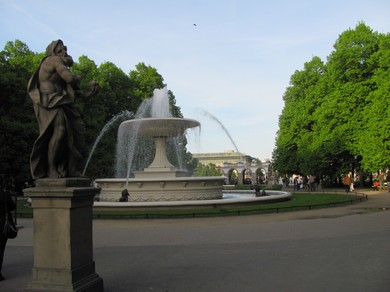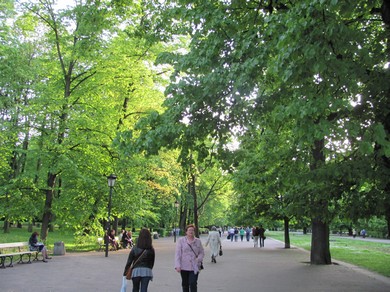 Saxon Garden is a landscape park built by King August II the Strong in 1713-1733. The park and the baroque garden is 16 hectares.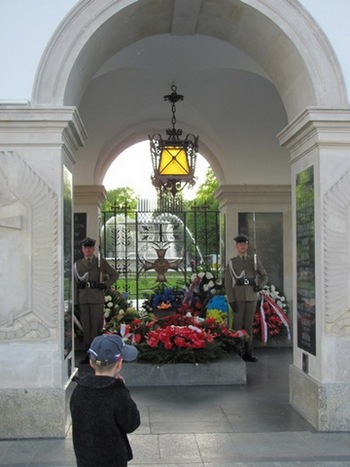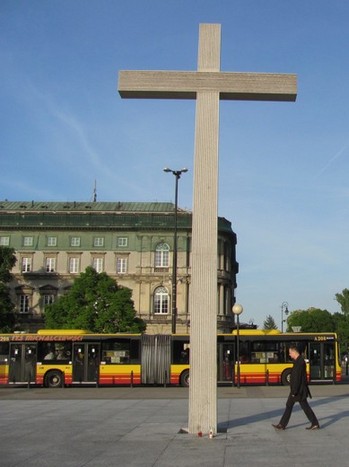 A boy takes a peek at the Tomb of the Unknown Soldier A religious country, a nondescript Cross stands near street.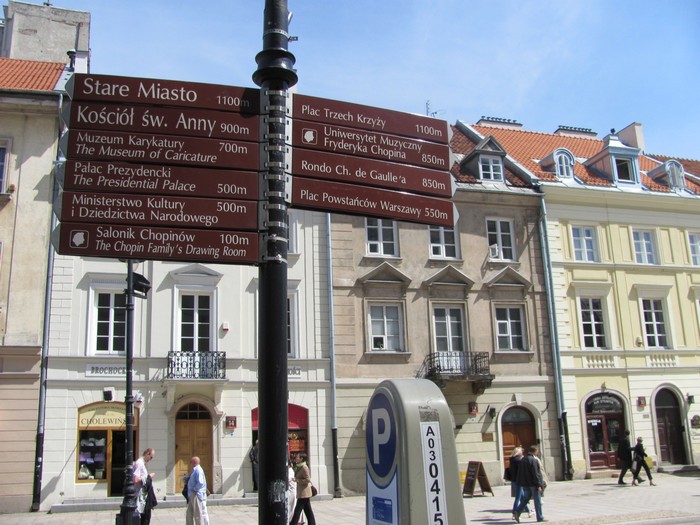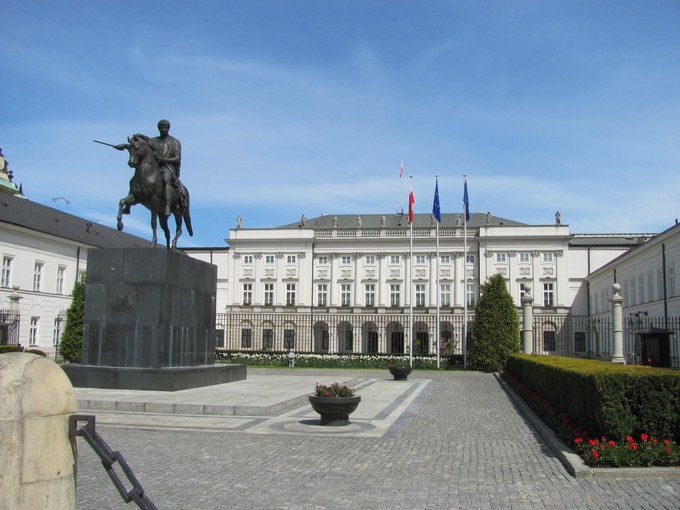 The Presidential Palace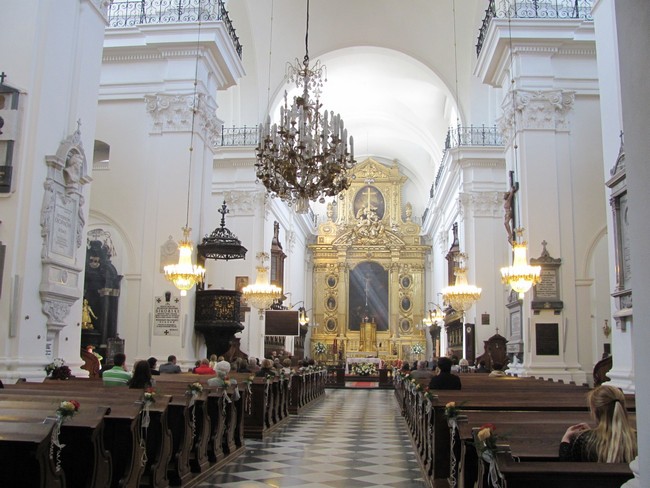 During mass at Basilica Minor, I noticed everybody knelt, including those who were standing and had no seats.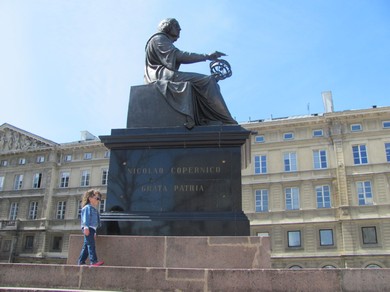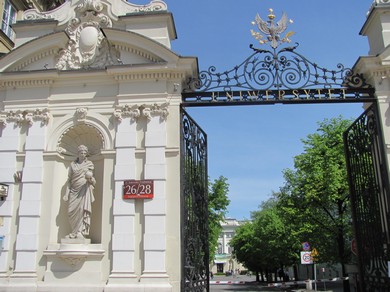 Statue of Nicolas Copernicus, founder of modern astronomy Warsaw University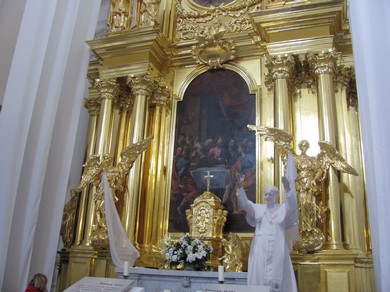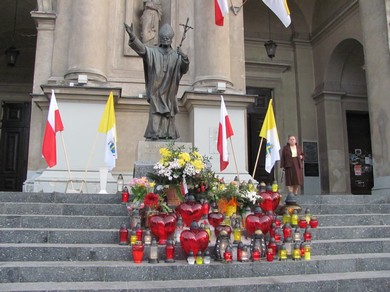 Pope John Paul II's images and aura, native son of Poland, seem omnipresent.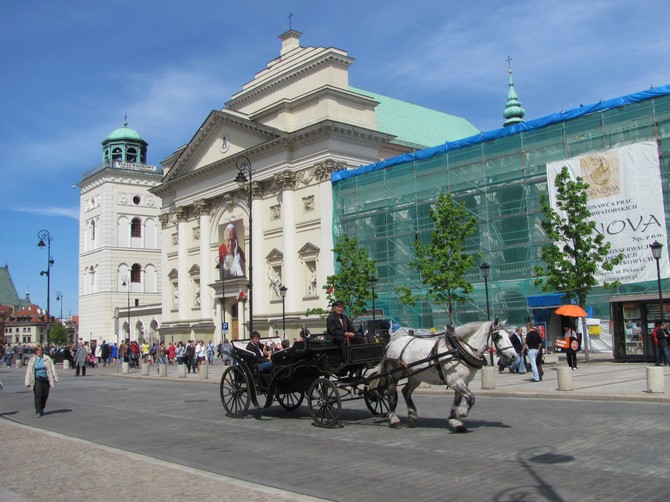 Saint Anne's Church (notice painting of Pope John Paul in front) has a viewing terrace at the right column.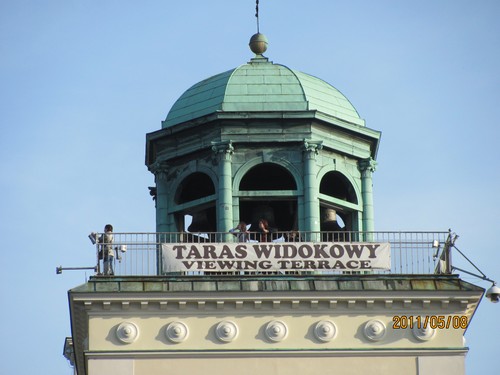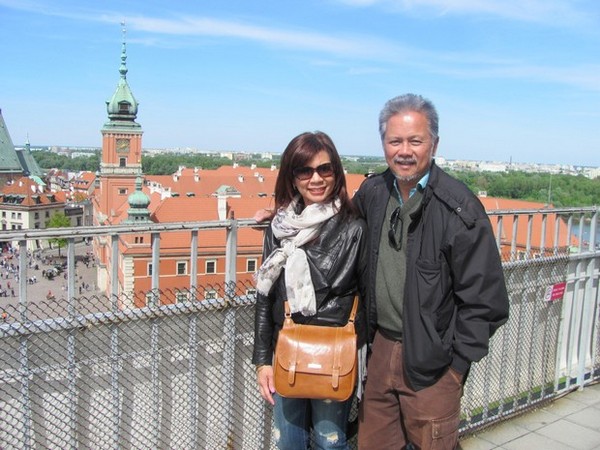 On the terrace overlooking Old Town and the Vistula River. Cherry looks happy with her new bag.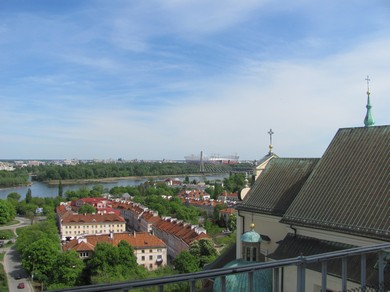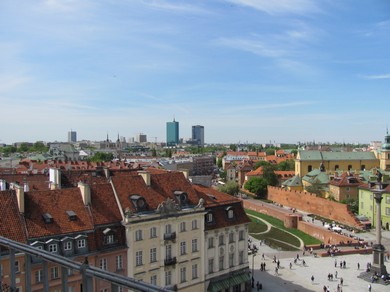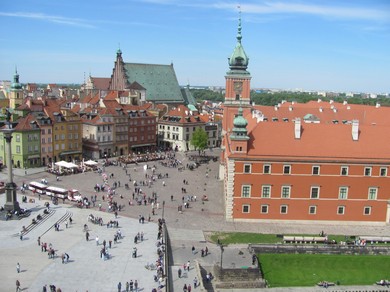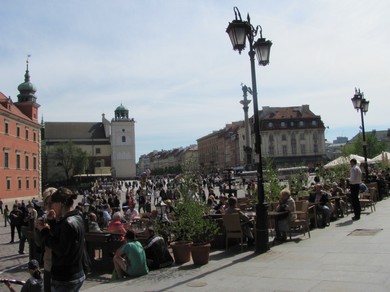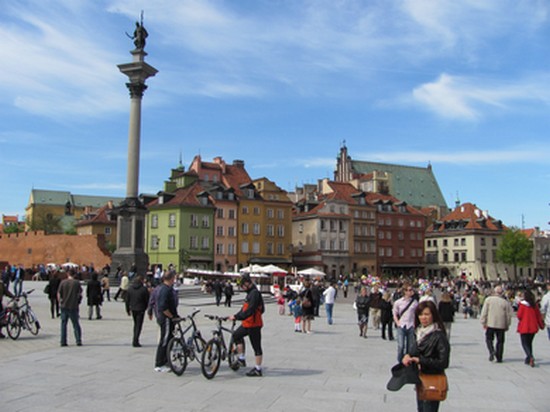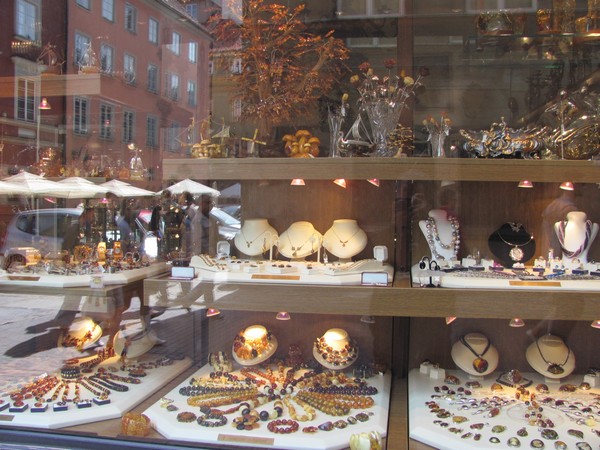 Polish amber, also known as Gold of the North, is the most valuable type of amber. Its rich,
honey-like structure makes this Baltic treasure a genuine piece of art. Cherry bought one (or two).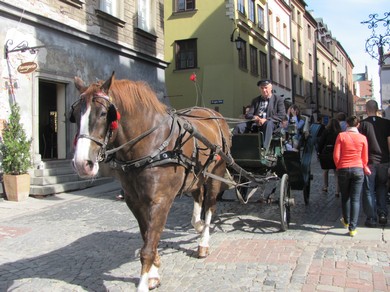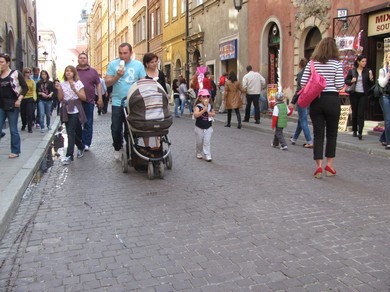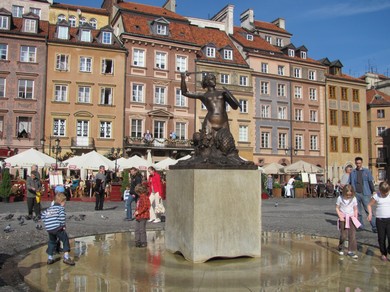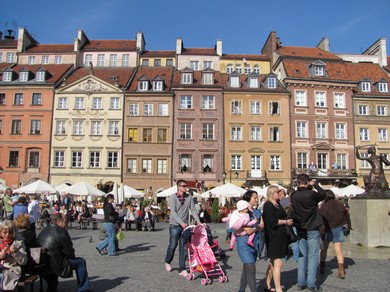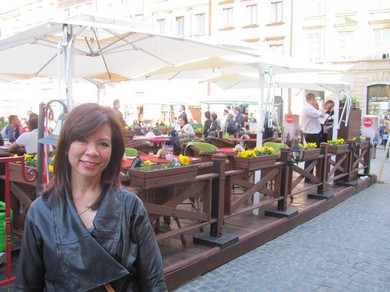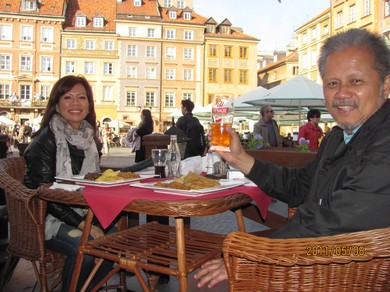 Enjoying Polish pork chops and Polish Tyskie beer at the square.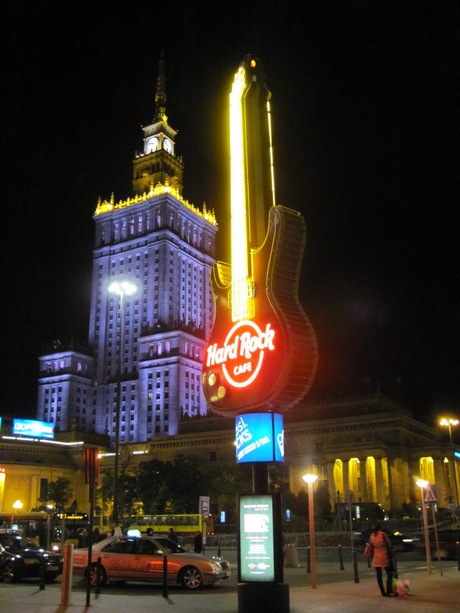 We say goodbye to our first stop, Warsaw, a city transformed.
1.2 Czestochowa
Czestochowa is known for the famous Pauline monastery of Jasna Góra, which is the home of the Black Madonna painting. the most famous shrine to the Virgin Mary in Poland and the country's greatest place of pilgrimage. According to tradition, the icon of Jasna Góra was painted by Luke the Evangelist on a tabletop built by Jesus himself. In 1430, Hussites (pre-Reformation reformers) attacked the monastery and slashed the Virgin's face with a sword. The icon, depicting the Mother of God with the Christ Child, is widely venerated and credited with many miracles. The miracle for which the Black Madonna of Częstochowa is most famous occurred in 1655, when Swedish troops were about to invade Częstochowa. A group of Polish soldiers prayed fervently before the icon for deliverance, and the enemy retreated. In the Cathedral of Lwów, on April 1, 1656, Jan Kazimierz, the King of Poland declared Our Lady of Częstochowa "Queen of Poland" and made the city the spiritual capital of the nation. The Virgin again came to the aid of her people in 1920, when the Soviet Russian Red Army gathered on the banks of the Vistula River, preparing to attack Warsaw. The citizens and soldiers fervently prayed to Our Lady of Częstochowa, and on September 15, the Feast of Our Lady of Sorrows, she appeared in the clouds above Warsaw. The Russians were defeated in a series of battles later dubbed the "Miracle at the Vistula."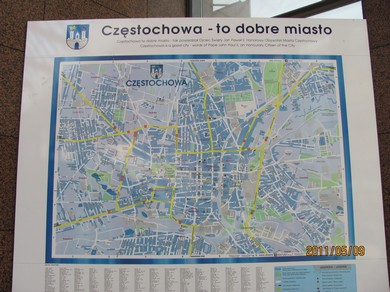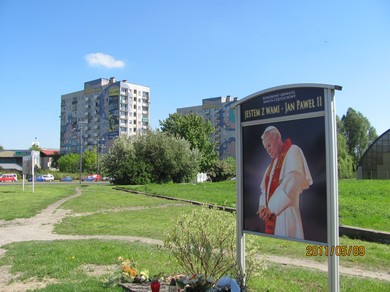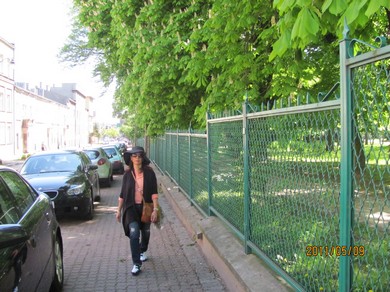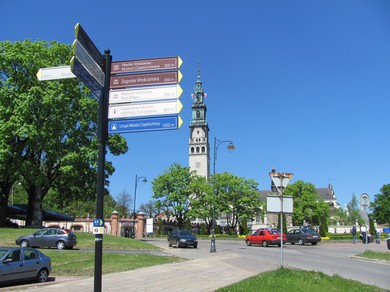 On short trips, we left our bags at the train station lockers and backpacked. We were here 4 hrs. Nice uphill walk to the monastery.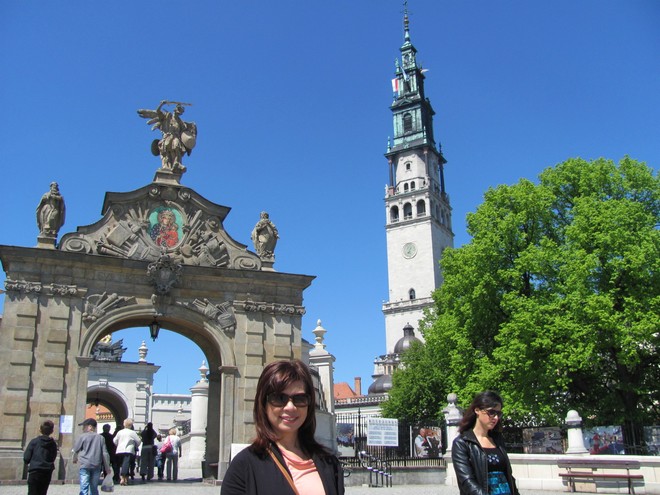 Jasna Gora Monastery also served as a military fortress against foreign invaders.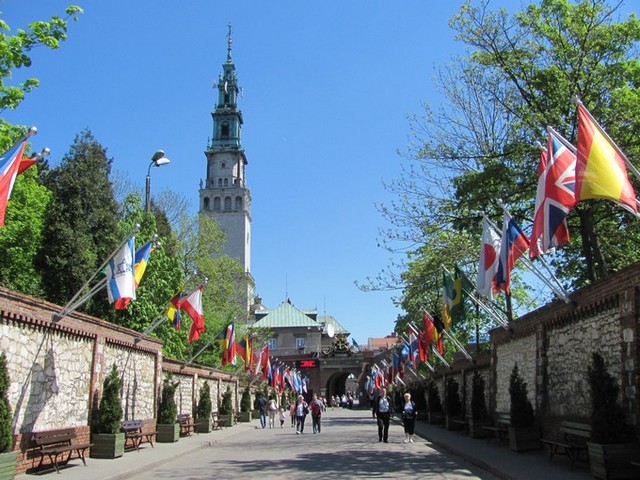 The Gallery of Flags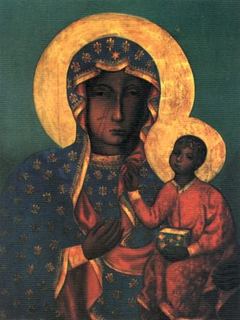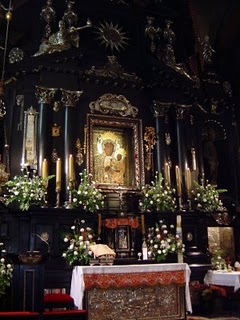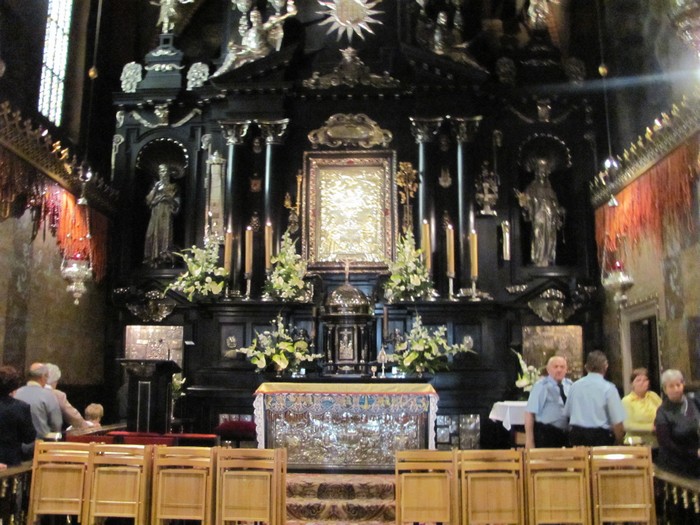 The Shrine receives over 5 million people each year.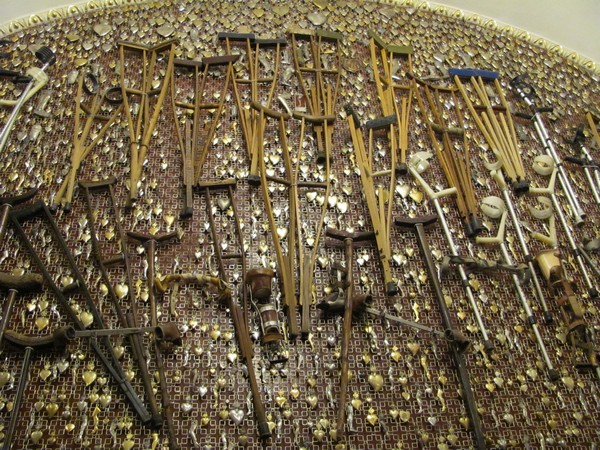 Ex-votos (votive offerings) left by the pilgrims in honor of the Virgin.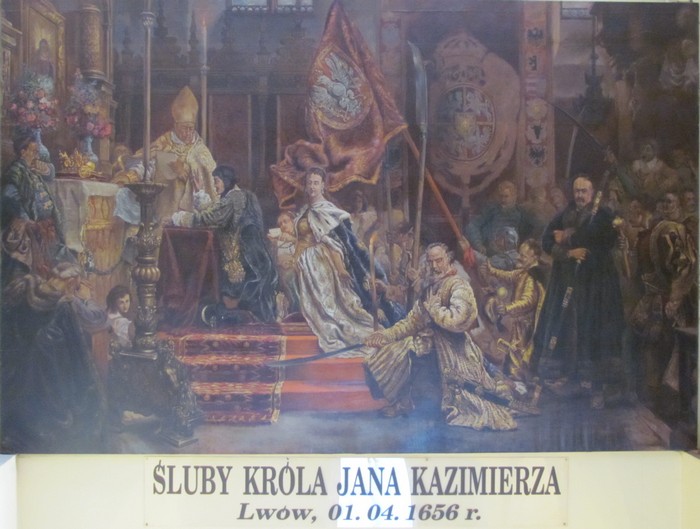 In 1656 at Lwow Cathedral, King Kazimierz proclaimed the Holy Mother as Patron and Queen of the Polish Kingdom.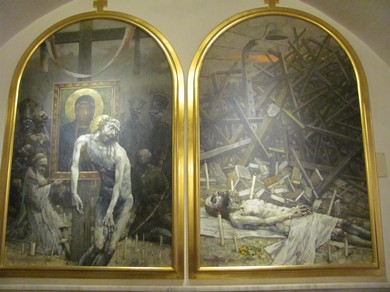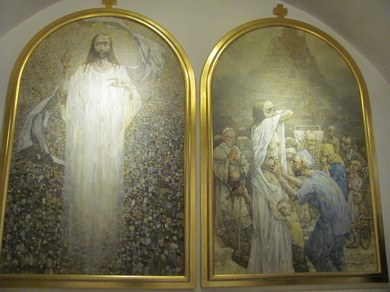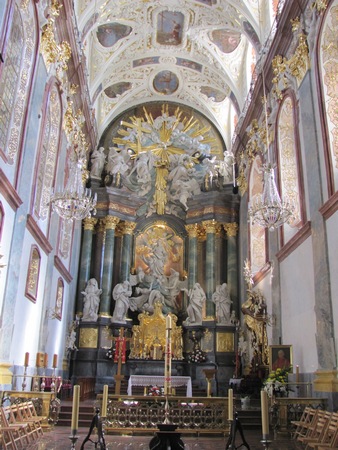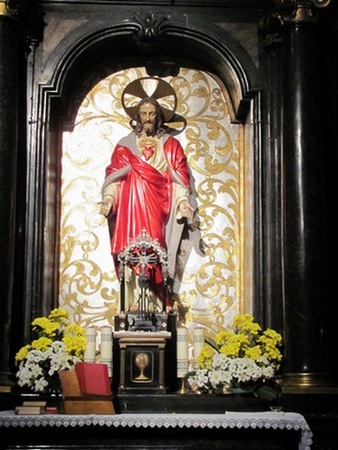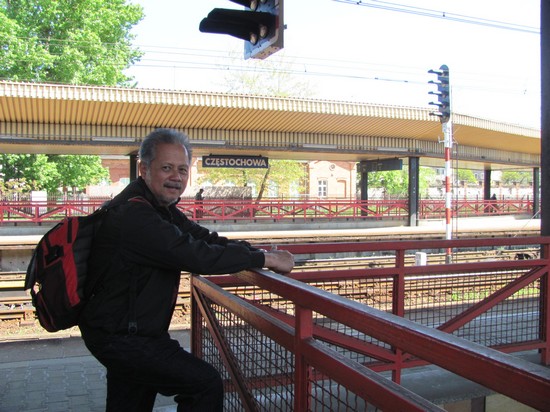 Waiting for the train to Krakow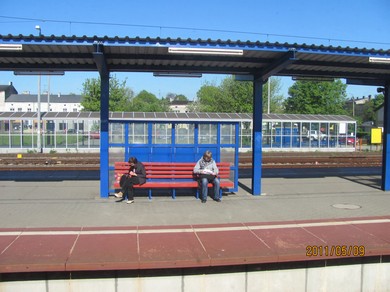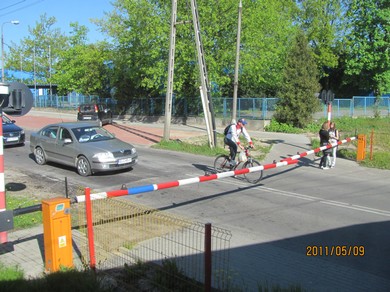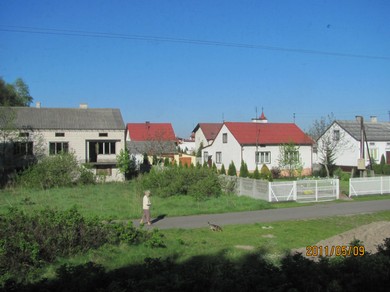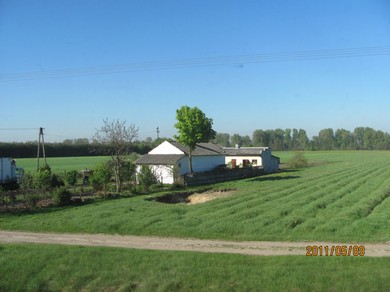 From the train window, looking outside at the passing scene...
1.3 Krakow
Kraków is the second largest city in Poland that dates back to the 7th century. It was the capital of Poland from 1038 to 1596. After the invasion of Poland by Nazi Germany at the start of World War II, Kraków was turned into the capital of Germany's General Government. The Jewish population of the city was moved into a walled zone known as the Kraków Ghetto, from which they were sent to extermination camps such as Auschwitz and concentration camps such as Plaszow. In 1978, Karol Wojtyla, archbishop of Kraków, was elevated to the papacy as Pope John Paul II – the first Slavic pope ever, and the first non-Italian pope in 455 years. Also that year, UNESCO approved the first sites for its World Heritage List, including the entire Old Town in inscribing Kraków's Historic Centre.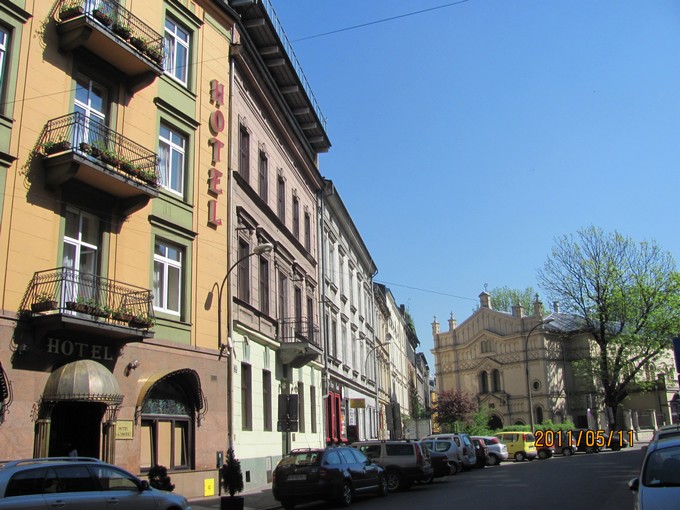 We stayed at Hotel Kazimierz I in the heart of the Jewish section with a synagogue straight ahead.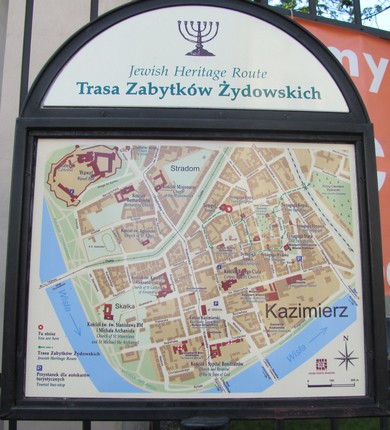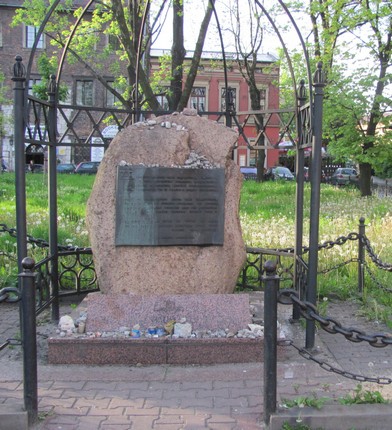 Krakow's Kazimierz Jewish Heritage Route and a memorial for the 65,000 Polish Jews in Krakow murdered by the Nazis.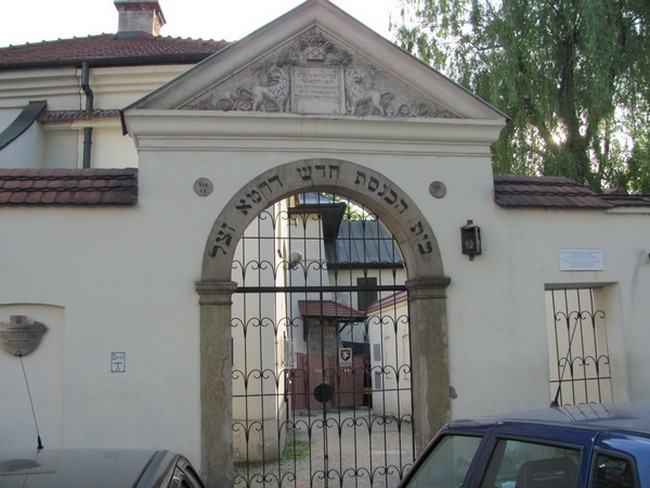 Remuh Synagogue built in Kazimierz in 1558 became one of the largest Jewish communities in Poland.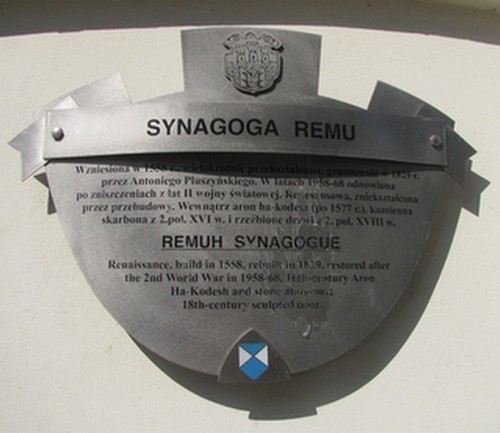 Synagogue wall inscription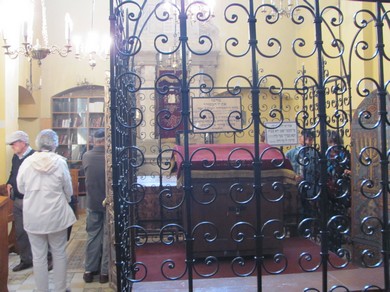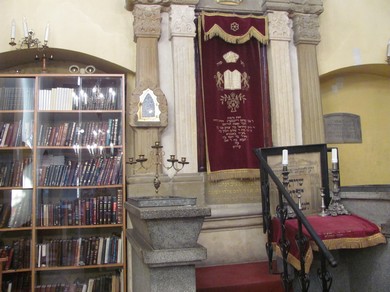 The prayer hall, with the chair of Rabbi Moshe Isserles at right, son of Remuh Synagogue founder Israel ben Josef.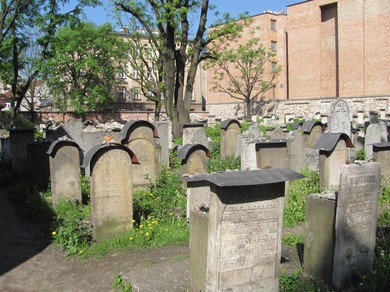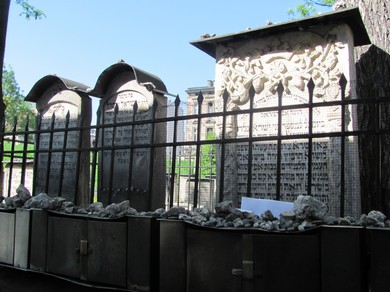 Old Jewish Cemetery is beside the synagogue. Typically, instead of flowers Jews place stones on the graves and tombstones.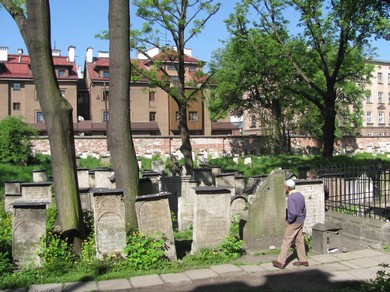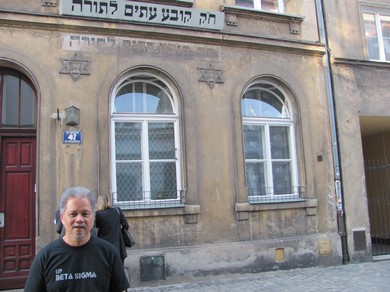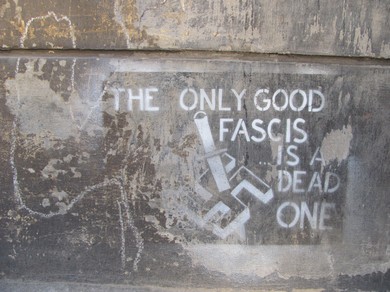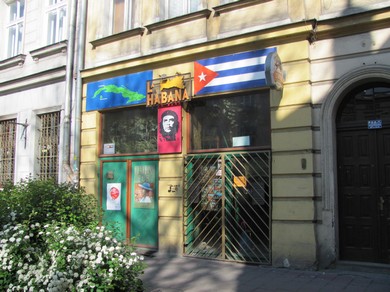 The socio-political system on the left is dead, as wished. On the right, not quite yet. "Not so fast, gringos. I'm still alive", says Fidel.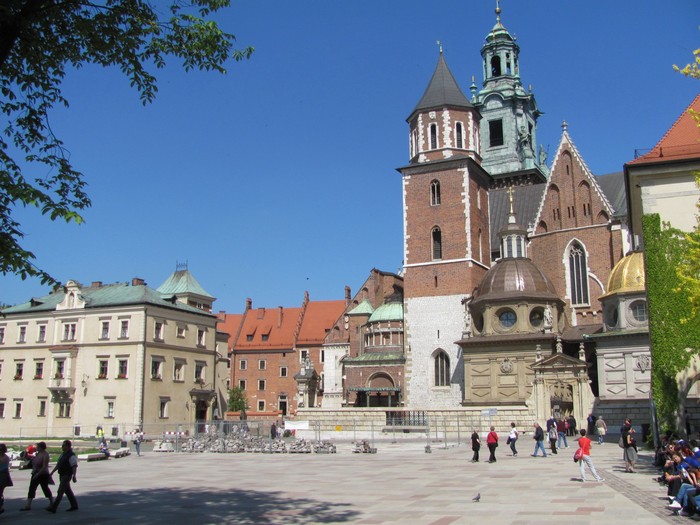 Wawel Castle was the residence of the Polish royalty for 5 centuries from 1038 until 1596.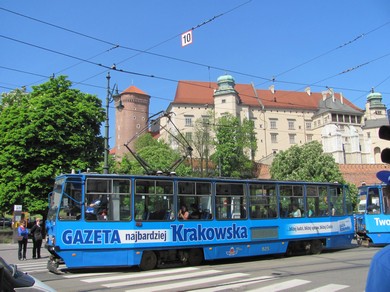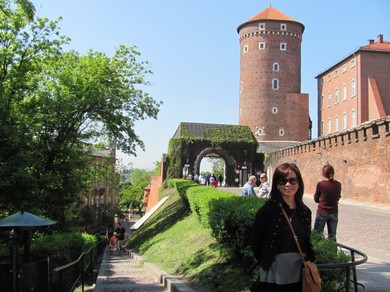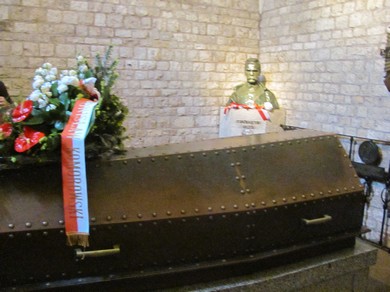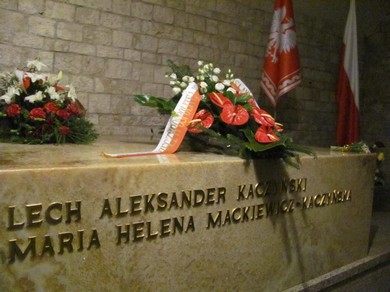 Polish Royalty and many distinguished Poles are interred in the Wawel Cathedral.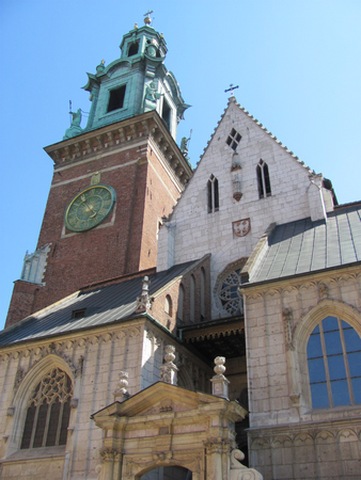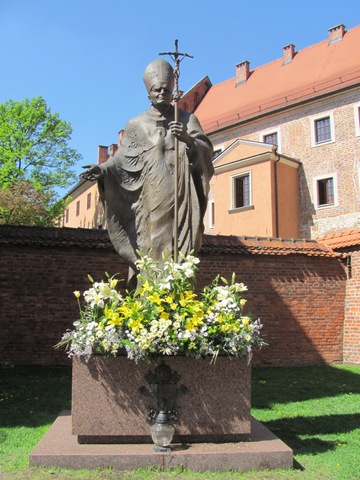 Wawel Cathedral and John Paul II Cathedral Museum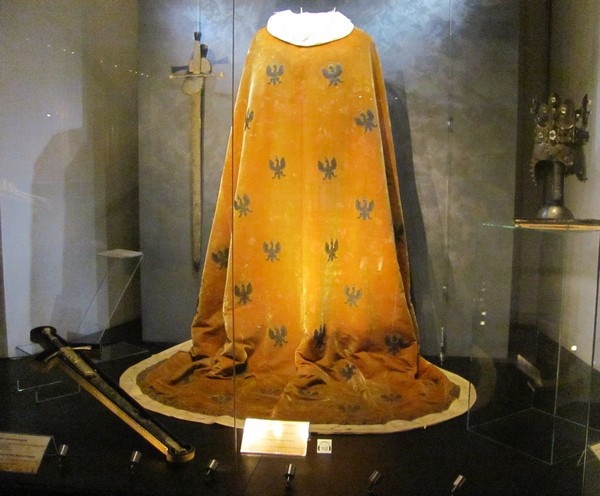 In Royal Room, the coronation mantle and sword of the last king of Poland, Stanislaus II August, 1764.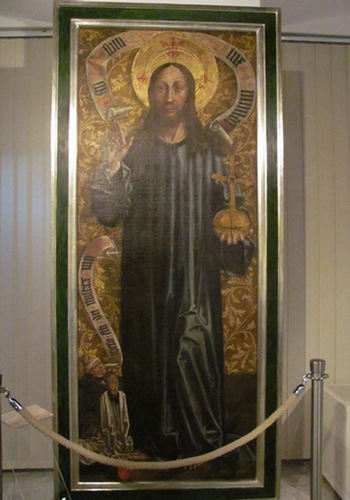 Salvador Mundi 15th century Molopolska painting of Christ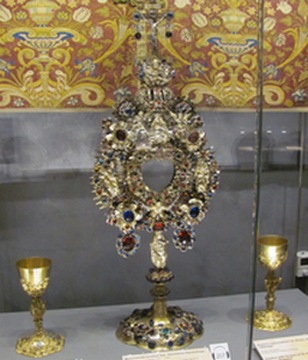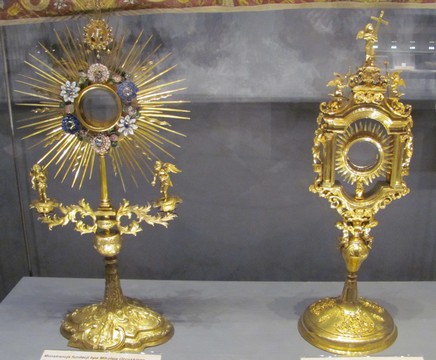 In Treasury Room, monstrance of Bishop Stanislaw Damsbki used solely on Holy Week, late 17th century.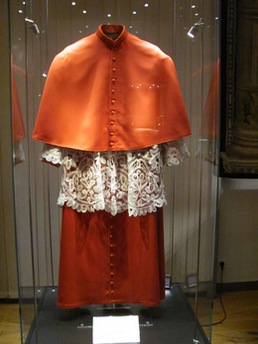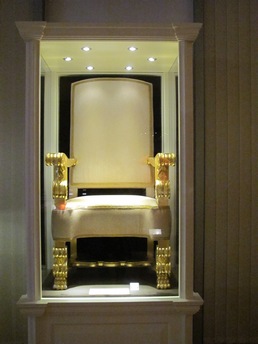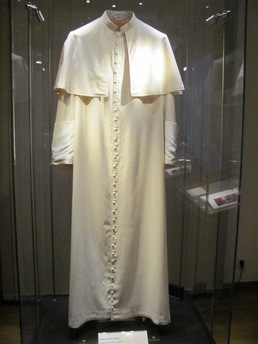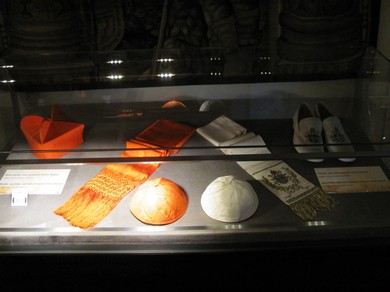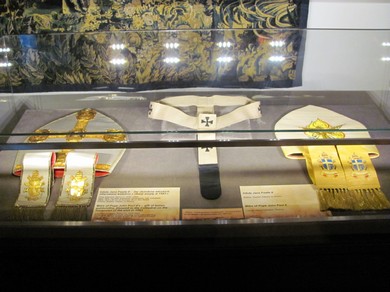 In Papal Room, John Paul's armchair and papal clothes (cassocks, birettas, zuchetti and sashes).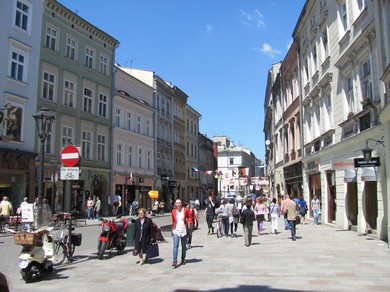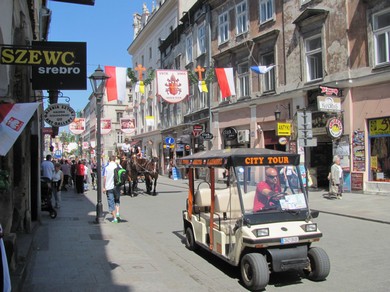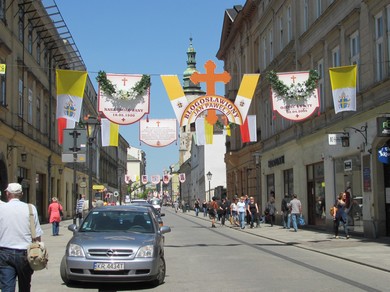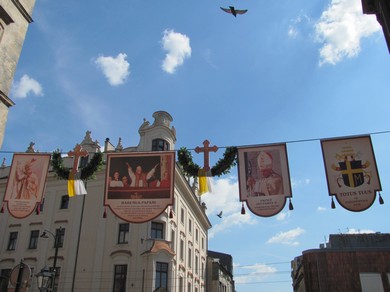 Streamers celebrate the beatification of Pope John Paul, the former Archbishop of Krakow, at the Vatican on May 1, 2011.
Below are snapshots at Stare Miasto (Old Town)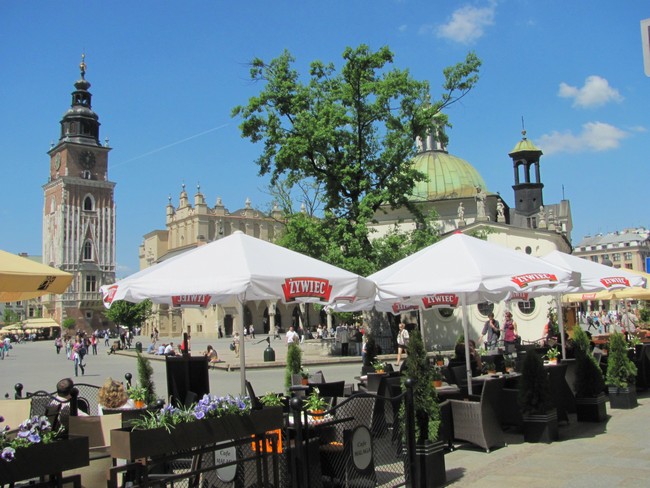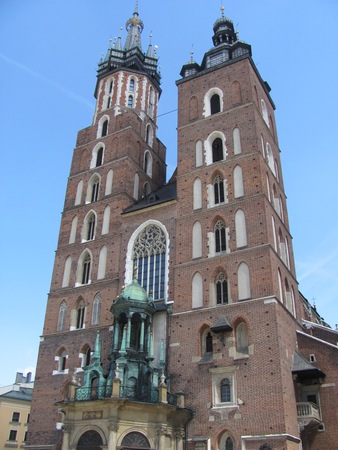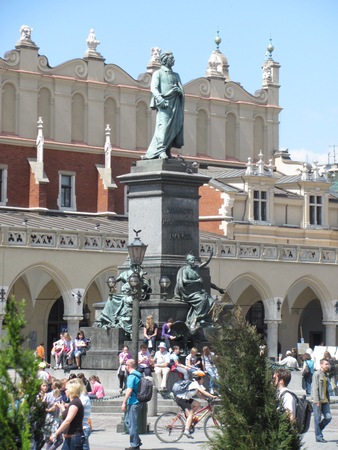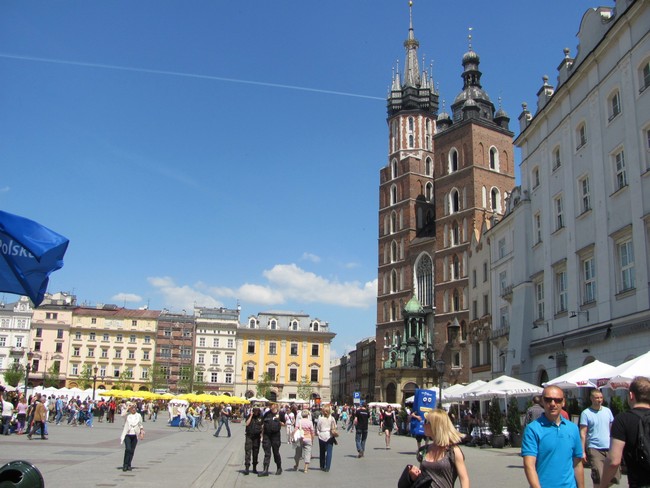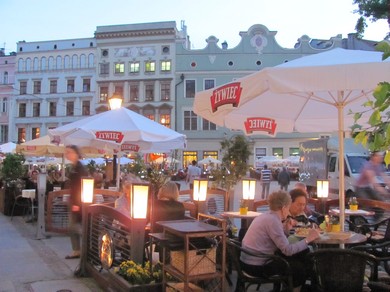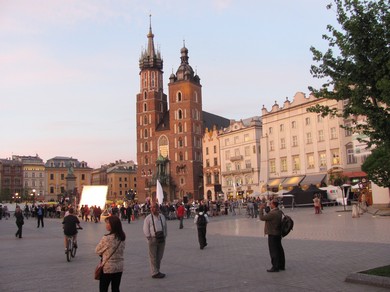 1.4 Auschwitz-Birkenau
Auschwitz-Birkenau German Nazi Concentration and Extermination Camp was built and operated by the Third Reich in Polish areas annexed by Nazi Germany during World War II. It was the largest of the German concentration camps. Auschwitz–Birkenau was designated by Heinrich Himmler, Germany's Minister of the Interior, as the place of the "final solution of the Jewish question in Europe". From spring 1942 until the fall of 1944, transport trains delivered Jews to the camp's gas chambers from all over Nazi-occupied Europe. About 1.1 million died there, around 90 percent of them Jews. Others deported to Auschwitz included 150,000 Poles, 23,000 Roma and Sinti, 15,000 Soviet prisoners of war, some 400 Jehovah's Witnesses and tens of thousands of people of diverse nationalities. Those not killed in the gas chambers died of starvation, forced labor, infectious disease, individual executions, and medical experiments. On Jan. 27, 1945, Auschwitz was liberated by Soviet troops, a day commemorated around the world as International Holocaust Remembrance Day.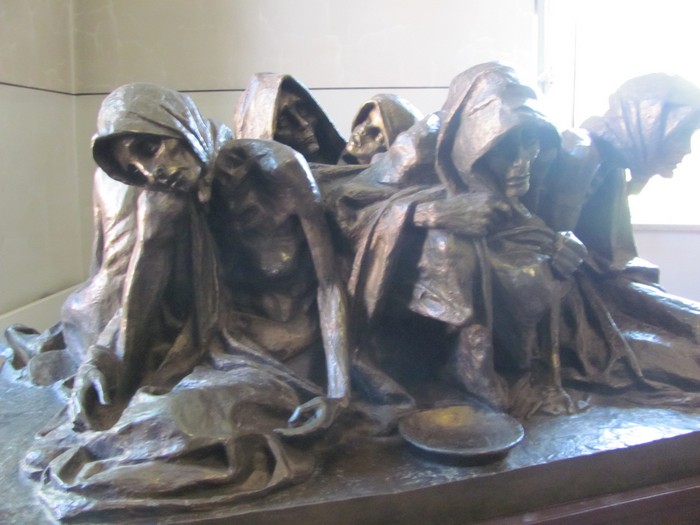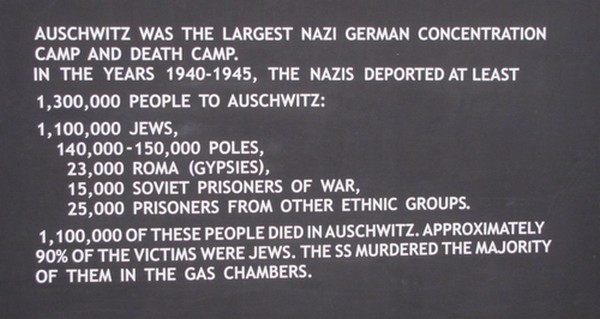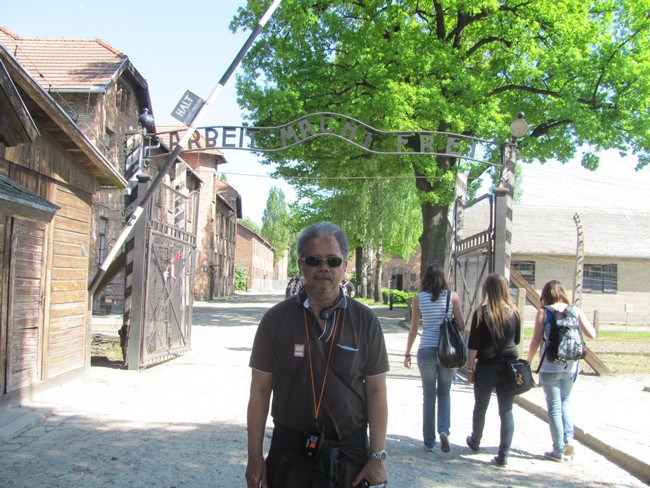 Auschwitz iron gates crowned with the infamous motto ARBEIT MACHT FREI ("Work makes free").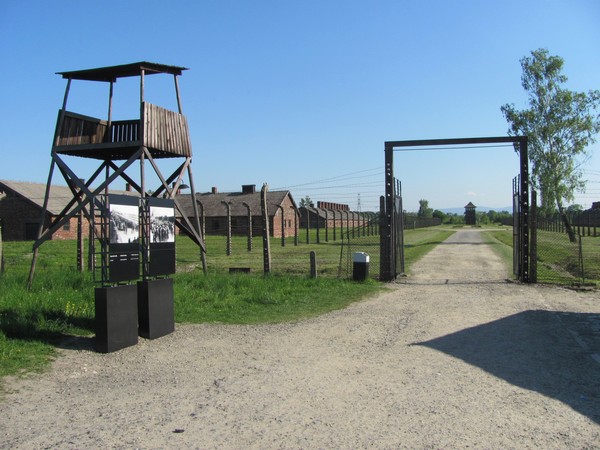 Entrance gate to Birkenau, also known as Auschwitz II.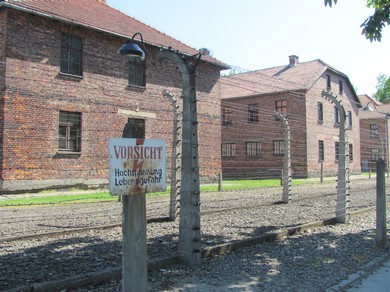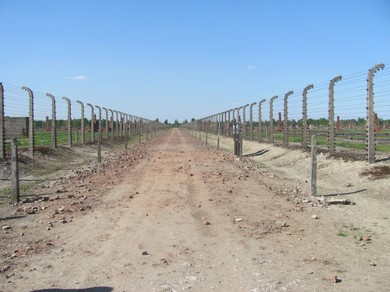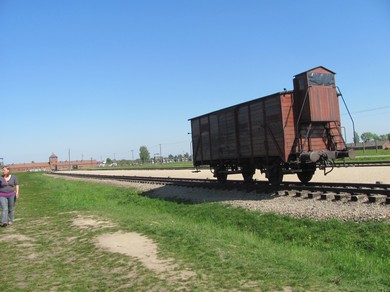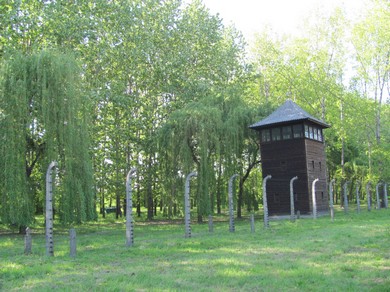 Actual train car used in transporting Jews for extermination in Auschwitz-Birkenau camp, surrounded by barbed wire and guard posts.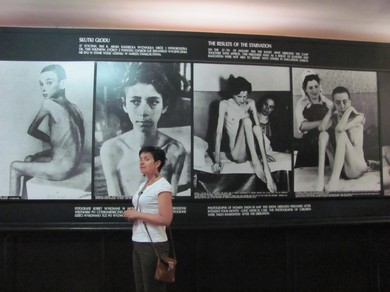 Auschwitz was the second Nazi extermination camp we had visited (first was Dachau in Munich in '85). It doesn't get easier.
I have read many books written by Holocaust survivors. I gasped and choked at this horrific lunacy of "Man's inhumanity to man".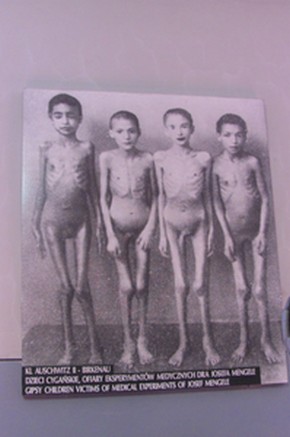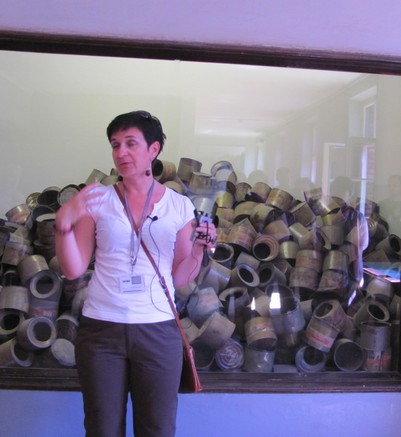 Gypsy children used in experiments by Dr. Mengele Empty canisters of cyclone gas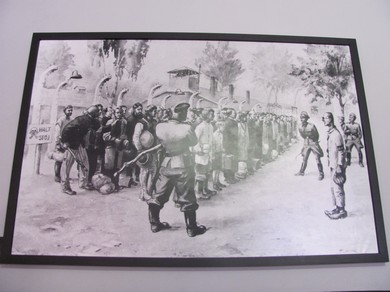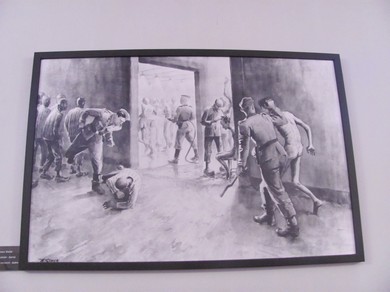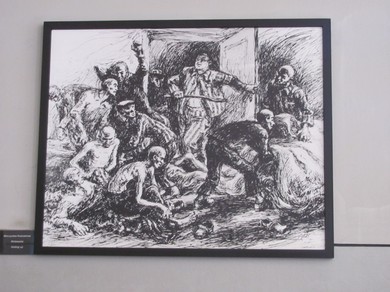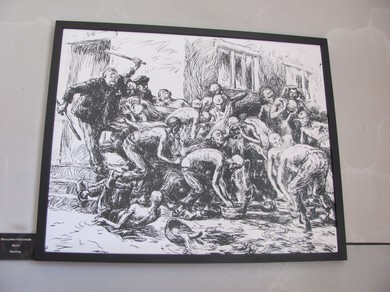 These are sketches done by the Holocaust survivors, after liberation, of their memories in the camp.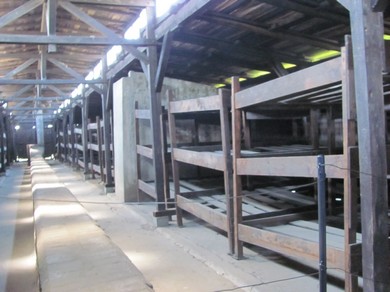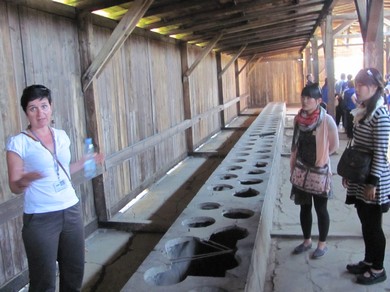 Barracks and latrines were dirty and unsanitary with no running water. Filled with vermins and lice, infectious diseases erupted.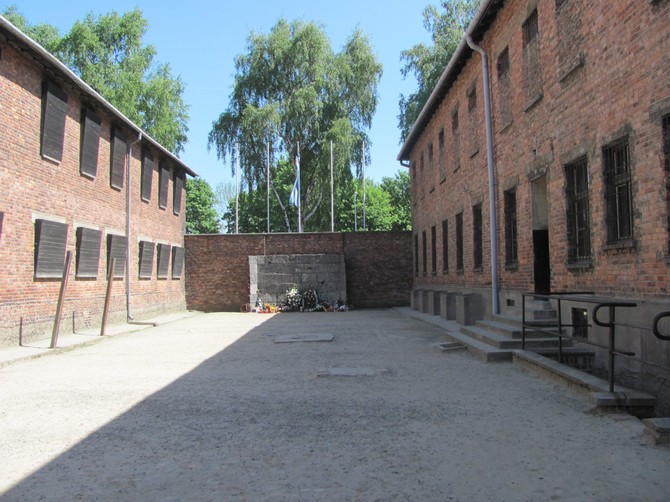 Countless political prisoners were shot in the pockmarked "Courtyard of Death" Firing Wall.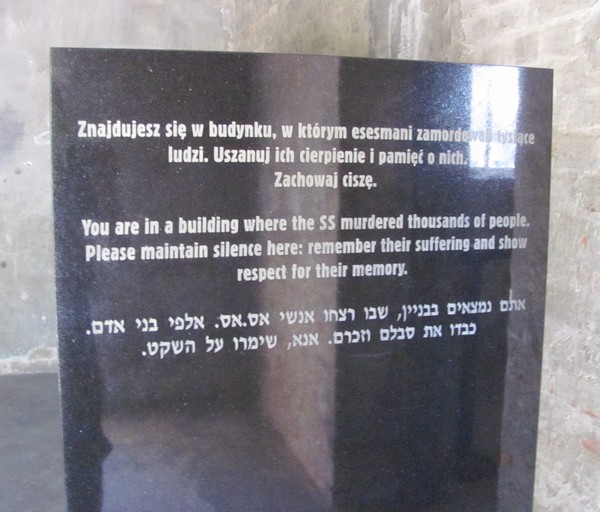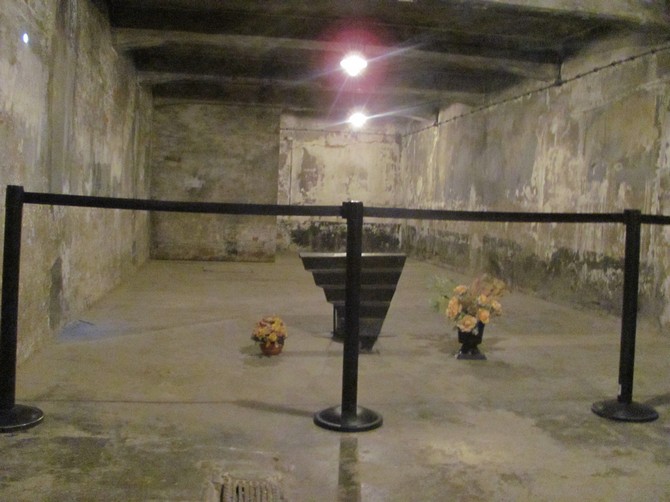 The victims were asked to completely undress and take a hot shower first which speeded up the gassing process.
Once chamber was full (800-1,200 people), pellets of pesticide Zyklon B were dropped through side wall vents.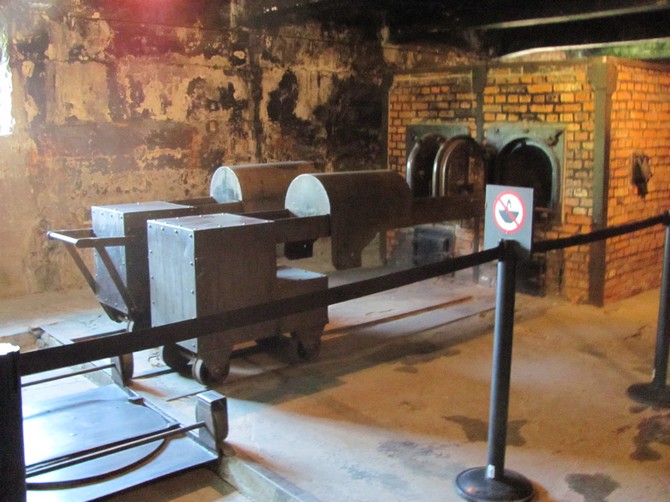 Black smoke rising from the chimney of Crematorium 1 (of 5) with smell of burning flesh could be seen for miles.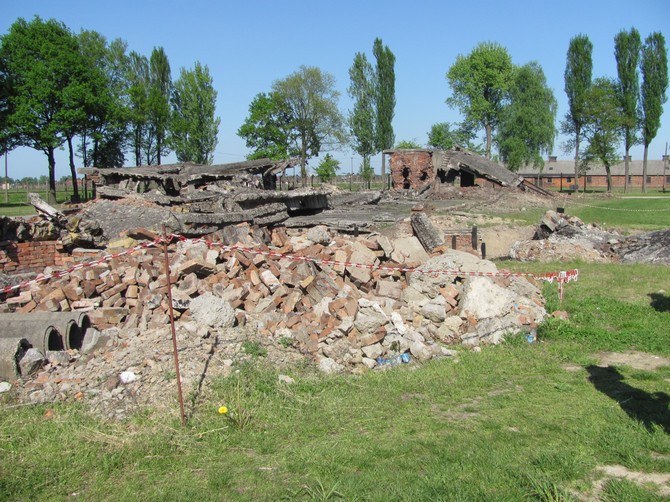 The Nazis dismantled the four crematoria at Birkenau before the Soviets liberated the camp in 1945.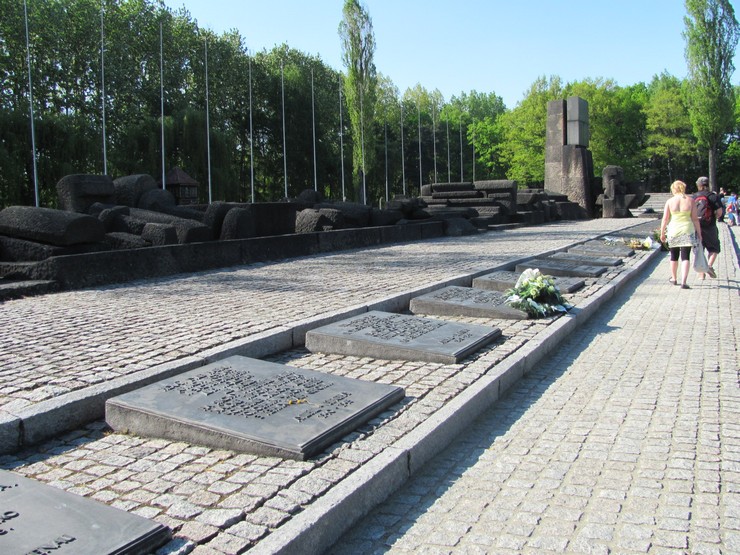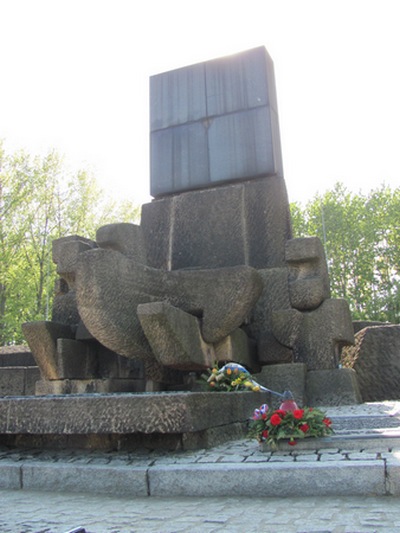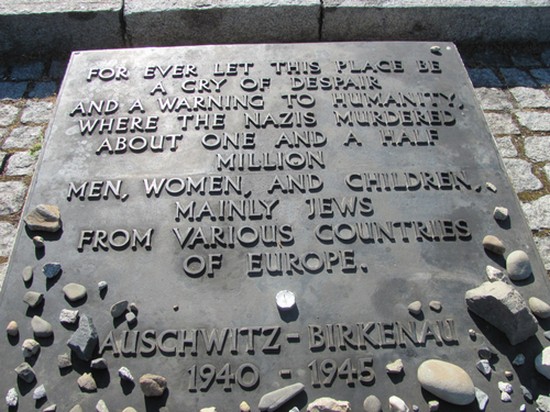 *Travel notes:
Auschwitz (Oswiecim is the Polish name of the town) is 49 kms. from Krakow. It can be reached by train, bus or cab; as well as by private tour buses. Since after Auschwitz we were taking the night train to Budapest and the train and bus terminals are together at Glowny Station, we took the bus. Actually, it was an air conditioned mini-bus for about 16-20 passengers. The bus leaves every 30 minutes; the train every hour. Cost of the bus round trip was 10 PLN (Polish zlotys), about $3.50. (A taxi driver approached us asking for 100 PLN). The bus drops off the passengers at the gate of the museum. The very informative guided tour (available in several languages) was 35 PLN, about $12, which included the shuttle to Birkenau, also known as Auschwitz II. The last bus trip back to Krakow is 6 pm.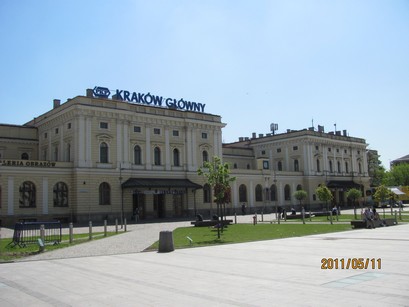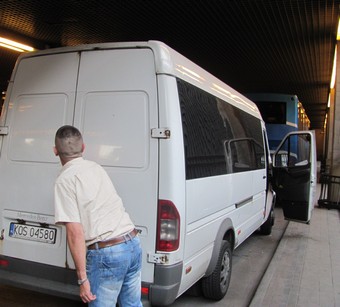 Krakow Glowny Station train and bus terminals Mini-bus to Auschwitz (Oswiecim)
2. Budapest, Hungary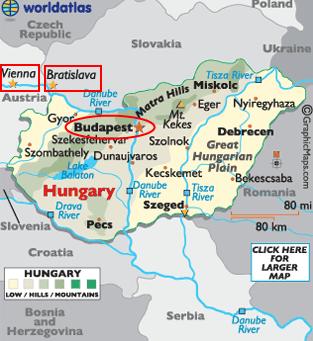 Budapest is the capital of Hungary and is the largest city. Originally a Celtic settlement, then a Roman capital, Magyars arrived in the territory in the 9th century and was pillaged by the Mongols in 1241-42. Budapest became a single city occupying both banks of the river Danube with a unification on November 17, 1873 of west-bank Buda and Óbuda with east-bank Pest. It also became the second capital of Austria-Hungary. During World War II, Hungary was allied with Nazi Germany and was occupied later by the Soviets. The Hungarian Revolution of 1956 which began as a student demonstration started the end of communist rule. Hungary joined NATO in 1999 and the European Union in 2004. Budapest is cited as one of the most beautiful cities in Europe.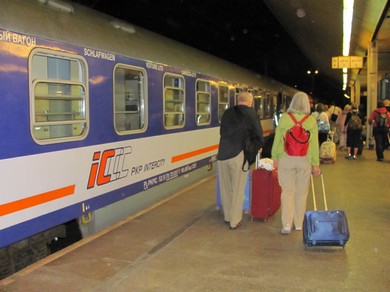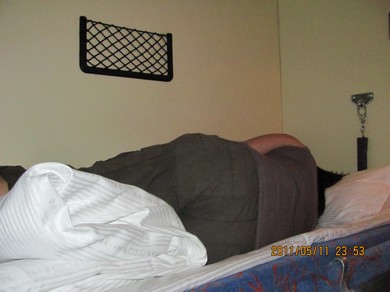 We took the sleeper train leaving Krakow 10p, arriving Budapest 8:30a. It was $26 per person with two bunk beds in compartment.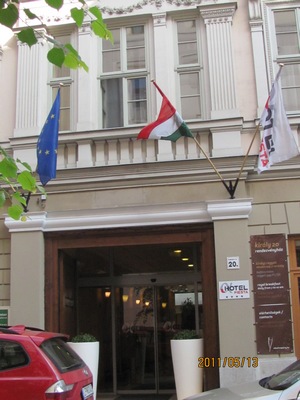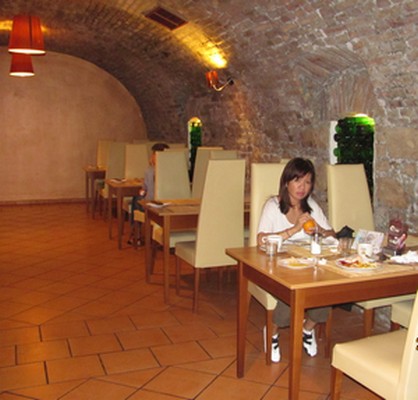 Stayed at Hotel Alfa Fiesta, 4-star for $63, with good comp breakfast. Eastern Europe is a lot cheaper than Western Europe.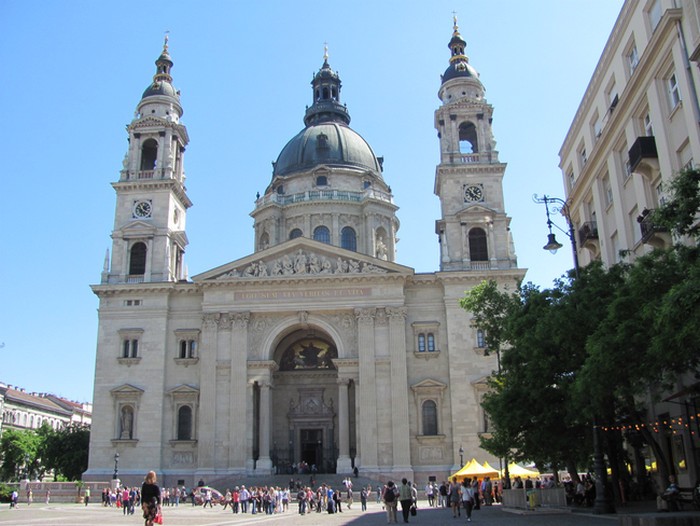 St. Stephen's Basilica named after St. Stephen I, the first King of Hungary, 975-1038.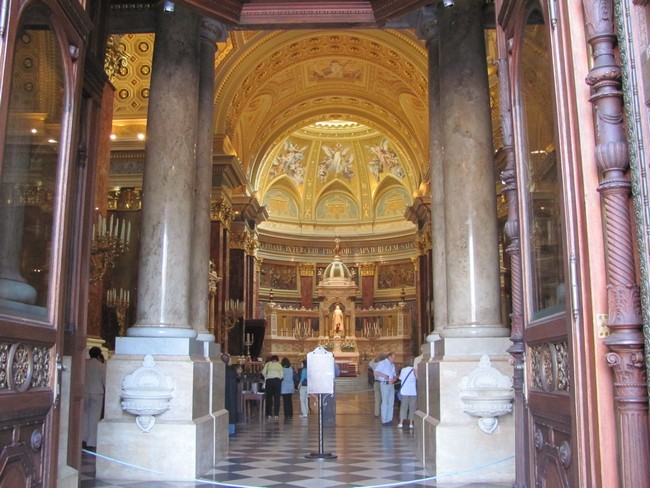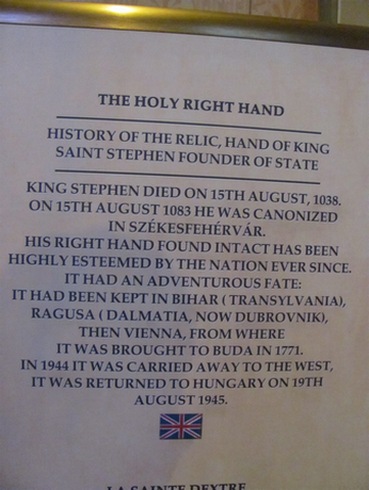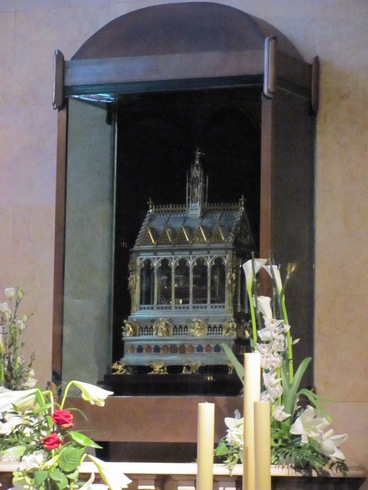 The incorruptible right hand of St. Stephen I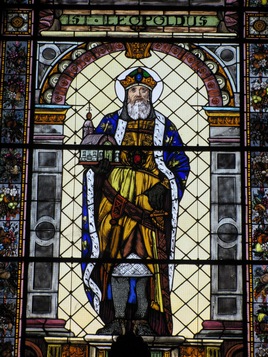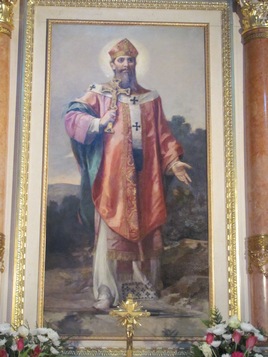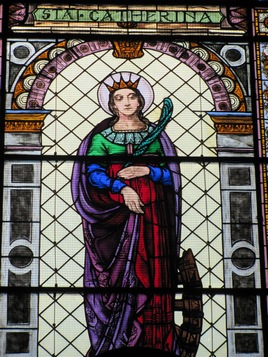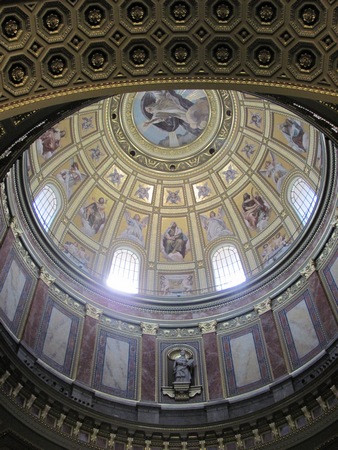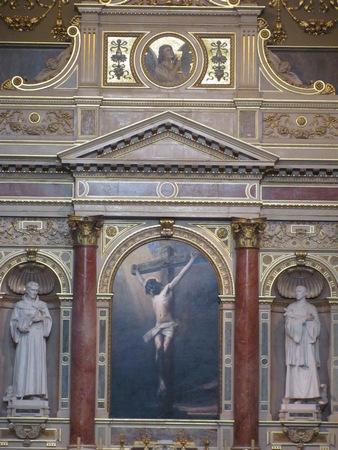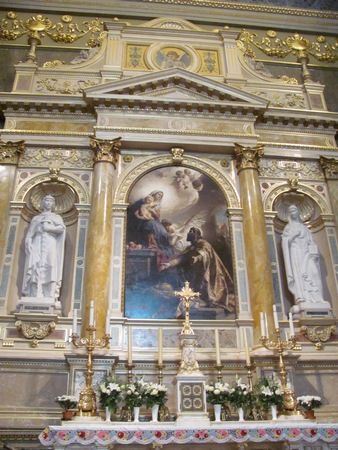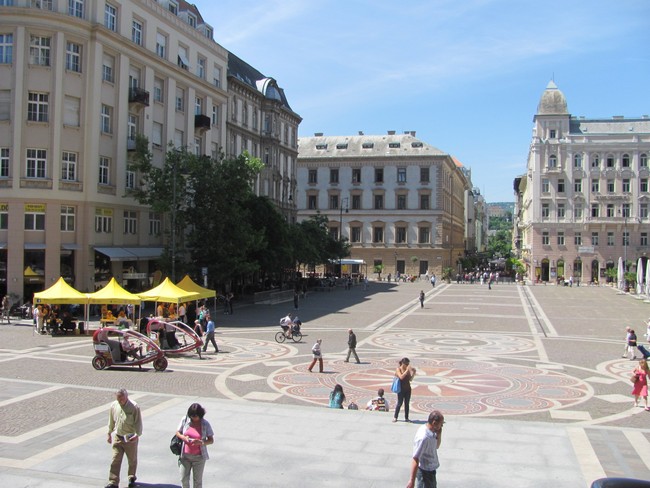 From the Cathedral doorway looking out at the plaza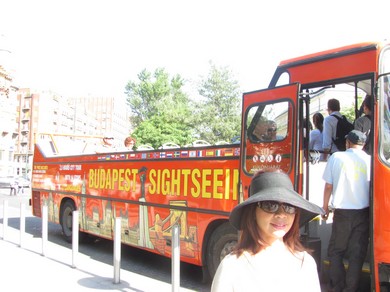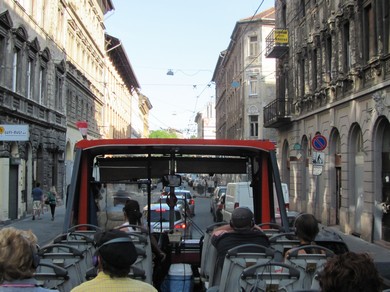 We recommend this 3-part Budapest tour which includes Danube River cruise. Cost 5000 HUF (Hungarian forints), about $27.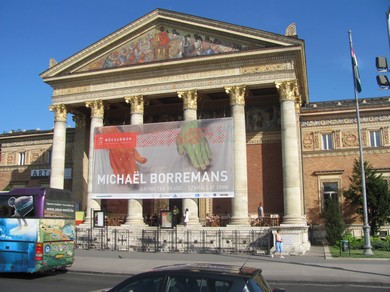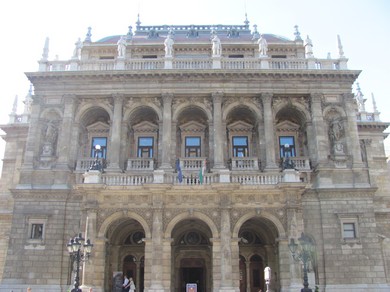 Art Gallery Opera House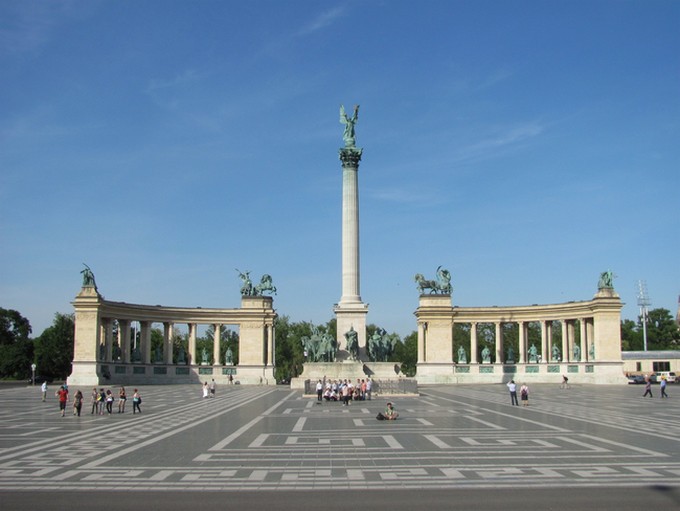 Heroes Square with statues of the leaders of the seven tribes that founded Hungary in the 9th century.
Michael Jackson filmed the opening of the HIStory Entrance DVD here in 1997.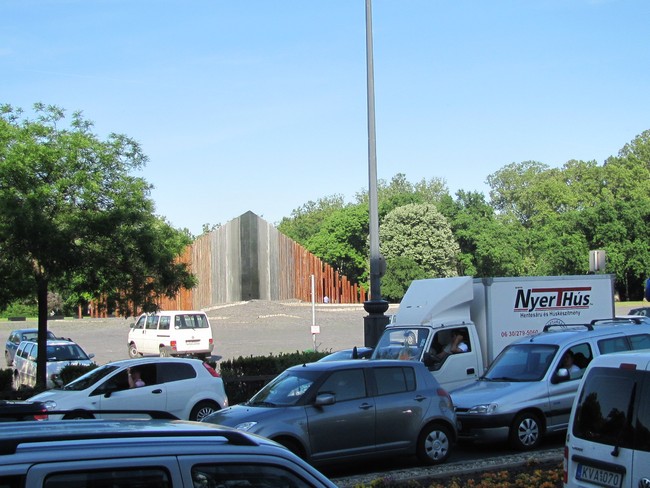 "Boot Hill" is where Stalin's statue used to stand before it was torn down during the 1956 Hungarian Revolution.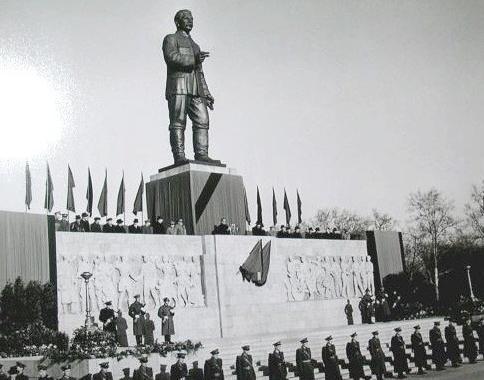 Stalin's statue at "Boot Hill' during Russia's control of Eastern Europe.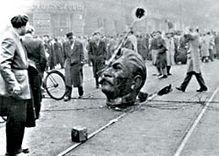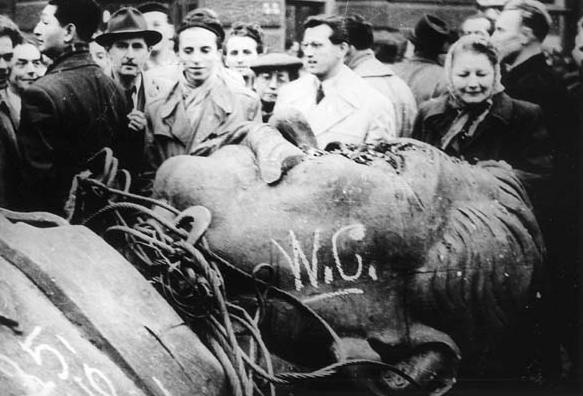 Hungarians dragged Stalin's statue on the streets. All communist relics are now in Memento Park.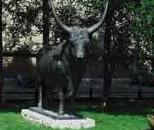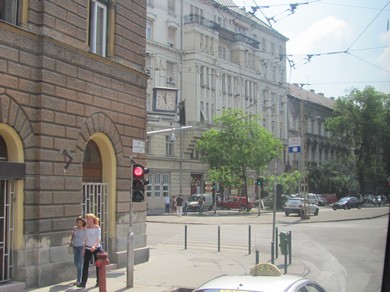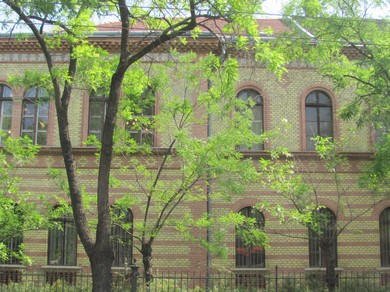 Special interest to DVM Brods
Szent Istvan University - Faculty of Veterinary Science (www.univet.hu), established 1787, is the only veterinary school in Hungary. It is accredited to issue diplomas of BSc in Biology, DVM and PhD in veterinary sciences. Hungary, due to its plain territories particularly suitable for extensive animal breeding, has always been a large-scale producer and exporter of animals and animal products. Faculty co-operates with Purdue and Minnesota. In campus, statue (above) of indigineous Hungarian grey cattle, the famous bull "Csatlós,"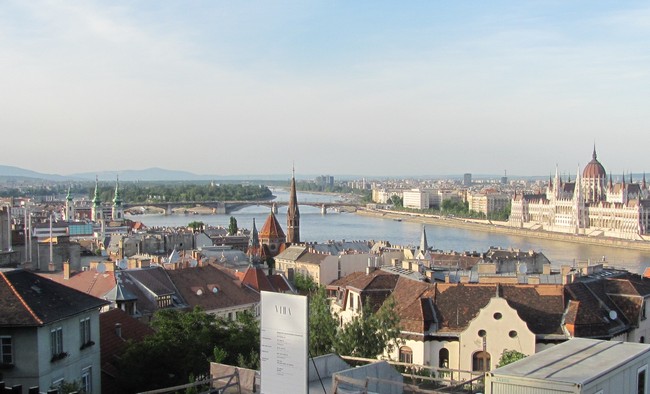 Buda (hills side) and Pest (plains side) on opposite sides of the Danube River comprise Budapest.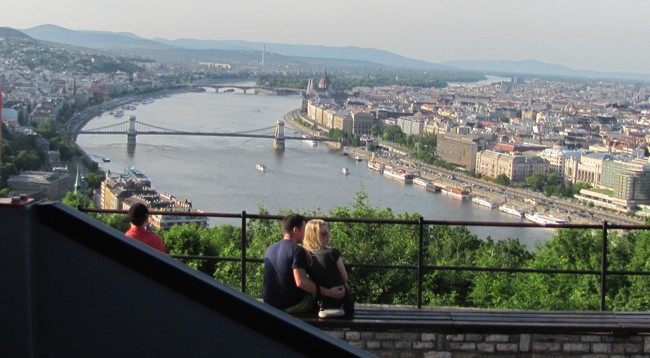 I "stitched" 3 photos taken from the Citadel on Buda side, the highest point at Gellert Hill, overlooking Budapest and the Danube.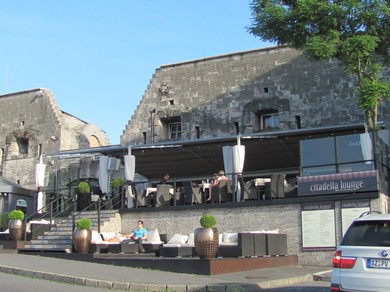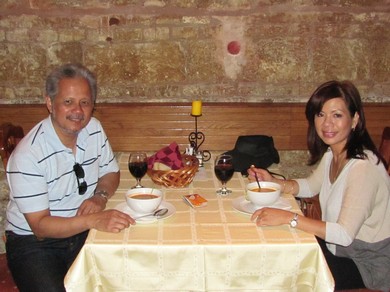 At the Citadella Lounge, a good-tasting Hungarian goulash is even included free with tour.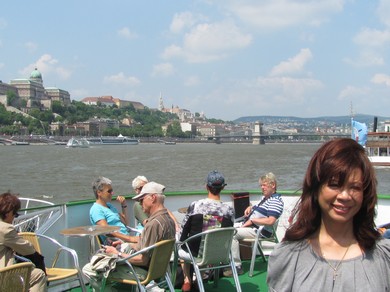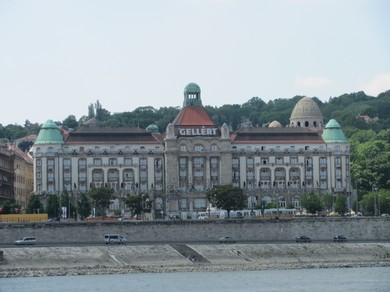 A real bargain at $27, the Danube River cruise is part 3 of hop on/hop off sightseeing tour.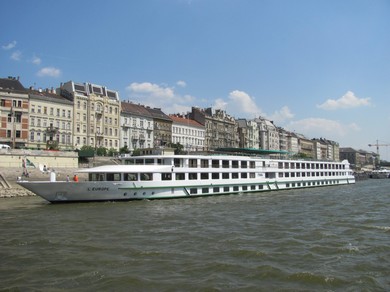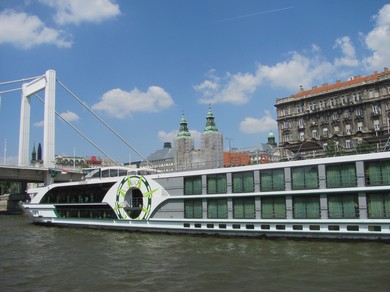 Luxury riverboats navigate the Danube and Rhine. One gets to see the towns, bridges, castles and the picturesque countryside.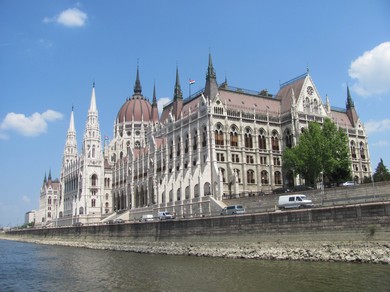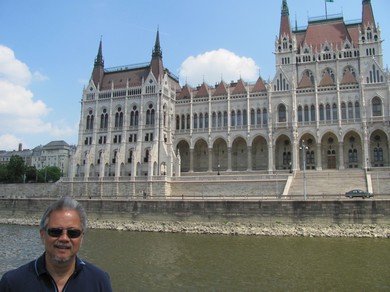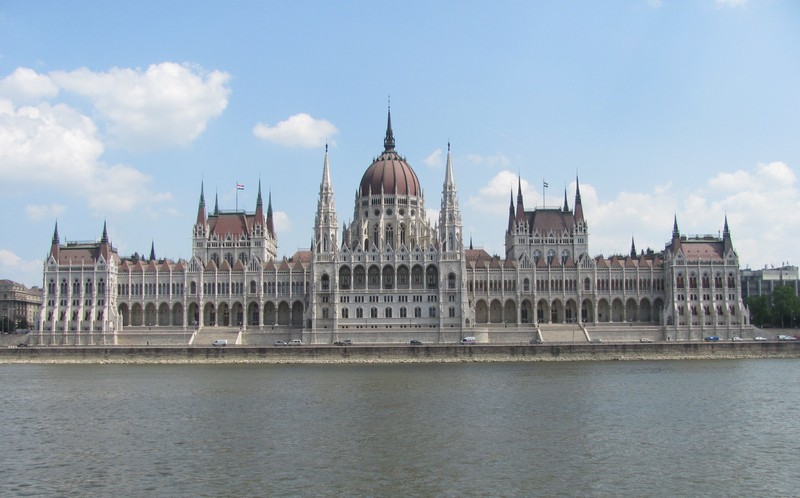 Hungarian Parliament of Gothic Revival style completed in 1904 on Danube was inspired by the British Parliament on Thames.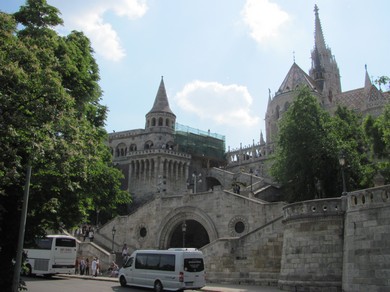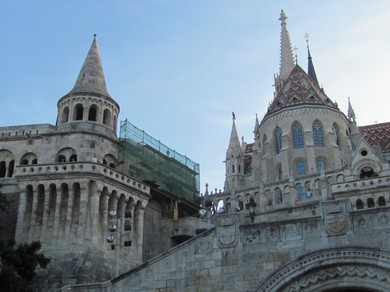 Buda Castle was built by King Bela IV in 1265 and occupied by the Ottomans in 1541.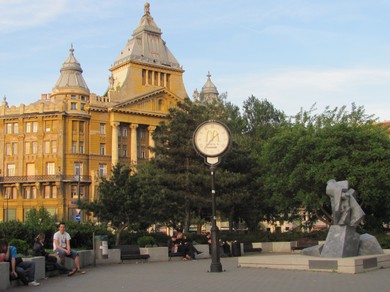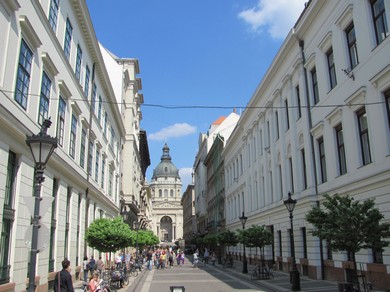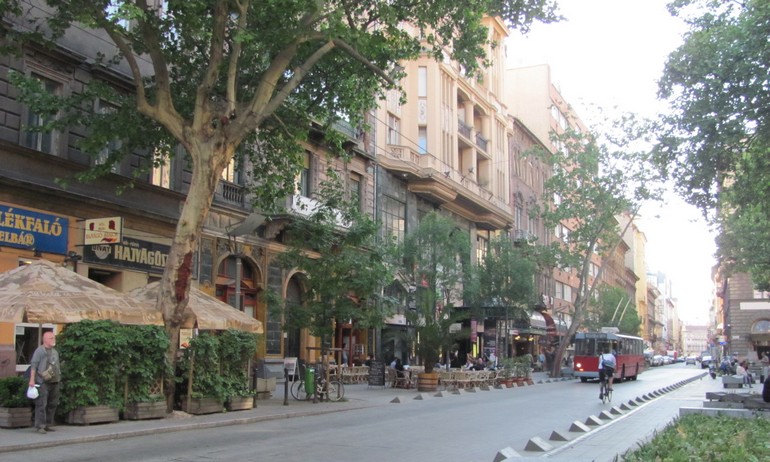 Andrassy is the iconic boulevard dating back to 1872 lined with Neo-Renaissance mansions, fine stores, cafes and restaurants.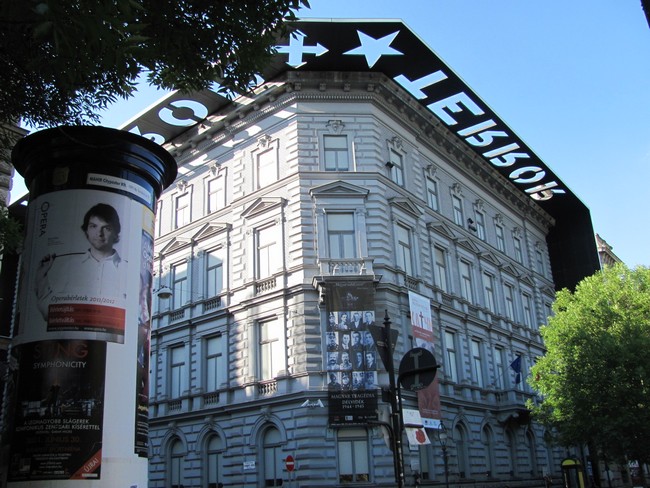 "House of Terror" was the home of the hated Hungarian secret police AVH, located at Andrassy ut 60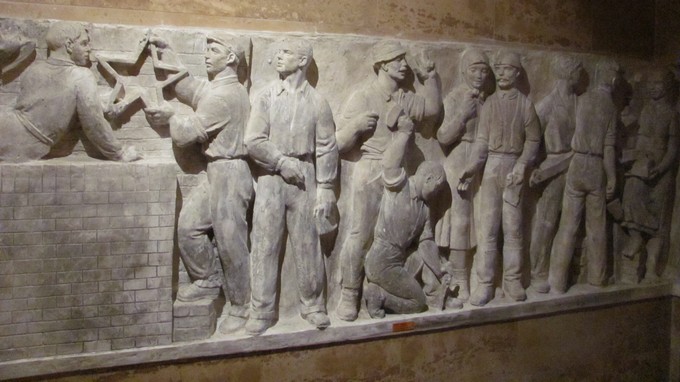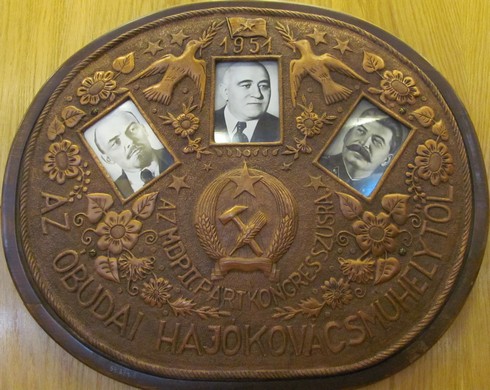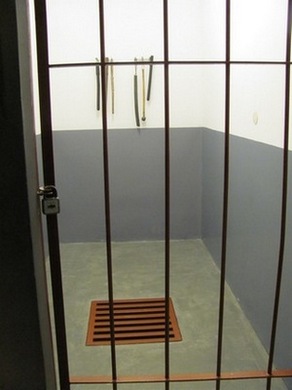 Communist leaders: Russians Lenin and Stalin, middle is Hungarian Matyas Rakosi. Interrogation room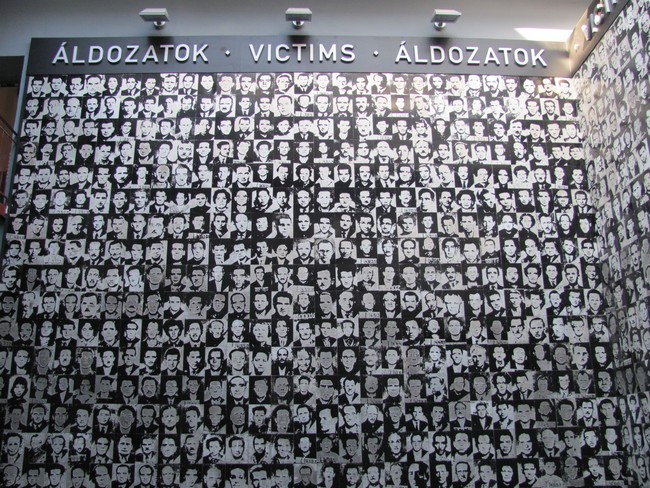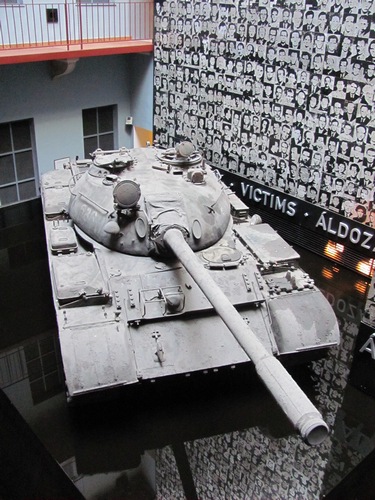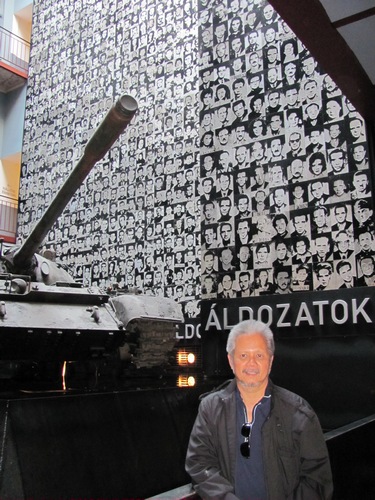 Photos of the victims of the fascist and communist dictatorial regimes in 20th century Hungary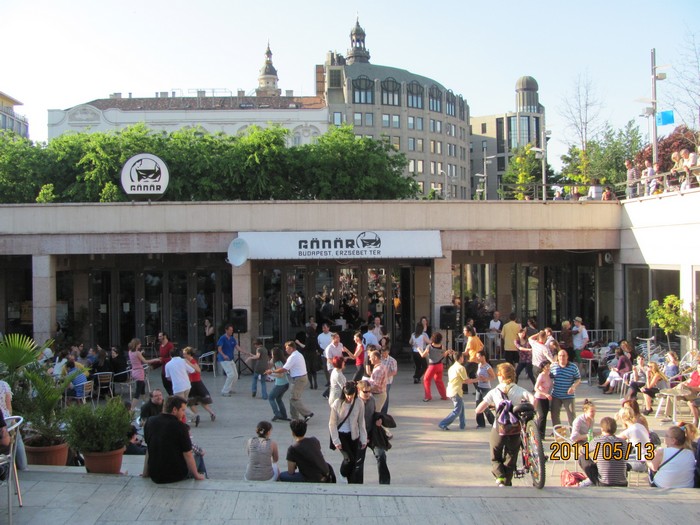 The crowd enjoyed dancing to the American Big Band tunes, swing and boogie. I had fun taking video clips.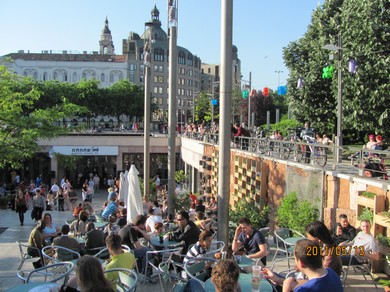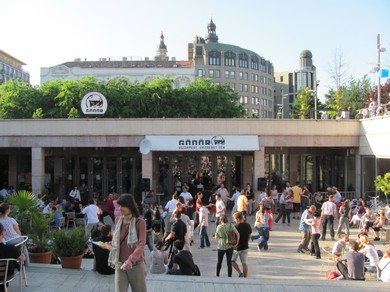 Erszebet Square full and alive with mostly young professionals and university students who talk, drink and socialize till past midnight.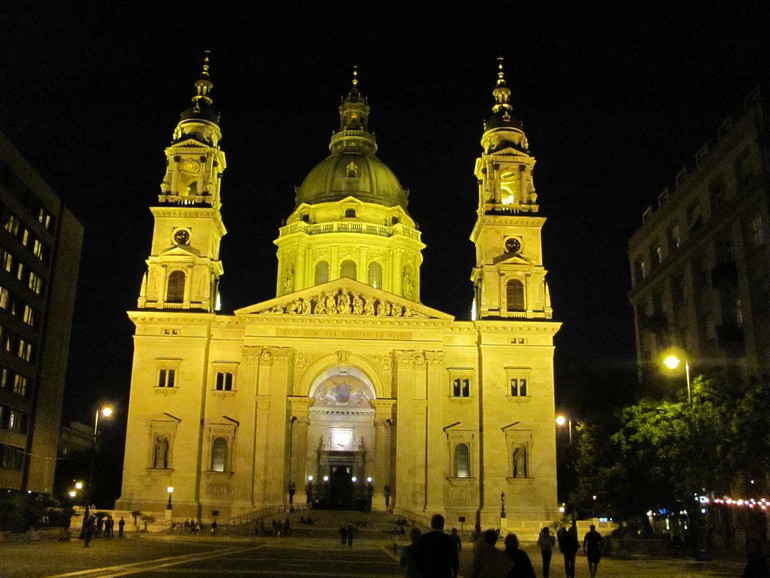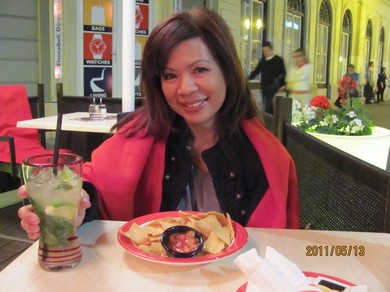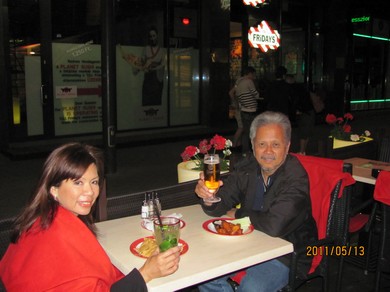 We ended each night in Budapest with a nightcap at TGIF, near St. Stephen's and Erszebet Square, 2 blocks from our hotel.
To be continued -- (Part 2 of 2)
[Vienna, Bratislava and Prague; plus glimpses of Hagibis sa Europe I, 1985]