Betan Golf in the Canadian Rockies
by Rolly Balingit
[Photos by Noli Nolasco]

Golf has been in the Beta Sigma culture as far back as the late 60's and early 70's. Eding Hizon, Rudolf De La Rosa, Enching Rodriguez, and Jun Villegas were regular foursome in UP Diliman Golf Course. Most of the time this foursome went to their 19th hole which is the Butterfly Restaurant just outside the campus gate right after the game. On a few occasions, I ran into this foursome with my American Exchange student dates. Of course, I always stopped and mingled with them for a few minutes only after I let my dates get into my car to wait for me. We all know the reason why (baka masulot ni Rudolf). Usually Rudolf spent the rest of the day at our tambayan.

Most of the brods including myself took up the game years after leaving the campus. In the 80's in Southern California, Rudolf was again instrumental in rallying the brods to take up the game. Ben Aguila, Mando Enrico, Carling Taguinod, Art Martin and I soon followed. Many more brods including Erwin Salud, Norman Bituin, Roy Antonio, George Abrina, Edsel Arceo, Ed Cornelia, Boy Jaurigue and others soon followed. Rudolf was the best player and the low single digit handicap golfer.

Golf became a regular monthly fellowship for Southern California brods. Diamond Bar Golf Course became the regular venue since Brod Norman had the connection to get us the desirable tee times. And almost always, we ended the day by going to lunch at the nearby Chinese restaurant to continue the fellowship. Whenever we have a brod visiting from other states or countries that play the game, we always make it a point to arrange a golf fellowship. Brods Julius Cada, Ed Baldoria, Gilbert Joven, Ross Fernando, Boyet Fernandez, Ricky Tolentino, Boy Morales, Ed Tadiar, Noli Nolasco ... are among our few visitors.

It was Noli' s first visit in 2001 that started the Canadian Golf Outing. Two years after his first golf outing with the brods in Southern California, Noli, who is serious and passionate about the game, has been inviting us every year to stay at his time share in B.C. and play the spectacular courses that the Canadian Rockies has to offer. Since Norman Bituin and I accepted the first invitation in 2003, every year has been pretty awesome. Roy Antonio joined us two years ago. and Art Martin finally joined us last week.

Brod Noli Nolasco's hospitality, generosity, and kindness are truly appreciated. To top it off, Noli is a top notch photographer and that is why we always have a nice memento of our golf trip. Rumor was that he took quite a few intriguing photos of beautiful women in UP Diliman Campus.
Noli and Tessie Nolasco, who live in Strathmore, Alberta, also have a time share at Lawrence Welks Resort in Escondido in San Diego County. During the winter months, usually in February, the couple become Canadian snowbirds to sun out in California with Noli playing golf with the SoCal brods.
The 2011 Canadian Golf Experience (Sep. 11-18): Rolly Balingit, Art Martin and host Noli Nolasco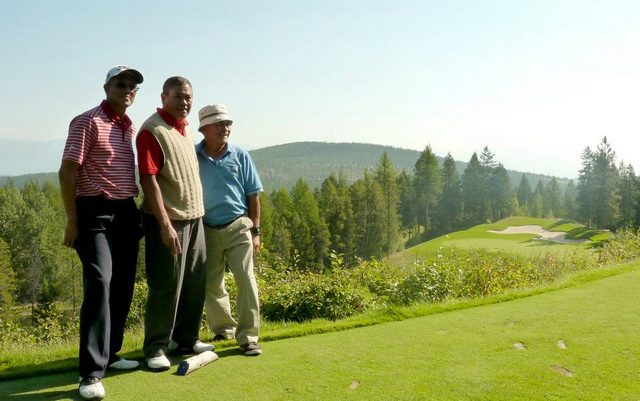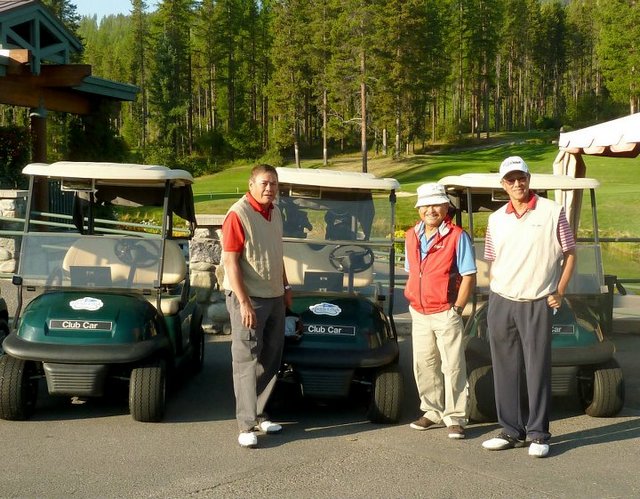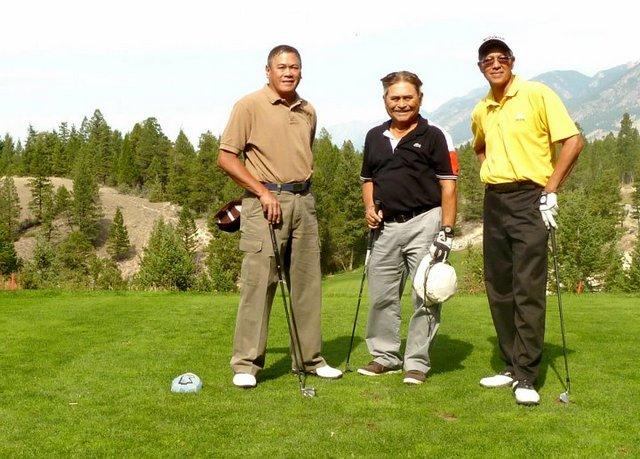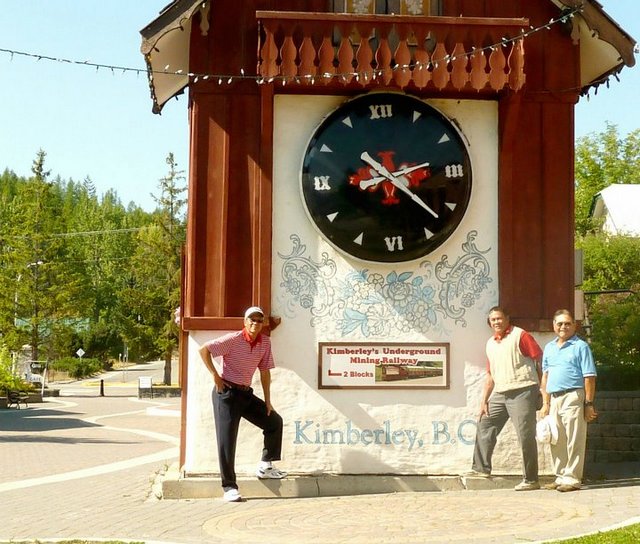 Over the Years: California and Canada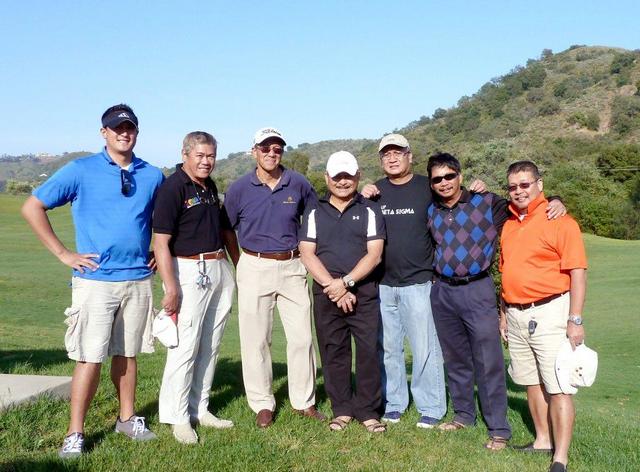 l-r: Derrick & Art Martin, Rolly Balingit, Noli Nolasco, Edsel Arceo, Roy Antonio & Rolly Gacias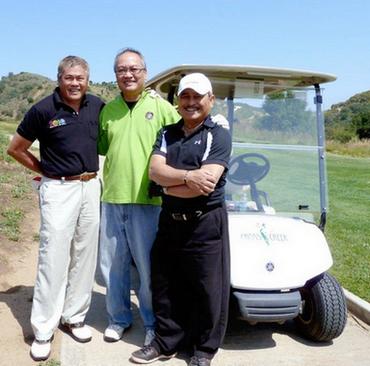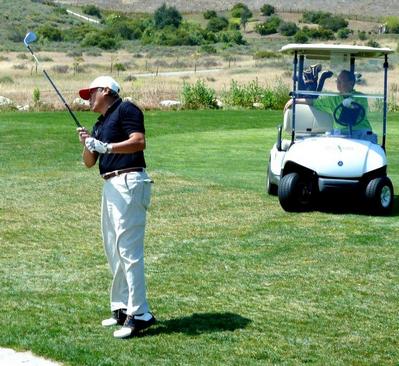 San Diego - May 2011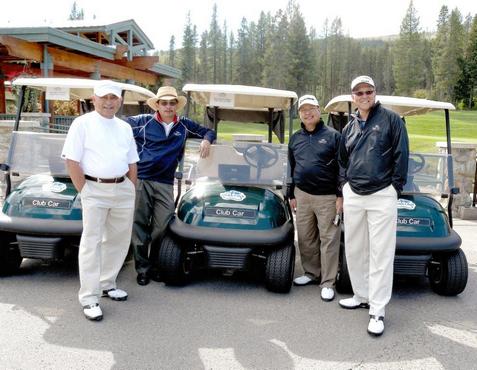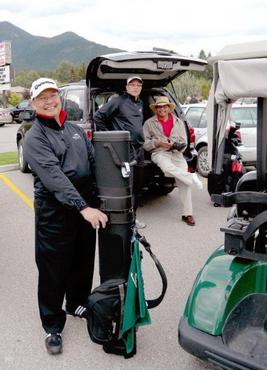 Canada - Sep. 2009: Noli, Roy Antonio, Noli's cousin Rolly Gacias & Rolly Balingit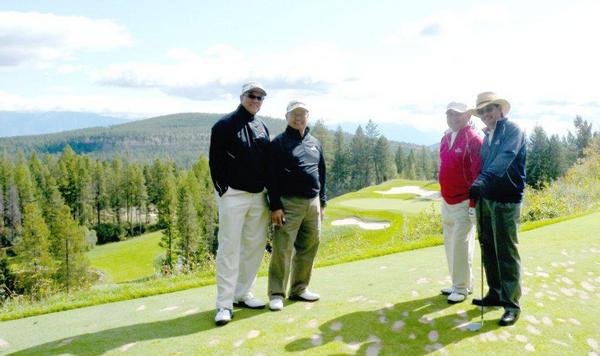 Trickle Creek GC signature hole #13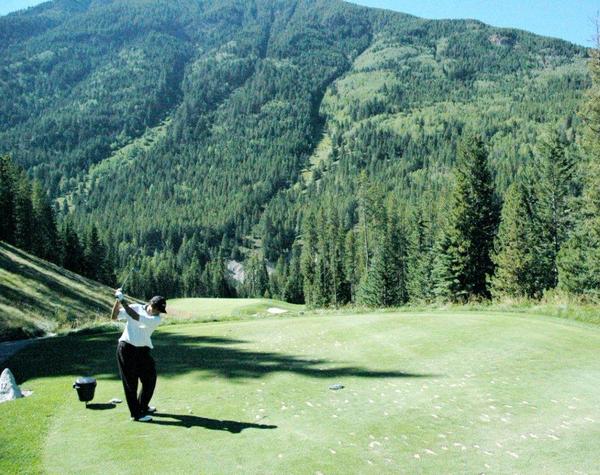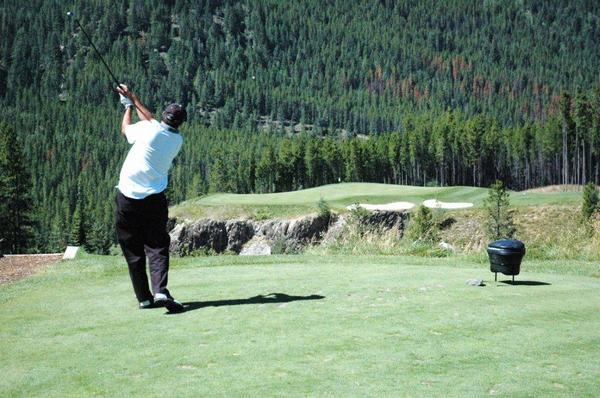 What a shot! Rolly Balingit makes it look easy at Greywolf GC.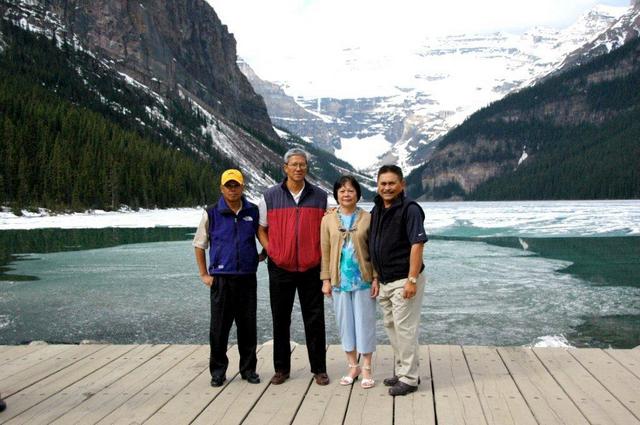 Truly, a stunning view, in 2006, with Noli's golf buddy Levie Mendioro, Rolly Balingit, Tessie & Noli Nolasco.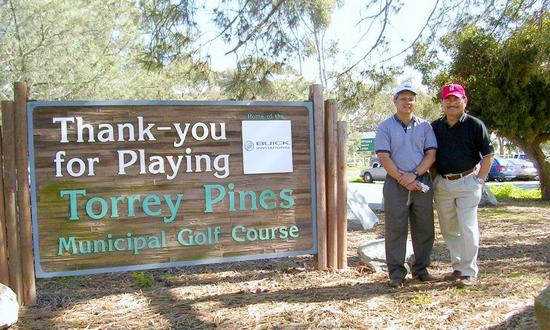 La Jolla, California - Feb 2005: Norm Bituin & Noli Nolasco.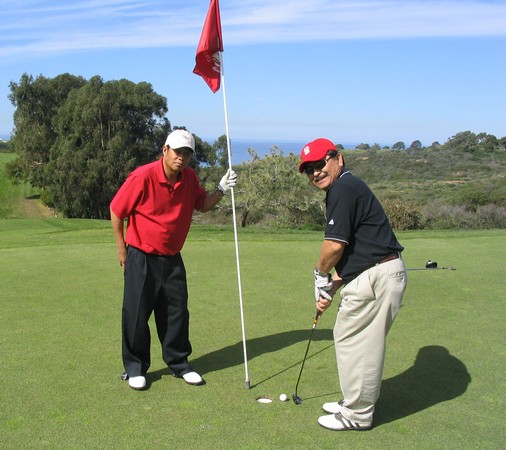 Noli makes a tap-in birdie at US Open majors venue Torrey Pines. Galing!!
[Photos by Norm Bituin]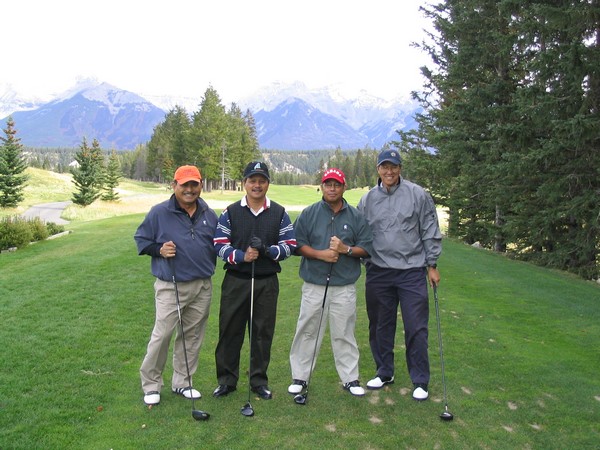 Banff GC, Alberta - Sep. 2003: Noli Nolasco, Norm Bituin, Levie Mendioro & Rolly Balingit.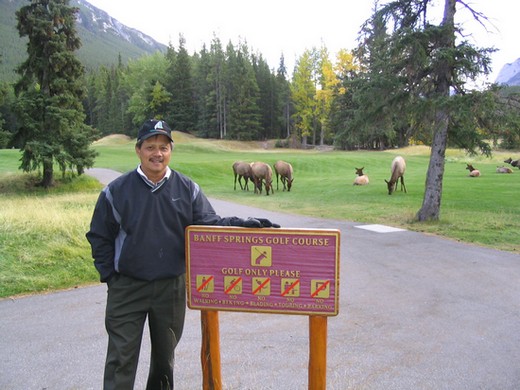 The resident elks in the golf course take their sweet time on the fairway.
[Caution: Don't stay too close. The bull elk is very protective of his "harem".]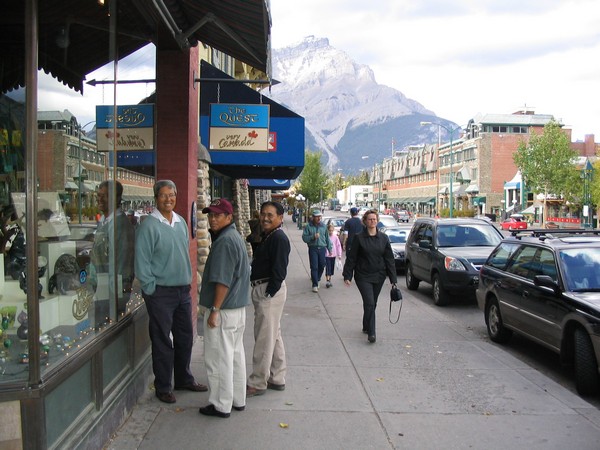 After the game, a leisurely stroll in town with the breathtaking Canadian Rockies as backdrop...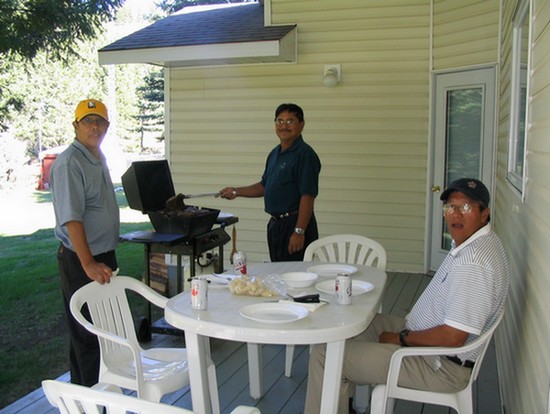 ... then time to relax, barbecue, drink beer and wine. Kuwentuhan na!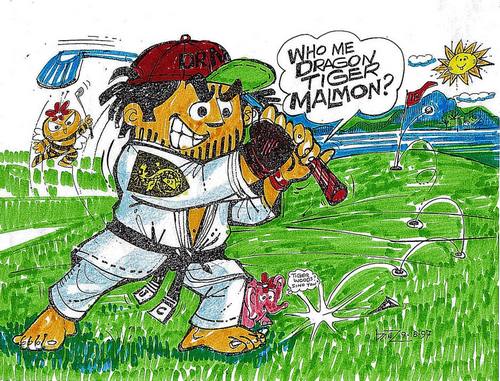 Thanks to the perennial Canadian host, Dr. Noli Nolasco, DVM
Flashback - Initiation memories:
Noli: "What's my name and batch?"
Norm: "Master Noli Mateos Sarmiento Gabuco Hina Nolasco,
Batch '62B Diamond Special, sir!"
~~~~~~~~~~~~~~~~~~~~~~~~~~~~~~~~~~~~~~~~~~~~~~~~~~~~~~~~~~~~~~~~
Words of thanks and brotherhood from Brod Noli...
From: nolinolasco@shaw.ca
To: nmbituin@msn.com
Subject: RE: "Betan Golf in the Canadian Rockies"
Date: Sun, 25 Sep 2011 07:03:50 -0600

Brod Norm,

It is hard to put into words my appreciation on what you (RollyB) have written about golf in the Rockies.

As a lone U.P. Betan playing golf in Alberta, the visit of brods in my side of the world is a very welcome treat.

This yearly anticipated golf visit of brods has removed the monotony of playing golf with the Filipino Seniors Golf Club (FSGC) members for the past 10 years (being the president designate for life) on our short Canadian golf season.

The camaraderie and musing of Betan life after each enjoyable golf day creates euphoria and more passable years in my Life.

These memories will drift into me the whole winter months until I am rejuvenated from a golf visit in CA.

How I wish I can do more to encourage more brods to join the fun golfing in the Canadian Rockies.

Every year is an open invitation from Te-c and me.

Thank you so much.
My best regards to Cherry and family.

Cheers!
Noli'62B
Noli Mateos Sarmiento Gabuco Hina Nolasco…your closest brother.