IN MEMORIAM

Brod Fernando Quililan
UP Los Baños Forestry '66
April 25, 1948 - January 15, 2021
[Photos from Rene de Rueda]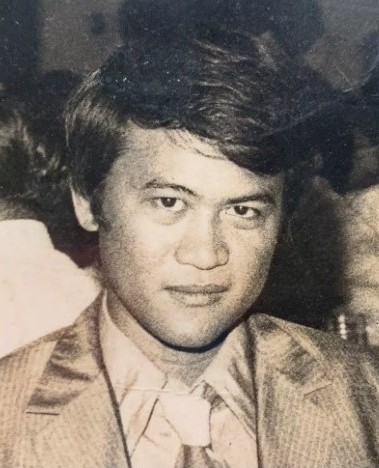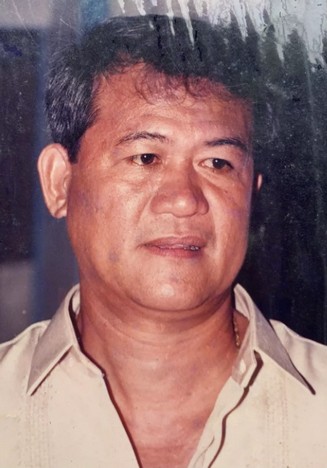 ====================================================================================================================================================================================================================================================
Remembering Brod Fernando "Nanding" Quililan
UPLB-Forestry Batch 1966, 73 years old
By: Rene A. de Rueda, UPLB- Foresty Batch '64
February 5, 2021
This is to officially report to our Brotherhood, through the UP Beta Sigma International, on the death of our dear Brod/Forester Nanding Quililan of Cagayan de Oro City, Mindanao, last January 15, 2021, due to "Liver Cirrhosis with Hepatoma". Brod Nanding Quililan was born in Ligao, Albay on April 25, 1948.

Brod Nanding graduated his Bachelor of Science in Forestry degree in 1968 at the then UP College of Forestry in Los Banos, Laguna. He was also a graduate of Bachelor of Laws in 1982 at the University of Nueva Caceres (UNC) College of Law in Naga City. He was a professional/registered Forester, licensed Real Estate Broker, and holder of the rank of Career Executive Service Office (CESO) V.

Brod Nanding is survived by his wife, Perla Camacho Quililan, from Virac, Catanduanes. They have six (6) children, of which four (4) are married, and have six beautiful (6) grandchildren

He started and finished his professional career purely in the government service. Right after his college graduation in 1968, Brod Nanding joined the government as a Forester of the then Bureau of Forestry (BF). And from there, he rose from the ranks, and in 1980 was appointed as the Assistant Regional Director of BF until the year 1988. When there was a government-wide reorganization brought about by the EDSA revolution in 1986, and after the creation of the new Department of Environment and Natural Resources (DENR) in 1987, Brod Nanding was appointed to the position of Provincial Environment and Natural Resources Office (PENRO) of DENR in the provinces of Agusan del Norte, Misamis Oriental and Misamis Occidental, all in the island of Mindanao, from the year 1988-2002. He was designated as the Regional Executive Director of DENR Region X, the Northern Mindanao Region, from 2004-2010. And, finally, he was designated as the Regional Director of the Environmental Management Bureau (EMB) of DENR Regions 5 (Bicol Region) and 7 (Central Visayas Region) from 2010-2013. He retired in 2013 from the government service, with a rank of Director III in the DENR.

After his retirement from the government service, he worked briefly as the Consultant of the Sta Clara International Corp. for Hydro-Power Plant Project, and as Chairperson for the Environmental Impact Assessment (EIA) Committee for various projects in DENR Regions 7 and 10.

Brod Nanding Quililan was a passionate manager/worker and as such had earned many awards related to his work, among which was the prestigious DENR Eagle Award given him in 1991 as an outstanding PENRO of DENR, and the Distinguished Alumnus in Government Service Award given by the UPLB College of Forestry and Natural Resources in 1992.

Some of his achievements are worth mentioning. Brod Nanding initiated the Eco-Tourism Project in Malasag Reforestation project in Cagayan de Oro (CDO) City, like the Nature Trail/Adventure Tourism. He spearheaded the Development/Conservation Plans/Programs through the Cagayan de Oro River Development Authority (CORDA) to preserve/conserve the Cagayan de Oro River Systems. He caused the filing of a criminal case against the then Governor Ecleo of Surigao del Norte for illegal logging.

As a fraternity Brother, Brod Nanding was caring and supportive to the professional career of aspiring Brods. He encouraged the younger Brods to further study in preparation for the challenges of their careers in the future. He was considered the "Big Brother" by some of our Brods whom he had this kind of relationship. Brods Mon Paje and Obet Oliva were recipients of his kindness. I personally experienced his being a generous and hospitable Brother whenever I had the chance of visiting him in Cagayan de Oro City.

Brod Nanding Quililan will be missed but not forgotten. Rest in peace, my dear Brother, in the loving arms of our Lord Jesus!

Note: Above info were mainly based on the documents provided by the family of Brod Nanding Q./rdr

====================================================================================================================================================================================================================================================
A tribute to Brod Fernando "Nanding" Quililan
by Brod Johnny Regadio
January 23, 2021
Brod Fernando "Nanding" Quililan , Batch '66, was my batchmate in the UP College of Forestry Beta Sigma Fraternity. During our amuyong days he was our leader, being the most senior among us. He commanded a great respect among his peers for his being responsible, decisive, fair, and having great empathy, especially for those who were in need. He had great organizational and motivational skills. He was jolly and very sarcastic in a very positive way. He was very disciplined but very versatile that he could play well with ease if there were conflicts and changes.
When I occasionally met him in the field, he was very welcoming and accommodating. I felt very much at home with him. The last time I visited him in Ligao, Albay two years ago he was requesting me to stay for a week and bond with him since he was alone managing his farms, but my visit was limited then. I promised him that I would be back for a longer vacation. Unfortunately, a year later I was told that he had a mild stroke but I was able to talk to him for a few minutes upon hearing the news. The COVID pandemic prevented me to visit him a second time. Playing cards and drinking were just among his hobbies.
I know that Brod Nanding left some memorable legacy among our Brods and other people that he encountered in his lifetime. We will cherish these memories and serve as inspiration in our remaining journey here on earth.
Farewell to a great Betan. So long brother...may your soul rest in the eternal glory of God.
====================================================================================================================================================================================================================================================
FERNANDO P. QUILILAN: TAUGHT ME WHAT BROTHERHOOD MEANS
By Brod Obet Oliva
January 18, 2021

I first met brod Fernando P. Quililan in 1979 when I was 21 years old and employed at the then Bureau of Forest Development. Wanting to be a lawyer, I enrolled at the UST College of Law night classes. When he learned that I was a Beta Sigman and studying law, he was very pleased. He told me that he too was studying at the University of Nueva Caceres College of Law and urged to me transfer to BFD Naga City where he was then Assistant Regional Director. He said that law study would be easier if work would be in the province as I would have more time to study. He promised to help me in my work and study.

When I reported to work at BFD Region 5 in 1980, he helped me obtain a Supervisory Position and helped me financially in my studies. This was the start of a strong and long friendship between us and also our families. We would discuss endlessly our law subjects. When he sensed that I did not have enough money for my subsistence and studies, he would ask me to go to the field so I could have extra travelling allowance. He was not just a brother to me, he was also like a father. He would advise me to take my work and studies seriously as he said that my attitude in my work would propel me to higher positions.

Unfortunately, I had to leave Region 5 in 1981 because I got sick and also got married. He advised me to continue with my studies in Manila, where I was so overwhelmed because he was still giving me allowance for my studies. He told me that his wallet was also my wallet and that the most important thing was that we are both Beta Sigmans and should therefore support each other. He told me to finish my law degree.

Brod Nanding's magnanimity continued through the years until his very death. He was so proud of me and what I have achieved. Even when I could already afford life's luxuries, he would still go out of his way to give me a little money or comfort. He said that brothers are supposed to be helping each other all throughout.

Brod Nanding would visit me in my offices in Manila and in my house in Los Baños, Laguna and I would visit him as well many times in his different assignments and in his houses in Cagayan de Oro and Legazpi City.

Last September 2020, I received a call from him. He said that he was saying goodbye as he felt his time has come. I was crying when we were talking as I was really so touched of how much he cared for me. I told him to be strong and that I would be visiting him in Cagayan de Oro. Unfortunately, because of the pandemic, I was not able to see him.

Brod Nanding, thank you for everything. You have taught me what brotherhood really means. Through thick and thin. Thank you brod, I love you.
====================================================================================================================================================================================================================================================