===============================================================================================================================================================================================================
Dad
by Raquel Aguilar

Good morning. Thank you all for joining us today in honor of my dad's life. Our family greatly appreciates the outpouring of kindness, love and support that has been extended to us. The wonderful memories of my dad that have been shared has also helped to sustain us and has brought us relief in the form of smiles and laughter despite our grief.

I'm not typically one to jump at the opportunity to speak publicly in front of a large group, but I will do my best today by channeling my inner 'Frank.' My dad, Frankmerrywell Jolly Ayson Aguilar, although most people simply called him "Ike", was a true original. I guess with a name like that, he didn't really have any other choice.

Dad knew how to command a room and possessed an undeniable presence. His self-confidence was unfaltering and he was a force to be reckoned with. He was intellectual, articulate and eloquent. He was known for his persistent storytelling, stories that often sprouted off into a million random tangents and sub-stories until you realized hours had passed and he STILL hadn't gotten to the point. Those who know me would probably agree that I have a similar style when it comes to my own storytelling. I admit proudly that it's a trait passed down from my dad. Context and details mattered immensely to him and they matter even more so now that he is gone and I am left here to provide you with a glimpse of who he was.

Even though I probably lost a lot of sleep trying to listen to and follow his stories, I'm grateful for those moments because I realize that it was my dad's way of spending time with his children, guiding us and sharing a part of himself with us, often times the most vulnerable parts. I will miss hearing his voice and benefiting from the life lessons and wisdom behind his stories. There was always something to be learned from my dad.

Dad was likely one of the most unconventional, eccentric people to have ever walked this earth. My older cousin said it best a few days after he passed away―he was extraordinary and we will never meet anyone like him again. For example, he had an uncanny desire to bring the great outdoors indoors, but not necessarily in the form of house plants or natural artwork. At one point, he had quite the collection of windchimes in varying sizes hanging from the ceiling between the dining room and family room at our home in San Jose. On a breezy day, it could get pretty noisy indoors.

Additionally, being a big kid at heart, my dad would encourage my brothers to ride their skateboards and Razor scooters throughout the inside of our house. And it wasn't an unusual sight to spot eight-year-old me clumsily rollerblading down the hallway, bumping into walls and using the door frames to brace myself. I remember Dad being so excited about our first family camping trip to Redding to be held at one of his college fraternity brother's properties. In preparation, he wanted to practice pitching the tent he had just bought along with a bunch of other camping equipment, each item the exact same shade of pine green because in dad's words, everything had to be "uniform." He cleared space in the center of our family room and, once the tent was pitched, we turned off all the lights so that there was only the glow of the lantern. My mom and I laid inside the tent and looking up, we pretended that the ceiling was a night sky full of stars.

At his best, my dad was fun-loving, creative, humorous, curious and imaginative and he tried to cultivate those same qualities in us, whether it was in bringing the outdoors indoors in his own unique way, putting up whiteboards with markers around the house so we could brainstorm and have drawing contests, buying the coolest games and puzzles, and making sure we had unlimited access to art supplies, books, encyclopedias, globes, maps, dictionaries and the morning newspaper. It is due to his influence and example that I love to read anything and everything, that I possess a knowledge base of random information (show me a picture of any dog and I can likely tell you what breed it is), that I take pride in my penmanship, am painfully self-aware as he always encouraged reflection, can deliver clever and stinging comebacks although I am no match for him, and can embrace the absurd and laugh freely at myself. I am grateful for the characteristics that my dad passed down to me.

Dad was open and gregarious, caring and thoughtful. As children, he never undermined our intelligence or ability to comprehend things that most adults may have thought were beyond our capacity to grasp or even inappropriate. I remember my older cousin and I riding in the back of my dad's Bronco on the way to Santa Cruz, our 5-year old and 8-year selves giggling because the radio host on the station my dad was listening to was talking about blow-up bras for women. To our surprise, my dad paused to explain to us what blow-up bras were and went on to detail the advantages for women who chose to wear them. He wanted to promote our curiosity, increase our awareness and understanding and expose us to everything.

Due to his personal struggles, my dad was elusive at times. He couldn't always be there for us even when he wanted to be. But no matter how much time had passed since we last saw each other, he would still call at the most random times or appear by surprise, in his own way reminding us that he was thinking of us and cared for us. I remember him driving from Fresno to the Bay Area in Spring 2005, when I was in college to drop off a container of Miki Bihon chow mein from the New Orient Express in Sunnyvale to my dorm. It was one of my family's favorites for take-out when we lived in San Jose, with extra chili oil, which was my dad's request any time he ordered chow mein from a restaurant and of course, no bamboo shoots. I happened to be on my way to attend a toga party with friends and was feeling extremely awkward having to meet my dad outside, slightly buzzed dressed in a pinned up white bedsheet. I was bracing myself for one of his sarcastic jokes about my appearance, but he instead acted as if it was completely normal and I had come outside in a t-shirt and a pair of sweat pants. He could be refreshingly unpredictable.

Aside from chow mein with no bamboo shoots and extra chili oil (you guys should all try it that way some time), Dad loved bon bon fruit candies, especially ones that were imported, fish and chips, carnitas tacos, barbeque, Little Caesars Hot-N-Ready pizzas, just to name a few, and of course my mom's cooking including any type of meat dish with rice. He ALWAYS ordered a venti hot Café Americano with 8-9 raw sugars, no room for cream, in a double cup with a splash stick from Starbucks. He was extremely particular and knew what he liked.

This was also reflected in his style. Growing up, I remember him having quite the collection of Vans and Converse sneakers and the most denim jeans and long sleeve button up shirts I'd ever seen outside of a department store. He always wore a watch and was typically seen out in one of many pairs of Ray-Ban sunglasses. He loved wearing shirts in bright, contemporary colors. My younger cousin told me after he passed away that he will always remember my dad as having the best style.

In addition to being stylishly dressed, Dad also knew how to roll up in style in a car that was usually eye-catching. I would know my dad was pulling up into the driveway before I even saw him, because from inside the house, I could hear his car speakers blasting music. He listened to a wide-range of artists and genres, whether it be The Beatles, Eagles, Tupac, Eminem, The Notorious B.I.G. or a collection of Christmas songs. I can remember waking up on a summer morning when I was nine to him blasting TLC's CrazySexyCool album on his stereo system set up in our family room. The sounds of Creep and Waterfalls resonated throughout our house that day. He was definitely a lot cooler than I could ever hope to be.

During his last trip from Fresno to the Bay Area in early March, my Dad was in too much pain to get out of the car to pump his gas once he arrived in San Jose. My boyfriend and I followed him to the gas station and helped him fill up his tank. On his way back from Eureka the following night, he called me to ask if we could help pump his gas a second time before he headed back to Fresno. He seemed more giddy than when we had seen him the night before. I offered him a bag of gummi bears and without hesitation, he took it and said, "Oh, yes. I like that." My dad had the biggest sweet tooth of anyone I knew. Despite his condition, as I reminded him to make sure to go to his doctor's appointment later that week and promised to try to come home to visit him soon, he thanked us then turned to Chris and said, "Hey, take care of my daughter, alright?" I didn't realize this would be my dad's final goodbye to me. True to his character, it was delivered in his own unique way, during what would be the last of the weekend joyrides he so loved to take.

Life can be complicated and relationships are complex, there are sometimes miscommunications or misunderstandings as we attempt to find the right words or the best approach to let one another know we care. Amid the struggles of this often crazy life, it is our love for one another when all else has dissipated which remains steadfast and constant. My mom, siblings and I have hoped for our dad, prayed for our dad, and loved our dad always until the very end. My dad is a part of us and we are a part of him. Although we will miss his earthly presence, I believe that his spiritual presence will continue to guide us. I think of my dad even now and can't help but laugh out loud. He was such a character. He will live on in each of us―through Ronrico, who is a natural leader and ever loyal to our family; through Rudolf who one, is his spitting image and two, shares my dad's often times inappropriate sense of humor plus his strong desire to care for his family; through Ray who shares his enjoyment of the finer things in life plus has the same haircut my dad had when he idolized The Beatles; through Rodbert who possesses my dad's smile and depth; through Rossana who is strong, dependable and full of goodness; through Lea who has his wicked sense of humor, organizational skills and artistic talents; through Franz who is pensive, thoughtful and has a lot of wisdom to impart despite his young age; through Ace who is too smart and too sassy for his own good; and through my Dad's only grandchild, Tristen, who is conscientious, perceptive and funny as hell. Be at peace, Dad. Thank you for all you have given us.
===============================================================================================================================================================================================================
My Eulogy to Dad
by Franz Aguilar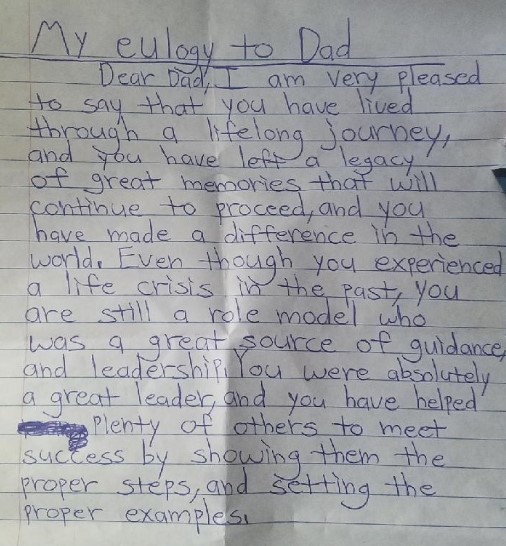 ===============================================================================================================================================================================================================
Eulogy
by Ike Araneta
Good evening. My name is Ike Araneta, Frank's fraternity brother, UP Beta Sigma batch '71. First of all allow me to extend my sincere condolences to Cynthia, Ronrico, Raquel, Rudolph, Raymond, Rodbert, Rossana, Leah, Franz, and Ace. And to Frank's mom, Mrs. Aguilar, and the rest of the Aguilar clan.

I've known Frank for almost four decades. Although we never got to know each other during our college days, as we were initiated in different campuses, we connected in Silicon Valley in the early '80's. At that time he was still single and working for Data General and I was working at Advance Micro Devices.

Frank was on the fast track in terms of establishing a foothold in Silicon Valley working as a semiconductor chip designer. He invested in a skill set that would allow him to reap good financial rewards and live comfortably. He was a smart guy that gave a lot of practical advice especially to those brods that had just arrived and who were also in the process of establishing themselves in the US. Frank was there when UP North, our alumni chapter, was in its formative stages. He was the first Vice Grand Princep of the chapter then headed by Brod Louie Cabaluna, DVM. He was an active and supportive brod that enjoyed our gatherings and camaraderie.

It was also around this time that he was introduced by my wife to his then future wife, Cynthia. They hit it off and before we could blink an eye they started a family of their own. We lived ten minutes away from each other then in San Jose and we would visit each other every so often and that's how I got to know the rest of Frank's family, his parents and siblings. They got to know me and my young family, as well.

While Frank was known to work hard and play hard, he knew what his boundaries were at the time. He was an attentive father and husband and from what I had observed then, he was quite traditional in many ways. He took his family to church regularly. He ascribed, arguably, to the patriarchal structure of the family. He inculcated tidiness in the home. He also enjoyed taking his family out on joyrides and trips to the beach in his big white Bronco whose license plate read "FLY PONY". The Bronco was one of his collection of cars back then. He took good care of his material possessions whether they be his cars or his expensive stereo system. He was also into art deco and was the kind of guy that would read "Metropolitan Home" and was fascinated by the works of Andy Warhol.

When I told my eldest daughter about Frank's passing she said, "Ah yes, Frank was the hipster of the eighties." And indeed he was. Wearing his studded black leather biker jacket, with a black t-shirt, jeans, and Vans sneakers. He drove a pearl white 911 Porsche Turbo too. Vrooom! I think that's what his license plate said.

On the other hand, Frank was generous. He would go out of his way to pick up an out-of-town brod. He would open his home to brods who needed a place to crash for a while until they could get their own place. He helped place brods in jobs either in Silicon Valley or his family's home care business. He did the same for his cousins and others.

Frank had an irreverent sense of humor and almost always enjoyed sprinkling a little bit of satire in his banter. And yes that wide grin, always made one wonder what sort of sinister humor was running through his mind. And man, was he a story teller! I bet there's quite a handful of you here tonight that can attest to that. I am reminded of the many occasions where I would listen to him, actively at first, until the wee hours of the morning wherein he would be feeding me with tid bits of information without tying them to the characters or event that he set out to tell me about. But then he would meticulously provide one with a history of each of the characters, in flashback fashion, in an effort to stitch together the rest of the story. And that took another four hours! It was akin to a Fyodor Dostoevsky novel, where the story teller himself was having an "inner dialogue". And yes, all this was delivered with gestures that were meant to mimic the dialogue that was going on inside his head.

Believe it or not, much as I have to admit that there was only so much that I can absorb in one sitting, but this is one of the things I missed most about him. All his stories had an ending. It just took a little time to get there. You just needed to get past those streams of consciousness. That was signature Frank. He would entertain you the whole evening.

We haven't seen each other much these past fifteen or so years, but I did miss him. Frank was his own man and had a strong personality. Like most if not all of the brods here with me tonight, we accepted Frank for being Frank. He drifted away from us, but has never left us.

I choose to remember Frank as the Frank I knew back in the early eighties and nineties. A good husband and provider for his family, a respectful son, and a kind and generous man, a loyal brod.

Fate has brought me here tonight to bid farewell to a good friend. He has come to the end of his own story, the end of his life's journey.
To his children I say go on with your own journey now. Take solace in the fact that he loved each and everyone of you in his own way. Love and take care of your mom.
To Cynthia, I have nothing but the highest regard and admiration for your patience, courage and steadfastness. You too must continue on your own journey. Tanya and I are here for you and we love you.

To Mrs. Aguilar, on behalf of Frank, marami pong salamat.
===============================================================================================================================================================================================================
Messages
For those who have not heard the news, Brod Frank lost his battle with prostate cancer and passed away at 2:00 am this past Wednesday, March 27, 2019. Frank leaves behind his wife Cynthia, his nine children and one grandchild. Brod Frank was the first brod, that I am aware of, that started his career in Silicon Valley as an integrated circuit chip designer. He worked for notable companies during the '80's like Data General, Fairchild, and National Semiconductor. He lived life in the fast lane and at times even held two jobs. He worked hard and he played hard. He was also a generous brod, who was always willing to lend a helping hand. He had a big heart.

I still have and treasure the Swiss knife that he had engraved for me as a birthday gift in 1988.

Goodbye Frank. It pains me to see you go but it's time for you to rest...after all that you've been through.

Godspeed, brod!
Ike '71
=====================================

Our sincerest condolences to Brod Frank's family.

Tony Frio, UPLB '60
=================================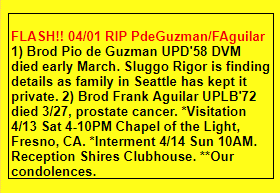 UPBSI-International website
================================
I join the fraternity in sending my heartfelt condolence to the family of Brod Frank Merriwell Aguilar in this their hour of bereavement .May the soul of Brod Frank Rest in Peace. Amen.

Mon Ventura
================================
I will say a prayer for Brod Frank.
Jay Jay Jayme
================================
May God bless and comfort the family of Brod Frank during this difficult period.
My sincere condolences and prayers.

May his soul rest in eternal peace.

Aman'71
================================
To Brod Frank Aguilar, May your body & soul Rest in Peace!!! Our sincere condolences !!!
Vic M Tupaz & the rest of the BOTs of the UPBSFI Central
=================================
Thanks for sharing the schedule of services for Brod Frank Merriwell Aguilar, Brod Ike.
May his soul rest in peace. No cheers.

Bobby '68A
================================
Farewell Brod Frank! Rest In Peace!

Sonny Pagador
================================
===============================================================================================================================================================================================================
Pictures
[Photos from Raquel Aguilar]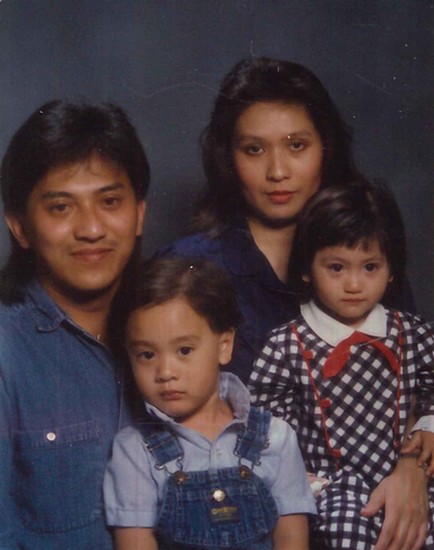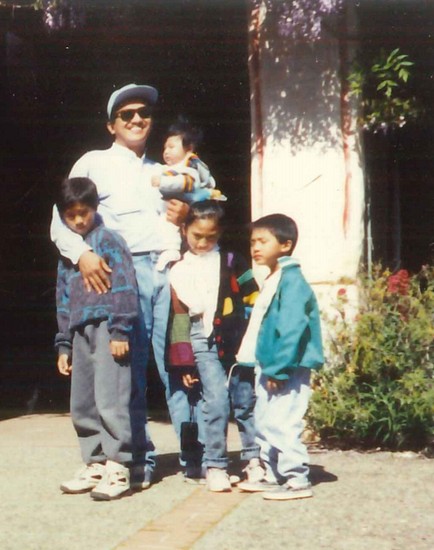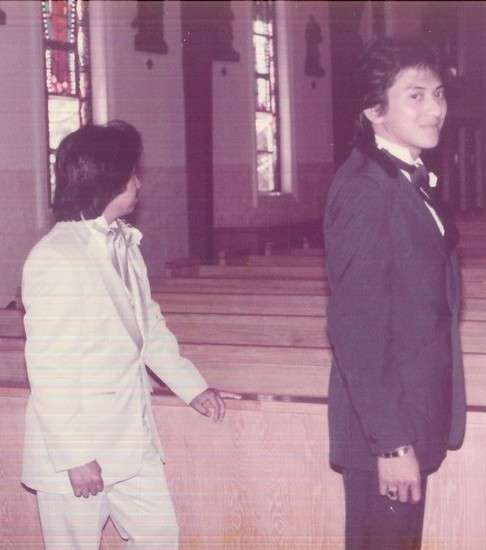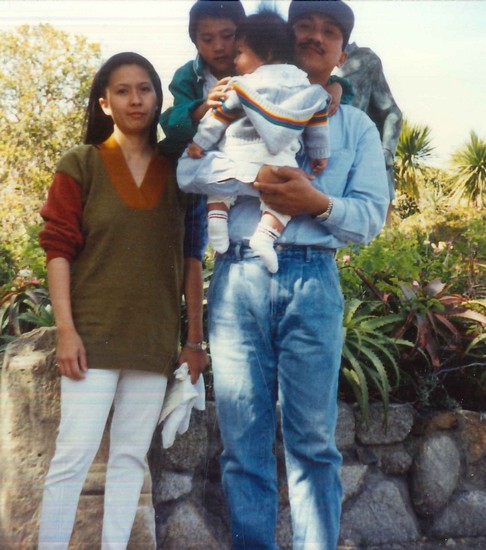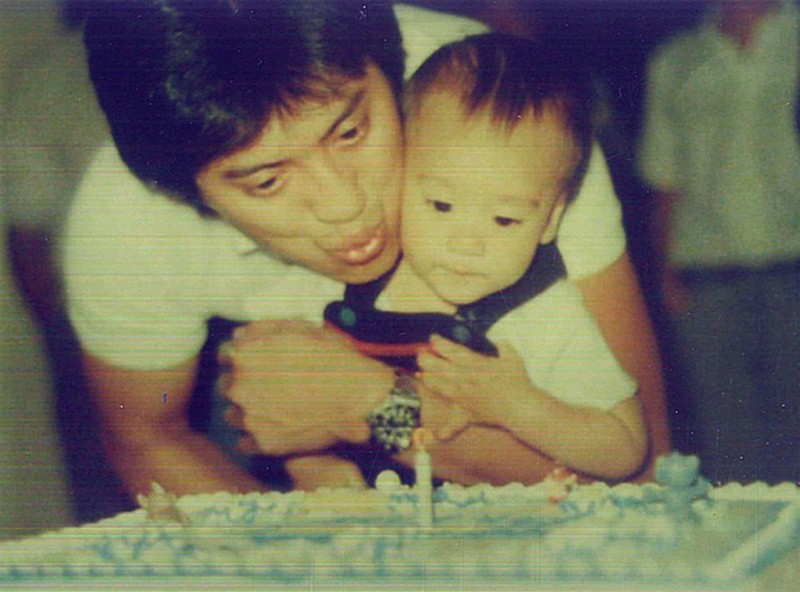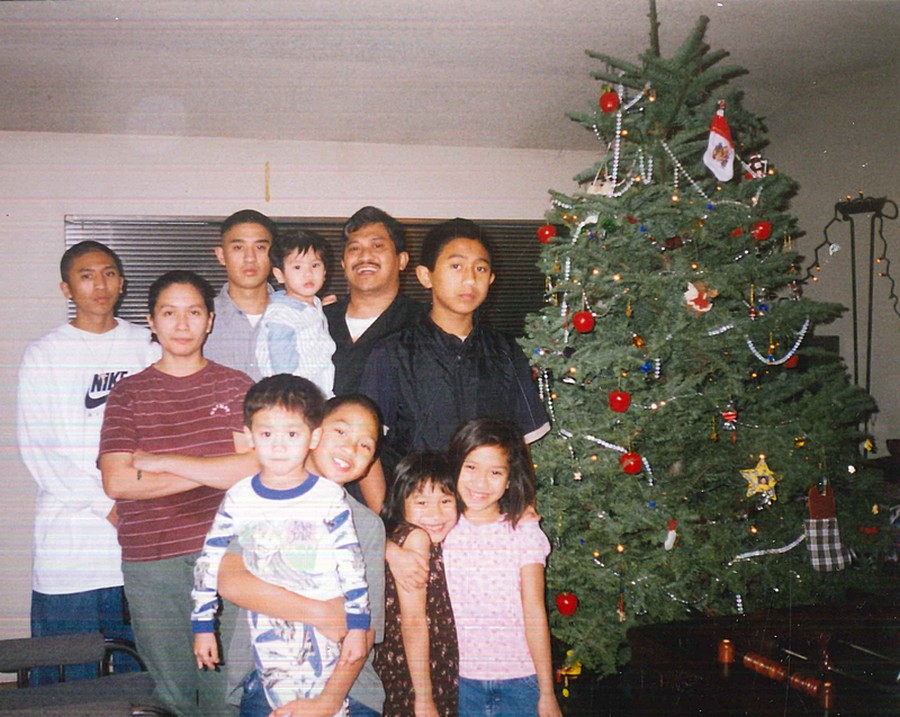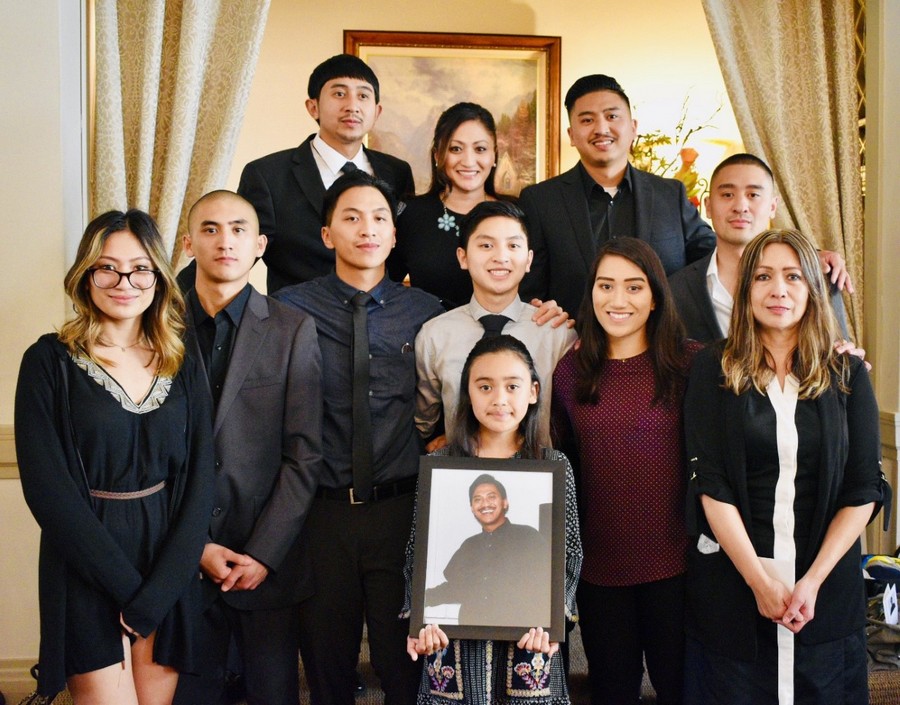 [Souvenir Program from Bong Beredo]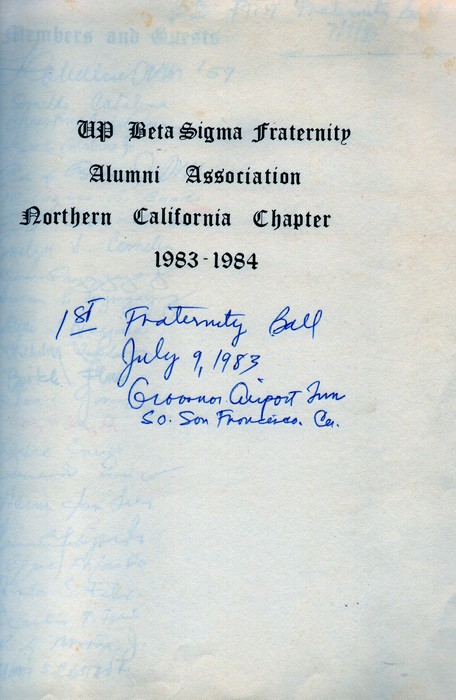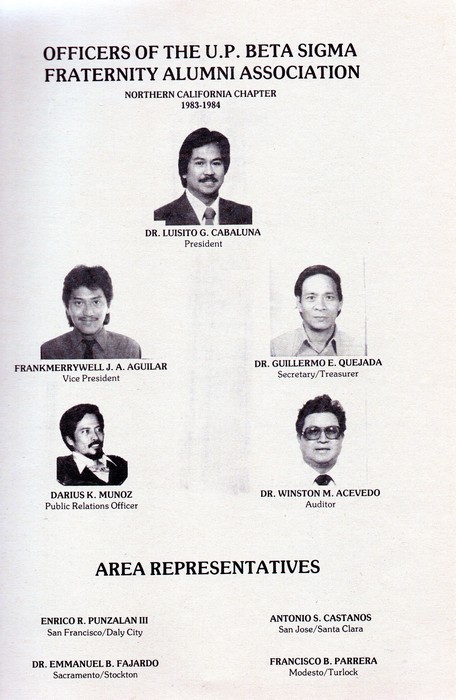 [Photos from Ike Araneta]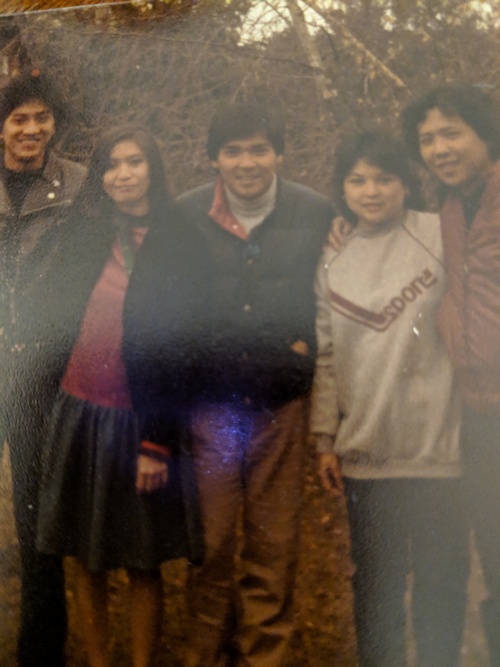 Frank & Cynthia Aguilar, Walter Navarro, Tanya & Ike Araneta - circa early 80's.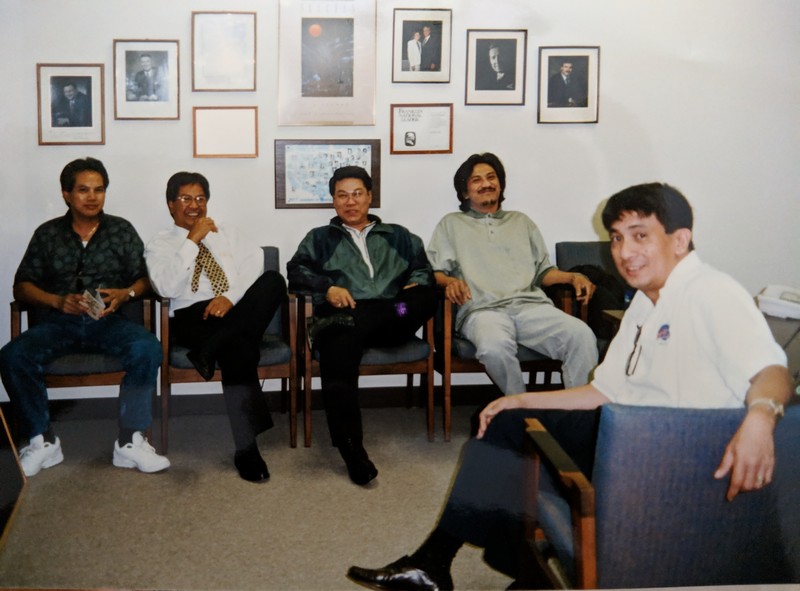 Rick Velasco, Louie Cabaluna, Eric Punzalan, Frank Aguilar, Gabby Moraleda - circa 90's.
[Photos from Eric Punzalan]
Bay Area, circa 80's-90's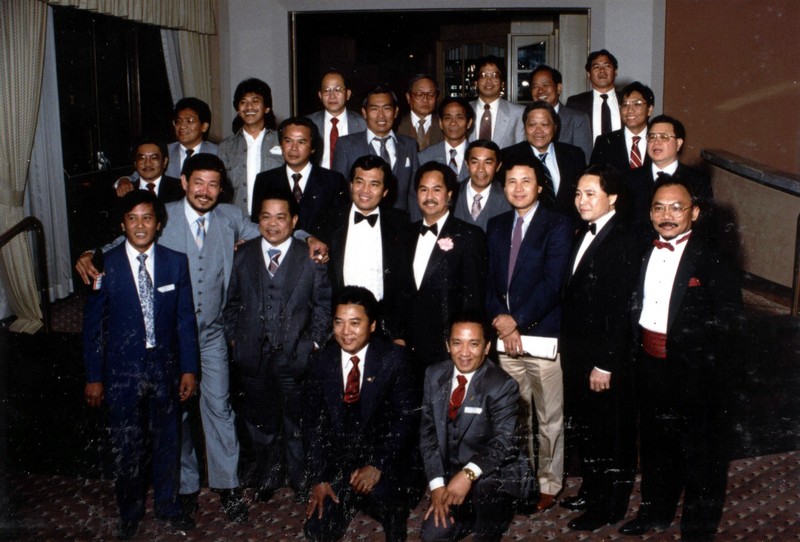 Frank - back row, 2nd left.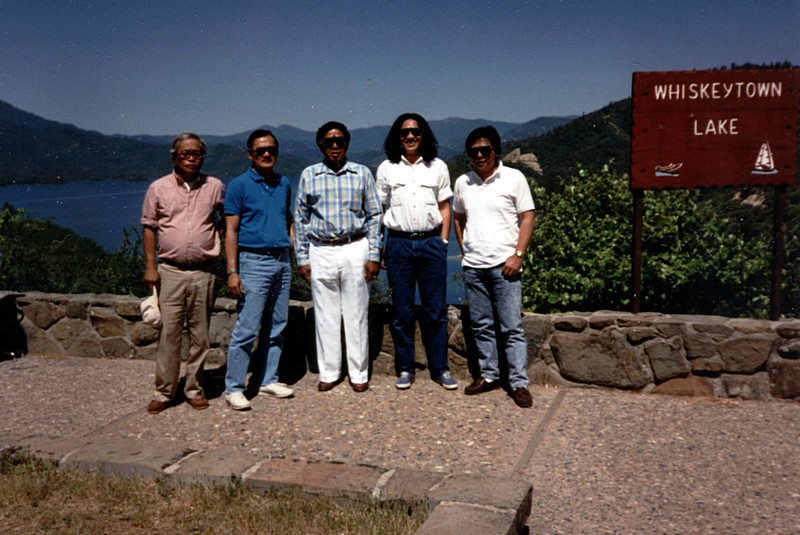 Frank - 2nd right.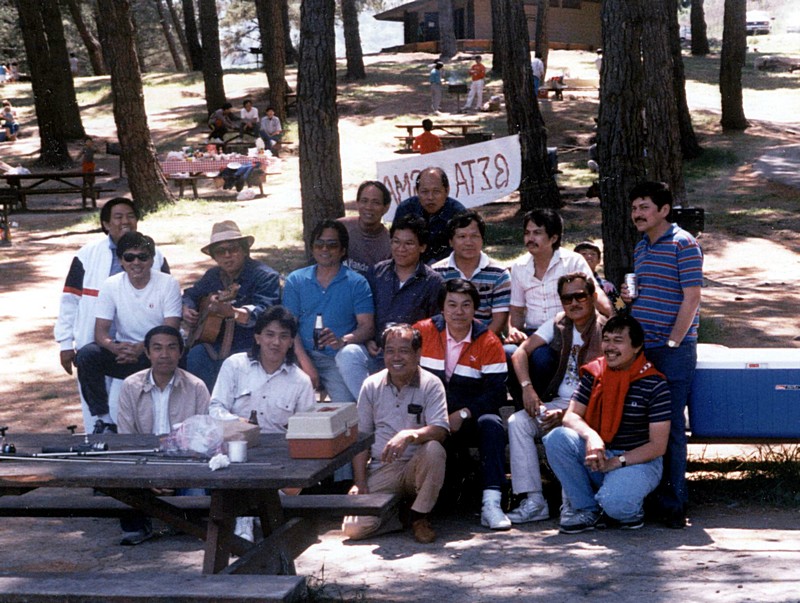 Frank - front, 2nd left.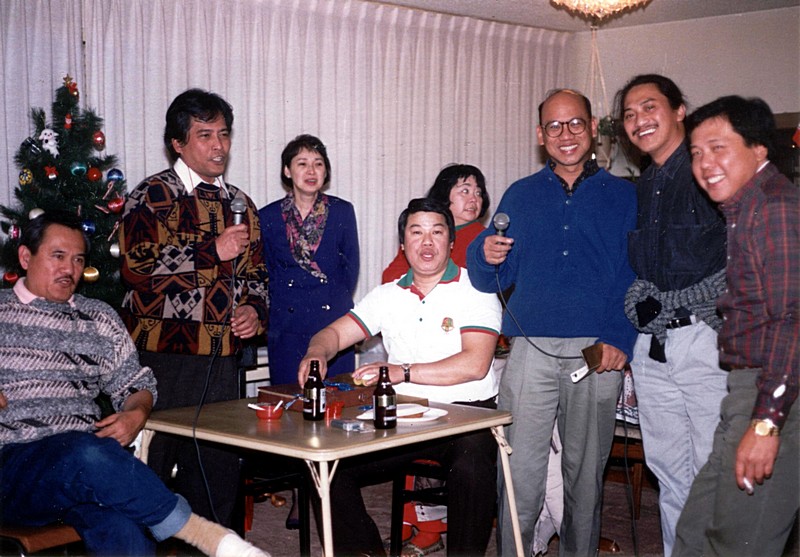 Frank - 2nd right.
===============================================================================================================================================================================================================