===============================================================================================================================================================================================================
Wake and Betan Rites
San Pablo, Isabela
February 6, 2019
[Photos from Joel Paredes]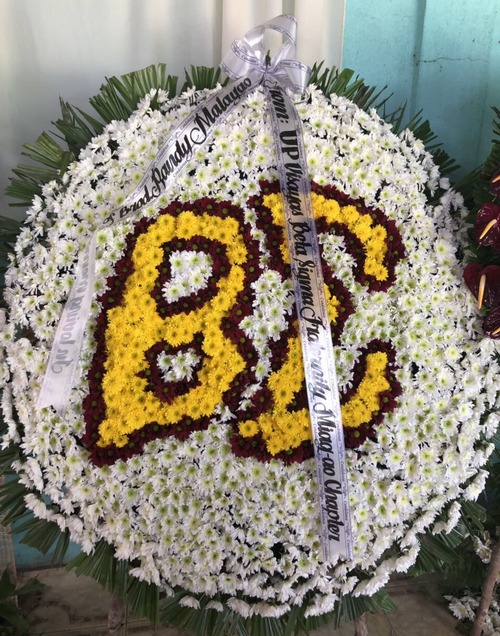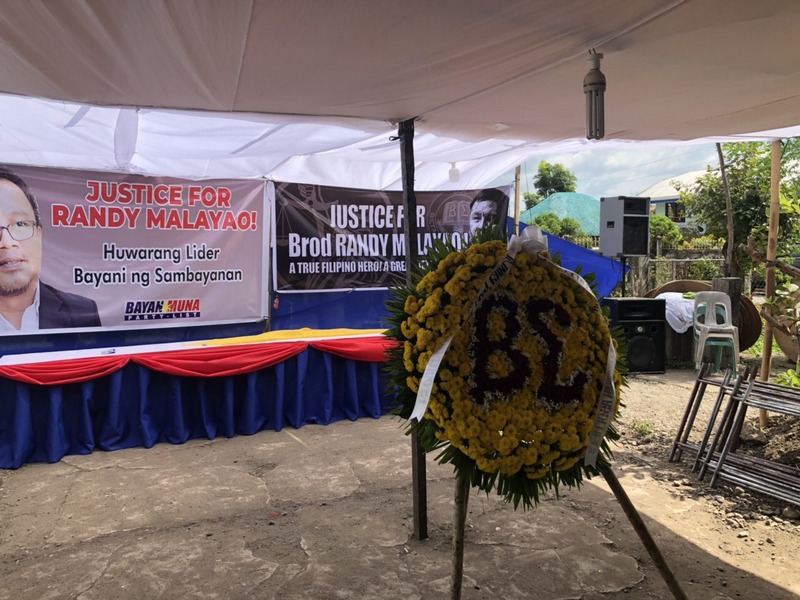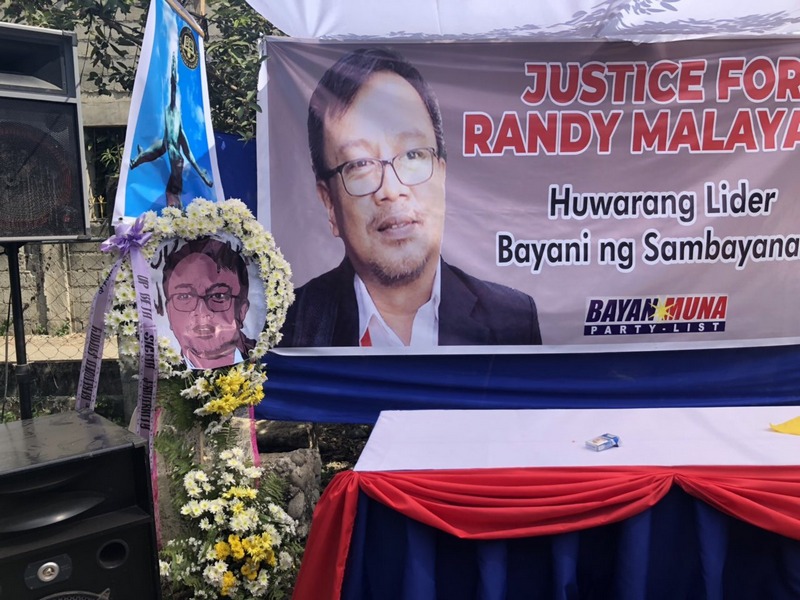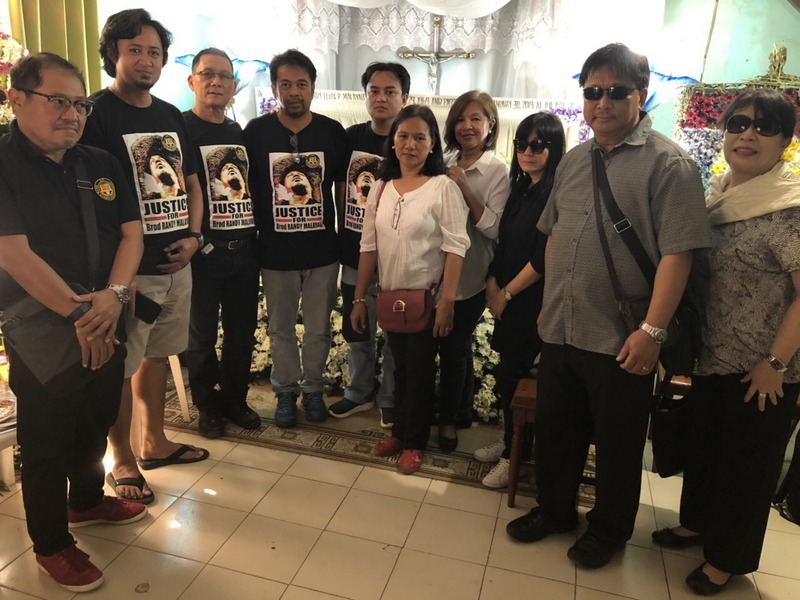 Randy's sisters (in white) - Gloria and Perla.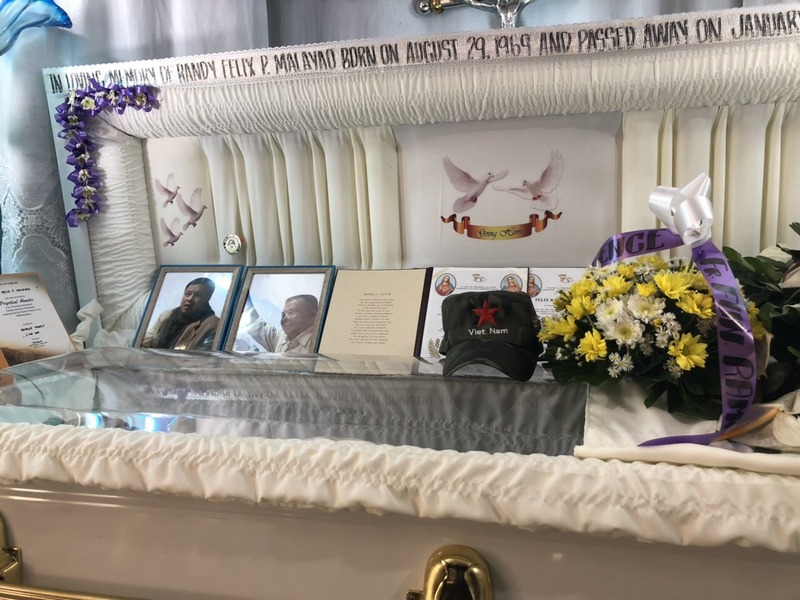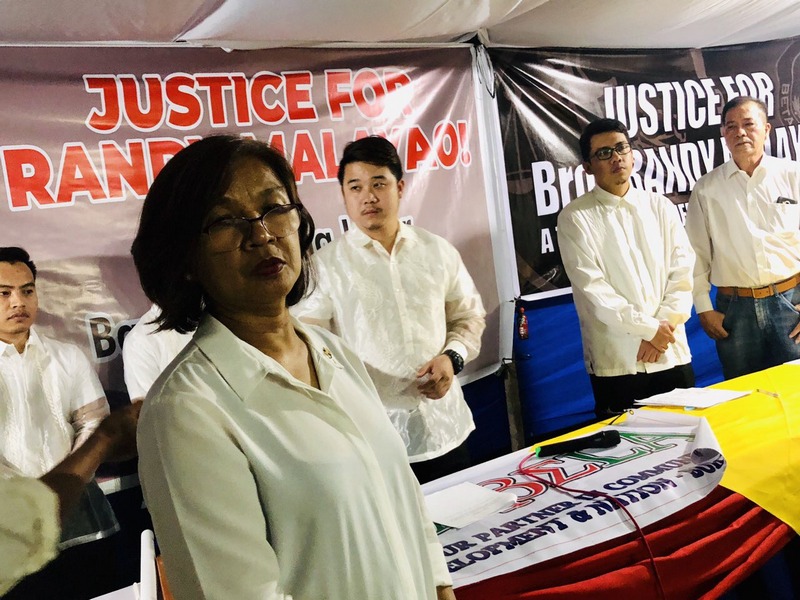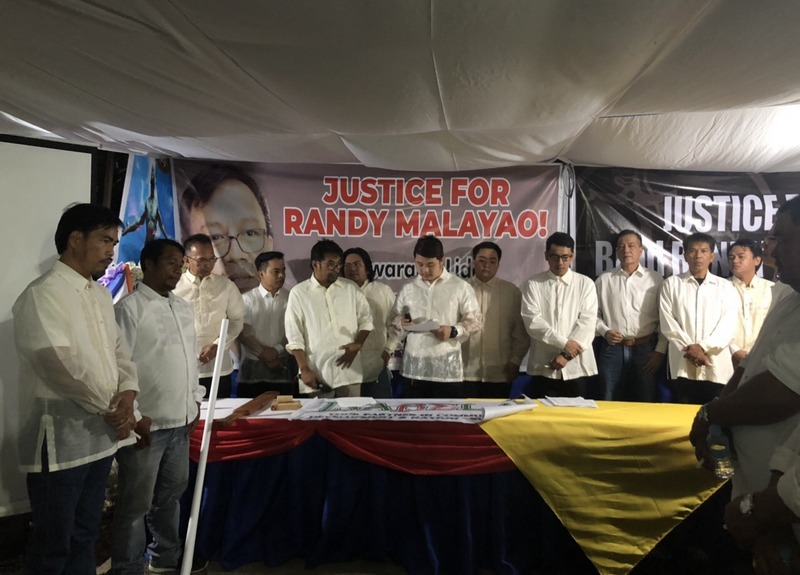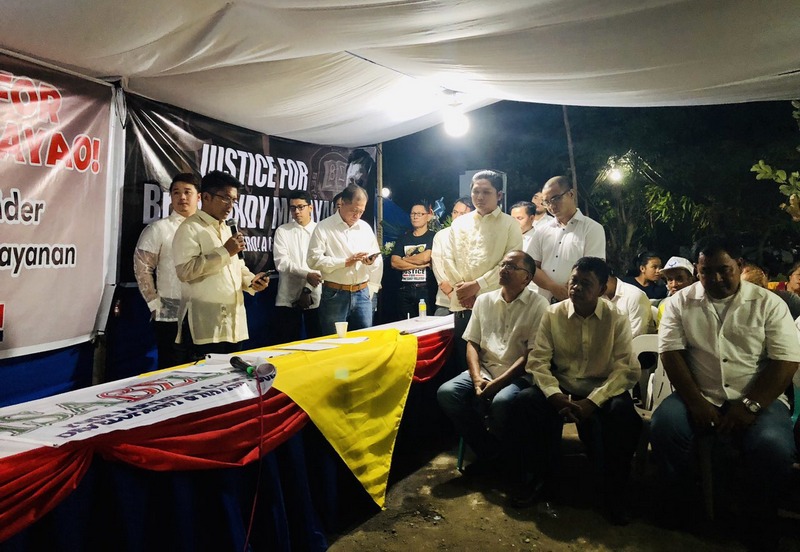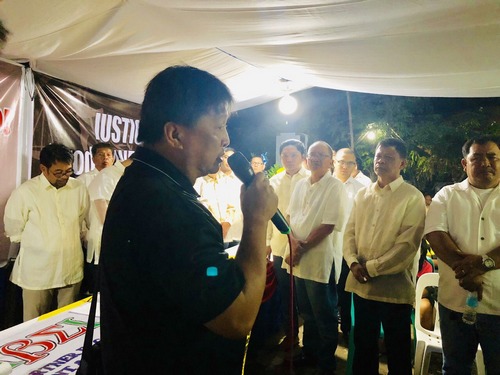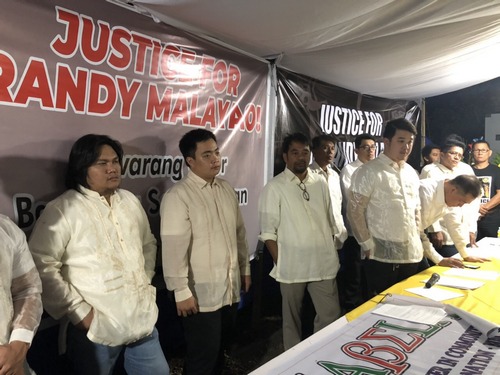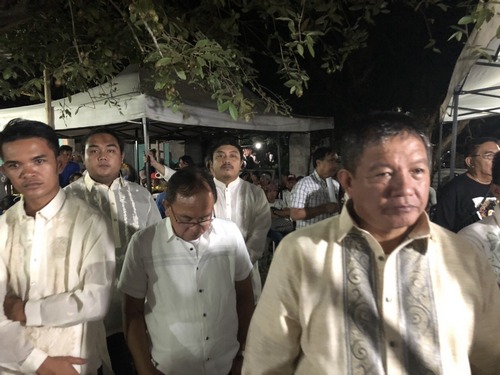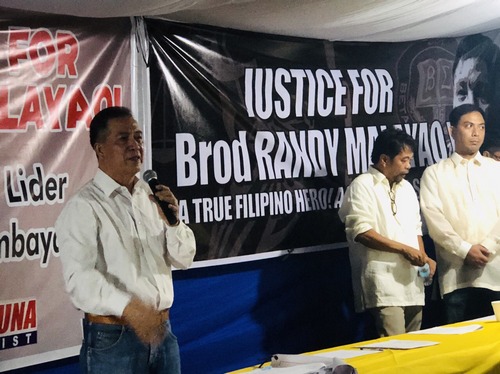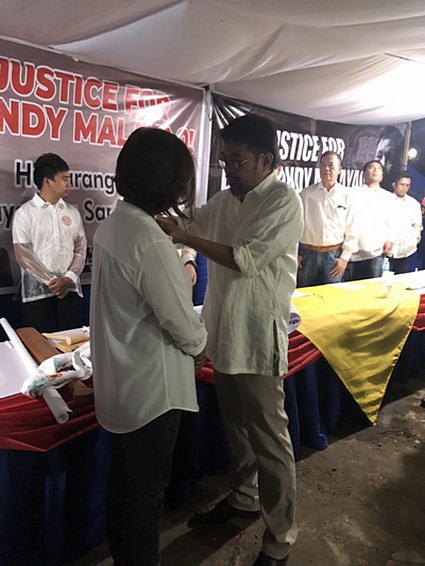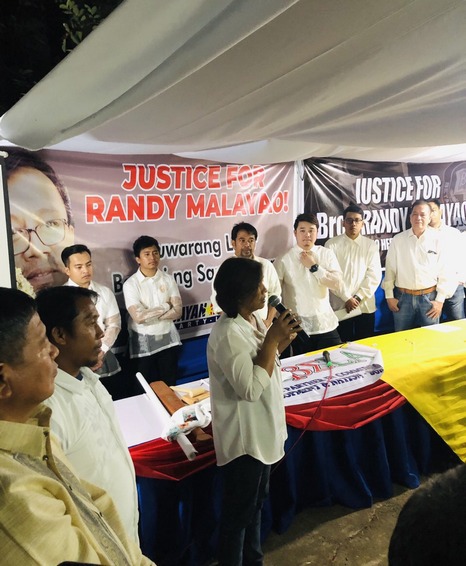 ===============================================================================================================================================================================================================
Farewell Mass and Funeral
San Pablo, Isabela
February 7, 2019
[Photos from Joel Paredes]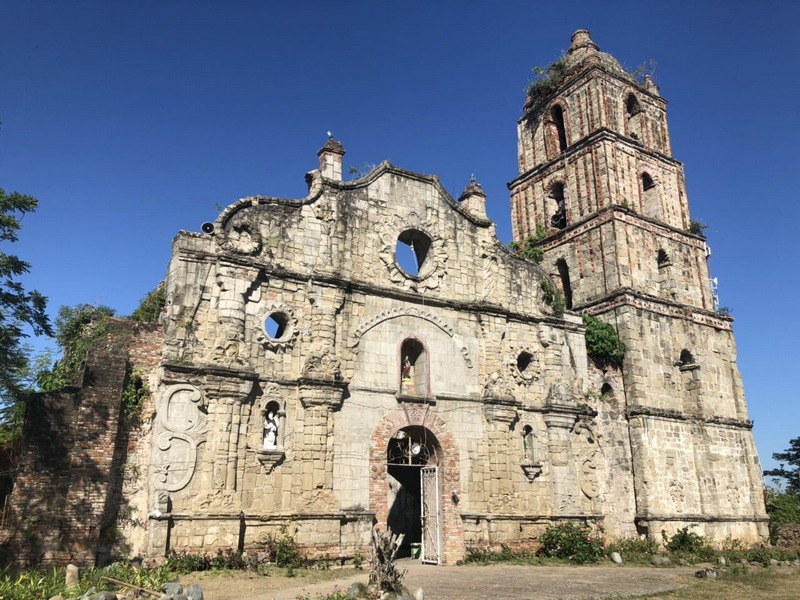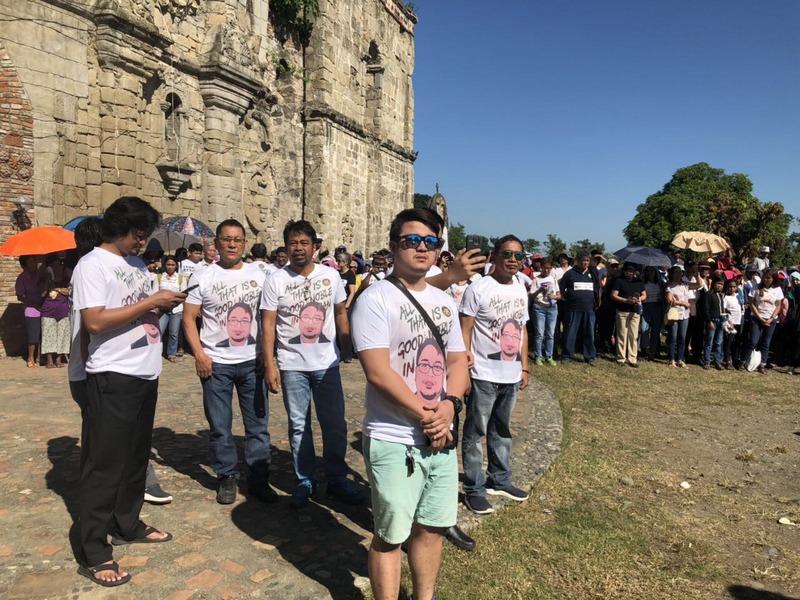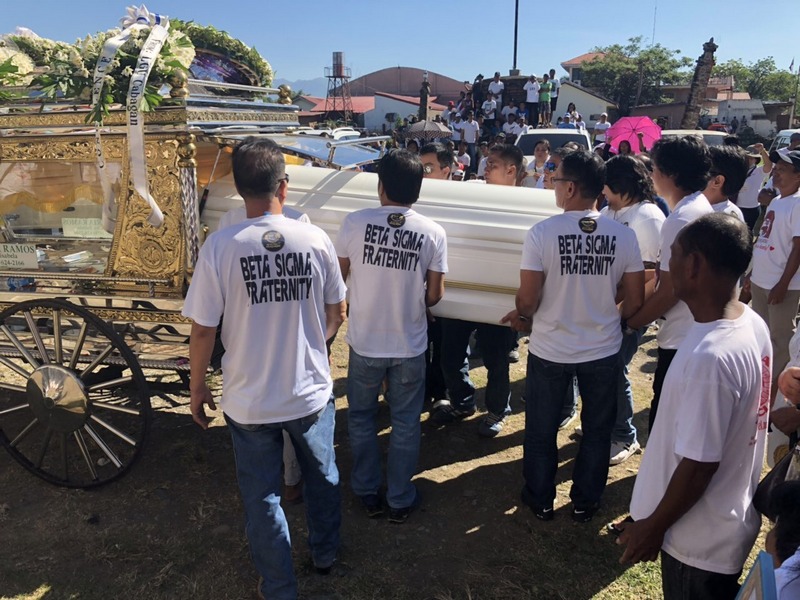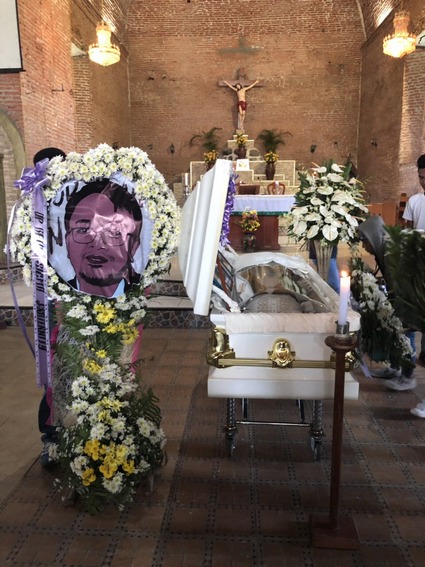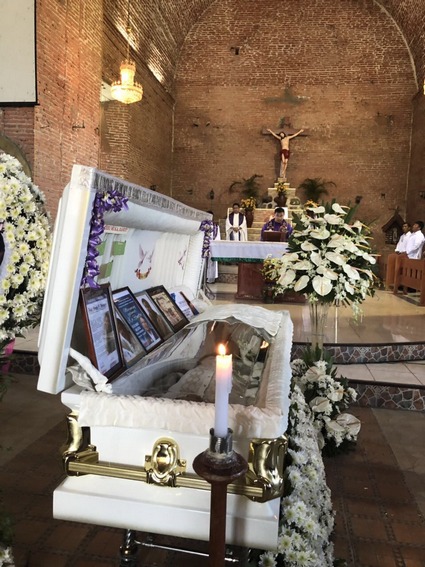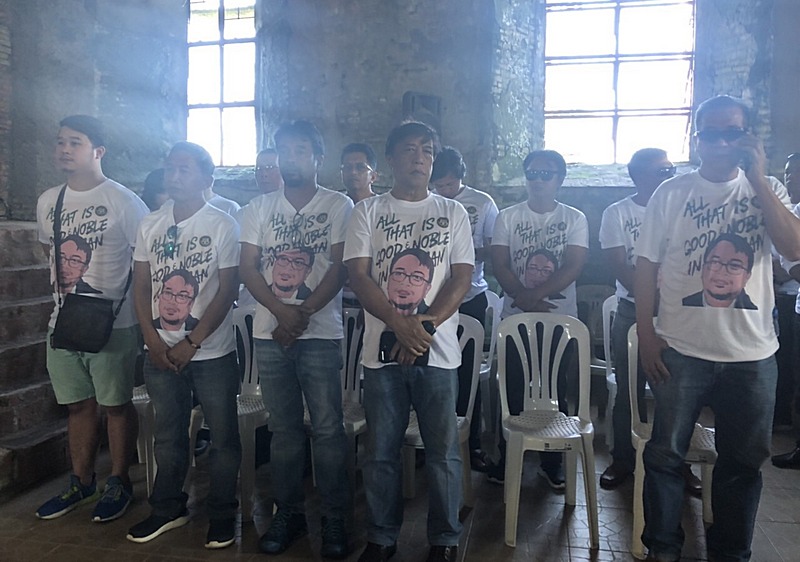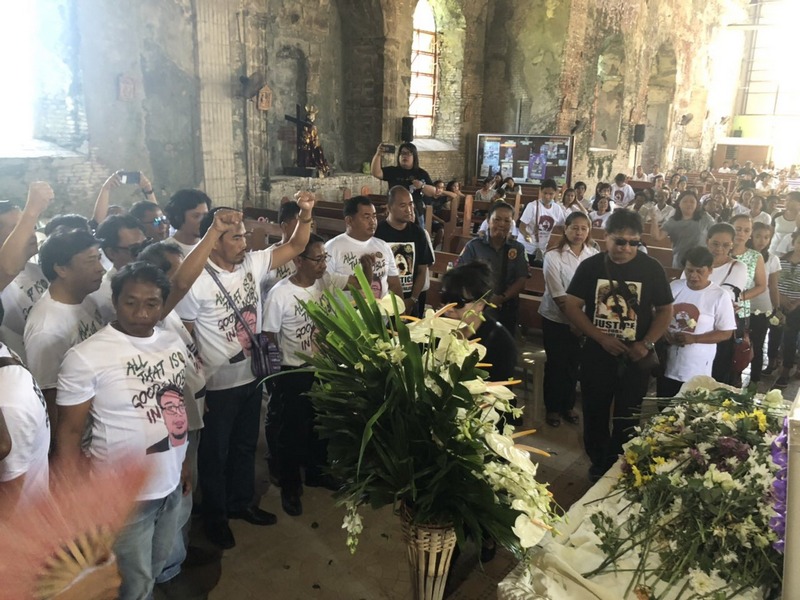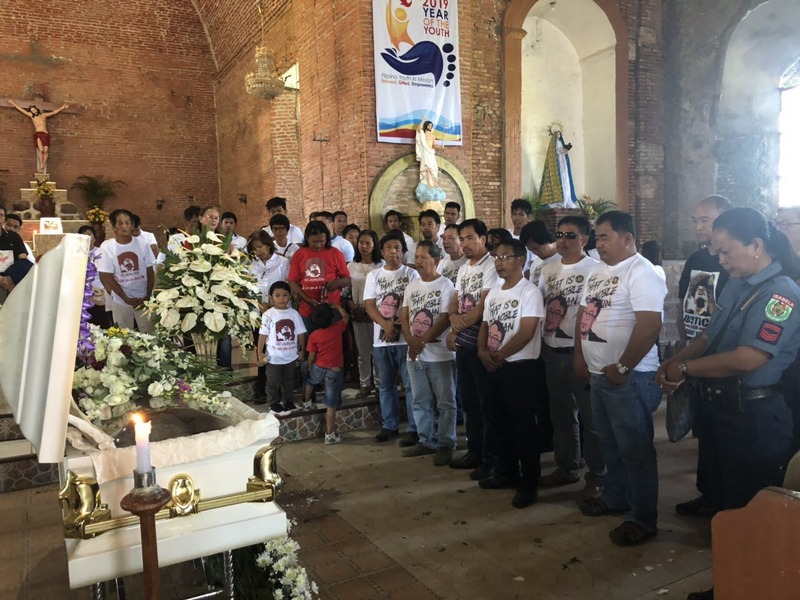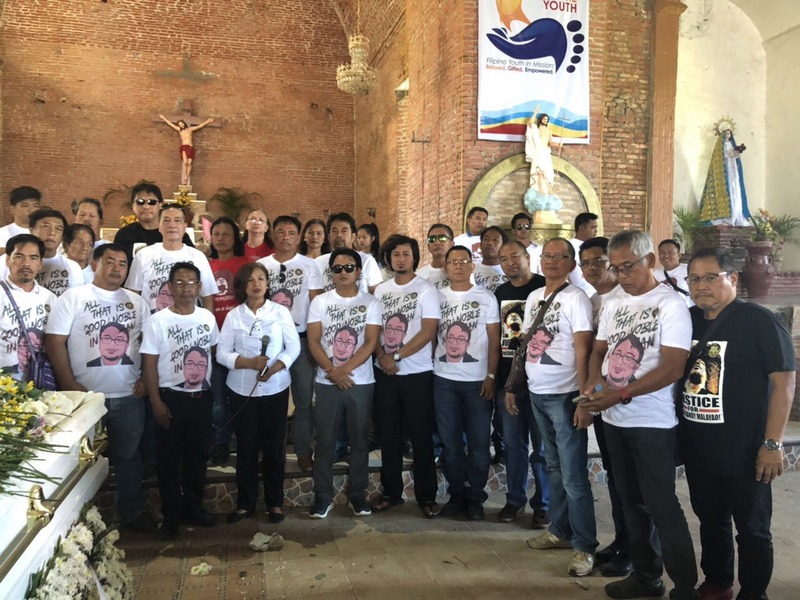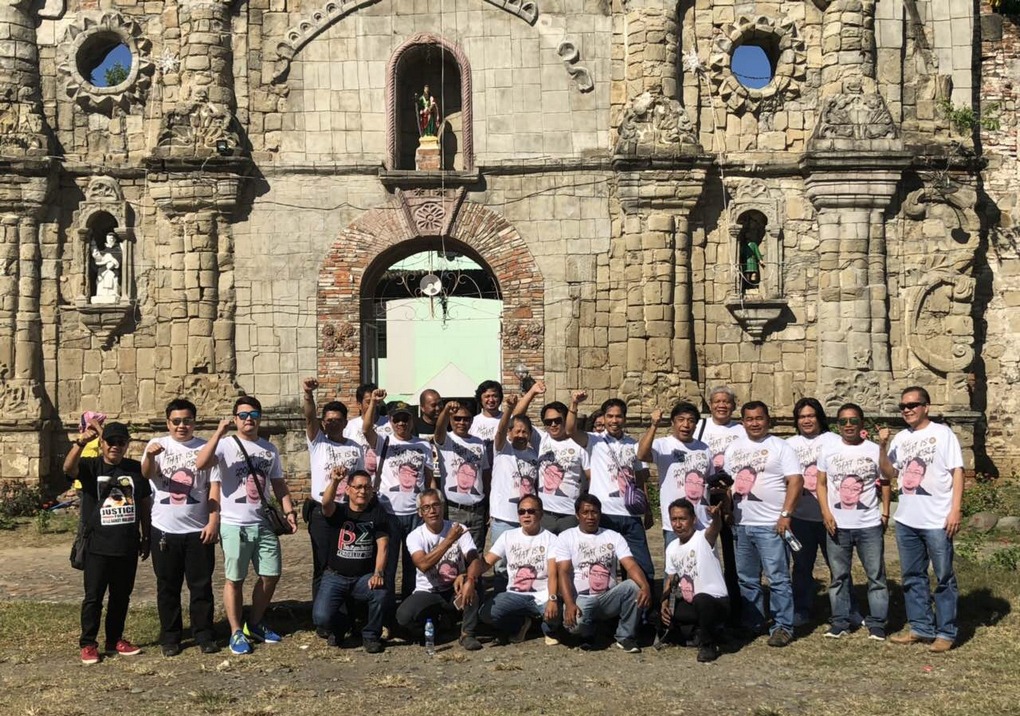 ===============================================================================================================================================================================================================
Messages
EULOGY
INDEED, IT IS A GREAT PRIVILEGE, IN THIS EULOGY BEFORE YOU, TO SPEAK ABOUT THE LIFE OF OUR DEAR BROTHER, FELIX RANDY MALAYAO.

FOR US IN UP BETA SIGMA, RANDY IS A TRUE & GENUINE BETAN, WHO LIVED THE SPIRIT AND PRINCIPLES OF OUR FRATERNITY. AS DIVERSE AS ANY COMMUNITY, WE ARE A FELLOWSHIP OF PEOPLE OF DIFFERENT PROFESSIONS, PERSONALITIES, BACKGROUNDS, RELIGIONS, LIFESTYLES AND PERSUASIONS. FOUNDED IN 1946, OUR UP BETA SIGMA FRATERNITY IS A MICROCOSM OF MODERN PLURALISTIC SOCIETY, WHERE WE LIVE IN THE PRINCIPLES OF INCLUSION, RESPECT, TOLERANCE, DIALOGUE, COLLABORATION, PEACE AND SOLIDARITY. IN THE MOLD OF THE VISION OF OUR BETAN FOUNDERS, WE WORK FOR IDEALS OF GOODNESS, NOBILITY AND HUMANITY. BROD. RANDY WAS A MEMBER OF THE BOARD OF TRUSTEES OF THE CENTRAL UP BETA SIGMA FRATERNITY INC. ( CENTRAL). HE WAS A TRUE BETAN!

UNFATHOMABLY, MY FIRST AND LAST PERSONAL ENCOUNTER WITH RANDY HAPPENED LAST JANUARY 17, 2019 DURING OUR MEETINGS OF THE BOARD OF TRUSTEES. WHILE GOD DID NOT ALLOW MANY MOMENTS OF SOCIAL INTERACTIONS, THIS ONE MOMENT IS JUST ENOUGH TO CHANGE MY PERSPECTIVE OF THE VALUE OF THE HUMAN PERSON AND THE MEANING WE DERIVE FROM SUCH A ENCOUNTER. IN THE CATHOLIC FAITH, WE USE THE TERM 'GRACE' TO TALK ABOUT LIFE AS A GIFT. GRACE HAPPENS BECAUSE GOD GAVE HIMSELF TO US THROUGH HIS INCARNATED SON, JESUS CHRIST, IN OUR SALVATION HISTORY. BECAUSE OF THIS, NO HUMAN ENCOUNTER IS ORDINARY. EVERY HUMAN ENCOUNTER IS AN ENCOUNTER IN GRACE MEDIATED BY THE LIMIT OF OUR TIME AND SPACE.

TRUE ENOUGH, BROD. RANDY HAS AN AWARENESS OF THE GRACIOUS MOMENT OF EVERY HUMAN EVENT. HE WAS BUSY TAKING PHOTOS OF BROTHERS AND FELLOW BETANS. HE WAS TAKING SELFIES AND GROUPIES – NOT TO LET THINGS PASS, BUT TO CAPTURE THE MOMENT OF GRACE OF EACH OTHER'S PRESENCE TO ONE ANOTHER. AFTER THAT ONE-TIME EVENT, HE FORWARDED ALL THE PHOTOS HE TOOK TO OUR FRATERNITY VIBER GROUP & WEBSITE. WE SPENT MANY HOURS OF SHARING AND DISCUSSING HOW TO MAKE 2019 MORE SIGNIFICANT AND FRUITFUL. HE WOULD EVEN CRACK JOKES IN THE MIDDLE OF THE MEETING TO LIT UP OUR DAY. FOR ALL THE MESSAGES POSTED ON THE GROUP WEBSITE, HE WAS READY TO LIKE IT. HIS WAS A LIFE OF THE PRESENT FILLED WITH THE VIBRANCY OF SOUL AND THE GRATITUDE OF THE MOMENT. HE WAS A MAN OF GRACE.

PERHAPS BECAUSE BROD. RANDY, A GRADUATE OF UP VISAYAS, WITH A DEGREE OF BS-FISHERIES. HE LOVED THE SEA AND THE FISH, LOOKING BEYOND THE SURFACE

AND UNDERSTANDING THE WORLD UNDERNEATH, REVEALING THE RICHNESS OF THIS DEEP WORLD. WHILE HE WAS NOT AN ILONGGO, HE LOVED TO BE AN ILONGGO, READY TO ENGAGE WITH ANY ILONGGO IN THE LANGUAGE CLOSER HIS HEART. LITTLE DID I KNOW, THAT HE WAS AN ILOCANO (KAYA PALA IBA ANG NGITI NIYA PAG NAG-IILONGGO AKO.) I FELT I WAS IN THE COMPANY OF A FELLOW ILONGGO. THAT'S WHAT BROD RANDY BROUGHT INTO MY LIFE.

EVERY LOSS OF A MEMBER OF OUR FAMILY AND COMMUNITY LEAVES MARKS IN OUR MEMORY. WE MAY CALL IT A VOID THAT CANNOT BE FILLED BY ANY HUMAN PERSON. ONLY BROD. RANDY CAN FILL THAT SPACE HE LEAVES IN OUR FAMILY AND COMMUNITY LIFE. NO HUMAN PERSON IS REPLACEABLE. EACH OF US IS UNIQUE AND SPECIAL. BROD. RANDY WAS SPECIAL IN HIS OWN WAY AND LIFETIME. HE WAS A GIFT OF GOD – IN THE "RANDINESS" OF HIS MEANINGFUL LIFE. HE MADE HIS CHOICES, BELIEVED IN HIS PERSONAL IDEAL, VISION, MISSION AND PRINCIPLES IN LIFE. REGARDLESS OF THE CHOICES WE MAKE IN LIFE, THE MOST IMPORTANT MARK OF GIFTEDNESS AND UNIQUENESS IS HOW WE LIVE OUR CHOICES IN OUR LIFE COURSES.

BROD. RANDY, OUR BROTHER AND BELOVED BETA SIGMAN, WE THANK YOU FOR YOUR GIFT – YOUR LIFE OF UNIQUENESS, HUMOR, SELFLESSNESS AND GOODNESS. MAY WE EMULATE YOU FOR US TO SEE THE EXTRAORDINARY IN THE ORDINARY OF OUR DAILY EXPERIENCES. AND MAY WE ALSO SEE NOTHING IN THIS WORLD IS VAIN – THAT EVERY MOMENT COUNTS, AND EVERY ENCOUNTER IS IMPORTANT.

THANK YOU ALSO, BROD. RANDY, FOR EVERYTHING YOU HAVE SHARED WITH US, ESPECIALLY YOUR GENEROSITY TO SHARE YOUR MOMENT AND PRESENCE GIVEN YOUR TIGHT SCHEDULES. TO YOUR BEREAVED FAMILY AND BETAN COMMUNITY, NO WORDS CAN TAKE & DESCRIBE EXTREME VALUE OF YOUR UNIQUE LIFE AND PURPOSE ON EARTH. REST IN THE PRESENCE OF OUR CREATOR, WHOM YOU FOLLOW IN YOUR FRUITFUL LIFE ON EARTH. MAY YOUR STAR SHINE IN THE NIGHT OF OUR LIFE JOURNEY.

WE KNOW NOW YOU ARE TAKING SPIRITUAL PHOTOS OF US! SO LONG OUR FRIEND AND BROTHER, SEE YOU IN THE NEXT LIFE!

VIC M. TUPAZ '67 – UPLB
PRESIDENT – UPBSFI
FEB. 06, 2019
=============================
Deepest sympathy and condolences to the family of Brod Randy Malayao.
May our dearly departed Brod rest in peace.

Humphrey Tumaneng
==============================

Condolences and prayers to the family of Brod Randy.

Billy Sevilla
==============================

Great Betan. He so loved our Fraternity. I'm devastated!

Gilbert Sison
==============================
Oh my, another Betan working hard to improve our people's lives, gone....what a great, great, great loss!!!! Beta Sigma beloved, we lost another great son!

Edwin Acuña
==============================
Nakakalungkot talaga. Nakakagalit.

Peter Danao
==============================
FROM BROD PIKOY:
IOC- PO3 Leonie Ross Manangan/ 09175028602
For info sir:

NUEVA VIZCAYA PPO PTOC SMS
REF# 1901-30-100
For: RD, PRO2
Fm: PD, Nueva Vizcaya PPO

Aritao PS Sketchy report

WHAT: Shooting incident

WHERE: CCQ bus terminal, Aritao NV.

WHEN: January 30, 2019 at around 2:30 am

WHO: Victim- Felix Randy Malayao Jr y Paraguay resident of Minanga Norte SAN Pablo Isabela passenger of Victory liner bus bearing plate number ATA 9361 bus number 7102.
Suspect- Unidentified.
boarded with color black Yamaha mio motorcycle

Why: Unknown motive.
How: At around 2:10am of this date said bus had regular bus stop at said place, while passengers and bus drivers were having snacks, victim remained inside the bus and one suspect went up the bus fired two successive shots to the victim causing his untimely death. Suspect immediately fled towards South utilizing a Yamaha mio motorcycle together with his driver. Investigation is still going on. spot report to follow.
Pikoy Cascolan
==============================
I am in total shock!! Brod Randy is truly a great loss for our country and fraternity.
I was getting out of the gym this afternoon when I saw the viber message on my cell phone. At first I thought it was only a member of Randy's family, but it was
in total disbelief as I continued reading. After some years of posting in our website the trials and tribulations of the "Free Randy Malayao" movement from his
abduction by AFP intel operatives in 2008 to his final release in 2012, I finally got to meet this Betan hero, Brod Randy Malayao, when I visited early this year.

As soon as I got home, I started rereading about his undying fight for human rights, social justice and political reforms. When you find the time, below are the
direct links to three articles about Brod Randy's struggles that we have published in our International website under Chapters>Central>Updates.

MABUHAY KA RANDY!!
http://www.upbsi.org/upbsfaaichapter/10freemalayao/freemalayao.html
http://www.upbsi.org/upbsfaaichapter/16peacetalks/peacetalks.html
http://www.upbsi.org/upbsfaaichapter/17peaceforum/peaceforum.html

Norman Bituin
==============================
On January 30, 2019, our brother Randy Felix P. Malayao was gunned to death at around 2:30 in the morning while on board a Victory liner bus in Aritao, Nueva Vizcaya.

We honor and praise our brother for all the great things he had accomplished throughout his life. He was a Valedictorian of Minanga Elementary School. He first enrolled in the University of the Philippines-Diliman then later transferred to UP Visayas-Miagao to finish a degree in Fishery. During his stay in UP Visayas, he founded the League of Filipino Students, and was the first chairperson, he also acted as the chief editor of the "Ang Mangingisda", the official student publication. He was also the Vice President for the Visayas of the College Editors Guild of the Philippines.

After finishing his degree, Brod Randy started helping various peasant and community organizations in Cagayan. He conducted seminars discussing economic, political and other human rights. He made it his life mission to make a positive change in society, and help those who were less fortunate.

Our deepest condolences to Brod Randy's family and friends. A great man was taken from us today. This abhorrent act of impunity in killing innocent civilians must be stopped. The UP Beta Sigma Fraternity calls for justice for Brod Randy Felix P. Malayao and for all the victims of state killings.

Peace Advocate. Human Rights Activist. Hero. Beta Sigman.
JUSTICE FOR OUR BROD RANDY FELIX MALAYAO!
Hustisiya mo, ipaglalaban ko!
Jig Reyes
==============================
Our sincere prayers and condolences to the family of our dear Brod Randy!

Nandy Paras
==============================

Rest in peace brod Randy... you will always be in our hearts...

Caloy Agulto
==============================

Our prayers to you brod Randy and to your family as well. RIP brod.

Alan Batallones
==============================
Yes, Brod Randy was a good guy like many of us but he cares for his country not only in words but in deeds! I had a great opportunity to coordinate with him in sponsoring a peace talk forum in U.P. College of Education co-sponsored by the resident Brods and another fraternity. He is also a very active voice in our recently formed Buong Sigasig, a small group of Brods, who is doing some awareness activity about this coming election "For the Love of Our Country!" I will miss his strong advocacy for a genuine national democracy in the Philippines! He is a great role model! May we all get inspired by his kind, humble, and nationalistic fervor! Mabuhay ang iyong simulain! Sana'y itaguyod ito ng napakaraming naaaping Pilipino at mga iba pang Pilipino na nananahimik lamang!!! Para sa iyo kapatid Randy—isang mainit na yakap at makabayang saludo!!!

Joe Lalas
==============================
Only last month during the 1st meeting of the BOTs of UPBSFI, Brod Randy took pictures individually of the Brod attendees & I commended & thanked him for that gesture. He was in a very happy mood then.
Now, Brod Randy that you have joined our Creator, May you rest in peace & we will always pray for your eternal repose!
Vic M Tupaz '67 LB
==============================

The place in Aritao was he was supposedly killed is our hometown wer buses usually stop for a break. Sad news. No cheers.

Peter Danao
==============================
EMERGENCY ACTION

Bayan calls for indignation rally to protest the assassination of NDFP Consultant Randy Malayao, 5pm at the UP Oblation. Bring your placards, candles etc. Magpakilos! Labanan ang pasistang rehimeng US - Duterte!
Joel Paredes
==============================
Brod Randy has given his life "for the love of country." We are proud and we're mourning because he is our fraternity brother. But we know now that he is larger than our fraternity circle. He has touched many lives —- the lives of people who love and admire him and the lives of people on the dark side who hate him. The Dark side snatched Randy's life. Yes, we can cry, we can grieve, and we can be angry. But may this be a lesson to all of us - not to be fearful, not to be afraid and retreat in the corner. May this be a reawakening - by turning our grief into critical and constructive ways of impacting change in the Philippines!!! Many people are indignant and marching...many Beta Sigmans are marching...
Brod, my suggestion is for us to join with respect to Brod Randy's political worldview, advocacy, and activism. This is not the time to hide what we believe in and that is (I suppose) "Justice for Randy Malayao." This is our "point of unity" with other groups who will be there to pay respect to Randy and put pressure to arrest and indict the perpetrators. Definitely, let's expect the other groups to voice out their concern for Justice and raise other political concerns that they are fighting for. We can't control that. We must not even try to prohibit or ban the other issues that they will raise. Yes, a Beta Sigman must speak to voice out the outrage, grief, and anger of the fraternity in the murder of our Brod and our full support to the effort to bring justice in the killing of Brod Randy. We must also thank the other groups (whoever they are, regardless of their political colors and persuasions) for supporting our call for - justice for Brod Randy Malayao!
Many times, it takes the life of one we know, admire, and love before we come to the realization that something is wrong with how we handle justice and peace advocacy in the Philippines. It's time not only to mourn for our huge loss but to turn our grief and anger to awareness and constructive actions, to an awakening of our nationalist fervor for justice and for a peaceful and more democratic Philippines!!!

Joe Lalas
===============================
Very true, very true, Joe. We can not just quiet about this. This is a cold blooded killing and it hits home. Randy is a brod.

Danny Galoso
==============================

Very well said Brod Dan. It is not about political beliefs, but Brod Randy is us Betans, ALL of us. He proudly wore our Betan pin if you noticed some of his pictures. He was an exponent of our ninth principal truth.

Edwin Acuña
==============================
"All that is necessary for evil to succeed is that good men do nothing." - Edmund Burke, 1729-1797
Norman Bituin
==============================
Brod, my suggestion is for us to join with respect to Brod Randy's political worldview, advocacy, and activism. This is not the time to hide what we believe in and that is (I suppose) "Justice for Randy Malayao." This is our "point of unity" with other groups who will be there to pay respect to Randy and put pressure to arrest and indict the perpetrators. Definitely, let's expect the other groups to voice out their concern for Justice and raise other political concerns that they are fighting for. We can't control that. We must not even try to prohibit or ban the other issues that they will raise. Yes, a Beta Sigman must speak to voice out the outrage, grief, and anger of the fraternity in the murder of our Brod and our full support to the effort to bring justice in the killing of Brod Randy. We must also thank the other groups (whoever they are, regardless of their political colors and persuasions) for supporting our call for - justice for Brod Randy Malayao!

Ollie Jumao-as
==============================
I am reminded of the following phrases which I learned from a brod (a member of this Viber thread) as I was undergoing initiation — "Run Silent (not walk, not hop but run), Run High, Run Deep". I then suddenly recalled "A Shallow Stream Is Noisy" plus it runs dry when the heat in on.

We have true, noble and loyal (to the flag & fraternity) brods within the leadership of the Philippine National Police plus more in the middle echelon. Their presence there makes us proud. They, like us, grieve and are seeking answers why this cowardly act happened to Randy and who did it. They're silently working hard to find answers to these questions and put to jail the perpetrators of this murder.

I trust their judgment and wisdom — believing that they will keep their solemn oath as officers of the law. To the extent we can, let us work with them, hoping they can solve this crime soonest.

Gabby Moraleda
==============================
I wish I was there to join the rally/cause for our dearly beloved Randy M.
Rest in eternal peace Brother!

Aman Carolino
==============================
Araw na lubhang mapanglaw
Lipos ng kadiliman
Nasadlak ang kanyang bahay
Para sa 'yo bayan.

Ang kanyang simulain
Tigmak ng dugo't luha
Ay dapat nating itaguyod
Hanggang sa wakas.

Joe Lalas
==============================
Magandang araw Brods. Kaninang madaling araw ay napatay si Brod Randy Malayao'89a UPV, isang National Democratic Front of the Philippines (NDFP) Peace Consultant ng hindi pa nakikilalang armadong lalaki. Siya ay binaril habang nasa loob sa bus sa may Aritao, Nueva Vizcaya.

Makiki-isa ang mga BETA SIGMA Resident Brods sa gaganaping Candle Lighting Activity mamayang hapon 5PM sa Carabao Park, UPLB.

Iniinyayahan ko din sana kayong makapunta Brods. Salamat.

EJ Vargas'14, GP UPLB
==============================
We would like to express our deepest and most sincere sympathies to the family, brothers, and friends of Randy Maglayao.

Two years ago this month, a Peace Talks Forum was held in the UP College of Education Theater attended by Randy Felix Maglayao representing the NDF and with Chief GRP Negotiator Sec. Silvestre Bello III of the GRP.

Peace and justice is still truly elusive even after two years. To waver in our call for peace will certainly lead to more deaths.

Kapayapaan at Katurungan, Kailan Pa?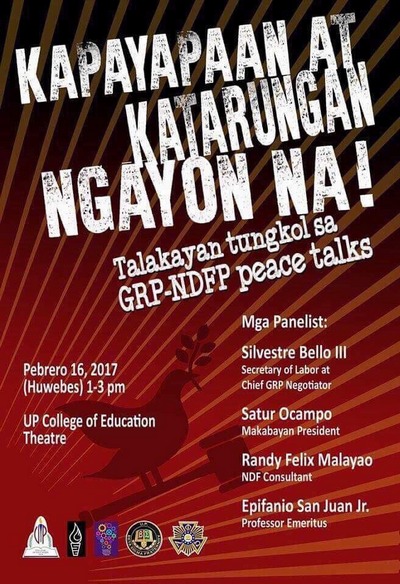 Peace Rock Group / Joel Paredes
==============================

Rest in Peace Brod Randy....you will always be remembered.....

Binji
==============================

May your soul rest in peace brod Randy!

Rollie Santos
==============================

They may have silenced you but little did they know, they just planted a SEED. A seed that will produce more courageous and gallant men willing to take your place.
YOU DID NOT DIE IN VAIN! MABUHAY KA RANDY! MAHAL KONG KAPATID!!

Nap Cruz
==============================

Nakakapang hinayang at di ko nasabi ito sa kanya noong buhay pa sya: Hanga ako sa kabutihan at katatagan mo para sa bayan. Mabuhay ka brod Randy !!!

Willie Nep
==============================

I am saddened by the news of Brod Randy Malayao's assassination. May he rest in eternal peace. My condolences to the Family of the late Brod Randy Malayao. God bless his soul.

Ed Baldoria
==============================

Brods, our Aritao based brod Vir Fabian has taken custody of brod Randy's remains. We advised him through brod Greg Banacia. to handle the arrangements with the everlasting funeral homes and we will provide him the funds for the expenses.
In the meantime brod Nelson Dancel is coordinating with the Cagayzn brods to assist the family so that his remains can be brought home for a decent wake in his hometown.

Joel Paredes
==============================

RIP brod.

Alan Montecastro
==============================

Nakakalungkot, indeed. Rest in peace Brod Randy.

Mon
==============================

The culture of impunity in our midst. devastatingly sad when the victim is a dearly beloved brother. What is happening to this country and when will this stop? O\our prayers to a fallen brother. May you rest in eternal peace dear brother Randy!!!

Nilo Punzalan
==============================
RIP brod Randy, though we have not met we shared the same principles...NOBLE BETANS!

Edgar
==============================
My deepest condolences. May Brod Randy Rest In Peace.

Ben F
==============================
Brod Randy and I were exchanging notes in the UPV Group last night. Now this. Tears flow.
Shan Buyco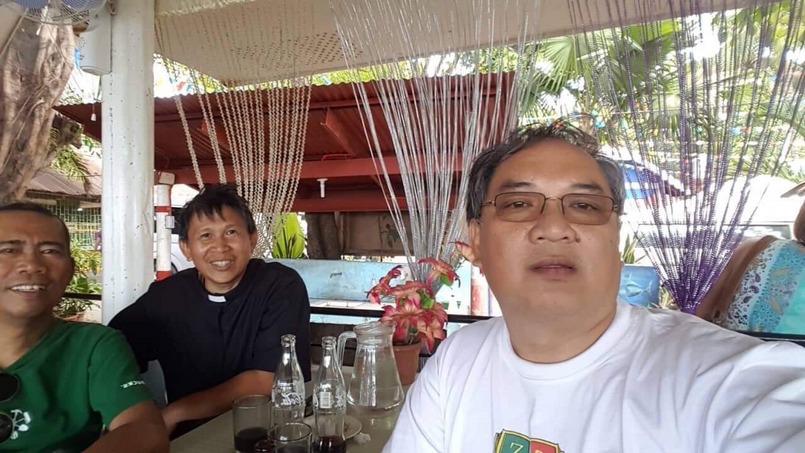 "Fr. Jose Enrique 'Geroy' Gauzon, UPV Beta Sigma alumnus, led the final mass for Brod Randy yesterday at UP Visayas, 1-30-19."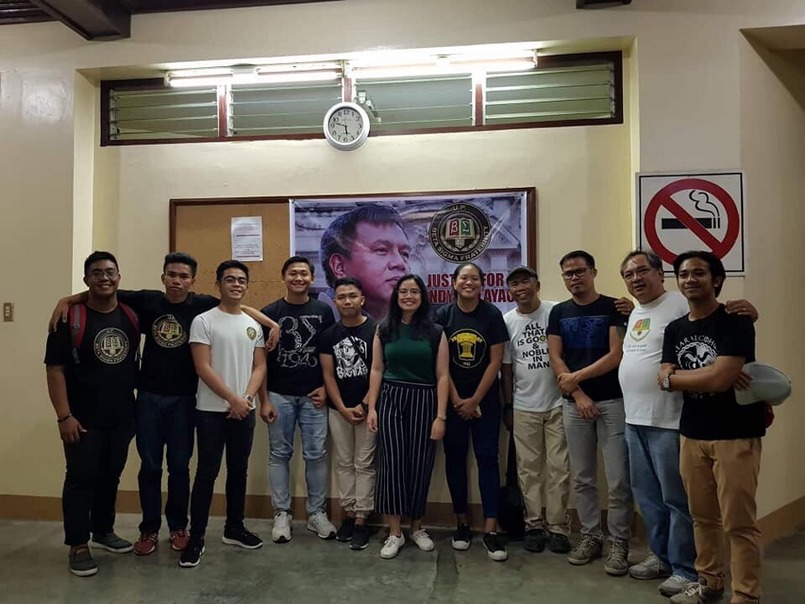 UPV Beta Sigma Chapter
==============================
I had an arrangement with him when he is in Manila. This hurts !! I will miss him !!
This cannot be true !! I weep for Brod Randy. During the last BOT Board meeting, we sat together. We always talked about the country and the peace talks.
Jay Jay Jayme
==============================
It's in the news this morning already (GMA News TV), Brods.
Am so shocked, Brod Randy was a good, reasonable and simple man.
Rest in Eternal Peace my Brother Randy.

Doc Buddy
==============================

Totally shocked and outraged ! Brod Randy is a great loss for both the country and the fraternity. He is one of the most active brods for both UP and non UP Beta Sigma activities and functions.
Rarely, a day passes when you dont see FB postings from Brod Randy, either concerning fraternity matters or about political issues. I will surely miss him. Rest in peace, Brod Randy.

Alex Roseus
==============================
Auction for A Cause!

Bid for a unique,priceless artwork by UP Fine Arts Beta Sigman, visual artist and sculptor Brod Francisco Verano. Done in 2006 original pastel with Malmon print repro"Give Peace a Space"
Minimum bid: Php 10,000.00 or its equivalent in USD.
Bidding starts now and ends at 8AM of date of interment of Brod Randy. Proceeds will all go to family of Brod Randy.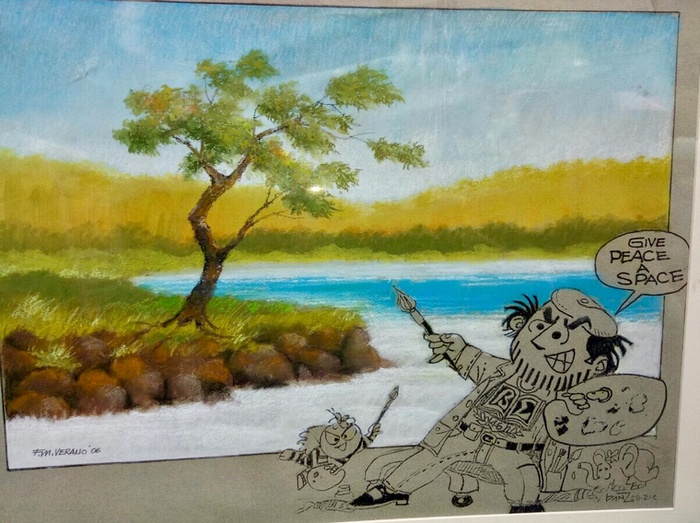 Butch Madarang
==============================
So it's true wala na si Brod Randy. My earliest recollection of his presence was when we had a few drinks with some Brods after he was acquitted and released from detention. I sensed his immense joy of being free and having so much fun getting together with Brods. And then saw him in most Frat activities I guess when his principal work would allow it. I saw Randy had two passions: one for the Frat the other in his revolutionary work. He was exemplary in both. I regret I didn't spend more time engaging with Randy. I would have loved discuss even debate about his revolutionary politics in which First Quarter Storm Brods were also active or sympathetic. I will miss Randy.

Boyet Fernandez
==============================
May I suggest a tribute t shirt design demanding justice for Randy from the UP Beta Sigma as a noble Betan. Underlying is the hope that this will serve as a come on for recruitment of future Betans. And since he's a member of the Board, may I suggest that the BOT initiate the move. Cheerz!!!

... can be sold for fund raising also. Just a thought...

Willie Nep
==================================
Design credit to brod Boy L. Residents of all campuses wl get dem for free. To offset this, those interested can get it at p500 from brod Boy or during d mass for brod Randy on feb 5. Pres joel wl also bring some to d wake.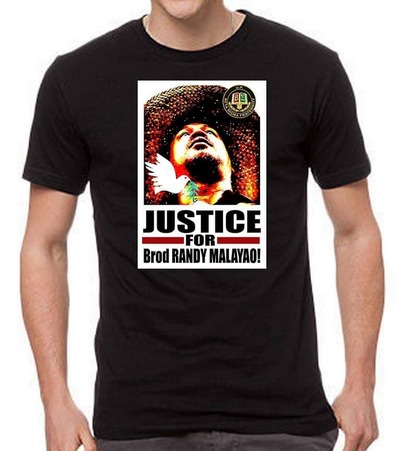 Peter Danao
==================================

Indeed, another sad news for our dear fraternity. A number of times in the past that I reminded Brod Randy to be very very careful in his travel as I was sure that his movement was continually monitored because of his NDF involvement. Now, it happened. He is really a big loss for our dear brotherhood and for our country. Praying for his eternal rest. My salute to you, Brod Randy!
What a Brother! Cheers...

Rene de Rueda
==============================
In the UPBSF BOT mtgs, Brod Randy never espoused his political beliefs on us brods but just focused on resident affairs & events...(he handled the registration in our July 2018 Ball).

It was all banter when brod Joel & him would call a Cabinet Sec or top official & try to confirm a Malacañang rumor here and there. He was never violent in his views. He attended the meetings & sometimes took the bus home after or sleep where he could be accommodated.
He went dark a few months ago & that was why he was seeded in the BOT elections because we knew he had to lie low because of confusing announcements on the peace talks. Brod Randy valued the peace process & that's how I think he would like to be remembered.

Jojo Alejar
==============================
FAREWELL TO BROD RANDY:

You left us too soon, brother. You were telling us often that the safest ride going home to your hometown was the bus because it could not be ambushed with all its passengers. It was not to be.

We will remember your short life for its great caring for the poor, the dispossessed, the silenced — those who like Job lost everything, stripped of all hope and dignity, and still strive to understand and struggle on.

I bid farewell with Aaron's (brod of Moses) prayer: "The Lord bless you and keep you; the Lord make his face shine upon you, and be gracious unto you; the Lord lift up his countenance upon you, and give you peace".

Vic Ramos
==============================
It is difficult to believe that a man of peace, a most well-mannered and gentle person, a highly principled individual who dealt only with issues and never on personalities, a man who held no personal grudge against anyone, a person who lived a life of sacrifice, self-denial, and service to others, and one who was granted immunity from harm being a Peace Negotiator – would end up being a victim of a brutal assassination.

It is, indeed, a great honor and privilege for me to have known Brod Randy Malayao. Even before we personally met during the fraternity ball in 2010, we had been communicating over email mainly on fraternity matters, specifically on our shared passion of how to arrest our diminishing membership in our campuses.

I will never forget our first personal encounter way back in 2010. Inside the Richmonde Hotel ballroom, we were more than 50 paces away from each other when our eyes met. He was his usual smiling, amiable self and I recognized it was Randy from the pictures I had seen over the internet. By his body language at that moment, I felt he knew me very well, too. So I briskly walked towards him, then embraced as would lovers do who were just reunited after a long absence. I asked to take a photograph with him as I had considered this a milestone in my life.

I had the chance to know more about Randy up close when we both flew from Manila to Iloilo for the Leadership and Empowerment Seminar for our UP Visayas Beta Sigmans last August 2017. We both arrived at the Iloilo airport, waiting to be picked up by the brods. It was a long wait (maybe 2 hours), so I took the opportunity to know more about his personal experiences. From this conversation, I decided right there and then to expand Randy's role in the seminar from just one module to three modules. Because of such brief notice, he barely slept for the two nights in order to prepare for his lecture/presentation.

This allowed him to personally relate to the participants how he overcame depression under incarceration, became philosophical about his unjust detention and turned his situation to productive endeavors to help the plight of his co-prisoners. Eventually, he became the "governor" among the prisoners of Cagayan and Isabela. As a Peace Negotiator in Norway, Amsterdam and Rome, he also ably handled the "Principled Negotiation/Win Win" seminar module.

Up to the time of his death, Randy was among the Board of Directors of UP Beta Sigma International as well as a member of the Board of Trustees of UP Beta Sigma Central. He was as passionate about ensuring a good future for our fraternity through our residents. He visited our residents in all our 5 UP campuses and he was an inspiration for our young Betans.

Randy's death may have abbreviated his physical life but his advocacies will continue to live. He has lived a life that was bigger than life itself. Go in peace in the bosom of the Lord, Brod Randy, and others will take on.

Willie Vergara
==============================

Rest in peace Brod Randy. My prayers and condolences to the family.

Kim Cabatit
==============================

RIP BROD RANDY M.. Prayers and Condolences to the family...

Ed Paz
==============================

Big loss to our beloved frat and his love ones. Rest in peace brod Randy. We will inlude you in our daily prayers.

Gilbert Joven
==============================

"His actions never strayed...that cast dishonor upon the name of our beloved Beta Sigma fraternity"
Rest if you must, Brother Randy Malayao, in God's heavenly kingdom, in everlasting life of peace, joy and love!no more pain. No more tears. Paalam kabsat!

Butch Madarang
==============================

RIP brod Randy. My prayers.

Rudy Oviedo
==============================

I am totally shocked and outraged. Brod Randy was a nationalist and a patriot who cared for the Philippines and the Filipinos. Whatever was his political color, he did good for everybody irrespective of political orientation.
RIP, brod Randy and may you find peace and quiet in that place beyond the hills. Our deepest condolence and prayers.

Ed Abon
==============================

This was definitely not a random act. We know brod Randy was under surveillance. The hit was an operation - A dastardly act. Walang Laban Yung brod.

Babes Ignacio
==============================

Sincere condolences and Prayers for the family of Brod Randy Malayao.
May Brod Randy find eternal peace and rest in GOD's Kingdom

K Saints
==============================

May eternal light shine upon you Brother Randy Malayao. Rest in Peace brother.

Lionel Latoja
==============================

Rest in Peace Brother Randy..

Jun Mamaril
==============================

RIP brod.

Minoru
==============================

A great loss. Deepest sympathy and prayers.

Gen. Rico Salapong
==============================

I am stunned and and in grief by Brod Randy's untimely and senseless demise. For a while I was hoping, praying that the news is not true. Such a great loss to our country and fraternity.
You will be missed Brod Randy.

Cesar Topacio
==============================
I deeply grieve the untimely death of our beloved brother in Brod Randy Malayao. He was a very gentle, soft and humble person but very courageous, unwavering and uncompromising in his fight for justice and peace! Brod Randy, you have intensely inspired us all. Those cowards may have destroyed your body but miserably failed to kill your spirit and legacy.

I surely noticed the care and support of Brods Gen Pikoy Cascolan and Col Nelson Dancel for Brod Randy. Brod Pikoy immediately responded by getting field reports of the incident and Brod Nelson coordinated Cagayan Brods in the transfer of the body from Aritao to Isabela.I have also seen the three Brods in several ocassions together I observed feelings of respect and love among them! They may be on the opposite side of the fence but this doesn't matter at all! This is Brotherhood! This is Beta Sigma!

Sonny Pagador
==============================
TRUTH and JUSTICE for our brod is all that we wish for....No one can bring him back, but his life and death should not be for nothing and certainly he should not count as one more victim of unsolved crimes.
We should be outraged!! The level of killings with impunity is out of control. No society can stand if no one feels safe and protected by the law.

Babes Ignacio
==============================
In prison Randy endeared himself to all by consoling distraught fellow prisoners, volunteering to write letters and conduct literary programs for the illiterate inmates, organizing medical missions and sports fests, and acting as paralegal, among others. He readily shared his food, medicines, even electric fans and reading materials to all fellow prisoners. As the most learned and erudite of all the prisoners he was the instant choice whenever they were dignitaries or groups of students who visit the jail. He engaged the prison authorities on how improve the conditions inside the facility. In both the Tuguegarao and Ilagan jails he was elected prison governor by the inmates.
Riley Joey Ricarte
===========================
Sad news. Brod Randy & I have not met personally nor know each other personally but I know and silently admire him much.
If ever this news is genuine, may he rest in eternal peace.

Obet Santos
==============================
Rest in peace Brod Randy. Prayers an ccondolences to the family.

Rene de Grano
==================================

Rest in peace Brod Randy..prayers and condolences to the family.

Edgar Flores
==============================

My condolences to the family of Brod Randy!

Dutch Aragones
==============================

I share every brods 'grief and brod Randy's family's great loss. Why do the good guys always die young?

Jopet Laraya
==============================

Rest easy brother. You have done your part....

Babes Ignacio
==============================
Anecdote lang: Can't forget this 1st meeting w brod Randy when he was fresh out of the Isabela jail.

Brods Dan Bautista and Joel Paredes welcomed him with a sumptuous merienda buffet at Via Mare Resto at the UP Campus and gave him a new laptop. Tuwang tuwa si brod Randy at siyempre kami ding tatlo....
kaming dalawa ni Randy ang maraming nakain...Joel at Dan ay diet kasi... Malamang nakalimutan na nina brods Joel at Dan ito ( Senior Citizens ).

Ick Angeles
==============================
I have visited all the emails and texts I have had with Brod Randy. It is worthy of collecting them and making a book of it as a reminder of who we are and what our fraternity stands for. I know all of you have same emails/texts from Brod Randy.

May I ask your permission to assemble them and I'd like to make a book of it.

Jay Jay Jayme
==============================
Brothers all,

I have now deposited the sum of Two Thousand Three Hundred Ninety US Dollars (US$ 2,390) into Jesus Jayme's Bank of America Savings Account. Said amount will be turned over to Joel Paredes/Peter Danao to be given to the family of Randy Malayao. A million thanks to the benefactors.
Roy Antonio
==============================
What a patriot! Highly principled and a truly worthy Betan who climbed barriers...

The Brotherhood must come up with a symbolic element to honor such inspiring, soaring Eagles in our lifetime. Never met the fellow but he did embody loftier values which bloomed from humble roots.
No wonder many of his contemporaries are saddened. All Betans are made poorer by Randy's passing.

Sluggo Rigor
==============================
Just a follow up reminders:
1) final rites for brod Randy is on feb 6 around 8pm in san pablo, isabela. Those wd out cars may take a bus to tuguegarao. ETD by Bus 7:00pm Feb 5. ETA Feb 6 9:00 am. We can arrange w/ brods in Tuguegarao to pick up the brods in bus terminal going to San Pablo. Burial is next day feb 7.
2) we also hold a memorial Mass for brod Randy
- Feb 5 (Tuesday)
- U.P. Diliman Chapel
- 12:00 Noon
Note: According to the resident brods the time for special Holy Mass for Brod Randy is uncertain w/ no assurance of approval from the admin, so they opted for the high noon mass together w/ the public regular mass.
- uniform will be the t-shirts that are being printed special for Brod Randy. For those brods who don't have the new printed shirts. Pls wear white polo or shirts
3) after d mass on feb 5, simple meals in the tambayan
4) for those brods who will deliver eulogy for our fallen brod, pls avoid any statement on who may or may not be responsible for his murder. Let us avoid baseless accusations while the investigation is still ongoing.

Vic M Tupaz - BOT Pres '67 LB
==============================
FINALLY, from Brod Randy Felix Malayao, UPV '89:
"Sharing photos of the 1st BOT meeting of UPBSF Inc. Jan 17, Serye Cafe"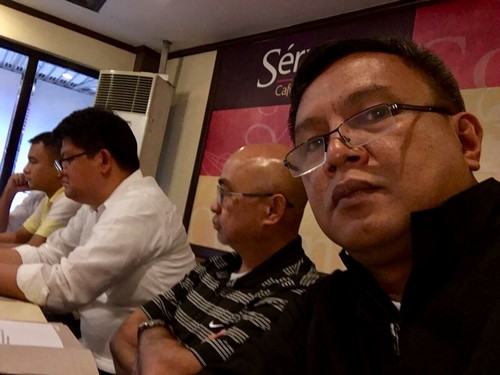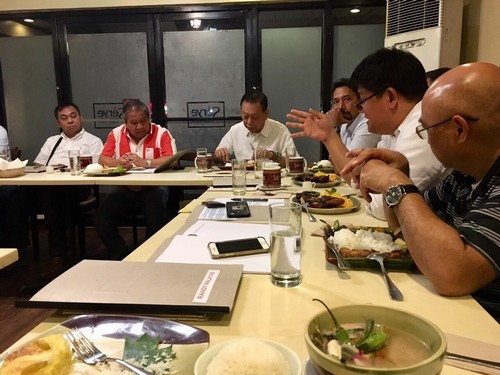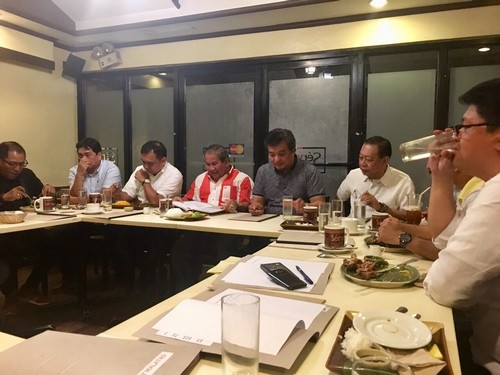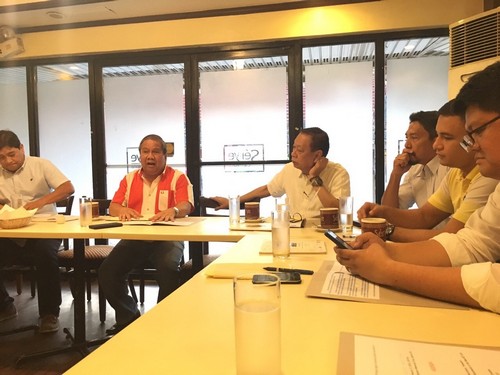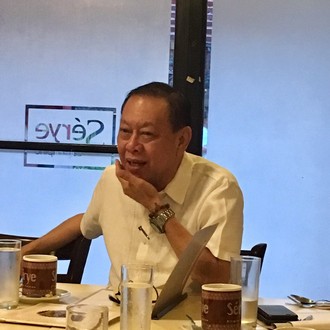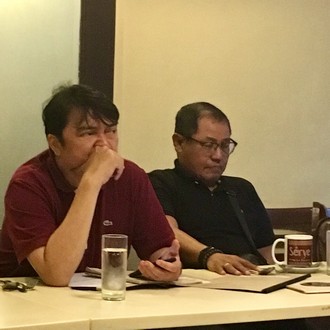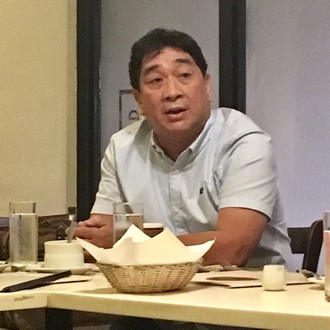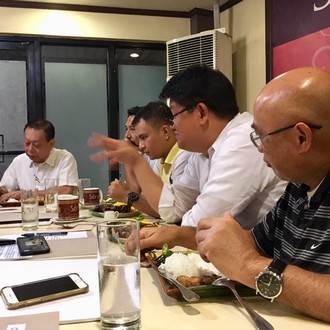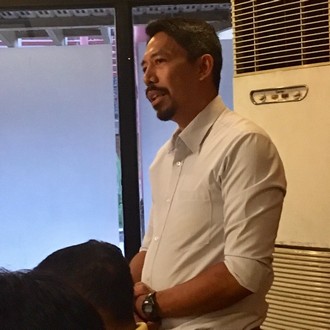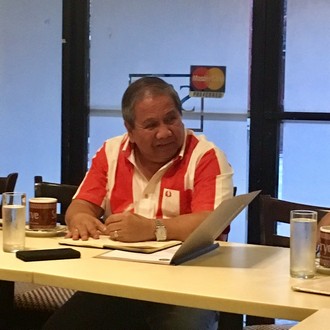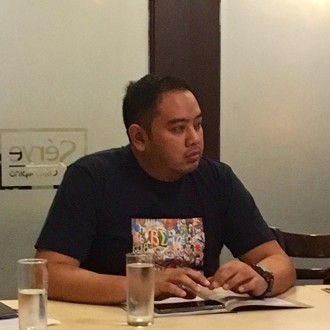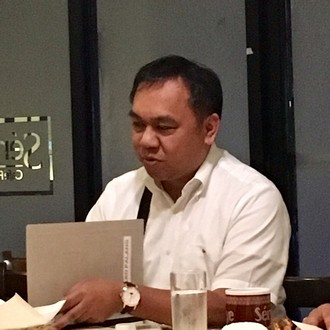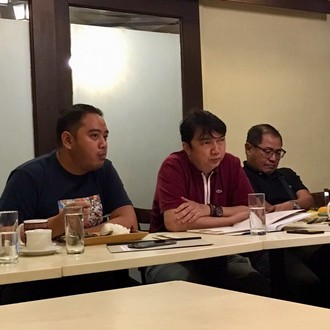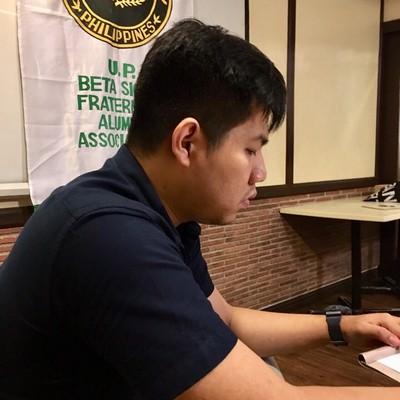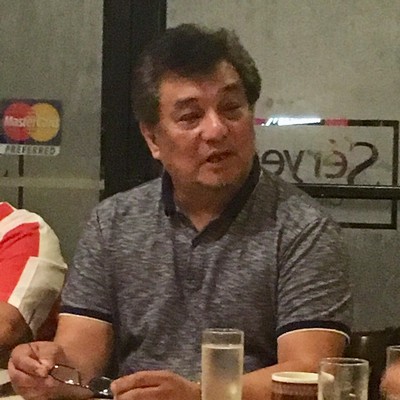 Farewell, Brod Randy. Cheers to a life of sacrifice and service!!

===============================================================================================================================================================================================================