Malmon Treasures
(to contribute, email Malmon items with comments/captions to: nmbituin@msn.com, tatang_up@hotmail.com)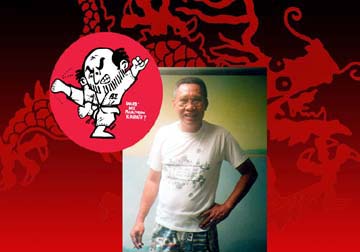 The Master, The Creator of Malmon - Banz Banez'57
*** These came from the files of resident brod Danilo Si'08 of RP on their LA visit in Nov. '09.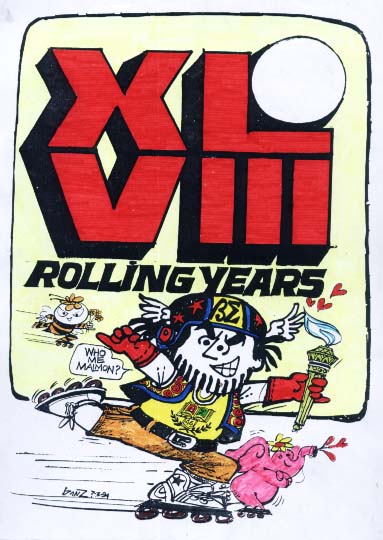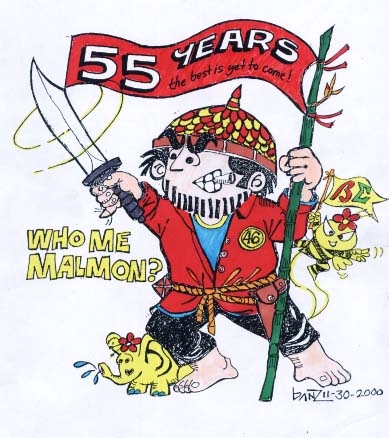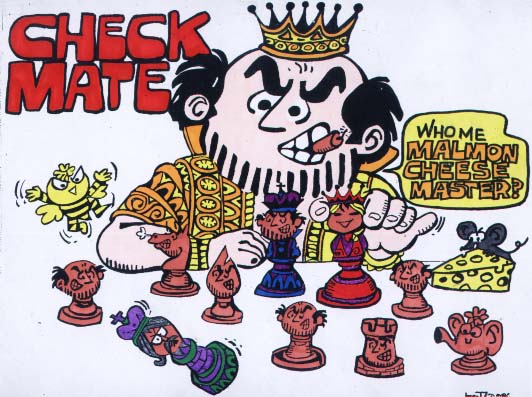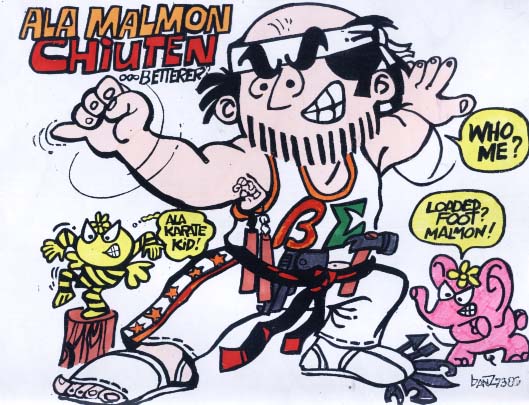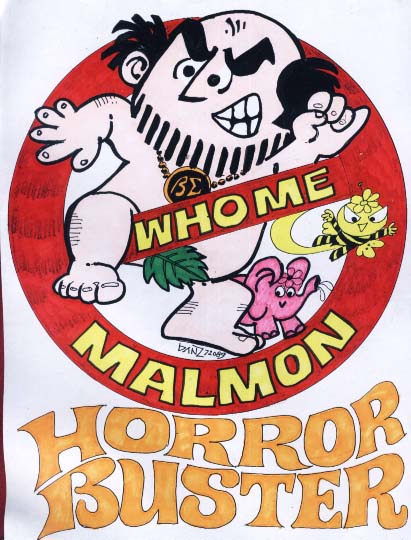 *** This Malmon drawing is a contribution of Gilbert Dulay'64 of La Verne, California.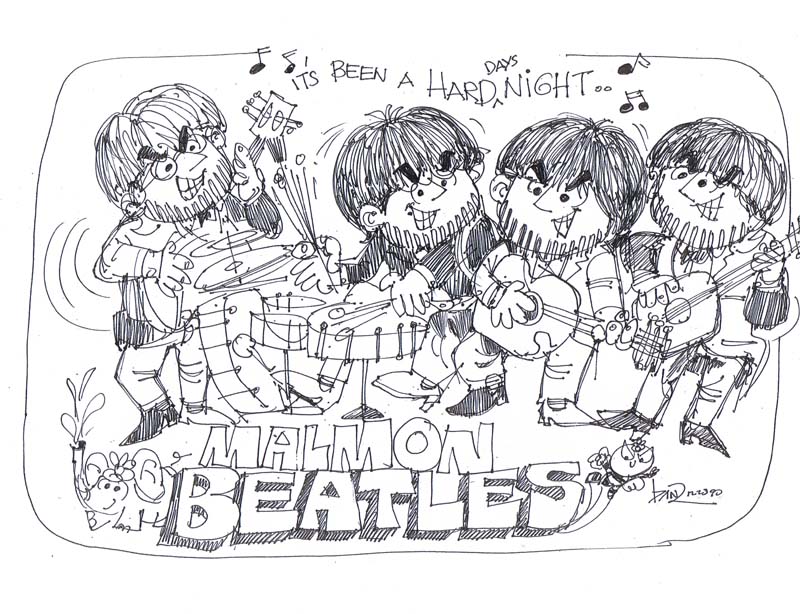 *** From the Collections of Jojo Criador'81 of Los Banos, Laguna, RP (Second Batch).
[Restored by Willie Vergara'67]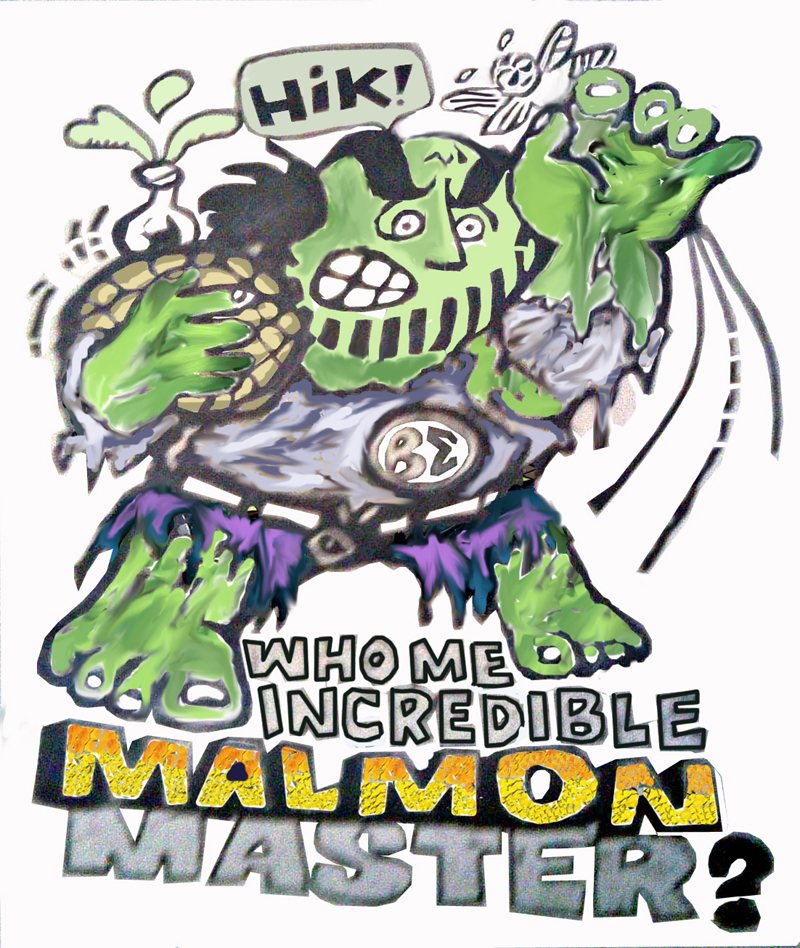 Incredible Malmon Master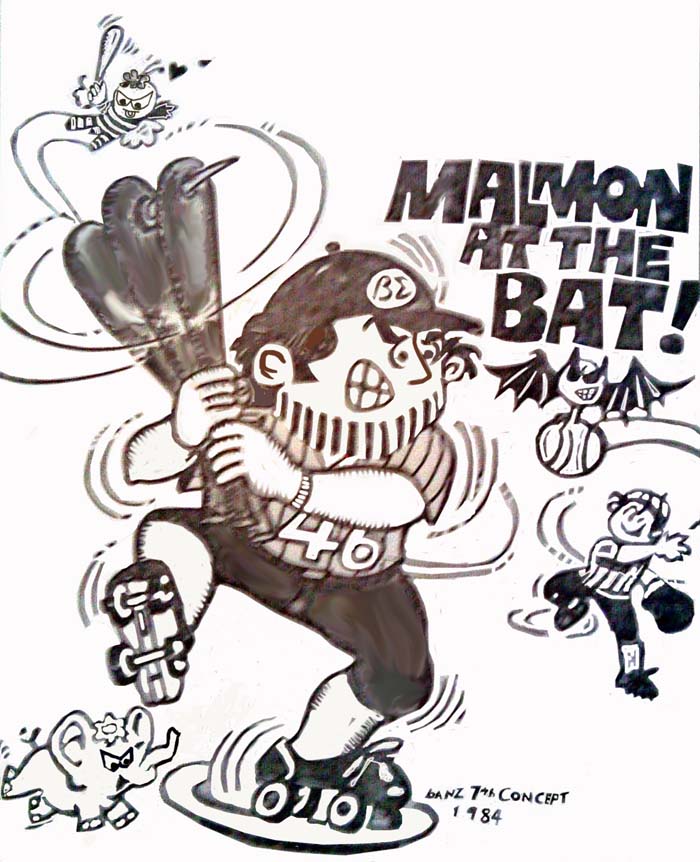 Malmon at the Bat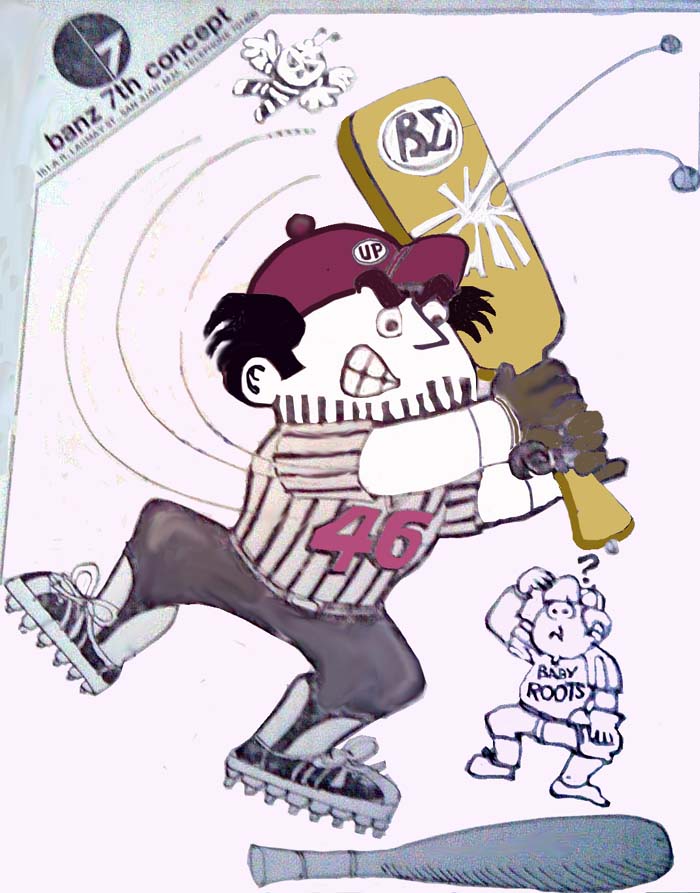 Malmon Batter
*** From Jojo Criador'81 of Los Banos, Laguna, RP.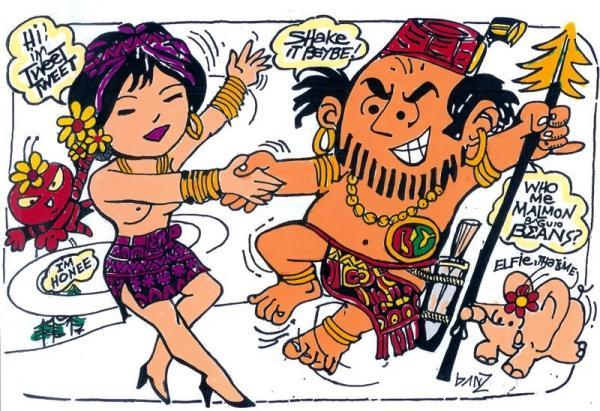 Malmon Baguio Beans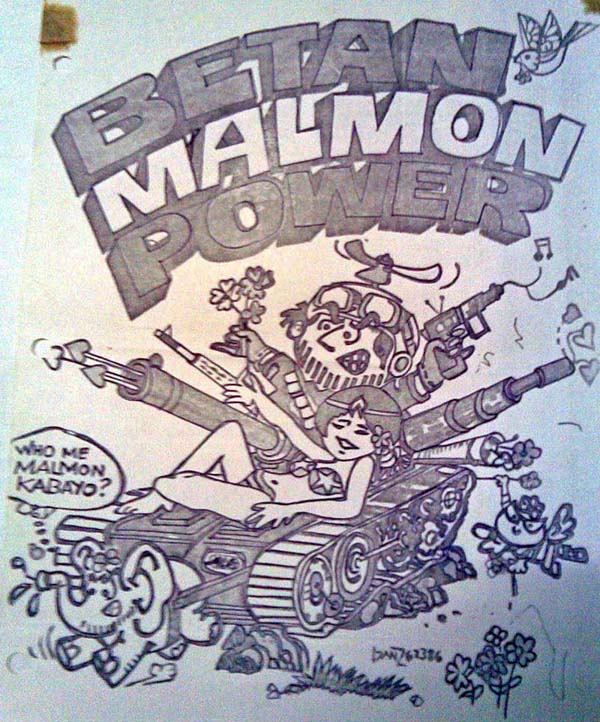 Betan Malmon Power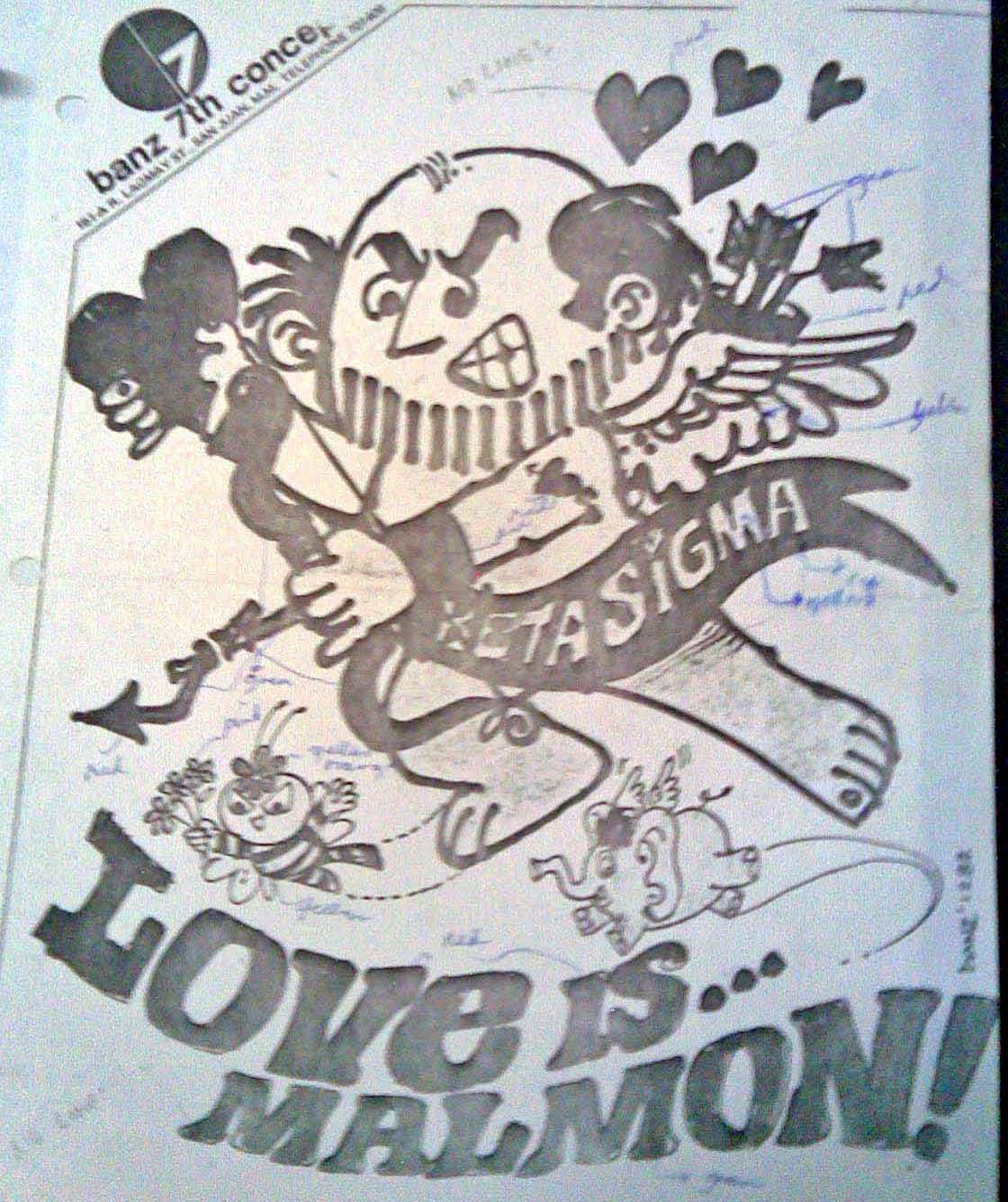 Love is Malmon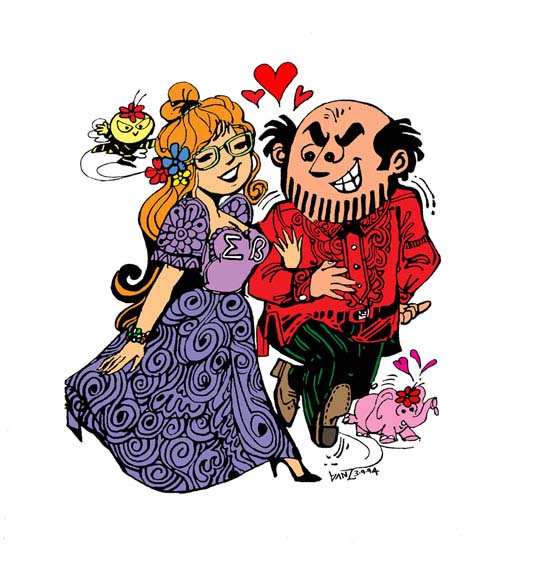 Malmon Wedding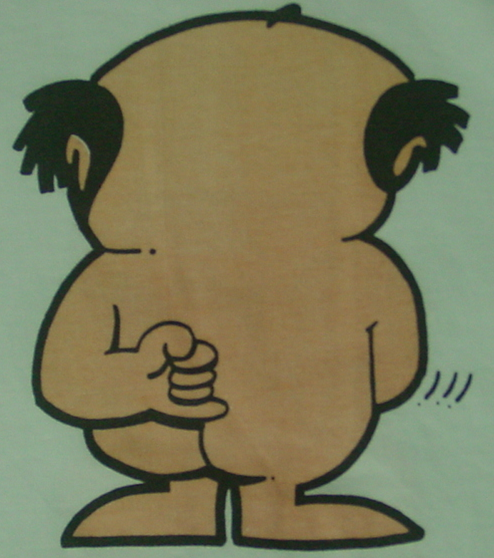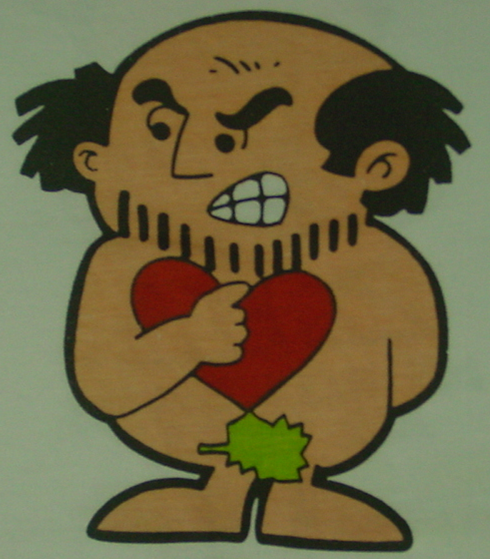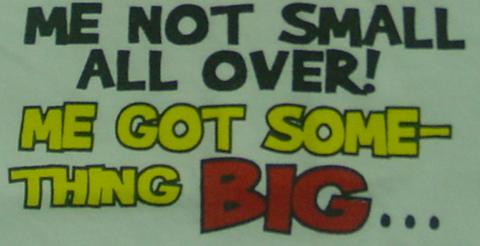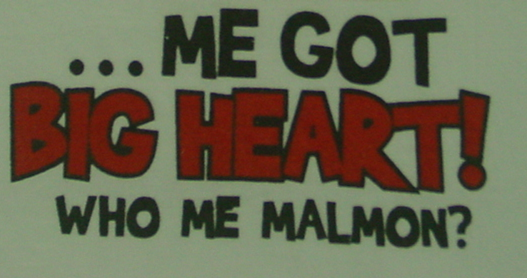 Malmon Big Heart
*** From Willie Vergara'67 of Rocklin, California.
I'm sending you 15 designs of MALMON, which should now complete the whole batch of TWENTY-FIVE that Banz gave to UPBSFI, then UP Beta Sigma USA --- in appreciation for the two rounds of fund-raising we conducted during the period of his (Banz') illness.

Having been out of office for most of the week, I took advantage of the free time not just to clean up the remaining MALMON designs but to color some of them as well. It should be noted that I remained faithful to the original colors that Banz had intended. Consider, therefore, that these colored works underwent a "restoration".

As mentioned earlier, these are really precious works and they belong to all of us, especially to the scores of brods who responded to our call for donation.

I find it an obligation to once again appeal on behalf of the Master. BANZ DID NOT WANT ANY MALMON DESIGN BUT HIS, so we have to please respect his wishes, mga kapatid.

Hindi natin ipagmamaramot ang mga narito. Anyway, Banz said MALMON is for every Betan. In his last decade, he was so sad to see new Malmon designs cropping up without his permission. With the addition of 15 more designs, we have more than enough to choose from.

Maraming salamat po sa inyong lahat.

Willie "Tatang" Vergara, 7-19-2008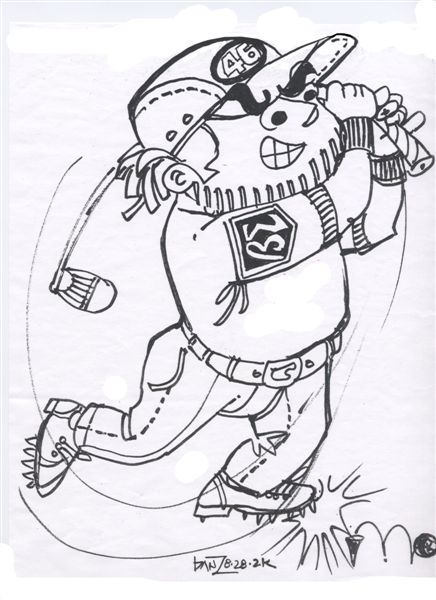 Malmon Golf unnamed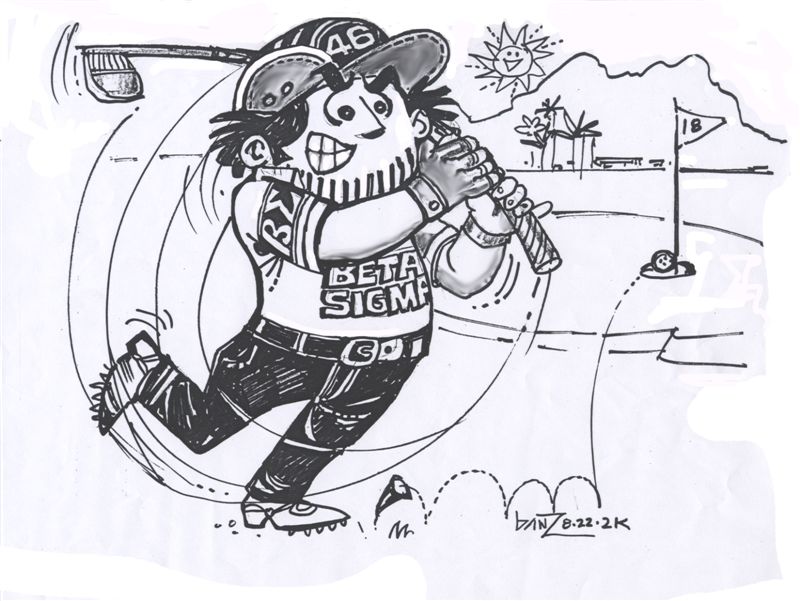 Malmon Hole18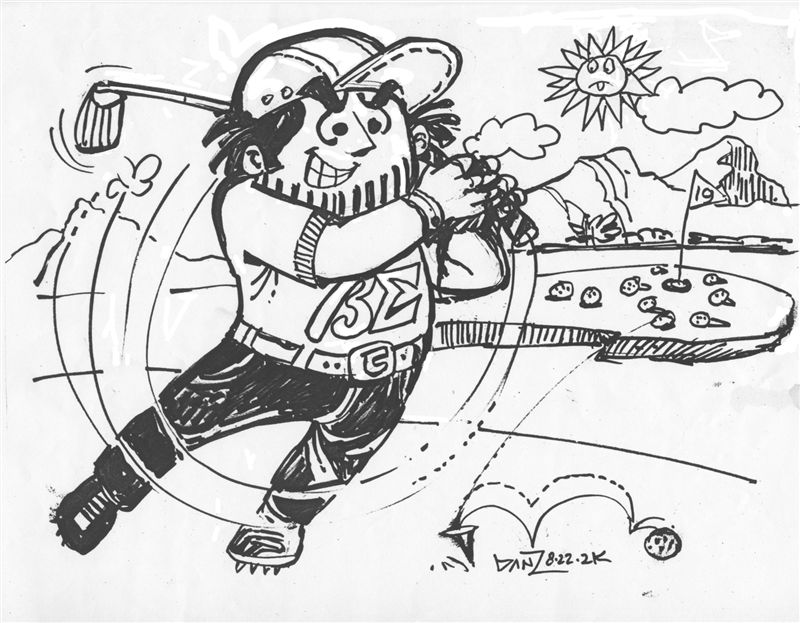 Malmon Hole19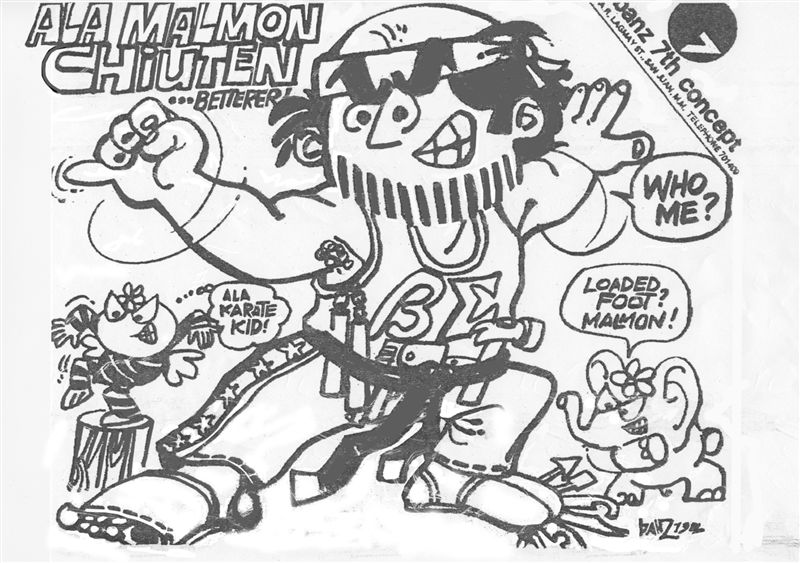 Malmon Ala Chiuten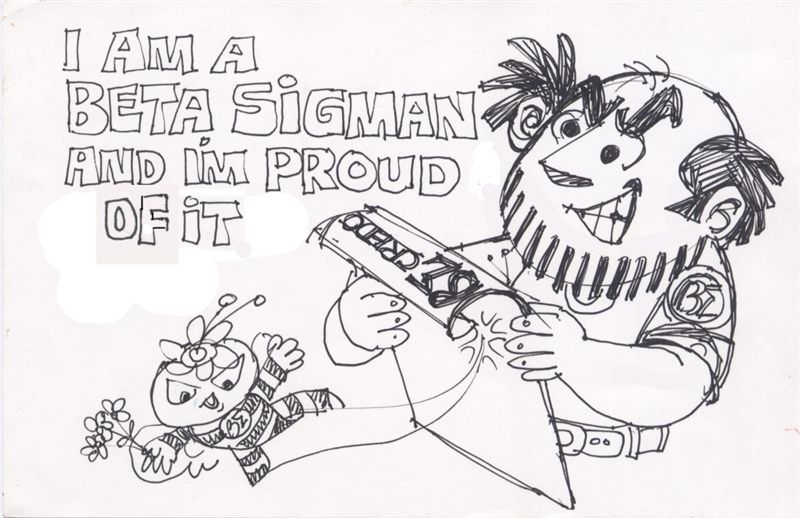 Malmon Credo Study unsigned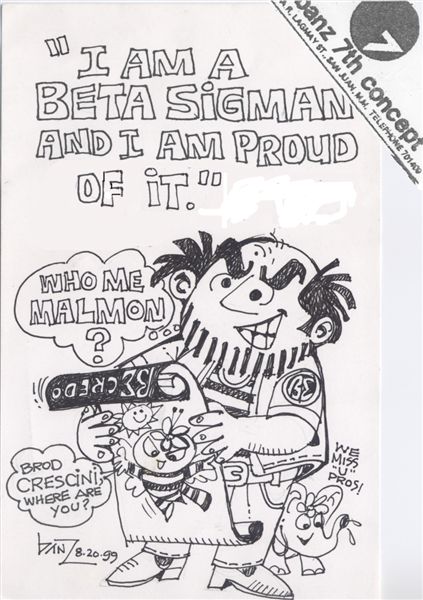 Malmon Credo2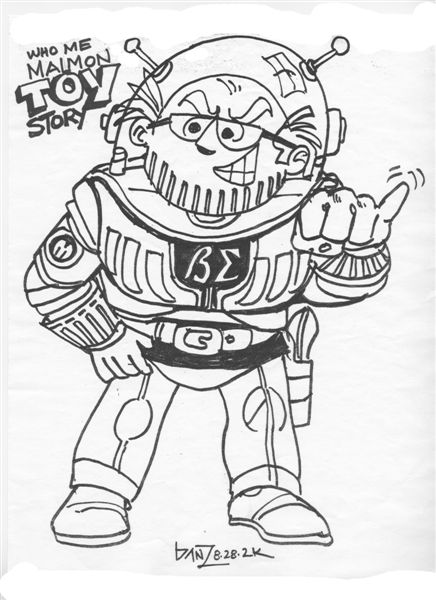 Malmon Toy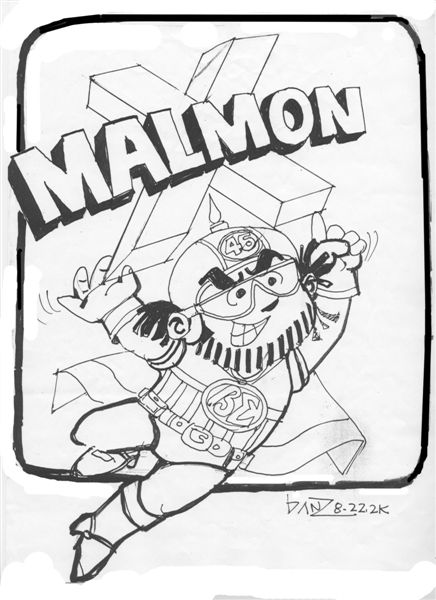 Malmon X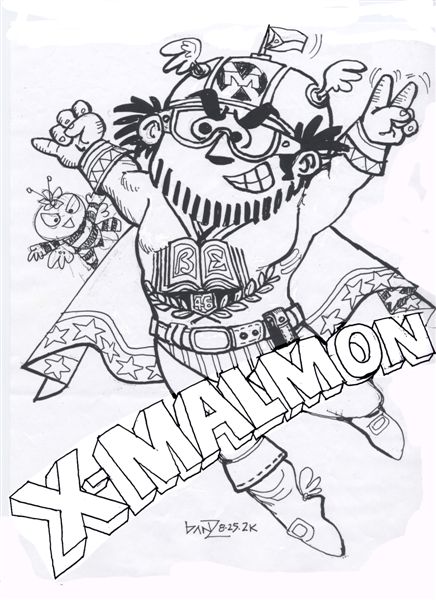 Malmon X2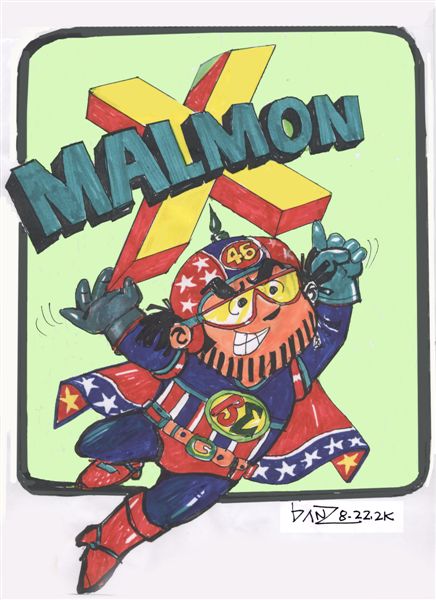 Malmon X3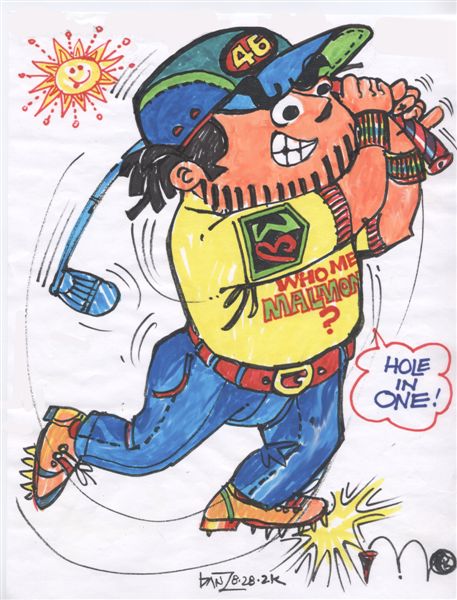 Malmon Hole In One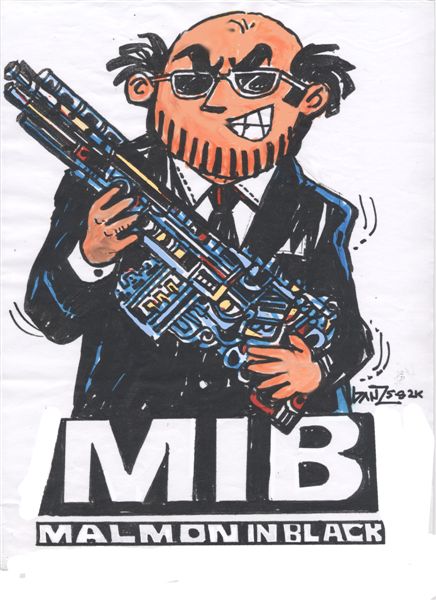 Malmon In Black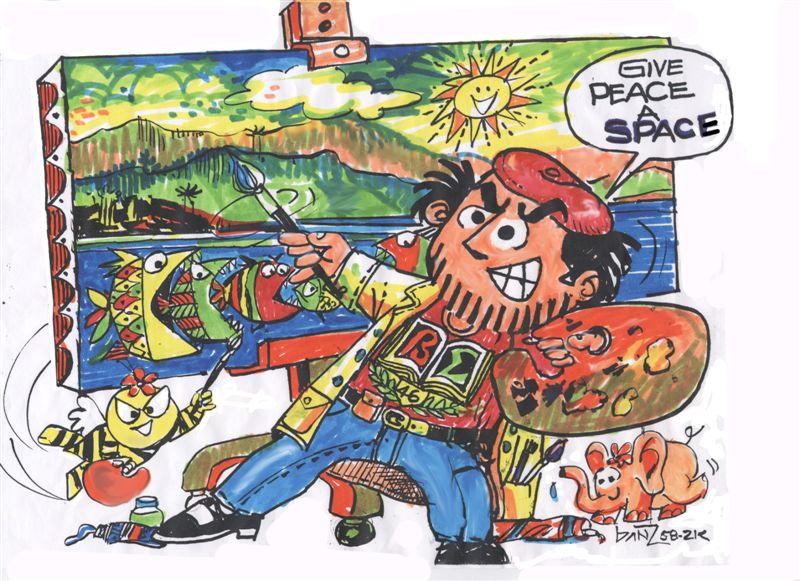 Malmon Peace Space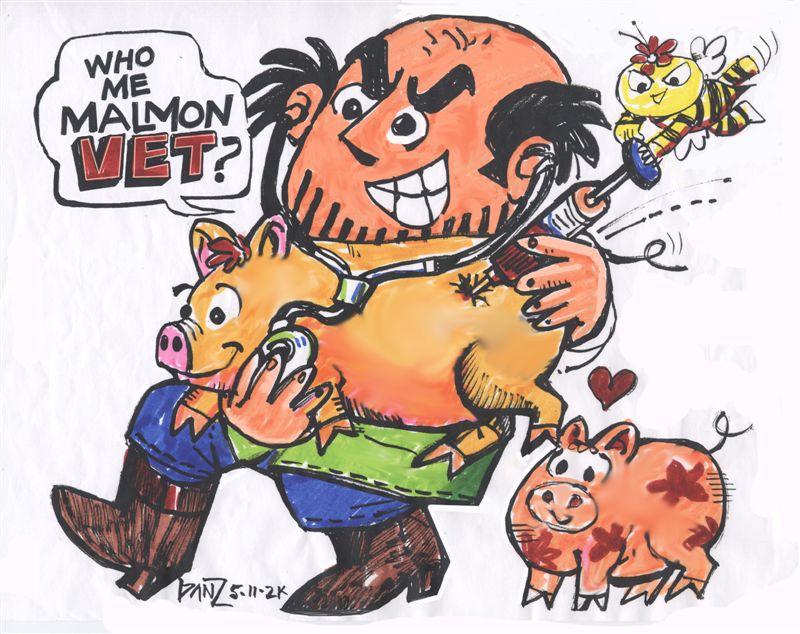 Malmon Vet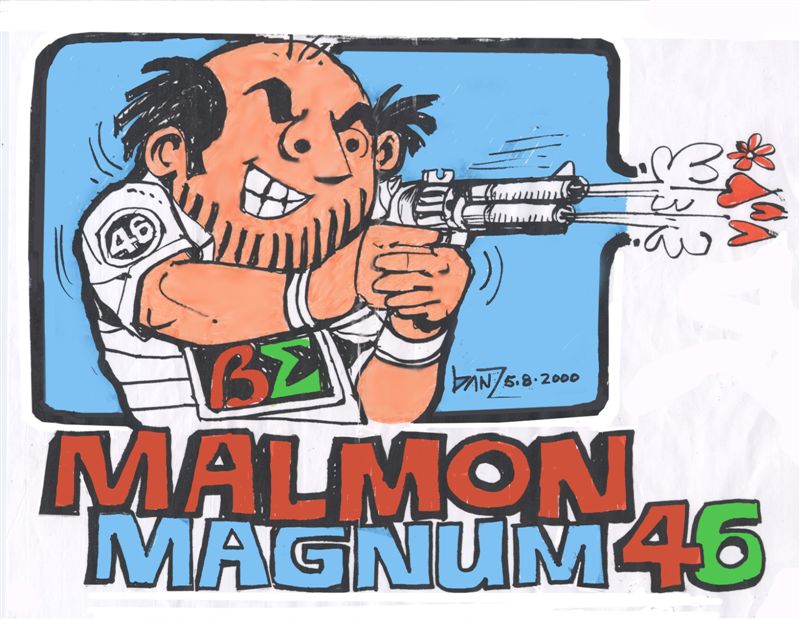 Malmon Magnum46
*** From Willie Vergara'67 of Rocklin, California.
I consider these two batches of Malmon as very precious. It was sent by Banz to the then UP Beta Sigma USA (now UPBSFI, Inc.) in appreciation of the two rounds of donations from USA-based brods (mostly from Northern and Southern California, and some from Canada like Noli, Jopet, Fred Young, etc. and from the Mid-West and East Coast. (I remember Brod Wally R also made a special solicitation to help Banz in his ailment.) In these two rounds I mentioned, we were able to raise about $10,000 way back in 1999, a record that remains unbroken to date insofar as helping an ailing legend whose legacy is for all time.

The paper upon which these Malmons were copied from were colored by Banz himself using bookmarkers of different colors. His sickly condition at the time told on his coloring of the Malmons, as his hands were already trembling because of his ailment. So, I painstakingly translated these into black and white to neutralize the grayed-out portions on the face and the hands in order to remove the "smudge effect" and are now ready for posting.

These "colored" Malmons can be viewed anytime. These are now with GP Bong Beredo, if he has not yet turned them over to the Guardian of the Chattels.

Cheers!

Willie "Tatang" Vergara, 7-04-2008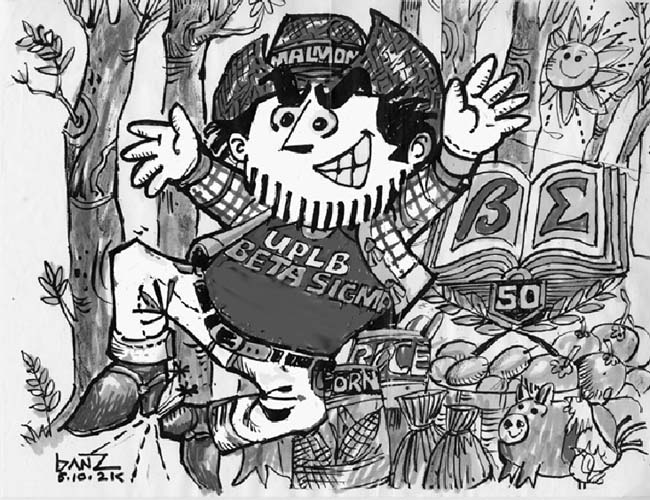 UPLB Cowboy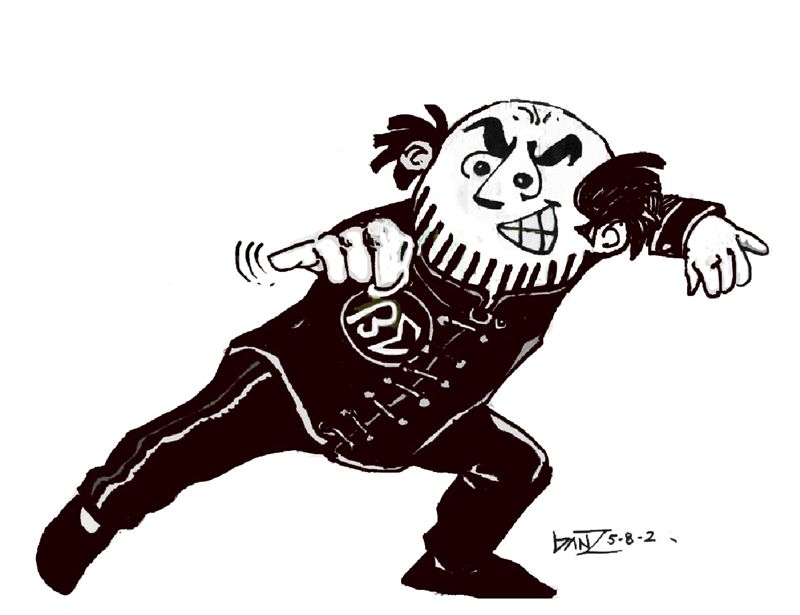 Jet Li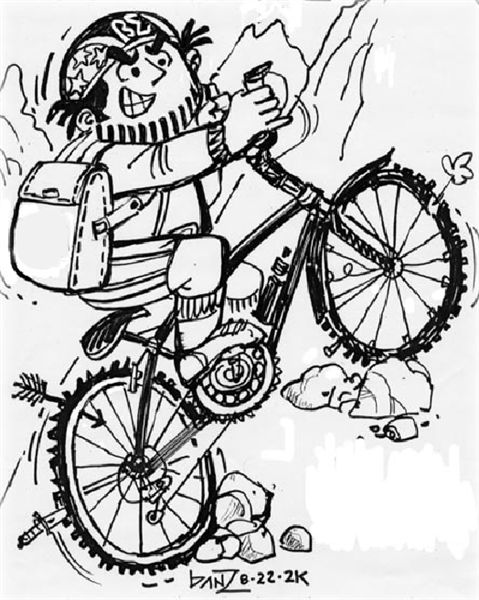 Mountain Biker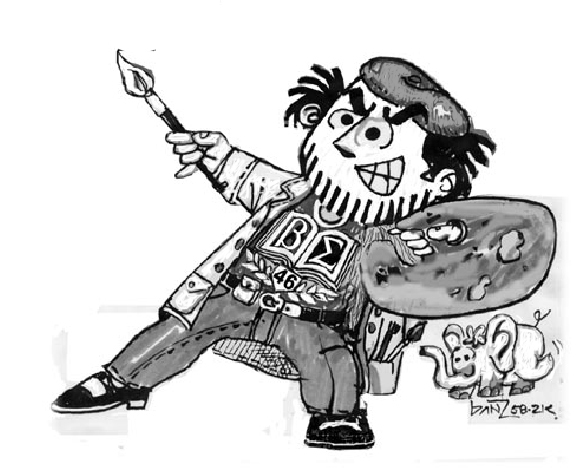 Painter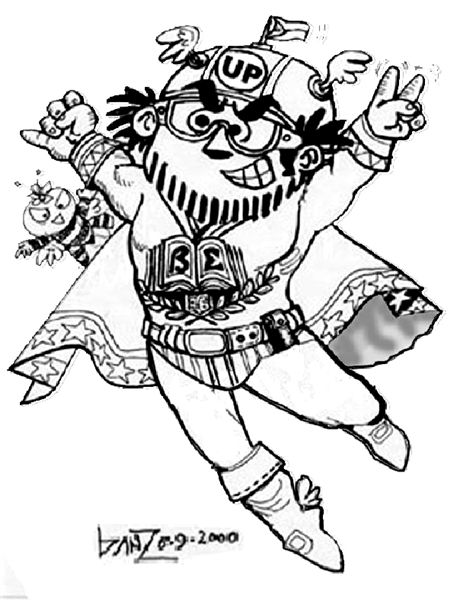 Superhero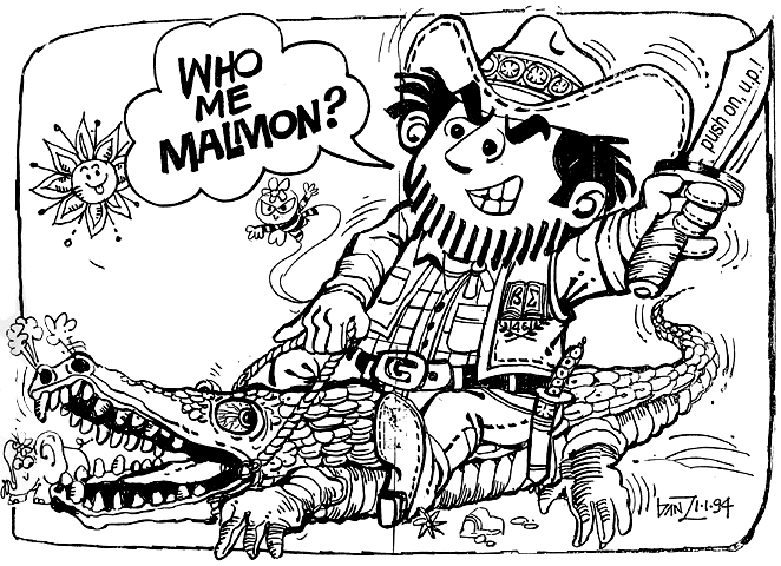 Indiana Jones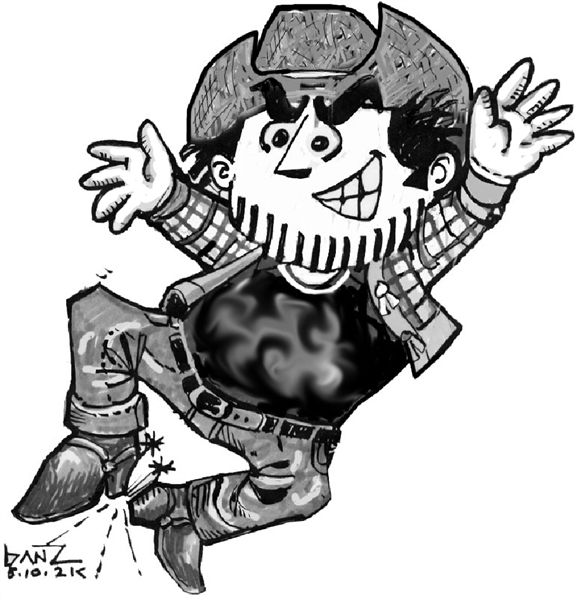 Cowboy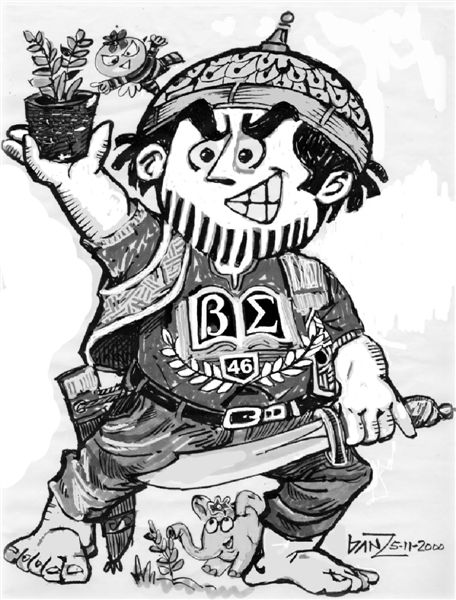 Forester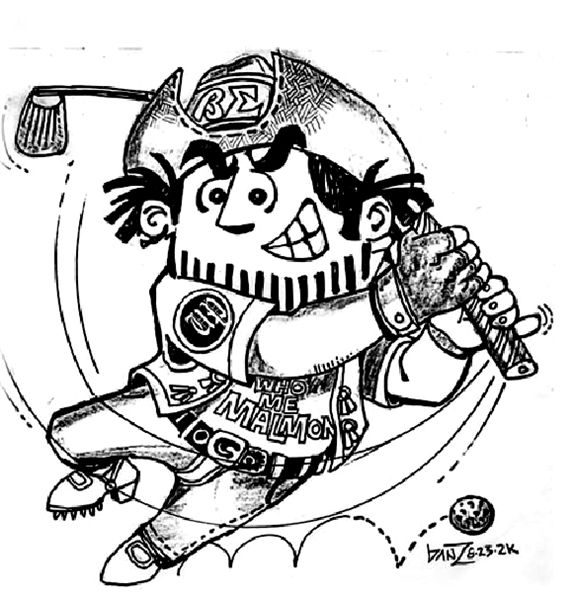 Golfer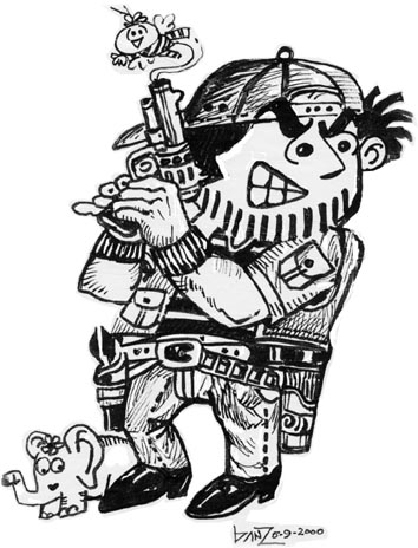 Gunslinger
*** From Noli Nolasco'62 of Alberta, Canada.
" This Malmon contains all the trimmings that Brod Banz envisioned for me when I informed him about my golf addiction:
1. Black Secrets seal on the right arm;
2. Dr. Noli on the golf cap;
3. JC's black belt which is in my possession.
Dated September 18, 1997. We had a family get together at Shoemart Makati.
I would like to share this nostagic treasure with everyone. Cheers." -- Noli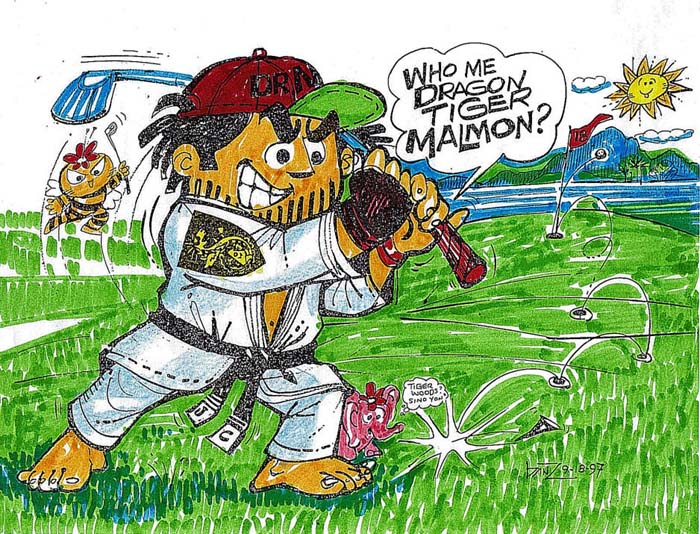 *** More Malmon finds from the files of Benild Pires'64 of Victoria, British Columbia.
From Tatang Vergara, here's a little trivia story. Know what was Benild's alias and why?
-- Maharajah of Vancouver (according to Bro Wally)
-- Maharajah of Victoria (according to Tatang)
*And from Brod Norman, the true background is found below:
"Benild Pires' alias when we were amuyongs in '65, right after his batch in '64, was "Maharajah of Minnesota" because
his gf then, now wife, Laila de Lara lived in Minnesota St. in Cubao. The story was one of us under initiation was made by
Benild to write the phrase "Maharajah of Minnesota" on all 4 sides of all the matchsticks inside the matchbox, if you can
just imagine how small and thin that writing surface was for his noble alias".
*And confirmed by Benild, 3/11/08:
"It's true about the matchsticks! He! He! He! Maharaja of Minnesota (street in Cubao is now called Ermin Garcia). And Laila
and I now live in Victoria, the capital of British Columbia, on Vancouver Island. Vancouver City is on the mainland". -- Ben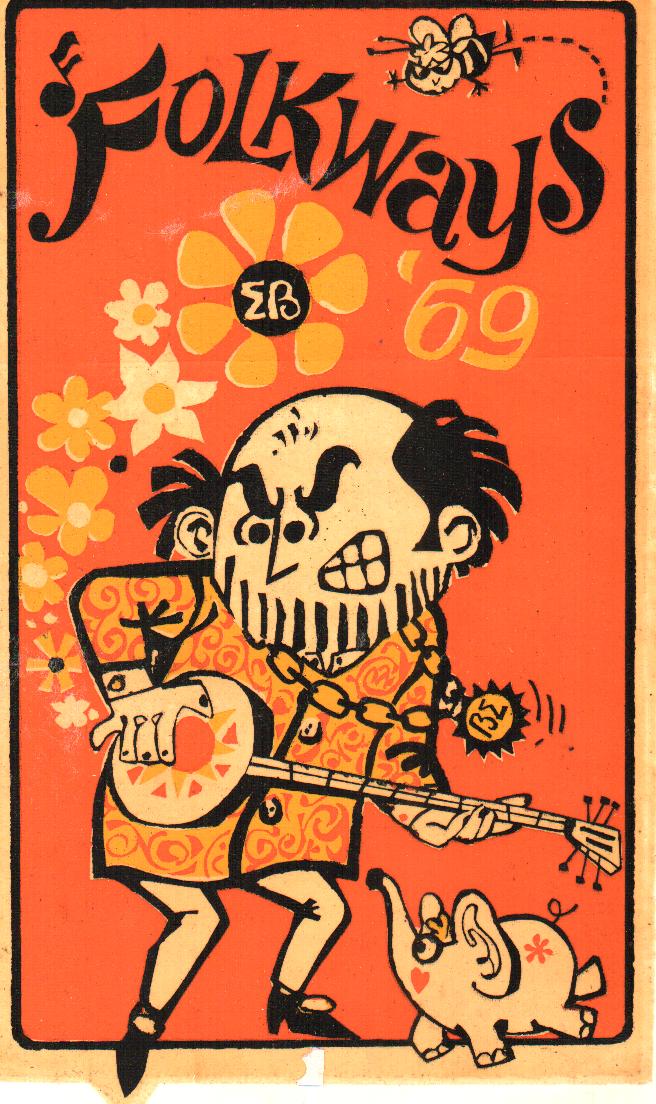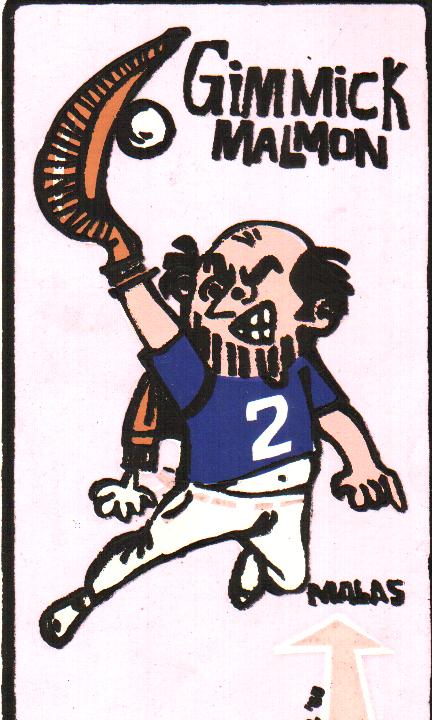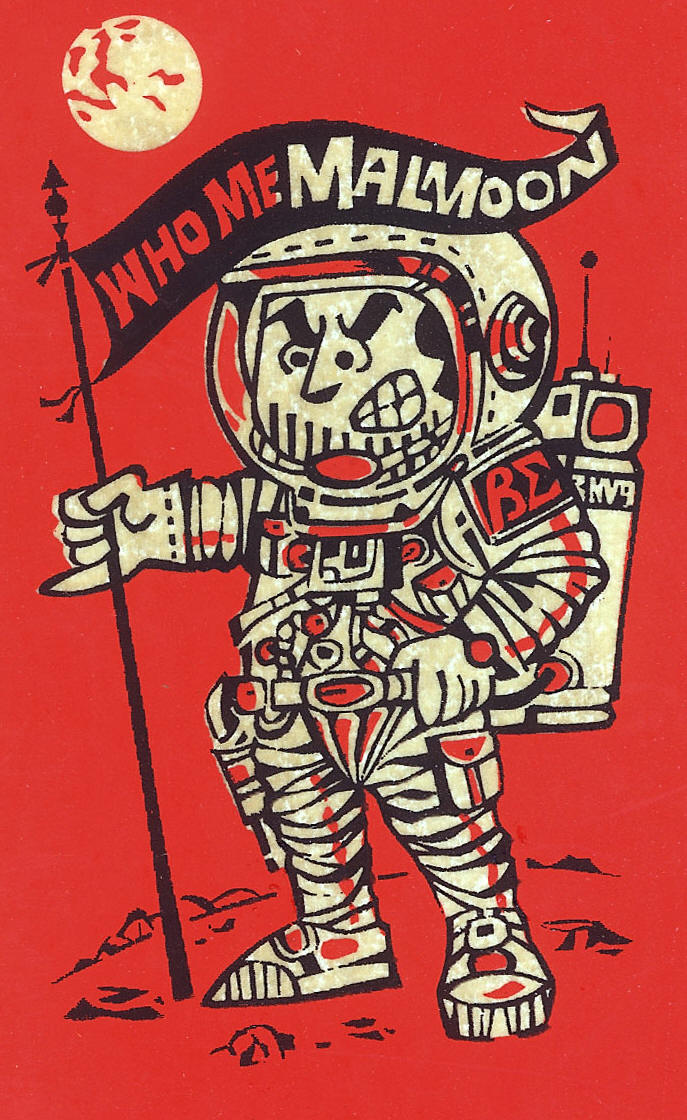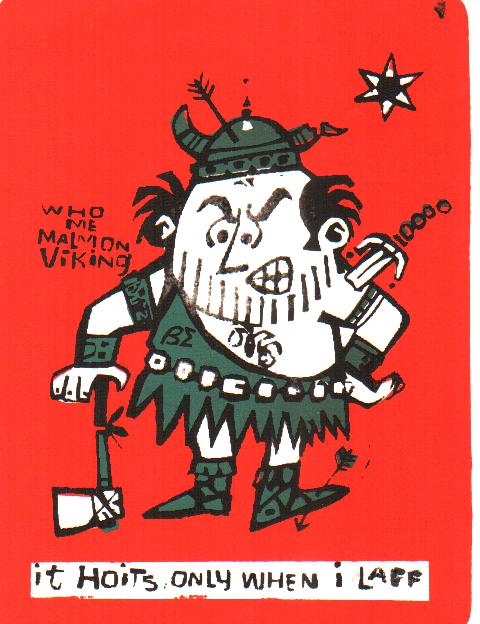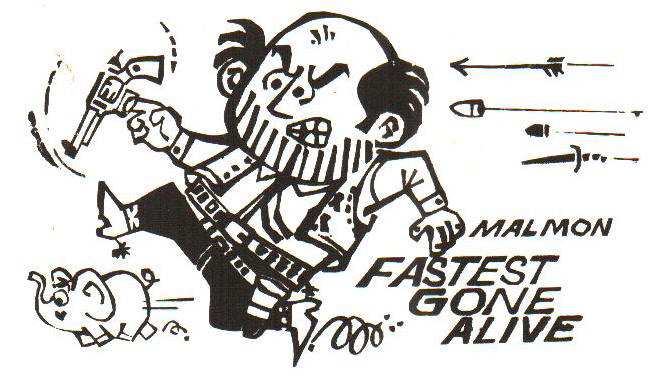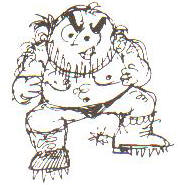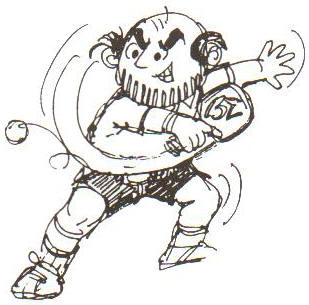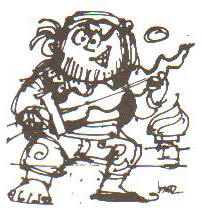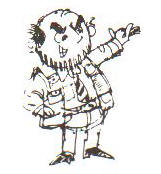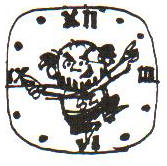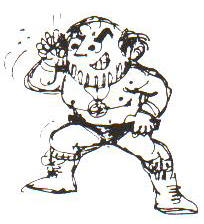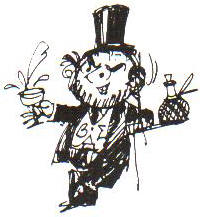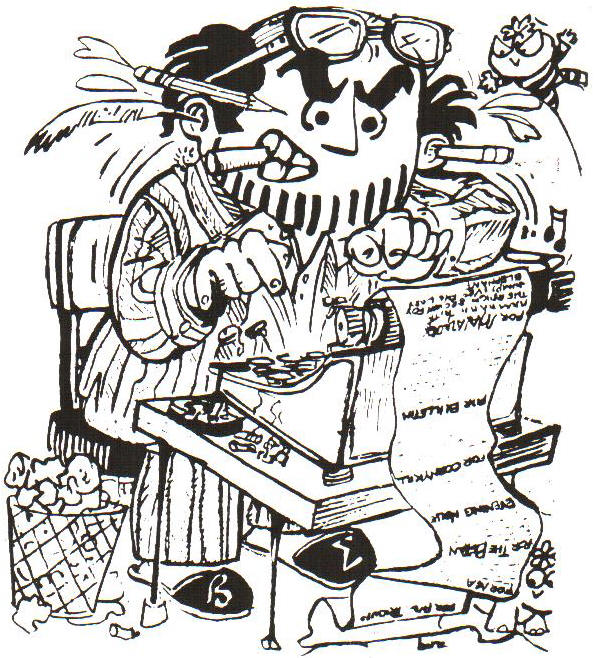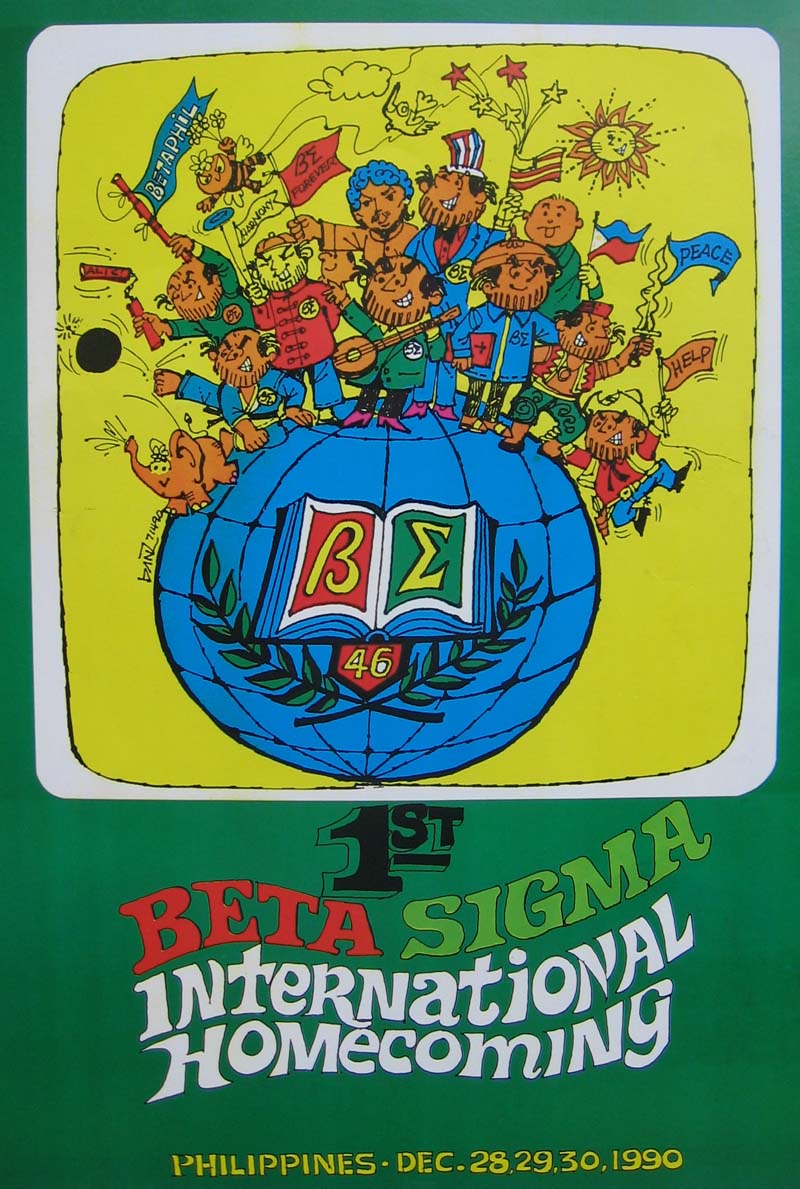 *** The following Malmon caricatures for ICUP were contributed by Benild Pires'64 of Victoria, British Columbia.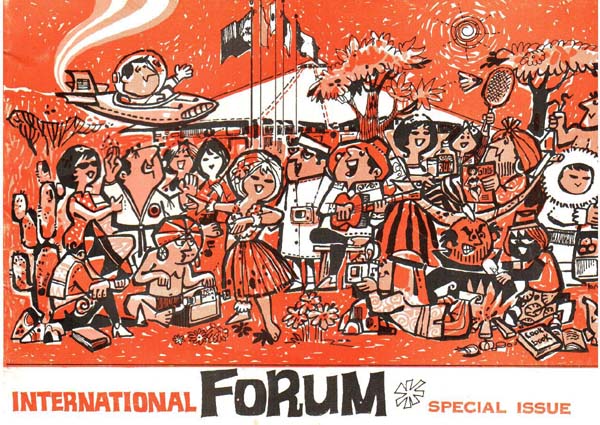 International Club of UP (ICUP) Forum - 1967, by Brod Banz Banez'60

ICUP International Festival Ball ticket - 1967, by Brod Banz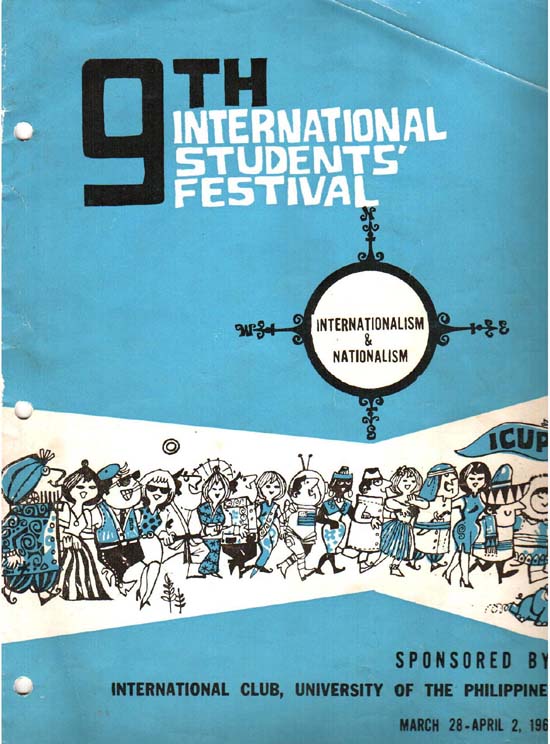 ICUP 9th Students' Festival program - 1967, by Brod Banz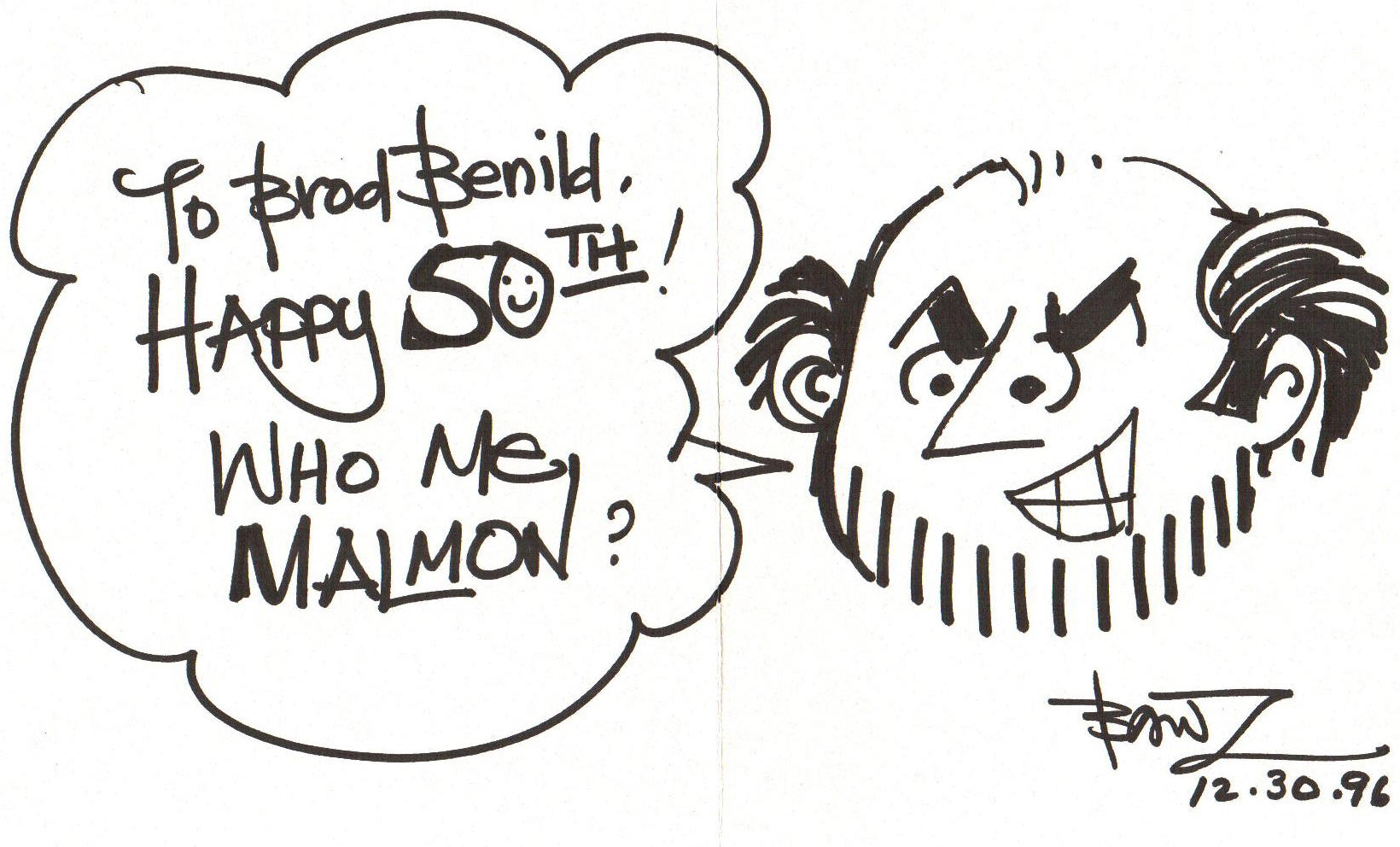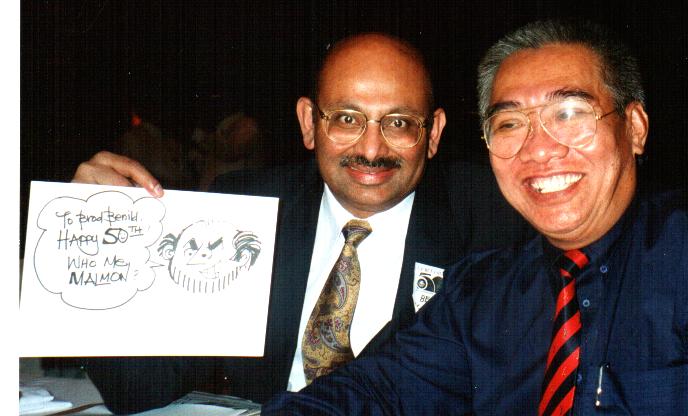 Benild and Banz at the UP Beta Sigma Golden Anniversary 12-30-96, Manila, Philippines
*** The following were contributed by Wally Rodriguez'63 of New York.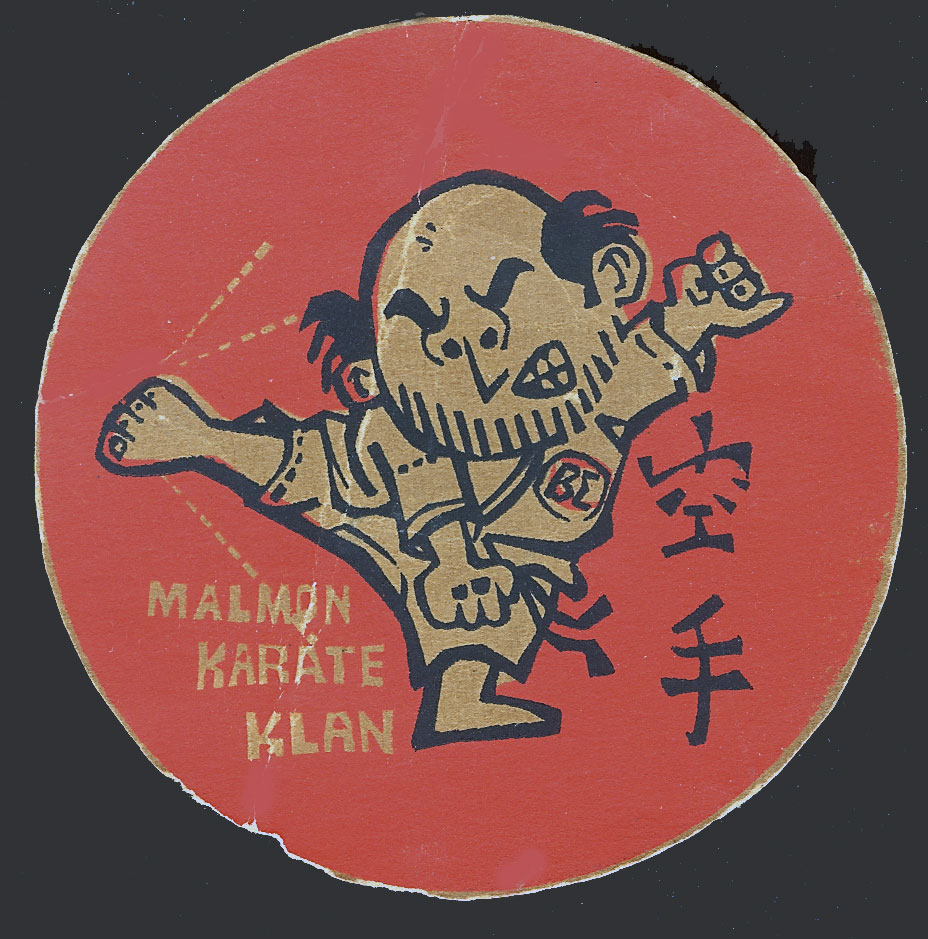 *** The following are contributions from Brod Jopet Laraya'63, DVM, which he scanned from his originals.
Fyi, Jopet has his veterinary practice in and lives in Hongkong. Along with Brods Johnny Chiuten'60
and Ollie Jumao-as'73 of UP Beta Sigma SOMA, Jopet teaches martial arts and arnis to the resident
brods, just recently at JC's training grounds in Cebu.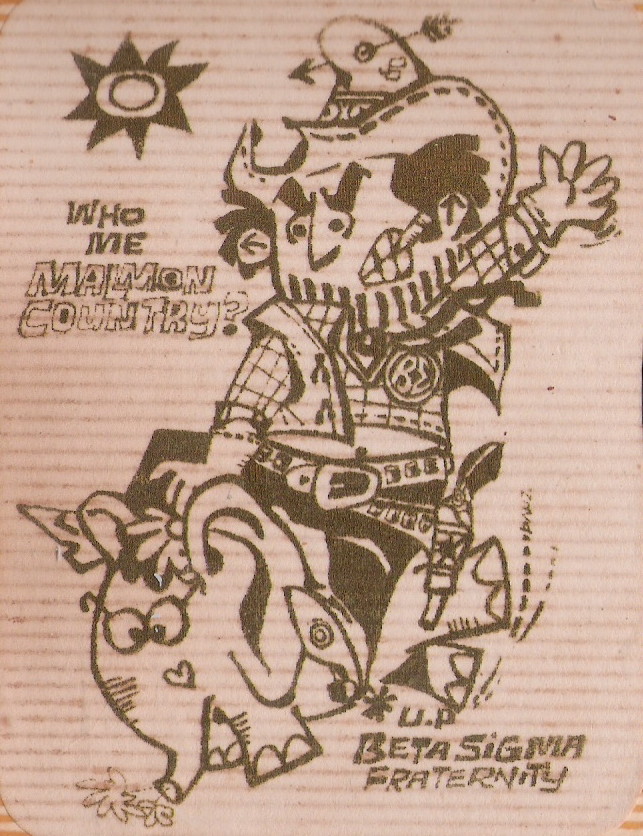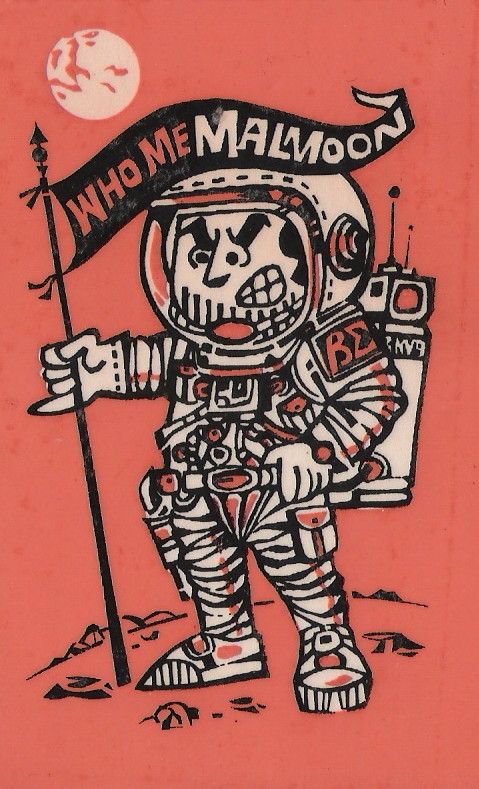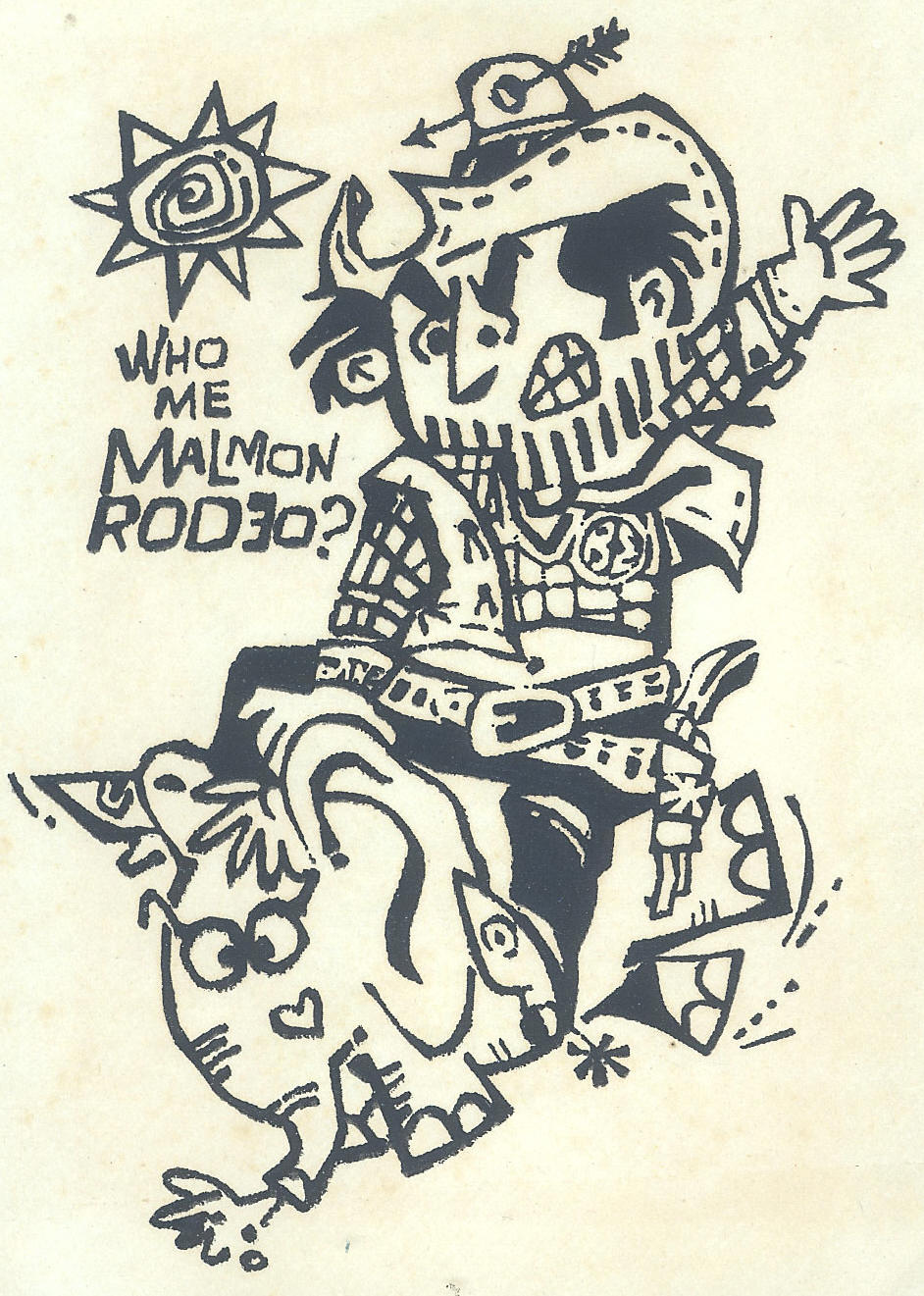 Malmon Country Malmoon Malmon Rodeo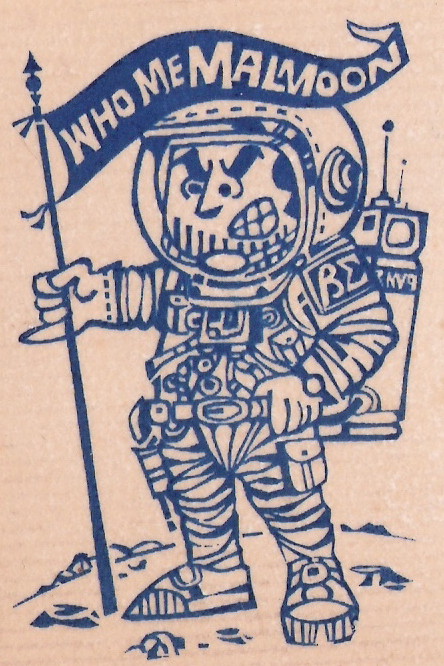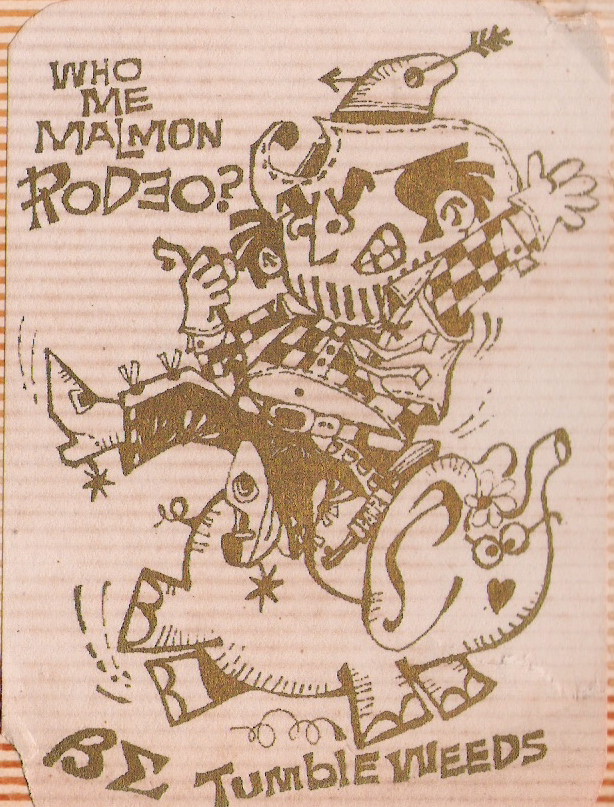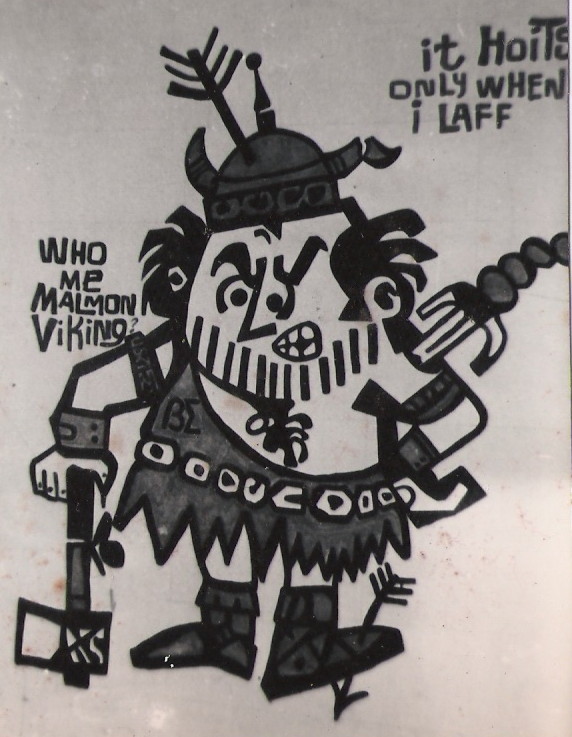 Malmoon Malmon Tumbleweeds Malmon Viking

*** The following were contributed by Norman Bituin'65 of Diamond Bar, California.