Betan Memory Lane III
(to contribute, email photos with comments/captions to: nmbituin@msn.com, tatang_up@hotmail.com)
These pictures were sent by Erwin Acuņa'76 from Calgary, AB.
Free Medical Clinic during the term of GP Ben Albarace. Sa Area, inside the Diliman campus.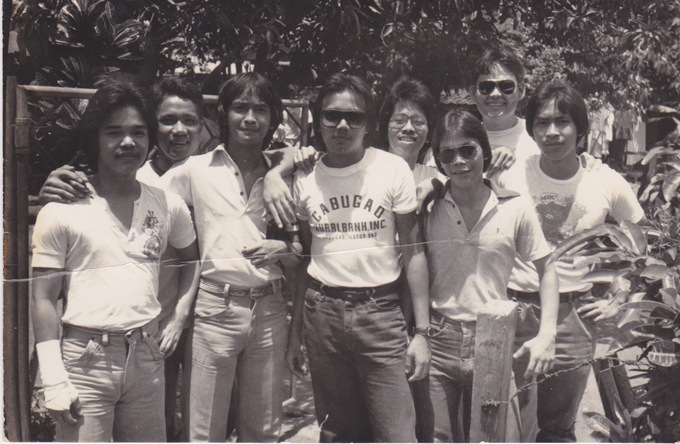 Butch Madarang, Borger Buan, Ick Angeles 78A, Joey Rigor, Edwin Acuņa,
Danny Paz 78A, Jojo Sybico (+), and Anthony Buyco 79A.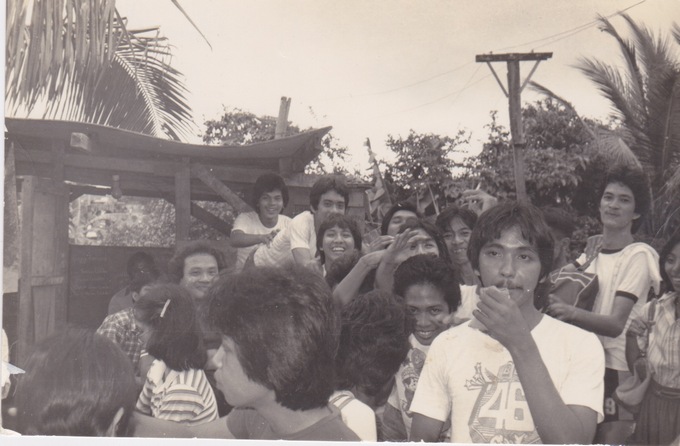 Cesar Salvador 75C, Obet Santos 76D, Cesar Landrito 77B, Wo Coronel 79B, Rene Navarro 75C,
Marnie Melgarejo 77B, Babes Ignacio, Gabby Tomeldan 78A, Roni Agbayani, Joey Zulueta, and LC Beckie Malay.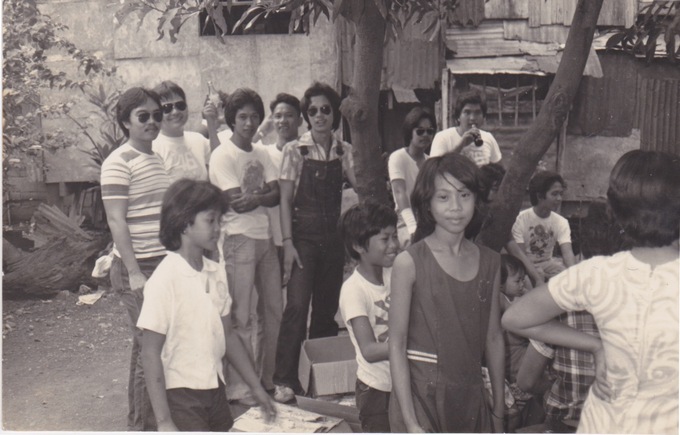 Oliver Butalid 77C, Jojo Sybico 78 (+), Rey Soria 78, Borger Buan, Edwin Garrido 78,
Butch Madarang, Deo Gonzaga 77A, and Babes Ignacio.
~~~~~~~~~~~~~~~~~~~~~~~~~~~~~~~~~~~~~~~~~
These photos were all taken during a jug-a-lug at the apartment of The Lone Shark Brod Pitong Cabral 79D. The brods and LCs in attendance are: Lionel Latoja, Flor Pagador (+), Butch Madarang, Reggie de la Cruz 74A, Aņuca, Richie Agbulos 78A, Roni Agbayani, Bobbie Robles 71D, LC Cel Conde, Henry Pacquing 77C (+), Alex Roseus 79C, and Pitong Cabral.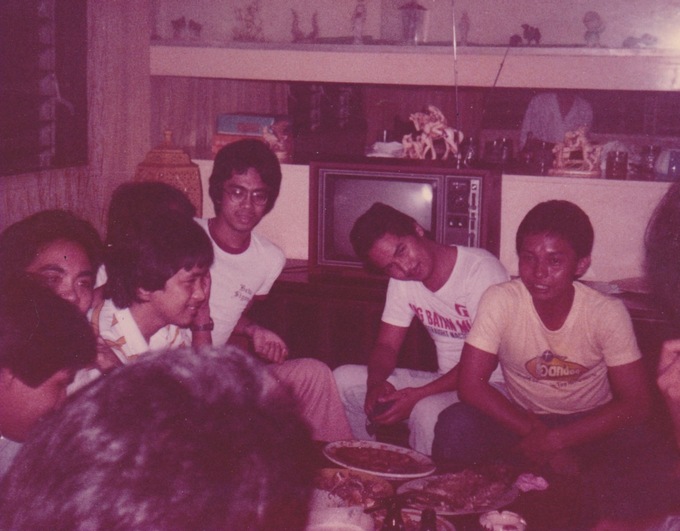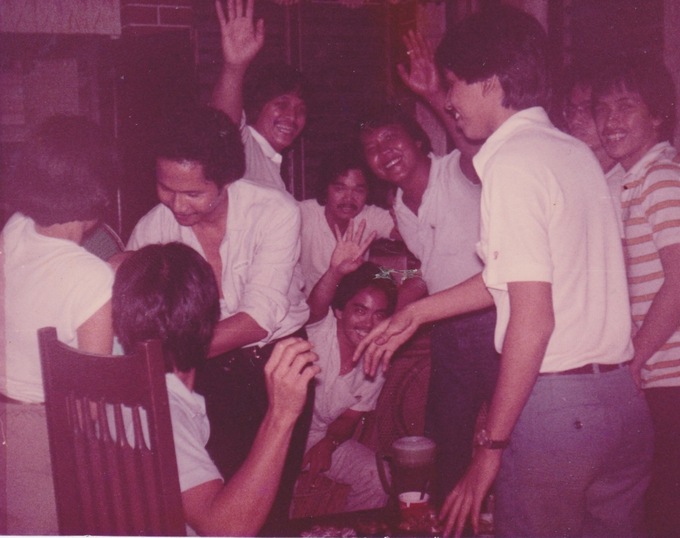 ~~~~~~~~~~~~~~~~~~~~~~~~~~~~~~~~~~~~~~~~~
These pictures were sent by Raffy Hidalgo'86 from RP.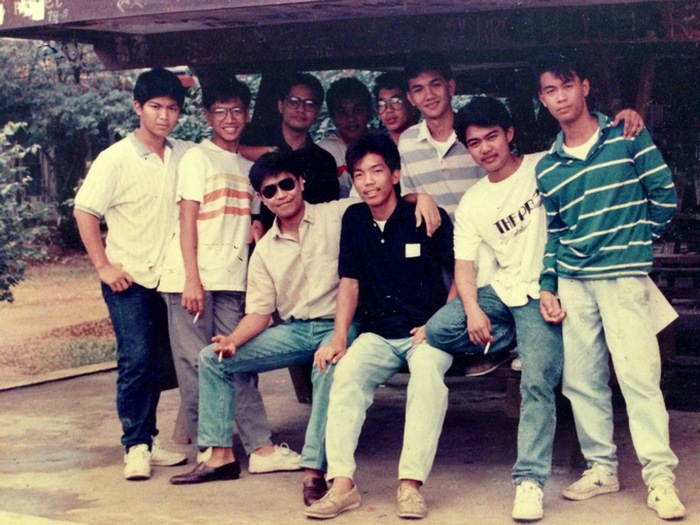 88 Tambayan
Back: Bino Aguinaldo '88, Ron Justo '88, Renzi Del Rosario '84, Marco Montes '88, Doods Gonzales '88, Jun Justo '87.
Front: Rafael Hidalgo '86, Otep Ladip '88, James Castaneda '87, Owl Balmores '88.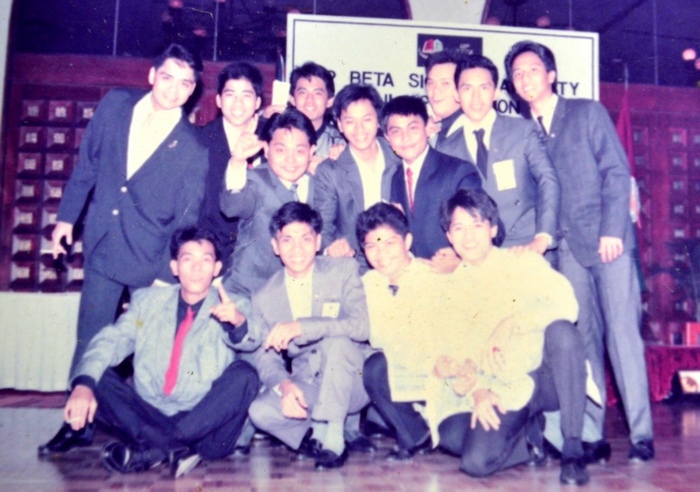 89 Ball
Standing: Renzi Del Rosario '84, Jay Policarpio '88, Philip Marfil '81, Rex Gingoyon '87, Dennis Liggayu '87,
Rafael Hidalgo '86, Jet Balajadia '86, Allan Ambil '88, Guring Alberto.
Seated: Mel Ladip '87, Ron Justo '88, Bino Aguinaldo '88, Jun Sta. Barbara '80.
~~~~~~~~~~~~~~~~~~~~~~~~~~~~~~~~~~~~~~~~~
This picture was sent by Frank Gorrez'52 from RP.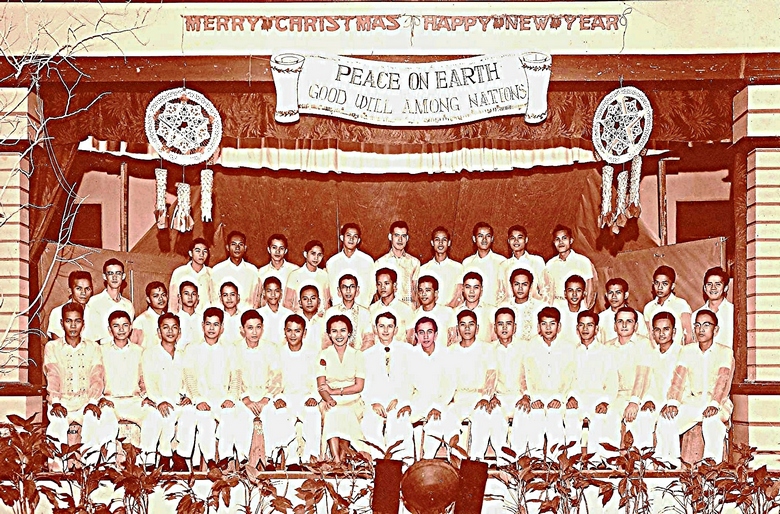 The attached photo is 99% Betan Singers where Brod Divinagracia is seated in front row 5th from the left. Please ask Brod Cornejo if I am correct? I directed the Musical Close Up 1 & Close Up 2 at UPLB where Perfing Palacio, Divinagracia (forgot his first name), Pap Amador and other Bicolanos were stars of the show (ask Brod Freddie Fajardo). I would appreciate it very much if the participants in the photo can be identified. I also remember Don Ganchorre as one of the stars. -- Regards, FrankG
~~~~~~~~~~~~~~~~~~~~~~~~~~~~~~~~~~~~~~~~~
This picture was sent by Joe Rebano'62 from RP.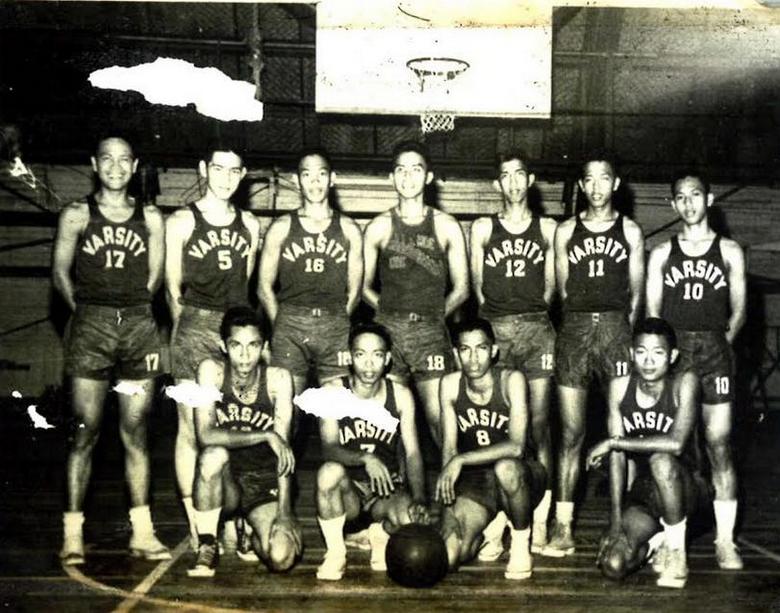 Attached is a picture of our 1962-1963 UP Varsity Basketball team where we had six Beta Sigmans as part of that team - Lionel Logronio (#16), Freddie de Leon (#18), Jun Gomez (#12) Marianito Cruz(#11), Joe Rebano (#8) and Sammy Bautista (to the left of JoeReb).

I recall the 62-62 team also did very creditably in the UAAP that season. If my memory serves me right - we ended up in a triple tie for first place in the second round but missed the playoff for first losing to UST/UE by a foul throw, a costly heartbreaking miss by Alandy.

Kind regards,
joereb62UPD
*Web note (NormB): I recognized Dave Perez (kneeling leftmost), who would join UPD Batch'64, and asked JoeReb to confirm. And JoeReb's reply: "That's Great info Brod Norman - that makes 7 - the # of current and future Betans in d 62-63 UP Team. Dave was our captain ball then. I wil c if he is stil with UP Tarlac."
~~~~~~~~~~~~~~~~~~~~~~~~~~~~~~~~~~~~~~~~~
These pictures were sent by Alex Roseus'79 from Melbourne, VIC.
UP Diliman Lantern Parade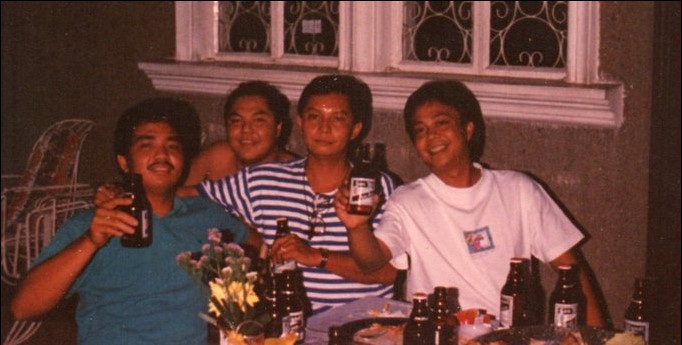 Jug-A-Lug: L-R Nap Gatmaitan 82A +, Jicky Evangelista 81B, Alex Roseus 79C and Dave Bacungan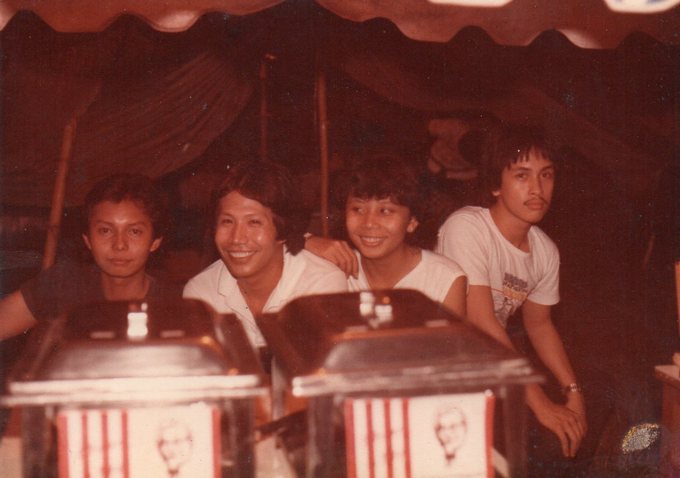 L-R: Alex Roseus 79 C, Boobie Robles 71D, Jona LC, Richard Agbulos 78A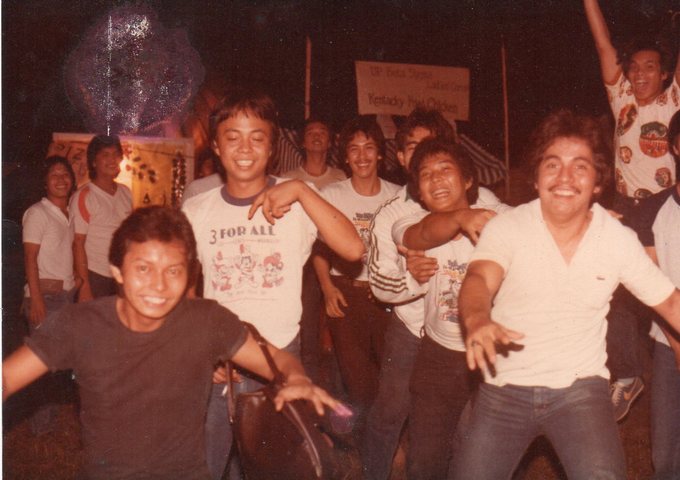 L-R: Boobie Robles 71D, Jun Valenzuela 73B, Alex Roseus 79C,
Dave Bacungan 77C, Nilo Espino 79C and Richard Agbulos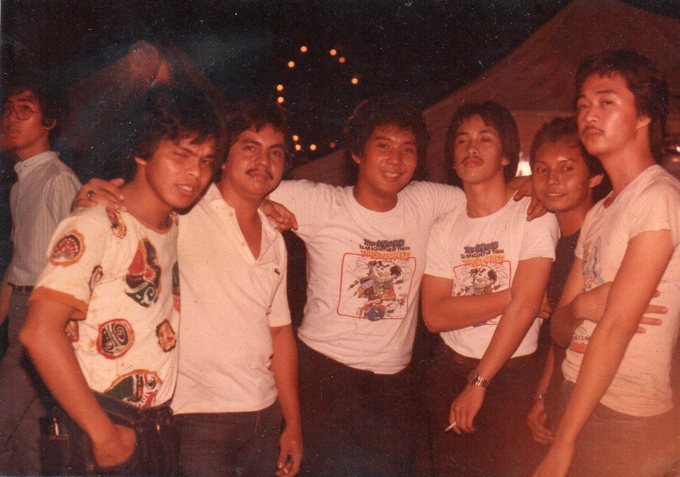 L-R Cesar Landrito 77B, Pepon Magno 74B, Gilbert Sison 80B, Richard Agbulos 78A and Alex Roseus 79C
~~~~~~~~~~~~~~~~~~~~~~~~~~~~~~~~~~~~~~~~~
These pictures were sent by Erwin Acuņa'76 from Calgary, AB.
a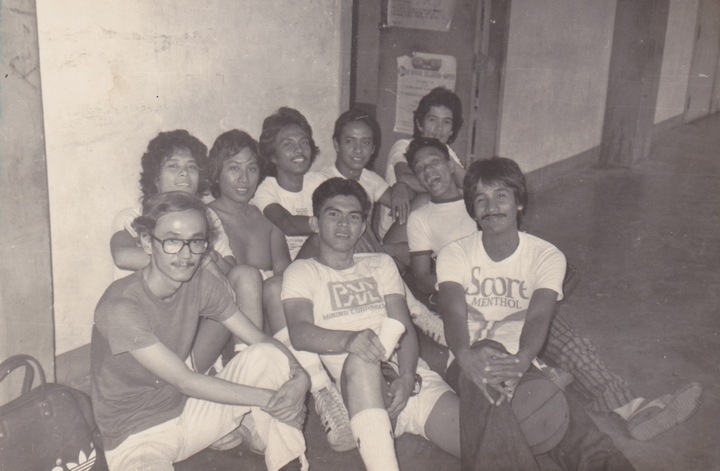 The brods after playing basketball at the U.P. gym.
Front row: Fred Young, Sammy Cayetano, Angel Buan and Dante Agulto.
Back row: Boying Liwag, Hec San Juan, Jito Arreza, Ezra Castillo and Joey Zulueta.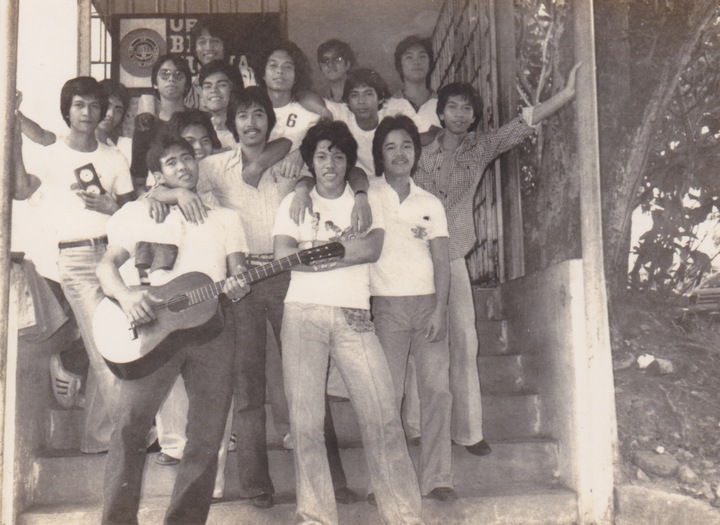 At our Diliman tambayan, from left to right starting first row: the late Arnel Albino (with guitar) Mario Cruz, Gil Marzo,
Cesar Landrito, Carlos Agulto, Butch Madarang, Mario Coronel, Sammy Cayetano, Boying Liwag, Yay Topacio,
Gabby Tomeldan, Raffy Tomeldan, Sonny Pagador, Rhett Daza and Rolly Paradero.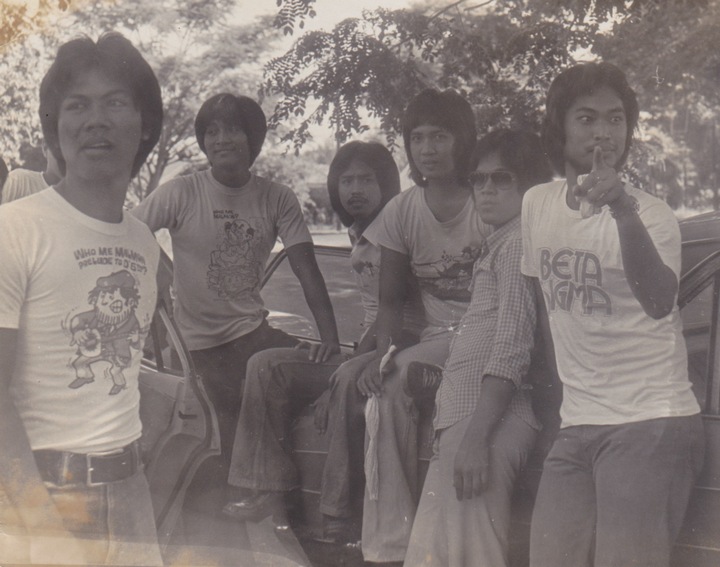 After the mass at the U.P. Chapel, prior to the start of our 31st anniversary motorcade, 1977, left to right:
Humphrey Tumaneng, Sonny Pagador, Gilbert Basbas, Jun Valenzuela, Romeo Canlas and the late Anthony Subijano.