Betan Picture-an II
(to contribute, email pictures with comments/captions to: ollie@upbsf.com, nmbituin@msn.com)
***This picture was sent by Norm Bituin'65 from Diamond Bar, CA.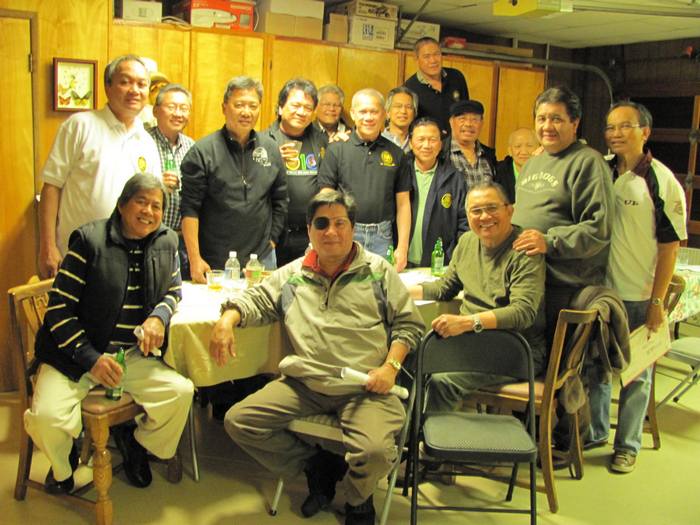 Dr. Carlo Taguinod's birthday and UP SoCal monthly meeting, 4-10-10
Seated: Elmor Villanueva, Johnny Singh, Orly Magistrado.
Standing: GP Edsel Arceo, Ed Rivera, Carling Taguinod, Aman Carolino, Pat Escalante, Tito Garcia, George Abrina,
Art Martin, Manny Boado, Hermie San Luis, Billy Gurango, Jun Valenzuela, Ago Romero.
~~~~~~~~~~~~~~~~~~~~~~~~~~~~~~~~~~~~~~~~~~~~
***This picture came from Rolly Reyes'66 from RP.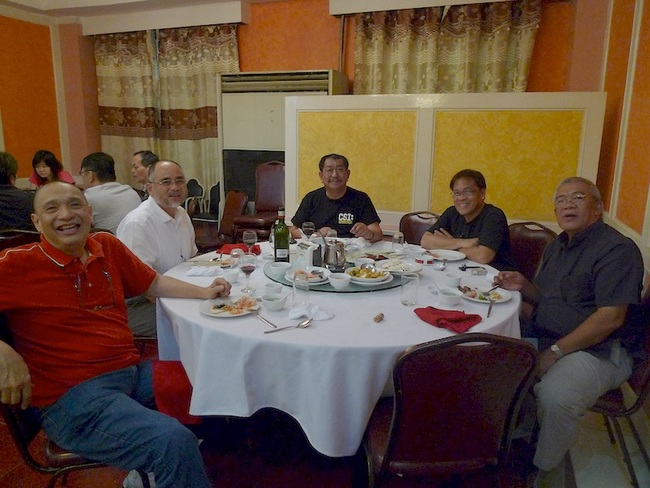 "5-Batch Dinner", l-r: Bogs'65, Yongyong'68, Rolly'66, Nepo'69, Bangue'67.
dorbs,

the famous spring deer chinese resto at timog avenue offered it's unmistakably front-line array of exquisite menu to a group of courageous up betans who were willing to discard doctors' dietary restrictions to savor these delights for a significant eye-ball of 5 batches. present were:

bogs cabanatan - batch '65
rolly reyes - batch '66
manny balangue - batch '67
yongyong afable - batch '68
willie nep - batch '69

generously hosted by former secretary yongyong afable, this courageous team of food processors viciously tackled crispy lechon de leche with seaweeds and century eggs, spinach soup, swahe (boiled shrimps), roasted duck, chinese calamare, steamed lapu-lapu, veggie chop suey mix, black chicken soup washed down by two bottles of red wine (also brought by brod yong). anecdotes (a traditionally betan fixture) sparked the whole evening with bursts of laughter and boyhood exchanges.
brod yong is now a publisher - in two months, he will launch his new glossy fashion magazine "MONDAY", aptly titled to perk up or project a "start-of-the-week-right" concept among young professionals or yuppies.

tidbits: willie nep to hold a show in april 16 at the music museum greenhills "talentadong presidentiables, presidentiables got talent", bogs to retire in a year (he is now a member of the parole board), manny "bangue" is now the campaign manager of representative mat defensor.

truly a fantastic three-hour engagement with our beloveds!

rolly '66, 4-09-10
================================================
Brod Yongyong Afable, UP Diliman'68a (Blitzkrieg), a look at the past...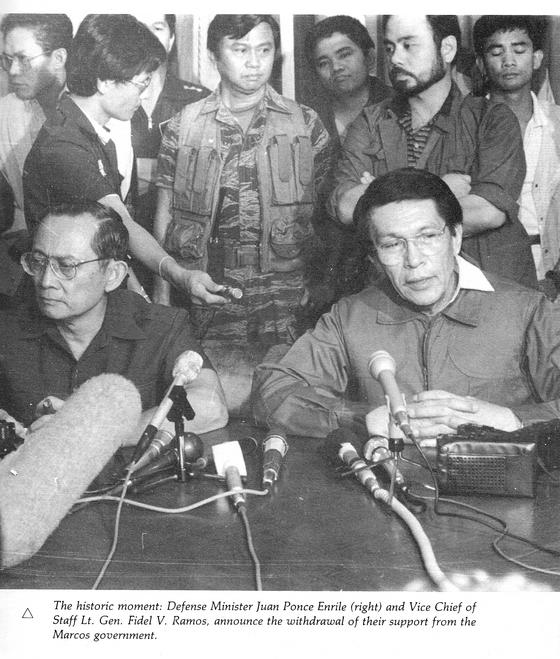 Yongyong Afable at People Power 1986 (standing behind Defense Secretary Juan Ponce Enrile)
served at the Department of National Defense directly under Secretary J.P. Enrile
[Reprinted from "Breakaway, The Inside Story of the Four-Day Revolution in the Philippines February 22-25, 1986", by Cecilio T. Arillo]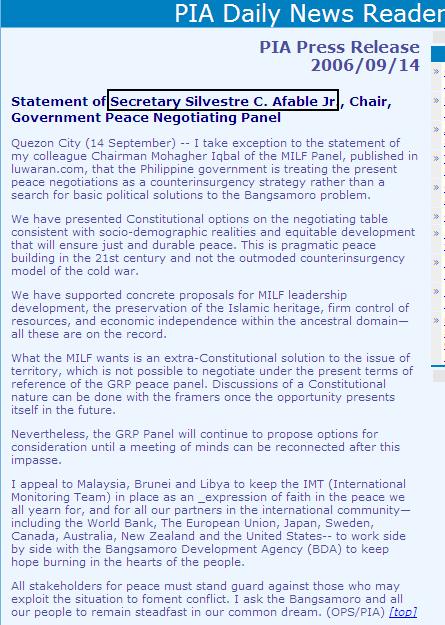 Brod Yongyong became head of Philippine Information Agency (PIA); later
RP Press Secretary, a position now occupied by Brod Crispulo "Jun" Icban'50.
~~~~~~~~~~~~~~~~~~~~~~~~~~~~~~~~~~~~~~~~~~~~
***These pictures were sent by Kiko Delmendo'72 of Vallejo, CA.
Bobby Pascual '68A (Blitzkrieg) celebrated his just-past-60 birthday at his Salinas home last March 27. It was well-attended as usual, as in all past gatherings inspite of the distance of Salinas from everybody's residence in the UP NorCal Chapter. The usual attractions are the welcoming nature of the Pascual couples and the sumptuous all-you-can-eat, plus all-you-can-bring-home!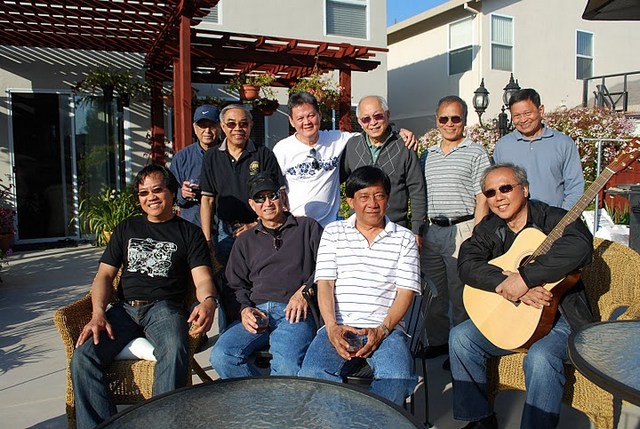 Front: Kiko Delmendo, Gerry Abenes, Birthday Celebrant Bobby Pascual and Ike Araneta.
Back: Louie Ruiz, Cesar Antonio, Manolo Banzon, Cecilio Felix, Johnny Salud and Gene Samson.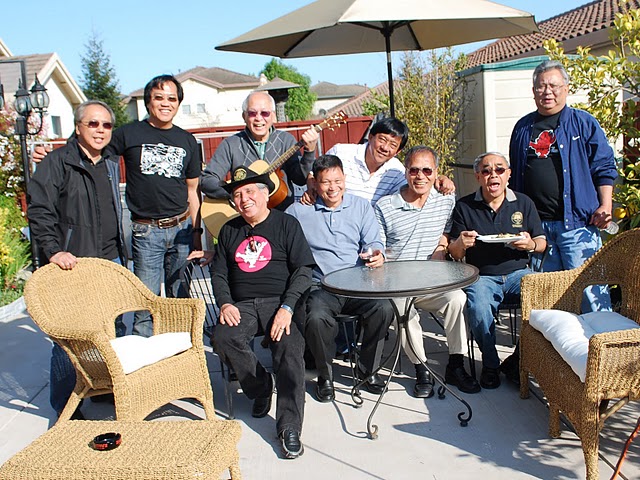 Photo taken at Bobby and Harlean's pretty garden (learn more about this garden in an article entitled
XERISCAPING (Environmental Awareness - February 2010 Issue).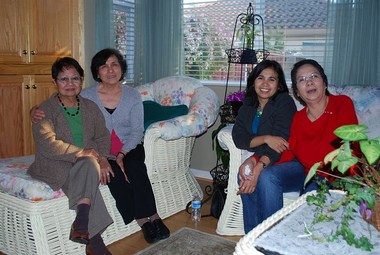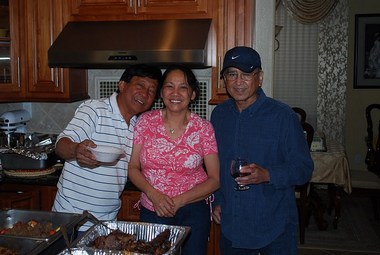 l-r: Anita Felix, Gloria Salud, Geny Samson, Cheng Valdez The Celebrant and The Lady of the House posing with Louie Ruiz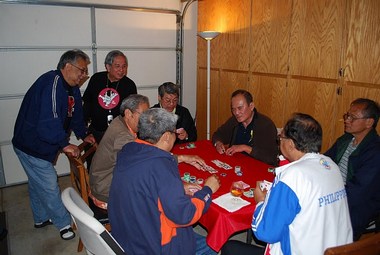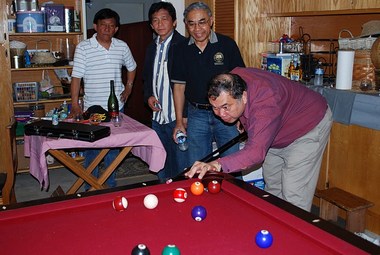 It's "Poker Time" for the Boys Pogs Gaspay, current Billiards Champion, prepares for LA bout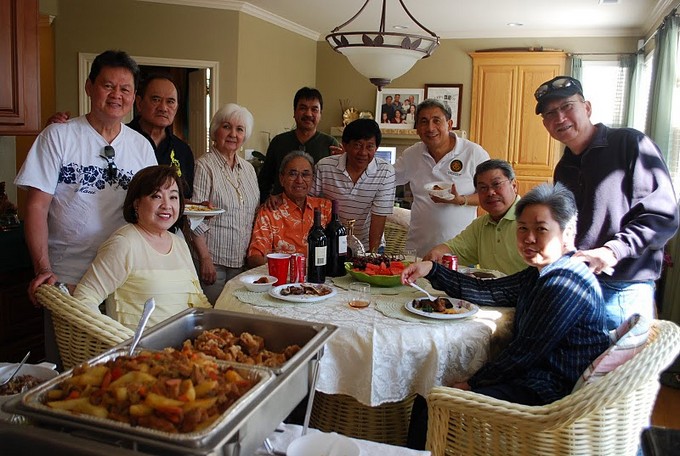 Clockwise: Irma Ramos, Manolo Banzon, Boy Ramos, Mercy Villegas, Dave Villegas, Bobby Pascual,
(Bobby's relative behind him), Gabby Moraleda, Eric Punzalan, Gerry Abenes, Lleva Abenes.
~~~~~~~~~~~~~~~~~~~~~~~~~~~~~~~~~~~~~~~~~~~~
***These pictures came from Carlo Malabanan'77 of Nashville, TN.
Taken during the last weekend celebration of my 50th birthday. Among the UPLB brods who came were brods: Eduardo "Jun" Cornejo (Indiana) and Brod Dr. Eugenio "Bong" Sabalvoro (Arkansas). There were 13 other brods from other chapters who came from as far as Canada, San Francisco and Houston Texas.
I had a blast. It becomes priceless when you spend some days with Beta Sigmans and their families!
Cheers to all,
Carlo "olraC" Malabanan UPLB &&C, 3-30-10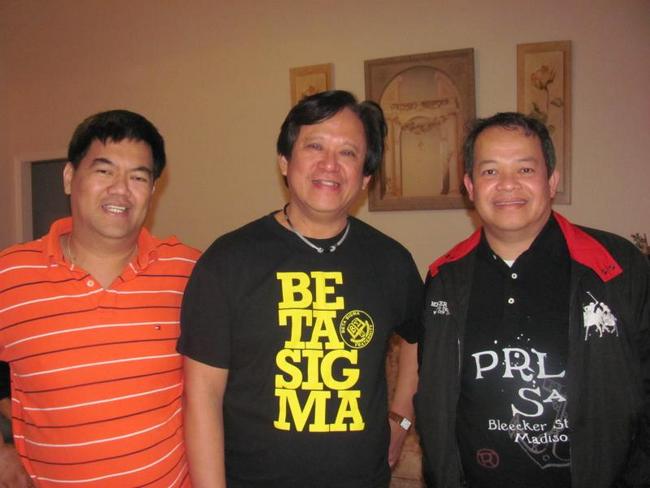 l-r: Brod Eduardo "Jun" Cornejo, Jr. (Indiana), myself and Brod Dr. Eugenio "Bong" Sabalvoro
(anesthesiologist, Little Rock, Arkansas).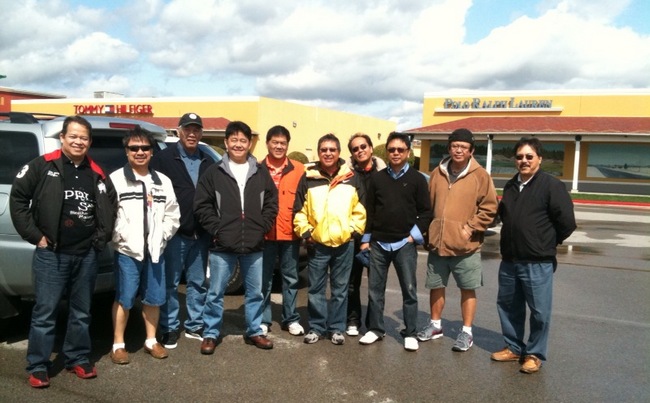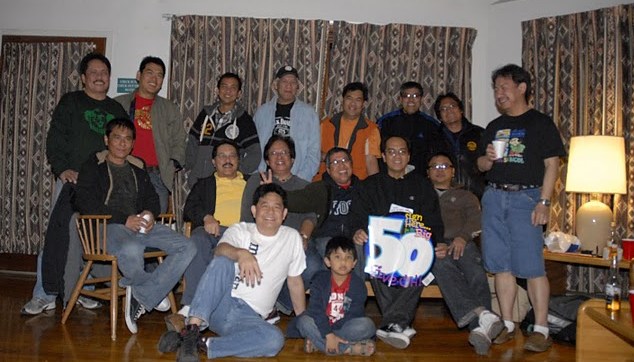 ~~~~~~~~~~~~~~~~~~~~~~~~~~~~~~~~~~~~~~~~~~~~
***These pictures were sent by Anggie Angliongto'57 and Sis Lenzy Lavina of Davao, RP.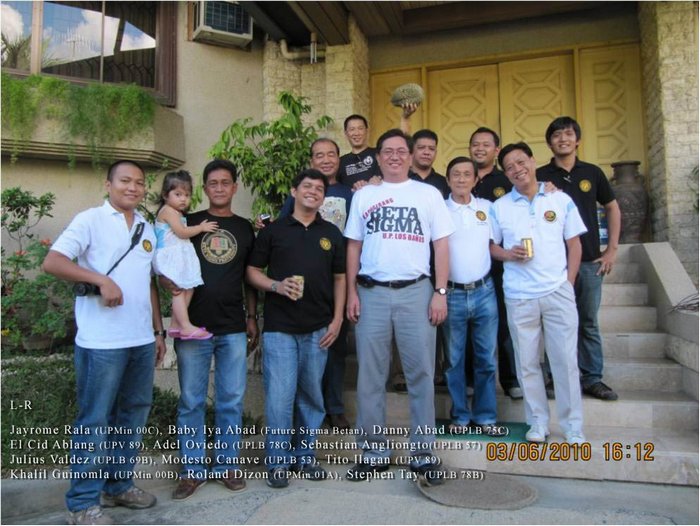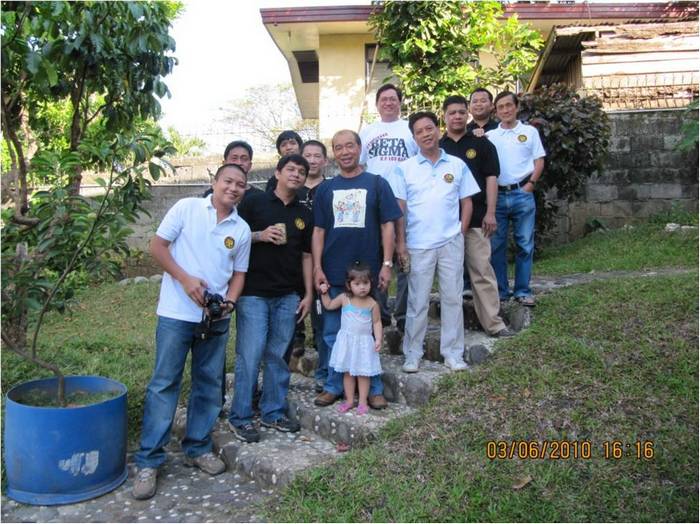 Taken at Brod Anggie's residence at San Pedro Village, Davao City on March 6, 2010
~~~~~~~~~~~~~~~~~~~~~~~~~~~~~~~~~~~~~~~~~~~~
***These pictures came from Ollie Jumao-as'73 of Cainta, RP.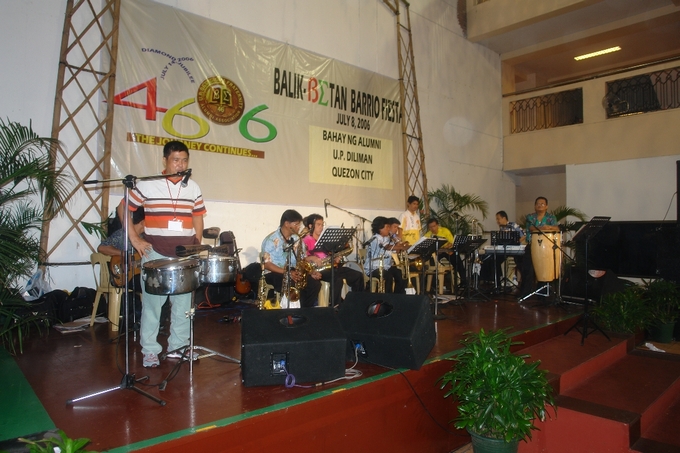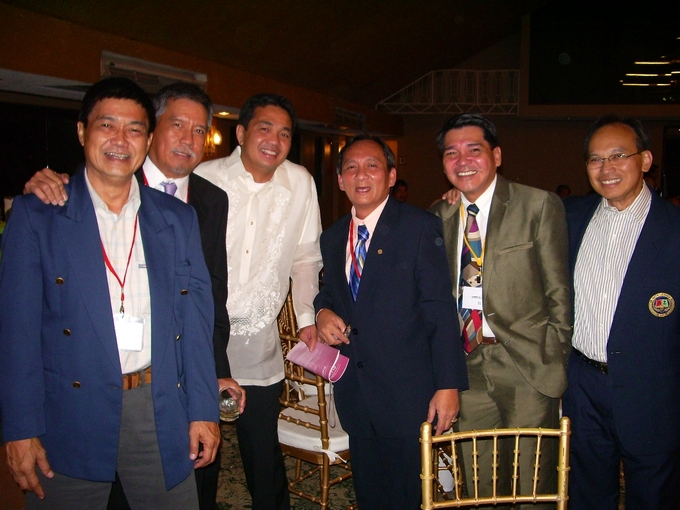 Diamond Jubilee '06 at Wack Wack Country Club - July 14, 2006
l-r: Bandleader Claro Sta. Maria, Boyet Fernandez, Nap Gatmaytan, Ross Fernando, Walt Navarro, Ago Romero.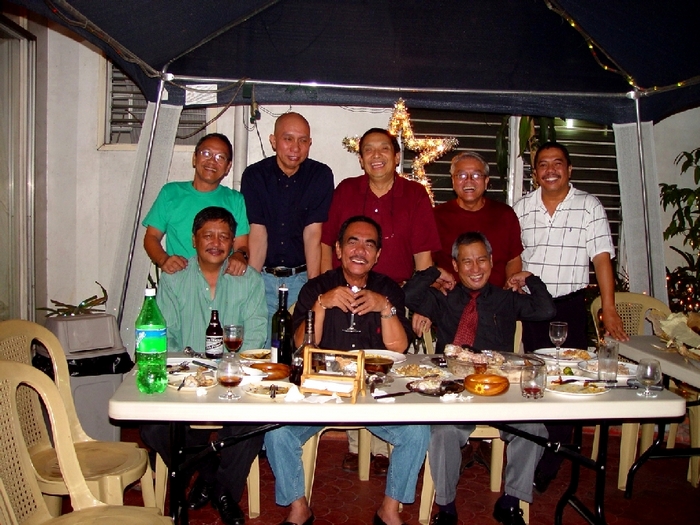 At Nelson Rivera's residence taken around 2003, with Fine Arts (FA) brods
Seated: Jun Leyco (FA), Oca Mamangon, Pol Moral (FA).
Standing: Nelson Rivera (FA), Bart Gacad, Bogs Cabanatan, Jess Abrera (FA), Ollie Jumao-as.
~~~~~~~~~~~~~~~~~~~~~~~~~~~~~~~~~~~~~~~~~~~~
***This picture was sent by Ernesto "Togi" Igot'70 of Olney, MD.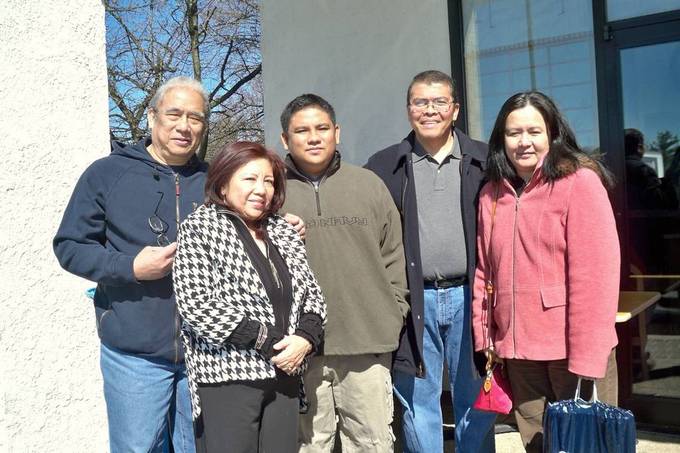 "MARYLAND IS FOR CRABS" (Famous for, not the Brods)
Sending you a photo with Raoul "Cool Jacks" Reyes 65 showing from left: Raoul, his wife May, his son
Rommel, me (of course ) and my wife Eva. A few days earlier, we had lunch with Abe Agulto 71D, who
is now settled here in Maryland. (Note: Raoul is DVM; Togi is BS ChEng'g; Abe is DVM).
~~~~~~~~~~~~~~~~~~~~~~~~~~~~~~~~~~~~~~~~~~~~
***This picture was sent by Gerson Dacanay'67 of Seattle, WA.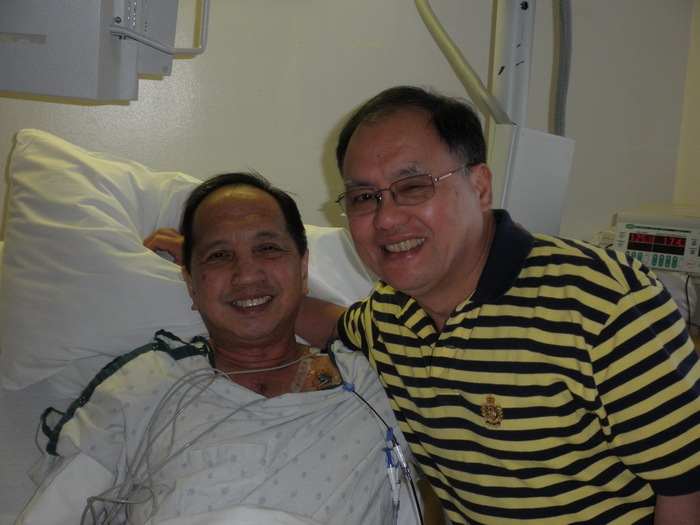 Dear Brod Manny,

Glad to be able to visit you at the hospital yesterday. You sure looked a lot better than I expected. Hopefully by now they discharged you already. Missed our return flight home but luckily we were accommodated on the next plane. Home again at last.
Get well and hope to see again soon.
Kabatch Gerson, 3-14-10
*******************************
Brod Manny,

We are glad that your surgery went well and we will continue to pray for your quick recovery.
Cheers and get well soon.... UP SoCal
Edsel Arceo, 3-14-10
*******************************
And from Manny...
First of all I would like to thank everybody for your prayers. I am back in my house in Castaic, CA.
I would just like to share my experiences over the last two months. Before February 2010 I had not been in a hospital. I was just moving my medical records from Kaiser to my wife's United Healthcare PPO. I was just asked by the new doctor I chose if I had something to add to the list of items I gave him. At this time I had type 2 diabetes, high blood and high cholesterol and all of these started when I was 55 years old. I told him that I had a shortness of breath when I walk a short distance. He referred me to a cardiologist for EKG. The cardiologist found out that I had an abnormal heart beat and needs to have an angiogram or angioplasty. They scheduled me for Feb 9. In the middle of the procedure he stopped and said that I had to have an open heart surgery. He referred me to another doctor the following day and did my quadruple bypass. I left the hospital Feb 15. At night I was having difficulty breathing so I came back to my primary doctor and did an xray and found water in my lungs. My primary doctor referred me to a thoracic surgeon and on March 5 stuck a needle at my lungs and took out 1.4 liters of water from my lungs. This procedure took only 10 minutes. I said to myself, "Wow, that was quick". Nope the following day they took another 2 xrays, one in the morning and one in the evening, and found almost the same amount of quantity that they took out. So the thoracic surgeon scheduled to put in 2 6-inches tubes into my lungs on March 9 and connected it to a machine that sucked out the water and in the meantime gave me some antibiotics. On March 12 there was less liquid coming out of my lungs so the doctor took out the 2-6-inches tube from my side without anesthesia and that hurt. Yesterday afternoon they released me from the hospital and now I am back home.
Special thanks to Tony Boquer who shared his experiences with me on this matter. Nice to hear from everybody out there who are still alive and kicking.
Again from my whole family - 5 kids and 9 grandkids - Thanks. Take care of your health.
Please relay this to the brods. I am ok now. Thanks.
Manny '67A, 3-15-10
*******************************
~~~~~~~~~~~~~~~~~~~~~~~~~~~~~~~~~~~~~~~~~~~~
***This picture was sent by Benild Pires'64 of Vancouver, B.C.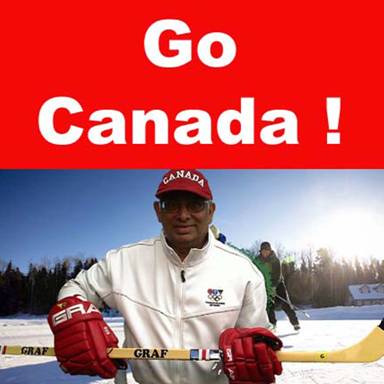 Congratulations to Brod Benild, center and team captain
of Winter Olympics hockey gold medalist Team Canada!!
~~~~~~~~~~~~~~~~~~~~~~~~~~~~~~~~~~~~~~~~~~~~
***This picture was sent by Ollie Jumao-as'73 from RP.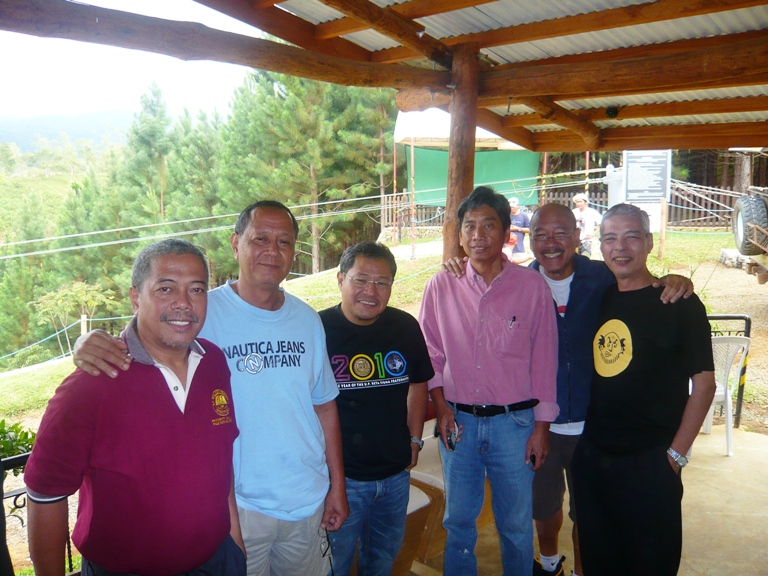 At Dr. Hec San Juan's DVM farm in Manolo Fortich, Bukidnon - Feb. 2010
l-r: Ollie Jumao-as'73, Ben Abon'70, Joel Paredes'73, Hec San Juan'73, Dave de la Torre'73 and Cris Michelena'73
~~~~~~~~~~~~~~~~~~~~~~~~~~~~~~~~~~~~~~~~~~~~
***These pictures came from Carlo Malabanan'77 of Nashville, TN.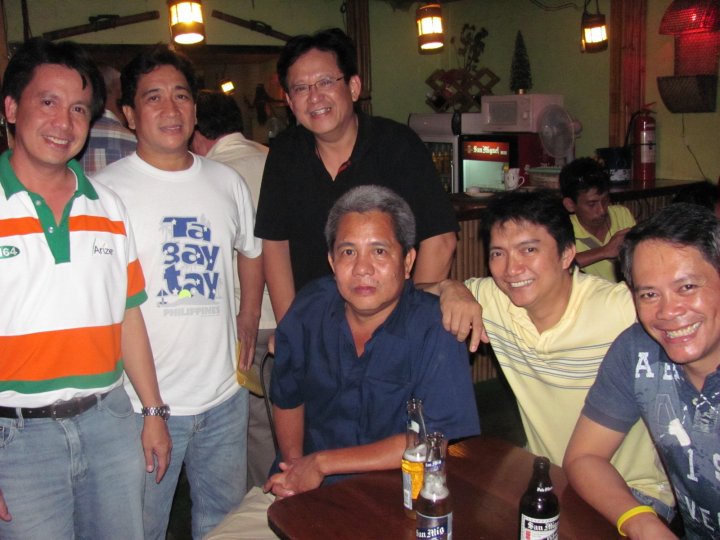 l-r: Brods Ric Escobin, Ambo Lapis, Pedrito "Indo" Revilleza, Carlo Malabanan, Jojo Alejar and Carlo Dimayuga.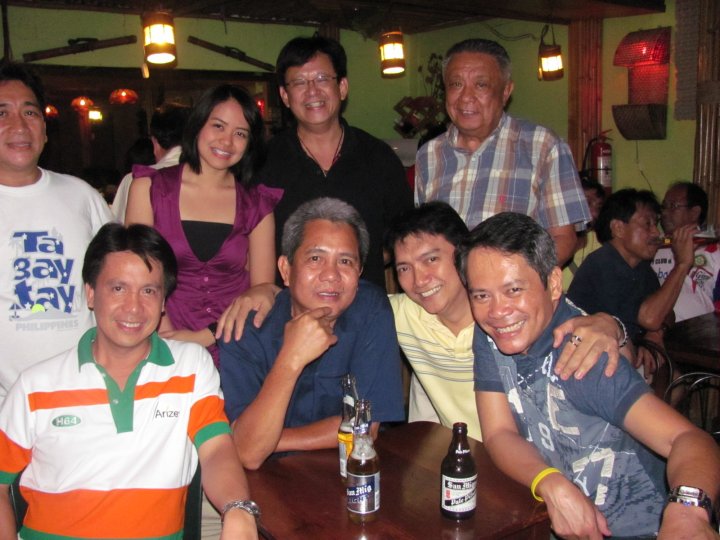 With Sigma Betan Diane and Brod Douglas Mondonedo
Some of the resident brods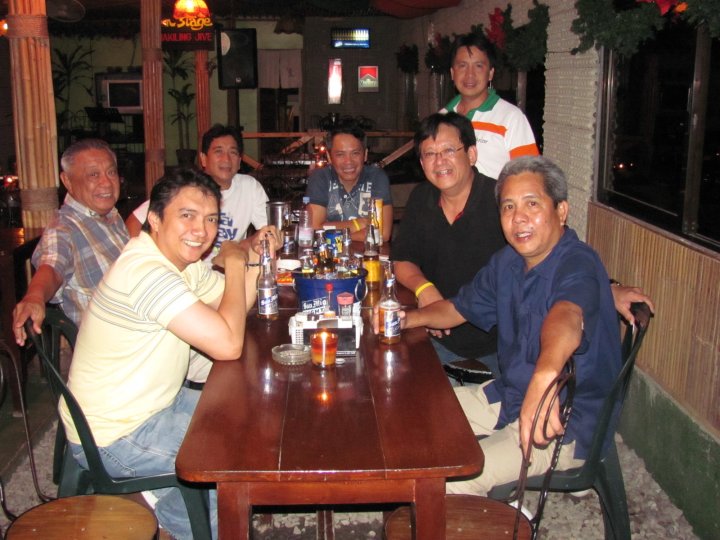 Another take
~~~~~~~~~~~~~~~~~~~~~~~~~~~~~~~~~~~~~~~~~~~~
***These pictures were sent by Norman Bituin'65 from Diamond Bar, CA.
Rexie Enrico's retirement party from a lifetime nursing career, the last 25 at Kaiser's Nephrology Units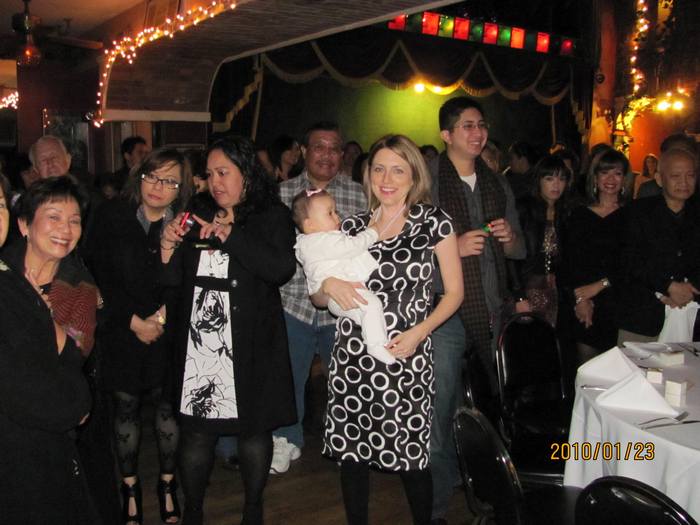 Well-wishers gather at the surprise party in the dark banquet room of an Italian ristorante in Fullerton, CA.
Lady at center holding baby is Kristin Enrico, the wife of Mando and Rexie's son Mark.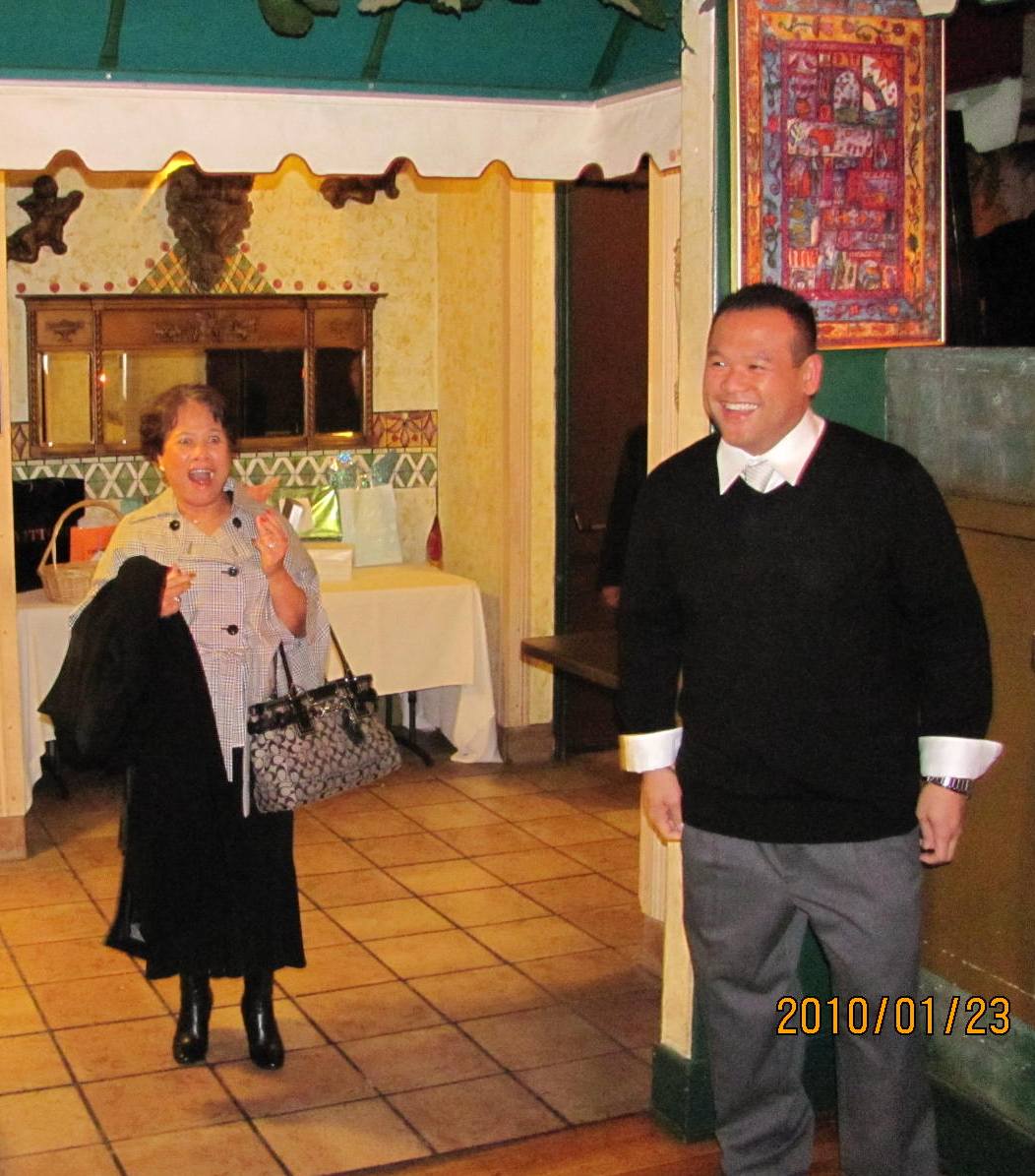 Lights on, cameras flash. The face says it all - Rexie is caught in total surprise, with son Scott.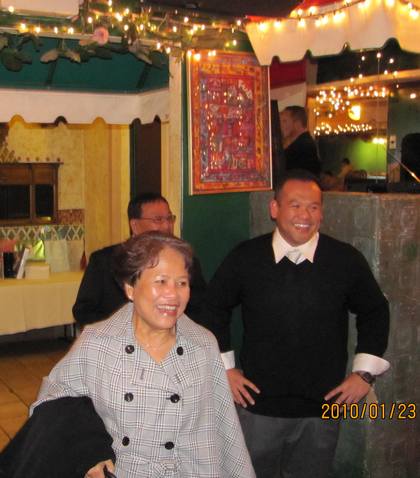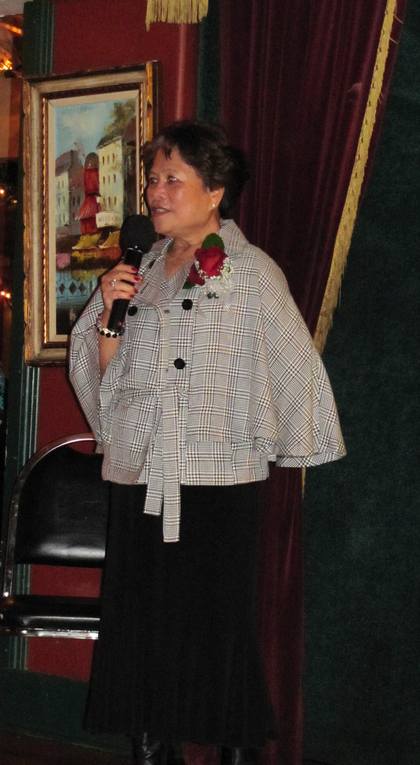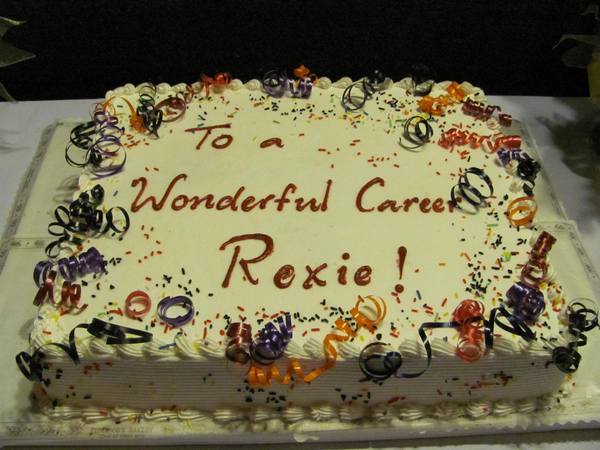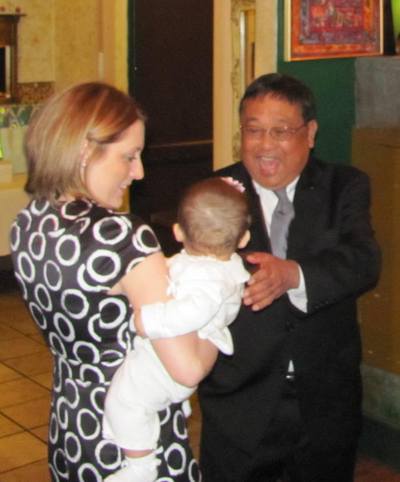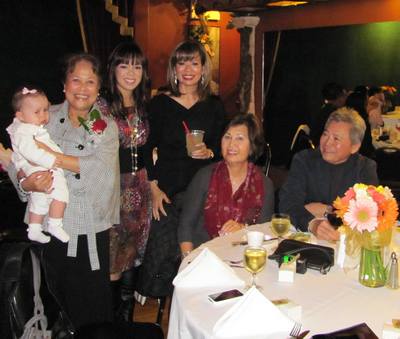 The Enricos dote on their beautiful "apo" Brooklyn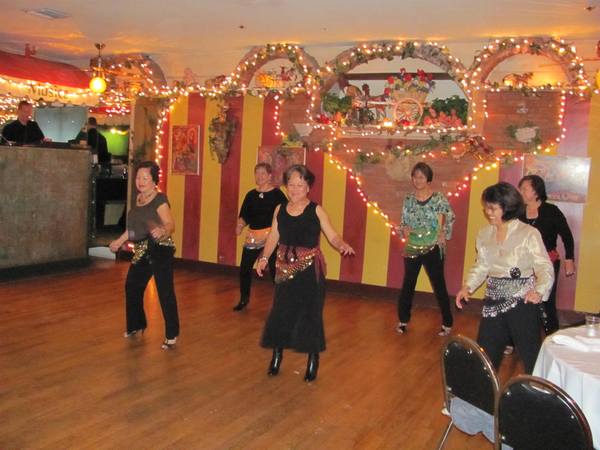 Rexie and friends ("The Swinging 60's") give a line dance performance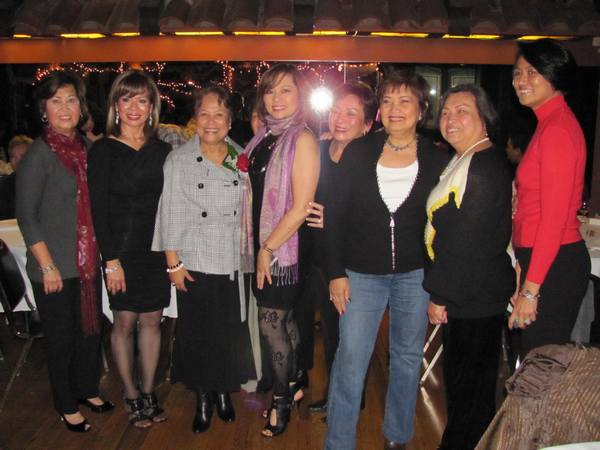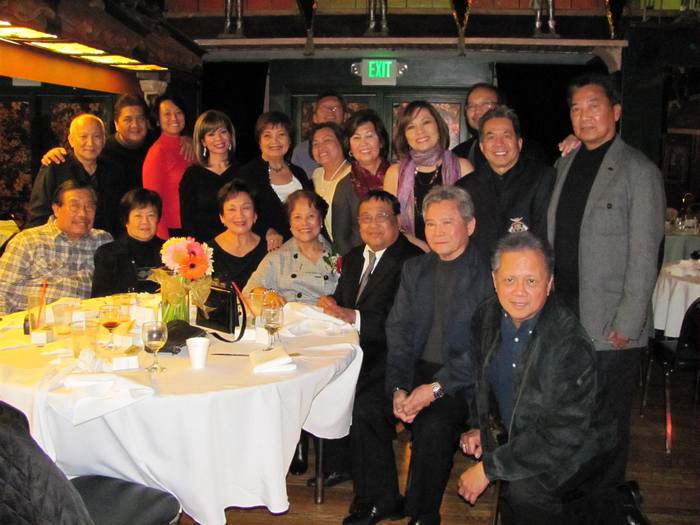 Rexie, enjoy the next 25 and more with the family!! ... all the best from your UP SoCal Brods and Wives
~~~~~~~~~~~~~~~~~~~~~~~~~~~~~~~~~~~~~~~~~~~~
Ed Cornelia's b'day and UP SoCal general meeting, 1-16-10, at Ed's in Buena Park, CA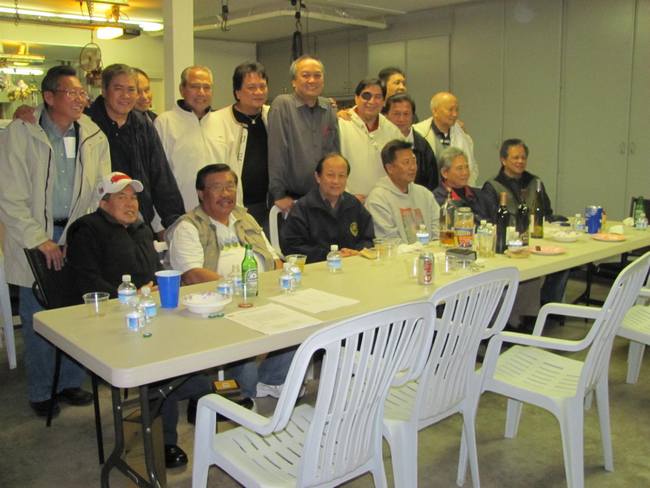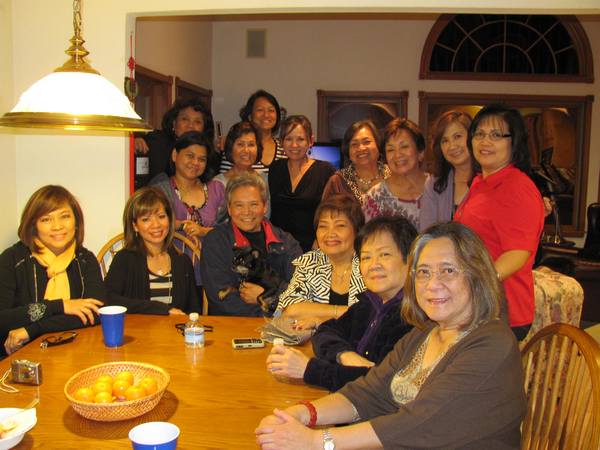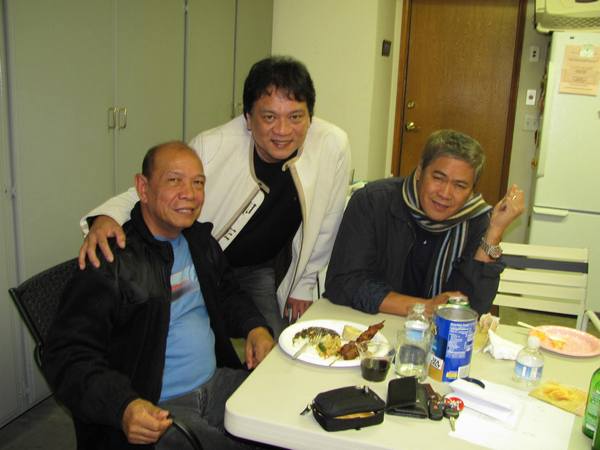 Visiting RP brod, Melchor "Bong" Tayamen'71d, with his batchmate Aman Carolino, and Art Martin.
Bong, BS Fisheries, UP Diliman and MS, Auburn U, is the Agricultural Center Chief Project Manager
at the Department of Agriculture, Bureau of Fisheries and Aquatic Resources, National Fresh Water
Fisheries Technology Center located at CLSU in Munoz, Nueva Ecija.
~~~~~~~~~~~~~~~~~~~~~~~~~~~~~~~~~~~~~~~~~~~~
UP Beta Sigma SoCal welcomes Chicago brod Rolly "Kino" Aquino'68, 1-10-10
Midwest's loss is SoCal's gain. Rolly "Kino" Aquino has recently moved to Southern California, in
Riverside County. From San Francisco, Cyrus Fagar and Kino's batchmates Pogs Gaspay and Gabby
Moraleda drove down over the weekend for a Chinese buffet dinner to welcome Kino and his family.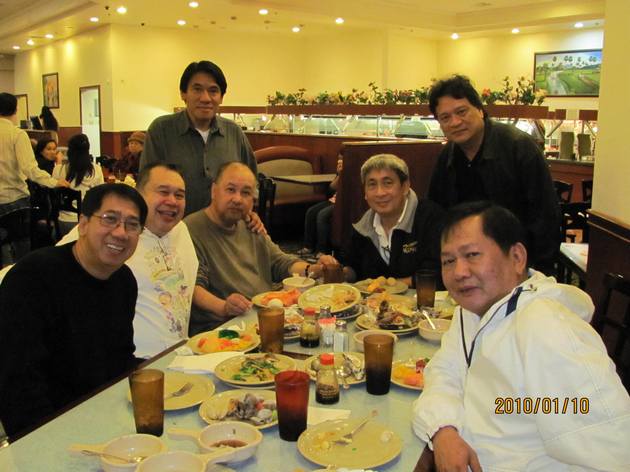 l-r: Boy Jaurigue, Pogs Gaspay, Cyrus Fagar, Rolly Aquino, Gabby Moraleda, Aman Carolino, Boi Wico.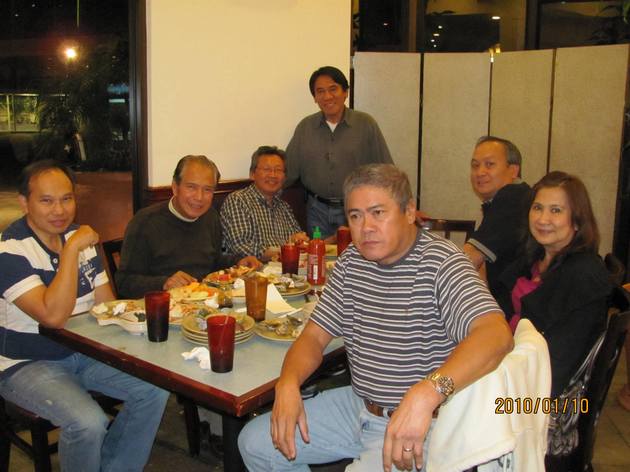 l-r: Ago Romero, Nonoy Bautista, Ed Rivera, Cyrus Fagar, Edsel Arceo, Tina & Art Martin.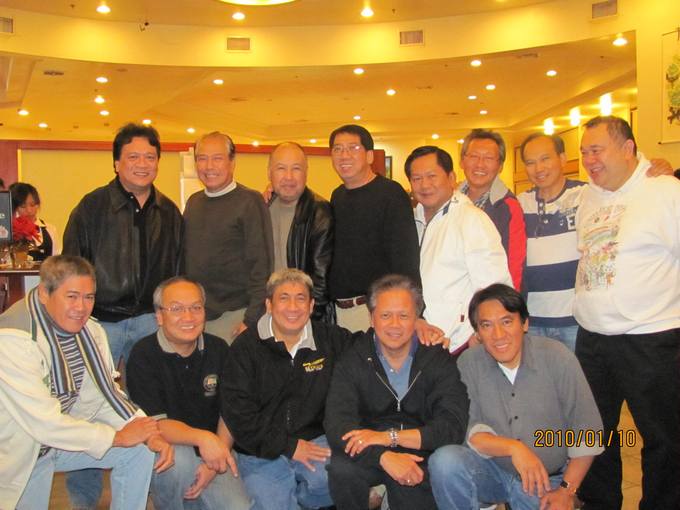 Kneeling: Art Martin'69, Edsel Arceo'73, Gabby Moraleda'68, Norman Bituin'65, Cyrus Fagar'69.
Standing: Aman Carolino'71, Nonoy Bautista'60, Rolly Aquino'68, Boy Jaurigue'69,
Boi Wico'65, Ed Rivera'68, Ago Romero'68, Pogs Gaspay'68.
~~~~~~~~~~~~~~~~~~~~~~~~~~~~~~~~~~~~~~~~~~~~
***These pictures were sent by Ago Romero'68 from Buena Park, CA.
UP SoCal Chapter New Year's Party, 1-02-10 at Sonny Pagador's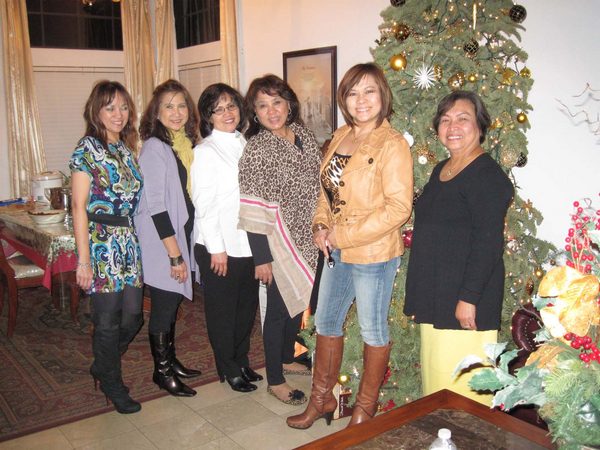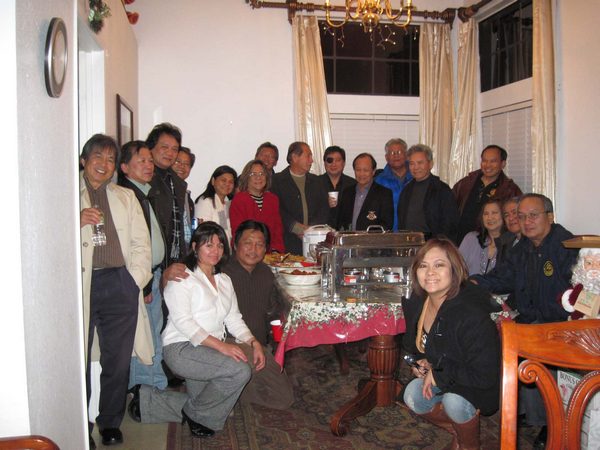 Dinner with UP Min Chancellor Gilda Rivero (seated, 2nd left), 12-27-09 at Frank Mamaril's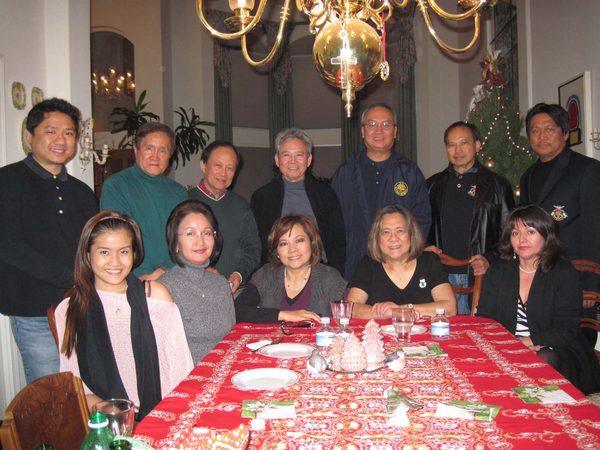 ~~~~~~~~~~~~~~~~~~~~~~~~~~~~~~~~~~~~~~~~~~~~
***This picture was sent by Vic Battad'68 from Vancouver, B.C.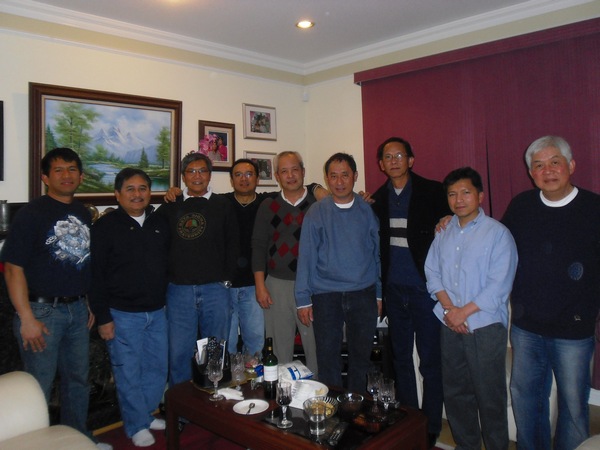 Brods Noli Nolasco (UPD) and Jun Faigal (SBC) visited Vancouver, British Columbia on Dec. 26-31,
2009. Photo was taken at Brod Vic Battad's residence, from left: Brods Roel Tapales (BU), Noli
Nolasco, Vic Battad (UPLB), Henry Josue (SBC), Abet de Gracia (SBC), Jun Faigal, Dopoy Garcia
(UPD), Ramir Cloma (UST) and Chico Villegas-Ty (SBC).
~~~~~~~~~~~~~~~~~~~~~~~~~~~~~~~~~~~~~~~~~~~~
***These pictures were sent by Yay Topacio'77 from Honolulu, HI.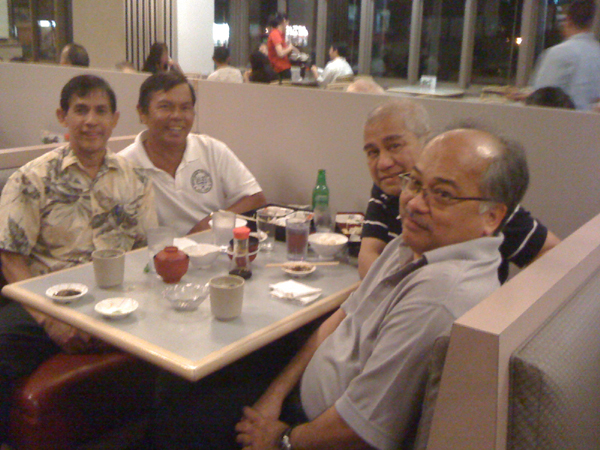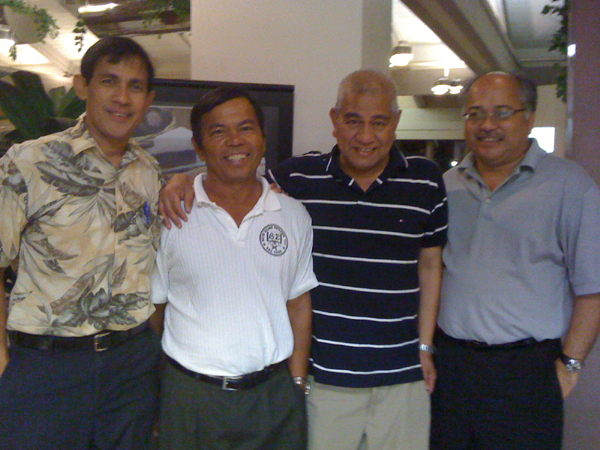 l-r: Yay Topacio'77, Orlino Ancheta'64, Rolly Zubiri'68 & Bong Jamir'72
I took these pics from my cel phone kaya hindi masyadong clear, pasensya na lang Brods, taken during a dinner for Brod Rollie Zubiri, UPD'68A, who visited Hawaii last month.

Brod Rollie had a very hectic schedule with relatives but the U.P. Beta Sigmans of Hawaii (Bong Jamir UPD 72B, Orlino Ancheta UPBSF 64 and Yay Topacio UPD 77A) were fortunate to have him for a quiet dinner of mild banter and college days reminiscing in a Japanese restaurant hosted by Brod Bong Jamir.

As you may already know, Brod Rollie is now based in Melbourne, Australia where he and lovely wife Bridget raised their family. He was instrumental in the organization of the Beta Sigma Australia Chapter with the late Brod Anthony Subijano.

It may interest you to know that Brod Bong Jamir is presently a Logistics Specialist for the U.S. Defense Supply Center- Pacific Region. He spearheaded relief efforts of the U.S. Government in the recent calamities that hit Samoa and the Philippines.

Of course, our ever fanatic and amiable Brod Orlino Ancheta is the President and owner of Beta Sigma Builders Inc. His company specializes in construction of custom-designed residential homes in the island of Oahu.

Brod Rollie sent this e-mail message of thanks (below) just recently.
Yay Topacio, UPD'77, 12-06-09
~~~~~~~~~~~~~~~~~~~~~
Brods Yay and Bong,

Bridget and I weren't able to personally say good-bye to you because of our whirlwind schedule. Brods, maraming salamat for taking time out to see me and my wife.

Yay, thanks for the discount coupons - you made my wife one happy shopper with the huge discounts she got.

Bong, thanks for the dinner and the Betan stories. I wish I had more time to see the base (I was interested in getting a tour but wifey was too engrossed in shopping).

Say hello to Brod Orlino. He seems to be one happy Betan chap. Hopefully, we get a chance to see each in the future. Good day!
Rolly Z.
Blitzkrieg 68A
~~~~~~~~~~~~~~~~~~~~~~~~~~~~~~~~~~~~~~~~~~~~
***These pictures were sent by Ike Araneta'71 from Palo Alto, CA.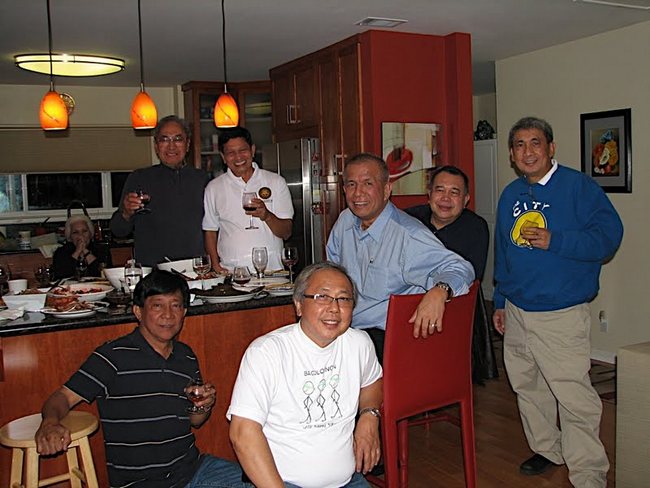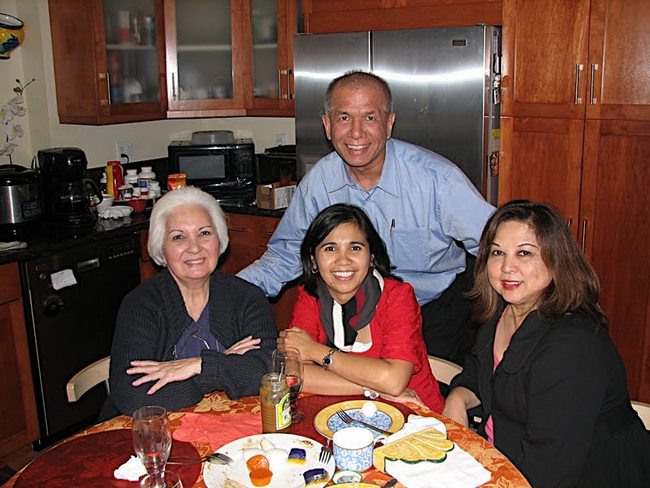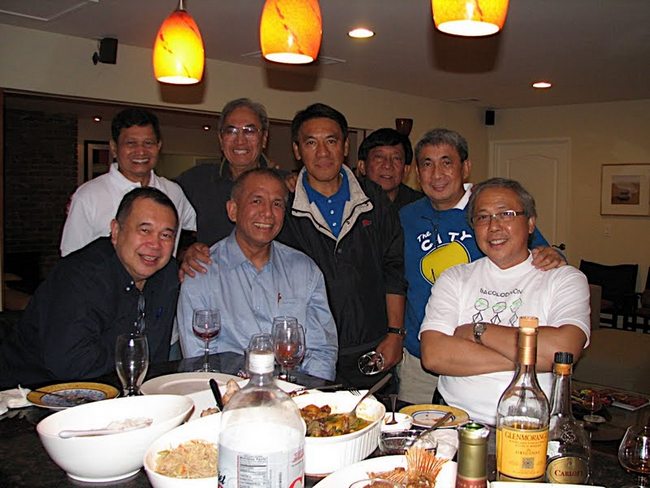 Dan Lachica'71 PhD, president of First Philec Solar Corporation, visits UP NorCal 11-06-09
Seated: Pogs Gaspay, Dan Lachica, Ike Araneta.
Standing: Gene Samson, Dave Villegas, Cyrus Fagar, Bobby Pascual, Gabby Moraleda.
~~~~~~~~~~~~~~~~~~~~~~~~~~~~~~~~~~~~~~~~~~~~
***These pictures were sent by Rolly Reyes'66 from RP and Benild Pires'64 from Victoria, B.C.
Attended China and ASEAN media forum held in Nanning, Guangxhi. In behalf of 10 ASEAN countries, I accepted the welcome statement in a meeting led by the Deputy Minister of Information and the Vice Governor of Guangxhi province. This 3-day forum was attended by 50 government and private broadcast outlets in Asia.
Rolly Reyes, 10-23-09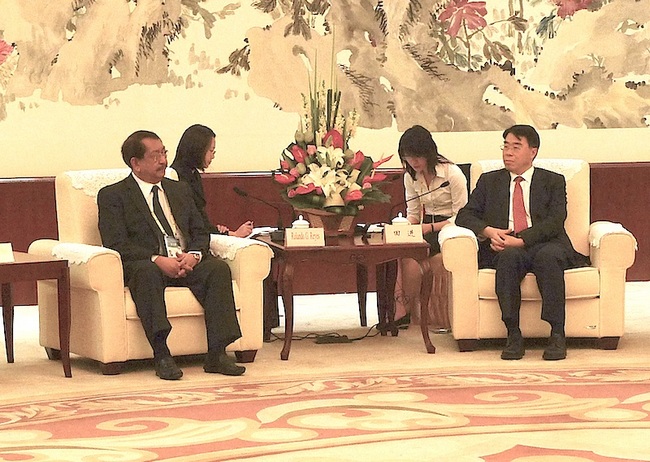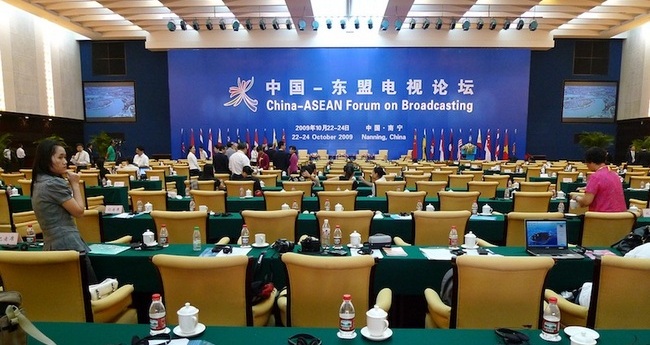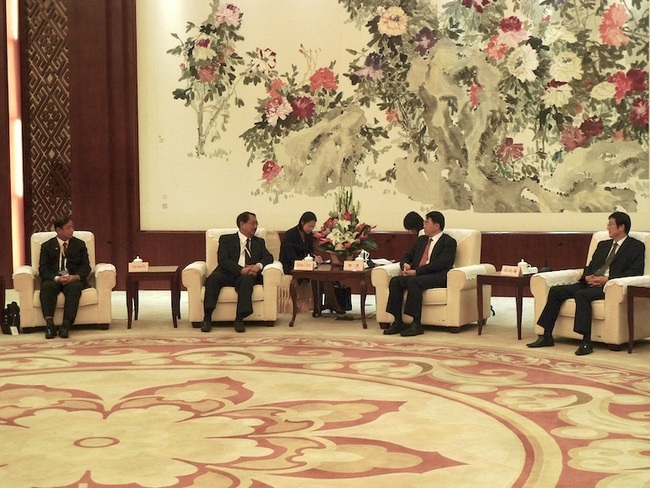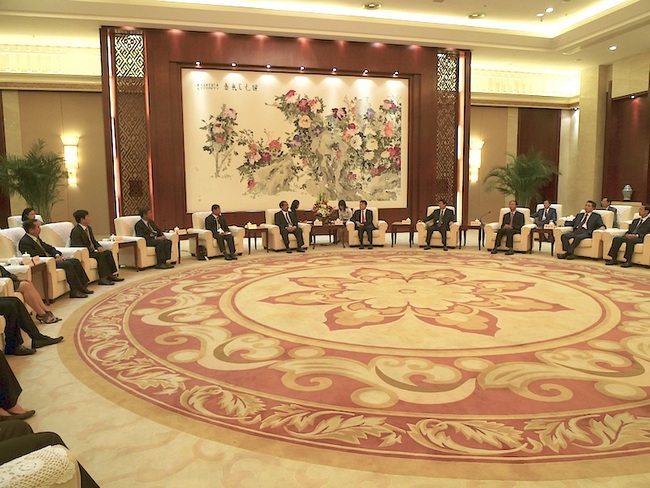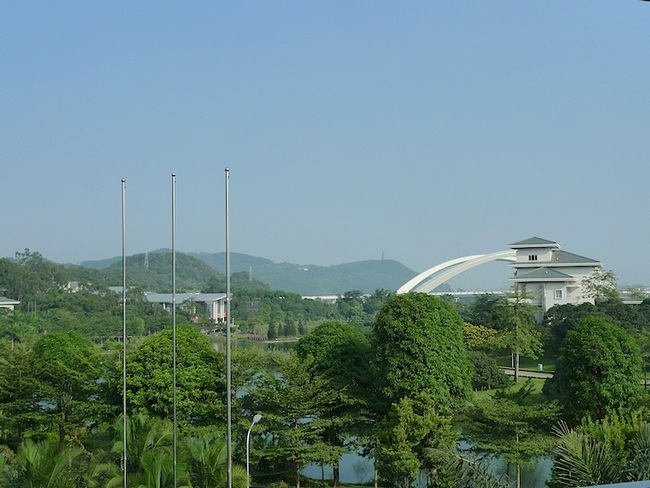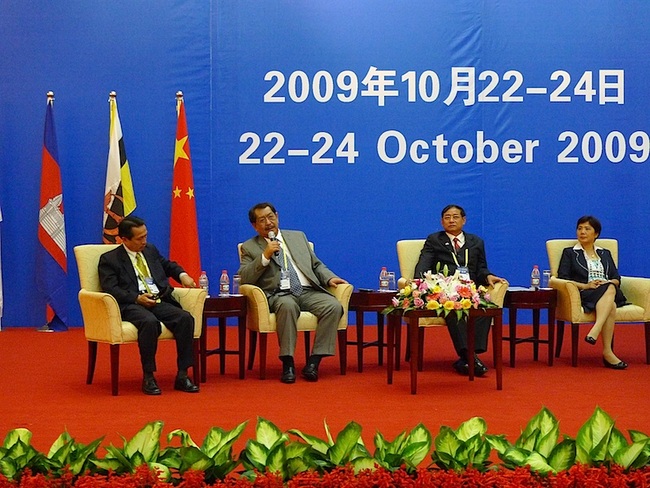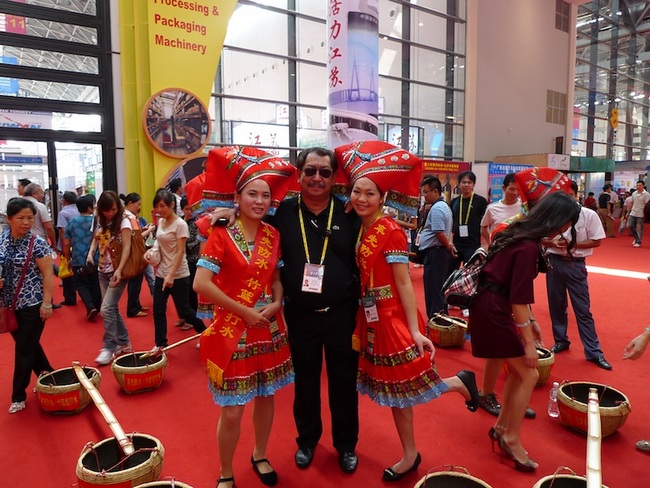 Brod Rolly:

Reminded on my trip to China in 1966 as head of U.P. Student Council delegation and our meeting at the Great Hall of the People with Vice-President and Foreign Affairs Minister Marshall Chen Yi. See photos.

Benild Pires, 10-23-09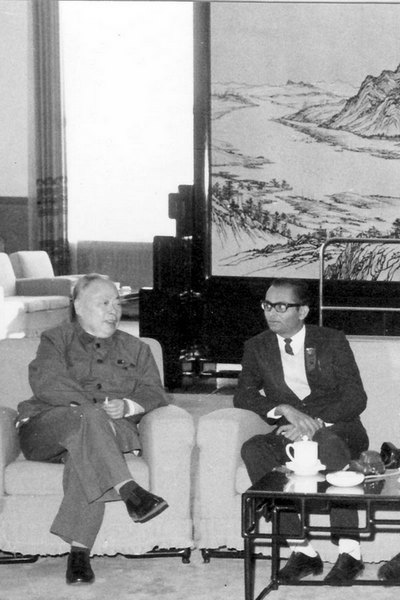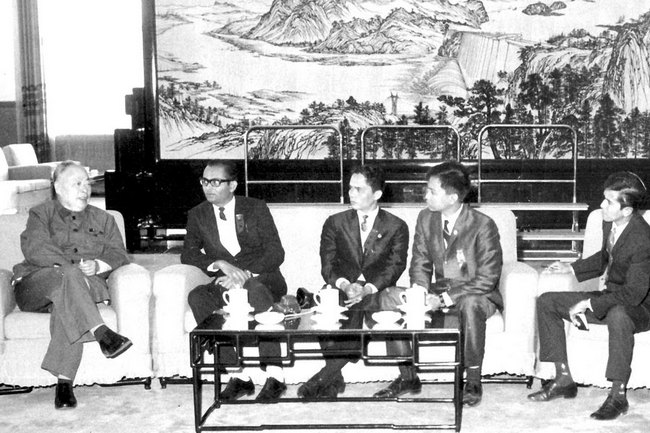 ~~~~~~~~~~~~~~~~~~~~~~~~~~~~~~~~~~~~~~~~~~~~
***These pictures were sent by Jojo Alejar'79 from RP.
83rd Birthday celebration of Founder Atty. Rico Arranz at Gerardo's Grill, Oct. 24, '09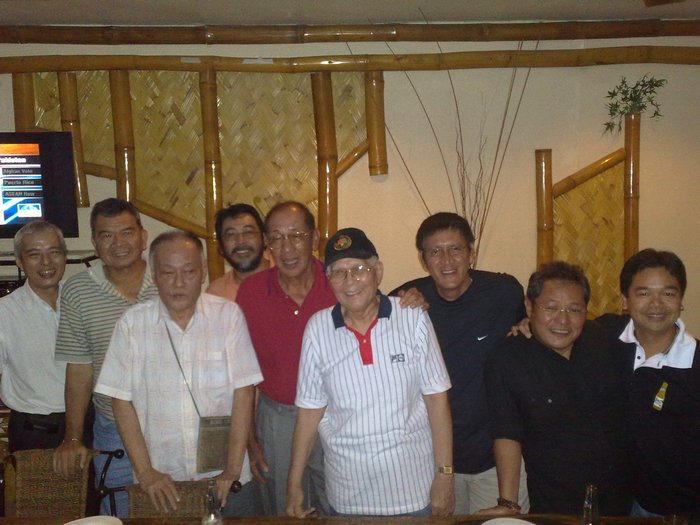 l-r: Cris Michelena, Pat Roman, Frankie Llaguno, Caloy Agulto, Rico Arranz,
Ted Topacio, Jet Arriola, Joel Paredes & Butch Madarang.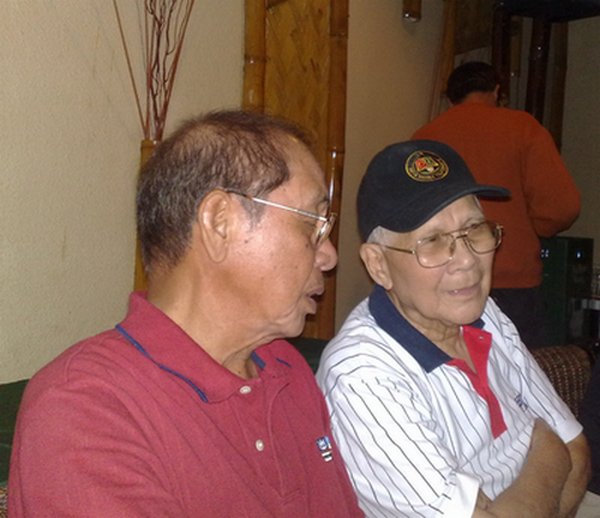 The Founder and the National Scientist share some thoughts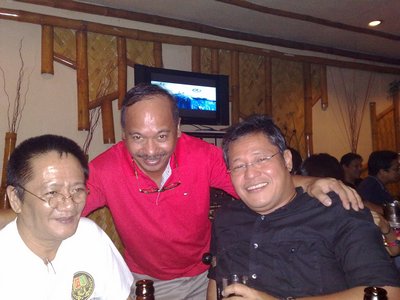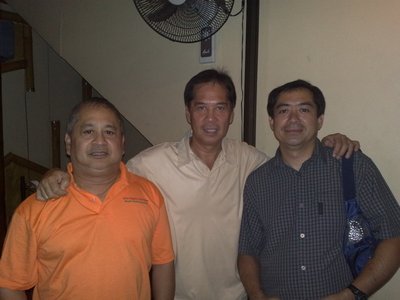 George de Borja, Alum Prez Ruben Pascual & Joel Paredes Billy Sevilla, Sandy Daza & Oca Escudero<![if !supportLineBreakNewLine]>
<![endif]>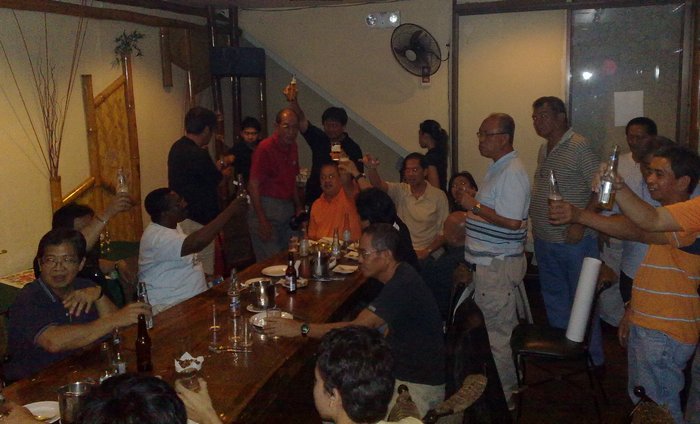 Cheers, Cheers and Long Live Our Founder - Betan 1, Rico Arranz!!!
~~~~~~~~~~~~~~~~~~~~~~~~~~~~~~~~~~~~~~~~~~~~
***These pictures were sent by Norm Bituin'65 of Diamond Bar, CA.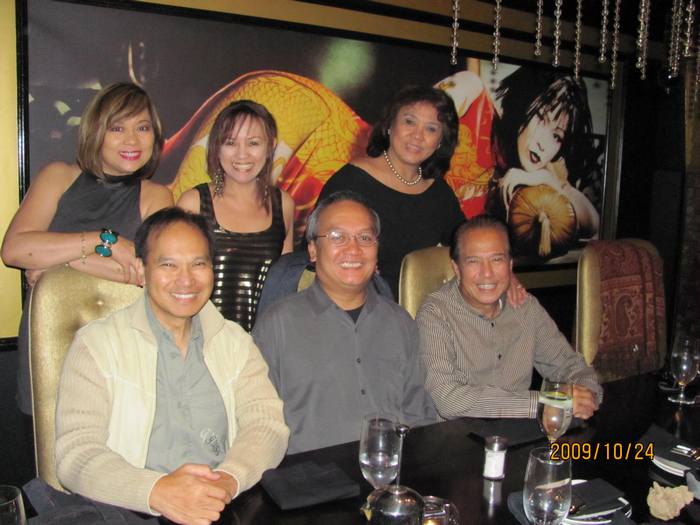 Celebrating their wedding anniversaries together at Kress Restaurant in Hollywood - all tied the knot around Oct. 23
l-r: Ago & Eva Romero, Edsel & Mayette Arceo, Nonoy & Ivy Bautista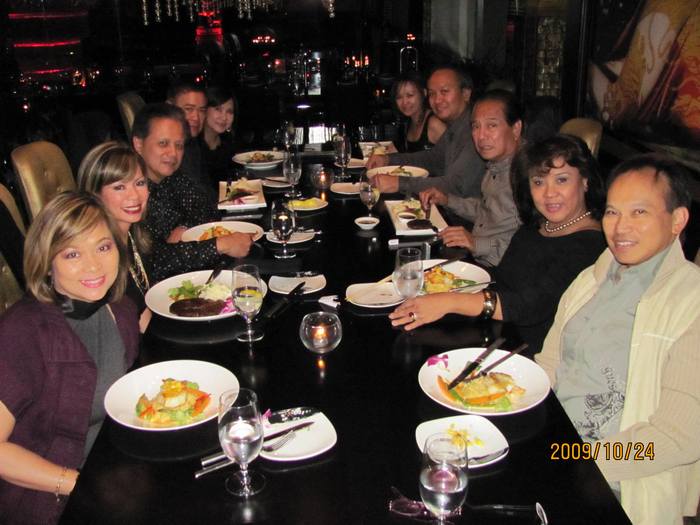 Plus invited guests Norman & Cherry Bituin and Art & Tina Martin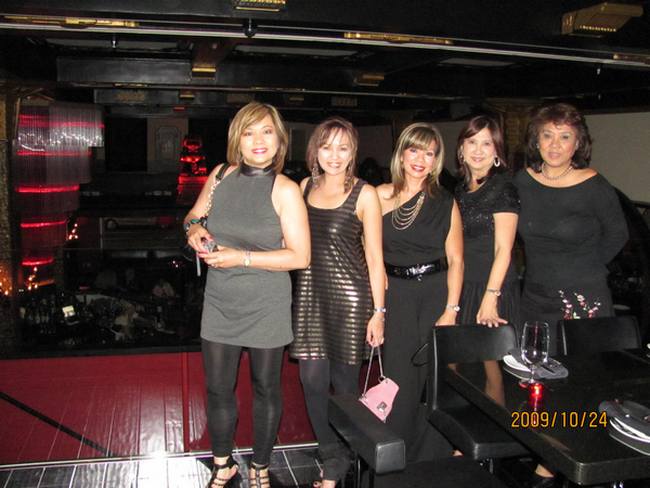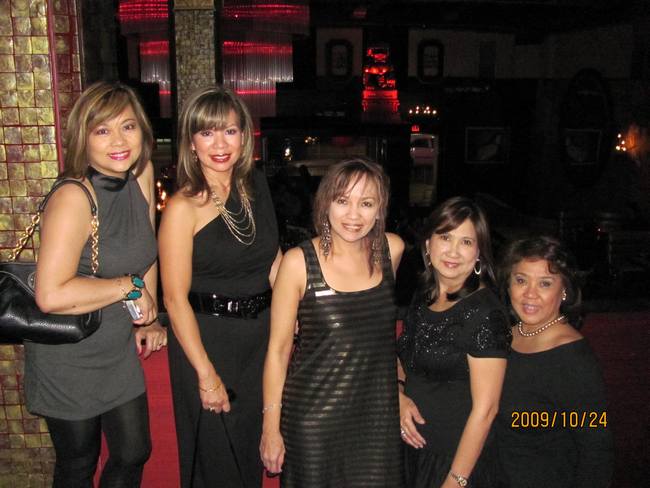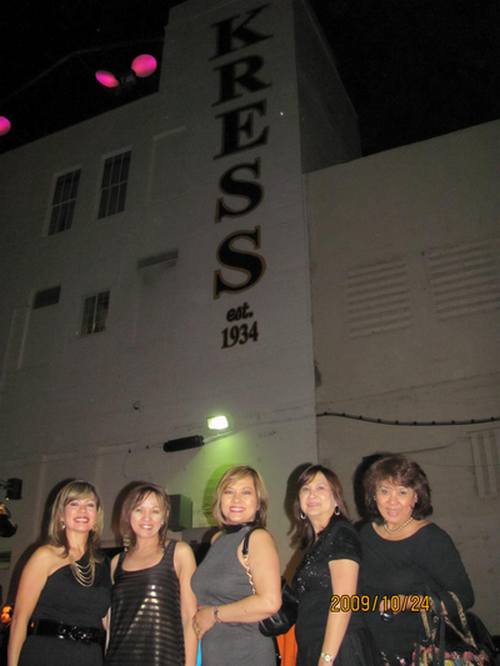 The UP SoCal Betan Belles in Hollywood
~~~~~~~~~~~~~~~~~~~~~~~~~~~~~~~~~~~~~~~~~~~~
***These pictures were sent by Vic Battad'68 from Vancouver, B.C.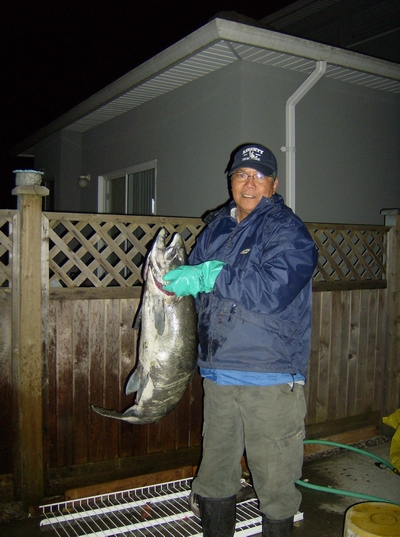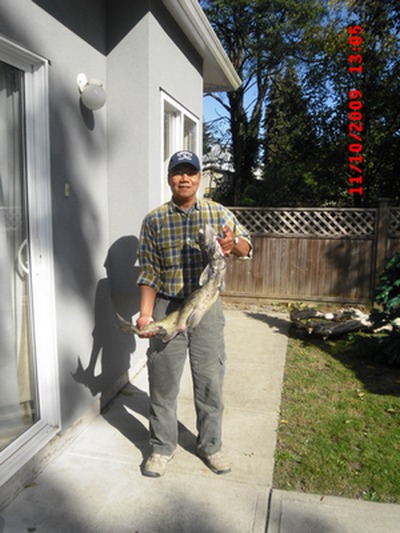 It's salmon run and Brod Roy and I are having fun fishing. This is my first time to fish and I have already caught two15-pounder spring salmons, thanks to my tutor and our expert fisherman, Brod Roy. Brods Henry and Tommy will be joining Brod Roy and me on Sunday. How about joining us... the more, the merrier. Let's enjoy life and nature. -- Vic, 10-16-09
~~~~~~~~~~~~~~~~~~~~~~~~~~~~~~~~~~~~~~~~~~~~
***These pictures came from Ben Medel'82 in RP.
UP Los Banos Loyalty Day - October 10, 2009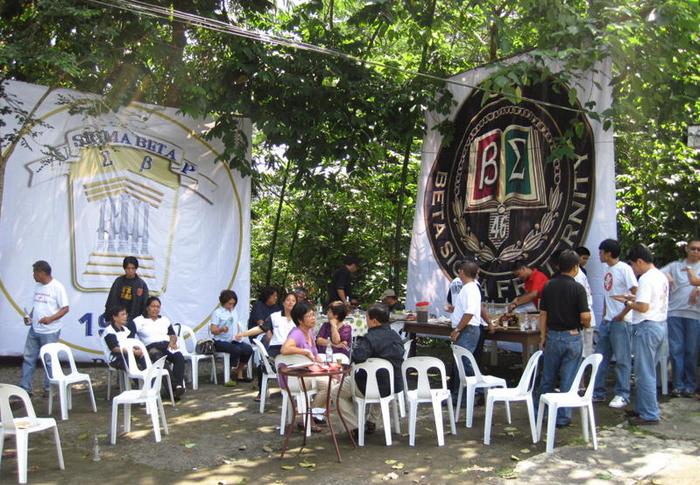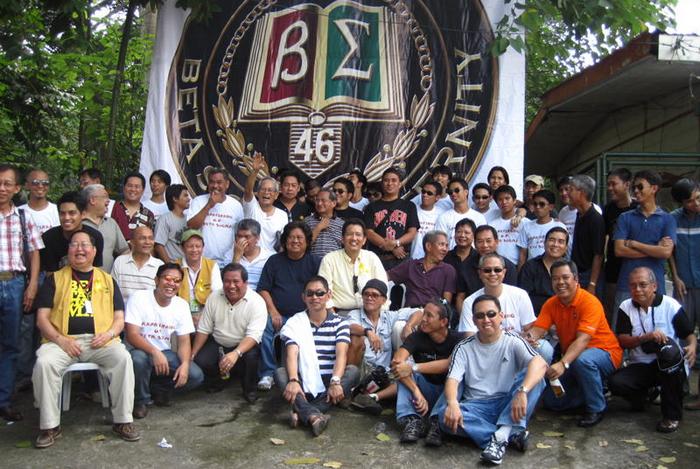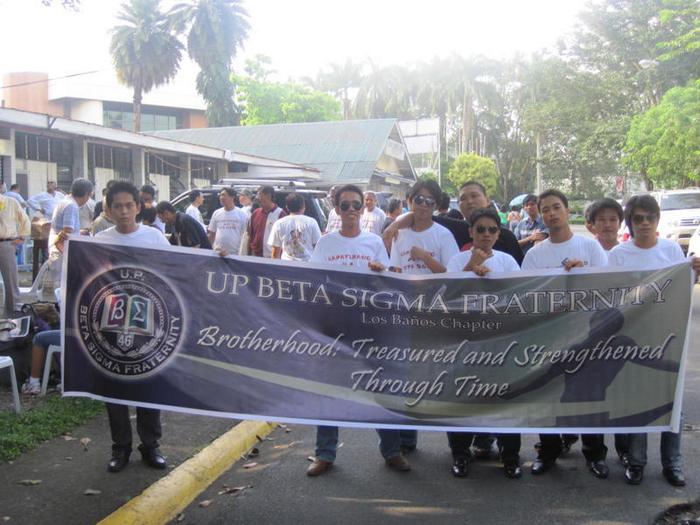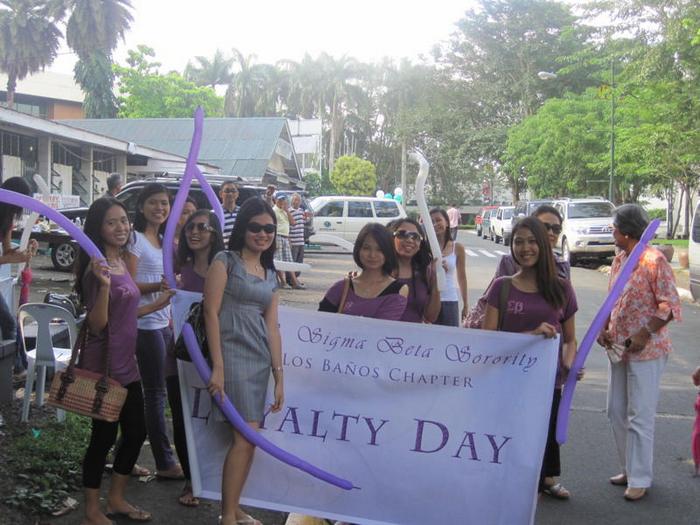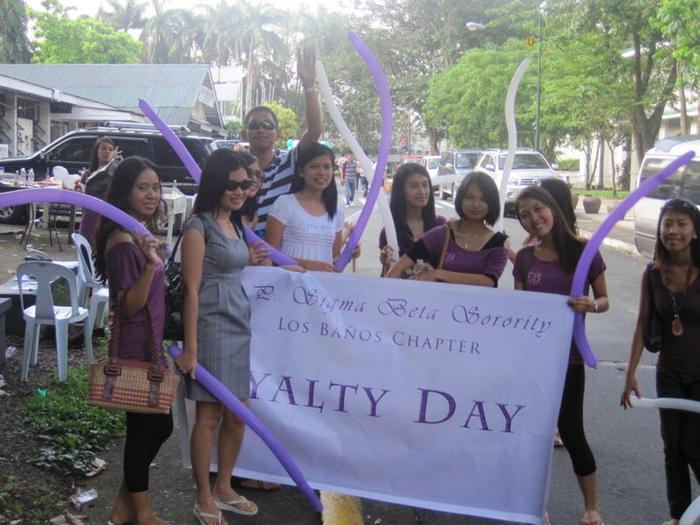 ~~~~~~~~~~~~~~~~~~~~~~~~~~~~~~~~~~~~~~~~~~~~
***These pictures were sent by Norm Bituin'65 of Diamond Bar, CA.
Johnny Singh's, UPLB'68, 60th birthday celebration in San Diego, CA - October 3, 2009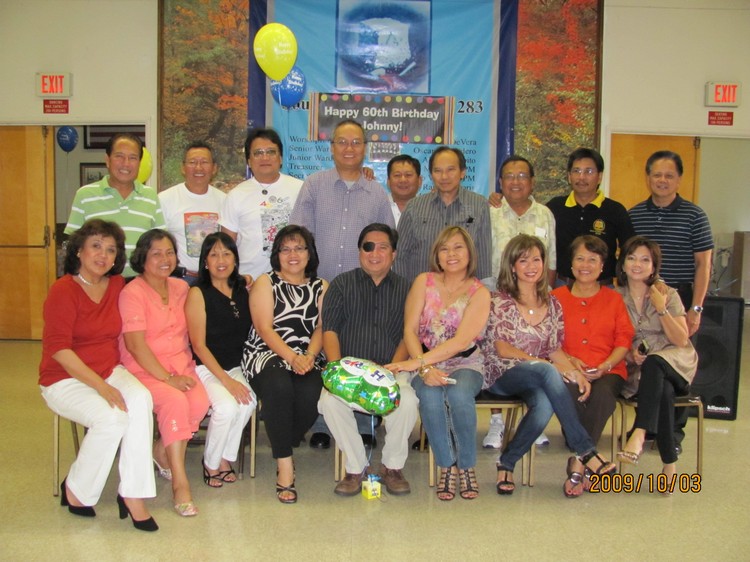 Seated: Ivy Bautista, Zeni Rivera, Mildred Wico, Daisy Alcantara, John Singh, Eva Romero, Cherry Bituin, Rexie Enrico, Dinah Antonio.
Standing: Nonoy Bautista, Ed Rivera, Aman Carolino, Edsel Arceo, Boi Wico, Ago Romero, Mando Enrico, Roy Antonio, Norm Bituin.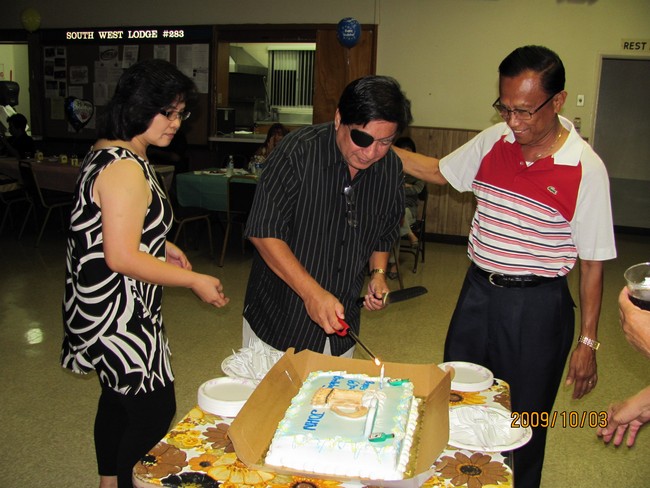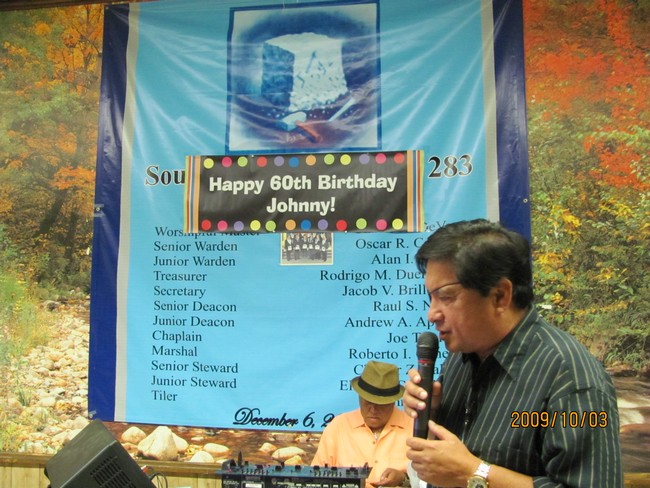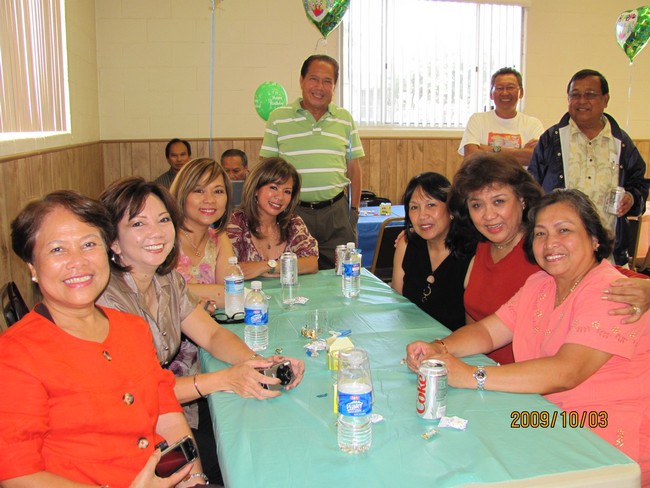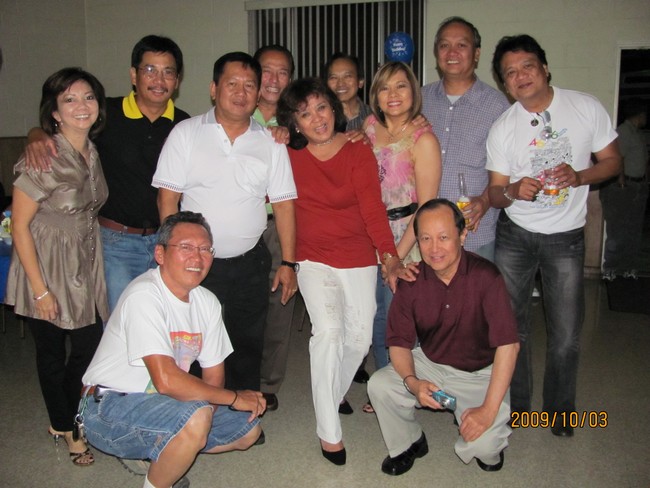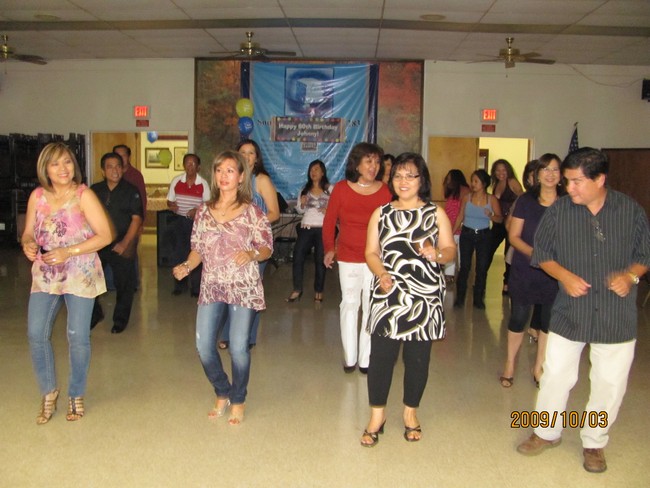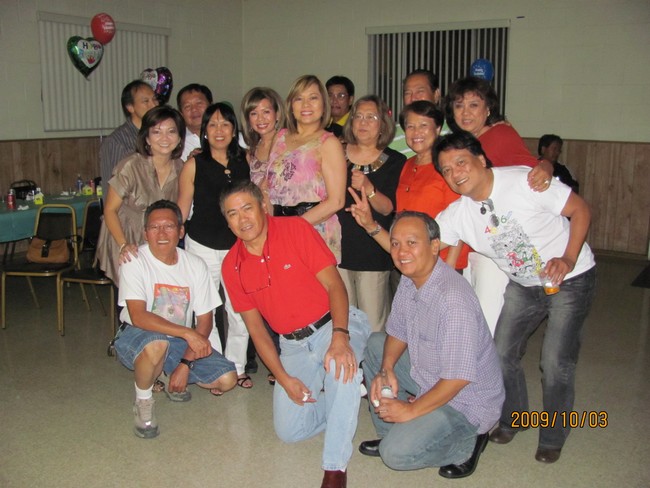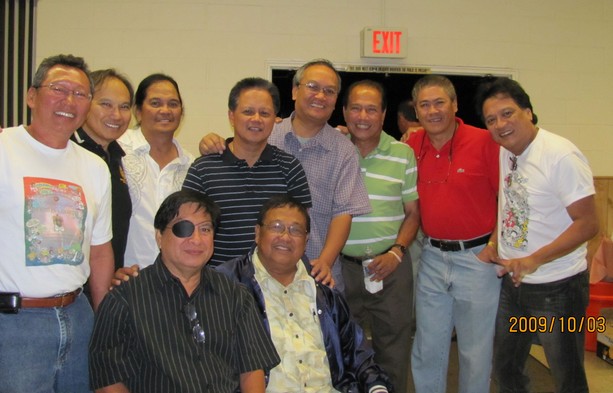 Came later: Dan Pamilar (3rd from left) & Art Martin (2nd from right)
~~~~~~~~~~~~~~~~~~~~~~~~~~~~~~~~~~~~~~~~~~~~
***These pictures were sent by Frank Mamaril '56 of Placentia, CA.
UPLBBSAA Pres. Leo Balagot visits Southern California - Sept. 12, 2009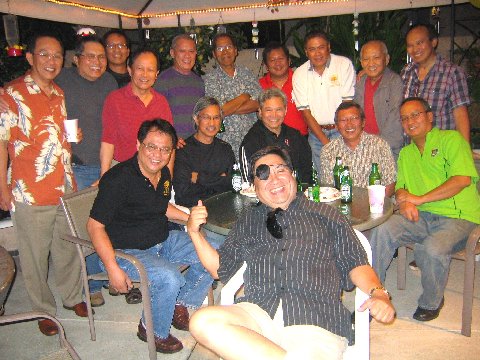 Leo Balagot, seated leftmost, drums up UPLB Beta Sigma 60th Jubilee '10-10-10'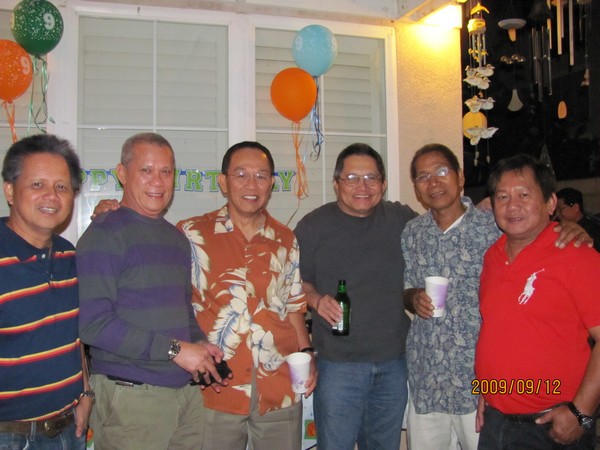 UPD '64 & '65: Norm Bituin, Tito Garcia, Gilbert Dulay, Orly Magistrado, Jimmy Santos & Boi Wico.
~~~~~~~~~~~~~~~~~~~~~~~~~~~~~~~~~~~~~~~~~~~~
***This picture was sent by Jojo Alejar '79 from RP.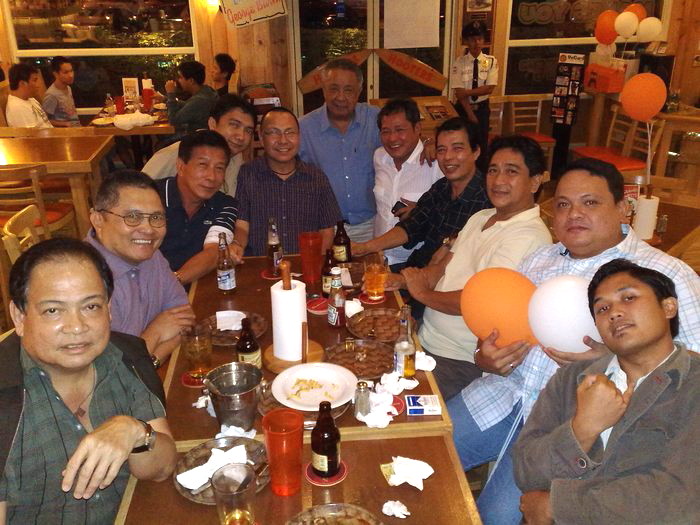 Dear Brods,
Homecoming jug-a-lug for balikbayan Orly Magistrado'64 upd Fine Arts who stayed for a month here in the Phil.
(July-Aug 2009). Picture-an time for posterity and the web.
Left to right: Chito Bandian'71 uplb, Orly'64, Ed Cheng '71 uplb, Jojo Alejar '79 uplb, Ric Bartolome '73 uplb,
Douglas Mondonedo '65 uplb, Joel Paredes '73 upd, Cris Michelena '73 upd, Ambo Lapis '80 uplb,
Arnel Bandian '89 uplb, Jec Cabuguason '04 uplb.
Jojo A. Alejar, 8-31-2009
~~~~~~~~~~~~~~~~~~~~~~~~~~~~~~~~~~~~~~~~~~~~
***These pictures were sent by Norman Bituin'65 from Diamond Bar, CA.
UP Alumni Association of Greater Los Angeles (UPAAGLA) Officers Induction - Aug. 29, 2009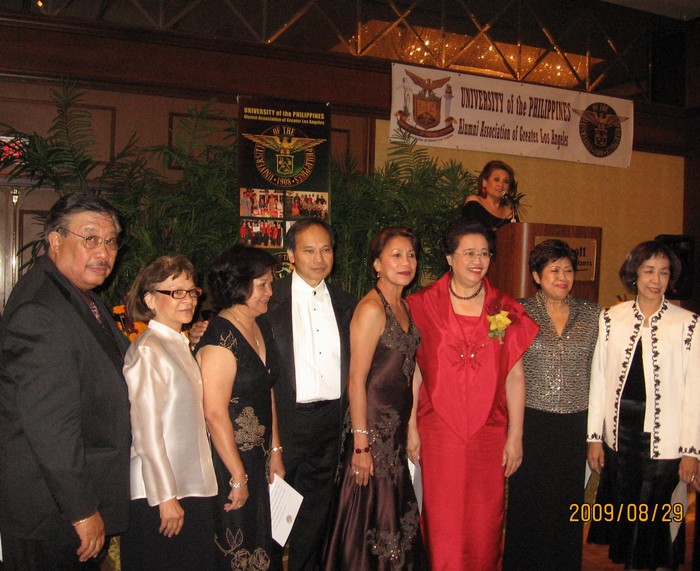 UP President Emerlinda Roman with the incoming officers of UPAAGLA, among them Brods Herm San Luis
and Ago Romero. UPD Sigma Betan Sis Alma Onrubia, 2nd from right, is the incoming UPAAGLA President.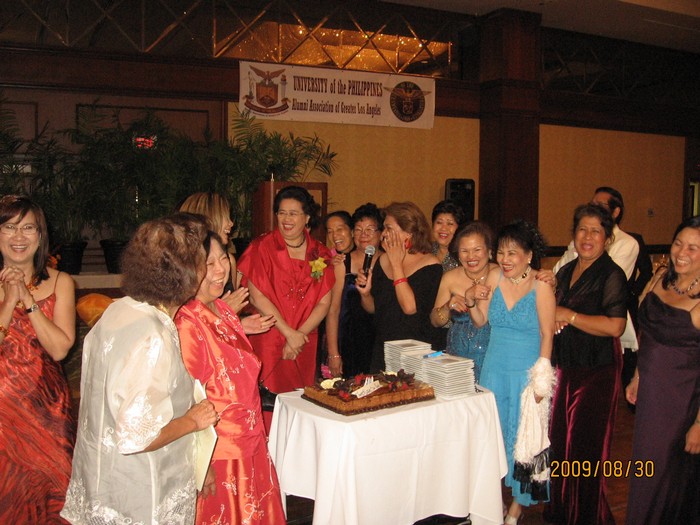 Perfect timing - it was Pres. Emer Roman's birthday and she got a surprise midnight serenade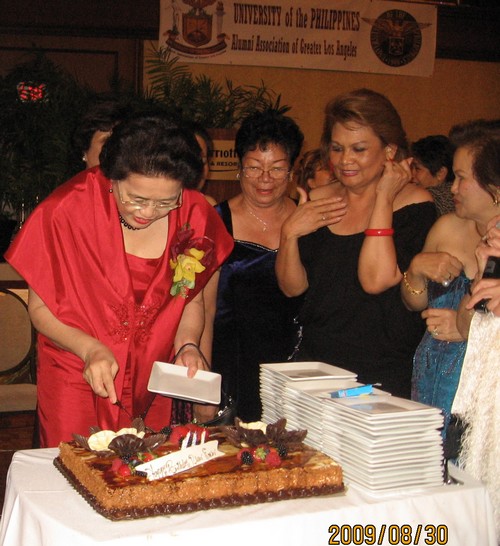 Pres. Emer Roman cuts her French birthday cake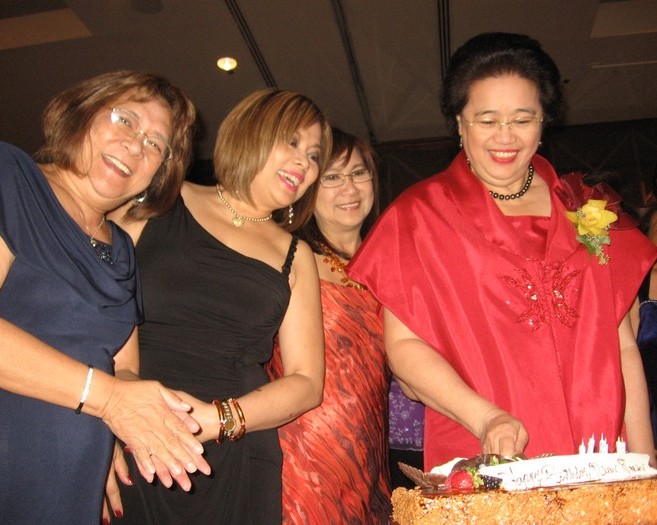 ... as Betan wives Rory Mamaril, Eva Romero and Tina Martin watch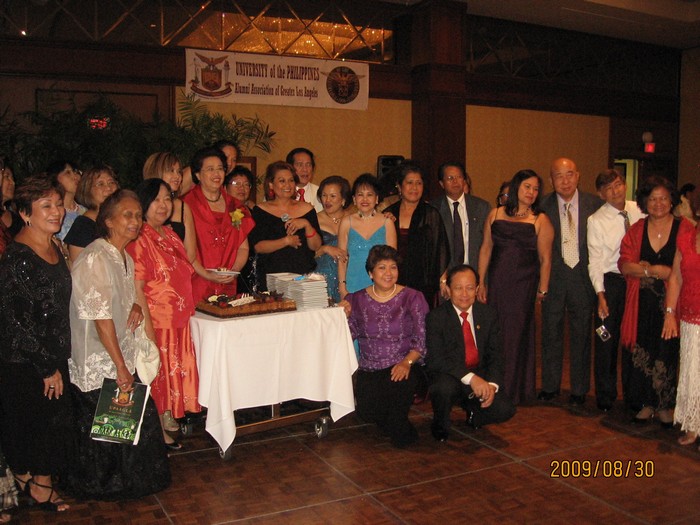 Brod Dr. Frank Mamaril (kneeling) is the outgoing President of UPAAGLA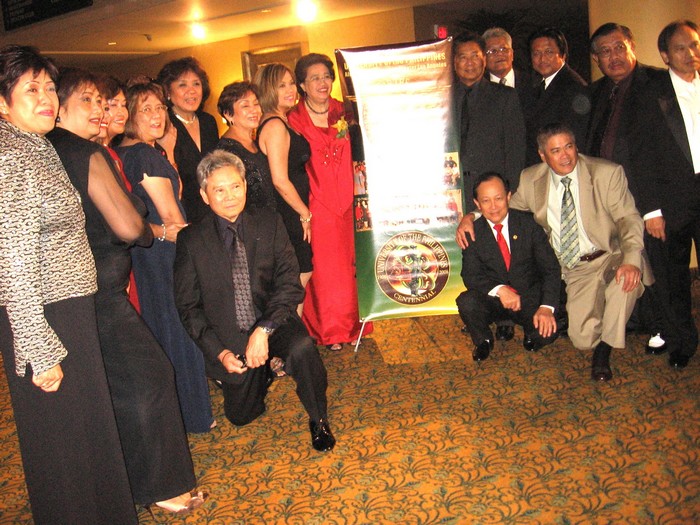 The UP SoCal Betan Family with UP Pres. Emer Roman, the First Lady of First Gentleman Brod Pat Roman
~~~~~~~~~~~~~~~~~~~~~~~~~~~~~~~~~~~~~~~~~~~~
Ed Tadiar, UPD'71, visits Los Angeles
Brod Ed Tadiar is a geophysicist who lives in Adelaide, AU and works in Jakarta, Indonesia. He was in LA from
8/15-30 with wife Ging for niece's wedding. Ed and Norm belong to AFAG, a college frat in UP Geology Dept.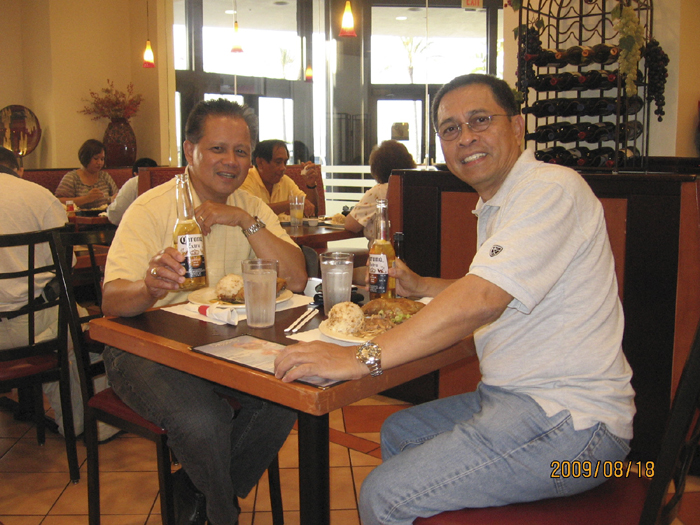 Norm and Ed, meeting after 36 years, toast with Corona at Max's Fried Chicken - Aug. 18, '09
~~~~~~~~~~~~~~~~~~~~~~~~~~~~~~~~~~~~~~~~~~~~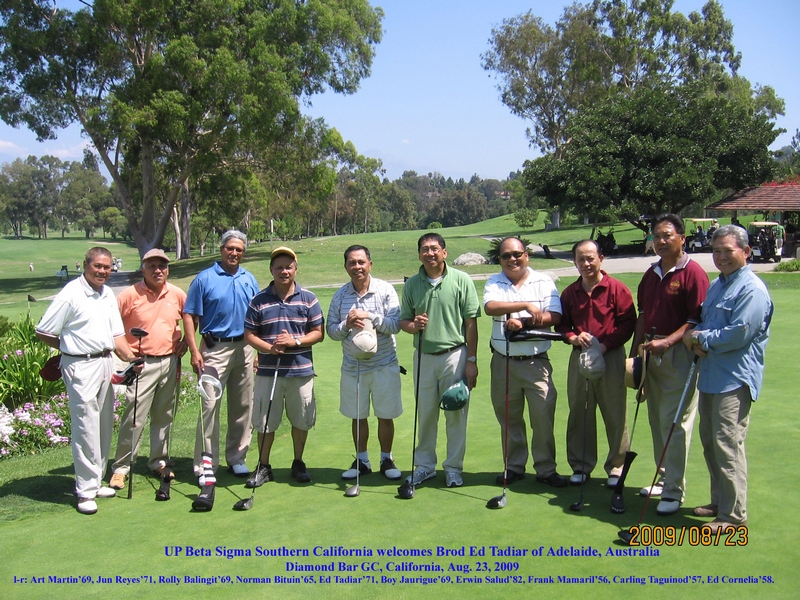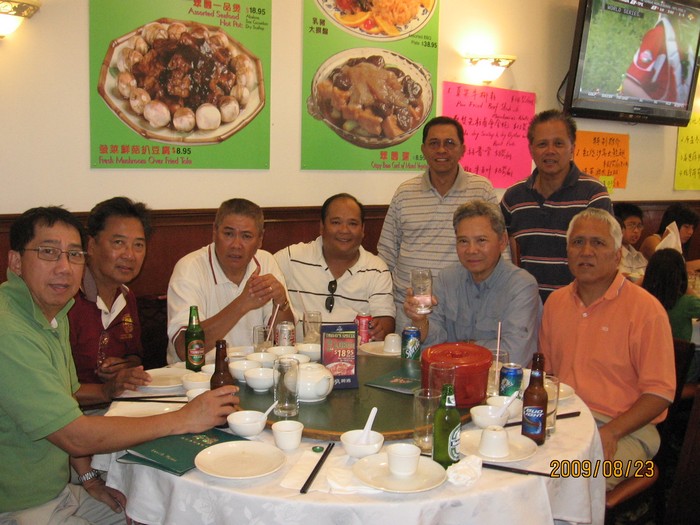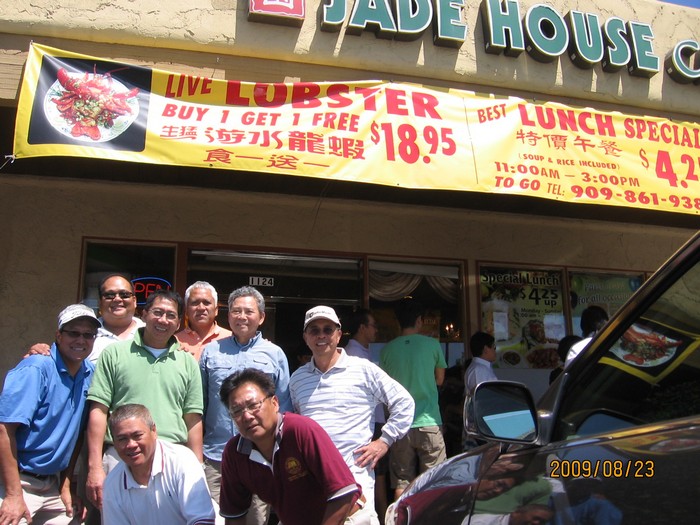 ~~~~~~~~~~~~~~~~~~~~~~~~~~~~~~~~~~~~~~~~~~~~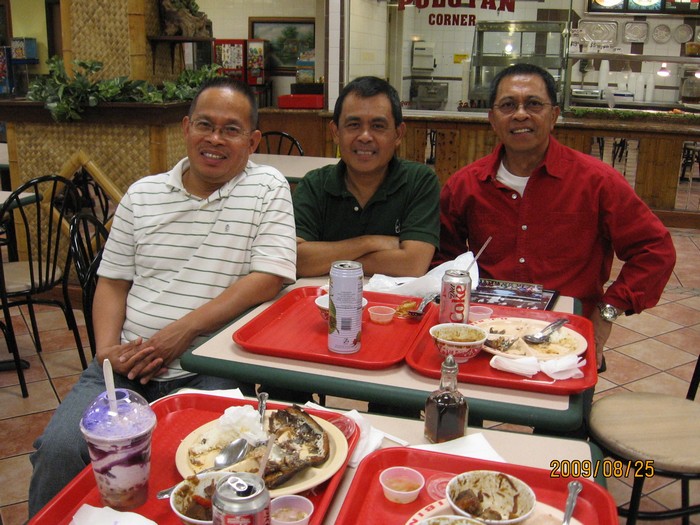 Ed in a mini-reunion with cohort Joe Lalas and kabatch Bernie Bacosa (center) at DJ Bibingkahan - Aug. 25, '09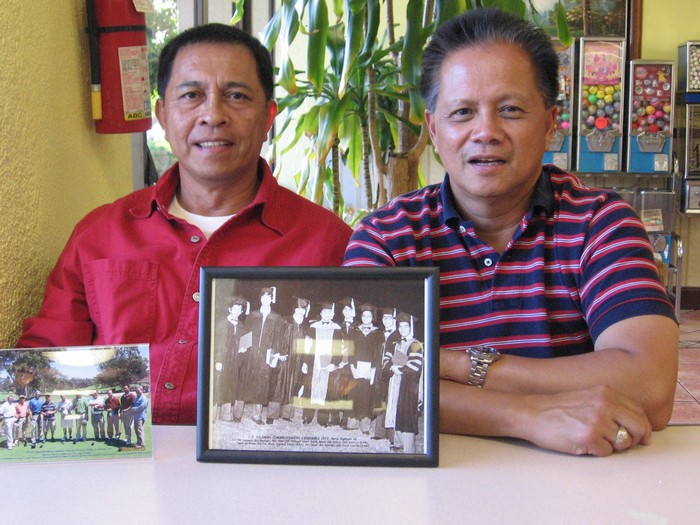 Ed takes home the UP SoCal golf photo '09 and UP Diliman graduation photo'73 (below).
Ed didn't know such grad photo exists until Norm posted it in our website, in Memory Lane I.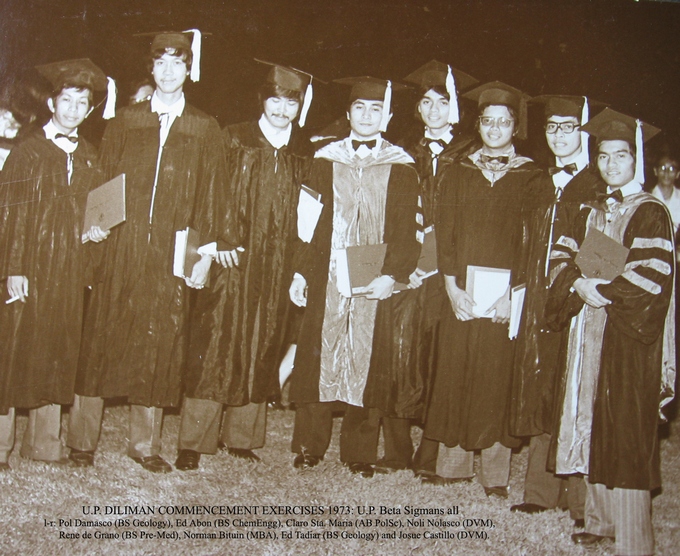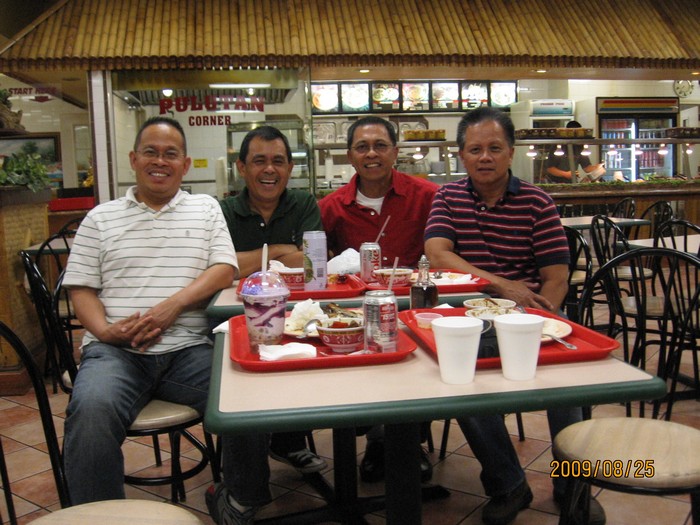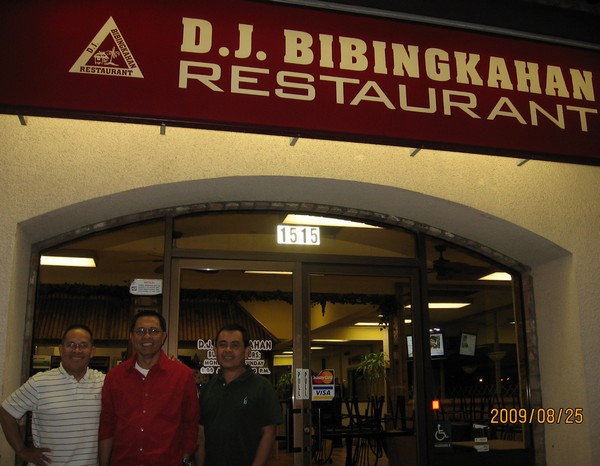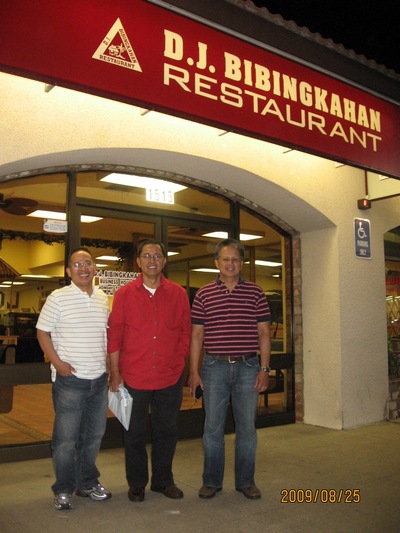 ~~~~~~~~~~~~~~~~~~~~~~~~~~~~~~~~~~~~~~~~~~~~
***These pictures were sent by Edsel Arceo '73 of Woodland Hills, CA.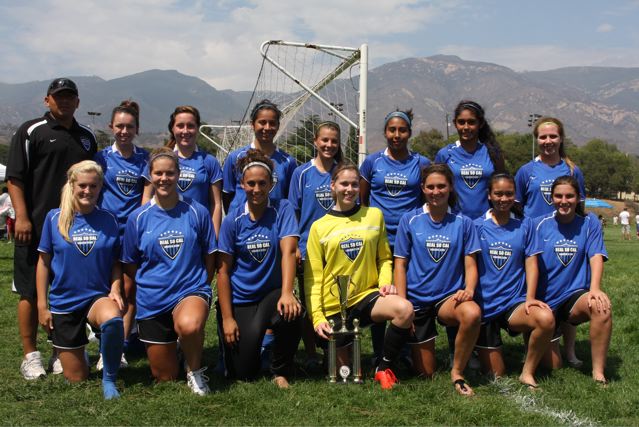 Real So Cal Blue Soccer Club are champs, wins the Santa Barbara Summer Cup 2009 - Aug. 23, 2009
Elanna Arceo, daughter of Edsel, is kneeling 2nd from right. Elanna's position: Midfielder/Defender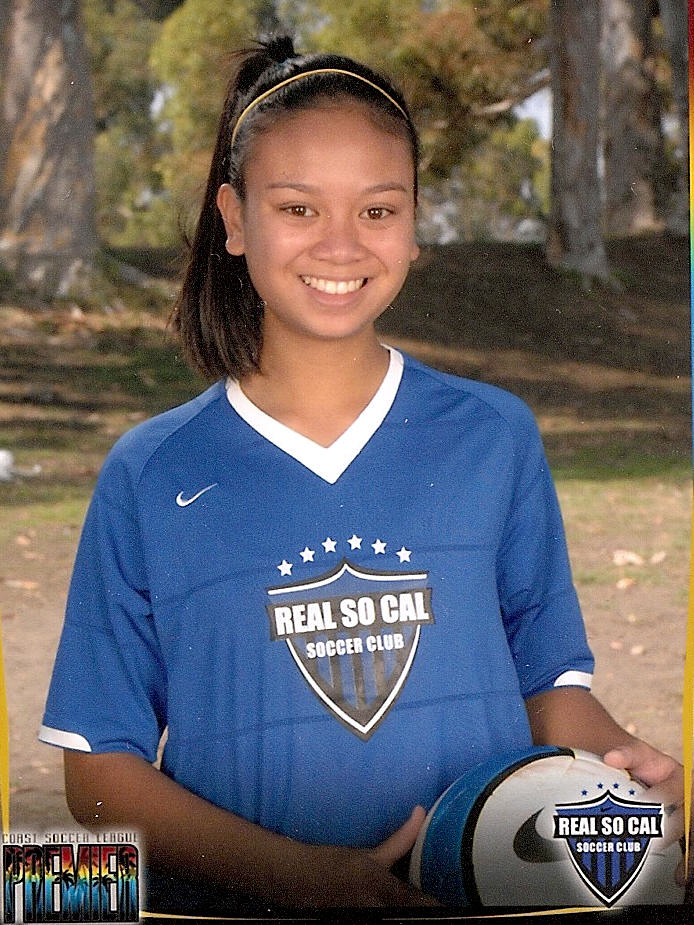 The Pride of Woodland Hills
~~~~~~~~~~~~~~~~~~~~~~~~~~~~~~~~~~~~~~~~~~~~
***These pictures were sent by Rolly Reyes'66 from RP.
Dear Brods,

I was invited by the government of South Korea thru the Korea Communication Commission to attend the 4-day Asean-Korea conference and Co-production television workshop last June 30. I was asked to deliver a keynote speech in behalf of the 10 Asean Member-Countries (Brunei-Darussalam, Cambodia, Malaysia, Indonesia, Laos, Myanmar, Singapore, Thailand, Vietnam, Philippines). I presented the report of our country re trends in broadcasting, status of digitalization and current telecomm infrastructure nationwide. I was also given the honor to represent the National Telecommunication Commission. This event also gave me much pride to owe everything to our beloved fraternity, the UP Beta Sigma Fraternity, which formed a sizeable part of my upbringing and resolve to do things in the most professional way. This for you beloved brods!

Cheers!!!

Tabets forever,

Rolly '66, 7-11-09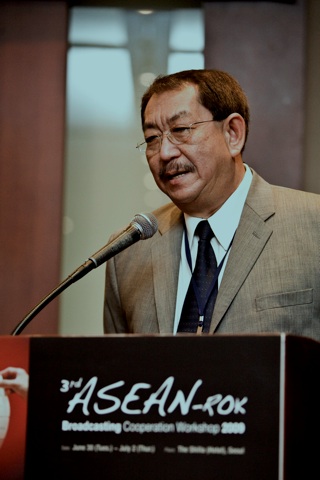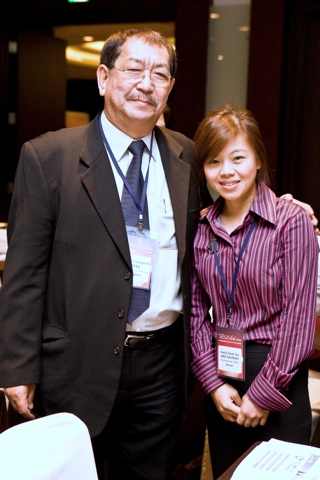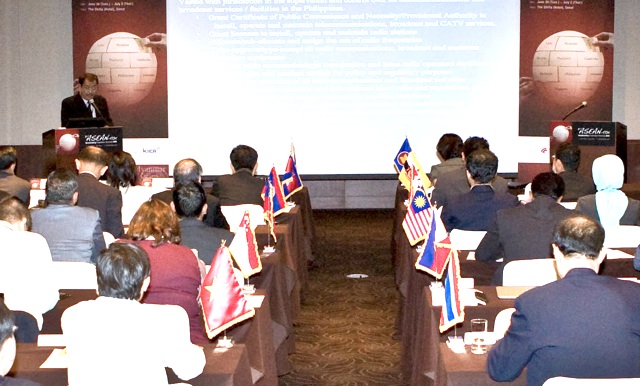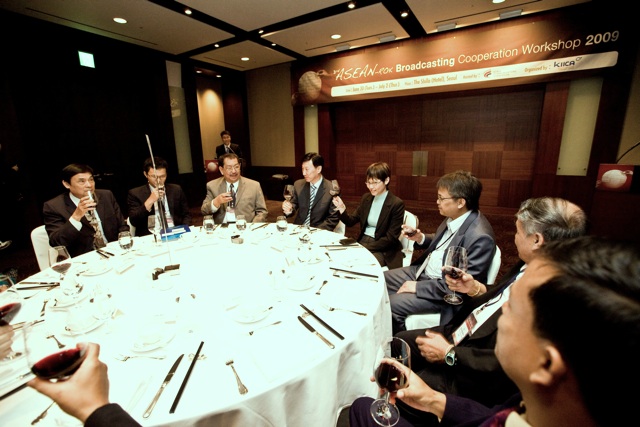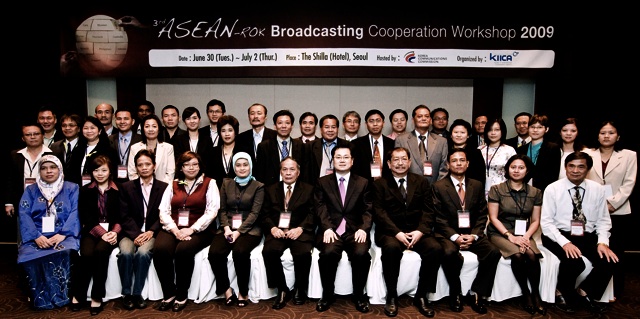 ~~~~~~~~~~~~~~~~~~~~~~~~~~~~~~~~~~~~~~~~~~~~
***This picture was sent by Jojo Alejar '79 from RP.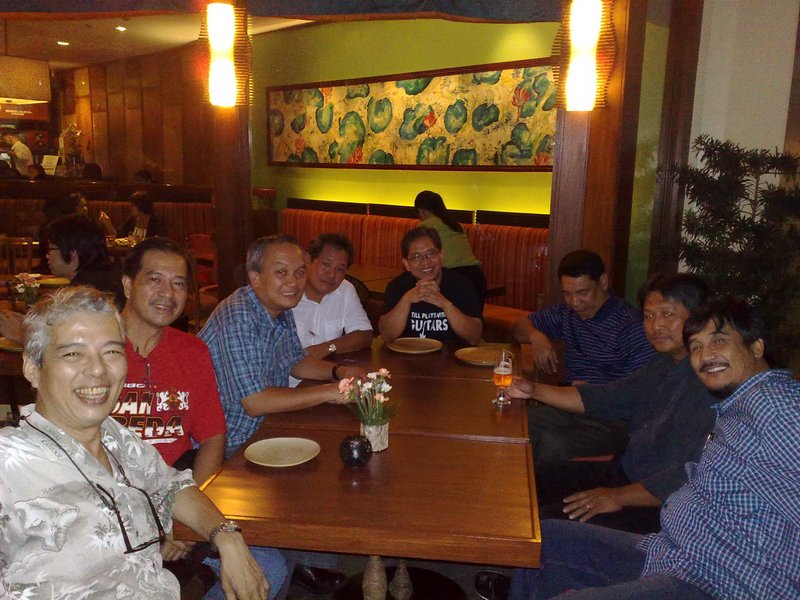 Joel Paredes hosts his batchmate Edsel Arceo to a dinner in Sentro Restaurant in Greenbelt3, Makati City
L-R: Cris Michelena UPD'73, Egai Taccad San Beda'73, Edsel Arceo UPD''73, Joel Paredes UPD'73,
Babes Ignacio UPD'76, Rico Salapong UPD'73, Sonny Pagador UPD'76, Dante Agulto UPD'73.

- Edsel Arceo is UP Beta Sigma SoCal Vice GP and UPBSFI Treasurer; Payroll Manager at LA Dept. of Water and Power.
- Colonel Rico Salapong came all the way from Baguio where he is the Philippine Natl Police (PNP) Intelligence Chief (no. 2 rank)
in the Cordillera Region as well as Officer in Charge (OIC) Chief of Police of Baguio City. He is awaiting orders to transfer to Camp
Crame in Metro Manila anytime this July or August to a position where he will soon get his 1st star.
- Dante Agulto is with the family's restaurant business, the now famous Gerardo's near ABS-CBN TV network, Quezon City.
- Joel Paredes and Cris Michelena have their consulting firm apart from their own respective businesses.
- Egai Taccad is with the Office of the President and Gen. Mgr. - Government Service and Insurance System (GSIS).
- Sonny Pagador (Federation President) eh ginagawang kapitbahay lang ang U.S. at Pinas, hehe.
- Babes Ignacio is on a working visit here.

Joel and Egai gave Edsel the 1st issue copies of the National Betan for distribution in U.S
Dinner photo yan but yung photos sa bar we transferred to is another story, hehe. Well, we all went home past 3am.

Jojo A UPLB'79d
~~~~~~~~~~~~~~~~~~~~~~~~~~~~~~~~~~~~~~~~~~~~
***These pictures were sent by Rolly Reyes'66 from RP.
a little get-together for brod edsel arceo. attendees were: brods edsel, vic ramos, willie nep,
bobby manansala, joel paredes, cris michelena, and rupert ambil (son of brod gen. ambil).
cheers! rolly '66, 6-27-09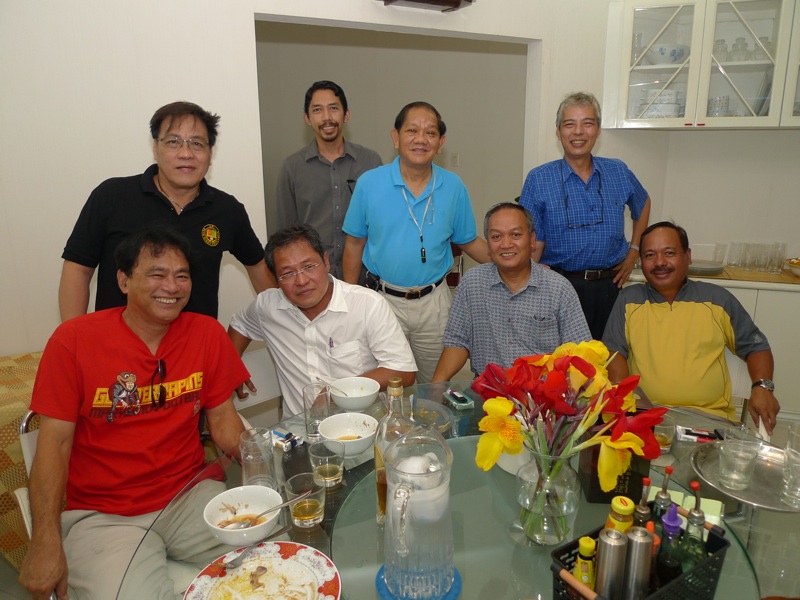 ~~~~~~~~~~~~~~~~~~~~~~~~~~~~~~~~~~~~~~~~~~~~
***These pictures were sent by Norm Bituin'65 from Diamond Bar, CA.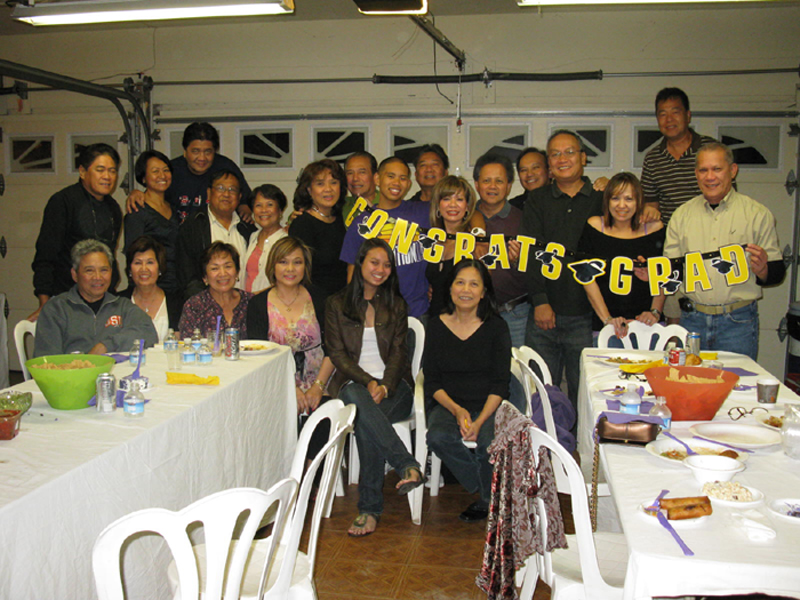 UP SoCal Betan Family celebrates at Kurt Bituin's high school graduation party - June 13, '09
~~~~~~~~~~~~~~~~~~~~~~~~~~~~~~~~~~~~~~~~~~~~
Dr. Flor Pagador, UPD'73, DVM - 5th anniversary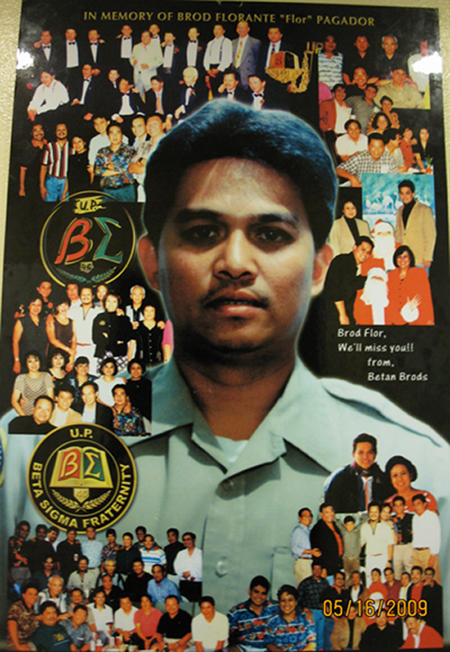 "We Remember"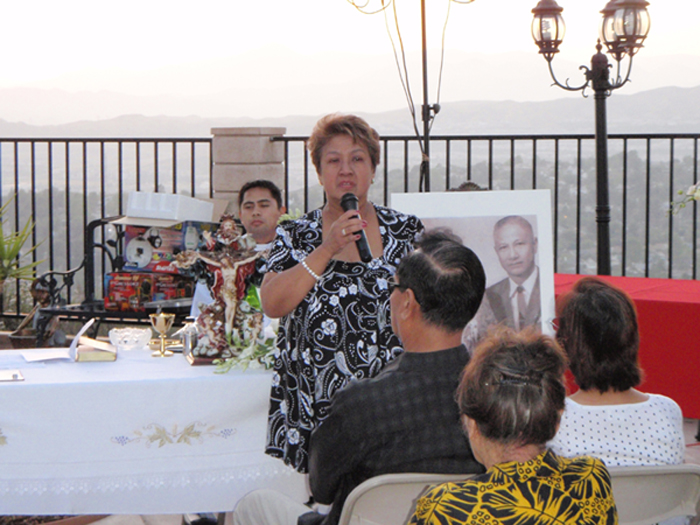 Cielly Pagador at memorial mass for Flor and her parents, Mr. and Mrs. Edilberto Unite, with Fr. Warren officiating.
[photo from Mr. Jaison Siriban, Cielly's nephew]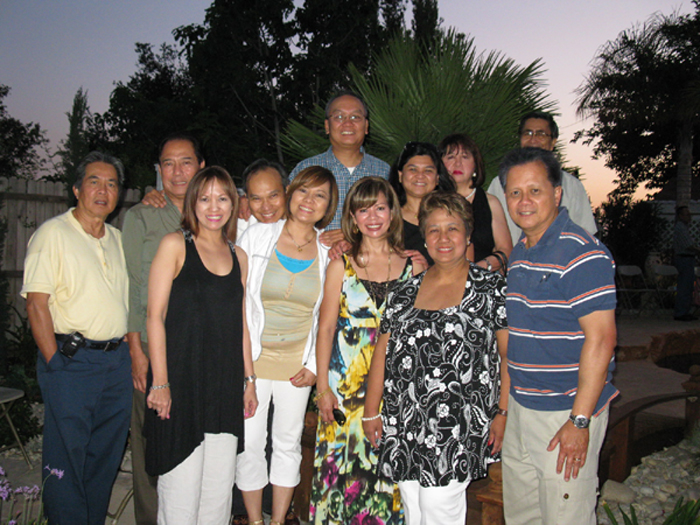 Brods & Wives at Cielly Pagador's home in Saugus, California, May 16, '09
Front: Elmor Villanueva, Nonoy Bautista, Mayette Arceo, Ago & Eva Romero, Cherry Bituin, Cielly Pagador, Norm Bituin.
Back: Edsel Arceo, Siony Villanueva, Susan & Bobby de la Paz.
~~~~~~~~~~~~~~~~~~~~~~~~~~~~~~~~~~~~~~~~~~~~
***These pictures were sent by Winston Acevedo'61 from Woodside, CA.
SPRING has indeed sprung and Brod Winston Acevedo welcomed the brods to celebrate the coming of this
wonderful season with the flowers blooming and the birds singing, making our world colorful, happy and wonderful.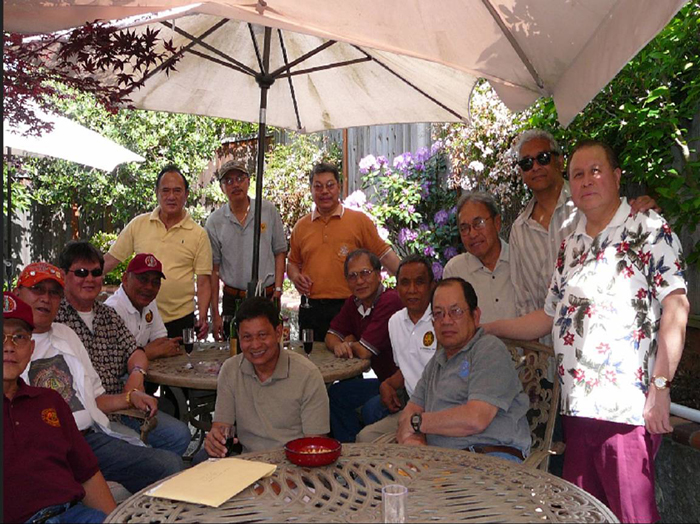 Seated: Johnny Regadio, Ting Valdez, Manolo Banzon, Fred Aquino, Gene Samson, Johnny Salud,
Vic Gacusan, Ding Cavestany.
Standing: Boy Ramos, Rick Velasco, Eric Punzalan, Dave Villegas, Vee Vera, host Winston Acevedo.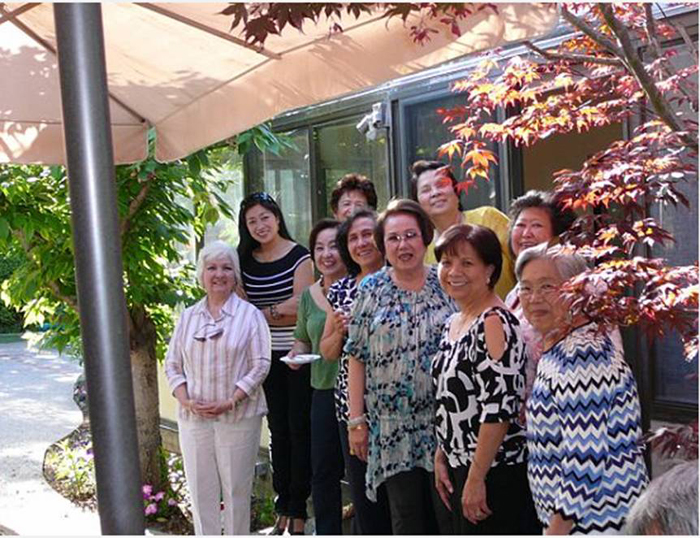 Front Row: Mercy, Irma, Gloria, Nanette, Julie, Nelia.
Back Row: Jean, Lita, Cheng, host Vangie.
For those who did not make it, you just missed the "pastel de lengua" and the "paella a la valenciana" that my dear wife prepared for the group. Both birthday celebrants, Ting Valdez and I, blew the candles on the birthday cake and no one dared eat the cake after the candle blowing!! Kiko Delmendo came with his lovely friend and graced our home with their presence. Too bad he did not bring his saxophone for some nice jive. We had great karaoke singing, however.
Perhaps we can do this again at some future date. We will see you all at the grand reunion ball.
Fraternally,
Winston '61, 5-14-09
~~~~~~~~~~~~~~~~~~~~~~~~~~~~~~~~~~~~~~~~~~~~
***These pictures were sent by Rolly Reyes'66 from RP.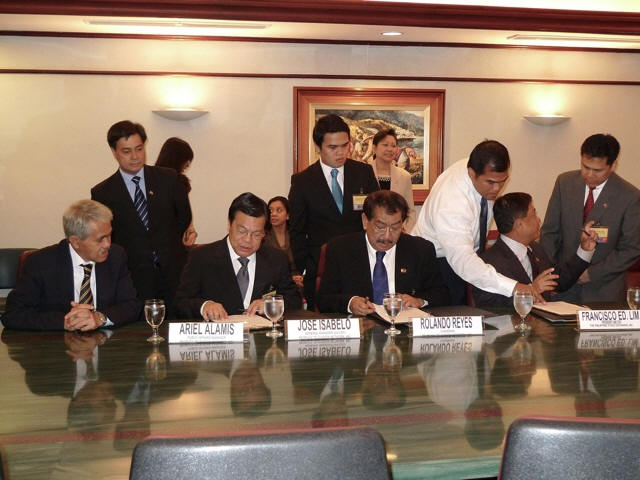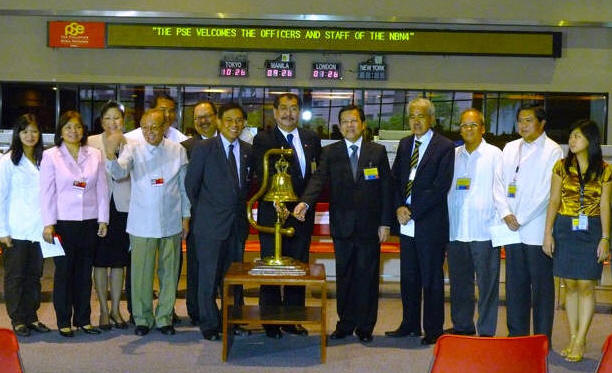 April 29,2009
Just for sharing,
Was invited to open up today's trading at the Philippine Stock Exchange by ringing the ceremonial PSE bell. Then we signed a Memorandum of Agreement with PSE Chairman Jose Vitug and PSE President and CEO Francis Lim for a partnership between the bourse and the government channel. Salamat po.
Rolly
Rolando G. Reyes
Chairman and President
People's Television Network, Inc.
(National Broadcasting Network)
Tel. No. +6329204305
Mobile : +639175000222
Broadcast Complex, Visayas Ave.,
Diliman Quezon City 1100
Philippines
~~~~~~~~~~~~~~~~~~~~~~~~~~~~~~~~~~~~~~~~~~~~
***These pictures were sent by Carlos las Marias'67 from Apopka, Florida.
UP Beta Sigma Mini-Reunions 4-15, 4-17, '09 (Orlando, Florida)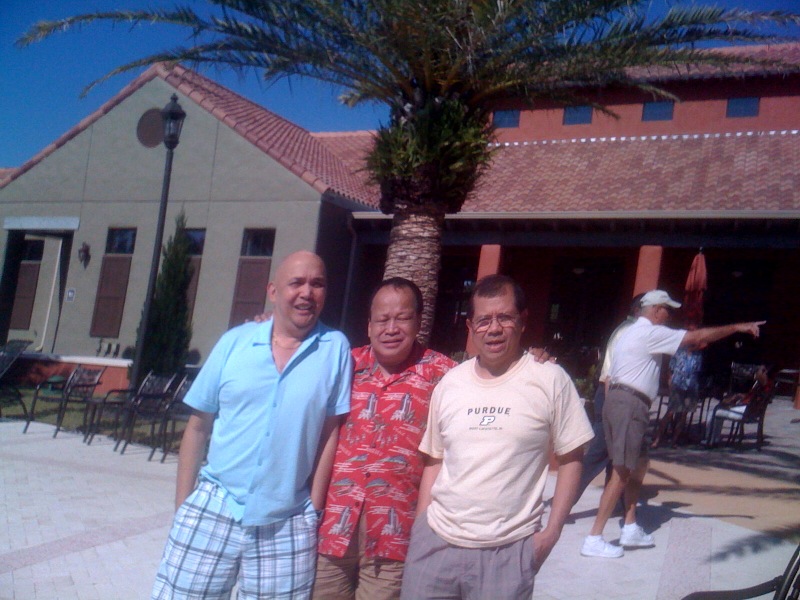 L-R: Caloy las Marias MD, Archie Laano MD (Brig. Gen. US Army Retired DAW) & Judz Rey.
Regards to everybody, mag-enjoy na tayo while it lasts, we all are not getting any younger!
See you all in May in SF. BIG CHEERS!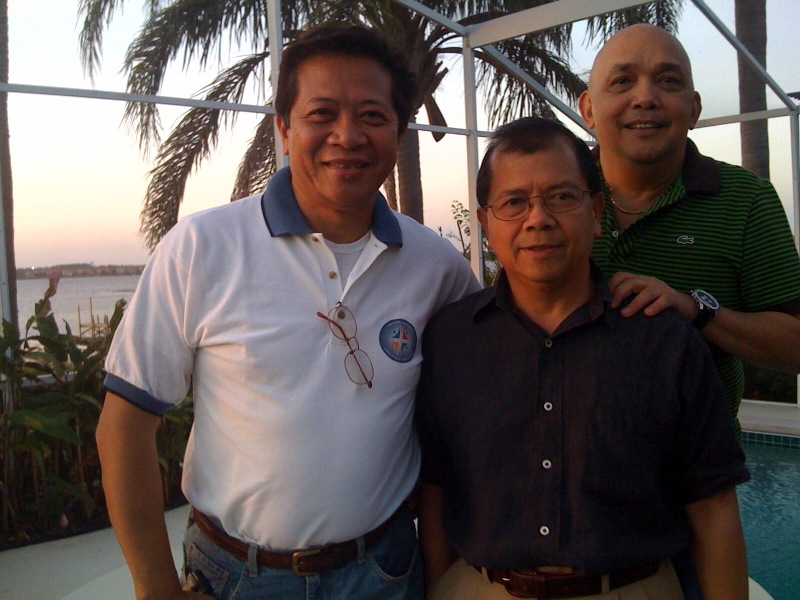 L-R: Patricio Gonzales MD, Judz Rey & Caloy las Marias MD.
Pat, UPD 68B, is a big time Family Practitioner in Orlando. He too is joining us in SF and
Yosemite Sojourn with his wife Lisa, a Miss Philippines beauty queen from Macabebe, Pampanga.
~~~~~~~~~~~~~~~~~~~~~~~~~~~~~~~~~~~~~~~~~~~~
***These pictures were sent by Jojo Alejar'79 in Philippines.
In loving memory of Nap Gatmaytan'82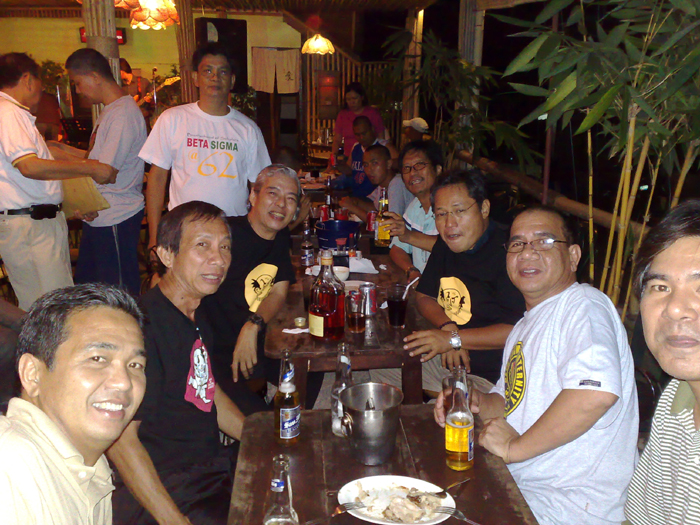 Nap came sa dual meet during the jug-a-lug sa @ Lacxo bar in Grove, LB. I gave him a shirt just like
what Joel and Cris are wearing. He is here in his favorite camera pose. (Taken 9/21/08).
* L-R: Nap Gatmaytan'82upd, Freddie Fajardo'64lb, Cris M'73upd, Soc Tatel'79gauf, Rey Juan'73upd,
Joel P.'73upd, Joe Ramos'76gauf, Eric Reyes'81pcu.
Pls pass this on to JickieE (tama ba spelling) and Manny Casaclang (paki kmusta na lang). Iba rin
talaga nagawa nung dual meet nung 80s sa ating kapatirang LB-Dil, hindi nakakalimot... Jojo'79d
~~~~~~~~~~~~~~~~~~~~~~~~~~~~~~~~~~~~~~~~~~~~
We (Douglas'65a, Ambo'80c) accompanied Orly Magistrado'64 in going to a number of printers to get quotations for the possible
printing here in Manila of the UPLB Beta Sigma Chronicles. Shown here is the office of one which Orly shortlisted,the printer having
garnered many awards. It is also the printer of Mabuhay, the in-flight magazine of Philippine Airlines (PAL).
After the day's work, we proceeded to Alabang where we met up with Ric Bartolome'73 and Ed Cheng'71 and drank the night
away in Poquito Mas and San Mig bar in Alabang Town Center.
Cheers!
Jojo A.79d, 4-11-09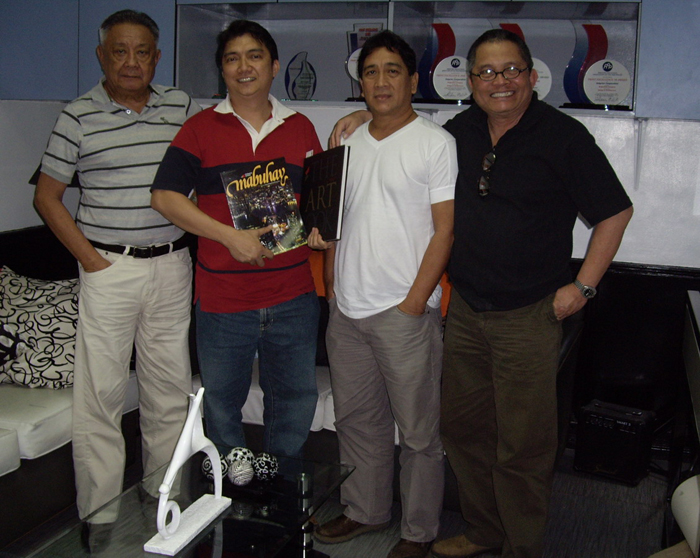 At the Press: Douglas Mondonedo, Jojo Alejar, Ambo Lapis, Orly Magistrado.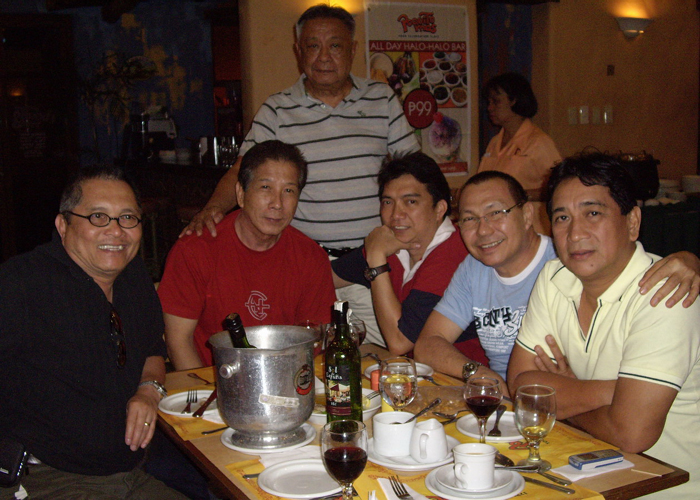 After Press: Orly Magistrado'64 upd, Ed Cheng'71 lb, Douglas Mondonedo'65 lb (standing),
Jojo Alejar79d lb, Ric Bartolome'73 lb, Ambo Lapis'80c lb.
~~~~~~~~~~~~~~~~~~~~~~~~~~~~~~~~~~~~~~~~~~~~
.
***These pictures were sent by Willie Vergara'67 of Rocklin, CA and Lleva Abenes of Richmond, CA.
Bobby Pascual's 60th Birthday Celebration - March 28, '09 Salinas, California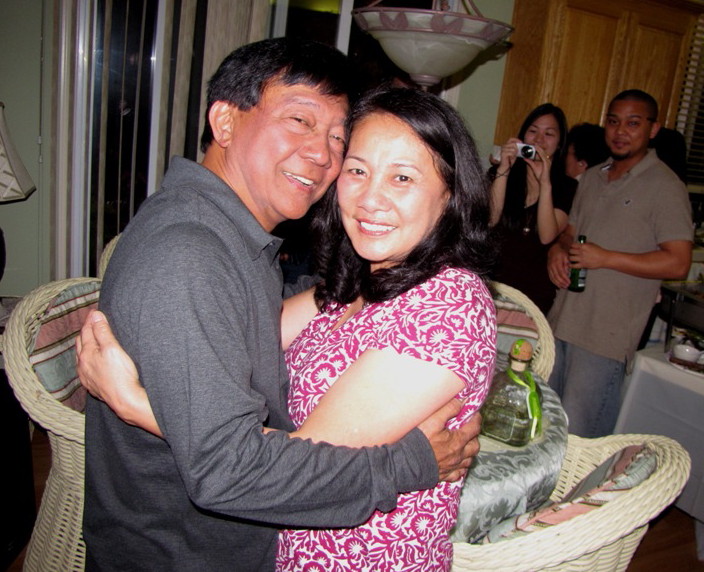 The longtime "Diliman Lovebirds" - Bobby & Harlean
.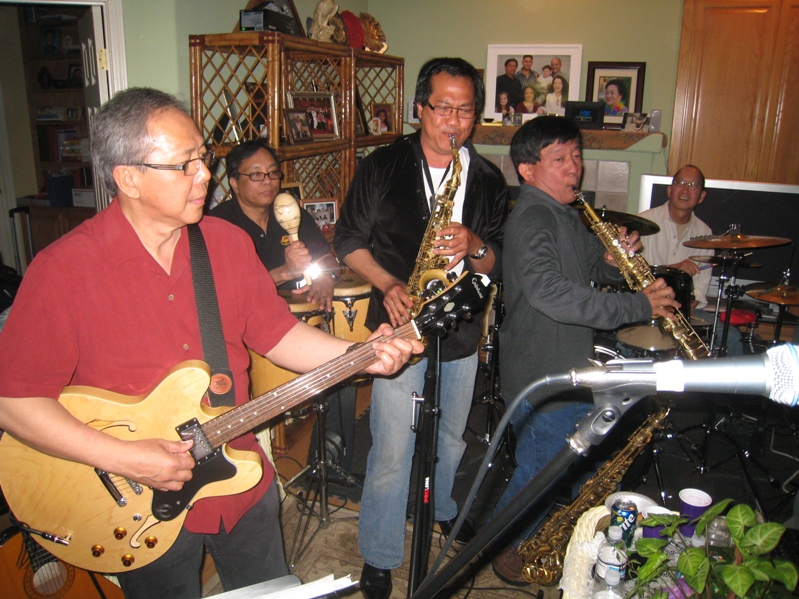 The UP NorCal Band jams in prep for May's SF Grand Reunion - IkeA, DutchA, KikoD, BobbyP, GerryA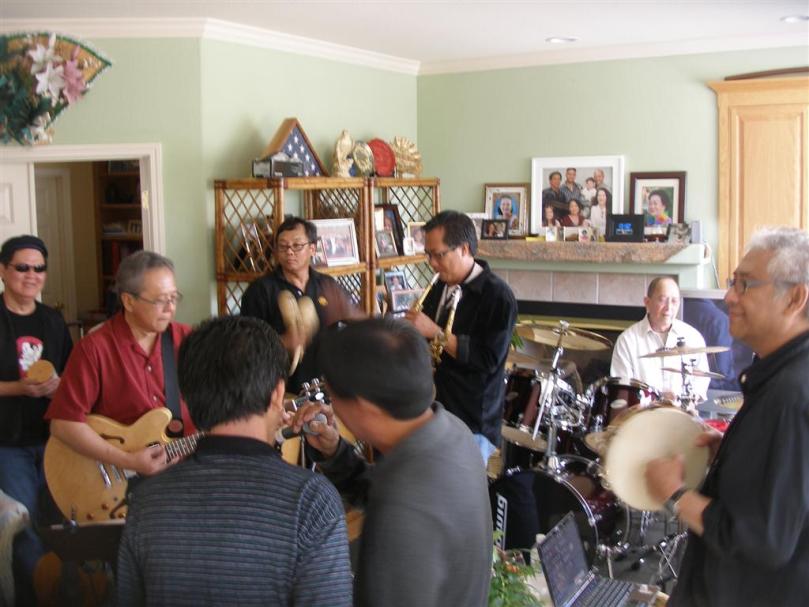 Truly, "A Band of Brothers"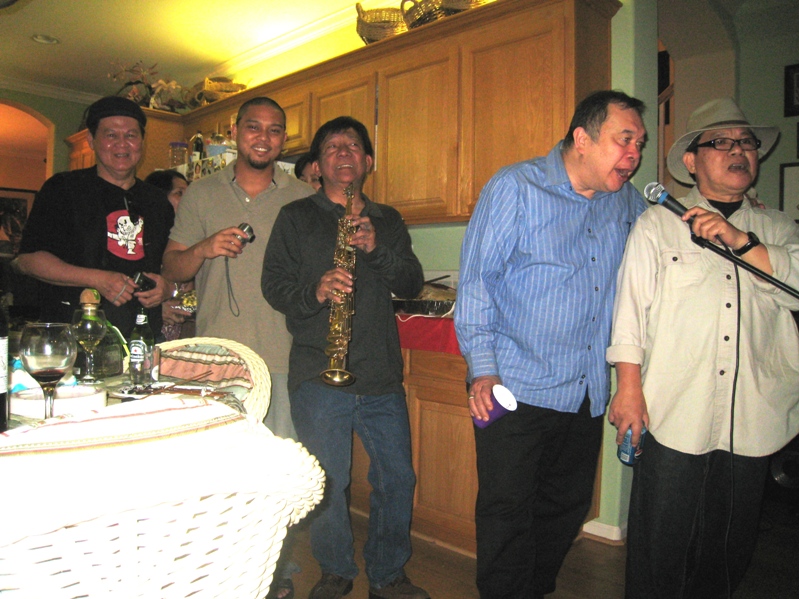 Pogs Gaspay and Rotsen Lawas get into the singing act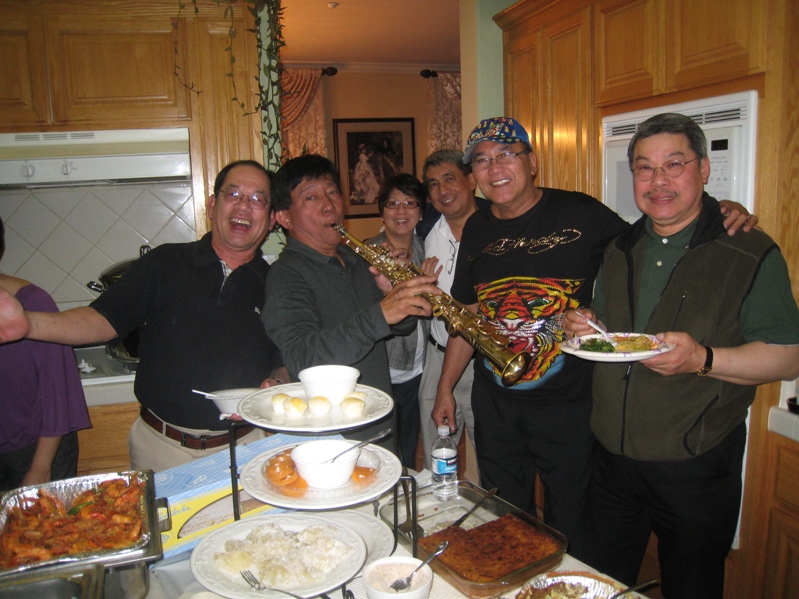 So does Ding "Satchmo" Cavestany - with Bobby, Cy & Gabby Moraleda, Ting Valdez and Eric Punzalan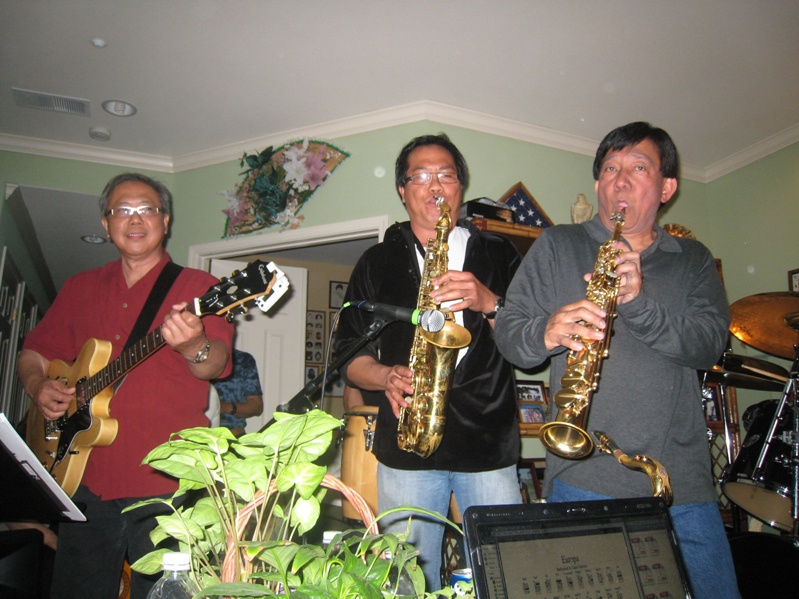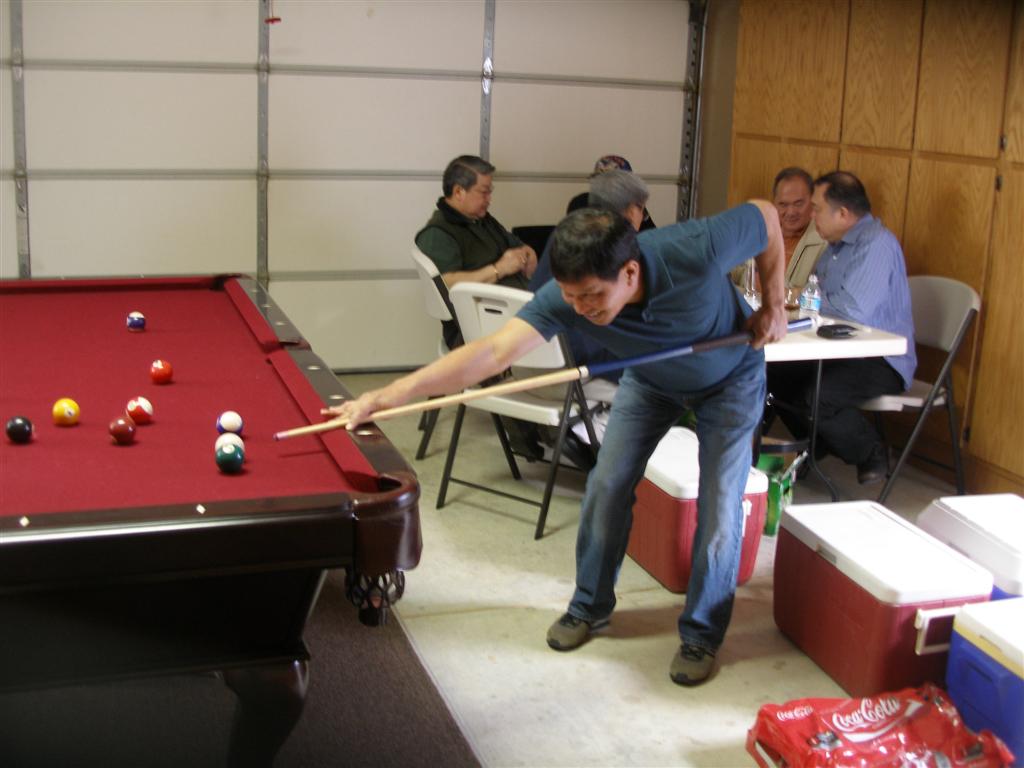 Practicing for May's coming fun times: brass band ... and billiards - as Gene gets set for the challengers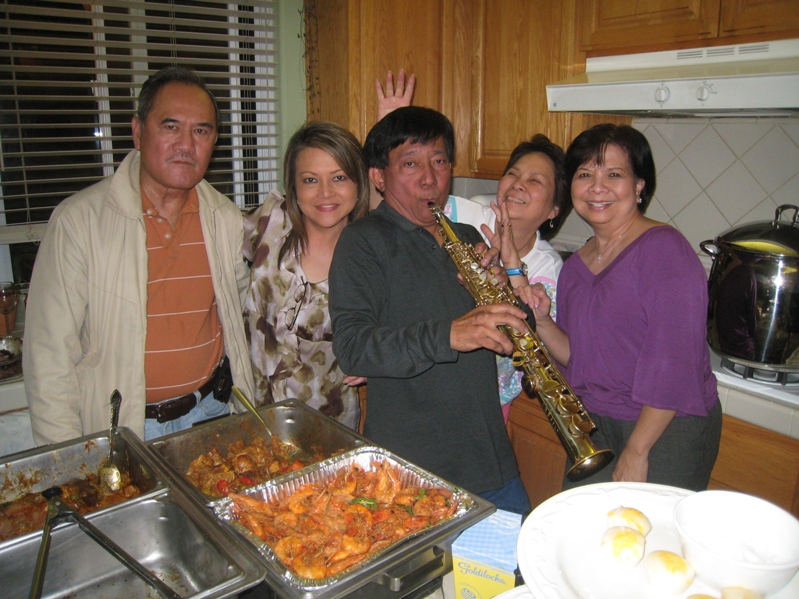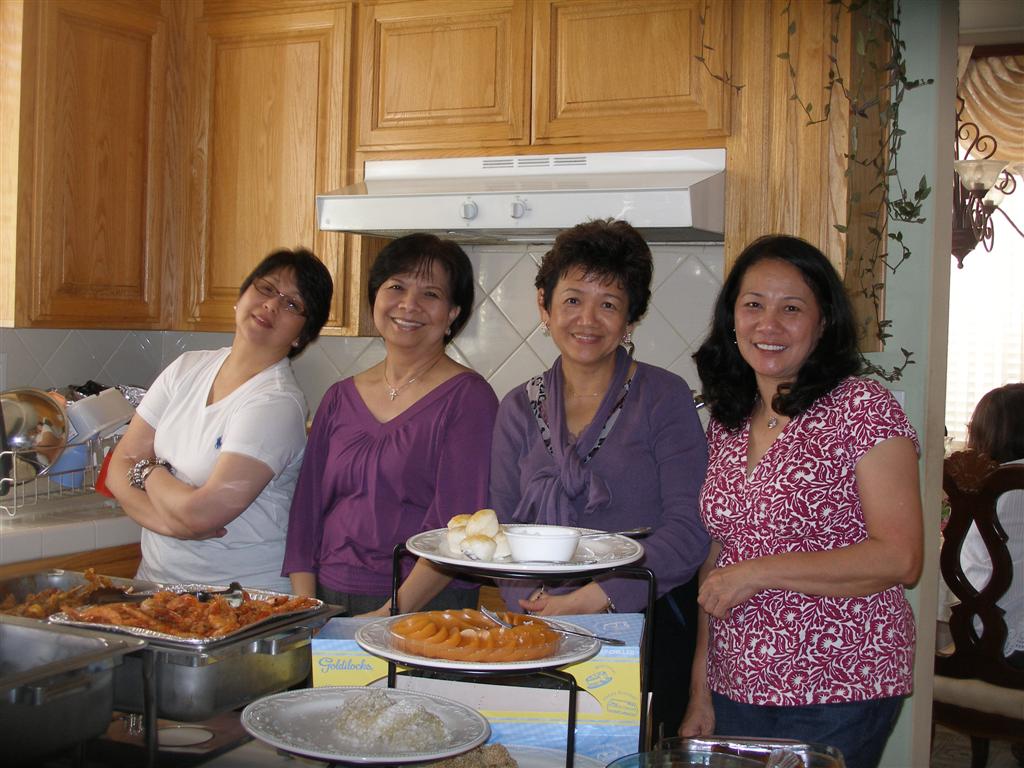 Boy Ramos, Aileen Beredo, Bobby, Cheng Valdez, Julie Cavestany No "Desperate Housewives": Cy, Julie, Lita, Harlean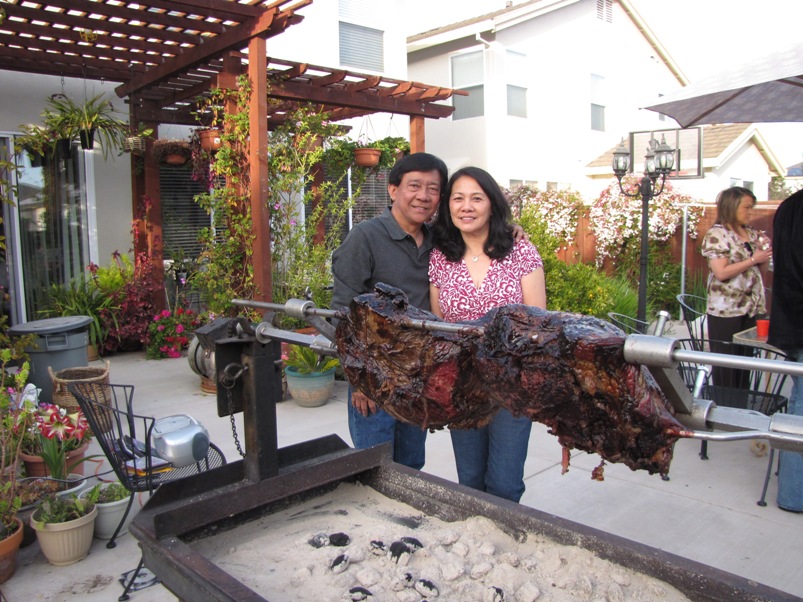 Lechon na baka - galing naman!!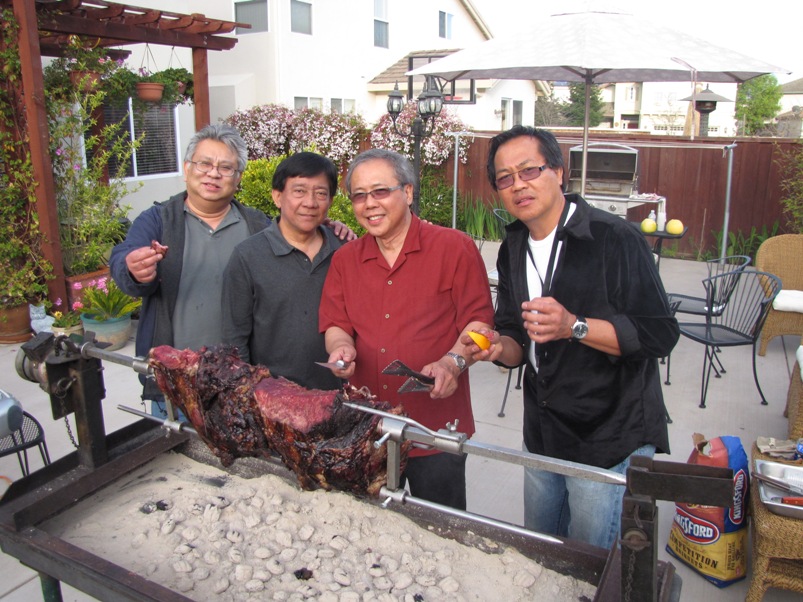 Puede bang ulitin ito sa SF Hospitality Night?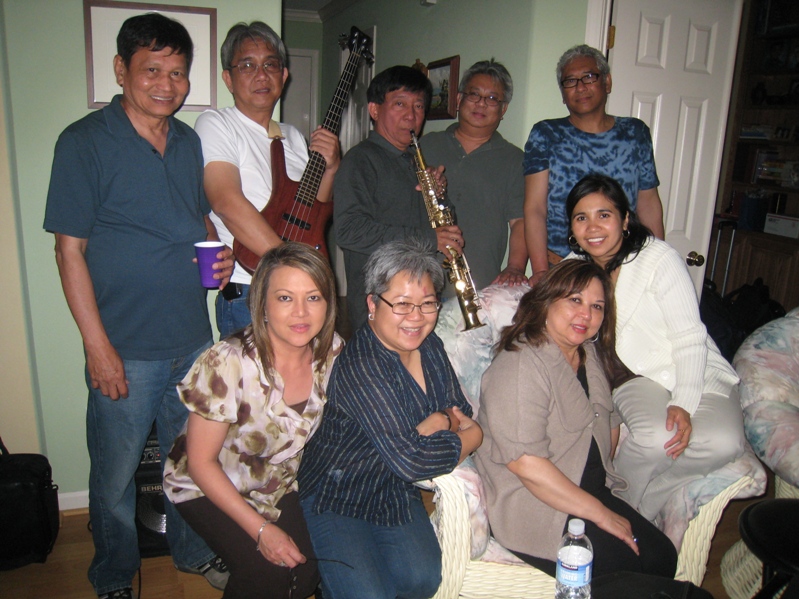 Seated: Aileen Beredo, Lleva Abenes, Tanya Araneta, Geny Samson.
Standing: Gene Samson, Franklin Morales, Bobby Pascual, Bong Beredo, Vee Vera.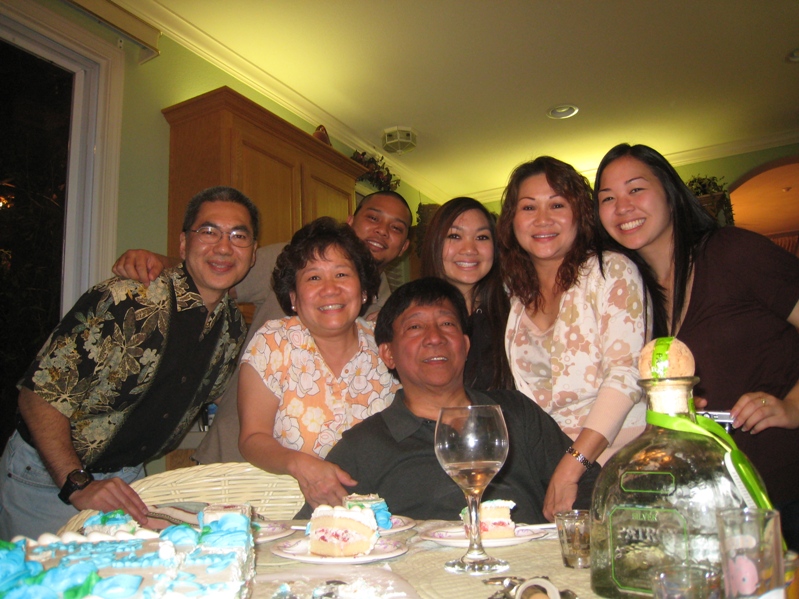 Bobby with his closest kin wishing him 60 more! CHEERS to that!!
~~~~~~~~~~~~~~~~~~~~~~~~~~~~~~~~~~~~~~~~~~~~
***These pictures were sent by Dr. Raul Divina, VP for Administration at Central Luzon State University, RP.
Brods Raul Divina, Cecilio Felix and Efren Alvarez