"Cowboy" Ding and host Willie prowl a relic of the Old West - Old Town Sacramento
Ding and Tess Vergara pay a call on Gov. Arnold Schwarzenegger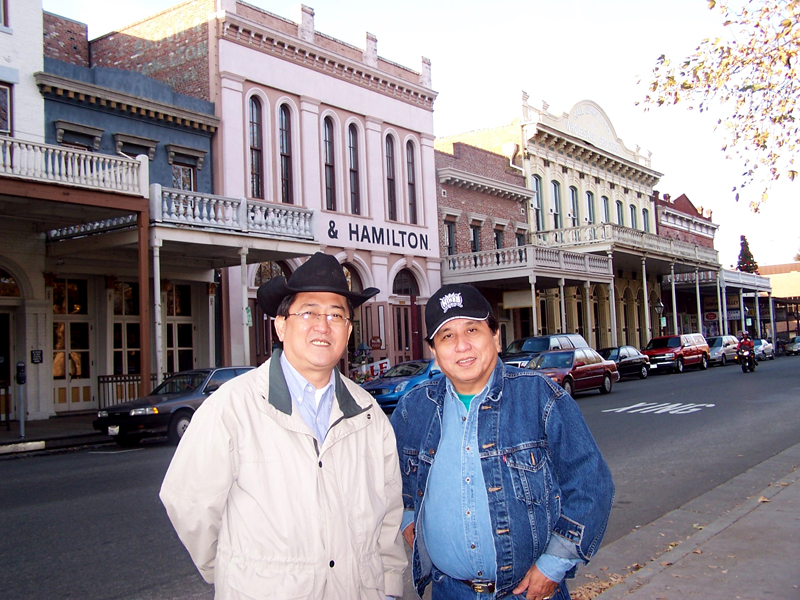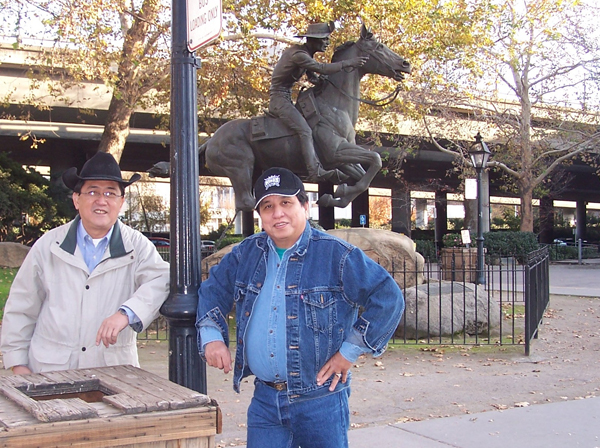 Brods and Work Buddies of old enjoying each other's company
*** These pictures were sent by Frank Mamaril'56 of Yorba Linda, California.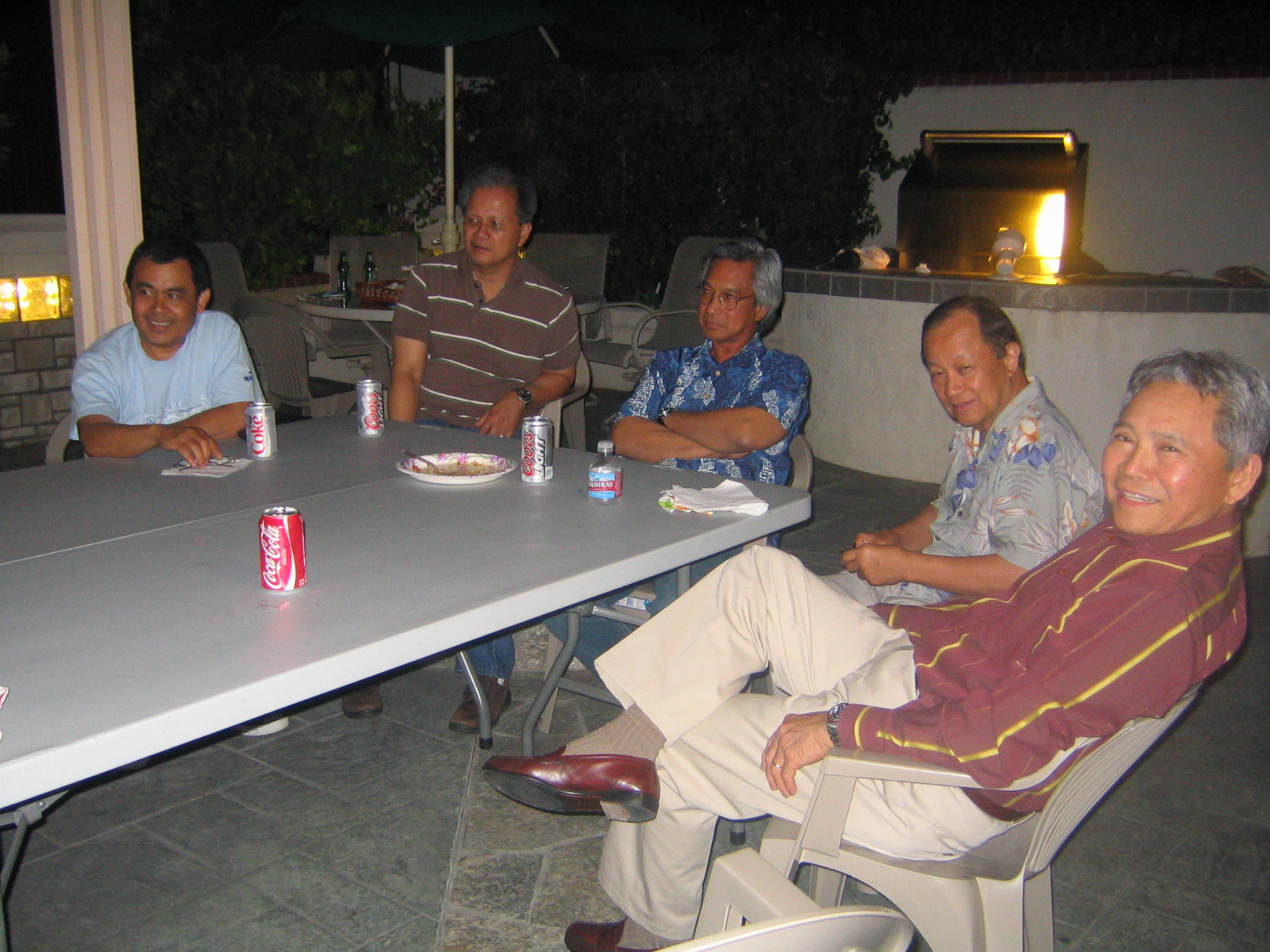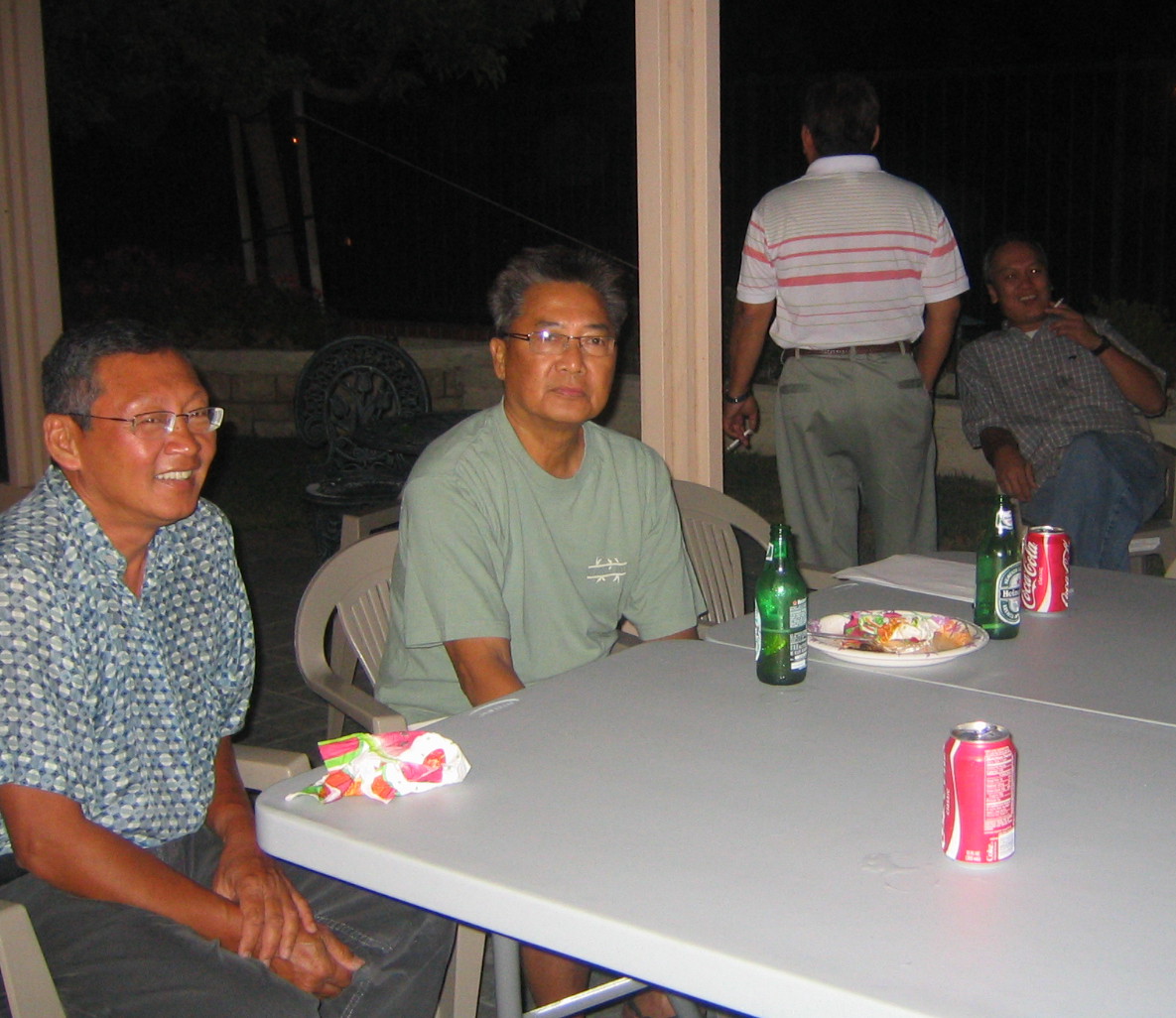 UP Beta Sigma SoCal meeting, 7/18/08: BernieB, NormB, GeorgeA, GP FrankM, EdC; EdR, CarlingT, BoiW, EdselA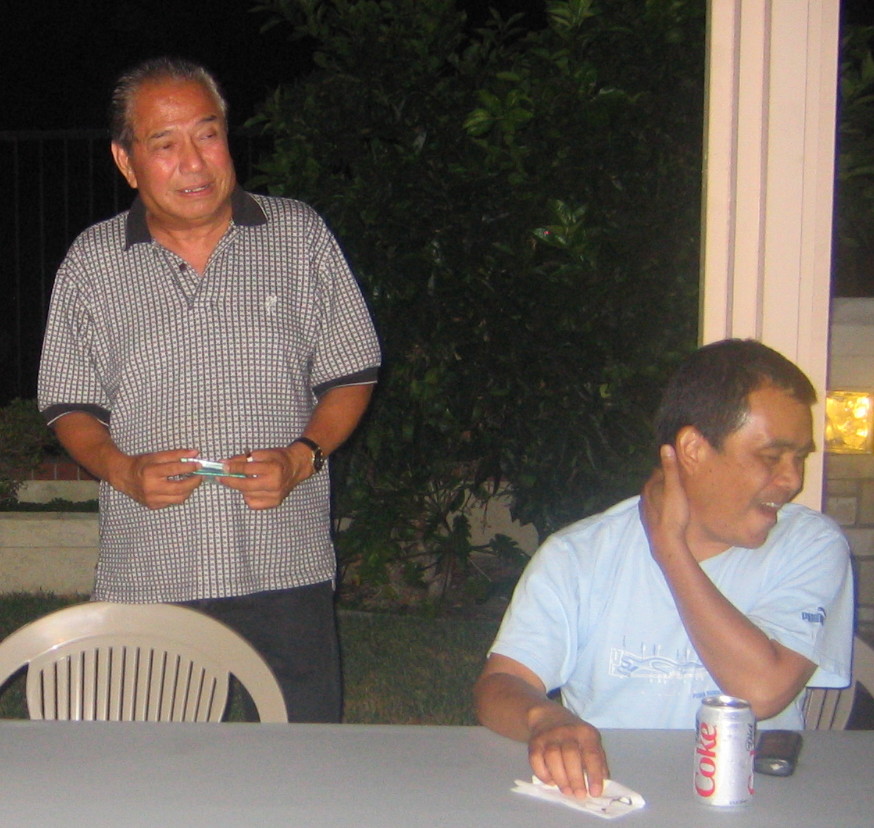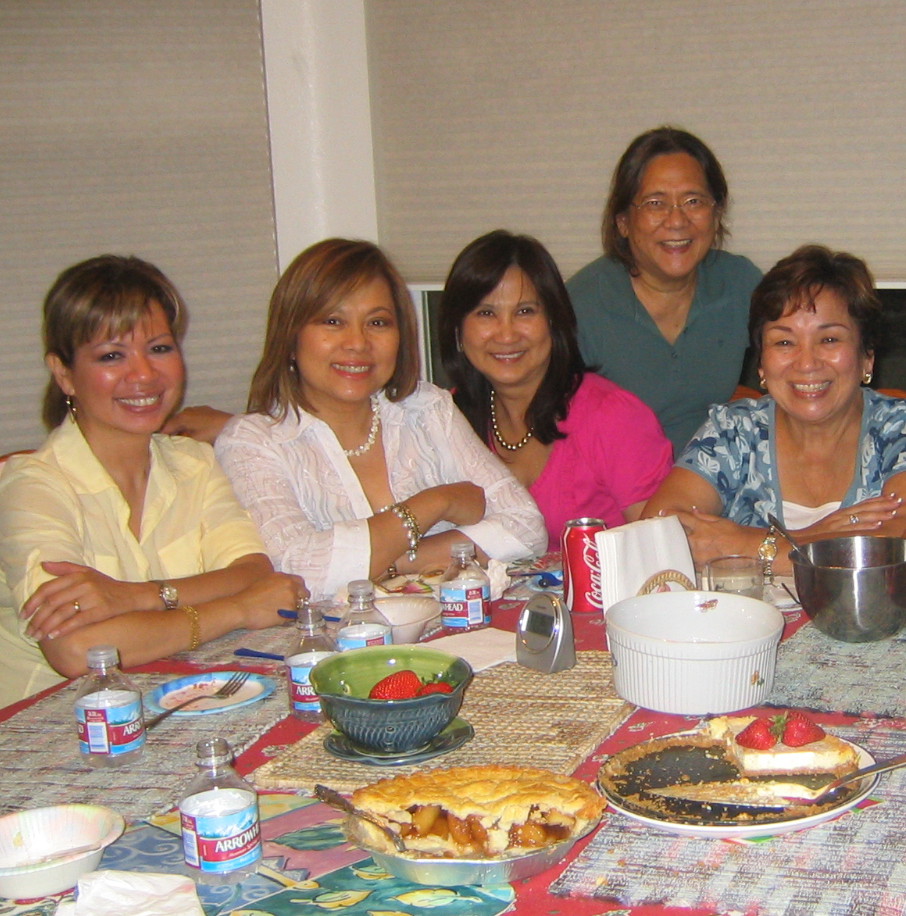 *Left: Nonoy Bautista & Bernie Bacosa. *Right: Cherry Bituin, Eva Romero, Tina Martin, Rory Mamaril, Chit Taguinod.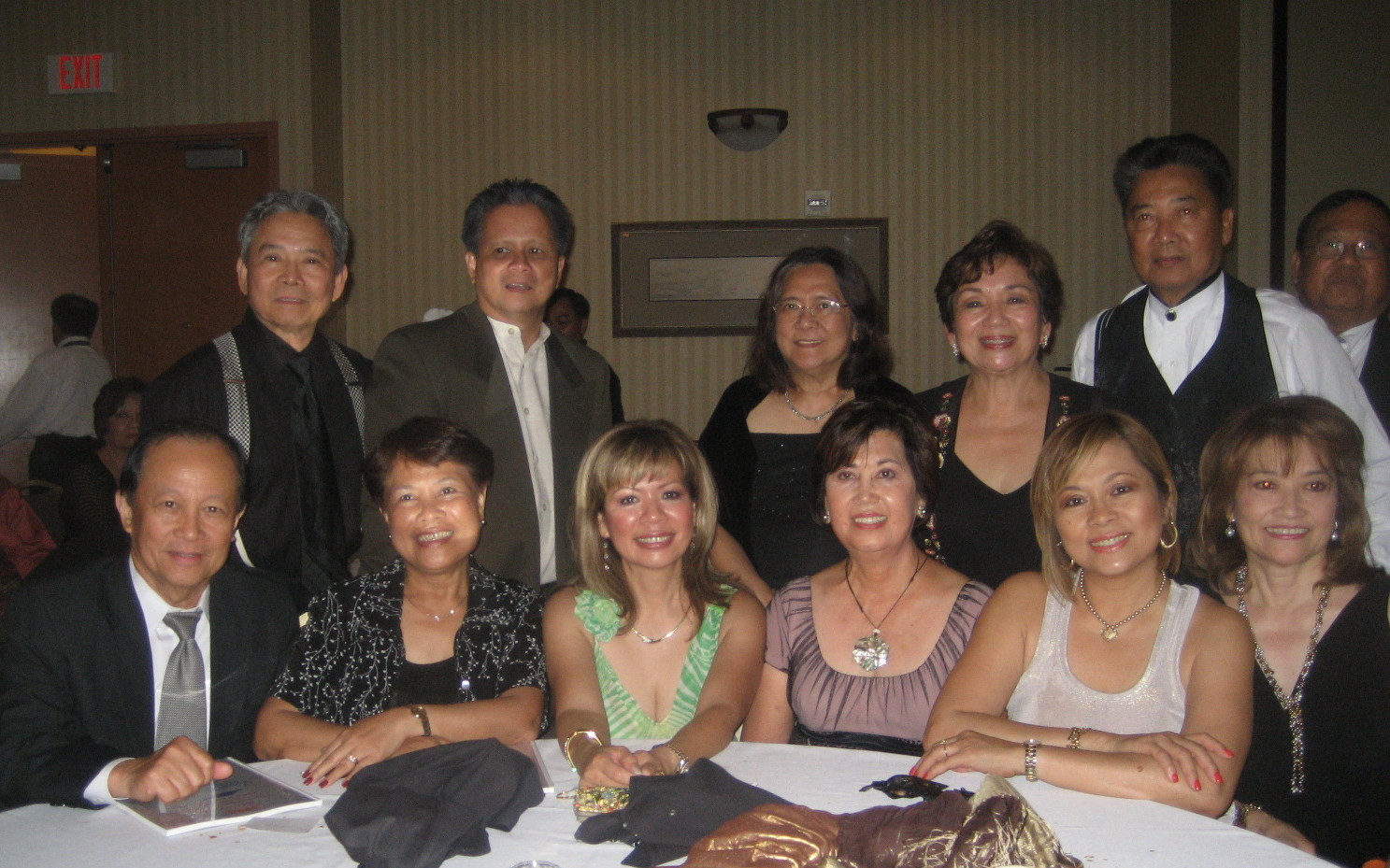 Southern California Filipino Veterinary Medical Assn. (SCFVMA) dinner-dance - July 19, '08, Anaheim, CA
Sitting: Frank Mamaril, Rexie Enrico, Cherry Bituin, Evelyn Cornelia, Eva Romero, Tita San Luis-Bituin
Standing: Ed Cornelia DVM, Norman Bituin, Rory Mamaril, Chit & Carling Taguinod DVM, Mando Enrico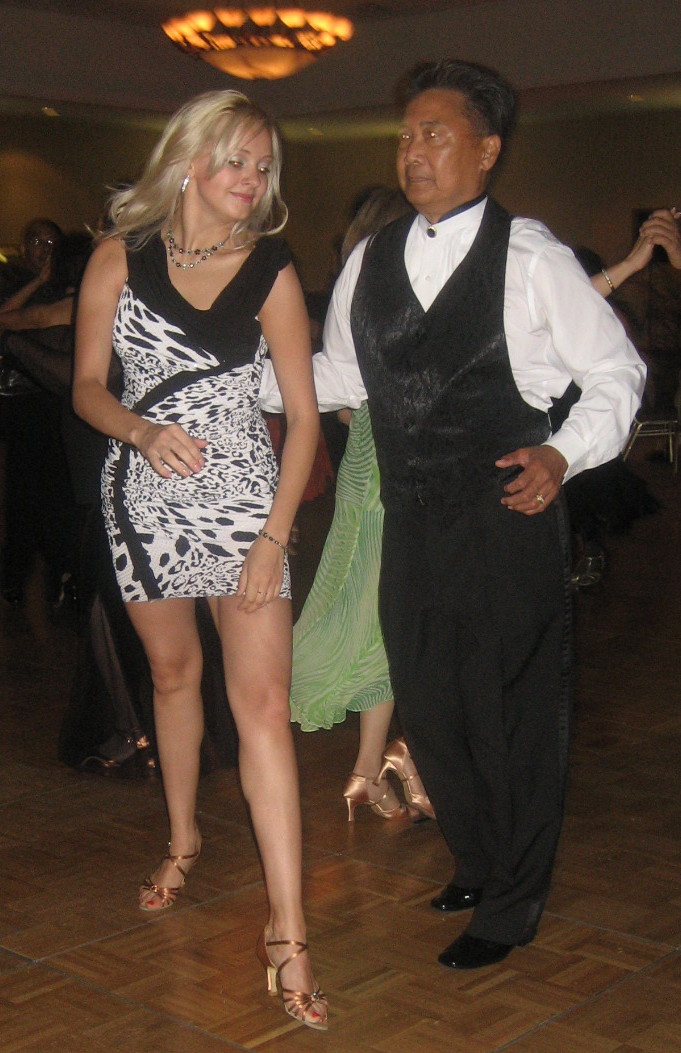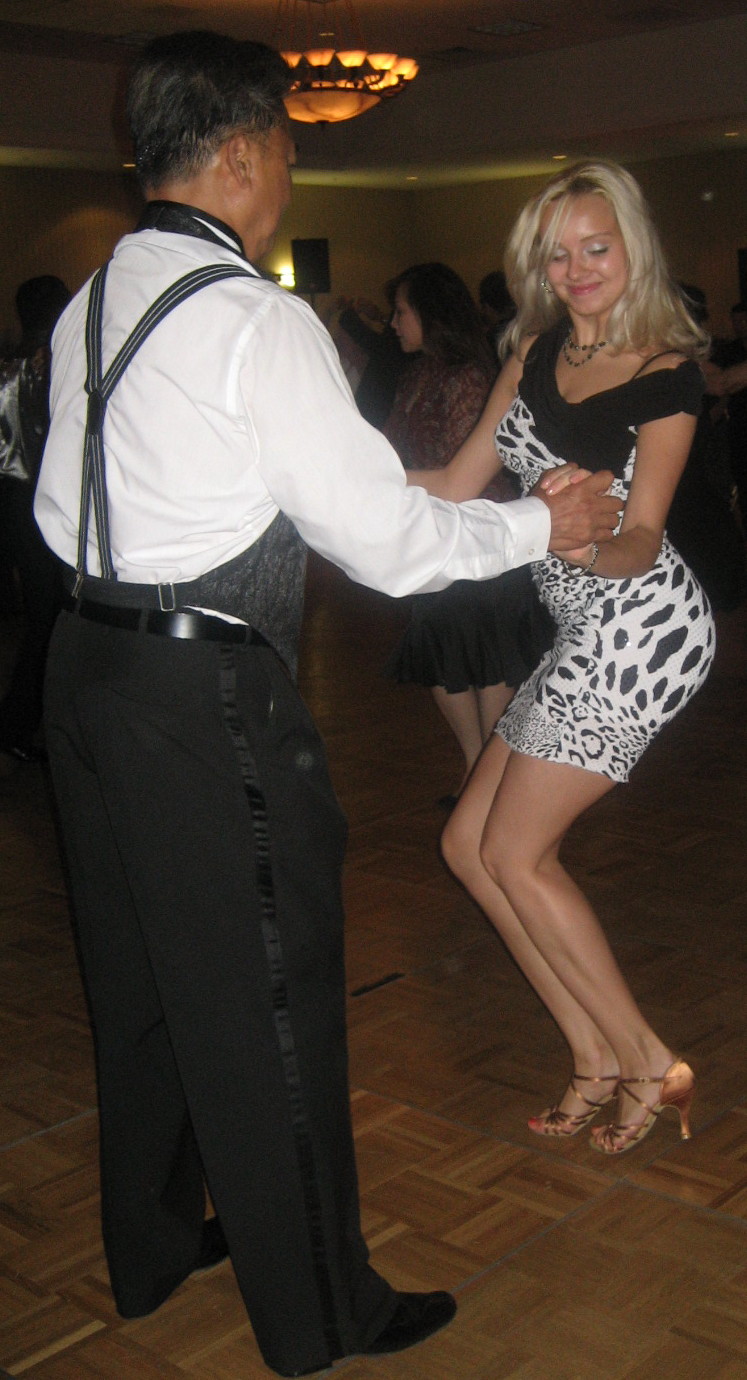 Brod Carling pairs off with Katya, a Russian professional dance instructor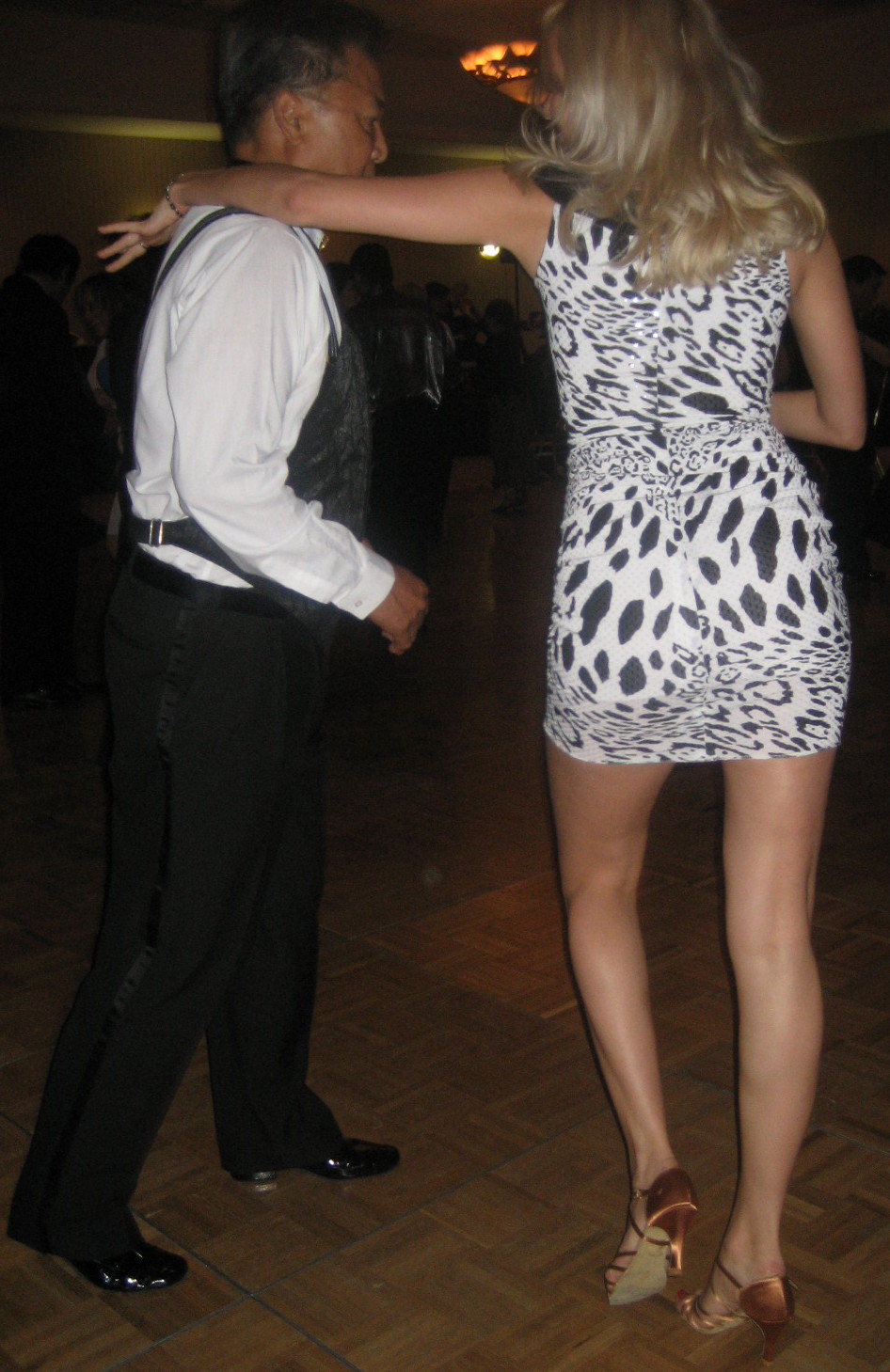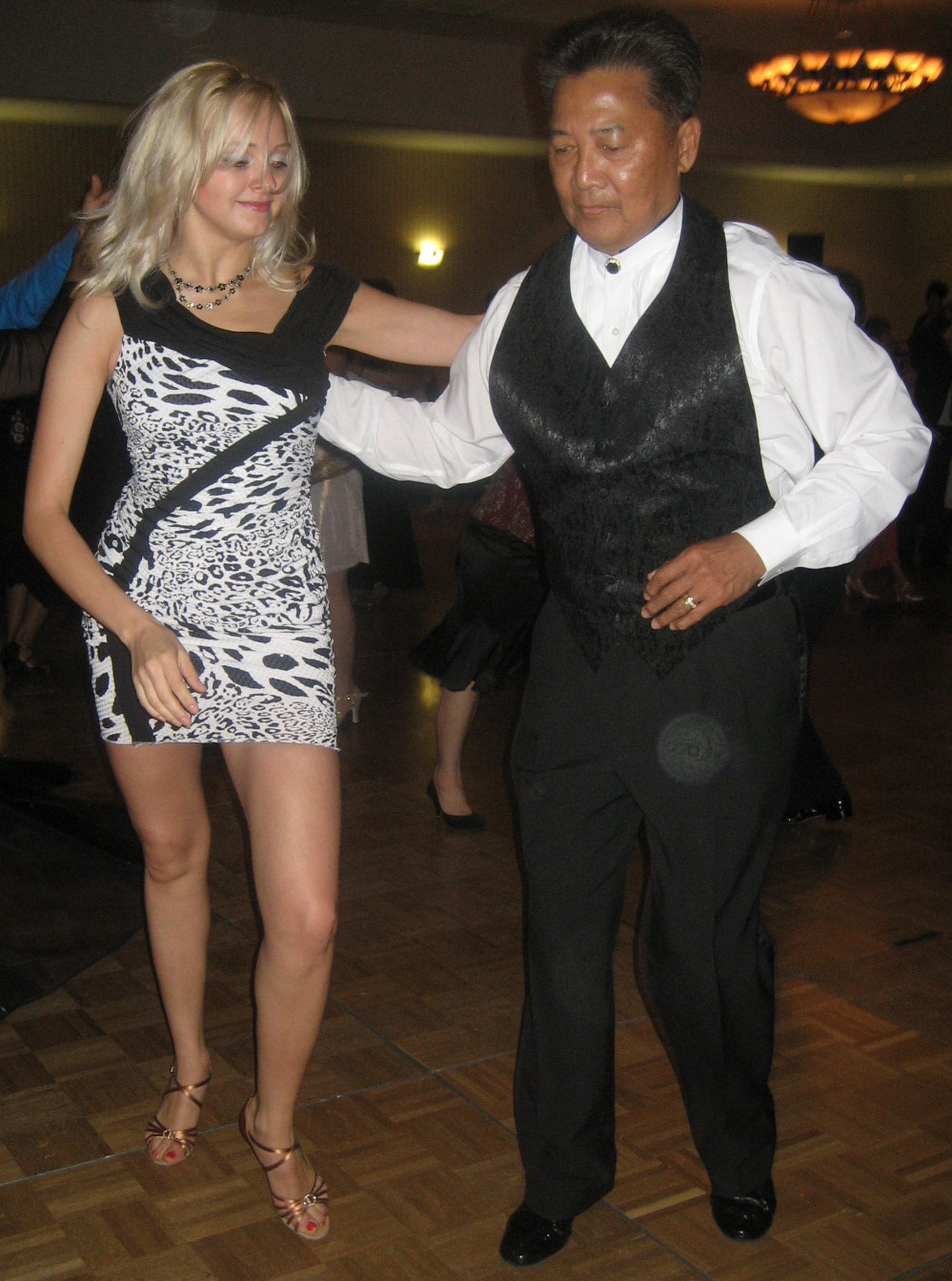 Don't miss the UP Beta Sigma SoCal Frat Ball on Aug. 31 and we'll see if we can get Katya come back!!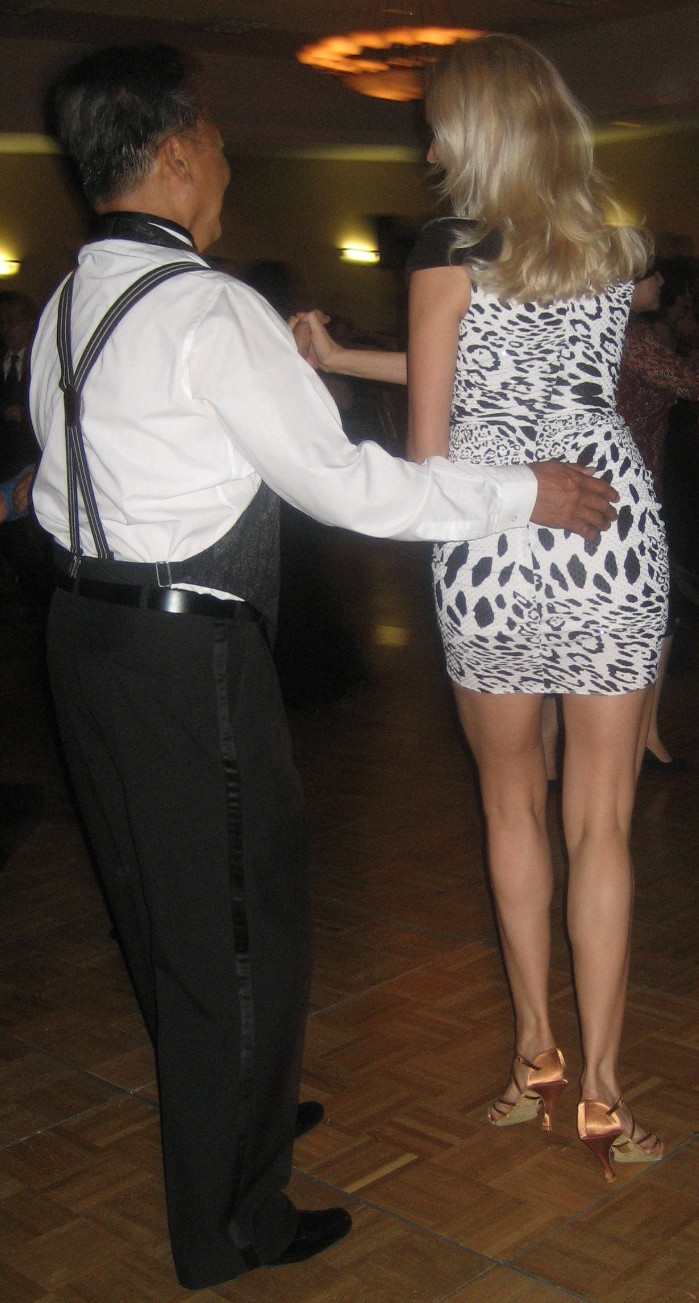 A ballroom dance technique: a slight tap-push at
the back (or lower... konting baba, puede rin)
*** In honor and in remembrance of our UPLB Sigma Betan Sis Myrna Belarmino, Batch 1956,
these pictures were sent by Freddy Fajardo'64 of Los Banos, Laguna.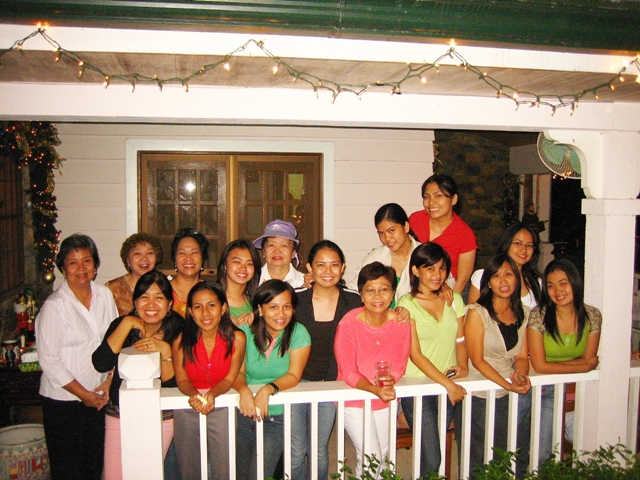 Myrna (standing, 2nd from left) with alumni and resident sisters during the Christmas party
last December 2007 at Sis Josie Saddul's home in Calamba City
<![if !supportLineBreakNewLine]>
<![endif]>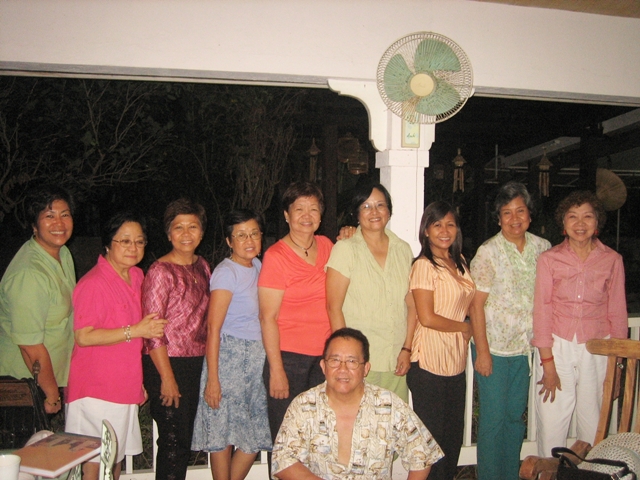 May 2008, Bienvenida for balikbayan Brod Ruben and Sis Mila Monroy at Josie Saddul's home.
Standing: Boots Reyes-Revilleza, Mila Kalaw-Monroy, Norms Natividad-Fajardo, Lorna Paje-Domingo,
Mercy Piamonte-Gabatan, Ching Paje-Gomez, Grace Yabut-Criador, Josie Roldan-Saddul
and Myrna Belarmino.
Seated: Ruben Monroy.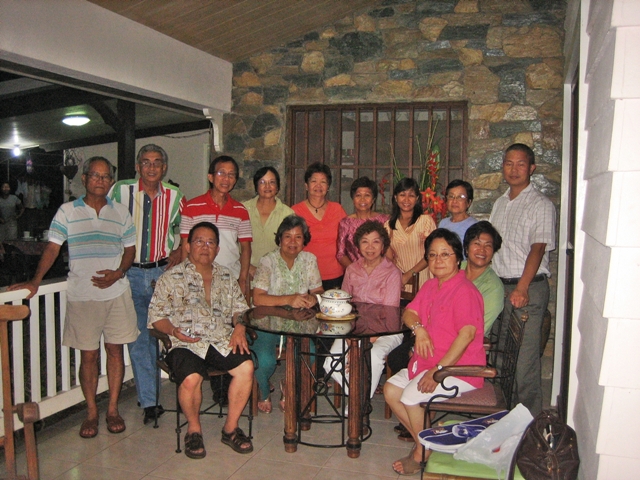 Seated: Ruben, Josie, Myrna, Boots, and Mila.
Standing: Kuya Domingo, Jimmy Lagdameo, Freddy Fajardo, Ching Gomez, Mercy Gabatan
Norms Fajardo, Grace Criador, Lorna Domingo and Jojo Criador.
***This picture was sent by Ike Araneta'71 of Palo Alto, California.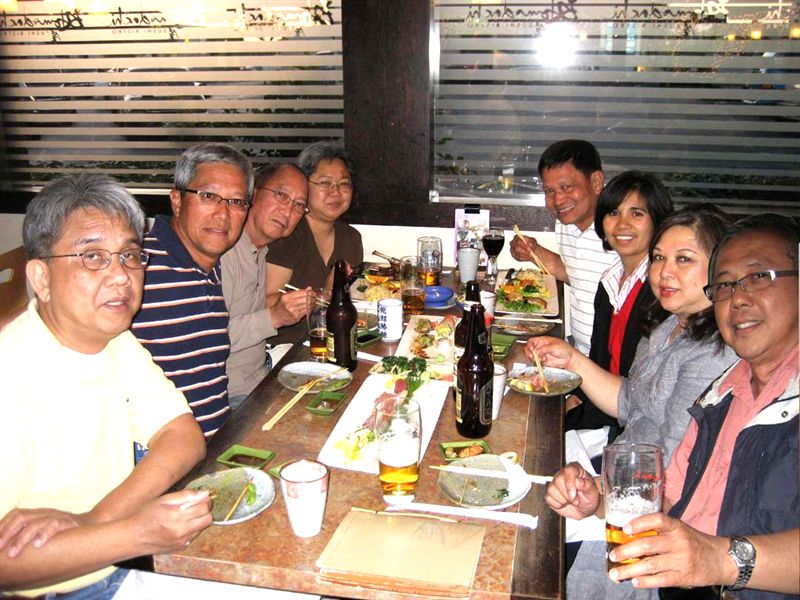 Dinner at a Japanese restaurant in NorCal with visiting Rolly Balingit'69 of LA, 6-06-08
Clockwise: Franklin Morales, RollyB, Gerry & Lleva Abenes, Gene & Jenny Samson, Tanya & Ike Araneta
***This picture was sent by Norman Bituin'65 of Diamond Bar, California.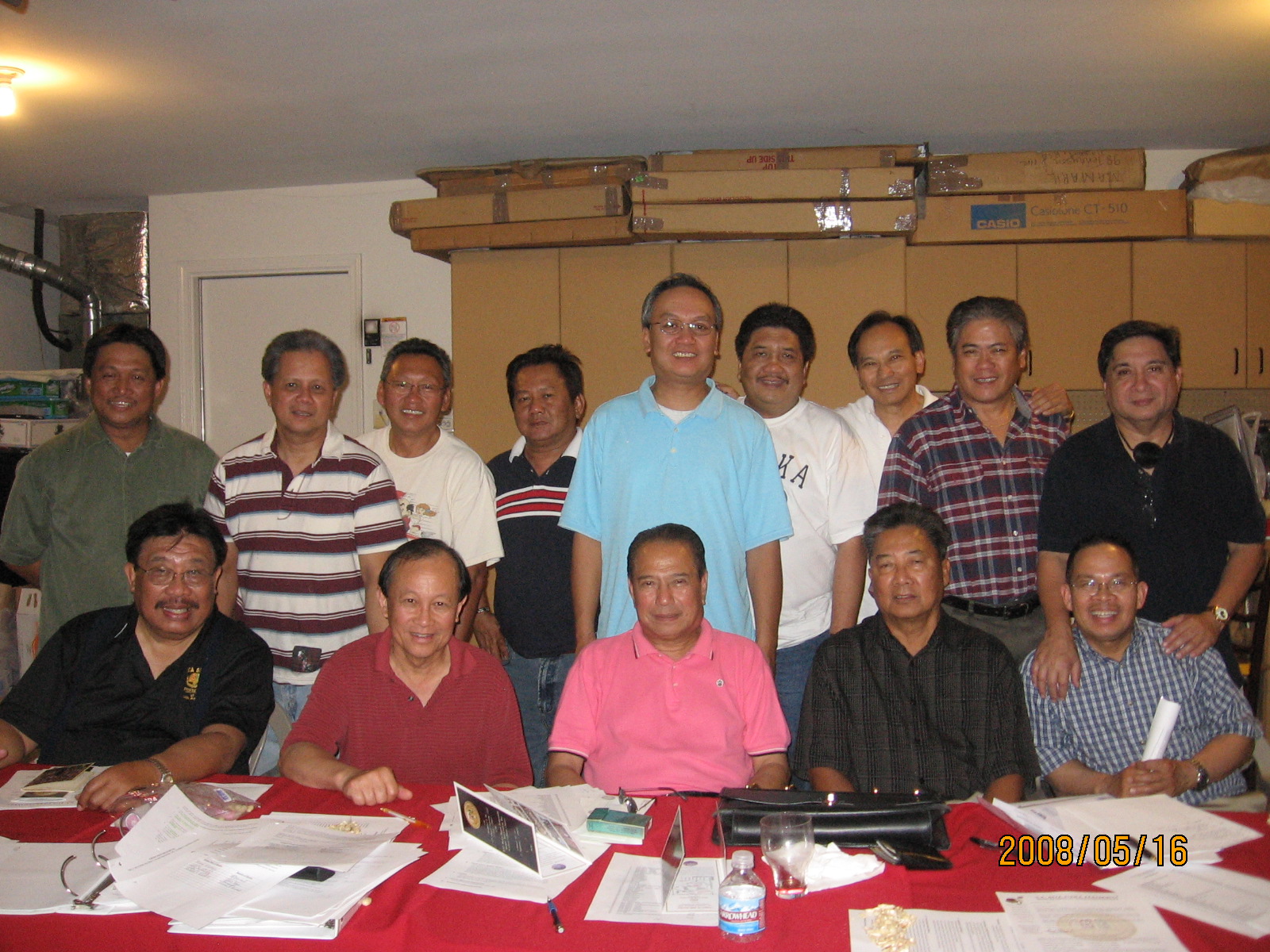 GP Frank Mamaril (sitting, 2nd left) & UP SoCal Brods prepare for Officers Induction & Frat Ball'08 on Labor Day weekend
*** These pictures were sent by Frank Mamaril'56 of Yorba Linda, California.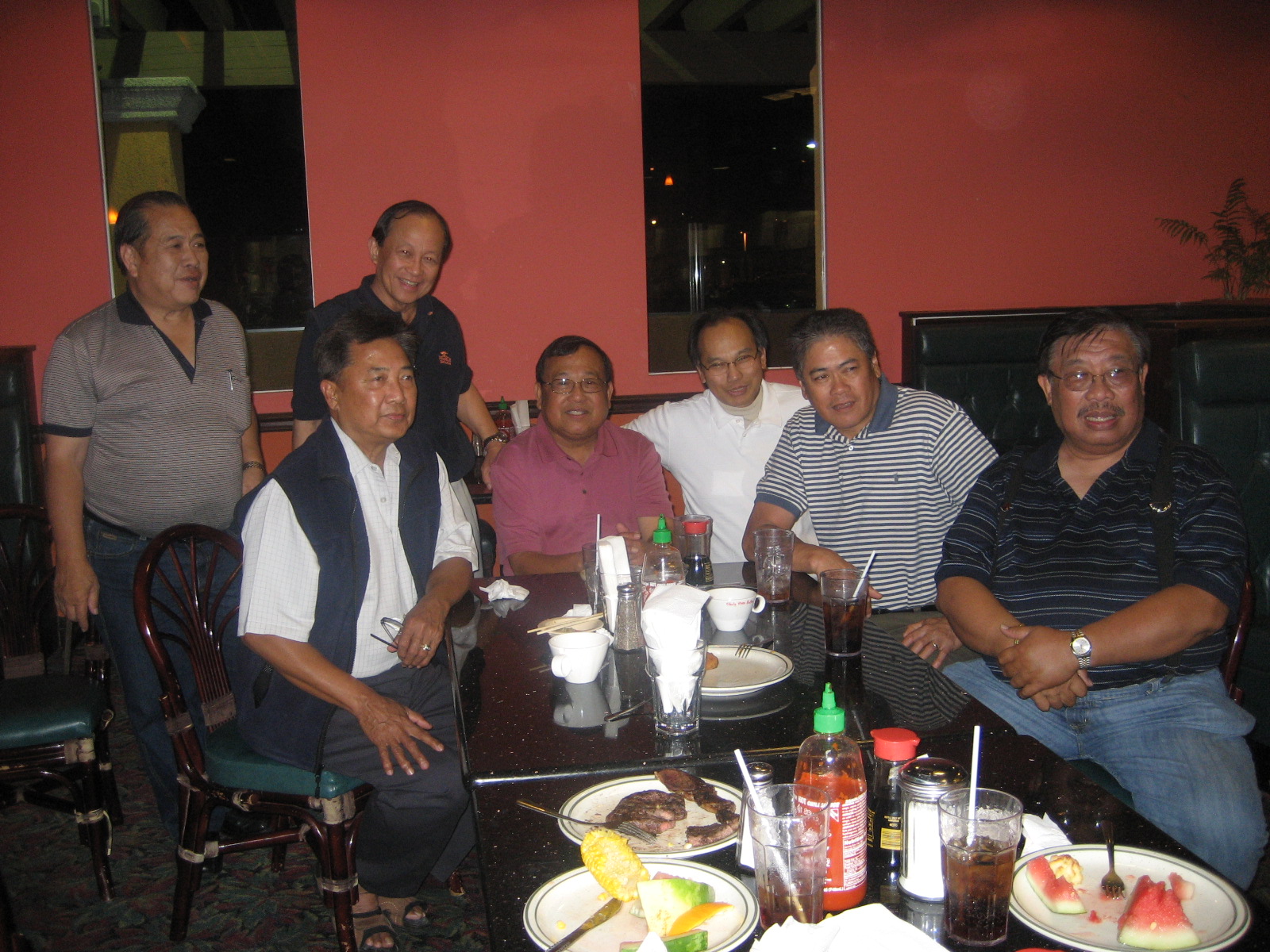 UP SoCal Betans welcome Jose "Pong" Lustre'60 (standing left) at VIP Buffet dinner - May 2, 2008
Brod Pong is from Jaen, Nueva Ecija and, from what we remember, owns the Rural Bank of Jaen.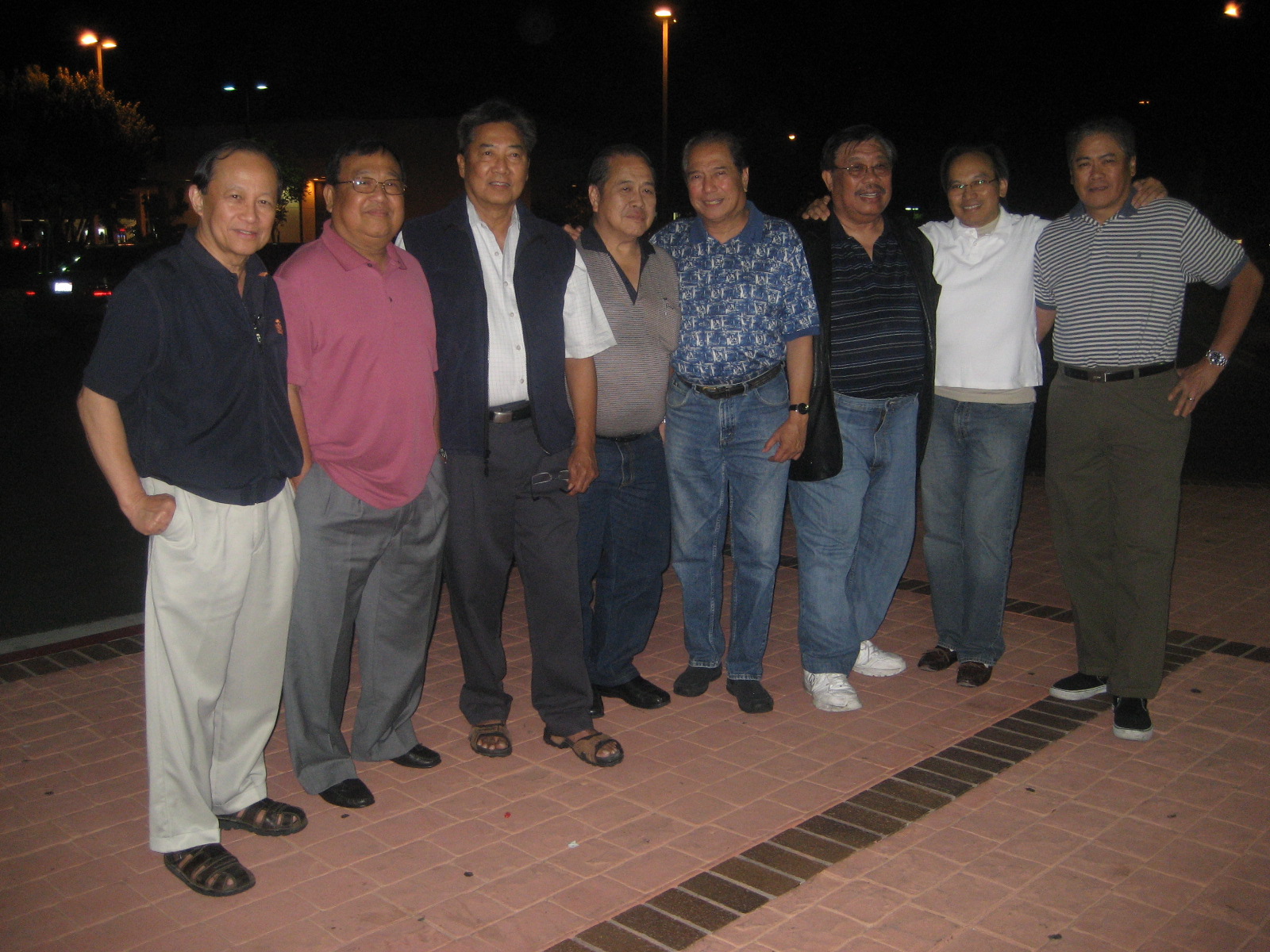 L-R: UP SoCal GP Frank Mamaril, Amando Enrico, Carling Taguinod, Pong Lustre,
Nonoy Bautista, Hermie San Luis, Ago Romero, Art Martin
*** These pictures were sent by Freddie Fajardo'64 of Los Banos, Laguna.
"Hail the UPLB Brods and Sis' 2008 Graduates!!"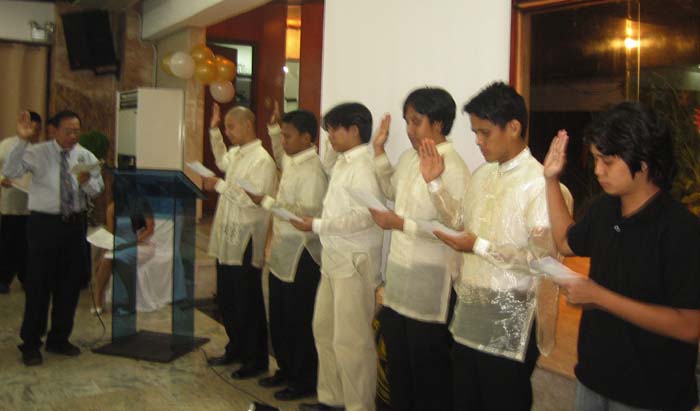 Brod Dario Sabularse, President of the UPBSFAA,Inc. administers the oath taking to the alumni association
of new graduates to: Polo Ramirez (Certificate in Forestry); Jonathan Arzadon (BS Biology); Olympus Laforteza
(BS Agriculture Business); Jfel Cuevas (BS Chemical Engineering); Kelmer Resuello (BS Agriculture); and
James Philip de Jesus (Certificate in Forestry). Not in picture: Steve Ternura (Doctor of Veterinary Medicine)
and Jayson Rosales (Doctor of Veterinary Medicine).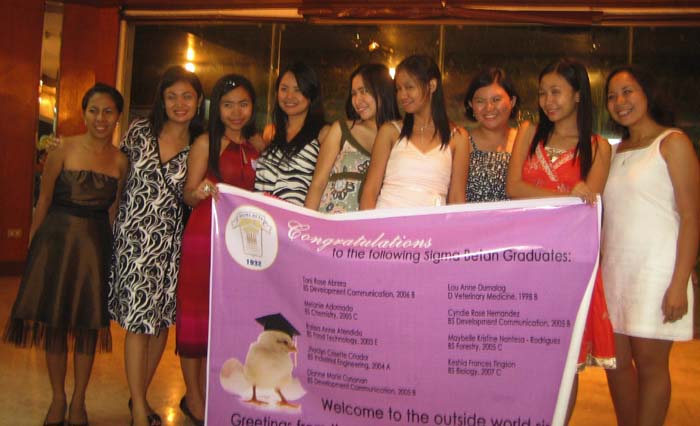 Sigma Betan Graduates (L-R): Keshia Tingson (BS Biology); Cyndie Hernandez (BS Development Communication);
Trina Abrera (BS DevCom); Dianne Cunanan (BS DevCom); Melanie Adornado (BS Chemistry); Raissa Atendido
(BS Food Technology); Sheila Flores (BS DevCom); Zsak Criador (BS Industrial Engineering); and Lou Anne Dumalag
(Doctor of Veterinary Medicine).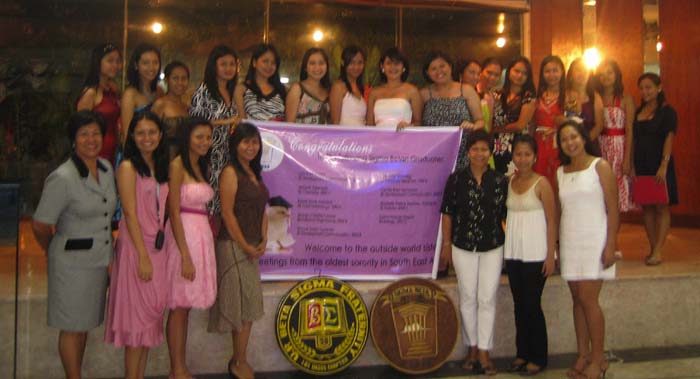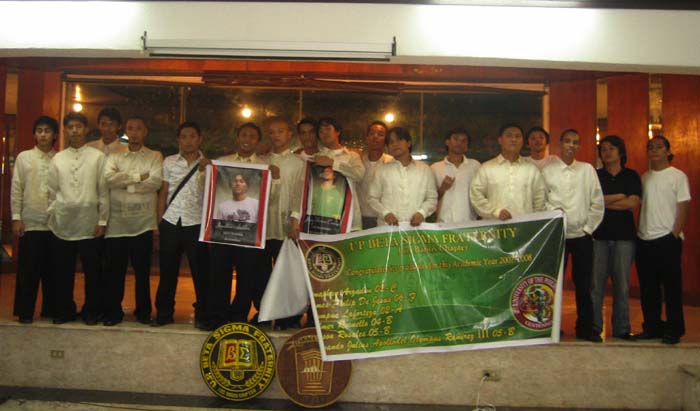 Graduating UPLB Brods and Sis' pose with the residents, alumni and alumnae during the testimonial dinner
in their honor on April 24, 2008 at Splash Mountain Resort, Los Banos, Laguna
*** These pictures were sent by Willie Vergara'67 of Rocklin, California.
UP Beta Sigma Northern California's "Malmon Day" - April 26, 2008
(also a joyous ruse-excuse to throw a bash for the April b'day celebrants and welcome LB Brod Mino & Sis Leah Cabral)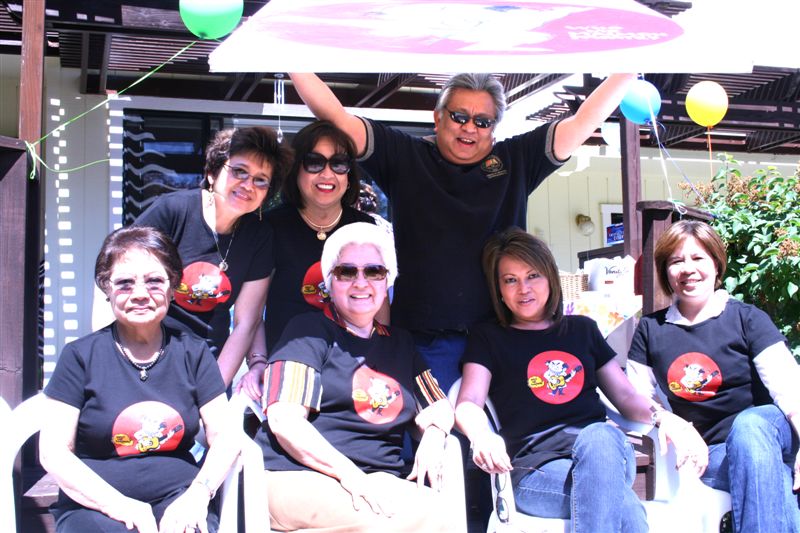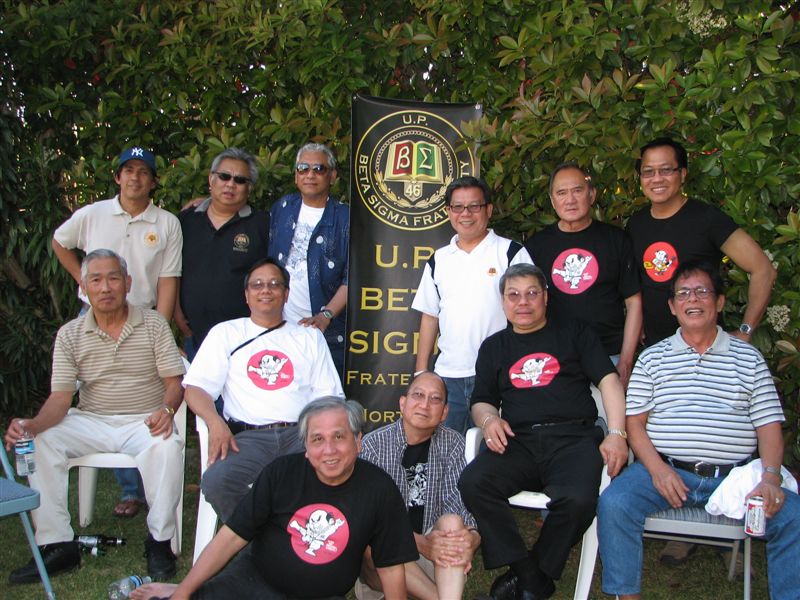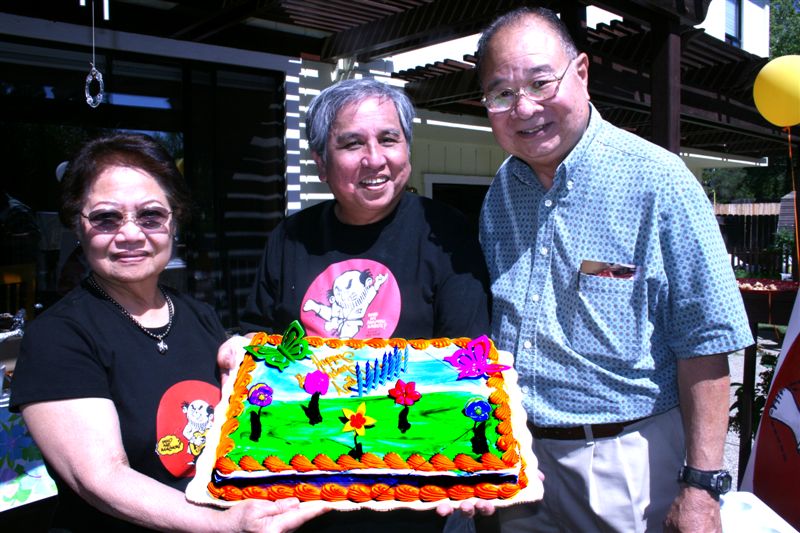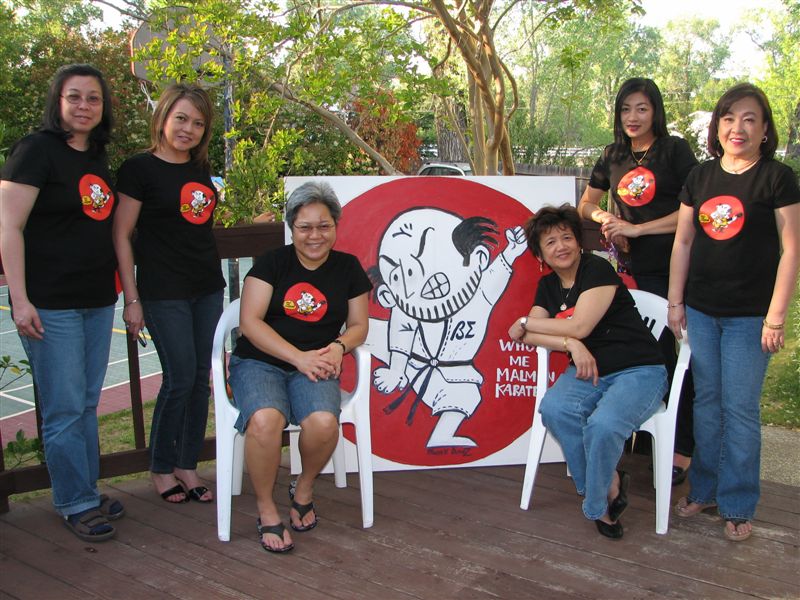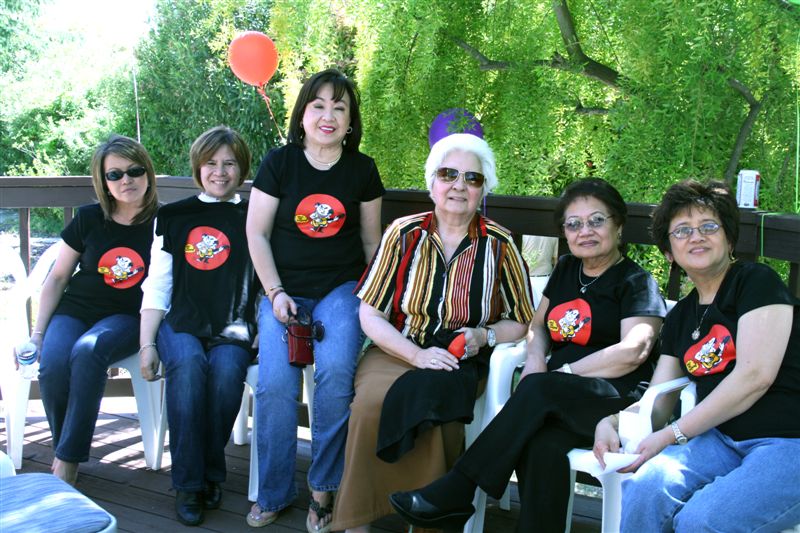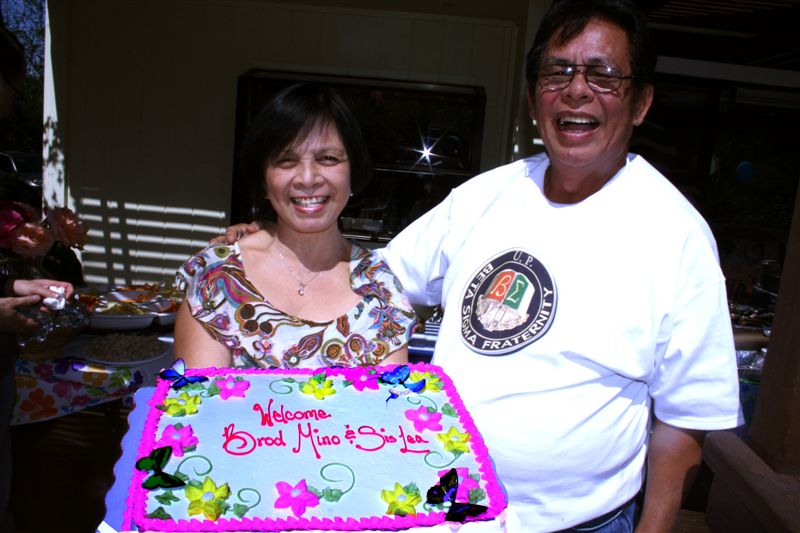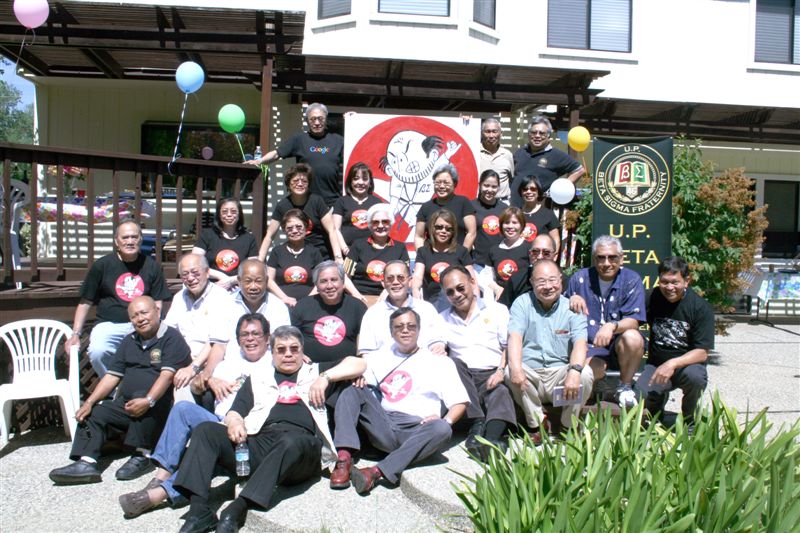 "One Big, Happy Family"
*Top row: Dave Villegas, Emy Fajardo, GP Bong Beredo
*Second row: Lita Punzalan, Irma Ramos, Lleva Abenes, Ria Vergara, Lea Cabral
*Third row: Weng Aragones, Anita Felix, Mercy Villegas, Aileen Beredo, Virgie Monteagudo
*Fourth row: Boy Ramos, Cecilio Felix, Narcing Lapus, Tatang Vergara, Johnny Regadio, Fred Aquino,
Johnny Quijano, Gerry Abenes, Vee de Vera, Gene Samson
*Bottom row: Billy Monteagudo, Mino Cabral, Eric Punzalan, Dutch Aragones
*** These pictures came from Anthony Subijano'72 of Sydney, Australia.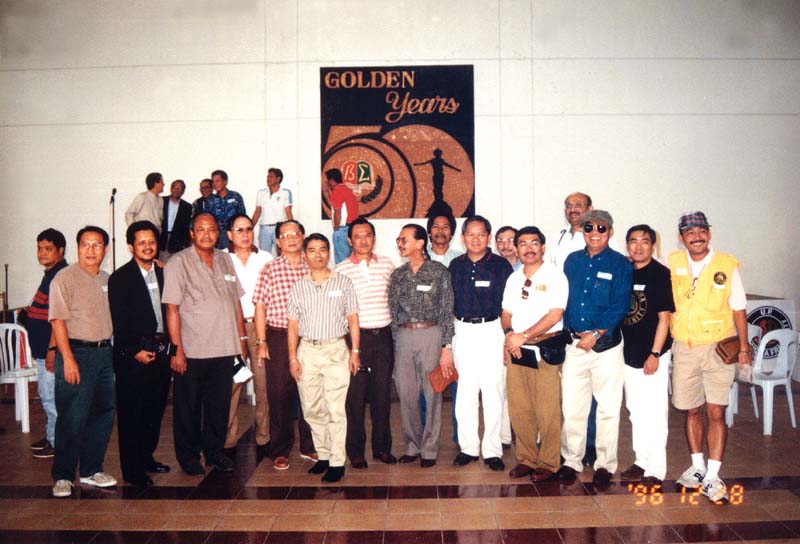 UP Beta Sigma Golden Anniversary - at Bahay ng Alumni, Diliman, Dec. 1996
L-R: Tony Senga, Norman Bituin, Sonny Hernandez, Enching Rodriguez, Liling Padilla, Mario Pasamba, Boy Ramos,
Bal Villanueva, Jimmy Santos, Vic Ramos, Vic Tirol, Ed Baldoria, Benild Pires, Banz Banez, Ely Aldana, Perry Callanta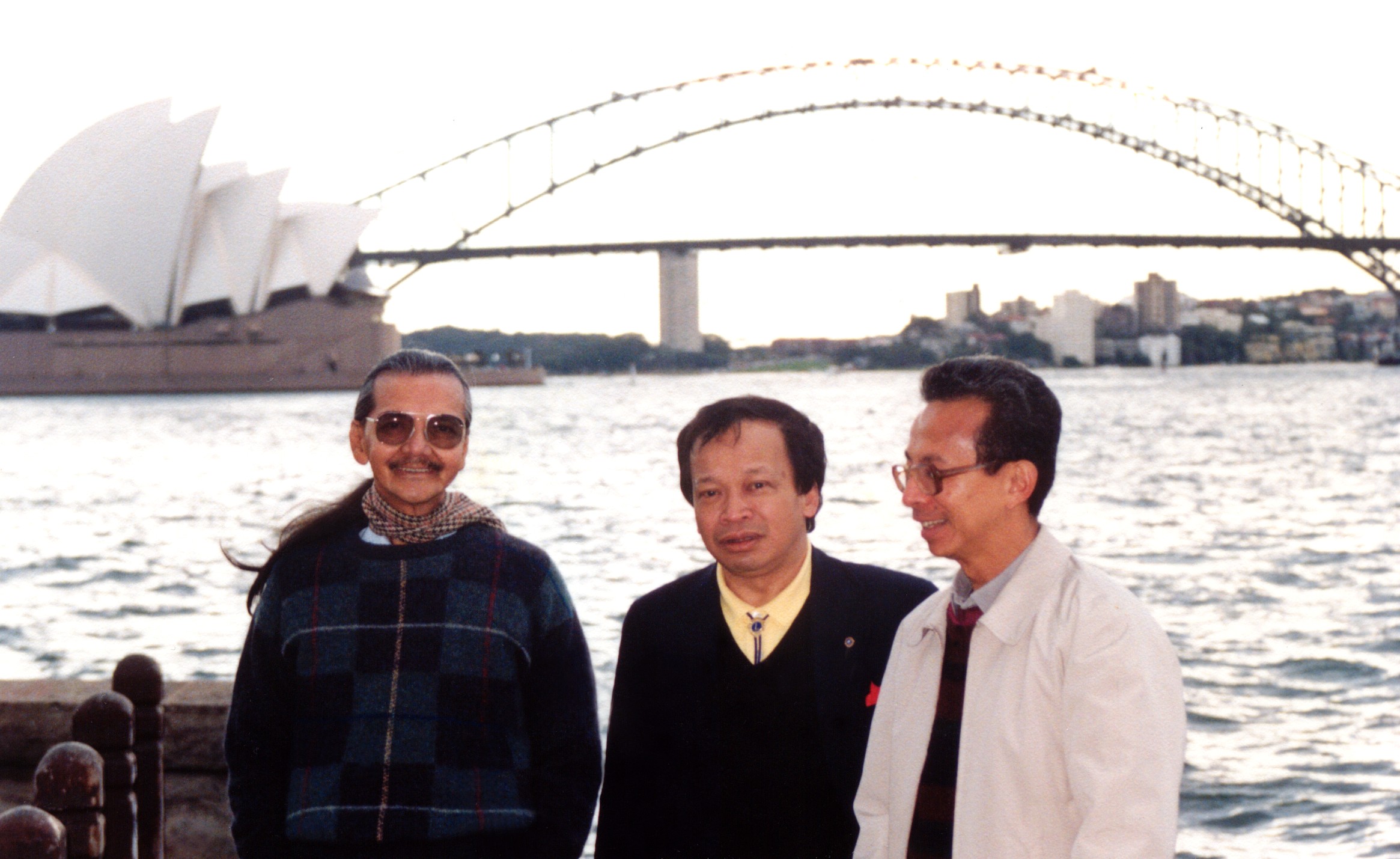 Wow, Sydney Harbour!! Bal Villanueva'60, visiting Archie Laano'55 MD, Vic Pulmano'57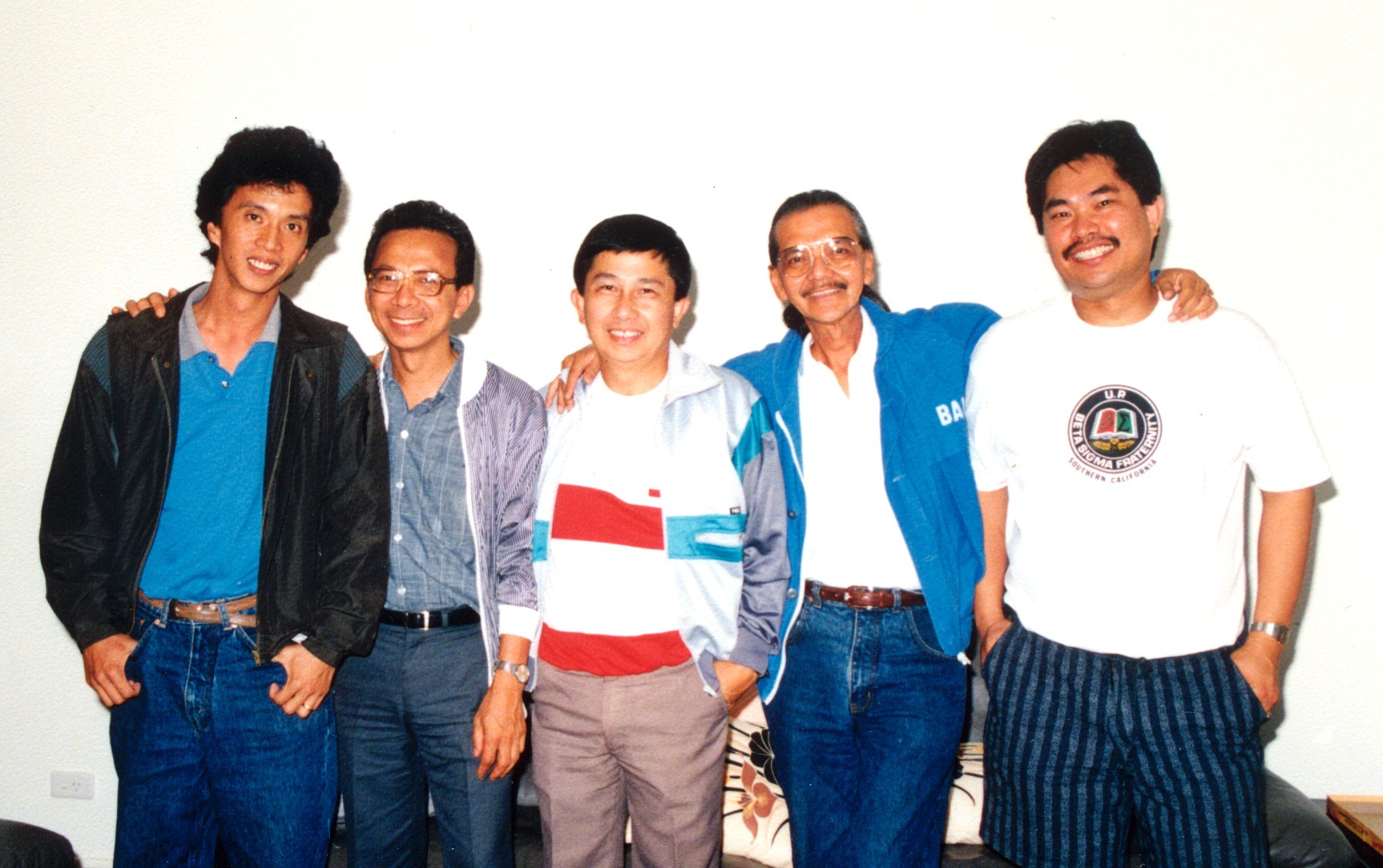 Aussie Betans: Cezar Villanoy, Vic Pulmano, Rene Padilla, Bal Villanueva, Anthony Subijano
*** These pictures were taken by Norman Bituin'65 during the official visit of Rolly Reyes'66 in Las Vegas
and Los Angeles on 4/13-21, 2008. Rolly is the Chairman and President of the National Broadcasting
Network of the Office of the Press Secretary, Malacanang, Philippines.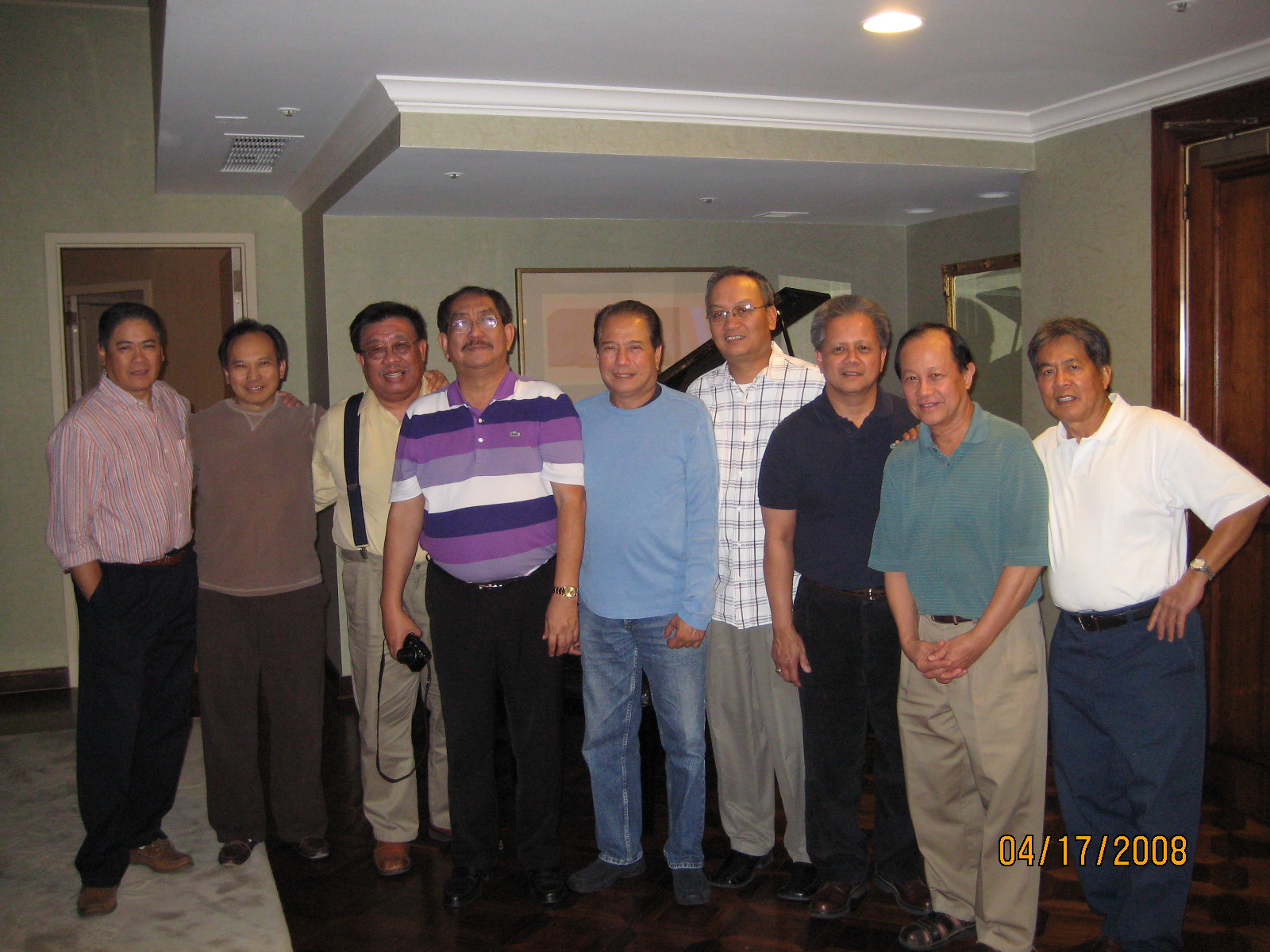 At Universal Hilton: Art Martin, Ago Romero, Herm San Luis, Rolly Reyes, Nonoy Bautista,
Edsel Arceo, Norman Bituin, Frank Mamaril, Elmor Villanueva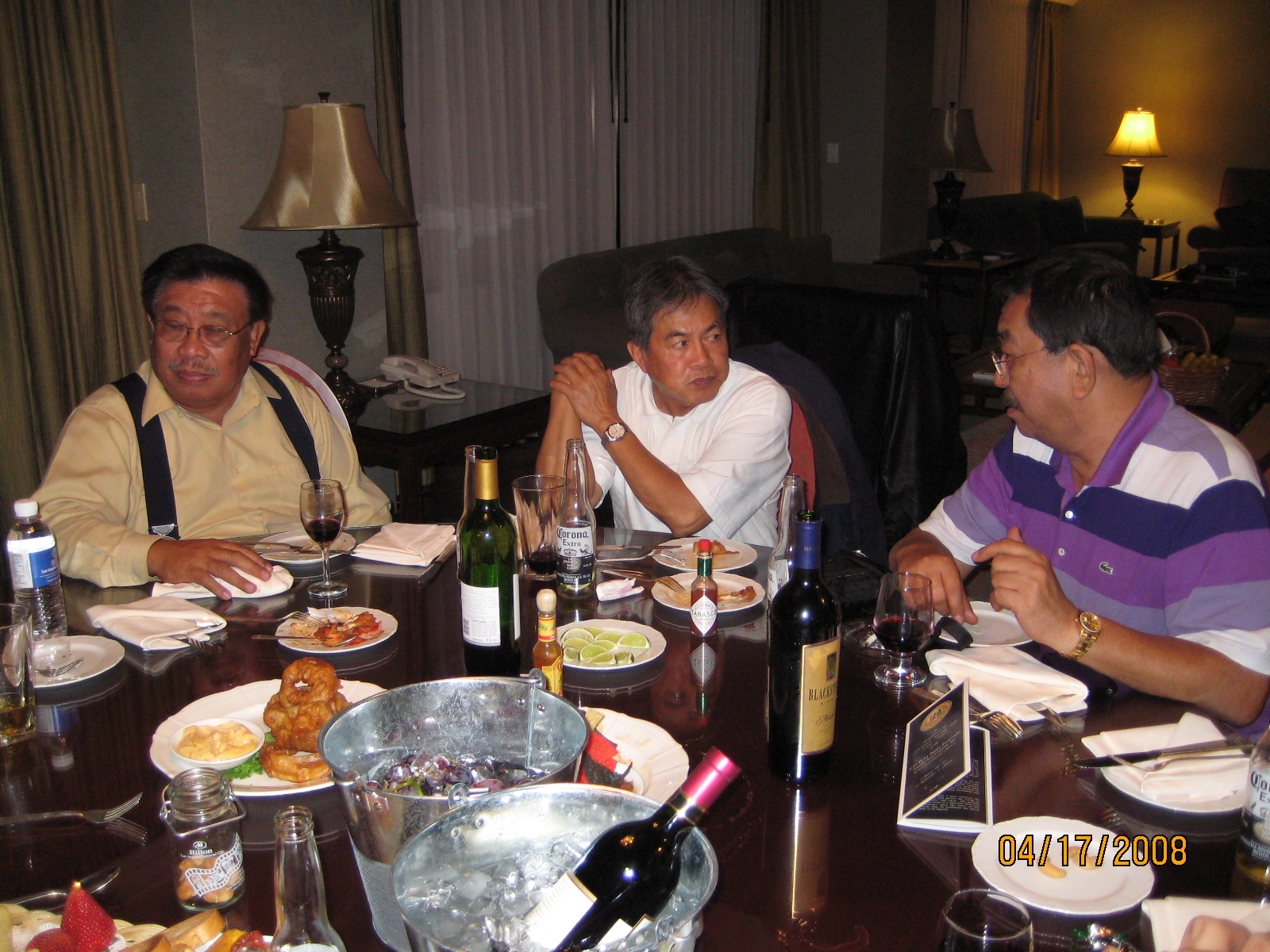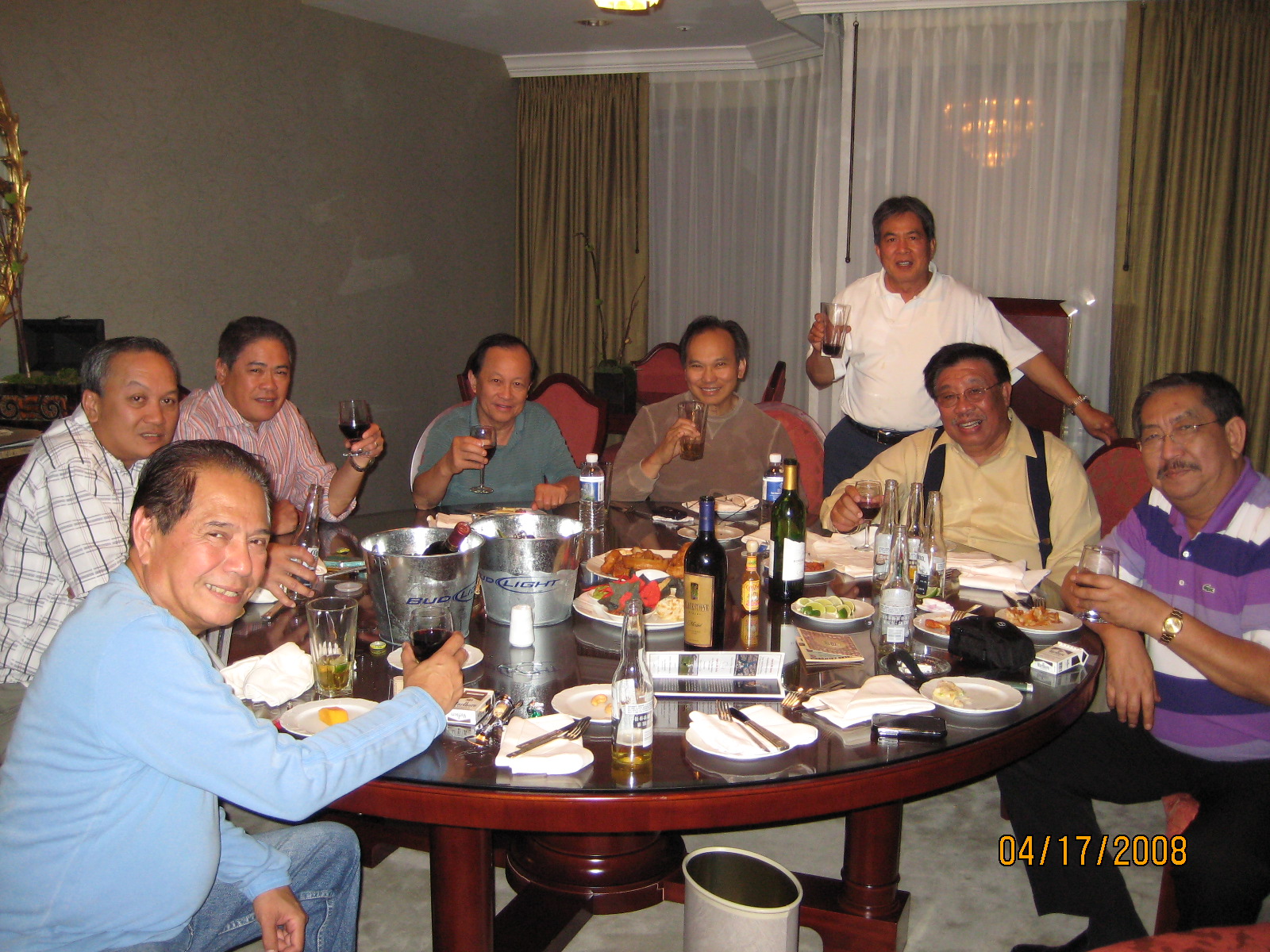 Cheers to Brod Rolly and UP Beta Sigma!
*** This picture was sent by Benild Pires'64 of Victoria, BC, Canada.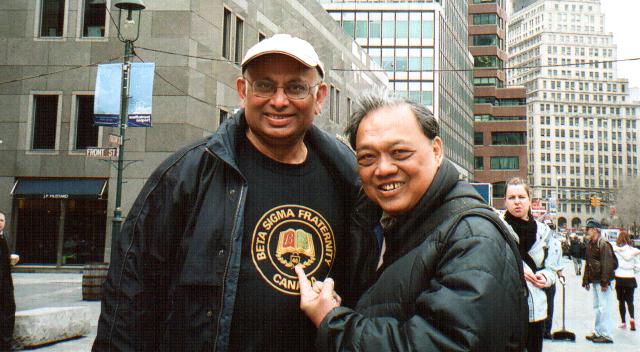 When "Maharajah" meets the "Yankee Clipper": Benild'64 and Wally'63 in New York, April 7, '08
*** These Philippine shots came from Bong Beredo'73 of Stockton, California.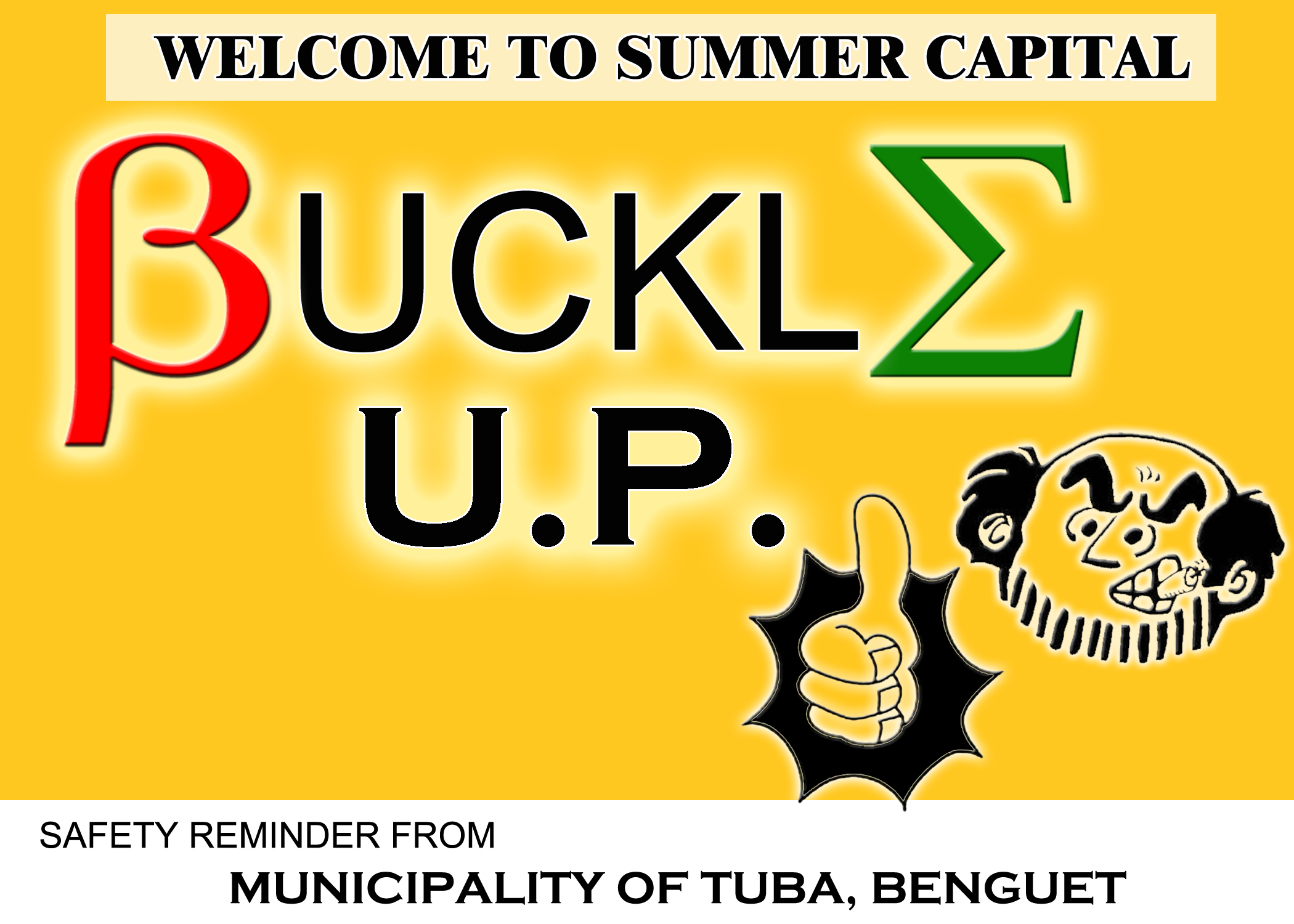 The now famous Malmon Buckle Up road sign the UP Betans put along the highway to Baguio
UP Baguio GP Darryl Reyes: "Brod, pics ng mga residente ng UP Baguio. Umabot kami ng 11 last sem galing sa 5 members..=)"
UP NorCal GP Bong Beredo: "Wow!!! Thats the Betan Spirit. Can we hear from UP Mindanao and UP Visayas too?? Cheers!"
UP Baguio Betans: chilling out in La Union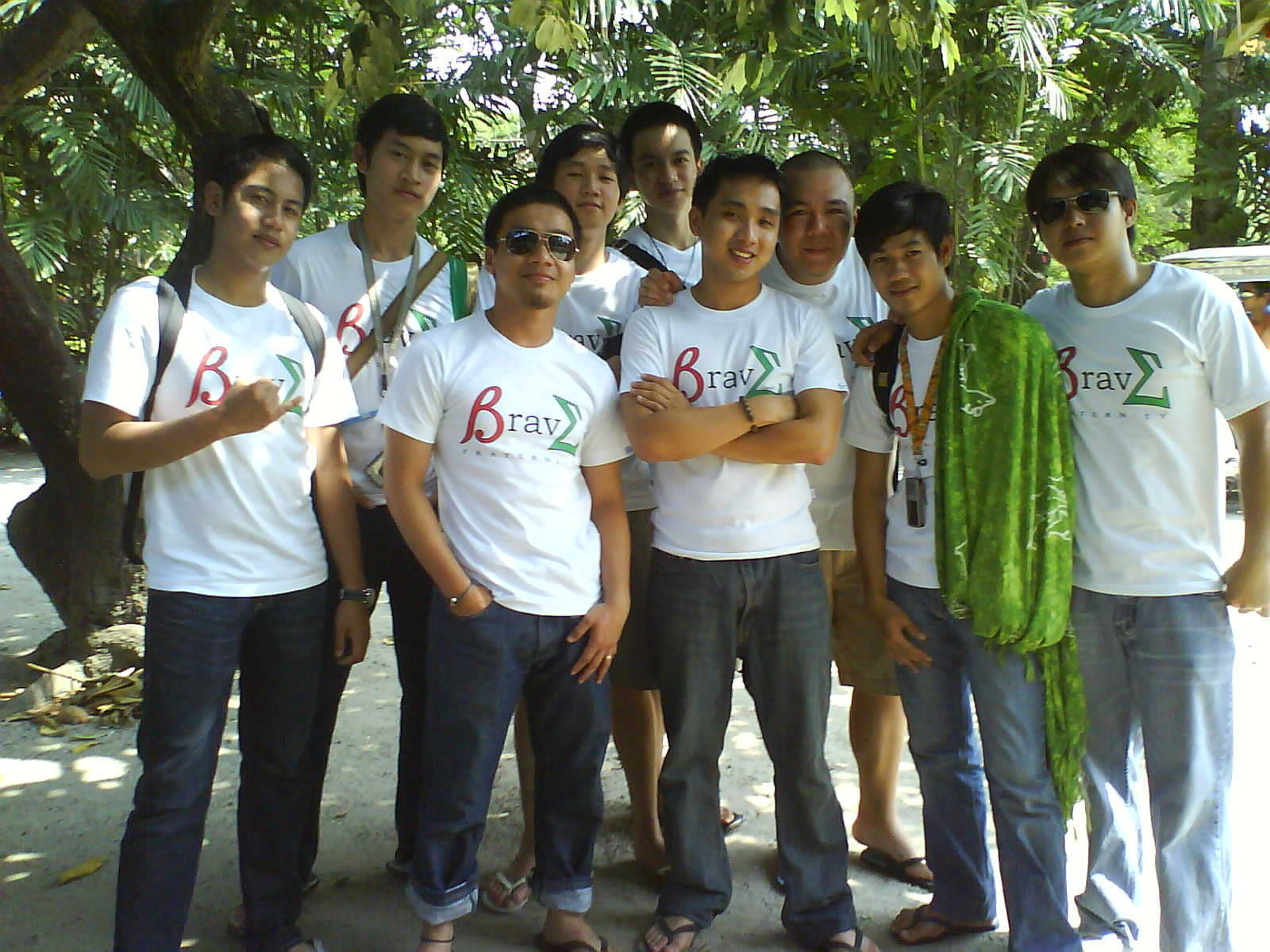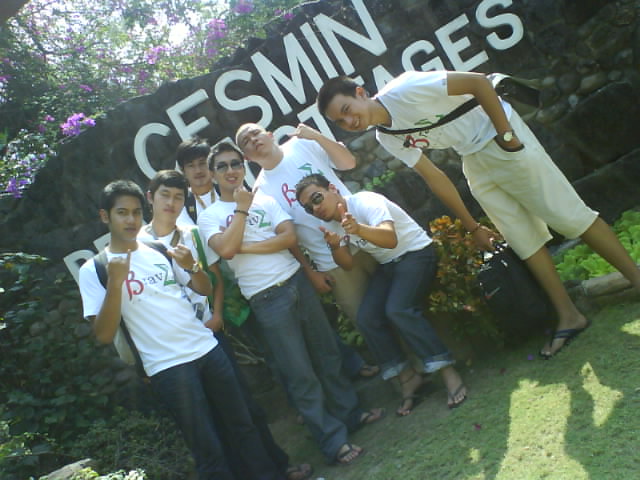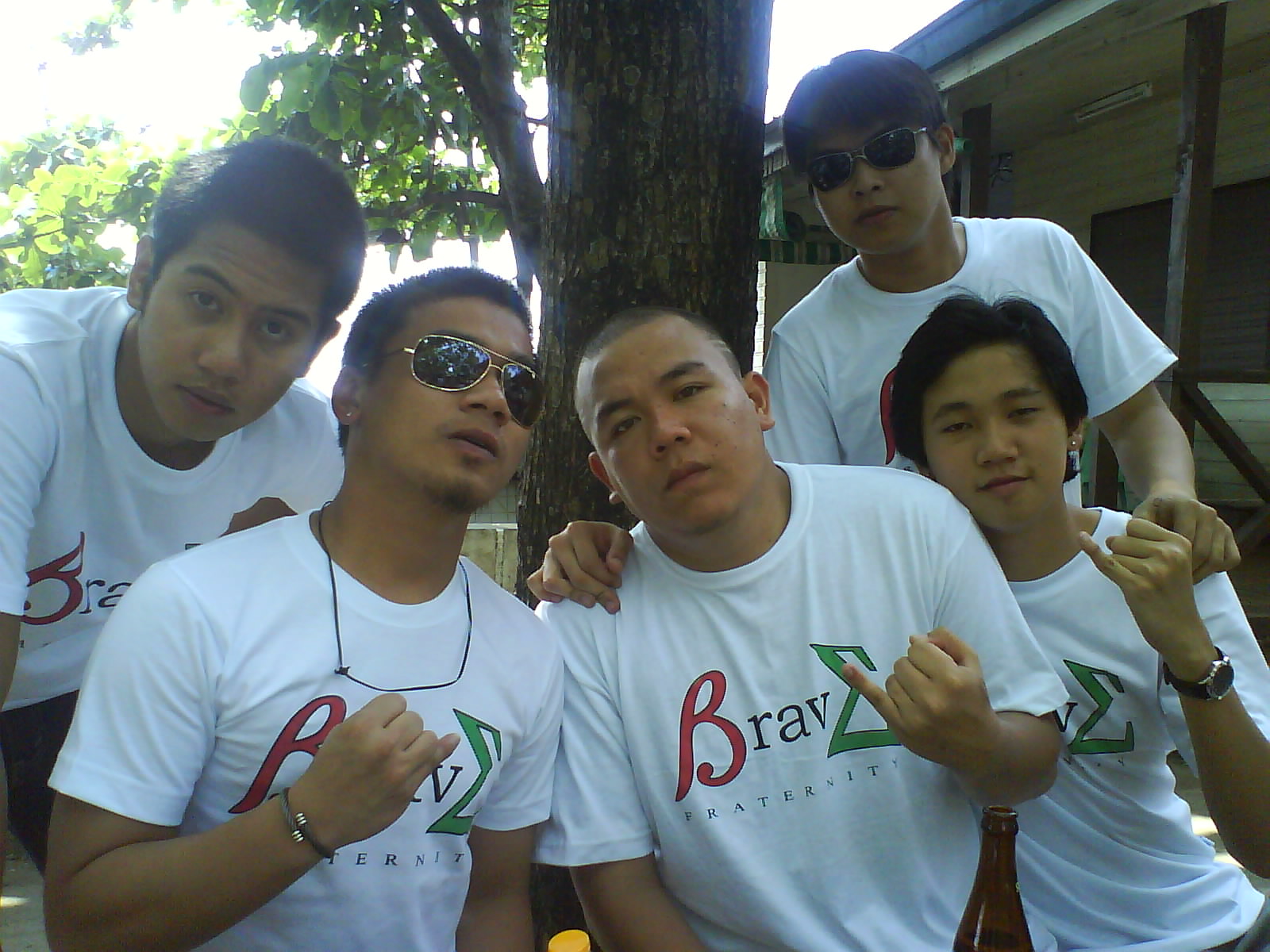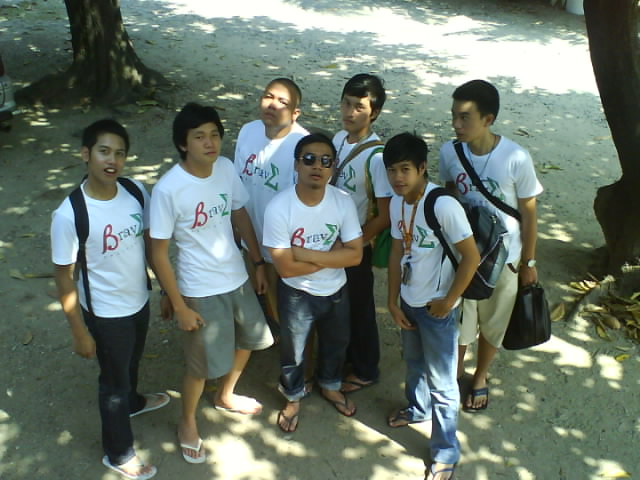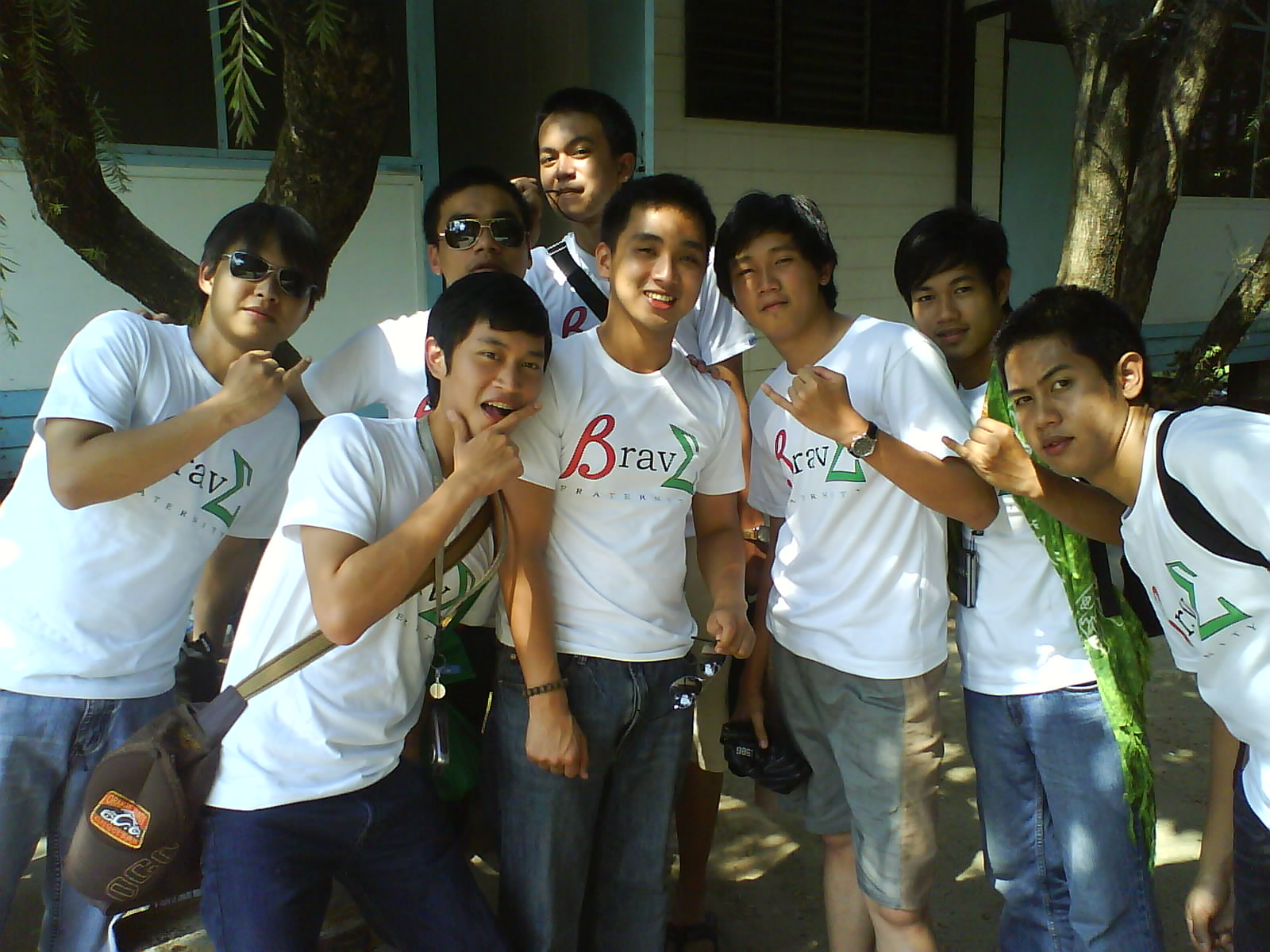 *** These came from Ike Araneta'71 and Pogs Gaspay'68, neighbors in Palo Alto, California.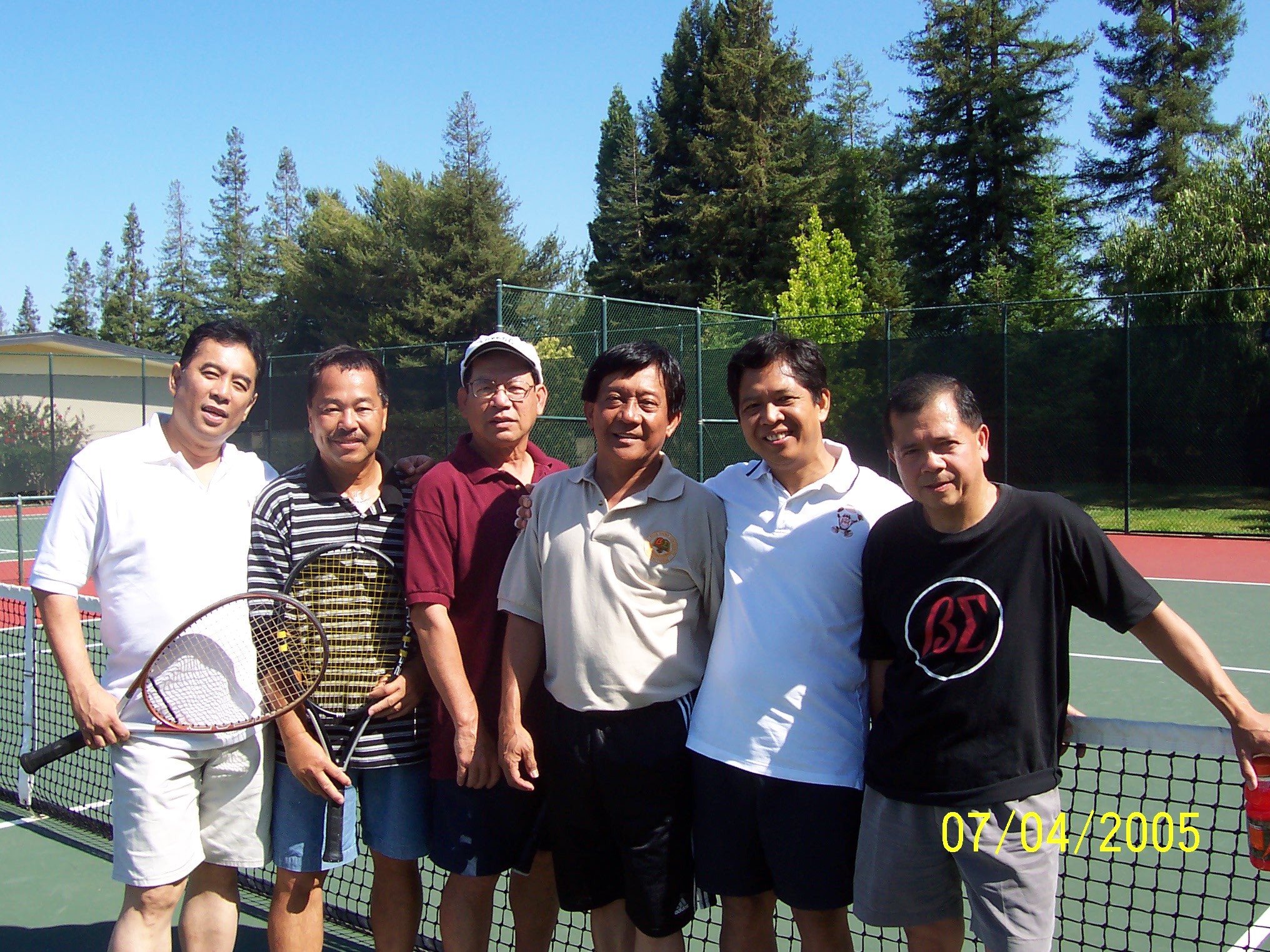 Tennis in Palo Alto: Jec Marquez, Dan Galoso, Ding Cavestany, Bobby Pascual, Babes Ignacio, Judz Rey
Hospitality night before UP Norcal '05 Frat Ball: Jec Marquez, Cyrus Fagar, Nol Banzon, Pogs Gaspay
*** In honor and in remembrance of our Sigma Betan Sis Princess Cedillo-VanDyke.
Note by Prez Willie: "Princess belonged to a family of Betans that included her own dad (who was Faculty
Adviser), 2 brothers and a brother-in-law (Ivan Fojas)".
*From Sis Marie Ganchorre, Washington: "Prency was close to a lot of the Diliman brods. Her father was also
a brod and former BE adviser. She was our UPRHS batchmate, we were to celebrate our 50th anniversary
April but will be celebrated with a great loss of a classmate."
*From Brod Freddie Fajardo, Los Banos: "The Cedillo's were our long time neighbors before at Faculty Hill.
My father and Prof. Valentin Cedillo (UPLB Grand Counsellor '54-'55), were colleagues at the Dept. of
Agricultural Education. Except for Sis Prency, who was much mature than us at that time, Amor, Ruby, and
Voltaire Cedillo were our dabarkads in the neighborhood together with Joe and Bobby Ramos (Prof. Francisco
Ramos); Jessie and Danny Viado (Prof. Getulio Viado); and Gwen and Jun Galano (mga pamangkin ni Tita
Ati Yniguez)."
*From Brod Ernie Tremor, California: "This is really shocking. She appeared so healthy the last time I saw her
in Las Vegas. Will indeed pray for her. Not to worry we are all going there."
*From Brod Willie Vergara, California: "See if you can beat this: She drove with Brods and Sis from Wisconsin
to Seattle to Sacramento. After the ball, she drove back home to the East alone.... And that was just August 31,
2003. God bless her soul and Betan spirit."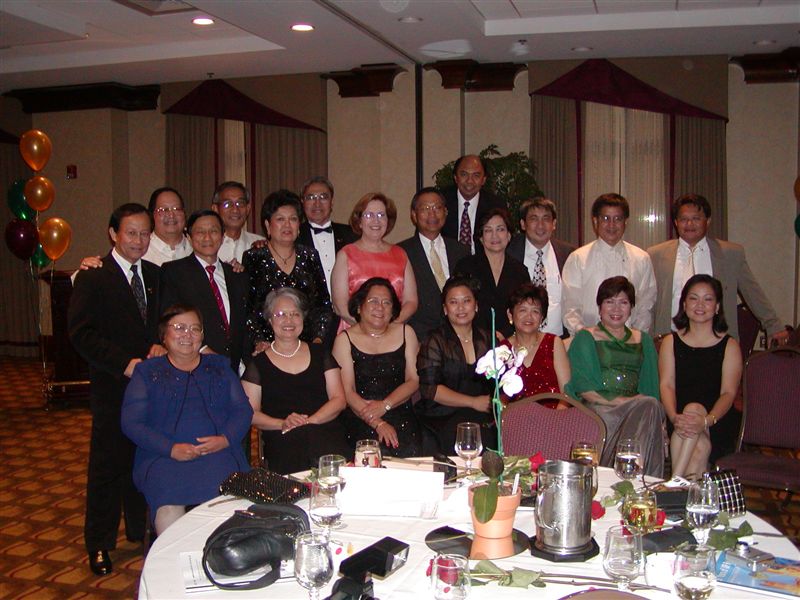 UP Beta Sigma NorCal Frat Ball 2003: Princess is seated, 2nd from the left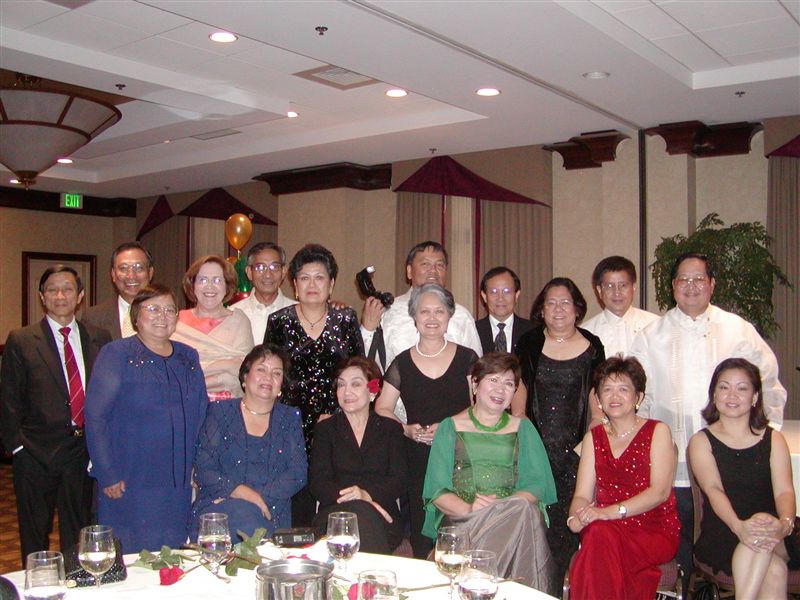 UP Beta Sigma NorCal Frat Ball 2003: Princess is standing at the center, in front of
Northwest GP Brod Cosme Santiago

*** These pictures were sent by Carlos Las Marias'67 from Orlando, Florida.
"Let me reiterate my excitement with what you guys are accomplishing putting together
the history of our beloved fraternity. If you happen to come by Orlando, call me so we
could get together for old times' sake. Cheers!" -- Brod Caloy67B
Caloy'67 MD, wife Cora UP BSBA'70, Karen with 2 kids, Carlo and Charlene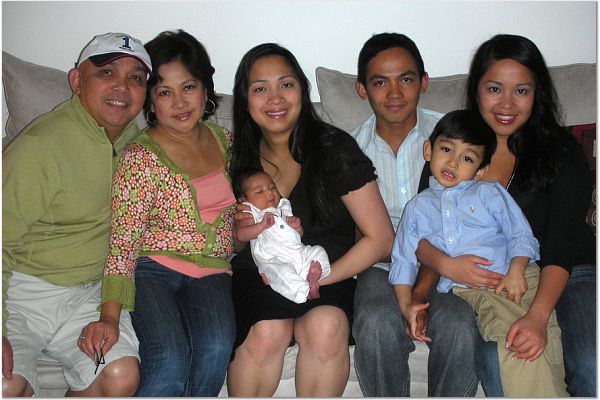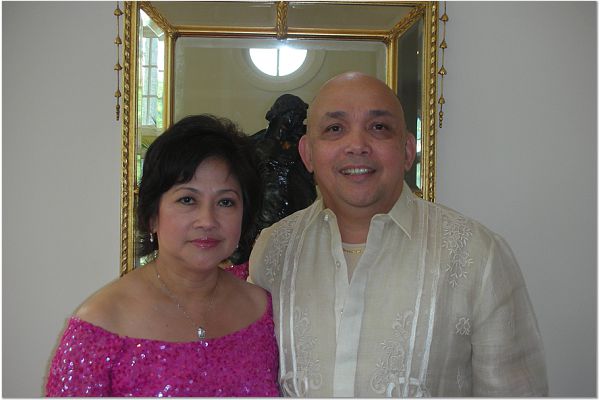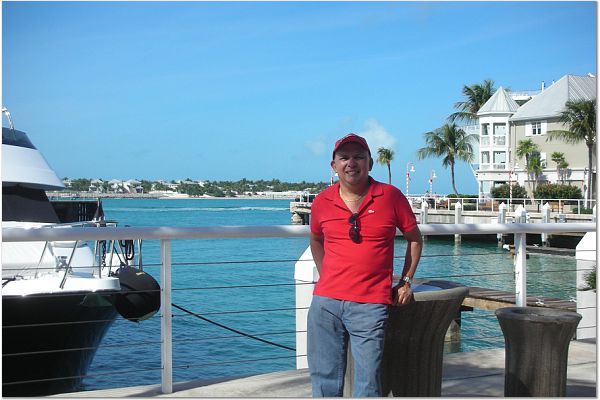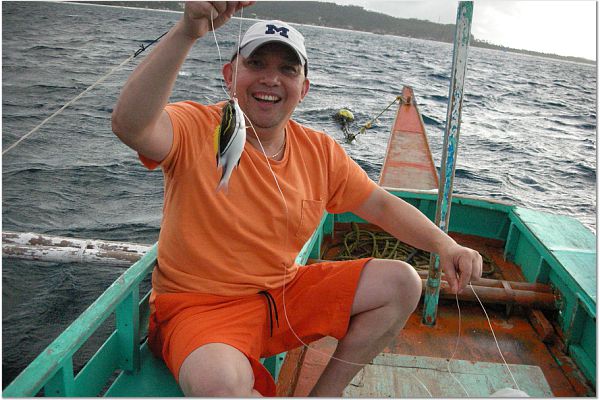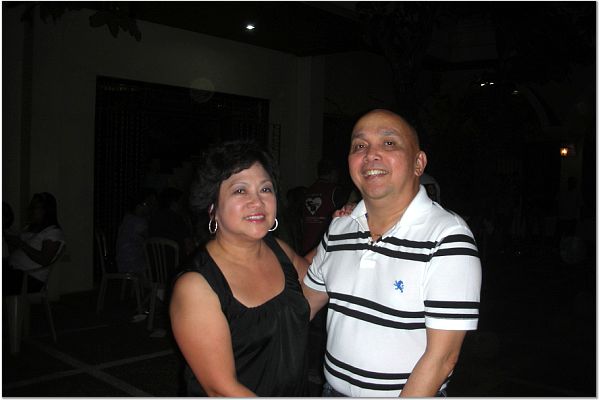 *** These pictures were sent by Raffy Hidalgo'86 from the Philippines.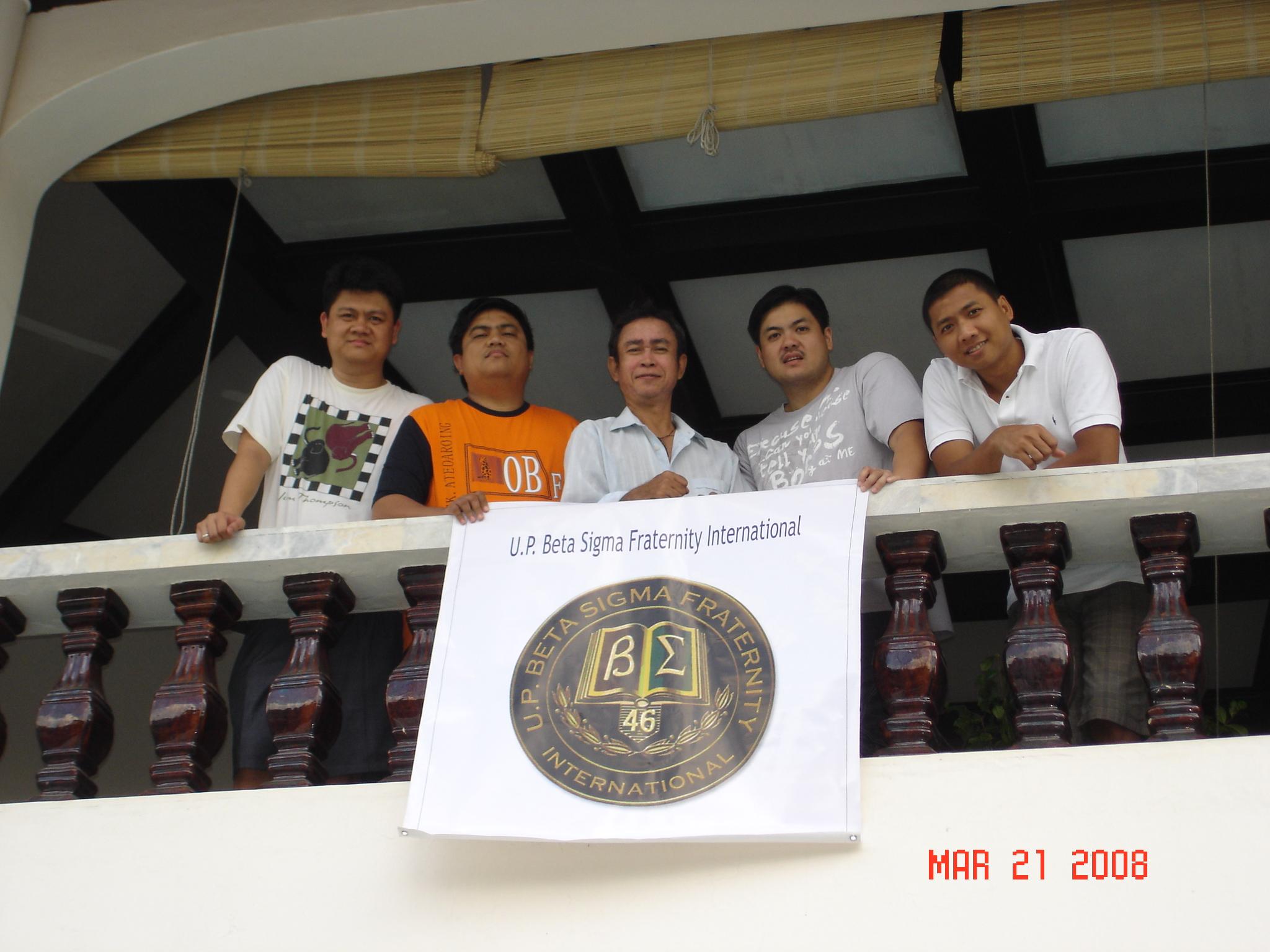 From Raffy: "Banner is the one we used nung Residents Cup golf last year kaya mali pa yung seal ng
UPBSFI. Pics were taken in Barretto, Olongapo and in Subic.", left to right:
Pete Danao 92, a lawyer and a Partner at the Madrid Law Offices in Ortigas; handles high profile cases,
both criminal and corporate; VP for Revenues of the OBBF.
Raffy Hidalgo 86, VP for Corporate Development of SteelAsia; Diliman GP 1988-1989.
Antonio "Nonoy" Tagaro 77, a very decorated varsity baseball player giving UP 5 baseball championships
while earning 3 letter awards and 2 sweater awards.
Lloyd Dizon 87, General Manager of one of the leading cold-storage logistic companies in the Philippines
and a part owner of Aruba, one of the trendiest bars in Ortigas; VP for Membership of the OBBF.
Jason Justo 92, Corporate Lawyer of ASB realty (Roxas family) which developed the St. Francis Square in
Ortigas among others; Corporate Secretary of Aruba, and handles some private cases as well; President of
the OBBF for the past 2 years.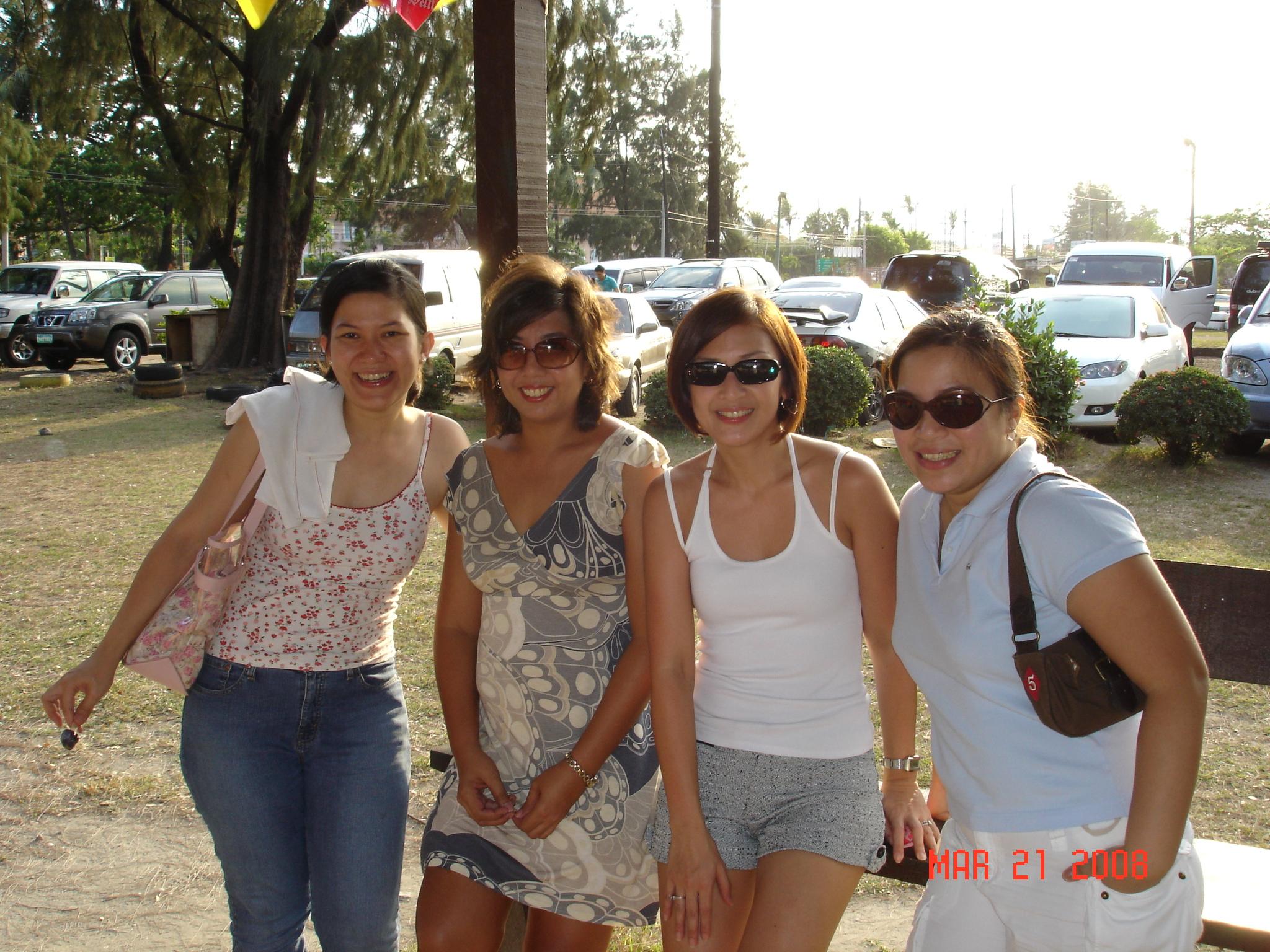 FIRST WIVES CLUB, left to right:
Tintin is Pete Danao's wife. She is an engineer and now works for NEDA. She is a member of the Sigma Delta
Sorority. Pete has 3 kids with her.
Jay is Raffy Hidalgo's wife. She is also a member of Sigma Delta. She is a lawyer and is currently a Prosecutor
with the Office of the Ombudsman at the Sandiganbayan. Hopefully with the help of Brods Rico Arranz, Raoul
Victorino, Matt Defensor, Walt Navarro, Ollie, Ron Justo and Marc Patriarca, who have helped push her application,
she will be appointed as Judge (her application is pending at Malacanang).
Thessa is Lloyd Dizon's wife. She works at the Japanese embassy and was the crush of many of the residents in
our day (she belonged to an org whose tambayan was near the Frat's). She is also a model and has appeared
on many TV and print commercials.
Enoi is Jason Justo's wife. She is a Sigma Betan. She is an IT person and works at Accenture as a manager.
She is in the US often under Accenture training programs.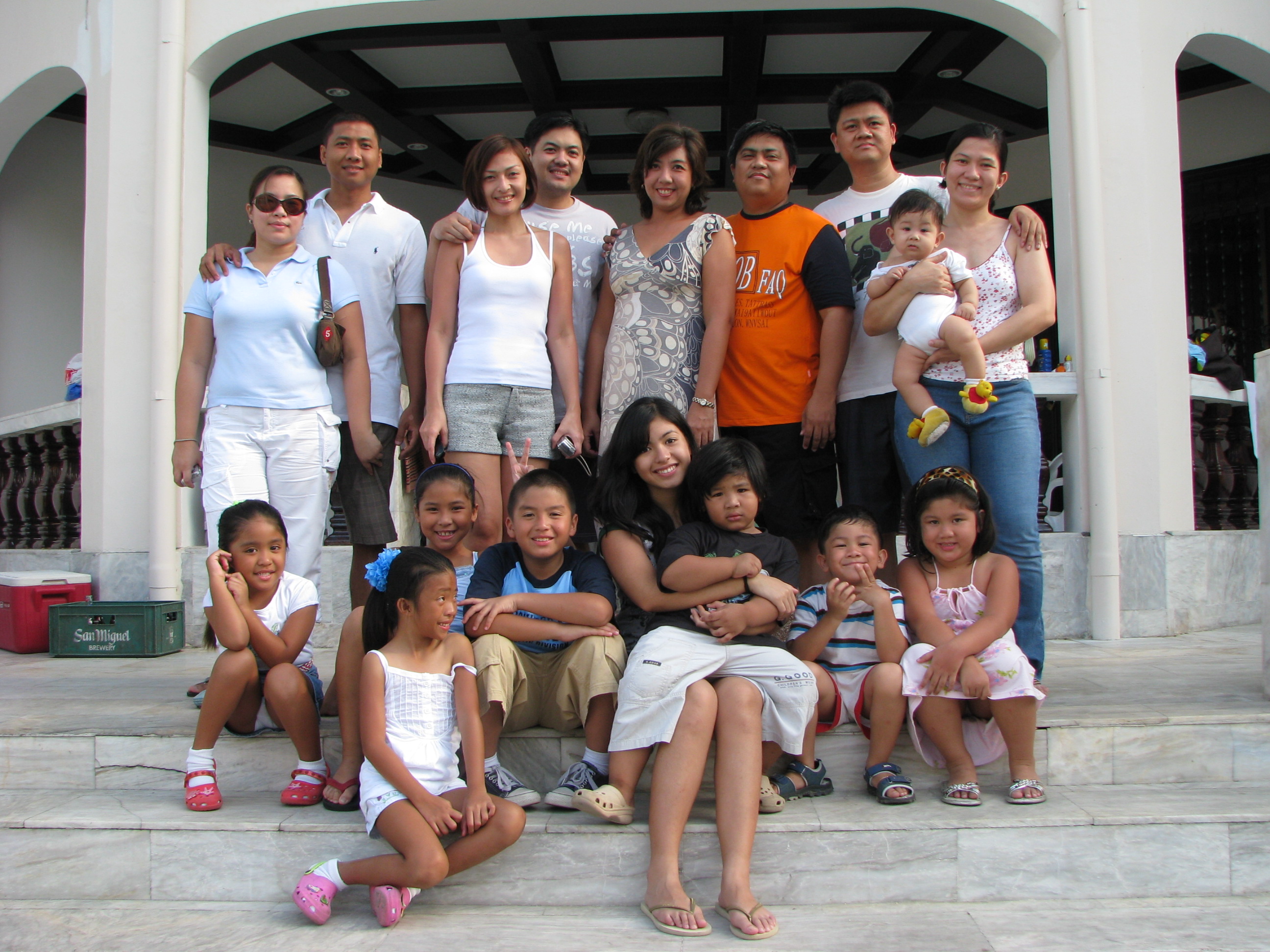 WHOM WE DO IT FOR: Top Row: Mikaeli Hidalgo (Kinder at Miriam), Gabbie Justo (Grade 2 St. Paul Pasig),
Liam Dizon (Grade 5 Lasalle GH), Thea Dizon (4th year HS Miriam), Jack Danao (in the lap of Thea), JV Danao,
Sebastian Justo (Nursery incoming), Andrea Hidalgo (Grade 1 Miriam), Daphne Danao (Grade 1 Poveda).
*** These pictures were sent by Rey Carandang'69 from the Midwest.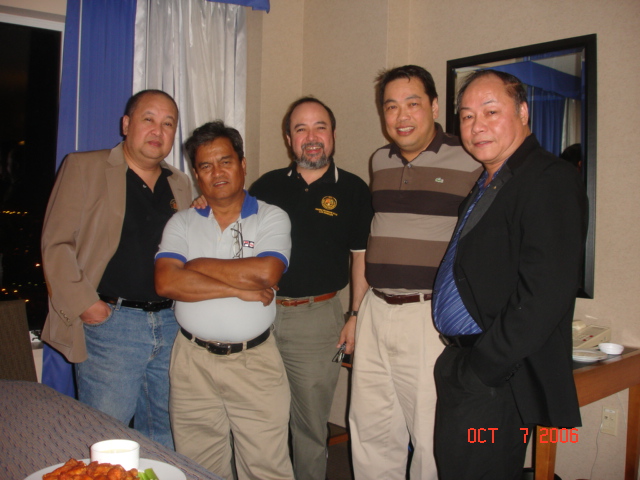 Midwest Brods (l-r): Rolly Aquino'68, Josue Castillo'67 DVM, Midwest GP Lem Michelena'75,
Rey Carandang'69 MD, Roger Aragon'69 DVM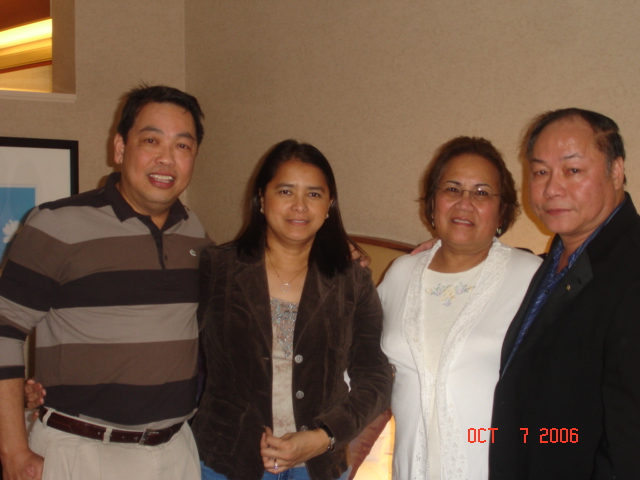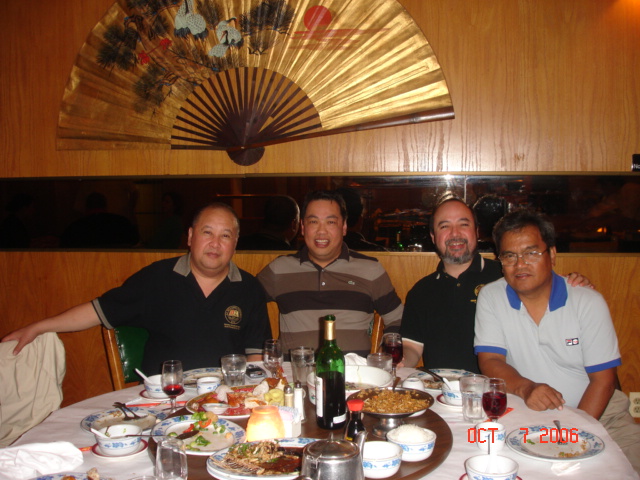 Rey and Roger with (we assume) the better halves Dining out in Chicago
*** These pictures were sent by Tatang Vergara'67 of Rocklin, CA.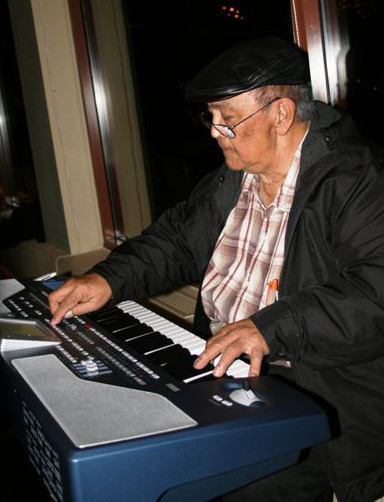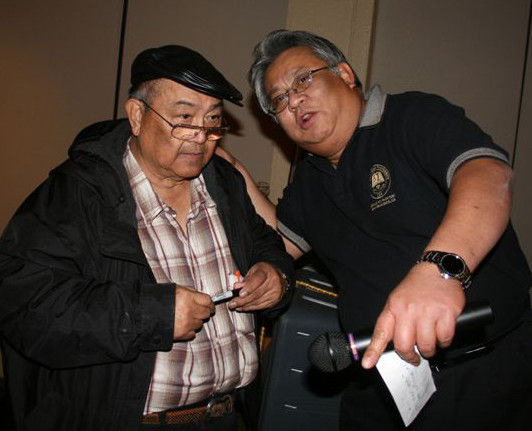 "Lost But Now Found" : Brod Nilcar Hallare with UP Beta Sigma NorCal GP Bong Beredo
From Tatang: "This man who presented himself to attend the Christmas Party in Fairfield, California -- and to provide beautiful
music for us with his mastery of the keyboard -- is a TRUE BETAN of the 50s! His name is Nilcar Hallare, who he claims belongs
to the early Batch 50s but came to America in 1952. By sharing his own old Philippinensian with us that has a roll of members
and officers during that time, we can see that truly Nilcar Hallare was a Business Administration student that he claimed to be.
BROD NARCING LAPUS '48 WAS SECRETARY!"

*** These pictures were sent by Anthony Subijano'72 of Sydney, Australia.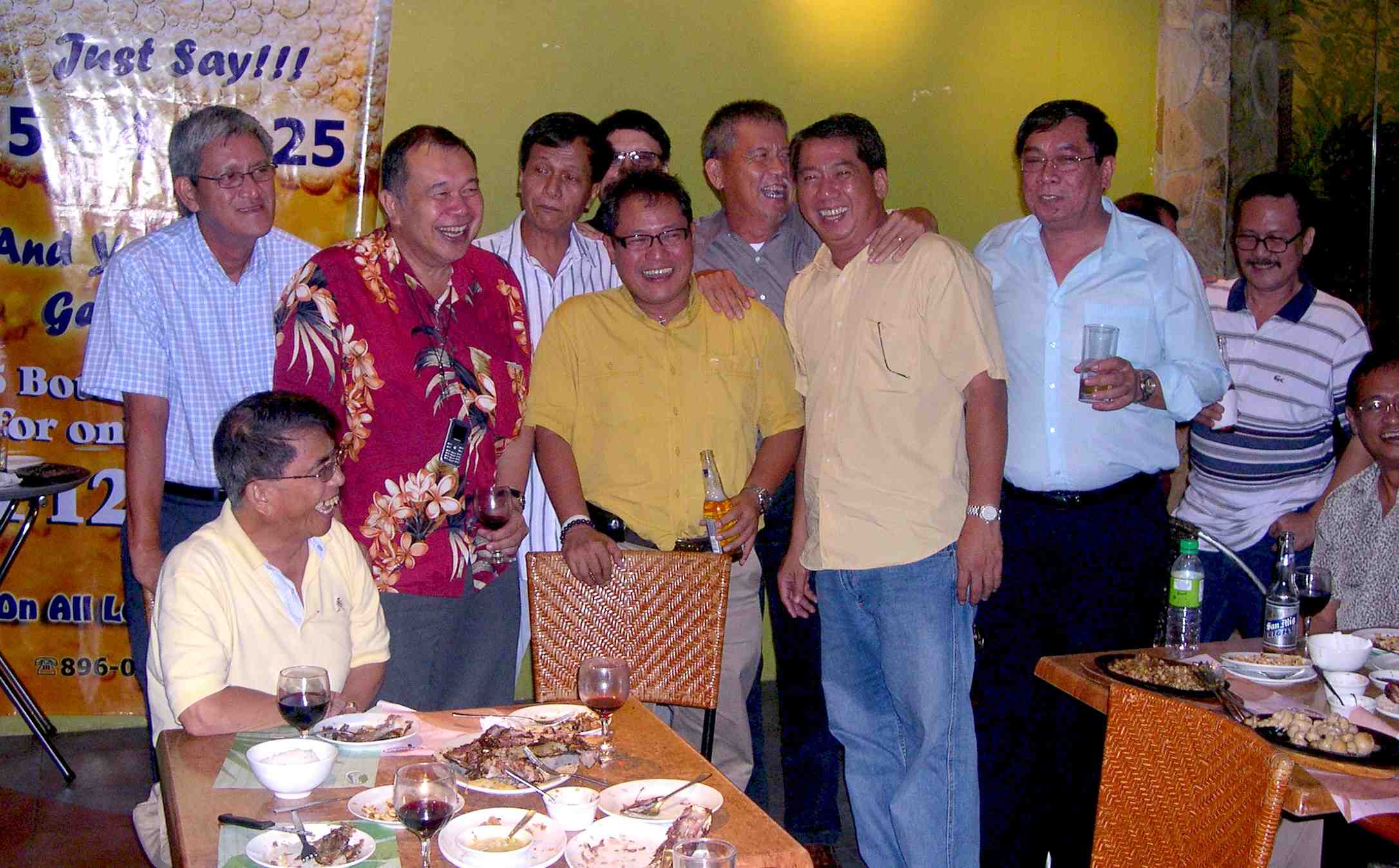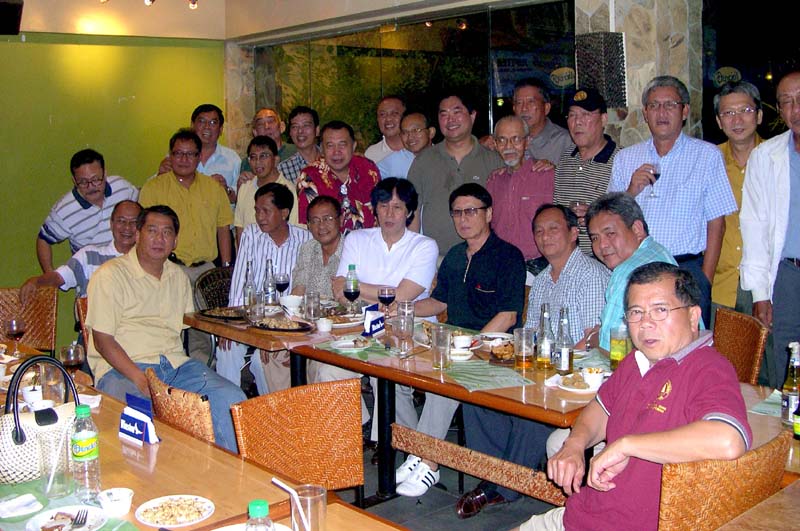 UP Beta Sigma Makati Chapter - 60th Jubilee Anniversary get-together, July 2006
*Sitting: Serafin Gacho, Boy Jaurigue, Gil Marzo, Enggie de Gracia, Dennis Navarro, Enching Rodriguez, Ross Fernando,
Lakan Fonacier, Judz Rey.
*Standing: Ben Medina, Joel Paredes, Rawlinson Dimayuga, Teddy Rey, Ben Ustaris, Cris Michelena, Pogs Gaspay,
Ben Ferriols, Ago Romero, Anthony Subijano, Bal Villanueva, Boyet Fernandez, Sluggo Rigor, Jet Arriola,
Henry Chua, Rico Arranz.
*** These pictures were sent by Noli Nolasco'62 from Strathmore, Alberta, Canada.
Noli is undoubtedly one of the top students and proteges of JC. Noli, a supreme blackbelter, unselfishly devoted much of
his personal time teaching the Diliman and Los Banos brods the science of martial arts. He was a head instructor at the
Karate Federation of the Philippines (KAFEPHIL) whose founder and first president is JC. Noli himself founded a solid
Betan karate ally, Black Secrets, based in Sorsogon. A veterinarian, Noli works as Territory Manager for Masterfeeds in
Calgary and lives in the nearby city of Strathmore with wife Tessie (UP Nursing) and sons Nilo and Theo. In a tamer sport,
he has developed another powerful swing: this one for a much smaller target, but not the least less daunting - a little white
ball.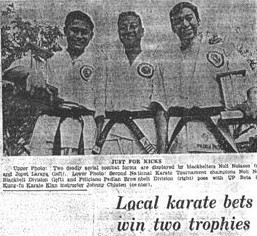 Noli Nolasco'62, Johnny Chiuten'60 and Paddy Padlan'64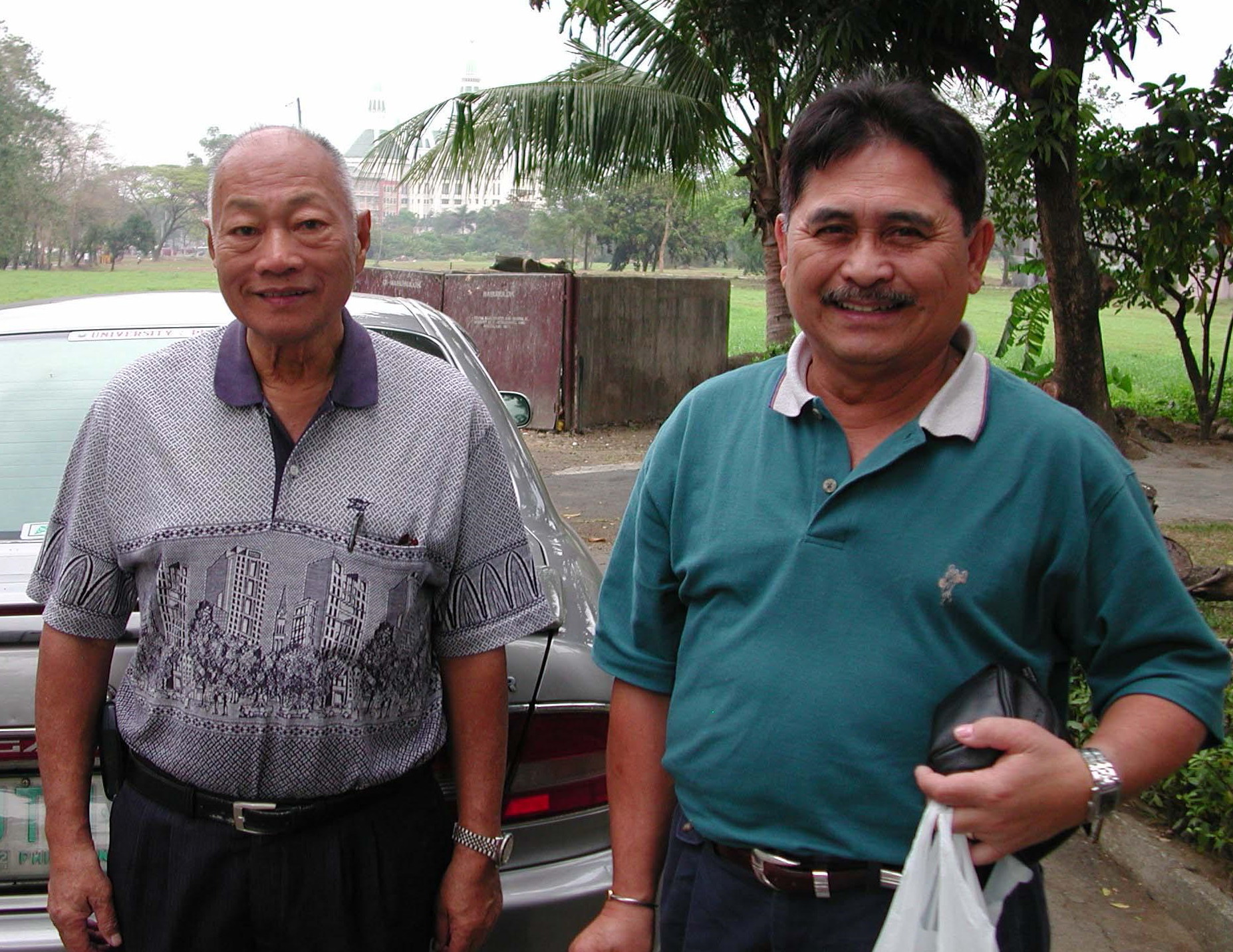 "My rare moment with my master J.F. Chiuten in February 2004" -- Noli. At UP Bahay ng Alumni, Feb'04.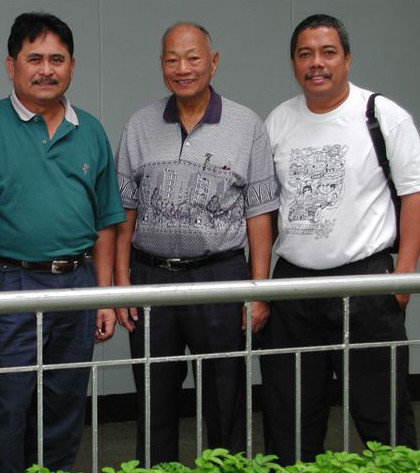 Noli'62, Johnny'60 and Ollie Jumao-as'73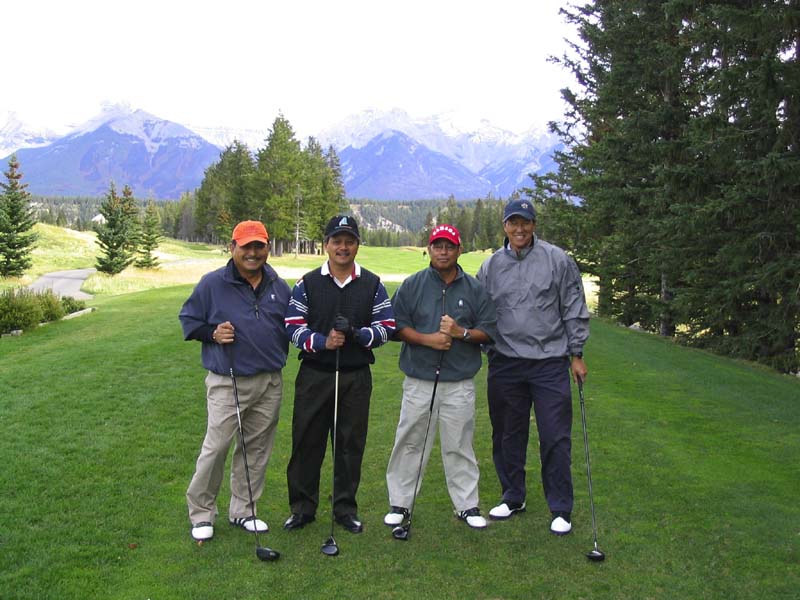 Noli'62, Norman Bituin'65, Noli's friend Levie, Rolly Balingit'69 at Banff GC, Alberta
with the Canadian Rockies as backdrop - Sept. '03
*** These pictures were sent by globe-trotting entrepreneur Enriqueto "Judz" Rey'68 of South Bend, Indiana.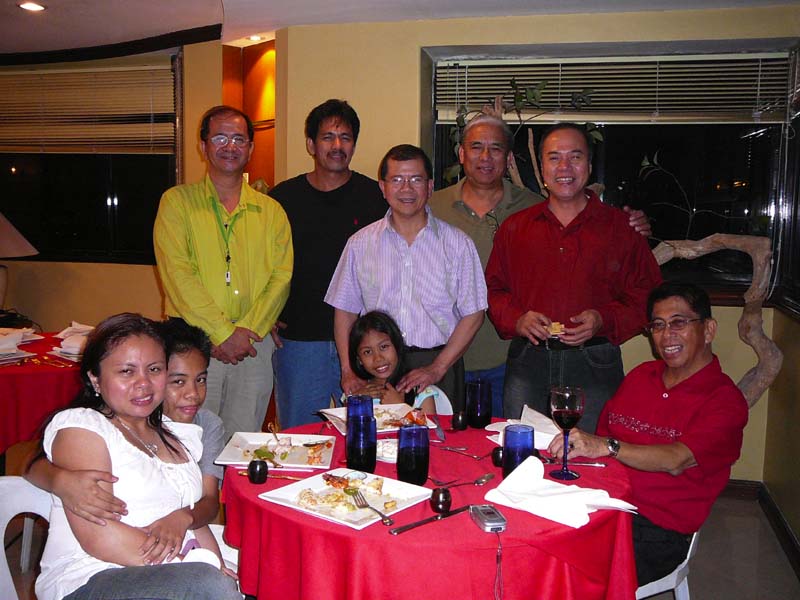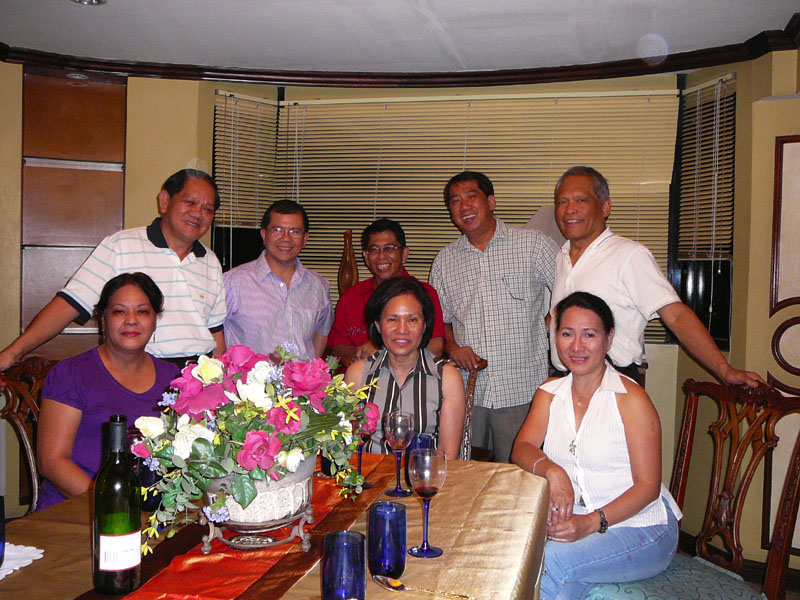 RP 1/07: Abe Agulto'71, Edlin de Laza'73, Judz Rey'68, Raoul RP 1/07: Vic Ramos'62, Judz'68, Ted'62, Boy Jaurigue'69, a friend.
Reyes'65, Buddy Curameng'70, Teddy Rey'62 (seated) & family. Seated: Vic's wife, Judz' wife Mely, friend's wife.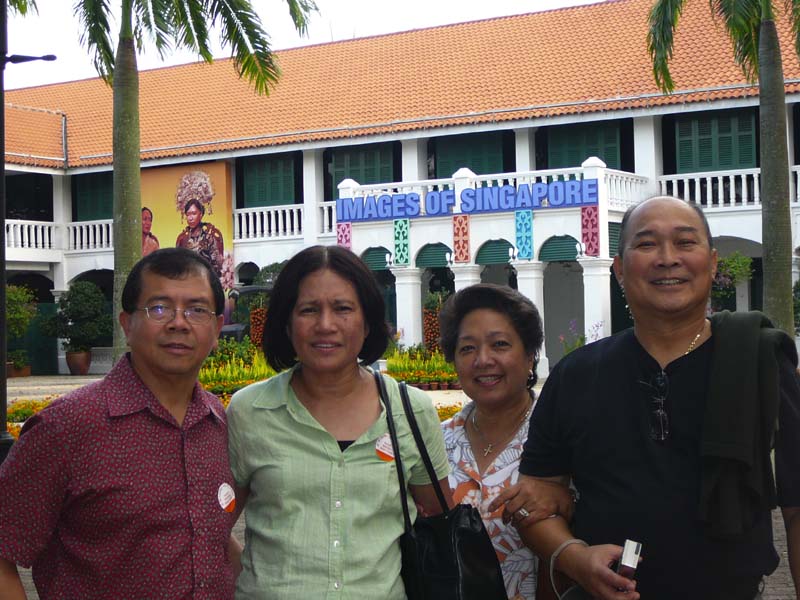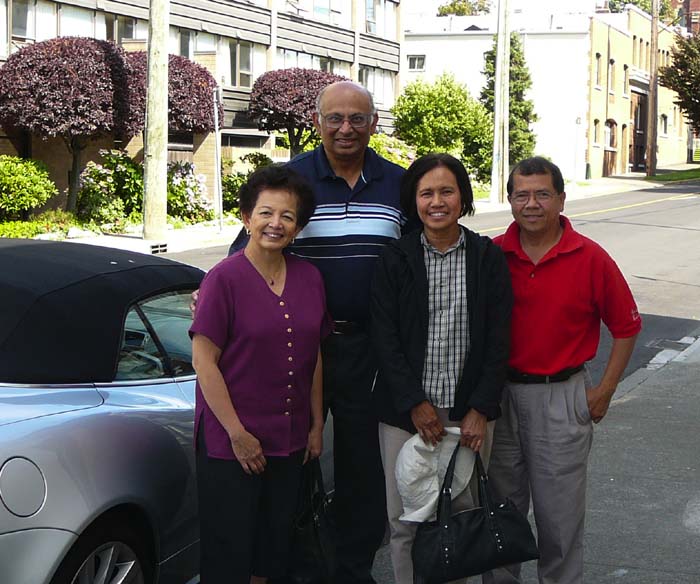 Singapore 2/07: Judz'68 & Mely Rey, Ed (LB6?) & Mila Daproza Victoria, B.C. 8/07: Benild'64 & Laila Pires, Judz'68 & Mely Rey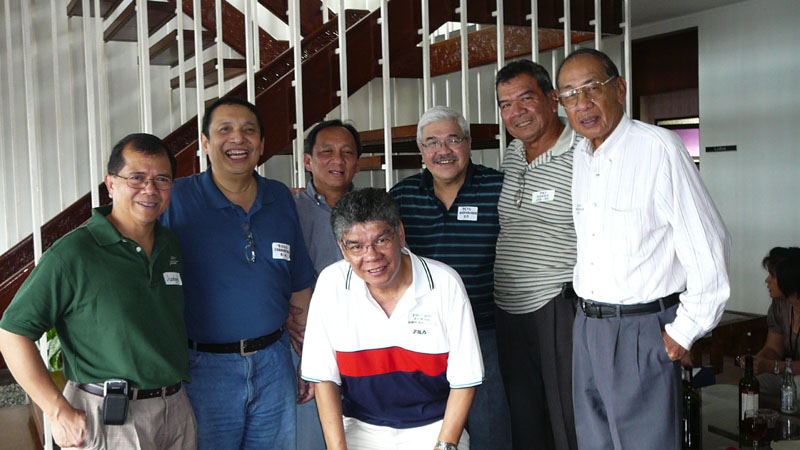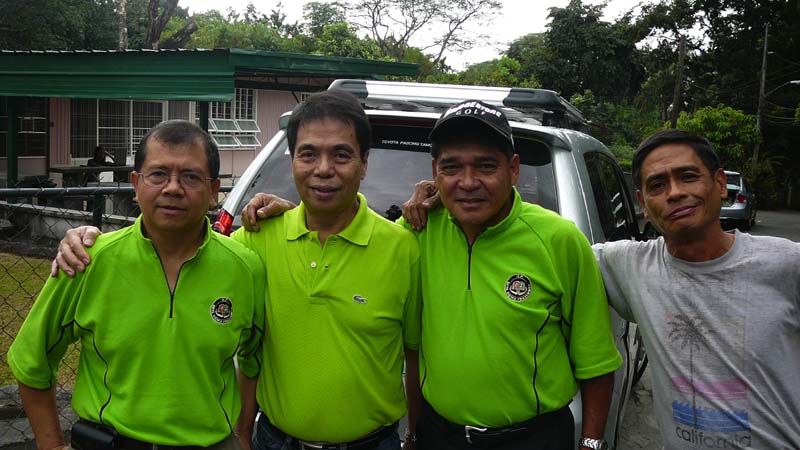 RP 1/08: Judz'68, Bogs Cabanatan'65, Ross Fernando'69, Pete RP 2/08: Batch '68A all - Judz Rey, Rey Rivera,
Hernandez'64, Pat Roman'64, Rico Arranza'46, Emmyboy Roman'64 Walter Navarro, Mel de Santos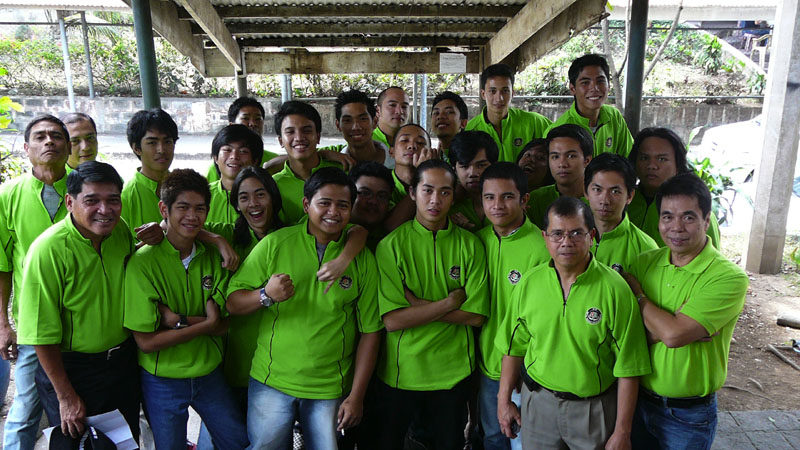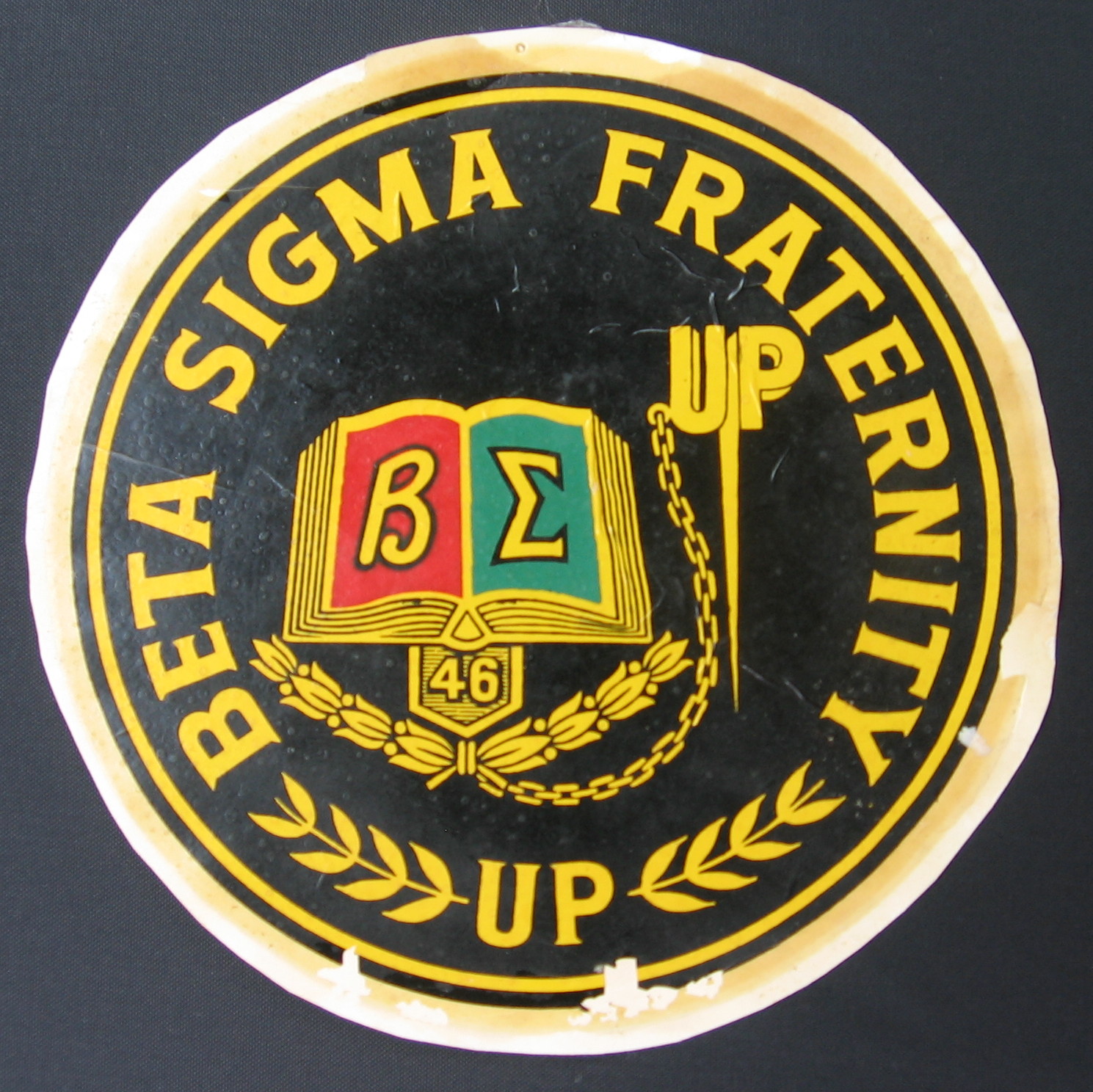 Diliman Batch '68A (Blitzkrieg) is 40 years young!!!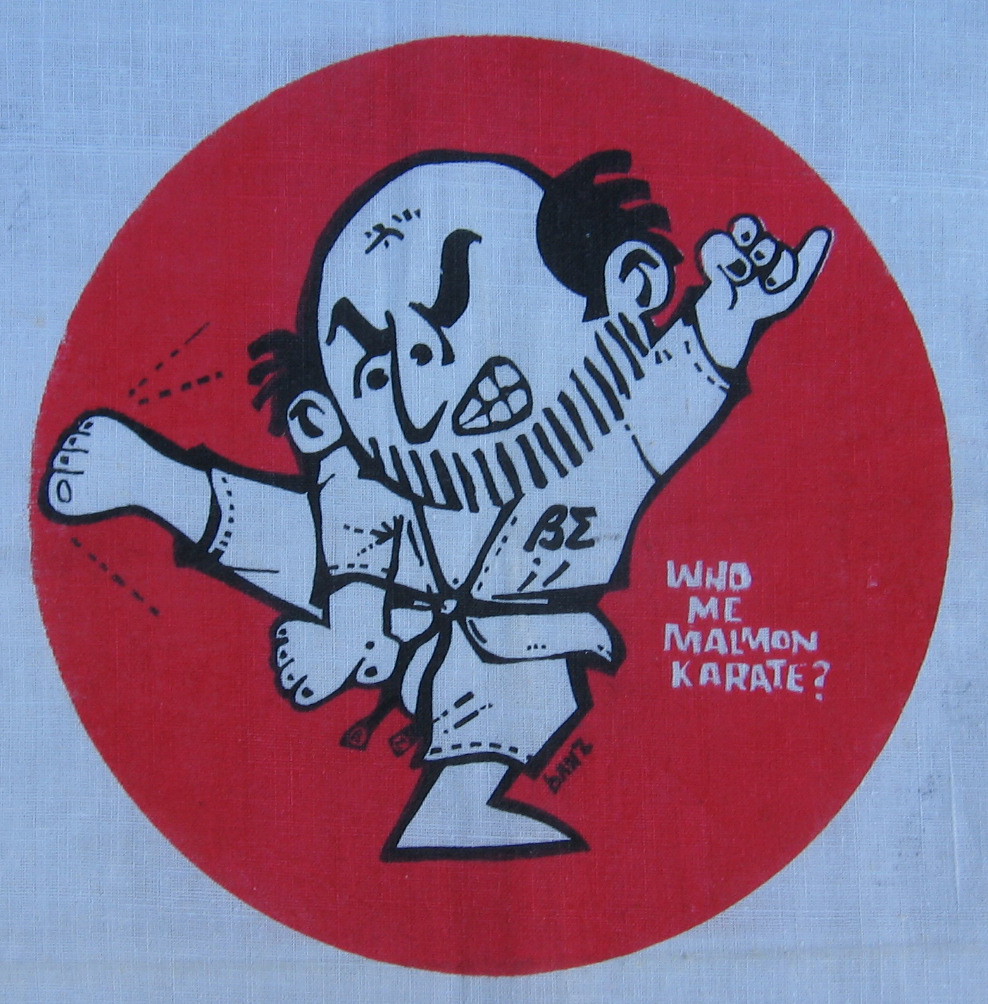 Judz says it's hard to tell the '68's from the '08's! THE BETAN SPIRIT LIVES ON.. AND ON.. AND ON!!!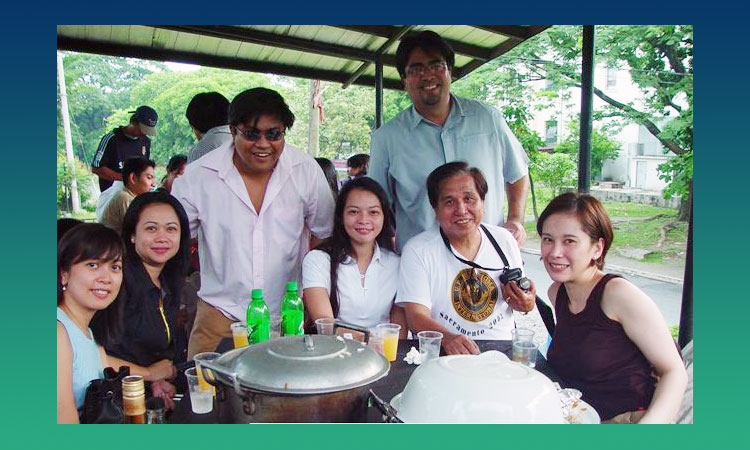 "May I have the honor of identifying the protagonists? Around the bida (Tatang) of this picture are: Rhodes Silva-
Espartero Ladies Corps, Iris Laxa-Montes Ladies Corps, Rafael Hidalgo'86, Kerwin Santos'92, Nimfa Monzon-Cruz
Ladies Corps." -- RH'86 (*Note: July 14, 2005 at 59th anniversary of UP Beta Sigma)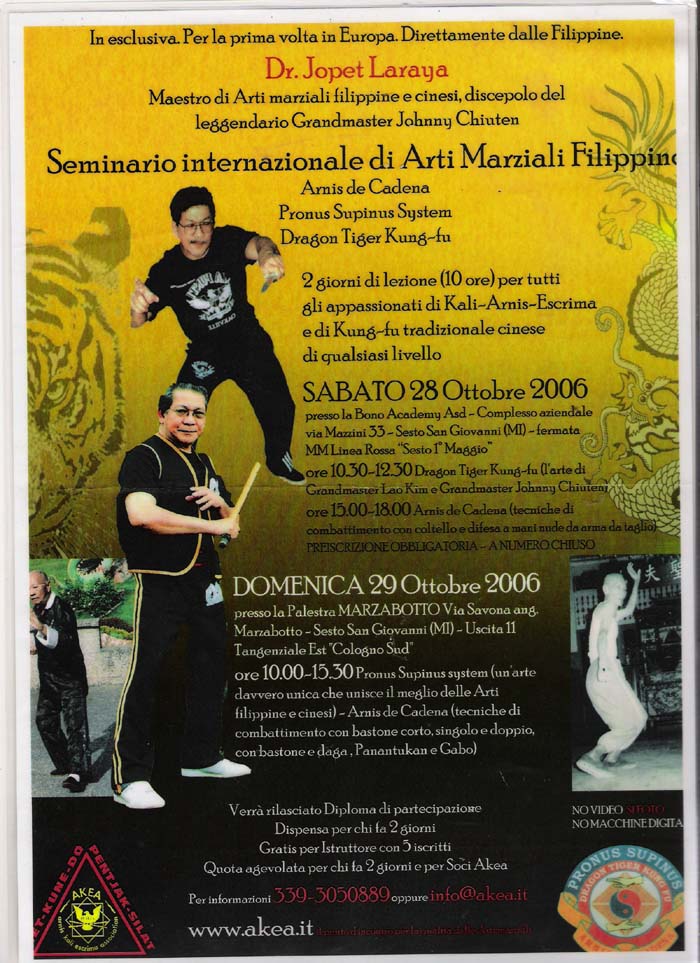 Martial Arts seminar 2006 of Dr. Jopet Laraya'63: "One of the seminars Brod JC allowed me to conduct in Italy
which then provided most of the seed money for JC-SOMA-and at the same time spread his art more." - Jopet'63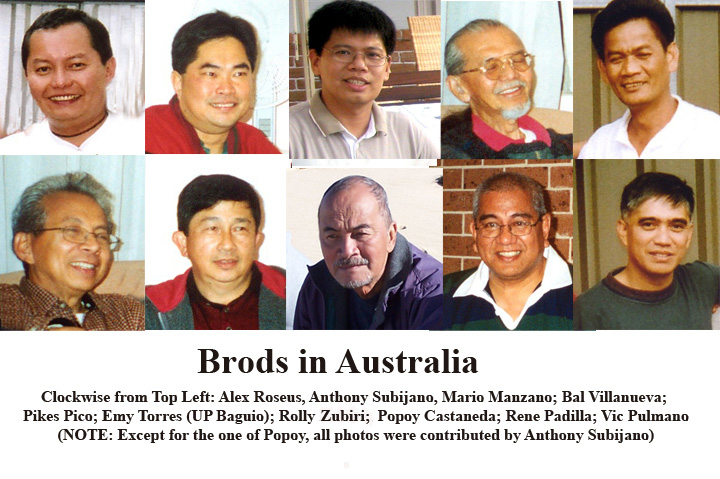 Our Aussie mates from Down Under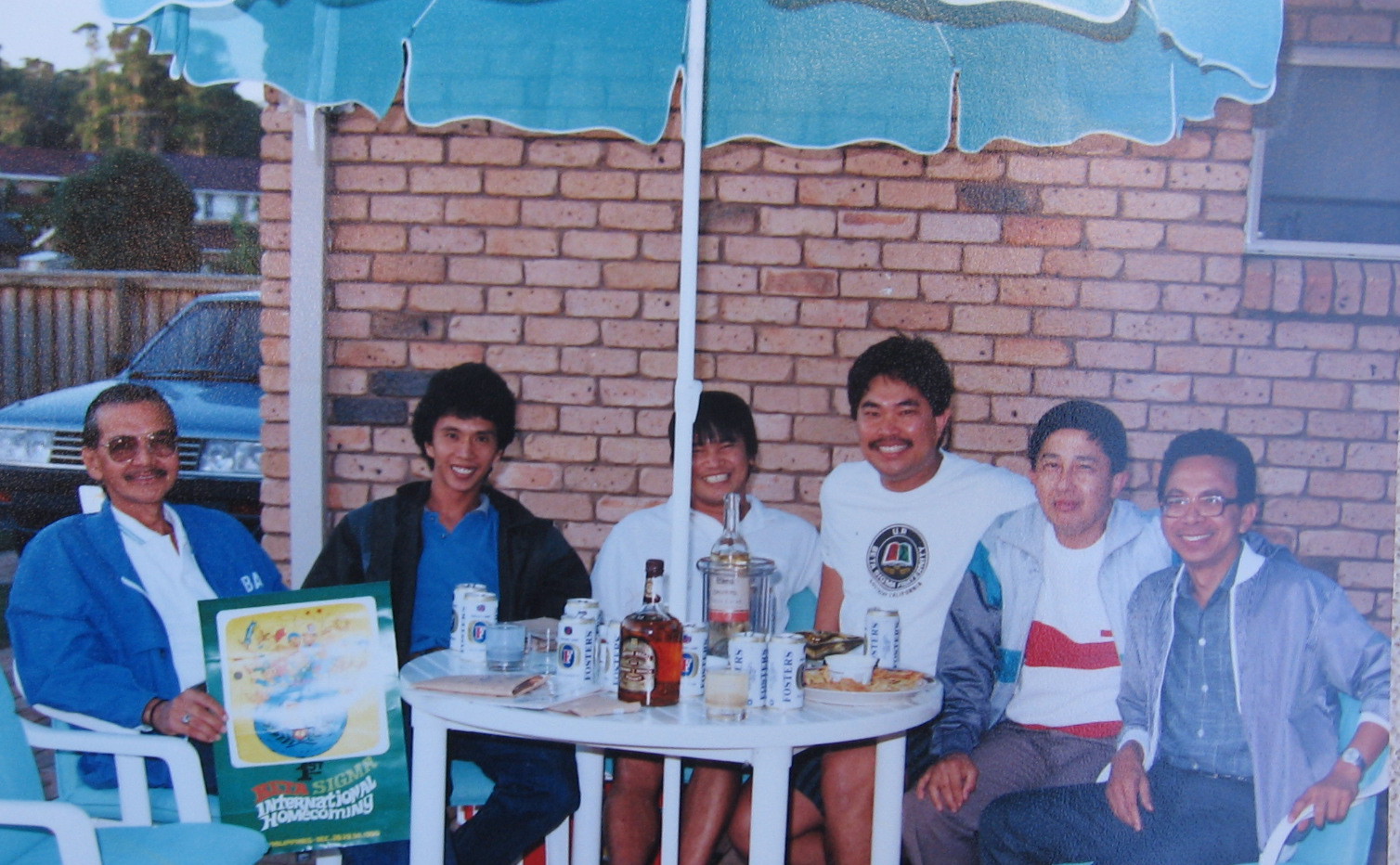 Same bunch of Aussie Betans some years ago: BalV'60, CesarV'78, HugoA'64, AnthonyS'72, ReneP'65, ValP'57.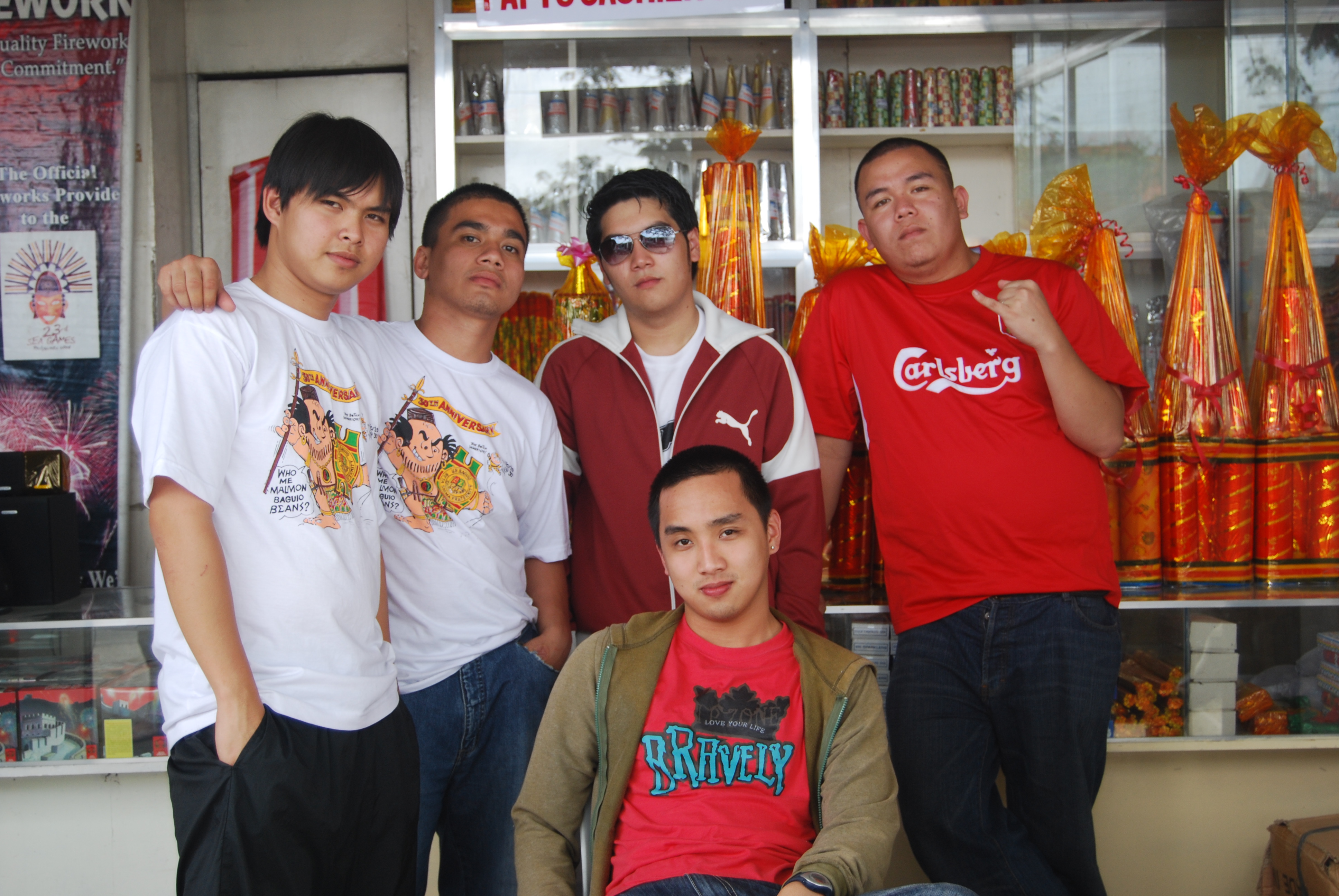 UP Baguio Betans: Dar, Mik, Carlo, Dan, Jordan - Dec. 2007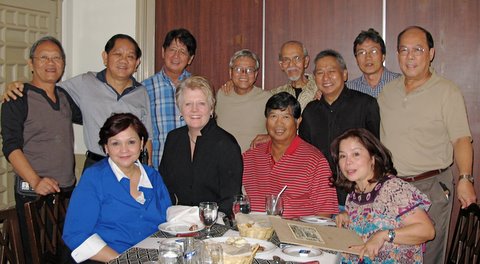 The UP Beta Sigma Rocking All-'60's Gang meets in Manila - Feb. 11, 2008
Sitting: Barbara Hizon, Kay Smaby-Symons'63(!!), Eding Hizon'63, Bing Villanueva.
Standing: Nelson Rivera '62, Vic Ramos'62, Boy Morales'60, Jess Abrera'64, Bal Villanueva'60,
Pol Moral'65, Adi Santos'62, Sluggo Rigor'60.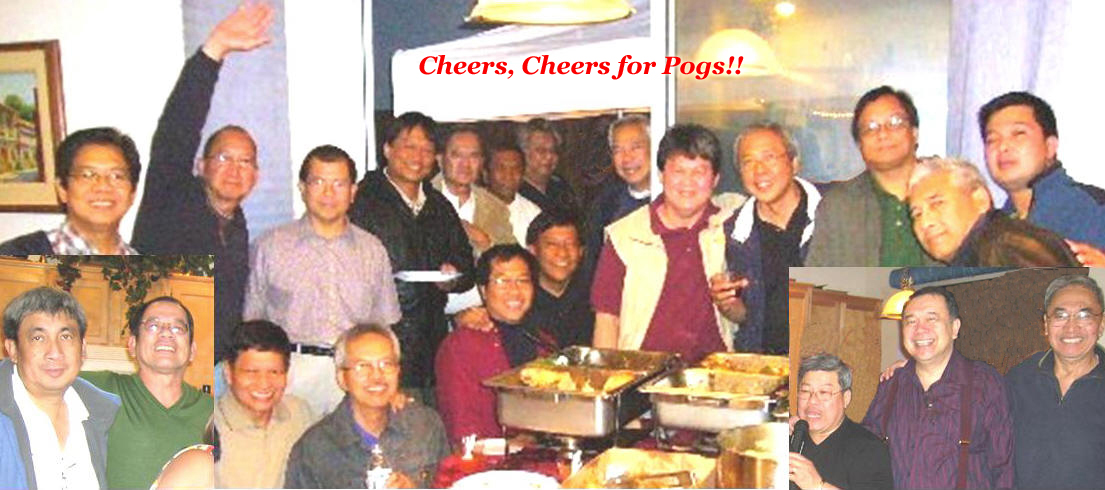 BRODS whooping it up and giving cheers to "under the weather" Pogs Gaspay - May '07
*Top row: Babes Ignacio, Gerry Abenes, Judz Rey, Sonny Pagador, Domi Boy Ramos,Vic Gacusan, Bong Beredo,
Nonoy Bautista, Manolo Banzon, Ike Araneta, Dutch Aragones, Vee De Vera, Alan Torneros.
*Bottom row: Gabby Moraleda, Ding Cavestany, Gene Samson, Rick Velasco, Kiko Delmendo, Bobby Pascual,
Eric Punzalan, Pogs Gaspay, Dave Villegas.
[Not in photo: Hermie San Luis, Bernie Bacosa, Louie Ruiz, Sitong Cabaluna, Tatang Vergara, Titing Valdez]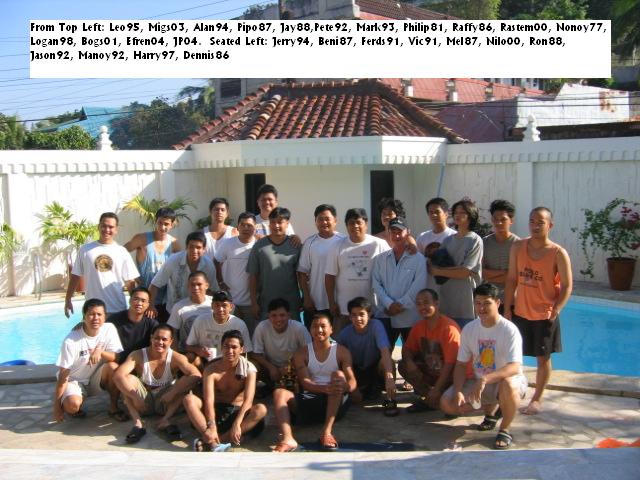 OPERATION BIG BROTHER FOUNDATION (OBBF) Olongapo Summer Outing'05
Cheers to OBBF for pushing on and assisting our UP resident brothers!!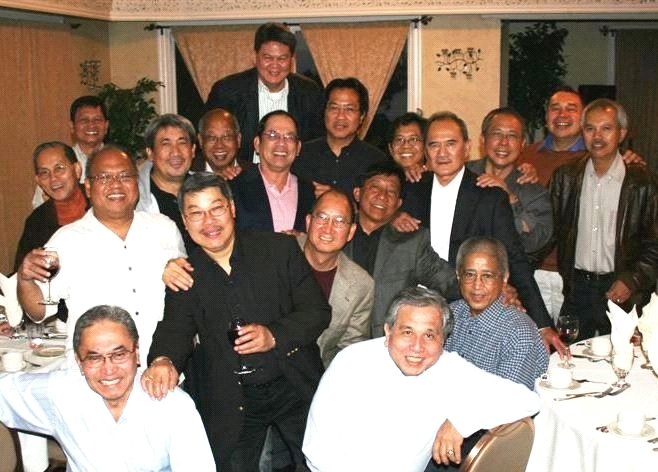 OCCASION: Surprise Birthday Party for Ding Cavestany '65
*Roller-Coaster Clockwise Beginning At Seven O'Clock: Dave Villegas'55, Gilbert Basbas '73, Johnny Regadio '66,
Gene Samson '66, Gabby Moraleda '68B, Narcing Lapus '48, Manolo Banzon '68, Kiko Delmendo '72, Babes
Ignacio'77, Doming Ramos '57, Ike Araneta '71, Pogs Gaspay '68B, RickVelasco '67, Louie Ruiz '59, Bobby
Pascual '68A, Ding Cavestany '65 (60th Bday Celebrant), Eric Punzalan '65, Gerry Abenes '66, and Tatang '67.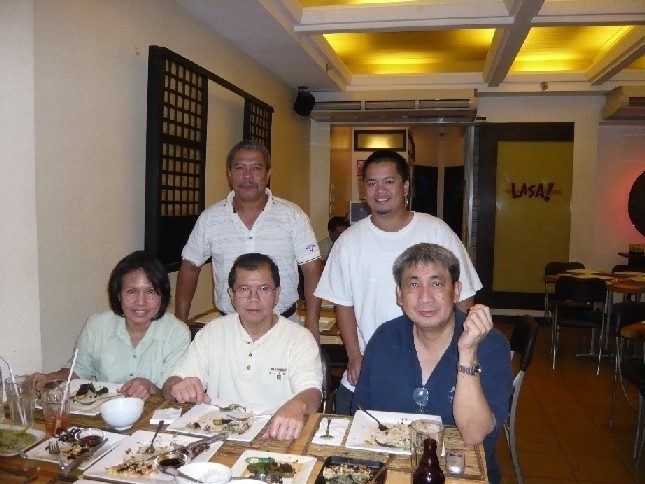 2008Jan Visit of Brods GabbyM and son Sam, JudzR and wife, w/ OllieJ.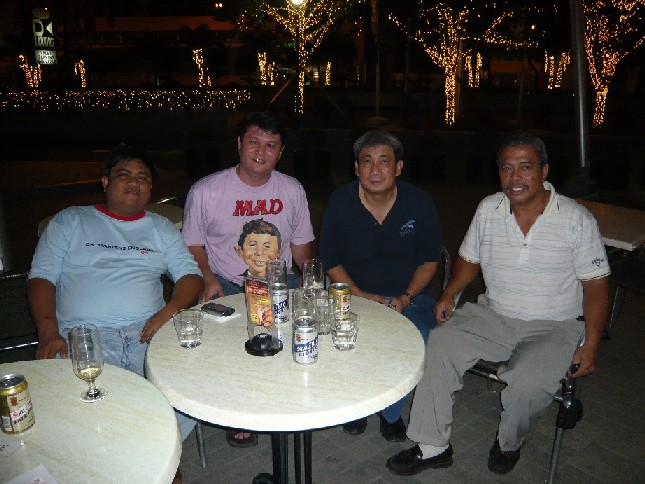 Later, Brod GabbyM with Brods Raffy, Dennis and Ollie.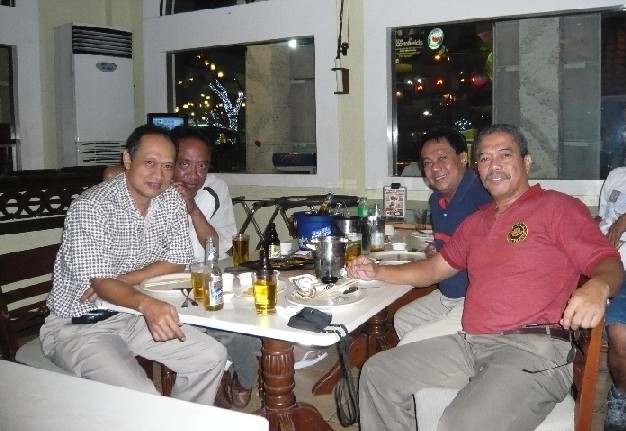 2007Reunion of UPD Batch 73c: DanBautista, AlbertBacungan, LeoPascua, & OllieJumao-as.