RP Undersecretary for Broadcast Brod Rolly Reyes, UPD'66, blew into town Jan. 25 after witnessing the new Filipino hero, Manny "The Destroyer" Pacquiao, blow out Mexican champ Erik Morales in 10 rounds in Las Vegas. It was also a welcome of sorts for Homeland Security/US Customs agent Brod Jun Valenzuela returning from a successful assignment in Lisbon, Portugal; and a sendoff for CKE exec Brod Rolly Balingit departing for St. Petersburg, Russia to set up its first Carl's Jr. burger store. (Rolly denies he'll be traveling with Carl's Jr. ad model Paris Hilton). Now there's a few good reasons for the UP SoCal Betans to gather and celebrate at Brod Rolly's suite at Universal City Hilton and "bring out the whiskey, bring out vodka". Cheers!!

In between the spirits and pulutans, as a member of the UPBSFAAI planning committee in Manila, Brod Rolly Reyes briefed the LA brods on the home preparations for our 60th milestone as well as the July 7-14 calendar of activities (see "The Affair to Remember" in Announcements/For General Public). He is diligently working with his office staff on getting a discounted travel and hotel package for overseas alumni planning to attend the grand anniversary. Rolly says the arrangements should be out sometime next month. We will certainly disseminate and webpost this package deal, watch for it. Rolly welcomes suggestions, opinions and recommendations and his email is rollyreyes@mac.com, mobile (0917) 898-9966 if you want to contact him directly.
His address: ROLANDO G. REYES
Undersecretary For Broadcast
Office Of The Press Secretary
Malacanang

One suggestion made by Brod Rey Bantegui was to sponsor a major sports event in the campus, like a marathon run. This will involve the studentry, give optimum exposure and highlight the positive contributions and image of the UP Beta Sigma Fraternity. Others have asked about the possibility of moving the reunion in December. In addition to the Big One in July, what about a smaller celebration around Christmas time to accommodate the balikBetans who might have missed July's, is another thought.

As if we don't know it already, Brod Rolly kept reminding us that we are not "spring chicken" anymore. Meaning let's drop the gloves, call and round up all the brods, get ready to pack up that suitcase (and golf bag). Let's enjoy the fraternal bond and share the most exciting and memorable moments at our Diamond Jubilee. After all the hard work and (yikes!) creeping years, we certainly deserve it. No better time to start than now.

'Pinas, Peyups – here we come!!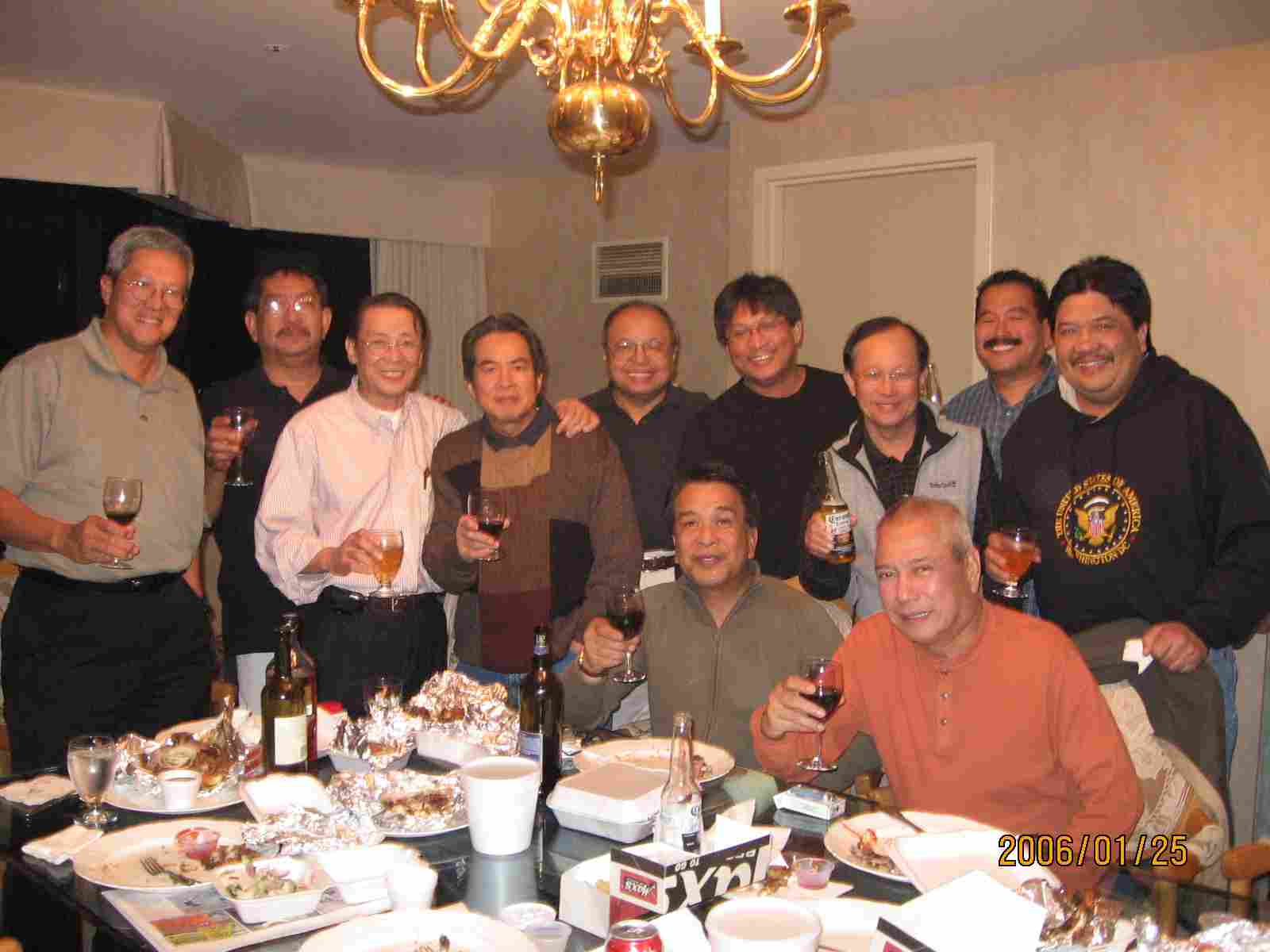 Cheers, Cheers!!! -- Sitting: Rey Bantegui'69, Nonoy Bautista'60. Standing: Rolly Balingit'69, Rolly Reyes'66, Tito de Santos'63, Elmor Villanueva'65, Hernan Tabamo'61, Sonny Pagador'76,
Frank Mamaril'56, Rod Reyes'71, Jun Valenzuela'73.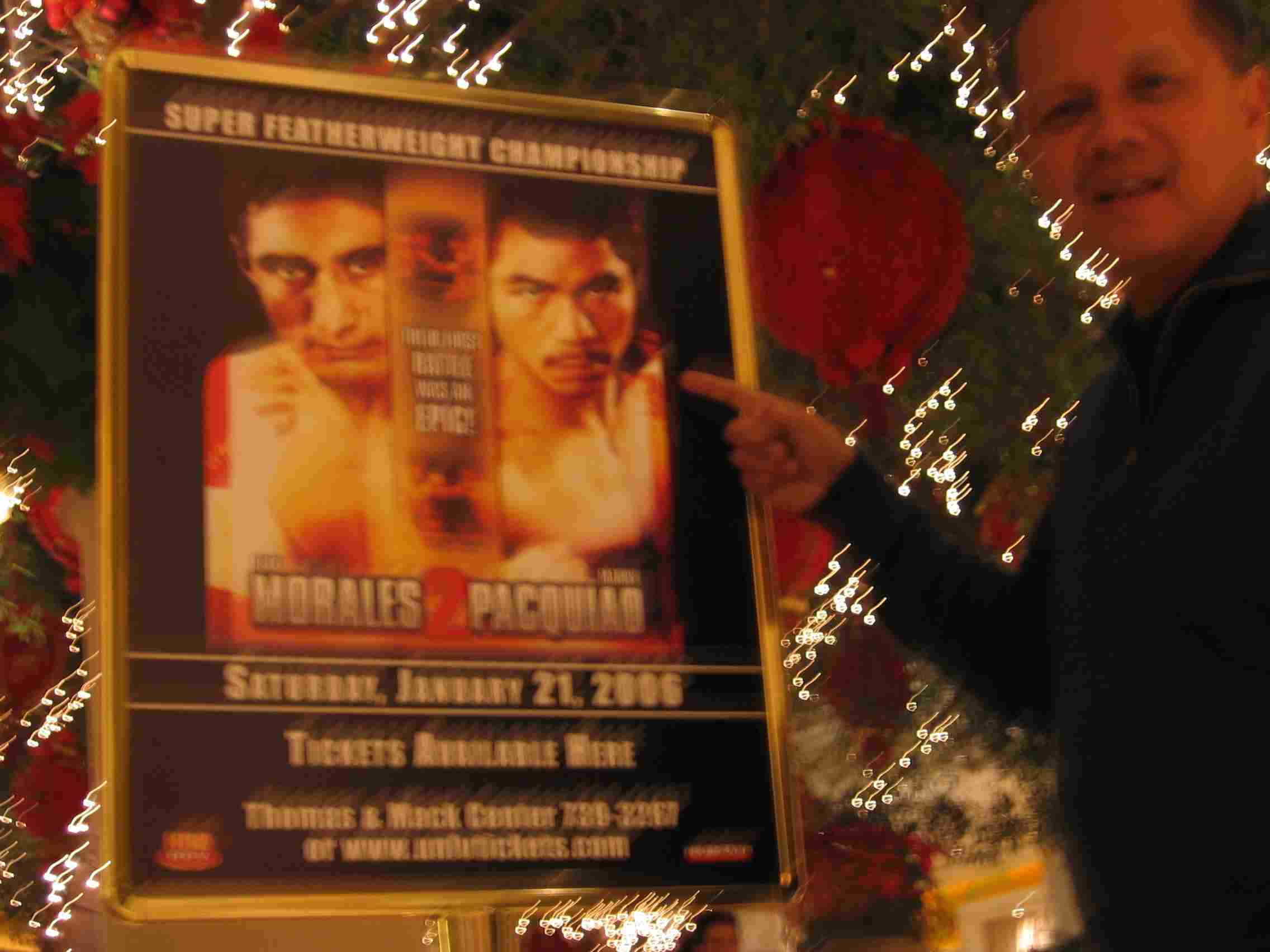 "Pac Man's my man!" -- NormanB picking his bet in Vegas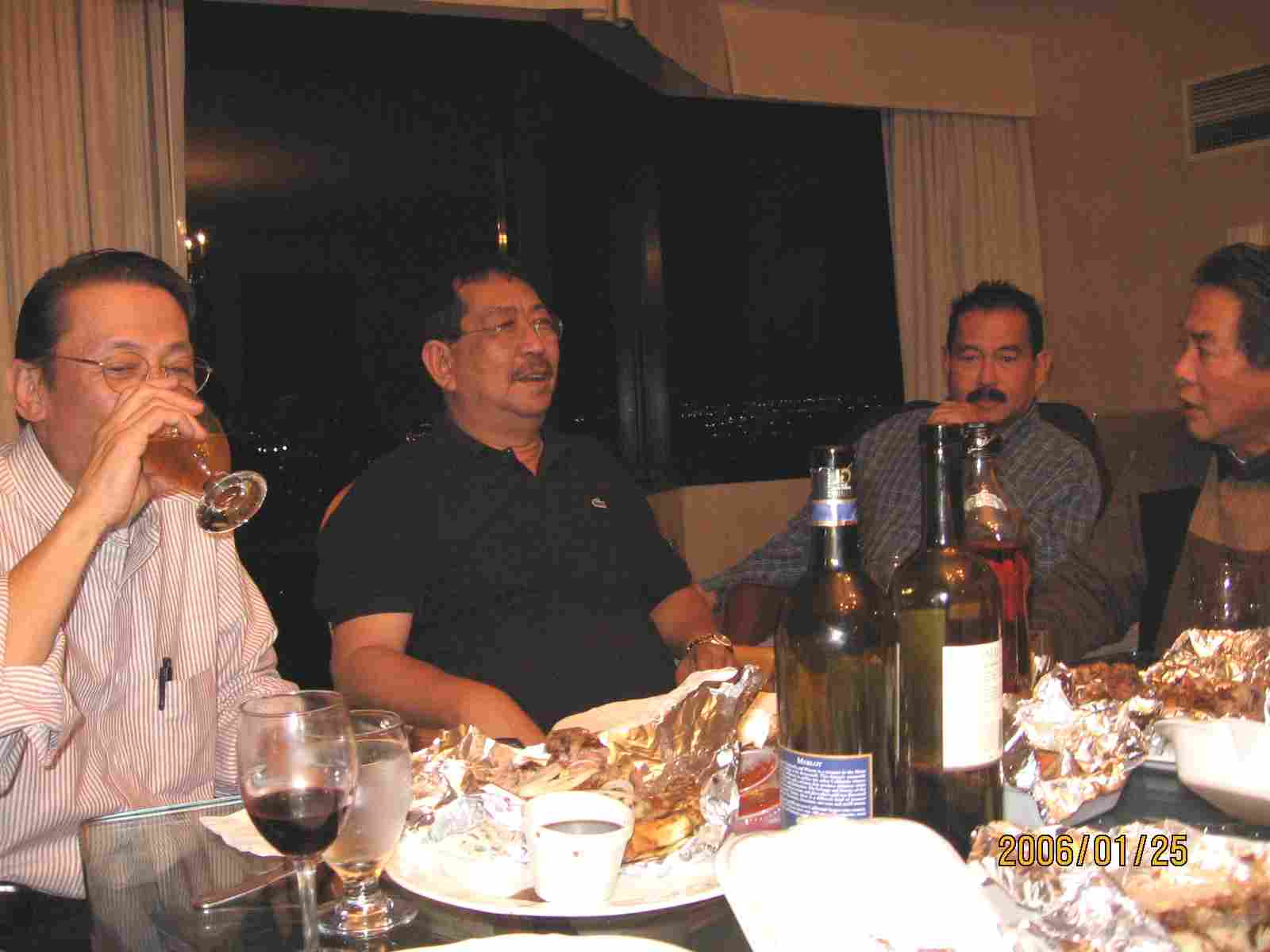 Bottom's up, Tito. Kayang-kaya ang Black Label...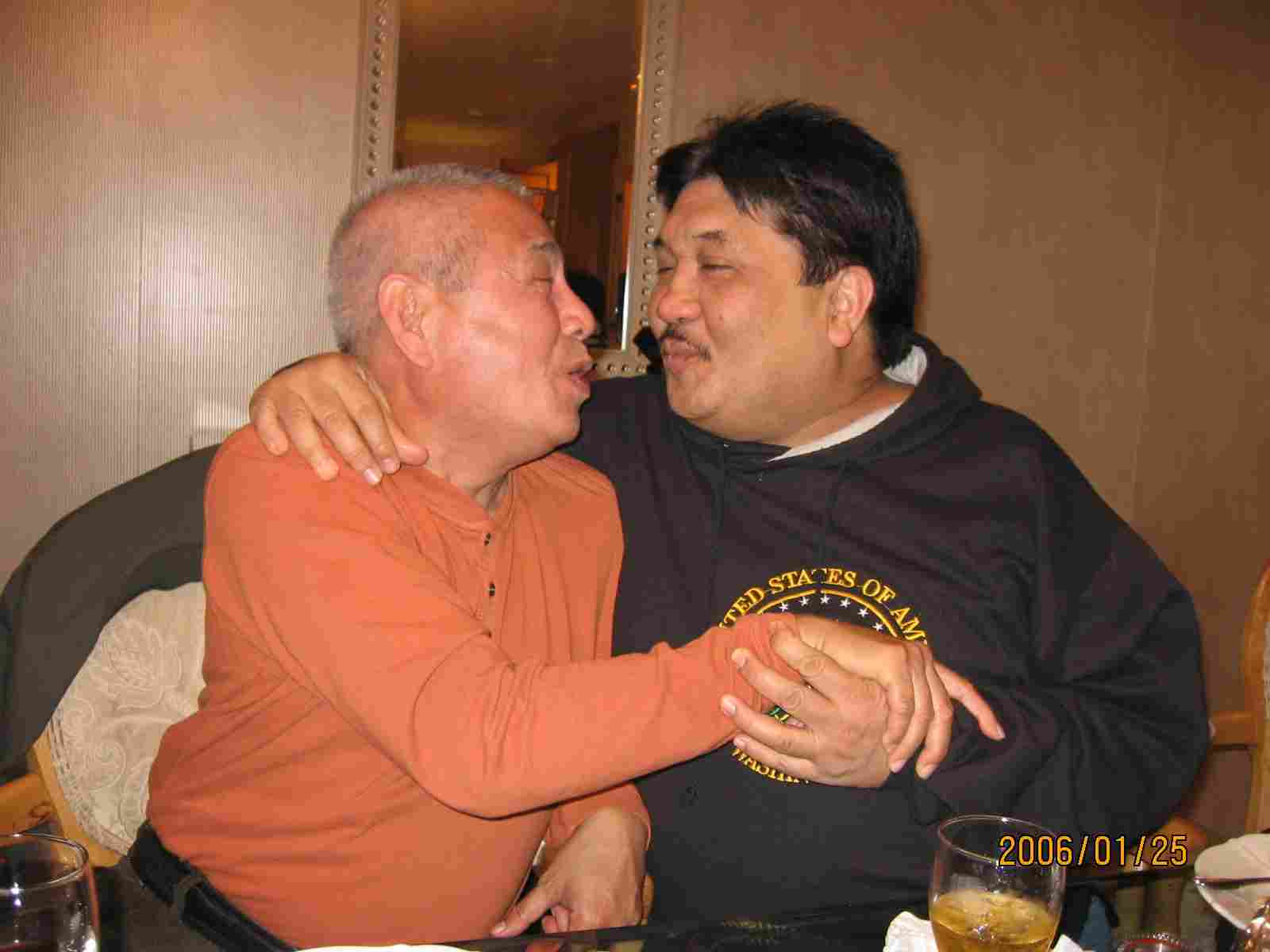 "Isang kiss nga..." -- Nonoy couldn't contain his glee in seeing his old partner-in-crime, Vale.
Puede ba, 'tols, sa TJ niyo na ituloy 'yan...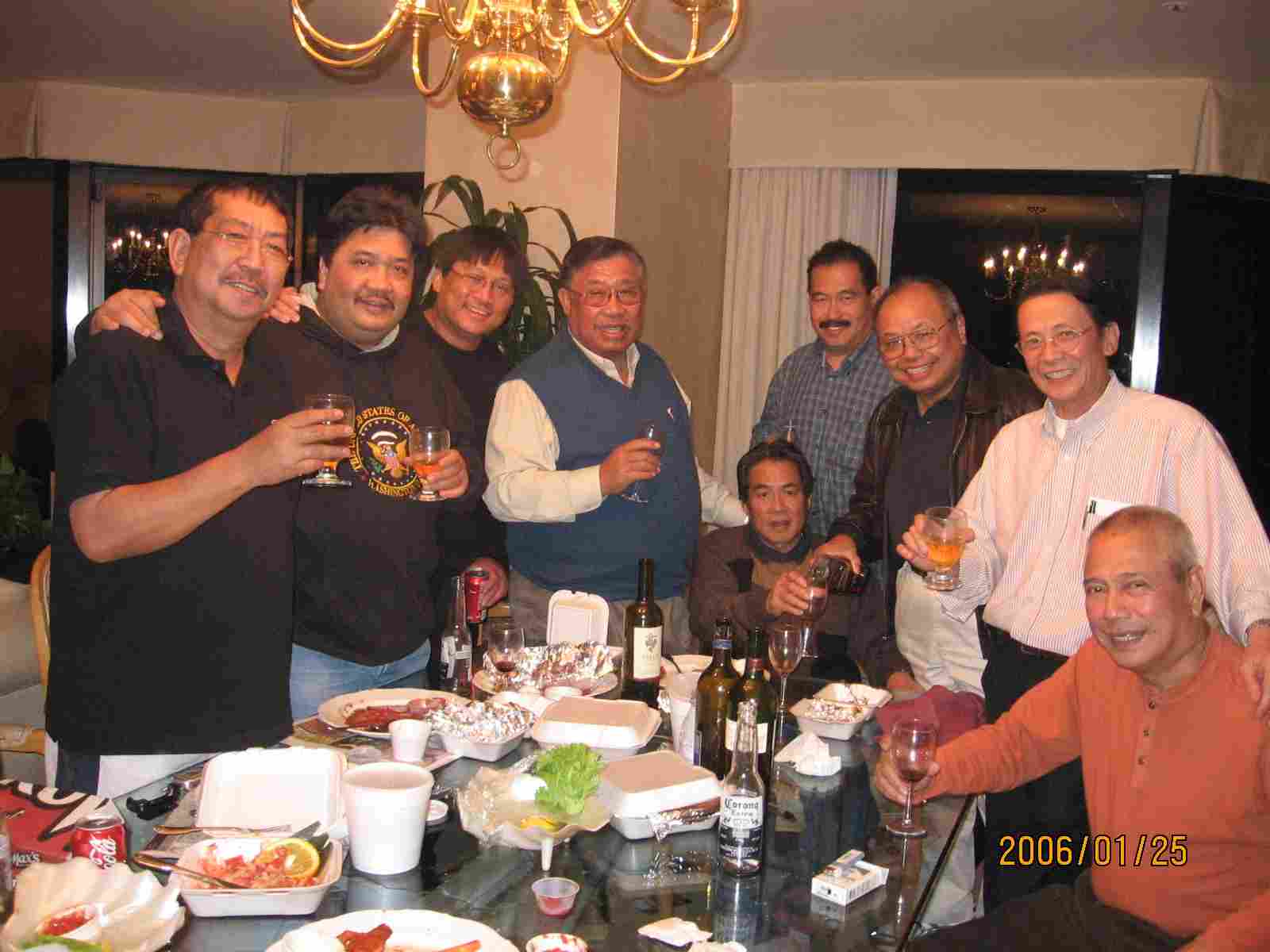 Last one for the road, plus Rolly and Rod's cousin from Sta. Maria, Bulacan - Herm San Luis'59.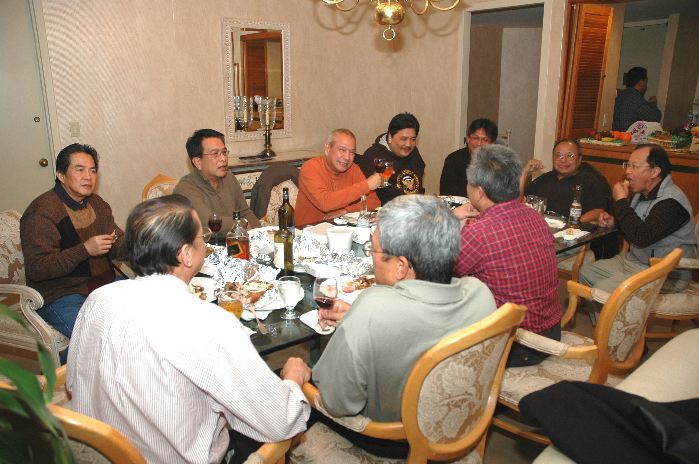 Group Pic #1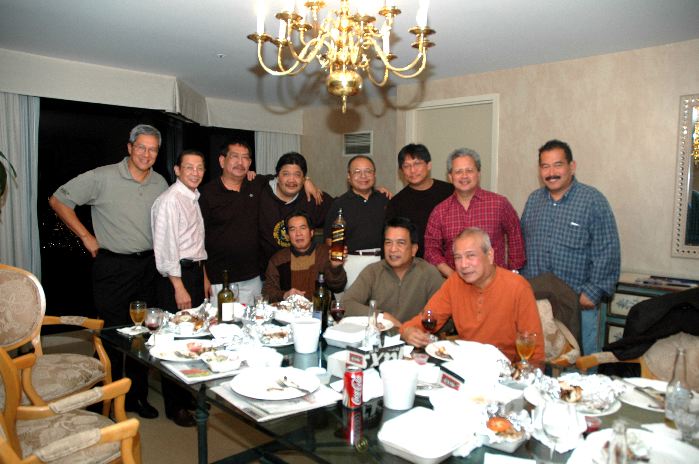 Group Pic #2