A Summer Hike in Utah's National Parks
by Norman Bituin, 8-13-2009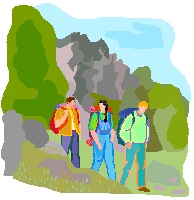 All of us have made a trip at one time or another. In the Philippines, in North America, in Europe, around the world. By land, sea or air. So I thought this new section would be an interesting, useful and inclusive addition to our website. Everyone could participate, contribute and share their travel tales, suggestions, caveats and tips of past or recent vacations. This should give our Betan families and readers insight and enjoyment from these adventure stories, especially with the accompanying photos. Coming back from my self-appointed 1-week break from my UPBSFI web chores, to start the ball rolling I am happy to volunteer this maiden issue in "Travelogue".
This was our third visit to Utah's "Big 5": Zion, Bryce Canyon, Arches, Canyonlands and Capitol Reef. Due to time constraint, we skipped Capitol Reef this time. However, it was our first experience on the Colorado River. Our family's first wild water ride was in 1990, a year before our youngest, Kurt, was born. From Yellowstone National Park, Cherry, our then 9 and 8 year-old daughters Jennifer and Jamie, and I rafted the Shoshone River in Cody, Wyoming.
Since it's the school break and Jen had just finished teaching her summer classes, she proposed that we hit the road again and be on the "Wild Blue Yonder" (read: no LA smog). We decided on Utah because Zion and Bryce Canyon are only about 3 hours away from Las Vegas, which would be our last overnight "watering hole". Actually, playing the slots and tables in Las Vegas could be just as tiring or exciting as hiking in Utah, depending on your luck.
This was a 7-day trip from Aug. 1, Saturday morning to Aug. 7, Friday afternoon. We spent two nights in Springdale, Utah, which was our base for Zion and Bryce Canyon; three nights in Moab, Utah, 380 miles northeast of Springdale, which was our base for Arches and Canyonlands; the last night at The Venetian in Las Vegas.
I will now let the pictures speak for themselves. Now on to the "Wild Blue Yonder".
1. Zion National Park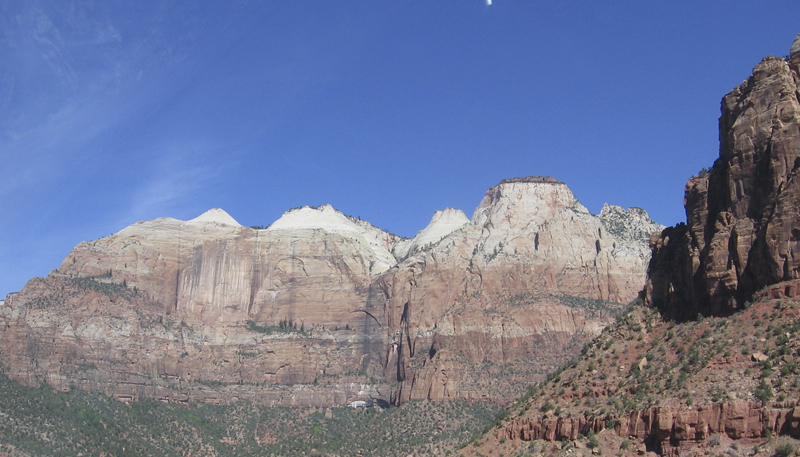 Zion National Park, comprising 146,551 acres, is the site of a beautiful canyon. Zion Canyon is famous for its majestic 2,000-foot-high vertical walls of Navajo Sandstone. This formation resulted from the massive sand dunes present in the area during the Jurassic period, about 170 million years ago. Although the rocks are fairly old ("middle age" by geologic standards), the canyon itself is "quite recent." Geologists believe the uplift and canyon carving began no earlier than 10 to 12 million years ago.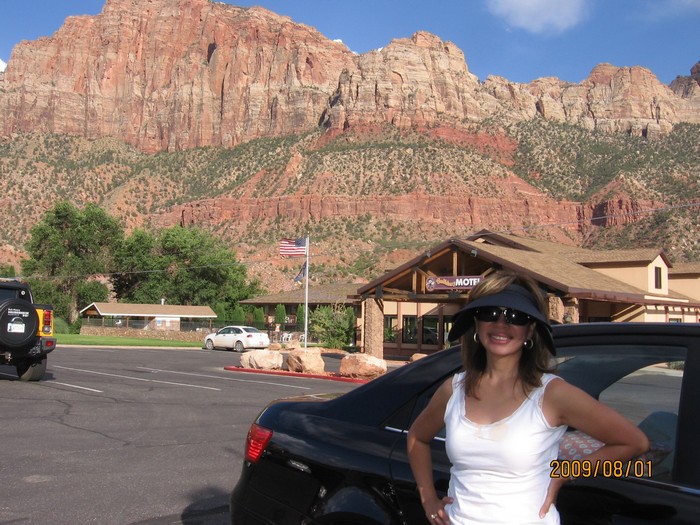 We stayed at Bumbleberry Inn, right at the heart of Springdale, which is adjacent to Zion NP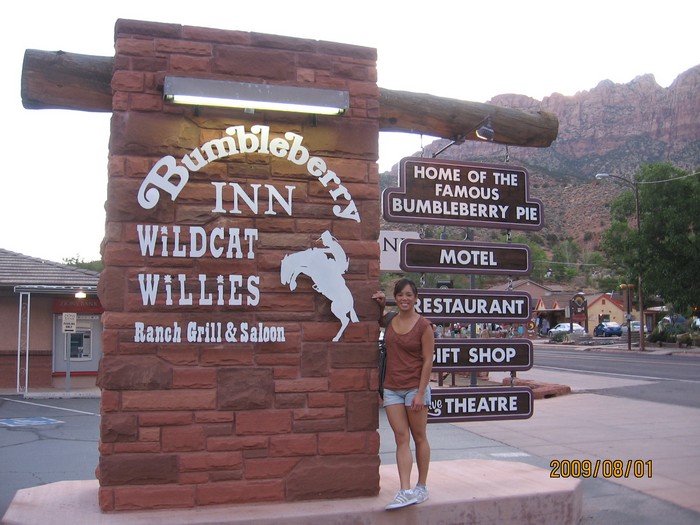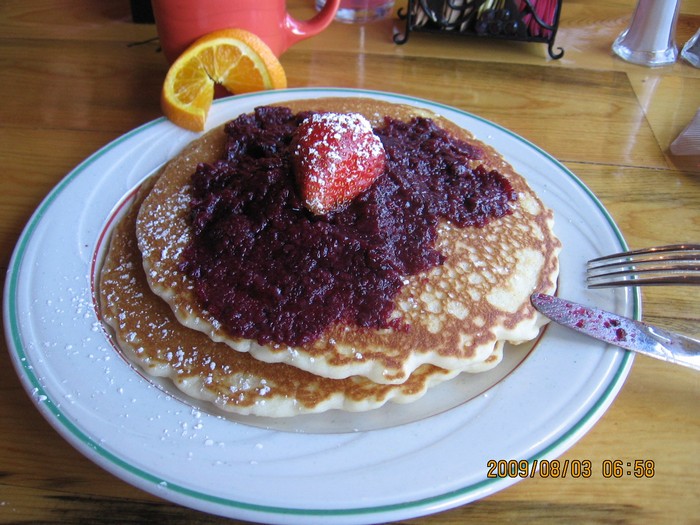 Bumbleberry Inn has a bakery which is famous for its Bumbleberry pie. I had Bumbleberry pancakes for breakfast.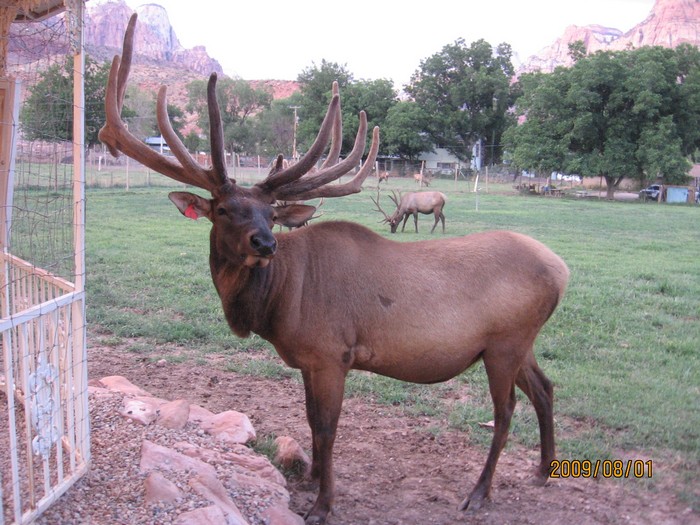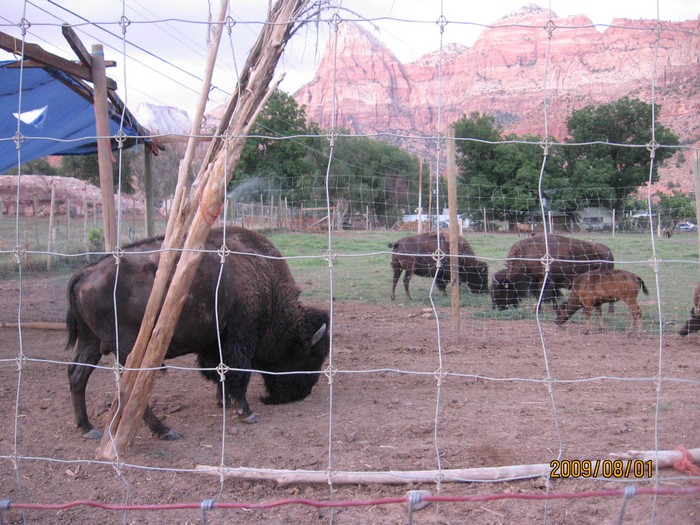 Across the street is a farm open to the public where elk, bison and longhorns graze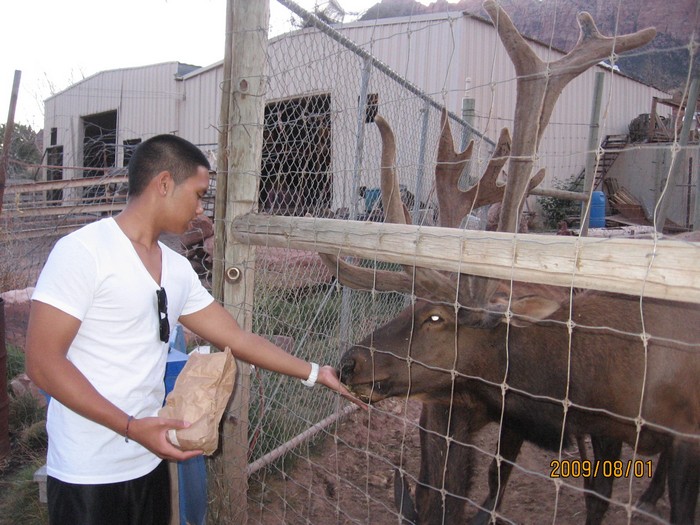 Kurt feeds the elk with food pellets sold at $3 a bag by the farm to help in their expenses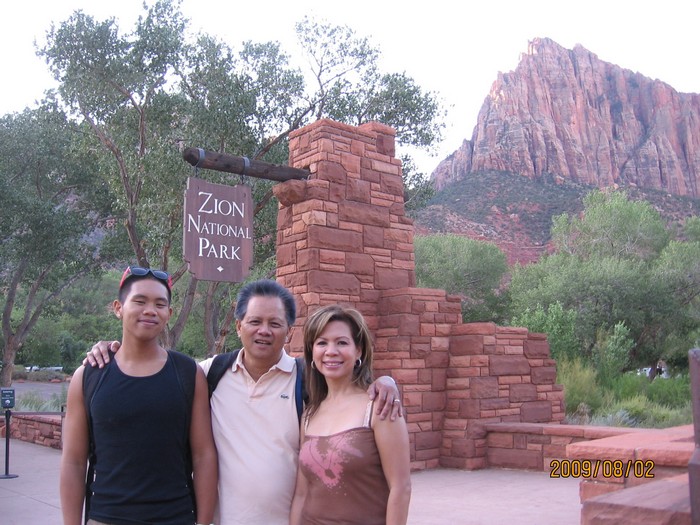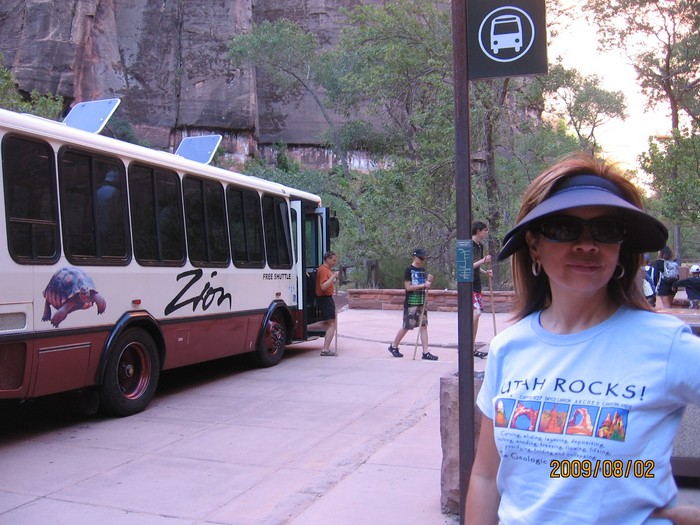 Free shuttle service is provided from Springdale. Unless you are staying in Zion Lodge or campground, private cars are not allowed.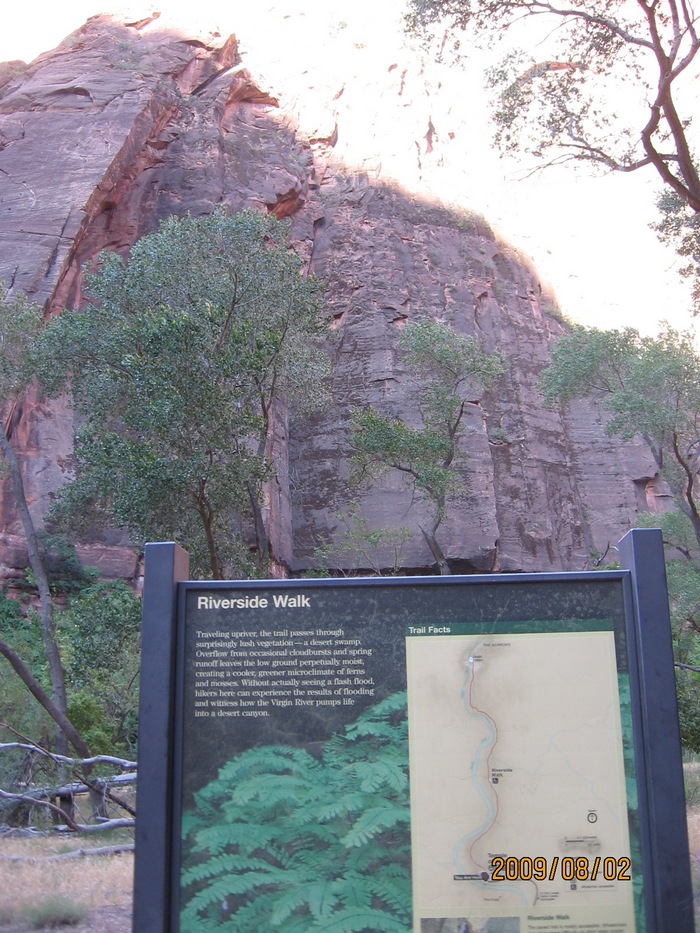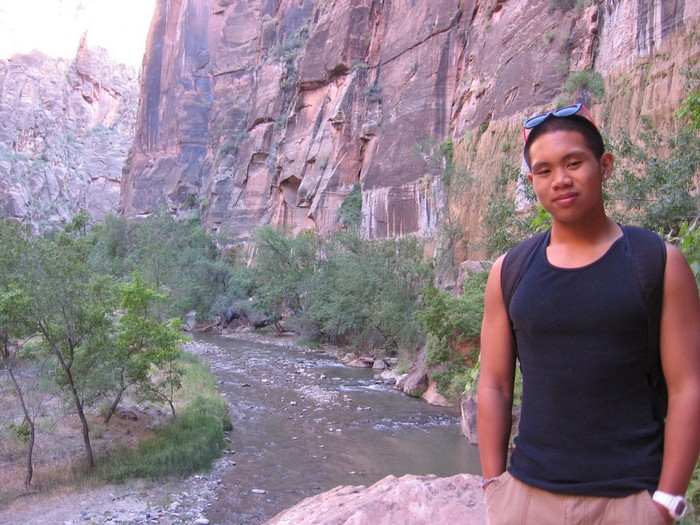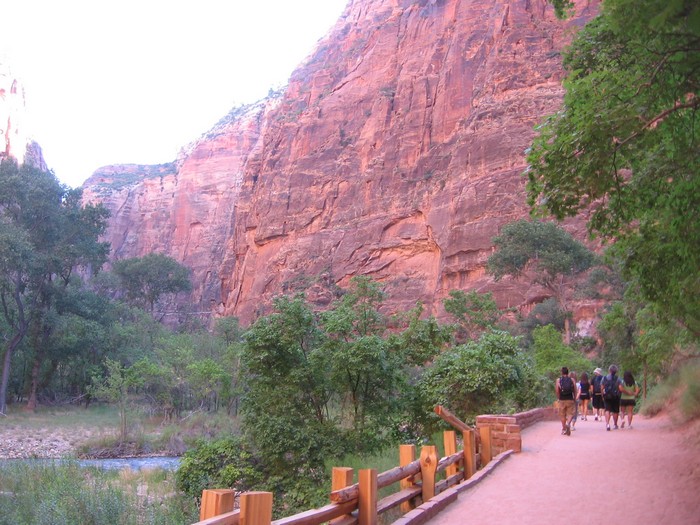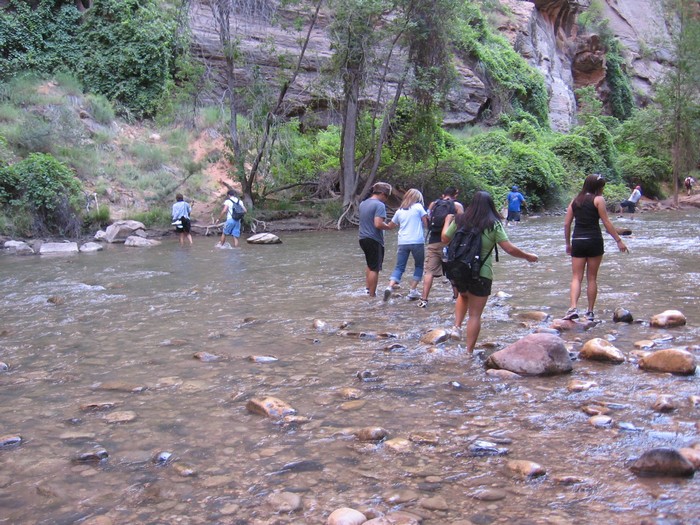 This is Riverside Walk Hiking Trail where you literally have to walk in the river to get across to the Narrows Hiking Trail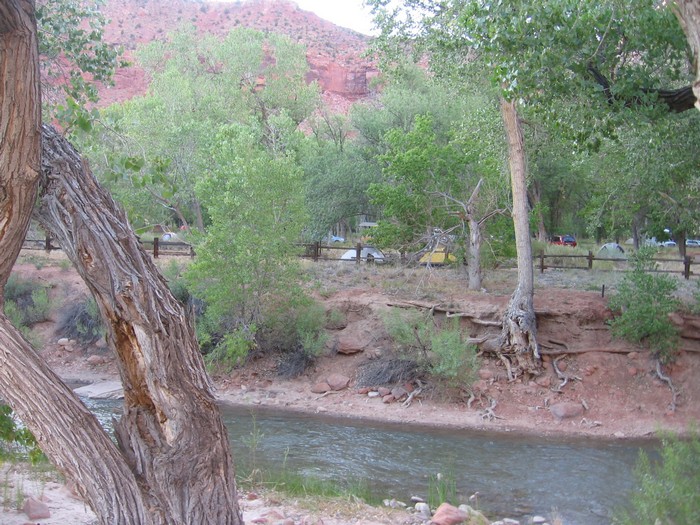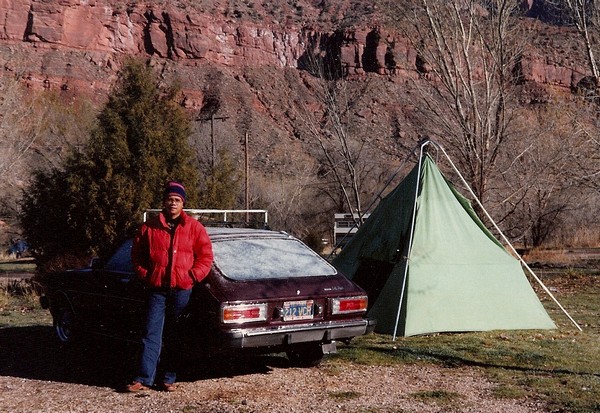 The 2009 Zion Watchman camp (left pic) where Cherry and I tented and cooked food with our Coleman stove in spring 1980 (right pic)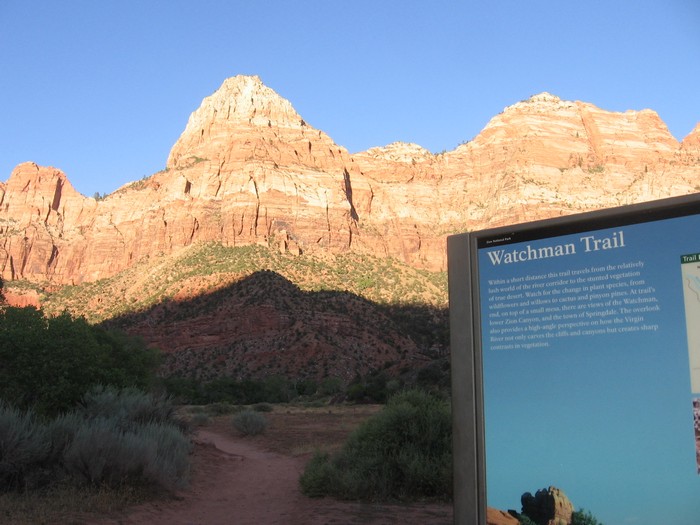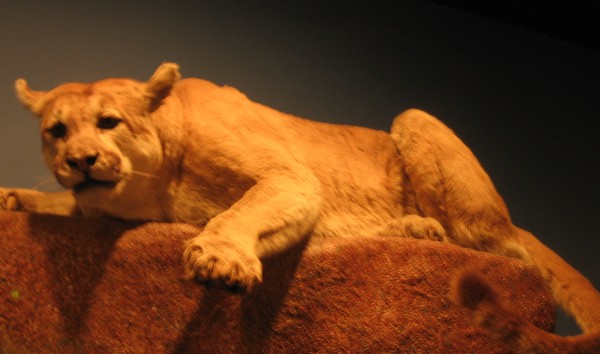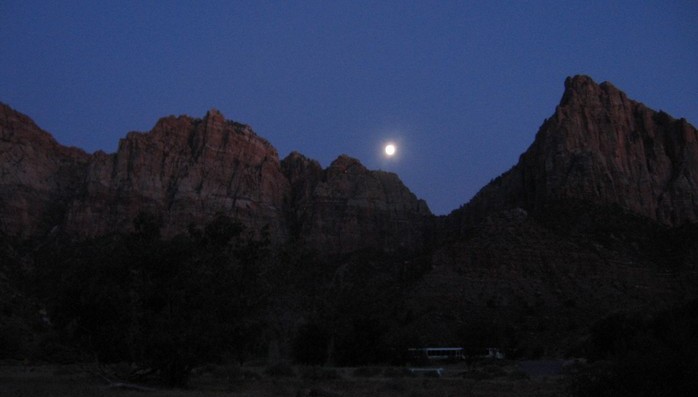 At 7p, I decided to do the Watchman Trail alone, an uphill 3.5 mile, 2-hour round trip. I was a bit concerned as I forgot to take my buck knife in case I encountered a mountain lion (museum exhibit above), which we were warned comes out to hunt as soon as it starts to cool down when the sun starts to fade (like a knife could save me from a hungry predator). It was already dark, but with a full moon, when I got down from the trail. When we got home in LA, I was sad to see on the tv news that over the weekend a lady hiker had fallen over 1,000 feet from the dangerous Angel's Landing Trail, claiming its 7th victim. Only 2 hikers had fallen and died from Watchman Trail. Obviously I was not one of them (or eaten by a mountain lion).
2. Bryce Canyon National Park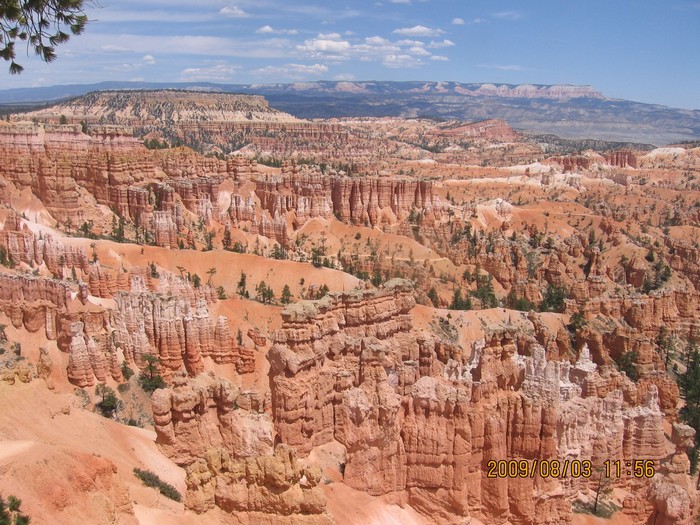 Elevation, climate, rock type and the plateau's orientation are elements that, when combined, form unusual shapes called hoodoos. The name given to the rock layer that forms hoodoos at Bryce Canyon is the Claron Formation. This layer has several rock types including siltstones and mudstones but is predominately limestone. Thirty to 40 million years ago this rock was "born" in an ancient lake that covered much of Western Utah.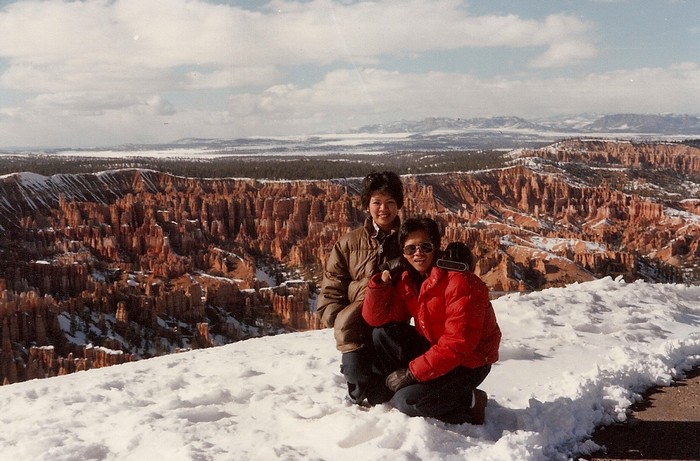 A photo of Cherry and me (no kids yet). This was on our first visit to Bryce Canyon in the spring of 1980.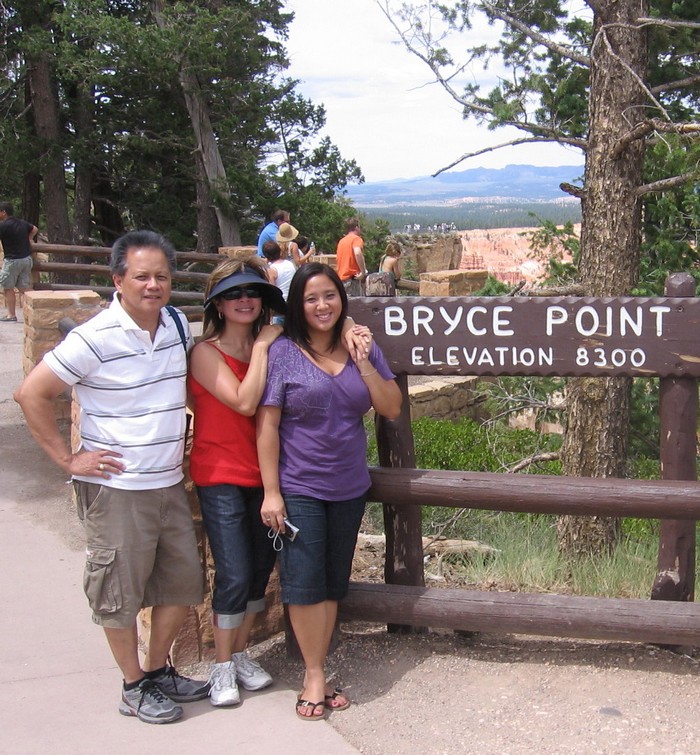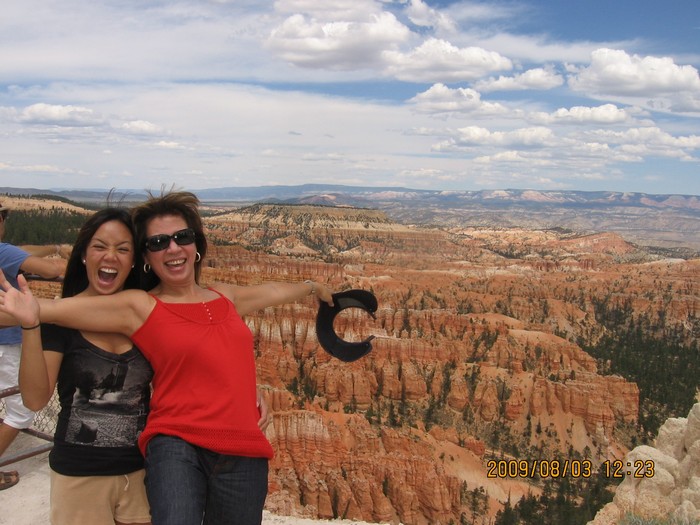 Almost 30 years hence - with Jen and Jamie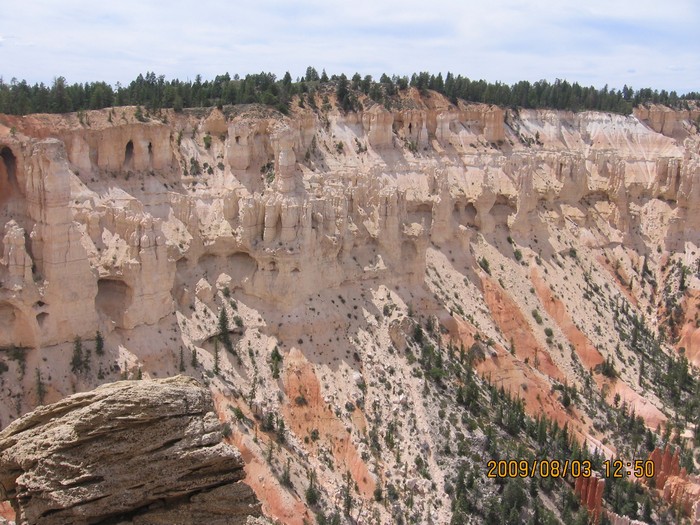 The Grotto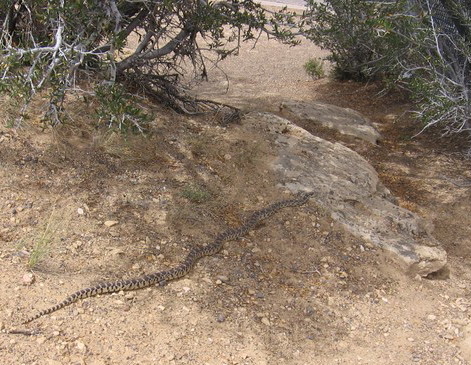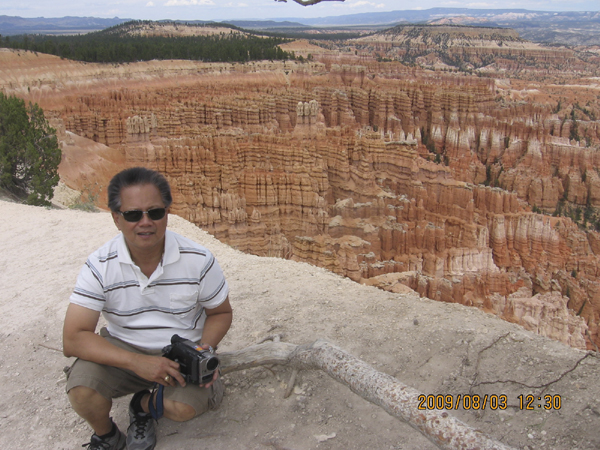 A snake joins the humans on the viewpoint area
3. Arches National Park

Arches National Park lies atop an underground salt bed, which is the main cause of the formation of the arches, spires, balanced rocks, sandstone fins, and eroded monoliths in the area. This salt bed is thousands of feet thick in places, and was deposited over the Colorado Plateau some 300 million years ago when a sea flowed into the region and eventually evaporated. Humans have occupied the region since the last ice age 10,000 years ago. Fremont people and Ancient Pueblo People lived in the area up until about 700 years ago. Spanish missionaries encountered Ute and Paiute tribes in the area when they first came through in 1775. A number of Hollywood Western classic movies including "Rio Grande", "Warlock" and "The Comancheros" and more recently "Indiana Jones" were shot in this location.
"The Balanced Rock", through the years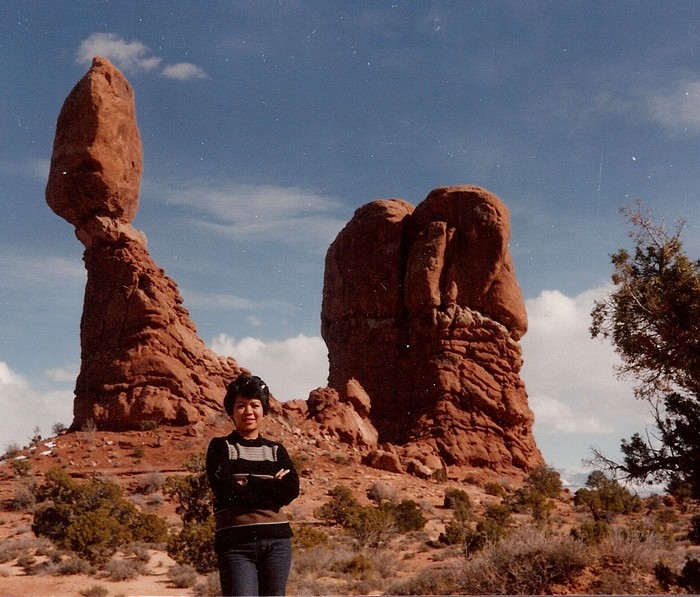 1st visit: Circa 1980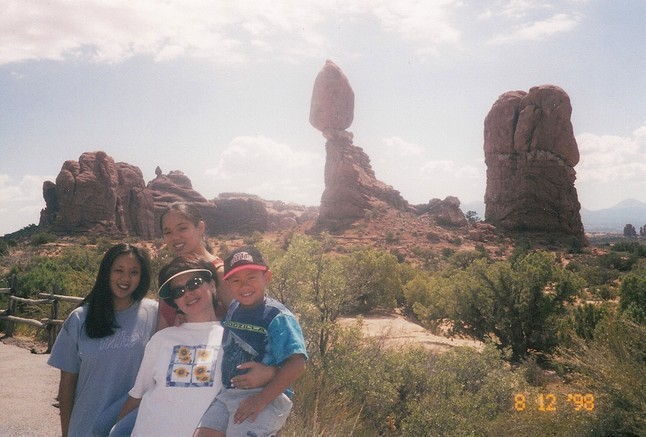 2nd visit: Circa 1998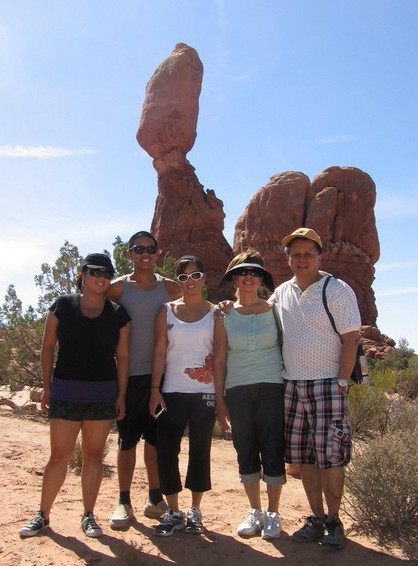 3rd visit: Circa 2009 - still balanced and holding steady!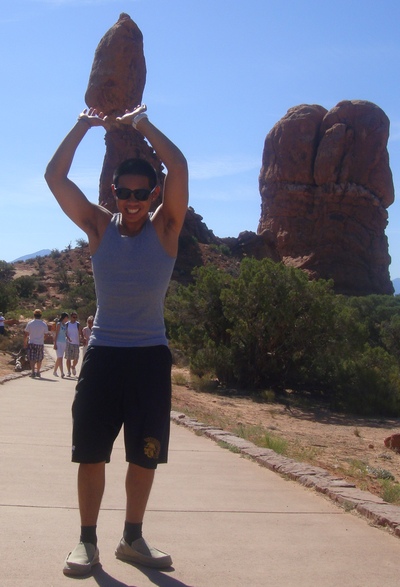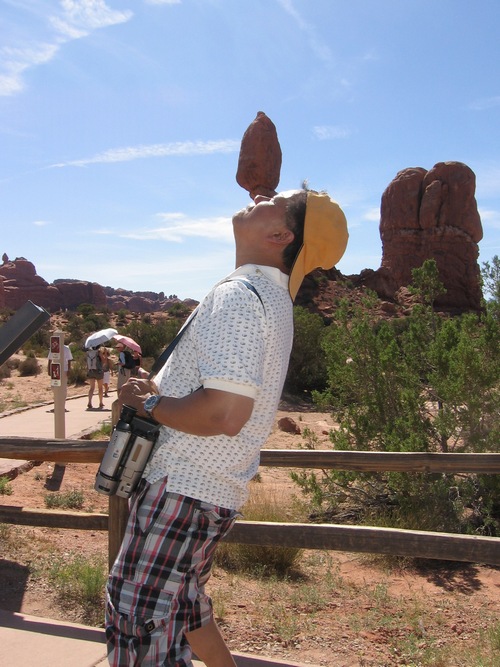 Who's stronger? Kurt "hand-lifts" while Norm "nose-lifts" the estimated 140-ton Balanced Rock
"Delicate Arch"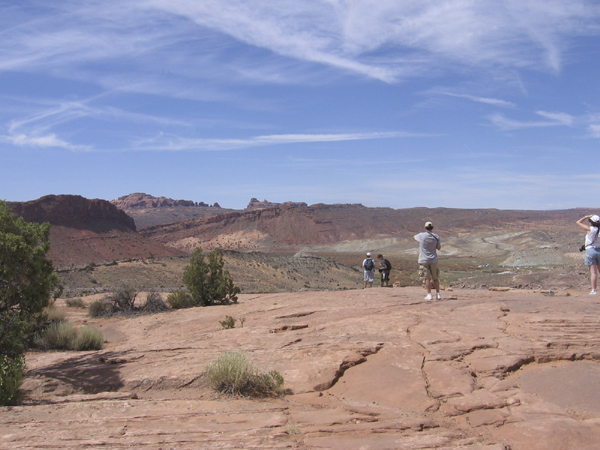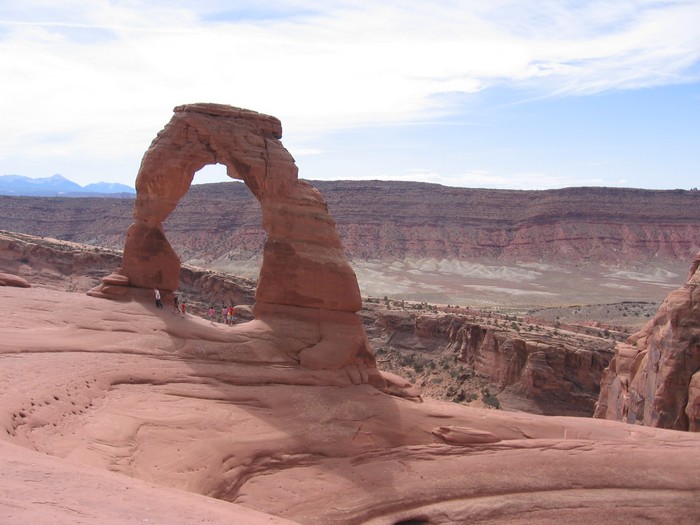 Delicate Arch is formed of Entrada Sandstone. It is located at the end of a moderately strenuous, 1.5 miles hiking trail
from the parking area at Wolfe Ranch. Taking 30-45 minutes each way, the round trip is slightly more than 3 miles long.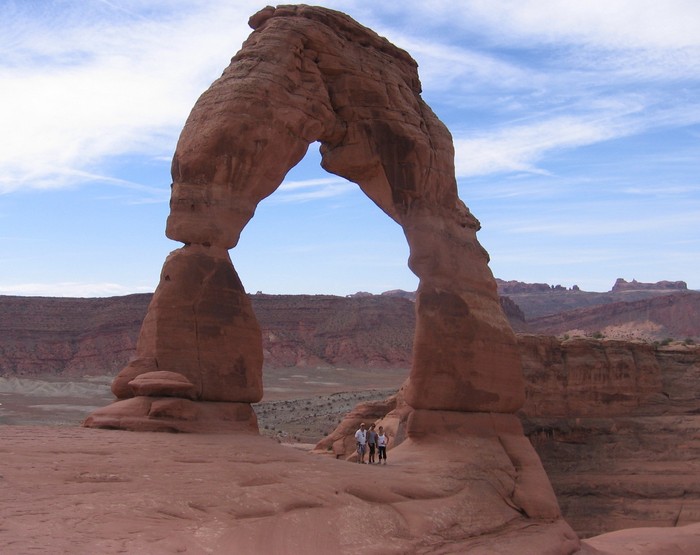 We made it to the top of the trail and under the Arch
4. Canyonlands National Park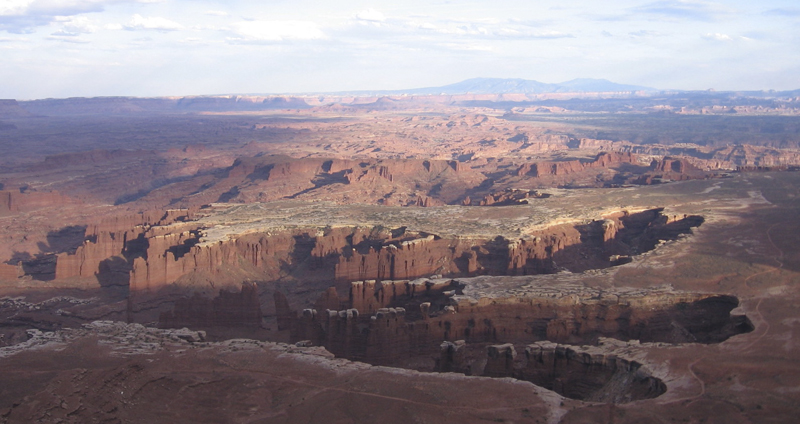 Canyonlands National Park is a showcase of geology. Until about 15 million years ago, most of the canyonlands area was near sea level. Local uplifts and volcanic activity had created features like Capitol Reef's Waterpocket Fold and the La Sal Mountains near Moab. Today, the average elevation is over 5,000 feet above sea level. Desert bighorn sheep live year-round in Canyonlands.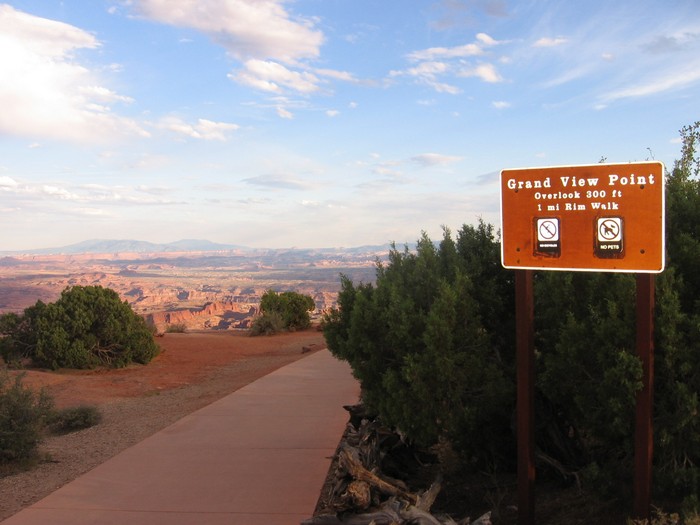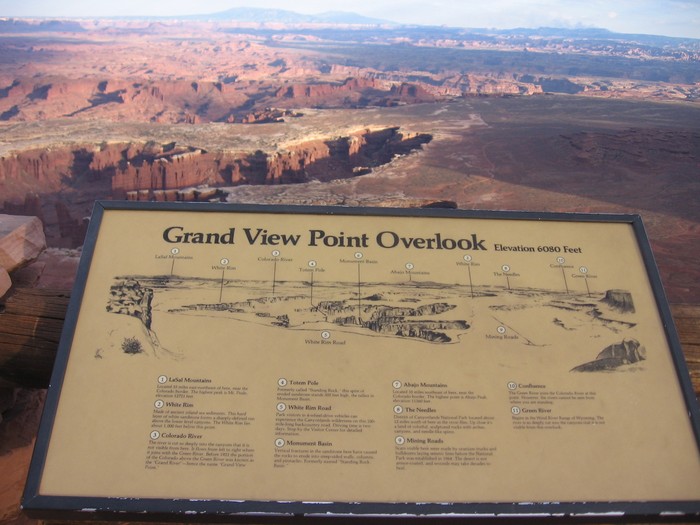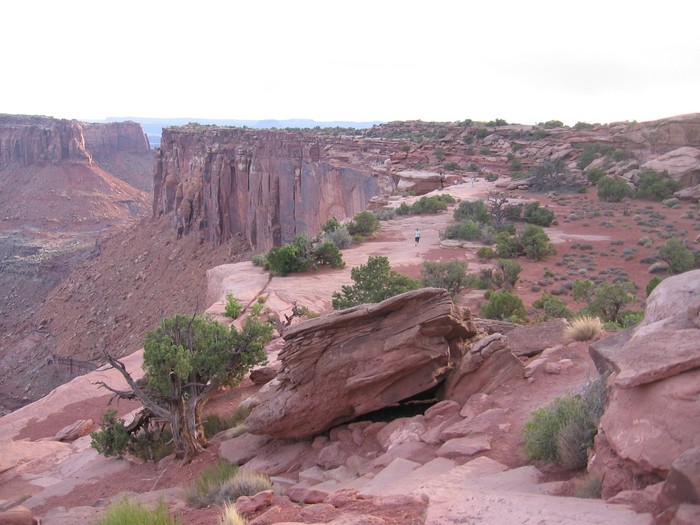 Kids decided to rest at the motel, Sleep Inn, after doing Arches in the morning. Cherry (walking afar) and I hiked
Canyonlands in the late afternoon to avoid the heat, with a high of 102 degrees in Moab.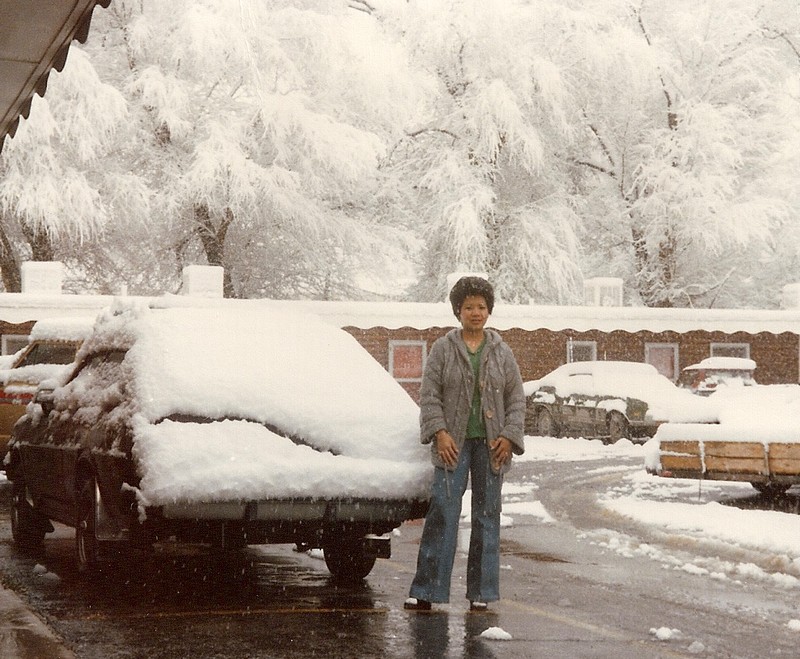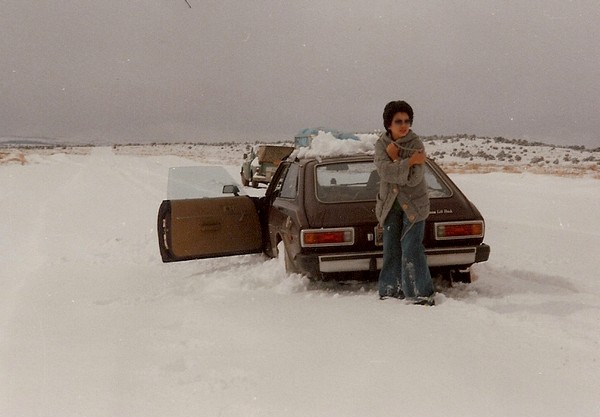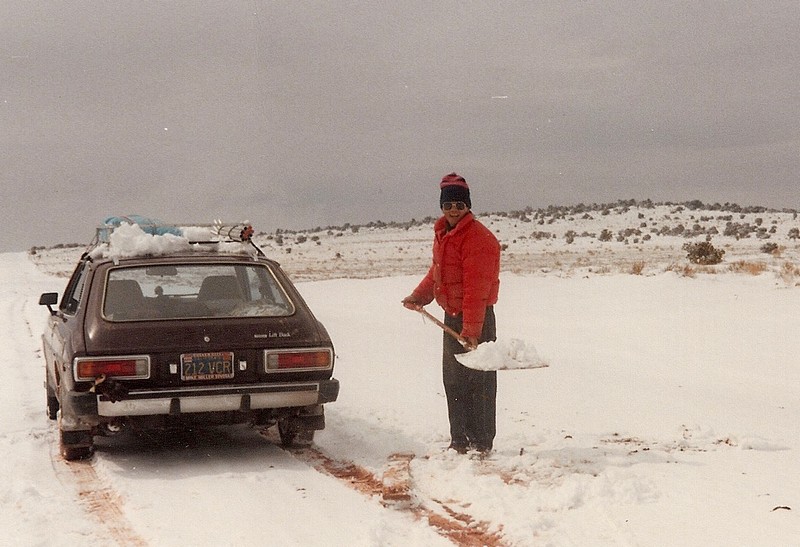 In contrast, on spring March 1980, a sudden blizzard caused us to hurriedly pull down our tent in a campground in Arches and
sleep the night in a motel in Moab (top pic); then we got stuck in the snow trying to go inside Canyonlands (bottom pics).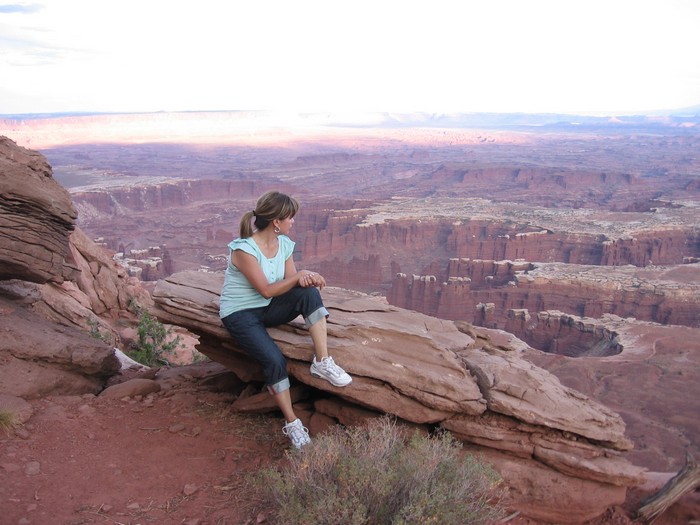 Truly, a "Grand View Point"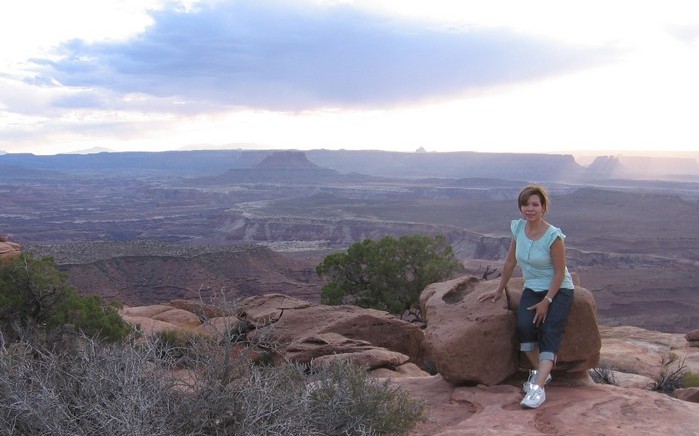 Sundown slowly creeps in Canyonlands
When we left Canyonlands it was completely dark and still. I marveled at the thought that we were walking at this spot on
earth that has been here for millions of years. I imagined and wondered how life was when early men roamed and lived in
this vast valley, how they coped with the harsh environment and the moonless nights.
5. Colorado River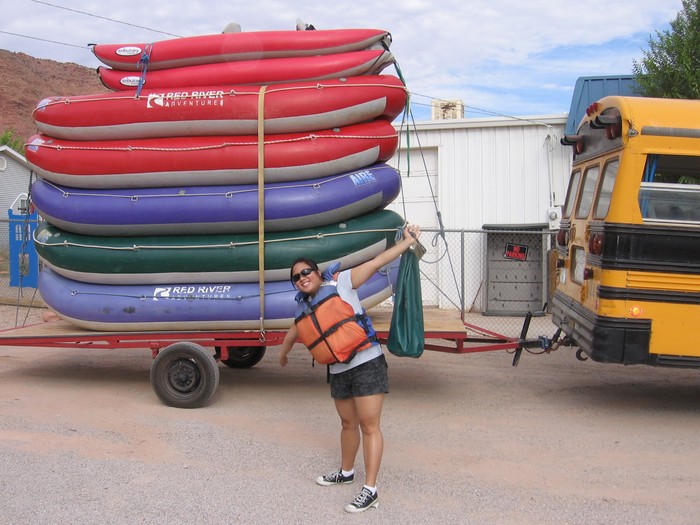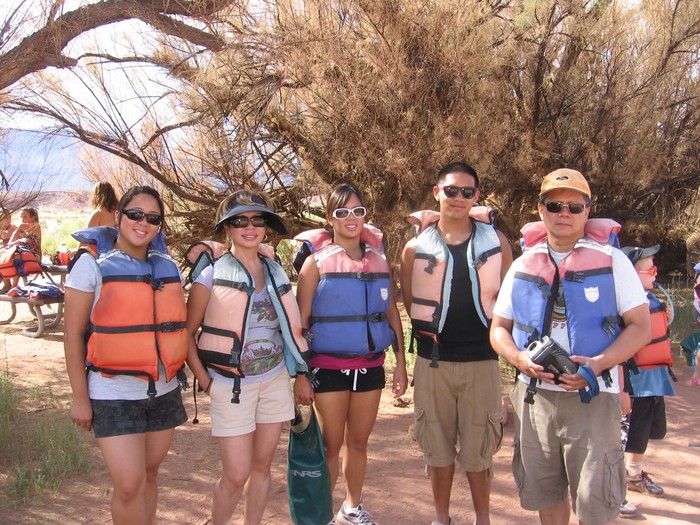 We used Red River Adventures (www.redriveradventures.com) in Moab. Full day trip was $64 per person with lunch.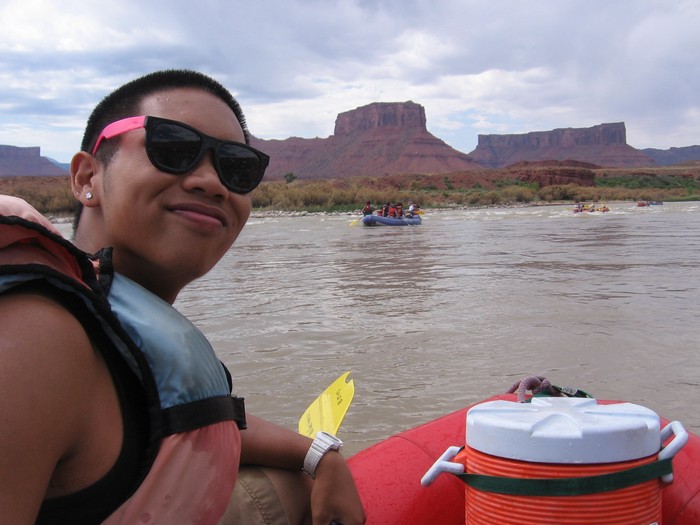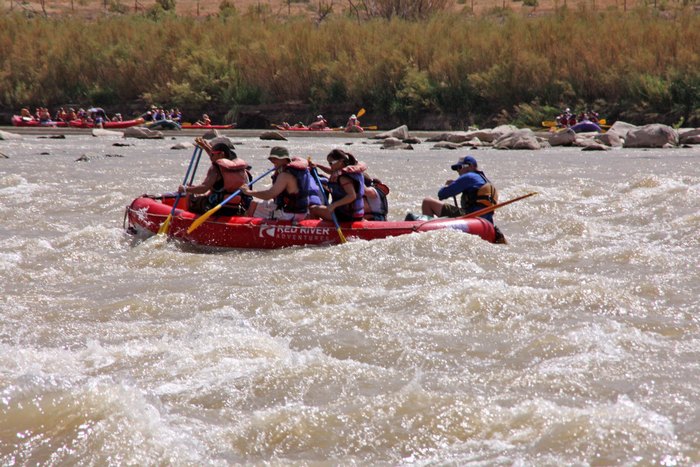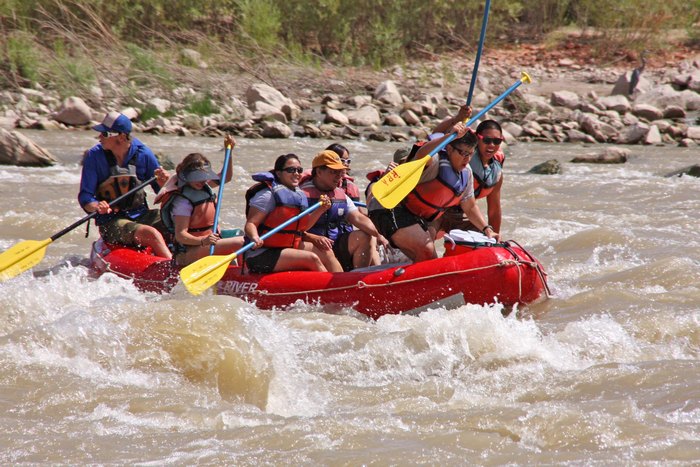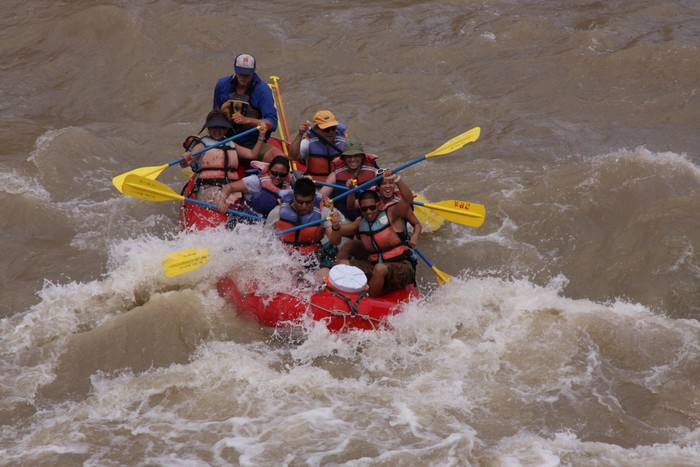 The boat guide-pilot sits at the back, steers and gives the commands. Riders do the paddling.
Action Shots in Moab takes official photos (the last 3 here) which you can buy at their office.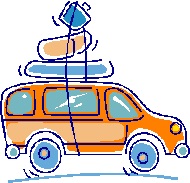 Brods, now it's your turn. Be hearing from you!!!