UPBSFAAI Hosts for Tetada Kalimasada International Master
-Ibu Ida Surohadi
by rbe73c
The UP Beta Sigma Fraternity Alumni Association, Inc. hosted dinner for Dr. Ida Surohadi, SpK&A, the International Master of Tetada Kalimasada (TK), at the Club Filipino in San Juan, Greenhills, MM. TK is an Indonesian-based discipline that practices the activation of the human electric generator and its optimization to generate our body's bioelectricity which can be used for healing. By a specific method and practice, the bioelectricity can flow to any part of our body and even project it. This way, it can be used to treat ourselves and other people, and even to control our emotions.
On a Sunday, 20November2005, brods who are active TK practitioners had to dig up and don the attire that used to be seldom seen Malmons wear- jusi barong, to honour the person responsible for the technical aspects of the TK discipline internationally, Ibu Ida. The affair was made possible by UPBSFAAI Chairman/President Brod Vic Ramos '63A, thru the intercession of Brod Bing Garcia '71B, the Assistant Pelatih (Aspel) for Alabang (South) TK Training Center, where Brod Vic trains.
Brod Vic welcomed Ibu Ida and the rest of the guests, including the National Pelatih for the QC TK Center, Col. Gil Aganon. Brod Rico Arranz '46 took time to find out if TK can help improve his golf swing, while Brod Matt Defensor '61 took leave from his usual hectic schedule to join the brods and confirm he is joining TK very soon! Brod Vic, to the delight of those present, declared that after only a few weeks of TK practice, he and his wife are already enjoying the benefits of the "inner energy", doing away with medications normally prescribed for the purpose, e.g. viagra, cialis, etc. Brod Vic is already a Dasar Satu, the 3rd level in the first package (Dasar) of TK practice.
In his remarks, Brod Tem Rodriguez '47, the oldest Beta Sigman TK practitioner, presented to Ibu Ida the Beta Sigman National Pelatihs (TK Trainors) and Assistant Pelatihs, who easily constitute more than half of the total in the Philippines today:
National Pelatihs:
Tem Rodriguez
Mars Robosa
Ollie Jumao-as
Assistant National Pelatihs:
Chito Tapawan
Butch Madarang
Assistant Pelatihs:
Jun Advincula
Bing Garcia
Dave dela Torre
Rory Fernandez
Rex Iwuanyanwu
Shio Mambuay
Boy Morales (not in dinner)
Rudi Oviedo (not in dinner)
In her response, Ibu Ida thanked the U.P. Beta Sigma Fraternity for the very active participation of its members in the Tetada Kalimasada practice, and enjoined all brothers to continue in helping spread the TK practice to more Filipinos, to bring good health to our countrymen. All brods present expressed full support via the hearty applause given her. She then gladly obliged to pose with the overly-eager brods.
And the brods lingered for a while after the guests left, with Brod Vic directing the next steps to be taken to ensure TK practice among brothers will expand, not only locally, but also internationally...
...PICTURES FROM THE CLUB FILIPINO DINNER...

The welcome banner... handed to the honoured guest as souvenir afterwards.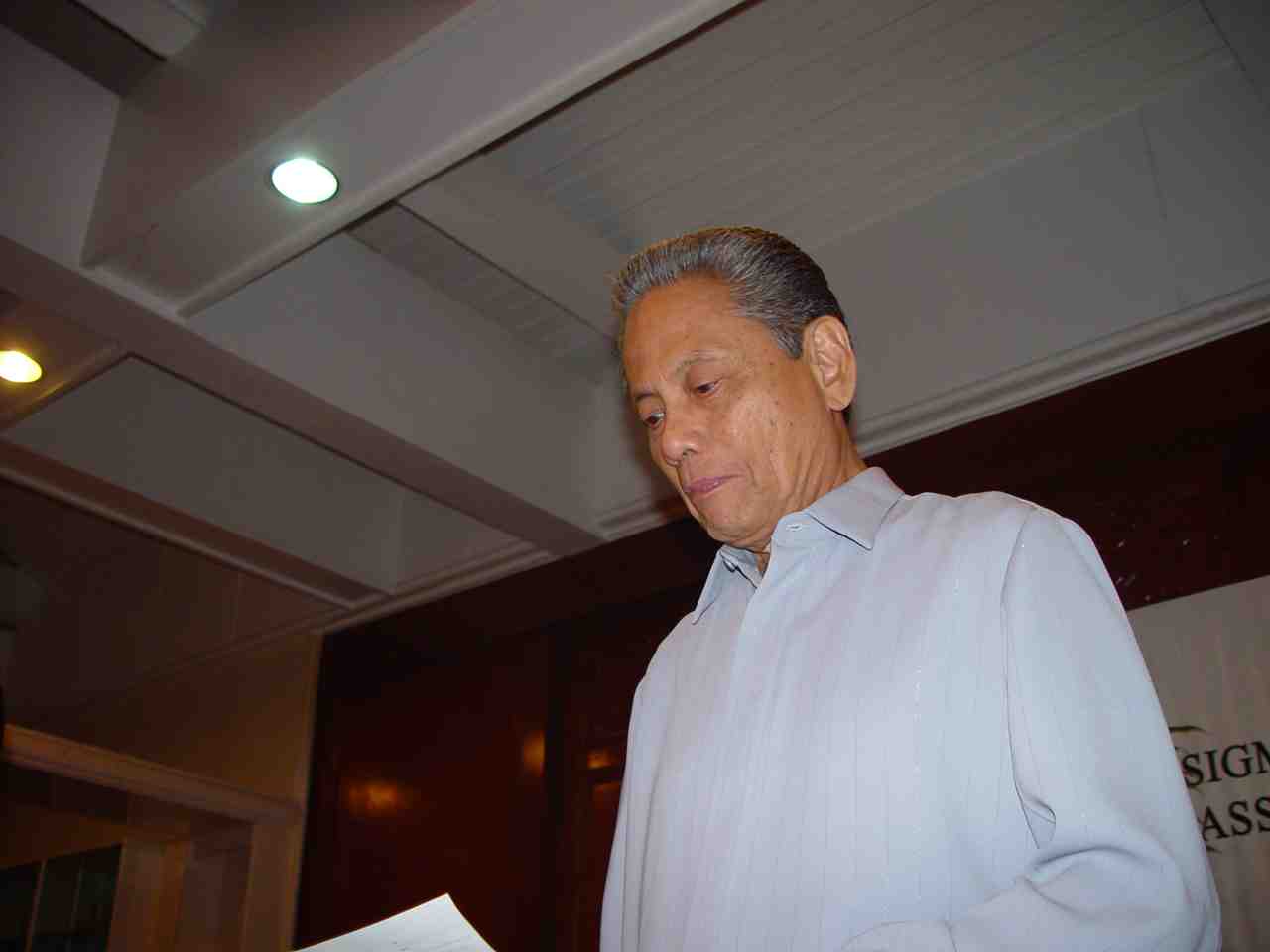 Brod Tem Rodriguez '47, at 79, our oldest brother-practitioner of TK. Find out why he still
looks and moves like a 60-yr old (soon... Health Drills/TK/Testimonials).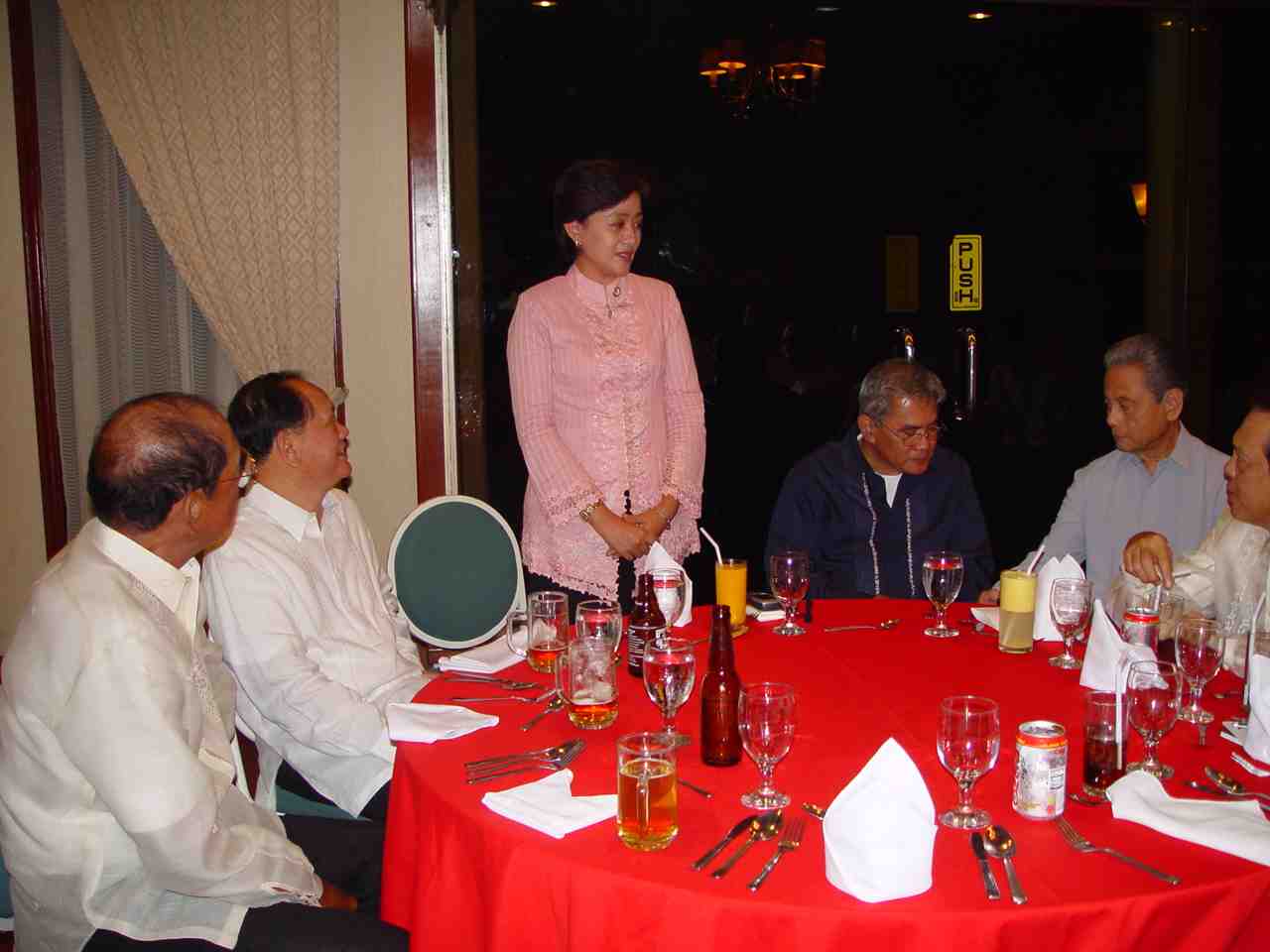 International Master Ibu Ida, with Brod Rico Arranz '46, Vic Ramos '63A, TK QC National
Pelatih Col. Gil Aganon, Brod Tem Rodriguez '47, and Congressman Brod Matt Defensor '61.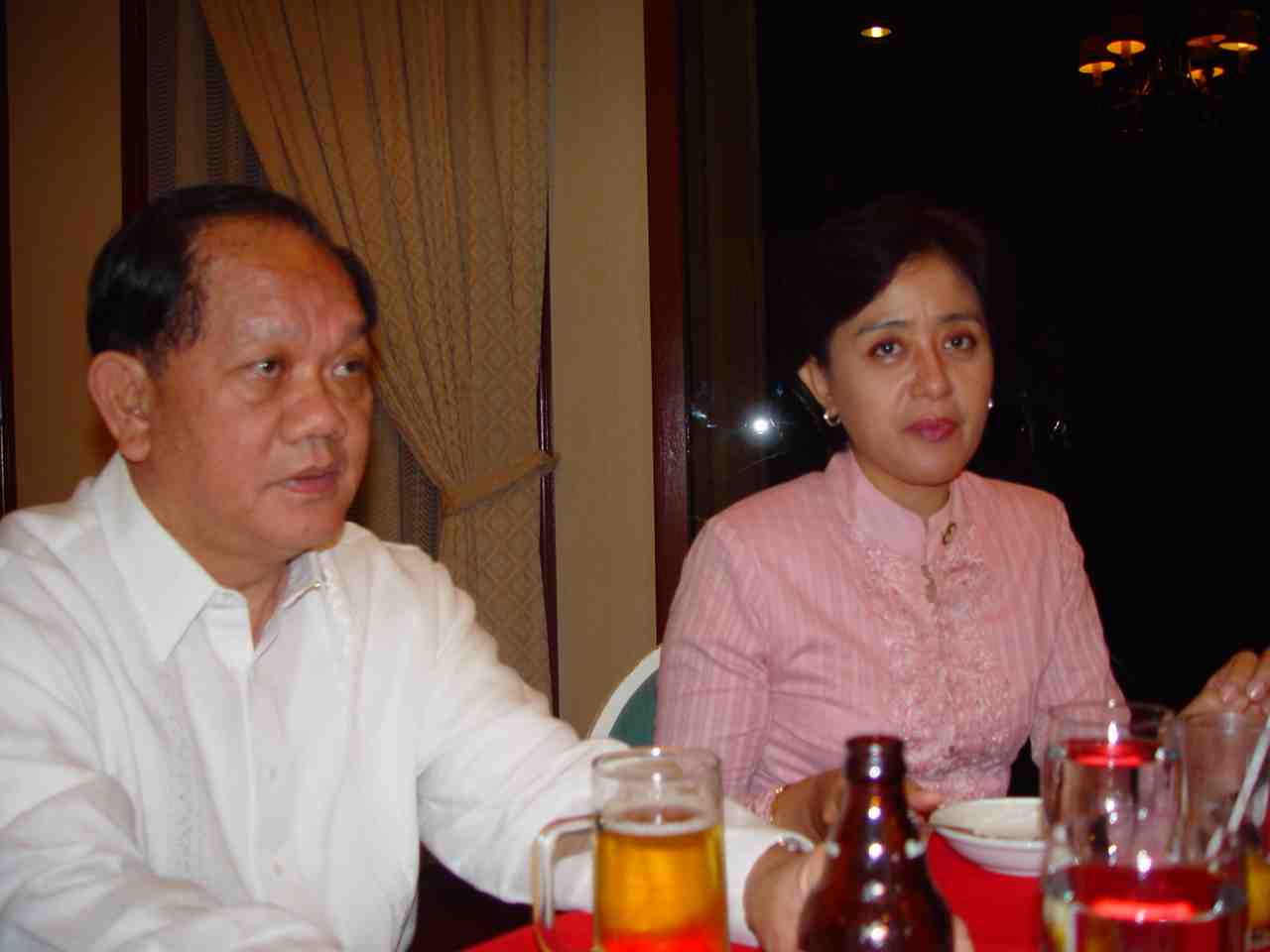 Brod Vic recalls the very close history and culture of Filipinos & Indonesians. Ibu Ida
admits that excluding Indons, Pinoys are the best TK practitioners in the world today.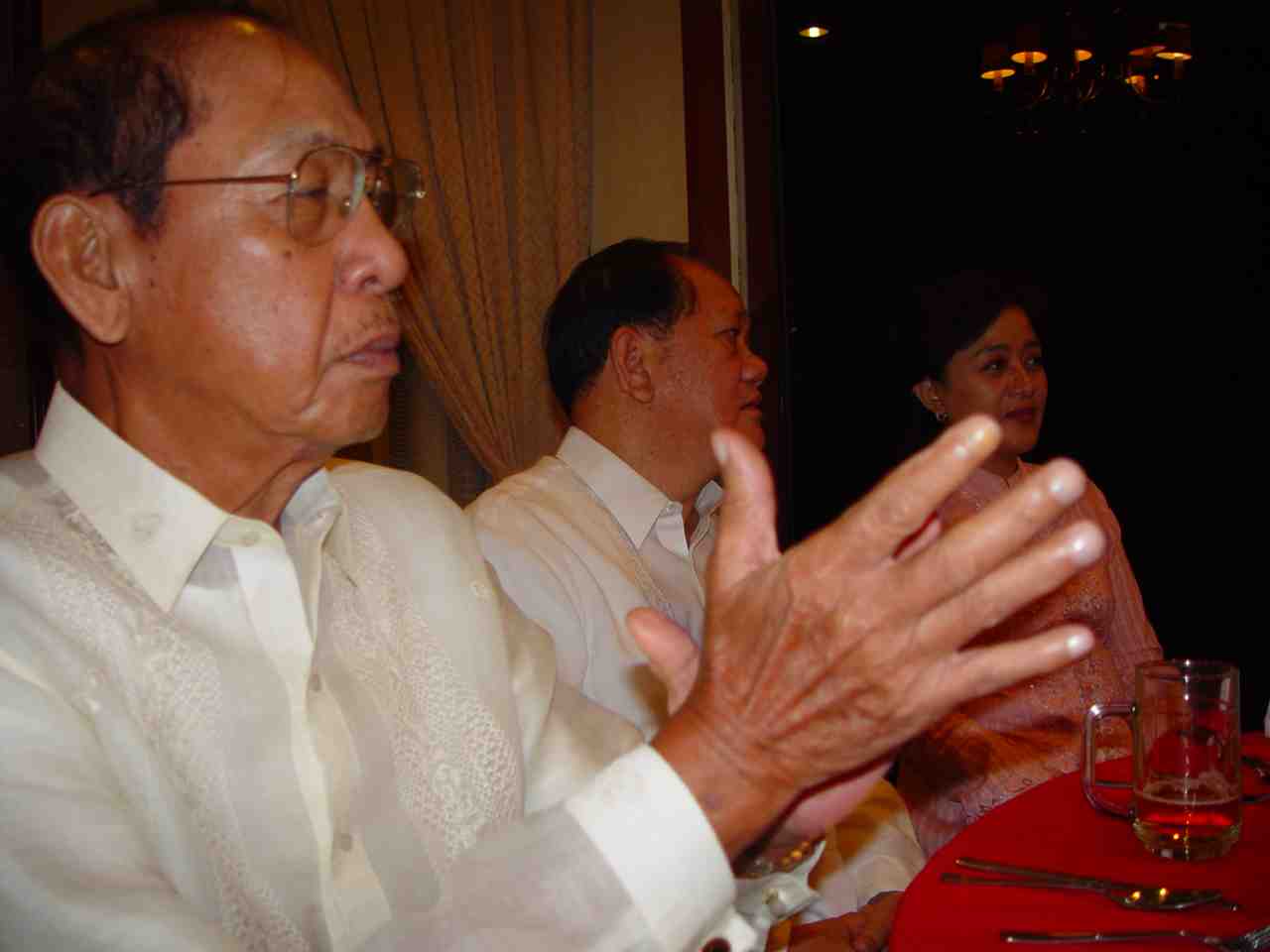 A big hand from the founder, who says he will do TK to improve his golf swing.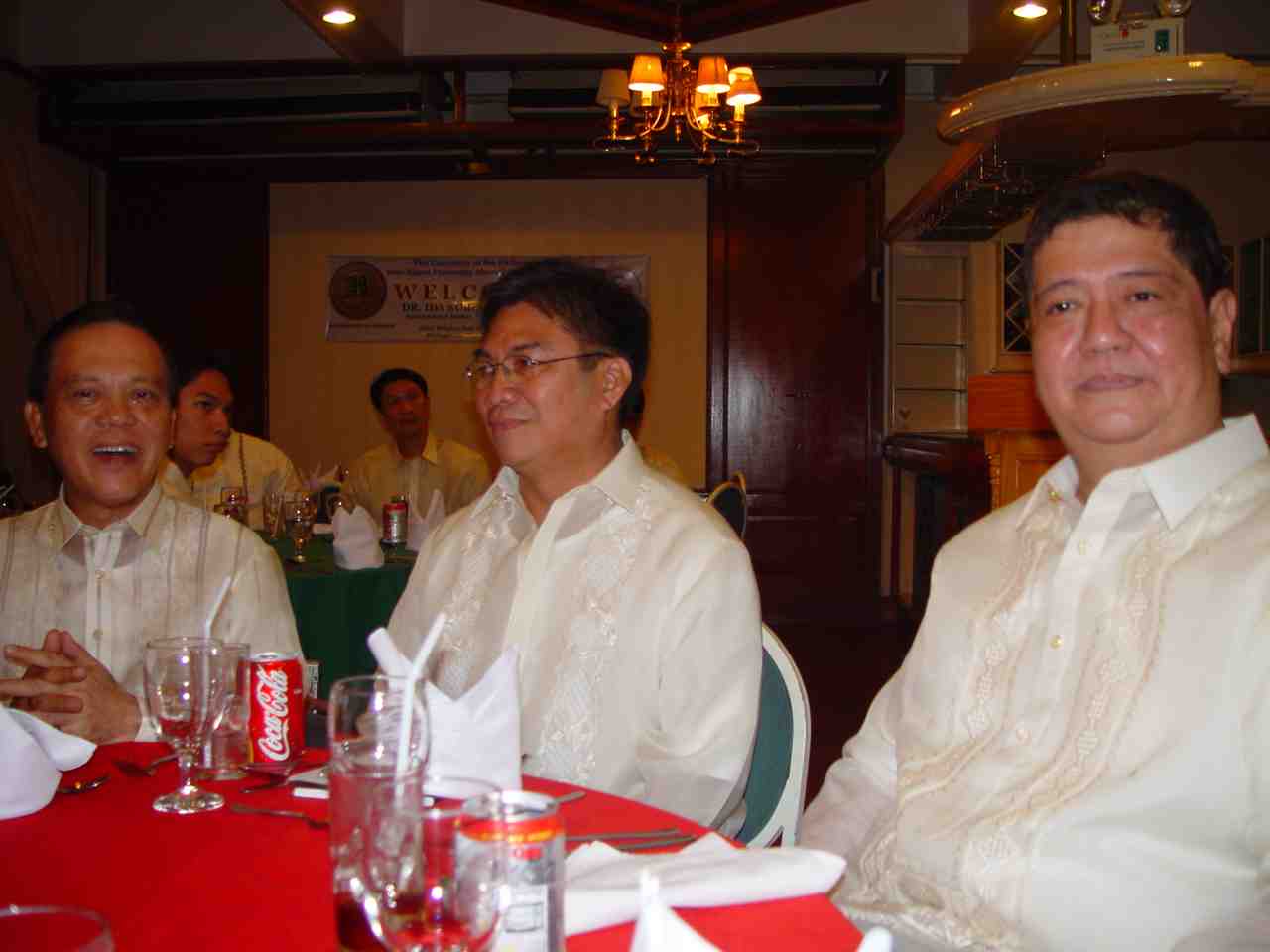 Cong. Brod Matt being convinced by Brod Mars, while Brod Bing gladly looks on.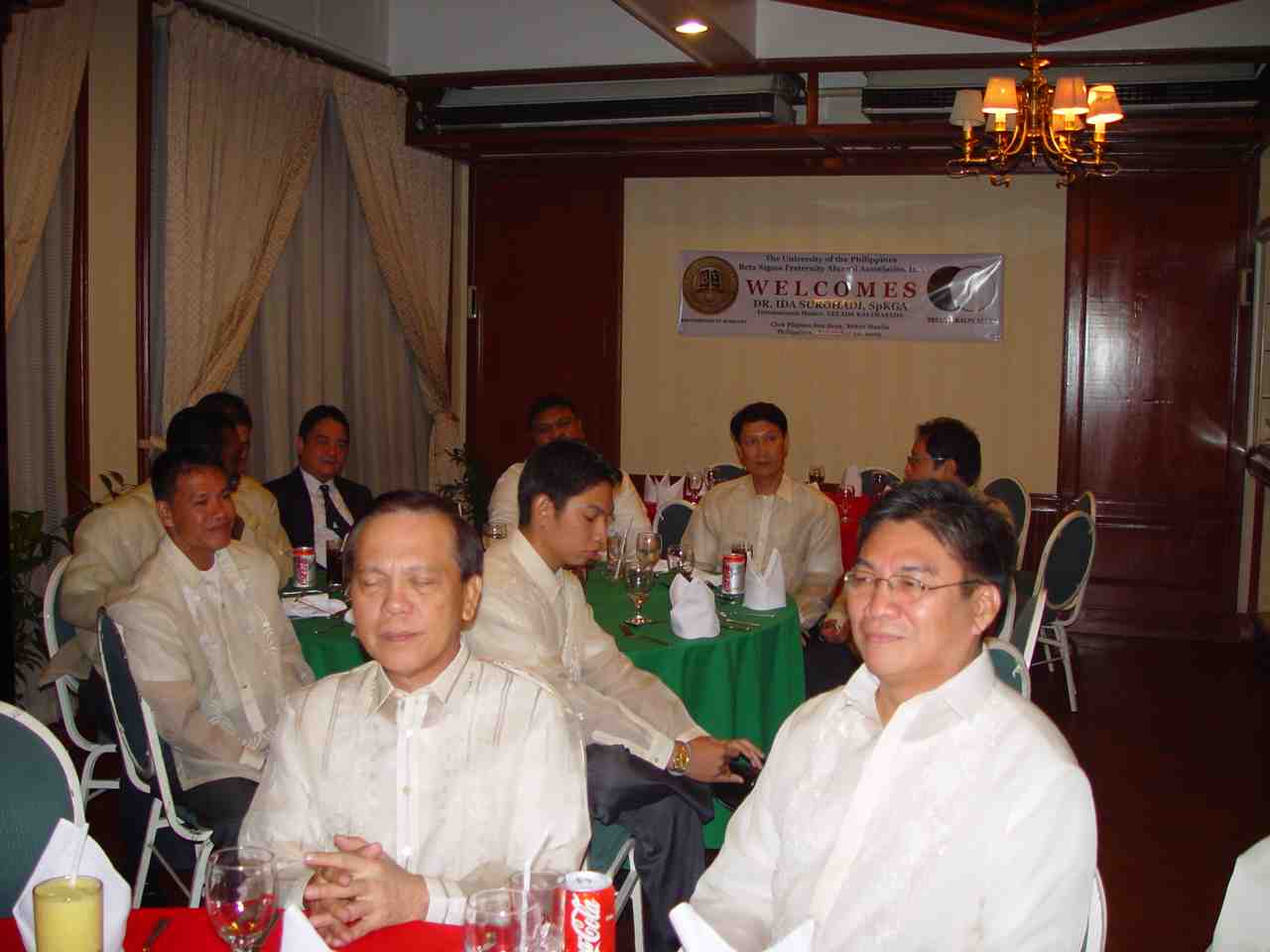 Duduk Nafas... Tarik, Takan, & Lapas. And, Brod Matt is on his way!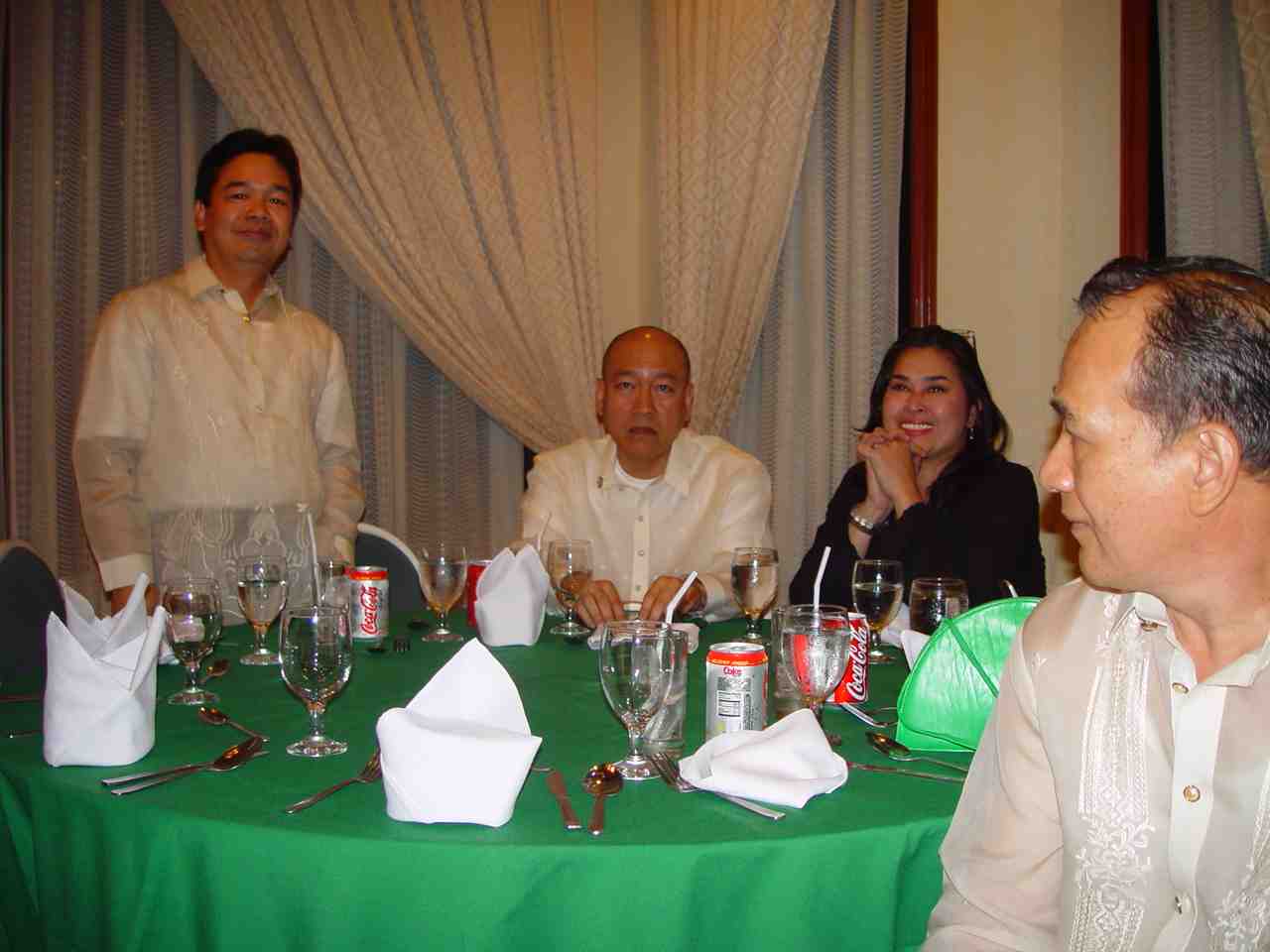 Brod Dave: "Sige Butch, tayo ka. Di ko pa rin iiwan si Ibu Beth (Oropesa)". Beth is a fast-
rising TK practitioner, now a Dasar-Dua (4th level) & an ASPEL, in only 6 mos. practice.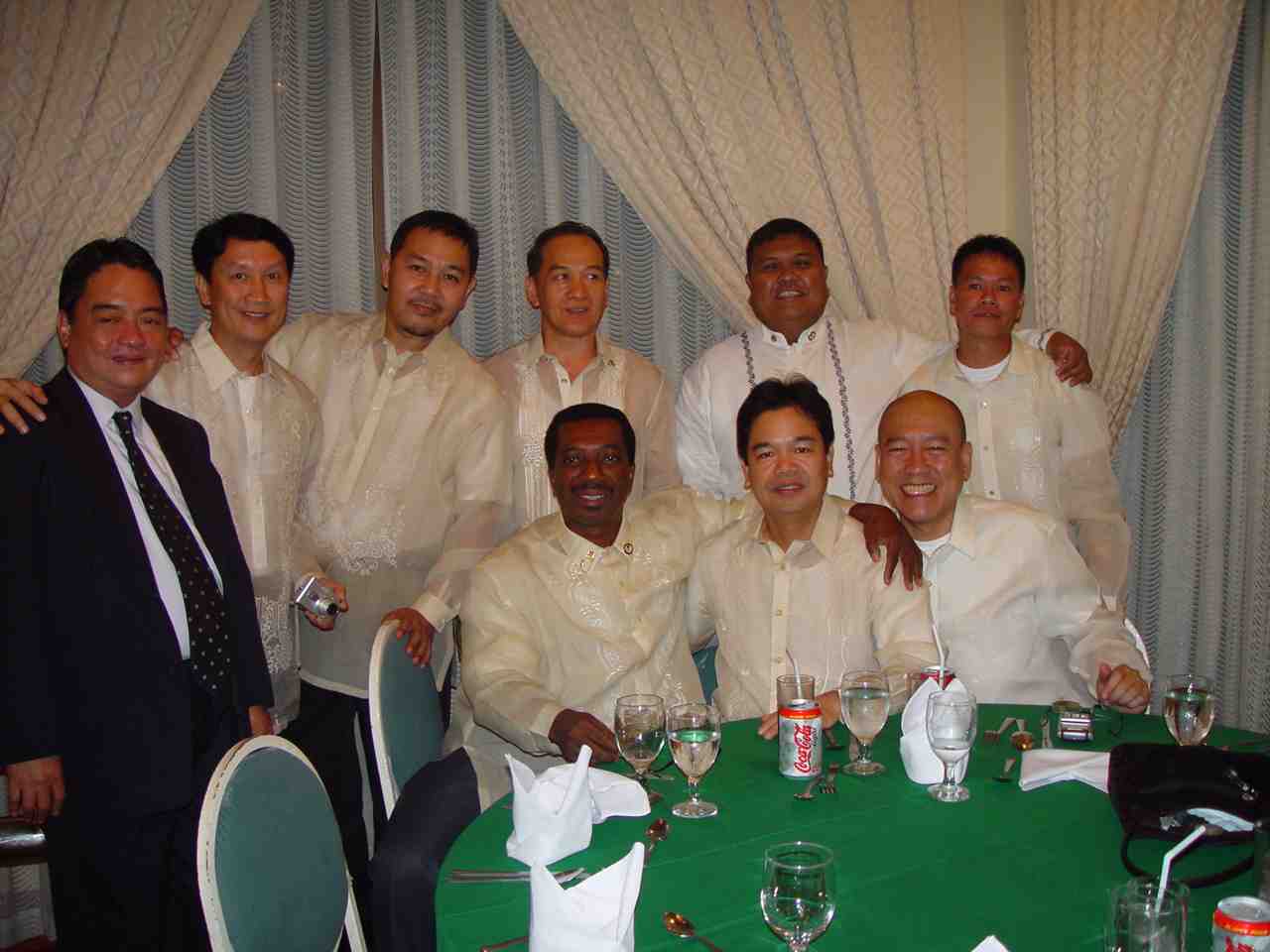 Pag-"kodakan" na, talagang di pahuhuli ang mga brods!
Standing(L-R): MannyF (speaker-of-the-night), ChitoT, ShioM, ReneC, RoryF, & Bitong
Seated(L-R): RexI, ButchM, & DaveDLT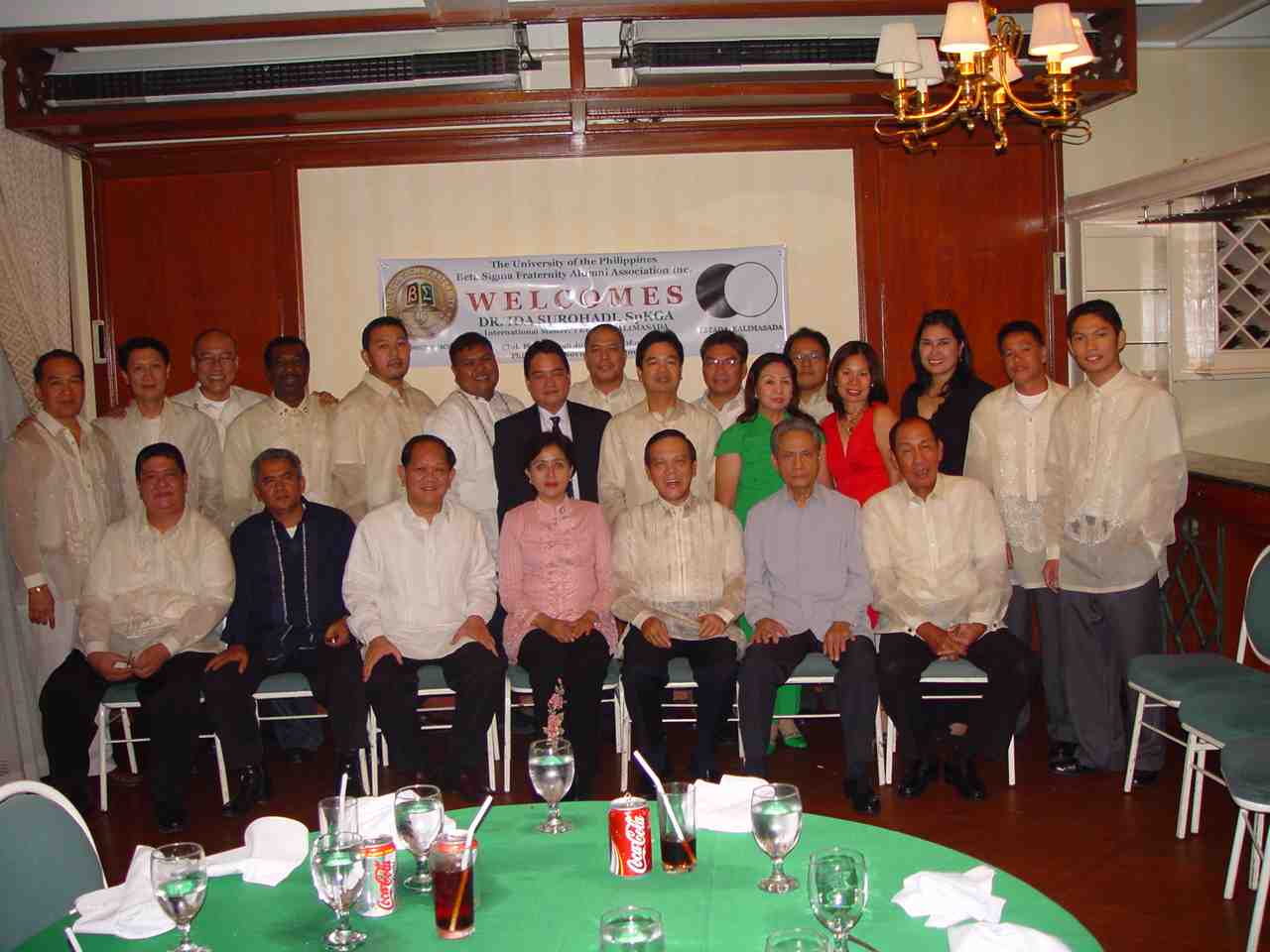 The brods with the guests.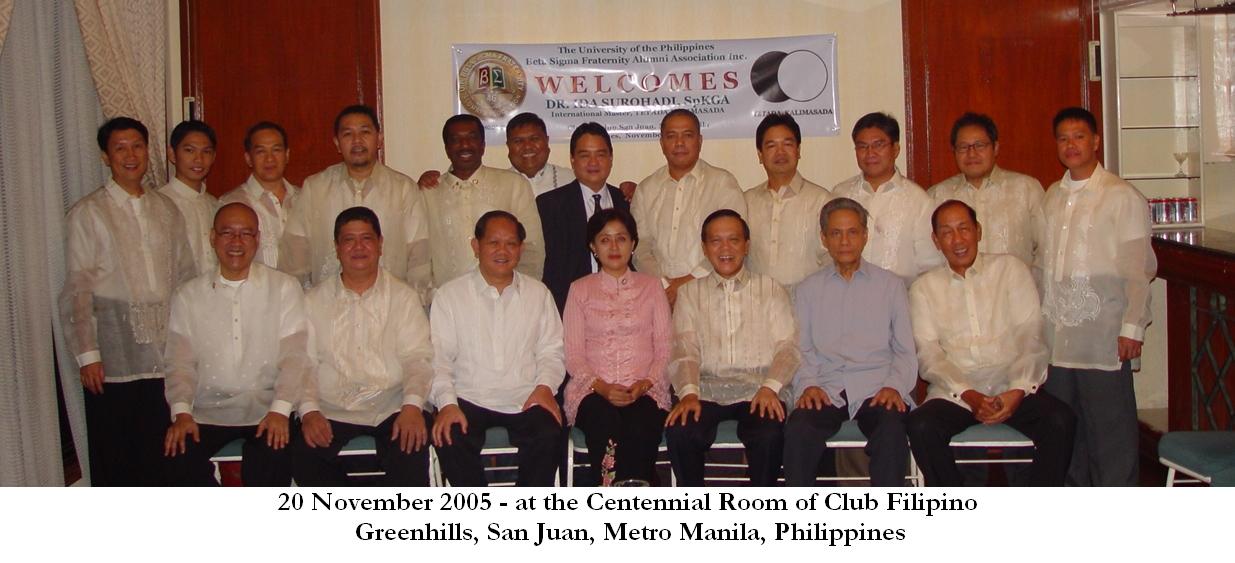 Standing(L-R): ChitoT, KarloR, ReneC, ShioM, RexI, RoryF, MannyF, OllieJ, ButchM, MarsR, JoelP & Bitong
Seated(L-R): DaveDLT, BingG, VicR, Ibu Ida, MattD, TemR, & RicoA.