UP Beta Sigma Grand Reunion
by Gemma Nemenzo

This April, a year after Willie (Vergara) first mentioned the alumni ball to me, a few months after he finalized the details, and just a month before the event itself, I was actually thinking of wimping out.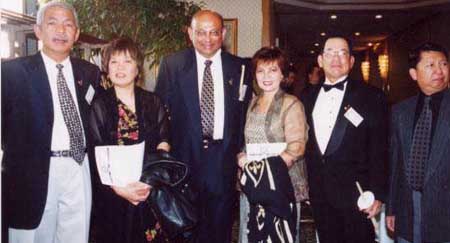 Gamy Manikan, Ladies Corps Gemma Nemenzo, Benild Pires, Maribelle Payumo,
Ding Cavestany, Brandon Barrido

It was not just because my barkada will not be able to attend. Nilda (Frias-Sarmenta) was still recovering from her eldest daughter's wedding and had already scheduled a European cruise. Maripaz (Tagle-Chua) was hosting a lawyers' conference in Manila; my cousins Tita (Yap-Dagus) was busy with her book business in Cebu, and Yola (Yap-Manalo) is married to an Upsilonian. Jojo (Sabalvaro-Tan), my last hope since she is based in Bartlett, IL, had decided to go to Europe too.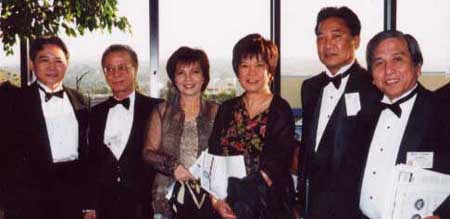 Ed Cornelia, Rey Obed, Sweetheart Maribelle Payumo, Gemma,
Carling Taguinod, Tatang

More than their absence however, my hesitation was personal. I wasn't sure I really wanted to dredge up that part of my college days when we spent a lot of time at the Beta balcony. It was great fun, I have treasured memories of the Betans who became our friends, but the girl that I was then is a stranger to me now. I wasn't eager to resurrect her, especially in such a grand setting as a UP Beta Sigma Alumni Homecoming Ball.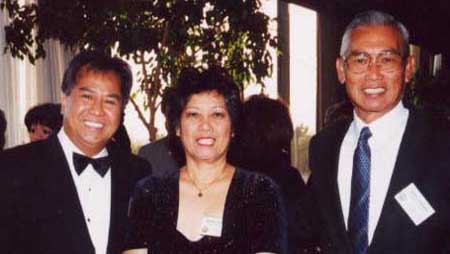 Chito '59 (DVM) and Desi Cabaluna, Dr. Emy Fajardo '57 (DVM)

And then Maribelle got her US visa and that took the wind out of my wishy-washiness. Now, as I bask in the afterglow of the event, I'm so glad I went. I wouldn't have missed it for the world.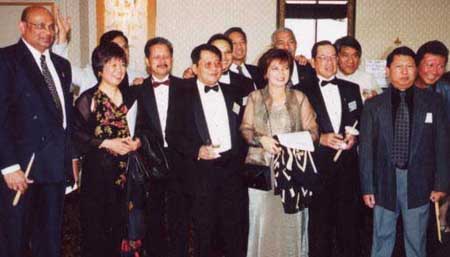 In front row are Benild Pires '63, Gemma Nemenzo, Norman '65,Boi Wico '65,
Frat Sweetheart 66/67 Maribelle Payumo, Ding Cavestany '65. Brandon Barrido '67;
At the back are Ago Romero '68, George Abrina '73, Gamy Manikan '65,
Cyrus Fagar '69 and Ed Rivera '68

Driving together to the ball, Belle and I were musing about how long it has been since we last saw our Betan friends (more than 30 years) and how we needed to help each other remember names and faces (or at least share the embarassment of forgetting). We did a final check at the hotel restroom - to make sure that our makeup was intact and our gowns were doing their job of hiding the (many) extra pounds we've gained since college - and then it was "showtime."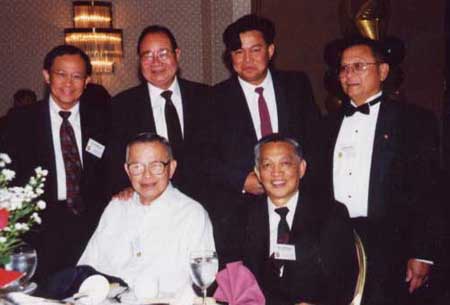 (All UPLB Brods): Seated are Tony Ordoveza, Terry Mendoza. Standing are Frank Mamaril,
Johnny Quijano, son of Terry and Johnny Abilay

Everyone was standing outside the ballroom since the doors were not yet opened. We scanned the faces in the crowd for Willie or Boi (Wico), who already warned Belle that they too have grown in various directions. No one even looked familiar. Uh-oh.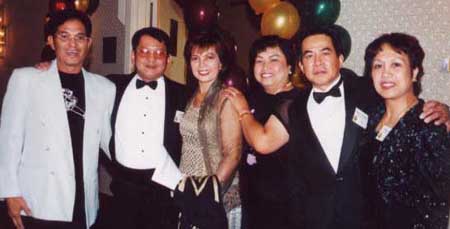 Danny Pamilar, Boi Wico, Maribelle Payumo, Zeny Rivera, Elmor Villanueva, and Mildred Wico

Mercifully, a brod came over and asked if we were looking for Willie (I wonder if he discerned the split-second panic in our smiles). Yes, I answered, probably a little too quickly. And then he was there - Willie, our savior, who started introducing us to old brods, and young brods, and wives and children. For some reason, once Willie got us going, we began recognizing faces and names -Benild, Norman, Gamy, Eric, Gabby, Freddie, Brandon, and Boi, of course. Later, we saw Noli and his son, and Jimmy S, Elmor, Tito, Ike, Ding, Danny, Judge, Bernie and so many other old familiar faces. It almost felt like the good old days at the Beta balcony, when our barkada would spend the time between classes hanging out with the resident brods of the '60s.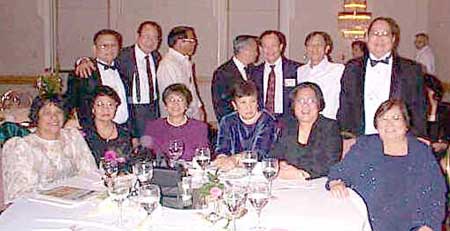 No one in our group remembers how it started, how we managed to be friends with the Betans and why we chose that part of the Arts and Sciences building to hang out in. Was it because we campaigned for Jimmy Yambao or because one of us had a crush on a Betan? The years have blurred this detail because it quickly became irrelevant. Whatever our reasons, the Betans (or at least many of them) welcomed us into their "territory" and made us feel part of the camaraderie.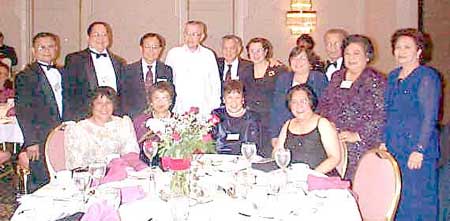 To this day, whenever I hear Peter, Paul and Mary, I am always reminded of Beta Sigma. I have no idea why the association is so strong but the memories that the songs would stir up are always so pleasant.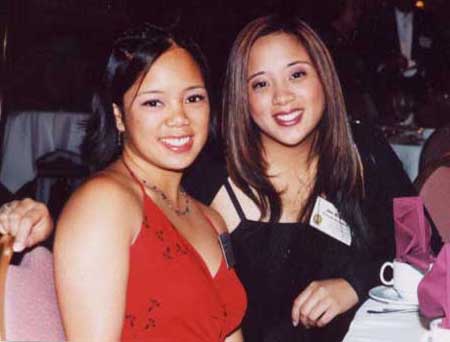 The Pretty Stars (Mga Bituin) - Jamie and Jennifer Bituin

I still have two of Ely Santiago's sketches of me hanging in the wall beside my bed. Through all the turmoil and the many moves in my life, I have always carried his sketches with me. I never really stopped to ponder why I did this; all I know is that Ely's drawings have become so much a part of me that I can no longer imagine a wall without them.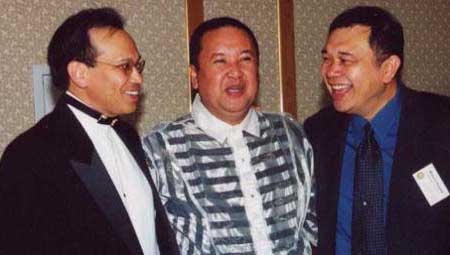 Ago, Kino and Pogs sharing a light moment

As my Americanized children asked me a few years back when they stumbled upon my college diaries, "Mom, who are these bey-tans that you write about so much?"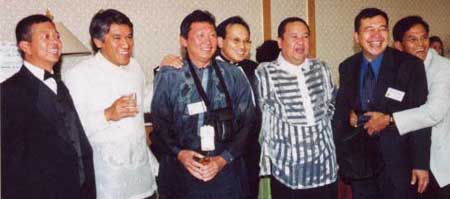 Macky Llamarca '68b,Cyrus Fagar 69, Ed Rivera '68a, Ago Romero '68a, Roland "Kino"
Aquino '68b, Pogs '68b, Danny Pamilar '69

Last year, when Maripaz, Jojo and I had our own mini-reunion at Jojo's house in Illinois, we looked at old pictures of our college days. The Betans were prominent, of course. We had pictures with some of you at college fairs and at the Vinzons.We have quite a collection of photos of us by Mon Carpio. And then there was the trove of memorabilia that Jojo had collected: original drawings of Malmon, Beta Sigma stickers, Ely's sketches. It took some effort (and a lot of giggling) on our part to put names to faces but there was no denying the pleasure we felt in remembering those days. We loved our Betan friends because they always made us feel cherished.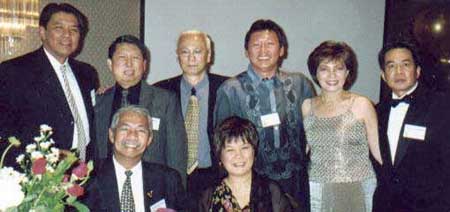 L-R back: Willy Ramos, Brandon Barrido,Freddie Young, Ed Rivera, Belle, Elmor Villanueva.
That's Gamy Manikan beside Gemma Nemenzo.

And at the ball, 34 years later, those of us who knew each other then bridged the gap between past and present so seamlessly that the three decades of not seeing each other felt like a mere figment of our imagination. Except this time we have our wrinkles, our gray hair and extra pounds to remind us that we have come a long way from those carefree days of the '60s. No matter. The 2001 UP Beta Sigma Alumni Ball was just as much a homecoming for me as it was for the Betans because I realized that I have returned to lifelong friends.
______
Gemma can be reached at Gnn88@aol.com.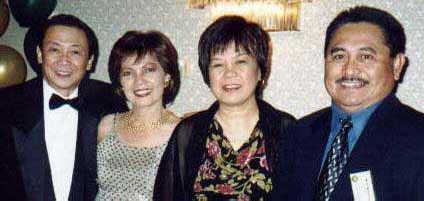 Tito de Santos, Maribelle with Gemma Nemenzo, and Noli Nolasco


LOOK FOR: Ambassador Tony Villamor '55, Dr. Carling Taguinod '57, Dr. Ed Cornelia '58, Dr. Fred Aquino '57, Frat Sweetheart (1966 and 1967) Maribelle Payumo, Chit Taguinod, Evelyn Cornelia, Irma Ramos, Ago '68 and Eva Romero, Danny Pamilar '69 (a legend of sorts)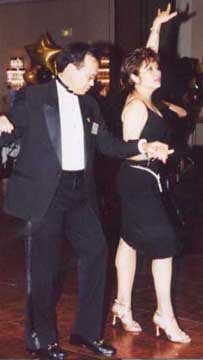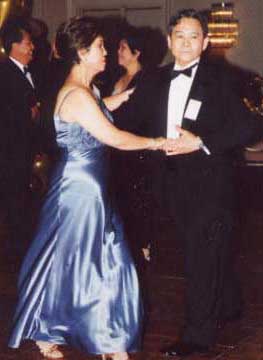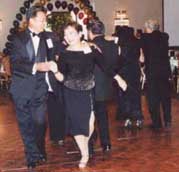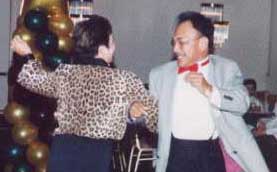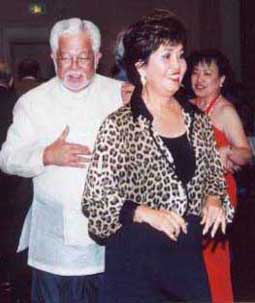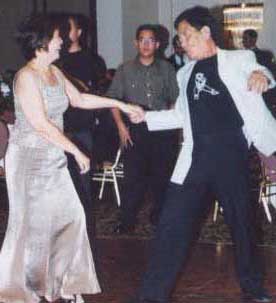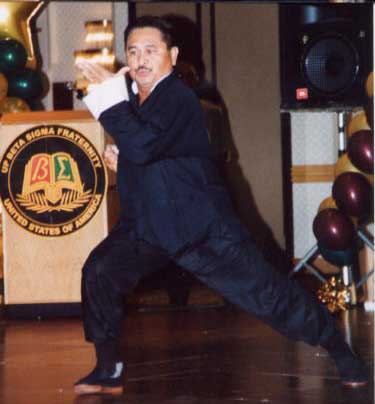 Dragon Force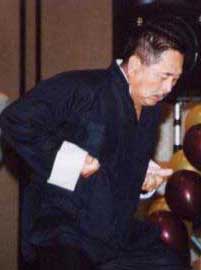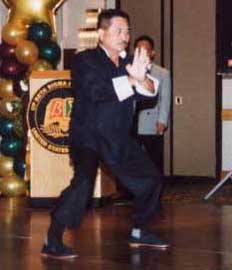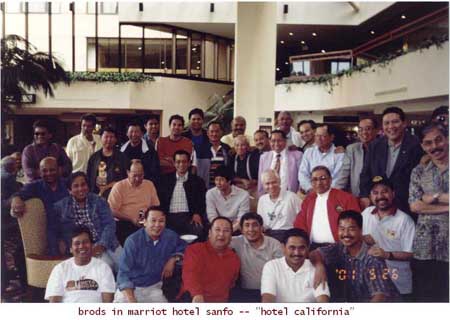 One can write a whole story just about the Betan Lobby at Marriott. For three days and three nights,
this lobby was always full of Betans. I went back on the fourth day. It was empty and in the silence,
I could still hear the voices...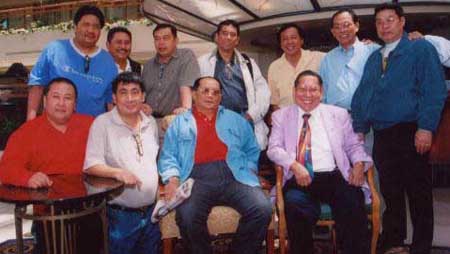 Seated: Kino Aquino, Gabby Moraleda, Liling Padilla, Felix Vergara, Jr.
Standing: Jun Valenzuela, Noli Nolasco, Pogs Gaspay, Jec Marquez, Ike Araneta,
Gilbert Dulay, Eric Punzalan (President, UP Beta Sigma USA)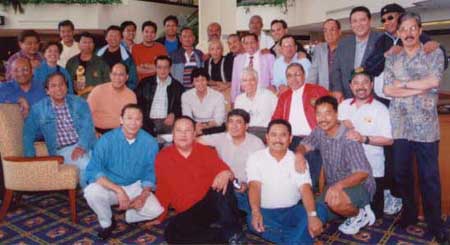 Front Row: Tito De Santos, Kino, Gabby, Noli, Danny Galoso. Middle Row: Benild Pires, Tatang, Sluggo Rigor, Eman Crisostomo, Dennis Navarro, Gus Agustin, Dave Villegas, Lem Michelena. Back Rows: Roman RaulLopez Frantela and wife Josie, Ted Quijano, Brandon Barrido, Ed Rivera, James Madduma, Mandingo Casaclang, Boy Ramos, Otto Kaufmann, Billy Gurango, Billy Sevilla, Felix Vergara, Gamy Manikan, Ago Romero, Ding Cavestany, Roger Aspiras, Manny Cayetano, Vee Vera, Nick Galvez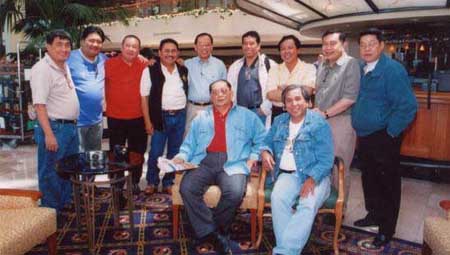 Seated: Liling, Tatang. Standing: Gabby, Jun Vale, Kino, Noli, Gilbert, Jec, Ike, Pogs & Eric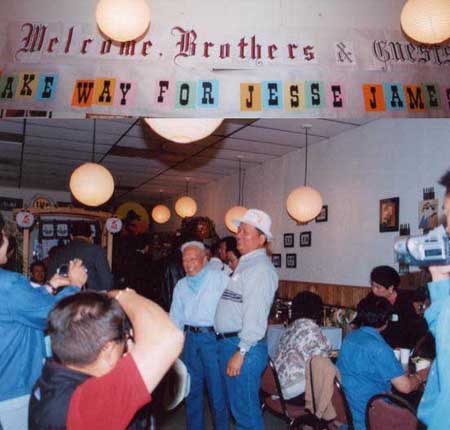 Make Way For Jesse James! Cameras a clickin', Movie Camera's a rollin --
COSME SANTIAGO, former GP of Forestry, beside The Legend in full western attire.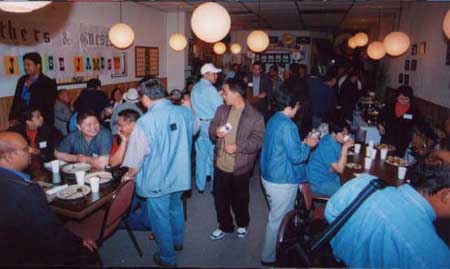 Edna's Restaurant is good for a hundred ... the reservation was for 80, but the attendance was double...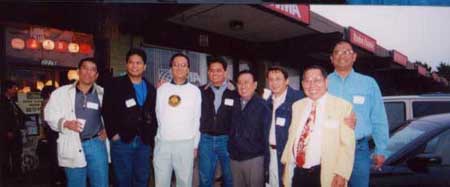 It's OK, some of the brods just stayed outside in the breezy night while SF Police watched with their telescope from afar. See some of them in this photo. Left to Right: Jec Marquez (Panzer '69), Mandingo (Utopia Quest '84), Edsel Arceo '73, Flor Pagador '73, Romy Lumauig '51, Tito de Santos (The Great Escape '63), Felix Vergara '56, and Dante Morales (Black Saints '65)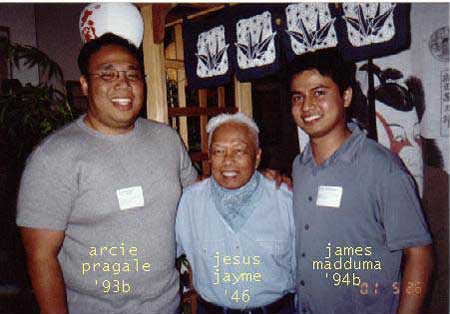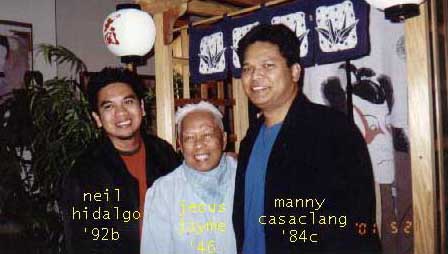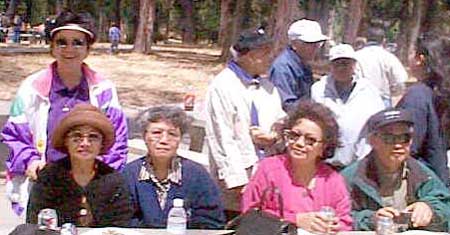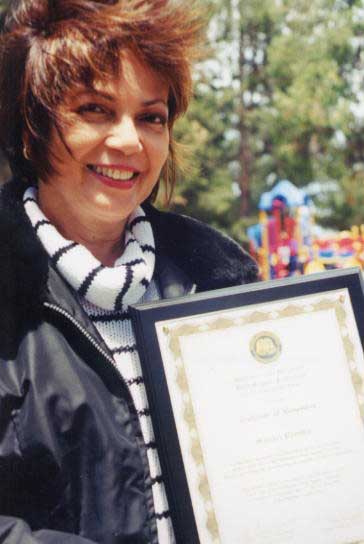 Maribelle Payumo was the fraternity's sweetheart in 1966 and 1967 (2 terms).